Last Updated on July 6, 2022 by Paroma
Are you yearning for a beach vacation and looking for some Northern California beach towns for carefree days in the sun and sand? Look no further than this list of the perfect Northern California coastal towns to delight your inner beach bunny!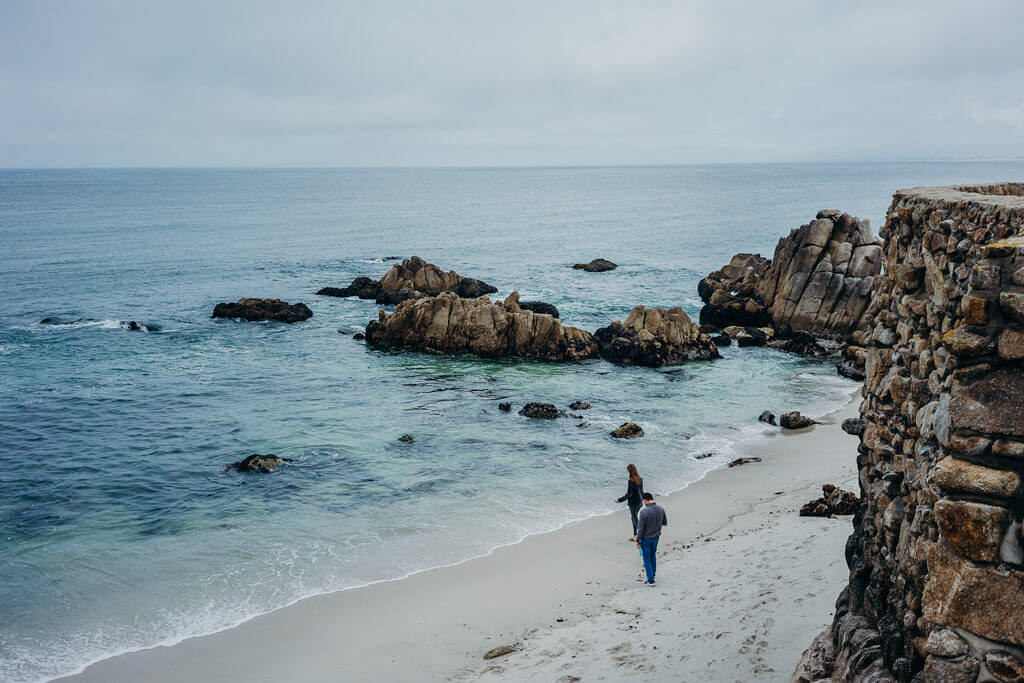 One of the several beaches along Ocean View Boulevard at Pacific Grove
This guide to some of the best coastal towns in Northern California not only covers the more popular ones, but also the small beach towns in California as well as some of the more affordable California coastal towns. Continue reading to find out my favorite beach towns in Northern California based on my 11+ years of living in this state and numerous vacations along the coast many, many times!
Disclaimer: This post may contain some affiliate links. Clicking on them may earn me a small commission at no extra cost to you for the product. Thank you for supporting free content on this site!
THE MAGICAL CALIFORNIA COAST AND ITS BEACH TOWNS
How cute is this surfing mural that we saw in downtown Pismo Beach?
California has a whopping 3400+ miles of coastline, the fifth longest in USA. This rugged California coastline not only offers some of the most spellbinding vistas that one can lay their eyes on, but is also dotted with dozens of coastal towns and cities.
These range from tiny, offbeat places to bigger, popular destinations and from glitzy rivieras to small towns that are a locals favorite (aka well kept secrets). However, they all have one thing in common-they have some of the best beaches with the silkiest sand, coastal views for days, the salty ocean breeze caressing your face and a sense of joie de vivre that comes from the sun, sea and sand, the riding of the waves on nothing but a surfboard and a good old refreshing swim on a warm day.
Beach towns in California are often steeped in history and are home to several of the 21 California Missions that paved way for the modern state of California. Many are thriving arts and culture hotspots while others offer a plethora of outdoor activities including miles of hiking trails, nature reserves and coastal landmarks such as our precious lighthouses that guided ships to safety not so long ago on these choppy waters of the west coast.
NORTHERN CALIFORNIA BEACH TOWNS: WHAT YOU NEED TO KNOW
Cayucos State Beach with Babu (dress in layers!)
DIFFERENCE BETWEEN NORTHERN AND SOUTHERN CALIFORNIA BEACH TOWNS
Northern California beaches tend to be cold and windy and the water is pretty cold throughout the year, which makes them uncongenial for swimming, unlike the warmer beaches and waters of the south (think Los Angeles or San Diego or even Santa Barbara). In other words, if you're visiting the northern part of the state, I highly recommend dressing in layers than packing in a swimsuit!
However, what the north lacks in terms of sunny beach weather, it more than makes up for it in terms of diversity. Northern California beach towns will entice you with their many kinds of beaches-silky white sand vs pebbly black gravel, long stretches of sand dunes vs. small sandy strips on river shores, the culturally diverse coastal towns-outdoorsy surfing havens vs. thriving urban centers and wildly popular tourist hotspots vs. blink-and-you'll miss it towns. Add to this some of the best restaurants serving the freshest local catch, and you have the perfect recipe for beach towns that you'll never want to leave, even if you're not a beach bunny!
CHEAP COASTAL TOWNS IN NORTHERN CALIFORNIA
The other thing to note is that the North tends to have some of the more cheaper coastal towns in California compared to the south. This is mostly because of the weather-SoCal entices more people with the allure of sunny days that California is known for.
Although the north has its share of popular beach towns such as Carmel by the Sea, Monterey, San Francisco (yes, we have more than half a dozen beaches) and Mendocino, there are many smaller beach towns to explore that won't leave a dent in your pocket (relatively speaking, of course), especially the ones along the Sonoma coast and further north in Mendocino and Humboldt counties.
BEST TIME TO VISIT BEACH TOWNS IN NORTHERN CALIFORNIA
Beach towns have mild weather year round, so visit anytime. Winters are rainy along the coast while summers are foggy and gloomy, yet still way cooler and therefore more enjoyable than the inland. Dress in layers and please obey all posted signs on the beach, especially those about swimming since our currents can be quite strong and the water quite frigid.
HOW DOG FRIENDLY ARE THESE NORCAL COASTAL TOWNS?
Northern California has plenty of dog friendly beach towns, as attested to by our many travels with our pups Babu (RIP) and Gunda. Both have visited some of the best dog friendly beaches in California along the coast during our 11+ years of travels in the state. From Pismo Beach in the south to Mendocino in the north, there are plenty of dog friendly coastal towns in Northern California that you can enjoy with your pup, and in this post I will tell you our favorites.
WHAT TO PACK FOR NORTHERN CALIFORNIA BEACHES
Not just a swimsuit, that's for certain! I know that's a real bummer but in most places the water is too cold and the currents are too strong for a swim. Your best bet is dress in layers (that means at least a jacket or a sweater), slip into those flip-flops, haul a beach tote with essentials such as beach towel, sunnies, sunscreen and don't forget that floppy beach hat for protection from those invisible UV rays.
WHALE WATCHING SPOTS AND TOURS
Most Northern California beach towns are perfect for whale watching from the coast or to join conducted whale watching tours. From Shelter Cove to Morro Bay, there are many tours departing the harbors for gray whale sighting in winter and spring. You can find details on my whale watching guide here.
MY FAVORITE NORTHERN CALIFORNIA COASTAL TOWNS
There is plenty to discover on the Northern California coastline and in this post I am going to spill the beans on 27 of my favorite destinations. Over my 11+ years of living in California, I have been up and down the coast many times and visited these Northern California beach towns, be it on a San Francisco to Mendocino drive, San Francisco to Carmel road trip or further down the coast on a Big Sur road trip.
Since the divide between Northern and Southern California is more cultural than anything else, I have chosen San Luis Obispo county as the very southern point for this list of must visit coastal towns in Northern California.
SHELTER COVE (HUMBOLDT COUNTY)
Shelter Cove is possibly the remotest beach town in California and is located in southern Humboldt county, home to the Giant Coastal Redwoods. Getting to Shelter Cove is not easy and involves a detour from Highway 101N, but once you get there you will be rewarded with some of the best black sand beaches in California that are secluded, quiet with nary a person in sight and offering some spectacular sunsets. All these beaches are dog friendly.
Beside the black sand beaches, Shelter Cove is also the starting point (in the south) of the 24 mile lost coast trail (an undeveloped part of California's coastline) that avid hikers embark on every year. Other attractions include insanely scenic viewpoints, Cape Mendocino Lighthouse and a delicious meal at Gyppo Ale Mill, the remotest brewery in California.
Shelter Cove stole our hearts during our Northern California road trip through the Redwoods and you can read all the juicy details to plan your trip to this cheap Northern California coastal town.
STAY: The very comfortable and reasonably priced Oceanfront Inn which is also dog friendly with balconies overlooking the black sand beach!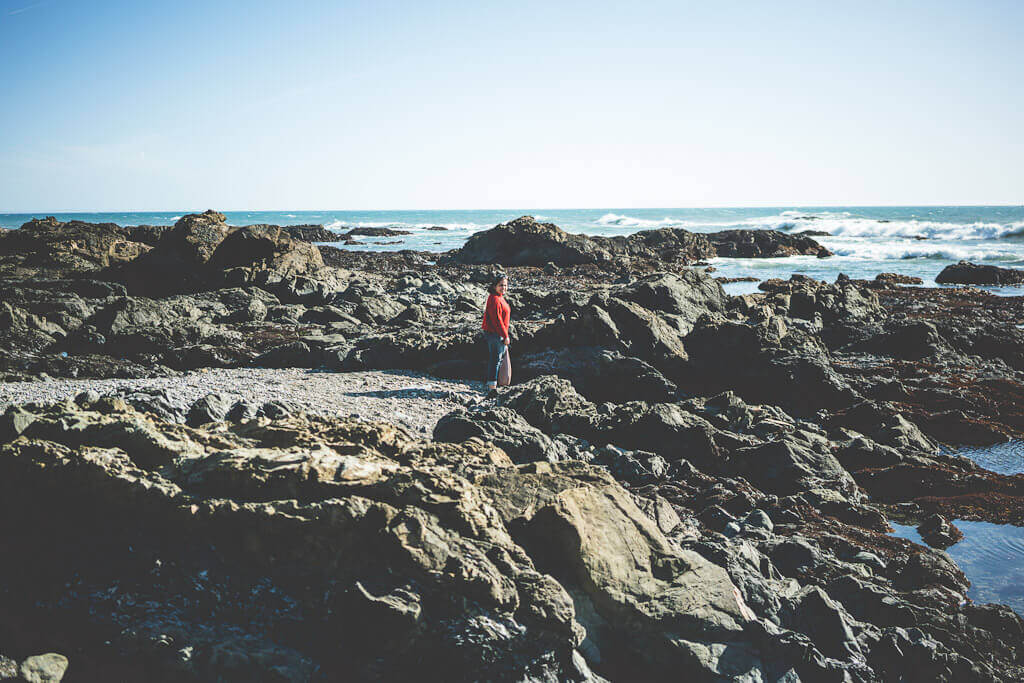 Our dreamy visit to Shelter Cove (the black sand beaches are unreal)
TRINIDAD (HUMBOLDT COUNTY)
Humboldt County represents a slice of Northern California coastline that is relatively non-touristy since most people come to this part of Northern California for the Redwood National Parks and forests. The small beach towns here are simply amazing and if you're ever in this part of California, don't forget to spend at least one night in Trinidad.
Trinidad is home to tranquil beaches such as the Trinidad State Beach and Head Beach (that extends to the Trinidad Harbor) as well as Little River State Beach and Clam Beach that lie between this town and Arcata. In addition, Trinidad is home to not one but two Redwoods State Parks, i.e. Prairie Creek Redwoods State Park and Patrick's Point State Park.
STAY: Trinidad Inn, Trinidad (great location, but budget accomodation with a pretty small room)
Sunset from Trinidad State Beach
FORT BRAGG (MENDOCINO COUNTY)
Fort Bragg is a small beach town in Mendocino county, popular for its world famous beaches such as Glass beach (with bits of polished glass mixed with sand), leash free Noyo beach for pups and the highly popular Skunk train (also dog friendly) that chugs through the Redwoods. Plus there is MacKerricher State Park which is a great spot for whale watching (December-April).
Only 10 miles north of Mendocino, another popular coastal town in Northern California, Fort Bragg also boasts of a beautiful winery named "Pacific Star Winery" perched literally on the edge of the coast and offers some luscious wine with great views.
STAY: Glass Beach Inn, Surf & Sand Lodge

Picking up the glass bits at Glass beach to show off my camera len's epic bokeh (don't take home any please)
MENDOCINO (MENDOCINO COUNTY)
Mendocino is one of my favorite dog friendly getaways in Northern California and makes for an excellent romantic weekend retreat from the Bay Area. Mendocino will woo you with its coastal hikes with sweeping views (excellent for whale watching), a vibrant cultural and dining scene and of course its many beaches! We have been to Mendocino and the surrounding towns of Little River and Fort Bragg over half a dozen times and have loved every visit to bits.
Hike on Mendocino headlands, explore the dog friendly beaches (Van Damme, Portuguese), visit the Mendocino Botanical garden with amazing coastal views, check out the Point Cabrillo Lighthouse (that rare dog friendly lighthouse in California) or go wine tasting in Anderson valley-the possibilities are endless when you're in Mendocino! Read my Mendocino guide to plan your perfect vacation in Northern California's prized beach town!
San Francisco to Mendocino drive is one of the most scenic road trips from SF that you can ever embark on. Definitely keep Mendocino on the very top of your California beach town list for your next weekend getaway.
STAY: Little River Inn (dog friendly), Stanford Inn by the Sea (dog friendly but pricey, home to Ravens restaurant), Blue Door Inn
Hiking in Mendocino Headlands
GUALALA (MENDOCINO/SONOMA COUNTY)
The sleepy Northern California coastal town of Gualala at the border of Sonoma and Mendocino counties is definitely one to look out for on a San Francisco to Mendocino road trip.
Gualala not only offers coastal trails along its namesake Gualala point regional park (with its own dog friendly beach), but also the very doable 0.5 mile Gualala bluff trail providing amazing estuary and ocean views for a half-mile stretch. If that is not all, there is a Redwoods grove east of Highway 1 (you can only camp here) and several art galleries in this tiny beach town.
STAY: Gualala Country Inn, Surf Inn
Gualala Point Regional Park beach
JENNER (SONOMA COUNTY)
Jenner is a seaside town perched on the Sonoma coast where the Russian River empties itself into the Pacific Ocean. At the confluence point, the snout of Goat Rock beach in the south almost touches Jenner beach in the north with a sliver of water in between. the Jenner Sea Lion rest place is at the very tip of Jenner beach and you can see them snoozing in the sun from a designated vista point/lookout point on Highway 1 (just have your binoculars ready).
There are several beaches to explore around Jenner if you have time, of which the Jenner beach and Russian Gulch State Beach are easily accessed from Highway 1 whereas you need to drive along Goat Rock road off Highway 1 to get to Goat Rock Beach.
The town itself is pretty charming with River's End Restaurant and Inn being a fine dining establishment on the Sonoma coast. Jenner is also home to the historic Fort Ross State Park (with a fortress from the Russian settlement days) which you should definitely check out.
Jenner is also one of the many quiet places to retreat on July 4 weekend in Northern California with an anxious pup since fireworks are not permitted on the Sonoma coast.
STAY: Jenner Inn, Timber Cove Resort (upscale dog friendly hotel)
Jenner Sea lion rest place that we saw from Highway 1
GUERNEVILLE (SONOMA COUNTY)
Guerneville is possibly the most unusual choice for a Northern California beach town, but hear me out on this one. Yes, this is not a coastal town per se (i.e. not anywhere along or west of Pacific Coast Highway), but is a more inland town in Sonoma, resting on the banks of the Russian river.
The reason it gets to feature on this list of beach towns in Northern California is because voila! Guerneville does have a sandy beach, i.e. Johnson's beach, which is the throbbing heart of the community and a summer favorite of both tourists and locals.
Swimming, floating and kayaking are some of the favorite things to do at the beach on the shores of the Russian River come summer. The town of Guerneville will charm your socks off with its vintage stores, cafes and restaurants lined along Main Street.
Don't leave without one sit down meal at boon eat & drink and ice cream from Nimble & Finn's. Since this is Sonoma, you are never too far away from a wine tasting room-I highly recommend stopping by Equality Vines or Porter Bass winery to sip the best of Sonoma.
Last but certainly not the least, come for the beach but stop by the 805 acres of Redwoods forest, aka Armstrong Redwoods State Natural Reserve when in Guerneville to make the most of your outing to this Northern California river beach town. I highly recommend this delightful beach town as a stop-over if you're ever in Sonoma county.
STAY: West Sonoma Inn & Spa, Highlands Resort, boon Hotel & Spa
Scene from downtown Guerneville (I love this town in Sonoma)
BODEGA BAY (SONOMA COUNTY)
This coastal town in Sonoma county overlooks its namesake Bay and is home to the sleepy town of Bodega, made famous by Alfred Hitchcock's iconic movie "Birds" which was filmed here. Apart from its many beaches, Bodega Bay offers scenic coastal hikes (I highly recommend exploring the Bodega head trail for unparalleled views of the coast), lots of good seafood restaurants such as Fishetarian fish market, Spud Point Crab Company, the Tides Wharf and Restaurant and some quality wine tasting at Sonoma Coast Vineyards.
Although Bodega Bay's most popular beach is undoubtedly Doran regional park, it gets really busy from 10-3 and finding parking can be difficult, not to mention the $7 parking fee per vehicle that you have to pay. I recommend ditching the Doran beach for the smaller (free) beaches dotting the shoreline between Bodega Bay and Jenner, all of which can be accessed from Highway 1. You can find all the juicy details on weekend at Bodega Bay guide.
STAY: Sonoma Coast Villa and Spa (we stayed here during our trip to Bodega Bay), Inn at the Tides

Bodega Bay Beaches on Highway 1
POINT REYES (MARIN COUNTY)
Point Reyes National Seashore is a protected area of West Marin county that juts out into the Pacific Ocean with the salty waters of the Tomales Bay separating it from the mainland. Owing to its scenic beauty, abundance of beaches, landmarks such as Point Reyes Lighthouse and the only Tule Elk Preserve in the nation, it is ideal as a fantastic day trip from San Francisco. I recommend visiting Point Reyes come springtime when the Chimney rock trail is filled with wildflowers and it is easy to spot the snoozing elephant seals.
Although Point Reyes has some of the most beautiful beaches in California, all of them barring Drake's Beach, Limantour Beach and the Great Beach are only accessible by hiking trails or boats. Dogs are only allowed on very few beaches and no trails except the Kehoe beach trail which leads to its namesake dog friendly beach. Point Reyes provides excellent coastal hikes, whale watching at Chimney Rock and kayaking on the Tomales Bay.
There are plenty of things to do in Point Reyes, and my detailed Point Reyes guide tells you how to plan a weekend there. Beside the beaches, the seafood (especially the oysters) and cheese here is phenomenal (this is the dairy and oyster source of the Bay Area). Remember to stop by Cowgirl Cantina at Point Reyes Station and my favorite Tony's Seafood Restaurant in Marshall.
STAY: Cottages at Point Reyes Seashore (dog friendly) , Nick's Cove (dog friendly), Olema house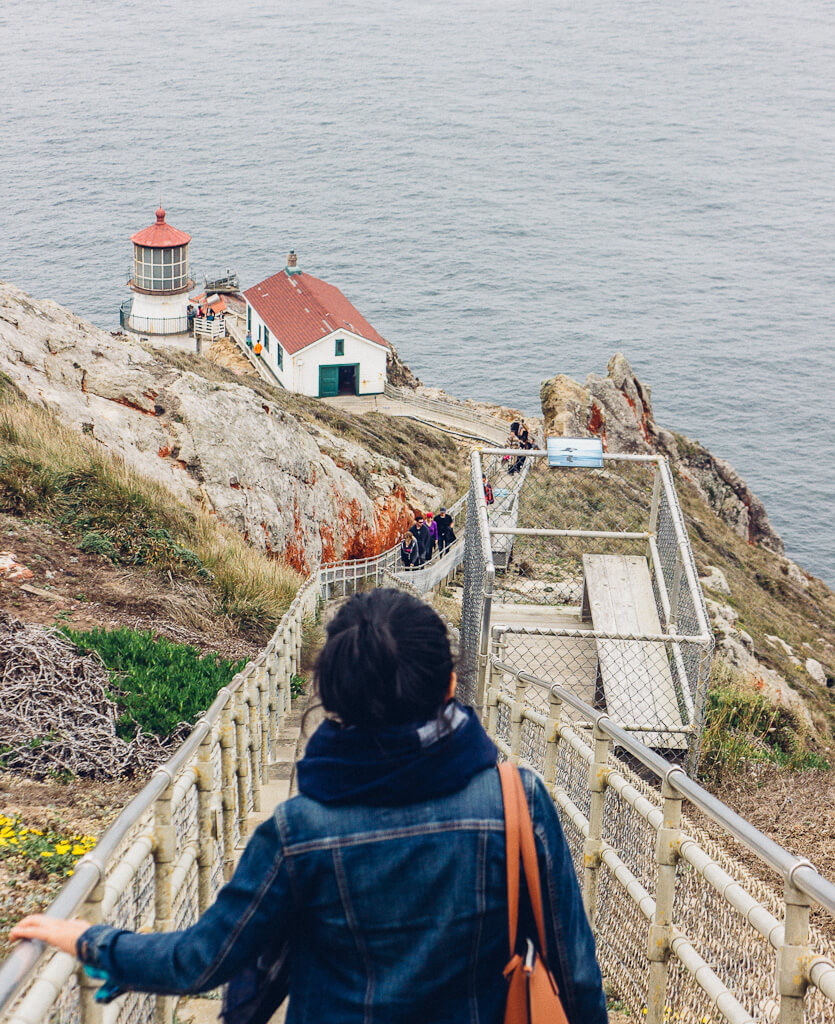 Point Reyes Lighthouse (climb down a gazellion steps to get there)
BOLINAS (MARIN COUNTY)
Let's face it-beach towns are often crowded as heck with those coveted sandy patches packed with people like sardines in a can! So if you're looking for some tranquil, secluded beach time and are in no mood to drive all the way up north to Shelter Cove, your best bet is then visiting the tiny beach town of Bolinas in West Marin.
Separated from Stinson beach via the Bolinas Lagoon (a wetland perfect for bird watching), Bolinas boasts of not one, but two serene beaches and both are dog friendly. First, is the Bolinas beach which is a favorite amongst locals (so much so that they removed the sign leading to it from Highway 1).
The second is Agate beach on the other end of town which requires a flight of steps to get down to. When in Bolinas, remember to be respectful of your time at the beach and do stop by BoVida or Coast Cafe for lunch or a quick bite.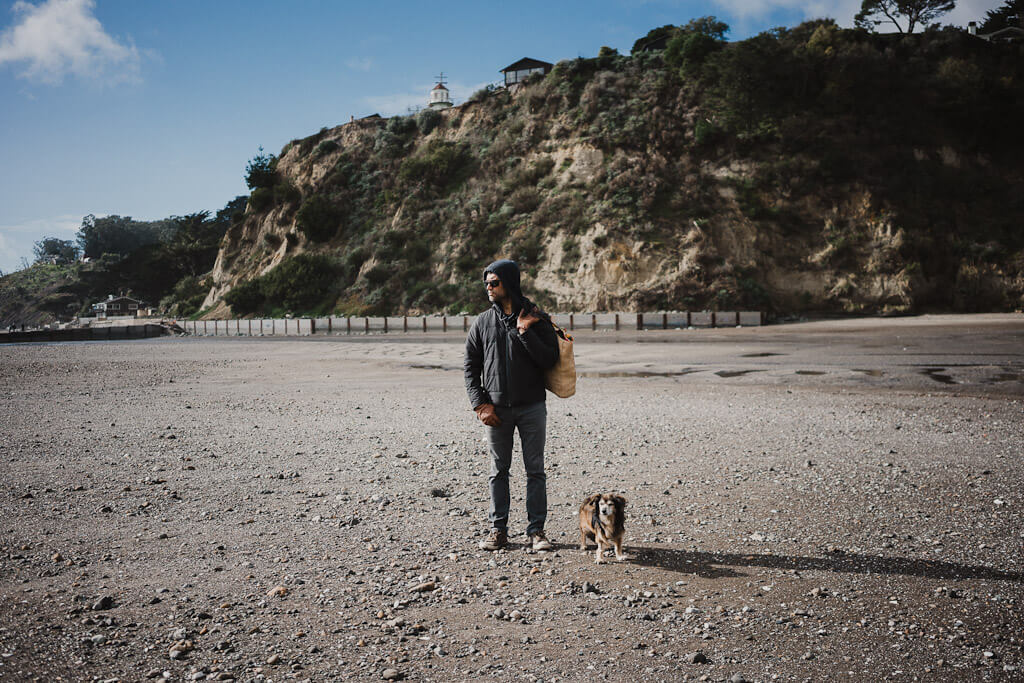 The secluded Bolinas Beach with nary a person in sight
SAUSALITO (MARIN COUNTY)
Sausalito is the unbelievably charming artsy town in Marin county just north of San Francisco with a nice little downtown filled with stores, galleries and amazing restaurants (I recommend Bar Bocce, Sushi Ran and Scoma), some of the best hiking trails with gorgeous views of the coast, fantastic beaches (including a secret black sand beach) and some of the best viewpoints to see the Golden Gate Bridge along Conzelman road.
You can take the ferry from San Francisco to visit Sausalito, but you will have to drive to access the beaches and trailheads. Point Bonita Lighthouse, the last manned lighthouse in California, is a must visit and can be accessed via car or by hiking down from Rodeo beach (dog friendly). A must visit stop on a west coast road trip with dogs or even as a day trip from Sacramento, Sausalito represents the best of Northern California's prized natural beauty!
STAY: Casa Madrona Hotel & Spa, The Inn Above Tide, Hotel Sausalito, The Gables Inn Sausalito
Sausalito Black Sand Beach
SAN FRANCISCO (SAN FRANCISCO COUNTY)
San Francisco has been my home for 11 years and counting and although I have a gazillion posts on this city, I recommend you start with my resident's guide to SF to get the lay of the land. Although San Francisco is known for its many touristy attractions and beautiful neighborhoods, the lesser known fact is that we do have over half a dozen stellar beaches and almost all of them are dog friendly. Plus several of them have nearby dog friendly parks as well!
If you're visiting San Francisco for a few days and do want to hit up one of our beaches (warning: they are cold and windy), I recommend the dog friendly Ocean beach (with Sutro Bath house and Land's End next to it that has one of the best scenic hiking trails along the coast) or Baker Beach (dog friendly) and Marshall Beach (the latter can be reached only via the Batteries to Bluffs trail) or even Crissy field with a terrific view of the Golden Gate Bridge. You can also read my post on two hidden beaches in San Francisco for a tranquil sunset, one of which is nearby a hidden gem in the city!
STAY: Hotel Nikko (dog friendly), White Swan Inn, Kimpton Alton Hotel (dog friendly), Lodge at the Presidio and MANY OTHERS

Our favorite Baker beach in the Presidio with Babu and his bestie Tucker
PACIFICA (SAN MATEO COUNTY)
This sleepy beach town south of San Francisco is right off Highway 1 and is definitely worth checking out on your way from San Francisco to Carmel. Seriously, there are plenty of beaches to choose from- Esplanade beach, Pacifica State Beach, Pacifica Beach View Park, Rockaway Beach, San Pedro beach and Gray Whale Cove Beach (between Pacifica and Montara), to name a few. I highly recommend either Pacifica State Beach (say hi to the surfers and playful pups on the sand) or Gray Whale Cove Beach as your stops.
For avid hikers, Pacifica also offers plenty of coastal trails along the bluffs for dramatic views of the ocean, coastline and beaches. My personal favorite is the Mori Point Loop Trail for its ease and views (it is also one of the most scenic dog friendly hikes in the Bay Area), but you can also get on the Devil's Slide trail (paved trail which used to be a part of Highway 1) or the Pedro Point Headlands trail. See all the Pacifica hiking trails right here.
STAY: Pacifica Lighthouse Hotel, Seabreeze Motel, Inn at Rockaway
Hiking the Mori Point Loop Trail and stopping to take in the gorgeous view
HALF MOON BAY (SAN MATEO COUNTY)
Half Moon Bay lies south of Pacifica and is a really popular beach town with some of the best seafood restaurants for picnicking at the beach. The world famous Mavericks beach (where surfers compete annually at the Big Wave competition) is here but it is a bit off route from Highway 1.
Your best bet is to stick to beaches right off Highway 1, such as Redondo Beach, Pillar Point Beach, Poplar Beach, Mirada Surf Beach, Dunes beach, Roosevelt beach, Surfer's Beach and Miramar Beach. My favorite? Pillar Point Beach – it is right next to the harbor and Sam's Chowder House.
Besides the beaches, Half Moon Bay has one of the most beautiful dog friendly hikes that meanders along the coast, i.e. paved Half Moon Bay Coastal trail off Poplar Beach parking lot that runs all the way from HMB golf course in the south to Pillar Point Harbor in the north. You can read our dog friendly Half Moon Bay adventure right here to plan your trip.
STAY: The Ritz Carlton at Half Moon Bay (if you're feeling real fancy), Half Moon Bay Inn (dog friendly, we stayed here:-))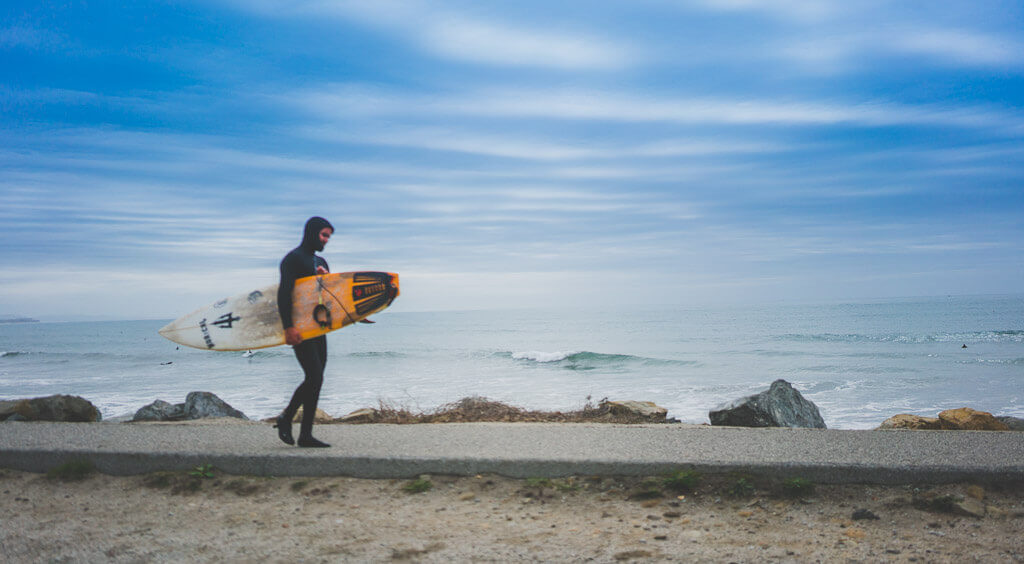 Surfers are a common sight in Half Moon Bay
PESCADERO (SAN MATEO COUNTY)
This tiny Northern California beach town south of Half Moon Bay is popular for its many beaches right off Highway 1/Cabrillo Highway. Stop by Pescadero state beach, Bean Hollow State Beach and Pistachio Beach, all easily accessible from Highway 1 (also known as Cabrillo Highway along this section of the coast). Further south, lie Gazos Creek State Beach, Año Nuevo State Park and Waddell Beach.
The other major attraction in Pescadero is the Pigeon Point Lighthouse that is open from Thursday-Monday, 10AM-4PM. You have to get on to Pigeon Point Road that shoots off Highway 1 to get here. The Lighthouse grounds has a hostel for overnight stay (book here). Although the lighthouse is currently closed for repair, you can still enter the grounds to view it. This is an excellent spot for whale watching during their winter migration (December-Feb). Dogs are not allowed on the grounds.
Once you've had your fill of the beaches, make a brief detour into downtown to gorge on the delicious tacos at Tacos at Mercado & Taqueria De Amigos located unassumingly in a convenience store. They have a patio seating area in case you're bringing your pup along.
STAY: Pigeon Point Lighthouse

Admiring the Pigeon Point Lighthouse (a great place for whale watching in winter)
DAVENPORT (SANTA CRUZ COUNTY)
Davenport is another blink-and-you-might miss it beach town on Highway 1 before you hit Santa Cruz, the more popular Northern California coastal town south of it. Many years ago when we visited Santa Cruz, we actually stayed in a beautiful cabin amidst the Redwoods in Bonny Doon, near Davenport and visited the very secluded and dog friendly Greyhound Rock beach (in Greyhound county park) off Cabrillo Highway.
Other notable beaches near the town of Davenport are these two- Davenport beach and Shark Fin Cove. Although Davenport beach is the easier one to get to (also dog friendly), Shark Fin Cove requires a pretty steep descent to get to the actual beach. I highly recommend going in town to get some baked goods from Whale City Bakery and hiking along the trail at Davenport Cliffs for scenic views.
STAY: Redwoods grove B&B in Bonny Doon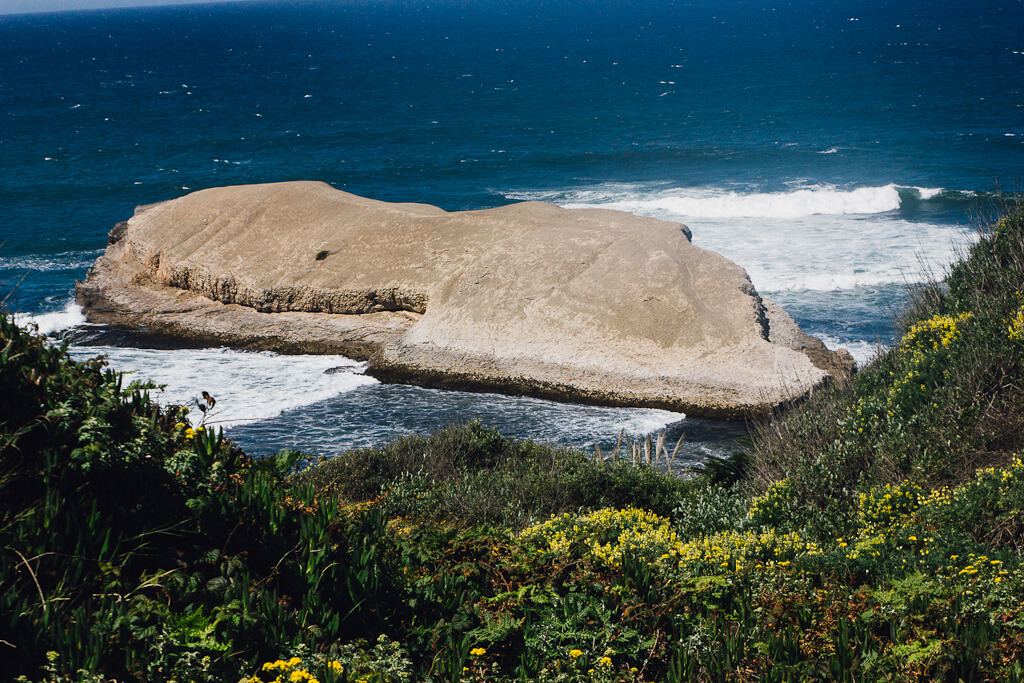 Greyhound Rock Beach
SANTA CRUZ (SANTA CRUZ COUNTY)
Santa Cruz is one of the most popular beach towns in Northern California and an absolute favorite of Bay Area folks who love this California winter getaway for its year round mild weather, the boardwalk, the many pristine beaches and of course, some heavy duty surfing!
Santa Cruz is the bona-fide surfing capital of Northern California but that is only of the many hats it wears. The natural diversity at Santa Cruz is simply unparalleled-white sand beaches to woo you, hikes through tranquil reserves and a Redwoods Grove to see some of the mightiest giants along the coast.
Although there are many beaches in and around Santa Cruz (see full list here), I recommend visiting Its Beach (aka Lighthouse field state beach) below the bluff on which the Lighthouse is perched or the unique Natural Bridges State Beach. During winter (Nov-Feb), Monarch butterflies flock to the grove next to Natural bridges for their wintering ritual.
Apart from its beautiful beaches, I recommend visiting the Henry Cowell Redwoods State Park-this dog friendly Redwoods State Park has tranquil hiking trails leading through groves of coastal Redwoods. This is a bit of a detour from Highway 1 and recommended if you stay for at least one day in Santa Cruz.
The other fun activity (great for families) is to hop onto the Roaring Camp train for the time of your life! The train has two routes-one that takes you through the Henry Cowell Redwoods State Park (one of the several dog friendly Redwoods in California) up to Bear mountain and the other being a coastal route from the Santa Cruz mountains to the beach boardwalk. Downtown Santa Cruz is also a fun place to explore with many beautiful murals, stores and restaurants.
Finally, no trip to Santa Cruz is complete without enjoying a meal at its many delicious cafes and restaurants. You can read my complete guide to Santa Cruz for some of the best hikes, views, beaches and other things to do on a weekend getaway.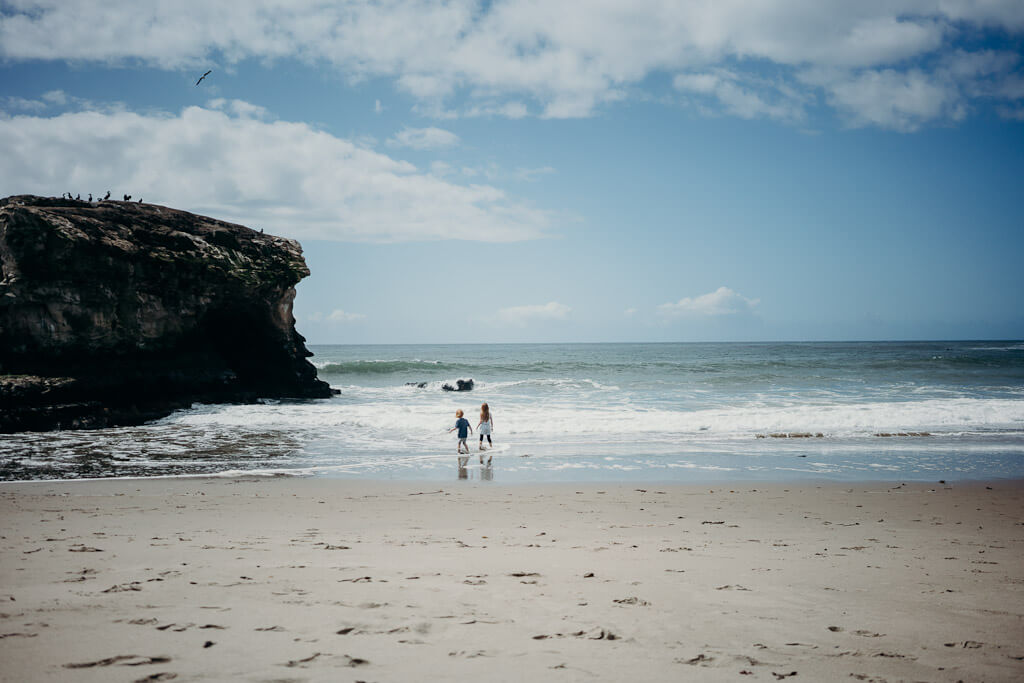 Natural Bridges State Park and Beach
CAPITOLA (SANTA CRUZ COUNTY)
This tiny beach town in Santa Cruz county lies just outside the city of Santa Cruz and is famous for the row of colorful homes, aptly titled "The Venetians" that line one end of Monterey Bay and form a pretty sight when viewed from the Capitola State Beach or the boardwalk (dogs are not allowed on the beach or boardwalk).
Capitola Wharf is a lively place with restaurants and stores showcasing local artists.I highly recommend checking two stores on Capitola Avenue: Lumen art gallery featuring eclectic, local California art and home decor as well the Ethos Santa Cruz shop dedicated to helping people move towards a zero waste lifestyle and less plastic usage.
STAY: Monarch Cove Inn, Capitola Venetian Hotel, Best Western Plus Capitola By-The-Sea Inns & Suites
Babu perched on a ledge across the Venetians in Capitola
MONTEREY (MONTEREY COUNTY)
Monterey county has four beach towns, of which the largest is essentially Monterey itself. Perched on the northern end of Monterey Peninsula, it's most famous (and popular and crowded and touristy) attraction is not the narrow strip of Del Monte Beach, but Cannery Row and Monterey Aquarium.
Cannery row used to be the sardine packing district, immortalized by novelist John Steinbeck in his books Cannery Row and Sweet Thursday. Monterey Aquarium is one of the largest public aquariums in USA and features a live kelp forest! The other activity that Monterey is really famous for is year round Whale watching and you can join any of the expert led boat tours (such as the Monterey Bay Whale Watch) that leaves from the Wharf to see these migratory mammals in action!
Other attractions in Monterey include San Carlos beach overlooking the Monterey harbor and the Old Fisherman's Wharf. Enjoy your time at Monterey at one of the many harbourfront restaurants serving the freshest of local catch and do stop by Parker-Lusseau bakery to sample their heavenly pastries!
STAY: Monterey Bay Inn, Hotel Abrego, Monterey Plaza Hotel & Spa, Victorian Inn, Intercontinental The Clement Monterey
Cannery Row, Monterey
PACIFIC GROVE (MONTEREY COUNTY)
Pacific Grove might not be as popular as Carmel or touristy as Monterey, but it sure has a lot going for it. This somewhat underrated gem boasts of several white sand beaches hugging the peninsula coast, of which Lover's Point Park and Asilomar beach are the more popular ones.
There is also a spectacular coastal trail, i.e. Ocean View Boulevard starting from Lover's Point that gets covered by a purple blanket of blooming ice plant flowers in late spring (you can check out the spectacular photos on my Pacific Grove guide).
Pacific Grove is also home to Point Pinos Lighthouse (one of the few remaining continually operated lighthouses in California) and another Monarch butterfly sanctuary that is best visited between November-February. When it comes to dining, I recommend making reservations at Passion Fish for some yummy seafood.
STAY: Sunset Inn, Gosby House Inn, Green Gables Inn, Andril Fireplace Cottages
Me grinning from ear to ear for having seen the magic purple carpet
CARMEL-BY-THE-SEA (MONTEREY COUNTY)
Carmel-by-the sea is one of my top favorite destinations on the central coast and the last stop on this road trip down Highway 1. It is dog friendly to boot and has a fairy tale like feel to it, which makes it a Northern California beach town like no other!
Carmel has the cutest downtown with lots of flower laden alleyways revealing beautiful stores and restaurants, a hidden garden which is part of a bookstore and the dog friendly Carmel beach, which is a short walk down Ocean Avenue. You can read all about my Carmel adventures in this post filled with excruciating detail based off my 10+ visits as well as this post on dog friendly hotels for all budgets in Carmel.
Beside downtown Carmel and beach, the 17 mile scenic drive between Carmel and Monterey as well as the Point Lobos State Natural Reserve (not dog friendly though) are two of the most amazing outdoor experiences that you can have on the central coast. Breathtaking views, beaches and snoozing sea lions as well as natural landmarks such as Lone Cypress will greet you on these journeys.
Carmel is the gateway to Big Sur, the magical portion of California's central coast that has been immortalized in prose and poetry. If you have time, please drive further down Highway 1 to Big Sur with my Big Sur post for all the best stops along the way. If visiting in Spring, stop by the Calla Lily valley near Garrapata State Park and enjoy the wildflowers blooming on the roadside as you drive down.
STAY: Cypress Inn, Green Lantern Inn, Briarwood Inn (I have stayed in all of these dog friendly hotels)

Babu and I enjoying a day at Carmel beach
SAN SIMEON (SAN LUIS OBISPO COUNTY)
Your epic road trip down Highway 1 through Big Sur will end at San Simeon, home to the famous Hearst Castle (the unfinished abode of California billionaire William Randolph Hearst) and Elephant Seal Rookery/Vista Point. Although it is 100% free to look at the snoozing seals from a fenced enclosure at a distance, the Hearst Castle is a wildly popular tourist attraction which is so huge that there are timed tickets for different parts of the castle!
Even if you stay clear of Hearst Castle, you can enjoy a glimpse of it from the nearby William Randolph Hearst Memorial beach. Dogs are not allowed at this beach; they are however welcome on leash at the adjacent San Simeon pier and cove (the pier is off limits though). There is a trail starting from the bluffs on the north end of the cove, which leads to San Simeon point that is at the very tip of the cove. We experienced the last sunset of 2016 here during our very first trip to the central coast.
The Hearst Memorial beach is part of the Hearst San Simeon State Park that consists of most of the coastal property stretching over 20 miles of of Highway 1 north of Cambria. This park has thirteen different beaches ranging from Santa Rosa Creek on Moonstone Drive in Cambria (south) to San Carpoforo Creek on the southern Big Sur Coast (north). Arroyo Laguna Beach, located between the Elephant Seal Rookery and the Hearst Memorial beach is also part of this State Park and is a popular kiteboarding and windsurfing spot.
STAY: Cavalier Oceanfront Resort, San Simeon Lodge, Ragged Point Inn & Resort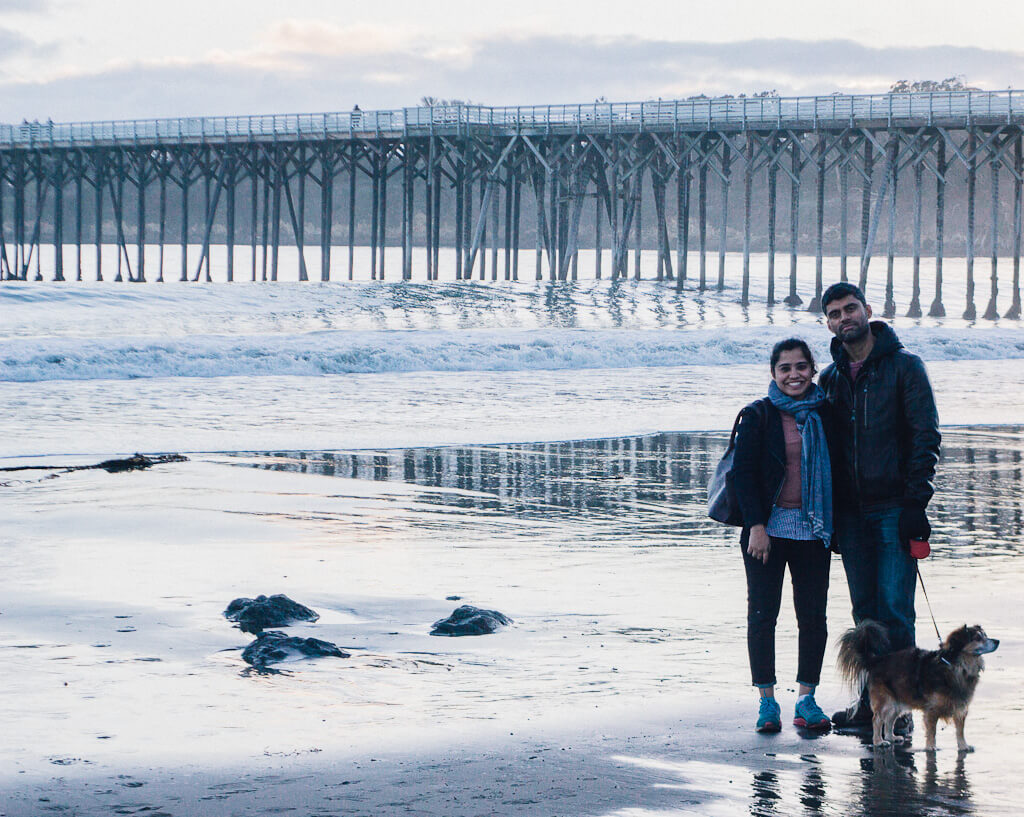 31 Dec, 2016 at San Simeon Cove
CAMBRIA (SAN LUIS OBISPO COUNTY)
Cambria is one of the cutest coastal towns on California's central coast and is located south of San Simeon. While there are many beautiful beaches in Cambria, my personal favorite is Moonstone Beach on Moonstone Beach Drive that runs parallel to Highway 1 in northern Cambria and offers breathtaking views as well as sightings of sunbathing sea lions. Dogs are only allowed on the boardwalk that runs atop the bluffs.
Beach talk aside, Cambria also has a charming downtown with lots of cute stores and restaurants on Main Street. I highly recommend lunch at Robin's restaurant, voted one of the best SoCal restaurants not in Los Angeles.
STAY: Creekside Inn, Cambria Beach Lodge, Sea Otter Inn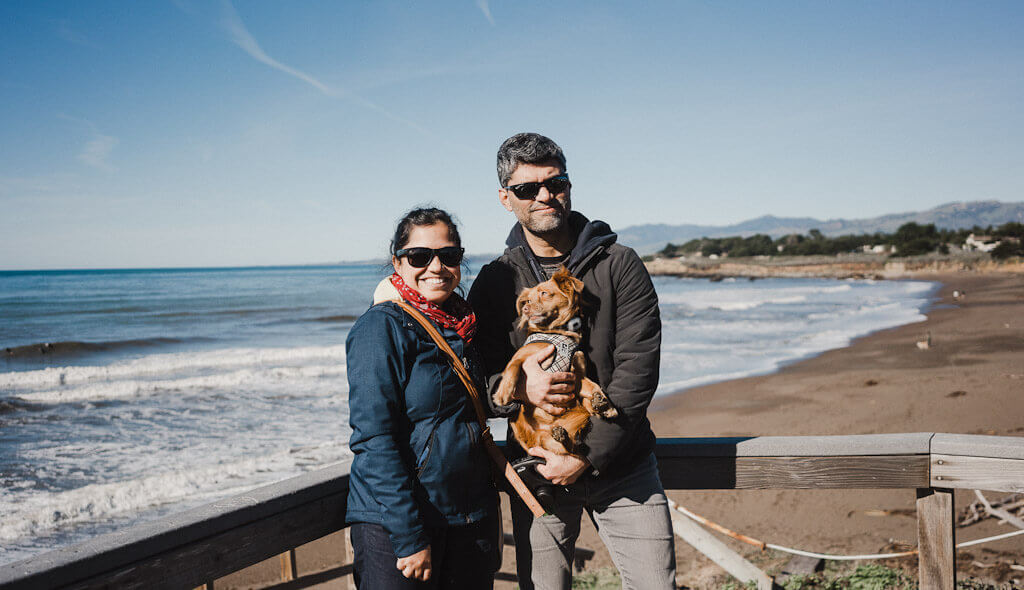 CAYUCOS (SAN LUIS OBISPO COUNTY)
Given that 2020 and even 2021 have been somewhat of a blur, I vividly remember our 2019 trip down the coast to Los Angeles with Babu, with a two night stay at Cayucos, a sleepy little Northern California beach town in SLO county that is relatively uncrowded with tourists.
We stayed in an Airbnb right across Cayucos state beach (dog friendly except the pier) and enjoyed some delicious breakfast at Cass Bakery which had a huge covered outdoor patio. The other place to enjoy al fresco dining is Cafe Luna which has a beautiful garden.
Besides the state beach, Cayucos shares another pebbly, rocky beach with Morro Bay to its south which is known as Torro Creek Dog Beach or Morro Bay dog beach. You can see leash free pups gamboling on the beach with the volcanic Morro rock jutting out of the water in the distance.
STAY: On The Beach B&B, Cayucos Beach Inn, Cayucos Shoreline Inn, Cayucos Sunset Inn B&B
Cayucos State Beach and pier
MORRO BAY (SAN LUIS OBISPO COUNTY)
Morro Bay is a one of the cheaper Northern California coastal towns in San Luis Obispo county. It is best known for the gigantic volcanic plug, aka "Morro Rock" rising out of the waters of the Pacific which is the star attraction of the Morro Bay beach front.
During our visit to San Luis Obispo and Paso Robles in December 2016 (we actually spent the last day of the year there), we simply walked down the dog friendly Embarcadero with Babu that overlooked the nine volcanic rocks ("nine sisters") jutting out from the water.
We also took a tiki boat ride with Babu to explore the Bay and stretched our feet on a sheltered patch of sand on one end. Of the nine sisters, Morro Rock is the tallest volcanic plug of all and is often referred to as the "Gibraltar of the Pacific.
Morro Rock beach, in the shadows of this gigantic plug, is dog friendly but dogs must be on leash at all times. North Point Beach is another dog friendly beach in Morro Bay which allows dogs on leash (although the SLO official website says it is leash-free, so you decide based on what the locals are doing). The other beach. There is also Morro Strand State Beach sandwiched between Morro Rock beach and North Point.
STAY: Anderson Inn, 456 Embarcadero Inn & Suites, Inn at Rose's Landing
Morro Bay Dog Beach with Babu
AVILA BEACH (SAN LUIS OBISPO COUNTY)
Avila Beach is a vibrant beach town in San Luis Obispo County and is home to some of the best beaches on California's central coast! For starters, you have two dog friendly beaches in Fisherman's beach (also known as "dog beach") and Olde Port Beach adjacent to the Hartford Pier. These lie to the west of the main Avila Beach and Pier, where dogs are allowed on leash but before 10 AM and after 5 PM. To the east lies Pirates Cove Beach and the hard to reach Cave Landing beach, which is part of Avila Sea Caves.
Avila Beach is a great spot on the central coast for whale watching throughout the year, especially in winter. The other attractions of this popular beach town are Central Coast Aquarium, Point San Luis Lighthouse (in person tours available every Saturday at 12 noon and 1 PM), exploring the Port San Luis Harbor and wine tasting, starting from the Avila Wine and Roasting Company and Alapay Cellar Tasting room near the beach.
For those interested in watersports such as rafting, paddleboarding, kayaking and even fishing, there are plenty of rental agencies in Avila beach to rent out boats/rafts and other gear. You can check them all out here.
STAY: Avila Village Inn, Avila La Fonda Inn, San Luis Bay Inn, Avila Lighthouse Suites
Avila Beach Pier
PISMO BEACH (SAN LUIS OBISPO COUNTY)
Pismo Beach lies south of Avila Beach in SLO county and is a very popular beach town that people flock to for its bustling pier, lots of scenic hikes and of course plenty of good food and wine in neighboring Edna Valley (another premier wine tasting destination like the more inland Paso Robles).
The namesake beach of this town can be accessed easily from downtown which is a great place for shopping and dining. Pismo beach plaza does get really noisy during the day and evening, so be mindful of that when visiting. Beside the beach, hiking at Pismo Preserve and Dinosaur Caves Park (with a scenic coastal trail) were the other highlights of our trip to Pismo beach with our pup Gunda.
A somewhat hidden attraction of Pismo beach happens to be a large stretch of gigantic coastal dunes that is somewhat away from downtown Pismo. I am talking about that section of the Oceano dunes SVRA (also known as Pismo Sand dunes) that is non-vehicular (dogs are not allowed in this part but are welcome in the SVRA section) which you have to get to via an RV park (this article tells you how).
Once you enter the dunes area, you will feel like you've somehow been transported into the Sahara or Thar desert with miles and miles of sand dunes greeting you silently. I recommend visiting in the evening to enjoy a desert sunset! Dress in layers as it can get pretty cold when the sun sets.
STAY: Cottage Inn by the Sea (we stayed here), Petit Soleil

Pismo Pier Plaza with Gunda
I hope you enjoyed reading this thorough guide on the best Northern California beach towns to visit and the dog friendly tips for your travels with your pup in town. Northern California coastal towns are charming, diverse and good to visit year round, so please remember to check them out on your next road trip in my beautiful state. Thanks so much for stopping by and safe travels!
LIKE THIS POST? PIN IT FOR LATER

«