Last Updated on November 16, 2022 by Paroma
There are many wonderful things to do in Pacific Grove in California's Monterey peninsula and with this post, you'll be unearthing all those cool attractions for your trip! This quiet California town on the central coast is filled with some of the best activities for a fun weekend getaway. So keep on reading if you're curious about what to do in Pacific Grove on your first visit.
Disclaimer: This post may contain some affiliate links. Clicking on them may earn me a small commission at no extra cost to you for the product. Thank you for supporting free content on this site!
VISITING PACIFIC GROVE ON CALIFORNIA'S CENTRAL COAST
Pacific Grove is a quiet Northern California coastal town nestled on one end of the Monterey peninsula on California's central coast. Often overlooked for the more touristy (and, more popular) Monterey and the uber romantic city of Carmel (one of the most dog friendly towns in California), this town has plenty to keep you engaged for a fun weekend getaway from San Francisco!
With an envious shoreline dotted with beaches, great seafood, a charming downtown and some unique attractions (scroll down to find more), this is a must visit town in Monterey county and a perfect weekend getaway to escape the chaos of San Francisco.
Pacific Grove lies to the south of San Francisco on the coast and is one of the best stops along Highway 1 on a road trip from San Francisco to Carmel. For those wondering about the logistics of travel, it takes about 1.5-2 hours to get here from San Francisco by car. You can take the longer, yet more scenic coastal Route 1 (Highway 1/Cabrillo Highway) all the way down here or the faster inland route 101 with a wine tasting detour in Carmel Valley.
If you're flying in from out of state, your best bet is to rent a car from either the SFO (San Francisco International), OAK (Oakland International) or San Jose International (SJC) airports and start driving southwards.
Spring and Summer are great for visiting Pacific Grove, although be prepared to get the famous coastal fog that pretty much creeps in all times of the year in Northern California and upper central coast. Fall is definitely the driest and warmest time while Winter is the wettest/rainiest month.
I personally recommend going in Spring, especially April-May to see the "Purple Magic Carpet" aka the magenta ice plant (drosanthemum floribundum) in full bloom along the coast, which is a spectacle like no other (hopefully my photos will have convinced you enough).
Explore other Central Coast posts right here:
THINGS TO DO IN PACIFIC GROVE, CALIFORNIA
Now that we have the travel logistics sorted out, let's move on to the business of all the fun things to do in this charming coastal town in Monterey county. I've been here many times to attend a conference (the Asilomar conference grounds are located here) and have had the opportunity to explore this town quite a bit!
1. OCEAN VIEW BOULEVARD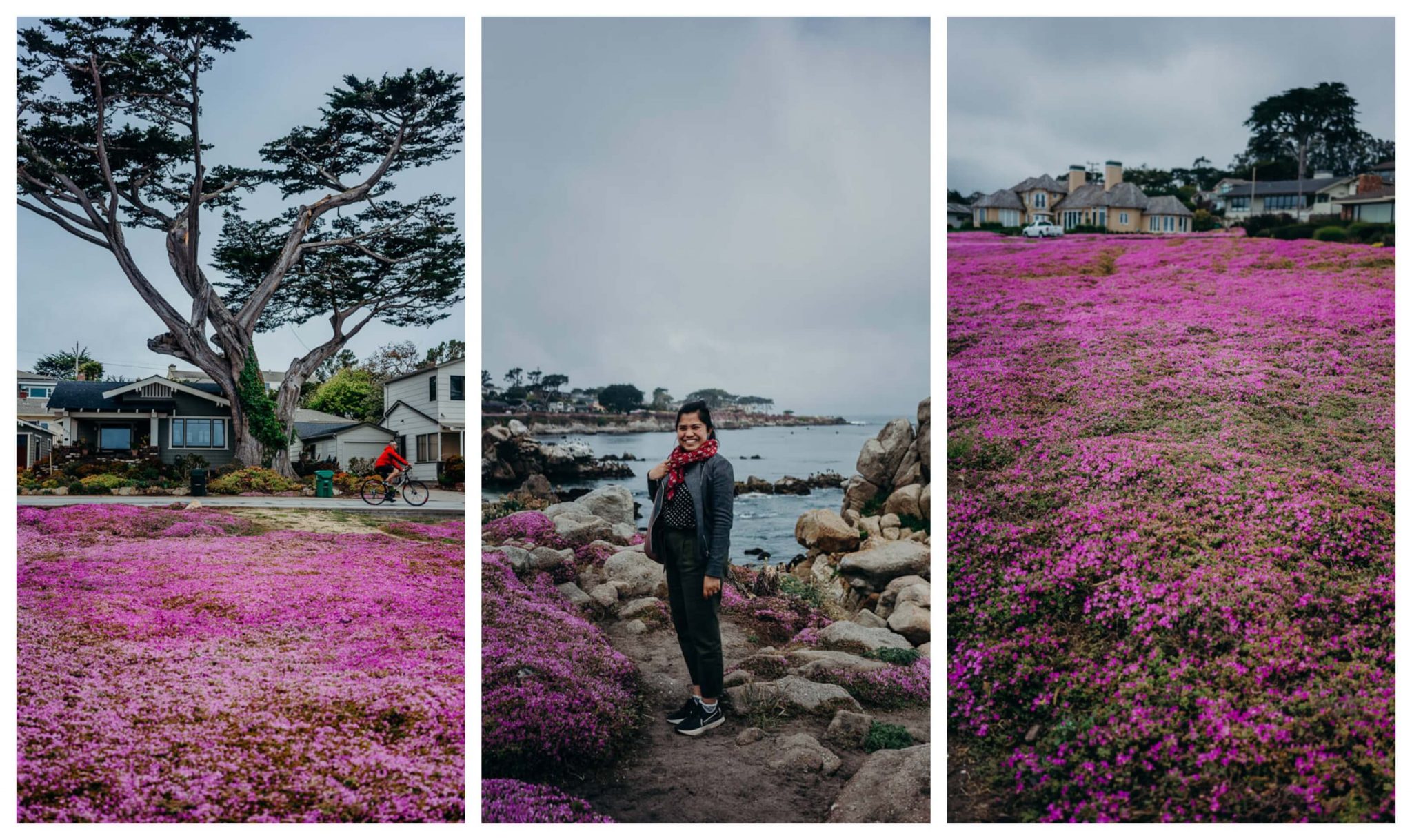 The best thing about Pacific Grove is undoubtedly its looooooong shoreline and the best way to take in those coastal views is by walking along the paved walkway hugging the coast, aka the Ocean View Boulevard. Start off from Lovers Point State Park and make your way past surfers, kayakers and divers towards the Asilomar Beach for a nice workout, aka a 3 mile walk. On your way, you'll be passing by several beaches (accessible via steps leading down), the Perkins Park beachfront and the kissing rock formation.
If you visit in Spring (April-May), you'll encounter the magenta ice plants blooming in full force along the coast. Originally planted to prevent soil erosion, these tiny flowers envelop the coast in a velvety purple blanket, which is simply mesmerizing to behold!
2. BEACHES
California's central coast has no dearth of beaches and Pacific Grove has some of the best ones. Beside the Asilomar State beach (one of the many dog friendly beaches in California), you'll encounter several other big and small beaches as you walk down Ocean View Blvd, such as Lovers Point State Park beach and Perkins park which has a beachfront.
There are free guided tours offered for Asilomar state beach and conference grounds (courtesy of the State Park services) which are currently suspended due to the ongoing health crisis of 2020-2021.
Asilomar State beach is a mile of sandy strip popular with surfers and has a quiet, paved walking/hiking trail (Asilomar coastal trail) meandering along one side. As you relax on the beach or hike along the trail, keep an eye out for rambunctious seagulls and chubby squirrels (this part of the coast seems to have a large number of them running around on the sand and bluffs) that may become your impromptu hiking buddies:-)
Asilomar is also a good spot to bring your binoculars for whale watching on the central coast where all kinds of whales can be spotted in the nutrient rich waters of the bay throughout the year.
3. POINT PINOS LIGHTHOUSE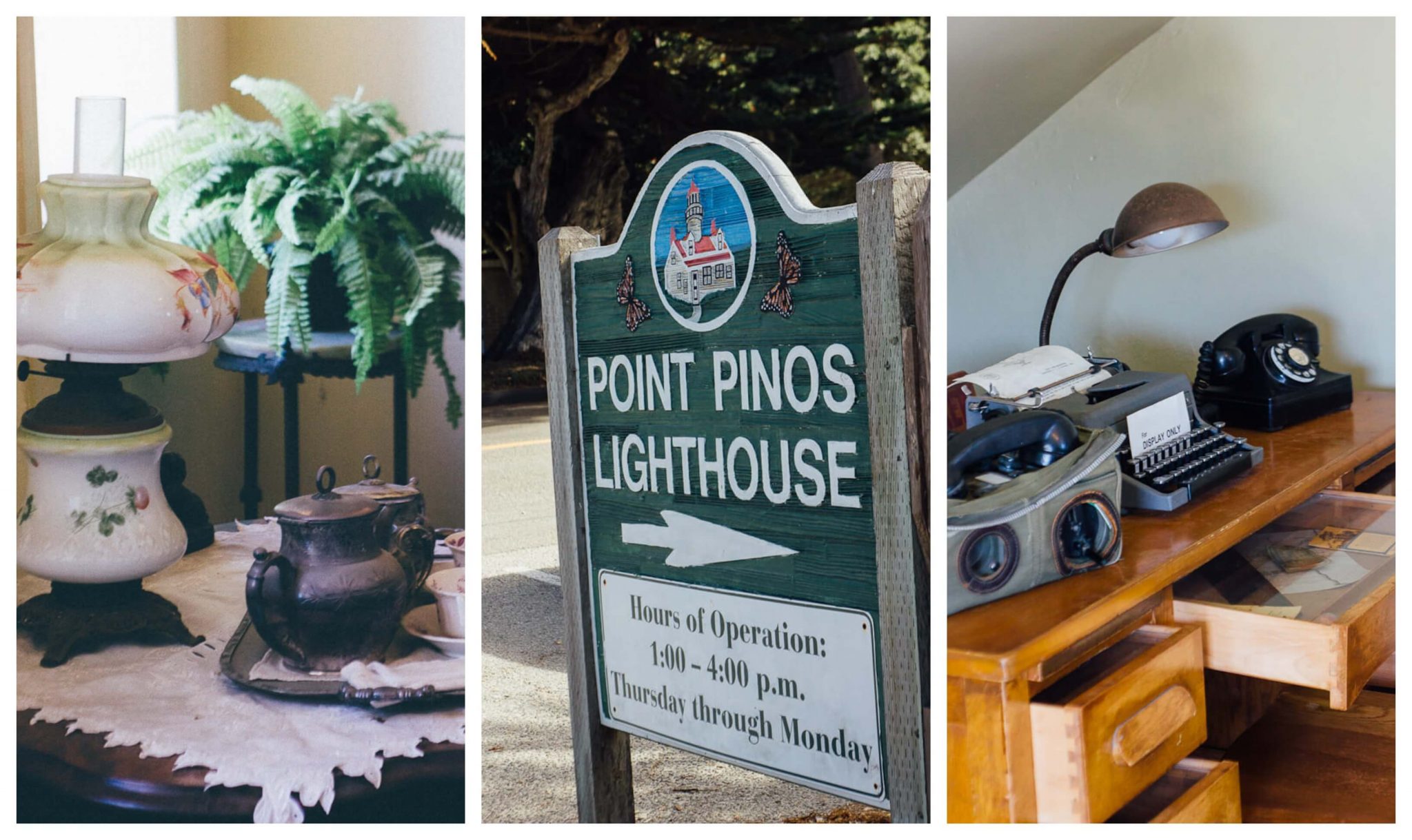 A lighthouse nerd like me can hunt one down, no matter how hidden it may be and this is definitely one of those much lesser known attractions in Pacific Grove, despite the main street running through downtown and many other services (and lodgings) sharing the moniker. Point Pinos Lighthouse stands quietly on the northern edge of Monterey Peninsula, overlooking the coast and is the oldest continuously operated lighthouses on the west coast with its original third order fresnel lens still intact!
Built in 1855, the lighthouse aided in guiding ships on the Pacific coast and continues to be an active United States Coast Guard aid to navigation. The lighthouse is currently home to an onsite museum and is owned and operated by the city of Pacific Grove. I was lucky enough to visit during pre-Covid times to explore the museum showcasing the former lightkeepers' room and belongings on the upper level. The actual lighthouse is temporarily closed due to the health crisis but the gates leading toe grounds are open 1-4 pm (Thu-Monday).
4. MONARCH BUTTERFLY SANCTUARY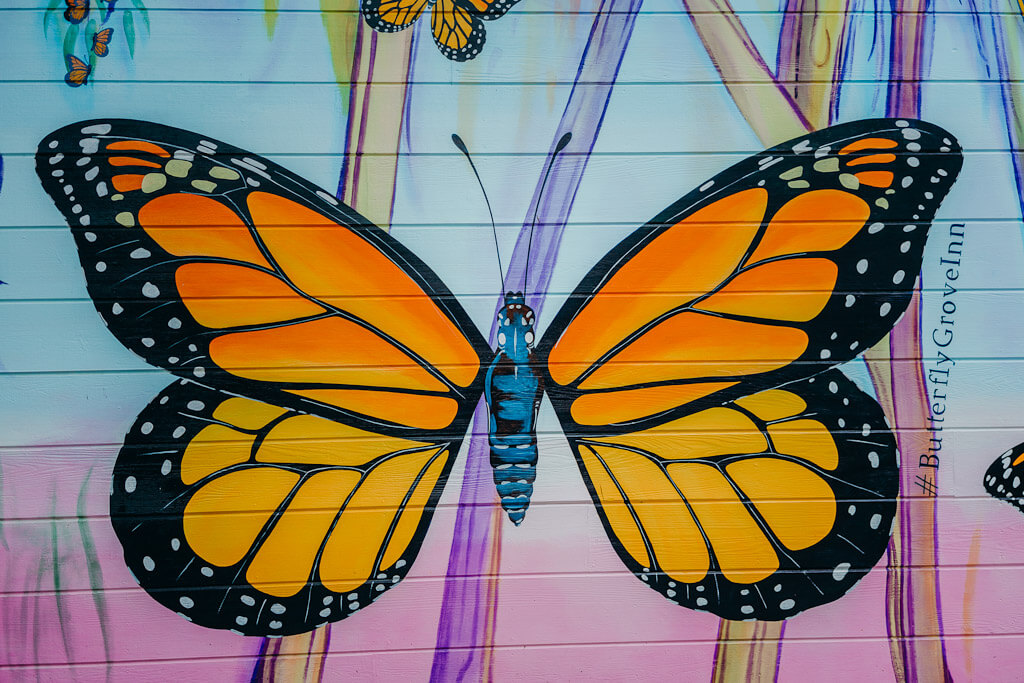 Nothing will delight nature lovers more than an afternoon at the Monarch Butterfly Sanctuary, a quiet grove of pine, cypress and eucalyptus trees providing a safe sanctuary to the endangered monarch butterflies during their migration every winter from Nov-Feb.
Pacific Grove is known as the "Butterfly City of USA" for being the chosen winter home of these beauties but there are two other such groves along the central coast are at Natural Bridges State Beach in Santa Cruz and Pismo Beach. If you're visiting California in December, do stop by one of these conservation stops to catch a glimpse of these beautiful creatures huddling on the tree tops.
The butterflies cluster on this trees (a process called "overwintering") for protection from the elements in winter and fly away to feed on nectar during the warmth of the day, only to return in the evening to cluster again. This cycle continues till Spring after which they join the western migration towards the Sierras and Central Valley.
The butterfly sanctuary comprises of a paved path dotted with information plaques that takes you through the grove. If visiting during the winter months to see the butterflies, please be very careful so as not to disturb them (molesting butterflies is VILE and you will also be slapped a heavy fine).
Visitors are urged to learn more about the butterflies at the natural history museum in downtown. Due to the ongoing health crisis, docent led tours are suspended in the sanctuary, but here is an audio tour to guide you. For obvious reasons, dogs are not allowed in this sanctuary. There is no entry fee to visit the sanctuary.
5. DOWNTOWN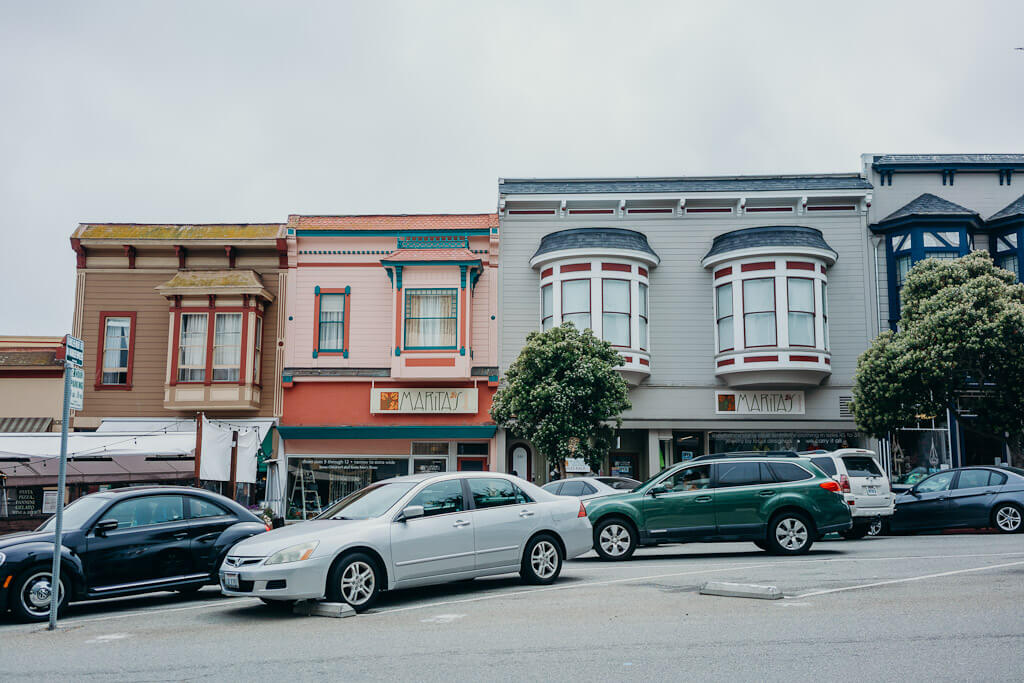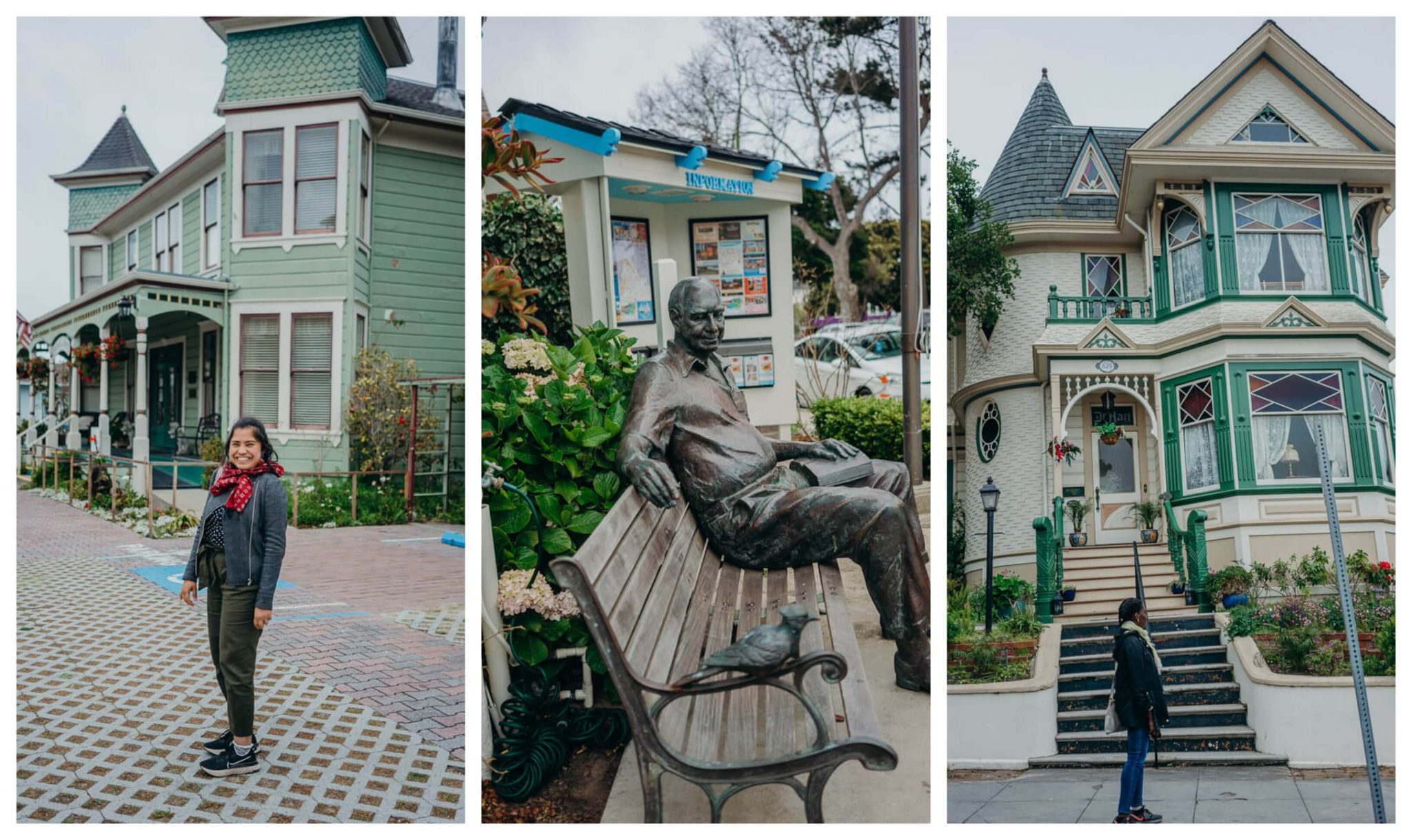 One of the best things to do in Pacific Grove is strolling through its charming downtown filled with ornate Victorian buildings, boutique stores selling local artisan products and a whopping 16 galleries and antique stores. Walk down the main street aka Lighthouse Avenue to admire the Gosby House, Centrella Inn painted in all shades of green, colorful storefronts and the tiny yet delightful Pacific Grove Art Center showcasing local artists.
6. MUSEUM OF NATURAL HISTORY
Museum of Natural History in downtown Pacific Grove is definitely a must visit for all the curious souls out there. There is a an arresting whale sculpture right outside the museum that sets the mood since California's central coast is a perennial whale watching destination. The museum (currently open with all safety precautions from Fri-Mon, 10AM-4PM) opened up in 1883 and showcases the mind-boggling marine and biodiversity of the central coast.
The museum has an impressive selection of permanent exhibits such as the Monarch Gallery, Adaptation of birds, Geology, Biodiversity, Pacific Grove's Chinese Fishing village, Native Central Coast Baskets and also a native plant garden. The museum is a great place to visit to learn about the central coast's flora and fauna and even better to inculcate curiosity in your kids! Here is the latest information on ticket prices, parking and other things to help you plan your visit.
7. PACIFIC GROVE RESTAURANTS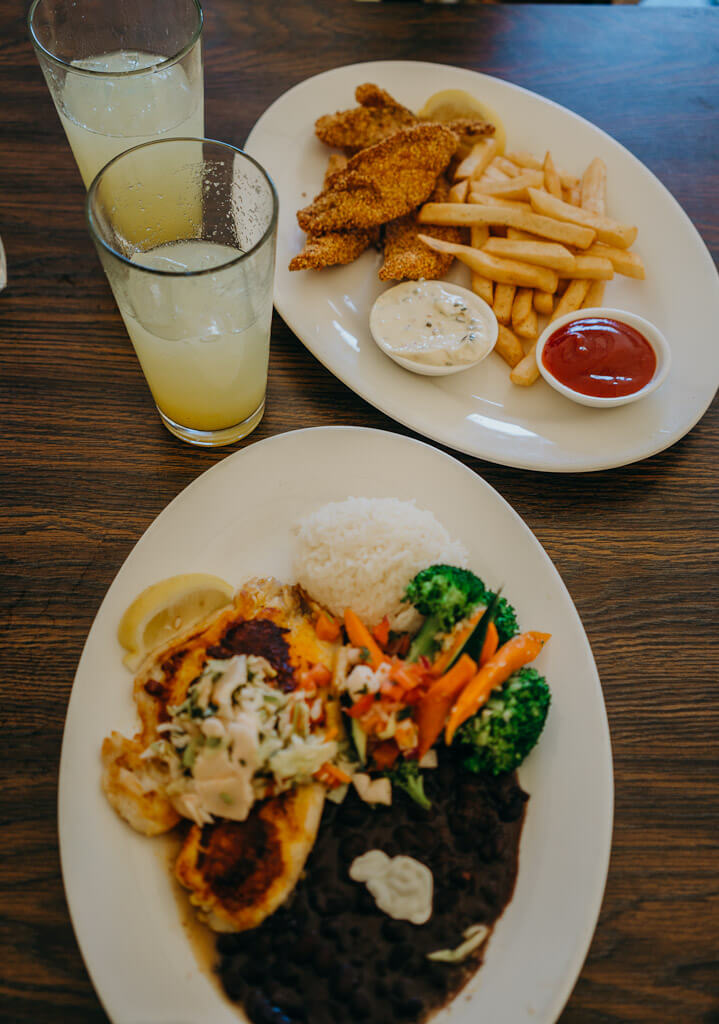 Although Carmel and Monterey steal the limelight when it comes to restaurants, there are some really delicious spots to check out in Pacific Grove too. Infact, gorging on some of the freshest catch (fish/scallops/mussels/prawns) in FishWife or the popular PassionFish is one of the most fun things to do in Pacific Grove! They have both indoor and outdoor seating if you're still not comfortable dining indoors or are traveling with your dog.
For baked goods and sweet cravings, Pacific Grove has you covered with several bakeries such as Pavel's Backerei, the French cafe Patisserie Bechler and Fournier's Bakery Cafe for their yummy marionberry pastries!
8. 17 MILE DRIVE


Monterey peninsula is home to one of the most scenic drives on California Coast-i.e. the iconic 17 mile drive that loops between Monterey and Carmel, passing by famous landmarks, beaches, vista points and the Pebble beach golf course.
Although there are several entry points to it (gates in Monterey and Carmel), there is also an entrance gate at Pacific Grove (2790 17 Mile Dr, Pebble Beach) to get going on this scenic loop. The entrance fee is $10.75/vehicle but bicyclists get in free through the Pacific Grove Gate.
I've done this loop many times and I can keep gushing about how wonderful the views are at the different stops! It will take you about 2-3 hours to cover all the main stops such as Lone Cypress, Fanshell Beach, Crocker Grove, Bird Rock and Restless Sea at Point Joe's and you can get a bite to eat at either Carmel or Monterey or at one of the Pebble Beach Resort restaurants. Spring and Fall are definitely best times to go (quieter with lesser crowds). Several stops are dog friendly along this loop, so bring your pup along!
PACIFIC GROVE HOTELS AND LODGING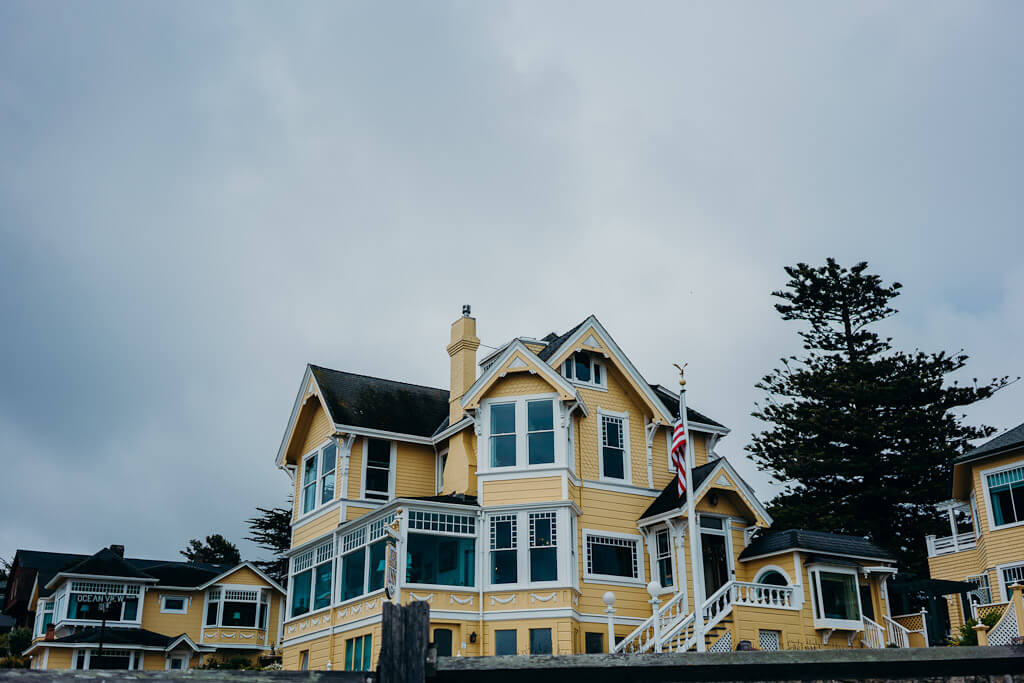 This small coastal town has plenty of options for all budgets when it comes to lodging. I recommend the following:
BONUS IDEAS FOR THINGS TO DO AROUND PACIFIC GROVE, CALIFORNIA
If you're visiting for two nights or more, do make some time to venture out of Pacific Grove to explore the other offerings of Monterey peninsula. These are all within 10-30 minutes of driving distance from Pacific Grove and major attractions can easily be covered in a day. Here are some ideas to plump up your Pacific Grove guide:
SAND CITY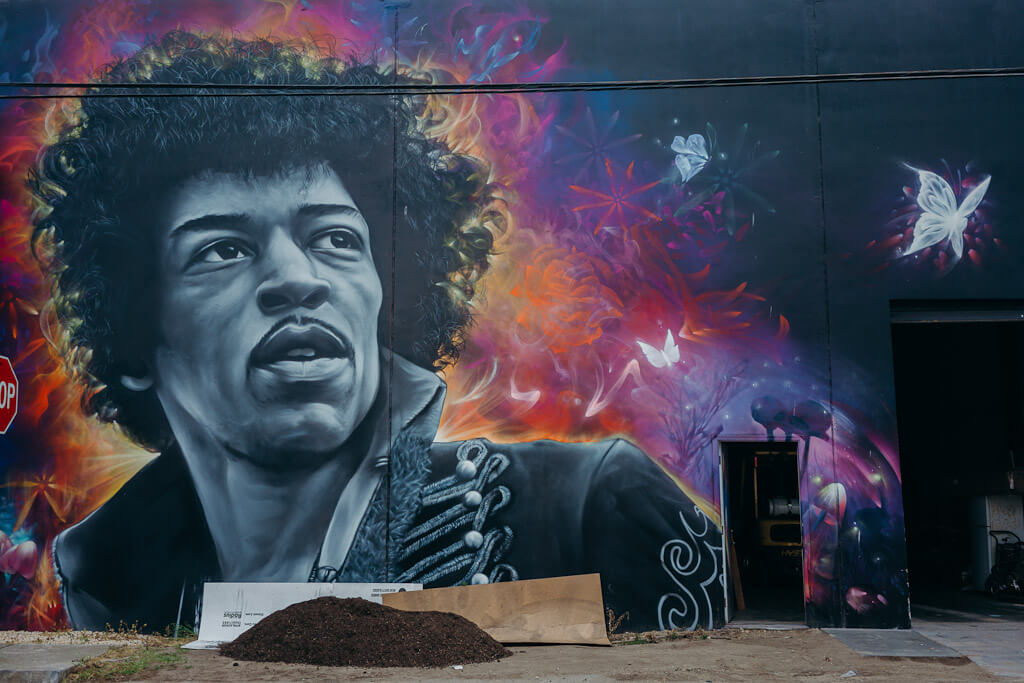 This blink and you'll miss it industrial town may seem totally worth driving by, but that will be a huge mistake cause then you'll be missing out on a treasure trove of murals. Much like Sacramento and Bushwick (NY), Sand City has a lot of open spaces and storefronts that have gotten quite a bit of facelift from local artists. They also have a mural festival in August for those interested (2021 dates: 23-28 Aug).
MONTEREY
Monterey is the largest town in the peninsula and frankly, it has always been a bit too crowded and touristy for my liking. But hey, no judgements here if you want to venture out to this vibrant coastal town in the peninsula that attracts curious crowds to its world famous aquarium, the colorful and extremely busy Cannery Row and some year round whale watching at Moss landing and Elkhorn Slough.
CARMEL
Carmel-by-the-sea is hands down the prettiest town on the central coast and looks straight out of a fairytale with its cobbled lanes, flower laden alleys, hidden garden and Tudor style homes. It is also an extremely dog friendly town with many dog friendly hotels for all budgets to pamper your pup.
I have been to Carmel a whopping 10 times and can vouch for how amazing a getaway it is! Beside numerous art galleries, terrific food and wine tasting in downtown Carmel, do venture out to Carmel beach, Carmel Mission and Point Lobos State Natural Reserve for unforgettable views of the coast.
BIG SUR
Can any central coast post be complete without at least a mention of Big Sur? I think not and for good reason-this dreamiest road trip along the Pacific Coast Highway (hugging the ocean) is as sublime as Rumi's couplets. Starting right from south of Carmel all the way to San Simeon, driving down this 90 miles of central coast is an unforgettable experience of a lifetime!

If you're visiting Pacific Grove for the weekend and have some extra time, I suggest driving partially down Big Sur, especially in Spring. A mere 30 min drive south will take you to Garrapata state park and beach, the adjacent Calla lily valley (in full bloom in March) and the Bixby Bridge, the second most photographed bridge in California.

Aaaad, that is a wrap! I hope you enjoyed reading this guide on some of the best things to do in Pacific Grove, California! Thanks so much for stopping by and please follow my California adventures right here.

Like this post? Pin it for later!

«