Last Updated on August 29, 2022 by Paroma
Looking for the best dog friendly restaurants in Santa Cruz, California? Look no further than this massive mouth watering list of the best outdoor restaurants in this popular beach town welcoming dogs on their patio. From breakfast to dinner, this dog friendly guide to Santa Cruz restaurants has you covered when it comes to dining out with your dog in Santa Cruz.

A guide to the best dog friendly restaurants in Santa Cruz
Santa Cruz , the tiny seaside town 1.5 hours south of San Francisco is one of the best small towns in Northern California to visit with your dog. Beside the beaches and hikes in this Northern California coastal town, it is also great place to dine out with your pup, since there are plenty of dog friendly restaurants, cafes and bistros with outdoor seating that welcome your pet. Most dog friendly restaurants in Santa Cruz even have bowls of water placed outside for the thirsty fur babies.
We were incredibly spoilt for choice during our multiple trips there where we found some of the best places to dine in Santa Cruz with our dog. The variety of cuisine offered at these restaurants was as diverse as possible and the quality of service was topnotch. So without further ado, here is the highly recommended, tried and tested list of all the pet friendly restaurants in Santa Cruz, aka one of the best winter destinations in California.
Dog friendly restaurants in Santa Cruz: Alderwood
Alderwood is a chic Californian-American bistro serving fresh, local fare in airy settings. Their menu reflects the bounty of the coast (think oysters, lobsters and a killer crab sandwich) but also has some good vegetarian options. They have outdoor seating and are dog friendly. It is honestly one of my favorite restaurants in Santa Cruz.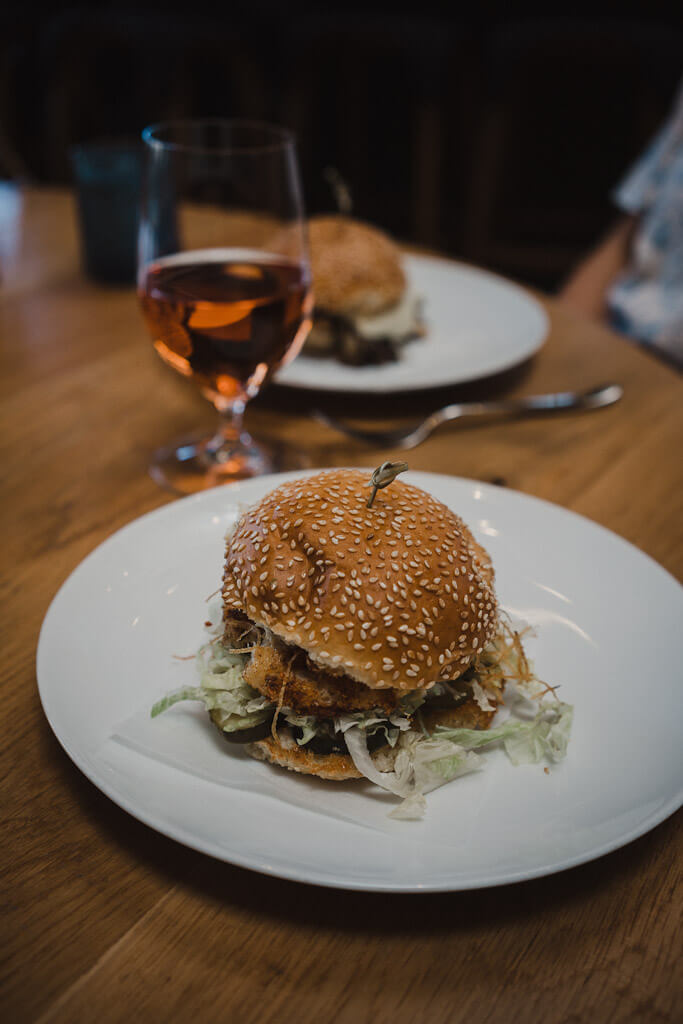 Dog friendly Ice cream shop in downtown Santa Cruz: Penny's Ice Creamery
No trip to downtown Santa Cruz is complete without stopping by Penny's Ice Creamery, the city's only ice-cream spot that boasts of making everything from scratch! It is also dog-friendly and has a small outdoor seating place.
This is a very popular place so be prepared to stand in line for their ice creams, with a roasted marshmallow on top as an added twist! The ice-cream shop is on Cedar Avenue but they also have a kiosk on Pacific Ave, the main street in downtown.
My favorite dog friendly restaurant in downtown Santa Cruz: Lúpulo Craft Beer House
This craft beer house has such a warm, relaxing and inviting vibe with spacious outdoor seating in a covered patio. The beer on tap is great, but so are the tacos and kombucha! I highly recommend visiting Lupulo when you're in Santa Cruz with your dog for good eats and a relaxing time.
Dog friendly places to eat in Santa Cruz: Woodstock Pizza
Woodstock Pizza on Front Street is a great dog friendly restaurant (with a heated patio) and they also provide water for your pup. We settled for a medium pesto pie (they also have options for customized pies on white or wheat crust) with pesto, tomatoes, artichoke hearts and roasted garlic. Babu made a few friends while we munched on our delicious pie!
Dog friendly bakeries in Santa Cruz: The Buttery & Kelly's French Bakery
The Buttery is an utterly delicious bakery that is a must visit if you are looking for a solid dog friendly breakfast place to start your day. The bakery has ample outdoor space for dog parents to dine under the sun. Besides pastries, cakes, cupcakes and baked goods, they also have a self service coffee/beverage stand to order your morning joe from.
The second place to stop by for either breakfast or an afternoon pick me up is the charming French bakery Kelly's. They have good Chai and lots of tasty French treats for an afternoon of sugar rush. Kelly's is located in an outdoor shopping enclave with lots of local shops, much like Barlow in Sebastopol, and these are all dog friendly as well.
Dog friendly breakfast/brunch spot in Santa Cruz: Cafe Brasil
Cafe Brasil is that uber popular breakfast/brunch spot in Santa Cruz for which vegetarians and vegans go nuts! Most eggy breakfast items can be remade with tofu as substitution and the portions are pretty big and hearty.
As the name suggests, this is a Brazilian restaurant (the decor colors are pretty much an ode to the flag as well) and so there are quite a few Brazilian dishes featured on the menu. They do have a dog friendly patio but it opens only at 10AM, two hours after the restaurant opens for business.
Arrive as early as possibly for outdoor dining with your dog and remember to order one of their fruit juices or smoothies!
Where to eat with your dog in Santa Cruz: Gabriella Cafe
The quiet, beautiful Gabriella Cafe, a slice of Tuscany in the heart of Santa Cruz, is considered to be the most romantic spot in town and is also welcoming to dogs. we enjoyed a quiet dinner with pasta and wine here on the last night of our first trip to Santa Cruz.
The restaurant patio, again dog-friendly, was tiny but we got a seat despite not having reservations. Service was incredibly friendly and we were grateful to have been accommodated in that small restaurant.
Restaurants welcoming dogs in Santa Cruz: Laili
Laili restaurant in downtown Santa Cruz serves yummy Afghani food and has a beautiful, dog friendly patio to dine in which is surrounded by high walls covered in green ivy. They have lots of vegetarian options and I highly recommend making a reservation to check out this gem of a spot for lunch (or, dinner) after having dined there twice with Babu. Their kabab dishes as well as kadoo borani are super delicious!
Pet friendly restaurant in Soquel: Pretty Good Advice
It is a pretty good idea to grab lunch in the outdoor patio of Pretty Good Advice, the dog friendly vegetarian/vegan restaurant in Soquel near Santa Cruz. This bistro has killer cajun fries and a good selection of plant based burgers to choose from along with an impressive beer list to wash it all down. Best of all, they are open from 8AM-8PM everyday!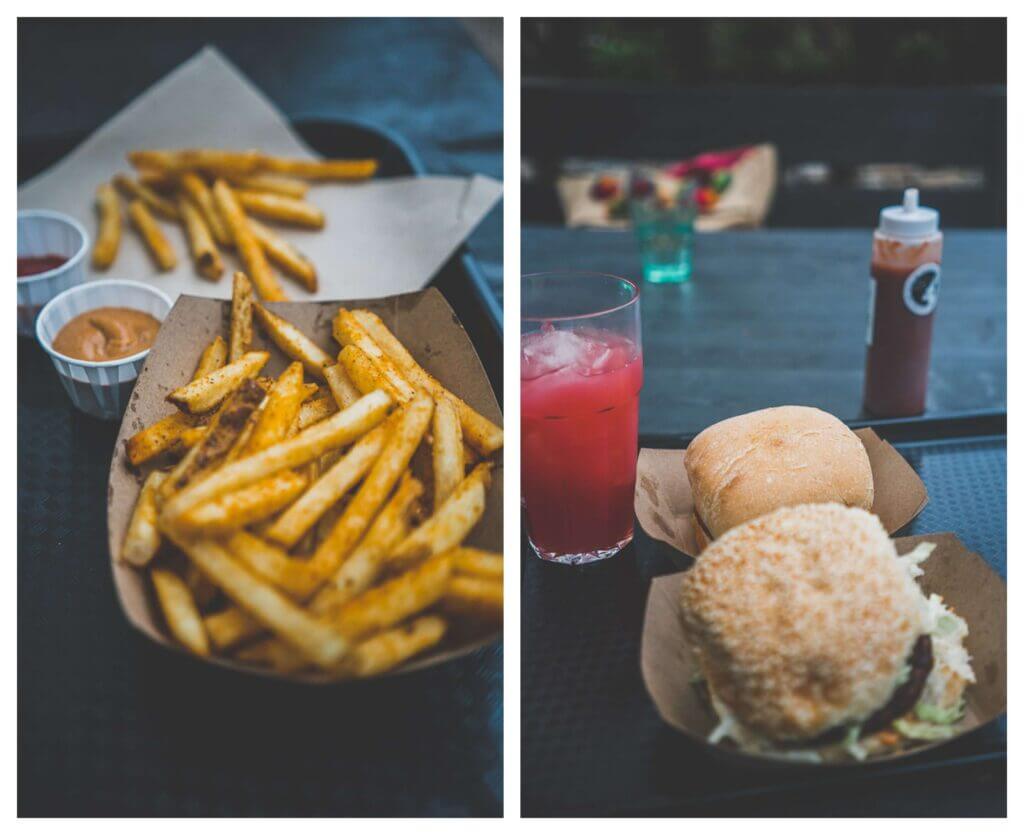 Dog friendly restaurant in Aptos: Bittersweet Bistro
Aptos is a small town right next to Santa Cruz and has several dog friendly restaurants to explore. We had dinner at the delightful Bittersweet Bistro (Aptos), a restaurant with a beautiful heated patio and known to be so welcoming to dogs that they have a separate doggie menu for well behaved pooches! The food is mainly concentrated on local catch with a Mediterranean flair, but there were several vegetarian options on the menu.
We started off with some Asparagus and Lemon fries coated in a crunchy sesame crust, and it was out of world delicious. I had a small entree of the Petrale Sole while S settled for a vegan burger. All entrees come in small and entree sized portions. Additionally, the restaurant has themed specials every night, ours being fish-centered.
They have an extensive wine menu and I settled for a Pinot Noir from the Santa Cruz mountains. The restaurant is super popular with the locals and was pretty crowded when we arrived; nevertheless we did not see a long line of people waiting and got our seats almost instantaneously despite not making any reservations.
I must warn you that service can be a little slow at the restaurant, but the great food and ambiance (we got a table near a crackling fireplace) more than made up for it.
This brings me to the end of yet another post on our food adventures as we explored the dog friendly restaurants in Santa Cruz during our travel, and with Babu in tow everywhere, no less! We have been to several dog-friendly destinations in California and Santa Cruz features on top of the pile because of how incredibly dog friendly the tiny coastal town is with so many pet friendly restaurants to choose from! Thanks so much for reading and get packing for your next adventure with your pooch, now!
Explore other dog friendly Central Coast posts right here:
LIKE THIS POST? PIN IT HERE

«