Last Updated on November 20, 2022 by Paroma
Are you looking for a dog friendly getaway to California's central coast? Then I have the perfect post for you! This dog friendly San Luis Obispo guide covers the best dog friendly things to do in San Luis Obispo county along the coast. Plus, I have also included information on dog friendly hotels and restaurants in and around San Luis Obispo.

Dog Friendly San Luis Obispo: A great destination for pet parents
California's central coast, one of the best winter getaways in the state, is a gem of a beauty stretching between the Monterey peninsula and San Luis Obispo, with many charming Northern California beach towns dotting the coast. It is one of the most dog friendly parts of the state and makes for a relaxing weekend getaway from San Francisco with your dog.
A manna from heaven for wine lovers, nature and dog lovers, it is a pure slice of the good California life, one sip of wine, one gorgeous Pacific sunset and one bite of the freshest seafood at a time. If you are a dog parent, a drive to dog friendly San Luis Obispo is a must because of how welcoming it is to canines via dog friendly activities, dog friendly restaurants and of course, lodgings that welcome dogs!
As a seasoned dog mom who has been to several dog friendly destinations with Babu, here is another California town (one of the up and coming US travel destinations of 2019 by the way) that we visited with Babu, our fur nugget, to mark the end of 2016. Read this dog friendly San Luis Obispo guide to learn more on how to visit the central coast with your dog.
Dog friendly hotels and accomodations in San Luis Obispo
We have been to SLO several times (either as day trips from Paso Robles or Pismo Beach) since our very first trip in 2016 when this post was originally written. On our first visit, we opted to stay at a dog-friendly Airbnb at San Luis Obispo in a private room (Feng Shui) with the bathroom being just outside our room.
Although it was a pretty good experience for a very last minute reservation (the hosts were very friendly), I typically aim for the whole place when booking a dog friendly Airbnb and would advise you to do the same.
The second time around, we stayed one night at the Sand Inn & Suites which only had a $25 pet fee for the entire stay. It was a very comfortable stay and I recommend it as a budget option for pet parents visiting SLO.
Dog friendly restaurants in San Luis Obispo
There are several dog-friendly restaurants in San Luis Obispo, all of them welcoming dogs in their patio, which are heated. I recommend Novo Restaurant and Lounge and Brasserie SLO both of which are dog friendly and have delicious food.
Dog friendly things to do in San Luis Obispo
a) Explore downtown SLO
Dog friendly San Luis Obispo is a typical small California town with a vintage feel interspersed with modern sensibilities. There are several cute boutiques many restaurants with al-fresco dining options and many dog friendly stores and art galleries. The star attractions are the small canal meandering through downtown with a dog friendly walkway along it, the bubblegum alley and the San Luis Obispo art museum which welcomes canines.
There is also a blink and you'll miss it Chinatown and the Mission San Luis Obispo de Tolosa after which the city gets it name. The mission has a guided tour of its premises but dogs are not allowed in. We had a good time discovering the different cow statues which were erected as part of Cow Parade in San Luis Obispo county, which is a "moo-ving" art exhibit involving fiberglass statues of cows, each being distinctly different from the other.
b) Dog friendly adventure at Morro Bay
We ventured out of San Luis Obispo and drove northbound along highway 1 to explore the different quaint little towns dotted along the coast, stretching from Pismo beach in the south to San Simeon in the north. Our first stop was the glistening blue waters of the Morro Bay, from wherein jutted out the gigantic Morro rock, one of the nine volcanic rocks (called the "nine sisters") found in this region.
We strolled by the marina and then took a boat ride on the "Tiki boat" which welcomes dogs. As we sailed over the bay we saw raucous, sunbathing sea-lions and caught sight of otters (mom and baby) creating a splash. The tiki boat ride is offered by Bay Cruisers and is only $10/person with well behaved dogs riding free. Babu sat on Sriram's lap and had a great time exploring the bay with us. We also got about 10 min on a sandy beach on one end of the bay to stretch our legs.
c) Dog friendly dining at Cambria
The artsy town of Cambria, north of Morro Bay is a must stop, if not for its galleries and art stores, then definitely for a bite to eat at Robin's restaurant, voted one of the best SoCal restaurants not in Los Angeles. An extremely popular place as testified by waves of people coming in, it is a dog friendly restaurant as well with an extensive heated patio and serves global cuisine (Asian inspired) with a Californian flair.
Some red wine from Paso Robles and lamb wrap for me, hot chocolate and falafel for S, and we were all set for a lovely meal. Afterwards, we had some spicy mangoes dipped in dark chocolate at a nearby fudge shop and drove northward to San Simeon cove.
d) Sunset at San Simeon Cove
We witnessed 2016′s last sunset in San Simeon at the San Simeon pier and cove, adjacent to the William Hearst beach. Dog leash laws are strictly enforced on the beach and dogs are not allowed on the pier (bummer) but we had a lot of fun strolling on the white sand and watching the sun go down on us.
It was a magical moment, and a time to reflect upon the ups and downs of the past year and how 2017, although scary, still presents new possibilities for us and new destinations waiting to be explored. There is a trail starting from the bluffs on the north end of the cove, which leads to San Simeon point that is at the very tip of the cove. We did not hike at all and simply left after the beautiful sunset to get some dinner.
e) Dog Friendly wine tasting at Paso Robles
We stopped by Paso Robles on our way back to San Francisco from SLO, hoping to do some wine tasting in one of the many dog friendly wineries up there. Alas, that day being the very first of the year, everything was closed but luckily for us we found a cute wine tasting spot named Lone Madrone specializing in wines with grapes sourced from west Paso vineyards that are dry farmed.
I was told that the owner Neil Collins specializes in wine making techniques honed in France (Rhone) and that reflected in the wines that he chose to make here as well, such as the Mourvedre which was part of my pouring. A pouring of 6 wines (mix of whites and reds) cost only $10 (way cheaper than Napa which also has some really good dog friendly wineries) and well behaved dogs are welcome inside the tasting room.
This, in a nutshell, was the lowdown on our trip to dog friendly San Luis Obispo. We will definitely make a return trip to Paso Robles with Babu, to show it some more love. Do you have any plans for dog friendly travel this year? I would love to hear from you!
Like the post? Pin it here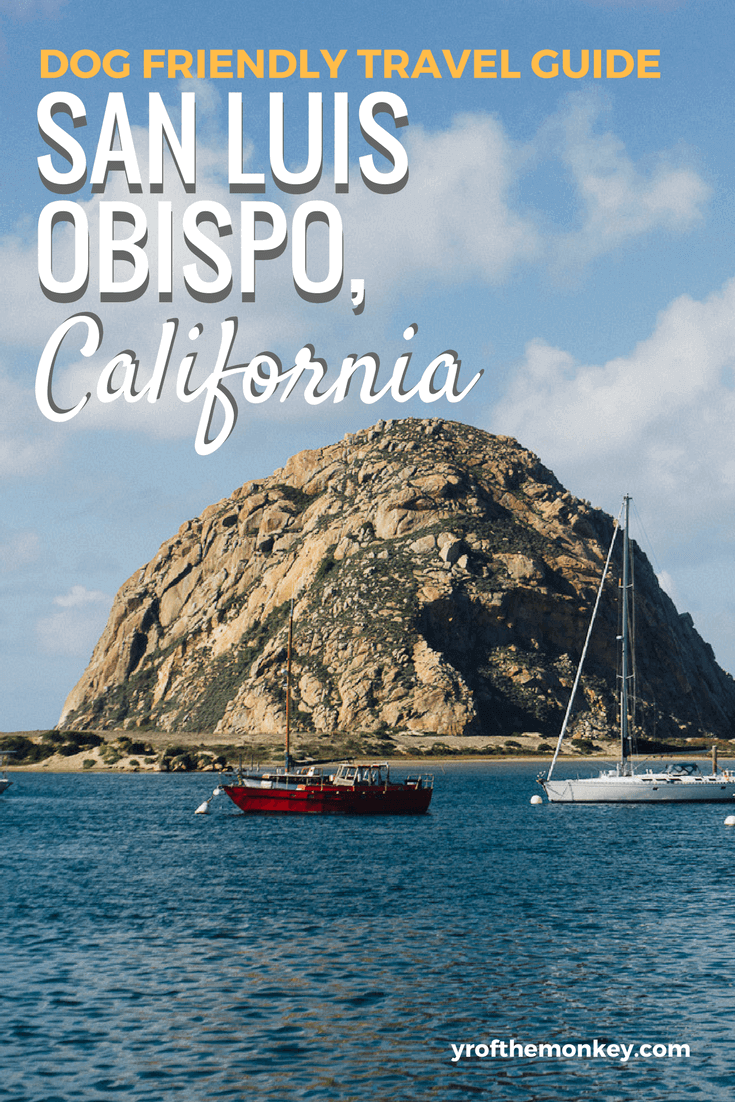 «