Last Updated on September 21, 2021 by Paroma
Are you gearing for a Big Sur road trip along Highway 1 and wondering about the best stops to explore? No need to fret, cause this Big Sur itinerary covers all the must see stops along the Pacific Coast Highway that you should not miss. Read my post to find out about all these beautiful places between San Francisco and San Simeon and recommendations on what to see, where to stay and eat.

Disclaimer: This post may contain some affiliate links. Clicking on them to make a purchase may earn me a small commission at no extra cost to you for the product. Thank you!
Big Sur road trip: the most scenic California road trip along Highway 1
Big Sur is the 90 mile stretch of California coast, nestled between Monterey and San Luis Obispo that is as breathtakingly beautiful and unreal as a dream, with the waves of the Pacific ocean crashing along its rugged shores, simply begging for a visit. A Big Sur road trip means driving along Highway 1 (the only accessible road) as it skirts along the Pacific coast, revealing California's natural splendor along the way in terms of waterfalls, beaches, hidden hiking trails and secret coves.
In this post, I will cover the must visit stops in this northern California road trip itinerary where I am going to tempt you to get started on a San Francisco to San Luis Obispo road trip itinerary with 15 amazing Pacific Coast Highway stops that you must add to your Big Sur itinerary!
Much like the vibrant road to Hana in Maui, Hawaii or the Southwest road trip from Santa Fe to Tao, this California road trip is a journey that is more important than the destination itself and should be savored to the utmost. My Pacific Coast Highway guide begins from Carmel and ends at San Simeon, with details on all the major Highway 1 stops along the way.
Last, but certainly not the least, there are plenty of tips on driving along Big Sur, where to stay in Big Sur, what to pack for Big Sur and Big Sur restaurants/cafes along with a Big Sur map  to make your west coast road trip a smooth sailing one!
Explore other Central Coast posts right here:
Things to keep in mind while planning your Big Sur itinerary
Before we get started on the best stops to see along Big Sur, here are some helpful tips for you to plan your Big Sur itinerary. These are as follows:
How long will it take to drive down Big Sur?
Big Sur stretches for slightly more than 90 miles between Carmel and San Simeon. The drive between these two points is about 2.5 hours along Highway 1 if you do not stop anywhere, which is obviously not what you want to do.
How many days will it take to cover Big Sur?
I personally recommend keeping at least 3 days in hand if you are driving down from San Francisco to San Simeon to for  a restful Big Sur road trip. It took us about 2 days to see all the stops along Big Sur with Big Sur Lodge as our base. 
What is the best time to visit Big Sur?
Big Sur is ecologically fragile owing to its location. In other words, being right along California's central coast comes with a few nasty perks such as fires (California is infamous for its wildfires), landslides and mudslides. Highway 1 was closed for the most of 2017 due to landslides and has opened up recently, so do check this website for Highway 1 status before you embark on this epic California coast road trip!
Where to stay at Big Sur: Hotels and lodges
A Big Sur road trip may cost you a pretty penny since both lodging and dining options are relatively few and can be quite pricey. If you are planning to stay overnight or for a long weekend (this is for non-campers like us), plan your trip at least a month in advance to book a hotel room. Honestly, the earlier the better because people are flocking to Highway 1 after a full 14 months of closure. These are my lodging recommendations at Big Sur:
a) I highly recommend staying at Big Sur itself for convenience, like we did at the Big Sur Lodge right inside Pfeiffer Big Sur park, but many people make Carmel (one of the most romantic getaways in Northern California) or Monterey their base owing to more  options there. Our stay at Big Sur lodge got us free day use passes to Point Lobos state natural reserve, Julia Pfeiffer Burns state park and Andrew Molera state park.
I must also point out that you need to pay for wifi at the lodge and cellular reception is nearly non-existent in the park, cabins and along quite a bit of Highway 1. Be prepared and download an app such as Maps.me for offline navigation. Our rooms were spacious (we had two bedrooms but no air conditioning; a floor fan was provided) and each cabin has a parking right in front of it. Big Sur lodge also has its own restaurant serving breakfast, lunch and dinner.
b) Other options to stay at Big Sur itself are Post Ranch Inn (a luxury resort), Deetjen's Big Sur Inn and Big Sur River Inn.
c) For those into glamping (glamorous camping),  Ventana Big Sur is a good option while Fernwood resort offers camping, cabins and more!
What to pack for Big Sur?
The California coast line displays changing weather as you drive south from San Francisco to San Luis Obispo, but overall it is pretty sunny and bright most of the year. Here are my suggestions on what to pack for Big Sur for a comfortable, hasslefree trip.
Are dogs allowed in Big Sur?
The short answer is: Big Sur is not very dog friendly. This is a highly prized conservation area for local flora and wildlife, and dogs being considered as natural predators, are not allowed in most reserves and parks such as Point Lobos and Julia Pfeiffer Burns so as not to disturb them. Big Sur lodge, where we stayed, does not allow dogs either. We did see that Post Ranch Inn was dog friendly and so is Cafe Kevah, although Nepenthe is not (dogs are not allowed anywhere on the patio upstairs).  
Dogs are allowed on Pfeiffer beach as well as on designated campgrounds. If you are bummed about not being able to take your pup to every Big Sur stop, worry not!  Carmel is an extremely dog friendly town where you can stay with your pet in one of the many dog friendly hotels and explore this charming winter getaway in California to your heart's content. You can also check out San Luis Obispo, another very dog friendly town on California's central coast!
The best stops to explore on a Big Sur road trip
Finally, here are all the details on the must see stops along Highway 1 that you should include in your Big Sur road trip itinerary.  We had to give a few stops a miss such as Henry Miller Library, McWay cove and Andrew Molera State Park, but do try to visit them if you get a chance as you drive down Highway 1. If you are an art lover, stop by the Hawthorne gallery (a beautiful glass building) and sculpture garden that is located on Highway 1, right before the Henry Miller library as you drive down south.
Big Sur road trip stop #1. Carmel Mission Basilica Museum
The first stop in this San Francisco to Big Sur itinerary is undoubtedly Carmel-by-the-sea, a charming coastal (and very dog friendly) town with all the European feels in the Monterey Peninsula and it is one of the many amazing winter getaways in California.
Besides its beautiful boutiques and amazing restaurants in and around Ocean Avenue, one other place that definitely deserves your visit is the Carmel Mission (Basilica of San Carlos Borromeo de Carmelo Mission), which rounds up as both Basilica and a museum. 
It is no secret that besides introducing Christianity to the New World, these Missions were also the starting point for some of the major urban centers in California. Carmel Mission, built by missionary Father Junipero Serra in 1770 (he is also buried in the Basilica) was the second of a coterie of 21 Missions of California. 
The Basilica church is a national heritage landmark and along with the five museums housed in it, paints a very interesting history of California's past that are a history buff's delight.
The beautiful courtyard with a fountain is an added bonus apart from the architecture, archives and photographs in the museums. You need to enter the Mission via the gift shop to pay the entry fee ($9.50/adult) and more information can be found on the Mission's website. The Mission is not dog friendly (insert my huge bummed out dog mom face).

Pacific Coast Highway Stop #2. Point Lobos State Natural Reserve
This next stop in this California Road trip itinerary is another gem on the Monterey peninsula and comes close in the heels of the Basilica as you drive south. Point Lobos Natural State Reserve is called the "crowned jewel of the State Park system" because of its spectacular vista points and sightings of wildlife such as sea otters, harbor seals, sea lions and majestic gray whales.
Hike, jog, go scuba diving, bring a picnic basket or go completely berserk with your camera as you take in the natural beauty that this park has to offer. Stop by the Whaler's cove on the north shore (there is also a museum here) or park on the western parking lot to hike along one of the many paved trails leading to Sea Lion Cove and Headland cove.
The misty spray of the ocean, the roaring waves and the azure blue water paints a breathtaking scenery everywhere you turn. If you are lucky, you might spot some sea lions snoozing on one of the rocks below, much like we did.

Northern California Road trip itinerary Stop #3. Garrapata State Park
Wildflowers, a dog friendly trail leading to a sandy white beach and a secret Calla Lily valley (best visited in spring when the flowers are in full bloom) are all in the offerings of this state park on highway I, right after you exit Carmel headlands.
This is also your entryway to Big Sur and a perfect place to stretch your limbs a little while dipping your toes in the silky white sand. The incoming fog from the Santa Lucia mountains lends a touch of mysticism to this park and is a sight to behold!
Big Sur road trip itinerary Stop #4. Bixby Bridge
Seriously, no Big Sur road trip itinerary is complete without stopping near this iconic bridge, perhaps the second most photographed bridge in California after our beloved Golden Gate bridge. Wikipedia credits it to be one of the tallest single span concrete bridges in the world which opened to the public in 1932.
As you approach the bridge, you will see pull out points on either sides which are moderate to crazy crowded with hoards of camera and/or selfie stick armed visitors depending on the day and time.
It is best to arrive early or during a weekday (we drove by around 11 AM on a Saturday and hardly saw anyone around) because there is a good chance that you might be backed up (i.e. sitting and fuming in your car) for quite some distance depending on the traffic situation near the bridge.
Big Sur itinerary recommendation #5. Pfeiffer Big Sur State Park
Not to be confused with the more famous Julia Pfeiffer Burns State Park, this is the one which is home to the Big Sur lodge cabins (where we stayed) as well as Pfeiffer falls and Valley View vista point. This state park is massive with several hiking trails, picnic grounds and watering holes where we saw picnickers swimming with glee.
The trail to Pfeiffer falls remains closed (since the 2008 fire at Big Sur) and will open in 2019 when repairs are complete. The valley view trail is a 1.8 mile round-trip hike and a pretty strenuous one (involves a lot of uphill climbing) that leads to an overlook from where you see the entire valley of Redwoods.
If you do go on this hike, remember to start early in the morning and carry plenty of water with you since it gets very hot during the day! The trail is partly shaded, so please wear a hat for protection. This is also one of the few parks where overnight camping is allowed, albeit with proper permits.
West coast USA road trip stop #6. Pfeiffer beach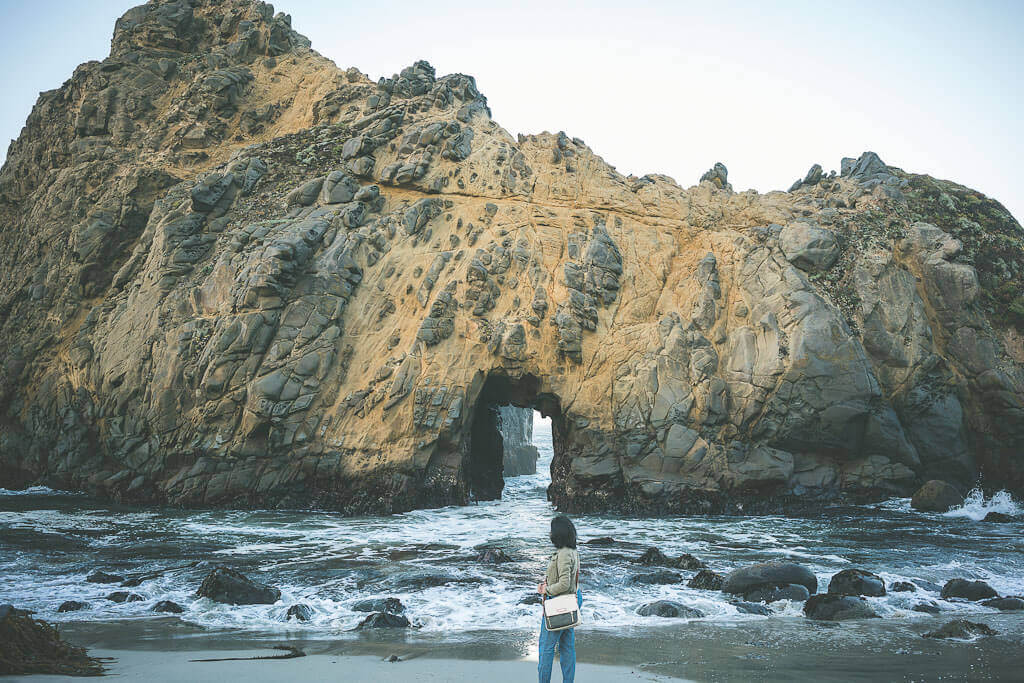 This secluded beach is that one perfect zen haven along highway 1 that you need to put at the very top of your Big Sur road trip itinerary! The beach is open from sunrise to sunset (do not go by contradicting information online that will confuse the hell out of you) and you have to pay $10 in cash /vehicle to enter (state park passes do not work here).
I strongly recommend coming in just before sunrise so that you can have the beach all to yourself and trust me, that exclusiveness is priceless in this crowded world of ours. Do not forget to snap a photo in front of the keystone rock while you are there!
San Francisco to San Simeon itinerary, stop #7. Partington cove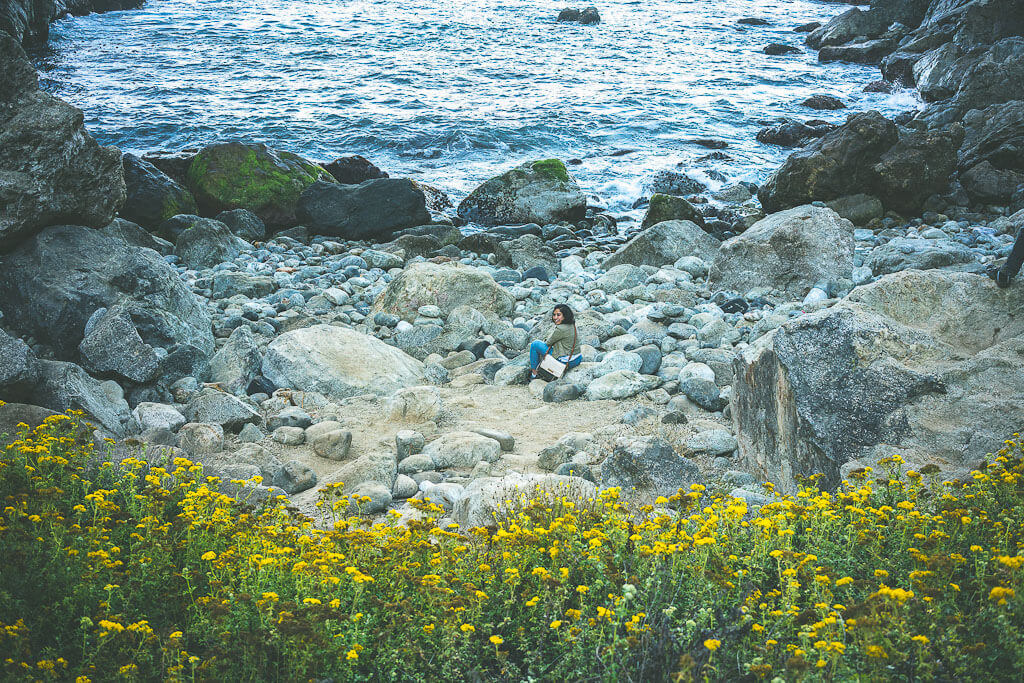 This is another hidden Big Sur gem and one that most people simply give a miss. This beautiful cove lies 2 miles north of Julia Pfeiffer Burns state park right on Highway 1 and there are two pull outs near and across from it for parking. A green gate with an opening on the side leads to a trail that will take you all the way to this cove, where yellow wildflowers bloom and the waves roar and crash on the rocky shore.
Pacific coast Highway 1 stop #8. Julia Pfeiffer Burns State Park and McWay Falls
The iconic McWay falls, i.e. a waterfall plunging straight onto a sandy beach has long served as the poster child of Big Sur's beauty and is located in this park. The park is open from sunrise to sunset and again, I highly recommend coming in as early as possible to enjoy the solitude and sighting of the waterfall, because the viewing area is a bit of a tight corner.
Although there is no beach access from the park, there is a short trail that leads from the parking lot to view McWay falls. Currently, the trail is partially closed due to land erosion, but you can get a pretty good view of falls at the very end from where the trail is no longer accessible. The entry fee is again $10/vehicle for this park. There are other trails in the park as well (many are closed right now) and you can get all the relevant information from the park website here.
San Francisco to San Simeon drive, stop #9. Elephant seal rookery
The long drive from Julia Pfeiffer Burns state park to San Simeon is filled with scenic stops such as the Limekiln state park, Mill creek, Sand Dollar Beach and the obvious vista points with breathtaking views of the coast.
But the one stop that you gotta make is the Elephant seal rookery north of Hearst Castle in San Simeon where hundred, if not thousands of these sea mammals can be viewed sunbathing on a sandy beach or having a jolly good time in the water.
There is a viewing area for you to enjoy watching the seals from a distance and there are friendly docents who are there to answer all your questions about the seals.  Birthing season is from November-March when the females return to the beach to give birth, nurse pups and also mate (it gets very noisy at that time).
The state's conservation efforts brought the elephant seals back from near extinction (they were hunted in the 1800s by whalers for their blubber) and today thousands of them can be seen during peak season at this rookery, flipping sand on themselves to keep them cool and enjoying the good California life! You can also view the latest ongoings at the rookery, thanks to the elephant seal cam provided by the friends of elephant seals website, a conservation group.
California road trip itinerary stop #10. Hearst Castle
The final stop on this Big Sur road trip itinerary, and definitely the most commercialized touristy one is the Hearst castle in San Simeon. You can only visit the castle as part of organized group tours and there are several to choose from. You have to book the tour (s) of your choice either online in advance or at the visitor center from where buses depart at designated times with guides.
There are long lines to get tickets at the center and although we were lucky to get a tour of the grand suites (costs $25/adult) within a hour of our arrival, that may not be the case always since tickets sell out super fast. As the buses take you up the hilly path to Hearst castle perched on top of a hill, you may see zebras and mountain goats mingling with the livestock, the former being a reminder of what remains of the exotic animals zoo created by the billionaire, politician and business magnate William Randolph Hearst. His mansion (also known as "La Cuesta Encantada" or the Enchanted hill) was built by the architect Julia Morgan (go women in STEM!) and is a labor of love that took 28 long years starting from 1920, and still remain unfinished.
The mansion is now the property of the state of California and comprises of the primary residence (Casa Grande), indoor and outdoor swimming pools and guest houses overlooking thousands of acres of land, which were all owned by William Hearst and where the Hearst cattle ranch still operates. William Hearst, who was the real life "inspiration" behind the titular character of the iconic motion picture "Citizen Kane" is an interesting character in himself and you can read more about him here.
Hearst castle photography policy requires written permission for publication of any sort (including for fair use/educational/non-commercial purposes) and so I am substituting the castle photos with one that I clicked of the beautiful California coast, to avoid needless drama (and, big fat legal implications).
Where to eat in Big Sur: restaurants and cafes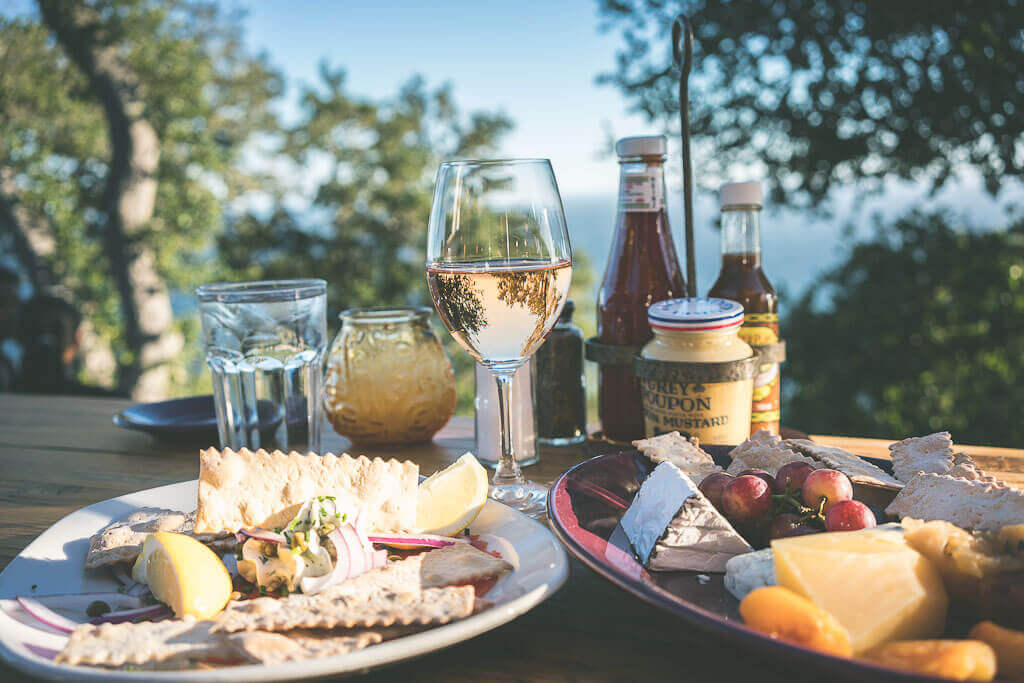 Although Big Sur does not abound in dining options, Carmel-by-the-sea has dozens of extremely good restaurants to choose from, the focus being mainly Italian and French inspired cuisine. We stopped for lunch at La Balena, the stylish Italian restaurant with a beautiful patio and a delicious menu (has several vegetarian options).
Amidst this sea of European fare, the one restaurant that truly stands out is Cultura Comida y Bebida that will woo you with its rich, dark mahogany and burnished red decor and even more importantly, the food which is Oaxaca inspired. Oaxaca is the gastronomical capital of Mexico and the food there is distinctly different from what you are used to having as Mexican food up north. I highly recommend at least a lunch or dinner here to sample some tasty Tlayuda or go for the crunchy Chapulines (fried grasshopper) as a snack to begin with. Both restaurants have outdoor seating and are thus dog friendly (like almost all restaurants in Carmel).
The other places that we loved are Big Sur Bakery (serves baked goods starting from 8 AM and also serves dinner Wed-Sunday) and Cafe Kevah (brunch starts at 9 AM). Cafe Kevah and its parent restaurant Nepenthe boast of terrific views, but we were not very wowed with the latter for dinner. Nepenthe opens for lunch at 11:30 AM and also serves dinner but they do not take reservations and wait times are OMG long, because of its popularity.
Finally, I have heard very good things about Sierra Mar, the fine dining restaurant at Post Ranch Inn, but could not snag a reservation for brunch or dinner. We did have dinner at the beautiful Sur house with a great view of the ocean, but the food (Californian American with ingredients sourced from the central coast) was pretty underwhelming.
Big Sur Road Trip Map
Finally, here is the Big Sur road trip Map highlighting all the Pacific coast highway stops mentioned in the post and a few others that we visited. 
How to enjoy Big Sur responsibly

Big Sur understandably is one of the most protected and conserved parts of California. To ensure that its pristine beauty is maintained for future generations to enjoy, please follow all National park laws to the T and do not leave any trace behind.
In other words, if you pack it in, you have to pack it out!  "Take only memories, leave only footprints" and please keep that footprint as small as possible (as in no collecting, sticking to the trails and no leaving trash behind). Violation of park and campground laws will result in citations and even arrests!
I hope you enjoyed this post on all the must see stops on a Big Sur road trip and have gotten plenty of inspiration to plan your own Big Sur itinerary! Driving down Big Sur is an adventure of a lifetime and I hope you get to experience it when you visit California!
Like this post? Hover over the images to pin
 

«