Last Updated on November 19, 2022 by Paroma
Are you visiting Pismo Beach with your pup and looking for dog friendly activities on California's central coast? Then this is the perfect article for you where I have covered (in gory detail, no less) all the fun things that you can do with your dog at Pismo Beach. Let this dog friendly Pismo Beach guide help you plan the perfect dog-cation!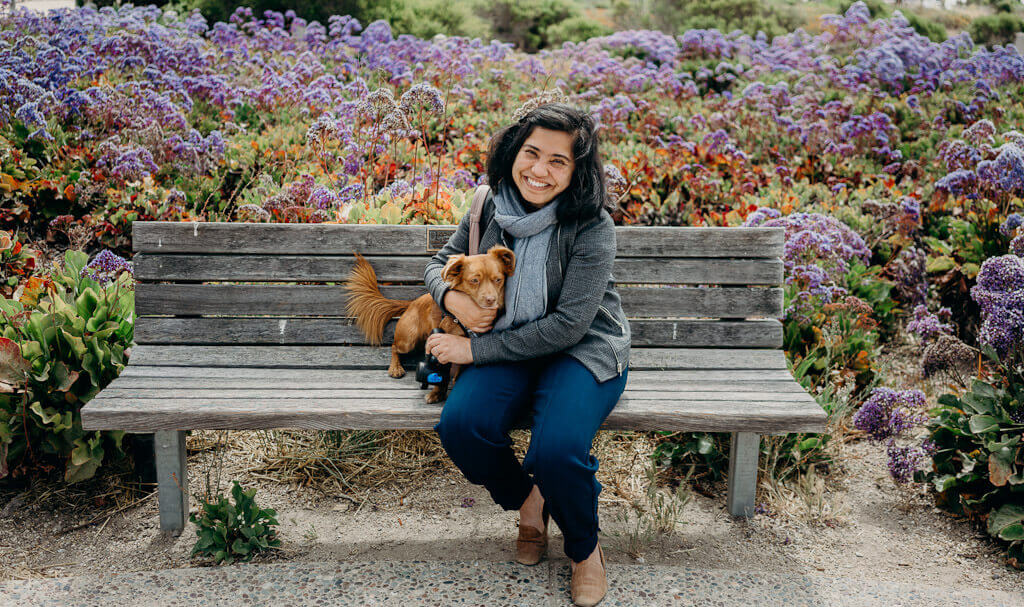 Disclaimer: This post may contain some affiliate links. Clicking on them may earn me a small commission at no extra cost to you for the product. Thank you for supporting free content on this site!
DOG FRIENDLY PISMO BEACH GUIDE: HELPFUL TIPS TO PLAN YOUR TRIP
Here are some tips to for foolproof planning of your visit to Pismo Beach with your pup. These are mostly trip logistics, so if you are familiar with California's central coast, please feel free to skip this section.
WHERE IS PISMO BEACH?
Pismo Beach is a charming beach town right on California's central coast in San Luis Obispo county, and is more or less equidistant from San Francisco and Los Angeles. It lies about 12.5 miles southwest of San Luis Obispo (home to California Polytech/often referred to as Cal Poly). Pismo Beach is located about 250 miles south of San Francisco, and makes for a nice long weekend getaway from the city. It is much closer to Santa Barbara and is only 86 miles away from its airport (SBA). Los Angeles is about 177 miles south of Pismo Beach.
Since I live in San Francisco, I'll be focusing on how to get here from the north. Driving down the inland route of 101S is the quickest way to get there and will take you about 4 hours (depending on traffic of course). You could also take the much longer scenic route of Highway 1/Cabrillo Highway hugging the coast, but that will take WAY longer to get to your destination.
If driving down the coast from San Francisco, I highly recommend stopping by the beach towns of Half Moon Bay, Santa Cruz, Pacific Grove and Carmel-by-the-sea, all of which are extremely dog friendly! The other prime attraction is the breathtaking drive down Big Sur all the way southwards from Carmel to San Simeon.
HOW TO GET TO PISMO BEACH
For out of state visitors to Northern California, the best and easiest way to get to Pismo Beach is to fly into SFO (San Francisco International) or OAK (Oakland International Airport), rent a car and start driving southwards.
If you are visiting Southern California, then the Santa Barbara airport (SBA) is your best option since it is only 86 miles south of Pismo Beach. LAX (Los Angeles International Airport) is 177 miles south and it will take you about 3.5 hours to get to Pismo from there.
WHAT IS THE BEST TIME OF THE YEAR TO VISIT PISMO BEACH?
Being on the central coast, Pismo Beach has mild weather throughout the year, including Winter. However, keep in mind that Winter and early Spring months are rainy in California.
Nevertheless, I highly recommend Spring (March-early June) as the best time to visit this part of the coast. Your drive down the coast will be heavenly with wildflowers galore in Big Sur, especially in April. Summer is warmer but very crowded, plus you will have the dreaded coastal fog.
Fall is warm and dry, with the looming threat of our infamous fires that can often cause a part of Big Sur to be closed.
HOW MANY DAYS SHOULD YOU SPEND AT PISMO BEACH?
Pismo Beach is a tiny town: a good 2 night/3 day combo, i.e. a long weekend getaway should be sufficient. This will also give you some time to explore the many other dog friendly attractions on the central coast, such as the nearby towns of San Luis Obispo and Paso Robles as well as other fantastic California beaches along the coast.
If you have more time in hand, definitely squeeze in a day trip to Santa Barbara (another amazing dog friendly beach town) which is a 1.5 hr drive south from Pismo beach.
DOG FRIENDLY HOTELS IN PISMO BEACH
We stayed at the Cottage Inn by the Sea, which is a dog friendly hotel in Pismo Beach (pet fee is pretty steep at $75 for the total stay plus tax). The room was spacious (with a mini-fridge and a microwave) along with free parking and WIFI.
Cottage Inn's location was simply superb, being a stone's throw from downtown Pismo and with an epic view of the beach and pier, with a walking path leading all the way from the hotel to the beach that was perfect for walking our pup Gunda. Although they have complimentary breakfast, that was suspended due to the ongoing health crisis during our arrival. Read their entire pet policy here (warning: they are unfortunately breed restrictive).
If you're looking for more affordable options to stay near Pismo Beach, I highly recommend the dog friendly hotels in San Luis Obispo, a larger city with many more choices. We stayed one night at the Sand Inn & Suites which only had a $25 pet fee for the entire stay.
Another affordable option is the La Quinta Downtown SLO (I stayed at a La Quinta during our trip to Sacramento many years ago) where the stay is basic, yet comfortable with no exorbitant pet fee.
DOG FRIENDLY THINGS TO DO AT PISMO BEACH
Pismo beach is extremely dog friendly! From beach living to wine tasting, there is quite a bit of dog friendly activities to enjoy in this small Northern California beach town with your pup. Here are some awesome things to do in Pismo Beach with your fur babies:
1. Get the sand in your paws at Pismo Beach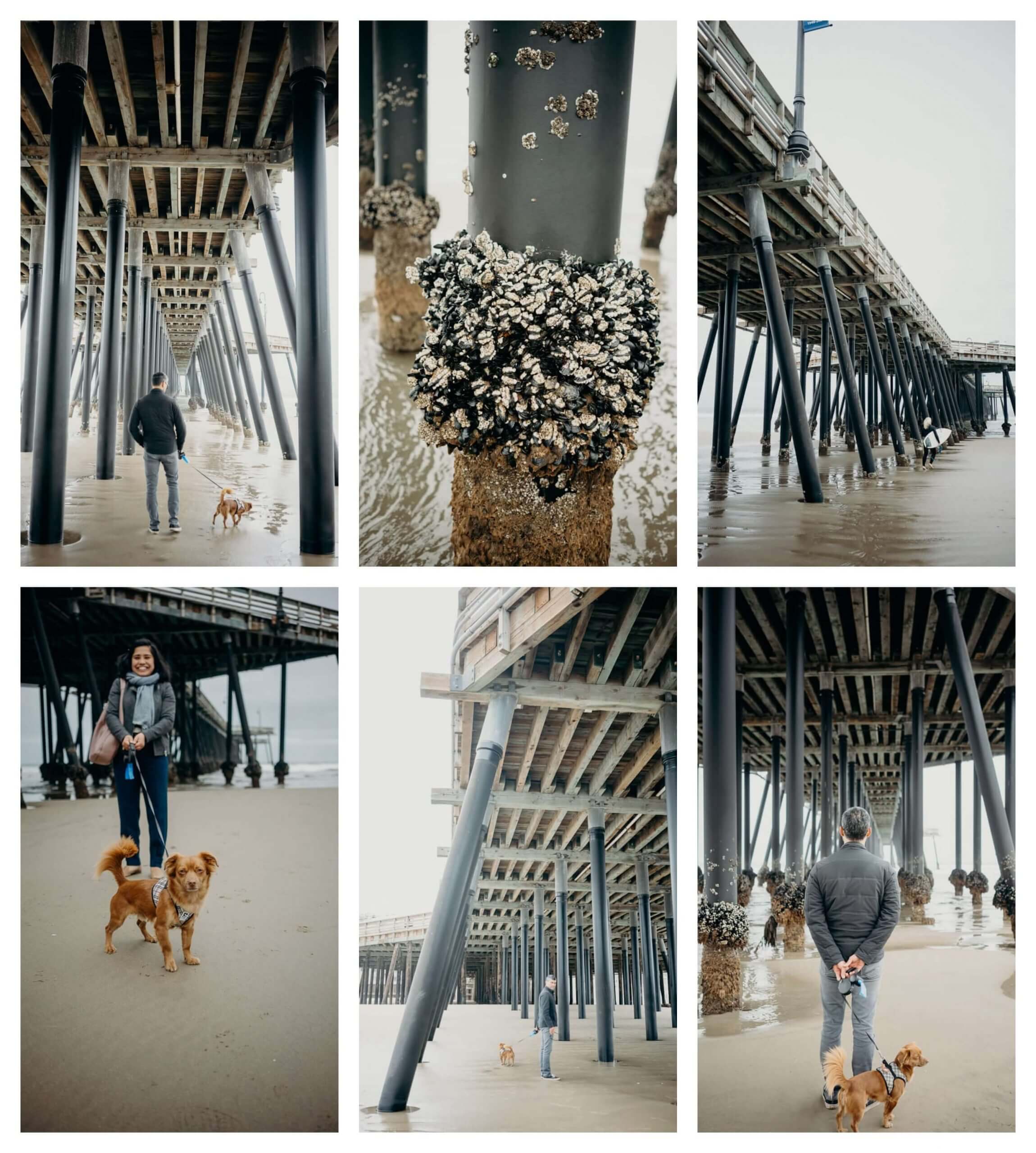 I am going to start off with the obvious here-Pismo beach is centered around its namesake beach which also happens to be a state beach welcoming dogs! Dogs must be on leash at all times and please remember to pick up after them like a responsible dog parent. The beach is easily accessed from downtown Pismo beach (just walk down Pomeroy Avenue and voila! you will be at the Pier plaza in no time).
You can definitely get some stellar seafood to go from one of the many restaurants on the pier plaza above the beach and enjoy an impromptu picnic here as you watch the many surfers sprint by you. Remember to dress in layers since northern and central California beaches tend to be cold and windy!
One thing to remember is that although the beach is dog friendly, the actual main wooden Pier extending over the beach is not! You can access the beach either via stairs leading down from the plaza (that is dog friendly) or one of the side stairs leading down from the pier. The pier looks much cooler from below with the clusters of barnacles sticking to its stilted legs.
2. Hang out at Pismo Pier Plaza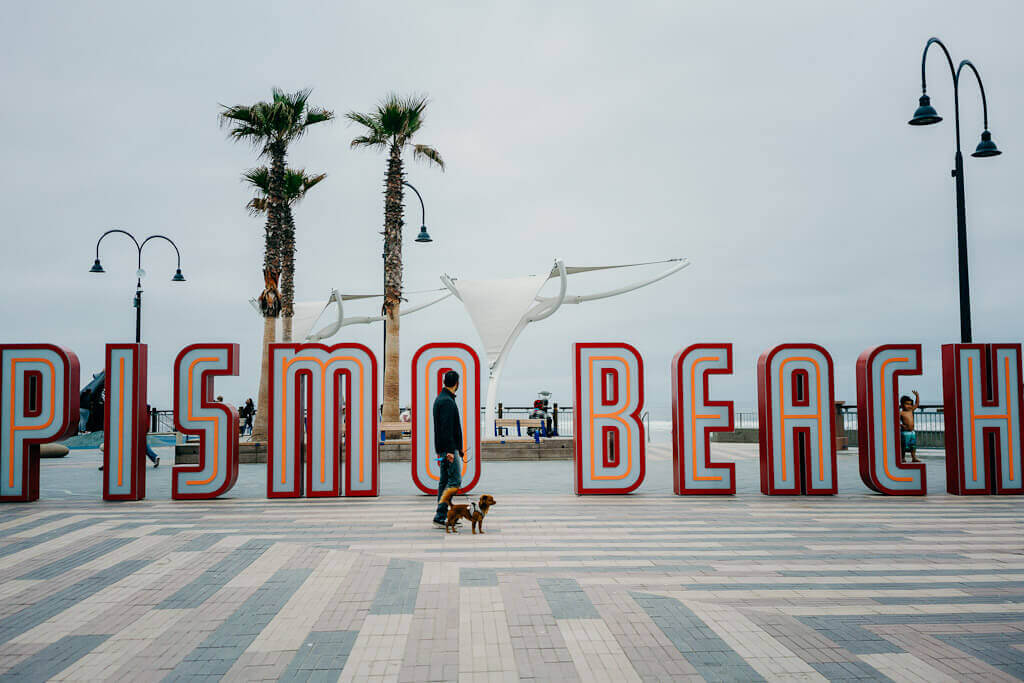 The newly renovated plaza that leads to the pier is where all the action is-the famous "Pismo Beach sign" is also here. Come in early to get a photo with your pup if you want to beat the crowds.
There are lots of restaurants in the plaza providing epic views of the ocean as you gulp down fresh, local seafood. Several of them have patio dining where dogs may be welcome (please check when you make the reservation). Please note that if your dog is sensitive to crowds and loud noises, it is best to check out the plaza early in the day or in the evening.
3. Spend some quiet time at the Monarch Butterfly Grove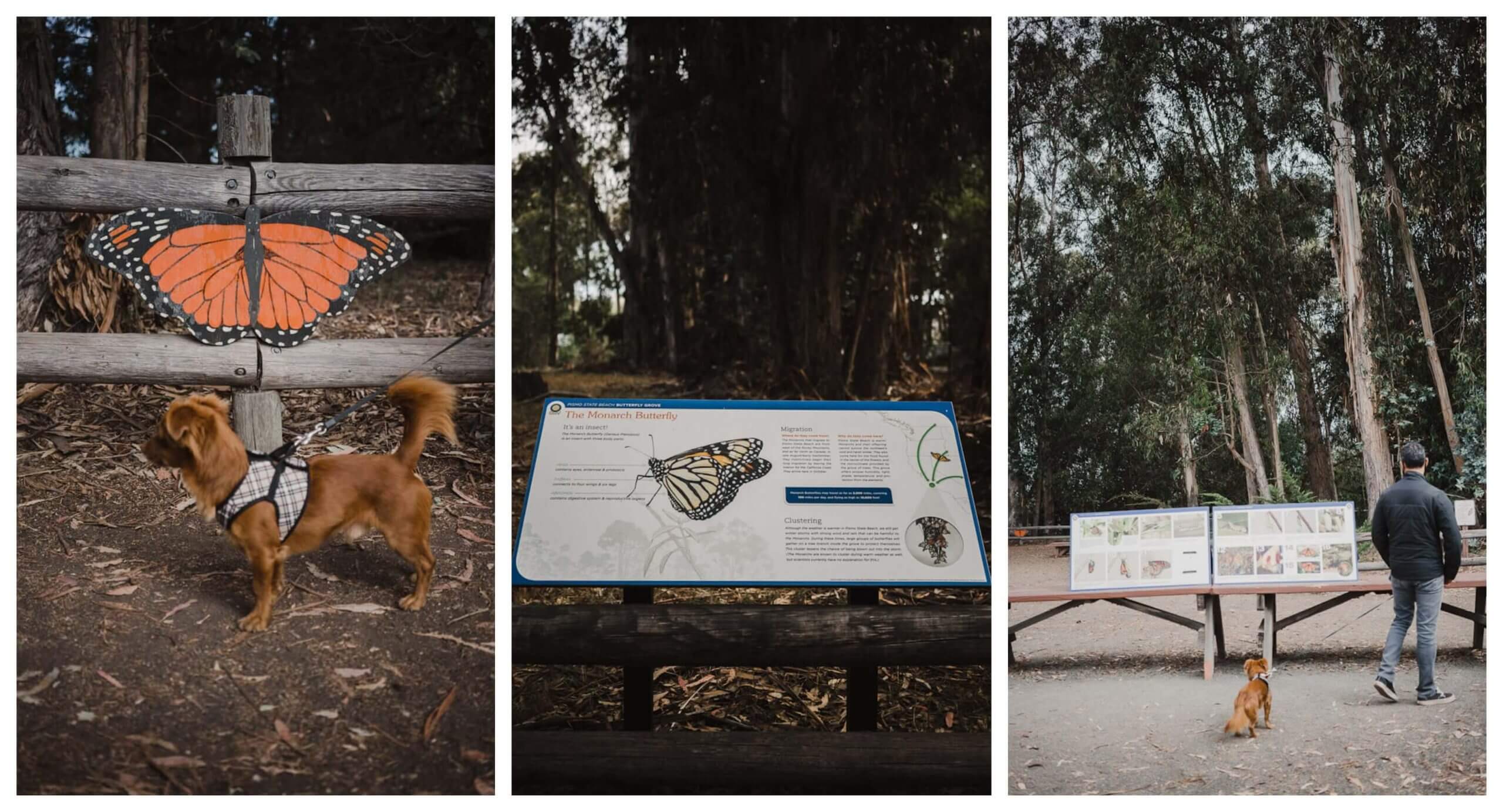 Did you know that the California central coast is the chosen winter home for Monarch butterflies? Indeed, not one but three spots along the coast-Natural Bridges State Park in Santa Cruz, Monarch Butterfly Sanctuary in Pacific Grove and Monarch Butterfly Grove in Pismo Beach are where these winged beauties seek refuge in the winter amidst the Eucalyptus and Cypress to escape the freezing climes of the north from where they migrate south.
However, unlike those in Santa Cruz and Pacific Grove, the butterfly sanctuary (just off Highway 1) welcomes dogs on leash and is free to enter. The grove is technically open 24/7 all year round, but your best bet to see butterflies is between November-February when they flock here in thousands! Catching sight of these winged beauties is one of the best things to do in California in winter!
Even otherwise, the grove is a serene spot for a chilled out stroll along its paved trails as you learn more about the butterflies, their life cycle and preservation efforts from the educational boards installed in the grove. There is also a small merch store/van in the park to buy Monarch butterfly related goodies to support the sanctuary.
4. Conquer the dog friendly hiking trails at Pismo Preserve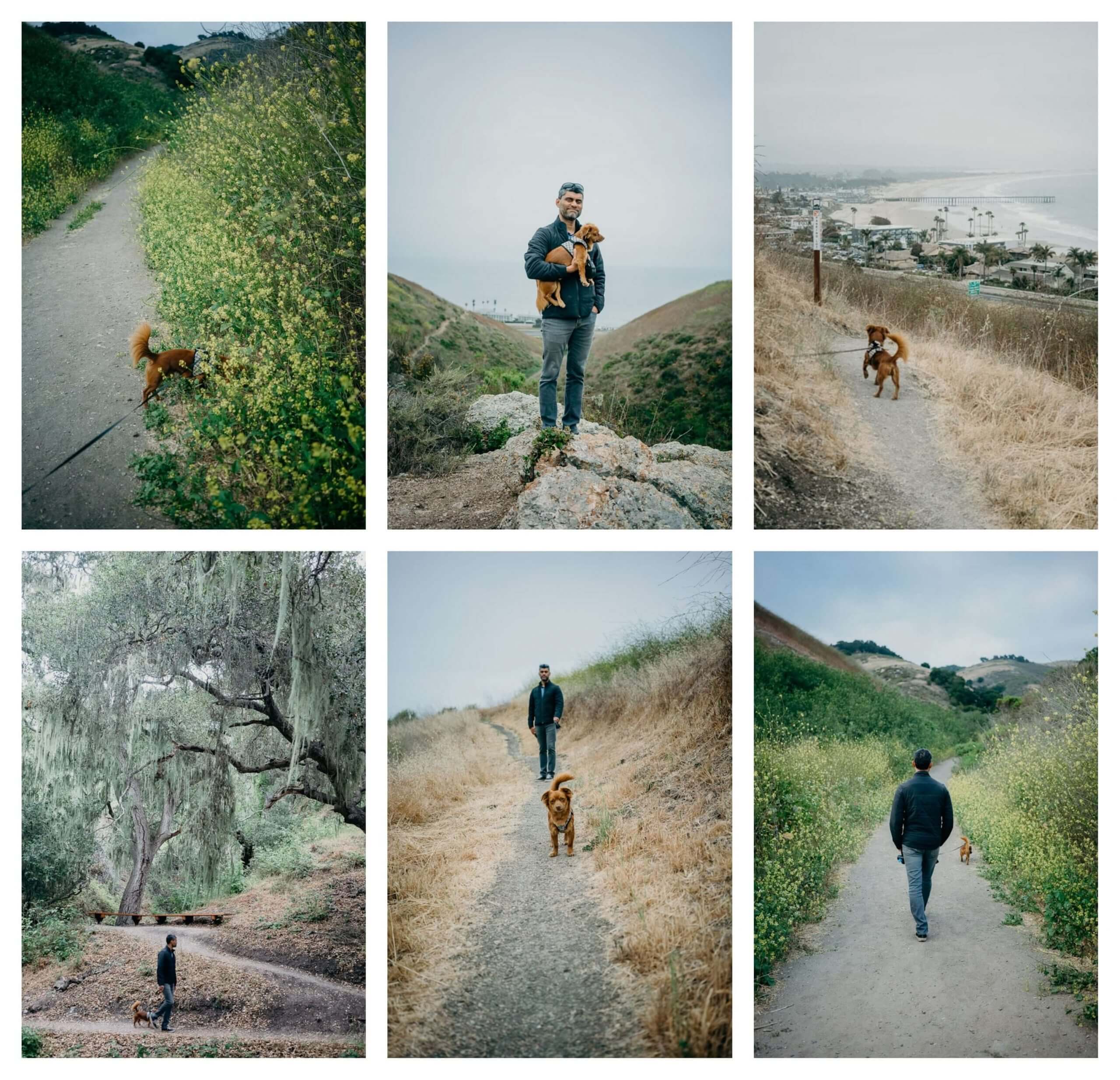 Hiking in Pismo Preserve was possibly my most favorite thing to do at Pismo Beach and should absolutely be included in your dog friendly Pismo beach itinerary!
The Pismo Preserve is a sprawling conservation + cattle grazing area north of downtown on Mattie road and is crisscrossed by many trails across its 880 acres that meant for bikers, equestrians and of course hikers. The trail exclusively for hikers is dog friendly and starts south of the restrooms near the parking lot.
This dog friendly hiking trail in Pismo Preserve bifurcates into two once you walk down the paved path beyond the restrooms-I suggest taking the upper trail (you have to open the gate and walk in) and come down via the lower trail as a loop.
During your hike, you will encounter gorgeous views of the beach and ocean as well as moss curtains hanging down from trees, creating a magical jungle like aura. I highly recommend coming in as early as possible (we started our hike at 7 AM) since this spot is extremely popular with locals and the parking lot gets filled up very quickly by 8:30 AM.
5. Take in the coastal views at Dinosaur Caves Park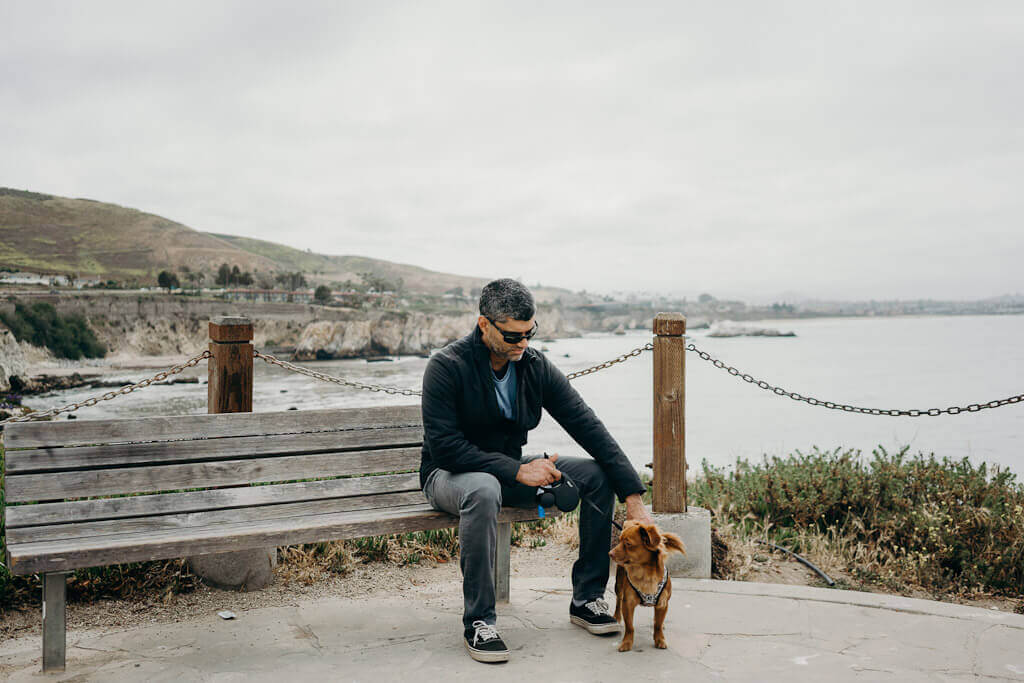 Much like us, if a beach is not your jam (and neither your pup's-Gunda made it abundantly clear that he was not that into the sand and the waves), then may I entice you a scenic hike with spectacular coastal views in Dinosaur Caves Park?
This 11 acre park, at one end of Shell beach, is about a mile or so north of downtown Pismo beach and has a coastal trail perfect for evening walks with your dog as you admire the Spring blooms, take in the views and enjoy the ocean breeze. The best part about this park are the playful dinosaur statues (including a baby hatching out of an egg) scattered all over.
6. Dog friendly wineries and wine tasting at Edna Valley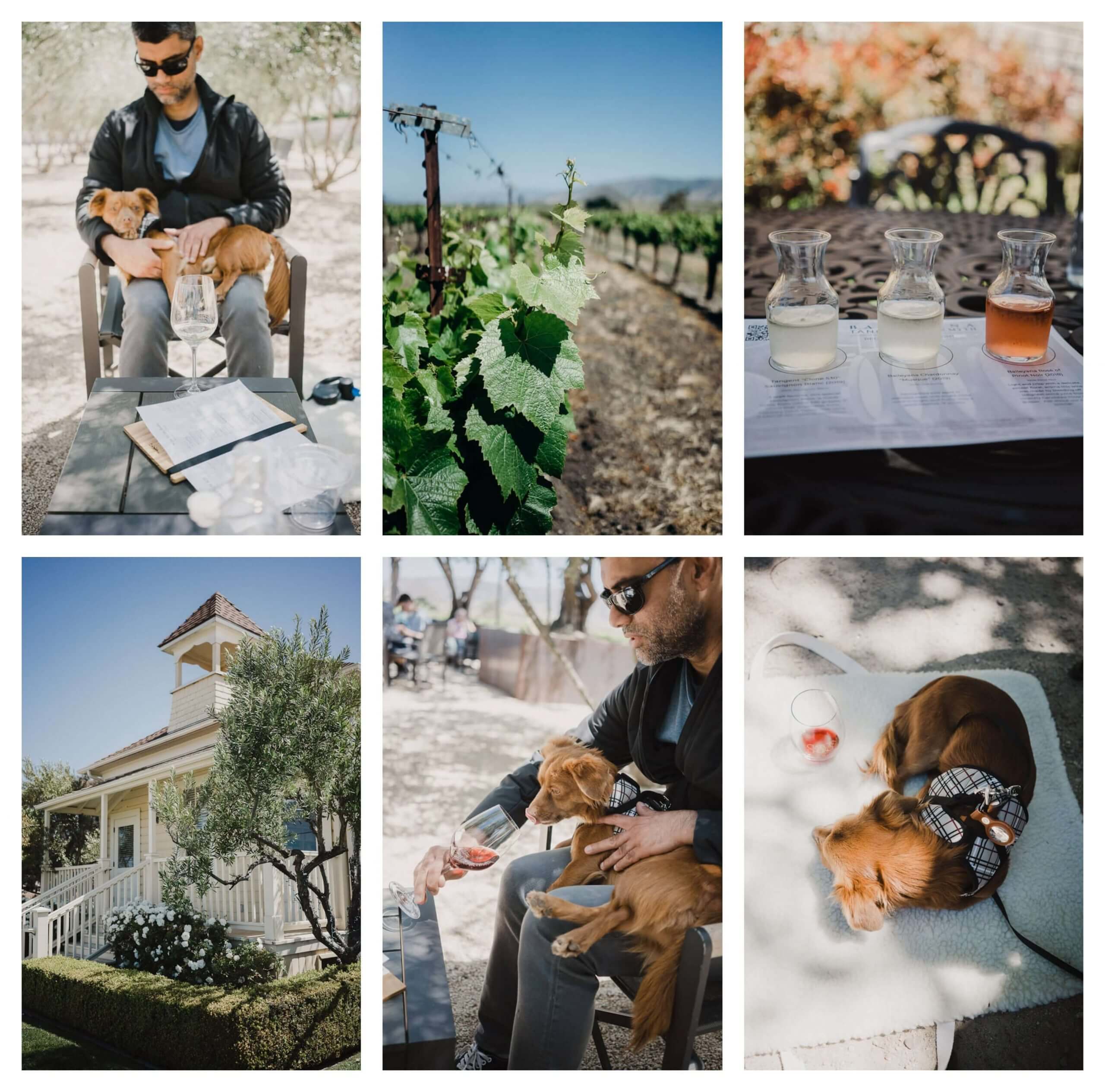 (photo of Gunda sniffing the wine glass was a fun moment-he was definitely not tasting any vino!)
Edna Valley is San Luis Obispo county's premier wine destination and is un underrated gem in California wine country. And, as a wine lover who has indulged in quite a few dog friendly tastings in Carmel Valley, Napa, Sonoma, Lodi , the nearby Paso Robles and Santa Ynez valley, I simply could not wait to explore the offerings of the central coast in this stretch right next to Pismo Beach. Thankfully, there are several dog friendly wineries in Edna valley to enjoy wine tasting outdoors with your dog.
A few things to note if you're planning to go on a dog friendly winery tour of Edna valley:
You need to make reservations beforehand and you definitely need to confirm if the winery is OK with bringing a dog in since policies keep on changing.

Edna valley is famous for its Pinot Noirs and Chardonnays. The Pinots here are different from those in Sonoma-less fruity but still mild on the palate.

The tasting prices are pretty reasonable compared to Napa and range from $15-25 for a flight of 5-6 wines.

Edna valley is a 15 minute drive from Pismo Beach downtown and just 12 minutes away from San Luis Obispo, so you can easily grab lunch from either spots between tastings.

Several of these wineries have charcuterie boards-you can reserve them beforehand or simply ask during tasting about your food options!
Of the three wineries we covered during our weekend getaway to Pismo Beach, I hands down recommend Biddle Ranch Vineyard-the hospitality, picturesque tasting venue, dog friendly ambiance and the wines themselves were all top notch! I honestly had such a relaxing time at Biddle Ranch that I cannot stop thinking about it as I type this post.
The other two dog friendly wineries that we visited were Claiborne & Churchill winery (the owners who live nearby are originally from Michigan and the tasting area is in a beautiful backyard) and Baileyana Tangent Winery where a cheerful yellow house with a patio perfect for wine tasting will greet you. They also have a food stall named Driftwood (the owner left his tech job in the Bay Area to follow his passion in the food business) serving yummy oysters and other seafood that is a must try!
We had to give Tolosa Winery and Chamisal Vineyards a miss due to lack of time, but I've heard that they are fantastic dog friendly wineries. So definitely check them out if you can!
7. Explore Downtown Pismo
Downtown Pismo is tiny but cute as a button with lots of beautiful storefront murals and signs greeting you from every corner. One end of downtown is flanked by the beach and pier which does get a bit chaotic during the day. I recommend checking out the stores in downtown for local products and simply strolling on the streets to take in the sights and sounds of small town California.
8. Enjoy some delicious food at dog friendly Pismo restaurants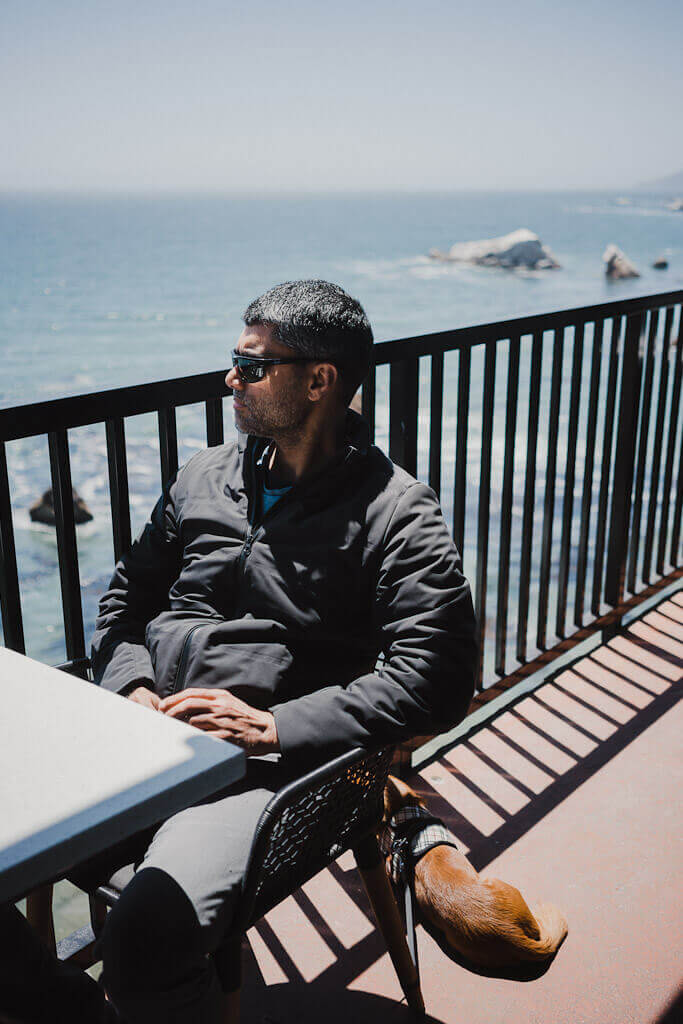 Pismo beach has several al-fresco dining options with your dog. These are the dog friendly restaurants/cafes/bakeries that I recommend for either outdoor dining or taking something to go for a pre hike fuel-up or post hike treat:
Pismo Beach Pierside Marketplace: With cheery blue furniture outside and a range of breakfast/brunch delights to choose from inside, this is the perfect spot on Dolliver street to grab a made to order burrito, breakfast sandwich or one of their many delicious acai bowls.
Ventana Grill: A stone's throw from our hotel, this seafood spot is helluva popular and for good reason. The food is fantastic but the view is even better. Your patio dining is on the edge of the cliff jutting right into the Pacific Ocean with roosting geese and seagulls keeping you company. Please make reservations prior for your lunch cause they are extremely busy!
Surfside donuts: These donuts are the real thing! Decadent and yet not too sweet, they reminded me of the famous Blue Star donuts that I had eons ago in Portland. You cannot sit outside and eat them with a dog in tow (no outdoor seating available in this pint sized bakery in downtown Pismo) but just get them to go and enjoy them before your hike in Pismo Preserve like we did. Also, come in really early to grab the donuts cause people literally go nuts for them (hello, annoying long lines) They close when they run out of dough which can happen as early as 9 AM!
Brasserie SLO: Although technically in San Luis Obispo (a 15 min drive from Pismo Beach), I am still including this awesome restaurant tucked away in Hotel Cerro in downtown SLO because of the food (local coastal fare), wine and ambiance. We had dinner in a beautiful backyard with a fire pit with Gunda and I loved the indulgent experience.
OTHER DOG FRIENDLY ACTIVITIES TO ENJOY IN SLO COUNTY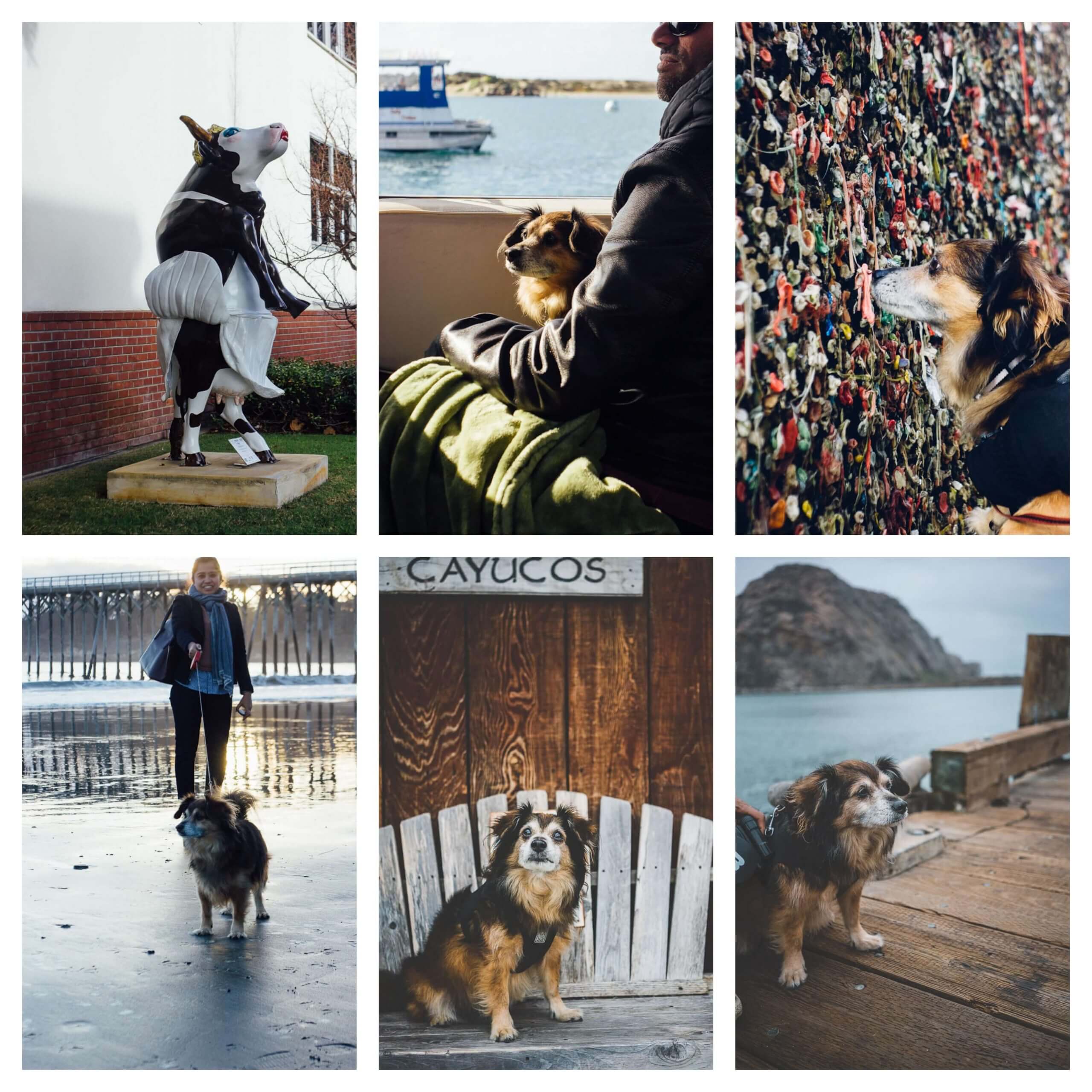 California's central coast, stretching from Santa Cruz in the north to Ventura in the south, is extremely dog friendly. Some of the best dog friendly California beaches, parks and hiking trails are to be found here. Over my 11 years of residing in San Francisco, I have been to this part of the state many times-first with my little Babu (who passed away earlier this year after 16 years of traveling all over California with us) and now with our recently adopted baby Gunda.

If you have extra time on your hands, here are other dog centric things to do specifically in San Luis Obispo county based on my experience, apart from spending time at dog friendly Pismo Beach:

a) Take your dog to the William Randolph Hearst Memorial Beach/ adjacent San Simeon Cove in San Simeon (dogs are not allowed on the pier). Off leash dogs can play right of the pier in San Simeon Cove (where the jurisdiction of the Hearst state beach ends)

b) Hike the Jim Green trail with your pup in Atascadero

c) Visit the cute coastal town of Cambria and dine at Robin's-a popular dog friendly restaurant (we went there with Babu in 2016 during our trip to SLO and then in 2021 with Gunda)

d) Frolic on the sand at Morro Bay Dog Beach (bordering Morro Bay) and Cayucos State Beach at Cayucos. Start your day right with coffee and pastries from Cass Bakery (they have a heated patio) and enjoy some smoked fish tacos at Ruddell's Smokehouse for lunch

e) Visit Morro Bay and go on the dog friendly Tiki boat tour/cruise (see our experience here)

f) Take a photo of your pup at the Bubblegum Alley in San Luis Obispo, explore the beautiful gardens of Mission San Luis Obispo de Tolosa and enjoy al fresco dining in one of the many fantastic restaurants and cafes in downtown

g) Hike the magical Elfin Forest in Los Osos (dogs on leash welcome) and click a keepsake photo with the Los Osos bear statue (Los Osos means "for the bears" in Spanish)

h) Spend a day at the beach at the dog friendly Olde Port Beach in the town of Avila Beach. The namesake beach, i.e. Avila beach, welcomes leashed dogs too but only before 10 AM and after 5 PM

i) Enjoy an afternoon (or, morning-no judgements here) of wine tasting at the dog friendly wineries of Paso Robles

I hope you enjoyed reading this guide on all the dog friendly things to do in Pismo Beach! Don't forget to read all my dog friendly California guides right here and thanks so much for stopping by to read this dog friendly Pismo beach guide for your next California coast adventure.

LIKE THIS POST? PIN IT FOR LATER

«