Last Updated on February 13, 2022 by Paroma
If you're pressed for time but are still itching for a day trip to Santa Barbara, then make the most of your 1 day in Santa Barbara by reading through this carefully crafted itinerary meant to maximize your sightseeing of this beautiful beach town in California. From a relaxing time at the beach to chowing down some of the freshest seafood or indulging in some good old wine tasting and exploring the vibrant downtown, this Santa Barbara day trip guide has something for everyone!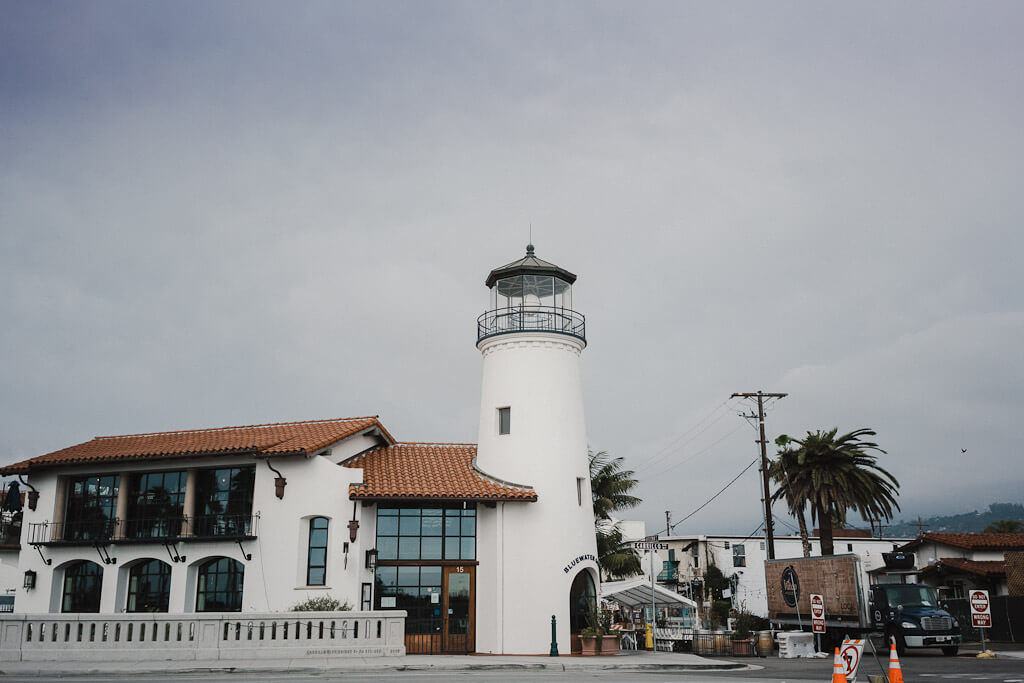 Disclaimer: This post may contain some affiliate links. Clicking on them may earn me a small commission at no extra cost to you for the product. Thank you for supporting free content on this site!
WHY GO ON A DAY TRIP TO SANTA BARBARA?
Santa Barbara, commonly referred to as the American Riviera, is the picture perfect Central California town with all the magical ingredients of great weather, sunny skies, silky soft beaches, vibrant downtown and a terrific food and wine scene with rolling vineyards and wineries outside of the city adding to its charm.
An easy 2 hour drive from the hustle and bustle of Los Angeles, a Santa Barbara day trip is not only a perfect getaway from LA for that much needed R&R, but is also a chance to experience the pure vida that is California-i.e. a carefree slice of beach living, good food and a slow pace of living that lets you stop and smell the proverbial roses. In other words, come to Santa Barbara to discover California living, eating and drinking at its finest!
I have visited the Central Coast many, many times over the past 11+ years of living in San Francisco. Hands down, it has some of the best beach towns in Northern California such as Santa Cruz, Carmel, Pacific Grove and Pismo Beach that embody the California way of relaxed living. However, Santa Barbara is in a different league of its own with its arresting Spanish-Moorish architecture punctuated by green prickly cacti tufts, white sand beaches, views for days and a crazy good arts and dining scene.
Santa Barbara is also close to some of the most beautiful small towns in America. Be it Solvang (the quaint Danish town) or Los Alamos known for its hip tasting rooms and dining, a longer visit to Santa Barbara means venturing out of town and exploring these beauties as well!
If this is not all, Santa Barbara is also an excellent place to join a whale watching tour that departs to the nearby Channel Islands for migratory gray whale sighting. You can find all the details in my ultimate California whale watching guide.
IS 1 DAY IN SANTA BARBARA ENOUGH?
The short answer is no, but that does not mean you cannot cover substantial grounds if you plan properly, and this Santa Barbara 1 day itinerary will help you do just that.
Although it feels pretty spread out, thanks to an air of openness and proximity of beaches all around, Santa Barbara is only 42 square miles (for reference: my city San Francisco is pint sized at 49 sq. miles). So if you have a car at your disposal, you will be able to do quite a few things over the course of 1 day in Santa Barbara.
I also recommend getting an early start to the day by coming into Santa Barbara by at least 9-9:30AM. This will give you one full day to explore Santa Barbara and you can depart after having an early dinner by 7 PM!
PLANNING A SANTA BARBARA DAY TRIP? HERE ARE THE FAQS
Here are some of the things you need to keep in mind before planning on that day trip to Santa Barbara. These tips will help you plan better and make the most of your short time in this lovely beach town. I hope that you will find these wisdom nuggets, gleaned over my repeat visits to Santa Barbara, useful while planning a foolproof trip, minus any hassle and last minute surprises (which is the last thing you'd want on a relaxing day trip).
GETTING TO SANTA BARBARA FOR A DAY TRIP
Santa Barbara is a perfect day trip destination if you're on the Central Coast or Southern California. In other words, Paso Robles, Los Angeles, San Luis Obispo are all popular starting points that are within the 120 mile radius/ 1.5-2 hour drive one way (traffic permitting).
You could also fly into Santa Barbara Municipal Airport (SBA), which is actually in Goleta (10 miles from downtown SB) and then either rent a car or get around town using Lyft/Uber or the good old Santa Barbara Trolley Car (more on that later). However, I still feel having a car at your service gives you the flexibility and freedom that you need on a day trip. So yeah, just driving into Santa Barbara is your best bet for a day trip.
BEST TIME TO VISIT SANTA BARBARA FOR 1 DAY
Ideally-late October to March. You will still get the clear sunny skies, al-fresco dining enabling warm to warm-ish weather and it will not be oppressively hot or crowded. Winter is rainy season in California but I'd take some light rain any day over the extreme heat in summer (not to mention overly crowded beaches and overpriced hotels).
PUBLIC TRANSIT IN SANTA BARBARA
If you are visiting Santa Barbara on a day trip minus your own car, then you need to familiarize yourself with the city's public transit options. Beside the ever popular Lyft and Uber (you need to download their apps on your phone in case you are just entering the portal of the 21st century), the other way to do sightseeing for 1 day in Santa Barbara is to hop on the jolly red Santa Barbara trolley!
Tickets for Santa Barbara trolley can be purchased online. Their 90 minute daily tours, covering the major attractions in Santa Barbara, are super popular and run Thursday to Monday from the Visitor Center located at 1 Garden Street at 10am, 12pm, and 2pm.
Finally, the Santa Barbara MTD has a fleet of buses serving the city of Santa Barbara and neighboring Goleta, Montecito and Hollister. You can find out more about their schedules and routes to plan your trip.
HOW TO DRESS FOR ONE DAY IN SANTA BARBARA
Although Santa Barbara is technically on the southernmost end of the Central Coast, the weather and beachy vibes make it seem very much like a So-Cal town. With the golden sun drenched days and warm beaches , it is only obvious that you will pack in those swimsuits and sunscreen (plus all other beach essentials like floppy hat, sunnies, blanket and towels) and bust out those shorts, dresses, skirts and whatever it is that year round summery weather makes you want to wear. If visiting in winter, get a jacket and an umbrella with you.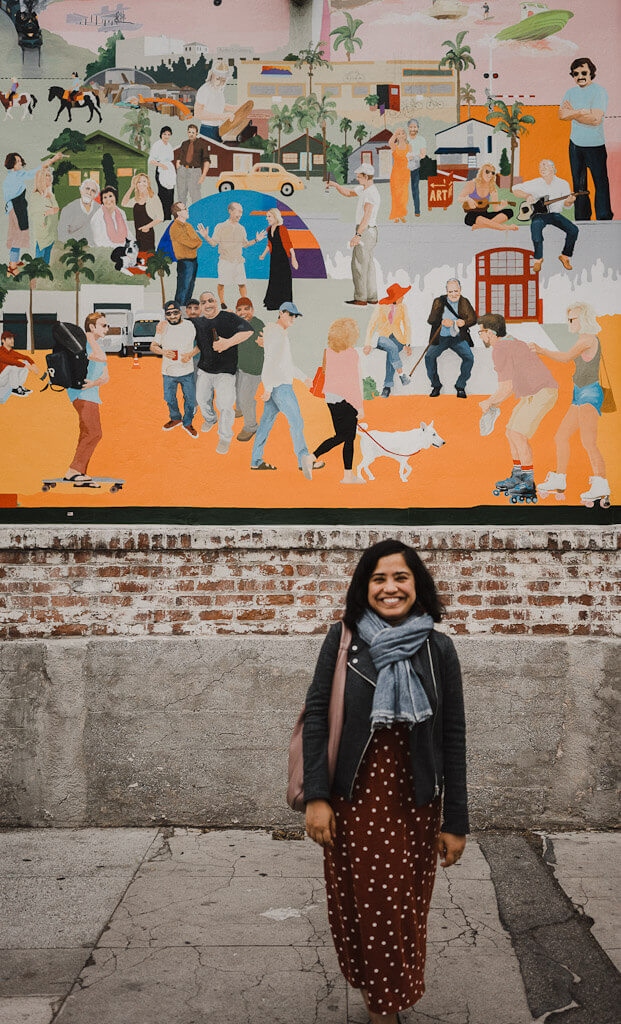 THINGS TO DO ON YOUR DAY TRIP TO SANTA BARBARA
Spending 1 day in Santa Barbara means being mindful of those 8-10 hours that you have to extract the most fun out of every minute. In this one day Santa Barbara itinerary, I have put together some of the best things to do in Santa Barbara over a day trip. So let's get started!
BREAKFAST/BRUNCH
Rolling into Santa Barbara early in the morning? Then fuel up with some tasty baked goods, aka the best focaccia slices that I have ever tasted at Oats Bakery in downtown. Although the bakery is really tiny and there is no place to sit inside, the best way to enjoy your baked loot is by either walking along State Street (the main artery of downtown) or enjoying it in the lovely gardens of the County Courthouse, which is also in downtown.
The other great place for breakfast is Jeannie's Restaurant and Bakery, right at the junction of the Pier and State Street (Uptown). Come early, cause it can get really crowded. If you're looking for some place quiet, may I suggest Helena Avenue Bakery? It is located in the "Funk Zone" (scroll down to read more), a nice little collective of local businesses right next to downtown. Their breakfast tacos are super yummy and they have a lovely patio to enjoy their goodies.
DOWNTOWN SANTA BARBARA
Once you're fired up and ready to go after that yummy breakfast, take some time to explore Santa Barbara's bustling downtown. Most stores and restaurants are lined along State Street, but you have hidden gems around it that you must explore. Here are some of my recommendations:
a. Santa Barbara County Courthouse Garden: Don't miss this sprawling garden, a piece of zen, in the heart of downtown surrounding the 1928 Spanish-Moorish style courthouse. This is also an excellent dog friendly Santa Barbara spot if you're visiting with your pup.
b. Santa Barbara Presidio: Eager to know more about this Spanish military outpost in Santa Barbara? Then visit the Presidio comprising of two of the original Adobe buildings for exhibits, guided tours and cultural programs! Open daily from 11-4 PM and only a stone's throw from the County Courthouse Gardens along Santa Barbara Street.
c. La Arcada Plaza: Yes, this is an outdoor shopping mall but hear me out when I say that it does not have any of those run of the mill retail stores and is deserving of a visit. This 1920s Spanish Colonial Revival style square is filled with charming boutique stores and several art galleries. The plaza is also home to the Santa Barbara Museum of Art which is a must visit for all you art connoisseurs out there!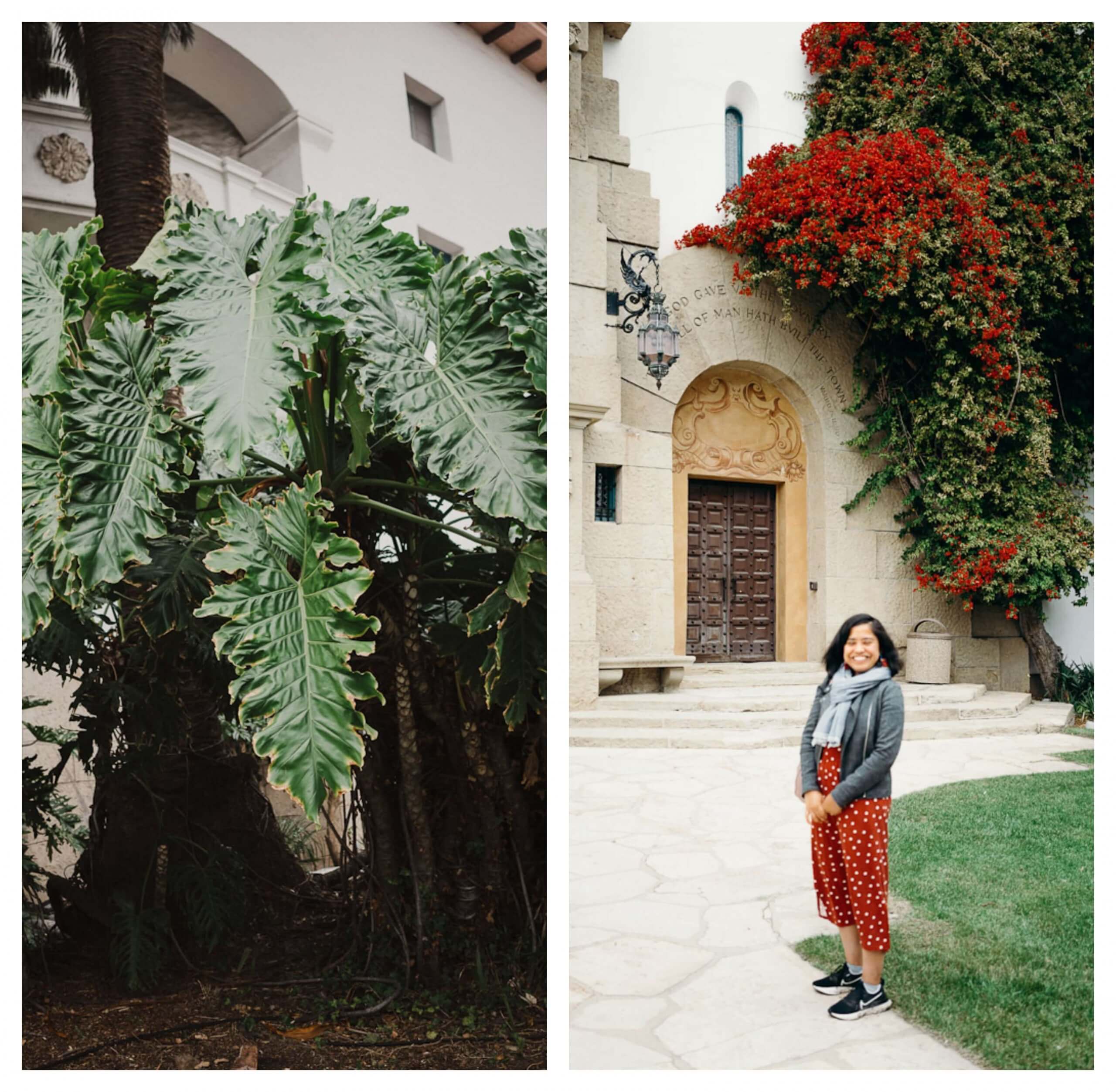 SANTA BARBARA BEACHES AND PIER/STEARNS WHARF
One of the biggest reasons for trekking out to Santa Barbara for most folks is to make a run for its pristine beaches and Santa Barbara indeed has some of the most beautiful beaches in California! You can make a beeline for West beach that is right next to downtown Santa Barbara or simply walk down the paved Cabrillo Boulevard along West Beach that is one long sandy stretch that continues eastward as East Beach and further up as Santa Barbara Beach.
As you want down Cabrillo Boulevard, you will hit the famous Santa Barbara Pier and Stearns Wharf. The wooden Pier and Wharf are bustling with business of all kinds (there is even a wine tasting room tucked away amongst all the hullabaloo) but what I really recommend here is at least one sit down meal to gorge on some of the best seafood in California at Santa Barbara ShellFish Company. If you love seafood, you will not want to miss this place for lunch!
The other beach with a terrific view that I recommend going to, especially if you have a dog accompanying you on a day trip to Santa Barbara, is Shoreline Park Beach. Why? Because for one, there are some terrific views of the Santa Barbara harbor, mountains and island that you can get from here. Second, you go down a rickety flight of stairs to a nice little beach that is a locals' only spot.
Shoreline Park Beach continues westwards to 1000 steps beach, the Mesa Lane Beach and finally the Arroyo Burro Beach County park and the dog friendly Douglas Family Preserve (where leash free dogs are allowed). You can read my Santa Barbara dog friendly guide for more details if you are planning to enjoy your day out here with your pup.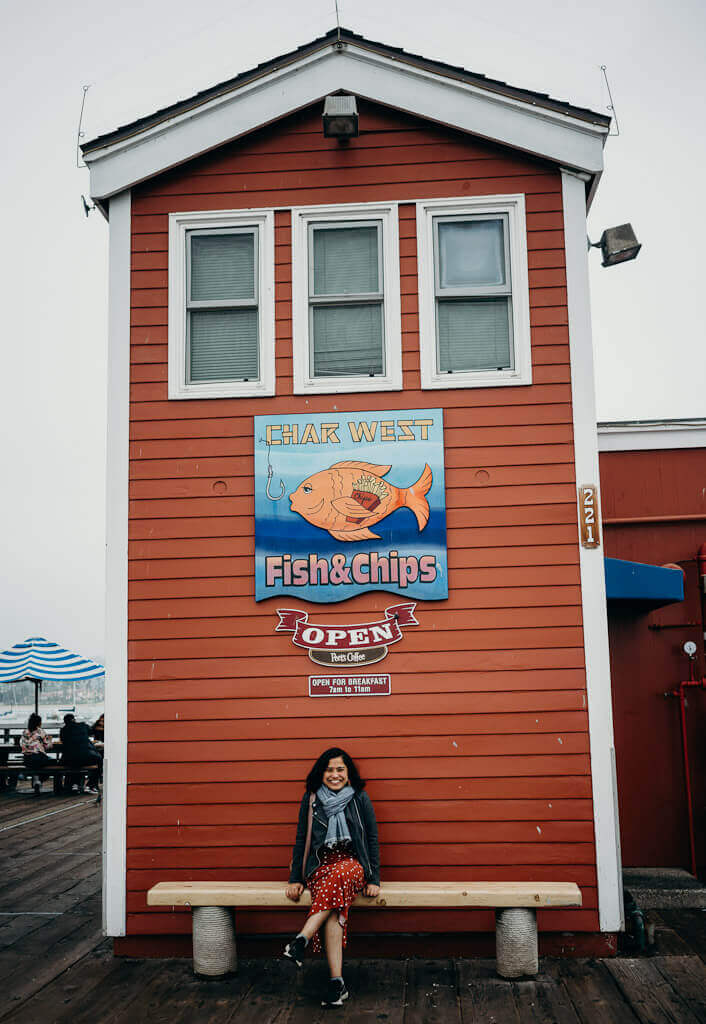 LUNCH IN SANTA BARBARA
Although Santa Barbara is brimming with lunch options, here is where I will recommend to go for stellar food:
a) Santa Barbara Shellfish Company on Stearns Wharf: Come for the seafood (crab, uni, lobster or fish tacos)
b) Santa Barbara Public Market: Enjoy the best of Santa Barbara's culinary diversity made from the freshest of local ingredients by the finest of chefs. They have both indoor and outdoor seating, plus a beer garden!
c) Louie's California Bistro: Enjoy seasonal California fare inside or on the porch of a cheery yellow house for a quiet, relaxing lunch
d) Anywhere on State Street: Lots of options here.
SANTA BARBARA MISSION AND ROSE GARDEN
To shake off your post lunch ennui, head straight to the Santa Barbara Mission, north of downtown. Known as the Queen of the 21 California Missions, it features a gift shop and self guided tour of the museum, the church and the cemetary for a small fee. The mission was consecrated on December 16, 1786, by Father Fermin Francisco de Lasuen and is the 10th of the 21 California Missions.
The Franciscan Mission represents the beginnings of California as we know it today and represents a slice of history, which is important to know, especially because it involves the immense pain and suffering of the Native Indians (the Chumash) and a complete upheaval of their way of life. I will give props to whoever curated the exhibits and artifacts on not shying away from this painful consequence that European conquest had on Native lives in California, which the Mission embodifies.
Despite all this, I feel a knowledge of Santa Barbara's beginnings, intimately entwined with that of the Mission, is essential. So if you are a curious soul or lover of history, don't give this one a miss. Even if you're not interested in the self guided tour, I recommend sniffing the roses (quite literally) in the rose garden in front of the Mission where 1500 varieties bloom from April-November.
SANTA BARBARA BOTANIC GARDEN AND LOTUSLAND
For those seeking the beauty of verdant gardens or the flora of California's Central Coast, Santa Barbara has to terrific options for you. The Santa Barbara Botanic Garden, a short drive from the Mission, will welcome you and your leashed dog to see its Native Plants, Japanese Tea Garden, a Desert Garden filled with arid plants and a serene Redwoods grove. With lots of paved paths and trails, this is one place to spend a quiet afternoon.
The other major attraction in the nearby village of Montecito (the current abode of the British Royals Prince Harry and Meghan Markle) is Lotusland. Voted as one of the 10 best gardens in the world, this 37 acres of exotic plants is the passion project of Madame Ganna Walska, a well-known Polish opera singer and socialite who purchased this estate in 1941 and spent 43 years creating this spectacular garden. Lotusland welcomes visitors by appointment only.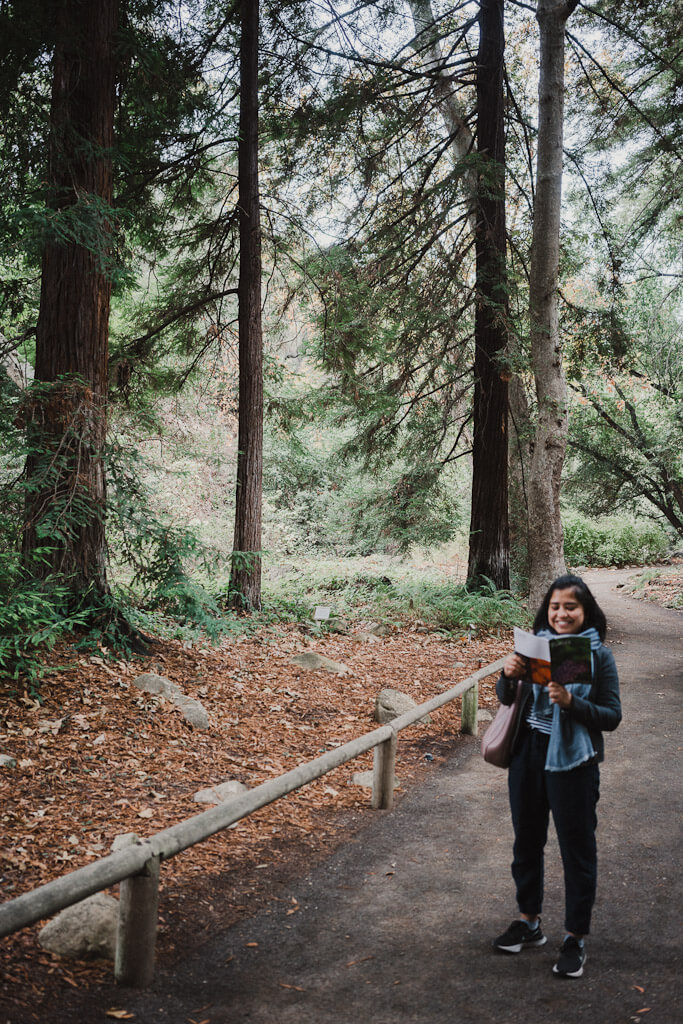 SANTA BARBARA FUNK ZONE
The Santa Barbara Funk Zone is one of the best cosy and relaxing spots in the city and a great place to give your achy feet a rest after all this sightseeing. With a railroad separating it from State Street, this is a collective of wine tasting rooms, cafes, restaurants, surf shops and studios featuring local artists that feels like being miles away from the craziness of downtown.
I recommend doing some wine tasting at the Santa Barbara Wine Collective (you can also get a glass of wine if you like) and checking out the many colorful and whimsical murals dotting the storefronts. You can also grab an afternoon pick me up from DART Coffee. Don't forget to stop by the three storeyed vintaged store Blue Doors which is home to some really cool antique wares!
The other two places (not in the funk zone but nearby on State Street) to get some afternoon sweet fixes in Santa Barbara are Tondi Gelato (at Paseo Nuevo Mall) and Lokum, a Turkish Cafe offering coffee, lokum and baklava. I have a huge sweet tooth and recommend stopping by at least one of these places to all you sugar addicts out there!
SUNSET AND DINNER IN SANTA BARBARA
The perfect way to end your Santa Barbara day trip is to witness a heavenly sunset at Butterfly Beach in nearby Montecito and then go for a dinner afterwards at either Loquita or The Lark Restaurant. Loquita is known for its Tapas but the Paella is simply the bomb! The Lark is one of the best restaurants in Santa Barbara and serves innovative Californian cuisine in the Funk Zone.
And, that is a wrap for my 1 day in Santa Barbara itinerary! I hope you enjoyed reading this post on how to plan that perfect day trip to Santa Barbara and are already jumping into that car as I type 🙂 Thanks a lot for stopping by and safe travels!

Like this post? Pin it for later

«