Last Updated on August 18, 2022 by Paroma
Looking for the best dog friendly things to do in Los Angeles? This mega dog friendly Los Angeles guide covers everything that you need-from the best dog friendly beaches in LA to hiking trails and from dog friendly hotels to restaurants welcoming dogs, there is never a dull moment when you're visiting Los Angeles with your dog!
Continue reading to find the best dog friendly activities in Los Angeles in this super detailed guide based on my repeat visits to LA with Babu and Gunda, the cutest dogs in the world!
Disclaimer: My blog posts may contain some affiliate links. Clicking on them may earn me a small commission at no extra cost to you for purchase of the product. Thank you!
A Dog friendly guide to Los Angeles: Why visit Los Angeles with your dog?
Los Angeles is not only home to the biggest stars on earth but also to many happy wagging tails and furry paws.
With sun, sand, leash free parks and more, there are many places in Los Angeles where dogs are allowed and so there is never really a dull moment for you and your dog. There is no dearth of dog friendly things to do in LA and in this dog friendly Los Angeles guide, I will show you how to enjoy two-three blissful days in the entertainment capital of the world where dogs are as welcome as starry eyed cinephiles.
This guide, based on two LA trips (2019 and 2021), focuses on the best things to do in Los Angeles with your dog: spanning from dog friendly places in Los Angeles, dog parks (several of them being leash free), dog friendly restaurants and of course to some of the best dog friendly hotels/accommodations in LA.
I have also added some dog friendly day trips from LA as an added bonus for those looking for dog friendly weekend getaways in Southern California.
Planning a dog-friendly Los Angeles vacation? Get the FAQs
Where can I bring my dog in Los Angeles?
Los Angeles has plenty of dog friendly places for your pup to enjoy, so please don't leave your dog behind at home.
Being a huge metropolis and that too on the California coast, it offers many open spaces, dog parks (several of which are leash free), dog friendly neighborhoods, restaurants and attractions and some dog friendly beaches (although not in LA proper). In addition, there are many dog friendly hiking trails to explore in LA.
Is LA a dog friendly city?
Yes, absolutely! The vast open spaces and dog parks with many hiking trails (Runyon Canyon, Griffith Park etc) are dog friendly and beaches in Los Angeles County (Rosie's dog beach) welcome dogs with open arms. Hollywood Hills and Santa Monica, Abbot Kinney Boulevard in Venice are also amazing places to enjoy with your dog, where many storefronts and restaurants will welcome your furbaby.
This dog friendly Los Angeles guide covers all these awesome places, so please keep on reading!
What beach can I bring my dog to Los Angeles?
Although LA proper does not welcome dogs on beaches, there are several others that do in Los Angeles county. Rosie's beach on Ocean Boulevard in the city of Long Beach (about 30 mins drive from downtown LA) is the most famous dog beach in Los Angeles. Leo Carrillo State Beach in Malibu is also dog friendly and is right on Highway 1!
Are dogs allowed in stores in LA?
Unless the store sells food/groceries (and is not a restaurant or cafe), dogs should be allowed in on leash. We found that many stores on Abbot Kinney boulevard in Venice Beach were dog friendly and so were the ones in Echo Park, Beverly Hills and Silverlake neighborhoods.
Can I take my dog to Santa Monica? Are dogs allowed on Santa Monica Pier?
Dogs on leash are allowed on Santa Monica Pier and boardwalk, but not on the state beach.
You can walk with your best friend along the paved promenade of Ocean avenue in Venice, Santa Monica is the next best thing to running around on the sand. With its year round sunshine, a vibrant Abbot Kinney boulevard with plenty of dog friendly restaurants and stores, Santa Monica is one of the best places in Los Angeles to visit with your dog!
Dog friendly neighborhoods in Los Angeles
There are many dog friendly places in Los Angeles, but herein comes a word of caution. Los Angeles is a huge city and with a whopping 503 square miles, choosing the best place to stay with your dog can get pretty overwhelming, especially if you've never visited this city before. Besides this helpful article on the best dog friendly neighborhoods to stay in LA, here are some pointers to keep in mind while deciding where to stay in Los Angeles with your dog:
i) Quiet neighborhoods with access to open spaces is important if you are planning a dog friendly vacation in LA. Los Angeles has no dearth of dog friendly parks, many of which are leash free.
Neighborhoods such as Silver lake, Echo Park and Los Feliz (with its proximity to Griffith Park) are excellent locations with dog friendly parks with lots of hiking options where dogs are allowed. Beverly Hills is also a nice area with quiet, leafy streets that are great for walking.
ii) If you are looking for pet friendly lodging in Los Angeles next to the ocean with dreams of dog day afternoons on the sand, then let me deliver the bad news right away. Unlike several dog friendly beaches in San Francisco, LA county beaches are off limits to dogs. Barring Rosie's beach (which technically is in the city of Long Beach, 25-30 miles away from LA proper) and Leo Carrillo State Beach (leash free dog beach in Malibu), no other beach in Los Angeles proper allows dogs.
Finally, I highly recommend staying in Hollywood Hills, which is kind of in the heart of LA and not too far south west like Santa Monica. Besides being at an elevation that provides fantastic views of the city, this neighborhood is quiet, green and is close to Griffith Park (with plenty of dog friendly hikes), Lake Hollywood park (providing a great view of the famed Hollywood sign on Mount Lee) and is close to several dog friendly restaurants.
When is the best time to visit Los Angeles with a dog?
Los Angeles is hot pretty much throughout the year, with the summer heat (June-September) being unbearable! I highly recommend shoulder months such as November and March-May when it is cooler, the crowds are thin and it is not rainy. December-February is cold but rainy.
On both occasions of visiting Los Angeles with our dogs, we chose December (Christmas break) which has both pros and cons. Pros-city is emptied out making reservations easier. Cons-it does get cold at night making outdoor dining a little tricky (just bundle up) and you might get a lot of rain.
How many does should you spend in Los Angeles with your dog?
Los Angeles is huge and has tons of dog friendly places; you will not be able to cover all of them in one visit so don't even try.
I recommend picking one or two nice neighborhoods and exploring them in 2-3 days with your dog at a relaxed pace. Hollywood Hills, Echo Park, Silver Lake, Los Feliz and Culver city have lots of dog parks and recreational areas to enjoy with your pup. Malibu is also a dog friendly city in LA county with a leash free dog beach that is rare to find in Los Angeles.
Dog friendly Los Angeles hotels (based on our stay)
This updated post reflects where we stayed in Los Angeles in 2019 and 2021. In 2019 we visited Los Angeles with our precious pup Babu (who passed away on Feb 2021 due to cancer after giving us unlimited love and joy over 17 years)
In 2019, i.e. our first LA trip with our dog, we stayed at this beautiful Airbnb with Babu during our trip to Los Angeles and had the entire house to ourselves, like many of our past dog friendly Airbnb experiences. The house, in a quiet part of Hollywood hills, comes fully equipped with a kitchen, washer-dryer and best of all is surrounded by an amazing garden and backyard for your dog to sniff around to his/her heart's content.
We loved the place for the quiet secluded feel and I would recommend it to any other dog parent in a heartbeat!
This was our Airbnb home in Hollywood Hills
During our second (and most recent) trip to Los Angeles with Gunda, our recently adopted pup (we rescued him in April 2021 from Stonecliffe Rescue because we needed some rescuing of our own to deal with the grief of Babu's demise), we splurged a bit and stayed at the Kimpton Everly Hotel in the Hollywood neighborhood.
Besides being an obviously stylish hotel with a bar and restaurant (Jane Q) that allows dogs to dine with you indoors, Kimpton does not charge a penny for pets. I other words, there is zero pet fee at any Kimpton hotel to bring any kind of pet in, their mantra being "if you can fit the pet through the door, we will take him/her".
We also lucked out on the fact that we got a room on the 15th floor of the hotel and so our view was simply FABULOUS! Kimpton also offers complimentary wine during their daily happy hour (5-6 PM) at the bar.
Gunda loving the view from the 15th floor of Kimpton Everly
Best dog friendly things to do in Los Angeles: Check out the dog friendly parks in LA
All hail LA for the sheer abundance of dog friendly parks and open spaces to romp around, several of which are as sprawling as the city itself and also leash free! Although LA does not pack in as many dog parks as pint sized San Francisco does, there are still plenty to choose from for either leisurely strolls or long hikes with your dog. During our Los Angeles visit with Babu and Gunda, these are the dog parks that we hit up:
a) Griffith Park (perfect for dog friendly hikes in Los Angeles)
This giant park is the virtual lungs of Los Angeles and is not only home to the famous Griffith Observatory but is also crisscrossed with several hiking trails, big and small and all super dog friendly. Although the most popular hiking trail is the 4 mile round trip to the Hollywood sign on Mount Lee, there are many other small hikes that can be done in Griffith park without breaking tons of sweat.
We city dwellers are not big hikers and Babu is 16 years old, so we settled for more leisurely, smaller hikes by embarking on the Ferndell trail or exploring the Bronson caves that was the filming site for the 1968 Batman TV series.
We really enjoyed our time at the Bronson Canyon Caves (Bat caves) where you get to explore the spooky caves only 0.3 miles away from parking lot. The best part about the caves, apart from being relatively uncrowded, is that once you emerge on the other side, you do get a splendid view of the Hollywood sign at a distance.
For those curious to take on the challenge of more arduous hikes with their pup, such as the 8 mile round trip hike along the Mt. Hollywood trail to the Hollywood sign or the shorter hike (2.4 miles round trip) to Mt. Hollywood (a prominent peak in Griffith park with sweeping views), there are a few things you need to know ahead of time.
The trail head, also known as Charlie Turner trailhead, starts from the parking lot of the Griffith observatory and can be a bit tricky to find, so keep your eyes peeled out for the sign. It is nearly impossible to find parking unless you come in very early (possibly when the day breaks) because Griffith Observatory is a very popular destination and parking can easily morph into a nightmare.
Carry plenty of water, shades/hat and it goes without saying, some snacks as well and wear sturdy footwear for the hike.
Griffith Park
Bronson Caves/Bat Caves
b) Runyon Canyon Park (off-leash dog park in Los Angeles)
Runyon Canyon park was hands down our favorite place to explore during our trip to LA with Babu. This gigantic park/open space towers over LA providing panoramic views of the city and a paved path for humans and dogs to walk along.
There is also an off-leash hiking area at the very end of this paved path from where you get even more eye-popping panoramic views. This park is clearly a winner with Los Angelinos and their pups, as evident from the dozens of happy canines wagging their butts and tails and stopping by for friendly sniffs.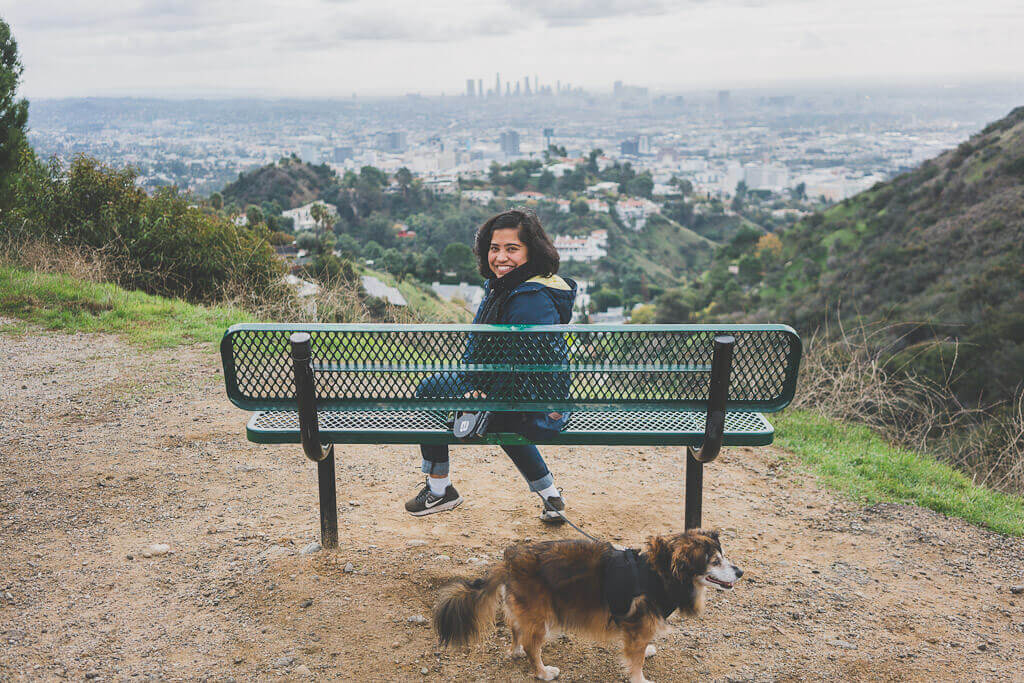 View from Runyon Canyon Park
c) Boneyard dog Park (off-leash dog park in Los Angeles)
This leash-free park is a big favorite of locals in Culver city. The park is not grassy but there are two fairly large sandy enclosures (separate for big and small dogs) for dogs to play leash-free. There is also plenty of free parking space around.
d) North Atwater Park
This grassy park is right next to the LA river in Glendale, bordering Griffith park. This is a tranquil, green space to stretch your legs and let your pup sniff around to his/her heart's content.
North Atwater Park
d) Lake Hollywood Park
This park, with a spectacular view of the Hollywood sign, is not only a big hit with tourists but also with dogs. Since we stayed at Hollywood Hills, this one was close enough for us for evening strolls.
e) Echo Park Lake
On second visit to Los Angeles in December 2021 was a complete wash, thanks to two days of torrential rain. But we made the most of our one sunny evening (when we drove in from Joshua Tree) and headed straight to Echo Park Lake, replete with a lake and a lovely paved walking path around it which is perfect for an evening stroll with your dog and is also one of the best places to watch a sunset in LA.
Echo Park lake has a fountain in the middle of the lake along with lots of swan-shaped paddle boats which is popular with visitors. We were not sure if dogs are allowed on those boats so we just stayed content walking Gunda along the path. I must mention here that the park is really popular with pet parents, so please keep your dog on leash at all times. There are restrooms at the park but they are not very clean.
There is also a considerable amount of fowl poop on the walking path at Echo Park simply because of the geese and waterfowl roaming around, so please be mindful of that as you walk.
Gunda admiring the Echo Park Lake from a viewing area
f) Elysian Park
Apart from Echo Park Lake, the neighborhood of Echo Park boasts of another fantastic stretch of greenery known as Elysian Park-a quiet and peaceful dog friendly park in Los Angeles boasting of excellent views of downtown Los Angeles. If you want to witness a gorgeous, tranquil sunset in Los Angeles with nary a person in sight, I recommend a walk up the Baxter stairs, a flight of hidden stairs between Baxter Street and Avon street that ends at Park Drive bordering the park.
Try as we might, we could not find these stairs, so we simply drove up Park drive that runs along the park, to witness a beautiful pink sunset with downtown LA as the backdrop. Don't give it a miss when in Los Angeles with your dog!
Sunset from Park Drive
g) Kenneth Hahn State Recreation Area
This vast recreation area, named after the former LA county supervisor, in Culver city boasts of many dog friendly attractions and is one of the best dog friendly places in Los Angeles. Despite the heavy rain, we still enjoyed our time at the Doris Japanese Garden with a beautiful Japanese pagoda in the middle of a pond and a small waterfall.
We also stopped by the Martin Luther King Jr. Memorial (park your car in the parking lot next to the children's playground area and walk about 0.6 miles on a paved path to the memorial). The actual memorial features the words from Dr. King's famous speech "I Have a Dream" with downtown Los Angeles glistening in the background.
Kenneth Hahn Recreation Area (left: Doris Japanese Garden, right: MLK Jr. Memorial). Gunda's raincoat is from PetSmart.
Some other parks that we still have not quite made it to (yet) are as follows: Silver Lake reservoir, Sepulveda Basin Off-Leash Dog Park, Whitnall off-leash Dog Park, Westridge-Canyonback Wilderness Park, Laurel Canyon Dog Park and Franklin Canyon Park. I hope to return to Los Angeles soon with Gunda to explore them and update the post, so keep an eye out for this space!
Dog friendly beaches in Los Angeles: A day in the sun and sand for your pup
a) Rosie's dog beach (off-leash dog beach in LA county)
LA county beaches are off limits to dogs, except two where locals let their dogs run leash-free. One of them is Rosie's beach, which technically is in the city of Long Beach, 25-30 miles away from LA proper and is very popular with dog parents looking for a day in the sun and sand.
Rosie's dog beach is open from 6AM-8Pm everyday and is located on Ocean Boulevard, between Granada and Roycroft avenues. Dogs need to be on-leash on their way to the beach but can be off-leash at the beach. There is metered parking available at the Bennett Avenue lot.
b) Leo Carrillo State Beach
The second one, which we actually visited during our most recent 2021 trip to Los Angeles, is the Leo Carrillo State Beach in Malibu, home to superstars, the Getty Villa and some of the best beaches in the world! The only way to get to Malibu from Los Angeles downtown is by Highway 1 (Pacific Coast Highway). You need to park on the side of the highway to get to the beach since the side road leading to it is sometimes closed.
Once you park, walk down the side road to get to the bluffs. You will see a sign (with a dog and arrow beneath it) indicating the beach to be on your right. Keep on walking and you will see the beach and happy, wagging tails running through the sand. Dogs are allowed north of Lifeguard tower 3 in day-use areas, campground and North Beach (which is what the sign indicates).
Leo Carrillo State Beach at Malibu
Dog friendly activities in Los Angeles: discover the best dog friendly places in Los Angeles
Besides dog parks and open spaces for your furry friend to run around, Los Angeles has many other dog friendly spots to enjoy the urban LA scene. These are some of the dog friendly places in Los Angeles and the ones which get two paws up from Babu!
a) Walk down Abbot Kinney Boulevard
Abbot Kinney Boulevard is the possibly the most popular stretch of road in Venice, Santa Monica and is home to many boutique shops (most of which are dog friendly), restaurants and art galleries. Besides these, Abbot Kinney is also home to some spectacular Los Angeles murals that are perfect for exploring with your dog. Arrive early to find a parking spot since this street gets crowded very quickly.
I highly recommend checking out the vegan/vegetarian restaurant The Butcher's Daughter for its dog friendly heated outdoor seating, the French restaurant Zinque which also has a dog friendly patio and finally, the super popular bakery Gjusta, slightly off Abbot Kinney, which has a small outdoor seating area as well.
For those interested in dining at Gjusta, arrive as early as possible (the bakery opens at 7AM) to get a seat because this place gets insanely crowded with crazy wait times for food.
Abbot Kinney Blvd (this mural still exists in 2021!)
b) Snap a photo with the Hollywood Sign near the Last house on Mulholland Drive
Mulholland Drive, near Hollywood Hills, sits on an elevation and is naturally blessed with beautiful views. The "last house on Mulholland drive" is more of a symbolic landmark and denotes a viewing area at the very end of this street to see the famous Hollywood sign. Being a public spot, this is also dog friendly. I have marked this spot on the Google Map below for convenience.
c) Go on a dog friendly shopping spree at Platform in Culver City
Platform is an open air shopping arcade in Culver City showcasing local talent in the form of quirky boutiques and beautiful local stores interspersed with lots of greenery and a paved walking path. You can easily spend some time here shopping from one of the many beautiful boutiques carrying everything local and grabbing a bite at one of the several restaurants/bakeries with outdoor seating along with your pup.
d) Enjoy the holiday decor and stores in Rodeo Drive in Beverly Hills
Los Angeles's famous Rodeo drive is not only the epicenter of glamor and uber-expensive retail in Beverly Hills, but also comes alive during Christmas with charming storefront and street décor to ring in the holiday mood. Rodeo drive is essentially a classy, giant outdoor mall with a stone paved path snaking through the many posh retail stores on either side.
If you are visiting LA during Christmas, come in early with your dog (it gets too crowded later in the day with hordes of tourists going crazy over Instagram worthy shots) to walk down this cobbled path which is completely decked up with Christmas decorations to indulge in mini holiday photo-shoot.
e) Explore the shops in Los Angeles Japantown
LA's Japantown/Little Tokyo is one of the only three remaining of its kind in California and is a fun place to hangout with your dog. It is a small enclave of lots of restaurants serving Ramen, Okonomiyaki and other Asian fare and has several bakeries and small shops. Since all of them are in an outdoor area and close to one another, you can easily walk around with your dog and enjoy the bustling scene, especially during the holidays.
f) Get a breathtaking view of the city at Universal City Overlook (Hollywood Hills)
Besides Griffith Park that I mentioned before, Los Angeles has several other lookout points from where you can enjoy a spectacular view of the city. Many that are open to the public welcome dogs as well. Universal city overlook near Hollywood Hills is the spot that we chose to get a peek of LA glistening at night and you should definitely check it out if you are visiting Los Angeles, pup or no pup.
g) Discover the fun Micheltorena and Piano Mural Staircases
These two super fun flights of stairs are located along Sunset Boulevard in the vibrant neighborhood of Silver Lake and are within walking distance of each other. Definitely check these two dog friendly Los Angeles attractions out since they double up as colorful backdrops for a perfect photo with your pup plus the much needed exercise (after stuffing yourself with unbelievably delicious food in LA-scroll down to find out more)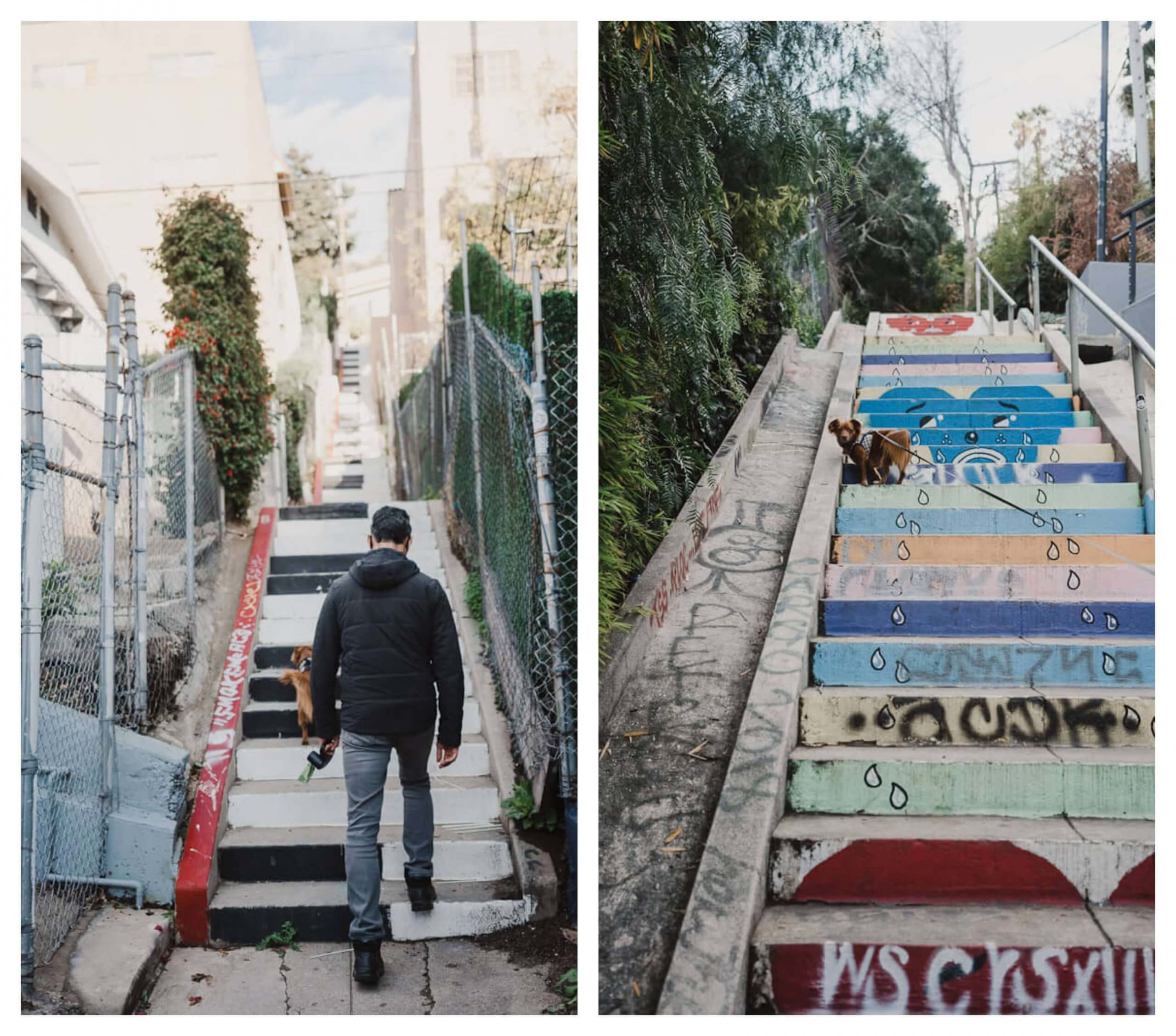 h) Snap a photo with the Instagrammable Los Angeles murals on Melrose Avenue
The best thing about street art is that it is free, public art which means only one thing. Dogs can enjoy them as much as humans without any restrictions on their entry. Los Angeles has tons of murals scattered all over (I have a previous post on DTLA murals that you can check out) and Melrose Avenue his home to some of the most popular ones such as "That Pink Wall", which is literally a bright pink wall of the Paul Smith Store.
Beside the pink wall, we also found this Dua Lipa mural on Melrose Avenue painted by Overall Murals. Thanks to the downpour, there was no one to pose around these murals and so we got some nice shots.
i) Take a walk in the dog friendly neighborhood of Beverly Hills
One of the poshest neighborhoods in Los Angeles, Beverly Hills is also undoubtedly one of its prettiest with tree lined streets, gorgeous houses and lots of greenery all around. If you're visiting Los Angeles, please do me a favor and stop by Pompadour Patissiere for breakfast in Beverly Hills and walk down S. El Camino Drive for a tranquil morning walk.
The best dog friendly restaurants in Los Angeles
Los Angeles will pleasantly surprise you with its large number of dog friendly restaurants, thanks to the famous LA weather that allows for patio dining. This always dependable guide by Eater LA, this helpful guide by Rover and this other one on restaurants that allow dogs in Los Angeles came in very handy while I was planning for a trip to LA with Babu.
Since we visited Los Angeles over Christmas, it was important to find some restaurants with heated patios for dining outdoors at night. I highly recommend the following places for breakfast/brunch/lunch/dinner with your pup when in Los Angeles:
i) Jane Q: This casual coffee bar and restaurant inside the dog friendly Kimpton Everly hotel serves Californian American fare and hold your breath, allows dogs to dine inside (with advanced permission of course!) It was a true blue blessing for us on a cold night in December in LA when we just wanted a quick bite and did not want to gulp down our food while shivering in cold outside.
ii) Alcove Cafe and Bakery: This classic staple of Echo park is the perfect place to start your day over a steaming cup of Chai (or whatever your poison maybe), artisanal baked goods and their very own chocolates. Their sunny patio is dog friendly and a sure fire winner!
iii) Zinqué: Located at one end of Abbot Kinney Blvd on Venice Blvd, this Californian French restaurant offers yummy brunch in a pleasant, leafy, enclosed patio which welcomes dogs.
iv) The Butcher's Daughter: This super popular vegetarian and vegan restaurant is also a hit with dog owners for their enclosed heated outdoor seating. The food and kombucha on tap are an added bonus!
v) Taco trucks: These might not be the first that come to your mind when dining with dogs, but think about it-LA is famous for its taco trucks that are indispensable to its dynamic food scene. Since the trucks are parked on the roadside, you can easily grab your order and eat on the sidewalk with your pup.
Just come in early or a little late to avoid the long lines and crowd. Although we visited during the holidays when most trucks do not operate, we still managed to get our mouths around the famous shrimp tacos from the revered Marisco Jalisco, considered to have some of the best tacos in all of LA (and beyond), on one lazy afternoon. That was possibly the best meal we had in Los Angeles, hands down!
During our second outing to LA, we discovered some more fantastic taco spots (Los Angeles is blessed to have so many of them). My other taco truck recommendation (which was my favorite) is Teddy's Red Tacos with multiple locations all over the city. They are known for their birria tacos as well as a combination platter (tacos and quesadilla) that comes with consomme. I have never tasted such good tacos in my life!
vii) Guisados: PLEASE do me a favor and go to Guisados when you're in Los Angeles. First, their tacos with their homestyle braised meat are just to die for. They have an OG (meat+vegetarian) and a all vegetarian platter of 6 mini tacos if you want to taste it all. Second, they have a covered patio which is dog friendly and is adorned with some very vibrant murals. They have a famous chili taco (the filling is chillies topped with even more chillies)-try it if you're brave enough!
ix) Cinco de Mayo tacos restaurant: This dog friendly taco stand has delicious tacos and outdoor seating as well and came as a recommendation from a friend who is also a local. Location: 11204 Washington Pl, Culver city (this is where we stopped for lunch after our day out at Kenneth Hahn park).
viii) Pompadour Beverly Hills: This was one of our favorite breakfast stops in Los Angeles. This beautiful patissiere not only has delicious pastries (get their Pitchoun) but also an amazing flaky and buttery at the same time zaatar croissant! It is a dog friendly spot since they have outdoor seating. The coffee selection is very limited but Aharon Coffee & Roasting Co. across the street has you covered (we got excellent Matcha and Turmeric Milk Lattes from there).
ix) Pink Orchid Bakery: I am a sucker for all things Persian (food, art, poetry-especially the food) and never miss a chance to stop by Westwood (also known as "Tehrangeles or Persian Square") for my fill of Persian food. Although most Persian restaurants do not have outdoor seating, the very popular Pink Orchid cafe sure does. Stop by for the Persian Breakfast or the Georgian Khachapuri and enjoy it with pastries and Persian Tea.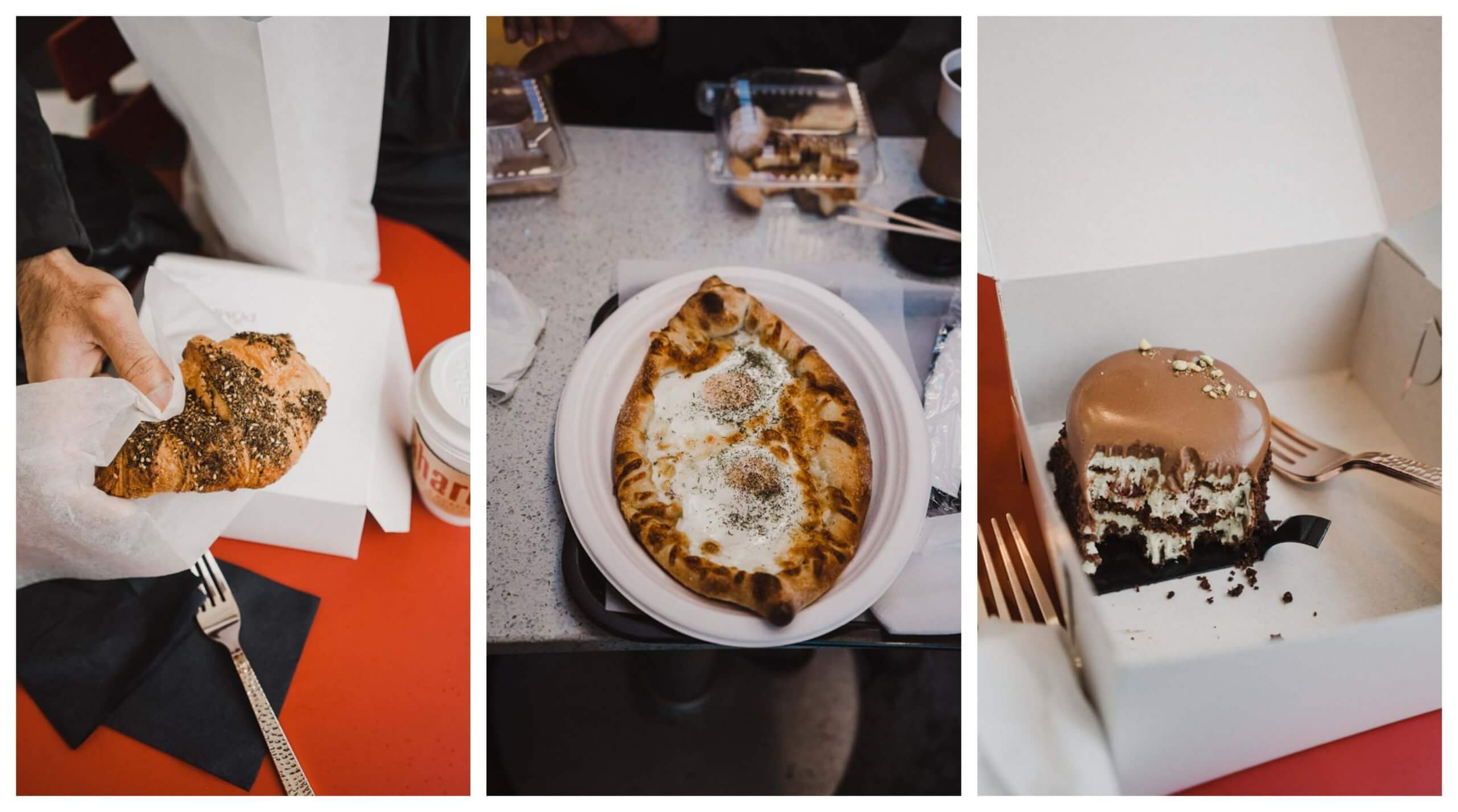 x) Guelaguetza restaurant: Guelaguetza is that Oaxacan restaurant in Los Angeles that will seduce you with its mole (those rich delicious sauces that Oaxaca is known for). It also helps that they have a huge covered patio for dog parents like us to enjoy our food, even in the rain. They sell their moles too and their margaritas are also yum! Don't forget to order their chicken mole filled tamales for dinner.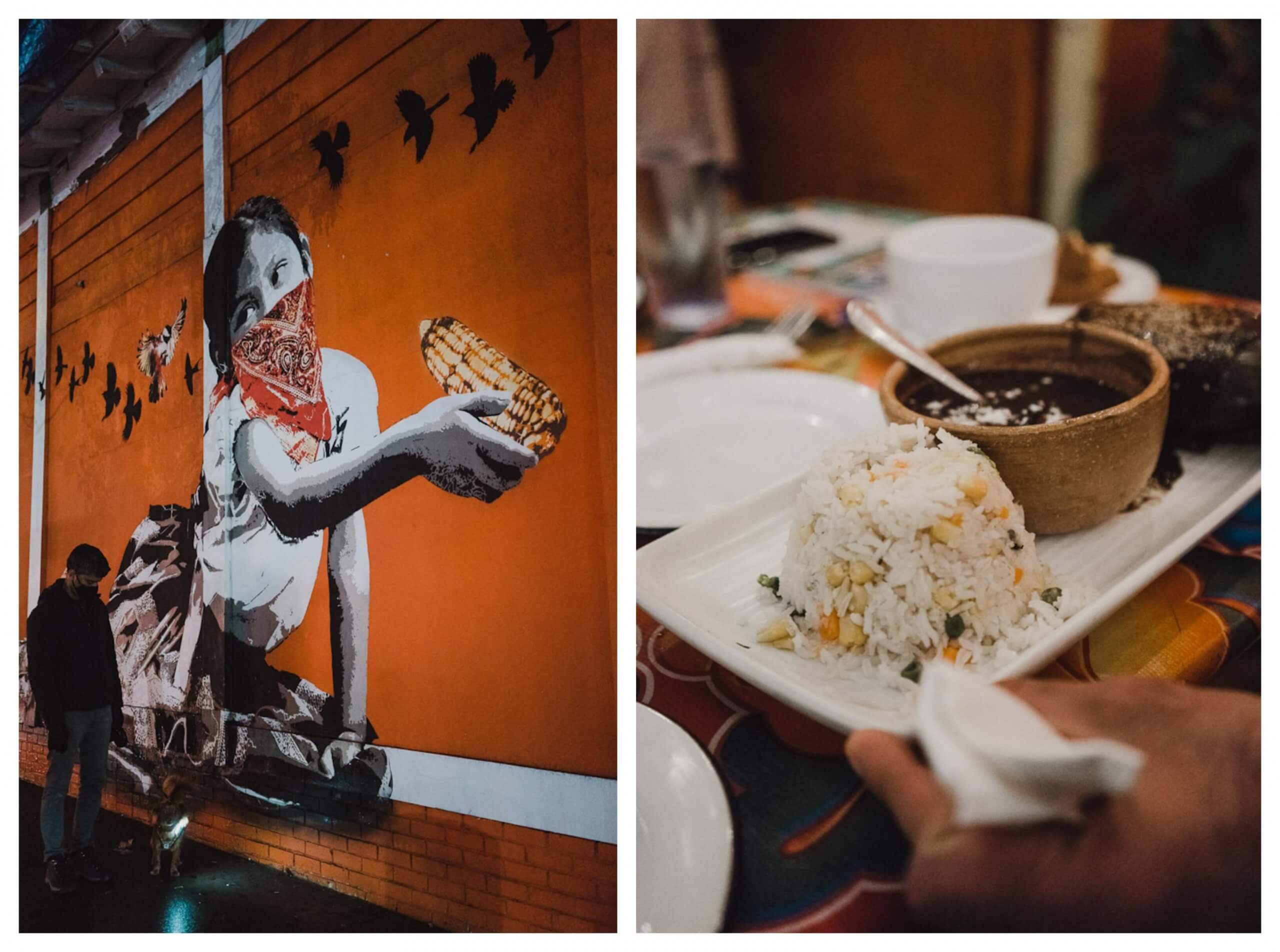 Dog friendly day trips from Los Angeles
If you have time to spare or are visiting LA for an extended period of time, then how about one or a few day trips with your pup to leave the city hustle & bustle behind? Luckily for you, there are some terrific and dare I say, outlandishly beautiful towns and cities very close to LA that you can explore for a change of scene. Here are some of my recommendations for day trips or dog friendly weekend getaways in Southern California, which also double up as excellent winter destinations in California.
a) Santa Barbara
Seems like it's been ages since we visited Santa Barbara (although it was sometime in 2013 and again in 2020), a charming seaside college town which is only 2 hours northwest of LA and has it all when it comes to dog friendly things to do. Honestly, even a day trip to Santa Barbara will be a fantastic addition to you LA itinerary if you are pressed for time.
Sunny weather for days, lots of dog friendly beaches, dog parks, plenty of outdoor dining to choose from and of course, many dog friendly wineries for a day of wine tasting with your puppy. Downtown Santa Barbara is also very welcoming to dogs in case you're in the mood for some shopping and sightseeing.
b) Solvang
This cute as a button and straight out of a Hans Christian Andersen fairytale city is USA's Danish capital and lies only 50 minutes northwest of Santa Barbara. This town in Santa Ynez valley is a huge tourist attraction, thanks to the picture postcard like Scandinavian houses and windmills dotting its main square bustling with stores and restaurants. There is also a replica of the Little Mermaid to complete the ambiance.
Solvang is extremely dog friendly but can get crowded over the weekend. If you want to avoid the crowds, arrive either early or explore the nearby towns of Buellton (where Alexander Payne's famous movie "Sideways" was filmed) or Los Alamos, SoCal's best kept secret in dining, wine tasting and R&R.
c) Palm Springs
This resort town at the foothills of San Jacinto Mountains is a favorite of anybody who's somebody in Los Angeles and is quite welcoming to dogs too! This desert oasis has a lot going for it in terms of art deco (uptown), vibrant downtown and many dog friendly restaurants such as Cheekys and Colony Club restaurant (inside Colony Palms Hotel). We recently visited Palm Springs with Gunda as a day trip from Joshua Tree and loved it!
d) Ojai
This artsy inland town filled with quirky stores and good eats was our best discovery of 2019 and easily counts as one of the most dog friendly day trips from Los Angeles. When in Ojai, stay at Casa Ojai Inn (pet friendly and charges $25/night/dog) and explore the arcade plaza stores stretched along Ojai Avenue.
Start with breakfast at the local's favorite Beacon Coffee Company, stop for lunch at the supremely popular The Nest (large patio area) for local, Californian fare and end your day with dinner in the heated patio of the locavorian fast casual Lebanese Ojai Rotie.
Vegetarians and vegans should stop by the delightful Farmer and The Cook in Ojai Valley which specializes in vegetarian (and vegan) Mexican food, fresh juices and smoothies while also selling a lot of local products.
This mural is outside the store "Summer Camp", a place for custom framing and vintage home and lifestyle goods
Besides eating, there are many other dog friendly stores to explore along Ojai avenue, my favorite being Bungalow and its sister restaurant Fig selling home decor and other locally made items for the home and garden. We also loved hanging out at Bart's Books, the largest independently owned and operated outdoor bookstore in USA where well behaved dogs are welcome to turn the pages amongst rows of bookcases standing in an open courtyard.
Owing to its proximity to the Santa Ynez valley, Ojai has no dearth of wineries many of which are dog friendly. For those not into alcohol, I highly recommend wetting your throat with something different-aka, a Kombucha tasting with Ojai's very own Revel kombucha at Revel Kombucha Bar!
A flight of four costs merely $8 and you can enjoy it outside on a grassy lawn with your pup. Revel has several flavors to choose from and their Jun kombuchas are some of the breeziest ones that I've ever tasted with solid notes of lavender, ginger and fruit and just a hint of tart.
Finally, Ojai may not have those sandy beaches since it is inland and all, but has two very grassy dog parks for your pup to frolic around. Libby Park (across the arcade) and Michael Edelson park welcome dogs. You can see the majestic Topa Topa mountain range surrounding the latter during your walks.
This brings me to the end of this dog friendly Los Angeles guide (see Google Maps below for all the dog friendly places we visited in Los Angeles). LA is a huge sprawling city with so many dog friendly activities to enjoy, it would be a real shame to leave your pup behind.
I hope this guide has given you enough fodder to plan on where to take your dog in Los Angeles and beyond. Please share your experiences with me if this post inspires you to visit LA with your dog and thanks so much for reading! For more of Babu's California adventures, you can read all of his past travels here.
LIKE THIS POST? HOVER OVER THE IMAGES BELOW TO PIN
«