Last Updated on January 3, 2022 by Paroma
Are you traveling with your dog and thinking of exploring dog friendly Airbnbs? In all our 10 years of traveling in California with Babu (our dog), we have often stayed in dog friendly vacation rentals and have had a very positive experience.
As frequent pet friendly Airbnb users, I am here to tell you everything you need to know for booking Airbnbs that allow dogs along with handy tips for that perfect dog-cation! Plus, I've included honest reviews of Airbnbs where we've stayed over the last several years with Babu during our travels.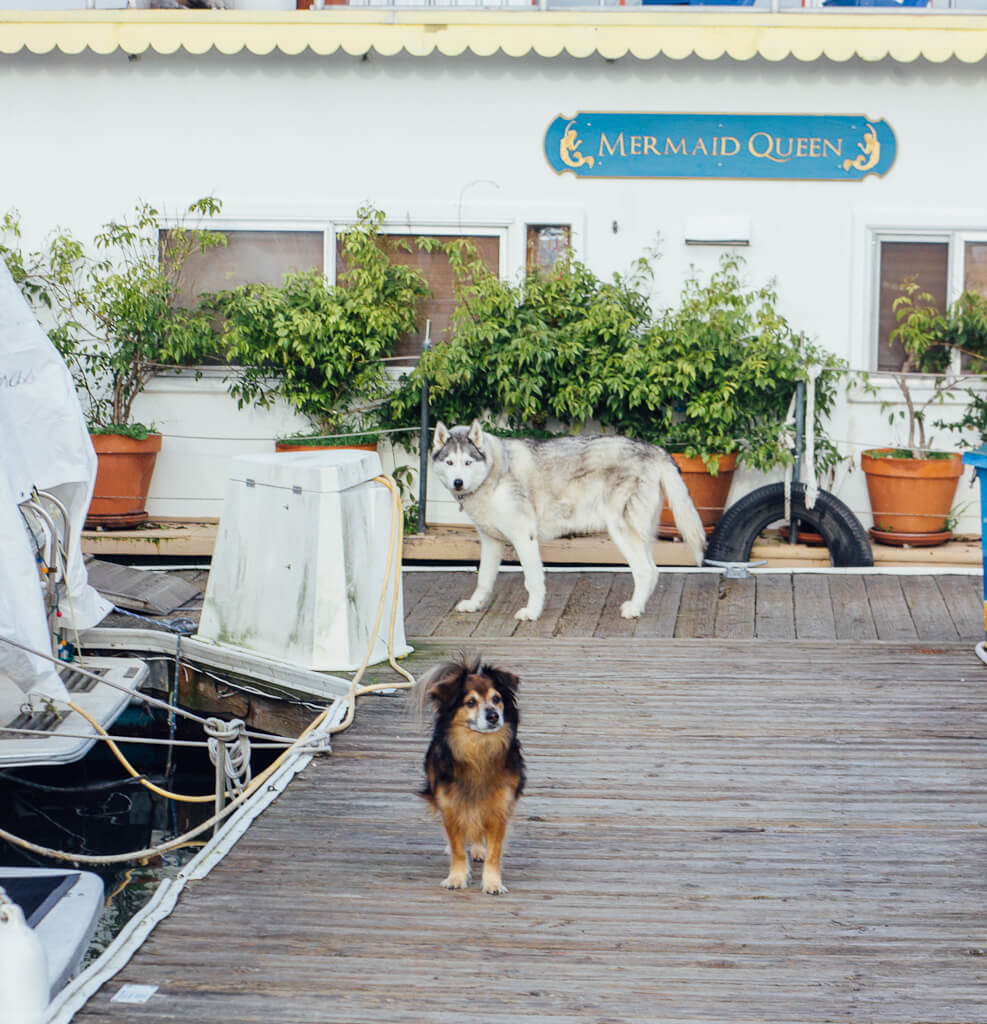 Disclaimer: This post may contain some affiliate links. Clicking on them may earn me a small commission at no extra cost to you for the product. This teeny tiny commission helps support my blog hosting and other maintenance costs. Thank you!
This post is neither approved, endorsed nor sponsored by Airbnb and is solely based on my experiences on being an avid user while traveling in California with Babu. The listings featured here are currently active (2021) and follow all CDC approved guidelines of sanitation and cleanliness.
Please keep in mind that Airbnb hosts can change pet rules as per their convenience. So it is always a good idea to confirm everything with the host prior to booking your stay and be prepared to assume the risks and liabilities that come with opting for vacation rentals.
WHY CHOOSE DOG FRIENDLY AIRBNBS?
Traveling with dogs has become easier over the years with more and more destinations all over the world embracing our canine companions with an increasing number of dog friendly lodging options. However, that was definitely not the case when we started traveling 10 years ago in California with Babu, our adorable Tibetan Spaniel Mix who has been all over the state with us.
Besides the few options of dog friendly hotels that we had, they were also incredibly expensive with many charging a steep additional pet fees for dogs. We either ended up in very basic chains like Motel 6 or La Quinta Inn with no pet fees (but very little comfort) or had to book that one decent hotel months in advance that would accept Babu and wouldn't burn a hole in our pockets.
This was especially challenging in small California towns, which albeit charming, typically have very few dog friendly hotels.
Enter Airbnb which has absolutely been a game changer when it comes to traveling with dogs. Although this vacation rental gets a very bad rap for snatching the rental market away from locals in many cities around the world including my city San Francisco, it has provided us traveling dog parents that much needed option to bridge the gap between basic AF motels and high end, expensive hotels, especially in small towns where there aren't many options.
Thanks to Airbnbs allowing dogs, our travels with Babu have become easier over the years. Much like us, there are many reasons as to why dog friendly Airbnbs might also be a good fit for you when traveling with dogs. Based on our experience, these come to mind:
LAST MINUTE LODGING OPTIONS
Airbnb has often come to our rescue while planning last minute vacations with Babu for a weekend getaway from San Francisco or while traveling to small towns in Northern California where dog friendly lodging options are scarce.
With most hotels booked or with high nightly and additional pet fees, Airbnbs welcoming dogs have been a dependable source of staying with Babu in such small towns.
Airbnb (i.e. a small studio which was perfect for a weekend stay) came to our rescue when we could not find any lodging in the cute as a button town of Murphys in California's central Sierra Nevada foothills (between Yosemite and Tahoe). Similarly, we've stayed at a private room with an attached bath (more of a separate cottage) during a last minute trip to Sebastopol in Sonoma.
COMFORT AT A REASONABLE PRICE
Dog friendly vacation rentals such as Airbnb fill that vacuum between cheap motels and high end hotels with the comforts of a home away from home. Many are homes of actual people or are designed to be fully furnished units and come with kitchens/kitchenettes, refrigerators, microwaves, washer/dryer etc. and some even have backyards, gardens and patios accessible to dogs.
Best of all, they provide the privacy and cozy environment of a home with decent prices for a quiet, comfortable experience when traveling with dogs.
We stayed at one such cozy dog friendly home (a small house), minutes away from downtown on our trip to Lodi (a small California town which is crazy obsessed with its zinfandels and has beautiful dog friendly wineries). This place, with all the amenities of a comfortable stay, was not only clean and neat but the host was an absolute gem!
UNCONVENTIONAL STAYS AND UNIQUE EXPERIENCES
Airbnbs allowing dogs provide diverse experiences, from conventional apartments to old Victorian houses, from yurts and Airstreams to glamping tents, tree houses and eco-friendly cabins. Such unique lodging experiences with dogs are not possible in conventional hotels.
In addition, dog friendly Airbnbs can be found in the most unique of locations and are not limited by the zoning restrictions of hotels and motels. From smack-dab in the middle of Joshua Tree National Park to the snowy slopes of Lake Tahoe and from cottages surrounded by vineyards to cabins amidst the towering Redwoods-Airbnbs boast of some incredible locations that you'll miss out if opting for a hotel or B&B.
Thanks to Airbnb, we've done some dog friendly glamping in Petaluma, Sonoma where we stayed at a Hobbit "Cobin" (a hand made hut with earthen walls, kitchenette and shower, plus a dry toilet) and in a houseboat docked in the Sausalito Marina. These have been some of our most memorable stays with Babu on vacation (that particular houseboat listing is no longer available).
CONVENIENT FOR OLDER DOGS
We've been opting for Airbnbs that allow dogs more frequently as Babu grows older. He is 17 now and although he is in pretty good shape for his advanced age, it is definitely a bit more challenging traveling with him now than before. Older dogs like him or those with joint problems might not be able to navigate steps or may get nervous in elevators in hotels, which also tend to be noisy and without easy access to the outdoors.
Airbnbs are much more convenient that way since many are secluded homes or units with separate entries that open directly on to the street. Many Airbnbs in small towns have decks/patios for dogs to rest and also designated outdoor spaces where dogs are allowed to go relieve themselves, specially if the owners also have pets of their own.
While planning for our trip to Los Angeles, we opted for an Airbnb in Hollywood Hills to escape from the craziness of LA and help Babu feel comfortable (he was already 16 then). This was the lower floor of a 2-story house and in a quiet, secluded part of town surrounded by nature, dog parks and hikes. Same goes for Mendocino where we opted for a secluded Airbnb (with a backyard and hot-tub) with a semi-private access to a beach in Little River.
LOCAL DOG FRIENDLY RECOMMENDATIONS BY HOST
It is not uncommon to find other pets (dogs and cats) at these dog friendly Airbnbs who belong to the owner (this will be clearly mentioned in the listing). In that case, these pet friendly owners will also provide a lot of local recommendations on where to take your dog as well as dog friendly restaurants and other attractions based on their experience. This bonus concierge service is a 100% win-win situation!
SHOULD YOU ALWAYS OPT FOR A DOG FRIENDLY AIRBNB?
All my dog friendly travels are 100% honest guides based on my personal experience and this post is no different. In an effort to be transparent with my readers, I'd like to point out that opting for a dog friendly vacation rental may not always be a good fit for everyone or even a desirable option in all cases. You may be better off staying at a hotel (than at an Airbnb) with dogs for the following reasons:
ABUNDANCE OF OPTIONS
This post is neither about pushing Airbnbs down your throat nor is it about being the moral authority on where you should stay while traveling with your dog. Let's face it-Airbnbs and vacation rentals are here to stay and there is nothing wrong in opting for them if you have limited choices as dog parents.
However, Airbnbs have often found themselves at loggerheads with locals (and city/county) and sometimes operate on dubious ethical and legal grounds in some places. So if you are visiting a big city with a travel savvy dog (with no anxiety/health issues) or have a generous travel budget, please look around for traditional hotels, B&Bs and Inns before resorting to dog friendly vacation rentals/Airbnb.
COST OF STAYING AT DOG FRIENDLY AIRBNBS
Although Airbnbs offer a welcome respite to dog parents looking for more affordable options, they are not exactly cheap all the time and might not be very budget friendly everywhere. This is especially true if you're traveling in peak tourist season to popular destinations in USA or Europe or visiting a small town during a special event or festival.
Besides the nightly stay, the cleaning fee, state/county specific taxes and additional pet fees charged by several Airbnbs can quickly bloat up the lodging expenses. You're then better off staying at a regular B&B or hotel in that case where you get additional amenities such as breakfast and room service.
ROOM SERVICE AND COMPLIMENTARY BREAKFAST
These amenities are not available in Airbnbs where you're left to your own devices and the cleaning happens once you vacate the premises. If you're looking for fresh linens and towels and a well made bed during your stay every day or love the idea of a homemade hot breakfast or concierge service, I recommend staying at a hotel or traditional B&B.
ALLERGIES AND PET AGGRESSION ISSUES
Some dog friendly Airbnbs may have resident cats and /or dogs as well as other pets (such as farm animals). If you're allergic to cat dander or your dog has aggression issues towards other animals/ gets easily excited by them, it is best not to book a pet friendly Airbnb to avoid untoward incidents.
STAYING AT SOMEONE ELSE'S PLACE
This apprehension of "sleeping in someone else's bed" is quite common when people think of Airbnbs. Although Airbnbs used to be that way, i.e. portions of people's homes rented out, they have now expanded to separate units (condos, cottages or studios) and even B&Bs or properties maintained by a property manager or host who stays nearby. In other words, it is almost like a hotel with rotating guests.
These units are generally very well maintained and cleaned thoroughly after each stay by cleaners/dedicated staff (this is especially true for the ongoing health crisis and will be stated as such on the listing). Even then, if you still feel icky about Airbnb and have more faith in a hotel's housekeeping, then by all means skip vacation rentals. Your peace of mind is more important than anything else.
HOW TO BOOK PET FRIENDLY AIRBNBS: HELPFUL TIPS
Booking a stay at a dog friendly Airbnb might seem like a simple task, but it is always better to err on the side of caution and check out/confirm a few things prior to making the actual reservation. Here are some things to lookout for:
APPLY THE CORRECT FILTERS
Assuming this is your very first time booking a dog friendly Airbnb, here is my step-by-step guide on how to scour out stays that allow dogs. After searching for your destination and adding in the dates and number of guests, the two main things to do are as follows:
a) Selecting the type of booking: Go to "Type of booking" and select "Entire place". We always go for this option to have the entire apartment/cabin/studio to ourselves for maximum privacy. Sure, a private room will be cheaper but it may not be that comfortable for you and your dog or even that private or convenient with the bathroom being shared or not even attached to the room.
We once made a very last minute booking to San Luis Obispo where we could only get a private room in someone's house (who also had pets). The hosts were great but I did not like our stay one bit because it did not feel private it all. I highly recommend booking an entire place for solitude, privacy and comfort.
b) Applying the "Pets allowed" filter: Click on "More Filters" and scroll down to "House Rules" and check the "Pets Allowed" box. There, you're all set to see only those listings allowing dogs (unless otherwise stated, "pets allowed" defaults to dogs for listings).
Remember: Dog friendly listings allowing an entire place for booking are way less in number than regular listings where pets are not allowed. The more filters you apply (amenities, unique experiences etc), the lesser number of choices you'll have. Unless you are looking for a very particular amenity (such as free parking or fireplace), it is best to stick to those two basic filters I mentioned above to view the maximum number of options first.
READ THE LISTING VERY CAREFULLY
This is THE MOST IMPORTANT PART when it comes to booking Airbnbs (or other vacation rentals) allowing dogs. Please read the listing and its accompanying reviews very, very carefully (and thoroughly) to avoid nasty surprises when you show up at the property. No one wants stress and drama during their vacation, especially with their sweet pups around.
In general, an Airbnb listing with a very high rating (4.5 stars and above) with lots of extensive, real reviews from real people about their stay (no bots with one liners), host labels such as "Super Host" are indicators that it is a solid, dependable one where your stay will be pleasant. Pay extra attention to reviews by pet parents, i.e. their assessment of the hosts, cleanliness of the unit (super important), house facilities and just their overall experience, to figure out if that listing is suitable for staying with your dog.
Similarly, pay close attention to amenities, property description, house rules and of course pet rules. This includes how many pets are allowed, the kind of pets allowed (dogs or cats or other types) and rules for staying with your pets-such as no leaving pet unattended in house, no letting pets on furniture or bed etc. It is your responsibility to understand and abide by all these rules at all times when booking your stay.
COMMUNICATE WITH YOUR HOST
I highly recommend communicating with your host (click on "Contact Host" link at the bottom of the listing found after the description) prior to making any kind of booking/reservation. Often, dog friendly Airbnbs charge an extra pet fee which is not disclosed up front. It is your responsibility to communicate apriori with the host and find out the fees to make your booking decision.
It is also a good idea to introduce yourself and your pet to the host and ask him/her/them all your questions regarding your stay, as in number of dogs as well as breed, size, weight restrictions, if any. The whole point is to confirm everything in writing (i.e. message/email) prior to booking so that there are no misunderstandings with the host. Not to scare you or anything (this is me being super cautious), but in the event that something goes wrong, it is always good to have the communication with the host available to settle disputes with Airbnb.
ALWAYS BOOK VIA AIRBNB'S WEBSITE (OR MOBILE APP)
Once you are all set with your confirmations, go ahead and book your reservation. Remember to always book via the Airbnb portal/site and do not click on a third party link sent by the host (a legitimate host will never do that) or send money to the host outside of Airbnb to avoid being scammed.
YOUR RESPONSIBILITY AS A GUEST AT A DOG FRIENDLY AIRBNB
Congratulations! You've booked your very first dog friendly Airbnb stay! Now what? As a dog parent, here are some things you need to do as a responsible guest so as to keep the Airbnb accessible for other pups to enjoy in the future.
First, please bring along everything (and I mean everything) that your dog needs for his/her stay and travel. That means dog bed, treats, towels, food and water bowl, doggie bags, leash and harness and some cleaning supplies (just in case). Do not rely on the property owner to provide those for you just cause they allow dogs. Also, your dog will feel more comfortable and at home with his/her stuff around.
Second, and this goes without saying-please abide by all the house rules. Getting to stay with your dog in a home away from home is a privilege. Please do not misuse the trust. Make sure your dog is well behaved at all times so as not to disturb the neighbors and leave things exactly as you found them upon arrival-neat, clean and tidy.
Unless explicitly OKed by the owner, it is best not to bring very young dogs (pups less than 6 months old who've not had their shots and vaccinations) with you for everyone's safety. Besides health concerns, puppies can be rambunctious and a handful in a new place. Dog friendly Airbnbs always prefer quiet, well behaved dogs.
Finally, it is your responsibility as the guest to maintain goodwill and trust with the host. Please abide by the agreement prior to booking and stick to the number of dogs allowed in the property. Should your plans change, please communicate with the host ASAP and always be honest and transparent in your requests.
OUR DOG FRIENDLY AIRBNB STAYS IN CALIFORNIA
Finally, the one section you've been waiting for! Drum Rolls please for my honest reviews of our dog friendly Airbnb stays raked up over the years while traveling with Babu in California. All these reviews are for entire pet friendly cottages/apartments/homes/units. I have provided my own photos of the property (interior/exterior) wherever possible. Please check the Airbnb listing for more details.
DOG FRIENDLY AIRBNB IN LITTLE RIVER/FORT BRAGG/MENDOCINO
We've been to Mendocino many times with Babu and if you're wondering about a weekend getaway from San Francisco, then Mendocino should be on your radar too. This romantic Northern California destination, 4 hrs north of San Francisco, is the gateway to California's majestic Coastal Redwoods and is known for its beaches, lighthouse and of course, whale-watching!
Of our 5 or so trips up north, we've stayed twice in Airbnbs with Babu. Our most memorable visit was hands down at this beautiful dog friendly cottage in Fort Bragg (only 15 min away from Mendocino) which has 2 bedrooms (3 beds) and two baths that accommodates up to 6 guests and 4 dogs (with an additional fee)! It also had a spacious patio and hot tub to enjoy. Plus the location is unbeatable with only a short walk to a beach accessed through a private gate.
DOG FRIENDLY AIRBNBS IN SONOMA (CALIFORNIA WINE COUNTRY)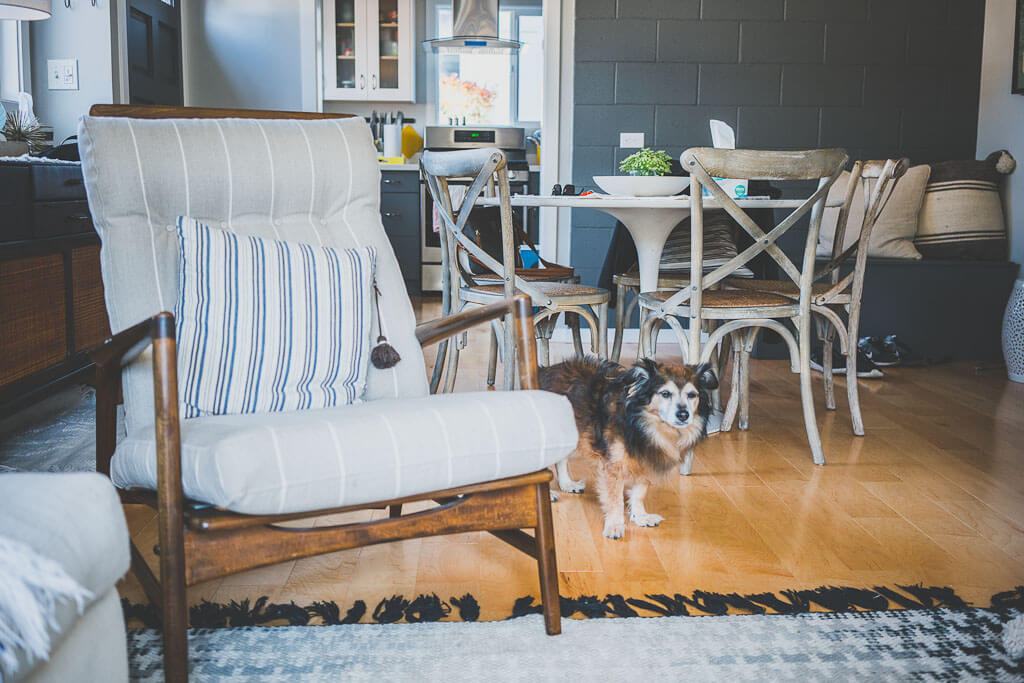 Sonoma county, aka California's original wine country, is a vision of beauty-rolling vineyards, charming restaurants and many dog friendly wineries for wine tasting with your pup. We have been to Sonoma many times, from our favorite Healdsburg (one of the best winter getaways in California) to Sebastopol in Western Sonoma and Petaluma.
During most of our trips, we've opted to stay in dog friendly Airbnbs since Sonoma is extremely expensive, especially when it comes to decent hotels allowing dogs. Here is where we stayed:
Sebastopol: We were lucky to find this last minute guest suite which was completely detached from the main house, surrounded by acres of lush green garden during our weekend getaway to Sebastopol. Our hosts Nancy and Tom were pet parents themselves (dog Elsa, two cats and several pigeons) and they had set up an excellent place for us and Babu. The unit came with a patio as well as a fireplace. There was a fully functioning kitchen, microwave and mini-fridge along with an outdoors grill.
Guerneville: We've been to Sonoma many times with Healdsburg, one of the best winter getaways in California, being one of our absolute favorites. However, dog friendly hotels in Healdsburg are super expensive, so we've always stayed in nearby Guerneville in several dog friendly Airbnbs, a charming rustic in Sonoma county where you should make a quick detour if you are driving down Highway 1 from Mendocino to San Francisco (this is one of the best dog friendly road trips in California).
At Guerneville, we've rented this spacious cottage with a private hot tub (meant for up to 4 people) when traveling with a larger group and this extremely secluded wine country studio on a private road (the location is tricky to find but the host was pretty responsive), both of which came fully equipped with all amenities-kitchen, fridge, full bathroom etc.
If you are travelling in a big group or prefer comfort and convenience, I'd suggest go for the spacious cottage maintained by Vacasa. It is secluded but not hard to find and takes a pleasant 15 min walk to get you to downtown Guerneville. Our studio stay was pleasant (the best part was chilling on the deck) but there was an occupant above us who was kind of noisy at night.
Geyserville: If you want to indulge yourself and your pup a little bit in wine country, I suggest staying in this wine bungalow in nearby Geyserville. Beside the classy interior décor, large backyard and complete privacy, the location is unbeatable too.
This whole bungalow is within walking distance of tasting rooms and fantastic restaurants in Geyserville. Jennifer was a very responsive and kind host who even left a bottle of wine for us as a welcome touch! Geyserville is also close to Healdsburg, known for its many dog friendly wineries!
Petaluma: Our most "FUN" and unique Airbnb stay with our dog was hands down in Petaluma, another small town in Sonoma County and only 1 hour north of San Francisco. This is where we had our first taste of dog friendly glamping in the Bay Area when we stayed in an "Earth House" or Hobbit Cobin. These are actual sustainable tiny homes made by Miguel (whose parents own the property where the Cobin is located) made of a mixture of local earth (sourced from Petaluma), straw and sand-aka, Cob.
Although the bedroom was tiny (fits two average sized people and a small dog), it came equipped with pretty much all modern amenities in an extended area. I am talking of a kitchenette, shower and a dry toilet. Besides a bed, there were ledges, hangers for clothes, LED lights and electrical outlet for your basic needs. The Cobin has WIFI too if you'd like to stay connected.
Miguel had also thoughtfully placed a brochure with all the information on local attractions and restaurants in the room as well. We also had a lot of fun feeding the goats in a nearby enclosed area which was part of the farm behind which the Cobin was located. You can read our entire dog friendly glamping experience in Petaluma here.
Note: Please double check with the hosts prior to booking this Airbnb for your dog since there are farm animals nearby. Only well behaved dogs are welcome.
DOG FRIENDLY CABIN IN LAKE TAHOE
I have been to Lake Tahoe only twice in these 10+ years of living in San Francisco and definitely need to explore more of this destination with Babu. Both times we visited Tahoe (at the border of California and Nevada) in summer (June/July) and both times we did not like the heat and the crowd one bit (this only means we need to pick a different season to explore Tahoe).
Our second trip to Tahoe was with Babu when we opted for a private, quiet Cabin in South Lake Tahoe area. This cozy cabin (studio) comes with its own parking, hot tub, deck, fireplace and fully functional kitchen and accommodates up to 2 dogs! Best of all, this cabin is within walking distance to El Dorado Beach & Lakeview Commons.
DOG FRIENDLY STAYS IN LODI AND MURPHYS
We love to explore small towns in Northern California that are offbeat, dog friendly and easy weekend breaks from San Francisco. Lodi and Murphys are two lesser known Northern California towns that fit this bill to the T.
Lodi is the Zinfandel capital of the world and an easy 1.5 hrs drive east of San Francisco or an hour's drive south of Sacramento, California's capital. Lodi boasts of wineries, big and small, many of which welcome dogs for some very affordable wine tasting.
We had an absolutely delightful stay at Lodi at Mimi's cottage which is steps away from downtown but with all the peace and quiet necessary for some R&R. Beside the extremely well kept house (with two full queen beds) that was tastefully decorated with even a dog bed provided, Mimi was an excellent host and extremely communicative, caring and kind. If you visit Lodi and are looking for an Airbnb, just trust me and go with Mimi.
Murphys is a small town steeped in Gold Rush history and is is located in the central Sierra Nevada foothills Calaveras County between Lake Tahoe and Yosemite National Park (a rare dog friendly National park in California). This quaint town has lots to offer-good food, great wine and dog friendly hiking trails! We stayed at Anna's cozy cabin here (a last minute booking via Airbnb that did not fail us)-it is perfect for a weekend getaway and is right next to Main Street (downtown).
DOG FRIENDLY AIRBNBS IN CAYUCOS AND PASO ROBLES (CENTRAL COAST)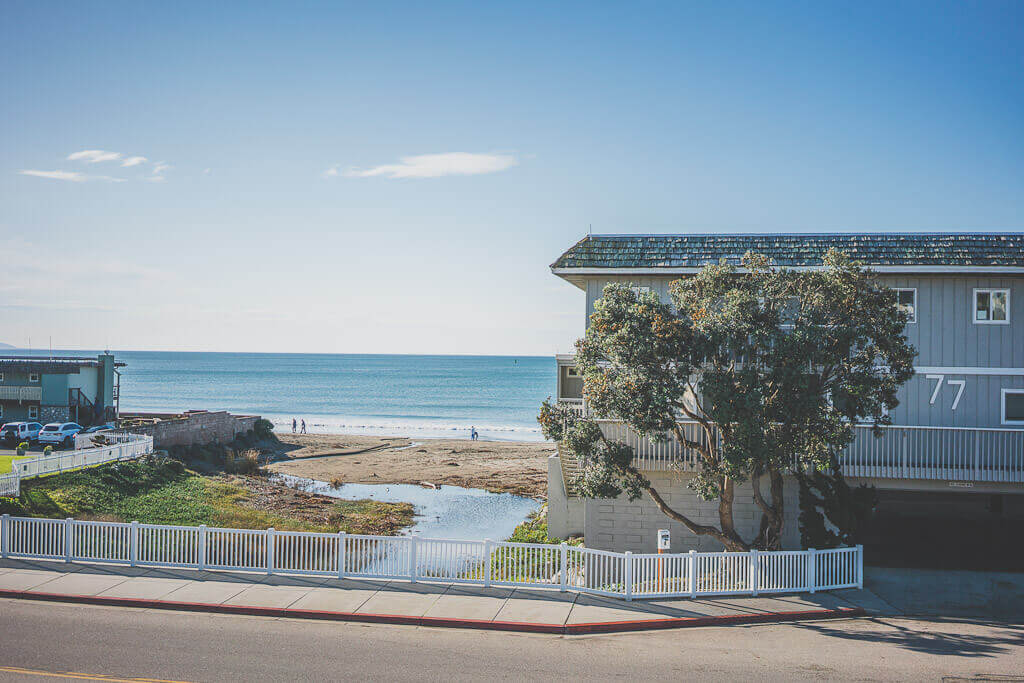 (View from our Airbnb in Cayucos)
California's central coast is not only home to coastal Redwoods and pristine beaches, but is also a haven for dog friendly activities and is only 1.5-4 hrs drive south of San Francisco. From Santa Cruz in the north to Santa Barbara in the south, I am talking about romping on dog friendly beaches in Carmel (a most adorable coastal town with lots of dog friendly hotels) to driving down the coast for some epic dog friendly road trips or wine tasting with dogs in some of the best wineries in Paso Robles.
We've visited California's Central Coast many times in the last 10 years, notably to San Luis Obispo (SLO), Morro Bay, Paso Robles and Cayucos. Although we enjoyed a dog friendly vacation in SLO to the hilt, we did not have a lot of privacy during our stay, thanks to a very last minute booking which left me with no choice but to opt for a private room in someone's house (not the best option).
However, we more than made up for it when we booked an entire house in Paso Robles for our Christmas vacation. This dog friendly Airbnb in Paso Robles was huge, had multiple bedrooms, spacious living room and kitchen and was located on a quiet part of downtown, which was perfect for our ageing dog as well as my 70 yr old mother in law who was visiting us. The listing is no longer available, but I have linked to several dog friendly Airbnb options in Paso Robles below.
On our very last trip to Southern California, we drove down the coast and spend two relaxing days in Cayucos, this tiny beach town near Morro Bay where you just go to chill and relax on the beach (plus also eat some good food).
We stayed at an Ocean View Suite (an Airbnb Plus property) which was right across the Cayucos State Beach (you could see it from your patio) and loved our undisturbed stay (it was pricey but you get what you pay for). The dog friendly suite was very clean and well maintained and our host was very responsive. Best of all, it was directly above a dog friendly cafe with a garden!
DOG FRIENDLY AIRBNB IN LOS ANGELES
Los Angeles, home to Hollywood and million stars shining brighter than the celestial ones, needs no introduction. Thanks to its sunny true California weather (unlike what we have in San Francisco), vast open spaces and parks, Los Angeles is also incredibly dog friendly (except the beaches-they don't have any dog friendly beaches in LA or greater LA county unlike beaches in San Francisco).
Although there are many dog friendly hotels in Los Angeles proper and greater LA, we decided to opt for an Airbnb in Hollywood Hills for some quiet time, away from the humdrum of the big city. We lived in the lower floor of this two storied house (owner occupied upstairs) with a front garden and a small backyard that was simply perfect. Our Airbnb came equipped with a full kitchen and also a washer dryer. The location was unbeatable with easy access to Lake Hollywood Park and Griffith Park.
DOG FRIENDLY AIRBNB IN JOSHUA TREE
We visited Joshua Tree in Southern California in 2021 with our newly adopted pup Gunda (Babu passed away in Feb 2021 at the ripe old age of 17) and stayed at this beautiful dog friendly cabin in a secluded place. This cabin has a fully functioning kitchen and refrigerator and was very tastefully decorated. Although it was only 15 mins drive away from the park entrance, it was in a secluded spot with amazing sunrise and sunset views.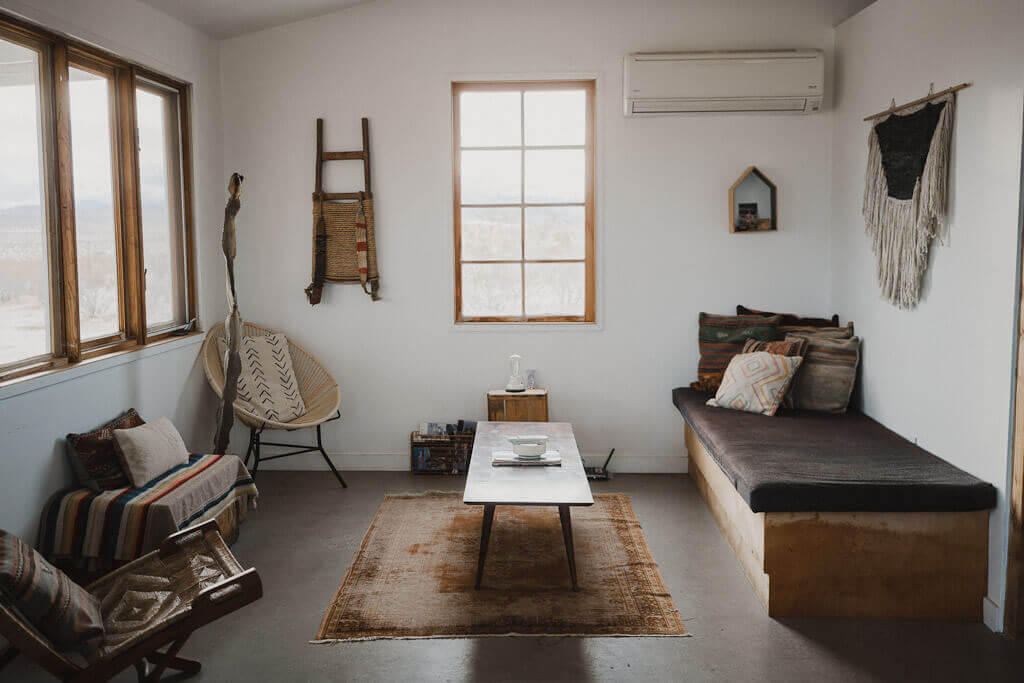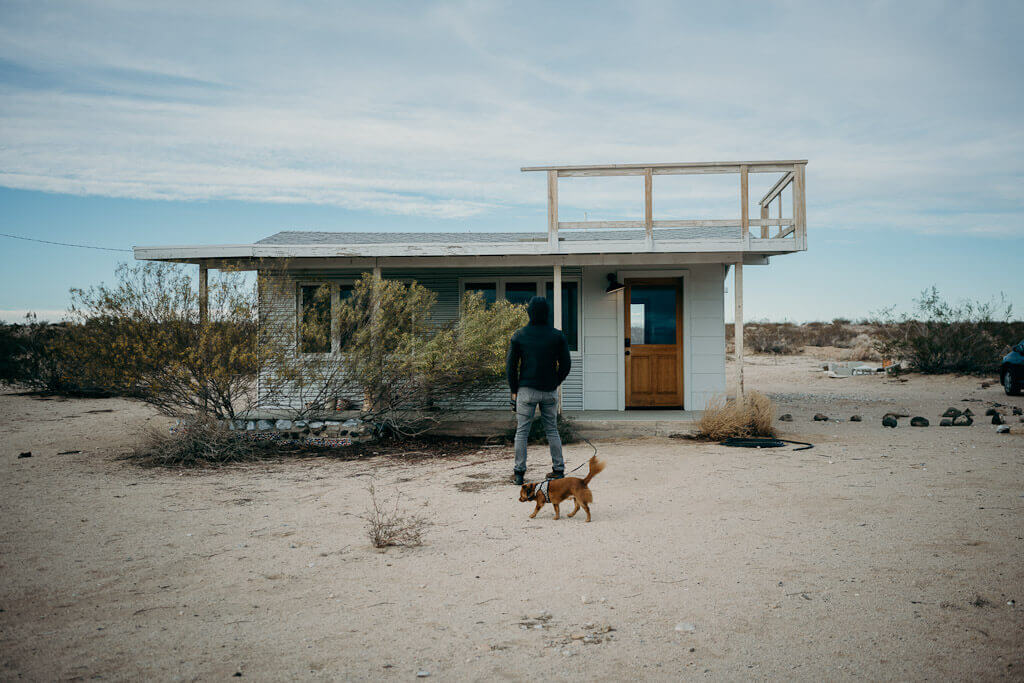 I hope you enjoyed reading this extremely detailed post on the whys, hows and whats of booking dog friendly Airbnbs and have found it helpful in some way for making your next booking. Thank you so much for stopping by and enjoy your Airbnb stay with your pup responsibly!
Like this post? Pin it for later!

«