Last Updated on November 16, 2022 by Paroma
Are you visiting Joshua Tree with your dogs? Do you have a zillion questions on where to take your dog in Joshua Tree National Park or are wondering where dogs are allowed in Joshua Tree National Park? As a seasoned traveling dog mom, who just returned from an epic Joshua Tree vacation with her pup, I have penned this dog friendly Joshua Tree guide exclusively to answer all your burning questions on all dog friendly activities in Joshua Tree and around. From dog friendly hikes to hotels and restaurants in Joshua Tree, this post is your one stop shop for planning a hasslefree Joshua Tree trip with your dog!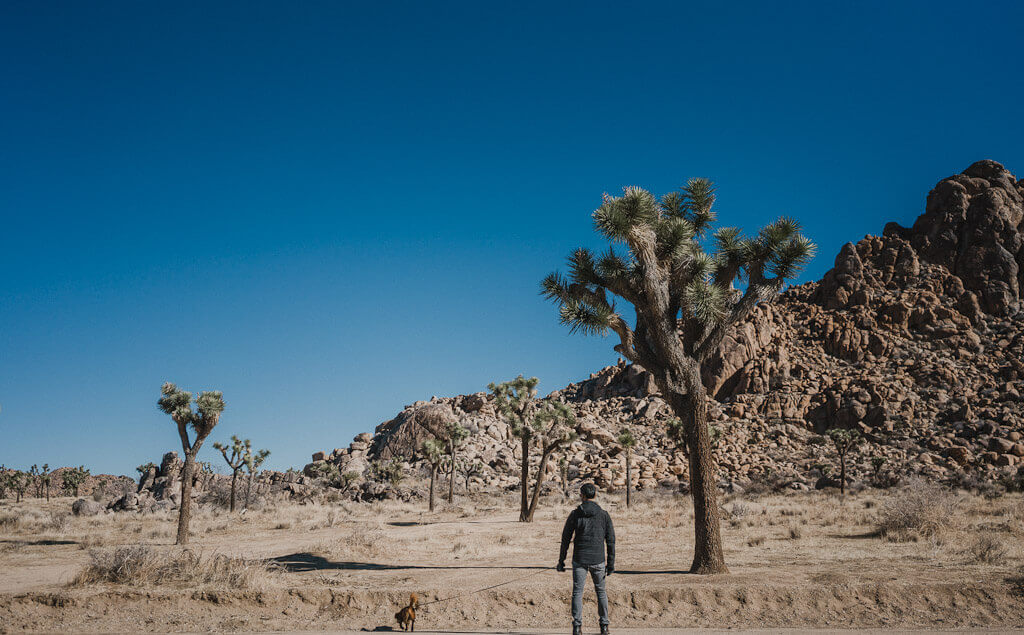 Disclaimer: This post may contain some affiliate links. Clicking on them may earn me a small commission at no extra cost to you for the product. Thank you for supporting free content on this site!
Joshua Tree National Park represents the ecosystems of both Colorado and Mojave deserts and is located in Southern California, about 146 miles east of Los Angeles International Airport and 154 miles northeast of San Diego International Airport. This arid, high desert landscape is dotted with gauntly, fuzzy vegetation called Joshua Trees, which lends it name to the park.
Joshua Tree National Park is also a world famous rock climbing destination owing to the abundance of giant Quartz Monzonite granite structures dominating the landscape. With over 10,000 climbing routes to offer, this park attracts climbers from all over the world.
Besides the park, the towns of Joshua Tree and Yucca valley are vibrant desert communities with lots of shops, restaurants and art galleries. I visited Joshua Tree as a day trip from Palm Springs many years ago and this time decided to take our newly adopted pup Gunda with us.
Like all my other dog friendly travels in California, this dog friendly Joshua Tree guide is also 100% based on my own experience to help you plan your hasslefree, foolproof travel to Joshua Tree with your dogs. From where to take your dog in Joshua Tree, dog friendly Joshua Tree hikes, dog friendly hotels and restaurants in Joshua Tree-this guide covers it all. I have also thrown in a dog friendly day trip from Joshua Tree in case you have extra time on your hands.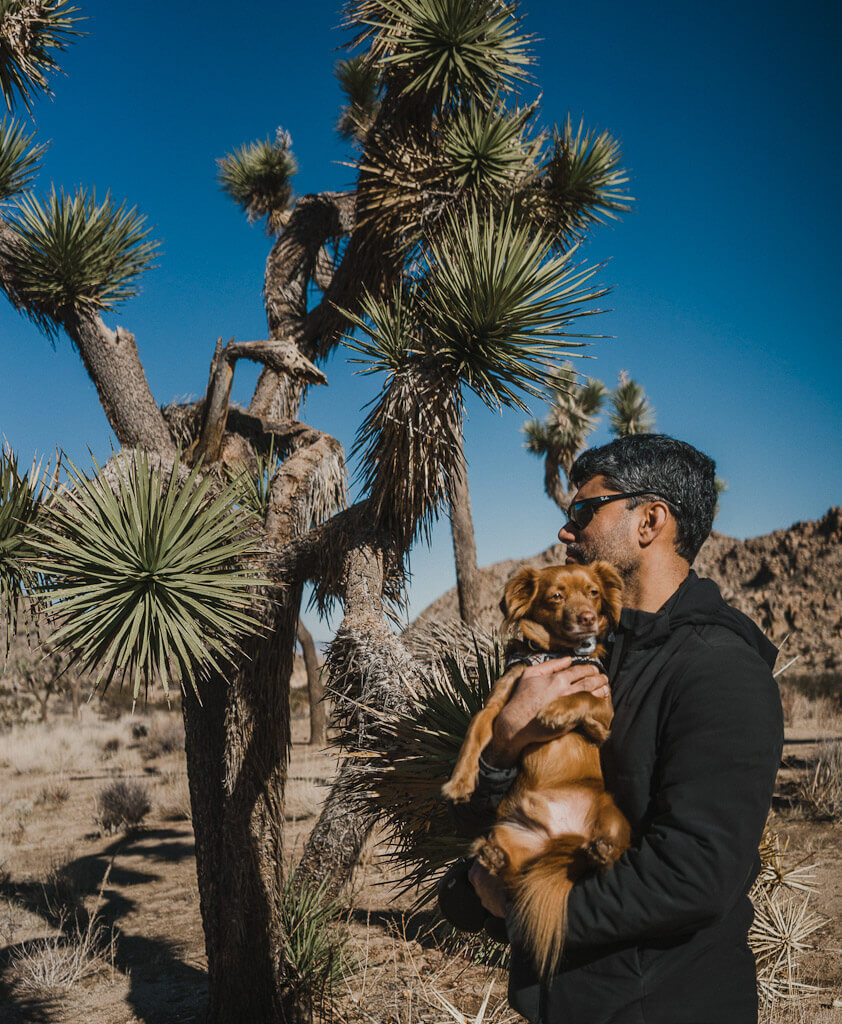 Interested in other Southern California posts? Take a look below:
VISITING JOSHUA TREE WITH DOGS? HERE ARE THE FAQS
A dog friendly trip to Joshua Tree National Park requires some planning since dogs have limited access to the park. My step by step guide is here to help you take the guesswork out of where dogs are allowed in the park and where you can take them. So keep on reading for all the juicy tidbits you need to know to plan your Joshua tree adventure with your dog!
HOW DOG FRIENDLY IS JOSHUA TREE NATIONAL PARK?
Joshua Tree National Park is dog friendly in the sense that dogs are allowed inside the park, but they have limited access. In terms of being dog friendly, I would rate Yosemite National Park (which I visited with my pup Babu several years ago) higher, but given how several of the 9 California National Parks have zero entry policy for dogs, you have to make the best of what you can get.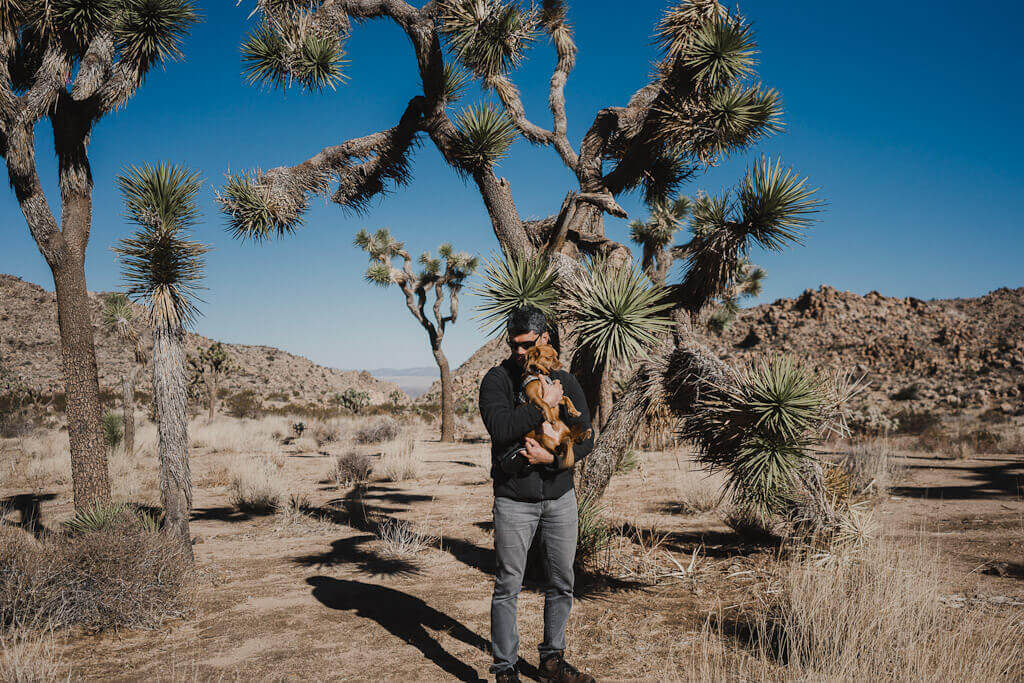 CAN I TAKE MY DOG TO JOSHUA TREE?
Yes, you can take your pup to Joshua Tree, but please follow all the park rules and regulations. The bad news is that dogs are not allowed on ANY trails (and by that I mean each and every trail no matter how short) inside the park with the exception of two paved trails (one inside and one outside the park). This is because dogs are considered natural predators for small desert mammals and there is also a danger of falling rocks as well as being hurt by the prickly cacti that abound in the park.
Dogs must be on leash at all times, no exceptions. This is for the safety of your pet since there are desert animals (coyotes, rabbits etc), falling rocks as well as prickly cholla cactus (known as "jumping cholla" since it can dislodge and attach to skin leading to a painful experience from the barbed spines).
Dogs cannot be kept inside a vehicle or tied to an object if you plan to go hiking-it is outright inhumane and illegal to do so. In case you are planning to hike your heart out in Joshua Tree, keep your dog at home or find dog boarding facilities nearby, such as this list.
Dogs are not allowed at any major attraction sites such as Skull Rock, Cap Rock, Discovery Trail, Cholla Cactus Garden etc despite the trails starting right from the parking lot. Respect the "no pets on trail" sign and stay in the parking lot (you will get a fantastic photo from the parking lot as we did!)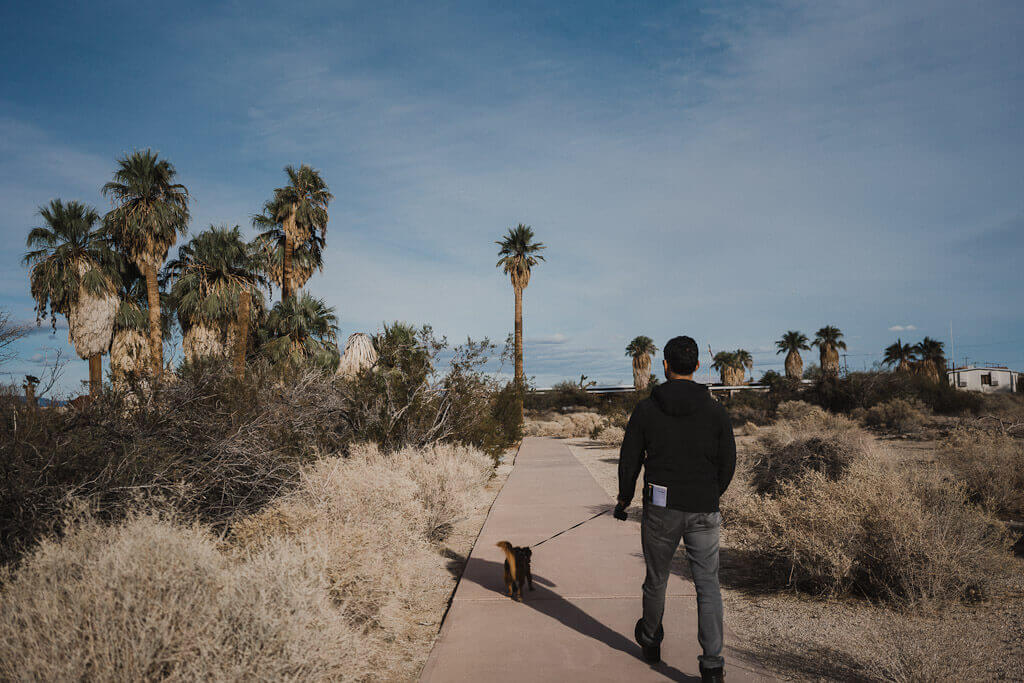 WHERE ARE DOGS ALLOWED IN JOSHUA TREE NATIONAL PARK?
Wondering what is there to do with dogs in Joshua Tree? This is where dogs are allowed in Joshua Tree National Park:
The paved nature trail at Oasis of Mara, a tranquil desert oasis with a nature trail right next to the Oasis Visitor Center at 29 Palms (this is the northern entrance to the Park).
The Keys View point area: the trail leading upwards is paved and so dogs are allowed there.
Any paved road where vehicles can go. Basically you park along the road, and stay within 100 feet (30 m) with your dog after you park your car on the side of the road. This includes the entire Park Boulevard accessible from the West and North Entrance Stations which has several pull out points for parking. Dogs must also be within 100 ft of campgrounds and picnic areas.
Unpaved roads such as Queen Valley Road (one way), Bighorn Pass Road, Stirrup Tank Road, O'Dell Road and Geology Road (2 wheel drive allowed upto mile marker 5.4) and Desert Queen Mine road. During our trip, we stayed only on Park Boulevard since our small car (Honda Fit) felt so bumpy along the unpaved roads that it was not enjoyable driving there at all.
Although dogs are not allowed on any trails or major attractions such as Skull Rock, Cap Rock, Split Rock-you can get a fantastic photo of these spots from the parking lot or from one side of Park Boulevard. Just arrive early to find parking, walk a little bit to find a crowd-free vantage point and snap a nice photo!
BEST TIME TO TAKE YOUR DOG TO JOSHUA TREE
The best (and ONLY) time to go to Joshua Tree is from late Fall-early Spring (i.e. November-March). The temperature ranges from 40-70F (4-21C) with warm, sunny days that are not too cold and cold, chilly nights (this is the high desert and so massive temperature drops are the norm). Honestly, if you're visiting California in winter and want to hit up a National Park with your dog, just go to Joshua Tree.
DO NOT VISIT JOSHUA TREE IN SUMMER unless you have a death wish for you and your dog (their paws can get burnt in the extreme heat). Summer temperatures exceed 110F (43C) in the high desert, so just stay away and come visit in Winter (California has so many amazing winter vacation destinations).
DOES IT GET TOO HOT FOR DOGS IN JOSHUA TREE?
A very valid question to ask when bringing your precious fur babies to the high desert, which is why I cannot stress enough on the importance of visiting in Winter. Yes, Winter is peak season (for a reason) but this is the safest and best time to visit the park, thanks to cooler (manageable) temperatures.
Late Fall (November) is fine too as is early Spring (till March) for going to Joshua Tree. This is the time of cold, bright mornings followed by warm afternoons and really cold, chilly nights. Beyond Spring, temperatures start soaring again which is not conducive for an enjoyable vacation. Even when visiting in Winter, carry plenty of water for yourself and your dog.
HOW LONG SHOULD YOU SPEND AT JOSHUA TREE WITH YOUR DOGS?
One whole day, if planned properly, is good enough to see the entire park since dog friendly activities are very limited. For this reason, Joshua tree is very doable as a dog friendly Southern California day trip if you're visiting Los Angeles or Palm Springs.
I recommend having two days in hand for a more leisurely travel. That way you can explore the park as well as the towns of Joshua Tree, Yucca Valley and also go on a quick half day trip to nearby Palm Springs (trust me, you will love the change of scenery).
DOG FRIENDLY HOTELS IN JOSHUA TREE
Yucca Valley and Joshua Tree are the two main towns flanking 29 Palms Highway/Route 62 that is the major road to get to this area, with several hotels, motels and lodgings to be found in this area. However, dog friendly hotels in Joshua Tree are limited and are even more expensive in Winter, which is peak tourist season.
We opted for a dog friendly Airbnb which was a tranquil little cabin in Joshua Tree. It is located on an unpaved road about 21 minutes north of the park's West Entrance and was the perfect hidden getaway to relax and unwind. Except a microwave, the cabin had a fully functioning kitchen (and a fridge) and was a warm, cozy haven for the three nights we spent in Joshua Tree.
The hosts were very communicative, helpful and we loved our stay there. An added bonus were the otherworldly desert sunrises and sunsets we witnessed from our cabin (thanks to the large glass windows all around) with no one in sight in the stillness of nature. If you feel like indulging a little bit, I highly recommend this Airbnb experience, one of our many in California.
If Airbnb is not your jam (personal preference/safety/budget), then Motel 6 Twentynine Palms is very good budget friendly hotel near Joshua Tree to consider. Pets stay for free at Motel 6!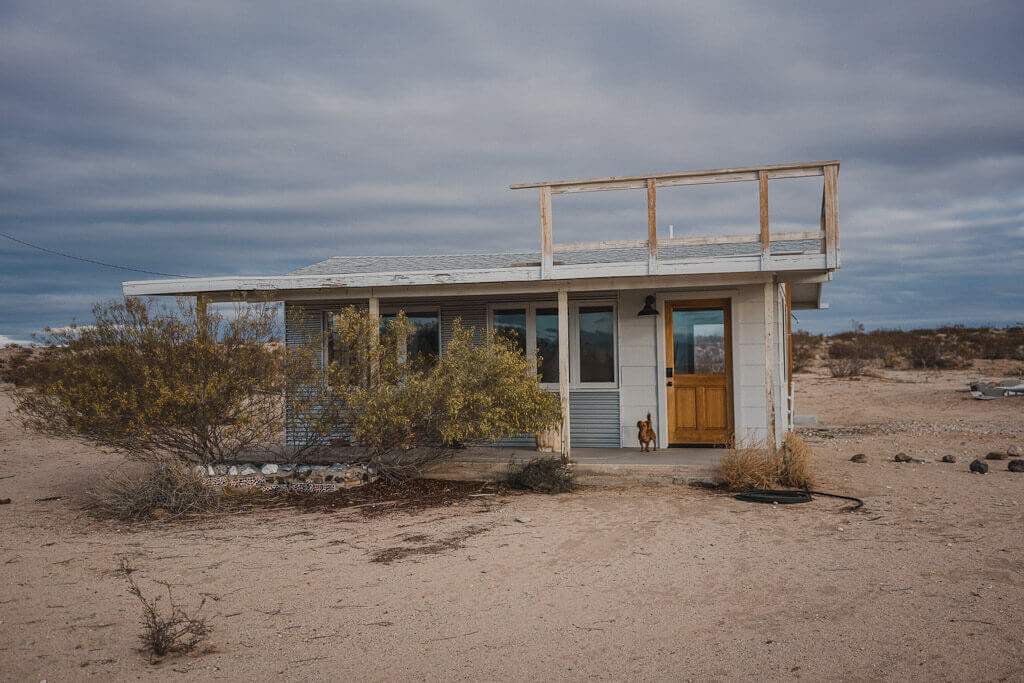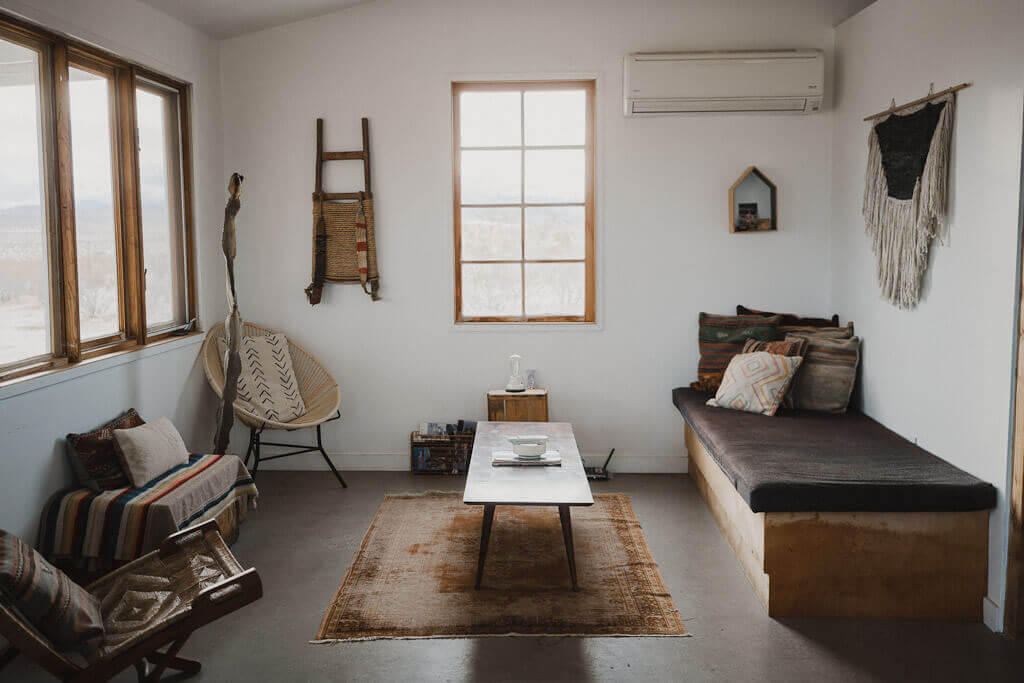 OTHER HELPFUL TIPS FOR VISITING JOSHUA TREE WITH DOGS
Please bring your leash and poop bags to pick up and dispose dog waste properly. This is a national park-pack out what you pack in and leave no trace!
Joshua Tree is high desert with extremes of temperature. Winter mornings may be bright but can be chilly and the nights are really cold. Winter is also rainy season in California and you might get caught in some desert rain. As lovely or romantic as this may sound, your pup might feel cold. So along with your layers and woolies, remember to pack in a sweater and rain jacket for your dog.
There is no food service inside the park (you have restrooms at select areas with water stations). So please pack some food in for your pup to eat in the car when you park and carry treats. Also, carry a LOT OF WATER (recommended is 1 gallon/person) since this is a high desert with extreme arid conditions. You can pack in a lunch as well to enjoy in one of the designated picnic areas inside the park.
Joshua Tree are delicate shrubs belonging to the Agave family. Do not lean on them or touch them to take photos. Keep your dogs away from them as well as from prickly cacti and be mindful of rocks that can fall and hurt your pups. Also, be equally mindful of humans since they kind of go berserk while taking photos and pay no heed to their surroundings.
Winter is peak tourist season as well as the time when it rains in the high desert. Because of these factors, some road are often and without prior notice closed along the park. So be flexible with your plans. Also, never ever drive off the designated paths and roads.
There are plenty of restaurants in Joshua Tree, but many do not have outdoor seating. Since dogs are not allowed inside restaurants (except service dogs), you will not be able to dine outside at night in the deathly desert cold (some places may have outdoor dining at night but with no heaters). It is best to do take outs or even carry some food with you. We brought some non-perishable snacks and instant noodles along with Gunda's wet food from A Pup Above (it is the best!) in our Yeti Cooler that was a life savior!
GETTING TO JOSHUA TREE NATIONAL PARK
Joshua Tree National Park is about 233 miles east of Santa Barbara International Airport, 146 miles east of Los Angeles International Airport,154 miles northeast of San Diego International Airport and 194 miles southwest of McCarran International Airport in Las Vegas, Nevada. It is an hour's drive away from Palm Springs, an oasis resort town within the Colorado Desert Coachella Valley and is also dog friendly.
During our 2021 road trip, we enjoyed a dog friendly vacation in Santa Barbara and then drove east to Joshua Tree, which took about 4 hours including driving through Los Angeles. If this is your first time visiting Joshua Tree, I recommend flying into Los Angeles (it is a very dog friendly city) and then driving to Joshua Tree.
OUR DOG FRIENDLY JOSHUA TREE EXPERIENCE: A STEP BY STEP GUIDE
Since this was our first trip to Joshua Tree with our dog Gunda, we made several mistakes and learned a few lessons on what to do and what not to do because visiting Joshua Tree with a dog has its own challenges. Since the primary aim of my blog for my readers to benefit from the wisdom of my travel experience as a dog mom, here are my first hand suggestions on how to make your Joshua Tree adventure as hasslefree as possible with these fail-proof tips:
TIP #1. ENTERING JOSHUA TREE NATIONAL PARK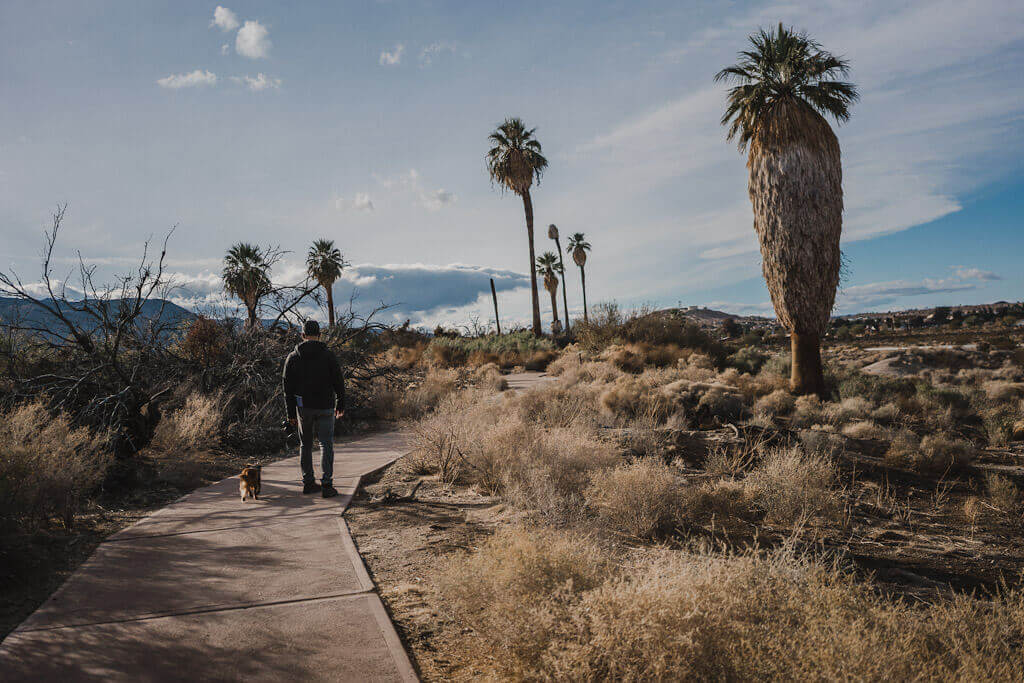 I get it-the main reason for visiting Joshua Tree is to enjoy Joshua Tree National Park with your dog. However, winter is peak season and getting inside the park can be a major pain because of its popularity. Please read this section carefully so as not to waste precious time stuck in an hour long queue inside your car and feeling miserable.
The park entrance fee is $30 per vehicle (with discounts for seniors or those in active military) that is good for one week. You could also purchase America the Beautiful National Park Pass for $80 at one of the visitor centers or the park entrance and save some money if you are planning to visit several National Parks in the next 12 months.
There are three entrances to the park: West Entrance Station 5 miles away from the Joshua Tree visitor Center, The North Entrance Station which is 3 miles away from the Oasis Visitor center and the Cottonwood Visitor center in the south (the Cholla Cactus garden is the closest to this center but of course you cannot enter the garden if you are visiting with a dog).
The West Entrance Station is by far the most popular one and everyone tries to get in from here, resulting in an absolute gridlock at the entrance which can last for 20 minutes to more than an hour (it is only one road leading from the visitor center into the park) during most of the day. This is because you get to see the best sights with lots of Joshua Trees everywhere when you enter from this side since it is part of the Mojave desert ecosystem. The other two entrances have more cacti filled landscapes and sparse Joshua Trees (i.e. the Colorado desert side).
If you must enter via the West Entrance Station, come in very early (preferably before 9 AM) or late (after 3 PM) so as not to stew in misery in your vehicle in a waiting queue. I should also mention that the Joshua Tree visitor center only has porter potties and no proper restrooms.
The other smart thing to do is just drive up 21 miles from the Joshua Tree Visitor Center to the Oasis Visitor Center in 29 Palms to access the North Entrance Station without any delays. This visitor center is gorgeous, has proper restrooms and best of all has the dog friendly 0.8 mile looped paved nature trail at the adjoining Oasis of Mara.
In fact, if you're bringing your dog to Joshua Tree, the Oasis Visitor Center at 29 Palms should be your first stop! The Park rangers can tell you the best roads and sights to go to with your dog inside the park with a free, handy map and you can get your pup a nice little walk along the loop. This is exactly what we did and I highly recommend stopping here before you start your dog friendly Joshua Tree adventure.
During our visit to Oasis of Mara, we were mesmerized by an art project (visual installation+audio) created by Lewis deSoto known as "Sand to Stone" depicting the tragic story of Carlota, a Native American Woman. This along with a beautiful Joshua Tree mural (right at the intersection of Route 62 and National Park drive) was a sobering reminder that Oasis of Mara and Joshua tree was the original homes of Cahuilla, Chemehuevi, Mojave and Serrano tribes who were displaced by European immigrants.
TIP #2. SUNSET AND SUNRISE IN JOSHUA TREE NATIONAL PARK
Joshua Tree is famous for its golden sunrises and blush pink sunsets, the kind that will make the even most hardened cynic melt into goop. If you've come all this way, don't leave the park without witnessing at least one of these heavenly phenomenons. Winter sunrises can be a deathly cold wait, but a sunset is perfectly doable.
Keys View is the major viewpoint at Joshua Tree which is where everyone clamors to witness the sunset from. However, the parking lot is tiny and gets filled up quickly and if you're coming in from the Northern Entrance Station, you might find the road closed near Cap Rock to incoming traffic since it is already crowded on that side with no further room for parking.
Instead of crumpling into a dejected pile, just be resourceful and stop along any section of the east-west running Park Boulevard to witness an epic sunset (as suggested to us by the park rangers) or simply re-enter the park at least an hour before sunset, drive to Keys View to snag a parking spot and wait patiently for the sun to go down (Keys View is dog friendly).
TIP #3. DRIVING ON UNPAVED ROADS INSIDE JOSHUA TREE NATIONAL PARK
Beside the paved Park Boulevard (the main road running through the park), dogs are allowed on several unpaved roads such as Bighorn Pass road, O'dell Road and Queen Valley Road which continues south as part of the Geology Tour Road.
The Geology Tour Road is an 18-mile motor tour that leads through one of Joshua Tree National Park's most amazing landscapes. Driving the entire road takes approximately two hours for a round trip and only the first new miles can be accessed by a 2 wheel drive after which a four wheel drive is needed.
We stayed clear of all the unpaved roads in Joshua Tree since we had a small car with us that made the ride pretty bumpy and very unenjoyable. If you drive and SUV or a sturdier car, by all means explore these roads as well.
TIP #4. THE BEST DOG FRIENDLY PHOTO SPOTS IN JOSHUA TREE NATIONAL PARK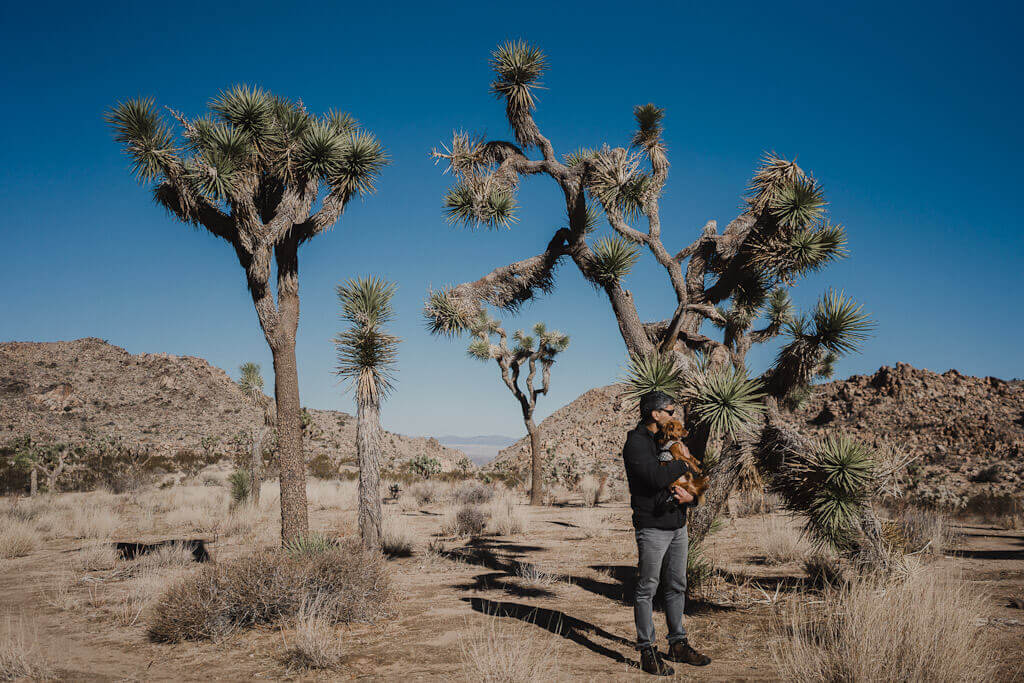 Although most of Joshua Tree (includes all trails and attractions except Keys View) is inaccessible to dogs, we made the best of our trip by parking along Park Boulevard and taking photos within 100 ft of our vehicle. For other spots such as Cap Rock, Split Rock, Intersection Rock etc, we simply stood in the parking lot or one side of the road to take a photo. If you have a wide angle camera lens like mine, then you can get really good shots! See my full camera gear here to shop.
We were always mindful of never even entering trails or any place where signs explicitly say "no dogs allowed" (which is kind of the entire park) and never ventured beyond 100 ft of our vehicle. If you are visiting Joshua Tree with your dog, please enjoy the park responsibly. Here are all the different photogenic stops and sites where you can pose with your dog in Joshua Tree (all photos taken strictly from the side of the road/Park Boulevard or parking lot):
Anywhere along Park Boulevard (park and stay within 100 ft of your car)

Hemingway (photo from parking lot)

Intersection rock (photo from the roadside)

Split Rock (photo from road side at the entrance of the side trail leading to the Split Rock area)

Entrance of Discovery Trail across Skull Rock (dogs not allowed on trail or at Skull rock)-arrive early for parking since Skull rock is possibly the most popular stop along Park Blvd.

Cap Rock (lovely shot from parking lot)-this rock is so named after the tiny beret like rock lodged on the peak

Keys View-this popular viewpoint is the only dog friendly spot inside the park with a paved trail leading to the viewing area from the parking lot. On a clear day, you can see Palm Springs, Salton Sea and Coachella valley from here.
DOG FRIENDLY HIKES IN JOSHUA TREE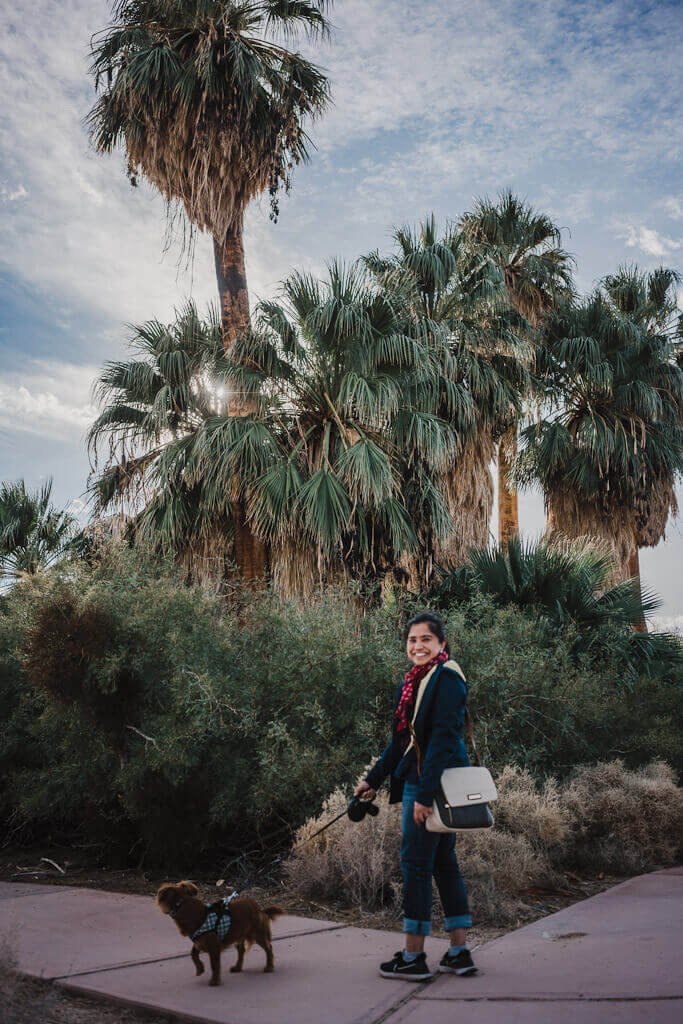 Unfortunately hiking with dogs in Joshua Tree is not an option. As I have harped several times before, dogs are not allowed on any trails inside the park. Your best bet is to hike on the paved trail at Oasis of Mara (which is outside the park) and simply walk the short paved Keys View Trail leading to the view point. Dogs cannot venture more than 100 ft beyond where your car is parked on paved and unpaved roads.
STARGAZING IN JOSHUA TREE NATIONAL PARK
Joshua Tree National Park has some of the darkest skies, barely polluted by urban lights and is thus the perfect venue for stargazing and admiring the myriad constellations up above. Since the park is open 24/7, you can enter it at night, park at a pullout point and take in the starry nights view by sitting on a chair outside.
Remember to use red lights only, do not camp on roadsides, bundle up for the cold, stay awake and alert within 20 feet (6 meters) of your vehicle. The Pinto Basin Road between Cholla Cactus Garden and Cottonwood has the least traffic and darkest skies. As usual, your dog must always be on leash.
DOG FRIENDLY RESTAURANTS IN JOSHUA TREE
Twentynine Palms, Joshua Tree and Yucca Valley are the three main towns flanking Route 62 that is the only major road/highway providing access to Joshua Tree National Park. Of these three, Yucca Valley is the largest but all of them have plenty of restaurants, cafes and chain fast food stores. In other words, there is no dearth or lack of food in the high desert.
However, as I mentioned before-many of the restaurants do not have outdoor seating which is what you want when visiting Joshua Tree with your pups. In addition, Winter time is not conducive for dinner due to the plunging temperatures. During our trip, we did a mix of outdoor dining for breakfast and lunch with takeout for dinner. Here are my recommendations for dog friendly restaurants in Joshua Tree:
BREAKFAST AT JOSHUA TREE
Joshua Tree Coffee Company (very popular with current situation being pick up only, plus they only have coffee and some cookies), Frontier Cafe in Yucca Valley and Natural Sisters Cafe. Natural Sisters Cafe is a charming organic cafe in Joshua Tree with lots of vegetarian and vegan options and outdoor seating. Arrive early to snag a seat outdoors.
Frontier Cafe is another spacious cafe with lots of funky indoor art, good coffee and other hot beverages plus plenty of hot food and sandwiches along with outdoor covered patio seating.
LUNCH AT JOSHUA TREE
No matter what you do, don't miss out on having a sit down meal outdoors (heated patio) at La Copine, voted as one of the top 38 restaurants in USA! This high desert dining destination is a culinary delight, with dishes made from seasonal, local ingredients. Since it is crazy popular, make reservations beforehand by texting them at 760.289.8537
DINNER AT JOSHUA TREE
Given the plunging temperatures in Winter, we did not dine outdoors. We got take-out from Sam's Indian Food and Pizza (the only Indian restaurant in town) and cooked some of instant noodles in our cabin kitchen one night. Since most places (including Sam's ) closes by 8 PM, order early by 6 PM for takeout to avoid long wait times when you are hungry.
I have also heard good things about Joshua Tree Saloon (has space for outdoor dining) but we could not make it there. Pappy and Harriet's in Pioneertown is another very popular spot, but it is insanely crowded (we went there at 5:30 PM for dinner and were told to wait for an hour) and their outdoor dining has not heaters.
OTHER DOG FRIENDLY THINGS TO DO IN JOSHUA TREE AND YUCCA VALLEY
Beside Joshua Tree National Park, the high desert has plenty of other dog friendly activities to keep you engaged for at least one additional day. I highly recommend driving down 29 Palms highway/Route 62 and stopping by the many dog friendly stores in Joshua Tree and Yucca Valley. My favorite places to shop there were as follows:
ZZIEE Ceramics owned by local potter Elizabeth Eisenstein. Her tiny shop features her handmade ceramics such as planters, pots, kitchenware and other home decor objects.
ACME 5 Lifestyle: How can you pass up a lifestyle/home decor store that prominently features a "we are pup friendly" sticker on their entrance door? Acme 5 is a slice of retail heaven in Yucca valley, featuring lush plants, furniture, pottery, jewelry, textiles, body care products and a wide range of home decor items made in USA and internationally. They also have an outdoor patio with more pottery, furniture and giant stone Buddha statues.
Mojave Flea Trading Post: This swanky 10, 000 feet retail space is an ode to the art and makers community of Joshua Tree, Yucca Valley and Morongo Basin. Featuring tons of local makers, arts and artisans this dog friendly store should be your one stop destination for picking up gifts and souvenirs when visiting Joshua Tree. You are welcome in advance!
The other dog friendly attraction in Joshua Tree is the quirky Noah Purifoy Outdoor Desert Art Museum, featuring artwork created from scraps, salvaged and recycled material by Noah Purifoy, originally from Alabama who lived most of his life in Los Angeles and Joshua Tree. These art assemblages are out in the open and were super fun to explore, admire and sometimes even puzzling:-)
DOG FRIENDLY DAY TRIP FROM JOSHUA TREE TO PALM SPRINGS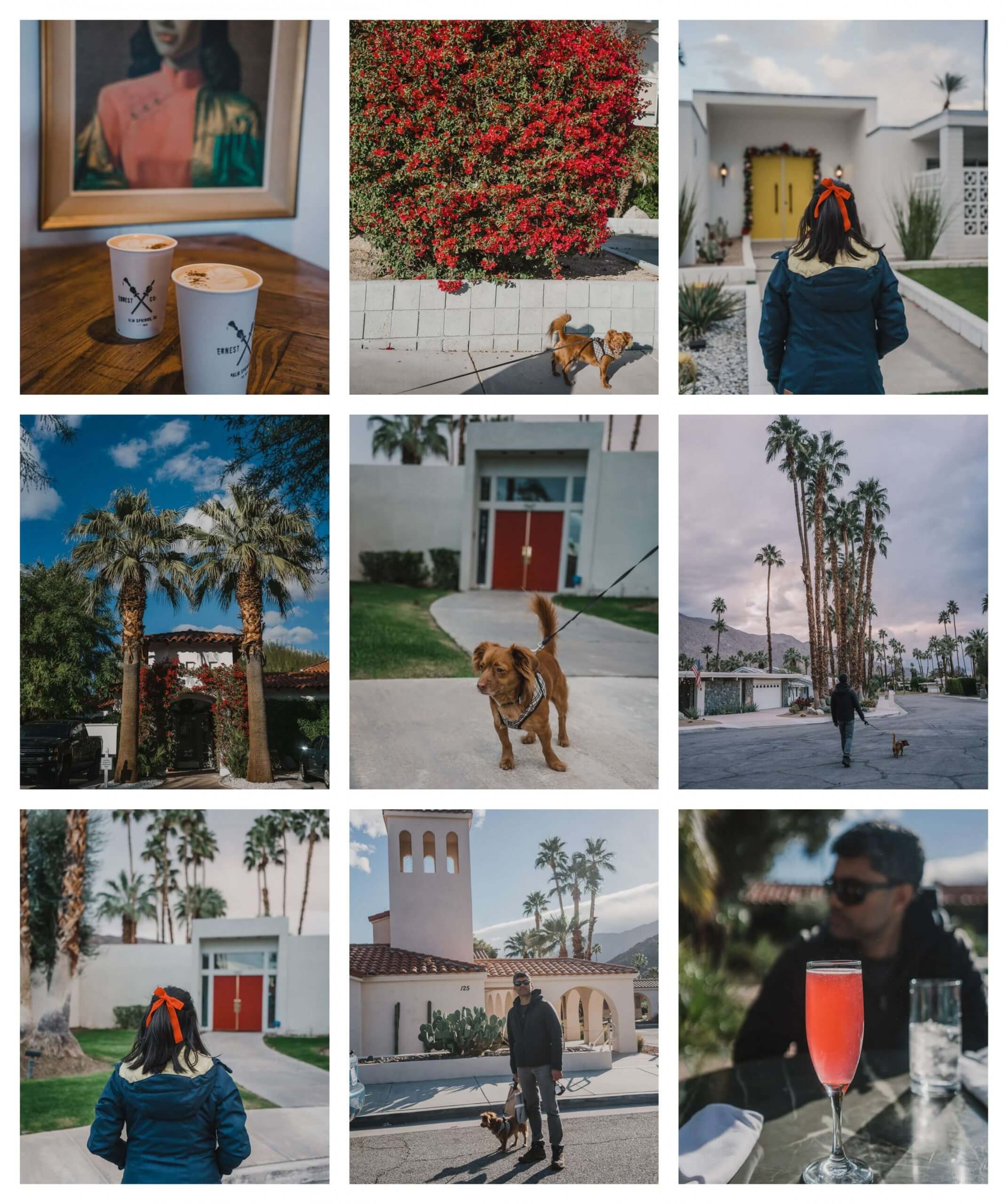 If you even have half a day on hand, embark on that 1 hour easy drive from Joshua Tree to Palm Springs for an explosion of colors, art deco, bustling uptown and downtown and some good food. I visited Palm Springs many years ago for a romantic long weekend and could not pass up the opportunity to do so again, but this time only for a few hours with Gunda.

When visiting Palm Springs with your dog, explore the art deco district/Uptown on Palm Canyon drive or the bustling downtown along Indian Canyon Drive that runs parallel to it. We had a nice poolside lunch at Colony Club restaurant (inside Colony Palms Hotel) and stopped by for coffee at Ernest Coffee for some fancy rose pistachio latte.

The other fun activity (which is 100% outdoors and therefore dog friendly) in Palm Springs is to discover those Insta-famous colorful doors in the Indian Canyons neighborhood near hotel Saguaro. We stopped by #thatyellowdoor (2344 S Yosemite Drive) and #thatreddoor (1947 Cadiz Circle) and saw several other in the same neighborhood as we drove by. If taking photos, be respectful of these places since these are actual houses with people living inside.

Aaaaannnnnnnndddd…. that's a wrap on my dog friendly Joshua Tree guide! I hope you found this post useful to plan your trip to Joshua tree with dogs and now know exactly where to take your dog in Joshua Tree! Thanks a lot for stopping by and wish you safe travels with your doggos.

LIKE THIS POST? PIN IT FOR LATER

«