Last Updated on August 1, 2022 by Paroma
Looking for what to do on a Joshua Tree day trip? Then look no further than this post where I have covered pretty much everything that you need to know about all the things you can do on a day trip to Joshua Tree from Palm Springs. From a beautiful desert sunrise to easy hiking trails and lookout points, this 1 day in Joshua Tree National Park has lots of tips for you to make the best of your short time here!
DAY TRIP TO JOSHUA TREE NATIONAL PARK FROM PALM SPRINGS
I am a city girl to the core and love my concrete jungle, but absolutely romanticize deserts and arid landscapes. There is something magical in their desolation which fascinate me to know end. So it is natural that when I found out about Joshua Tree National Park, which is acres of federally protected wilderness in the Mojave desert of Southern California, I couldn't wait to get there. Thus a Joshua Tree day trip was a must do for us when we visited Palm Springs.
In this guide on how to spend a day in Joshua tree, you will find information on a ton of things to do at Joshua tree National Parks such as the best Joshua tree trails to explore, our attempt at Joshua tree hikes, restaurants near Joshua tree and a few tips and tricks to to make your day trip to Joshua Tree national park memorable.
Disclaimer: This post may contain some affiliate links. Clicking on them may earn me a small commission at no extra cost to you for the product. Thank you!
LOGISTICS FOR PLANNING A JOSHUA TREE DAY TRIP
a) Where is Joshua Tree National Park?
Joshua Tree National Park is located jointly in San Bernardino and Riverside counties in Southern California. It is 237 miles to the south east of Santa Barbara airport, 146 miles east of Los Angeles International Airport (LAX) and 166 miles northwest of San Diego International Airport.
This national park is located quite close to Palm Springs (a desert city in Southern California) and is about a 50 min drive (45 miles) from it. In fact, you can fly into Palm Springs International Airport (PSP) to drive to Joshua Tree.
Joshua Tree is also within driving distance from Mccarran International airport in Las Vegas (about 183 miles). A lot of people combine a trip to Death Valley and Joshua Tree in one go if they are in the mood to drive since the former is only 126 miles west of Mccarran airport.
b) Getting to Joshua Tree National Park
If visiting from Central or Southern California, you undoubtedly have more choices in terms of cities/airports-I recommend starting from LAX for the best experience since PSP is a much smaller airport with limited flight choices that might get expensive.
From Northern California (San Francisco Bay Area), your best bet is to fly into LAX, explore Los Angeles and drive to Palm Springs and onward to Joshua Tree.
c) Best Time to visit Joshua Tree
The best time to visit Joshua Tree National Park is undoubtedly late fall/winter (Nov-Jan) and early Spring (Feb-April), making this place one of the best winter getaways in California.
Being part of two desert ecosystems in Southern California, it gets dreadfully hot in summer (I am talking triple digits in deg F!) and temperatures continue to stay high in Fall as well. If visiting in Spring, you will be rewarded with some amazing views of California wildflowers blooming all over this national park!
We visited the park in early spring (February) and it got pretty hot during the day, with the mercury hovering around mid 70s to early 80s (F). The same goes for all the 6 California desert destinations that are perfect for a road trip!
d) Is a day trip to Joshua Tree from Palm Springs enough time to explore the park?
I will be honest here: Joshua Tree National Park is vast, i.e. spread over a mind boggling 800,000 acres. This National Park representing two desert ecosystems (Mojave and Colorado) is one of the most unique landscapes in the world with unmatched geological features, flora and fauna. Although 1 day in Joshua tree is clearly not enough to do everything, you will definitely be able to cover a lot of ground even on a day trip to Joshua Tree if you plan it properly (see my tips below).
Joshua tree allows dogs inside the park with limited places where dogs are allowed. If you're planning a dog friendly day trip to Joshua Tree from Los Angeles, then one day should be enough. Read my dog friendly Joshua tree guide to plan a hasslefree trip.
Joshua Tree National Park is open year round, 24/7 come rain or shine.To make the most of your Joshua Tree day trip, I recommend starting as early as possible to get a headstart on the day and stopping by one of the four visitor centers in the park for maps and trail information.
Once you get a hold of maps, plan out your trip in the park if you have only 1 day at Joshua Tree. The Cholla cactus garden, Skull rock and Hidden Valley Nature Trail are some of the most popular attractions and hikes in Joshua Tree. Even when visiting in Winter or Spring, it might get very hot in the day (plus it will be crowded as heck) so please plan accordingly.
Apart from these day time hikes in Joshua Tree, I recommend at least one sunrise or sunset viewing in the desert. This is an ethereal experience like no other and should not be missed at any cost! The Cholla cactus garden looks particularly stunning in the first morning light and is absolutely devoid of people at sunrise.
e) Foolproof tips to maximize your 1 day in Joshua Trip (based on my experience)
CHOOSE THE RIGHT VISITOR CENTER AT JOSHUA TREE
Choosing the right visitor center can make a dramatic impact on your park entry wait times and access to facilities. Joshua Tree has four visitor centers: The Oasis Visitor Center (3 miles from the North entrance station), the Joshua Tree Visitor Center (5 miles from West entrance station), the Cottonwood Visitor Center (near the south entrance station) and the Black Rock Nature center which is only open seasonally from October-May.
Of these four centers, the Joshua Tree visitor center is the most popular but it has only porter potties for restrooms. The West Entrance station, closest to it, is also the most popular entrance because this leads to the Mojave ecosystem part of the park where you can see the most number of Joshua Trees spread all over the landscape.
As a result, it is not uncommon to see the one roading leading from the visitor center to the park completely choked with cars waiting to get inside. You don't want to spend your precious Joshua Tree day trip minutes sitting inside the car for at least an hour, brewing in your frustration and wasting time.
Unless you plan to get into the park very early (to see a sunrise) or very late in the evening, I recommend skipping this visitor center in lieu of the more beautiful Oasis visitor center which not only has proper restrooms but also a very beautiful nature loop in the adjacent palm Oasis which you can explore. The north entrance station is only 3 miles from this visitor center and is never crowded.
ENTER THE PARK FROM THE NORTH ENTRANCE STATION (29 PALMS/ OASIS OF MARA)
The west entrance station is 5 miles away from Joshua Tree Visitor Center and is the most popular entrance of all times. Unless you've stayed overnight and have plans to enter the park for sunrise or super early by 8 AM or in the evening, always use the North entrance station near the Oasis of Mara visitor center to enter the park. This entrance is 3 miles from the visitor center and is never crowded. On the other hand, the wait times at the West entrance station can go upto 1 hour!
STICK TO PARK BOULEVARD
Joshua Tree has a single paved road, aka Park boulevard running through it with occasional side trails shooting off it as shown on the map. Beside this, there are several unpaved roads in Joshua Tree such as Queen Valley Road (one way), Bighorn Pass Road, Stirrup Tank Road, O'Dell Road and Geology Road (2 wheel drive allowed upto mile marker 5.4) and Desert Queen Mine road where 2 wheel drives are allowed. If you want to do the entire Geology tour, you will need a 4 wheel drive and about 2-3 hours in hand.
If you only have one day to spend in Joshua Tree, I suggest entering the park from West or North entrance stations (enter from the West Entrance station only if you plan to come in super early or late inside the park), sticking to driving on Park Boulevard and stopping by the many attractions along the way.
One advantage from entering via the North entrance station (besides avoiding the traffic delay) is that the major attractions like Arch rock, Split Rock and Skull rock are all closest to this entrance along Park Boulevard. On the other hand, Intersection rock and Cap rock are closest to West Entrance Station along Park Boulevard. Cholla Cactus Garden is closest to the south entrance station.
PARKING NEAR MAJOR ATTRACTIONS
Some of the most popular attractions along Park Boulevard are Skull Rock and Keys View. Although there is a dedicated parking lot for Keys View, it is tiny and gets filled up quickly. If you want to see a sunset from Keys View, get there at least an hour before sunset to find parking.
There is no parking lot for Skull Rock and the Discovery Trail right across it, you have to park along Park Boulevard itself. So please plan accordingly.
ROAD CLOSURES
Joshua Tree National Park has frequent road and or trail closures in winter, which is peak tourist season. This is because of crowds and lack of adequate parking for certain attractions. So please be flexible with your plans or plan everything meticulously if you are spending only 1 day in Joshua tree.
ENJOY JOSHUA TREE RESPONSIBLY
Your National parks are no short of a public treasure that need to be safeguarded for the enjoyment of future generations. As usual, please be a responsible visitor and obey all park laws (parking, hiking, camping etc). Do not drive onto off-roads and stick to only those routes that allow cars.
Pack out what you pack in, always keep your pets on leash when visiting and take photos in a safe, responsible manner without leaning on the delicate Joshua trees.
Do not disturb/damage park flora and fauna, stay clear of the prickly Cholla cacti (known as "jumping Cholla" since they can get onto your clothes or skin) and keep an eye out for coyotes and other wildlife. This park belongs to all of us-so please leave no trace behind!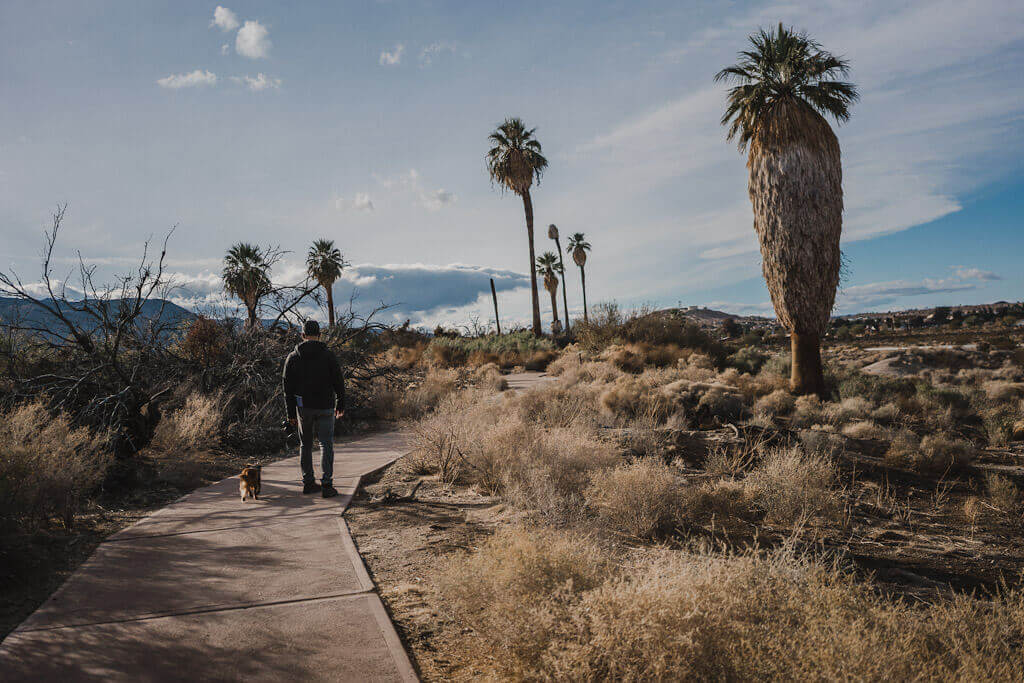 f) Park information that will be useful for your day trip to Joshua Tree
Joshua Tree National Park is open 24/7 every day. Busy season last from October-May with summer seeing the least crowds (understandably). You can technically enter the park for free at sunrise or sundown when no one is manning the entrance for park fees. For day use, the entrance fees are as follows:
7-day vehicle permit, admitting the passengers of a single, non-commercial vehicle on the day of purchase and for the next six days: $30
7-day entrance permit, per motorcycle: $25
7-day entrance fee, per person on foot or bike: $15
The other option is to opt for the Joshua Tree National Park Annual Pass that costs $55.00. This pass is valid for 12 months from the month of purchase. It covers the entrance fee to Joshua Tree National Park for the pass holder and accompanying passengers entering in a single, non-commercial vehicle. Joshua Tree Annual Passes can be purchased at all park entrance stations and visitor centers.
Since this is the 21st century with connectivity being the foremost thing on people's minds, I should remind you that although WiFi is available at Oasis Visitor Center, in Twentynine Palms, and Joshua Tree Visitor Center, in Joshua Tree, you might be hard pressed to find cell signal in the majority of the park. A paper map (purchased before hand or collected from the visitor center) or offline apps like Maps.me is your best bet when driving around the park.
f) How to pack for a day trip to Joshua Tree
Being part of a desert, Joshua Tree National Park experiences extremes in temperature and so you need to dress accordingly. Early mornings and nights can be chilly (it does get very cold at night in winter) while day time temperatures will skyrocket, depending on the time of the year that you visit (best to visit in Winter and Spring).
Wear your usual hiking clothes and sturdy hiking boots on your day trip to Joshua Tree, but remember to layer if you arrive for sunrise or stay back for sunset. Carry ample water (by that I mean at least 1 gallon/person as is recommended) since you may get easily dehydrated while hiking. Sunscreen, a wide brimmed hat and sunnies are highly recommended since the sun beats down on this arid landscape.
g) Hotels near Joshua Tree National Park for 1 day in Joshua Tree
If you are wondering about where to stay in Joshua tree, you can find a number of options by clicking on this hotels in Joshua Tree link.
Your best bet is to find hotels in nearby Yucca valley , the largest desert town in this area which has many more hotel options. I recommend staying at Super 8 by Wyndham or Travelodge Inn and Suites both of which are on Route 62 or Twenty Nine Palms Highway that is the only road going through this region.
Since we made a day trip to Joshua Tree from Palm Springs, we stayed at an Airbnb in Palm Springs, but here is the link for all Joshua Tree Airbnb for all your Joshua tree lodging needs!
I must mention here that of all these, Joshua Tree House is right inside the Joshua tree National Park and if you have the budget for it, definitely snag at least a night's stay there because it is out of the world beautiful!
h) Geography of Joshua Tree National Park
Joshua Tree National Park is hands down my favorite National Park in California. I have been awed by the towering Redwoods on my Northern California trip and cannot get enough of the Sierra wilderness that is Yosemite National Park, but Joshua Tree is bold, beautiful, prickly and rugged, i.e., something out of this world.
This park, elevated to National Park monument status in 1936 followed by National Park in 1994, is at the confluence of two desert ecosystems-The Mojave and the Colorado. The Mojave is the smallest of the four desert systems in USA and is home to the funky looking Joshua Trees while the Colorado desert is larger, more barren but supports more wildlife like the Kangaroo rat (which by the way can spend an entire lifetime without drinking a drop of water!).
Beside these two dominant ecosystems, there is a third not so well known ecosystem in the highest mountain regions of the park. This is the Pinyon Pine and Juniper zone which comprises of a woodland forest providing shelter, shade, and food resources in the higher elevations of the park.
Within 800,000 acres of this park lies a unique flora and fauna system, geologic wonders and it boasts of an unparalleled dark sky experience for star gazing owing to minimum urban light interference at night. Joshua Tree even celebrates a Night Sky Festival every Fal which is held primarily at Sky's the Limit Nature Center and Observatory, located just outside the park's north entrance. Tickets go on sale in early summer.
If you've never been to Joshua Tree, let me start with some trivia on Joshua trees because this is a national park like no other. The park is dotted with these plants unique only to the ecosystem of the Mojave desert that are not any kind of cacti, but belong to the agave family. Their funny, gaunt look with tufts of leaves protruding from randomly spread out branches of different shapes are a delight to behold and they are distinctly different in appearance from other cacti and desert flora.
The National Park is named after these very trees, which were also immortalized in popular culture when the celebrated pop group U2 released an album by the same name, which went on to become their biggest hit. The trees grow abundantly in some parts of the park, and not so much in others and are not restricted only to the park, but grow all over in the Mojave desert. You will see them all over in the Joshua Tree city and county.
i) Are dogs allowed in Joshua Tree National Park?
Yes, but in very limited capacity and always on leash. Dogs are allowed at the Oasis of Mara and some roads in the park where you can drive to, park on the side and walk. None of the hiking trails are accessible to dogs. You can read my dog friendly guide to Joshua Tree for all the details.
THINGS TO DO IN JOSHUA TREE NATIONAL PARK ON A DAY TRIP
a) Catch a desert sunrise
The one thing that you must absolutely do on your Joshua Tree day trip is to catch a breathtaking sunrise at Joshua Tree National Park. This experience parallels none other and the ever changing colors of the arid landscape as the first rays of the sun strike it, are a vision of pure beauty and bliss.
The Park remains open 24/7, but there is a fee to go in during operational hours ($ 30/vehicle and $10 /pedestrian or cyclist). Just go in super early before the sun rises and you will have the park all to yourself. Enter via the South Entrance Station near Cottonwood visitor center to see the sunrise at Cholla cactus Garden or from the West Entrance Station near Joshua tree Visitor center which has the maximum concentration of Joshua trees in the surrounding landscape.
If you are not an early bird, fret not cause Joshua tree looks splendid at sundown as well, with the ghostly silhouette of the trees against a burnt orange-red sky. In addition, the park is also a great spot for some star gazing owing to the sky above being least polluted by the light from neighboring cities.
b) Tackle some easy day hikes in Joshua Tree National Park
There are so many great view points and Joshua tree trails that its best to experience them or go hiking in Joshua tree in the early hours to avoid the beating sun and crowds if you are spending one day at Joshua Tree. Joshua Tree weather is super hot for summer and fall, so it definitely helps to arrive as early as possible!
If you are spending only one day in Joshua Tree and are not too keen on going on long, strenuous hikes, then here are a few beginner ones that you can easily cover during your day trip to Joshua Tree. Here are some of those easy trails to tackle during your day trip to Joshua Tree which are under 1 mile.
CHOLLA CACTUS GARDEN TRAIL
To get to the trail, use the northern entrance to the park which is east of the Joshua Tree Visitor center. Enter the park through the Utah trail and make your way towards the Arch Rock and further down the Pinto Basin road to the most beautiful Joshua Tree trail, i.e. Cholla Cactus Garden trail.
You are advised to stay on the makeshift trail between the cacti taking care not to venture too close to them or touch them since these are "jumping" cacti and can easily penetrate skin and cause injury.
Since we were there at sunrise, we had the trail completely to us with no other living being in sight. The stillness in the air, the golden rays of the sun bathing the rows and rows of cacti around us, painted a surreal scene like no other. This was one of the best Joshua tree hikes for us and definitely a must do for even a beginner while visiting Joshua Tree National Park for the first time.
We did not have a whole lot of time to explore the park fully during our day trip to Joshua Tree from Palm Springs but managed to hike a little bit because we are not big hikers and it was honestly getting too hot to explore.
ARCH ROCK TRAIL
A second easy day hike in Joshua Tree (that we went on) is the 0.5 mile trail around the Arch Rock, one of the shortest Joshua tree hikes where one can see a rocky landscape dotted with Joshua Trees and piles of boulders stacked atop each other. On our way out, we saw a long line of cars waiting to enter the park and thanked our lucky stars that we had managed to get in early.
DISCOVERY TRAIL
This is a 0.8 mile super easy doable hike, with the trailhead starting right from across Skull rock on Park boulevard. It is also part of the longer Skull Rock trail (the trailhead for this trail is right across the road at Skull Rock) and is one of the best short hiking trails in Joshua Tree.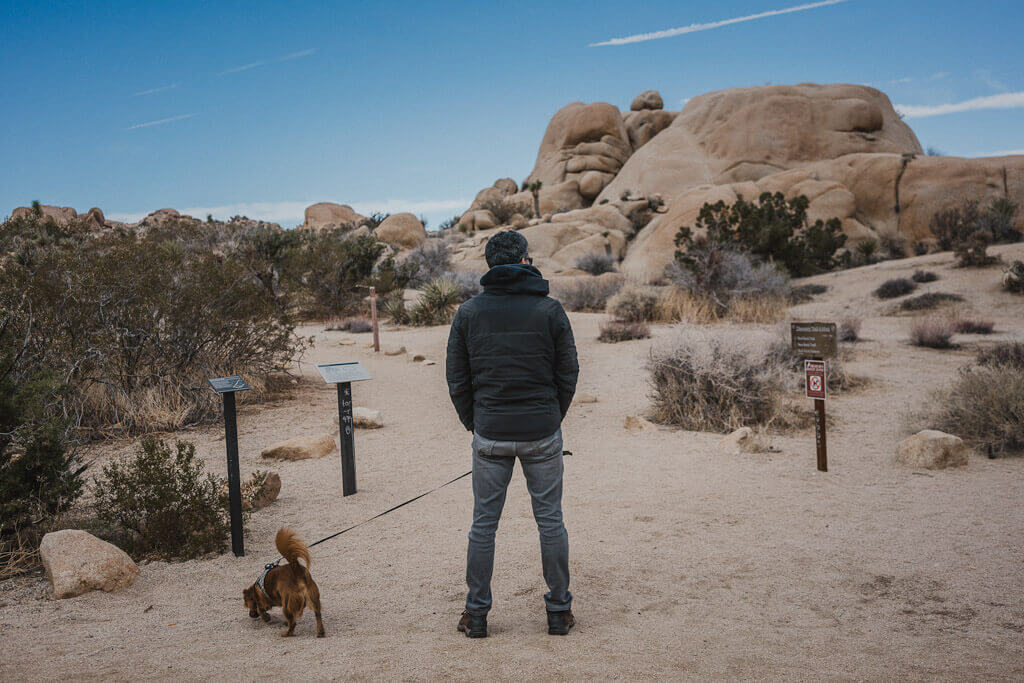 SKULL ROCK NATURE TRAIL
Although this is a nearly 2 mile Joshua Tree hike, I am including it in this day trip guide to Joshua Tree since it is right across the Discovery Trail and will take you through some of the most fascinating large rocks in the area.
This is a 1.7 mile heavily trafficked trail starting from the entrance to Jumbo Rocks Campground near Skull Rock bor inside the campground, across from the amphitheater. We did not have time to explore this trail on our Joshua Tree day trip since the sun was really beating down in February, but if you have some time on your hands then you can definitely access this longer trail to see the giant rocks and boulders that Joshua Tree is famous for.
Those of you who are avid hikers and would like to explore beyond these easy Joshua Tree hikes, there are several options available and you can read this article for 16 awesome hikes at Joshua tree that you cannot miss. For example, you can make your way from Arch Rock to hike at Ryan mountains or go up north towards Barker Dam and Hidden Valley.
c) Popular attractions in Joshua Tree
Some of the most popular attractions of Joshua Tree can be found on either sides of Park Boulevard. These include Cap Rock, Skull Rock, Split Rock, Intersection Rock, Arch Rock and Cholla Cactus Garden. Simply drive, park in pullout points or parking lots and get on the trails to access them. Attractions like Cap Rock and Skull rock are completely accessible from the side of the road.
d) Lookout points at Joshua Tree
If you are not big into hiking (much like us), there are some popular viewing spots in the park that you should check out during your Joshua Tree day trip. Skull Rock (a huge overhanging rock shaped like a skull) is one such spot at Joshua Tree but we found it too crowded for our taste and quickly moved on to our next destination-the iconic Keys View point.
From here where you can see the famous San Andreas fault, the city of Palm Springs, the looming snow capped Mount San Jacinto and the Salton Sea. The road from Arch Rock to Keys View as well as the Black Rock Canyon further up north and west are the two best spots for viewing Joshua Trees. Most trees in this part of the park are full grown, mature ones unlike those in sparse southern entrance.
We had a limited time to see everything during our day trip to Joshua Tree, but boy, were we glad to stop by the Keys View lookout point! The view from Keys View lookout point is jaw-dropping. Stair lead to the viewing area where its best to sit for some time and take in the serenity of the desert valley with the majestic mountains overlooking Palm Springs and Coachella Valley. On a clear day, the shimmering water of Salton sea also visible.
e) Stargazing in Joshua Tree
Staying overnight in Joshua Tree ? Then don't miss a stargazing opportunity inside the National Park!
Joshua Tree National Park has some of the darkest skies, barely polluted by urban lights and is thus the perfect venue for stargazing and admiring the myriad constellations up above. Since the park is open 24/7, you can enter it at night, park at a pullout point and take in the starry nights view by sitting on a chair outside.
Remember to use red lights only, do not camp on roadsides, bundle up for the cold, stay awake and alert within 20 feet (6 meters) of your vehicle. The Pinto Basin Road between Cholla Cactus Garden and Cottonwood has the least traffic and darkest skies.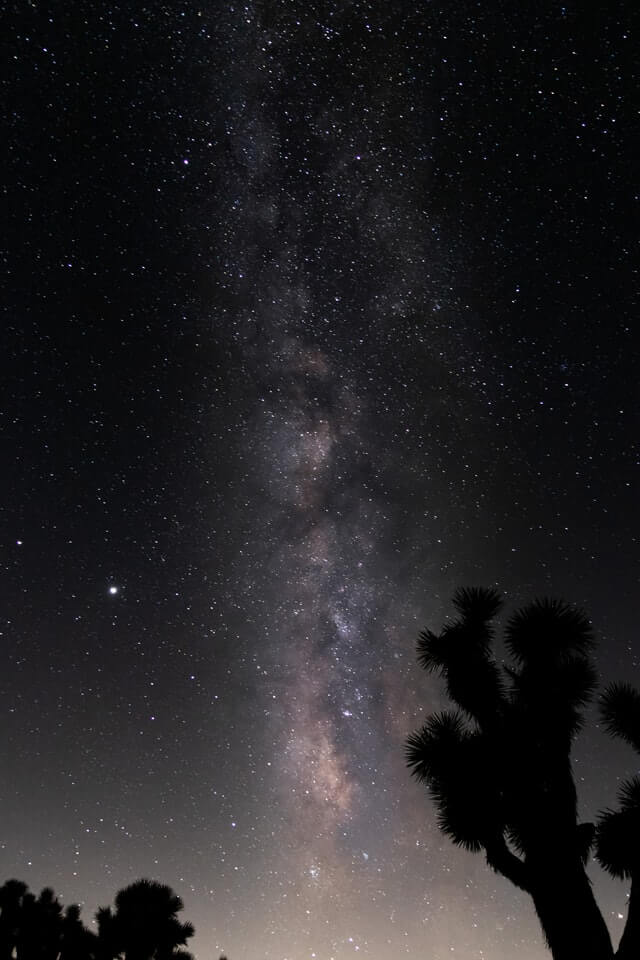 WHERE TO EAT IN JOSHUA TREE: THE BEST JOSHUA TREE RESTAURANTS
Spending a day at Joshua tree is sure to make you hungry and so here are some yummy restaurant recommendations to get your taste buds satisfied! There are some pretty amazing restaurants around Joshua Tree National Park, so you don't have to carry a ton of energy bars or food during your Joshua Tree day trip. Here are my tried and tested recommendations, just take your pick:
Joshua Tree Coffee Company: Currently open for pickup only, this is the go to place to start your day with some great coffee in Joshua Tree.
Country Kitchen: This is a pint sized family owned diner run by a very friendly Cambodian couple, is a must visit Joshua tree restaurant. You cannot leave this place (btw, it is cash only) without having their melt in the mouth, fluffy chocolate pancakes which are to die for!
Sam's Indian Food and Pizza: This is the only Indian restaurant in town serving pretty standard North Indian food (I am Indian and was pleasantly surprised to see decent Indian food in the high desert). You can opt for a sit down meal or get some yummy Indian pizza to go.
Natural Sisters Cafe: this dog friendly cafe with outdoor seating has lots of vegetarian, gluten free and vegan options and prides itself on it's organic ingredients.
CrossRoads Cafe and Tavern is another amazing restaurant near Joshua tree with lots of vegetarian/vegan options.
Frontier Cafe: This spacious cafe in Yucca valley has lots of funky indoor art, good coffee and other hot beverages along with hot food and sandwiches.
La Copine: Don't miss this high desert gem when visiting Joshua Tree even for 1 day. Located in Flamingo Heights, this restaurant serves delicious Californian-American food using local ingredients.
Going meat free? Then you can read more about all the yummy vegetarian food that we ate at Palm Springs and Joshua Tree right here.
OTHER MUST READ POSTS ON JOSHUA TREE
if you are visiting for the first time, here is a beautiful postcard from Joshua tree to get you inspired! For more southern California National parks, read this fantastic guide on 5 things to see and do in Death Valley National park.
You can also read about how to plan for Yellowstone National Park which is another fantastic west coast gem or spend one day in Death Valley National park in southern California if you have less time!
For even more California National parks inspiration, read this guide on 4 California National parks that should be on everybody's list. Visiting Joshua Tree with kids? Read Melissa's informative guide on exploring Joshua tree with kids.
Day trip to Joshua tree: Parting thoughts
Joshua Tree National park represents a geology, ecosystem, flora & fauna habitat like no other and is unique in its beauty. It is unlike any other North American National park that you've visited, with a wilderness that is magical and captivating.
I hope I could get you, dear reader, enticed enough by this short Joshua tree day trip guide to visit this unique National Park! The beauty of the desert is understated, yet unparalleled and the only way to experience it is to lose yourselves in the land dotted with Joshua trees, piercing the stony, barren soil. The trails and hiking spots of interest to catch more of the breathtaking vistas are listed in this National Parks Services website.
Love this post? Pin it here

«