Last Updated on August 1, 2022 by Paroma
Are you planning a weekend at Palm Springs, the stylish Southern California desert town that everyone seems to be raving about? Then you've come to the right post where I give you the perfect blueprint for a memorable Palm Springs weekend getaway to kick those work blues away! So sit back, relax and enjoy (plus don't forget to bookmark) this fabulous Palm Springs itinerary for your next trip to this dreamy desert town, aka spending two beautiful days in Palm Springs!
Disclaimer: This post may contain some affiliate links. Clicking on them may earn me a small commission at no extra cost to you for the product. Thank you for supporting free content on this site!
FAQS FOR PLANNING A WEEKEND GETAWAY AT PALM SPRINGS
Where is Palm Springs?
Palm Springs is a desert city nestled beneath Mount San Jacinto in the Sonoran Desert in Southern California and is a popular winter getaway destination in California for Los Angelinos since it is only a little over 2 hours drive from L.A. (123 miles). It is about the same distance as well from San Diego and is therefore a popular weekend getaway destination for Southern Californians in general, especially in winter.
How to get to Palm Springs from the Bay Area/Northern California?
Although Southern Californians can plan a Palm Springs weekend trip quite easily, it is quite a bit of a drive for us Northern Californians to do the same. I am talking about over 8 hours of driving inland mostly along I-5 south to get to Palm Springs from San Francisco (487 miles).
The other preposterous option, and that too if you are in the mood for a very long California coast road trip, is to drive all the way down the Pacific Coast Highway from San Francisco to Santa Barbara or Los Angeles and then east towards Palm Springs.
That way you will get to see some of the best sights along Highway 1 from San Francisco to Carmel and then onto Big Sur. You need to factor in at least 2 additional days of overnight stops before you reach Palm Springs to make the most of this trip.
If like us, you are not a big fan of driving for what seems like eternity, then either fly into either of the airports at Santa Barbara, Los Angeles or San Diego, rent a car and start driving a much more doable distance (ranging from 2-4 hours depending on the airport you choose). We flew into LAX (Los Angeles airport) and drove up to Palm Springs, which took us about 2 hours.
When is the best time to visit Palm Springs?
Undoubtedly November-March for cooler, bearable weather when you are not roasting like a marshmallow in the desert heat. Plus, Spring is when the desert landscape springs to life amidst a sea of wildflowers, such as at the nearby Joshua Tree and Anza Borrego State Parks. Having visited Palm Springs in March I recommend you do the same.
Is 2 days in Palm Springs enough?
Palm Springs has a ton to offer to the design loving, desert dreaming tourist-a perfect confluence of Southern California boho chic with the disarming abandonment of the Mojave Desert. In addition, it is a popular desert retreat with resorts with a renowned design district boasting of a wide array of mid-century modern /art deco furniture stores and has close proximity to Coachella valley where the famous annual music festival is held.
The best part about Palm Springs is that it is not a huge town to begin with, so spending 2 days in Palm Springs is just the right amount of town to explore almost all of what it has to offer. So if this is your first time visiting, make sure you plan for a long weekend getaway to Palm Springs! If you have one additional day, then definitely visit the closer Joshua Tree National Park (only 50 minutes away from downtown Palm Springs) to continue the desert adventure.
What to pack for Palm Springs
Summer is oppressively hot in the desert, so bust out those linens/cottons/breathable fabrics plus hat and sunnies for protection from those blinding sun rays. Visiting in Winter or Spring? Then carry a light jacket along since it does get colder at night or on the Aerial Tramway to Mount San Jacinto State Park. Wear sturdy shoes if planning to walk around a lot or going for hikes in Joshua Tree.
Is Palm Springs dog friendly?
Yes! Palm Springs is one of the most beautiful dog friendly Southern California getaways. Many restaurants and businesses in both uptown and downtown welcome dogs.
Palm Springs hotels
Wondering where to stay in Palm Springs during your weekend trip? Here are my recommendations:
Ace Hotel & Swim Club: I have stayed at the Ace Hotel in Portland and it is definitely one of my favorite boutique hotel chains. We dined at Kings Highway, their restaurant, on repeat and loved it!
Korakia Pensione: if you have a lot of $$$ to spare, stay in this Grecian villa with a killer pool!
Casa Cody: this stylish B&B is on the pricier side and has raving reviews
Kimpton Rowan Palm Spring Hotel: dog friendly, dogs stay for free. Enough said!
Best western Plus Las Brisas Hotel: a budget hotel in expensive Palm Springs, breakfast included!
PALM SPRINGS WEEKEND GETAWAY ITINERARY: HOW TO SPEND 2 DAYS IN PALM SPRINGS
No matter where you're coming in from, Palm Springs will help you unwind and relax in no time; so without further ado here are the very best things to do in Palm Springs in 2 days! This Palm Springs itinerary covers a little bit of everything for adults looking for some R&R for that romantic getaway in Palm Springs with this guide on the best Palm Springs boutique hotels to help you finalize your stay, plus some of the best places to eat and top attractions to enjoy when in town.
For more Southern California weekend getaway inspiration, read my guide to Solvang, America's Danish capital or these USA southwest road trip ideas with Palm Springs as a pit stop.
Weekend in Palm Springs: Explore the Design District
Skip the congested, crowded, touristy downtown and head uptown to the Palm Springs design district where rows of beautiful boutiques and one of a kind stores selling mid-century modern furniture as well as home accessories will greet you with their crisp lines and bold colors.
Since we were charmed by the art deco scene at Miami we decided to wander through uptown as well and check out their stores. It was a fun afternoon as we meandered through the different design merchandise and got a few things for the home.
How to spend 2 days in Palm Springs: Visit the Palm Springs Art Museum
For art, culture and design lovers, the Palm Springs Art Museum (established in 1938) is a must visit stop and should be on your Palm Springs weekend itinerary. This museum has some of the best collection of European and Native art, plus a beautiful outdoor space and a cafe. With a burgeoning permanent collection of over 12,000 objects spanning from modern and contemporary art to architecture and design, visiting the museum is nothing short of a transformative experience.
Palm Springs weekend guide: Going on a "door hunt"
Palm Springs is famous for its art deco and modernist architecture, with some of the coolest doors in eye popping colors gracing the pastel desert homes. Understandably people live in these homes and so if you are one of those Instagram or design crazy peeps dying to use these doors as backdrops, please try to be respectful of their privacy when you do so and do not trespass on private property as much as possible.
During my trip to Joshua Tree with our dog we visited Palm Springs for half a day and managed to see some of these pretty doors in the Indian Canyons neighborhood near Hotel Saguaro. For the entire list, here is a helpful article by a fellow SF blogger to find some of the best doors in Palm Springs that add a pop of color to the arid landscape, including the Insta-famous "That Pink Door". Enjoy the doors tour!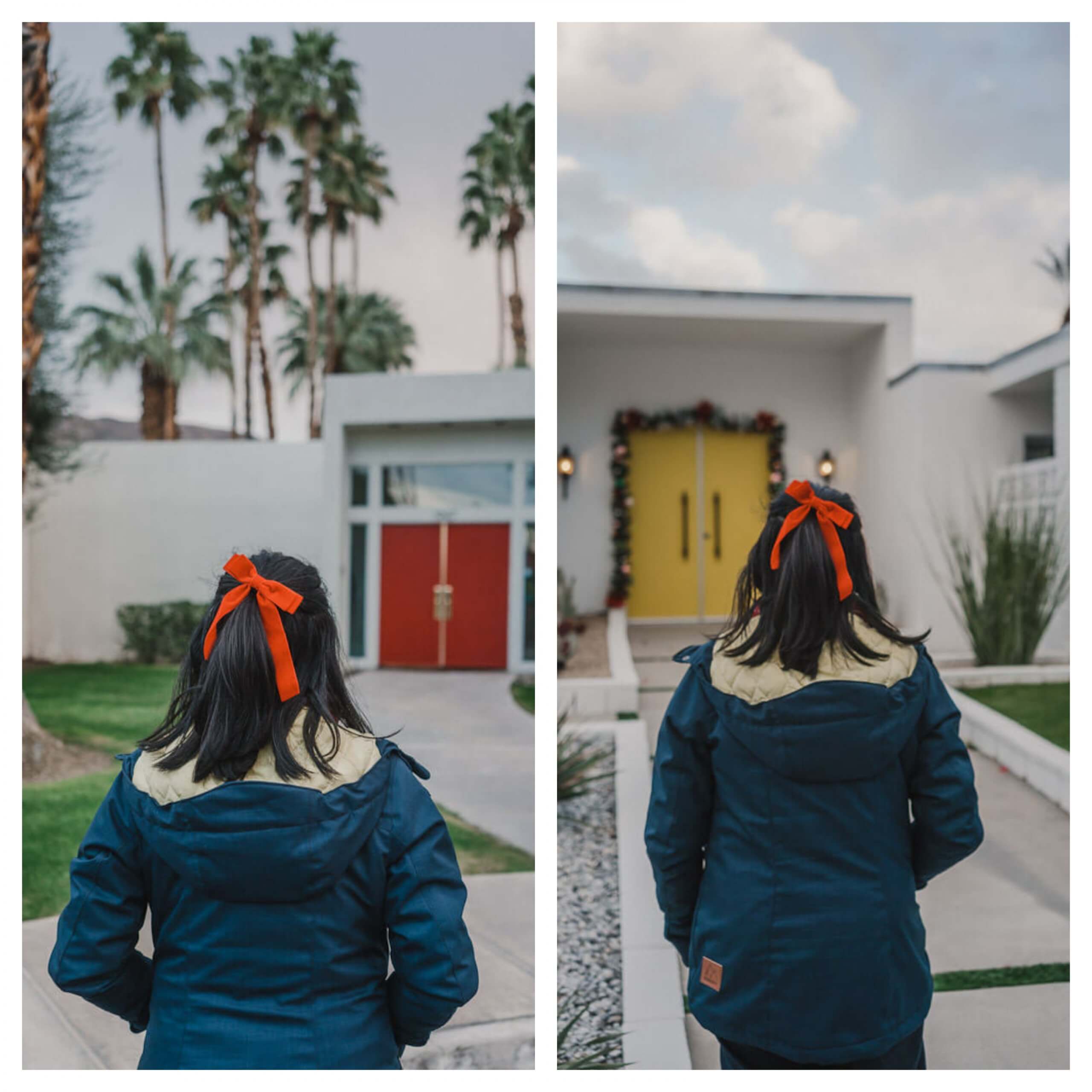 Palm Springs Itinerary must do: Visit the Moorten Botanical Garden
For the succulent lover, no Palm Springs weekend getaway is complete without a visit to the Moorten Botanical Garden, a paradise for all kinds of succulents and desert vegetation and one of the many underrated photography spots in Palm Springs.
This is a private arboretum curated and created by the Moorten family in 1938, who were specialists on desert flora and have amassed quite an impressive collection. For a nominal fee ($5/adult) you can spend some quality time in the shade of various cacti, exotic succulents and agave and marvel at the mind boggling variety of vegetation that grows in such a barren, dry environment.
Moorten botanical garden hosts over 3000 varieties of desert plants from all over the world, from gigantic to miniature plants all flanking a natural trail. There is also a "Cactarium" or special enclosed exhibit housing exotic cacti and other desert vegetation, which are not for sale.
Your tour (and you are advised to stay on the trail and not run around helter- skelter) starts with the Baja California Mexican region and meanders through several desert ecosystems such as the Sonoran desert region to Mojave to Texas to Central American and ends at the South American region.
Vegetation encompasses a breathtaking array of desert greens in all shapes and sizes and are an absolute delight for the eyes. This might seem odd, but rows and rows of beautiful cacti of all shapes, sizes and colors definitely makes for a quiet romantic stroll in the afternoon!
There are native trees, mesquite and ironwood trees along with dozens of cacti such as the jumping Cholla (see my post on Joshua Tree National park for the Cholla Cactus garden trail), organ pipe cactus, beavertail cactus to name a few and Agaves.
The tour ends at the Garden Sculpture court where you can buy small succulents and cacti as souvenirs to take home. For all plant varieties, there are small tiles adjacent to them labeled with their names and information.
Moorten Botanical Garden is a terrific place to spend a few quality hours amidst a different kind of green oasis and enjoy the best offerings of a desert ecosystem, one which makes it so unique and beautiful. The gardens hosts a section known as the Palm Grove Oasis which hosts social and cultural events such as weddings, art exhibits and concerts. A must include on your Palm Springs itinerary!
Things to do in Palm Springs on a weekend getaway: Take the aerial tramway!
From the heat and dust of the desert to the cooler climes of the Alpine region, from the cacti and succulents to the pine trees, from the sand to the snow, such is the dramatic change in scenery as you zip up the highest elevation of over 8500 ft above the desert floor via an engineering marvel known as the Aerial tramway.
This rotating tram car takes you on a 10 min ride across the Chino Canyon, to the north of Palm Springs, all the way to Mount San Jacinto State Park, nestled in the shadow of the mountains towering over the desert city. This tramway, the highest in the world, was the brainchild of the pioneering electrical engineer Francis Crocker and the first ride was offered in 1963. Bring a jacket with you as the temperature alters dramatically from the desert floor to the very top in the park, differing by as much as 30 degrees!
Tickets can be purchased in advance online or at the station itself. Once you reach the park, you can hike along the many trails and explore the beauty of the alpine region, and this is a terrific activity to include in your Palm Springs weekend itinerary. The park is a favorite spot for southern Californians for winter activities since it is covered in snow and if you go in spring (Feb-March), you will still find a blanket of snow lingering!
You can get sweeping views of the desert floor, dotted with windmills on the periphery from the viewing deck once you reach the station on the state park side. Go one flight of stair downstairs to get onto the winding path leading to the park and the trails. Tramcars operate every 10 minutes for the ride back to the base station; lookout for the last departure time if you are planning to hike in the state park. We strolled in the park for a short time and returned to Palm Springs since we had to catch our flight back to San Francisco, but will revisit soon!
Day trip from Palm Springs: Visiting Joshua Tree National Park
Finally, the one thing that you need to do when visiting Palm Springs over a long weekend is to is go on a day trip to Joshua Tree National Park which is about a 45-50 minutes drive away from downtown. From Joshua Tree, 20-30 min car ride will get you to the adjacent cities of Palm desert and Coachella which are worth visiting if you have time.
Joshua Tree, made famous by the band U2 (they have a hit album by the same name), is a unique national park with tufts of vegetation (named Joshua tree) which are part of the Mojave desert ecosystem. Both sunrise and sunset are ethereal from the park and I strongly recommend witnessing at least a desert sunrise, since it has such unique colors and can be such a romantic experience on your Palm Springs weekend getaway!
Read my tips, tricks and suggestions as well as lodging and trail recommendations in my Joshua tree post and my dog friendly guide to Joshua Tree if visiting with your pup.
Best Palm Spring restaurants to dine in during your weekend in Palm Springs
Just because you are in the middle of a desert, does not mean you will be hunting for good food! Palm Springs has several good restaurants and my vegetarian friends are in for a treat, since we decided to go meat free on this trip and so I have listed several Palm Springs vegetarian restaurants in this dining guide, which includes both Palm Springs and Joshua tree! Read the post for details, or see my recommendations below:
Kings Highway (Ace Hotel)
Of All the restaurants in Palm Springs that we visited, King's Highway, a diner and lounge located in Ace Hotel on Indian Canyon Road stole our heart. This Palm Springs restaurant is not 100% vegetarian, but the menu is full of vegetarian options. With desert themed cocktails, a stylish decor (for your Instagram feed) and lip-smacking food, this place was a winner in our books!
Native Foods Cafe
Next in line comes Native Foods Cafe, a fast casual Palm Springs vegan restaurant established in 1994 in this arid desert city. This unassuming place sells lip smacking plant based grub, tasty enough to make you forget meat.
Palm Greens Cafe
Palm Springs sprung another surprise on us with Palm Greens Cafe, located in another strip mall off the two main streets criss-crossing the city. This restaurant was voted the best vegetarian restaurant in Palm Spring recently. Food was super tasty and included yummy Asia inspired entrees. They also have an array of juices and smoothies that you must try for some good old detoxification.
Colony Club Restaurant (Colony Palms Hotel)
We had a delicious lunch at the Colony Club Restaurant by the poolside during our day trip to Palm Springs in 2021. The tacos and drinks (prickly pear Bellini) were really good. Highly recommend making reservations since it is a popular lunch spot.
Ernest Coffee
This stylish coffee shop has some really fancy beverages-we opted for a Pistachio Rose Latte which was their winter special!
Aaand, that brings us to the end of this post on how to spend a weekend at Palm Springs! I hope you liked this post and are already planning for your own getaway with a fabulous 2 day Palm Springs itinerary filled with the very best of what this boho desert town has to offer. Thanks so much for stopping by and happy travels!

Like the post? Pin it here

«