Last Updated on November 16, 2022 by Paroma
Are you dreaming of road tripping from San Francisco to Carmel along Highway 1 under the California sun with the sea breeze tousling your hair? If yes, then this is the perfect post for your to read. I have driven down this route many, many times and I am here to tell you all about the dozens of cool stops that along the way that will take this California road trip to simply another level! So without further ado, here is everything you need to know about driving down Highway 1 from San Francisco to Carmel.
Disclaimer: This post may contain some affiliate links. Clicking on them may earn me a small commission at no extra cost to you for the product. Thank you for supporting free content on this site!
HOW TO PLAN A SAN FRANCISCO TO CARMEL ROAD TRIP ALONG HIGHWAY 1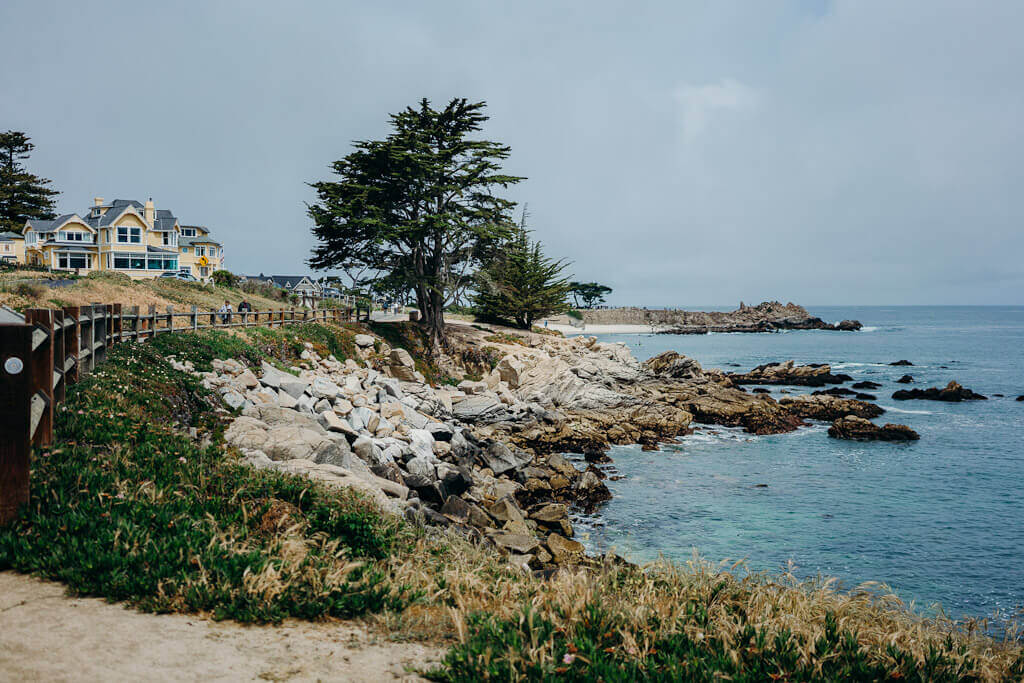 Highway 1/Cabrillo Highway/Pacific Coast Highway is the scenic coastal route that connects San Francisco to Carmel in its 125 mile stretch that will take you about 3 hours to cover if traffic conditions are favorable and if you drive non-stop.
You could also take the shorter and faster inland route of 101S, but that is not as much fun as driving along the coast that offers spectacular views, sandy beaches and some of the best Northern California beach towns. So yeah, bottomline is that if it is your very first time driving to Carmel from San Francisco, do me a favor and stick to Highway 1.
Although a relatively short distance as far as road trips go in California (read my mammoth Northern California road trip covering 375 miles), there are plenty of stops/attractions/things to do that are peppered along Highway 1 between San Francisco and Carmel.
So please do yourself a huge favor, read my recommendations and plan to make at least a few (or, many) stops along the way as you drive down Highway 1. Trust me, this is one of the most rewarding road trips from San Francisco that you won't want to miss!
Coming to trip logistics (the most boring but necessary evil for any travel post): if you're visiting out of town, then flying into San Francisco International Airport (SFO) is your best bet. Keep in mind that the airport is not in San Francisco, but in Millbrae, which is about 30 minutes south of the city. Rent a car at the airport, get onto Highway 1 and start driving towards Carmel.
The other option is flying into San Jose International Airport (SJC) which is about 47 miles south of San Francisco, which can also be a starting point of your journey from where you drive down CA-17 into Santa Cruz and then take Highway 1 to Carmel. However, in that case you'll be missing out on a section of Highway 1 starting from San Francisco to Santa Cruz which is incredibly scenic.
For the purpose of this post, I recommend that you start from San Francisco itself, because if this is your first time to my city or the road trip, you will maximize your experience by choosing San Francisco as your starting point. There are many places in San Francisco from where you can rent a car, so there is really no need to go to the airport for that purpose.
Given the year round mild weather conditions in Northern California, this San Francisco to Carmel road trip can be done anytime of the year really. But Spring has my vote cause of all the wildflowers springing up from and drenching the bluffs with color. Avoid Winter months (November-Feb) if you don't want rain to play truant.
Dress in layers because the coast can get chilly, windy and foggy (I have a handy San Francisco packing list for you to take the guesswork out of what to wear for our crazy weather). Keep cash/change handy for parking at state parks/beaches along the way and that's it-you're all set to embark on a fabulous road trip down the central coast!
Check out my other California road trip posts here:
WHERE SHOULD YOU STAY BETWEEN SAN FRANCISCO AND CARMEL?
San Francisco to Carmel is a mere 2.5 hours drive, but there is quite a bit to see on this road trip and cramming everything in one day can get stressful. I recommend breaking the trip into two segments-San Francisco to Santa Cruz on day 1, with an overnight stay and half a day in Santa Cruz and then driving to Carmel on day 2.
Santa Cruz is roughly midway between San Francisco and Monterey Peninsula and there is plenty to do in this beach town, which also has a lot of affordable hotel options. My hotel recommendations are: Pacific Blue Inn, Ocean Echo Inn & Beach Cottages, Cliff Crest Inn, Beach Street Inn & Suites, Hampton Inn Santa Cruz West.
THE BEST STOPS ON HIGHWAY 1 BETWEEN SAN FRANCISCO AND CARMEL
Finally, here is the much awaited section of the post where I spill the beans on what I consider are the best stops between San Francisco and Carmel on and around Highway 1. Depending on how much time you have, pick and choose the ones that appeal to you most. If you want to see it all, then a good 3-4 days should cover everything.
SAN FRANCISCO
If you're visiting San Francisco, your starting point in this road trip, for the very first time ever, then I am tad jealous of you because you get to explore the city with a fresh pair of eyes struck with wonder and awe. Despite its many struggles and challenges, San Francisco continues to be one of the most unique and beautiful cities in USA where laid back California meets European charm.
Steep, hilly roads punctuated with colorful Victorian homes, secret gardens, verdant parks, a crazy good food scene, sandy beaches offering gorgeous sunsets and the mighty beautiful Orange Bridge beckoning you-this is what San Francisco has to offer amongst a plethora of other attractions to feast your eyes on. It may be just 49 square miles, but its diverse neighborhoods, an even more diverse culinary scene, scenic viewpoints and hidden gems (including two hidden beaches), will keep you busy on your feet!
San Francisco packs quite a bit in its tiny size. Start with my essential guide to San Francisco here, check out the budget tips and tricks to have a good time on a dime, cheap eats in San Francisco, best photo spots in San Francisco, best views of the Golden Gate Bridge, best hikes in San Francisco, best beaches in San Francisco and how to dress as a local in San Francisco.
San Francisco is also the perfect romantic getaway in Northern California if you're visiting with your partner. You can read up on all the romantic things to do and some of the best date ideas in SF right here.
You can read all my San Francisco posts here for authentic, insider guides to my home.
SAN FRANCISCO TO PESCADERO
Distance along Highway 1: Approximately 50 miles
Highway 1 bifurcates off CA Interstate 280 near Daly City, just south of San Francisco which will take you all the way down to Carmel, all the while hugging our rugged coastline dotted with tons of beaches and beach towns in San Mateo all the way up to Santa Cruz. Your very first major stop south of San Francisco on Highway 1 should be the beach town of Pacifica, famous for its scenic hikes and beaches.
Next in line is Montara, another small beach town followed by the more popular, busier town of Half Moon Bay-famous for its chowder and beaches thronged by surfers. After Half Moon Bay, the next major stop (if you're not tempted to explore more of the beaches dotting the coast) should be Pescadero, home to Pigeon Point Lighthouse and some of the best tacos known to humankind! Here are my recommendations for stops:
PACIFICA
1.Get a bite to eat at Mazzetti's bakery or a "wellness latte" at Saltwater Bakery in Downtown Pacifica
2. Gawk at the most beautiful Taco Bell in the world on Highway 1
3. Taste local brews at the dog friendly Pedro Point Brewing
4. Pacifica has tons of amazing coastal hikes revealing dramatic views of the ocean. Since this is a road trip, you won't have time to do them all. My personal favorite is the Mori Point Loop Trail for its ease and views (it is also one of the most scenic dog friendly hikes in the Bay Area), but you can also get on the Devil's Slide trail (paved trail which used to be a part of Highway 1) or the Pedro Point Headlands trail. See all the Pacifica hiking trails right here.
5. Pacifica is meant for some beach time and there are plenty of beaches to choose from- Esplanade beach, Pacifica State Beach, Pacifica Beach View Park, Rockaway Beach, San Pedro beach and Gray Whale Cove Beach (between Pacifica and Montara), to name a few. I highly recommend either Pacifica State Beach (say hi to the surfers and playful pups on the sand) or Gray Whale Cove Beach as your stops.
MONTARA
6. Montara state beach has always been our favorite. Stop by for dreamy coastal views from the bluffs. This is also a dog friendly beach in case you're bringing your pup along.
HALF MOON BAY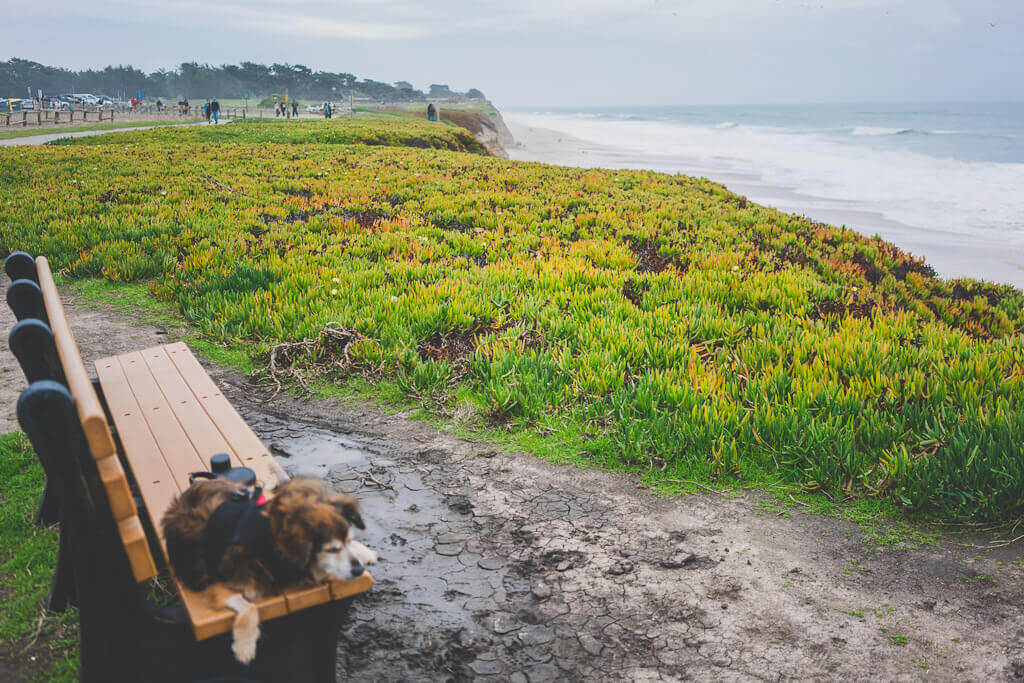 7. Half Moon Bay boasts of some of the most beautiful beaches in California. The world famous Mavericks beach (where surfers compete annually at the Big Wave competition) is here but it is a bit off route from Highway 1. Your best bet is to stick to beaches right off Highway 1, such as Redondo Beach, Pillar Point Beach, Poplar Beach, Mirada Surf Beach, Dunes beach, Roosevelt beach, Surfer's Beach and Miramar Beach. My favorite? Pillar Point Beach – it is right next to the harbor and Sam's Chowder House.
8. Get on the paved Half Moon Bay Coastal trail off Poplar Beach parking lot that runs all the way from HMB golf course in the south to Pillar Point Harbor in the north. This dog friendly trail snakes along the coast and is extremely scenic.
9. Don't leave Half Moon Bay without tasting the yummy seafood or world famous chowder at one of these places-Sam's Chowder House or Miramar Beach Restaurant
10. Half Moon Bay has a cute downtown which serves as a nice detour. I recommend San Benito House, Half Moon Bay Coffee Co., It's Italia, Café Capistrano and Pasta Moon for a delicious brunch, lunch or dinner depending on when you're stopping by.
PESCADERO
11. More beaches coming your way via Pescadero state beach, Bean Hollow State Beach and Pistachio Beach, all easily accessible from Highway 1 (also known as Cabrillo Highway along this section of the coast). Further south, lie Gazos Creek State Beach, Año Nuevo State Park and Waddell Beach.
12. Pigeon Point Lighthouse is undoubtedly the main attraction of Pescadero and is open from Thursday-Monday, 10AM-4PM. You have to get on to Pigeon Point Road that shoots off Highway 1 to get here. The Lighthouse grounds has a hostel for overnight stay (book here). Although the lighthouse is currently closed for repair, you can still enter the grounds to view it. This is an excellent spot for whale watching during their winter migration (December-Feb). Dogs are not allowed on the grounds.
13. Whatever you do don't miss the Tacos at Mercado & Taqueria De Amigos located unassumingly in a convenience store. They have a patio seating area to gorge on their delicious food. Trust me, the detour into Pescadero town (a very short one as well) for their heavenly tacos is worth it.
14. A very short detour from Highway 1 near Waddell Beach will take you to Rancho del Oso Nature and History center. If you're curious about the natural and cultural history of California's central coast, the welcome center is a great place to start. Rancho del Oso has excellent hiking trails, offers guided backpacking tours to Big Basin Redwoods State park (will re-open in 2022) and also has campgrounds for overnight camping.
PESCADERO TO SANTA CRUZ
Distance along Highway 1: Approximately 33 miles
San Mateo County gives way to Santa Cruz county as you drive past Pescadero on Highway 1. If you're feeling peckish, you can stop by Highway 1 Brewing Company or head straight to the tiny town of Davenport, known yet again for its beaches. After Davenport, you'll hit the next major stop along Highway 1 between San Francisco and Carmel which is Santa Cruz, the surfing capital of Northern California. There are a lot of things to cover in Santa Cruz, so I recommend staying overnight at the very least if this is your first visit. Here are my favorites:
DAVENPORT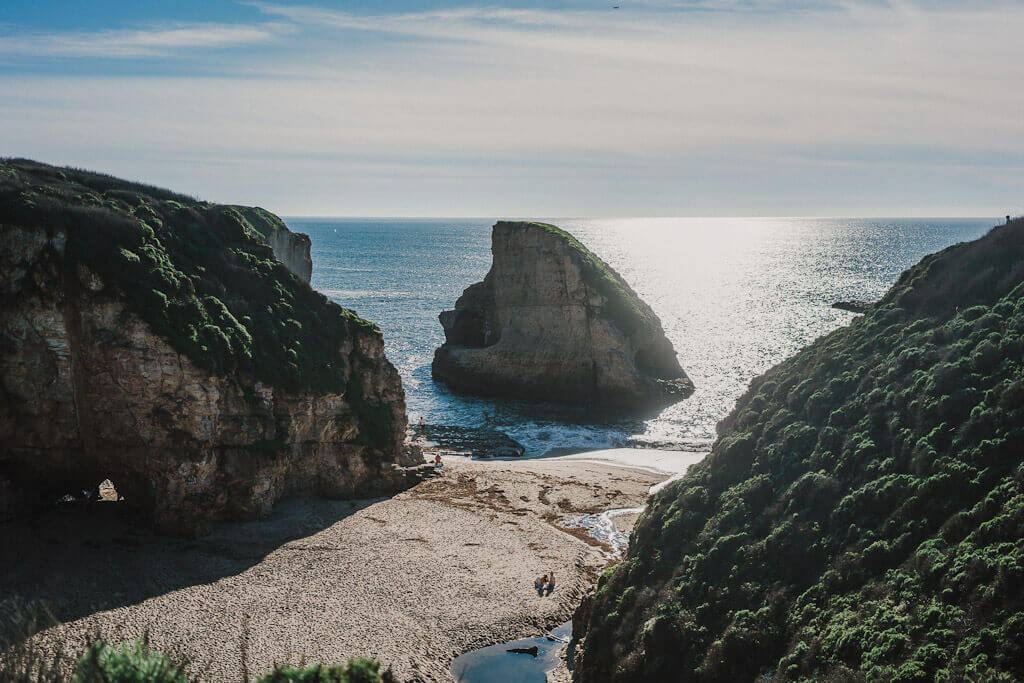 15. Again, Davenport has quite a few beaches to keep you happy in the sand and sun. My favorite is the Greyhound Rock beach, because it is pretty secluded, dog friendly (cause we travel everywhere in California with our dog) and is a peaceful and relaxing experience (we spent an afternoon here during our stay in Bonny Doon).
Other notable beaches near the town of Davenport are these two- Davenport beach and Shark Fin Cove. Although Davenport beach is the easier one to get to (also dog friendly), Shark Fin Cove requires a pretty steep descent to get to the actual beach.
16. Enjoy Some yummy baked goods at Whale City Bakery and restaurant, the most popular eatery in Davenport and a stone's throw from the beaches along Highway 1.
17. Marvel at the Scenic views at Davenport Cliffs
18. Stop by the Davenport Jail Museum-a two room county jailhouse turned museum which is free to enter for the public. It may be closed due to the ongoing health crisis, but the building is really nice to look at from outside
SANTA CRUZ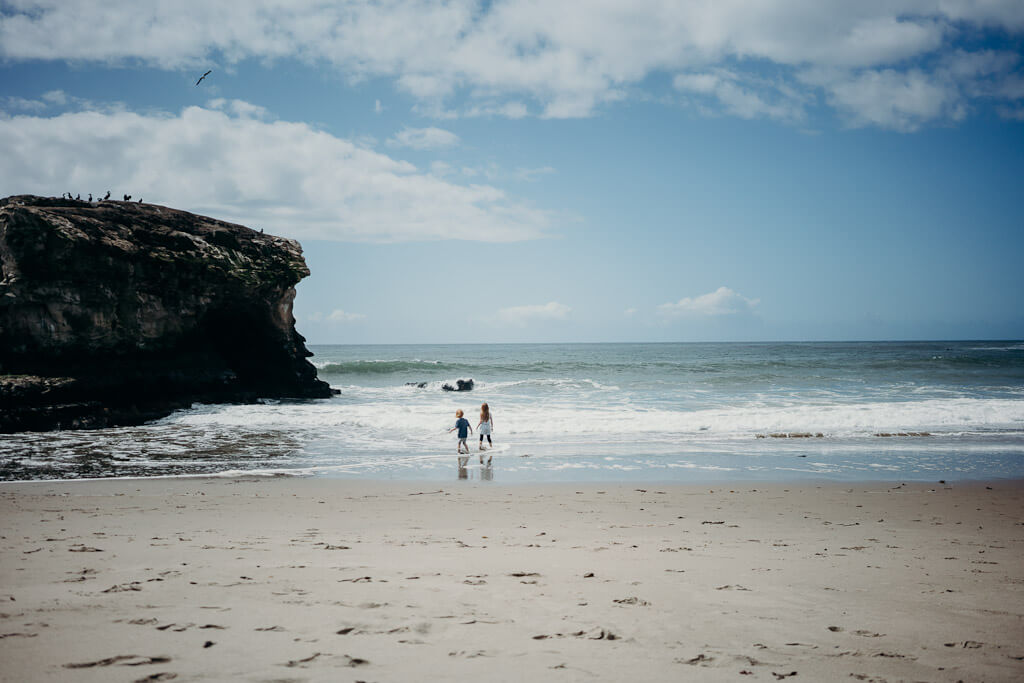 Santa Cruz is pretty much the half-way stop on this San Francisco to Carmel Highway 1 road trip and makes for an excellent day trip from San Francisco on its own. This de-facto surfing capital of Northern California has lots of golden beaches to woo you as well as hiking trails, sinfully good food (for all kinds of dietary preferences) and of course the uber popular boardwalk which gets crowded like crazy over the weekend.
Having witnessed the chaos of the boardwalk first hand, I recommend staying off it because there is nothing magical or life altering about it-it is just another noisy tourist attraction that does not do justice to the town which has so much more to offer. Here are my recommendations:
19. Santa Cruz has no dearth of beaches. However, I recommend going to either Its Beach (aka Lighthouse field state beach) below the bluff on which the Lighthouse is perched or Natural Bridges State Beach or Seabright State Beach with the Walton Lighthouse at the very end of the beach.
During winter (Nov-Feb), Monarch butterflies flock to the Eucalyptus grove next to Natural bridges State Beach for their wintering ritual. This spot, along with the Monarch butterfly sanctuary in Pacific grove and Pismo beach, are the three places to see these winged beauties along the central coast. The main beach of Santa Cruz is adjacent to the boardwalk and is always very crowded as is the Wharf.
20. Visit the only Surfing museum located in the Mark Abbott Memorial Lighthouse on 701 West Cliff Drive at Lighthouse Point. The museum covers over 100 years of surfing history in Santa Cruz via photos, records and artifacts
21. Visit the Henry Cowell Redwoods State Park-this dog friendly Redwoods State Park has tranquil hiking trails leading through groves of coastal Redwoods. This is a bit of a detour from Highway 1 and recommended if you stay for at least one day in Santa Cruz.
22. Hop onto the Roaring Camp train for the time of your life! The train has two routes-one that takes you through the Henry Cowell Redwoods up to Bear mountain and the other being a coastal route from the Santa Cruz mountains to the beach boardwalk.
23. Hike along the enchanted trail starting from Delaveaga park or get on the Spring trail in Pogonip to hike all the way up to a beautiful vista point with sweeping views of Santa Cruz Valley
24. Do some mural watching in downtown Santa Cruz along Pacific Avenue as you explore its many stores and restaurants
25. Wondering where to eat in Santa Cruz? There are plenty of options to spoil you rotten. You can check out my guide to the best outdoor restaurants in Santa Cruz that are dog friendly. I highly recommend Laili serving Mediterranean cuisine in a cheerful backyard, Penny's Ice Cream and Alderwood Santa Cruz
26. Santa Cruz mountains are famous for their wineries. Visit Wargin wines and Bargetto Winery (the oldest winery in Santa Cruz county) for some afternoon wine tasting
Stay in Santa Cruz county: Pacific Blue Inn in Downtown Santa Cruz
SANTA CRUZ TO CARMEL
Distance along Highway 1: Approximately 46 miles
After a few brief stops at a few charming towns beyond Santa Cruz, you will be driving down Highway 1 to your final destination Carmel, aka the insanely popular beach town in Monterey Peninsula. There are quite a few attractions along Highway that you can enjoy on this last leg including whale watching tours, vibrant mural watching and dipping your toes in the sand on some more sandy beaches. Here is what I consider some not to be missed activities:
CAPITOLA
27. This tiny beach town in Santa Cruz county lies just outside the city of Santa Cruz and is famous for the row of colorful homes, aptly titled "The Venetians" that line one end of Monterey Bay and form a pretty sight when viewed from the Capitola State Beach or the boardwalk.
28. Capitola Wharf is a lively place with restaurants and stores showcasing local artists. I highly recommend checking two stores on Capitola Avenue: Lumen art gallery featuring eclectic, local California art and home decor as well the Ethos Santa Cruz shop dedicated to helping people move towards a zero waste lifestyle and less plastic usage.
MOSS LANDING AND ELKHORN SLOUGH
29. These two spots in Monterey Bay are prime locations for year round whale watching along with other marine mammals. The 7 mile long tidal estuary of Elkhorn slough is the second largest of its kind in California and is an ecological preserve for many animals, birds and plants.
Moss Landing is located at the mouth of the slough on the Bay. I recommend the popular Monterey Bay Kayaks (they have kayaks for rent as well as guided tours of Elkhorn Slough) and the Blue Whale Ocean Watch whale watching trips that leave from the Moss Landing harbor for an experience of a lifetime (one of the best things to do in California in December)!
SAND CITY
As Highway 1 curves around the Monterey Bay, you'll be tempted to stop in the Monterey Peninsula, home to the popular destinations such as Monterey, Pacific Grove and of course, Carmel. There are two pit stops to make before you hit the peninsula. These are:
30. Fort Ord Dunes State Park: this park has a bluff platform for panoramic views of the Bay
31. Sand City: this blink and you'll miss tiny industrial town has some gigantic, eye popping murals. There is also a Sand city arts mural festival that occurs in August. Start your self guided mural tour at Sweet Elena's bakery and cafe and end it at Post no Bills Craft Beer House with a glass of local cider or beer.
MONTEREY
This once upon a time canning port town is a huge favorite with Bay Area locals as a weekend getaway destination. Although it is definitely more on the touristy side of things, here are some ways to explore Monterey:
32. Visit the colorful Cannery Row (it gets really busy so come early to park)
33. Spend some time at the massive Monterey Bay Aquarium which works diligently to preserve marine habitats
34. Stroll by the Old Fisherman's Wharf offering lots of waterfront goodness, aka seafood restaurants and stores
35. Take your pick of Monterey beaches- be it Monterey state beach, Del Monte Beach or San Carlos Beach at Monterey harbor
36. Don't forget to pick up some pastries from Parker-Lusseau, my favorite bakery in Monterey peninsula
PACIFIC GROVE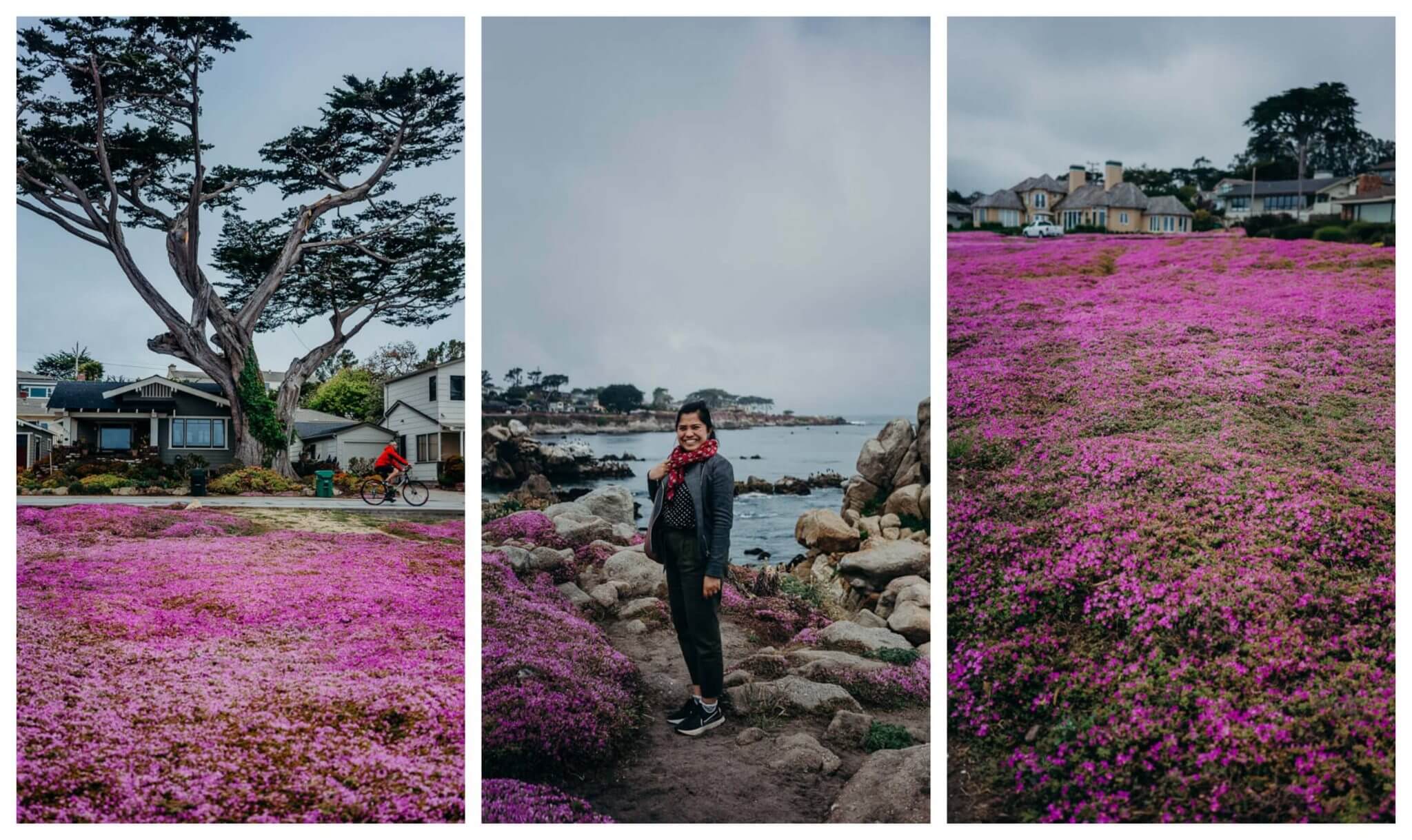 The quieter cousin to Monterey, this beach town lies right next to it and is definitely worth checking out during your trip to Carmel from San Francisco on Highway 1. My recommendation, as I mentioned before, is to visit in late spring (aka April-May) when the coast gets covered by a purple blanket of blooming ice plant flowers. This sea of purple is a sight to behold as you walk along the coast. You can read details on my Pacific Grove post here. My other favorites are:
37.Take in the views as you walk down Ocean View Boulevard starting from Lover's Point Park
38. Visit Point Pinos lighthouse, one of the few continually operated lighthouses in California
39. Visit Asilomar State Beach or hike along its coastal trail
40. Check out the Monarch butterfly sanctuary (best time to visit is Nov-Feb)
41. Stroll in downtown Pacific Grove to see the cute and colorful Victorians
42. Sit down for at least one meal at PassionFish
43. Visit the Natural history museum in downtown to learn more about the flora and fauna of the central coast.
CARMEL
Carmel-by-the sea is one of my top favorite destinations on the central coast and the last stop on this road trip down Highway 1. It is dog friendly to boot and has a fairy tale like feel to it, which makes it a California beach town like no other! Since fireworks are banned here, Carmel is the top dog friendly getaway for 4th of July for many dog parents!
Carmel has the cutest downtown with lots of flower laden alleyways revealing beautiful stores and restaurants, a hidden garden which is part of a bookstore and the dog friendly Carmel beach, which is a short walk down Ocean Avenue. You can read all about my Carmel adventures in this post filled with excruciating detail based off my 10+ visits as well as this post on dog friendly hotels for all budgets in Carmel.
Beside downtown Carmel and beach, the 17 mile scenic drive between Carmel and Monterey as well as the Point Lobos State Natural Reserve (not dog friendly though) are two of the most amazing outdoor experiences that you can have on the central coast. Breathtaking views, beaches and snoozing sea lions as well as natural landmarks such as Lone Cypress will greet you on these journeys.
Carmel is the gateway to Big Sur, the magical portion of California's central coast that has been immortalized in prose and poetry. If you have time, please drive further down Highway 1 to Big Sur with my Big Sur post for all the best stops along the way. If you make the trip in Spring for a romantic Big Sur getaway, stop by the Calla Lily valley near Garrapata State Park and enjoy the wildflowers blooming on the roadside as you drive down.
Pro-tip: Carmel by the Sea is only 12 miles west of Carmel Valley, a great weekend getaway for wine tasting and dining. You can read all about my Carmel Valley wineries post for details to plan a girls weekend or something equally fun!
ROUTE MAP FOR SAN FRANCISCO TO CARMEL ROAD TRIP ON HIGHWAY 1

And, that brings me to the end of another California road trip post. I hope you enjoyed reading about all the best stops along Highway 1 on a San Francisco to Carmel road trip. Thanks a lot for stopping by and safe travels!

Like this post? Pin it for later!

«