Last Updated on July 28, 2022 by Paroma
If you're looking to drive up Highway 1 from San Francisco to Mendocino, then this is THE post to read to find out the best stops and detours on this pretty as a picture Northern California road trip. Having been on this route at least half a dozen times, I am here to spill the beans on all the amazing spots that are just too good to be missed on your San Francisco to Mendocino and Fort Bragg road trip!
Disclaimer: This post may contain some affiliate links. Clicking on them may earn me a small commission at no extra cost to you for the product. Thank you for supporting free content on this site!
PLANNING A SAN FRANCISCO TO MENDOCINO ROAD TRIP: WHAT YOU NEED TO KNOW
California is best explored via road trips and I have talked about several of them in my previous posts, from an epic Northern California Redwoods road trip (Mendocino to Crescent City) to traipaising down the coast along Highway 1 from San Francisco to Carmel and then further south into the magical Big Sur.
Although there are many such road trips to choose from, the San Francisco to Mendocino northbound drive along Highway 1 remains my favorite road trip from San Francisco because of several reasons. The actual distance between these two points is about 166 miles along Highway 1 and can be covered non-stop in 4.5 hours with traffic conditions permitting.
These 166 miles takes you through four counties-San Francisco, Marin, Sonoma and finally Mendocino with some incredibly arresting landscapes covered in between them, jaw-dropping views of the California coast and charming coastal towns with their pristine beaches. Along with the equally irresistible detours (such as Point Reyes National Seashore in West Marin), this relatively short road trip in Northern California offers some of the best scenic views in the state.
This road trip from San Francisco to Mendocino along Highway 1 is also very customizable based on your familiarity with Northern California. In this post, I am going to tell you all about planning the most hasslefree, epic trip along the coast, the stops that you simply should not miss and of course all the other logistics that are involved for a smooth sailing ride. Simply bookmark this post for your next Northern California adventure!
If that is not all, I have also included an extra section on the best stops to see beyond Mendocino in case you are planning a San Francisco to Fort Bragg road trip or venturing further north into Humboldt county to see the majestic coastal Redwoods. As usual, there is a handy Google Map at the end to help you plan your itinerary.
HOW LONG WILL IT TAKE TO DRIVE FROM SAN FRANCISCO TO MENDOCINO?
There are two ways to get to Mendocino from San Francisco: 1) via Highway 1/Route 1/CA-1 N/ Pacific Coast Highway (mostly) that bifurcates off the inland 101N at Manzanita in Marin county, north of San Francisco and 2) via the shorter route of 101N all the way from San Francisco to Preston and then via CA-128 W and finally CA-1 N. Driving along Highway 1 will take you about 4.5 hours non-stop while it takes 3.5-4 hrs along the 101 N-CA128 W-CA-1 N.
If this is your very first time driving northbound to Mendocino from San Francisco, I highly advise driving along Highway 1 for the scenery and views. Keep an entire day to yourself to check out at least some of the stops mentioned in this post or spend 2-3 days on the road to explore these places with leisure since they are incredibly beautiful and embody the essence of Northern California's pristine natural beauty.
If you're pressed for time, the shorter route of CA-101N and CA-128W is the way to go with a must do stop at Anderson Valley along CA-128W for its amazing wine, food and farmsteads that are a delight to explore.
I have been to many countries around the world, but I am still hard pressed to find vistas this captivating as the ones offered along Highway 1. Trust me, the drive is even more magical than the destination itself (kind of like the Road to Hana in Maui) with plenty to see, do and eat along the way. You will cherish this road trip for a lifetime, I can guarantee that!
WHERE SHOULD YOU STAY BETWEEN SAN FRANCISCO AND MENDOCINO
As I mentioned before, if this is your very first time driving from San Francisco to Mendocino along Highway 1, you may want to break the journey with an overnight stay for a relaxed experience. This will help you savor the prime attractions on this California road trip which is incredibly beautiful. Remember, much like Big Sur road trip down south, the journey is more important than the destination.
The best place to break your journey between San Francisco and Mendocino is ideally Point Reyes National Seashore. This is because there is a ton of things to see and do on this National Park (see section below or read my Pt. Reyes post here) that you will not be able to squeeze in on a road trip. I recommend staying at Olema House, Highland House Inverness, Nick's Cove (on Highway 1) or in HI Point Reyes Hostel.
The other logical choice for overnight stay can be the breathtaking Sonoma coast, which easily qualifies as one of the most romantic getaways in Northern California. I recommend spending day 1 from SF to Marin county (Marin headlands and Point Reyes), driving up to Bodega Bay to stay at Sonoma Coast Villa and Spa and then driving to Mendocino from Bodega Bay on day 2.
TRIP LOGISTICS FOR THIS HIGHWAY 1 ROAD TRIP
Road trip involves renting a car and you can do so easily from anywhere in San Francisco or San Francisco International Airport (SFO) in Millbrae if that is your starting point. If you're visiting from out of town, I highly recommend flying into SFO to get the full effect of this road trip. Although the Charles M. Schulz airport in Santa Rosa (Sonoma county) is technically the closest to Mendocino (only 2 hrs south), you will be losing out on a major portion of the trip if you fly into here.
WHEN IS THE BEST TIME TO DRIVE FROM SAN FRANCISCO TO MENDOCINO?
Since California's coast stays has balmy weather round (even in winter but it does get rainy), you can drive up Highway 1 throughout the year without any major issues. However, given that we are in the throes of the effects of climate change felt widely across the west coast, the driest months of September and October are likely to pose fire hazards leading to closures in Mendocino county.
Winter and early spring may be rainy, but Mendocino is a prime location to watch the migratory gray whales during this time (December to May) and so I highly recommend making this trip sometime between Feb-May when it is lush green everywhere and whale watching is at its prime. Summer means more crowds, and more coastal fog caused by warm inland air meeting colder ocean breeze. If I have to pick a season, it will be spring (Feb/March-May).
IS THIS SF TO MENDOCINO ROAD TRIP DOG FRIENDLY?
I am happy to report, after extensive field testing err road tripping with my beloved babies Babu and now Gunda, that this road trip is very pup friendly! Almost all the stops here mentioned welcome dogs (landmarks, beaches, vista points, wineries and restaurants) and both San Francisco and Mendocino are extremely dog friendly cities. See more details below where I have clearly marked which of the stops/detours are dog friendly or read my dog friendly Northern California road trip for details on this route's dog friendly stops.
OTHER IMPORTANT TIPS
No matter how sunny the weather may be, it will change dramatically as you drive up the coast and you'll soon find yourself shivering like crazy wearing that flowy sundress. Our beaches are nothing like SoCal and are pretty cold and windy with the water being deathly cold for a swim along with strong currents. Mendocino too lies on the coast and it gets pretty cold in the evening over there.
Besides forfeiting the idea of swim (as in don't pack a swimsuit), it is also best to dress in layers like any sensible Northern Californian when visiting this part of our state. You can also refer to my San Francisco packing list for help since it works out perfect for this road trip as well. Also, please don't forget your camera to capture those memorable sights! Here are my handy guides on mirrorless cameras and camera bags to make your life easier. Remember to carry a pair of binoculars for whale and other marine mammal spotting.
Highway 1 twists and turns as it snakes along the coast and you need to be pretty alert while driving, especially if you want to make frequent stops to enjoy the views or dip your toes in the sand in one of the many beaches. Although spontaneity is a good thing, I will advise you to map out the route and stops of interest prior to the road trip. Using offline apps like Maps.me is also helpful in case you do not get a signal along the drive (which is also highly likely) and cannot connect to Google Maps.
THE BEST STOPS ALONG HIGHWAY 1 FROM SAN FRANCISCO TO MENDOCINO (PLUS DETOURS)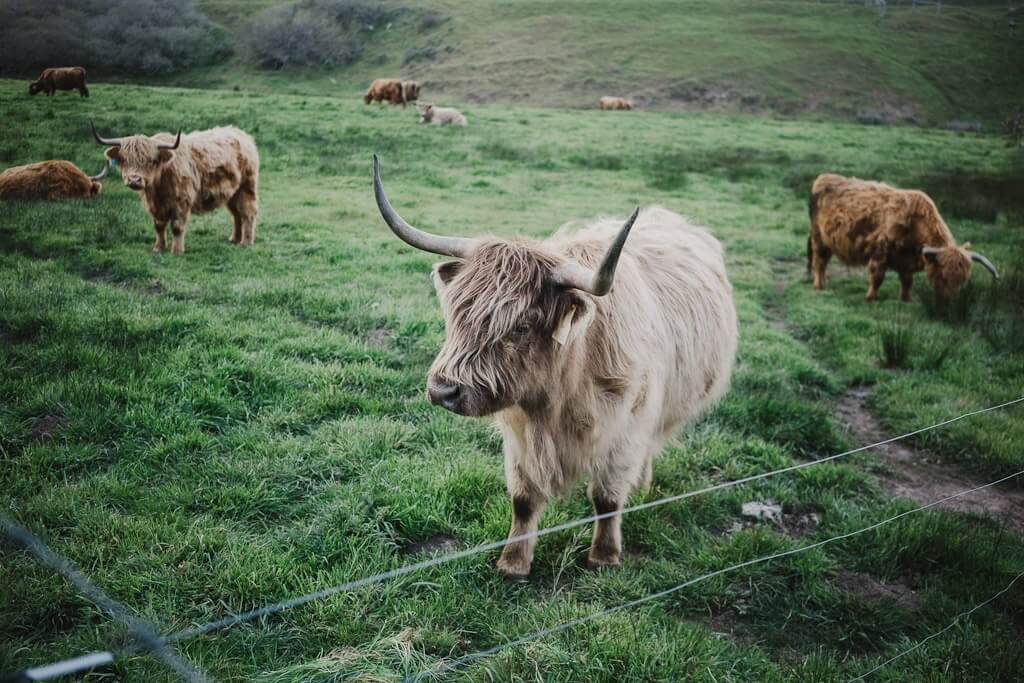 Now comes the most fun part of the post, i.e. the stuff that I've been promising you for a while now which is my list of favorite stops/places/detours along the Pacific Coast Highway/Highway 1 from San Francisco to Mendocino. Put the list in reverse, and you can follow it on your drive from Mendocino to San Francisco along the same route. One thing to note is that Highway 1 is designated with different names, i.e. Shoreline highway/Bay Highway/Coast Highway in Marin county and Mendocino, but it is still the same old route 1/Highway 1 so there is no need to panic. Just keep on cruising up the coast!
For the sake of convenience and planning, I have chopped up this road trip into small segments. If you've been to a certain place/stop before, feel free to skip it and move to the next section. I hope this way you can plan your trip better based on your interests. There is plethora of magical sites and spots and things to see along this route and I am not going to list them all-just the ones that I feel are truly special and should not be missed, based on my experience.
BEST STOP ALONG 101N AND HIGHWAY 1 FROM SAN FRANCISCO TO BODEGA BAY (~69 MILES)
SAN FRANCISCO
If this is your first time in San Francisco, then you're in for a special treat because the beauty of this California cool meets European charm city is simply unparalleled. Since the focus of my post is exclusively on all the awesome stops on the Highway 1 road trip to Mendocino, I won't be devoting a lot of space to things to do in San Francisco over here. However, as an SF resident I am here to help; simply start here for the best of San Francisco sightseeing recommendations and read all my San Francisco posts right here.
MARIN COUNTY
Highway 1/CA-1/Route 1 merges into 101N in San Francisco and tees off it near Manzanita in Marin county, which is the first county that you'll encounter after you cross the Golden Gate Bridge. Marin county is one of the most picturesque counties in Northern California with small coastal towns such as Sausalito, Larkspur, Tiburon, Mill Valley (east Marin), Olema, Marshall and Point Reyes Station (west Marin), Point Reyes National Seashore (west Marin), a hidden black sand beach and other beautiful beaches dotting the coastline, jaw-dropping view points of the Golden Gate Bridge (Marin Headlands) and tons of hiking trails.
Although it is pretty hard to choose the best stops in a county as diverse as Marin, my recommendations (stops and detours) are based off their proximity to 101N and Highway 1. This is a road trip after all and so I have tried to provide a realistic itinerary on a limited time without veering into hiking trails and landmarks that are way off route. Here are my picks:
BATTERY SPENCER
I've said it before and I will say it again-some of the best views of the Golden Gate Bridge are seen from across the bridge, i.e. in Marin headlands. Although there are several such vantage points to choose from, the granddaddy of them all that is closest to Highway 1 is undoubtedly Battery Spencer, a 19th century concrete battery located on Conselman road with panoramic views of the iconic bridge. Having brought in out of towners here for either a sunrise or sunset, I 100% recommend a stop here to see our orange bridge in its full glory with San Francisco as a lovely backdrop!
SAUSALITO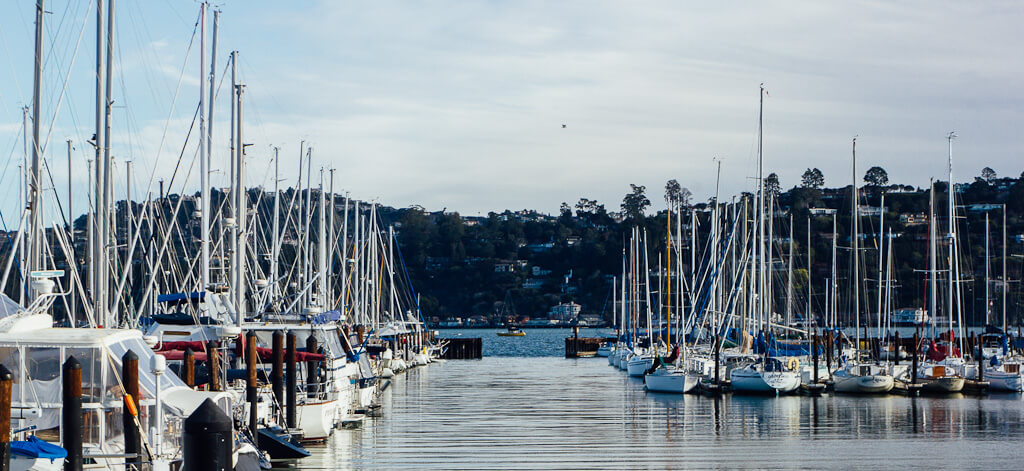 Sausalito is a cute as a button artsy town that is the first exit off 101N once you cross the bridge. If you are planning to spend at least a few days on the road till you reach Mendocino or are looking to start your northbound trip with some breakfast or lunch, Sausalito is the ideal spot. Best of all, Sausalito is home to some of the most spectacular views of the Golden Gate Bridge along Conzelman road that you just cannot miss!
The harborfront views (with a Sea Lion sculpture by Al Sybrian) are amazing and there are lots of cute art galleries and stores to explore in downtown adjacent to the Marina. My favorite places to nosh are Sushi Ran, The Spinnaker (on the very edge with marvellous views of the coast), Bar Bocce and Scoma's (they have the freshest seafood).
MUIR BEACH AND MUIR BEACH OVERLOOK
Once you reach Manzanita north of Sausalito on 101N, you will be getting onto Highway 1 that veers towards the west, i.e. the coast. The first of many beaches along the Northern California coastline await you here, which is the ever popular Muir beach (that is also dog friendly). Given that you'll encounter many beaches on your way, I think it will be wise to pick and choose as to which ones are really worth your while.
In this case, I recommend skipping Muir beach but definitely stop by the gorgeous Muir Beach overlook. Spectacular views of the ocean and the coast will greet you once you walk beyond the parking lot. It is also one of the few spots in the Golden Gate National Recreation Area that is accessible to dogs.
MUIR WOODS NATIONAL MONUMENT (3.5-4 MILE DETOUR FROM MUIR BEACH OVERLOOK, RECOMMEND FOR FIRST TIME VISITORS)
This famous grove of coastal Redwoods named after environmentalist John Muir is one of the most popular draws of Marin county (also an easy day trip from Sacramento if you're driving down). This is a substantial detour off Highway 1 and something that cannot be spontaneously added to your itinerary since reservations are required to enter the park due to lack of parking. Here is everything you need to know to plan your visit.
PS: Dogs are not allowed in Muir woods, but I have a list of dog friendly Redwoods near San Francisco just for you if you're traveling with a pup.
STINSON BEACH
Stinson beach is the thin long strip of sand that veers off the main coast like a narrow snout and almost touches Bolinas beach on the other end across the Bolinas lagoon. This beach is not dog friendly and gets really crowded on weekends and holidays. Although a fun place to dip your toes in the sand, I prefer stopping by the much quieter Bolinas beach on the other end. Highway 1 continues onwards as Shoreline Highway from Stinson beach.
BOLINAS BEACH (DETOUR)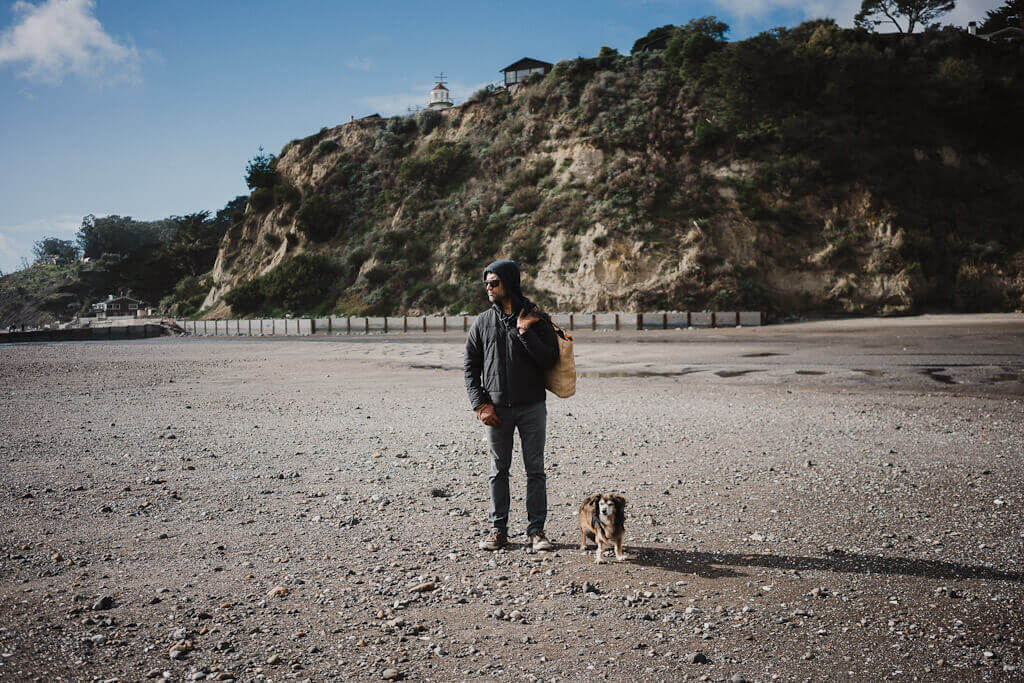 This beach is so quiet and secluded, it almost feels like a private beach and rightly so, because of how zealously locals guard its existence. Thankfully, Google maps will take you straight to it despite the exit sign being taken off by Bolinas residents as you drive on Highway 1/Shoreline Highway. Please be respectful of locals when you enjoy the beach and don't forget to get a bite to eat from BoVida or Coast Cafe. Bolinas Beach is dog friendly.
OLEMA
Once you get back on Shoreline Highway (CA-1N), stop by Due West Tavern in Olema House if you're hungry or the Due West Market place next to it for food to go or coffee. Due West is one of the best places along Highway 1 in West Marin for breakfast, lunch or dinner. However, Point Reyes station is nearby too and you could also get your lunch fix there since it has plenty of choices.
POINT REYES STATION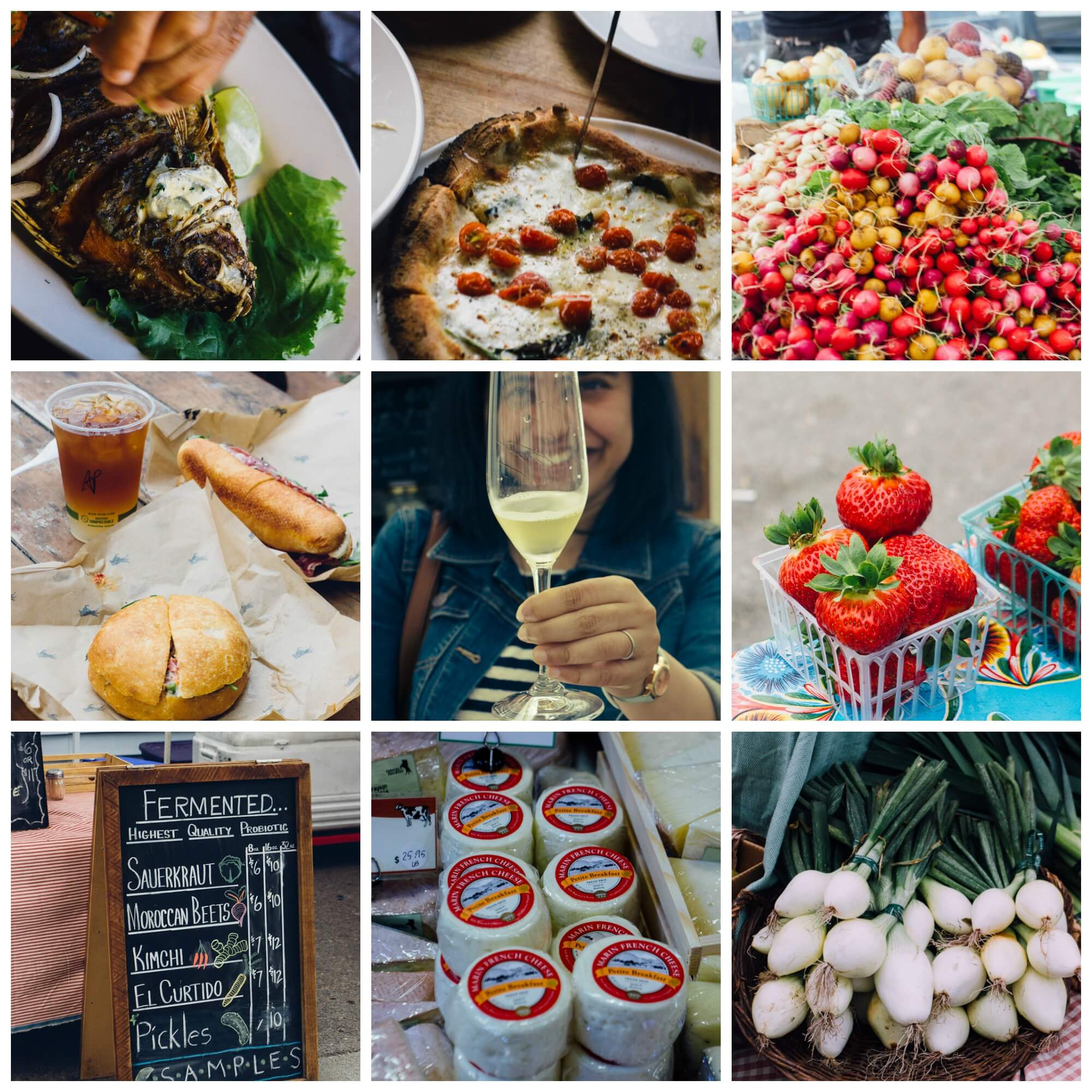 The cornucopia of Northern California-from fresh produce to dairy products (think of cheese cheese and more cheese) to the juiciest of oysters can be all enjoyed at the different restaurants and cafes of Point Reyes Station, the one stop that you should not miss on your San Francisco to Mendocino road trip if you are feeling hungry.
Beside my obvious favorites of Cafe Reyes (dine in for their pizza) and Bovine Bakery (coffee and baked goods), the main attraction is the Cowgirl Creamery cantina, a food hall showcasing everything this darling Northern California cheese company makes plus local brands, sandwiches, soups and other good stuff.
Although dogs are not allowed inside the food hall, you can easily enjoy your meal on the grassy lawn outside. Find out more about these places on my Point Reyes post to explore all the yummy goodness of this region, home to some of our best creameries and oyster companies.
POINT REYES NATIONAL SEASHORE (MAJOR DETOUR, 12-15 MILES)
Point Reyes National Seashore is the ecologically preserved part of the coast that juts out into the ocean, with the Tomales Bay separating it from the mainland of West Marin. This is another of those can't miss major detours and the only way to get there from Point Reyes station is by driving along Sir Francis Drake Boulevard which tees off Highway 1 at this junction.
Point Reyes National Seashore is known for its many beaches (only three are accessible to dogs), hikes, the one of its kind Tule Elk Reserve, Chimney Rock (best visited in Spring to see wildflowers and elephant seal pups snoozing and migratory gray whales) natural landmarks such as Point Reyes shipwreck, Cypress tree tunnel and of course the famous Point Reyes lighthouse.
I highly recommend spending at least one night at Point Reyes National Seashore. Read my detailed Point Reyes guide (with dog friendly tips) to plan your overnight stay in this slice of heaven. This is also one of the several quiet places in the Bay Area to take your dog on July 4 weekend to escape the fireworks.
Where to stay in Point Reyes: Nick's Cove, Olema House
HEIDRUN MEADERY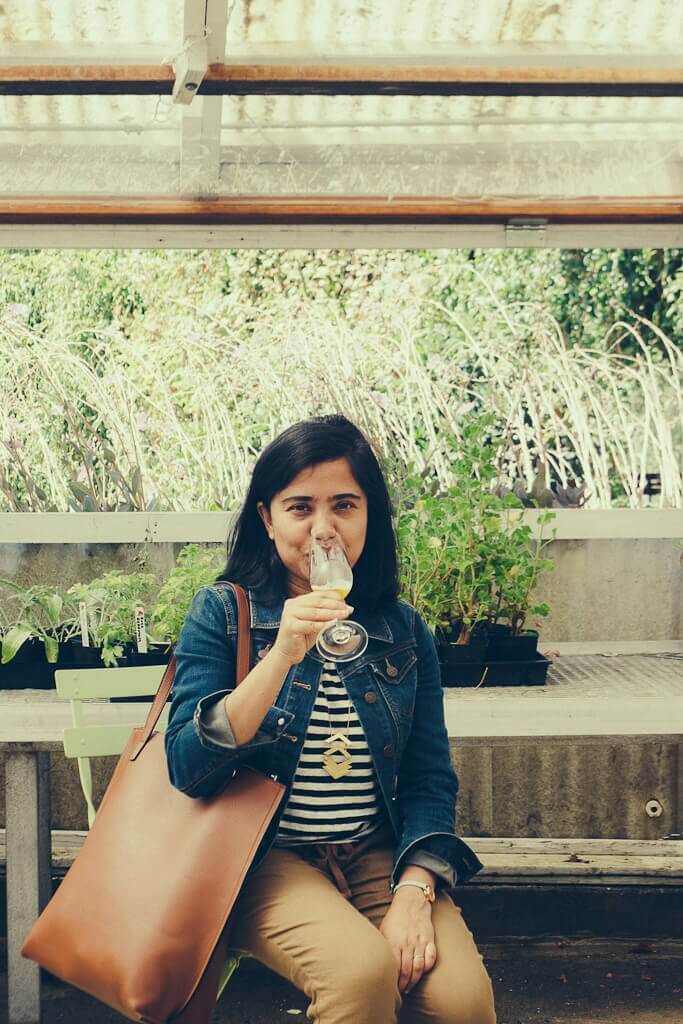 Northern California is teeming with wineries but a meadery making champagne style mead or honey wine is hard to come by. Luckily for you, Heirdrun is located right on Highway 1 just north of Point Reyes Station and is a perfect stop for slaking your thirst as you taste some of their best meads in a certified bee farm (all the beauty of bees and flowers, no nasty pesticides).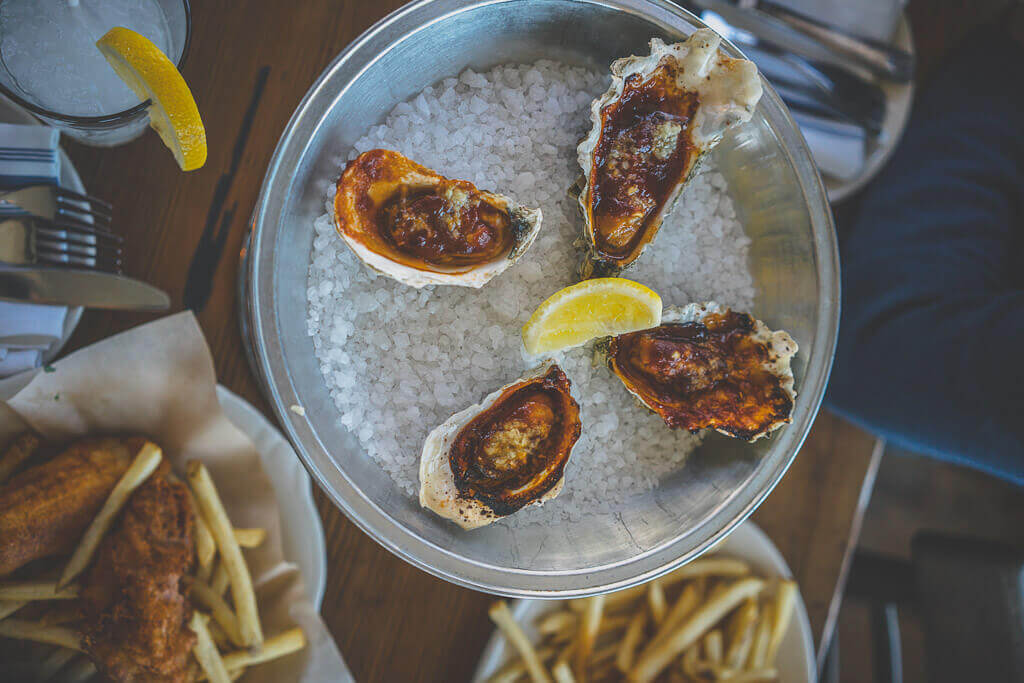 If you love oysters (and the salty waters of Tomales Bay is where you can find the best of them), then do not miss one of these coastal restaurants/seafood shacks for anything in the world. All of these eateries are right on Highway 1 at Marshall and Nick's Cove as you drive up north past Heidrun and serve oysters caught locally and sourced by either Hog Island oyster company or Tomales Bay oyster company. My absolute favorite are the BBQ oysters at Tony's. Since all of them can get pretty busy come lunchtime, I recommend making reservations beforehand (at least at Tony's).
Tony's and Marshall both have outdoor seating and are dog friendly. Nick's Cove has an adjacent lodging (where we stayed during our 2019 trip) in its beautiful cottages overlooking the Tomales Bay, some of which are dog friendly.
DILLON BEACH
A slight detour from Highway 1 will get you to this less busy beach, which also marks the northernmost point of Marin county along the coast. Dillon Beach is great for watching a sunset and is dog friendly. You could however skip it since there are plenty of beaches along the Sonoma coast for your beach bumming pleasure! Your next stop on Highway 1 will be Bodega Bay which kickstarts the Sonoma coast (part of Sonoma county) along Highway 1.
HIGHWAY 1 STOPS AND DETOURS FROM BODEGA BAY TO GUALALA (~48 MILES)
The Sonoma coast extends from Bodega Bay in the south to Gualala in the north with lots of charming coastal small towns, dozens of beaches, restaurants and wineries and some unique landmarks that will make you want to stop every few miles. Since there is quite a bit to see along this stretch of Highway 1/Shoreline Highway, I recommend spending at least one night in either Bodega Bay or Sea Ranch or Timber Cove to explore the Sonoma coast without any rush.
VALLEY FORD CHEESE AND CREAMERY
This creamery sells some of the best cheese in the nation, i.e. homemade, handcrafted, Italian style artisan cheeses made from 100% Jersey cows milk. Their cheese is sold nationwide and you can buy them right from the storefront which is a cheery red barn. You can also stop by a yummy soft serve on a hot day or get a complete lunch at the creamery restaurant/cafe or simply fuel up on coffee for the long road ahead.
BODEGA BAY
Often described as the Gateway to the Sonoma coast, Bodega Bay encompasses its namesake bay and the sleepy town of Bodega, the filming location for Alfred Hitchcock's masterpiece "The Birds". Bodega Bay also boasts of excellent beaches and scenic hiking trails leading to gorgeous views of the coast. I recommend staying at the affordable Sonoma Coast Villa if you plan to spend at least one night in Bodega Bay. That will also give you ample time to explore the best of Sonoma coast along with some hiking. You can read about all the best things to do in Bodega right here.
However, if you're short on time and simply passing by Bodega Bay, here are my top recommendations:
POTTER HIGH SCHOOL
Potter Schoolhouse, so prominently featured in Hitchcock's movie, is on 17110 Bodega Lane in the "blink and you'll miss it" town of Bodega and is worth the small detour from Highway 1. Built in 1873, this was originally a schoolhouse, but is now a private residence. Please be respectful of this fact as you take a photo outside the gates and don't be disruptive.
ST. TERESA OF AVILA CHURCH
The second iconic landmark is the minimalist St. Teresa of Avila Church right next to Potter Schoolhouse. This church was photographed by the famous American photographer Ansel Adams, whose gallery of black and white photographs is located in Yosemite National Park and is a treat for the eyes.
FISHETARIAN FISH MARKET OR TIDES WHARF RESTAURANT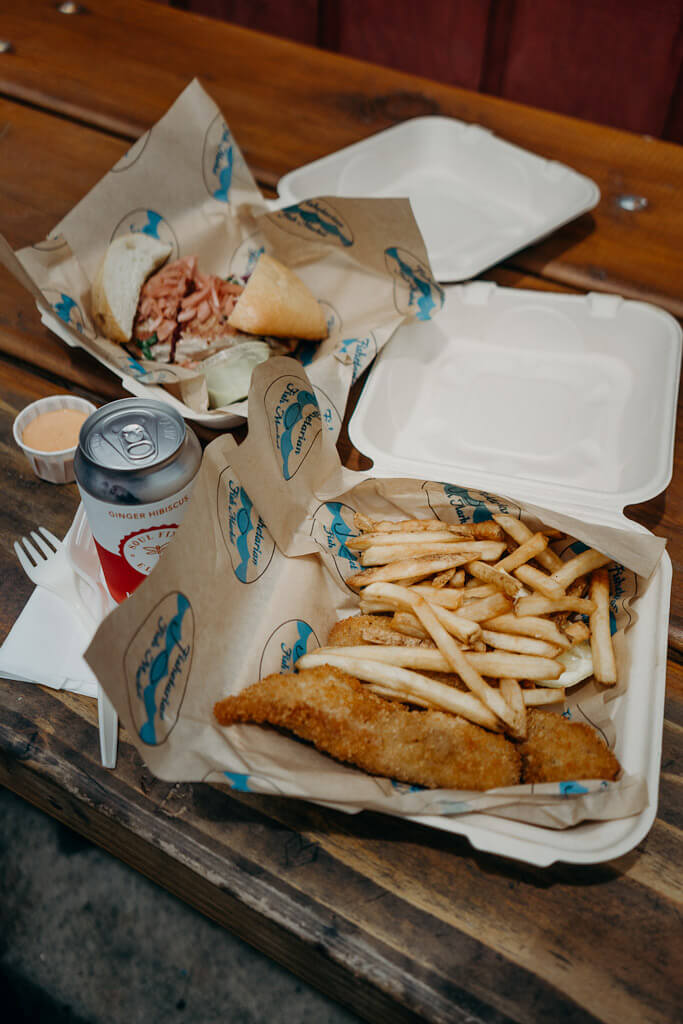 Want some lip-smacking fresh seafood/daily catch? Go to either of these restaurants right on Highway 1 to get your fish/seafood fix. These are incredibly popular spots so arrive early or make a reservation beforehand (The Tides Wharf accepts online reservation). Of these, Fishetarian is dog friendly with outdoor seating.
SONOMA COAST VINEYARD
Not only does inland Sonoma have some amazing wineries, the coast has plenty of them too. Thanks to the foggy microclimate, this area is perfect for growing those delicate pinot noir grapes. Sonoma Coast Vineyards is that convenient winery right on the coast in Bodega Bay where you can enjoy a glass of wine or go for a tasting while taking in gorgeous views.
GROVE OF OLD TREES (DETOUR, 13 MILES FROM BODEGA BAY)
This dog friendly Redwood park in Occidental near the Sonoma Coast was inarguably our best find when we visited Bodega Bay earlier this year. So magical was this 48 acre sanctuary of Coastal Redwoods that I am compelled to include it as one of the must visit spots on your San Francisco to Mendocino road trip.
The best time to visit this Redwood grove is undoubtedly Spring (March-May) when everything is lush and verdant thanks to the winter rains. June and July are great for visiting as well, just come in early since the only parking lot is quite small and fills up quickly.
The one thing to note is that September and October are the driest and hottest months in Sonoma county and because of a risk of fire hazard, the parking lot is closed to the public. So it is best to avoid Fall and visit the Grove in the cooler months.
BEACHES BETWEEN BODEGA BAY AND JENNER
I purposefully left out Bodega Bay's largest and most popular beach, i.e.Doran beach which is nestled in Doran regional park because finding parking there is a major pain and it costs $7 per vehicle to enter the beach since it is part of Sonoma County Regional Parks system. Why face the crowds and shell out $ when you can enjoy the many, many free beaches hugging the coast all the way upto Jenner and beyond?
Once you cross the northernmost point of Bodega Bay at La Bodeguita (a popular Mexican restaurant that is temporarily closed) and head towards Jenner, you'll find several sandy stretches along the way. All of them can be accessed from Highway 1 either directly or via steep steps leading down from the parking lot/pullout point. Some of these are: Marshall Gulch, Carmet Beach, Schoolhouse Beach, Portuguese Beach and Scotty Creek Beach.
ARCHED ROCK OVERLOOK AND DUNCAN COVE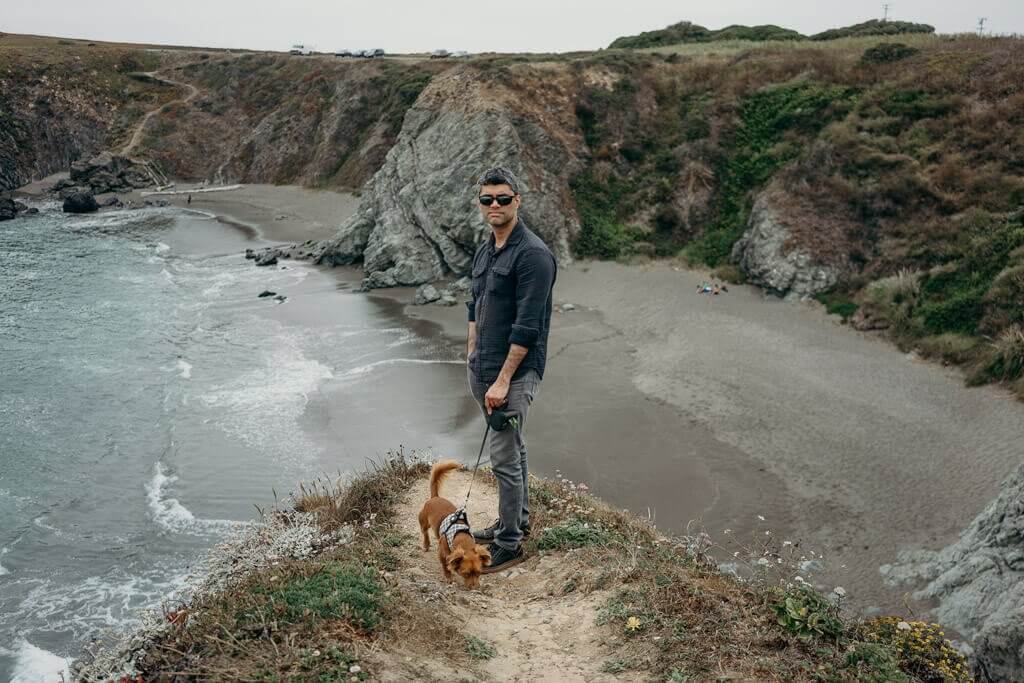 There are several overlook or vista points intercepting the beaches on your drive from Bodega Bay to Jenner along Highway 1, my favorites being Arched Rock Overlook and Duncan Cove plus the Duncan landing overlook. Both Arched rock overlook and Duncan Cove provide spectacular views of the coast, with Duncan cove overlooking the tiny beach below it. These two are excellent spots for stretching your feet and taking in the views!
JENNER
Jenner is that spot along the Sonoma coast where the Russian River empties itself into the Pacific Ocean. At the confluence point, the snout of Goat Rock beach in the south almost touches Jenner beach in the north with a sliver of water in between. the Jenner Sea Lion rest place is at the very tip of Jenner beach and you can see them snoozing in the sun from a designated vista point/lookout point on Highway 1 (just have your binoculars ready).
There are several beaches to explore around Jenner if you have time, of which the Jenner beach, Shell Beach and Russian Gulch State Beach are easily accessed from Highway 1. Goat rock beach requires a bit of a detour where you have to leave Highway 1 and drive west along Goat Rock road to get to the parking lot.
CAFE AQUATICA
Jenner is somewhat of a midpoint along Highway 1 while driving from San Francisco to Mendocino. As you pass by Jenner-by-the-Sea, you will likely spot the tiny Cafe Aquatica right by the Russian River. We stopped by on our recent trip to Gualala and since I cannot stop thinking about the food, ambiance and friendly service (the lady behind the counter was enamoured by my name), I had to include it in this list of best stops on Highway 1 as you drive northbound or even southbound back to SF.
I recommend getting their hearty clam chowder or crab roll or their match latte (if you're not that hungry) and enjoying it on their outdoor seating area that overlooks the river (and the kayakers paddling away on the waters). They also have live music on weekends and the whole atmosphere is just so blissful (and, dog friendly).
FORT ROSS STATE HISTORIC PARK
Fort Ross State Park should be your next stop north of Jenner as you drive up north along Highway 1/Coast Highway. Located about 9 miles north of Jenner, this State Park represents the various periods of the coastal natural history starting from the resident Kashia Pomo people to the Russian colonization periods (1812-1842) and the following Ranch era (1842-1972).
Fort Ross used to be a thriving Russian-American Company settlement from 1812 to 1841. It was chartered by Russia's tsarist government to control all Russian exploration, trade and settlement in the North Pacific, and established permanent settlements in Alaska and California. Fort Ross was the southernmost settlement in the Russian colonization of the North American continent, and was established as an agricultural base to supply Alaska.
It was also the site of California's first windmills and shipbuilding, and Russian scientists were among the first to record California's cultural and natural history. Fort Ross was a successfully functioning multicultural settlement for about 30 years with settlers including the Russians, Native Alaskans and Californians, and Creoles (individuals of mixed Russian and native ancestry.
Much of this historical Russian settlement is still well preserved to this day in the park. Once you pay the day use fee at the parking, walk all the way down the paved path to to the walled compound hosting several original buildings such as the church and Rotchev house. On your way you will see Calla lilies blooming everywhere in Springtime.
This is that rare dog friendly park where dogs are allowed inside the original buildings inside the fortified walls. If you have time, explore some of the beaches and spectacular coastal trails in this state park. The coastal trail of Fort Ross and an excellent place in Northern California for whale watching.
TIMBER COVE RESORT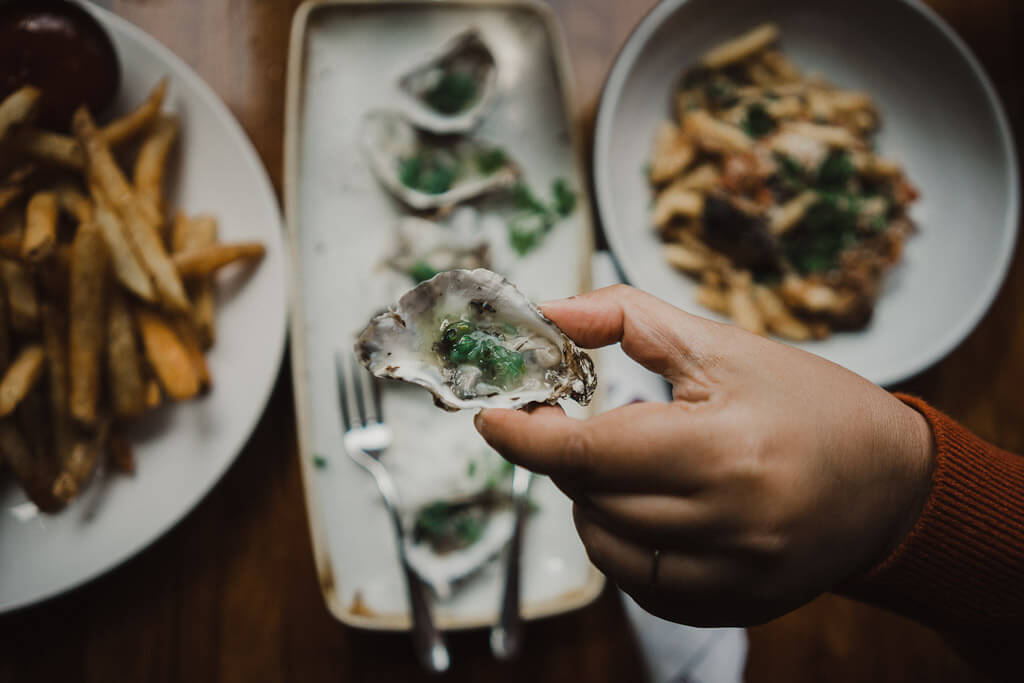 Timber Cove Resort is perched right on the coast at Timber Cove and boasts of a beautiful airy restaurant Coast Kitchen serving both lunch and dinner with ample outdoor space. Timber Cove is a dog friendly lodging but a pretty expensive place to stay. If you're stopping by for lunch remember to check out the hotel grounds with panoramic views of the coast and ocean (can be accessed via steps on side of the restaurant). We've dined here many times while driving up the coast and have always loved the food.
SALT POINT STATE PARK AND TRAILHEAD
Further north of Timber Cove lies Salt Point State Park which is not only an excellent rest stop (has picnic area and restrooms) but also offers an ecological diversity that is hard to find anywhere else.
Salt Point is home to rocky promontories, cosy kelp lined coves, open grasslands, forested hills, pristine prairies and pygmy forests where fully mature Bishop and Bolander pines, Mendocino cypresses and redwoods show an uniquely stunted growth thanks to a nutrient free highly acidic soil and a hardpan layer below the surface preventing roots from anchoring deep into the earth. In addition, Salt Point boasts of 20 miles of hiking trails, six miles of rugged coastline, and the Gerstle Cove Marine Reserve, an underwater area where marine life is fully protected and often explored by divers.
For those of you spending a night or two on the coast, Salt Point State Park is a perfect place to spend a few hours on one of its hiking trails. Running short on time? No problem, simply park at the parking lot nearest to the Salt Point Trail head, a coastal trail along the bluffs with dramatic views of the ocean, and take in the scenery on a brisk walk.
SEA RANCH CHAPEL
The last stop on Highway 1 till you enter Mendocino county is Sea Ranch, a popular vacation spot on the Sonoma Coast. The quirky landmark of interest here is the Sea Ranch Chapel, a non-denominational chapel right off Highway 1 with a very unique architecture.
This chapel, a generous gift from Sea Ranch residents Robert and Betty Buffum, was completed in 1985 by artist and architectural designer James Hubbell. The chapel and its surroundings are open 365 days a year to the public. This is a pretty quiet place with a few curious onlookers and makes for a nice little stop before you drive into Mendocino county.
WHERE TO STOP BETWEEN GUALALA AND MENDOCINO ON HIGHWAY 1
Mendocino county, saddled along the coast is vast and boasts of an envious coastline as well as coastal Redwood groves spanning over the towns of Willits, Elk and Ukiah. In addition, there are dozens of wineries dotting the verdant Anderson Valley along state route 128 in Philo and Boonville serving Alsac-style white wines and delicious red Pinot Noirs.
If that is not enough, then the miles of hiking trails with gorgeous views of the coastline, pristine beaches and kayaking on the Russian River are some of the other outdoorsy offerings of this beautiful part of Northern California that are sure to win you over. Here are the Highway 1 spots to check out till you reach Mendocino:
GUALALA BLUFF TRAIL
Gualala is the southernmost point of Mendocino county perched on the jagged bluffs of the mouth of Gualala river emptying into the Pacific Ocean. The best way to take all this beauty in is by walking the 0.5 mile Gualala Bluff trail Gualala bluff trail with the trailhead starting from the Surf motel (you cannot park there and parking has to be done on the street).
The trail is a short one and provides amazing estuary and ocean views for a half-mile stretch, parallel to the bluff edge as it runs west of the city's commercial district. The trail actually starts from behind Trinks Cafe, which is another yummy place to grab lunch or breakfast as you head into Mendocino.
GUALALA POINT REGIONAL PARK AND BEACH
If you're stopping by Gualala, spend at least an hour at the magical dog friendly Gualala Point regional Park and the $7 day use parking fee will be the best money that you'll have ever spend. The main parking lot leads to the jaw dropping beautiful Sakha Serges (ceremonial hitching post) carved by the Yakut People of the Sakha Republic in Siberia to commemorate 200 years of their ancestors who lived and worked for the Russian fur traders in the Fort Ross settlement in the 1800s.
Once you are done admiring these works of art, drive to the visitor center and get onto the Gualala bluff trail that leads to Gualala Point which is the main whale watching point come winter (Dec-Feb) on the coast. You can backtrack on the whale trail and head off to the beach before making your way back to your car. Read my Gualala post for complete details.
POINT ARENA LIGHTHOUSE
You cannot miss this 151 year old and that too the tallest lighthouse on the Pacific Coast on your way to Mendocino from San Francisco! This is also a great whale spotting (Gray and Humpback) area along the coast and is open to the public daily from 10:30 AM -3:30 PM (includes the lighthouse store, indoor and outdoor museum).
Although dogs are not allowed inside the lighthouse, they are welcome on the grounds on leash as well as the museum and gift shop. There is also a 0.8 mile loop trail, i.e. Point Arena Lighthouse Nature Trail located near Point Arena.
VAN DAMME STATE PARK AND BEACH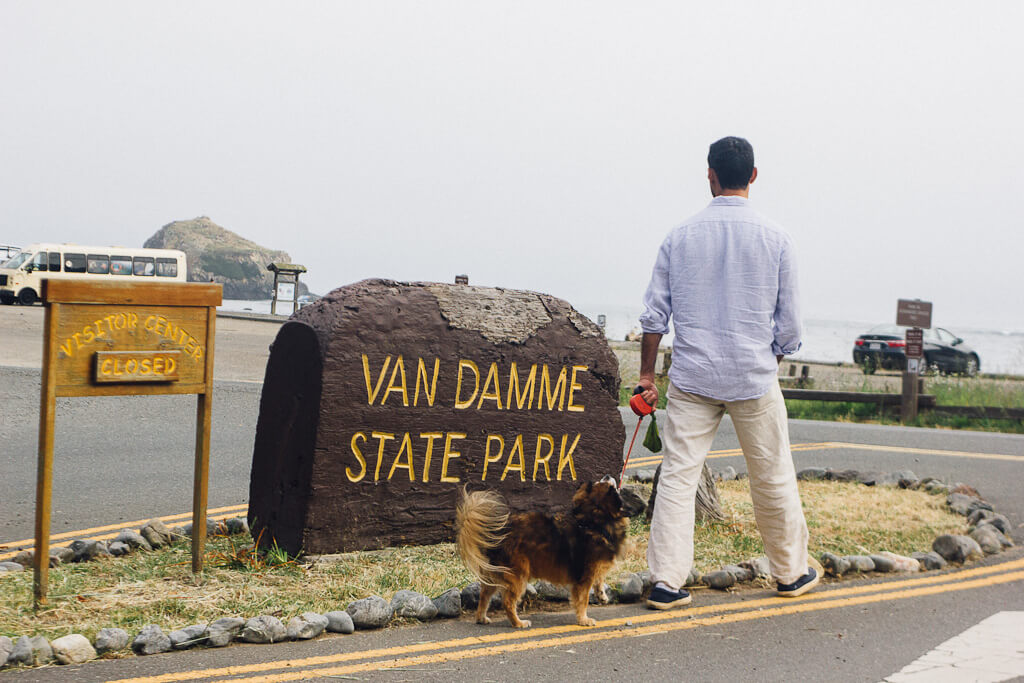 This is my very last recommended stop just 3 miles south of Mendocino along Highway 1 in Little River and is right next to the famous Little River Inn.The state park features a dog friendly beach where leashed dogs are welcome. The Fern canyon trail, leading to a lush green forest, starts from the east side of the beach but dogs are not allowed on that trail. We've visited this beach several times in the past with Babu during our stay in Mendocino.
MENDOCINO
Our final stop in this Northern California road trip along Highway 1 is the destination itself-i.e. Mendocino! Mendocino checks all the boxes for Bay Area residents as one of the coolest weekend getaways that doubles up as one of the best dog friendly NorCal towns to visit.
There is plenty to do and see in Mendocino (with or without your pup) such as hiking, kayaking (on the Russian River), wine tasting, noshing on some really good food and enjoying the best of Northern California's natural beauty. Plan your perfect Mendocino itinerary by reading my detailed blog post here.
Where to stay in Mendocino: Blue Door Inn , Sweetwater Inn & Spa
DRIVING BEYOND MENDOCINO-FORT BRAGG, LEGGETT AND THE REDWOOD HIGHWAY
This is a bonus section for those of you wishing to visit Fort Bragg, a mere 10 miles north of Mendocino along Highway 1 or further north into Humboldt County to see the majestic Redwoods, just like we did earlier this year. Here are some of my suggestions for Fort Bragg and Leggett stops for those of you wishing to continue the journey:
GLASS BEACH (FORT BRAGG)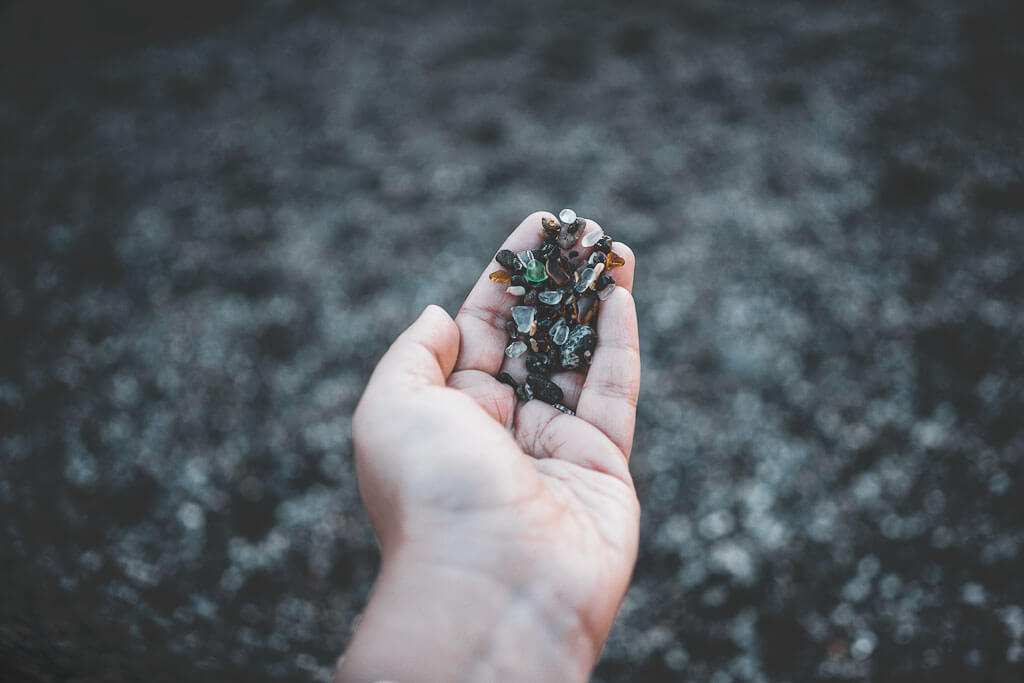 Fort Bragg seriously braggs of some of the best beaches in Northern California. You have the wildly popular glass beach so named because the of because the sand has shiny pieces of glassy marbles scattered everywhere (please don't remove them from the sand when visiting). Dogs on leash are welcome here. This is a bit of a detour from Highway 1 if you're simply driving through Fort Bragg but is definitely worth the extra time spent in getting there.
NOYO BEACH (FORT BRAGG)
This sandy stretch at the mouth of the Noyo River is one of the few off leash dog beaches and easily accessible from Highway 1
MACKERRICHER STATE PARK (FORT BRAGG)
MacKerricher State Park is located 3 miles north of Fort Bragg on Highway 1 and features a variety of habitats; beach, bluff, headland, dune, forest and wetland. Seals may be seen on the rocks off the park's coast. During winter and spring, the nearby headland provides a good lookout for whale watching and there are docent led tours in March during the Whale Spotting festival in Mendocino county. Although dogs are welcome on leash, they are not allowed in certain parts of the park.
SKUNK TRAIN (FORT BRAGG)
This is more of a "to do" attraction than "to see" but I still feel that given its uniqueness, it should be included in this list of must visit stops along Highway 1 at Fort Bragg. Even if you're simply passing by, keep a few hours in hand to get aboard the Skunk train (you can purchase tickets in advance or at the counter) on West Laurel street right off Highway 1.
This train (also dog friendly, $10 per dog) takes you through the Redwoods Forests along Noyo Canyon to Willits and back. The train features an open deck which adds to the experience of chugging through the Redwoods on an old timey locomotive.
PACIFIC STAR WINERY (FORT BRAGG)
This standalone winery is perched right next to the coast and is easily accessible off Highway 1. Besides their wines such as Daddy's Daily red or "It's my Fault" (a tongue-in-cheek reference to their location which is right on the famous San Andreas fault), they are also famous for grey whale sighting (if you are lucky, that is) owing to their location. Dogs are allowed on the picnic grounds here.
DRIVE THROUGH TREE (LEGGETT)
Leggett is literally the northernmost point in California where Highway 1 ends and 101 N continues as the Redwood Highway. The main attraction of this town is the famous Drive Through tree/Chandelier tree. The entry fee is $10 to drive through this 1800+ yr old Redwood hollowed out at the bottom. You will encounter a few more drive-thru tree attractions in Redwood country, but this one is hands down the best! There is also a gift shop and a rest area to explore the surroundings.

And, just like Highway 1 comes to a halt at Leggett, this post ends here as well. You can read my super detailed Redwoods road trip post, the detour to Shelter Cove post and the best things to do in Humboldt county post for more Northern California road trip inspiration. I hope you enjoyed this detailed guide on the best stops and detours from San Francisco to Mendocino. Here is the Google map as promised and safe travels!

LIKE THIS POST? PIN IT FOR LATER

«