Last Updated on August 11, 2022 by Paroma
Curious about spending a long weekend on the North/ Mendonoma Coast and wondering about what to do there? Let this fantastic guide on 12 amazing things to do in Gualala show you how to spend an epic weekend along Highway 1 (Pacific Coast Highway) with the very best attractions, spectacular hikes, places to eat and lodging. Trust me, once you read this Gualala weekend itinerary, you'll be packing your bags and driving coastbound!
Disclaimer: This post may contain some affiliate links. Clicking on them may earn me a small commission at no extra cost to you for the product. Thank you for supporting free content on this site!
Gualala (pronounced Wah-la-la) is a small coastal town right on Highway 1 (Pacific Coast Highway/Shoreline Highway) and is located on the southernmost part of the Mendocino county coastline. Since this part of the north coast is at the junction of Sonoma and Mendocino, it is also referred lovingly by the locals as the Mendonoma coast.
Gualala derives its unique name from the Kashaya Pomo Indian phrase, "ah kha wa la lee" which means "Where the water flows down" (source). This makes perfect sense because this is where the Gualala river flows into the Pacific Ocean and you can see the estuary right across from Highway 1.
Gualala is one of the best weekend getaway from San Francisco that you can have and is that unique Northern California Beach town where the Redwoods meet the river that flows into the Ocean. This quiet spot has a lot to offer in terms of hiking, beaches, Redwood groves, good food and wine and is incredibly dog friendly, which makes it a perfect July 4th getaway spot for anxious pups.
I have stopped by Gualala many times on a San Francisco to Mendocino drive but never spend the night here until now. Having just returned from our latest dog friendly 4th of July weekend vacation, I am here to tell you all about the best things to do in Gualala on a long weekend getaway which includes pretty much everything from camping in Gualala to kayaking, hiking, chilling on the beach and dining.
Since we always travel with our dogs on California road trips, I will be pointing out dog friendly activities and places all over this post. I hope you have as much fun reading this Gualala weekend itinerary as I've had enjoying the many wonderful sights of this tiny Highway 1 beach town.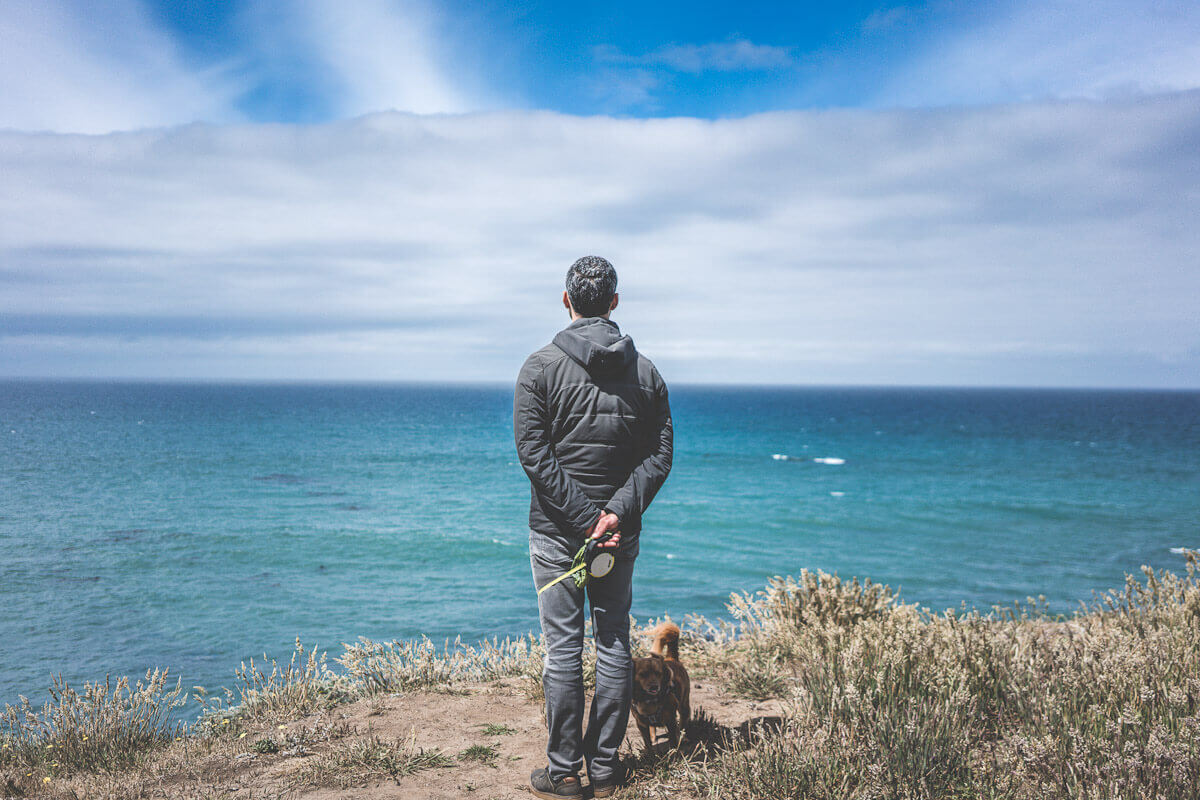 VISITING GUALALA FOR THE WEEKEND? HERE ARE THE FAQs
If you've never been to Gualala before, here are some trip logistics to help you plan a hasslefree getaway. You can skip this part entirely if you've been up and down the coast, north of San Francisco and simply go to the things to do in Gualala section to read more about our fantastic Gualala weekend itinerary.
WHERE IS GUALALA?
Gualala is about 113-117 miles north of San Francisco along Highway 1 on the coast, depending on the driving route. It is the southernmost beach town on the Mendocino coast with the Gualala river flowing through it. It can take anywhere from 2.5-3 hours to drive to Gualala but if this is your first time, I highly recommend reading my San Francisco to Mendocino post for the best stops along Highway 1 as you drive north.
HOW TO GET TO GUALALA FROM SAN FRANCISCO
The best way to get to Gualala is to drive from San Francisco (or the Bay Area). You can rent a car anywhere in the Bay Area (including the San Francisco or Oakland International Airports) and drive north.
You could also fly into the Charles M. Schulz Sonoma County Airport (which is only 64 miles southwest of Gualala) but flights into this airport are limited and you'll not be able to enjoy the full beauty of the California coast unless you're driving north from the Bay Area along Highway 1.
There are different driving routes to Gualala from San Francisco that you can take. The fastest way is to get on the Golden Gate Bridge via CA-101N and then driving westbound to CA-1 (Highway 1) via Valley Ford road beyond Petaluma that will take you through Bodega and then going up north along the coast.
The somewhat-in-between route that we prefer is a mix of CA-101N, CA-116 and CA-1 that takes you through some of the most charming small towns in Sonoma County such as Sebastopol and Forestville. Take CA-101N to Sebastopol, drive west on CA-116 passing through Forestville, Guerneville, Monte Rio and Duncan Mills and then get onto CA-1N.
Finally, the third is the longest route which is getting on to CA-1N as soon as you hit Manzanita and then driving northbound along the coast. This is hands down the most scenic route with plenty of panoramic viewpoints along the way, such as Muir Beach Overlook, Point Reyes, Bodega Bay etc.
IS GUALALA FOGGY?
The north coast has mild weather throughout the year which makes it a welcoming destination for summer when most of inland faces soaring temperatures. Summer on the coast is almost always foggy, thanks to the hot inland air meeting the cool ocean winds. Gualala starts off as foggy in the mornings with bright, warmer day and afternoon, followed by a cold, windy evening and night.
WHEN IS THE BEST TIME TO VISIT GUALALA?
Spring-Fall, as in March-November is a great time to visit the coast. Winter (Dec-Feb) is rainy season in California. You might get some rain in spring and summer but overall, summer is a really great time to visit Gualala to escape the oppressive heat.
WHAT IS GUALALA KNOWN FOR?
Gualala is known for its stunning coastal regional park (Gualala Point Regional Park), kayaking on the namesake river and of course, its Redwood groves that are home to Gualala Arts Center. You an also hike through the Redwoods at the Gualala River Redwoods Park if you have a campsite reservation.
This town lies about 19 miles south of Point Arena Lighthouse which is one of the oldest lighthouses in California. The unique Bowling Ball Beach is about 11 miles north of Gualala where you can see shiny "bowling ball" like rocks at low tide (I will tell you how to get there in this post).
IS GUALALA DOG FRIENDLY?
Yes! Most places in Gualala allow dogs, and that includes hiking trails and the regional park, the Arts Center and many restaurants and art galleries. This quiet town on Highway 1 is a perfect 4th of july getaway for anxious dogs and you'll love the coastal hikes with them. Bring a doggy vest or sweater since it can get really cold, windy or foggy on the coast.
LODGING IN GUALALA
I recommend staying at the Gualala Country Inn or Surf Motel, both of which are right along Highway 1 and are dog friendly (we stayed at the former and enjoyed the views from our hotel room). The Surf Motel is right on the banks of the Gualala River and the bluffs trail passes right behind the motel parking lot.
If you're feeling really fancy, then book your stay at the St. Orres, which is a fine dining and lodging establishment on Highway 1 in Gualala. They have several cottages and cabins scattered throughout their Redwood Groves property (several are pet friendly) and have a beautiful bar and dining service inside the main building built in the Russian/Scandinavian Stave architectural style. I should warn you that the food is good but overpriced, but the cottages looked beautiful (and are very reasonably priced for the California coast) when we stopped by for dinner.
OTHER HELPFUL TIPS
Dress in layers since it can get cold, foggy and windy on the north coast. Please wear sturdy shoes for hiking. The cell phone reception is really bad along Highway 1, so be prepared for spotty signals. You can download an offline Google Map or use Maps.me for directions.
THE BEST THINGS TO DO IN GUALALA, CALIFORNIA ON A LONG WEEKEND
Here is the list of all the fun things to do in Gualala on a long weekend trip from San Francisco. Enjoy and if you're visiting with your dog, watch out for my dog friendly indicators.
1) ENJOY A HEARTY BREAKFAST AT TRINKS
Want to start the day right on the North Coast? Then head straight to Trinks Cafe for some delicious hot breakfast, baked good and piping coffee or a delicious power juice and enjoy it on the dog friendly outdoor lawn that overlooks the river. Get your post breakfast hike on by getting onto the bluffs trail that starts from here. Trinks also has lots of local artisan products as well as cakes and other savory items for sale if you're in the mood to pick up some goodies for home.
2) HIKE THE GUALALA BLUFF TRAIL
This is an easy-peasy no elevation gain coastal trail that runs from one of the town (behind Trinks cafe to be precise) to another bordering the banks of the Gualala river. You can access the trail from right behind the Surf Motel (don't park at the motel though) or the lawn behind Trinks and walk along the bluffs as you take in the gorgeous views of the river, busy kayakers paddling down its waters and the estuary. This is a dog friendly trail.
3) VISIT THE GUALALA POINT REGIONAL PARK
This regional park is not only home to a very unique cultural attraction but also has one of the most stunning coastal bluff trails that I have hiked. The day use parking fee is $7 (you can pay with your credit card) or you can even camp overnight here (reserve campsite here). Best of all, this is a dog friendly park where dogs on leash have access to all coastal trails and the beach.
The main parking lot at Gualala Point Regional Park will lead you right onto a grassy knoll overlooking the ocean where you'll see the magnificent Sakha Sergeh, which are ceremonial hitching posts adorning the bluffs. These were built in 2014 by the Yakut people of the Sakha Republic of Siberia as part of the Sakha Cultural Festival hosted by Gualala Arts Center and Fort Ross.
The Sergeh are dedicated to the 16 Sakha people who lived at Fort Ross Russian Settlement (the southernmost Russian settlement) between 1812-1842. They were guides to the Russian fur traders in Siberia and during their time far away from home in California, they were forced to work as hunters, laborers, stockmen, carpenters and shipbuilders for the Russian American outpost.
The Sakhas are the northernmost horse breeders and riders in the world, and so you will see beautiful horseheads carved at the very top of the Sergeh standing tall in the park. These intricately carved posts symbolize the Sakha's connection the natural world and are a tribute to their ancestors who lived and worked here about 200 years ago. Read all about the story of the Sakha delegation and the Sergeh here.
To the left of the main parking lot is the Salal coastal trail that hugs the Highway 1 and then joins the bluff trail. You can easily get on the bluff trail from the visitor center. This is a loop which will take you along the bluffs with panoramic views of the coast all the way to Gualala Point which is a prime whale watching site in winter when grey whales and their babies migrate very close to the shore.
The whale trail bifurcates to another trail leading to the beach where dogs are welcome on leash. You can spend some time at the beach and then get back on the trail passing through the meadow to return to the parking lot at the visitor center. The visitor center is a treasure trove of information on the North Coast, the marine life and Native Americans who were the original stewards of the land.
4) STOP BY THE GUALALA ARTS CENTER
This is hands down one of the best things to do in Gualala and even if you're not into arts, you will enjoy the calming presence the giant Redwoods surrounding the beautiful Gualala Arts Center made of wood with tall glass windows and exposed beam criss supporting the A frame ceiling. This arts center is home to the works of many local artists and is completely free to visit.
You can also enjoy the many sculptures scattered throughout the Redwood grove around the center with an additional Sakha Sergeh carved by the visiting Sakha artists. There is a beautiful picnic area with a pizza oven that can be rented out for private events. Visit the arts center in August for their annual Art in Redwoods festival (Aug 18- Sep 4 in 2022). This is a dog friendly place.
5) EXPLORE THE ART GALLERIES
Gualala is known for its many art galleries all of which are around Highway 1 and within walking distance from the main hub, i.e. where the hotels, motels and restaurants are. I highly recommend visiting at least two of them, i.e. Studio 391 Gallery and Dolphin Art Gallery and gift shop. Both showcase local artists with Studio 391 having some really cool woodwork and photographs of the North Coast by Paul Kozal.
6) SHOPPING IN GUALALA
When in Gualala, pick up a local woodwork souvenir (made from Monterey Cypress) from Wood n Art, ceramics and pottery from NOMA and home decor gifts from the lovely Red Stella gift store. You can also stop by the super friendly Four Eyed Frog Bookstore to pick up books on the Mendonoma coast by local authors. Dogs are welcome in all these stores.
7) DINE AT COVE AZUL BAR AND GRILL
Want a meal and a gorgeous view to go along with it? Then head straight to Cove Azul Bar and Grill and enjoy an outdoor lunch on their deck which overlooks the town of Gualala and Highway 1. Their drinks and seafood are delicious too, plus they are dog friendly. Also, they are right next to Studio 391 and Dolphin Art Galleries.
Other places to eat in Gualala (dinner): The Black Door (their Mexican food is a huge hit), Vue Kitchen (inside Hotel Breakers)
8) SAIL DOWN THE GUALALA RIVER ON A KAYAK/CANOE
People visiting the North Coast love to kayak on the Russian River and the Gualala River for their calming waters. We've kayaked years ago on Big River in Mendocino (that too with Babu, our first dog) and realized that we city people are not really cut out for sailing the waters with this amount of hard work:-)
Although we gave kayaking a miss during our weekend at Gualala, you can go ahead and rent canoes or kayaks for 2 hours or half a day paddling down the 32 mile Gualala river by reserving a spot via Adventure Rents. They are located on Mill bend Road, a dirt road right off Highway 1.
9) GET DRINKS AT SAINT ORRES
Saint Orres was a complete accidental find for us when we visited Gualala, but honestly you cannot miss its unique, arresting architecture as you drive up Highway 1 towards Point Arena. This is a fine dining and lodging establishment on the North Coast which was purchased by Eric Black, Robert Anderson, and Richey Wasserman in 1971 and was then known as "The Seaside Hotel".
This Inn has a very unique design (inspired by the Russian Stave Churches, somewhat akin to what we saw in Armenia during our 2018 vacation) with a distinct hand built appearance framed in by Redwood panels. Eric Black continues to co-own this place along with Rosemary Campiformio who oversees all operations at the inn, including the food and drinks.
We met Rosemary when we impulsively stopped by the lobby for dinner and she was super nice and gracious enough to let Gunda in to dine with us (she is a dog lover plus Gunda is drop dead cute:-)). Dining at St. Orres is expensive, so I suggest unwinding with some drinks (they have a full bar and Rosemary is a pro at making cocktails) and marveling at the architecture and artwork of the lobby.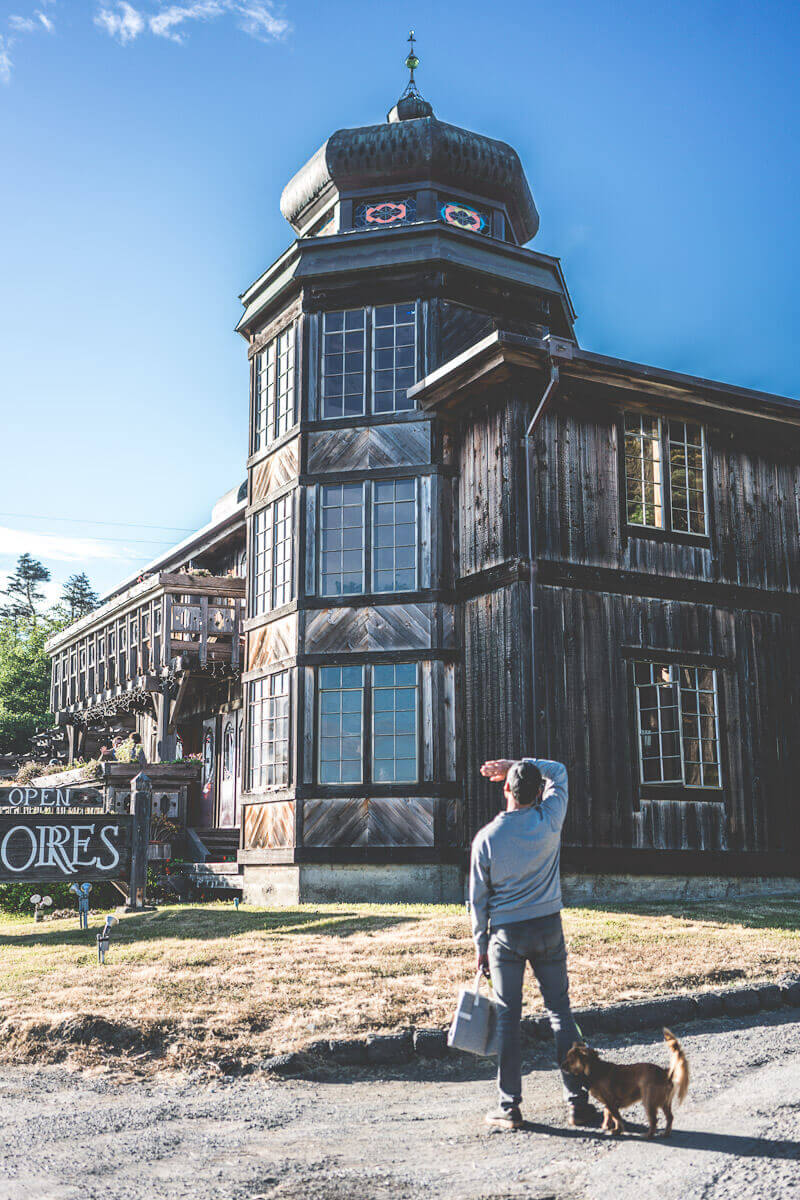 10) GO CAMPING IN GUALALA AMIDST THE REDWOODS
Gualala is where the Redwood groves meet the coast and if you want to wake up in a serene Redwood grove or hike through the trails with your well behaved pup, you need to book a campsite ASAP at Gualala River Redwood Park. This park is very small and does not allow day use of any kind, i.e. you cannot park here and walk around if you don't have a camping reservation.
If you're not camping, you could technically drive through the park with permission from the staff but that does not entail you getting off your vehicle at any point. Please respect the rules and if you want to enjoy the park, get your reservation in advance since it is a very popular spot for camping.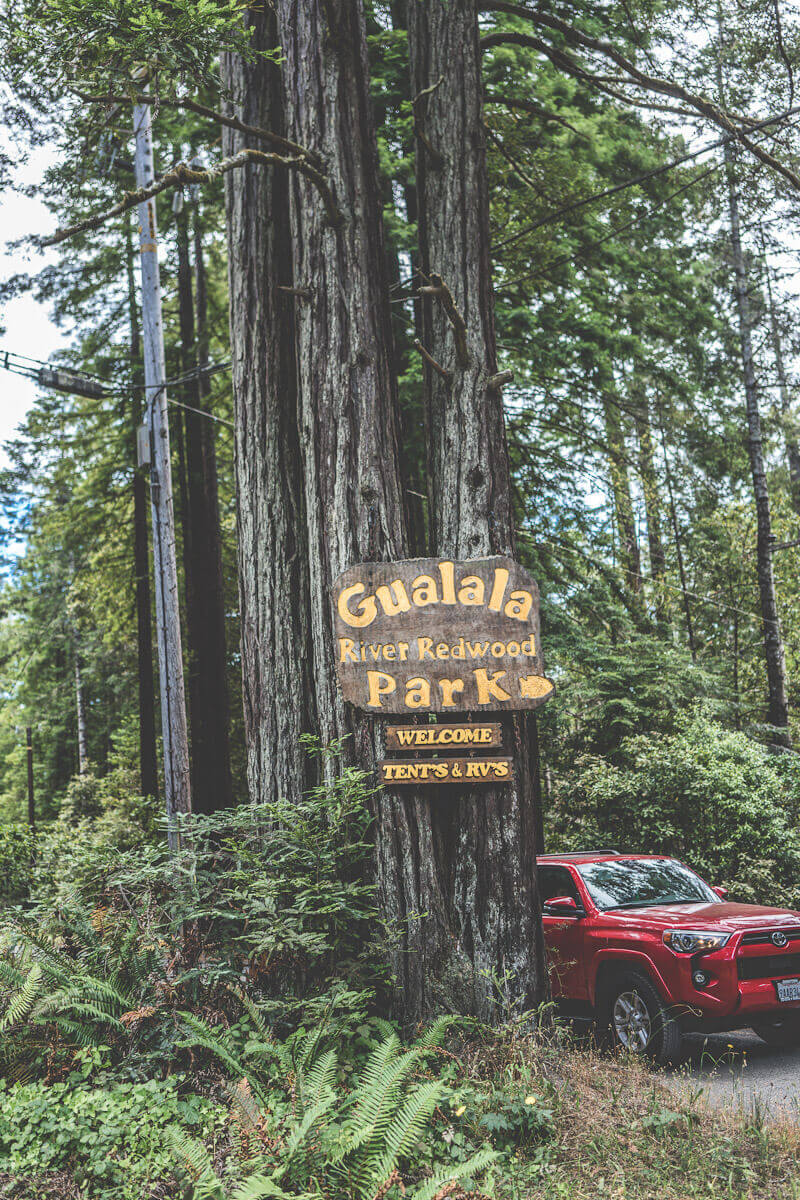 BONUS THINGS TO DO NEAR GUALALA, CA
These two attractions should be on your Gualala weekend itinerary even though they are not technically in this town, but about 10-19 miles away in Point Arena. Nevertheless, if you've come this far, definitely check them out!
11) VISIT POINT ARENA LIGHTHOUSE
Point Arena Lighthouse has been guiding ships along the perilous California coast for over 151 years and is open to visitors daily from 10AM-4:30 PM, with a $5 fee per person. We've often passed by Point Arena and viewed it from afar (such as during our Northern California Road Trip from San Francisco to Crescent City) because there was a time when dogs were not allowed inside or the lighthouse gate was closed.
Thankfully, dogs are allowed inside the museum and gift store now which is why we could visit and see the lighthouse up close. The marvellous fresnel lens that was used in its heydays now lies in the museum. You can read more about this historic landmark here and learn about the lodging options on its onsite cottages.
12) CHECK OUT THE BOWLING BALL BEACH
Bowling Ball beach is that hidden attraction 10 miles north of Gualala, right off Highway 1, that is an Instagrammar's delight. Given the challenges in finding this hidden beach and the fact that you have to time it right to see the large "bowling ball" like underwater rocks, makes the hunt for this very unique dog friendly beach even more exciting.
Full disclosure: we failed to see the bowling balls because we got terribly lost and found it way past the designated time (you have to time your visit with as close to the low tide as possible). So the photo that you see here is a freely usable image from Unsplash by Mike Haupt. The rest are the ones I took painstakingly to show you how to get to the beach without losing your mind (you're welcome in advance).
First, consult the bowling ball beach tide chart to figure out when to get to the beach. The balls are only visible at low tide which occurs twice in the day-morning and evening. I recommend coming in the morning because the last leg of the trail leading to the beach is pretty steep and is best tackled in broad daylight.
The trail leading from Highway 1 to the beach is short (it will take you 5 mins to get there) and starts off nice and wide through a meadow. However, it quickly becomes steep with stairs cut out on the trail for a sharp descent and the last leg is just a huge pile of driftwood and you have to jump over them and maneuver your way into landing on the beach. Since I was born clumsy (and also because we were way past lowtide), we turned around from the stairs and went back to our car because I was no mood to break a limb.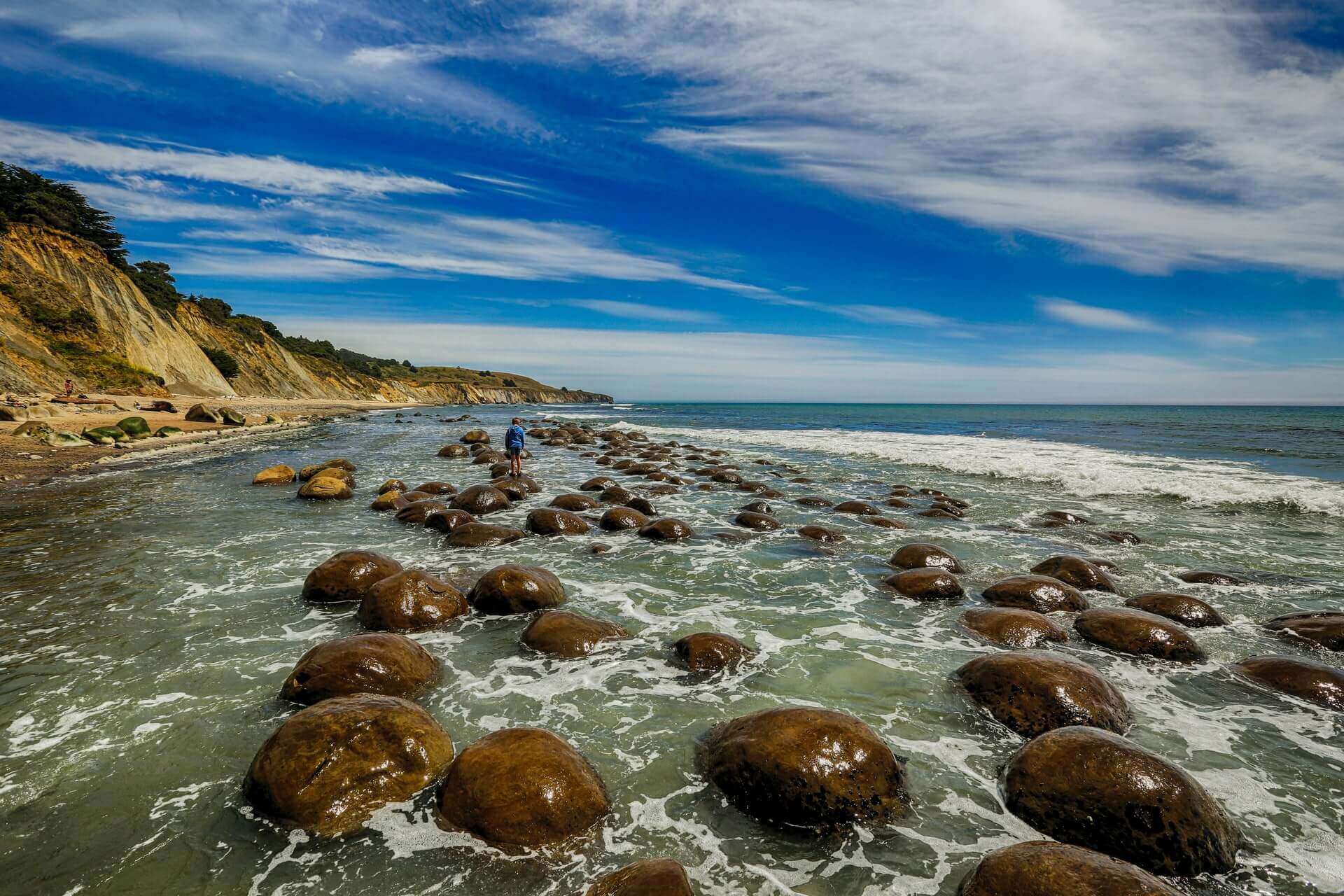 HOW TO GET TO THE BOWLING BALL BEACH IN GUALALA: EXACT LOCATION AND PARKING
If you type "Bowling Ball Beach" on Google, you will get terribly lost and upset, just like we did as we spent a good 30 mins figuring out the beach trailhead. So here is how to get to this super unique beach and take that million dollar shot of those bowling balls lined up in the water:
First, Google "Schooner Gulch road" or "Bowling Ball Beach trailhead". If you're driving north from Gualala, this wide road will be to your right. Make a turn when you see the road and park at the shaded pull out area on Highway 1 across from the road/opposite this road.
After you park, you will see a sign that reads "Conserving California's Coastal Treasures" and a path leading down from it. DO NOT GET ONTO THAT TRAIL unless you want to go to Schooner Gulch Beach which is also very nice but that ain't what we're after, so bear with me for a wee bit more.
As you face this sign, look to your right-you will see a white parking sign that says "Park facing south only". Walk a bit more to the right of this sign and you will see a trail passing through an open meadow. This is the Bowling Ball Beach trail head. This level trail descends downwards in a series of narrow steps culminating in a huge pile of driftwood which needs to be crossed to get to the beach.
And I have reached the end of this guide on the best things to do in Gualala on a long weekend. If you've loved reading my Gualala weekend itinerary, please check out my other California posts (most are dog friendly by the way). Thanks a lot for stopping and safe travels!

LIKE THIS POST? PIN IT FOR LATER

«