Last Updated on December 17, 2020 by Paroma
A dog friendly guide to Mendocino
Thanks to being parents to our Tibetan Spaniel mix Babu, we are always on the hunt for places within California which are within 2-3 hours by car and are reasonably dog friendly. Many moons ago, we had visited Mendocino and were pleasantly surprised to see how dog friendly Mendocino was! So here is a super useful pet friendly Mendocino guide, filled with suggestions on dog friendly activities in Mendocino, dog friendly hotels and dining. I hope this dog friendly Mendocino itinerary based on my past four visits to Mendocino/Fort Bragg gives you plenty of ideas to plan your next weekend getaway with your furry friend.
Disclaimer: This post may contain some affiliate links. Clicking on them may earn me a small commission at no extra cost to you for the product or service. Thank you!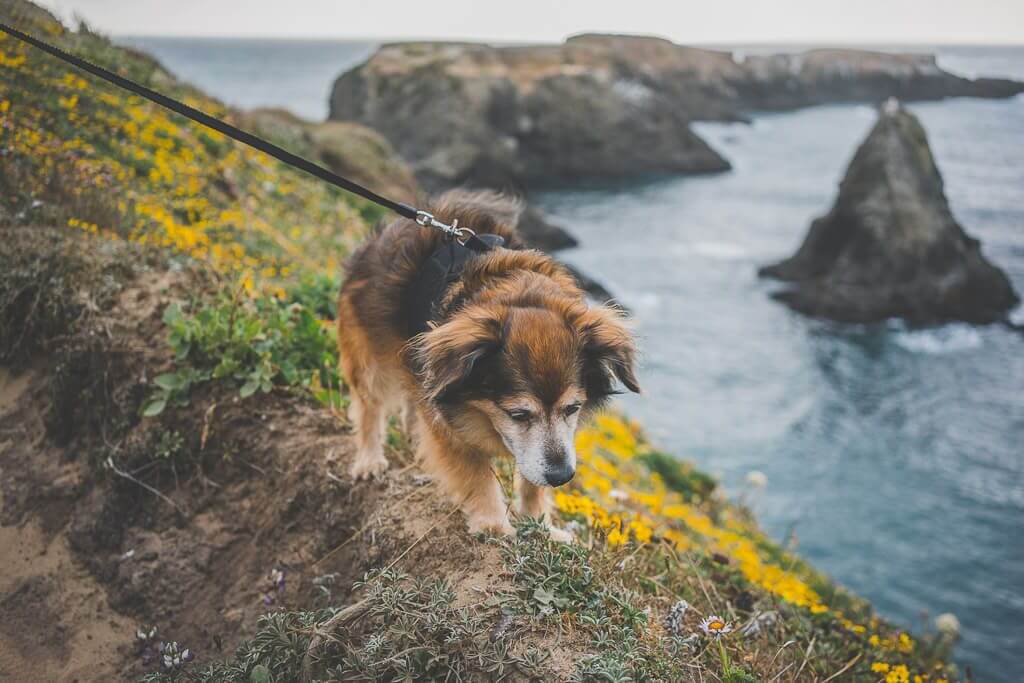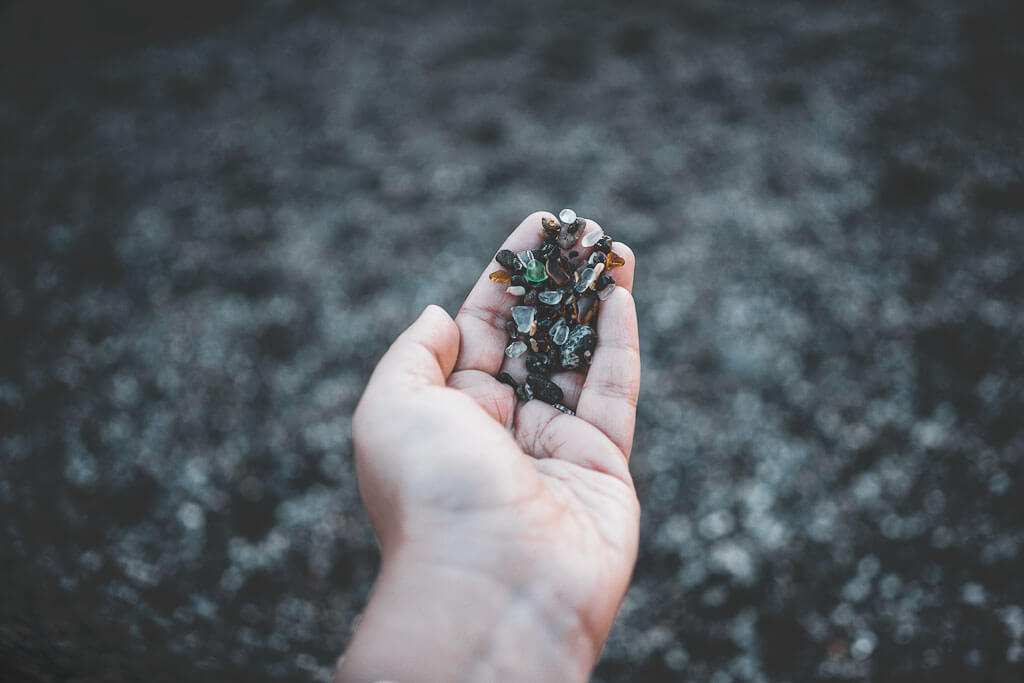 Dog Friendly Mendocino: The best dog friendly activities to explore
Mendocino, roughly three hours north of San Francisco, boasts of a jaw dropping beautiful coastline, b) the majestic redwood forests and c) some of the world's best grapes producing some of the finest, delicate pinot noir known to man. Located in Mendocino county, north of the famous Sonoma county, it welcomes both bipeds of all kinds and four legged fur balls. This town is also one of the best winter getaways in California if you are looking to venture out of San Francisco during your visit in December or January.
There is a lot to do with your pup in dog friendly Mendocino as well as in nearby Fort Bragg, Albione and Little River, with pet friendly activities ranging from a day at the beach to riding the world famous "Skunk" train to visiting that rare, dog friendly lighthouse. Here is how to plan your pet friendly Mendocino vacation: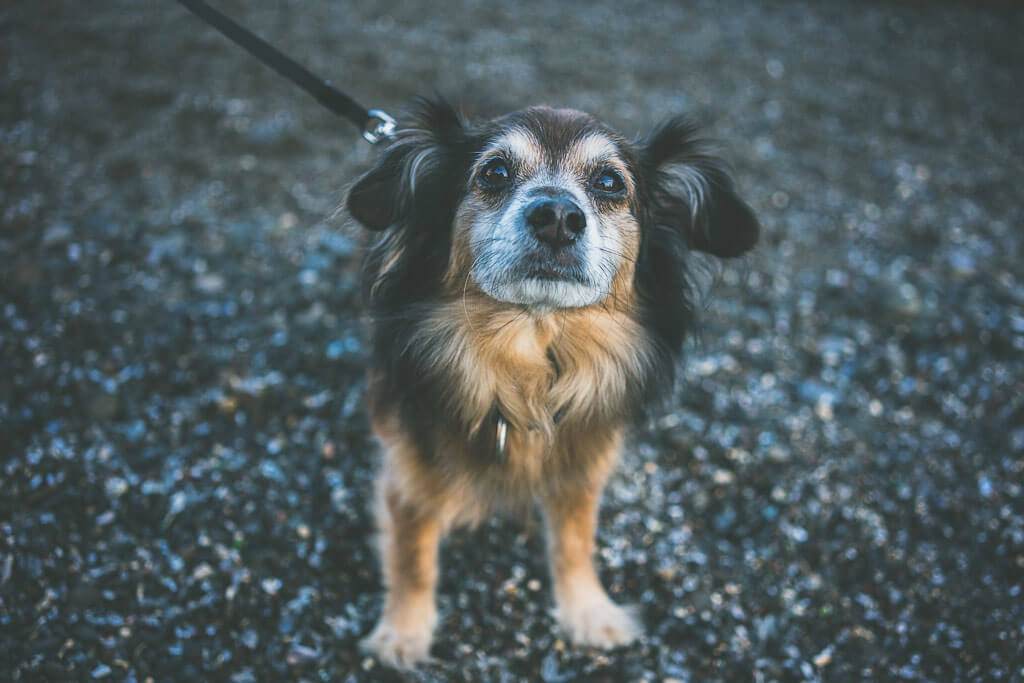 Babu at Glass beach
Mendocino Headlands State Park
Dog Friendly hotels and accommodations in Mendocino
As mentioned before, Mendocino county is known for its tall, majestic redwood trees, the breathtaking beautiful California coast and pristine beaches, plus the wineries along the Upper Russian River valley and Anderson Valley. All these places are dog-friendly to different extents, but overall Mendocino is very welcoming to dogs. Although there are plenty of dog friendly hotels in Mendocino, I recommend the following based on my experience spanning multiple visits.
Stanford Inn by the Sea : This dog friendly hotel is located at the mouth of Comptche-Ukiah road and has been rated the best due to its impeccable hospitality and its world famous dining option Ravens, which has a dining hall that welcomes dogs.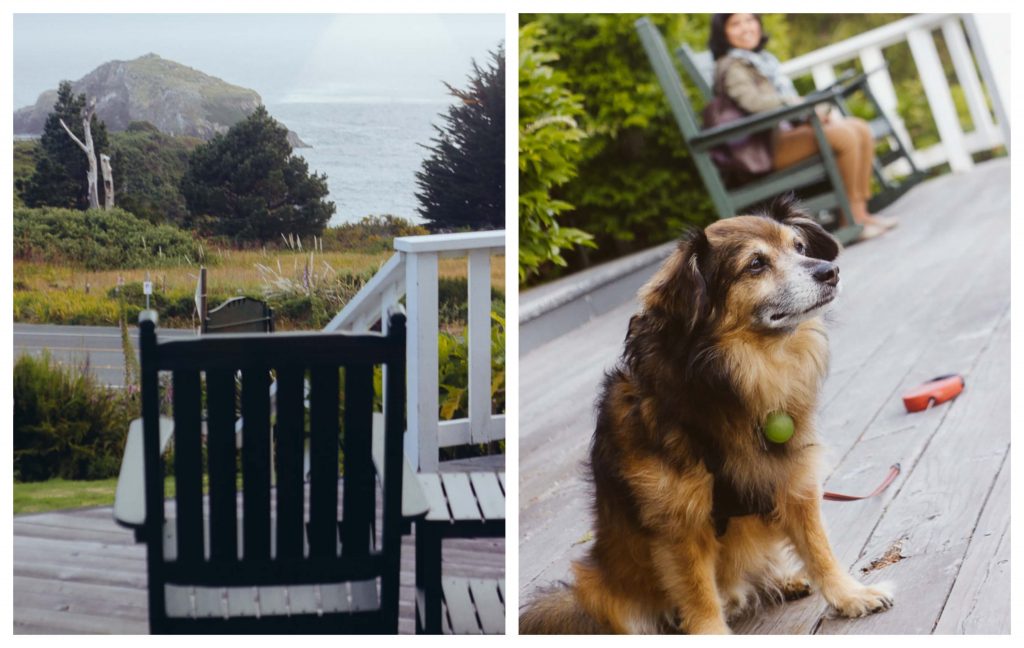 Little River Inn
Little River Inn: This hotel, a few miles down the road, is perched close to the ocean with a fantastic view of the coastline, that is simply unmatchable. Little River Inn is a series of Victorian houses overlooking the coast and sprawled over acres of land encompassing a beautiful garden.
Imagine dining in a beautiful room with a vintage piano with your furry friend or sipping a glass of Pinot on your rocking chair on the deck and watching the sunset on the Pacific with the waves crashing on the beach. Now make that vision come true by booking a dog friendly room at Little River Inn!
This inn has an excellent dining room offering breakfast, lunch and dinner with focus on local, sustainable produce and catch, but the best part of this again is the fact that they have a separate dining room for guests with dogs which you have to reserve slightly beforehand if you want to dine with your pooch there.
For these reasons and the warm hospitality that they extend to dogs (welcome treats, food and water bowl, doggie towels in the room), we chose Little River Inn as our pet friendly Mendocino hotel. Pricey, yes you bet, but worth every penny for the view, the food, the hospitality and above all, Babu's comfort.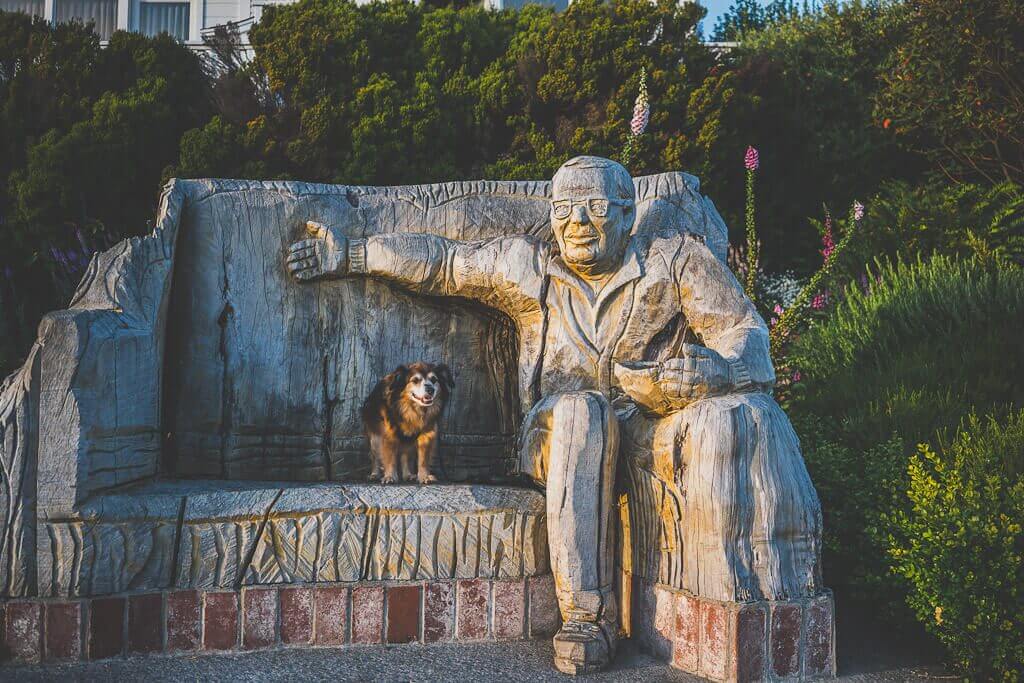 Little River Inn
Airbnb: We've booked Airbnb twice during our last two visits to Mendocino. One was up in Fort Bragg at this beautiful dog friendly cottage which has 2 bedrooms (3 beds) and two baths and can accommodate up to 6 guests and 4 dogs (with an additional fee)! Plus there is a beautiful outdoor patio and hot tub and it is a short walk to a beach accessed through a private gate. The views of the ocean are spectacular from here and we loved our stay here because it was so relaxing!
The second time around we stayed right in downtown Mendocino on Main street at Didjeridoo Dreamtime Inn which only charges an extra $10 in cash for cleaning! Our room was on the smaller side but this slight inconvenience was made up for by the excellent home cooked breakfast (included in the stay) and the hospitality of our hosts Charles and his wife. Click here to see all the other pet friendly Airbnb options in Mendocino!
Didjeridoo Dreamtime Inn
I highly recommend these places for all dog-owners if you plan to visit dog friendly Mendocino (which you should) and make reservations well in advance (because dog-friendly rooms are limited) to have a great time with your four-legged friend. Just be a responsible pet parent and follow all pet related guidelines.
Mendocino weather
Weather in pet friendly Mendocino county is one deceptive beast, because of beach vs. inland micro-climes. A very hot inland may cause the coast to remain foggy all day (such as what we experienced during our stay several times) or it may clear up and you might experience a very hot and humid day.
It is best to dress up in layers and wear sturdy footwear since you will be doing a lot of outdoor activities, specially with your dog. I highly recommend hiking shoes for exploration and a medium weight jacket for foggy, chilly evenings. The weather is cold, yet pleasant in winter with warm days in cold, windy nights.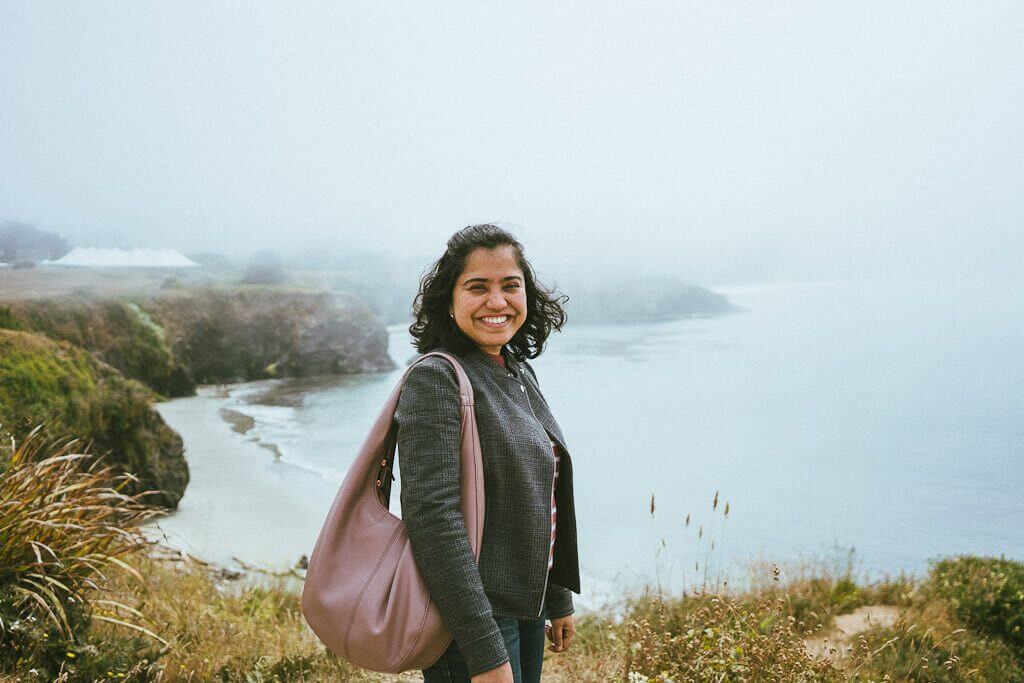 foggy Mendocino coast
Dog friendly activities to enjoy in Mendocino
What makes Mendocino so dog friendly is that here our furry friends are made to feel very welcome and many attractions are accessible to them. I am listing some of the major ones that we embarked on during our four trips, which are a must see/do kind in dog friendly Mendocino as well as in Fort Bragg in the north, a short 20-25 min drive from downtown Mendocino. These pet friendly activities in Mendocino are of different kinds and you can choose whatever it is that floats your boat.
a) Dog friendly train ride through the redwoods: All aboard the Skunk train!
The one big bummer in dog friendly Mendocino is that most of the redwood forests/preserves are off-limit to dogs for preservation and presence of wildlife. So one of the best options to experience them is to ride the Skunk train, from downtown Fort Bragg (12 miles north of Mendocino) which zips for 43 miles along the California Western Railroad right through the heart of the giant redwoods all the way to Willits and back. We've boarded the Skunk train twice on two separate visits and really enjoyed the view from the open decks adjacent to the compartments.
Best of all, this train allows dogs on board to enjoy the majestic views of the forest. There is an extra $10 charge for dogs and you need to make sure that your dog will be comfortable in a moving train. I highly recommend making reservations in advance since only 5 dogs are now allowed per ride (as of Dec 2018). Alternately, check the departure times (from 11AM-4PM with the last train departing at 4) and come early to book a later ride with your pet.
The other place where dogs used to be permitted is the drive through tree grove (privately owned) in Leggett, the main attraction of which is, you guessed it-a huge redwood tree with a hole in its trunk so big that a compact car can easily pass through it. Leggett is north of Fort Bragg and there is a $5 vehicle fee to enter the grove. Sadly, the drive through tree was uprooted recently due to a fierce storm and is thus no longer standing. Read on for more Mendocino dog friendly activities.
b) Dog friendly beaches and state parks in Mendocino and Fort Bragg
Mendocino county, bless its generous heart, is full of beaches that your pooch can enjoy on or off leash. Visiting Glass beach at Fort Bragg is one of the best things to do in Northern California because the sand has shiny pieces of glassy marbles scattered everywhere, and is dog friendly (dogs must be on leash though).
Even better is the Noyo beach, which pets can enjoy off-leash. Finally, there is a third leash free beach which dogs can enjoy romping on and that is the Seaside creek beach. We not only had a fantastic view of the beach from our Airbnb at Inglenook (the house comes with a hot tub as well) but could also access the beach via a private trail, about 7 houses down through a small iron gate.
There are several beaches down south near Mendocino, such as the Russian Gulch State Park and beach, Mendocino Headlands State Park and beach and the Van Damme State Park and beach where on-leash dogs are allowed (this is closest beach to Little River Inn where we stayed during our second visit to Mendocino). Also, Mackerricher state park (dog friendly) in Fort Bragg is a great place for migratory grey whale watching along the shores and there are conducted tours on the weekends.
Van Damme state park and beach, Little River
Glass Beach, Fort Bragg
Seaside creek beach, Fort Bragg
During our fourth stay in Mendocino, we hiked through Mendocino Headlands State park (which is right next to downtown) to take in the breathtaking views of the coast. Another dog friendly trail that starts from the very end of Main street is the one leading to Portuguese beach and Port Mendocino cave. The beach itself is accessible via very steep steps going downwards from the trail but even if you are not inclined to make that steep hike downwards, the benches on the bluffs provide panoramic views of the coastline!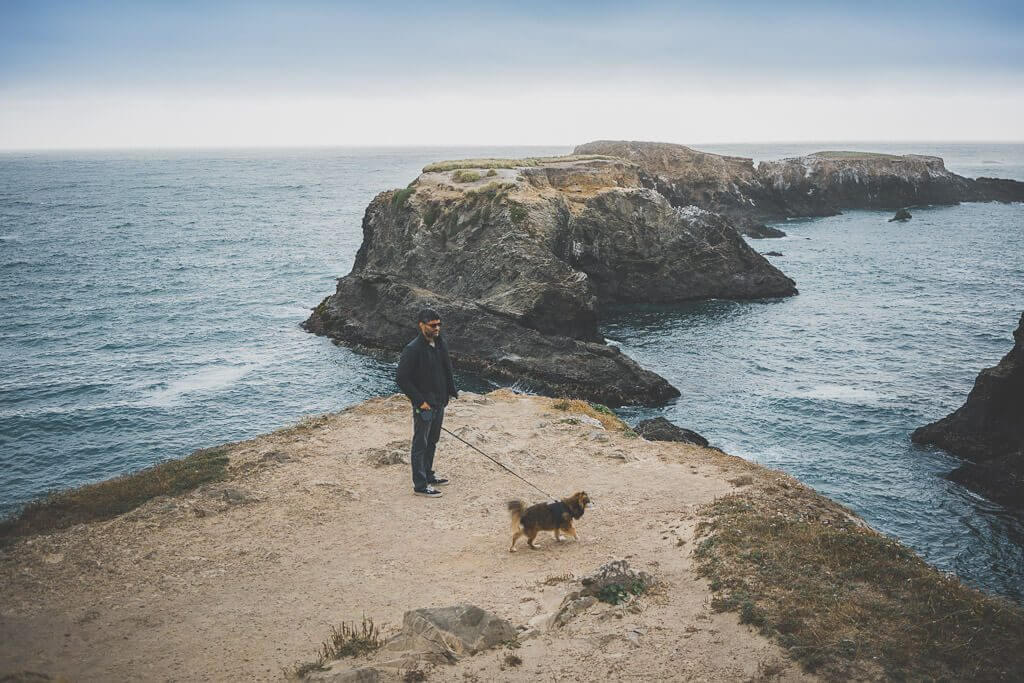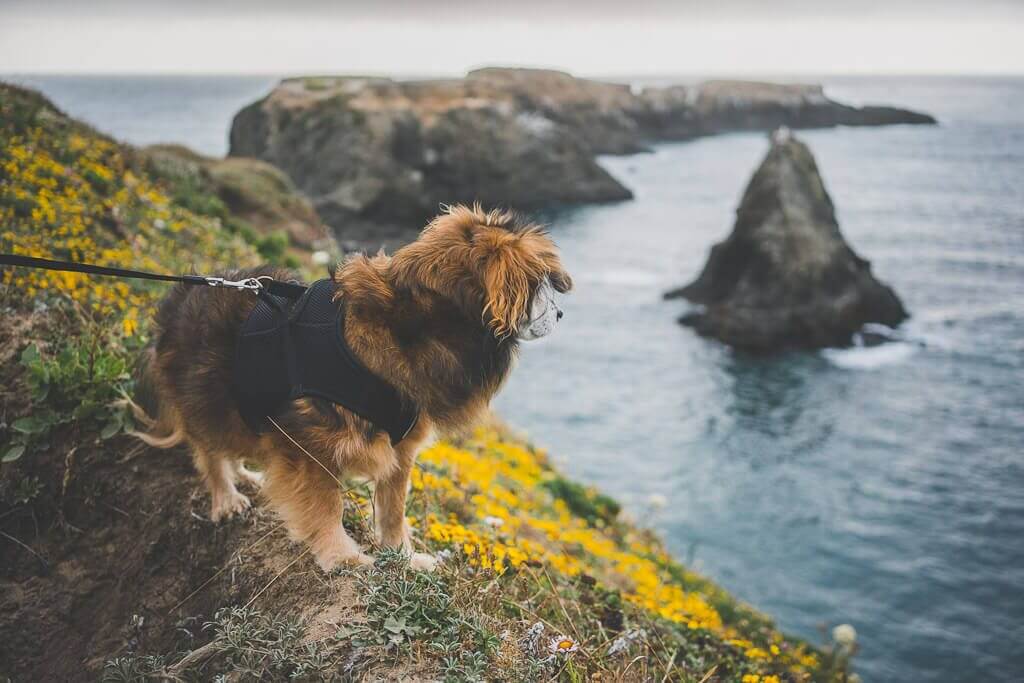 Mendocino Headlands State Park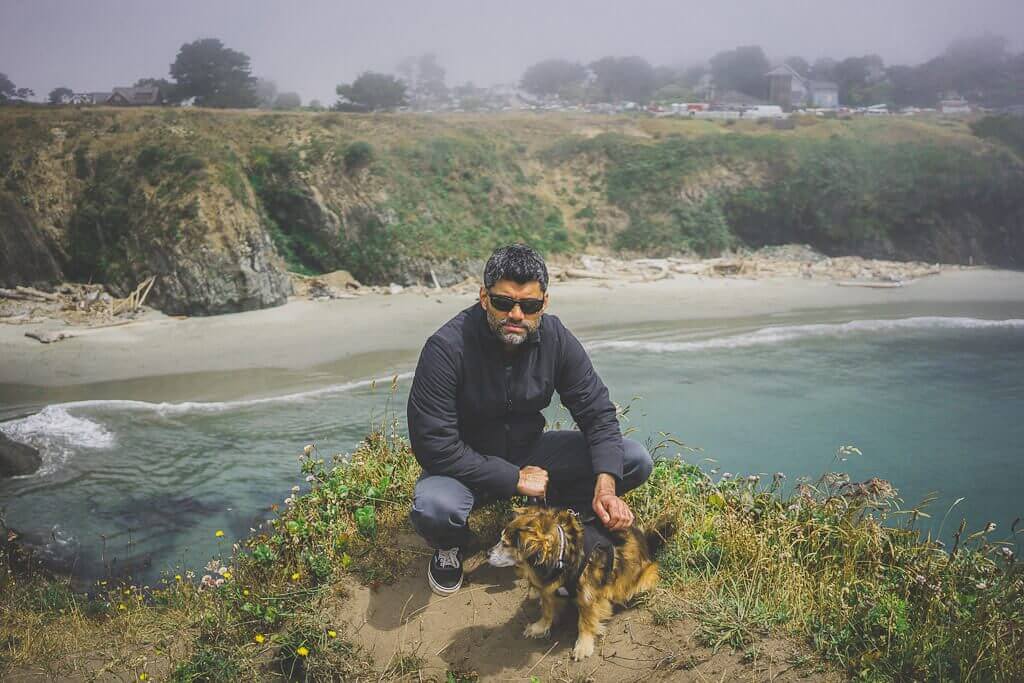 Hiking trail overlooking Portuguese beach
c) Canoeing on the Big river with your dog in Mendocino
The one super fun activity from last time was our canoeing on the Big River in Mendocino, with Babu in the canoe, thanks to Catch-a-Canoe and Bicycles Too!, a company which offers pet friendly canoes to paddle the waters of the river. Again, your dog has to be calm enough or willing to sit in the outrigger canoe while you paddle.
You do not need to be a seasoned kayaker to navigate the big river as long as you follow guided instructions. This is a super fun pet friendly activity to enjoy besides all the dog friendly beaches that I have mentioned before.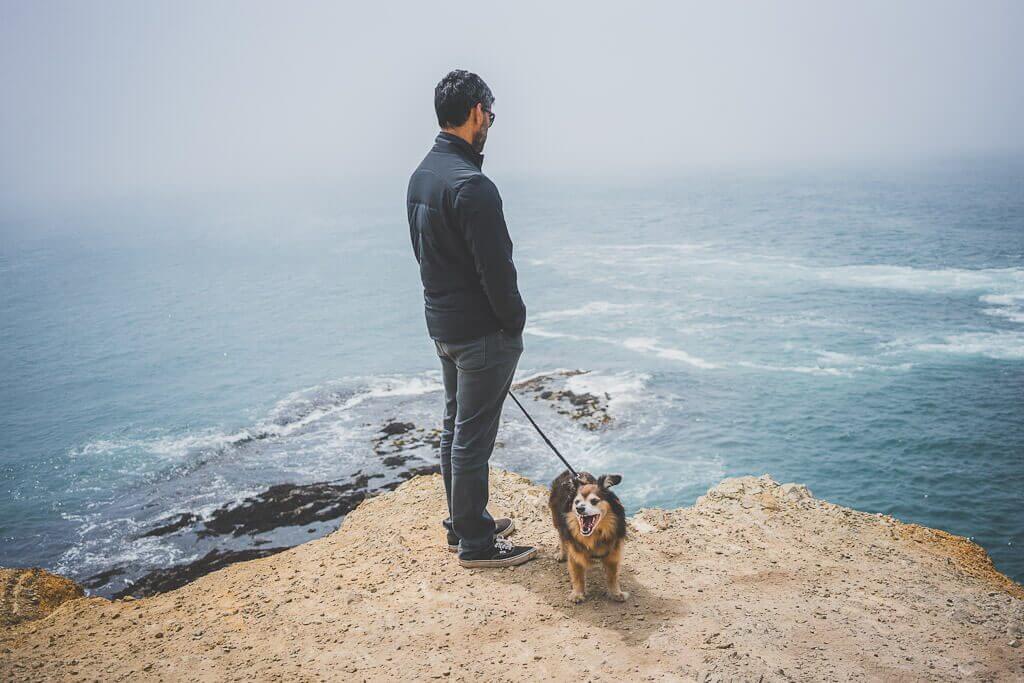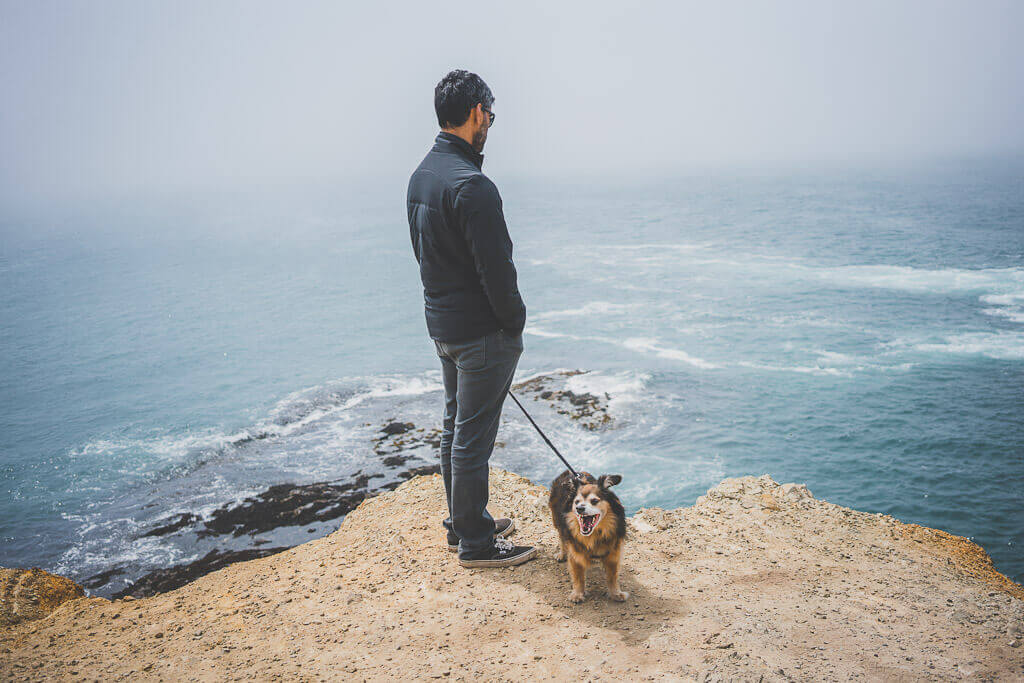 d) What to do with your dog in Mendocino: visiting Point Cabrillo lighthouse
Point Cabrillo lighthouse, nestled in one of California's state parks, is one of the remaining five functional lighthouses in the state of the 200 that once were active. What makes it a must visit in dog friendly Mendocino is that it welcomes dogs in the lower level.
The lens room, which hosts one a kind 3rd order Fresnel lens, is accessible to the public for only 8 days in a calendar year, and runs on automation. The lens throws out a sharp flare of light every 40 seconds in a certain direction, which was visible even in the midst of the dense fog when we visited.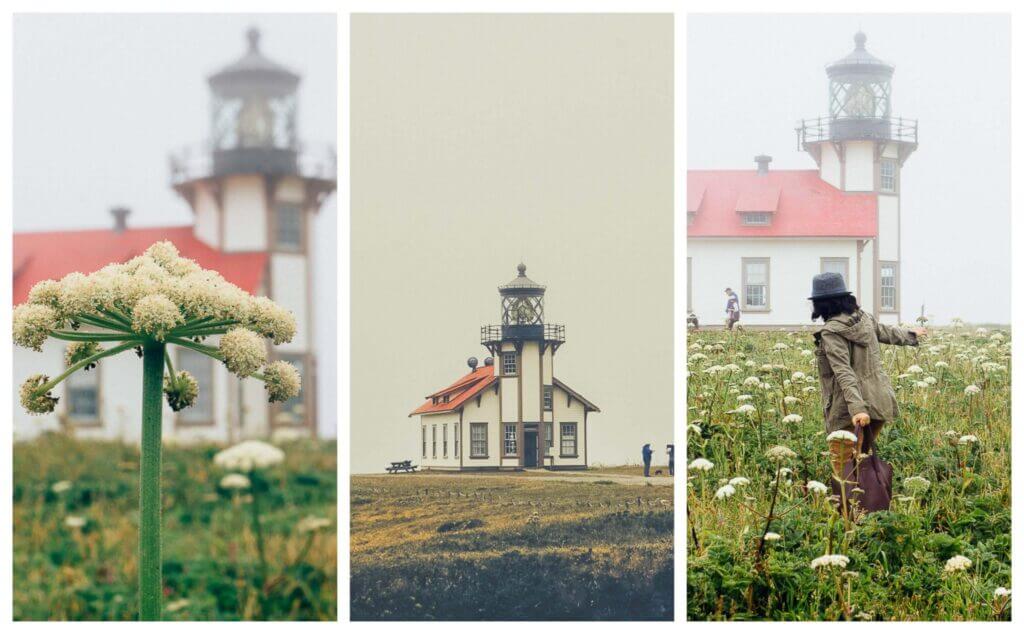 Like all lighthouses, this too is perched near the coastline, which is especially jagged due to the waves tearing away at the rocks. Looks scary, but makes for beautiful photos, specially with the field of wildflowers swaying away in the breeze juxtaposed against the choppy waves. The lighthouse runs completely on voluntary donations and so please loosen those purse strings towards the maintenance of this lovely piece of state heritage.
There is an adjacent Aquarium & Marine Science Exhibit that is well worth a peak. You can also book an overnight stay in the rental units around the dog friendly lighthouse, including that of the lighthouse keepers and the assistant keeper's former residence. The parking lot is next to the visitor center and then you walk half a mile to reach the lighthouse.
e) Wine tasting with your dog in Mendocino county: dog friendly wineries
For wine lovers with a pooch, dog friendly Mendocino county is the place to be! Wineries dotted along 128 west in Philo, Boonville and Yorkville in Anderson county or those in the upper Russian River Valley around Ukiah, Redwood Valley, Hopland and Potter Valley will welcome man and dog alike! The insanely popular Sonoma county to the south may walk away with all the tourists, but Anderson Valley will entice you with its best Pinot noir, guaranteed.
The closest wineries on 128 west are in Philo, with Lula Cellars and Goldeneye winery being the two that we visited for some dog friendly wine tasting. Both wineries specialize in Pinot Noirs, with Lula having one of it's wines named "Rescue block" after their rescue dog Honey who lived till 16! Dogs at Lula are welcome in the tasting room and the tasting costs only $10!
At Goldeneye, the tasting rooms do not allow dogs but there is a huge garden and patio outside which is dog friendly. Goldeneye offers seated tasting where an assortment of Pinots are brought to your seat along with a few nibbles. It is indeed a very relaxing experience to just sit in a shaded spot, drink in the wine and stare out at the beautiful vineyards surrounding the tasting room.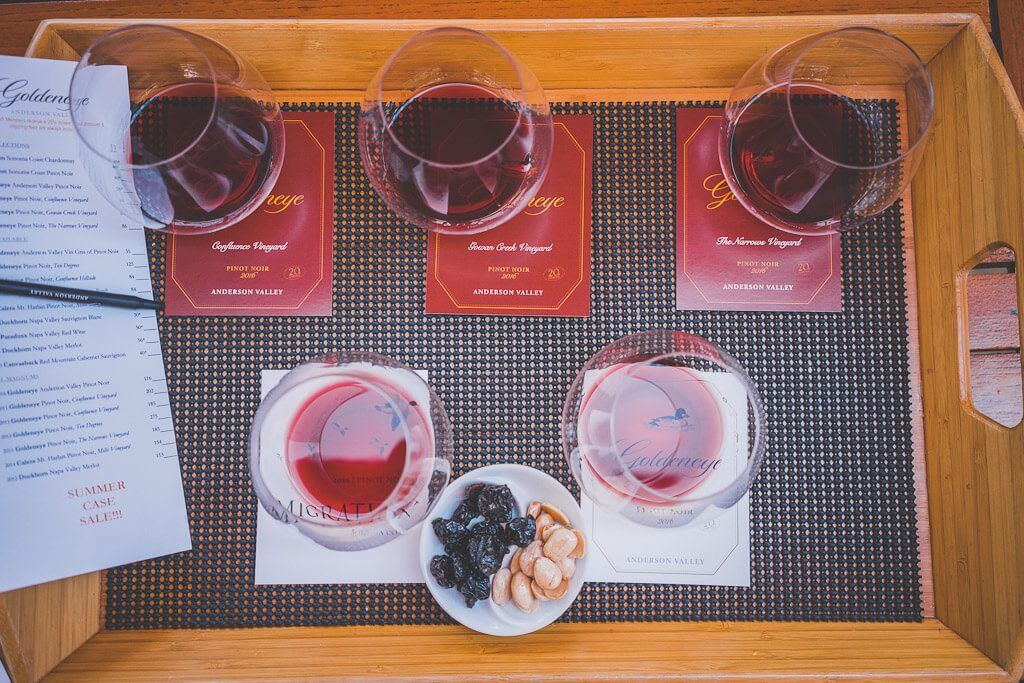 Although Mendocino and Fort Bragg are not known for wineries, I did find an excellent dog friendly one, 12 miles north of Fort Bragg, which is perched right on a piece of land jutting out into the Pacific ocean and has excellent views. I am talking about the Pacific star winery where dogs are allowed in the picnic grounds up to the deck where the red wooden chairs are.
Besides their wines such as Daddy's Daily red or "It's my Fault" (a tongue-in-cheek reference to their location which is right on the famous San Andreas fault), they are also famous for grey whale sighting (if you are lucky, that is) owing to their location. We simply bought a bottle of Daddy's daily red ($20) and enjoyed it in the picnic area for some time till it got too cold to sit out.
For those interested, here, here , here and here are some excellent resources for all dog-friendly wineries in Mendocino county.
f) Mendocino botanical gardens: A dog friendly place with beautiful trails
Mendocino botanical gardens is dog friendly! Well behaved pooches on leash are allowed inside for free and once you get in, definitely explore one of the coastal trails, be it the south or the north. The north trail is steep and electric wheelchairs and strollers are not allowed. But the south trail, albeit more winding, is wider and more comfortable to hike on. The trail leads right onto the bluffs on the coast from where you get a fantastic view. The botanical garden boasts of roses, different varieties of native plants and a beautiful vegetable garden.
Dog friendly restaurants in Mendocino
Dog-owners, when traveling with their furry friends, almost always land in some kind of pickle owing to limited options for dining out due to lack of places with outdoor patio or in cases where the weather is not suitable for al fresco dining. Once again, dog friendly Mendocino surprises you in both sectors, with warm and inviting places where you can dine indoors with your dog (yes, you read that right) and several dog friendly restaurants in downtown Mendocino and Fort Bragg.
We had dinner one night and breakfast the following morning at Little River Inn, in our own special dining room with Babu, which has to be booked in advance. Our second night's dinner was at the world famous vegan restaurant The Ravens (named after the pair which made its nest on the inn property) where a separate dining room is reserved for patrons with dogs.
We also had some yummy lunch in a heated patio in Mendocino cafe, downtown Mendocino and got delicious kulfi ice-cream from Frankie's (a MUST try).
On our third visit, besides the ritualistic dinner at Ravens, we explored several places in and around Fort Bragg of which I highly recommend Mara's Coffee house and Sea Pal cove (famous for its fish and chips) that are both dog friendly (have outdoor seating).
dog friendly dining room in Little River Inn
The other places that we dined during our fourth visit were all dog friendly restaurants as well. These are the beautiful Trillium cafe with outdoor seating, Garden bakery which sells baked goods as well as savory dishes such as tamales and burritos and Goodlife cafe and bakery which not only has a huge dog friendly patio but serves some really lip smacking baked good and food!
Sea Pal Cove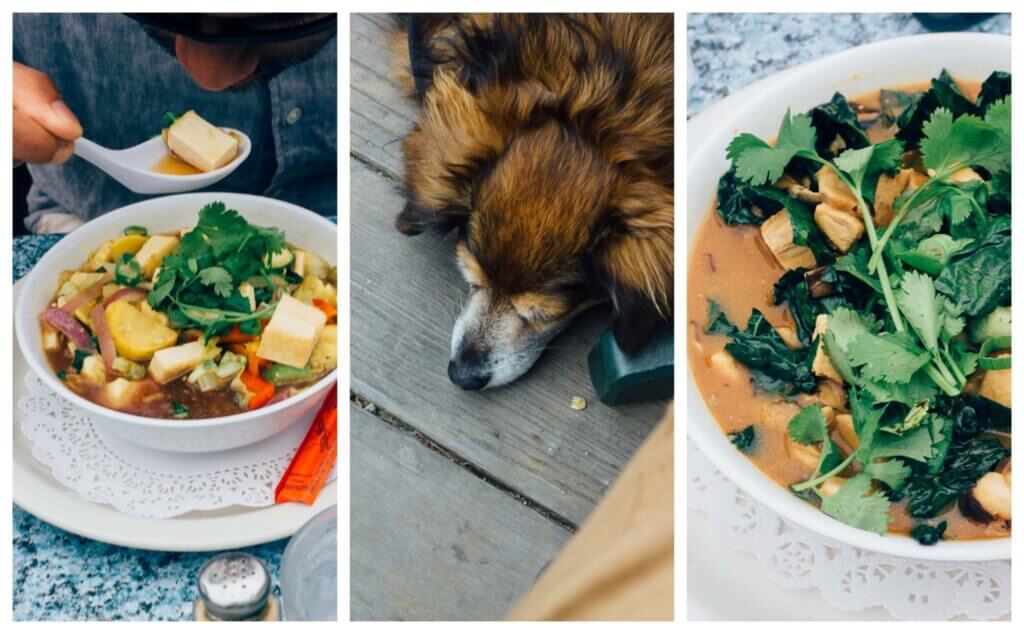 Mendocino cafe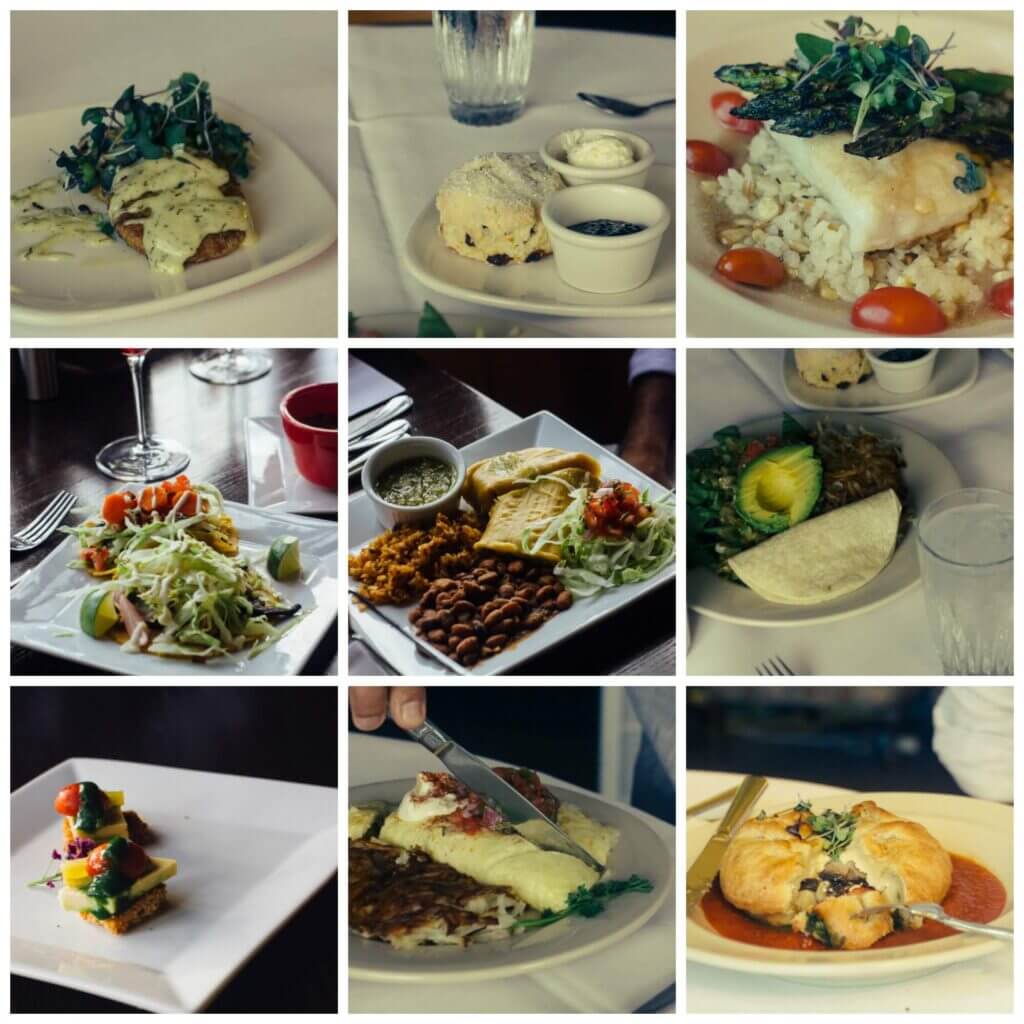 This brings me to the end of this first post on a fun filled weekend in dog friendly Mendocino county. Mendocino is a sleepy little Californian town north of San Francisco, and is haven for Bernie lovers (we've now encountered the cutout of the beloved Vermont senator twice during our four trips), wine lovers, adventure lovers and dog lovers. Your furry friends will love the dog friendly beaches and other fun activities, guaranteed! You can read more about our adventures further south along the Redwood coast as we drove down home (San Francisco) along the scenic route via California 1.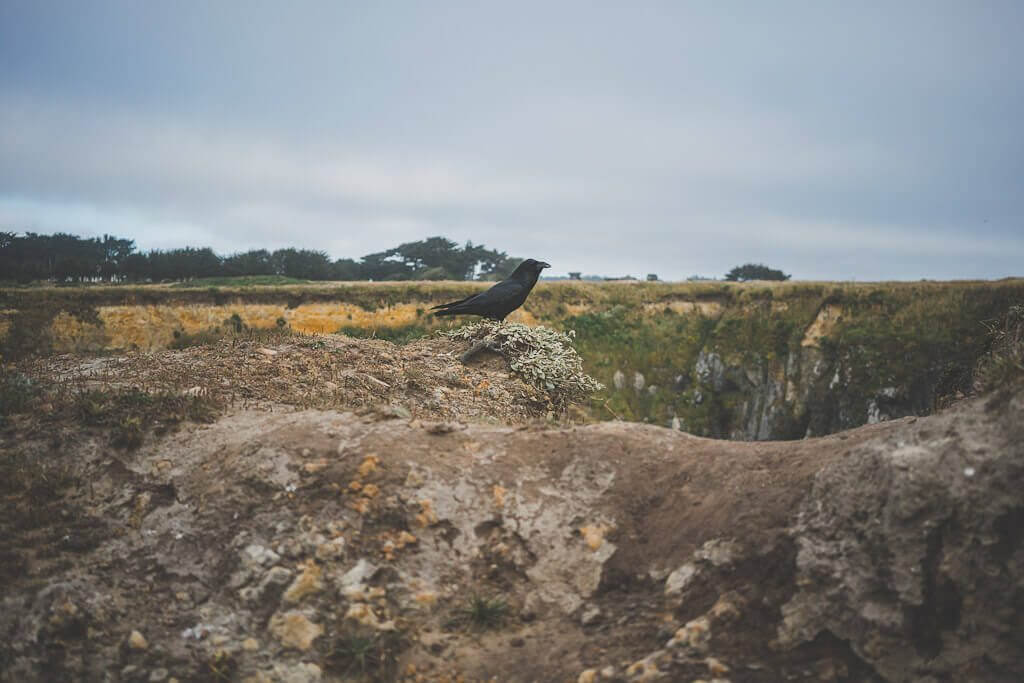 Looking for more dog friendly destinations and getaways? Bend, Oregon (our neighboring state) is super pup friendly. Read this ultimate dog friendly guide to Bend for more pet friendly travel options!
Like the post? Pin it here!