Last Updated on August 15, 2022 by Paroma
Are you visiting Sonoma county and looking for some dog friendly wine tasting? Then you're in luck because this post covers some of the best dog friendly wineries in Sonoma based on my repeated visits to Sonoma Valley (Healdsburg, Kenwood, Windsor) and Coast. This post also includes important information (where to stay and eat) that you may find useful for planning your wine tasting in Sonoma with your pups. So let's get started, shall we?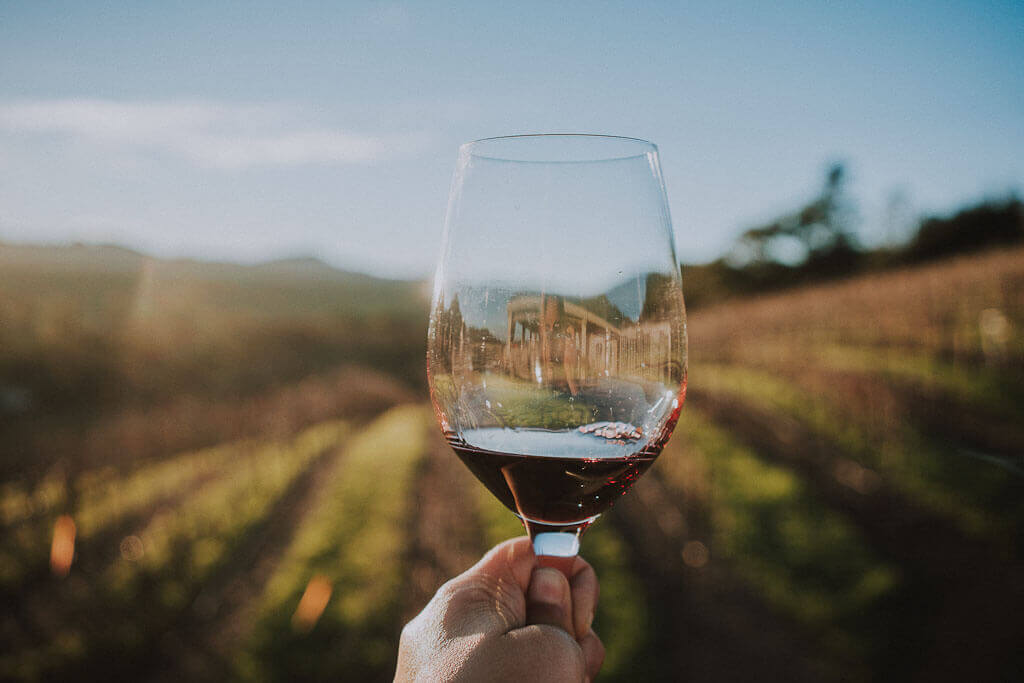 Disclaimer: My blog posts may contain some affiliate links. Clicking on them to make a purchase may earn me a small commission at no extra cost to you for the product. Also, please check with the winery prior to booking a tasting if their policy on dogs has changed or not. Thank you!
Dog friendly wine tasting in Sonoma County
If dogs and wine are two of the greatest loves of your life, then a) we need to be friends ASAP and b) you better visit Sonoma county, home to some of the best wines in California where your furry friends are more than welcome during wine tasting.
The sheer number of dog friendly wineries in Sonoma coupled with their accessibility, pricing and an impressive variety of wines are what make this part of wine country attractive to dog parents who love nothing more than a good glass of wine in the company of their dogs.
I've visited Sonoma county multiple times (it helps to live in San Francisco) and explored the wineries in Kenwood, Windsor and Healdsburg (three premium destinations for all things wine in Sonoma) where I indulged in some serious wine tasting with Babu and Gunda, our travel savvy mutts.
If that is not all, I have also explored some fun wineries on the foggy Sonoma Coast during our San Francisco to Mendocino road trip which produce some of the best Pinot Noirs in the state.
Naturally, here is a comprehensive post based on my experience and details on the wineries we visited to help you plan for your future dog friendly Sonoma wine tasting excursions, showcasing some of the most beautiful dog friendly wineries in Sonoma County.
Check out my other dog friendly wine tasting adventures in California wine country here:
Visiting Sonoma with your dog? Know the FAQs for wine tasting
Where is Sonoma County?
Sonoma county lies approximately 70 miles northeast of San Francisco and is the largest wine growing region in California, with over 500 wineries and 18 AVAs (even more than Napa county).
A 1.5 hour road trip from San Francisco will take you into Sonoma Valley (Healdsburg, Kenwood, Windsor) that lie along CA-101 which is where the wineries mentioned in this post are. The Sonoma Coast is also home to several wineries along or around Highway 1 from Bodega Bay all the way to Gualala. Many of these wineries are dog friendly too.
Where can I go wine tasting with my dogs in Sonoma?
Sonoma county stretches all the way from the Pacific coast to inland bordering Napa on the west and is home to hundreds of wineries. Although the town of Sonoma and the valley are super popular destinations for wine tasting, you can find wineries along the coast (Bodega Bay and Jenner), way up north in Cloverdale and in the western Sonoma towns of Sebastopol, Guerneville, Forestville and Geyserville. No matter where you are in Sonoma, you are never too far away from wine!
Are dogs allowed at wineries in Sonoma?
Much like Napa wineries, many wineries in Sonoma, especially those with outdoor patio tasting provision, welcome dogs. Well behaved dogs on leash are welcome to join their parents for outdoor and sometimes indoor tastings as well in wineries all over Sonoma county! Reservations are now required for most wineries for tasting; please confirm beforehand if dogs are allowed.
What is the best time to visit Sonoma with dogs?
My vote goes to Fall, just scroll down below to see the insane Fall colors in Healdsburg! Spring is also a very good time to visit Sonoma and so is Winter for a quiet tasting experience. Summer is too hot and too crowded-just avoid at any cost!
Dog friendly wineries in Sonoma: Kenwood wineries
Kenwood, located in the eastern part of Sonoma county on the upper Sonoma valley has some of the prettiest wineries to quench your thirst. Thankfully, several of them are dog friendly and best of all of you are a party of four or smaller, no prior reservations are needed for tasting. These are some of the wineries that we visited with our friends and Babu in August when the grapes were hanging delicately from the vines.
This was our first stop during wine tasting in Kenwood and the experience was nothing short of stellar at Robert Rex's winery, an award winning wine maker. The path leading to the tasting room actually goes through a tunnel flanked on either side by a line of french oak barrels leading to a cave like room where tables are laid out for you to sit, relax and enjoy your tasting that is printed out on sheets, much like restaurant menu cards.
I went for an entire flight of reds, but you can opt for a white wine as well depending on the availability. Dogs are not only allowed in the tasting room but are very much celebrated as evident from their 2012 Syrah blend named "Obi Wine Kenobi" (we got a taste of that as well) after the resident winery dog. The tasting room is open from 10:30 AM-4:30 PM daily.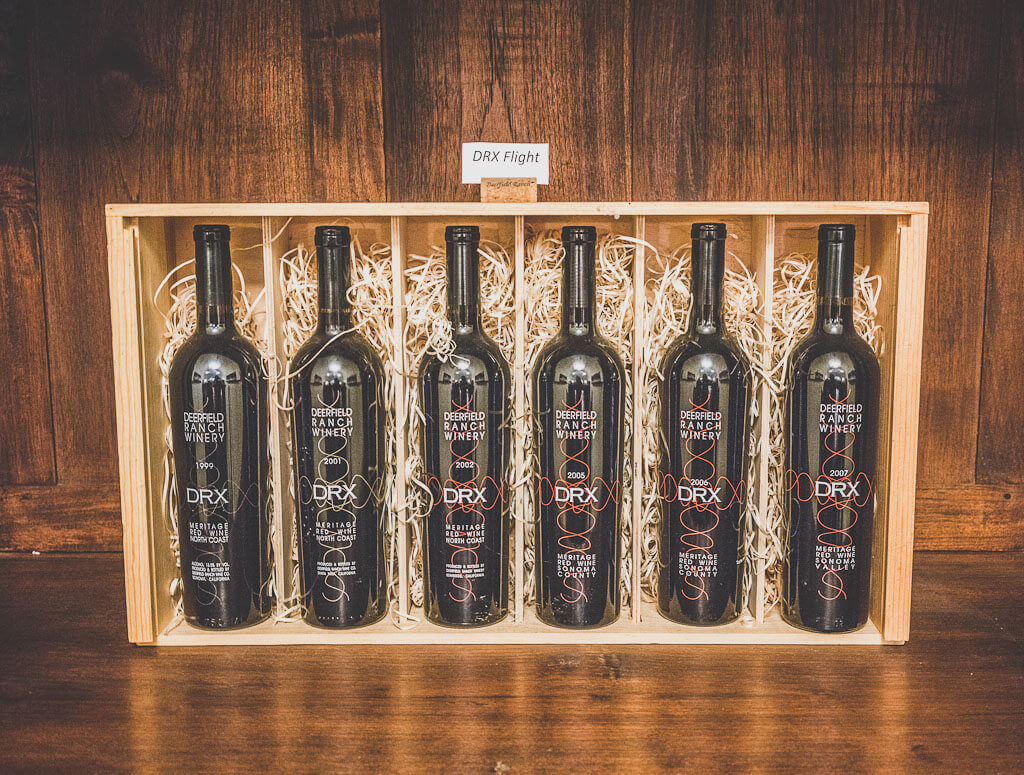 Obi wine Kenobi photo on left courtesy: Bongeats
Another dog friendly tasting room in the heart of Sonoma valley (also known as valley of the moon), Muscardini cellars is where we again exclusively tasted some luscious Italian red wine. The tasting is only $15 (complimentary for wine club members) and reservations are not required for less than 6 people. The tasting room is open daily from 11 AM-6 PM.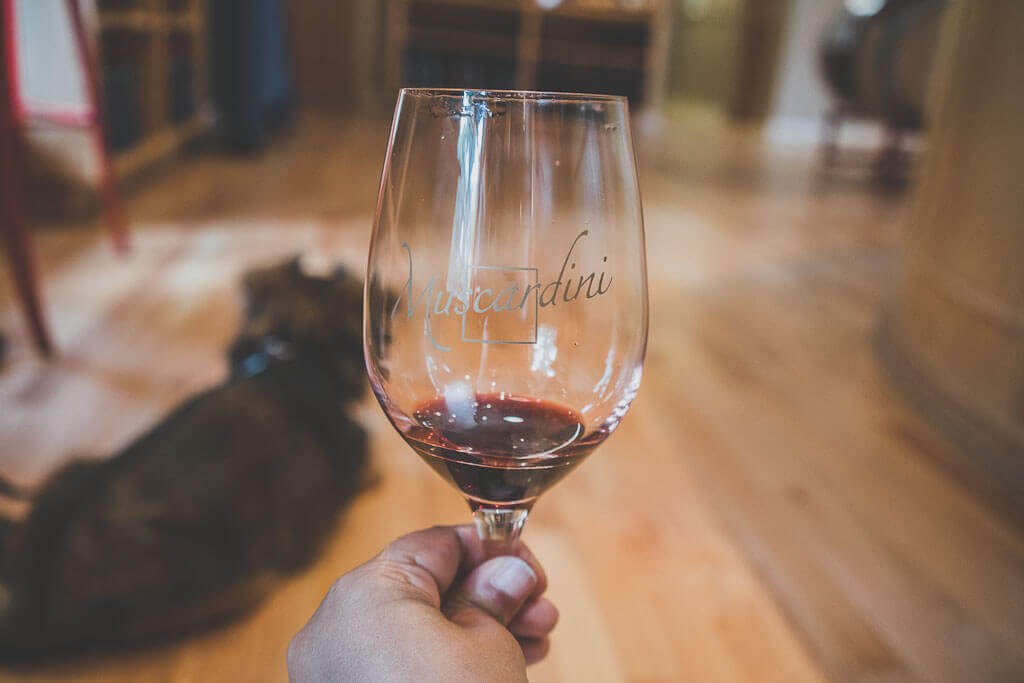 This was the final dog friendly Sonoma winery that we visited during our day trip to Kenwood. Kunde Family winery boasts of a very spacious tasting room and an equally expansive picnic area (I am talking about a whopping 1850 acres of estate). It is a very popular winery and does get crowded, so I highly recommend hitting it earlier in the day rather than later (opens at 10:30 AM). Dogs are allowed in the tasting room.
Besides regular wine tasting, what makes Kunde so special is that you can go on hiking with your dog along with winegrower Jeff Kunde and his wife Roberta with their dogs to explore the Kunde estate as well as learn about the sustainable winemaking process from grape to glass.
Reservations need to be made in advance (hike is from 9 AM -1 PM) and the price is $75/person (includes wine tasting and wine country lunch). I am definitely going back to try this one out the next time I visit!
Dog friendly wine tasting in Sonoma Valley: dog friendly Healdsburg wineries
DRY CREEK WINERIES ALLOWING DOGS FOR WINE TASTING
Healdsburg is one of the most beautiful towns to visit in Sonoma (a perfect romantic getaway in Northern California) and is the perfect winter destination in California for some memorable wine tasting which is one of the most fun things to do in Healdsburg. We primarily visited wineries in two different American viticultural areas (AVA /wine growing regions) in Healdsburg that produce some of the best wines in California and the world.
I will start with the wineries in the dry creek valley (carved out of the dry creek, a tributary of the Russian river) which are famous for their Zinfandels and bold red Cabernets owing to the bright sunshine that this part of Sonoma is drenched in.
These wineries are lined along the dry creek road (that runs parallel to the tributary) and showcase wines from the dry creek valley AVA, where grape growing dates back to about 140 years and which boasts of over 70 wineries across 9,000 acres of vineyards.
All the dog friendly dry creek wineries that we visited were not only some of the prettiest wineries in Sonoma, but were also places were the staff was the friendliest and best of all, we did not (party of two or three humans) require any reservations beforehand. Here are the notable ones that we visited, in the order that we did:
A beautiful dog friendly winery in Sonoma, Wilson offers their own estate wines which can be enjoyed either in the tasting room or in the picnic area where there is plenty of seating to make yourself comfortable.
I tasted a flight of 5 Zinfandels for $20 and was very impressed by the friendly nature of the staff who took time to explain the source of each of the wines in the tasting. Open daily, 11 AM -5 PM (holiday hours may differ).
Another dog friendly dry creek winery that produces Bordeaux style wines, Lambert bridge was definitely the most expensive of all our tastings where 6 wines (4 reds and 2 whites) costs $30. All the wines were very crisp and on the lighter side, even the bold reds.
The best part about this winery is that the chief and assistant winemaker are both women (YAY! so happy to support women run businesses) and they are pretty exclusive, as in the wines are available only in a few Healdsburg restaurants and not commercially (they produce 7000 cases of wine each year and about 25% of their crop is not utilized).
So, if you love something at the tasting, better purchase a bottle at the winery itself. Linda, a member of the staff who ran the tasting, also informed me that being the "Liquid Assets" member has its own perks cause you get to do the tasting the barrel room with a complimentary cheese platter to nibble on. Winery is open 10:30 AM – 4:30 PM Mon-Sun.
Amista won us over with their wine and friendly staff who actually suggested the next dry creek winery for us that also turned out to be our favorite one on dry creek road! This again is another one of those dog friendly wineries in Sonoma (they have a shaded picnic area too) where dogs are allowed in the tasting room, which has a charming barn like feel with plush sofas to sit on as you sip your wine.
A classic flight of four cost $15 for tasting and these were all estate wines. They are a small batch winery producing only 2800 cases a year and the bottles are not available for sale outside of the winery. Winery hours are Mon-Sun, 11 AM -4:30 PM.
Quivira, thanks to recommendation from folks at Amista, was hands down our favorite dog friendly winery in Sonoma because of the delicious wine, the knowledgeable and extremely friendly staff and the beautiful surroundings.
Their acres of vineyards coupled with a beautiful garden are a treat to explore with a wine glass in hand! They have different tasting experiences for visitors, of which we went for the classic tasting ($20) in the tasting room which does not require prior appointment. I highly recommend tasting their 2017 Rose which has been consistently the top scoring wine!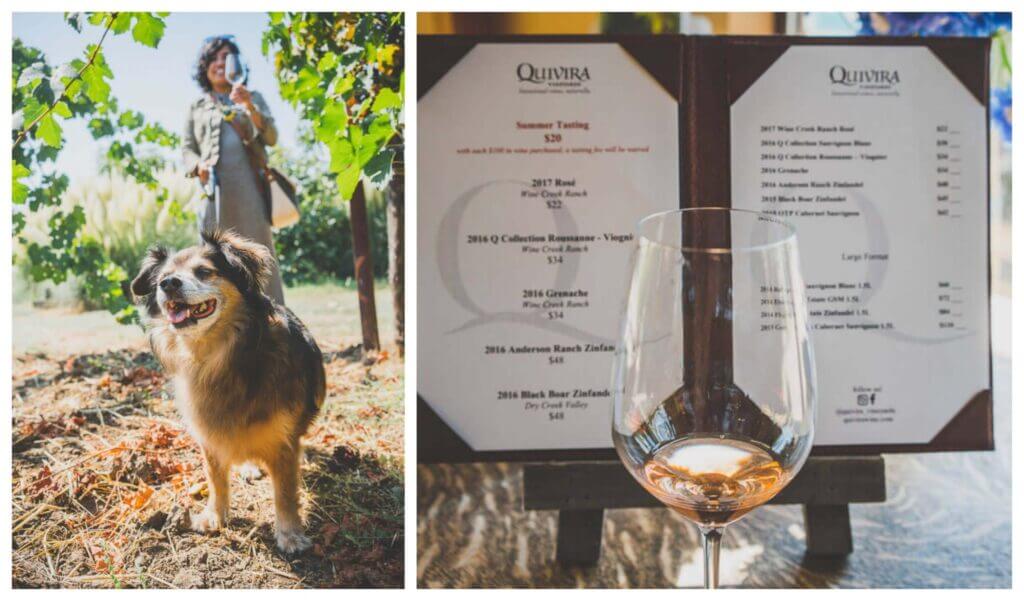 this dog friendly dry creek valley winery also allows dogs in the tasting room as well as the gorgeous picnic area outside overlooking acres of vineyards. Here too, I got a taste of their estate wines with 5 pours for $20.
The tasting room has lots of dog friendly merchandise to make you feel very welcome if you have your furry friend in tow, such as dog collars and wine dog books that are up for sale. Fun fact: the bicycle logo on their wine glasses represents a true bicycle standing in the tasting room. Open Mon-Sun, 11 AM -5 PM
Another dog friendly winery accepting walk-ins, Sbragia is located at the very northern end of dry creek road near the Lake Sonoma outlook which by the way is a great scenic spot to visit.
Sbragia specialized in Zinfandel and Cabernet much like other wineries in this region and their Zinfandel blend is homegrown on their vineyards surrounding the outdoor picnic area. For a flight of four red wines (you can choose if you want all whites, reds or mix and match) I paid $20. The winery is open from 10: 30 AM – 5 PM.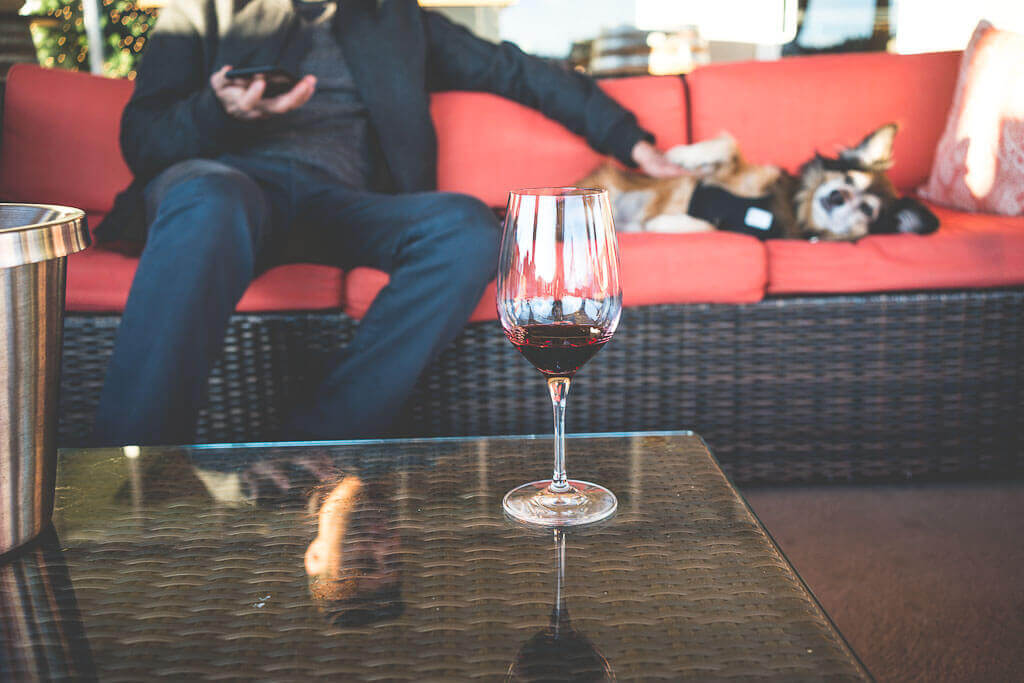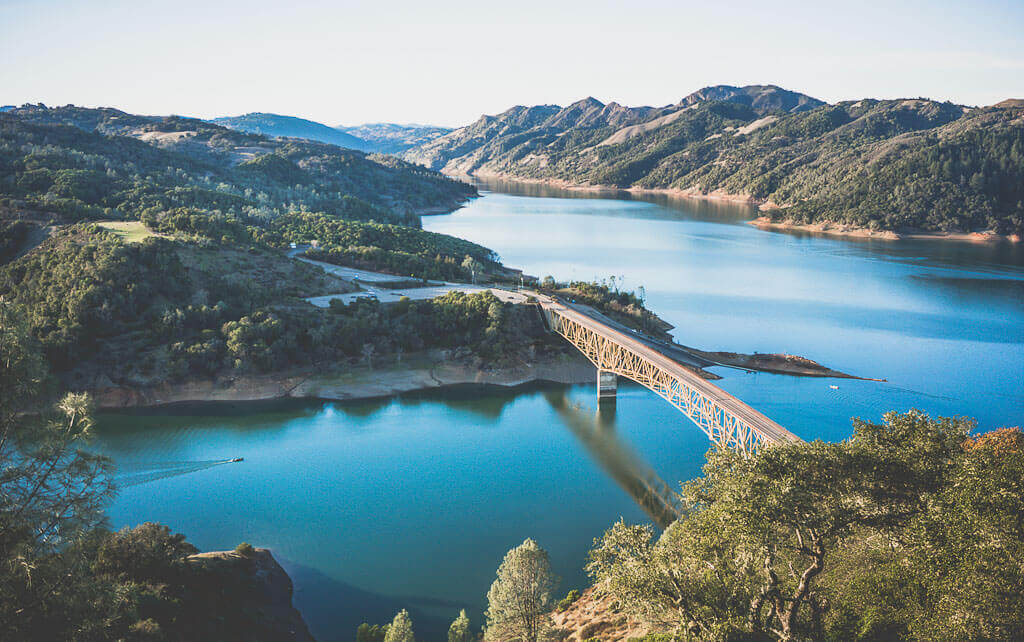 DOG FRIENDLY RUSSIAN RIVER VALLEY WINERIES
The Russian river wineries along Westside road are where you go for tasting the luscious Pinot Noirs for which California is known for, thanks to the foggy micro climate on this side of Highway 1, aka Russian river valley which is one of the top wine regions in California. Many of these wineries are by appointment only, but we still managed to find a few that were not only good for walk-ins but also very dog friendly. These wineries are:
Words fail to describe the luxurious opulence of this dog friendly estate winery in Sonoma with excellent views that stretches over 1300 acres and includes vineyards, wilderness, residences, equestrian pavilion and culinary garden (a source of produce for their restaurant "Chalkboard" In Healdsburg).
As you drive through the gates into this majestic winery, it will be a good 5 -6 minutes before you actually hit the pavilion (where 2020 wine tastings are being held instead of the usual tasting room) which was once home to race horses. Your drive will take you through a beautiful estate chequered with fountains, a pond ensconced amidst meadows and rows of sunkissed vines.
Once settled in place, you'll be greeted by very friendly employees for your wine tasting who are also generous enough to tell you all about the history of the winery and will encourage you to take a self guided tour of the tasting room overlooking the pavilion that opens up to spectacular views of the Russian River valley.
I thoroughly enjoyed my wine tasting in the equestrian barn which was set up with cosy seats and sofas for tasting. I went with a pour of all reds when graciously given the choice and purchased two bottles as well which waived my tasting fee.
Wondering if MacRostie winery is dog friendly? You bet it is!
It does not get better for dog friendly wine tasting in Sonoma than visiting MacRostie winery, famous for its buttery Chardonnay and silky Pinot Noir since 1974! This winery, named as "Best winery in Sonoma" and "Best tasting room in Napa and Sonoma" boasts of some of the most beautiful fall colors to be seen in the surrounding vineyards.
Wine tasting is all over the patio (outside and heated tent like enclosures) overlooking the beautiful vineyards. The staff is very friendly and will knowledgeable and will make your tasting a very memorable one!
Although Twomey is dog friendly, the tasting room is adjacent to a food facility and so dogs are allowed only on the picnic grounds. They serve the best of Russian river Pinot Noirs (tasting costs $15 for four pours) but unlike several other wineries, they do not waive the tasting fee if you make a purchase (Pinot noir bottles come at a heftier price tag of $50 and upwards).
The staff was extremely friendly and while we were out enjoying the view of the vineyards, they even brought out treats for Babu! Twomey's tasting room is open from 10 AM-5 PM daily.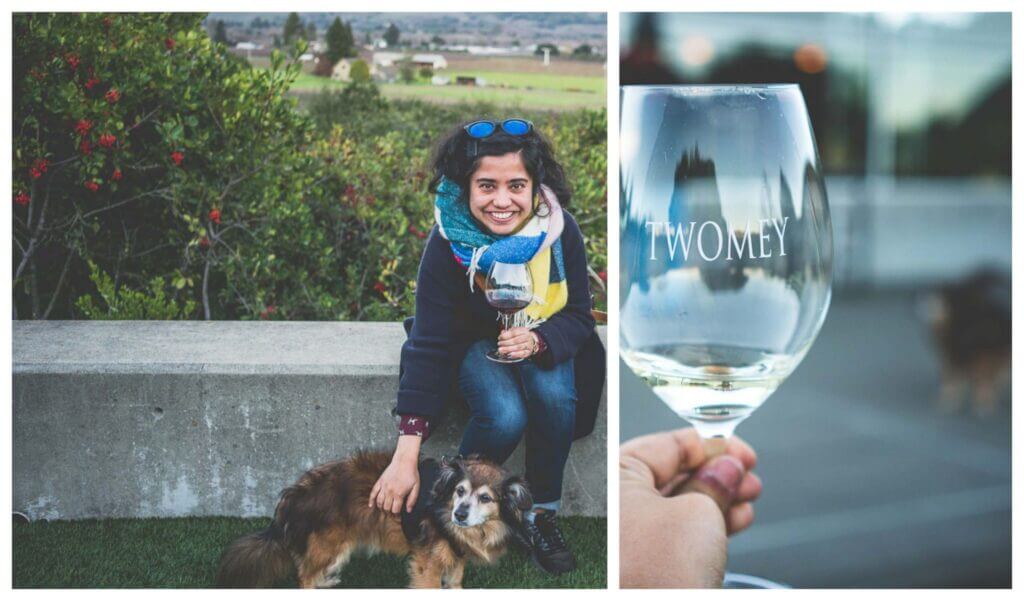 This dog friendly Russian river winery won the best tasting room award in 2017 as well as the best Zinfandel award in 2016 at the SF Chronicle's wine competition. Armida welcomes dogs on a leash in the tasting room and we tasted a combination of reds and whites totaling 6 pours. Since we purchased a bottle of Pinot noir, our tasting fee was waived. Armida is open daily from 11 AM – 5 PM.
Our final stop during our third visit to Healdsburg was Moshin, which also was a fantastic way to cap off our wine tasting sojourn in Sonoma.
Moshin is again dog friendly (on leash dogs are welcome in the tasting room) and this is where we not only tasted several delectable Pinot Noirs, but also learned about the different soil types in the different viticultural areas (such as Russian river vs Sonoma coast) which produce differences in the grapes harvested and thus the wine as well as why Pinot Noir grapes are so finicky and have a mind of their own.
Our very chatty and friendly host Julia also told us that the reason Pinot Noirs are so expensive is because they get way less tonnage since the grapes are prone to sunburn, rot and mildew and are also genetically unstable, leading to quite a bit of variety in the final product.
Our tasting (with 6 pours plus a dessert white wine) came to $15 which was waived since we could not pass up on having another bottle to bring back home (and share with friends, of course!).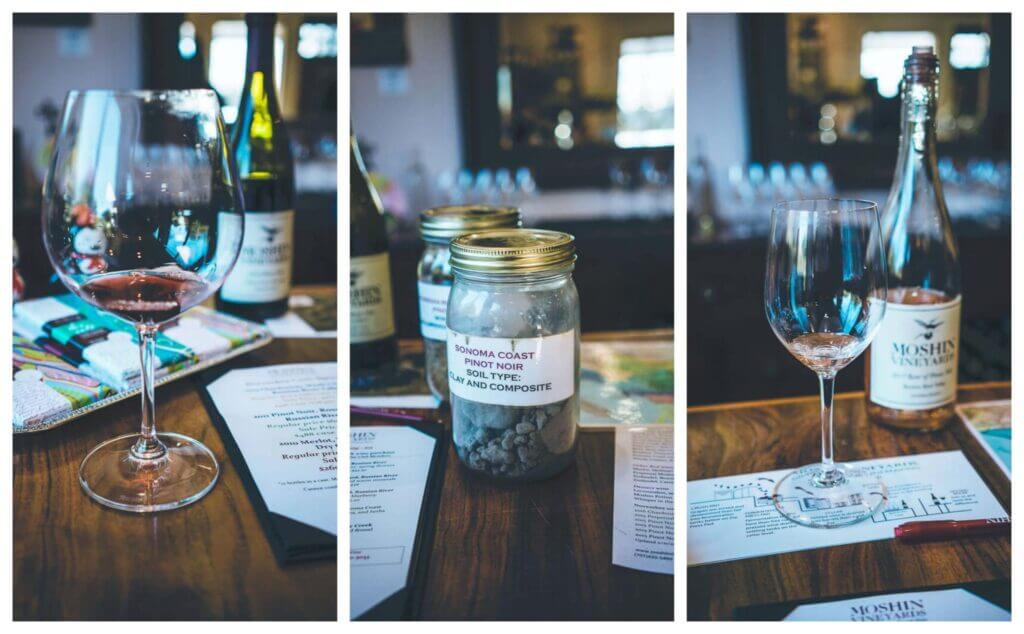 Dog friendly restaurants in Healdsburg
With all this wine sloshing in your stomach, I am sure you will be looking for dog friendly restaurants in Healdsburg to grab a bite as well. I have you covered with these amazing spots all of which welcome dogs on their patio or have outdoor seating.
I highly recommend Barndiva (reservations advised), Chalkboard (reservations advised), Bravas Bar de Tapas (gotta make a reservation for outdoor seating), The Shed at Healdsburg (it is closing soon in 2019 unfortunately) and Costeaux bakery (come early as it gets super crowded) are my favorite Healdsburg dining spots that are dog friendly and have excellent food!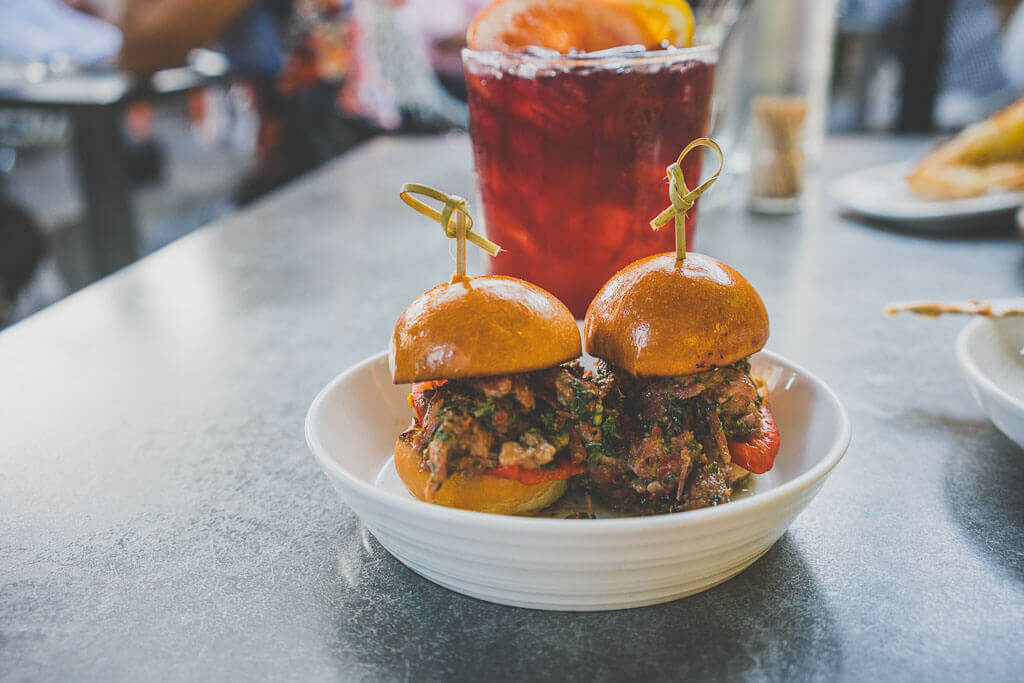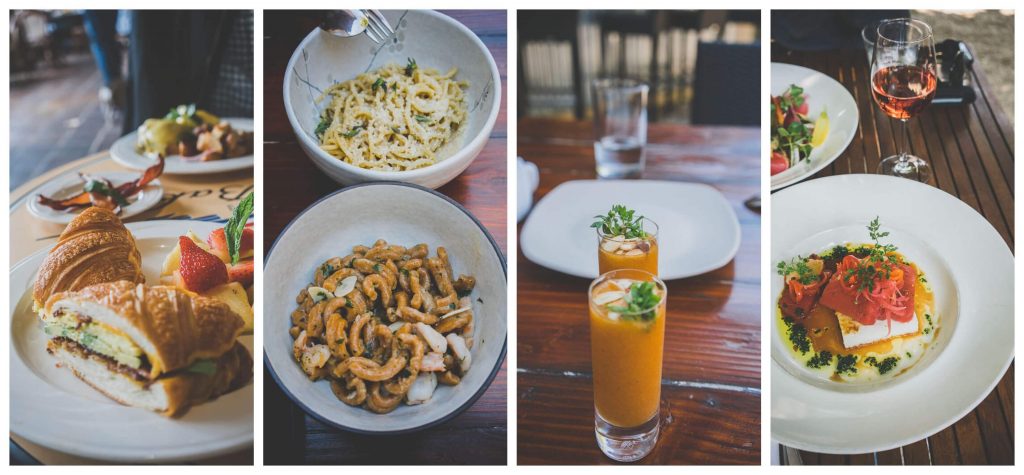 Dog friendly hotels/lodging in Healdsburg
We made a day trip to Kenwood and had no overnight stays but the Kenwood Inn and Spa Sonoma is an excellent place that is not only dog friendly but has a spa package for them as well! So far, we've had three weekend getaways in Healdsburg where we stayed in dog friendly hotels Healdsburg as well the relatively more affordable towns of Guerneville and Geyserville at some of the best dog friendly Airbnbs in California.
During our stay in Healdsburg, we chose the beautiful Grape Leaf Inn, which is owned by Wilson Artisan Wineries family and is a stone's throw from downtown. This is a dog friendly Inn in Healdsburg but dogs are only permitted in a few rooms, so call in advance to confirm availability! Also, only one dog under 50lbs is permitted for stay per room (see their complete pet policy here).
Beside free wifi, they also offer complimentary breakfast (vegetarians accomodated) on their porch and dogs are allowed there as well.
Finally, being owned by a winery comes with its own perks! For being a wine club member of any of the dozens of wineries owned by the Wilson group, you are entitled to a special rate for your stay at the Inn. Please call the innkeeper during your reservation to confirm the rate.
Airbnb has often come to our rescue while traveling with Babu in small town California. For those of you looking for last minute affordable options with great location other than Healdsburg, this is the Guerneville cottage (beautiful secluded location but a little tough to find) and here is a link to the gorgeous Geyserville home (we were three adults and a dog) which was pricey but way less compared to a hotel with same amenities for two rooms.
Honestly, it was so very worth the tag for a weekend of comfort and our host was extremely helpful and responsive. Always remember to confirm with the host before you book with regards to their pet policy, as in how many are allowed and if there are any breed and weight specific restrictions.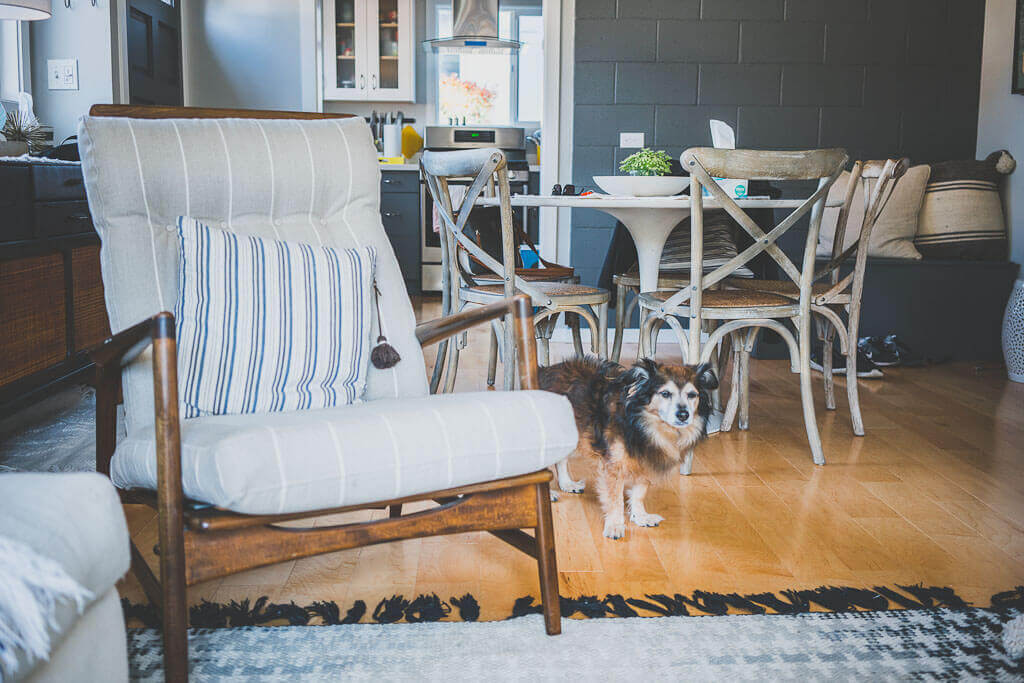 Dog friendly wine tasting in Sonoma: The dog friendliest tasting room in Windsor
The dog friendliest winery in Sonoma is actually not a winery at all, but in fact is a tasting room located in the heart of downtown Windsor, a small town in Sonoma famous for its wineries. Winemaker and owner Brenda Lynch heartily welcomes all humans and their dogs to this space which abounds in delicious wine and adorable dog paraphernalia.
Mutt Lynch Winery supports local, national and international animal rescue organizations and a portion of some of their bottle purchases goes towards these charities. A pour of 5 wines is about $20 here. Do not give this tasting room a miss when visiting Sonoma with your dogs.
This winery, boasting of award winning wines, is another dog friendly wine tasting venue in Windsor and has been showcasing sustainably farmed wines since 1880. Well behaved dogs are allowed on the beautiful shaded patio where you can enjoy some of their finest estate wines, such as Chardonnay, Pinot Noir and Zinfandel.
Dog friendly wineries on the Sonoma Coast
The foggy Sonoma Coast is a haven for the finicky Pinot grapes that produces my favorite wine, Pinot Noir. Plus, their chardonnay is excellent too. Here are the two dog friendly wineries on the Sonoma Coast that I highly recommend:
17) Sonoma Coast Vineyards
Sonoma Coast Vineyards is perched right on Highway 1 and a must visit for wine tasting when you're in Bodega Bay. For $25 you can taste through a flight of 4-5 pours while taking in breathtaking ocean views from the outdoor seating area. Dogs are welcome to join you at this tasting.
We stopped by this dog friendly winery in Forestville (during our trip to Gualala) which is about 19 miles inland from the coast and loved our wine tasting experience to bits! This vineyard has a huge outdoor garden space and a small Redwood grove within it and is therefore very dog friendly. They specialize in Pinot Noir and also have lunch service. I highly recommend getting their scrumptious food to go along with your tasting! Please make reservations beforehand.
I hope you enjoyed reading this article on dog friendly wineries in Sonoma and are already making plans to head out for tasting some of our best wines with your best friend! Thank you so much for stopping by to read my adventures with Babu and Gunda and cheers to dog powered good times in beautiful California!
LIKE THIS POST? HOVER OVER THE IMAGES BELOW TO PIN FOR LATER

«