Last Updated on August 29, 2022 by Paroma
Wondering what to do in Mackinac Island with your dog? Let this dog friendly Mackinac Island guide help you find the best dog friendly activities on one of Michigan's most popular vacation destinations! Penned by a Michiganite, this guide covers some of the best things to do in Mackinac Island with your dog, including dog friendly Mackinac Island beaches, hikes, restaurants and of course, hotels welcoming your pup. So, let's get started!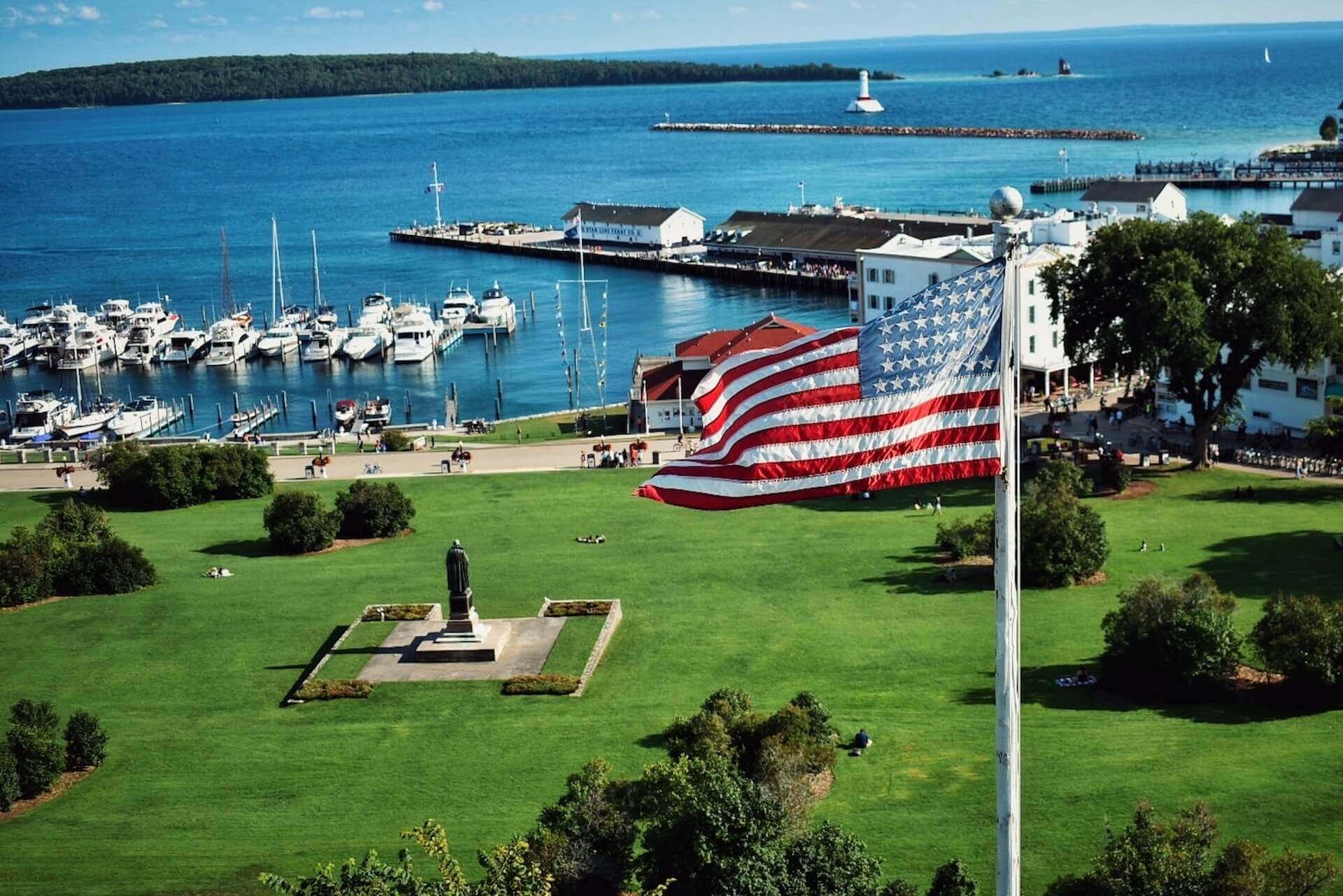 Photo by leah hetteberg on Unsplash
Disclaimer: This post may contain some affiliate links. Clicking on them may earn me a small commission at no extra cost to you for the product. Thank you for supporting free content on this site! All photos used here are from Unsplash (see their copyright free usage licence) with courtesy credits.
Nestled in the heart of Michigan is Mackinac Island. This island paradise provides a unique escape from the modern era and offers you a chance to go back in time. From early spring until mid-autumn, Mackinac Island offers an escape for nature lovers. It is also extremely dog-friendly. Take your pup on an adventure to a place where everyone loves and welcomes dogs.
To showcase the best dog friendly things to do in Mackinac Island, I have enlisted the help of Susan Bell, a Michiganite and dog-mom, who has traveled up and down the state with her precious pups William and Maisy (just as I have, with my dogs in California). This dog friendly Mackinac Island guide is based on her travels and first hand account of what to do in Mackinac Island with your dogs. Let's get going on this dog friendly adventure to Mackinac Island!
Read my other dog friendly guest posts here: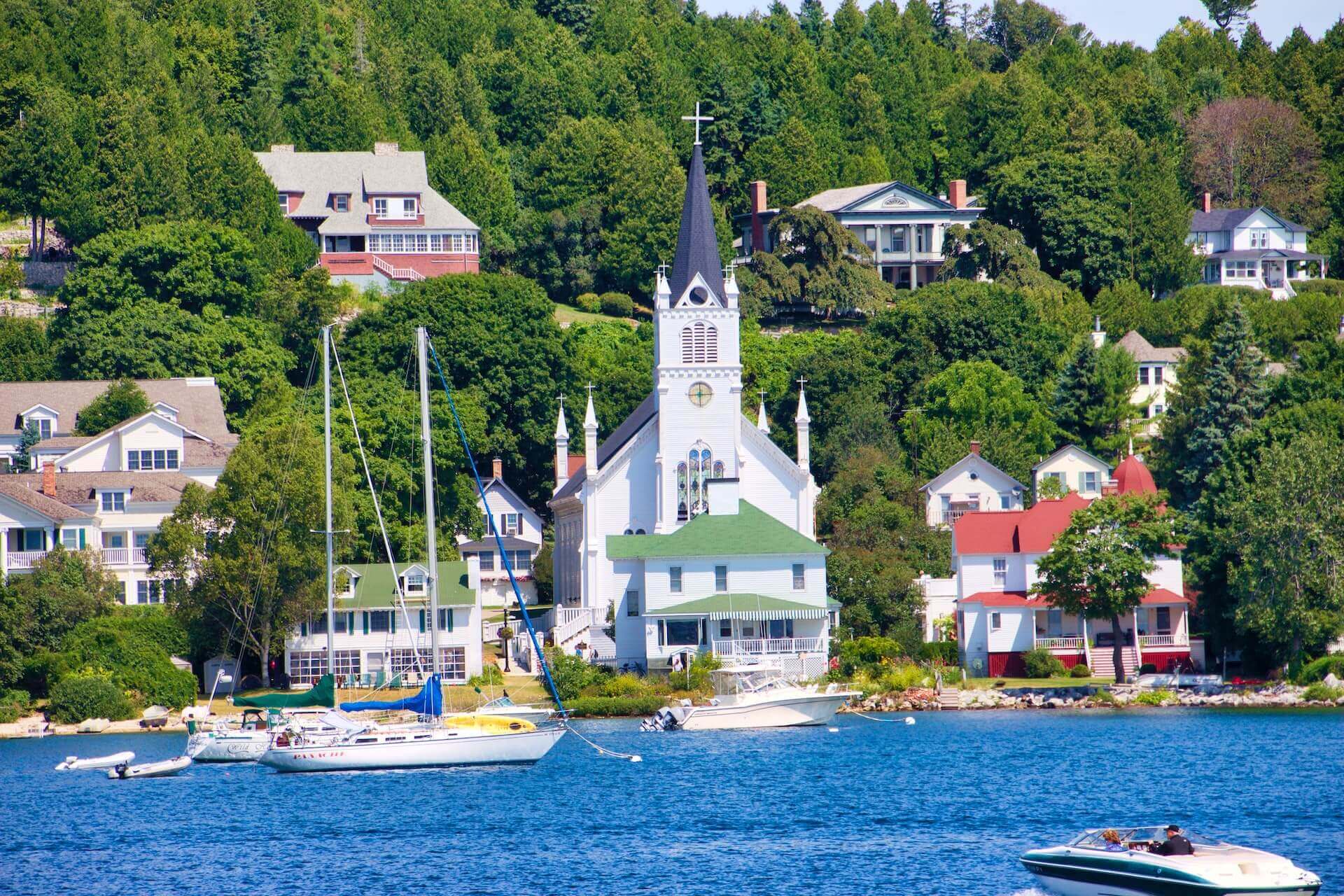 Photo by Craig Washington on Unsplash
PLANNING A DOG FRIENDLY MACKINAC ISLAND VACATION? GET THE FAQs
WHERE IS MACKINAC ISLAND?
Mackinac Island is located in the Straits of Mackinac, the place where Lake Huron and Lake Michigan meet. These Great Lakes divide the state of Michigan into two sections, the Lower and Upper Peninsulas. Mackinaw City and St. Ignace are the closest cities to Mackinac Island. From either one, you can take a ferry to the island.
The easiest way to reach either Mackinaw City or St. Ignace is to connect with I-75. This major highway runs from Toledo, Ohio to Sault Ste Marie, Ontario along Michigan's eastern side. The famous Mackinac Bridge, which spans both peninsulas, is on I-75. I-75 passes directly through major Michigan cities such as Detroit, Bay City, West Branch, and Grayling.
Coming from the Upper Peninsula? From the western side of the state, take U.S. 2. You can get onto U.S. 2 anywhere from Iron Mountain to Brevort. It runs along the southern coast of the U.P. and is usually very low traffic.
Major bus lines including Greyhound and Indian Trails have routes to Mackinaw City and St. Ignace, too. Prefer to fly? The Pellston Regional Airport fields flights from Chicago and Detroit, as well as many smaller Michigan airports. There are also easy connections from Detroit if you're coming from out of the area. Mackinac County Airport in St Ignace also accepts commercial flights.
ARE DOGS ALLOWED ON MACKINAC ISLAND?
Absolutely, leashed dogs are permitted on Mackinac Island. You'll see dogs of all shapes, sizes, and breeds on Main Street. Most people are friendly and ready to pat or greet your pooch. With dog friendly beaches, carriage tours, bike and burly rides, caving and plenty of businesses welcoming dogs, there are many dog friendly activities to enjoy on Mackinac Island over the weekend.
GETTING TO MACKINAC ISLAND: ARE DOGS ALLOWED ON MACKINAC ISLAND FERRY?
There are only two ways onto Mackinac Island – ferry or plane. Taking the ferry is by far the most popular experience since Mackinac Island has a tiny airport designed for private aircrafts or chartered flights. There are two ferry lines (Shepler's and Star Line) you can choose from and both are dog-friendly.
The Shepler's line has been in business the longest and is a Mackinac Island institution. It's a family-owned company that has been running for over 70 years. Shepler's ferries are available from mid-April until the 31st of October.
There are ferry docks in both Mackinaw City and St. Ignace. Shepler's ferries depart for the island at least 4 times/day. During the slower part of the season, ferries are available between 7:30 am – 5 pm. All summer, Shepler's ferries depart every 15 minutes between 7:30 am and 9:30 pm.
Round-trip tickets cost $30/per adult and $19/per child. Little kids under 5 travel free. There are also special deals to save groups and families money. Family packs and unlimited travel packages are available at Shepler's docks. Leashed dogs are welcome to ride the Shepler ferry. There is no charge for your pup to travel with you as long as they sit on your lap or near your feet.
Star Line is another fleet of ferries that also offers service between Mackinaw City or St. Ignace and the island. During the height of the season, Star Line operates from 7:30 am to 10:30 pm or later. Like Shepler's, Star Line allows your pup to board free with your ticket. Dogs must be leashed to ride. Star Line offers free daily and overnight parking or paid longer-term parking.
CAN I FLY INTO MACKINAC ISLAND?
Mackinac Island has its airport located near the northern end of the island. This is a self-service airport designed for private aircraft. If you don't own a plane, you can take a chartered flight with Great Lakes Air or North Country Aviation. From the airport, you'll be connected with transportation to get to your hotel or the destination of your choice. Although this might be the only choice for winter, this is a very cost prohibitive means of transport all other times.
HOW LONG SHOULD YOU SPEND ON MACKINAC ISLAND WITH YOUR DOG?
Mackinac Island can be a one-day destination, but I recommend giving it at least 2 days. Most travellers spend a few days or a week in the area, taking in the island and mainland sights.
WHAT IS THE BEST TIME TO VISIT MACKINAC ISLAND?
Spring to mid-Fall is excellent time to visit the island with your dog.
HELPFUL DOG FRIENDLY TIPS FOR VISITING MACKINAC ISLAND
On Mackinac Island, horses have the right of way. Horse-drawn taxicabs and carts make up most of the traffic. Prepare your pup with a visit to a local horse farm and be patient with them as they get used to the island. Keep dogs leashed at all times, especially on Main Street.
Friendly dogs on leash are welcome to sniff around on Main Street. However, if your pup is timid or aggressive, plan to keep them off the main drag. Hotels located inland or near the far side of the island are more isolated with room to roam. You may wish to arrange a private taxi or walk directly to your hotel and get checked in.
DOG FRIENDLY HOTELS ON MACKINAC ISLAND
Mission Point Resort: Mission Point Resort is the #1 dog-friendly resort on the island. The large hotel offers a variety of accommodations for single travellers, couples, and groups. There are rooms specifically designed for folks coming to the resort with their pooches.
The Straits Lodge at Mission Point caters to pet families. The Lodge offers double, King-bed, and family suites. There are also hot tub suites available. Each has dog-friendly furnishings. There are many amenities such as a café and free transport from your ferry docks. Mission Point rooms start at $100 in the off-season. Suites start at $200.
Sunset Condominiums: Prefer a little more privacy? Sunset Condominiums is located in the Stonecliffe section of the island. This is several miles away from the touristy area of Main Street. You and your dog can enjoy peace, quietness, and plenty of room to roam.
This place offers amenities such as a fully-stocked kitchen and access to private nature trails. They welcome dogs of all breeds. Rates start at $130/night during the summer season. Cheaper deals and end of the year discounts may be available if you contact them directly.
Park Place Suites: Located right on downtown Main Street, Park Place welcomes you and your dog to the best of Mackinac. Each of the three available suites comes with a kitchen, Main Street views, and easy access to all the locations you want to see. There are full patios where you and your furry friend can lounge and watch the scenes. Prices start at $165/night.
DOG FRIENDLY HOTELS IN MACKINAW CITY AND ST. IGNACE
There are also pet-friendly hotels in both Mackinaw City and St. Ignace that you can check out since staying on the mainland can be significantly cheaper. There is also a lot to do, such as visiting Mackinaw City's mall, St Ignace Kewadin Casino, and outdoor activities like exploring Castle Rock.
Baymont by Wyndham in St. Ignace is my top recommendation. It offers beautiful rooms and suites in St. Ignace. The hotel is very welcoming toward pets and even has rooms designed for dogs and pet owners.
These rooms have washable flooring, pet beds, feeding mats, and dog dishes for pet enjoyment. They also have sliding glass doors for easy access to the grass, where you can walk your pet. A private beach is available where you and your dog can splash or swim. Baymont is near some great restaurants and offers free shuttles to the nearby casino. Quality Inn and The Breakers are other dog friendly hotels in in St. Ignace.
Staying in Mackinaw City? The Hamilton Inn Beachfront is what I would highly recommend. Rooms are clear and comfortable. Rates are reasonable, as low as $78/night weekdays in spring and early summer. The hotel welcomes pets and provides amenities such as free shuttle to the ferries. The hotel is right on the water, offering beautiful lake and island views.
The IHG group hotels are reliably dog friendly. Both Holiday Inn Express Mackinaw City and Holiday Inn Express Lakefront St. Ignace are dog friendly.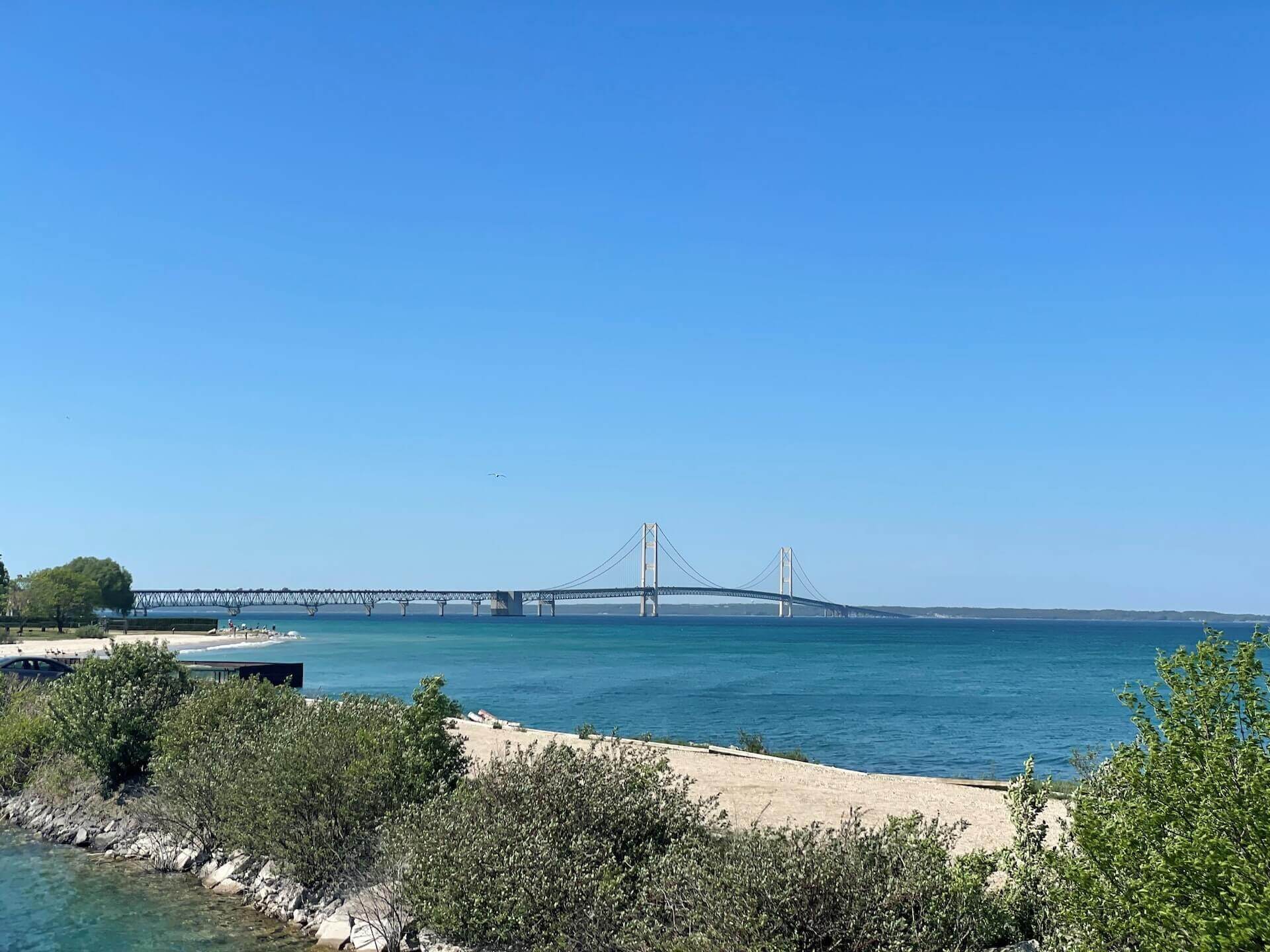 Photo by Aubrey Antles on Unsplash
DOG FRIENDLY MACKINAC ISLAND: THE BEST DOG FRIENDLY THINGS TO DO ON THE ISLAND
CARRIAGE TOURS
Carriage tours are a big part of the Mackinac Island experience and are a great way of seeing the island. The island doesn't allow cars, so horse-drawn carriages are the primary mode of transportation. Carriage tours are dog friendly, where small dogs ride for free and a child's seat needs to be purchased for larger dogs that won't fit on your lap. Dogs must be on leash at all times.
The Mackinac Carriage Company sightseeing tour takes you to all the highlights of the island. First, you'll head to the Carriage Museum where you can see historic horse-drawn carriages and displays of Mackinac Island history.
After the museum stop, you'll visit Arch Rock, a natural spring, and the butterfly house. Then you'll head to Fort Mackinac for a tour and historic reenactments of battles. Some sightseeing tours take you to other destinations as well, such as Fort Holmes, the Grand Hotel, or Skull Cave. Sightseeing tours usually last 1-2 hours. Prices are $30/adult and $12/child.
Not sure you want to commit to a full tour? You can hop an island taxi to drive you to a destination such as the Grand Hotel, park, golf course, or restaurant. Short rides cost a few dollars and may work for dogs who aren't big fans of horses.
Private tours are also available and can make a romantic experience. These start at $140/hour for a group of 4 people. Since it's a private tour, you can request specific destinations and unique stopping points. You can purchase a ticket online or on the island.
Dogs are welcome to board sightseeing carriages and horse taxis. They must be leashed. Most small dogs can ride free as long as they stay in your lap. Excessive barking or aggression will be an issue on public sightseeing tours. During peak hours, you'll need to purchase a children's ticket to accommodate larger dogs. Enquire with private companies and drivers about their dog policy before you make a booking.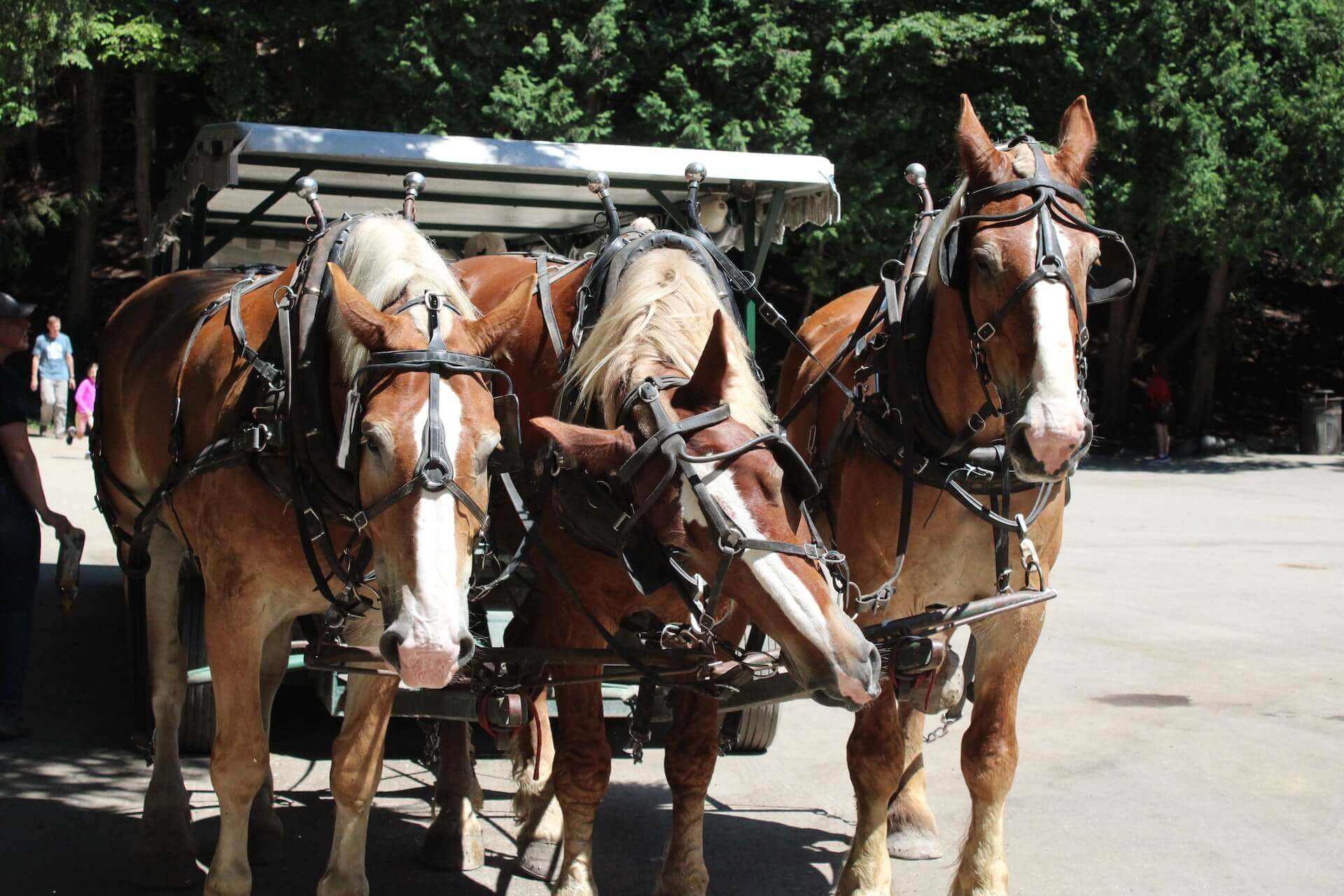 Photo by Emily Studer on Unsplash
DOG FRIENDLY BEACHES ON MACKINAC ISLAND
Located where two lakes meet, Mackinac Island features great beaches. The Great Lakes are huge and completely freshwater and as the locals say, "unsalted and shark-free". The water is crystal clear and you can see to the bottom even in relatively deep water.
However, northern Michigan is not known for hot weather. The water can be extremely cold, even in mid-summer. If you plan to swim, bring a wetsuit. These are not available for rent on the island, though you can purchase them. You should also bring water shoes as most beaches are pebbled. Towels are another must, though your hotel may provide them if you're staying overnight on the island.
One of the most prominent beaches is at Mission Point Resort. The resort boasts a large lawn and sandy beach with dozens of comfortable chairs for sunbathing and sightseeing. Watch freighters pass through the straights while you and your dog frolic in the water.
The beach provides an opportunity for wading and splashing. Toss a frisbee or ball with your pooch. You can also paddle out on a paddleboat or launch a kayak. This beach is available to hotel guests at any time and to the public during certain hours.
Windermere Point is another pretty beach but is not ideal for swimming. You can watch the ferries come in and depart while sitting at one of the many picnic tables. The mixed sand and pebble beach provide a relaxing place to play and roam. You can wade in the water.
However, I don't advise swimming out as you will cross paths with the ferries and other boats. Let your pup cool off by wading and enjoying a snack from the Dog House at Windermere Point.
For the dedicated swimmers, British Landing near the back or north side of the island offers a less crowded beach destination. This is a rocky beach, so remember your water shoes. Dogs love swimming here.
You can venture out further as this is not a shipping lane. Rowboats, kayaks, and paddleboards can also be enjoyed in this quieter area. Be advised, that none of the beaches offers lifeguard services. Swim with buddies in case of emergency. Swimming beaches are also available along the mainland lakeshore, too.
Photo by Aubrey Antles on Unsplash
BIKE & BURLY RIDES
Bicycling is a popular way to get around on the island. With a burly, you can take the pooch for a ride, too! These bike trailers are similar to bicycle strollers designed for small children. They accommodate most dogs comfortably.
There are many shops on the island that rent bikes and burlies. You can also bring your own (ferry cargo fees of $15 on average apply). Burlies can be hooked up to the famous Mackinac Island tandem bikes, too. They provide a safer alternative to letting your pup run alongside the bike and help you avoid leash tangles or crashes.
Once you've got your bike ready, hit the trails. The easiest route is to stay on Main Street, alternatively known as M-185. This road circles the entire island, giving you never-ending coastal views. It is an 8-mile-long route without significant hills or slopes.
You'll peddle away from the tourist area of downtown Mackinac Island out past Mission Point. This will lead you to Dwightwood Spring, where you and your dog can get a drink. You'll then see popular sites such as Arch Rock, British Landing, Sunset Rock, and Devil's Kitchen before getting back to Main Street.
You can head inland to see romantic Lover's Leap, Sugarloaf, Soldier's Garden, or various caves. Reconnect with nature in the pristine, untouched forest. Visit old cemeteries and battlegrounds. The M-185 route also connects to many biking and walking trails. The entire route you'll enjoy breathtaking lake or forest views.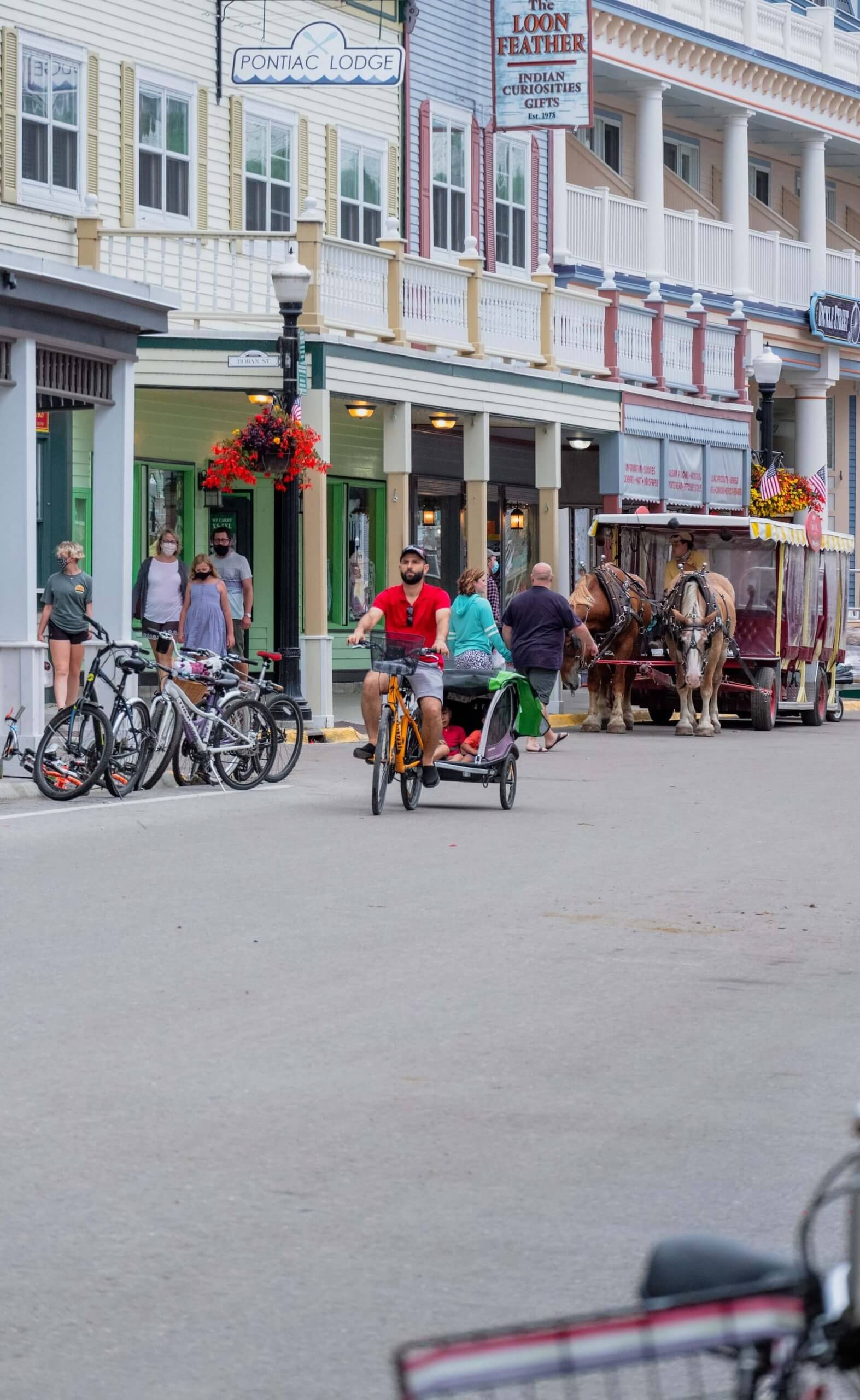 Photo by Rohan Gangopadhyay on Unsplash
DOG FRIENDLY FORTS
Mackinac Island is home to Fort Mackinac on Mackinac Island State Park (which covers most of the island) and Fort Holmes, which is the highest point on the island. Fort Mackinac stands on a bluff overlooking the entrance Straits of Mackinac island and is a historic site founded during the American Revolution. Dogs on leash are welcome to Fort Mackinac and many sites in the State Park except Richard and Jane Manoogian Mackinac Art Museum.
Fort Holmes is a beautiful vantage point where you can enjoy a picnic basket with your pup as you watch the freight ships pass by the straits of the island. You are also welcome to explore the Fort with your pup on leash.
DOG FRIENDLY MACKINAC ISLAND HIKING TRAILS AND VISTA POINTS
Mackinac Island State Park has over 70 miles of trails to explore! Some of the most popular dog friendly hiking trails and viewing point of Mackinac Island are as follows:
Arch Rock: This natural formation overlooks the waters of Lake Huron and you can hike, bike, take a horse taxi or horse driven carriage to see it.
Sunset Rock: Also known as Chimney Rock, this viewpoint is located on the west side the island near The Inn at Stonecliffe. From here you can enjoy a beautiful sunset with views of Mackinac Bridge and the Straights.
Pontiac Trail: This trails shoots off West Bluff Road and provides an amazing view of Mackinac Bridge

Anne's Tablet Trail:

Get on this little known trail to see Anne's Tablet, a bronze plaque dedicated to author Constance Fenimore Woolson who penned the famous 19th century novel "Anne" set in Mackinac Island. This novel was so popular that it played a very impactful role in fueling tourism on the island

Sugar Loaf:

This massive 75 foot rock lies in Mackinac Island State Park and is worth a visit after exploring Fort Holmes

Marquette Park:

This beautiful green patch located at the foot of Fort Mackinac is best visited during Fall to see fall colors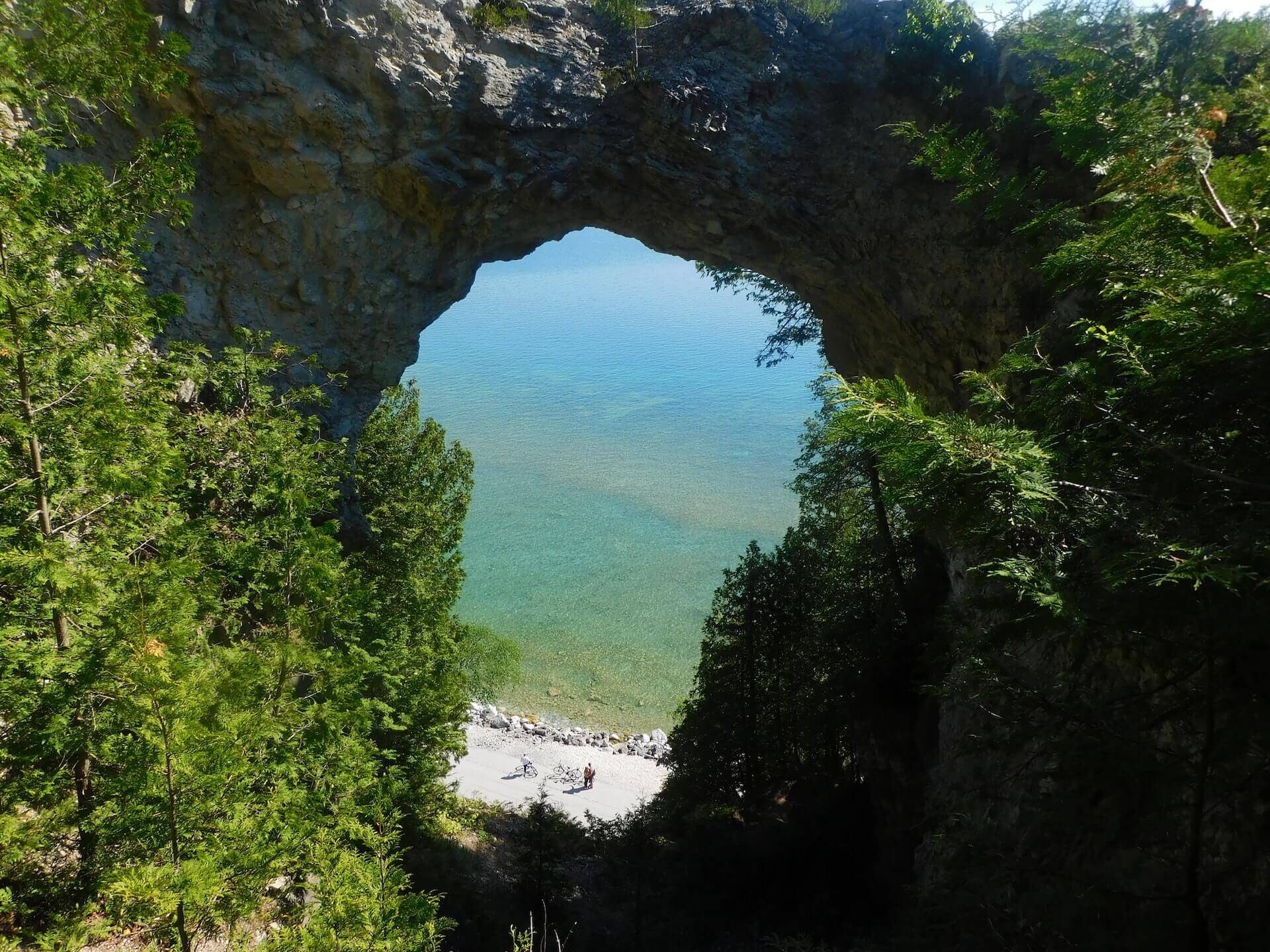 Photo by Samuel Girven on Unsplash
DOG FRIENDLY SHOPPING
Going shopping is part of the fun on Mackinac Island. The island is bursting with exciting shops and boutiques. Mackinac is famous for fudge, but make sure you keep this sweet concoction away from your dog since fudge contains chocolate which is fatal for pups. However, humans are welcome to indulge! Many shops on Main Street allow dogs to visit.
Located inside the Lilac Tree Hotel, Great Turtle Toys offers a wide selection of toys, games, and sporting equipment. Kites are the most popular toy on the island. Pick up one and fly it out at Windermere Point. Dogs and people love watching them soar. You can also find puzzles, cards, dolls, action figures, and more! There are also several convenient benches in the covered area within the hotel. Sit and relax while an artist paints your dog's portrait.
Little Luxuries provides souvenirs and collectables. You'll find sweatshirts, tees, and totes galore. The shop also offers Mackinac-made candles, gifts, and beauty items. For your dog, Little Luxury is a welcoming place full of yummy smells. The company sells homemade and commercial dog treats, so give your furry friend a snack.
Photo by Aubrey Antles on Unsplash
CAVING
Dog friendly Mackinac Island has many caves worthy of exploration. The best known are Skull Cave, Eagle's Point, and Devil's Kitchen. You can find pet-friendly carriage tours to various caves and hollows. There are many other, smaller caves and rock formations like Sugarloaf. These unique locations offer mystery and adventure for you and your dog. Wear reliable shoes and bring a flashlight. Avoid traversing them alone.
DOG FRIENDLY RESTAURANTS ON MACKINAC ISLAND
So many restaurants on Mackinac Island allow dogs that you'll be spoiled for choice. Alfresco dining on pet-friendly porches and terraces is a big part of the Mackinac experience.
Great Turtle Brewery is my #1 recommendation. Located on the corner of Main and Hoban Street, Great Turtle invites you and your dog to eat on their large patio. The raised patio provides nice views of the Point and the lakeshore. Their food is also delicious – don't miss their signature beer cheese or Michigan cherry salads! Try a beer or ale brewed on the island while you're at it. Tacos, burgers, sandwiches, and Lake Michigan whitefish are also available.
Ice House BBQ is another place to try. The Ice House features outdoor seating on its brick patio. Dogs are more than welcome! All your casual dining favorites are available, from onion rings and burgers to grilled chicken and tasty salads. The Ice House also has a large selection of drinks. Dine under their large, shady umbrellas and let your pup relax in the grass.
Many other Mackinac Island restaurants allow dogs on their outdoor patios (see Bring Fido's helpful list). If you see one you love, give them a call and find out what arrangements they can make. There are also ample picnic spots where you and your puppy can relax for a meal. Some shops sell dog-friendly treats, but I recommend you bring your dog's primary food with you on the trip.
Paroma's note: We always carry our dog Gunda's favorite wet food A Pup Above (it is the best!) in our Yeti Cooler during our travels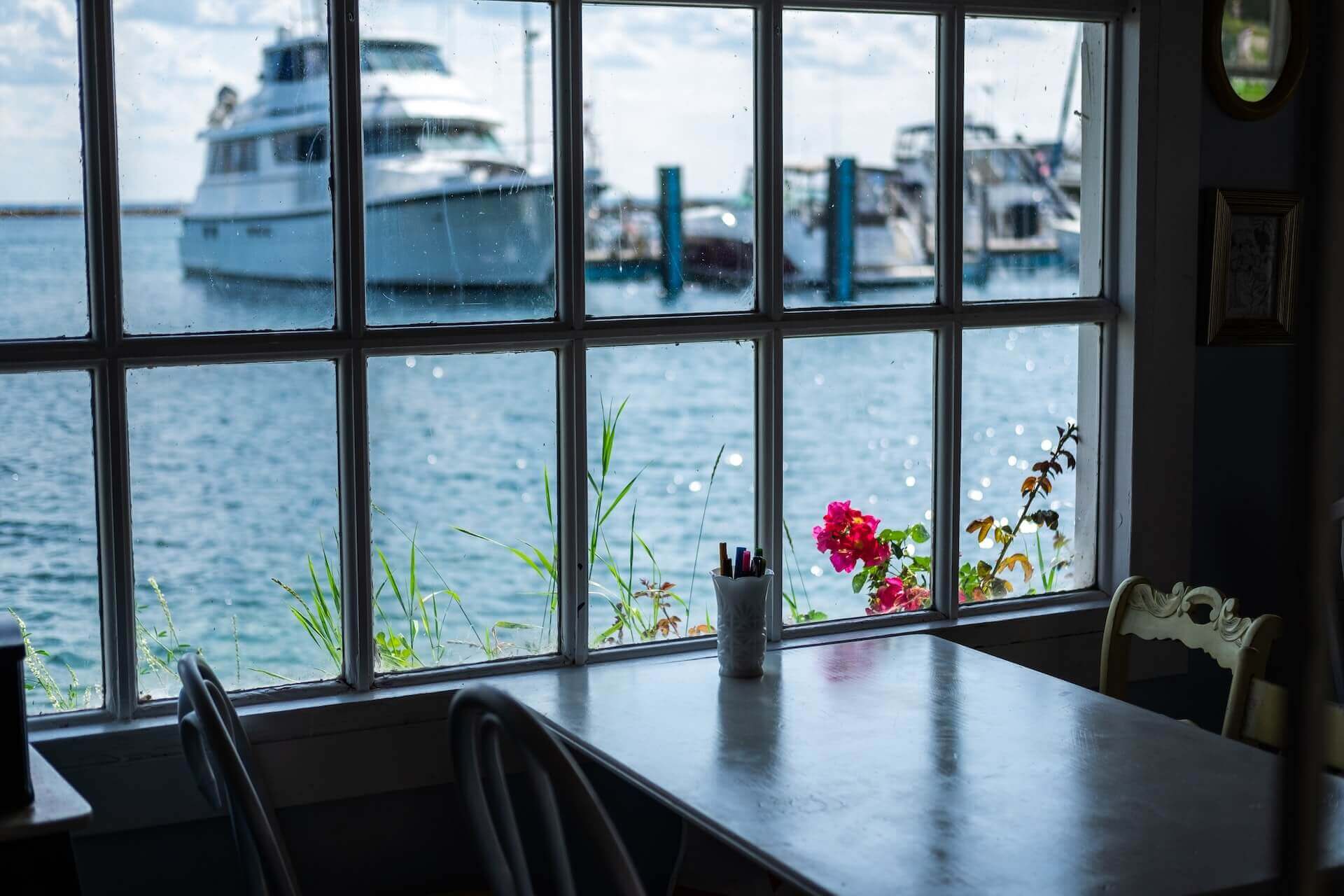 Photo by Ryan Arnst on Unsplash

I hope you enjoyed reading this dog friendly Mackinac Island guide. With so much to do, Mackinac Island is an ideal destination for you and your dog. Thanks a lot for stopping by and safe travels with your pup!

Author Bio: Susan Bell lives in Michigan and travels all over the state with her family and dogs, William and Maisy. William is a Australian Shepard who loves policing and rounding up everything from toys to people. Maisy is a Belgian Malinois puppy with boundless energy and curiosity. She can be a little shy, but she had a great time on Mackinac island.

LIKE THIS POST? PIN IT FOR LATER

«