Last Updated on August 29, 2022 by Paroma
Are you visiting Boston with your dog and wondering about the best dog friendly things to do there? Then you're in luck, cause I have the perfect dog friendly Boston guide answering all your questions on what to do with your dog in Boston. Penned by a Bostonian no less, this dog friendly guide to Boston has all the details on dog friendly Boston hotels, restaurants and all the other dog friendly places in Boston. So, let's get started!
Disclaimer: This post may contain some affiliate links. Clicking on them may earn me a small commission at no extra cost to you for the product. Thank you for supporting free content on this site! Since this is a guest post, all photos used here are from Unsplash (see their copyright free usage licence) or purchased from iStock.
If you've ever visited or lived in the City of Boston, you know there's something special about it. Whether it's the charming cobblestone streets of Beacon Hill, the aroma of freshly baked cannoli's in the North End, or the breathtaking skyline views in Eastie- Boston is a city that captivates visitors and residents alike. No matter where you're from, Boston has a way of making you feel right at home.
Of course, the one thing that can make you feel even more at home in Boston is experiencing it with your furry best friend. That's why I've brought in a local, aka dog mom Theresa, to provide my readers with an inside scoop on the best dog friendly things to do in Boston. Read on for her perspective on the what to do in Boston with your dog and discover why Boston is so dog friendly!
Read my other dog friendly guest posts here:
PLANNING A DOG FRIENDLY BOSTON VACATION? HERE'S WHAT YOU NEED TO KNOW
WHEN SHOULD YOU VISIT BOSTON WITH YOUR DOG
Summer is a great time to visit Boston but be warned that it also gets very crowded at that time, with very high hotel prices. Fall, i.e. September and October are the best times to visit with most tourists gone, cooler weather and most importantly, the leaves turning color (east coast is known for its Fall colors)!
BOSTON LEASH LAWS
It is always a very good idea to familiarize yourself with the leash laws of the state/city you're visiting with your pup to prevent untoward accidents.
Massachusetts has a statewide leash law that prohibits having dogs off-leash in public places. In addition, Section 173 gives cities and towns the right to create local laws regarding the control of animals. Boston's laws for owning a pet state that owners must have their dogs under control when not at home or in a fenced-in yard. So please be a responsible pet parent and bring your leash (upto 8 foot leash allowed) and poop bags (to remove dog waste).
When visiting dog parks in Boston, do keep in mind that dogs always need to be on leash except in designated leash free recreation areas. Dogs cannot enter any spaces designated for kids, such as include tot lots, play areas, sandboxes, ball fields, or other fenced areas.
CAN DOGS RIDE BOSTON'S PUBLIC TRANSPORTATION?
Driving in Boston can be really stressful, Bostonians don't call their fellow drivers "(M)assholes" for nothing (it is really that aggressive). If you're visiting Boston with your dog and do not want to rent a car or don't have one at your disposal for various reasons, then you will have to use the public transportation (bus/subway/ferry) managed by MBTA (Massachusetts Bay Transportation Authority/ fondly known as the "T").
If you're taking the public transit, non-service dogs are not allowed during rush hours between 7-10 AM and 4-7 PM (service dogs are allowed at all times). During off-peak hours, T operators may allow non-service dogs. Dogs should be on leash and cannot take up a seat. Also, please ensure that your dog is quiet and calm when riding the T.
The Boston Water Taxi also allows pets on board, but they have to be leashed. Boston-Provincetown ferry service also allows leashed dogs on board at no extra charge.
DOG FRIENDLY HOTELS IN BOSTON
You might be wondering where to stay during your visit to Boston with your pup- I've got you covered! Take a look at some of these fantastic dog friendly hotels in boston that you and your pup will love. Keep in mind that Boston is an expensive city, and many dog friendly hotels in prime locations charge a hefty pet fee. This list consists of hotels for all budgets, ranging from luxury to affordable (i.e. still great but minus the $$$ pet fee).
Omni Boston Hotel at the Seaport
Located in the luxurious Seaport district, the Omni hotel offers 4-star dog-friendly accommodations that are sure to impress. Keep in mind this hotel does charge a $125 pet fee to bring your pup along.
The Verb Hotel (Fenway/Kenmore)
The Verb Hotel is a pet-friendly hotel near the popular Fenway Park (home of the Boston Red Sox). With The Verb Hotel's rock and roll theme and proximity to some of Boston's most famous landmarks, you and your pup will feel like rockstars. The Verb welcomes small dogs at $75 fee.
W Boston (Downtown/Theater District)
The W Hotel is a sophisticated hotel located near Downtown in the Theater District. If you plan on catching a show or hitting the clubs while in town, this dog-friendly hotel is a great choice. The W has a much reasonable pet fee ($50) which is non refundable but they only allow 1 dog (or cat) of upto 40 lbs in the room.
Located in the Back Bay Neighborhood, this luxury hotel considers pets family and welcomes both cats and dogs in select rooms with no additional pet fees! They also have complimentary pet bowl and bed and provide three brands of pet food to satisfy the pickiest of pups! They also offer dog walking services for a $15 fee.
Kimpton chain is a lifesaver in any major city because they are truly pet friendly with no pet fee and no breed, size or weight restrictions! They also a selection of pet friendly goodies at your service such as loaner plush pet bed, food, water bowls and mats.
MOST DOG FRIENDLY NEIGHBORHOODS IN BOSTON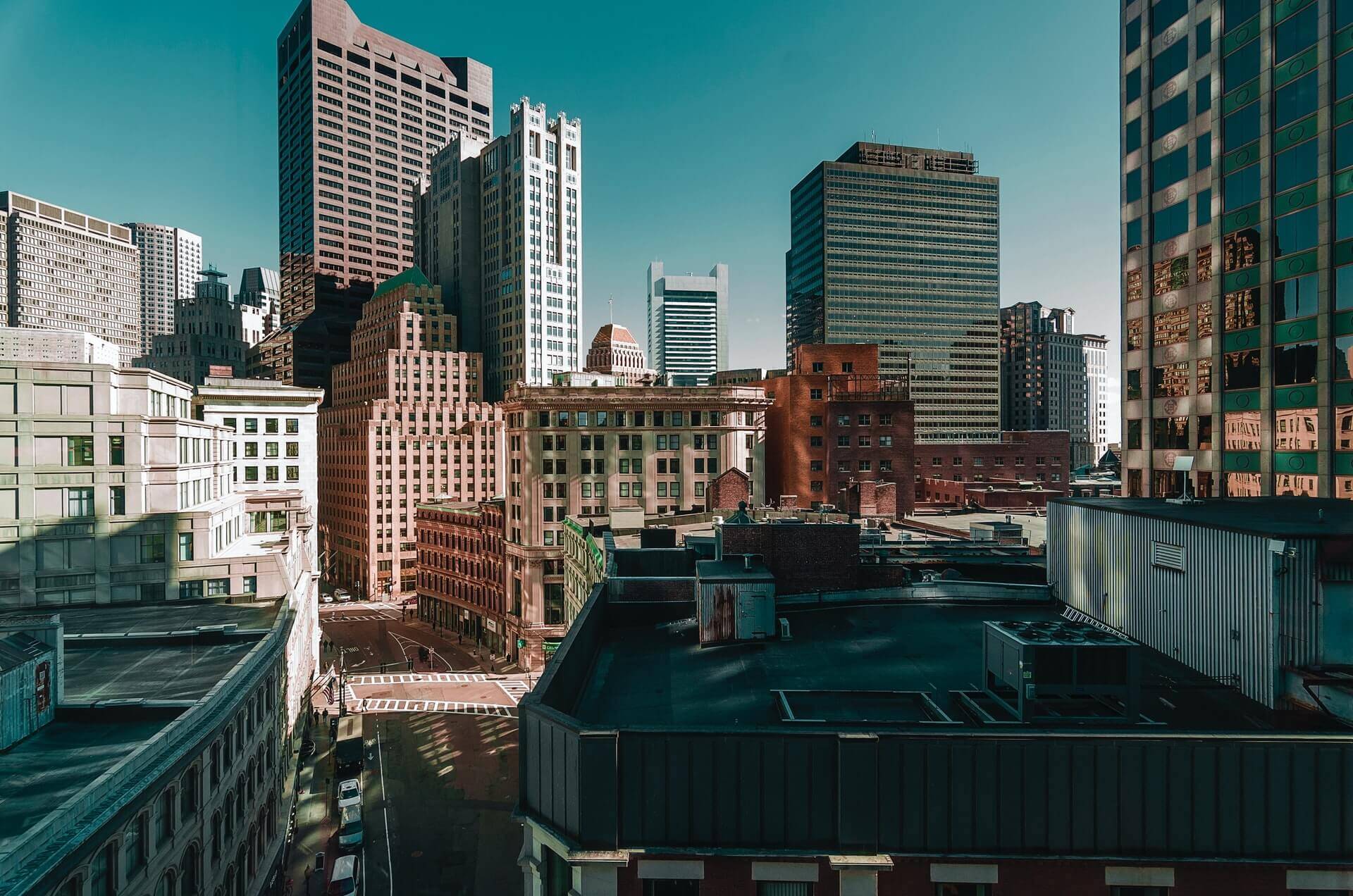 Boston is home to 23 different neighborhoods- all with their own distinct vibes. These three neighborhoods are the leaders of the pack when it comes to dog-friendliness. In other words, if you're wondering about the best dog friendly places in Boston, these neighborhoods are worth checking out:
Downtown Boston
Being in the heart of Boston, you'll have easy access to most of the dog friendly attractions the city has to offer, such as Boston Common, Newbury Street, The Greenway, and many other attractions mentioned in this post (scroll down to read). Downtown is in the middle of all the action;- therefore is a perfect place for you and your pup to explore.
Jamaica Plain
Jamaica Plain is another popular neighborhood for dogs in Boston. It's rare to see someone walking without a dog in JP- and they are probably walking to one of the neighborhood's several dog friendly attractions such as Jamaica Pond, The Harvard Arboretum, and the Brendan Behan Pub.
Cambridge
Technically a separate city, Cambridge deserves an honorable mention as one of the dog friendliest neighborhoods in the Boston metropolitan area. Cambridge is home to two popular dog friendly parks: Fresh Pond Reservation and Danehy Park and is only a short train ride from Downtown.
DOG FRIENDLY BOSTON: THE BEST THINGS TO DO WITH YOUR DOG
BEST DOG FRIENDLY HIKES AND OUTDOOR ACTIVITIES IN BOSTON
Some of the best dog friendly things to do in Boston happen in one of the city's many well-maintained outdoor spaces. Boston has an abundance of gorgeous hiking and walking trails, so you and your pup can get your steps in while you take in the sights.
Get ready to be enchanted by the natural beauty at the oldest public arboretum in North America. Located in Boston's Jamaica Plain neighborhood, the Harvard Arboretum offers 265 acres of trees, flowers, and unique plants for you and Fido to explore. Just be sure to keep your pup leashed at all times.
Local's tip: Jamaica Plain is also home to Polka Dog Bakery, so be sure to stop by with your pup for a well-deserved treat on your way home!

Your visit to Boston wouldn't be complete without spending a day strolling through the oldest public park in the country. Established in 1634, Boston Common is a historical landmark that you and your pup shouldn't miss out on! The park welcomes leashed dogs year-round, and there's an off-leash area where your dog can run free and make friends with other canine travelers!
The Public Garden is one of the most popular spots in Boston for proposals, and it's not hard to see why! No matter what season you visit, the public garden is one of the most breathtaking places in Boston year-round. If your travel plans are flexible, this park is especially stunning in the fall and spring. Don't forget to snap plenty of pictures of your pup on the Public Garden's historic suspension bridge!
Local's tip: The Public Garden is a short walk from the Boston Common, so it's easy to visit both in one day!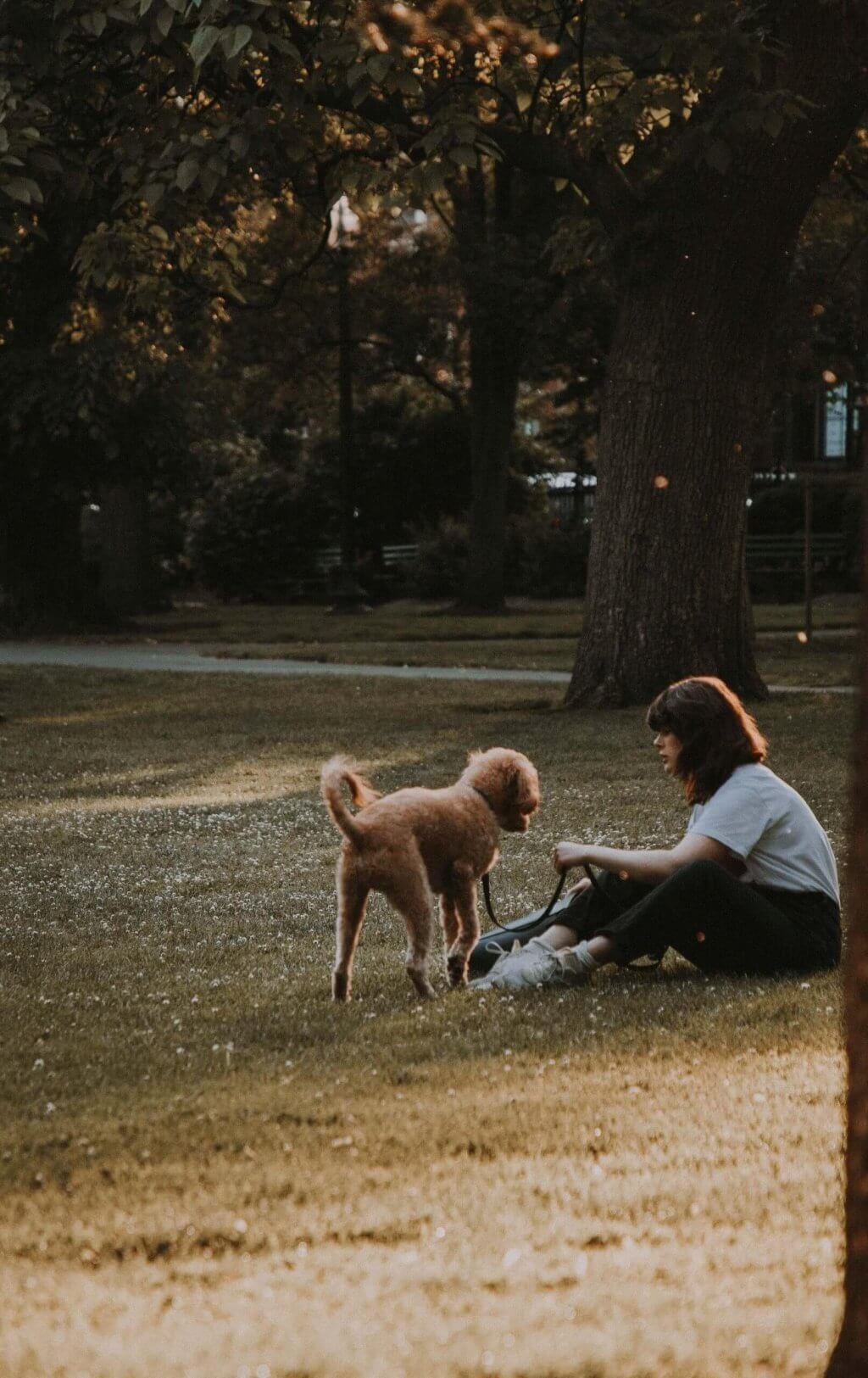 Visiting The Esplanade along the Charles River is one of the best ways to spend a day with your furry companion. You can even rent a kayak and head into the water with the dog-friendly Charles River Canoe & Kayak company.
Local's tip: After a long day of adventure, sit back and relax at Night Shift Brewery dog-friendly beer garden along the Esplanade.
Located in the heart of Boston, the Rose Kennedy Greenway is a modern urban park for you and Fido to explore. Here you'll find several food trucks to satisfy your cravings and plenty of green space to relax and unwind with your pup. Additionally, there is usually an open-air market on the weekends where you can buy from local artists and other vendors.
Ready for a day of shopping with your pup by your side? Then head on over to Newbury Street- one of the most popular spots for shopping in Boston. Many of the stores on Newbury Street are dog-friendly such as Urban Outfitters, The Apple Store, and Lush.
Local's tip: Don't forget to stop for lunch at Stephanie's on Newbury dog-friendly patio.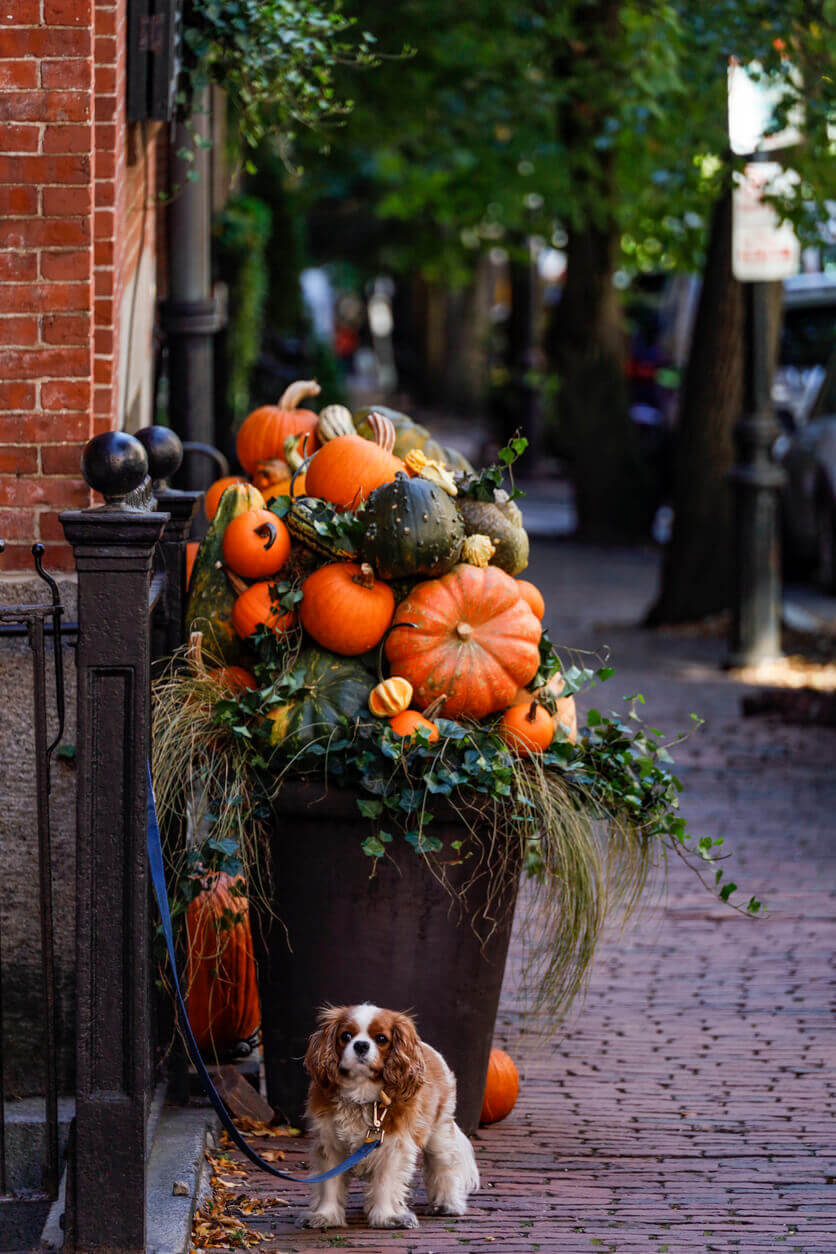 Jamaica Pond
One of the parks of Boston's famed Emerald Necklace, Jamaica Pond, is a local favorite. Grab your pup and take a stroll along the 1.5-mile loop around one of the most beautiful ponds in Boston.
DOG FRIENDLY BEACHES IN BOSTON
Though there are many dog friendly activities and attractions to enjoy in Boston, sometimes you just want to spend a relaxing day at the beach with your pup. Thankfully, there are a few great options. Grab your sunscreen and head to one of these dog friendly Boston beaches.
Nahant Dog Beach
Though it's about a 25-minute drive outside the city, a day at this dog-friendly beach is worth the trip. Located in the small beach town of Nahant, MA, Nahant Dog Beach welcomes dogs year-round (yes, even in the summer!)
Castle Island
Castle Island in South Boston is a popular place to spend the day with your dog. There is plenty of grass to bring a picnic or visit Castle Island Beach- where leashed dogs are permitted during the offseason (Labor Day through Memorial Day).
Carson Beach
Carson Beach is another South Boston favorite and a perfect place to soak up the sun with your pup. You'll even get to take in some stunning views of the Boston skyline!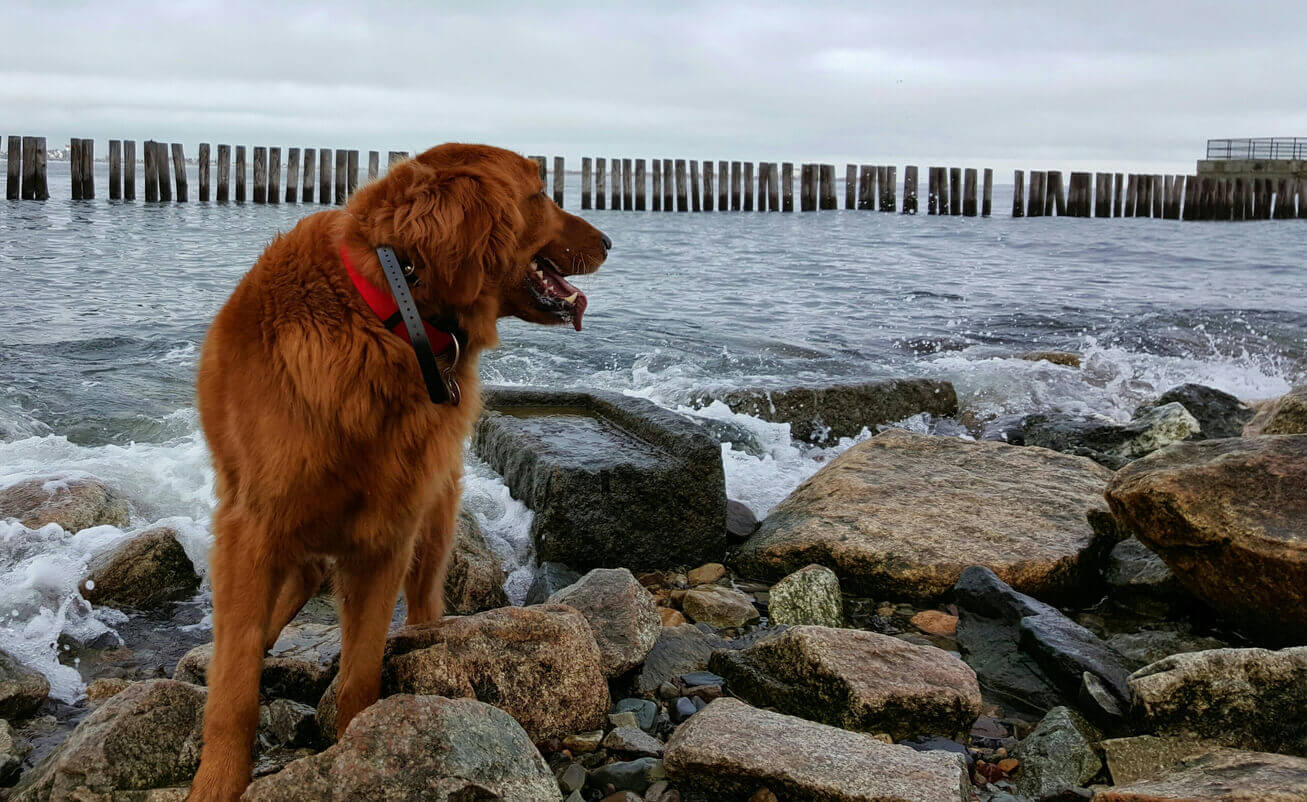 DOG FRIENDLY RESTAURANTS AND BARS IN BOSTON
Once you and your pup have finished sightseeing for the day and are ready to relax with some food and drink, here are a few dog friendly Boston restaurants and bars to explore while you're in town.
You and Fido won't want to miss this hidden gem in Boston's Jamaica Plain neighborhood. As dog friendly as it gets, you and your dog will no doubt make new human and furry friends at this lively spot.
Get some of the best ciders in down with your pup at Downeast Brewery, located in the beautiful neighborhood of East Boston (Eastie). Just a quick ride from downtown on the Blue Line, you and your dog will be enjoying the laid-back vibes at this popular hangout in no time.
Grab some eats at one of the food trucks on The Rose Kennedy Greenway and head on over to Trillium for some craft ale and cozy ambiance at this dog-friendly spot.
This restaurant in Boston's Financial District has a pet-friendly patio where you can enjoy some comfort food with your pup by your side. Don't forget some water and a snack for Fido!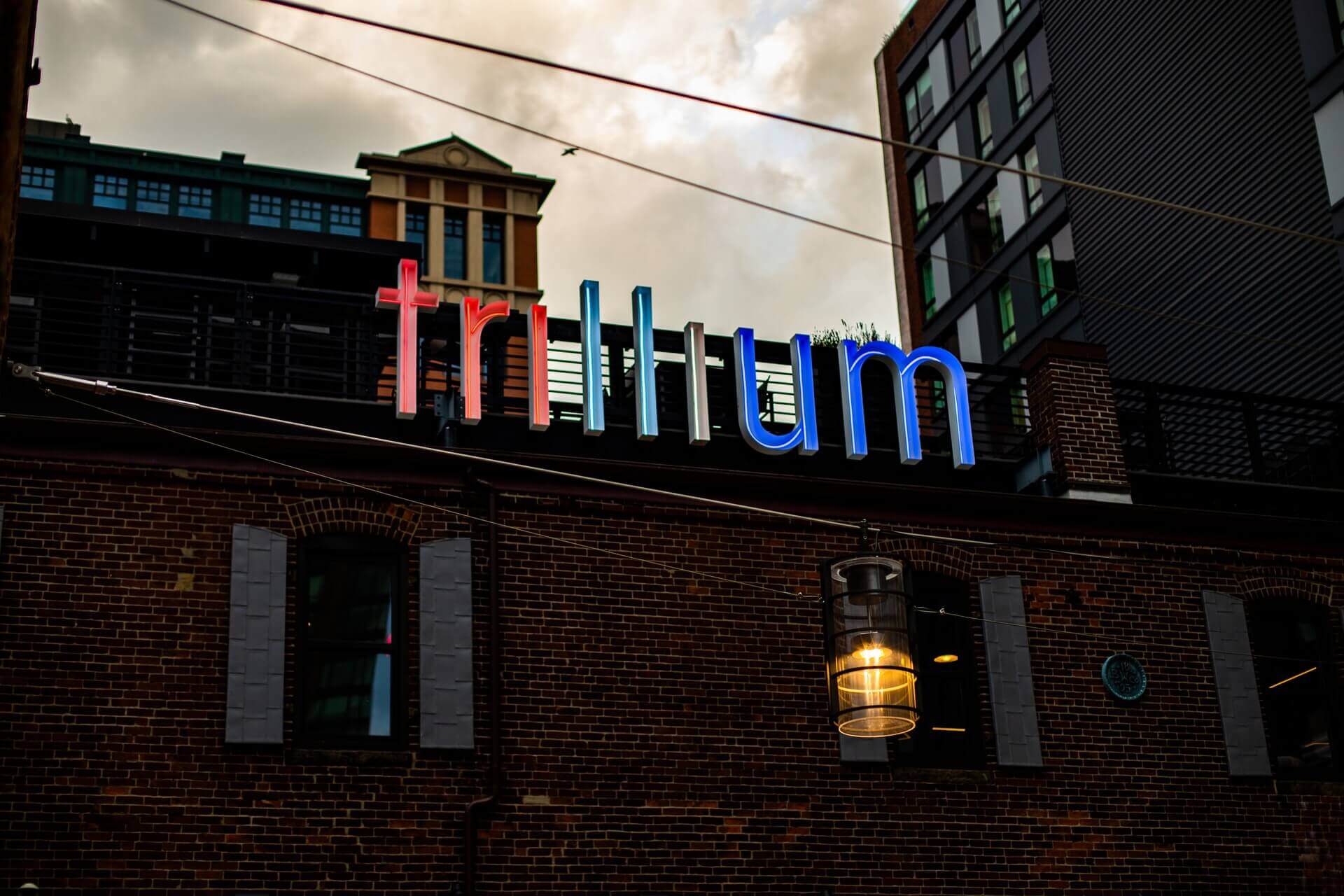 That brings me to the end of this dog friendly guide to Boston. I hope this local's guide has inspired you to take a trip with your pup to the charming city of Boston. Thanks a lot for stopping by and safe travels with your pup!

Author Bio: Theresa Stevens is a freelance writer based in Boston, MA. When she's not writing, you'll find her exploring the city with her Shih Tzu, Bennie or singing karaoke.

LIKE THIS POST? PIN IT FOR LATER

«