Last Updated on August 29, 2022 by Paroma
If you're planning to visit the enchanting town of Sedona, Arizona with your dog, then this dog friendly Sedona guide is a must read! Penned by an Arizona local and traveling dog mom, this guide covers some of the best dog friendly hikes in Sedona as well as info on dog friendly hotels, restaurants, wine and jeep tours! So without further ado, here is everything you need to know on where to take your dog in Sedona!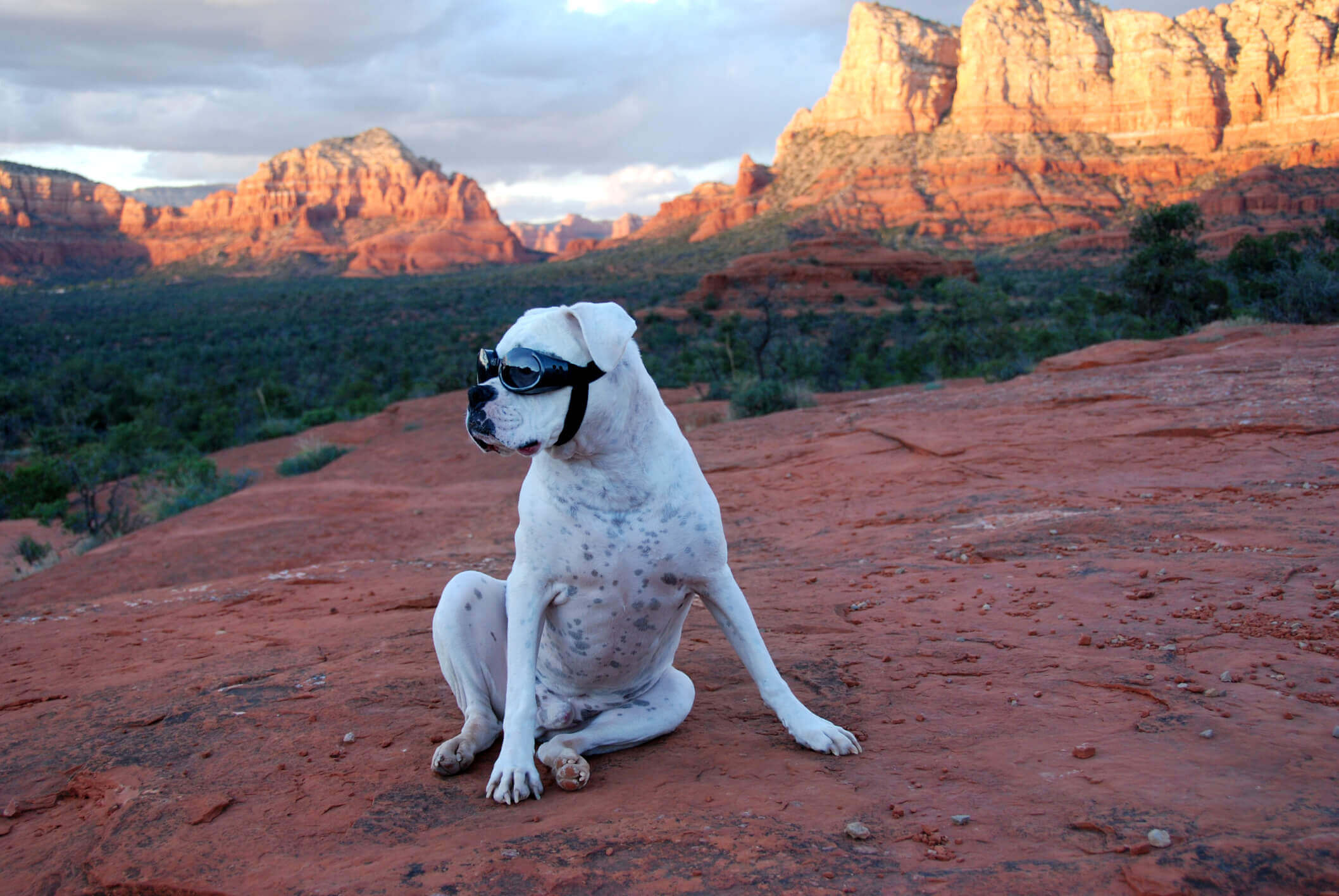 Disclaimer: This post may contain some affiliate links. Clicking on them may earn me a small commission at no extra cost to you for the product. Thank you for supporting free content on this site! All photos used here are from Unsplash (see their copyright free usage licence) or purchased from iStock.
Sedona is a desert town in the hot, arid state of Arizona, ensconced within steep canyon walls and home to majestic red rock buttes as well as pine forests. The natural beauty and tranquility of Sedona has attracted tourists from far and wide, and it was the last place that I visited over a decade ago just before my Mother's sudden demise.
I've always longed to return to Red Rock Country, for a part of me still yearns for closure of some kind. Next time, I plan to take my pup Gunda along with me, to explore the many beautiful hiking trails and zen landscapes that this place has to offer.
Since he is yet to cross state borders, I've enlisted the help of Cassandra, an Arizona local and avid traveler (plus a dog mom) to share some of her favorite dog friendly hiking trails in Sedona, as well as dog friendly hotels and restaurants to take the guesswork out of your trip.
This dog friendly Sedona guide, based on Cassandra's travel, will hopefully help you plan a foolproof trip to Sedona with your dog(s) with tips on when to visit, where to go, what to do (i.e. the best dog friendly hikes and tours in Sedona) and where to stay and eat with your dog in this magical desert town boasting of pristine natural beauty of the Wild West. So without any further ado, here are the best things to do with your dog in Sedona in Cassandra's own words:
TIPS ON PLANNING YOUR DOG FRIENDLY SEDONA HIKING ADVENTURE
During a recent trip to Sedona, I was captivated by its breathtaking, surreal landscape. I wasn't surprised to learn that people from all over the world flock to the small town in northern Arizona to get a glimpse of the red rock formations. You can't find natural beauty like this anywhere else in the world. Sedona is also known as a spiritual center, a place where many claim to experience vortexes and inner transformations.
If there's one must-do when visiting Sedona, it's hiking. My dog and I loved waking up everyday to the beautiful sky and red dirt and then going on hikes. In the afternoons, we visited shops and enjoyed the atmosphere of downtown because, aside from hiking, there are a ton of dog friendly things to do in Sedona.
In this dog friendly guide to Sedona, I put together some tips and a list of great trails to check out. Trust me, this will be an amazing trip you won't forget!
GETTING TO SEDONA WITH YOUR DOG
Sedona is in central-northern Arizona around the junction of highway 179 and state route 89A. It's 29 miles south of Flagstaff and 116 miles north of Phoenix. If you're traveling from Phoenix, the easiest route to take is the I-17 North. Get off at the exit for HWY 179.
If you're flying in from out of state, there are three airports to choose from that are within 100 miles of Sedona. The closest airport to Sedona is Flagstaff Pulliam (FLG) (19.22 mi), the others being Prescott (PRC) (40.17 mi), Grand Canyon Village National Park (GCN) (77.83 mi) or Phoenix Sky Harbor Intl (PHX) (99.95 mi).
Of all of these, PHX is definitely the most popular but FLG is not a bad option either since United and American Airlines now offer flights to this airport via Phoenix, Dallas and Denver. If you fly into PHX, you'll have to rent a car and then drive for about 2 hours to get to Sedona.
On your way to Sedona from Phoenix, you'll pass the Chapel of the Holy Cross, a popular stop for visitors. It's a huge church built into the red rocks. Dogs aren't allowed in, but they are OK to be outside on the Chapel grounds, so you can get a great look at the amazing architecture.
BEST TIME TO VISIT SEDONA WITH YOUR DOG
Though Sedona is more North, temperatures aren't always friendly. In recent years, temperatures have been hitting the 100s during the Summer, so check the weather before you venture out. The best times to visit are August-October and April-May. It can snow in Winter, so visiting in Fall or Spring will help you avoid snow or heat (though seeing the red rocks covered in snow is truly beautiful and memorable).
WHAT TO PACK FOR DOG FRIENDLY HIKING IN SEDONA
As a general rule when visiting Arizona, always wear sunscreen due to higher UV indexes, bring booties for your dog so their feet don't burn on hot rocks, and carry LOTS of water. If you start experiencing symptoms of heat stroke (head feeling too hot, dizziness, fast heartbeat, nausea), get to shade or get inside as soon as you can.
The town of Sedona requires dogs to be on leash on the hiking trails at all times, so please bring your dog leash along (and poop bags to scoop up dog waste). Collapsible bowls that are easy to carry for dog food and water or this convenient water bottle for thirsty doggies are also a good idea.
DOG FRIENDLY HOTELS IN SEDONA
When it comes to dog friendly accommodation, Sedona has a whopping number of hotels and inns. So finding a place to stay with your pup is really easy. Here are some suggestions:
Sky Rock Inn of Sedona is one of the more popular places for pet owners. Because of their great pet policy, I can see why! They allow two pets of any size for $30 per pet, per night and four-legged guests get treats, waste bags, and a water bowl. There are also lots of pleasant walking trails around the property and a dog park about a mile away.
A budget-friendly option is the Sedona Village Lodge, which allows large dogs and provides pet bedding and bowls upon request.
If you're looking for a completely unique stay, try a tiny home. There are a few places that offer this option around Sedona, but my favorite is Tiny Camp. They are 100% dog friendly and have multiple houses and styles to choose from. Some even have hot tubs and fire pits.
>>Check out this complete list of dog friendly hotels in Sedona<<
THE BEST DOG FRIENDLY HIKES IN SEDONA
What would a trip to Sedona be without hiking? The main attraction of this beautiful city is its red rocks, so getting out to explore one of the 200+ hiking trails is a must. With so many to choose from, you can experience epic heart-pounding climbs or gentle easy strolls. Regardless of what you pick, remember to keep your dog in mind and to always have him or her leashed (most if not all trails require it).
Some hiking trails require the Red Rock Pass. This is a parking permit that costs $5 per day and can be bought online or at several locations around Sedona. Here are some of the most popular dog friendly hiking trails in Sedona:
Distance: 3 miles, roundtrip
Difficulty: Easy
Trailhead: Right off Highway 179 (see location)
Parking: Either purchase the Red Rock Pass or use "America the Beautiful National Parks" pass for day parking at the trailhead
This dog friendly hiking trail begins as part of the Bell Rock Pathway, a 3.6 mile trail. It's an easy trek that will take you across a dry streambed and then into a section of Arizona cypress. You'll also get a glimpse of the "Madonna and the Nuns" spires on your hike. Several sections offer nice views and there's a point near the end that's used by several jeep tour companies. This will be a gentle hike for you and your dog, but be aware that the trail is mostly unshaded, so it can get hot in summer.
Distance: 3.9 miles, roundtrip loop
Difficulty: Moderate
Trailhead: Accessible from Courthouse Vista point in the north
Parking: Either purchase the Red Rock Pass or use "America the Beautiful National Parks" pass for day parking at the trailhead
This loop wraps around Courthouse Rock and you'll find yourself stopping often to take photos and enjoy the scenery. This trail is also more solitary because most people head straight for Bell Rock (more on that below). You'll share parts of this trail with mountain bikers and horse riders, so remember: hikers yield to equestrians, and bikers yield to hikers and equestrians.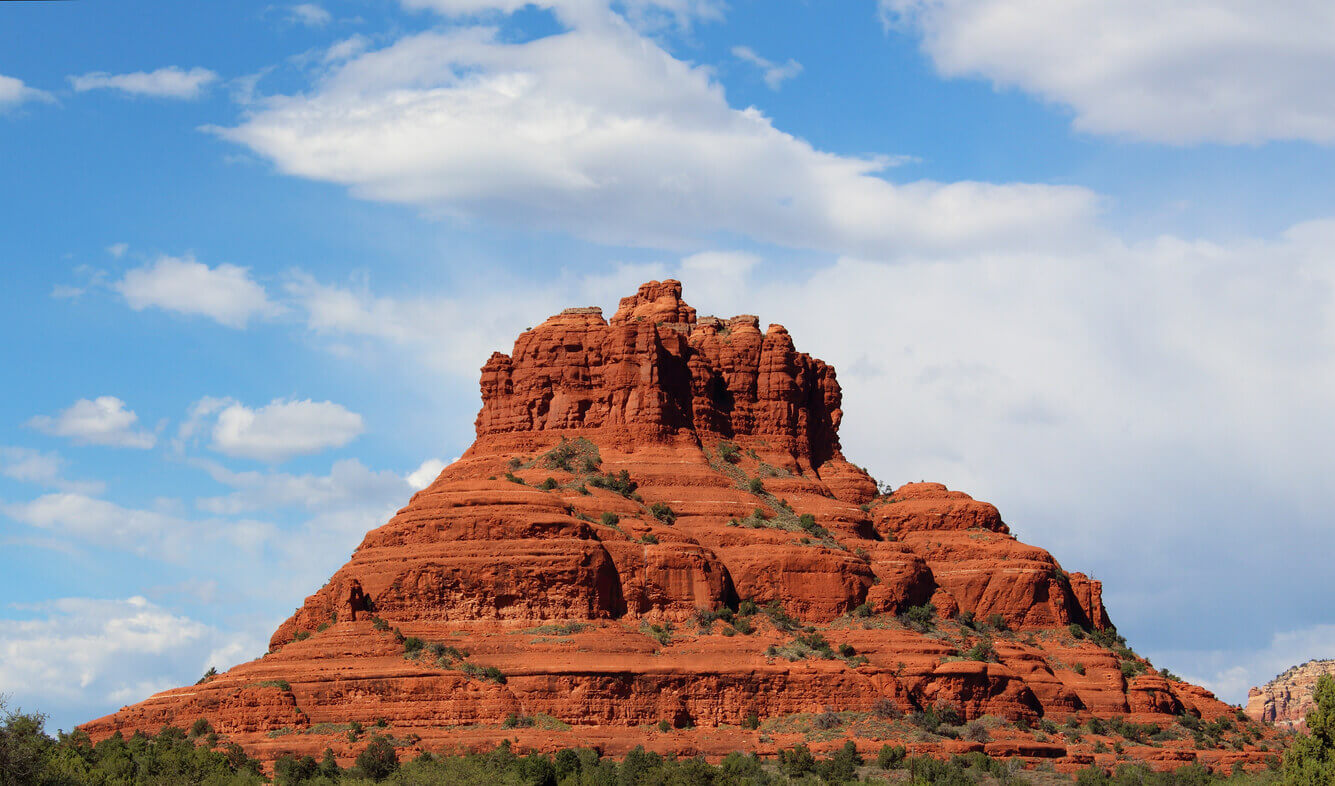 Distance: 0.8 miles, roundtrip
Difficulty: Moderate
Trailhead: Accessible from Courthouse Vista point in the north or the Courthouse Loop South Trailhead
Parking: Either purchase the Red Rock Pass or use "America the Beautiful National Parks" pass for day parking at the trailhead
Bell Rock features one of the four main vortexes in Sedona (the other three are Cathedral Rock, Boynton Canyon, and Airport Mesa), so expect lots of tourists. If you don't know what a vortex is, it's believed to be a natural location with strong energy fields. Many believe you can visit this swirling energy for healing or go there to meditate. If your dog doesn't like crowds or gets scared easily, it's best to avoid vortex areas because they will always be heavily trafficked.
Distance: 1.2 miles, roundtrip
Difficulty: Difficult
Trailhead: From the junction of Routes 89A and 179, take 179 south 3.5 miles to Back O' Beyond Road on the right. Go 0.6 miles to the trailhead parking turnout on the left. See exact location on Google Maps
Parking: Either purchase the Red Rock Pass or use "America the Beautiful National Parks" pass for day parking at the trailhead
Another vortex location, Cathedral Rock is an icon in Sedona. When visiting, you'll first notice the towering red stones. These are completely accessible to hikers but expect a challenging climb. If you and your dog are up for the task, you'll be rewarded with a spectacular view from a spot between the towers. Keep in mind that this trail is unshaded and steep in many places, plus its popularity makes it a heavily trafficked one too.
My advice is to pack food or snacks and start on this trail as early as you can to find better parking and avoid the crowds. You'll also be able to enjoy breakfast with one of the best views in Sedona.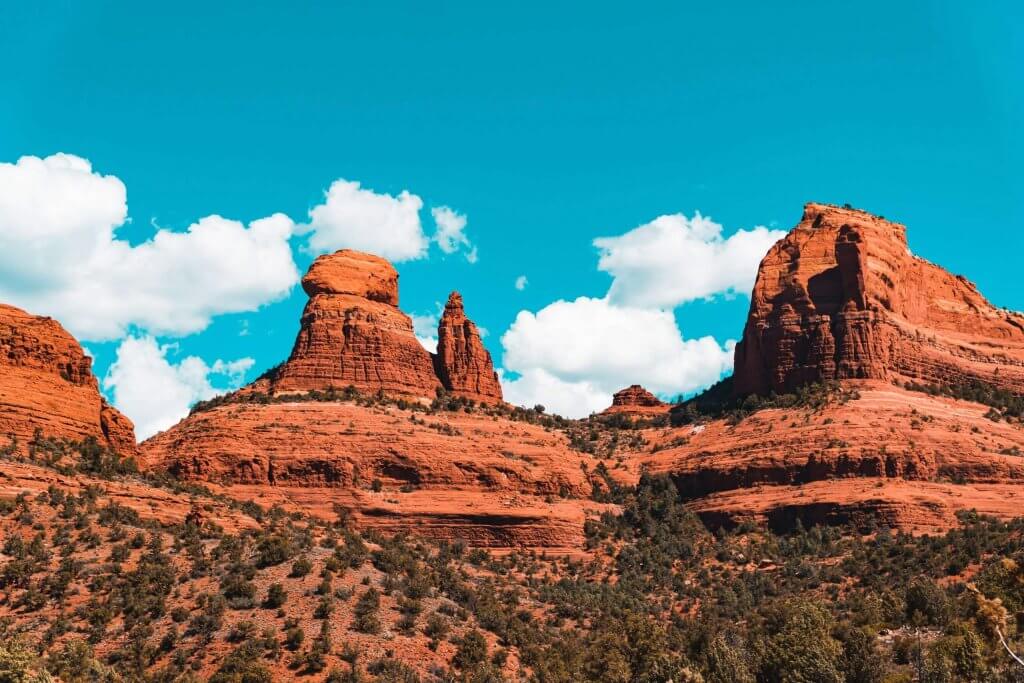 Distance: 7.2 miles, roundtrip
Difficulty: Easy
Trailhead: See location here
Parking: Free
Don't let the length of this trail intimidate you! You don't have to hike all the way to the end to enjoy the beauty and seclusion of this area. Your pooch will love all the wilderness, and you'll love how gentle and quiet the hike is.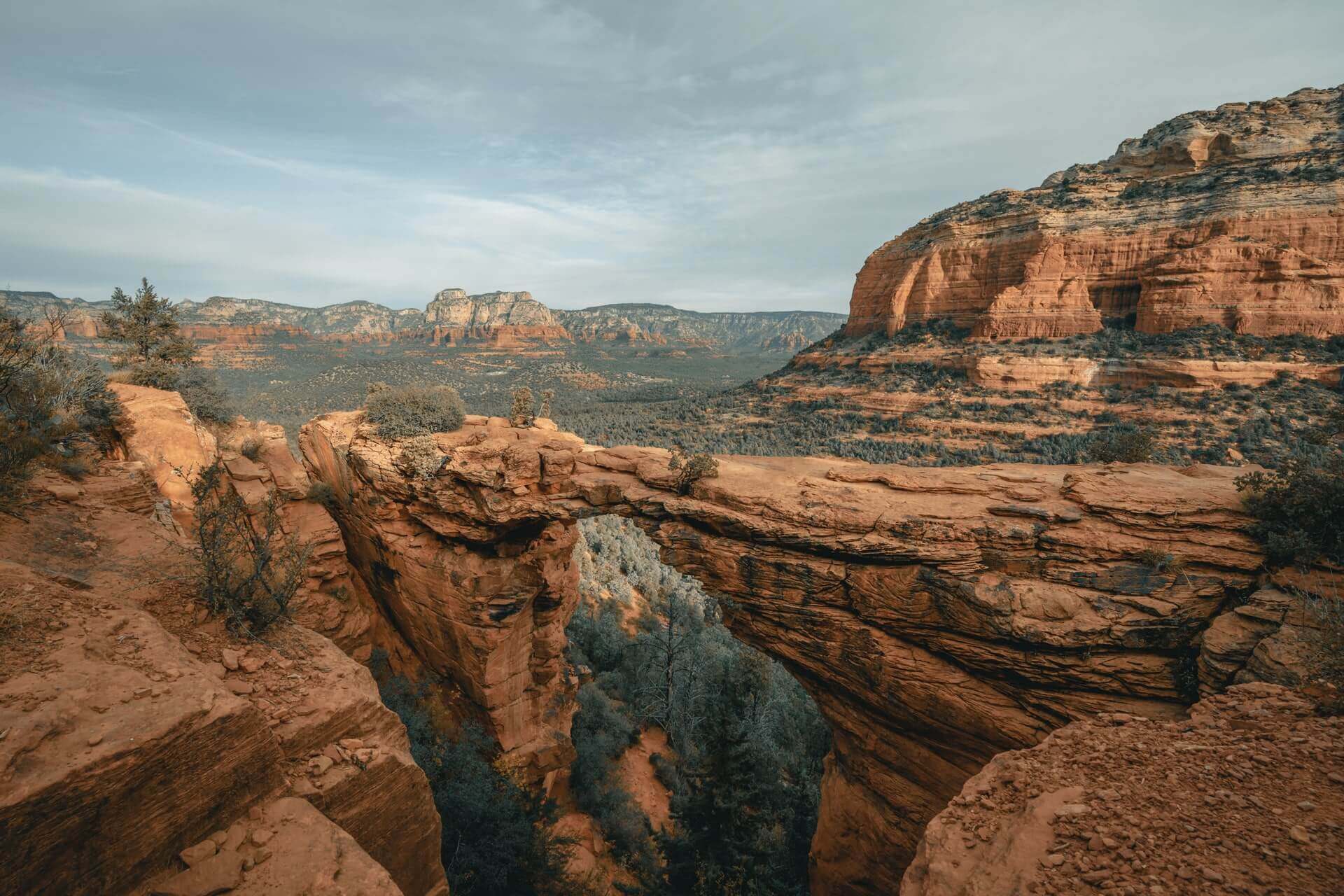 Distance: 4.2 miles, roundtrip
Difficulty: Moderate
Trailhead: See location here
Parking: Either purchase the Red Rock Pass or use "America the Beautiful National Parks" pass for day parking at the trailhead
Get ready for an amazing photo op! If you've Googled Sedona, chances are you've seen a pic of this iconic natural bridge, aka the Devil's Bridge which is the largest natural sandstone arch in the Sedona area. The views from the top are simply spectacular, with a final steep climb at the end of the trail.
From the trailhead, it is a bit of a walk but completely worth it. A lot of the trail is uphill, so you may want to skip this hike if it's hard for your dog. Also, there's no shade on this trail, so it's best to do it in cooler weather and earlier in the morning. And water is a must!
Getting to the official trailhead of this dog friendly Sedona hike is a bit tricky since it starts along the unpaved portion of Dry Creek Road (FR 152) and requires a high clearance vehicle to access.
If you only have a low clearance vehicle, you can park in the at the Dry Creek Vista Trailhead at the end of the paved section of Dry Creek Road or at the Mescal Trailhead located on Long Canyon Road. If you park at the Mescal Trailhead, you will take the Mescal Trail to Chuckwagon Trail to meet this route. Read details here on how to access the Devil's bridge trailhead with a low clearance vehicle or this article on hiking the Devil's Bridge trail.
>>Download the complete Northwest and Southeast trail maps of Sedona here<<
Read my other dog friendly hiking posts here:
DOG FRIENDLY SEDONA GUIDE: BEST THINGS TO DO IN SEDONA WITH YOUR DOG
Apart from the gorgeous hiking trails in Sedona, there are a ton of other things to do with your dog in Red Rock Country. From wine tasting to jeep tours, here are some dog friendly activities in Sedona to enjoy with your pup:
DOG FRIENDLY WINERIES AND WINE TOUR IN SEDONA
View this post on Instagram
When in Sedona, the buck does not stop with hiking the gorgeous Red Rock Country with your precious pup. Infact, there is some serious wine tasting to be done here as well with several dog friendly wineries and even exclusive Sedona wine and vineyard tours that allow dogs!
Wineries in Sedona are part of the Verde Valley Wine Trail which encompasses several regions in Central Arizona. If you'd like to get a taste of several wineries in Sedona and that too with your pup, then Wine Tours of Sedona is the way to go. This is the most experienced wine tour company in Sedona that provides 100% personalized tours and even has a 10% discount for you if you bring your pup along with code "DOGFRIENDLY"!
For a more relaxed experience or if you're simply in the mood to visit one or two wineries/vineyards on your own, then Oak Creek Vineyards and Winery, Javelina Leap Winery (no reservations needed for tasting), Decanter tasting room (they have the best charcuterie and cheese boards in Northern Arizona) and Alcantara Vineyards (family owned, sustainably farmed offering 17 varietals!) are good choices since they have dog friendly patios.
Read my other dog friendly wine tasting posts here:
DOG FRIENDLY JEEP TOURS IN SEDONA
Did you know that "jeep tours" are a thing in Red Rock Country? I am talking about 4*4 guided Jeep adventures that are fully private (as in 100% exclusive or upto a few groups of 7 people banded together) to show you the best of Sedona's landscape and natural wonders in 2 hours.
If you're interested in such a tour and that too with your pup, Arizona's oldest family owned and operated Jeep Tour can help! A Day in the West Jeep tours allow friendly pups to come on board, provided all other passengers agree. Pups sitting on the lap require no extra charge but those over 20 lbs will be charged the fee of a small child. You can find their FAQs here for all your burning questions.
A Day in the West not only offers Jeep Tours but also combo tours that include wine tasting at Alcantara Vineyards, a dog friendly winery in Sedona. See all their Sedona tours here.
DOG PARKS IN SEDONA
Sedona has only one dog park which is located just north of Highway 89A on Soldier Pass Road (address: 950 Soldiers Pass Road). Park hours are 6 am – 8 pm April 1st through October 1st, and 7 am – 7 pm from October 1st to April 1st.
Not only does this park have excellent views, but also separate play areas for large, small as well as senior dogs and a completely fenced large natural area for off-leash hiking. Dogs have to be on leash till they get to the park.
DOG FRIENDLY RESTAURANTS IN SEDONA

Sedona has several dog friendly restaurants with outdoor patios where your pup can join you for a meal. Creekside American Bistro is one of my favorites because they have a pet friendly patio plus a menu for dogs with stuff like steak tartare and chicken jerky cookies. The Secret Garden Café is also a great stop with another dog friendly patio that has a lot of plants and vegetation.

Other dog friendly restaurants in Sedona are El Portal (a completely dog friendly breakfast spot), Dahl & Diluca, Cucina Rustica, Rene, Troia's, ChocolaTree Organic, and Euro Deli.

I hope you enjoyed reading this dog friendly Sedona guide with details on some of the best dog friendly hiking trails amidst the Red Buttes. The beauty of the red rocks is something that will stay with you for a long time making you yearn for a repeat visit. Thanks a lot for stopping by and please follow all my dog friendly adventures here.

Author Bio: Cassandra Vann specializes in writing wedding vows and blogs, all with her pooch, Ezio, by her side (he's the best coworker!). She's an avid traveler, crafter, and foodie who makes her home in lovely (but hot) Arizona.

Like this post? Pin it for later

«