Last Updated on June 11, 2022 by Paroma
Are you curious about visiting Lodi for wine tasting and wondering about the best dog friendly wineries in Lodi? Here is my tried and tested guide on some of the best spots for dog friendly wine tasting in Lodi along with other dog friendly attractions, dog friendly restaurants and of course, dog friendly lodging.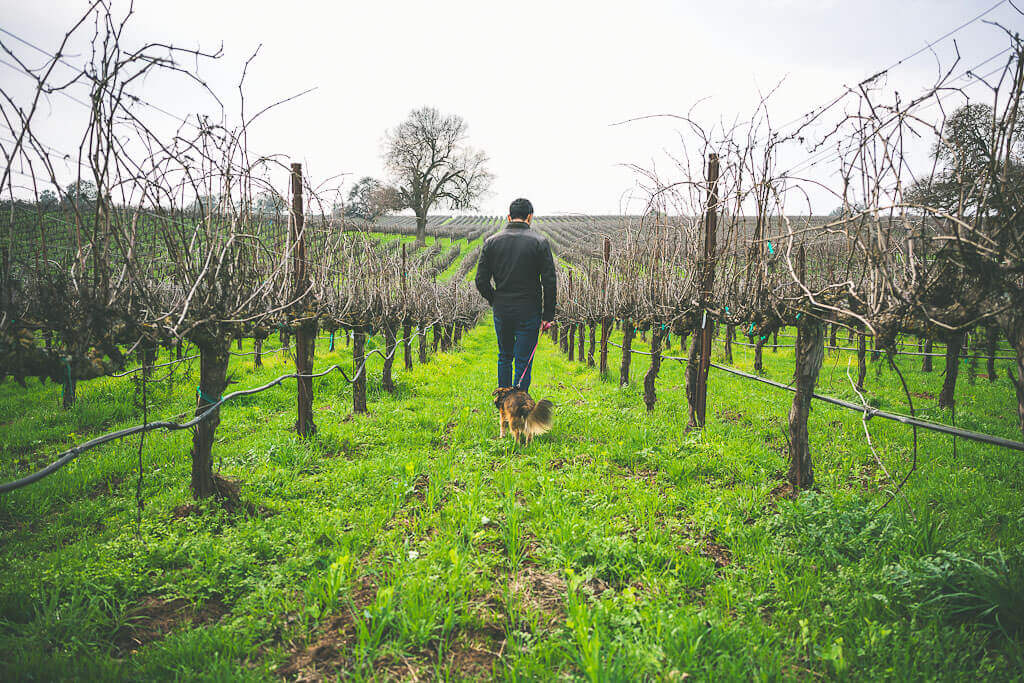 Disclaimer:  This blog post may contains some affiliate links. Clicking on them to make a purchase may earn me a small commission at no extra cost to you for the product. Thank you!
This post (minus lodging) was created in partnership with Visit Lodi! Tourism Bureau. All opinions/experiences are my own.
P.S. I have tried my best to provide up to date information on dog friendly accommodations based on my stay, but pet policies change often. So please call and confirm prior to making any bookings.
LODI, a tiny California town nestled between the SF Bay area and Sierra Nevada mountains, is one of the leading wine growing regions of California and the Zinfandel capital of the world with over 85 boutique wineries. Here, grapevines are entwined with the very essence of life.
Lodi is also incredibly dog friendly which is why we chose it as a weekend getaway from San Francisco and had a lot of fun wine tasting at the many dog friendly wineries in Lodi.  So here is a guide to some of the best wineries for dog friendly wine tasting in Lodi, places to stay and the fun things that you can do over a weekend at one of the best offbeat winter getaways in California.
Lodi is a mere one hour south of Sacramento, the capital of California and is known for its largest number of farm to fork restaurants as well as dazzling murals. Sacramento is also very dog friendly and can easily clubbed in as a day trip from Lodi if you have more time (or visit Lodi as a day trip from Sacramento if you can).
Visiting Lodi with your dog for wine tasting? Here is what you need to know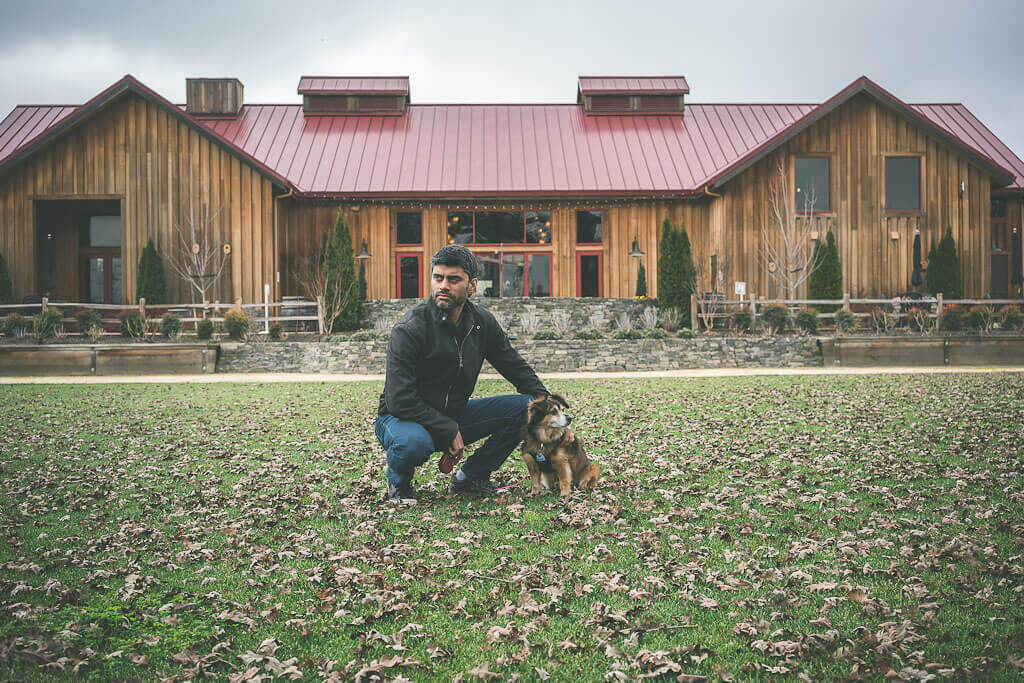 Where is Lodi?
Lodi is located in the foothills of Sierra Nevada Mountains and is about 85 miles east of San Francisco (driving time is about 1 hr 50 minutes one way). Lodi is a perfect day trip from Sacramento, the capital of California.
 
How much time is needed to explore Lodi?
Lodi is really tiny, but spend at least two nights to explore some of its many beautiful wineries. So a long weekend is perfect.
Are all wineries dog friendly in Lodi?
No, but many are, including tasting rooms in downtown Lodi. You can stop by the Lodi Visitor Center (25 N School Street) to collect a map for all the dog friendly wineries in this region.
When is the best time to visit Lodi?
Anytime late Fall to Spring. Lodi is inland and gets too hot in Summer. We visited in Winter and had a really relaxing wine tasting experience minus the crowds.
Dog Friendly Lodi: Pet friendly lodging
Once again, Airbnb came to our rescue while looking for a dog friendly hotel in Lodi. We got a dog friendly charming cottage all to ourselves during our stay which was literally a stone's throw from downtown Lodi.
This dog friendly cottage welcomed Babu with open arms, aka a beautiful backyard plus dog friendly amenities (think doggie bowls, bed, extra towels for him to sit on the bed if needed),  all thanks to our very thoughtful and kind host Mimi.
Our stay at Lodi was undoubtedly super smooth and comfortable due to this lovely dog friendly cottage, which I totally, highly, truly, madly and deeply recommend to everyone looking for a relaxing getaway (with dog or not)! 
Other pet friendly hotels in Lodi include a) Wine and Roses Hotel, which welcomes two pets up to 25 lbs for an additional fee of $45 per pet, per night ( there is also a $150 refundable deposit), b) Holiday Inn Express which allows pets up to 40 lbs for a $25 pet fee per room per day and several other vacation rental options that consider pets. You can find all Lodi Hotels here.
Dog friendly fun things to do in Lodi
Dog friendly Lodi has a ton of things to keep your furry friend busy, starting from a plethora of dog friendly wine tasting rooms in downtown to dog friendly parks and restaurants.
Take a stroll along the picturesque Lodi Lake (the adjacent park opens around 11:30 AM, but the path around the lake is accessible earlier in the morning) amidst a gaggle of geese, swans and ducks of all colors or walk your dog in one of the many dog friendly (and off leash) parks such as Beckman and Vinewood park.
Get some yummy brunch in the heated patio of Avenue grill or treat yourself to some lip-smacking pizza at Smack Pie Pizza (they have a dog friendly outdoor seating area as well) who wonder of all wonders, have a "Lodi Grape Pie" pizza with grape topping (Lodi is darn serious about those grapes). 
Savor a romantic dinner at Towne House Restaurant (a part of hotel Wine & Roses) which has a dog friendly outdoor seating area in a beautiful garden (the outdoor tables are equipped with heaters above). 
Go wine tasting in Lodi  downtown which has several dog friendly wine tasting rooms (scroll down to read the one we visited) and do some art spotting, aka a beautiful mural and a "harvest pride" sculpture that pay homage to the bounty of Mother Earth and the famous California grapes, the most valued treasure and pride of this region.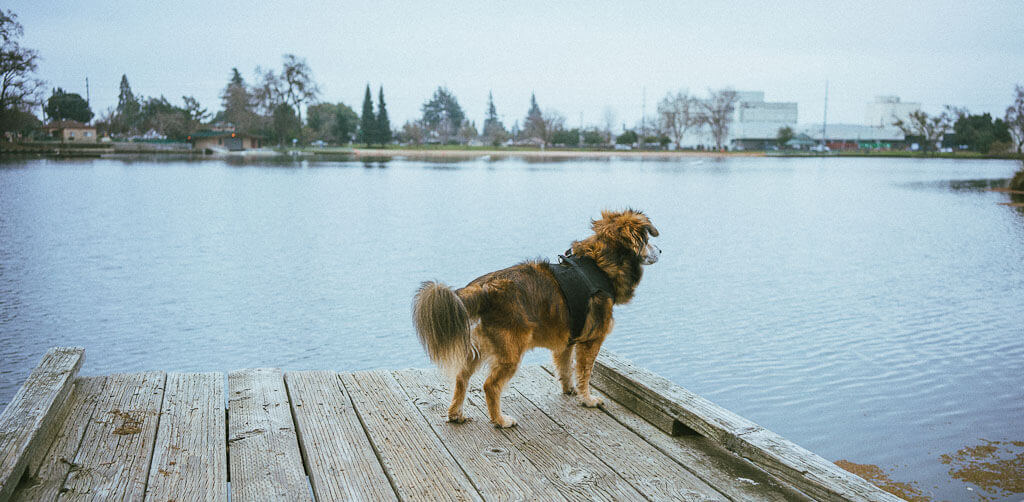 Best Lodi Wineries and Wine Tasting Rooms that are Dog Friendly
We have traveled with Babu far and wide in California to many small towns (read our adventures in Sebastopol, Mendocino, Santa Cruz, Carmel, Petaluma, Santa Barbara, Sacramento and Solvang) and have visited many wine growing regions in our travels.
However, nothing could prepare us for the sheer number of dog friendly wineries and tasting rooms that Lodi greeted us with to make our experience so immensely enjoyable! As a result, our Lodi wine tasting experience was not only one filled with deliciousness, but  was also relaxing and fun because of all the love and attention showered on Babu, who was also very well behaved in all these places.
For this reason alone, Lodi has stolen our puppy crazy hearts! Oh did I mention that Lodi wine tasting is kind to your pocket ($10/tasting, no kidding), includes a wide variety of red and whites in the 5-6 generous pours and the staff is super friendly and knowledgeable?
No offense Napa, but Lodi is the clear winner here with their wine, spectacular dog friendly wineries and attentive service. So without further ado, here is a round up of some of the best Lodi wineries that we visited (there are many more) and wine tasting rooms that are super dog friendly. Dog or no dog, you have to check them out!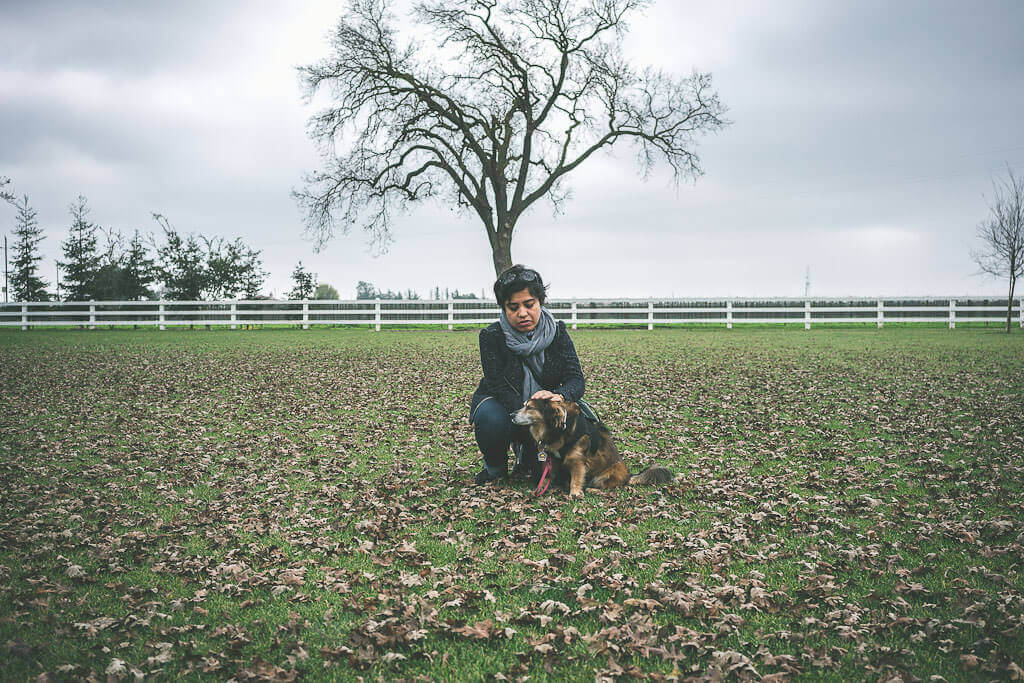 Downtown Lodi: Toasted Toad Cellars
Downtown Lodi is teeming with several dog friendly wine tasting rooms, out of which Toasted Toad cellars was our first stop. This award winning winery has a woman winemaker and co-owner at its helm (Laura Wertner) who inherited the love for everything wine from her father.
The tasting fee is $10 and includes 5-6 pours of white wines and red, the fee being waived if you purchase a bottle. Some of the other dog friendly tasting rooms in downtown Lodi are Jeremy Wine Co. and Dancing Fox Winery (this doubles up as a brewery and restaurant with a beautiful garden patio).
Dog Friendly Lodi Wineries beyond downtown
Lodi will seriously spoil you with its vast number of gorgeous wineries (at par with those in Sonoma and Calistoga), and that is no mean feat considering we are not even in traditional wine country in California. Never ending stretches of vineyards will greet you as you drive around in your wine tasting sojourn, from one beautiful Lodi winery to another.
Some of the best Lodi wineries boast of sprawling vineyards and although the grapes were no longer on the vines (because, January), the lush green surroundings crisscrossed by rows of bare vines still appeared ethereal in the  winter mist. If you have a designated driver, I highly recommend visiting some of these Lodi wineries since they are not in downtown.
All of them have the same tasting fee of $10 and the fee is waived upon purchase of a bottle (which is also not really that expensive). The other thing worth mentioning is that unlike Napa, none of these boutique Lodi wineries require prior appointments for parties of 2-4 for wine tasting (appointment is required for buses and larger groups though) and so were pretty accessible.
We started off with Oak Farm Vineyards, famous for its award winning Lodi wines, breathtaking beauty (the estate and the sprawled out red roofed wooden tasting room are a photographer's delight) and a tasting room that welcomes dogs on leash.
There is seating outside as well (with heaters, no less) and a crackling fireplace inside to get all cozy as you sip on your wine. The tasting again comes with red and white wines (featuring Lodi's famous Zinfandel and the winemaker recommends tasting one of the white wines at the end due to its almost dessert wine like mouthfeel) and the service is very friendly and personalized.
Although we visited in off-season, the tasting room did have quite a few people; so I highly recommend hitting this popular vineyard either early or late (most Lodi wineries stay open 11 AM-5 PM) to avoid crowds in peak season. I also recommend taking a stroll on the estate as you are tasting the wine since wine tasting in Lodi is a slow, deliberate experience that needs to be savored and enjoyed.
Our next stop was another spectacular winery in Lodi, i.e. Bokisch Vineyards that specializes in Iberian wines and to our delight, lots of puppy love. Babu was petted like crazy by some of our fellow tasters while the pourers were super friendly and sweet.
Bokisch is blessed with a panoramic view of vineyards stretching out to as far as the eyes can see and you can enjoy the view in the outdoor seating in the warmth of a crackling fire during wine tasting. The tasting room overlooks their production room lined with giant, shiny steel vats for wine distillation and storage, which made my inner nerd super happy!
The final dog friendly Lodi winery that we visited during our short stay was Harney Lane Winery and Vineyards, which by way of its splendid tasting room (there is an entire selection of gourmet chocolates and other goodies there), an adjoining picnic garden and some of the best selection of wines from their estate grapes, was definitely one of the best Lodi wineries that we visited and one that you simply must include in your list. Just bring along a picnic basket, do some wine tasting and you are all set!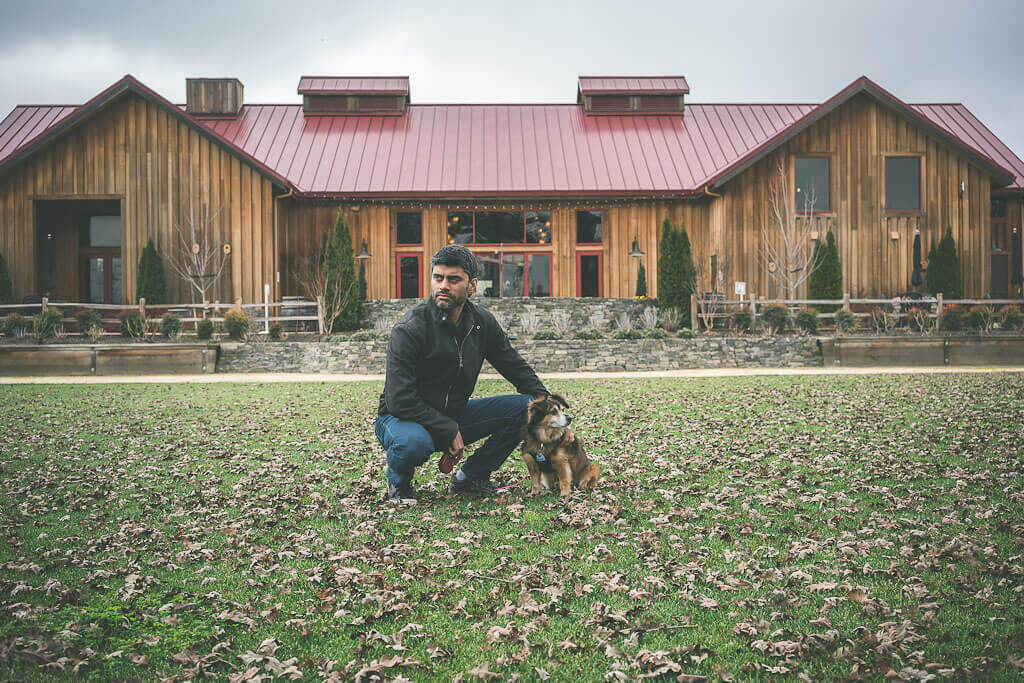 That brings me to the end of yet another post on my beautiful California, which is dotted with many incredible places and hidden gems that are simply begging to be explored! Lodi is definitely one of them and is a manna from heaven for all dog parents, wine lovers and those who simply wish to retreat to a relaxing place and enjoy their wine and scenery, without the stress of jostling at the tasting table with other tourists.
With a bunch of dog friendly wineries, a peaceful small town setting and warm hospitality that permeates through it, Lodi is definitely another secret gem of California wine country that you need to visit right now! Pick up a ton of handy guides on wineries (all dog friendly ones are marked with a cute "paw" sign) and other fun activities from the Lodi Conference and Visitor Bureau (like we did) and you are all set to have a great time in one of the most beautiful parts of California's wine country at some of the best wineries in the state!
Read my other dog friendly wine tasting adventures in California here:
 

 

 

 

Like this post? Pin it by hovering your cursor over the images below

 

 

 

 

 

«