Last Updated on November 16, 2022 by Paroma
Looking for the best dog friendly things to do in Calistoga? Then look no further, because I have the perfect dog friendly Calistoga post crafted just for you! Having visited Calistoga many times from San Francisco over long weekends, here is my tried and tested curated list of what to do in Calistoga with your pup-as in what to see, do eat and of course, dog friendly wineries and hotels.

Disclaimer: This post may contain some affiliate links. Clicking on them may earn me a small commission at no extra cost to you for the product. Thank you!
Dog friendly Calistoga: Your perfect weekend getaway
Calistoga, once a waste of a farmland in the northernmost tip of Napa valley (wine country) is now a bustling town brimming with world class spas, geothermal wonders such as the petrified forest and the "Old Faithful" geyser, one of the only two in North America. Calistoga is about a 1.5 hrs drive away from San Francisco in Napa Valley and boasts of some of the best wineries in Napa Valley.
A far cry from the other more popular Napa Valley towns such as St. Helena or Yountville, Calistoga is both under the radar and canine friendly as heck! Dog friendly Calistoga is one of the best small towns in California to visit with a dogs and is dotted with its fair share of wine tasting rooms and estates, quite a few of which welcome pooches. If you're looking for a wine and fun filled weekend getaway from San Francisco with your pup, Calistoga is the one place to go.
In addition, there are dog friendly hotels as well as plenty of dog welcoming hiking trails to have a great time with your best friend in this town. So here are some super fun things to do with your dog in Calistoga, which includes pet friendly B&Bs, dog friendly activities as well as some amazing dog friendly restaurants! Having been to Calistoga many times, I can totally vouch for how perfect its for a winter retreat or a weekend away from the humdrum of daily life, for both you and your dog.
Read my other wine country posts here:
Best time to visit Calistoga with dogs
Take it from someone who's visited Napa Valley many, many times over these 12 years of living in San Francisco-the best time to visit Calistoga with your pups or for that matter anywhere in Napa Valley is undoubtedly Fall followed by Spring and Winter (when in California in December, definitely go wine tasting to avoid the crowds). Avoid summer (May-August) at all costs since it is hot as hell in this landlocked wine country. October and November are hands down the best months to visit with less crowds and stunning fall colors.
Dog Friendly Hotels in Calistoga
Despite its tiny size, Calistoga has several lodging options welcoming your canine companion. Having stayed in Calistoga at least three times during our Napa Valley trips with our dogs Babu (2004-2021) and Gunda (adopted in April 2021), here are the places I recommend:
a) Calistoga Motor Lodge
Calistoga Motor Lodge at the very end of Lincoln Avenue is a fun, roadside boutique hotel with pet friendly rooms. The rooms are inspired by the Great American road trip and dogs are welcome in the smaller Camper rooms. You can take a swim in one of their 3 geothermal mineral pools, play bocce ball or corn hole on their lawn or get pampered at the Moon Acre spa.
The lodge is very conveniently located near the scenic Silverado trail as well as the Oat Hill Mine trailhead, which is a dog friendly hiking trail. Parking is free and they also have in house dining at Fleetwood offering Mediterranean wood fired cuisine. If you're visiting Calistoga and want to stay close to downtown, I highly recommend this dog friendly hotel.
b) Bear Flag Inn
Look no further than the Bear Flag Inn as one of the best dog friendly accommodation options in Calistoga for your night's stay if you have your pooch in tow. Owners Dennis and Marjorie are major dog lovers (have two dogs and one cat) and have their primary residence as well as cottages spread across acres of green for your dog to sniff and romp around. Dogs are welcome in the cottages or the outward facing rooms in the main building, all at no extra cost!
You will be greeted with wine and snacks in the evening, with the red coming in from grapes from their very own vineyard facing the inn. They also cook yummy breakfast for you and you can notify them of any dietary restrictions that you may have in advance.
We had a very comfortable stay and I highly recommend this place for the hospitality, cleanliness and major dog love shown by the hosts. A perfect place for dog lovers to rest, it has five star rating on BringFido.com and I can attest to its popularity.
c) Enchanted Cottage
Another dog friendly B&B in Calistoga is the Enchanted cottage, which is a charming property with several cottages that have all the modern amenities and are both kid and pet friendly! Napa valley is one of the most romantic getaways in Northern California and this B&B is perfect for indulging yourself a little bit, especially when in Calistoga which has lots of spas, good food and wine.
The innkeeper and his wife are not only super friendly but also prepare continental breakfast for you and leave it on your cottage porch in the morning a beautiful wicker hamper. The cottage is super spacious with a living room, bedroom, personal bathroom and a beautiful fireplace that adds to its vintage charm! We loved our quiet weekend stay there and highly recommend it to all dog parents.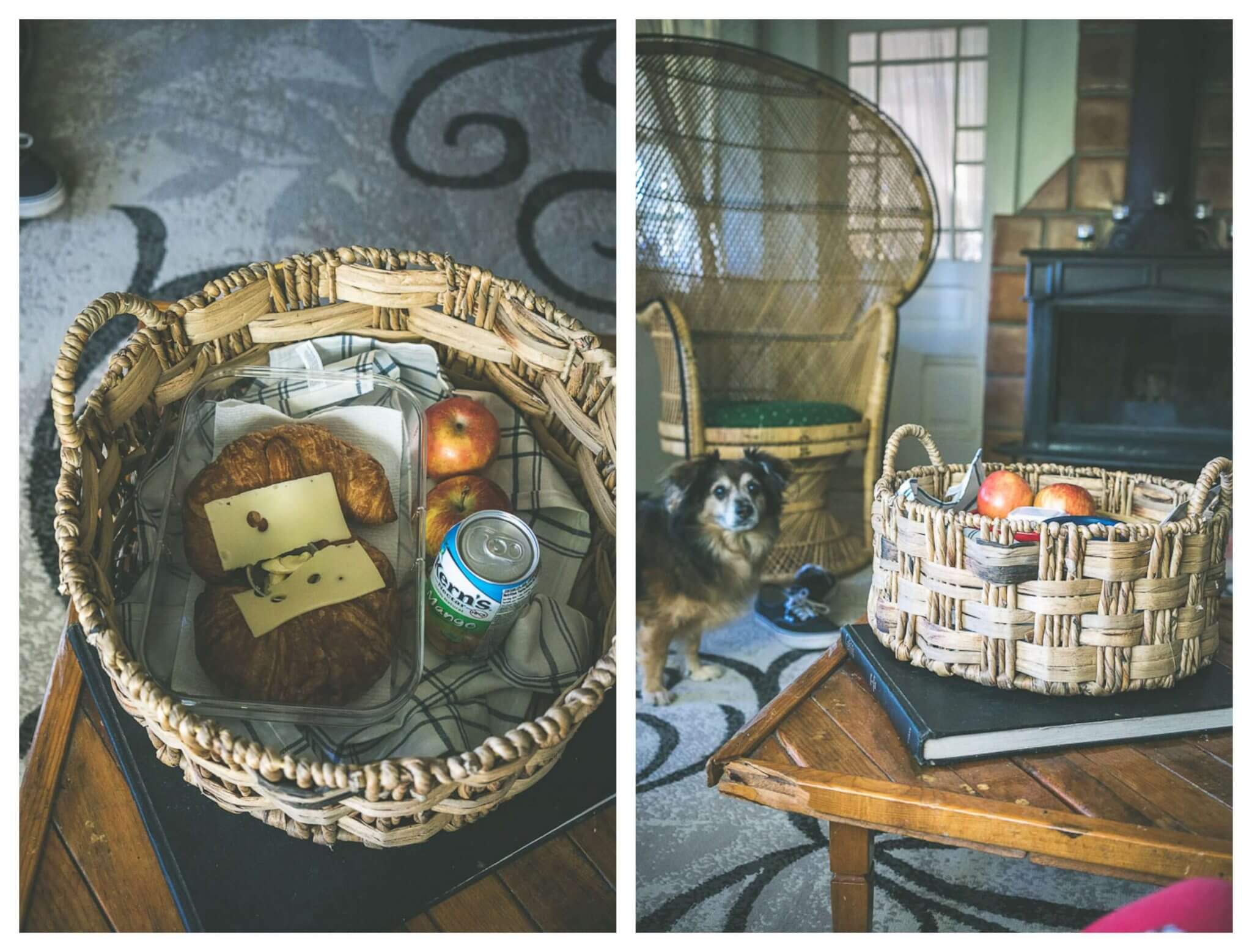 Dog friendly restaurants in Calistoga
There are many dog friendly restaurants in Calistoga thanks to patio dining availability. Some of the most popular ones that we've been to are as follows:
a) Solbar (good for lunch and dinner)
Solbar, the restaurant of the famous hospitality group Solage and our first lunch spot in Calistoga, is extremely dog-friendly with a giant patio and a MUST visit if you are with your pooch/vegetarian/vegan/plain hungry!
The food is consistently top notch Californian-American with hints of Asian influence (think of lamb gyros with a twist or sweet potato chapatis) and all ingredients are locally sourced, as is the norm of every place in wine country (yay for California's immense bounty!). We've dined here at least half a dozen times and I can vouch for it as a solid dog friendly restaurant in Calistoga that you can count on.
b) Lovina (good for brunch and dinner)
Do not leave Calistoga without dining at Lovina, which is one of the most amazing restaurants that we've ever dined in at Napa Valley. Located in downtown Calistoga, this gem of a restaurant serves delicious fresh, seasonal Californian-American food which you can enjoy in their leafy courtyard. Lovina has lots of vegetarian options, so if you are not into meat then definitely reserve a table here.
The only thing even more fun than the food is the historic craftsman building where the restaurant is, the giant bear statue in the courtyard and the history behind the name of the restaurant (which you can read about in the menu). Please make a reservation in advance because this is a very popular dining spot.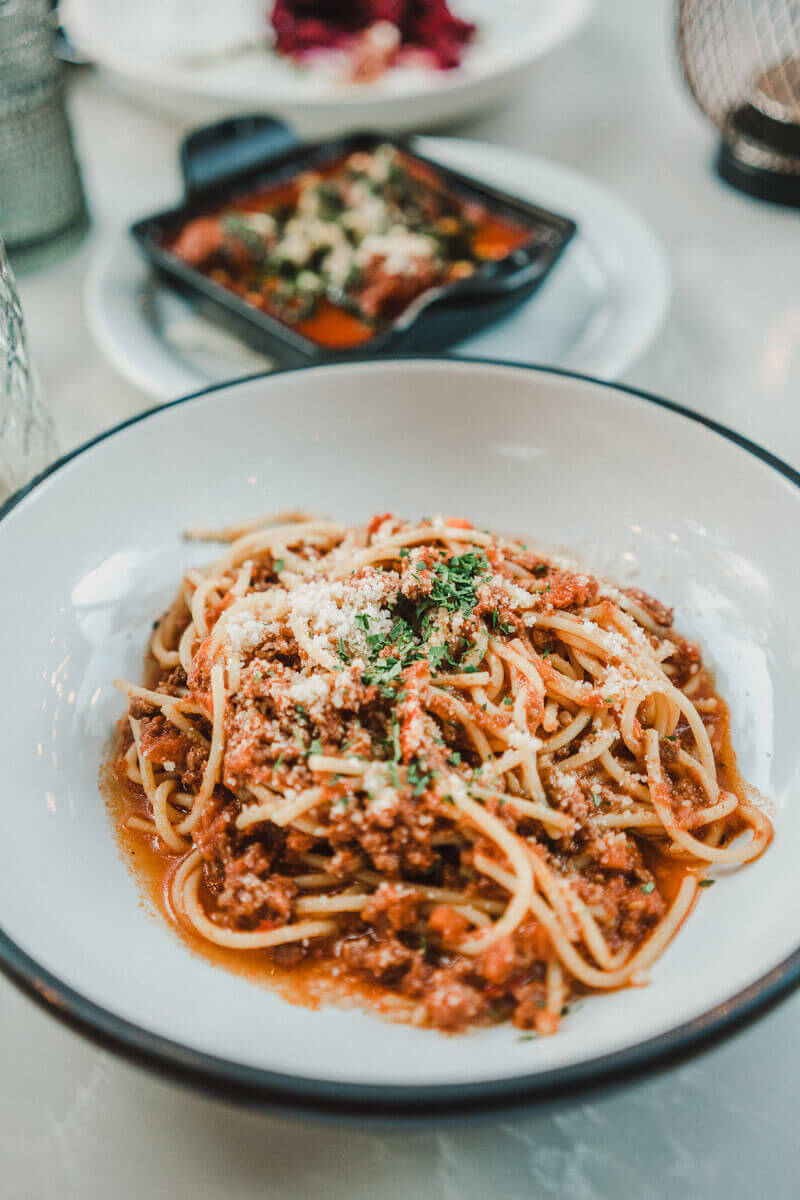 c) Calistoga Inn & Brewery (good for lunch and dinner)
Another super popular dog friendly restaurant in Calistoga is none other than Calistoga Inn & Brewery. It has a lively and spacious outdoor seating where well behaved dogs are welcome. The food is essentially Californian American with seasonal ingredients.

d) Farmstead (good for dinner)
Farmstead in nearby St. Helena is our staple dining destination every time we visit Calistoga because of the dog friendly outdoor seating, ambience and food. Plus the outdoor patio equipped with heaters which is great for chilly Fall or Winter nights. Their deviled eggs are delicious and a must have!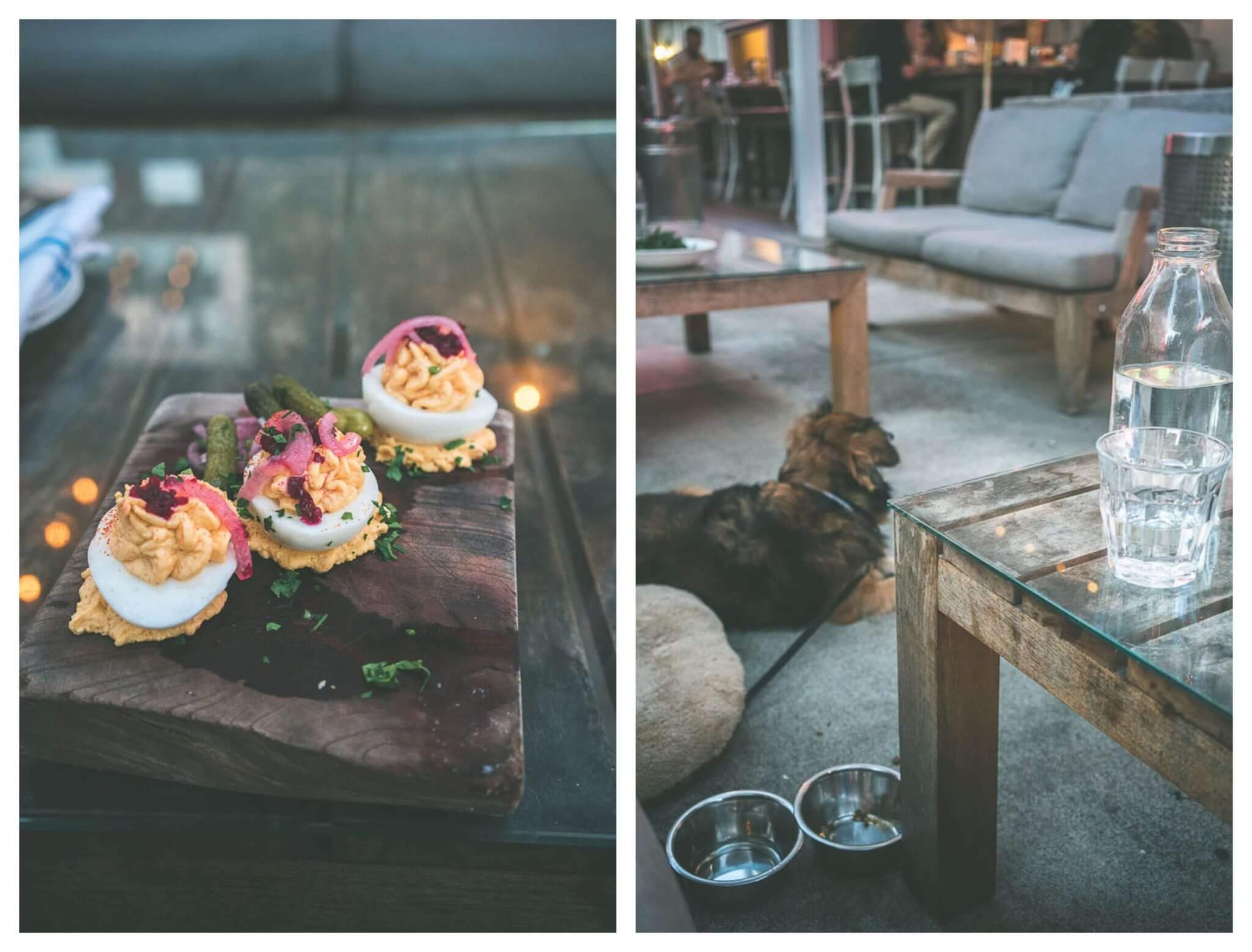 Dog Friendly wineries in Calistoga
People visiting Napa Valley often dismiss Calistoga (located at the northernmost point of the valley) as a small, sleepy town known only for its spas. However, some of the best wineries in Napa are located in Calistoga and if you're a first time visitor to Napa, I highly recommend checking out at least a few of them.
Many of these wineries are dog friendly which is simply great news for wine loving pet parents! Please remember to make reservations beforehand and have your dog on leash at all times. I also recommend carrying a portable blanket and some food and water for your dog to feel comfortable during your wine tasting.
Having visited Calistoga many times over these 12 years, here's my list of dog friendly wineries in Calistoga for all budgets. These wineries welcoming dogs range from fancy ones to reasonably priced for wine tasting, but do keep in mind that you're still in Napa, so tasting prices will definitely be on the steeper side (as compared to Sonoma wineries). Our favorite dog friendly wineries in Calistoga are as follows:
a) Dutch Henry Winery
Located on the Silverado Trail, this secluded Dutch Henry winery is extremely dog friendly and overlooks their own vineyard. We've been here twice and loved the friendly staff, the relaxed ambiance and of course the yellow Airedale crossing! Tasting is in the range of 25-30 USD but the fee is waived if you purchase one of their bottles.
b) Clos Pegase
Clos Pegase, is a high end winery in Calistoga which is surrounded by acres of beautiful vineyards and is also dog friendly. Although a pour of 5-6 wines costs upwards of $40 (this was in 2018 and prices must have shot up), the tasting room is one of a kind beautiful with an understated elegance and refinement. The wine pourers are experts and will eagerly share their knowledge of the property and wine with you.
You also get a map of the entire wine country in California starting all the way from Mendocino to Santa Barbara indicating the different kinds of grapes and wine that California offers, based on the soil and weather. This is definitely one of the most beautiful wineries to visit in dog friendly Calistoga.
c) Bennett Lane Winery
If you're looking for a dog friendly Calistoga winery that is charming and won't break the bank for tasting, then head straight to Bennett Lane Winery which boasts of having the friendliest tasting room in all of Napa (it actually is!). You and your pup will be seated in a dog friendly lawn for tasting. Their signature tasting is $25 (2022 price) and waived with a three bottle purchase.
Bennett Lane is home to many 90+ pointer wines and I loved tasting their 2021 Reserve Chardonnay (perfect for a hot day), 2015 Maximus (blend of 86% Cabernet Sauvignon, 7% Syrah and 7% Merlot), 2017 Petite Sirah and 2016 Cabernet Sauvignon.
d) Tamber Bey Winery
This former horse ranch turned tasting room is one of the most unique dog friendly wineries in Napa Valley (and pretty expensive too). Once you enter the distinctive red building surrounded by acres of land and pass through the beautiful tasting room, you will step into a shaded courtyard for your wine tasting. Dogs must be on leash at all times and there is a separate pet relief area which is next to the picnic area on the front end of the winery, outside of the courtyard.
At Tamber Bey, your tasting fee (which is waived if you buy 6 bottles) is $60 (2022 prices). You will get a pour of 5 wines (2 whites, 1 rosé and 2 reds), out of which my favorite was hands down the rose of GSM blend (I've always had rosés of Pinot Noir or Gamay and was pleasantly surprised at the subtle notes of this one). One fun fact about the winery is that they do not have any vineyards on the property-this is because they are alarmingly close to the old Faithful geyser on Tubbs lane due to which there is a lot of sulphur in the soil that can affect the wine.
The courtyard is filled with photos of the owners who are into competitive horse racing and got into wine making in the 90s. You can also explore the courtyard during your tasting and if you do, be sure to say hi to two retired Arabian Mares resting in their stables!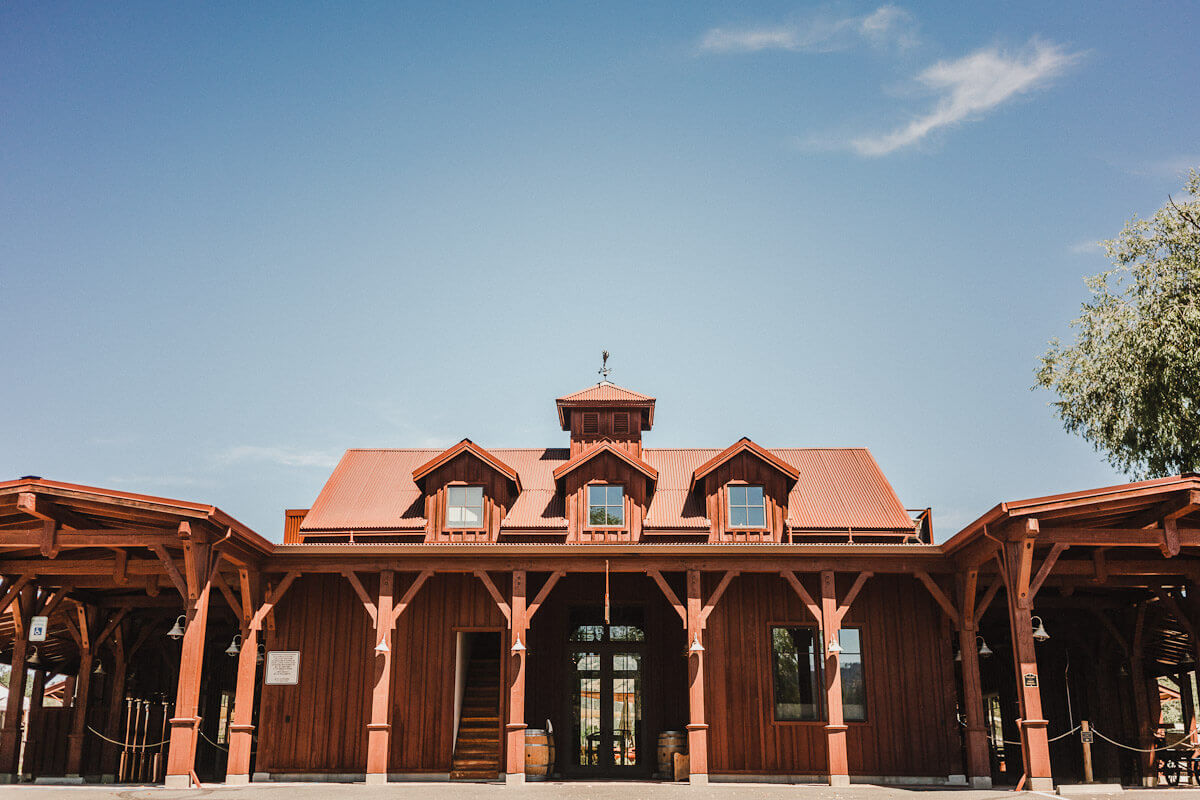 e) Brian Arden Winery
This winery on the Silverado trail is one of the newest in Napa and opened in 2015. The winery itself is arresting in its architectural features and is made of stone and glass and a visual delight.
Dog friendly wine tasting happens in the shaded outdoor lawn overlooking their vineyard where they grow zinfandel grapes. The tasting fee is $45 and I highly recommend the chef's charcuterie board to go with the wine. Their seating with wicker lounging chairs and heaters is perfect for cold fall and winter days for outdoor wine tasting.
f) Castello di Amorosa (aka "The Castle")
Calistoga is home to the grandest winery in Napa Valley, which is a full fledged medieval style Tuscan castle built by Dario Sattui (his great grandfather Vittorio Sattui founded V. Sattui Winery in 1885 in San Francisco that is now one of the most popular wineries in Napa Valley). You need to make reservations for even entering the castle for either a tasting or a tour (tasting is optional if you reserve a tour). Good news is that the winery welcomes dogs and you can explore the castle on your own after you are done with the tasting.
Everything inside the castle is simply grand and eye-poppingly beautiful. The wine tasting room at Castello di Amorosa is filled with barrels with magnificent Italian frescoes and paintings adorning the walls. As you wander through the castle, you will see the incredible Great Hall, the Courtyard, the Chapel and the upper Loggia-all of which are accessible on a self guided tour (a reserved guided tour takes you to several other parts of the castle that are not accessible on a self guided walk). Definitely go up to the terrace for panoramic views of Napa Valley and Mount St. Helena.
The Castle grounds are beautiful too with lush vineyards all around and an animal enclosure with goats and an emu casually strolling around. If you're visiting Calistoga with your dog, I cannot recommend this lavish wine tasting experience enough! Make your reservations here.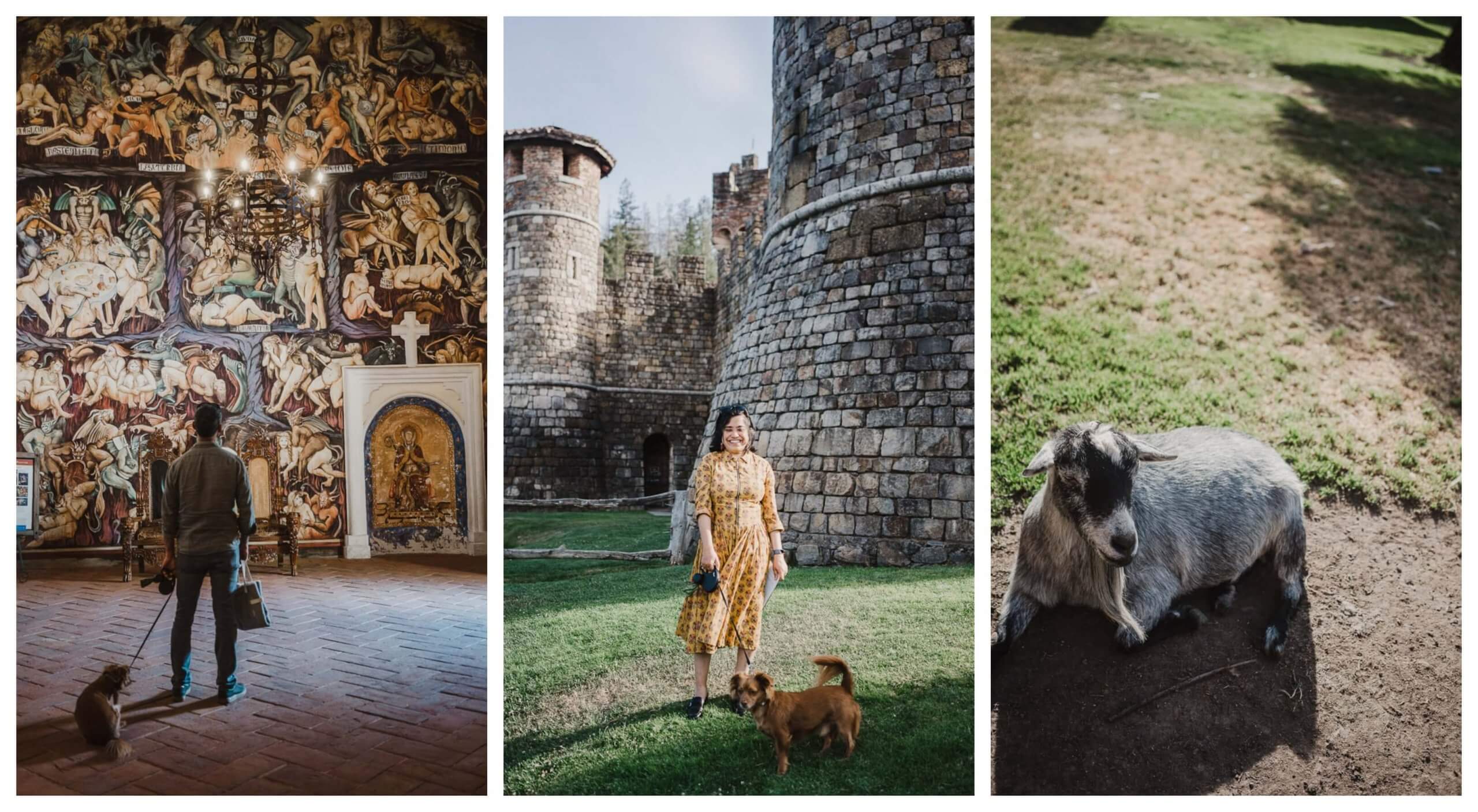 Dog Friendly things to do in Calistoga
There are a surprising number of dog friendly things to do in Calistoga besides wine tasting. So even if you're not a wine enthusiast, don't skip this small town in Napa on accord of not drinking wine. Calistoga is home to some of the most unique dog friendly attractions in California and they are as follows:
a) Explore downtown Calistoga with your dog
Downtown Calistoga is a vibrant part of town with many businesses, stores, tons of art galleries, bakeries, coffee shops and wine tasting rooms running along Lincoln avenue and side streets. Many of these places are dog friendly which makes exploring downtown really enjoyable.
For breakfast, I recommend stopping by Bella Bakery (which is at par with the uber fancy Bouchon in Yountville) and Calistoga Roastery for their coffee and baked goods. Both places have outdoor seating to enjoy your first meal of the day with your dog. On a hot day, enjoy some local ice cream from Calistoga Creamery which is located on one end of Lincoln Avenue and enjoy it in their outdoor seating.
If you're in the mood for wine tasting, then head to Picayune Cellars and Mercantile which is a dog friendly tasting room in downtown. For gifts and souvenirs, head straight to the Art on the Vine store which is an art gallery and a gift shop filled with amazing paintings by owner Shawn Smith.
The most magnificent art gallery that I have ever seen in Napa is undoubtedly Ca'toga Galleria d'Arte which you should definitely visit with your pup in tow to appreciate the handiwork and vision of world famous artist Carlo Marchiori in this small art gallery.
Marchiori has a larger than life mural on Lincoln avenue in an alley right across from Calistoga roastery from where we actually found out about his gallery which has a pretty unassuming facade and can easily be missed. Once inside the gallery, look up to see an intricate ornate mural gracing the ceiling as well as dozens of Italian masterpieces all around, painted by the artist who was heavily influenced by the Spanish auteur Francisco Goya.
Marchiori's home, i.e. Villa Ca'toga can also be toured from May-October and tickets can be purchased at the gallery itself or at the Calistoga Welcome Center. I am not sure if dogs are allowed on the home tour, so definitely enjoy the art gallery at the very least when you're visiting Calistoga.
b) Dog friendly attraction: "Old Faithful" geyser
The star attraction of dog friendly Calistoga is undoubtedly the Old Faithful geyser at Tubbs lane, the only other of its kind and named so because it erupts unfailingly at known intervals of time. The eruption interval shortens to 5 mins during rainy season so we kind of lucked out. Plus the premises have two beautiful seated areas to watch the eruption from, and an enclosed area where goats graze.
The other attraction is the Old faithful goat farm on the property with kids, llamas and billy goats grazing nonchalantly, stopping only momentarily to stare at Babu who barked at them like a banshee as we fed the goats (you can purchase goat food at the store and feed them with that, they are very gentle and are used to being fed by humans). The store has mementos as well as a picnic station providing plates and plastic cutlery for those interested in picnicking on the grounds.
Finally there is also a small yet very informative geological museum nestled on the grounds. The whole property is very well maintained and neatly kept. For the safety of your pet, please keep him/her leashed at all times to prevent being scalded by the hot water of the geyser and watch from a safe distance.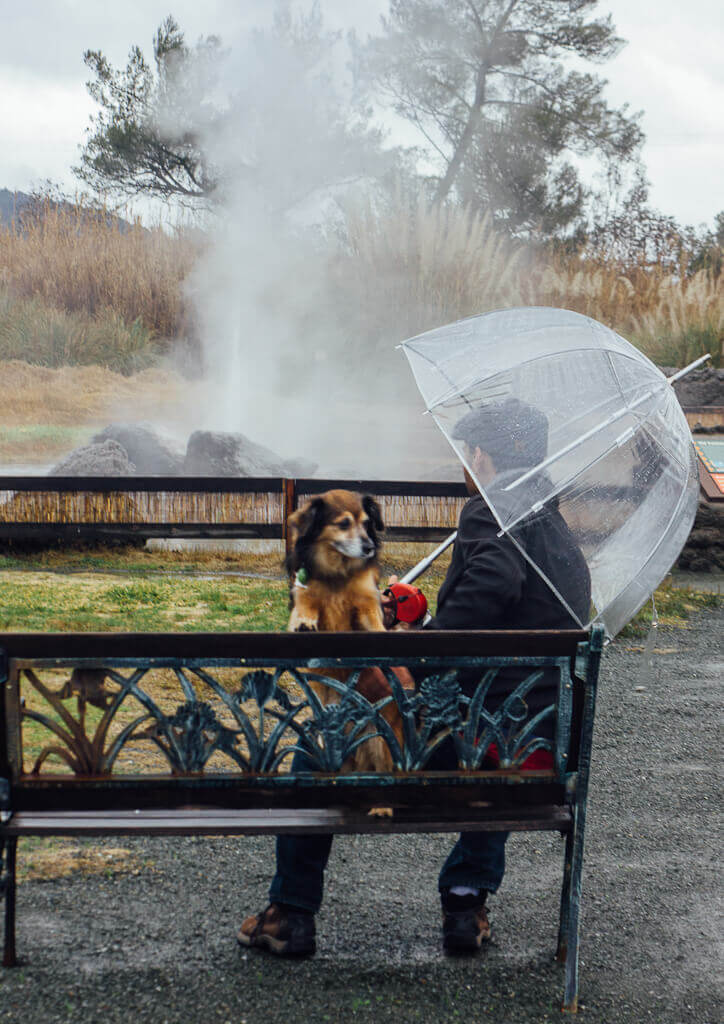 c) Dog friendly things to do in Calistoga: visiting the Petrified Forest
The second dog friendly one of a kind treasure of Calistoga is the petrified forest, named so due to fossilization of an entire grove of California redwoods by the volcanic ash spouted by Mount St. Helena some 3.4 million years ago when it erupted. There is a tiny gift shop near the parking lot where you pay ($12/adult), get your map of several trails crisscrossing the forest and enter this geological wonderland.
You will see trunks of fallen giant redwoods preserved in volcanic ash as well as get to hike up a short trail that leads to a clearing which overlooks the remains of the extinct volcano Mt. St. Helena that is approximately 7 miles northeast of the forest (Napa Valley lies in the shadow of this mountain). It is definitely one of the most unique dog friendly Redwoods near San Francisco that you should check out!
The petrified forest caught the fancy of famous American novelist Robert Louis Stevenson who wrote about his visit in 1880 in his book "The Silverado Squatters". Although not a real forest that might feel a little underwhelming, I do recommend this unique experience as a nice little stroll with your dog and to marvel at some of the fossilized remains of some of the most ancient redwoods on earth. Be aware of the fact that this is a dead forest and so there may be bugs and flies buzzing around.
d) Dog Park in Calistoga: Pioneer Park
This tranquil dog park with public restrooms and a gazebo plus picnic areas is one that you must check out for a morning walk or evening stroll with your pup.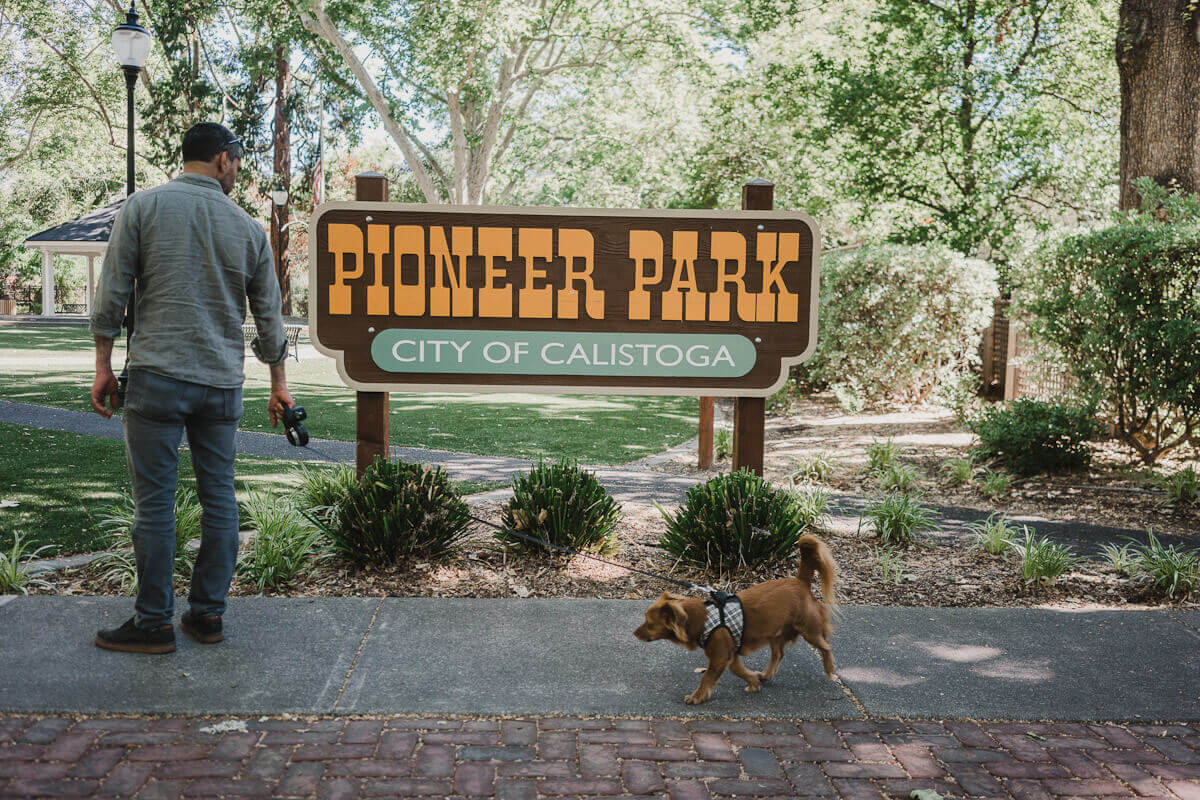 e) Dog friendly hiking trail in Calistoga: Oat Hill Mine Trail
Oat Hill Mine trail is a dog friendly trail in Calistoga within a 4 minute walking distance from the Calistoga Motor Lodge. The trailhead is at the intersection of Lincoln Avenue and Silverado trail N. Dogs on leash are welcome on this trail that winds upwards with beautiful views of adjacent wineries.
This trails follows 8.3 miles of an old stagecoach route connecting trail Calistoga to the Aetna Spring road in Pope Valley with an elevation change of 1500 ft. Definitely check this dog friendly hike out if you're visiting Calistoga with your pups.
I hope you loved reading about dog friendly Calistoga which gets two thumbs up from us for welcoming canines and providing a quiet retreat from the buzz of Napa! Thanks a lot for stopping by and safe travels with your pup!
Check out my other popular dog friendly travel posts in California
A complete guide to all the dog friendly spots in San Francisco, California
A Guide to dog friendly Solvang, California: The Danish capital of USA
Exploring California's central Coast with your dog: A Guide to San Luis Obispo
A Guide to three Dog Friendly Waterfall Hikes in San Francisco Bay Area
The best dog friendly day trips from San Francisco that you must check out
The 10 most dog friendly cities in USA as recommended by travel savvy pet parents
The top two dog friendly road trips on the West Coast that you must check out
Dog Friendly hikes in Muir Beach lookout and Dawn Falls Trail, Larkspur
A resident dog mom's guide to six dog friendly hiking trails in San Francisco
A Guide to dog friendly wine tasting at Lodi, California wine country's hidden gem
A dog friendly guide to Yosemite National Park
The best dog friendly hike in Marin County with the most gorgeous views
A dog friendly guide to Santa Barbara: how to enjoy Southern California with your dog
A dog friendly guide to Los Angeles, California: Top things to do with your dog
Dog Friendly restaurants in Santa Cruz: A complete roundup of the tastiest spots
Dog Friendly Glamping in Bay Area: Our stay at Hobbit Cobin, Petaluma
A Dog Friendly staycation in Sausalito, California: Stay in a houseboat with your dog
A Complete Guide to Dog Friendly Carmel by the Sea, California
Dog Friendly Mendocino: 6 Things to Do With Your Dog in California's Redwoods
A guide to the best dog friendly beaches in California
Like this post? Hover over the images below to pin.

«