Last Updated on March 5, 2021 by Paroma
Dog friendly Calistoga: Your perfect weekend getaway
Calistoga, once a waste of a farmland in the northernmost tip of Napa county (wine country) is now a bustling town brimming with world class spas, geothermal wonders such as the petrified forest and the "Old Faithful" geyser, one of the only two in North America. A far cry from the other more popular Napa Valley towns such as St. Helena or Yountville, Calistoga is both under the radar and canine friendly as heck! Dog friendly Calistoga is one of the best small towns in California to visit with a dogs and is dotted with its fair share of wine tasting rooms and estates, quite a few of which welcome pooches.
In addition, there are dog friendly hotels as well as plenty of dog welcoming hiking trails to have a great time with your best friend in this town. So here are some super fun things to do with your dog in Calistoga, which includes pet friendly B&Bs, dog friendly activities as well as some amazing dog friendly restaurants! Having been to Calistoga many times, I can totally vouch for how perfect its for a winter retreat or a weekend away from the humdrum of daily life, for both you and your dog.
Disclaimer: This post may contain some affiliate links. Clicking on them may earn me a small commission at no extra cost to you for the product. Thank you!
Dog Friendly Hotels in Calistoga
a) Bear Flag Inn
Look no further than the Bear Flag Inn as one of the best dog friendly accommodation options in Calistoga for your night's stay if you have your pooch in tow. Owners Dennis and Marjorie are major dog lovers (have two dogs and one cat) and have their primary residence as well as cottages spread across acres of green for your dog to sniff and romp around. Dogs are welcome in the cottages or the outward facing rooms in the main building, all at no extra cost!
You will be greeted with wine and snacks in the evening, with the red coming in from grapes from their very own vineyard facing the inn. They also cook yummy breakfast for you and you can notify them of any dietary restrictions that you may have in advance. We had a very comfortable stay and I highly recommend this place for the hospitality, cleanliness and major dog love shown by the hosts. A perfect place for dog lovers to rest, it has five star rating on BringFido.com and I can attest to its popularity.
b) Enchanted Cottage
The second time we visit Calistoga as during my birthday weekend and we chose to have a relaxing getaway at Enchanted cottage, Calistoga which is a charming property with several cottages that have all the modern amenities and are both kid and pet friendly! Napa valley is one of the most romantic getaways in Northern California and is perfect for indulging yourself a little bit, especially in Calistoga with lots of spas, good food and wine.
The innkeeper and his wife are not only super friendly but also prepare continental breakfast for you and leave it on your cottage porch in the morning a beautiful wicker hamper. The cottage is super spacious with a living room, bedroom, personal bathroom and a beautiful fireplace that adds to its vintage charm! We loved our quiet weekend stay there and highly recommend it to all dog parents. For more options, here is a list of dog friendly hotels in Calistoga.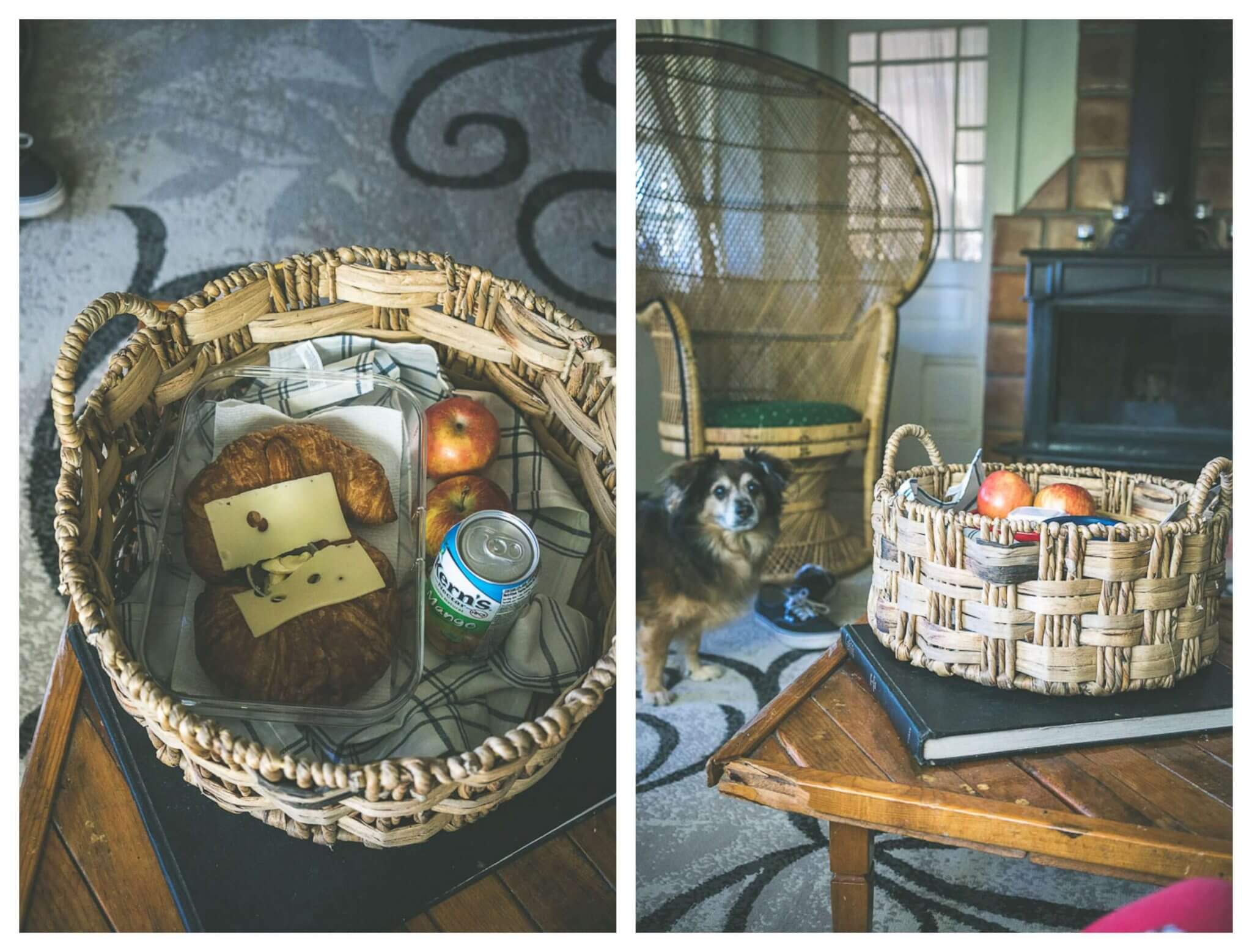 Dog friendly restaurants in Calistoga
There are many dog friendly restaurants in Calistoga thanks to patio dining availability. Some of the most popular ones that we've been to are as follows:
Solbar, the restaurant of the famous hospitality group Solage and our first lunch spot in Calistoga, is  extremely dog-friendly with a giant patio and a MUST visit if you are with your pooch/vegetarian/vegan/plain hungry! The food was top notch Californian-American with hints of Asian influence (think of lamb gyros with a twist or sweet potato chapatis) and all ingredients were locally sourced, as is the norm of every place in wine country (yay for California's immense bounty!). 
During our second visit to dog friendly Calistoga, we dined at Farmstead in nearby St. Helena, which has a bustling outdoor patio equipped with heaters. Their deviled eggs are delicious and a must have! We also had lunch al fresco at Two Birds One Stone, our favorite restaurant in St. Helena which marries Japanese yakitori to Californian sensibilities. Both restaurants are dog friendly thanks to their outdoor seating!
Update: As of June 29, 2020 Two Birds One Stone has been reinvented as Roadhouse 29, a casual BBQ space serving smoked meat. I will miss their mouthwatering and unique Californian-Yakitori fare.
spicy lotus roots at Two Birds One stone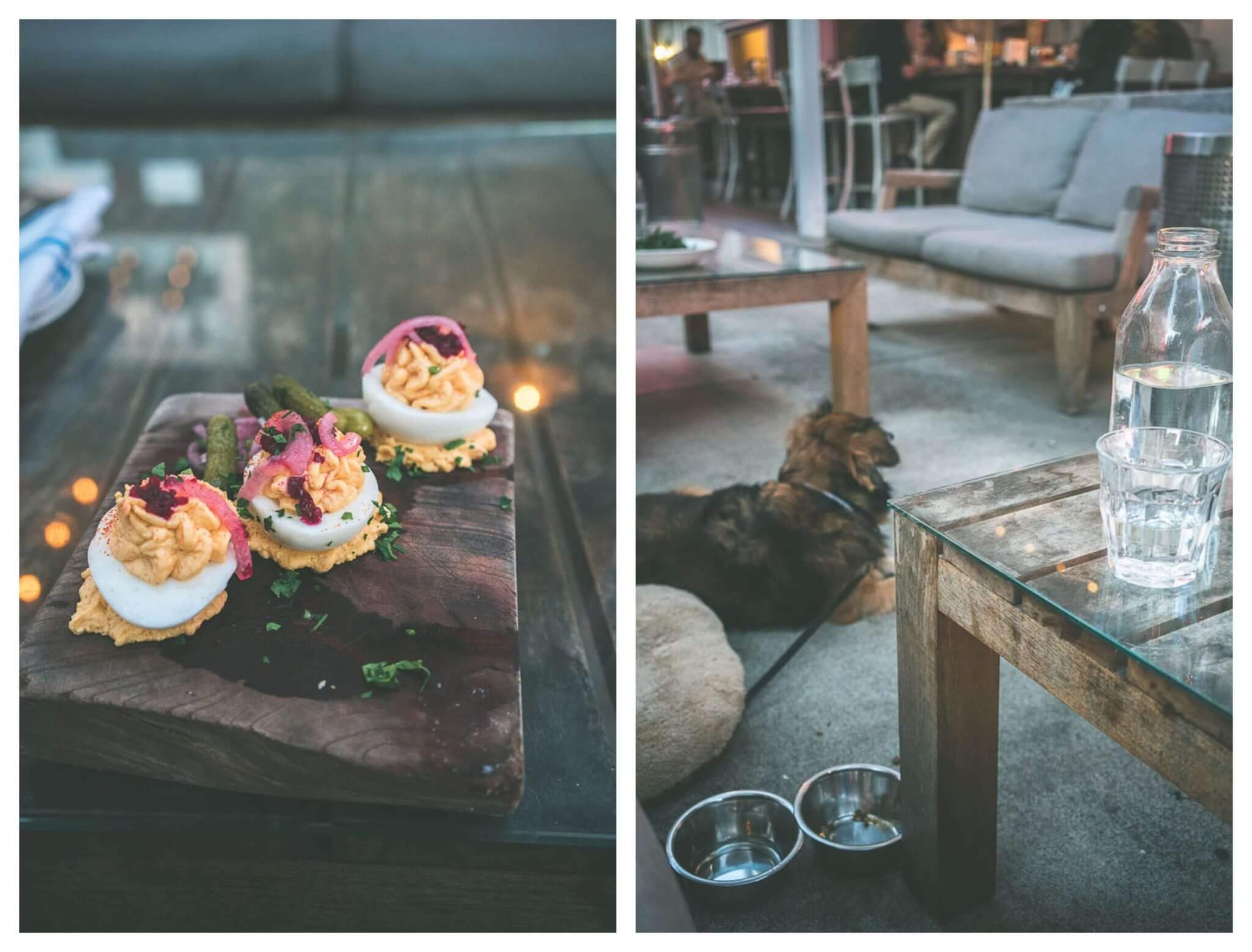 heated patio at Farmstead and their delicious deviled eggs
Another super popular dog friendly restaurant in Calistoga is none other than Calistoga Inn & Brewery. It has a lively and spacious outdoor seating where well behaved dogs are welcome. The food is essentially Californian American with seasonal ingredients. 

Yum yum gnocchi at Calistoga Inn & Brewery 
Dog Friendly wineries in Calistoga
Much like Sonoma, Napa valley too has its fair share of dog friendly wineries and many of them are in and around Calistoga. Of the several wineries in dog friendly Calistoga (see the full list of dog friendly Calistoga wineries here), we tried Dutch Henry winery (super dog friendly) and also went to Markham vineyards in St. Helena. In both places we visited, the wine tasting costs $$ (25-30) but DH winery waives the tasting fee if you buy one of their bottles. We ended up buying a Moscato Blanc and a Petite Sirah from Markham.
The second time around, we visited two more incredibly dog friendly wineries in Calistoga, out of which one was $$$$ as well and possibly the most expensive one that we've indulged in for a wine tasting (all thanks to my birthday blues).
The first one is the tasting room at Laura Michael winery and tasting room, which is not only welcomes dogs but the owner (Michael Swanton) is super friendly and chatty. Michael tells you all interesting tidbits on wine making as well as the origins of this boutique winery (there is a beautiful love story of second chances behind the tagline "love at first sip" and you have to visit the winery to hear all about it).
Our second stop was Clos Pegase, a high end winery which is surrounded by acres of beautiful vineyards and is also dog friendly. Although a pour of 5-6 wines costs upwards of $40, the tasting room is one of a kind beautiful with an understated elegance and refinement. The wine pourers are experts and will eagerly share their knowledge of the property and wine with you. You also get a map of the entire wine country in California starting all the way from Mendocino to Santa Barbara indicating the different kinds of grapes and wine that California offers, based on the soil and weather.
Laura Michael winery
Clos Pegase for wine tasting in style (aka when you want to feel good in the last year of your thirties)
Dog Friendly activities in Calistoga
a) Dog friendly attraction: "Old Faithful" geyser
The star attraction of dog friendly Calistoga is undoubtedly the Old Faithful geyser at Tubbs lane, the only other of its kind and named so because it erupts unfailingly at known intervals of time. The eruption interval shortens to 5 mins during rainy season so we kind of lucked out. Plus the premises have two beautiful seated areas to watch the eruption from, and an enclosed area where goats graze.
The other attraction is the Old faithful goat farm on the property with kids, llamas and billy goats grazing nonchalantly, stopping only momentarily to stare at Babu who barked at them like a banshee as we fed the goats (you can purchase goat food at the store and feed them with that, they are very gentle and are used to being fed by humans). The store has mementos as well as a picnic station providing plates and plastic cutlery for those interested in picnicking on the grounds.
Finally there is also a small yet very informative geological museum nestled on the grounds. The whole property is very well maintained and neatly kept. For the safety of your pet, please keep him/her leashed at all times to prevent being scalded by the hot water of the geyser and watch from a safe distance.
b) Dog friendly things to do in Calistoga: visiting the Petrified Forest
The second dog friendly one of a kind treasure of Calistoga is the petrified forest, named so due to fossilization of an entire grove of California redwoods by the volcanic ash spouted by Mount St. Helena some 3.4 million years ago when it erupted.  There is a tiny gift shop near the parking lot where you pay ($12/adult), get your map of several trails crisscrossing the forest and enter this geological wonderland.
You will see trunks of fallen giant redwoods preserved in volcanic ash as well as get to hike up a short trail that leads to a clearing which overlooks the remains of the extinct volcano Mt. St. Helena that is approximately 7 miles northeast of the forest (Napa Valley lies in the shadow of this mountain).
The petrified forest caught the fancy of famous American novelist Robert Louis Stevenson  who wrote about his visit in 1880 in his book "The Silverado Squatters". Although not a real forest that might feel a little underwhelming, I do recommend this unique experience as a nice little stroll with your dog and to marvel at some of the fossilized remains of some of the most ancient redwoods on earth. Be aware of the fact that this is a dead forest and so there may be bugs and flies buzzing around.
Overall, two thumbs up to dog friendly Calistoga (a mere 1.5-2 hrs north of San Francisco) for being so welcoming to canines and providing a quiet retreat from the buzz of Napa! For more information on all things dog-friendly in Napa, please visit this website, which was a helpful source of information for us. Finally, do read my guide to St. Helena, a popular destination in Napa county (right next to Calistoga) for more wine tasting and delicious food.
Check out my other popular dog friendly travel posts in California
A complete guide to all the dog friendly spots in San Francisco, California
A Guide to dog friendly Solvang, California: The Danish capital of USA
Exploring California's central Coast with your dog: A Guide to San Luis Obispo
A Guide to three Dog Friendly Waterfall Hikes in San Francisco Bay Area
The best dog friendly day trips from San Francisco that you must check out
The 10 most dog friendly cities in USA as recommended by travel savvy pet parents
The top two dog friendly road trips on the West Coast that you must check out
Dog Friendly hikes in Muir Beach lookout and Dawn Falls Trail, Larkspur
A resident dog mom's guide to six dog friendly hiking trails in San Francisco
A Guide to dog friendly wine tasting at Lodi, California wine country's hidden gem
A dog friendly guide to Yosemite National Park
The best dog friendly hike in Marin County with the most gorgeous views
A dog friendly guide to Santa Barbara: how to enjoy Southern California with your dog
A dog friendly guide to Los Angeles, California: Top things to do with your dog
Dog Friendly restaurants in Santa Cruz: A complete roundup of the tastiest spots
Dog Friendly Glamping in Bay Area: Our stay at Hobbit Cobin, Petaluma
A Dog Friendly staycation in Sausalito, California: Stay in a houseboat with your dog
A Complete Guide to Dog Friendly Carmel by the Sea, California
Dog Friendly Mendocino: 6 Things to Do With Your Dog in California's Redwoods
A guide to the best dog friendly beaches in California
Like this post? Hover over the images below to pin.
 

«