Last Updated on November 16, 2022 by Paroma
If you're visiting Napa Valley for the weekend and are even mildly curious about Calistoga, then this is a must read post to take the plunge. I have visited Calistoga several time over the last 12+ years of living in San Francisco and my guide on the best things to do in Calistoga showcases unique wine tasting experiences and attractions that are hard to find anywhere else in Napa valley. So, without further ado, let's get going on this Calistoga attractions guide for the perfect Calistoga weekend itinerary!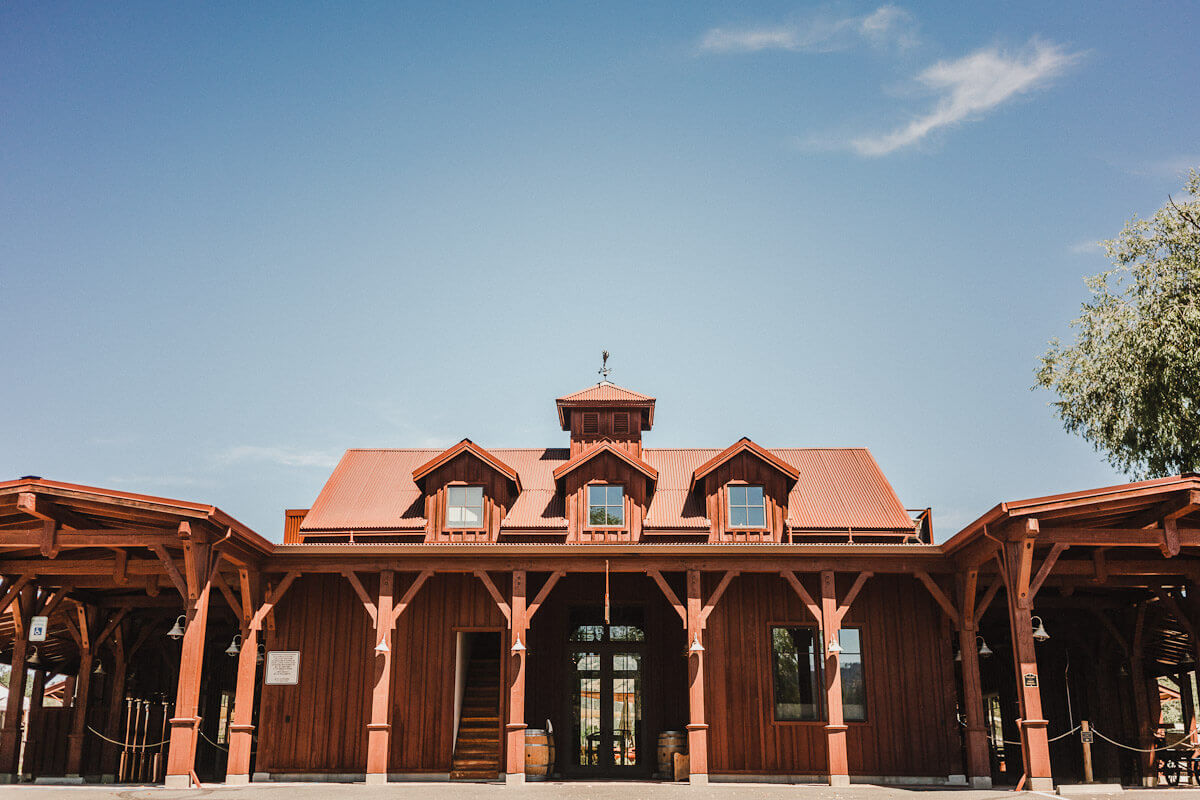 Disclaimer: This post may contain some affiliate links. Clicking on them may earn me a small commission at no extra cost to you for the product. Thank you for supporting free content on this site!
Calistoga is the northernmost town in Napa Valley that lies in the shadows of Mount St. Helena. This town was originally a collection of villages inhabited by the Wappo Native American tribe that thrived here thanks to the abundance of acorns provided by oak trees and the healing hot springs. Modern day Calistoga as we know it was founded in 1868 when the California Pacific Railroad was built, drawing in visitors to enjoy the Calistoga Hot Springs.
A lot of tourists visiting Napa Valley come to Calistoga for its mineral pools, mud baths and hot springs, thanks to the abundance of geothermal activity in this region. However, this town has a lot more to offer in terms of unique attractions and some of the most beautiful wineries in Napa Valley that I will be pointing out in this things to do in Calistoga guide, based on my repeat visits. From art galleries to good food and checking out the Petrified Forest or Old Faithful Geyser, this might be the most interesting town in Napa Valley after all!
PLANNING A TRIP TO CALISTOGA? HERE ARE THE FAQs
HOW FAR IS CALISTOGA FROM SAN FRANCISCO?
Calistoga is about 75 miles north of San Francisco in Napa County and it takes about 1.5 hours to get there, traffic permitting. Although you can take public transportation to downtown Napa from San Francisco,you will have to be at the mercy of regional shuttle services to get to Calistoga that may not always operate reliably. Therefore, driving to Calistoga (either by renting a car in San Francisco or the Bay Area) is the only option.
HOW MUCH TIME SHOULD YOU SPEND IN CALISTOGA?
A day trip is certainly doable but given the number of things to do in Calistoga, I suggest staying overnight for a relaxing weekend getaway from SF.
WHEN IS THE BEST TIME TO VISIT CALISTOGA?
Calistoga is searingly hot in summer because it is landlocked and temperatures can easily rise into triple digits (100+F or 37+C). For this reason, I highly recommend avoiding mid-May to September and visiting Calistoga between October-early May. Spring, Fall and Winter are all good times to visit for cooler, dry weather, making Calistoga a perfect winter getaway in California. Overall, visiting wine country in winter is always a good idea since it is low season.
IS CALISTOGA DOG FRIENDLY?
Calistoga is also very dog friendly with many places allowing dogs and restaurants welcoming fur babies on the patio. This is one of those small dog friendly Northern California towns where you should definitely explore with your pup in tow!
HOTELS IN CALISTOGA
Calistoga may be a tiny town but there are hotels of all budgets to be found here, starting from the luxury Solage resort to more modest accommodations such as Calistoga Motor Lodge (which also has its own dining and spa) where we stayed during our recent most visit and loved. The lodge has 3 geothermal pools and is dog friendly!
If you're looking for retro-designer vibes in a motel stay with a spa, then check out Dr Wilkinsons Backyard Resort and Mineral Springs (which also has its own spa that is highly rated). Upvalley Inn and Hot springs is another good option for those looking towards a relaxing soak in a hot tub or underground spring heated pool.
THE BEST THINGS TO DO IN CALISTOGA, CA
If you're visiting Napa for the first time (I have an entire post on that actually), you have to check out Calistoga especially if you're traveling with kids or family members that are not into wine. This is because this is a pretty laid back town that has several attractions very unique to Napa Valley and which do not require any wine tasting at all or any prior reservations. Here are some of my favorite things to do, where to eat and wineries based on my repeat visits to this part of Napa, which is has a much more chilled out vibe compared to the poshness of St. Helena or Yountville:
1) DRIVE THE SILVERADO TRAIL
Downtown Napa is connected to Calistoga via the Silverado trail, a scenic route that bypasses the traffic of CA-29 and 128. Flanked by rolling hills, vineyards and wineries on both sides, this drive from Napa to Calistoga is a relaxing one that you should definitely not pass up on.
2) VISIT THE PETRIFIED FOREST
Located on 4100 Petrified Forest road, this unique California landmark is a geological wonder and is an ancient preserved forest of petrified Redwood Trees (Sequoia langsdorfii) dating back to the Pliocene era, some 3.4 million years ago.
Unlike the majestic coastal Redwoods that you'll see in Humboldt County on a Mendocino to Eureka drive, these redwoods were essentially "mummified" or covered in volcanic ash caused by a violent volcanic explosion millions of years ago. The site of that extinct volcano is now known as Mount St. Helena, although the mountain itself does not have volcanic activity.
The Petrified Forest has attracted a stream of scientists, paleobotanists and geologists over the years since its chance discovery in 1870 by the Charles Evans, a Swede who was raking his pasture and in that process discovered the top of a hollow log that was as hard as stone. This geological marvel is also mentioned in the book "The Silverado Squatters," by Robert Louis Stevenson who visited Calistoga with his wife Fanny Stevenson in 1880.
The Petrified Forest is open to all visitors (including dogs on leash) from Thursday-Monday (closed Tue-Wednesday) and has two nice trails-Main Trail and Meadow trail that are half mile loops which you can easily explore in 45 minutes or so. There is also a gift store at the entrance to pick up souvenirs.
3) GET A MUD BATH OR A SPA TREATMENT
If you're visiting Napa Valley and are looking for a day of absolute indulgence or getting pampered, start with a relaxing spa or mud bath in Calistoga, which is what this town is known for. Of all the top spa facilities located here, the Indian Springs Resort and Spa is one of the most famous ones, providing different kinds of restorative and rejuvenating spa treatments such as mud baths, mineral waters and traditional facials and soothing massages.
Spa Solage, located inside the Solage Resort, is another luxury spa experience to be had when in Calistoga. If you're looking for more affordable options, I recommend the popular Calistoga Spa Hot Springs, Golden Haven Hot Springs and Moonacre Spa (part of Calistoga Motor Lodge). Please make prior reservations since spots fill up fast in all these places.
4) TOUR THE CASTELLO DE AMOROSA
Napa Valley has many jaw dropping wineries, but none come close to the grandeur of Castello de Amorosa, a medieval style Tuscan Castle built by Dario Sattui, which also doubles up as a tasting room for their excellent wine (but that is really secondary). I cannot recommend visiting this castle enough and trust me, this will be the highlight of all the things that you do in Calistoga, irrespective of whether or not you like wine.
Simply known as the "The Castle" in Napa Valley, this labor of love is built to the T like a medieval European castle with all its bells and whistles, i.e. moat, dungeon, church, an unending dining hall, courtyard and a rooftop bound by turrets. Plus, there are massive intricate paintings and frescoes all around lending an air of opulence to the castle.
The castle grounds include vineyards with Mount. St. Helena in the distance as well as an animal enclosure with goats and a very chilled out emu pecking its heart out on the grass. You cannot enter the castle without prior reservation, so please either snag a guided tour or tasting reservation (and go on a self guided tour of the castle after your tasting).
For those not into wine, the guided tour is a much better option since you get access to all parts of the castle. Dogs on leash are welcome to join you for tasting and a self guided tour. Make your reservations here.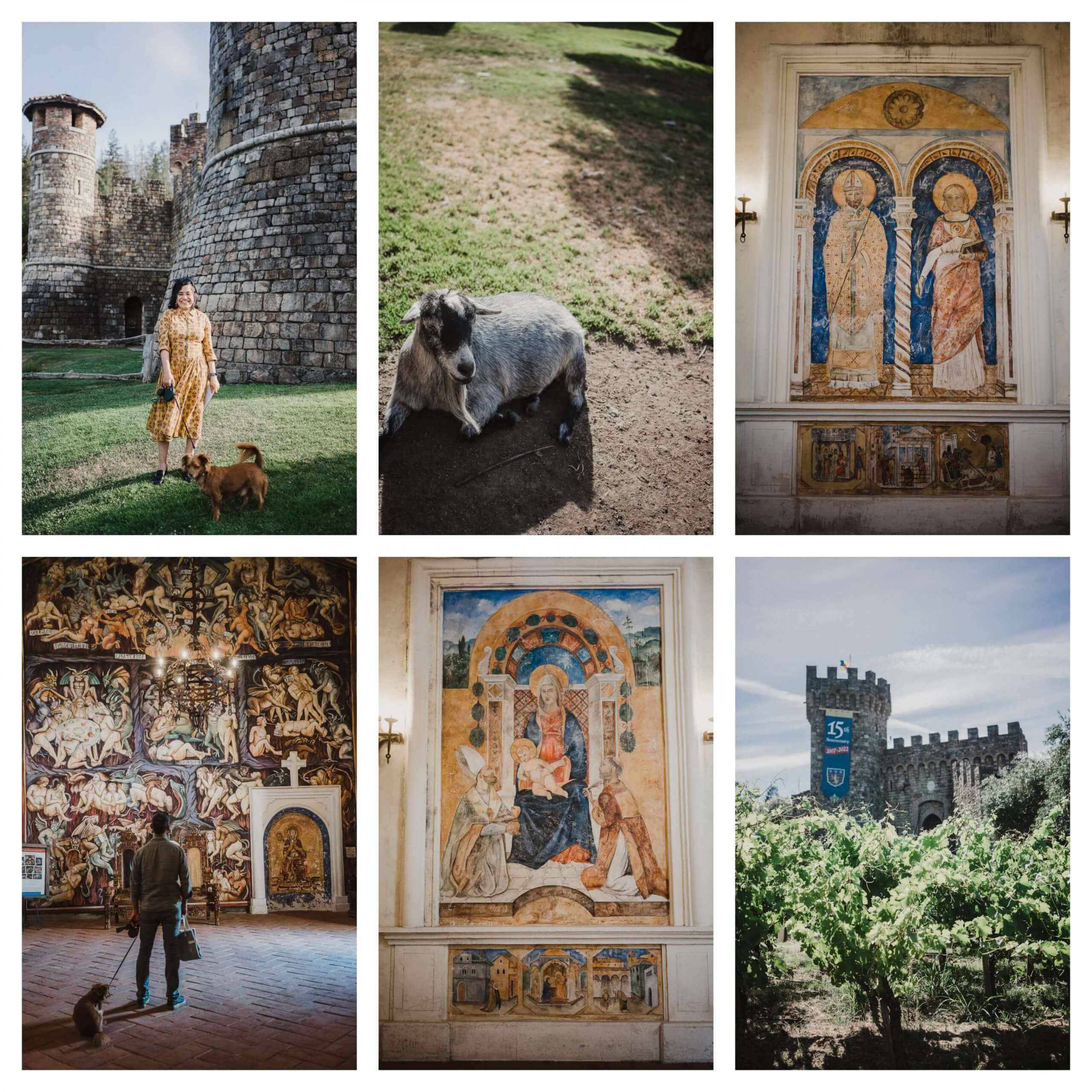 5) EXPLORE DOWNTOWN CALISTOGA
Downtown Calistoga runs along Lincoln Avenue and its adjoining streets. Although small, this downtown is extremely charming and walkable. There are plenty of art galleries, tasting rooms, restaurants, coffee shops and specialty gift stores over here. Plus you also have a public park (Pioneer Park) with restrooms. Start your morning with coffee from Calistoga Roastery and check out the different stores and galleries on Lincoln Avenue.
6) DISCOVER THE GIANT MURAL ON LINCOLN AVENUE
Calistoga is not a treasure trove of murals like Sacramento or Austin or Los Angeles, but tucked away in a nondescript alley right next to 1429 Lincoln Avenue is a stunning mural running along both walls, from one end to another.
This mural depicting different scenes from small town California, is painted by celebrated Italian artist Carlo Marchiori, who lives in Calistoga and also owns a gallery in downtown. This mural is across the street from Calistoga Roastery-definitely check it out when you're in downtown.
7) CHECK OUT THE OLD FAITHFUL GEYSER
There is the world famous old faithful geyser in Yellowstone National Park and then you have a mini one in Calistoga itself on Tubbs Lane. The geyser erupts every 15-30 minutes and there is a viewing area from where you can safely enjoy it spouting off. There is also a small geology museum as well as a delightful petting zoo with goats and llamas. You can pack a picnic basket and enjoy your time here, along with your well behaved pup.
8) WINE TASTING IN CALISTOGA
Being the premier wine growing region of California comes with a few tags-such as expensive, pretentious, stuffy etc and Napa is guilty of all of them. Wine tasting here is an expensive affair and given the hoopla around wineries, a visit to the valley feels an experience restricted to either wine snobs or those with a lot of $$$$ and not something that is not viable for all.
Calistoga has its fair share of expensive wine tasting, but being the northernmost town in the valley also has its perks. Although reservations are now universally required for tastings, you will find more laid back, less crowded and even relatively new wineries along the Silverado trail where the staff is super friendly, attentive and where tasting does not feel like a rushed affair with ample breathing room to interact with the person pouring your wine. For all of these reasons, I urge you to give Calistoga wineries a try during your Napa Valley visit.
Calistoga is home to some of the most beautiful wineries in Napa and tasting fees range from $25-$60. If you're a wine club member or buy a certain number of bottles, the fee will be discounted or waived. Based on my experience, here are the wineries (all of them are dog friendly by the way), that I recommend and you can read details on my dog friendly Napa wineries guide if you're interested:
a) Clos Pegase and Tamber Bey: these are two of the most beautiful wineries in Calistoga that you should visit. Clos Pegase is known for its architecture, surrounding vineyards and a beautiful garden with sculptures while Tamber Bey is a former horse ranch turned tasting room with a stunning courtyard where you will also get to see two retired Arabian horses.
b) Brian Arden and Dutch Henry: For a very laid back, relaxing experience I recommend either of these wineries on the Silverado trail. Dutch Henry has a very casual tasting room overlooking their vineyards and picnic grounds while Brian Arden is the newest kid on Silverado trail and has a very nice patio with comfortable wicker seating where you can enjoy their wines.
c) Bennett Lane Winery: This beautiful winery with a lush green lawn is also one of the most affordable ones in Calistoga with tasting fee of $25. Their tasting room is supposed to be the friendliest in town (a claim that I vehemently back after my visit).

9) EXPLORE THE ART GALLERIES
Downtown Calistoga has many amazing art galleries, but the one that you should absolutely check out is the Ca'toga Galleria d'Arte by Carlo Marchiori, the Italian artist with a classical art background who relocated to California in 1978.
The gallery is small but one of the most beautiful ones that you'll ever come across, with massive artworks by the artist showcasing neoclassical, baroque and renaissance styles to the hilt. My absolute favorite was the Goya Monkey where a lifelike monkey is dressed up with her own pet dog on leash and a stuffed doll in another hand.
Besides the spellbinding artwork and sculptures, the most interesting part of the gallery is definitely the ceiling mural which is simply gorgeous with its azul blue background and golden star flecks. The artist also opens up his Calistoga home (a la Italian villa) to the public for touring from May-October on every Saturday and tickets can be obtained at the gallery itself.
Art on the Vine store is another fun art gallery and gift shop that you should check out if you're planning to buy souvenirs in Calistoga. This is a family owned gallery with lots of vibrant art depicting California scenes by owner Shawn Smith.
10)SAVOR THE BAKED GOODS IN BELLA BAKERY
Everyone visiting Napa makes a beeline for Bouchon in Yountville, the fancy bakery by Thomas Keller (the chef of 3 Michelin star French Laundry). If you're visiting Calistoga, then you don't have to drive down all the way to Yountville for yummy treats.
This is because Calistoga has its very own, and dare I say as delicious as Bouchon without the fanfare, bakery named Bella Bakery where you can start your day with some lip smacking pastries, croissants and coffee/tea. Plus the staff is super friendly and there is none of that long annoying line (+ crazy prices) that you'll encounter at Bouchon.
11) HIKE THE OAT KING MILL TRAIL
Calistoga has a pretty neat hiking trail that starts off from the intersection of Lincoln Avenue and Silverado trail. This is the Oat King Mill trail that follows 8.3 miles of an old stagecoach route connecting trail Calistoga to the Aetna Spring road in Pope Valley with an elevation change of 1500 ft.
Dogs on leash are allowed on this trail and it is partially shaded, providing relief during a hot day. As you hike up the trail, you will get a beautiful view of vineyards on one side. This is one of the most relaxing things to do in Calistoga if you're an outdoorsy person.
12) ENJOY AL FRESCO DINNER IN LOVINA
Downtown Calistoga has lots of good restaurants, but the one that stands out is undoubtedly Lovina. Open for both brunch and dinner, the food here is Californian-American with seasonal ingredients and is top notch. There are plenty of vegetarian options on the menu and they have a very beautiful courtyard where you can dine al-fresco.
The restaurant is located inside a historic craftsman building with a very interesting history. The name Lovina is the chef's tribute to the former mistress of this house who was a survivor of the Donner Party emigrant group that met a cruel fate while trying to cross into California in the 1800s.
Lovina was a strong woman who reportedly brought down a huge black bear who tried to attack her family. The bear statue in the courtyard is a tribute to that valor and a reminder of how the small town of Calistoga has stayed resilient through calamities over the ages, including the recent pandemic. I highly recommend making a reservation at Lovina for one of your best meals in Napa Valley.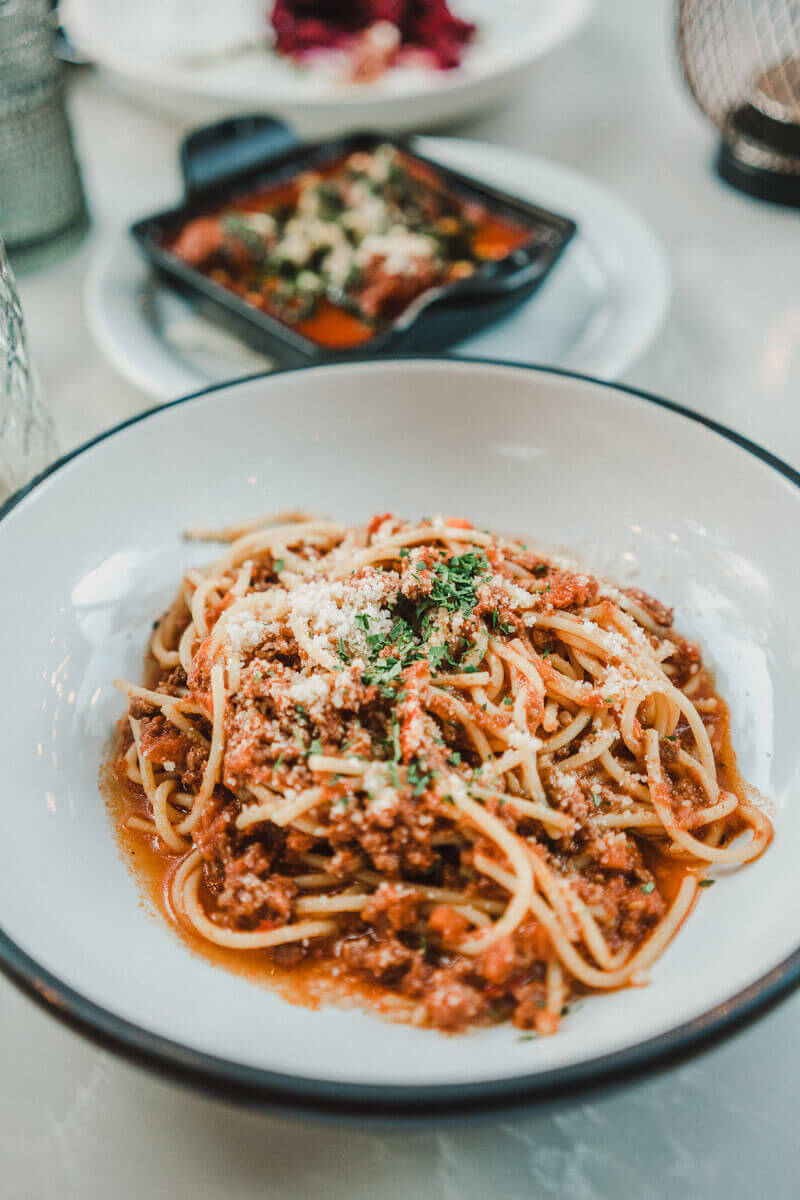 13) GET SOME ICE CREAM AT CALISTOGA CREAMERY
Hot days in Calistoga mean only one thing-heading to Calistoga Creamery for some yummy local ice cream or frozen yoghurt. Located in one end of Lincoln Avenue, they have outdoor seating to enjoy your treat with your pup.
14) GO SHOPPING IN DOWNTOWN
Downtown Calistoga has lots of places for souvenir shopping or picking up artisan food or good wine. You can stop by Picayune Cellars and Mercantile which is a dog friendly tasting room in downtown for wine and other gifts, Art on the Vine store , Blackbird gift shop for home decor goods and the Calistoga Depot Provisions which is located in the former site of the Calistoga railroad depot (second oldest railroad depot in California) for shopping.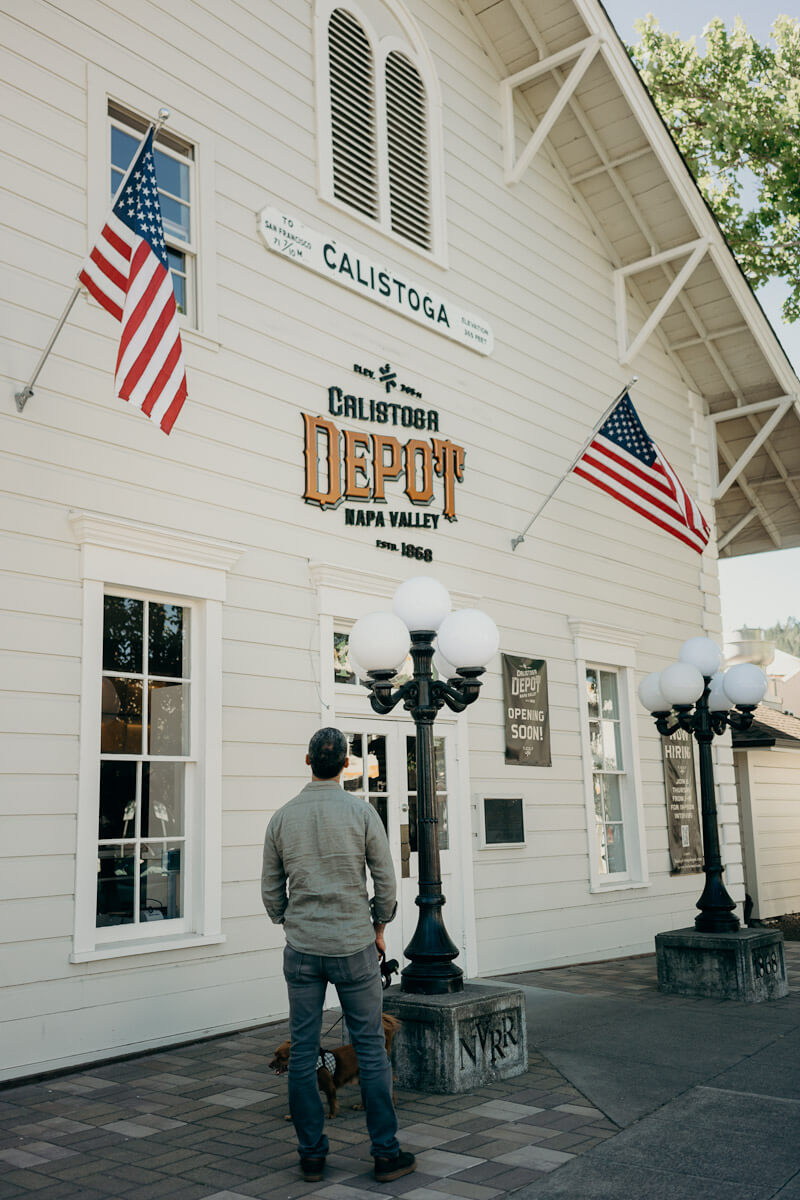 15) EXPLORE BOTHE NAPA VALLEY STATE PARK

Bothe-Napa Valley State Park is located midway between Calistoga and St. Helena and is a Napa county state park that you should explore if you're a hiking enthusiast. This park offers tons of activities such as camping, picnicking, swimming and goodl old hiking with trails passing through coastal Redwoods and Douglas-Fir, tanoak and madrone forests.

The park also has a swimming pool where visitors can go for a dip (with an additional fee), hike the Redwood trail in Ritchey canyon or picnic under the Douglas firs or the expansive picnic grounds. If you're planning on staying overnight, you can also book their historic cabins or yurts or make advanced campground reservations via this website.

Dogs are not allowed at Bothe-Napa on any trails or gardens or buildings except designated developed areas. This is why we are yet to explore this state park since we always travel to wine country with our pups Babu and now Gunda.

I hope you enjoyed reading this guide on 15 fantastic things to do in Calistoga, California and are planning a trip to explore this part of Napa Valley soon! Thanks a lot for stopping by and safe travels.

LIKE THIS POST? PIN IT FOR LATER

«