Last Updated on December 6, 2022 by Paroma
It is no secret that Napa valley is the most prized destination in California's wine country where wining and dining and having a jolly good time amidst the most beautiful scenic views is the norm. Although Napa is an easy day trip from San Francisco, a Napa valley weekend getaway is an even better idea for some ample R&R. If you're planning a weekend road trip from San Francisco to Napa for the first time for a romantic getaway from the Bay Area and are overwhelmed with what to do, I have crafted this perfectly doable Napa itinerary for first time visitors to help you out!
Why should you read this Napa itinerary for first time visitors?
Allow me to explain why the task of planning a Napa vacation can appear daunting for those visiting Napa for the very first time. From figuring out decent accommodations on a budget (which is tricky in this expensive part of California) to where to go wine tasting without appointments to what else to do when not wine tasting-there are so many things to keep in mind while planning a weekend at Napa that it can seem quite a bit of a task to plan a hassle-free vacation.
Here is where I, a San Francisco resident and repeat wine country visitor, come in. With this go-to guide for first time visitors, I am here to answer all the burning questions that you may have for planning a successful weekend getaway to Napa.
From where to stay in Napa Valley to the best wineries to visit as a first timer, the best time to visit Napa valley to everything else that you should be doing when in California's wine country, this guide has it all, thanks to my multiple wine guzzling visits.
As a bonus treat for dog parents like me, I have also included information on pet friendly things to do in Napa, dog friendly hotels in Napa valley and dog friendly Napa wineries wherever possible. In a nutshell, consider this post as your intro to Napa and let's get started!
Disclaimer: This post may contain some affiliate links. Clicking on them may earn me a small commission at no extra cost to you for the product. Thank you!
Best time to visit Napa Valley
Let me start by saying this: there is no wrong time to visit Napa Valley, aka paradise. However, there are some seasons/months that will definitely add to your visit/wine tasting experience if you're a first timer to the valley and do not know its ways like local Bay Area folks do.
I visit Napa Valley at least twice a year (which means I have been there over 2 dozen times during my 12+ years of stay in San Francisco) and I have pretty plonked my wine tasting butt in its beautiful tasting rooms in every season (yes, this part of California does tend to have more distinct seasons).
So with all this knowledge of the best time to visit Napa Valley, here is my verdict: GO IN FALL (Late September-November), followed by Spring (March-early June), Winter (Dec-March) and finally Summer (June-August, although early September is still very warm and a better option, especially to attend a harvest festival).
Fall, hands down is the best season to visit Napa Valley. Personally, I feel September-October is the best time to visit to see the bejeweled, vibrant fall colors in Napa valley. Most of the crowd is gone, the days are still warm to enjoy outdoor activities such as wine tasting on the patio/garden and you might still catch sight of the last of the grapes hanging from the vines.
Spring is the next best time to visit Napa valley to see vines sprout to life with green tendrils and baby green nubs of grapes. The air is clean and fresh with warmer days and greenery all around and the crowds are still sparse.
Napa experiences dry winters, but there might still be rain and the vines are bare. Late winter is when you see rows of yellow mustard planted in vineyards greeting you cheerfully while you sip your wine indoors with few others. Wine tasting is one of the best things to do in California in December, so even in the dead of winter, there is something to look forward to! Plus Restaurant week happens in Napa in January where you get to sample world class delicious food at a fraction of the cost!
Summer is extremely hot, humid, insanely crowded with tourists and definitely the most popular time to visit Napa Valley. That makes it the worst time to visit wine country because of the number of people descending on tasting rooms, the high hotel prices and hard to get tasting room appointments which leaves no choice but to visit the touristy vineyards where tasting feels like being hauled around as cattle.
If you really want to have a good time in Napa, I suggest visiting off season in Fall, Spring or winter for better deals. You can check this roster of year round food, wine and other festivals in Napa Valley to make the most of your visit.
First time visitors guide to Napa Valley: Places to visit in Napa County
Napa County, encompassing the verdant Napa valley wine region, lies 70 miles north of San Francisco. The county stretches from the city of Napa in the south all the way to Calistoga in the north. Sonoma County, another popular wine country destination with many dog friendly wineries, lies to the west of Napa county.
For those of you planning a weekend Napa trip, the best way to get a flavor of the region is to not restrict yourself to the city of Napa alone. Instead, drive around to the other charming (and more famous/popular) towns of Yountville, St. Helena, Rutherford and Calistoga to enjoy the best of what this region has to offer in terms of wineries, dining and other attractions.
All of these towns are an easy drive from Napa along highway 29 and have some of the best Napa valley wineries for first time visitors. Here is a handy map of the Napa valley wine region that you can download.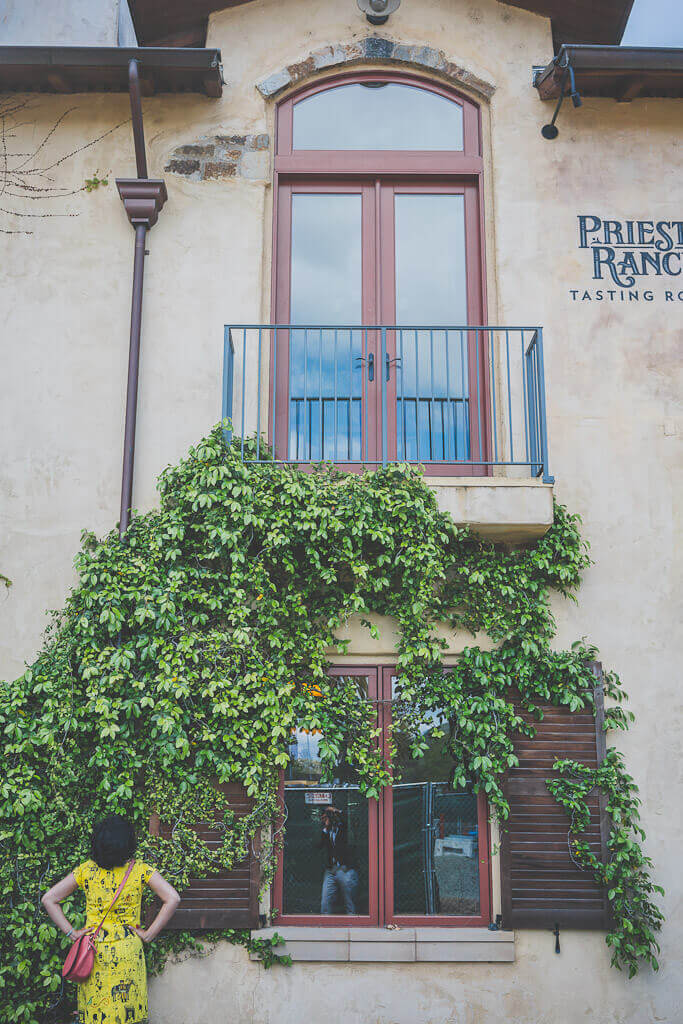 Planning a weekend Napa trip: Where to stay in Napa valley
Napa valley is really expensive. Being a premier wine country destination visited by millions every year comes with a serious price tag. For those of you wondering where to stay in Napa during your first time visit, you will definitely feel the pinch while looking for a decent accomodation (beyond the very basics) that does not bankrupt you and is close enough to different wineries.
Here are some of my recommendations based on personal experience which are not high up in luxury but chic enough to make you feel special without going broke. Definitely check out one of these spots when planning a Napa itinerary for first time visitors.
a) Hotels in Downtown Napa
I highly recommend staying at the charming Napa bed and Breakfast Cedar Gables Inn in the heart of Napa, a mere 15-20 walking distance from the famous Oxbow market as well as the Napa valley wine train. The property is beautiful, surrounded by a lush garden and the B&B offers free wifi and parking. Although the rooms are on the smaller side, the freshly made breakfast is incomparable to say the least and the hosts are extremely warm and friendly!
The other hotel, and that too pet friendly, is Hotel Napa Valley, an old worldly inn only minutes away from downtown Napa and about a 15 minutes walk to the famous Napa Oxbow Market. The rooms are spacious with a particularly HUGE bathroom (comes with a clawfoot Victorian tub to relax away in) and you are spoiled with free internet as well as complimentary handmade treats in the evening! Please call prior to making a reservation to enquire for pet friendly rooms.
b) Hotels in St. Helena and Calistoga
I'll be honest here-our favorite places to visit in Napa Valley are St. Helena and Calistoga, both north of the city of Napa. While St. Helena will seduce you with its glamor, wineries and fine dining, Calistoga will woo you with its geothermal spas. Finding budget friendly accomodations is easier in Calistoga than St. Helena. Here are some of the places that we stayed during our Napa trip:
i) Shady Oaks Country Inn (St. Helena): During our Napa weekend trip, we stayed at Shady Oaks Country Inn right on Zinfandel lane bordered by beautiful wineries, and loved the experience. This inn has a wine and cheese reception in the evening in their beautiful patio and a champagne breakfast in the morning in the parlor (you have to notify in advance if you want to opt out).
We stayed at the "winery retreat room", adjacent to the main building and loved the classic decor inside with a high bed and a beautiful bathroom. Shady Oaks also has helpful brochures and provides coupons for several events in and around St. Helena for those of you eager to explore your surroundings.
ii) Bear Flag Inn (Calistoga): Calistoga is one of our favorite destinations in Napa (we've been there twice) and is super dog friendly. Bear Flag Inn is a dog friendly B&B in Calistoga with cottages spread across acres of green for your dog to sniff and romp around. Dogs are welcome in the cottages or the outward facing rooms in the main building, all at no extra cost!
The highlight of your stay here will undoubtedly be the evening wine and snacks, with the red coming in from grapes from the vineyard facing the inn. Breakfast is included and dietary restrictions are taken into consideration with advance notice. We had a very comfortable stay and I highly recommend this place for the hospitality, cleanliness and major dog love shown by the hosts.
iii) Enchanted cottage: Another excellent B&B serving a breakfast hamper is the Enchanted Cottage which is also one of the dog friendly hotels in Napa Valley. The cottage is super spacious with a living room, bedroom, personal bathroom and a beautiful fireplace that adds to its vintage charm! We loved our quiet weekend stay there and highly recommend this place for your Napa weekend getaway.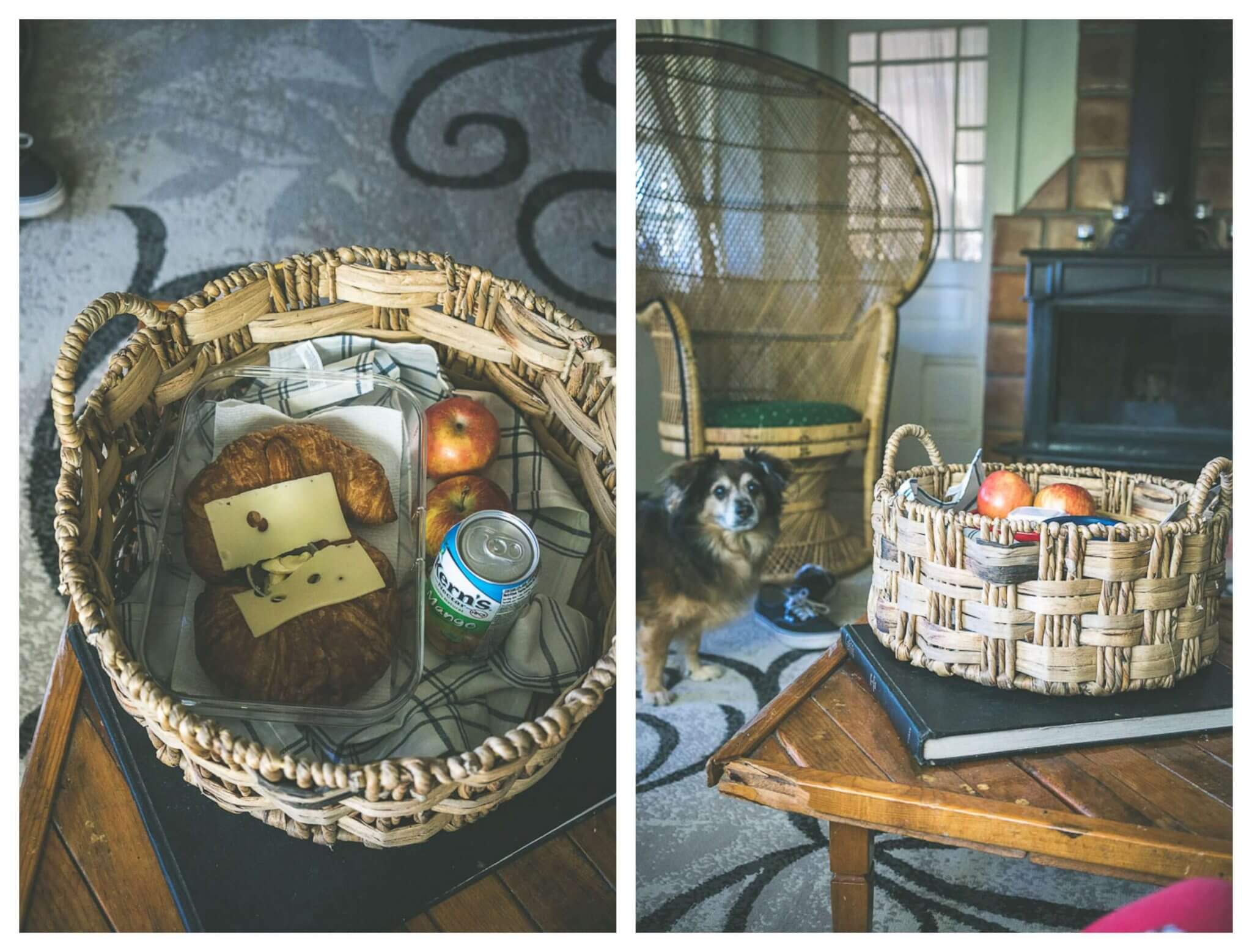 Napa weekend trip: transportation and getting around in Napa Valley
The easiest way to visit Napa is by renting a car (at the airport or in San Francisco). Just make sure you have a designated driver if you plan to do some serious wine tasting. For those of you who are not planning to drive, here are some options to take your there:
a) Public transportation
There are plenty of ways to get to Napa using public transit. From airport shuttles to buses to ferries, there is always an option that will be best suited for you. Here is a helpful link to all the different ways to get to Napa.
b) Conducted tours
If you have a pretty penny to spare to forego the hassles of renting a car, then you might want to check out some of the conducted tours or day tours leaving to Napa from San Francisco. Most of these tours take you to touristy wine tasting destinations and might be a little generic but provide the hassle-free experience of transportation and pickup to and from your hotel.
Then you also have small group tours and private tours which are definitely more expensive since they take you to smaller wineries that are by appointment only. I went with Max Napa tours (a small sommelier led tour which does not cover lunch or wine tasting cost) several years ago and recommend it if you have $$$$ and are looking to visit some small, exclusive wineries.
c) Napa valley wine train
Napa valley wine train bumper way to experience some of the best wineries in Napa (both large and small), starting all the way from downtown Napa to St. Helena and back. The wine train leaves from McKinstry Street (5 minutes by foot from downtown Napa) and covers 36 miles in 3 hours while passing through Oak Knoll, Yountville, Oakville, and Rutherford.
This is a luxury train where you'll get a taste of fine dining apart from the customary wine tasting stops. For those of you departing from San Francisco, there is a Bay-Area connection in conjunction with the SF ferry to get you to Napa.
The best wineries in Napa for first time visitors
Be it a day trip or a weekend getaway to Napa valley, your mantra to spend some quality time at one of the most beautiful locations in California should not include the last minute hustle to find a winery that welcomes walk-in wine tastings. Or, for that matter, finding a winery where you'll not have to elbow 50 other people in an overcrowded tasting room that can also get pretty intimidating for first timers.
So here are some of my super helpful pointers to find the best wineries for first time visitors to Napa valley that you should keep in mind while planning your Napa itinerary.
a) What kind of wine is Napa famous for?
The whopping 45, 0000+acres of Napa Valley produces all kinds of delicious grapes, but what Napa is mostly known for is the full bodied Red wine Cabernet Sauvignon. Besides the bold, red "Cabs", you will also come across crisp Chardonnays (white wine) and other red wines such as Syrahs and Merlots (the latter being medium to full bodied reds).
For those of you looking for lighter, fruitier wines-the neighboring Sonoma county as well as Anderson valley are the places to partake in the famous California Pinot Noir. Here is a super useful wine map of Napa if you are curious to know more.
b) Things to remember while choosing a Napa winery
Going wine tasting is an expensive affair in Napa. Unlike Sonoma or even the lesser known Lodi (the Zinfandel capital of California), individual tasting fees start from $25 and up for most wineries. Large, touristy wineries may charge less but they are also very crowded and will rob you off a relaxing experience that wine tasting is all about.
Small batch wineries are beautiful and allow a limited number of people, but that means making appointments before hand for a specific time. Finally, there is this third elusive category of wineries which cater to a very specific, high end clientele who know their wine and is not generally open to walk-ins.
Popular, large wineries also offer and added attraction of winery tours which can be really fun for first time visitors as they learn all about the wine making process. Such tours can be booked beforehand or during your visit. The famous Robert Mondavi winery in Oakville, Napa offers a signature wine tour and tasting that is very popular (and one that I have joined).
Scroll below to see my recommendations for the best wineries for first time visitors to include in your Napa itinerary.
c) Napa valley wineries to consider for your first time Napa itinerary
Popular (touristy) wineries where walk-ins are welcome
i) Beringer winery:This winery in St. Helena is California's longest continually operated winery and was established in 1876 by brothers Jacob and Frederick Beringer to rival the vineyards in Europe. Beringer now has 1600 acres of land for their grapes in Napa, Sonoma and Paso Robles and is known for their bold, red cabernets. There are two separate tasting rooms, one for the light and medium bodied and the other for the their full bodied reds. Tasting is three wines of your choice/per person with $25 per head (as of 2016).
Beringer is open to the public all year round as a result of which the tasting rooms are extremely crowded. The property is vast and you can stroll along their lawn, stop by to listen to some live music and admire the centrally located manor. They also have a part of their other tasting room (where the full bodied cabs are served) reserved for their wine club members and patrons.
ii) Artesa winery: This winery is blessed with an incredible view since it is perched at an elevation. Wine tasting is$27/person that comes with 4-5 pours, again mainly cabernets (tasting fees are those from 2016). There is an enclosed space for patrons but the general tasting room is open to all. Artesa is easy to get into because there are no reservations needed. If you are not big into planning your Napa valley itinerary to the Y, I say go for this winery to enjoy the sweeping views with a glass of wine in hand.
iii) V. Sattui winery: Another massive winery in St. Helena, this one draws in major crowds for its beautiful picnic garden as well as a bustling market center selling everything from wine to local cheese and other products. No reservation is required for parties 8 and less for wine tasting and you can buy your favorite bottle from the marketplace to enjoy at the picnic grounds. V. Sattui is known for its bold cabernets and crips chardonnays.
iv) Robert Mondavi winery: This winery, established in 1966 in Oakville, is perhaps the most well known in Napa valley. It draws huge crowds in summer for wine tasting and guided tours of their winemaking. Given the hospitality and the fun wine tour (I took my wine noob dad on one and he thoroughly enjoyed it), I recommend this one winery for first time visitors to Napa.
Small batch and boutique wineries in Napa
v) Black Stallion Winery: this sprawling estate winery in Napa stands on acres of land which was once home to prized race horses, but is now an abode for some of the very fine cabernets in the valley. At Black Stallion, you not only have a spacious tasting room, but also a beautiful shaded patio overlooking the lush green vineyards where visitors can relax and enjoy their flight of red or white varietals with some charcuterie pairing if they so desire.
Best of all, this is a dog friendly winery. Your little one needs to well behaved and on leash! This is an excellent winery to visit for first timers in Napa since you will be able to relax and drink wine at your own pace in the comforts of those deep cushiony seats in the patio!
vi) Darioush Winery: A staple on all Napa winery lists featuring the most beautiful jewels in the valley, there is nothing plain or average about this extraordinary Persian themed winery on the Silverado trail. Stemming from the passions of owner Darioush (75 and still going strong) who fled Iran prior to the Islamic revolution and found his true calling in wine-making after a grocery business stint in Los Angeles, this winery is a feast for the eyes with wine tasting a true luxury experience!
As you enter through its pearly gates, you will be welcomed by a giant cauldron with a lit flame and then pass into the beautifully manicured garden (if accompanied by pups) or the incredibly tasteful dining room via a courtyard boasting of tall Persian style pillars, a homage to the owner's roots.
Keep in mind that this one of the costliest one tastings in the valley, starting with $65 for their signature flight of 4 (comes with the tastiest olives and pistachios to munch on as you sip wine). I personally was extremely wowed by the ambiance (they have a mini museum of Persian arts inside the tasting room in case you want to get a sneak peak) and the hospitality, but the Chardonnay also hit the spot.
vii) Frog's Leap Winery: This small batch winery in Rutherford is definitely more affordable than most Napa wineries but the downside is that a reservation is required. Given how charming this winery is, not to mention how relaxing your wine tasting experience will be in the laps of a beautiful garden, I highly recommend including this winery in your Napa valley itinerary.
This winery is known for its charming red barn, beautiful gardens and their novel dry irrigation vineyards where the grapes have to dig deep in their roots to tap the groundwater. We lucked out by getting a spot at 11 AM the day before, but I recommend making a prior reservation just to be safe.
Wine tasting at Frog's leap includes four wines which are most reds consisting of cabernets fused with some Petite Sirah, Merlot and Chardonnay ($ 20/person as of 2016). Being a reservation only place, you will not be jostling with others for a space at the pouring table and can get to know quite a bit about each wine as they are being poured. I highly recommend this winery for your Napa Valley weekend trip for a relaxing, one of a kind experience.
viii) Dutch Henry winery : This super dog friendly Napa winery is located on this historic Silverado trail in Calistoga and is known for its small batch handcrafted wines crafted by owner/winemaker Scott Chafen. DH winery waives the tasting fee if you buy one of their bottles. No prior appointment is necessary for wine tasting at this small yet charming winery.
Best of all, this winery is a little secluded (being up north in Calistoga) and so you get to enjoy a quiet wine tasting experience with your pup minus the crowds in their beautiful vineyard. Highly recommend to include in your Napa valley itinerary as first time visitors.
ix) Markham vineyards: This winery in St. Helena not only has a cosy fireplace arrangement for wine tasting but also a spectacular gallery where people can enjoy some art while partaking in their delicious wine. Markham vineyards offers a lot of different varietals of wine, all the way from Pinot Noir to Cabernet Sauvignon.

x) Laura Michael winery and tasting room: This is another dog friendly winery in Napa valley (Calistoga) that you should absolutely include in your Napa itinerary. The owner (Michael Swanton) is super friendly and chatty and fills you in on all interesting tidbits on wine making as well as the origins of this boutique winery. There is a beautiful love story of second chances behind the tagline "love at first sip" and you have to visit the winery to hear all about it.
xi) Hall winery: This beautiful dog friendly winery in St. Helena provides a wine tasting experience like no other. The outdoor tasting area overlooks a verdant lawn dotted with fun sculptures (you will see some at the very entrance) and the adjacent vineyard. Helmed by Kathryn and Craig Hall, this winery excels in Cabernet Sauvignon and Merlots.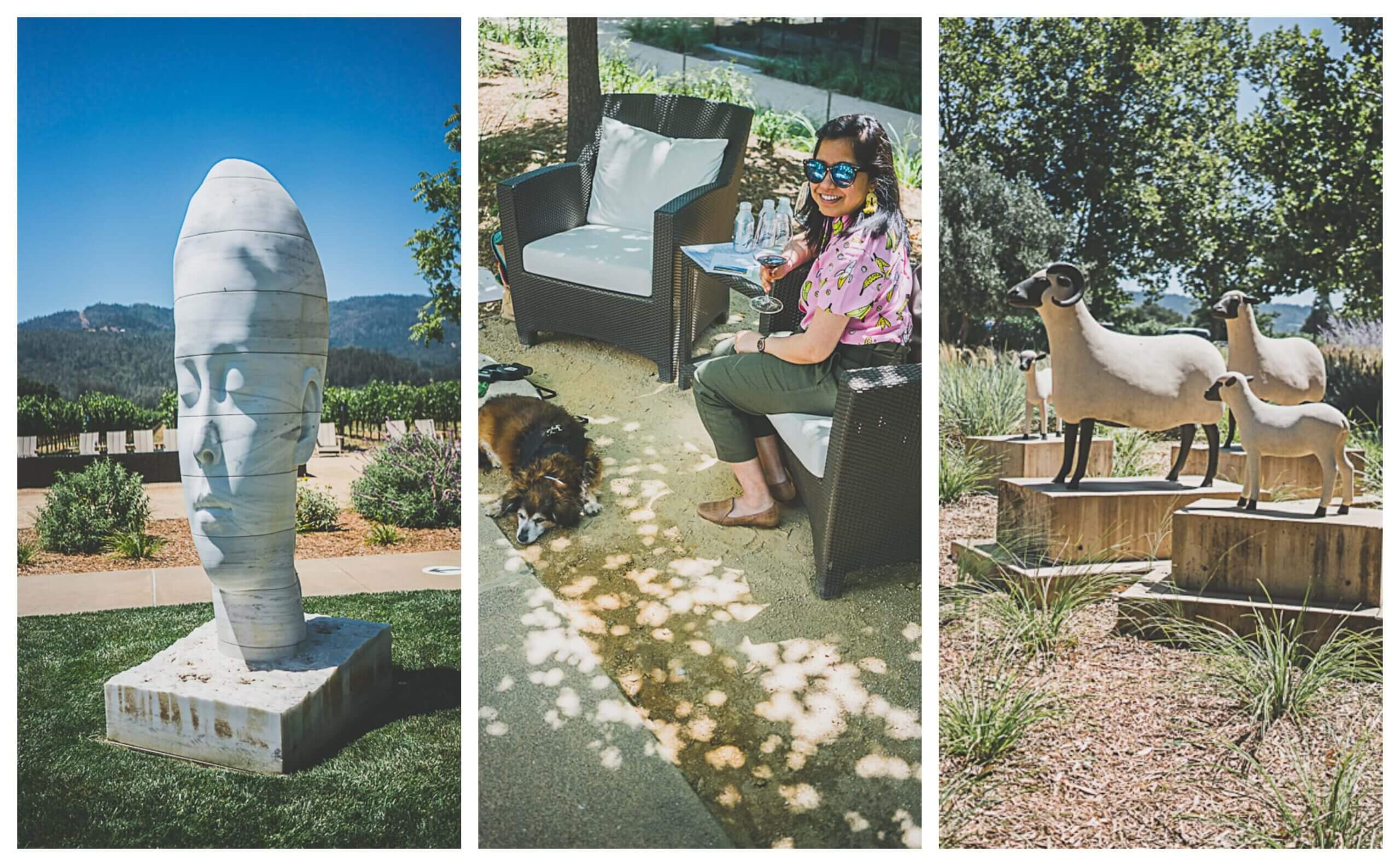 xii) Clos Pegase: This high end winery in Calistoga is surrounded by acres of beautiful vineyards and is one of the premier dog friendly wineries in Napa. Although a pour of 5-6 wines costs upwards of $40, the tasting room is one of a kind beautiful with an understated elegance and refinement.
The wine pourers are experts and will eagerly share their knowledge of the property and wine with you. The estate surrounding the tasting room is simply breathtaking and you must take a stroll here while sipping on your precious wine.

xiii) Jessup Cellars: This tasting room in downtown Yountville also doubles up as an art gallery, but the best part about this boutique place is an exceptionally friendly staff that will welcome both you and your pup heartily for outdoor tasting. No wonder they are known as the "friendliest tasting room in Napa valley".
Their wines pair excellently with their local cheese platter which they source from the nearby JCB tasting salon. They have some of the crispiest chardonnay that I've ever tasted! This is simply the best place for first timers in Napa to go wine tasting and a good addition to any Napa itinerary for first time visitors.

xiv) Chimney Rock winery: This is an extremely beautiful winery showcasing some of the best handcrafted cabernet sauvignons from the heart of Napa's Stag's Leap district. As you pull into the gravel strewn driveaway, what greets you is a majestic white building (built in the Spanish Mission style) overlooking the vineyard.
This is another dog friendly Napa winery where your furbaby is welcome in the shaded central patio for tasting. Although the tasting is more on the expensive side for a full flight, we loved the relaxed ambiance and the friendly service.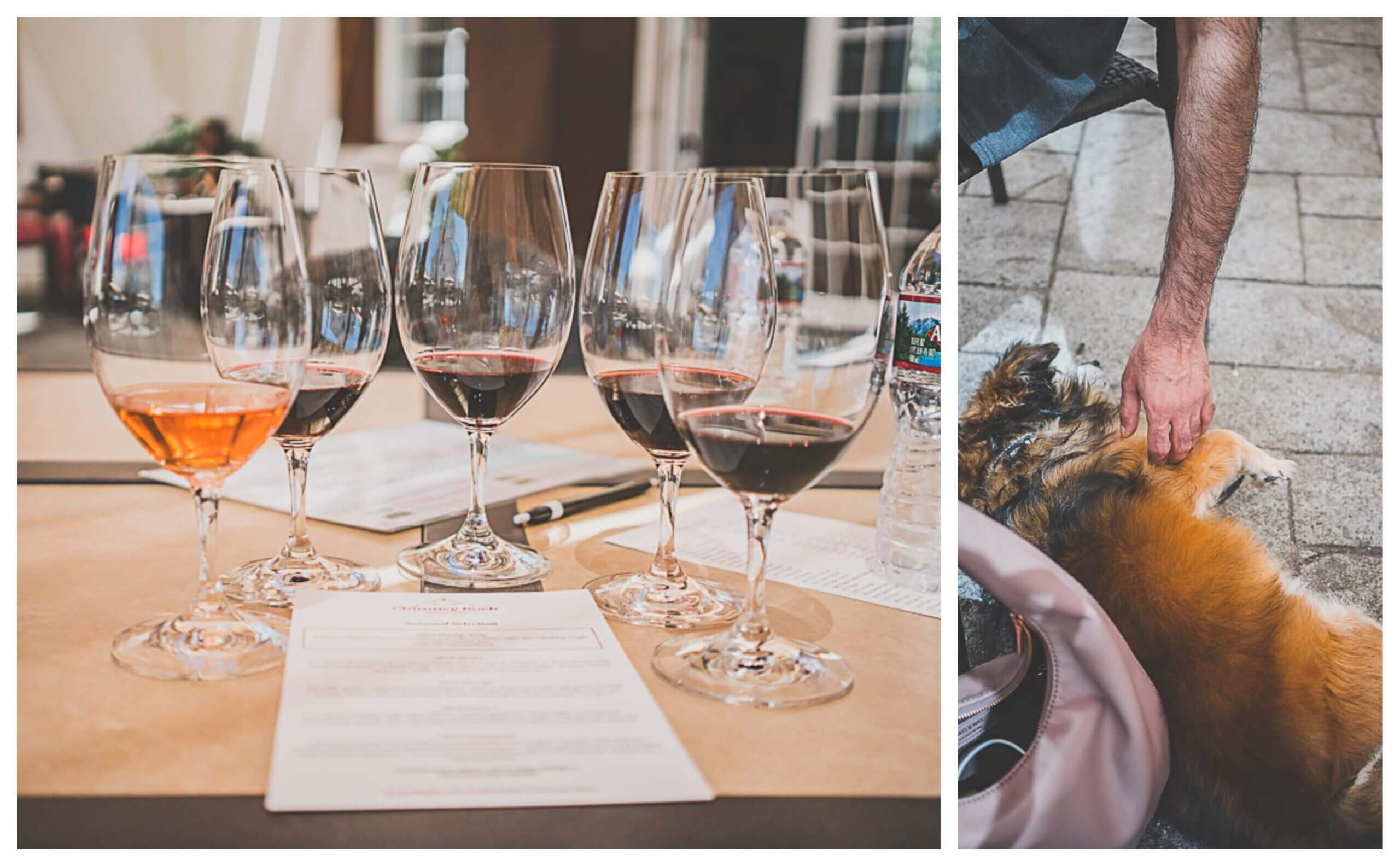 xv) Tres Sabores winery: Tucked away in one end of South Whitehall lane in St. Helena, this women owned and operated winery takes the cake in hospitality, quality of wines and an exclusive wine tasting experience that will make you want to return for more! This certified organic winery practices dry farming (that holds up well in our drought conditions) and grows mostly Zinfandel grapes over their 12 acres.
All wine tasting is in their beautiful outdoor garden overlooking the vineyard where you'll be surrounded by olive groves, lemon and pomegranate trees. Owing to their attention to detail and personalized service, the tastings are times and reservations are required. They are also incredibly dog friendly, with the owners and assistant winemaker's dogs (one Labrador and two very friendly Golden Retrievers) roaming the property casually.
As of 2021, their tastings of 6 (mix of white and red estate wines-cabs, zinfandel and a very unique varietal that tastes almost like a Pinot Noir) cost $50. A single tasting fee is waived when you purchase 4 bottles. They also have snacks to go along with their tasting and you can also purchase small bites (charcuterie and cheese board) if you wish. Plus, they allow tasting friendly lunches onsite.
If you're visiting Napa for the first time, please make the reservation for the most relaxing wine tasting experience that you'll ever have in the valley!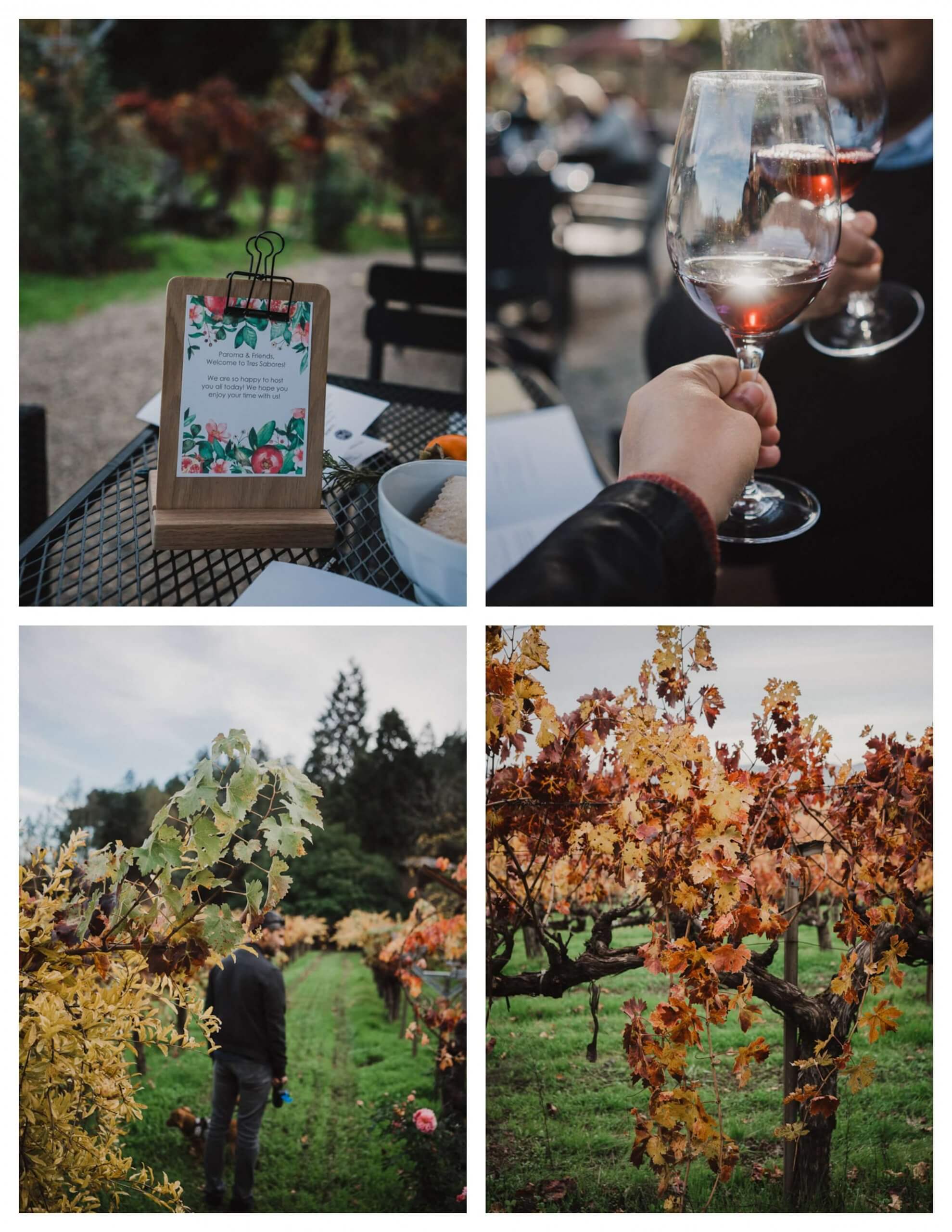 Where to eat in Napa: The best of Napa restaurants and dining spots
No Napa valley itinerary can be complete without food recommendations. This area is a food lovers paradise because of the culinary heavyweights like Thomas Keller and Michael Chiarello calling the towns of Napa, St. Helena and Yountville their home. From fine dining to old timer restaurants to world class bakeries, Napa truly has it all for all taste buds and budgets.
The restaurant scene is constantly changing in Napa valley. The following recommendations are based on my personal dining experience and are constantly updated to reflect the current status-i.. changes and closures.
a) Anything by Thomas Keller (Yountville)
Thomas Keller is the man with the Midas touch when it comes to dining in USA, with two legendary three Michelin star restaurants French Laundry and Per Se (NYC) tucked under his belt. Keller practically owns Yountville with French Laundry, Ad-Hoc, Bouchon Bakery and Cafe which cover the entire gamut of restaurant service from fine dining to fast casual and baked goods.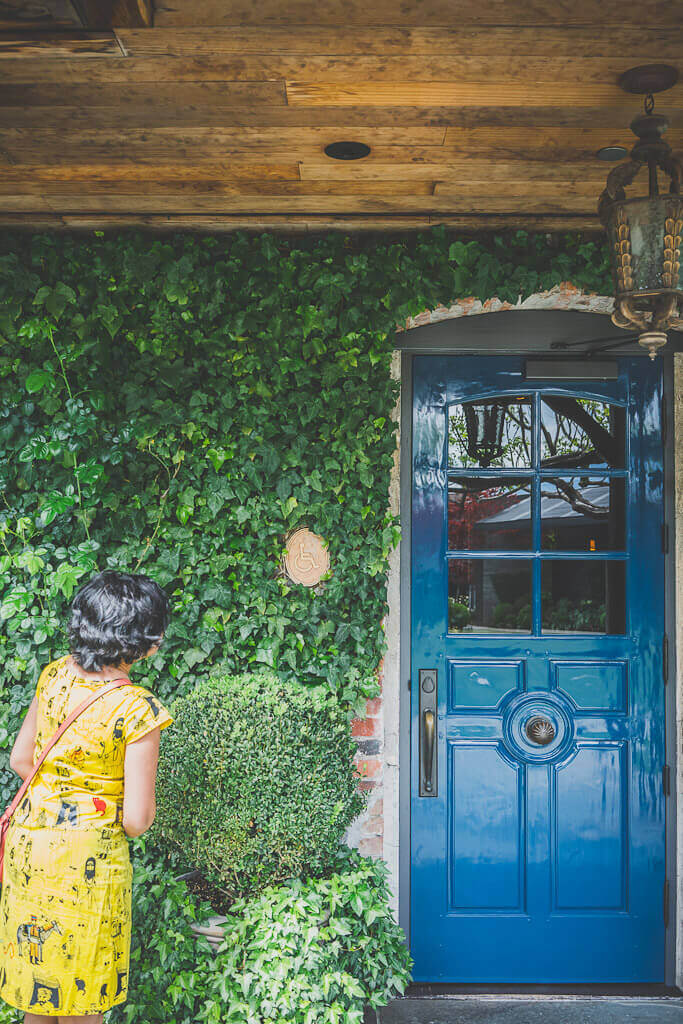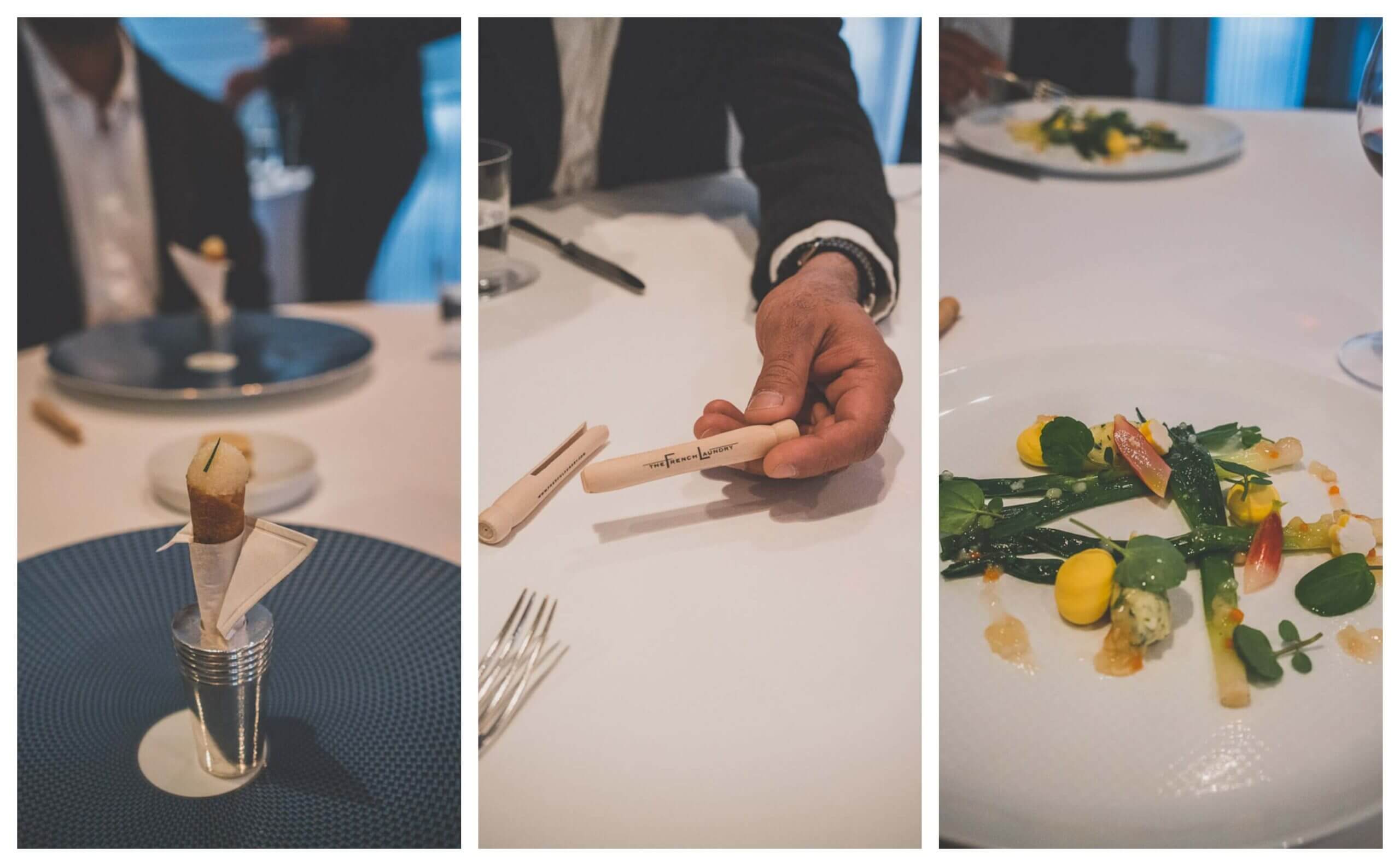 French Laundry serves a multi course Californian-American menu (a separate vegetarian menu is available for your selection) and reservations to walk through that famed "blue door" can be made via TOCK. I fondly remember my dining experience at French Laundry with delectable food, impeccable service and an unmatched ambiance inside a beautiful manor like house, where you get a cosy dining feel. The price, though $$$$, is at par with all three Michelin star restaurants in the Bay Area. The entire meal experience is definitely worth shelling out those Benjamins!
Bouchon bakery is unbelievably popular and has a long line going for it since its opening at 8 AM. I highly recommend arriving as early as possible to snag those baked goodies.
Finally, the latest entrant in the Keller family is La Calenda, the Oaxaca inspired restaurant helmed by executive chef Kaelin Ulrich Trilling, son of Susana Trilling, who is considered an authority on Oaxacan cuisine.
Having been to Oaxaca, we did find the food to be more of a Californian take on the original, which I guess is not bad at all. Everything was delicious and we loved our dining experience. The colorful outdoor patio welcomes dogs! This restaurant is committed to supporting Mexican artisans and sources its kitchenware and other interior decor items from down south.
b) Bottega (Yountville)
Bottega, Michael Chiarello's long standing restaurant in Yountville, and one where had accidentally dined before when I had no idea of anything in wine country, continues to be my favorite via its subtle California kissed Italian fare.
The service is impeccable here as well and they have an outdoor dining area for those wanting to enjoy their food in the sun. The lunch menu is a good mix of vegetarian and meaty offerings and we went for the an vegetarian meal.
e) Lucy's at Bardessono (Yountville)
The luxury resort Bardessono in Yountville also has a charming restaurant named Lucy's serving Californian-American fare. Best enjoyed with a glass of wine in their lush green backyard/patio for al-fresco dining on a hot day.

d) Mango on Main (Napa)
This tiny Thai restaurant in downtown Napa is big and bold on flavors. They have a tiny outdoor dining space and so are dog friendly!

e) The Grove (Napa)
The Grove is the in-house restaurant of the Culinary Institute of America (The CIA at Copia). Helmed by talented chef Sayat Ozyilmaz, this restaurant offers a Mediterranean-inspired menu (think Persian, Italian and Turkish inspired) with produce from the Copia gardens. They have a lovely outdoor seating area as well for you to enjoy if visiting during Summer or with your pup. Don't give the Persian inspired rice and Kunefe a miss!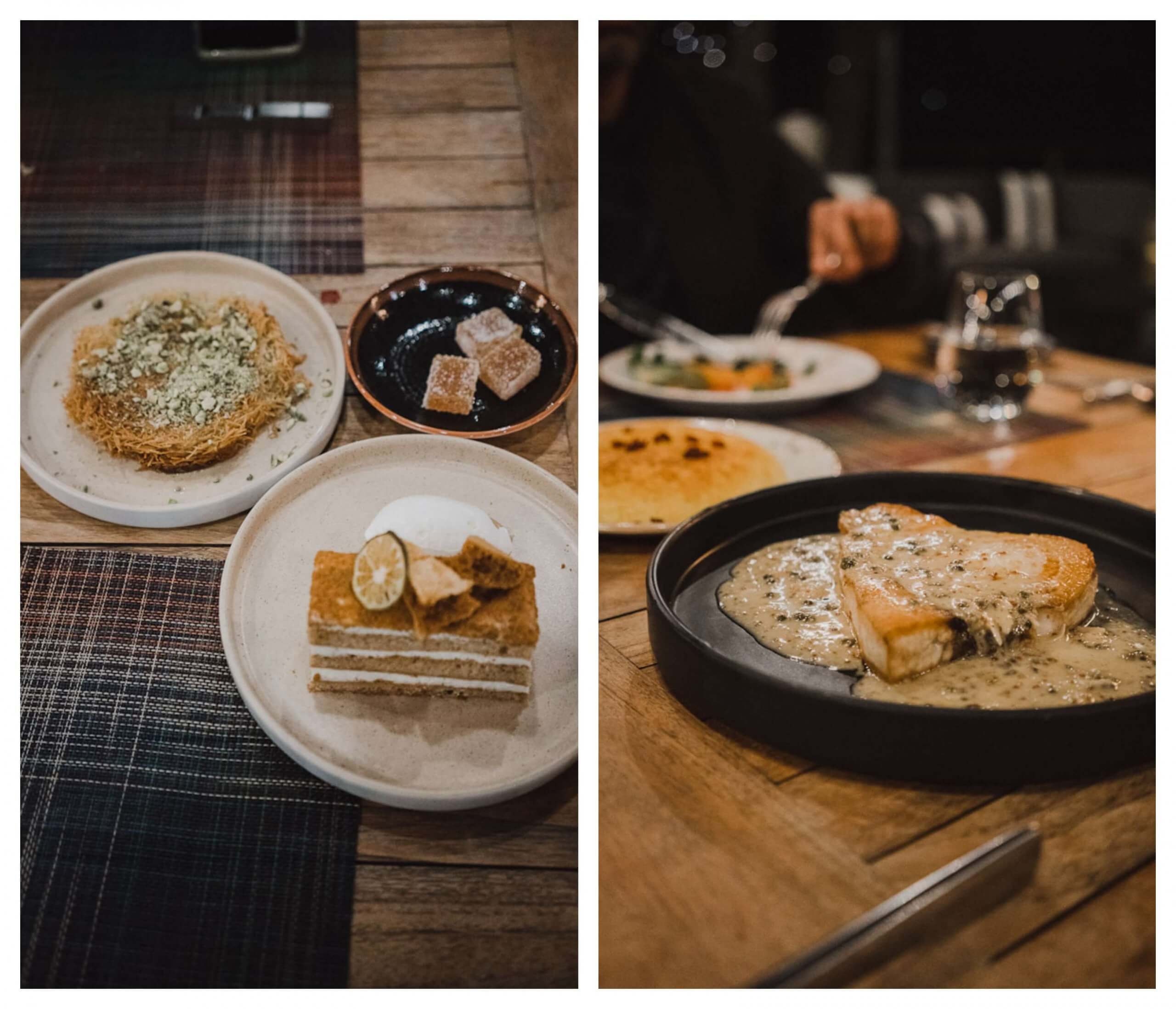 f) Two Birds One Stone (St. Helena)
Update: As of June 29, 2020 Two Birds One Stone has been reinvented as Roadhouse 29, a casual BBQ space serving smoked meat. I will miss their mouthwatering and unique Californian-Yakitori fare.
Two Birds One Stone is that California inspired Yakitori restaurant which took Napa by storm a few years ago and continues to be one of our favorite places. It is also a dog friendly restaurant in Napa where you can have lunch with your pup on their beautiful patio.
Portions are small and so its best to share 4-5 dishes between two people and there are several vegetarian and vegan options on the menu. The interior is spacious and adorned with dark toned wood for that rich, regal feeling with light reflecting off the glass lamps hanging off the ceiling. I highly recommend making a reservation in advance to enjoy a meal here.
g) Farmstead (St. Helena)
Farmstead is another dog friendly restaurant in Napa which has a bustling outdoor patio equipped with heaters. Their deviled eggs are delicious and a must have and I recommend dog parents going there for lunch or dinner.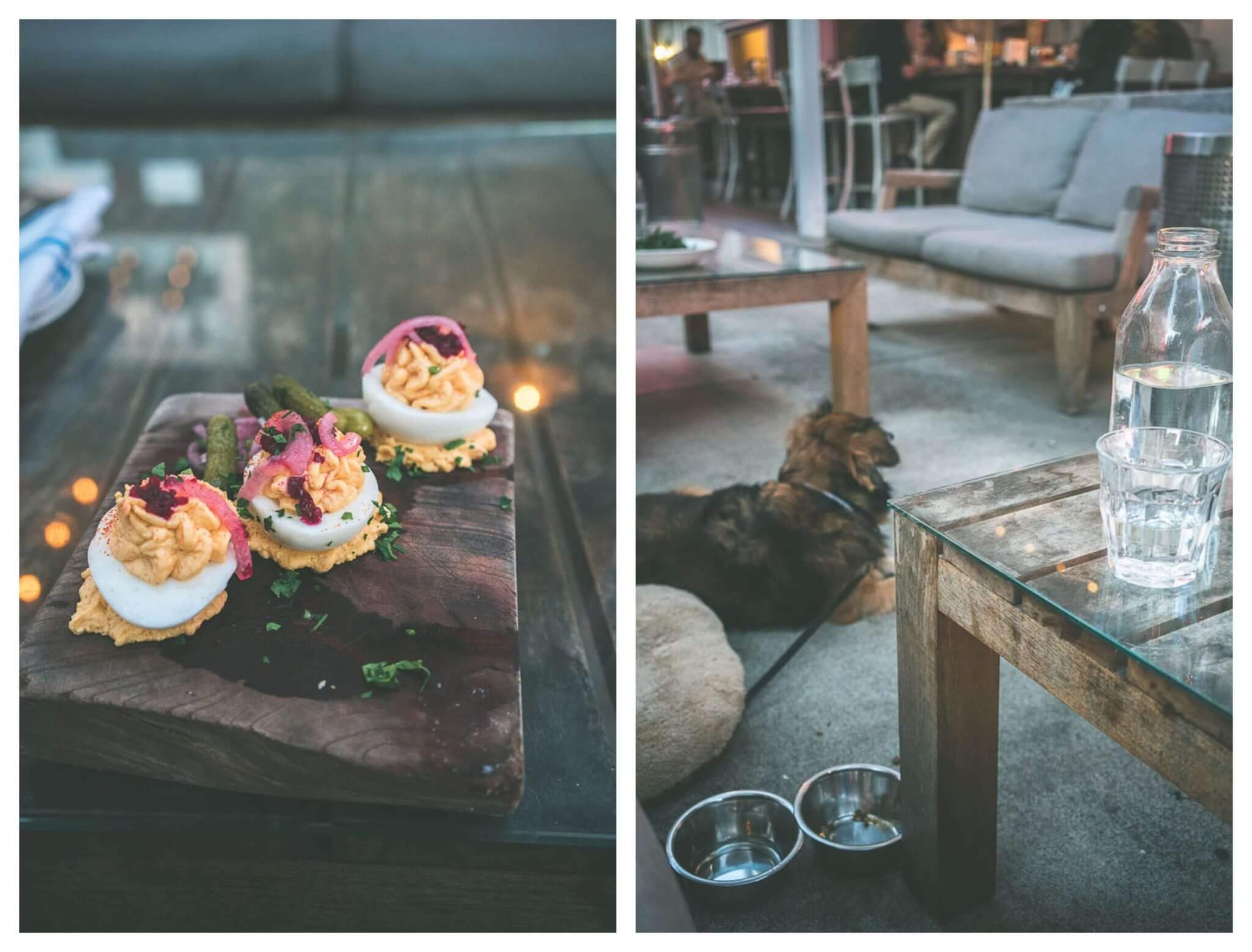 h) Solbar (Calistoga)
Solbar, the restaurant of the famous hospitality group Solage is extremely dog-friendly with a giant patio and a great place to include in your Napa itinerary for lunch. The food is top notch Californian-American with hints of Asian influence (think of lamb gyros with a twist or sweet potato chapatis) and all ingredients are locally sourced. The best part is that the menu changes daily as well as from lunch to dinner. Solbar is part of the Solage Hotel which is a dog friendly hotel in Napa.
i) Calistoga Inn and Brewery
Calistoga Inn & Brewery is a dog friendly Napa restaurant has a lively and spacious outdoor seating where well behaved dogs are welcome. The food is essentially Californian American with seasonal ingredients.

Things to do in Napa valley other than wine tasting
Don't drink the good stuff? No wine for your whining? No problem in Napa! Even if you are the one that does not require the "spirits" to get your spirits up, Napa has plenty of things to do minus alcohol. So here is a list of things to do in Napa other than wine tasting. Check them out and don't forget to add them to your Napa itinerary!
a) Visiting Oxbow Public Market in Napa to check out the best of Northern California' products and bounty
b) Visiting the Chuck Williams Culinary Arts Museum (founder of Williams Sonoma) to see about 4000+ of his European cookware and utensils inside the Culinary Institute of America (CIA at Copia)
c) Joining a food tour in downtown Napa (a must for foodies)
d) Going on a hot air balloon tour in Napa
e) Strolling down downtown St. Helena to check out the cute shops and boutique stores (dog friendly)
f) Visiting the petrified forest in Calistoga (dog friendly)
g) Visiting the "Old Faithful" mini geyser on Tubbs lane in Calistoga (dog friendly)
h) Treating yourself to some much needed R&R at a spa massage in Calistoga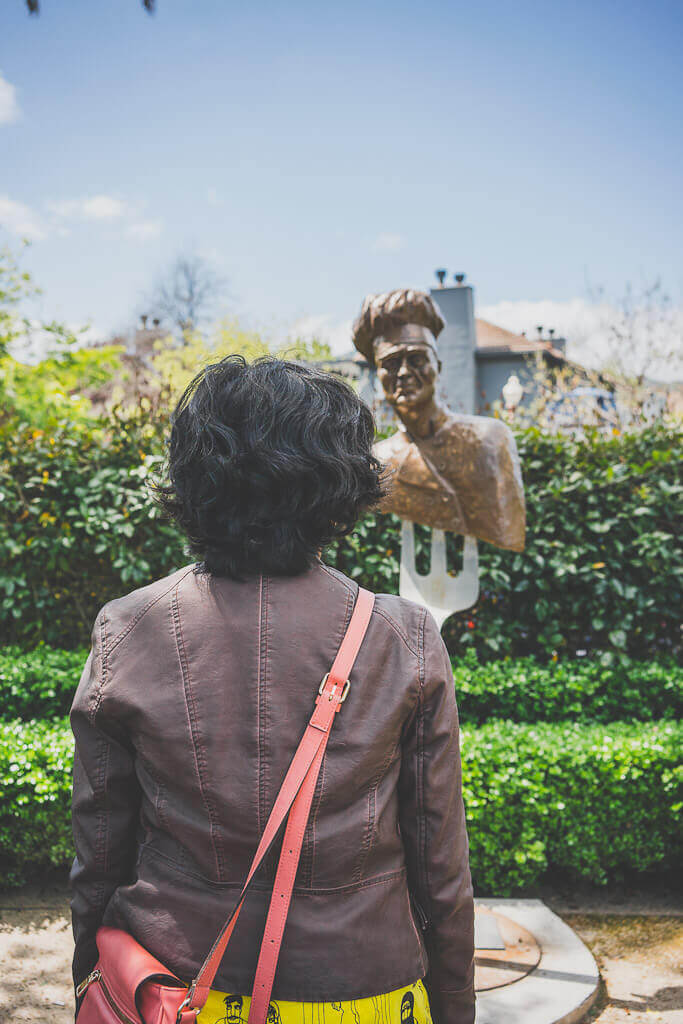 I hope you enjoyed reading this post on how to plan to Napa itinerary as a first time visitor! Hopefully this post has inspired you to get going on your own weekend getaway to Napa valley minus the headache and the hefty cost associated with visiting wine country. Thanks so much for reading and do share your Napa trip experience with me. For more on all things California, check out my California adventures right here.
Like this post? Hover over images to Pin it!

«