Last Updated on July 6, 2022 by Paroma
Are you looking for romantic getaways in Northern California for some quality time with your partner or simply looking for a couples weekend getaway from San Francisco Bay Area? Look no more, cause I have 10 such romantic places in Northern California to leave the daily grind behind. From a couples luxurious spa retreat to enjoying the great outdoors and from relaxing at the beach to romantic dinners, these romantic destinations in Northern California are perfect for all kinds of couples looking for romantic getaways in the Bay Area.
Disclaimer: This post may contain some affiliate links. Clicking on them may earn me a small commission at no extra cost to you for the product. This miniscule commission helps support my blog maintenance costs. Thank you for supporting free content here!
The current health crisis (2020-2021) coupled with California's massive wildfires in 2020 may have resulted in temporary closures to certain places/restaurants/attractions/landmarks. Please check their respective websites prior to your travel to avoid disappointment. Plus, all wineries now require tasting by appointment and reservations must be made beforehand. Please abide by all state mandated health rules and enjoy responsibly.
ROMANTIC GETAWAYS IN NORTHERN CALIFORNIA
Romance comes easy to Northern California. The "California state of mind" is not only a laid back way of life surrounded by incredible natural beauty but also describes a place where love is easily rekindled over a scenic road trip, that cliche candlelight dinner (at some of the best restaurants in the world no less) or simply during an leisurely stroll on its sandy shores. Everyone is welcome in our Golden State to experience togetherness, regardless of their sexual orientation, religion or nationality.
There is no dearth of romantic destinations in Northern California and for those of you caught in the morbidity of life's mundane routine, there are so many romantic getaways to choose from and to celebrate each other. Many of these are also perfect as weekend couples getaway from San Francisco Bay Area for those ardently looking for a much needed break from the daily grind.
From popular urban centers to cozy small towns, majestic Redwoods to gushing waterfalls, pristine beaches to dense canopies of greenery, rolling vineyards to lavender fields, national forests to shimmering lakes-love is just a hike, drive, bite or sip away in Northern California. And, this post reveals 10 such romantic places in Northern California that are meant for all kinds of couples with diverse tastes and budgets.
Since there is no physical boundary between Northern and Southern California (the demarcation is more cultural than anything else), I have designated Monterey county as the southernmost tip of this guide on Northern California romantic getaways.
The definition of romance is certainly variable depending on what kind of couple you are-so I have provided a variety of romantic activities for each destination for you to choose from (based on my notion of romance, of course). And now, without further ado, let's get on with this list of finding the most romantic places in Northern California for a couples getaway!
1. ROMANTIC GETAWAYS FROM BAY AREA: MENDOCINO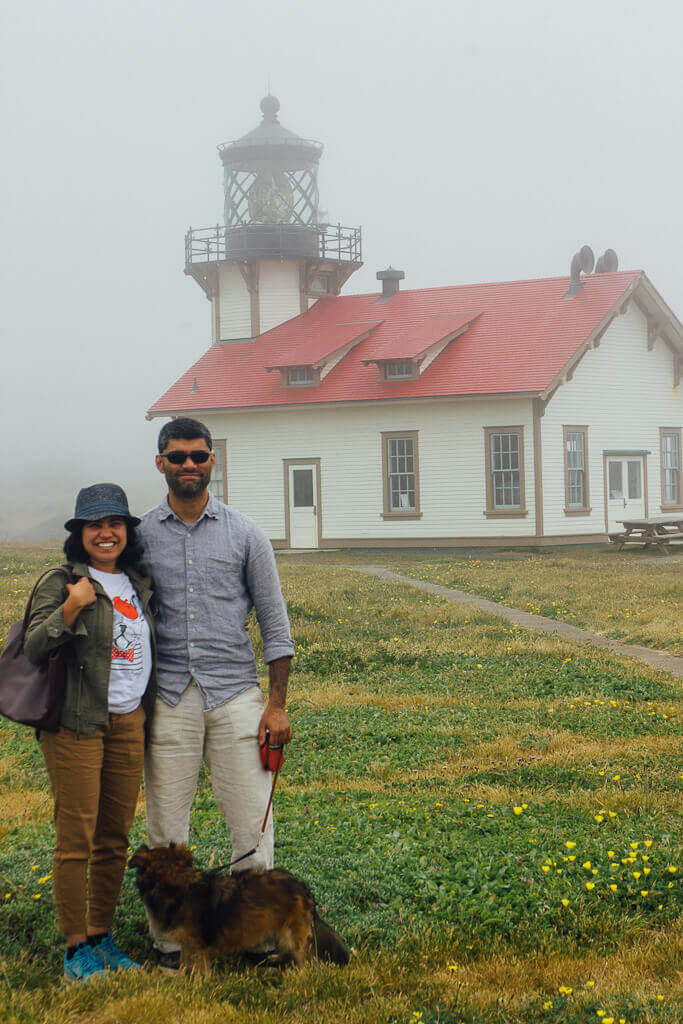 Mendocino is that magical coastal town in Northern California that is perfect for a romantic couples getaway from San Francisco Bay Area and offers a slice of the good California life. The drive up north from the Bay Area along Highway 1 (it takes about 4 hours on the scenic route) is in itself quite breathtaking as you pass by several charming California towns along Marin County and Sonoma coast. It is easily one of the most scenic road trips from San Francisco to embark on.
Mendocino is one of those delightful Northern California coastal towns that will woo you with its beaches, food, small town charm, whale watching sites, incredible views of the rugged coastline and access to some of the best Redwood Groves in the world. It is also a perfect July 4 getaway if you have an anxious pup with you. Here is how to spend a romantic weekend at Mendocino for those raring to explore Northern California's natural beauty:
WHERE TO STAY FOR A ROMANTIC WEEKEND IN MENDOCINO
ROMANTIC THINGS TO DO IN MENDOCINO
DINING IN MENDOCINO
Dine at the world class Ravens (vegan and vegetarian restaurant in Stanford Inn by the Sea where dogs are allowed)

Check out Mendocino Cafe, Trillium Cafe,Goodlife Cafe and bakery, Frankie's Cafe, Mara's Coffee house and Sea Pal cove (Fort Bragg)
Relax with a glass of wine at Pacific Star Winery perched on the coast and take in the views
Check out the wineries dotting Highway 128 west in Philo and Boonville (Anderson Valley)-I recommend Lula Cellars and Goldeneye winery
2. ROMANTIC GETAWAY IN NORTHERN CALIFORNIA: SONOMA COAST
Sonoma county sits right below Mendocino county and extends from Bodega Bay in the south to Gualala in the north. In between the two points, it packs in lots of natural beauty, the allure of California's coast, gorgeous hikes revealing spectacular views, delicious food and wine and of course charming coastal towns.
Most visitors to Sonoma make a beeline to the wine region, aka Sonoma valley, and miss out on this part of the county, which is an easy 2 hours drive north from San Francisco along the coast. A weekend on the Sonoma coast is a perfect romantic getaway from Bay Area, allowing you to enjoy the slow California life. Here are some ways you can enjoy the best of what the Sonoma coast has to offer:
WHERE TO STAY FOR A ROMANTIC WEEKEND ON THE SONOMA COAST
ROMANTIC THINGS TO DO ON THE SONOMA COAST
Give into the beach life at over a dozen beaches on the Sonoma coast-my favorite being Doran Regional Park and Beach. See the full list of Sonoma coast beaches here
Outdoorsy couples can go on a hike at Bodega Bay and Gualala for panoramic views and whale-watching! I recommend the Bodega Head Trails, Bodega Bay Bird Watch Coastal Access Trail and Pinnacle Gulch trail for spectacular views of the coastline. The Gualala bluff trail is another scenic trail with marvelous coastal views. You can read my complete guide to Bodega Bay and my Gualala itinerary more details
Explore the coastal towns of Bodega Bay, Jenner, Timber Cove and Gualala for their art galleries and chic, local shops
Take a short detour inland to enjoy the magical misty Redwood grove called Landpath Grove of Old Trees in Occidental, which happens to be one of the few dog friendly Redwood groves near San Francisco
Visit the incredibly beautiful Sea Ranch Chapel
Visit one of the wool/sheep ranches on Sonoma Coast to meet local artisans, felters, spinner and weavers and their fluffy, cute sheep on the pastures!
EATING AND DRINKING ON THE SONOMA COAST
Get Sonoma coasts favorite coastal clam chowder and lip-smacking seafood all the way from Bodega Bay to Jenner. I recommend at least one meal at the following: Fisherman's Cove, Fishetarian Fish Market, Spud Point Crab Shack, The Tides Wharf Restaurant & Inn, The Birds Cafe (all Bodega Bay), Cafe Aquatica and Jenner Inn (Jenner). For a fancy night out, visit River's End Restaurant and Inn.
Wine tasting at one of the several wineries/vineyards hugging the coast. I highly recommend Sonoma Coast Vineyards for a relaxing wine experience with handcrafted wines and great views.
3. COUPLES WEEKEND GETAWAY IN NORTHERN CALIFORNIA: HEALDSBURG
Be it winter getaways in California or easy weekend getaways from San Francisco-no list of California getaways is complete without Healdsburg, the shining gem of Sonoma valley and my absolute favorite city Sonoma county. Healdsburg has some of the best wineries serving fruitilicious Pinot Noir and Chardonnay (wines Sonoma county is famous for) and is crammed with picturesque vineyards in two distinct AVAs (wine growing regions) along with some of the best restaurants in the world!
Honestly, there cannot be a more romantic getaway in Northern California than Healdsburg for wine and food connoisseurs or simply for couples looking to have a good time (and being a little indulgent at it). Bear in mind that summers are oppressively hot, so it is best to visit in late Fall, Winter or even Spring! Here are some romantic things to do in Healdsburg:
ROMANTIC HOTELS IN HEALDSBURG
ROMANTIC THINGS TO DO IN HEALDSBURG
WINE TASTING IN HEALDSBURG
(BTW, I have been to all these wineries-here is my detailed post on these fantastic Sonoma wineries)
WHERE TO EAT IN HEALDSBURG
Healdsburg is famous for its dining scene-be it farm to table cozy restaurants or world class 3 Michelin star fare. My favorites are SingleThread Farm (3 Michelin Stars), Barndiva, Chalkboard Bravas Bar de Tapas, Willi's Seafood & Raw Bar and Costeaux bakery
4. ROMANTIC COUPLES GETAWAY IN NORTHERN CALIFORNIA: NAPA VALLEY
Napa Valley is one of California's premier wine growing regions with a mind boggling diversity of 16 nested AVA within its 30 miles. Add to it, the natural beauty of this region, a plethora of art galleries, jaw dropping beautiful wineries, hot air balloon rides soaring over rolling vineyards, world class restaurants and what you end up with is an indulgent, luxurious romantic getaway in the Bay Area that is only 1.5 hours drive northeast from San Francisco!
There is so much to do in Napa over a weekend getaway that it can be intimidating for first time visitors (which is why I have this very helpful guide outlining exactly what to do in Napa on your first time visit cause I am a repeat visitor on loop). However, it really does not matter if you are a seasoned visitor on a romantic getaway or a bashful couple exploring your very first visit to Napa. Here are some of the most lovey-dovey things to explore in Napa valley for wine and food connoisseurs and for those raring to explore more:
ROMANTIC HOTELS IN NAPA VALLEY
ROMANTIC THINGS TO DO IN NAPA VALLEY
WINE TASTING IN NAPA VALLEY
Get a seat on the wildly popular Napa Valley Wine Train for the ride of your life-a three hour round trip through the heart of Napa Valley with world famous dining and stops at some of the best wineries in the valley
Go wine tasting (and, winery tour) in large wineries or small, boutique wineries to taste Napa's delicious, bold Cabernets-here are some of the best Napa wineries for first timers
ROMANTIC DINING AND FOODIE ADVENTURES IN NAPA VALLEY
From 3 Michelin Star restaurants (Napa valley has two of them) to crazy popular bakeries, Napa has a wide range of culinary picks to satiate everyone. My recommendations are: French Laundry and Restaurant at Meadowood (both 3 Michelin stars, you can even stay at the Inn at the latter), Bouchon Bakery and Cafe , Ad Hoc, Gott's Roadside, Farmstead, La Calenda, Boon Fly Café and Solbar
Check out the stalls, kiosks and restaurants at Oxbow Public Market in Napa for Northern California's produce, products and diverse cuisines
Go on a food tour in downtown Napa
5. ROMANTIC PLACES IN NORTHERN CALIFORNIA: LAKE TAHOE
Photo by Jeremy Banks on Unsplash
Of all the romantic getaways in Northern California, a weekend at Lake Tahoe, the large freshwater lake in the Sierra Nevadas between California and Nevada, is one that is for all seasons and all reasons. The San Francisco to Lake Tahoe road trip is a lot of fun with many cool stops in between that you should check out!
From snow-clad mountain slopes perfect for skiing to summer days dedicated to idling away sandy shores and scenic drives and from spring hikes along meadows filled with wildflowers to a dazzling array of Fall colors that will leave you spellbound-this romantic getaway provides a stark contrast to Bay Area, i.e. the full four seasons that is a rarity in the state.
I have visited Lake Tahoe thrice in these 12+ years of living in San Francisco and have the perfect Lake Tahoe guide for you. I highly recommend visiting either in Fall or Spring or even Winter (if skiing and snowshoeing are your thing) to take in the best of what Tahoe has to offer minus the crowds (summer is very hot and peak tourist season).
Also, the North Shore is the quieter and more laid back of the two parts of the lake, with the South Shore having more casinos and crowds. Here are some romantic things to enjoy at the incredibly beautiful Lake Tahoe:
ROMANTIC PLACES TO STAY IN LAKE TAHOE
ROMANTIC THINGS TO DO IN LAKE TAHOE
WHERE TO DINE IN LAKE TAHOE
6. NORTHERN CALIFORNIA ROMANTIC GETAWAYS: YOSEMITE NATIONAL PARK
What else can be said about Yosemite National Park that has not already been captured in our collective imaginations via prose, poetry, photographs and paintings? Nestled in the 1200 miles or so of California's iconic National Park in the Sierra Nevada mountains, you will find solitude in the shadow of the Giant Sequoias, gape at unparalleled magnificent vistas, marvel at the plunging waterfalls and serenity on the banks of its alpine lakes. Yosemite is the perfect romantic getaway from the Bay Area for nature lovers and is only 3-4 hrs drive depending on your location.
The best way to enjoy a couples getaway to Yosemite National Park is to visit it in any season other than summer, when it is at its busiest and hottest. Spring is for enjoying the many waterfalls that come alive in the park, Fall is for the spectacular foliage on full display in vivid colors and Winter is for a snowy fairyland that comes to life here.
Yosemite is one of my favorite Northern California romantic getaways and it will be yours as well, no matter how much of an urbanite you may be. Pet parents need not leave their furry friends behind, since dogs are allowed in several parts of Yosemite! The historic town of Mariposa near Yosemite is also a great place to learn about the gold rush era of the Sierra Nevadas.
ROMANTIC PLACES TO STAY IN YOSEMITE NATIONAL PARK
ROMANTIC THINGS TO DO IN YOSEMITE NATIONAL PARK
Go on easy day hikes to see some of the most gorgeous waterfalls in Yosemite Valley. For serious outdoorsy couple, get a permit to climb up Half Dome (my colleague proposed to his girlfriend at the very top) or explore more of Yosemite through these hikes

Enjoy the magnificent vistas and views at Tunnel View, Glacier Point, Olmstead Point, El Capitan Meadow, El Portal View, Pothole Dome, Cook's Meadow (great for sunrise or sunset)

Marvel at the Giant Sequoias at Mariposa Grove, Tuolumne Grove and Merced Grove

Visit the Ansel Adams Gallery
Camp at the Tuolumne Meadows campgrounds (one of the highest elevation meadows in the Sierra Nevadas)
Visit the many alpine lakes in and around the valley (best to visit during spring). My favorite is Mirror Lake.
Go beyond Yosemite and visit the Bodie ghost town, a Gold-rush era mining town that remains deserted but well preserved
DINING IN YOSEMITE NATIONAL PARK
7. ROMANTIC GETAWAYS IN BAY AREA: POINT REYES NATIONAL SEASHORE
Point Reyes National Seashore is one of the most beautiful parts of Northern California, period. Perched on the landmass of West Marin that juts out into the ocean, this cape is surrounded by the salty waters of the Tomales Bay on the east, Drakes Bay in the south and Bodega Bay on the north.
Beside being the singular source of Northern California's cheese and the slurpiest of oysters (thanks to the saline rich waters of Tomales Bay), this part of Marin county is a conservationists dream and a natural paradise-with a well preserved ecologically sensitive coastline and home to native flora and fauna.
Point Reyes is one of the best romantic getaways in the Bay Area and is a mere 1.5 hr drive north from San Francisco. A weekend at Point Reyes means exploring its many beaches, enjoying scenic hikes, visiting famous landmarks and enjoying the natural bounty of California.
As a repeat visitor to Point Reyes, I'd say anytime is a good one to visit but Spring is absolutely delightful with wildflowers blooming everywhere, lush greenery all around and catching sight of Elephant Seal pups at Chimney Rock! Here are my recommendations for spending a romantic weekend at Point Reyes:
ROMANTIC HOTELS/LODGING AT POINT REYES
ROMANTIC THINGS TO DO IN POINT REYES
FOOD AND DRINKS AT POINT REYES
8. BAY AREA WEEKEND GETAWAY FOR COUPLES: SAN FRANCISCO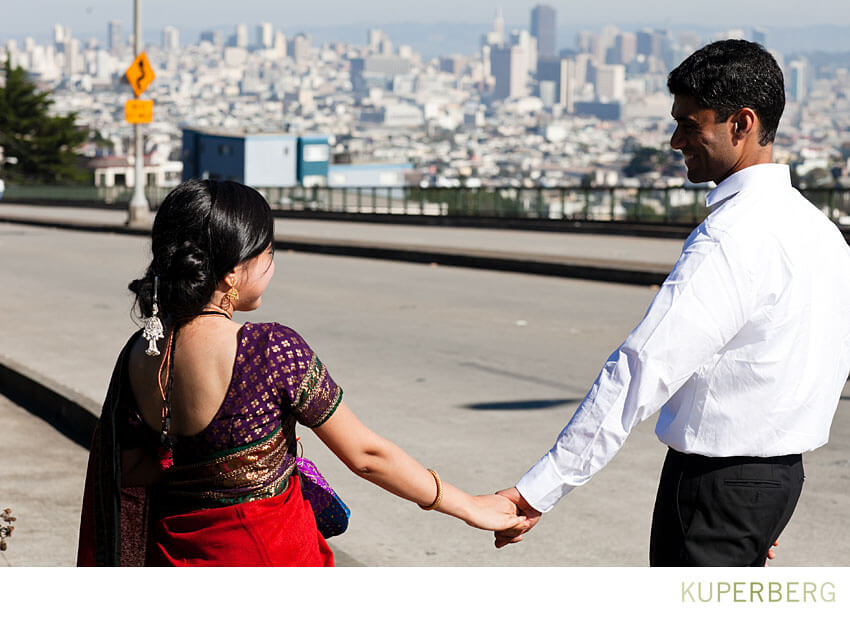 Us at Twin Peaks on our wedding day (photo: Anna Kuperberg Photography)
Not only has San Francisco been home to me for the last 12 years (see my San Francisco guides for 100% authentic takes that only a resident can provide) but I consider this city as one of the most romantic getaways in Northern California because, cheesy as it may seem, this city gave me my own love story:-)
I met my husband of 11 years one sunny morning in June at Alamo Square Park (the one next to the famous Painted Ladies), got married at the Sunnyside Flower Conservatory (in the quiet neighborhood of Glen Park where I lived) after a year of dating and made a home for ourselves in Western Addition, one of the most bustling neighborhoods of San Francisco (we currently live in Lower Pacific Heights, another beautiful neighborhood in SF). Despite living in San Francisco for over a decade, I continue to discover new things about this city to fall in love with it over and over again.
San Francisco is not only perfect for a Bay Area weekend getaway for couples but also for those seeking the buzz of a big city packed in a small area (we are only 49 square miles!) . There are lots of romantic things to do in San Francisco, even on a budget! From exploring the city's best views, going on the most scenic urban hikes, seeing the landmark attractions, scouring out hidden gems, making memories at some unbelievable photo spots and gorging on delicious food-this city has it all for every kind of couple under the sun!
Depending on your interests, certain times of the year may be best to visit San Francisco since we have a lot of different things to do, see and enjoy for couples. If you're not from the Bay Area, it would be good to know that we have a tricky weather pattern-so dress accordingly (here's a San Francisco packing list to help). Here is how to spend a romantic weekend in San Francisco:
ROMANTIC HOTELS AND B&Bs IN SAN FRANCISCO
ROMANTIC THINGS TO DO IN SAN FRANCISCO
Catch the most romantic sunrise from Baker Beach or Marshall's Beach with spectacular views of the Golden Gate Bridge
Go paddle boating on Stowe Lake in Golden Gate Park (home to many other attractions like Hagiwara Japanese Tea Garden, The San Francisco Botanical Garden, The Arboretum which are best visited during spring in SF)

Stroll down the paved waterfront at the Marina or at the Embarcadero (all the way from Pier 1 to Fisherman's Wharf)

Spending an afternoon at the Botanical Garden or the Arboretum at the Golden Gate Park amidst plants and blooms from all over the world.

Go biking or stroll along the Marina Green with the Golden Gate Bridge as the backdrop

Go on a mini cruise on the Bay that sails right below the Golden Gate Bridge with spectacular views of the city skyline and Alcatraz Island. Here is another popular tour Golden Gate Bridge cruise
Pack a picnic basket to Crissy Field in San Francisco's Presidio, home to some of the best San Francisco hikes, dog friendly beaches and best views of the Golden Gate Bridge
Discover the most panoramic views in the city from one of its many parks for the perfect backdrop for your photo
Go on a treasure hunt for some of the best hidden spots in San Francisco-includes colorful mosaic stairs, secret spots and hidden beaches
View the city from above via a helicopter aerial tour

Catch a live performance (Play, Opera, Jazz concert) in either the Theatre district or at the SF Opera or SF Jazz Center at Hayes valley

Visit one of the many beautiful art galleries in and around Union Square

Explore San Francisco's bustling streets (Mission, Valencia, Fillmore, Union, Hayes and Sacramento)-best places to shop locally in San Francisco to pick up a souvenir or for a bite to eat
Explore one of its many beautiful neighborhoods-I have 10 amazing ones picked for you (my most romantic pick would be Russian Hill)
Join a walking tour of San Francisco to know more about this city and its quirky, historic facts
Visit the grand Rotunda in San Francisco's City Hall (free attraction) or go on a docent led tour (you may catch a wedding at the mezzanine level)
Enjoy a serene afternoon at the Palace of Fine Arts, one of the must see attractions in San Francisco
ROMANTIC DINING IN SAN FRANCISCO
San Francisco is a mecca for foodies, with options ranging from dozens of Michelin Star restaurants for fine dining to cheap eats and from food trucks to candlelight dinners. Whatever your budget may be, there are many choices for a romantic meal enjoyed by two in San Francisco (including many vegetarian/vegan restaurants for those who do not eat meat). Here are some options for foodie couples who love and live to eat:
Go on a food tour to savor the best of San Francisco in one of its iconic neighborhoods-Mission, Chinatown and North Beach. I recommend my tried and tested Chris Milano's Foodie Adventures!
There are many unique foodie experiences to be had in San Francisco-don't miss out the Farmers Market at Ferry Building or sign up for a pop-up dining!

Sample food truck fare from a conglomerate of food trucks at Fort Mason (Friday evenings), SOMA street food park or Sundays at the Presidio (called "Picnic at the Presidio)

Sample San Francisco's artisan chocolates or slip into a happy sugar coma with San Francisco's delectable desserts at some of its best patisseries and bakeries
Eat your heart out-San Francisco has too many amazing restaurants, cafes and boulangeries to satisfy even the pickiest of eaters. My neighborhood guide on SF provides personal recommendations on the best places to eat in San Francisco for brunch, lunch and dinner
Fancy some Michelin star dining in San Francisco or upscale dining? I highly recommend my favorite Atelier Crenn, Quince, In-Situ (SF MOMA), Campton Place Restaurant, Kokkari Estario, Boulevard, Angler, Aziza, Robin and Sons & Daughters. Here is the complete San Francisco Michelin Guide
Go wine tasting in San Francisco-yes, we have wine bars and wineries too, serving some of the best wines from the Bay Area and California Wine country! I recommend Birba in Hayes Valley, Bacchus wine bar in Russian Hill, Cultivar in Marina/Cow Hollow, Ungrafted in DogPatch, Decant SF in SOMA, Scopo Divino in Lower Pacific Heights and Ferry Plaza Wine Merchant inside the Ferry Building (Pier 1). Come for the wine, stay for the bar food
9. ROMANTIC WEEKEND GETAWAY IN NORTHERN CALIFORNIA: SANTA CRUZ
Santa Cruz, aka NorCal's surfer paradise, may be Bay Area's answer to New York's Coney Island with the busiest boardwalk west of the Mississippi, but if you take that giant touristy attraction out of the picture, this beach town will woo you with its many romantic offerings. I am talking about serene Redwood groves, relaxing wineries, scenic hikes, sandy beaches for days and of course some really good food.
To top it all, Santa Cruz is a mere 30 min-1.5 hours away from the Bay Area (depending on where you're at) and makes for a perfect weekend couples getaway! With mild weather year round, this is also one of our favorite winter getaways in California. Having visited Santa Cruz many times, here are some of my suggestions for romantic things to do in Santa Cruz:
ROMANTIC HOTELS IN SANTA CRUZ
ROMANTIC THINGS TO DO IN SANTA CRUZ
Santa Cruz county is blessed with some of the most beautiful state parks in California. Remember to visit the Big Basin State Park and Henry Cowell Redwoods State Park-both home to majestic Sequoias (Giant Redwoods) Both these parks are dog friendly!
Go hiking in Santa Cruz for scenic views and to catch wildflowers swaying in the breeze in spring. I highly recommend the Pogonip for hiking. The Spring trail will take you a vista point for a panoramic view of the Santa Cruz valley!
Board the Redwood Forest Steam Train (snaking through the towering Redwoods) or the Santa Cruz Beach Train (Santa Cruz mountains to Henry Cowell State Park) for an epic adventure. All details here

Visit the colorful Venetians near Capitola Beach

If visiting in winter, don't forget to stop by the Monarch butterfly grove in Natural Bridges State Beach and Park to see these winged beauties in their overwintering habitat
Pack a picnic basket to the beach and there are a whopping 34 beaches in Santa Cruz county: I love the secluded Greyhound Rock beach in Davenport and Lighthouse Field State Beach (It's Beach) in Santa Cruz. Here is a list of the best beaches in Santa Cruz to visit

Check out Abbott Square Market-an outdoor plaza and market place in downtown Santa Cruz known for its public art exhibits and performance

Catch a Shakespeare in the Park performance in summer at DeLaveaga Park

Go wine tasting in Santa Cruz mountains (see section below)

Discover the jaw-dropping murals in downtown Santa Cruz
EATING AND DRINKING IN SANTA CRUZ
10. TOP ROMANTIC GETAWAY IN NORTHERN CALIFORNIA: CARMEL-BY-THE-SEA
Carmel-by-the-Sea literally checks every box on the romantic checklist, making it a must visit romantic getaway in Northern California. Perched right next to the Pacific Ocean in Monterey county, Carmel is the answer to your prayers for a romantic weekend from the Bay Area and is only 1-2 hours drive south depending on your location. If this is your first time visiting Carmel from San Francisco, I highly recommend taking the scenic route along Highway 1 for some very beautiful beaches, towns and attractions.
Year round mild weather, charming downtown with the prettiest of alleyways, boutique stores wooing you from all directions, sandy beaches to dip your toes in, hikes to get you closer to nature, great food and even better wine-Carmel really has so much to fall in love with.
Carmel is also the gateway to California's central coast that includes Big Sur, one of the most scenic drives in the world down the Pacific Coast Highway. Besides welcoming bipeds, Carmel is a mecca for dog lovers and has many dog friendly hotels to enjoy a vacation with your canine companion. Here is how to spend a romantic getaway at Carmel-by-the-Sea:
ROMANTIC HOTELS IN CARMEL
Downtown Carmel-by-the-Sea is peppered with boutique hotels to pamper you. Some of my favorites are as below (all are dog friendly hotels as well):
HOW TO SPEND A ROMANTIC WEEKEND IN CARMEL
Explore downtown Carmel to the hilt-there is so much to discover from flower laden lanes, Tudor like houses oozing European charm, cute as button City Hall, speciality stores, dozens of art galleries, coffee shops, bakeries, a hidden garden (that leads to a charming book store) and lots of restaurants

Visit the Carmel Mission-the oldest of the 23 Missions in California
Go wine tasting in one of Carmel's several tasting rooms. I recommend Dawn's Dream Winery and Galante Vineyards. If you're raring to explore more of Monterey county wineries, then drive into Carmel valley-known for its luxurious ranches and wineries

Go on a leisurely stroll (or, a hike) on Mission trail park and Nature preserve-a lovely trail through the woods and a short drive away from downtown Carmel

Get some sea, sand and tan at the famous Carmel beach at the end of downtown Carmel (just walk down Ocean Avenue to get there)

If you're an architecture buff, then admire (from afar) the Clinton Walker House built by celebrated architect Frank Lloyd Wright at Carmel Point (at the very end of the beach on Scenic road). The house (a heritage landmark) is open to the public one day every year in June to benefit the Carmel Heritage Society
If you're visiting in spring, check out the Calla lilies blooming in their namesake valley beside Garrapata State Park. This is a short drive south of Carmel at the beginning of Big Sur
Hop in your car to hit the road-explore the famous 17 mile drive that loops between Carmel in the south and Monterey in the North meandering through popular coastal stops such as Lone Cypress and Pebble beach
Hike through or enjoy the vistas at the rugged, beautiful Point Lobos State Natural Reserve. If you're lucky, you'll catch sight of some of California's jolliest mammals-sea otters, grey whales, seals and sea lions in the waters
If you're visiting Carmel for a long weekend, venture out further south to see Bixby Bridge, the second most photographed bridge in California after Golden Gate Bridge in San Francisco. Please be respectful of the bridge and the locals while stopping to take photos
ROMANTIC DINING IN CARMEL
Carmel will spoil you with its many beautiful restaurants serving delicious Californian and Mediterranean fare all over downtown. My absolute favorites are: Aubergine inside L'Auberge Carmel (fine dining), La Balena, Cultura Comida y Bebida (Oaxacan cuisine), Stationaery (brunch), Casanova, Carmel Bistro Giovanni, and Mundaka (Spanish/Tapas)
Craving for some dessert? Then check out Carmel Bakery , Little Swiss Cafe (their cheese blintzes are yummy) and Patisserie Boissiere
That brings me to the very end on this guide of my favorite 10 romantic getaways in Northern California. I hope you enjoyed reading this post on where to go for a romantic weekend break from the Bay Area with your partner and have bookmarked this article for your next romantic escapade in our Golden State. Thanks so much for stopping by!
Like this post? Pin it for later

«