Last Updated on November 16, 2022 by Paroma
Natural Bridges Santa Cruz California is one of the most beautiful and popular state beach and parks on the Central Coast. If you're curious about spending a day at Natural Bridges State Beach and Park, I have penned this guide just for you for a hassle-free visit. Keep on reading to find information on travel logistics, best things to do at Natural Bridges (including the Monarch Butterfly Grove) and where to eat around the State Park.
Disclaimer: This post may contain some affiliate links. Clicking on them may earn me a small commission at no extra cost to you for the product. Thank you for supporting free content on this site!
NATURAL BRIDGES SANTA CRUZ CALIFORNIA: A UNIQUE STATE PARK ON THE CENTRAL COAST
This is Natural Bridges in May-always dress in layers!
Natural Bridges State Beach in Santa Cruz is one of the most unique state parks in the California and one that definitely warrants a visit when you're on the central coast. This 65-acre California state park has it all- a pristine beach with white sand lying facing a bridge like arched rock jutting above the water (from which it gets its name), a serene pine and eucalyptus grove which is a picnic area and best of all, a Monarch Butterfly grove which is one of the three Monarch Sanctuaries in California where these winged beauties migrate to in winter.
The park also includes a large area of coastal scrub and grasslands where native wildflowers bloom in spring to lend a splash of color to the surroundings. Moore Creek flows through the park, leading to the formation of fresh wetlands and a salt marsh, which is home to many birds such as egrets and herons.
In addition, Natural Bridges also has a wonderful visitor center which is not to be missed if you want to know more about the marine life conservation along the central coast, whale migration as well as the Monarch Butterfly migration and conservation. There is also a gift shop inside the visitor center for you to make a purchase and support the ongoing conservation efforts by the park.
There is quite a bit to do and see at this State Beach to keep you engaged for at least half a day. In this guide, I am going to outline all the things you need to know about visiting Natural Bridges State Beach in Santa Cruz, the do's and don'ts for a first time visitor, main attractions and other things to do, see and eat around the park in Santa Cruz (which by the way, is a great Winter destination in California).
PLANNING A VISIT TO NATURAL BRIDGES STATE BEACH? HERE ARE THE FAQs
WHERE IS NATURAL BRIDGES STATE BEACH?
Natural Bridges State Beach is located in Santa Cruz, your gateway to California's Central Coast. Santa Cruz is about 80 miles south of San Francisco and 35 miles from San Jose. The physical address is 2531 W. Cliff Drive, Santa Cruz, CA 95060. The State park is at the very end of west Cliff Drive.
HOW TO GET TO NATURAL BRIDGES?
The easiest way to get to Natural Bridges is to drive into Santa Cruz, which takes about 1.5 hours from San Francisco and 51 mins from San Jose. If you're flying into California, the Norman Y. Mineta Airport in San Jose would be the closest one to fly into which is about 35 miles Northeast of Santa Cruz. As usual, the other options are to fly into San Francisco International or Oakland International Airport, renting a car and driving southbound.
Although the inland routes of CA-101 and CA-17 S are the fastest, Route 1 or Pacific Coast Highway (also known as Highway 1 or Cabrillo Highway) is incredibly scenic and has some really cool stops (beaches, lighthouse etc.) as you drive down from San Francisco to Santa Cruz (this is one of the easiest relaxing road trips from San Francisco, hands down)
NATURAL BRIDGES HOURS OF VISIT
The park itself is open from 8AM-sunset everyday. The visitor center is open from 11AM-4PM Friday-Monday.
NATURAL BRIDGES ENTRY FEE
If you enter the State Park with your vehicle, you will have to pay $10 for a day pass (cash and credit card accepted except American Express). The park also accepts the California State Park Annual Pass which you readily purchase online if you're a frequent visitor to the many beautiful State Parks accessible to the public in our state.
Your day pass to Natural Bridges State Beach also gives you access to nearby State Parks in Santa Cruz county for the same day. So if you have some time on your hands, you can very well explore the Henry Cowell Redwoods State Park which is 6 miles away or the Wilder Ranch State Park that is just 2 miles away.
PARKING AT NATURAL BRIDGES STATE BEACH SANTA CRUZ
As I mentioned before, you will have to pay the day pass fee of $10 if you park your car in the main parking lot inside the park that is right next to the visitor center. If you want to enter for free, I suggest you come in early and try to find free street parking along W. Cliff Drive or Delaware Avenue. Since this State Beach and Park is extremely popular with locals, it might be a bit tricky trying to find parking outside of the park if you come later in the day.
FACILITIES AT NATURAL BRIDGES
Natural Bridges offers both restroom facilities and a picnic area. Restrooms are located near the visitor center and the picnic area. The designated picnic area in the adjoining Eucalyptus and Pine trees grove. You can find tables, barbecues and water faucets here.
ARE DOGS ALLOWED AT NATURAL BRIDGES STATE BEACH?
Unfortunately, NO. Dogs on leash are only allowed in the parking lot and picnic area. Dogs are NOT allowed on the beach, visitor center, Monarch Butterfly Grove or anywhere else in the park.
Pro-tip: Natural Bridges is one of the few places in Santa Cruz that does not allow dogs. My dog friendly Santa Cruz guide covers many places and activities that more than welcome dogs in this beach town.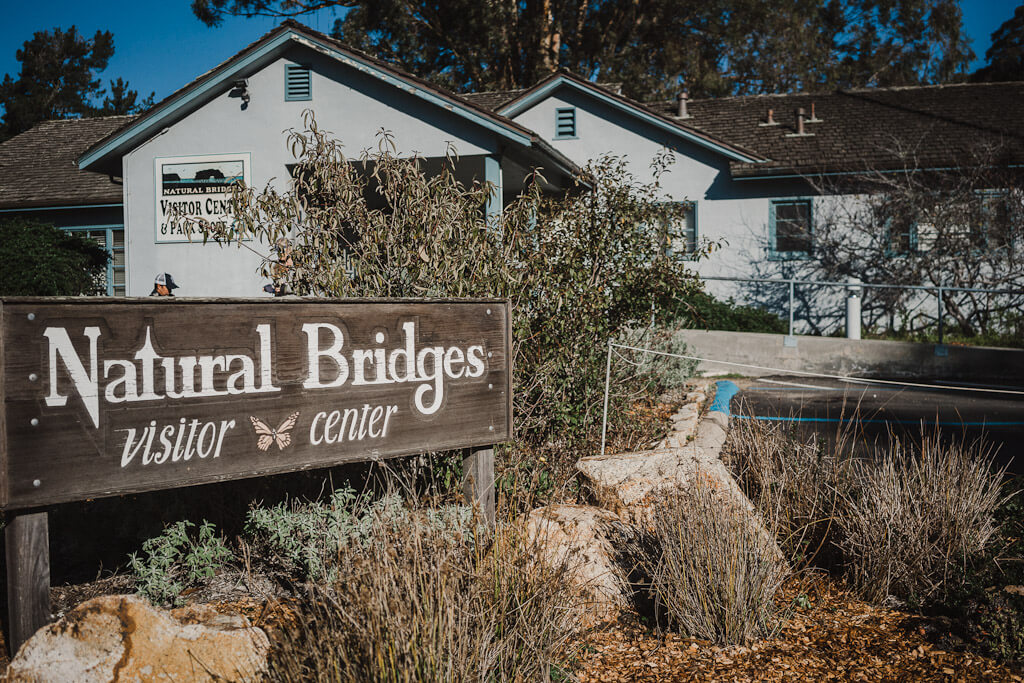 BEST TIME TO VISIT NATURAL BRIDGES
Santa Cruz has mild weather throughout the year since it is on the coast. Winter is rainy (Dec-Feb) while you may see some coastal fog in summer. I recommend visiting in Oct-November or Dec-Feb to see the Monarch Butterflies wintering in the Eucalyptus Grove which is a part of this park.
SURFING AND SWIMMING IN NATURAL BRIDGES STATE BEACH
Santa Cruz is the unofficial surf capital of Northern California, so it is very common to see surfers riding the waves from almost all beaches. Natural Bridges too is no exception. However, the Northern California beach towns are notorious for their cold ocean waters, so swimming might not be very enjoyable.
There are no lifeguards on the beach (at least I have not seen any on my repeat visits), so be mindful of going into the water for a swim. There may be hazardous rip currents that are notorious for sweeping people off-shore, so please be careful if you plan to get into the water.
WHAT TO BRING FOR YOUR VISIT TO THE BEACH AT NATURAL BRIDGES
First, dress appropriately as the California central coast can get quite chilly. In other words, forget a swimsuit and dress in layers. For sunny days on the beach, get some eco-friendly sunscreen or sunnies and hat to protect yourself from the direct rays of the sun. A beach blanket and a good book are also great options for chilling on the beach.
Natural Bridges forms an excellent vantage point along the coast for birdwatching (seabirds) as well as grey whales migrating down south to Baja in winter. If you're lucky, you will also be able to catch a few sea otters in the ocean water near the shore. So bring in your binoculars and your cameras fitted with telephoto/zoom lenses to catch these sea mammals in action.
Although there is a separate picnic area near the parking lot, you can pack in a picnic basket and eat on the beach. Simply remember to pack out what you've packed in so as not to leave any traces.
DO'S AND DON'TS AT NATURAL BRIDGES
Pack out what you pack in. Don't litter and dispose off your trash properly.

Cannot stress on this enough-do not disturb, pick or take any wildlife or plant, especially in the Tide Pools and at the Monarch Butterfly Grove

Natural Bridges park and picnic area is for day use only. No overnight camping is allowed

No fire is allowed on the beach. Same for glass containers

Alcohol is only allowed in the park with a previously issued "special-event permit". You have to submit permit applications at least 30 days prior to your event date

Drones are not allowed in the park at anytime

If you're entering the park on a bicycle, you need to stick to paved roads.
THINGS TO DO IN NATURAL BRIDGES STATE BEACH IN SANTA CRUZ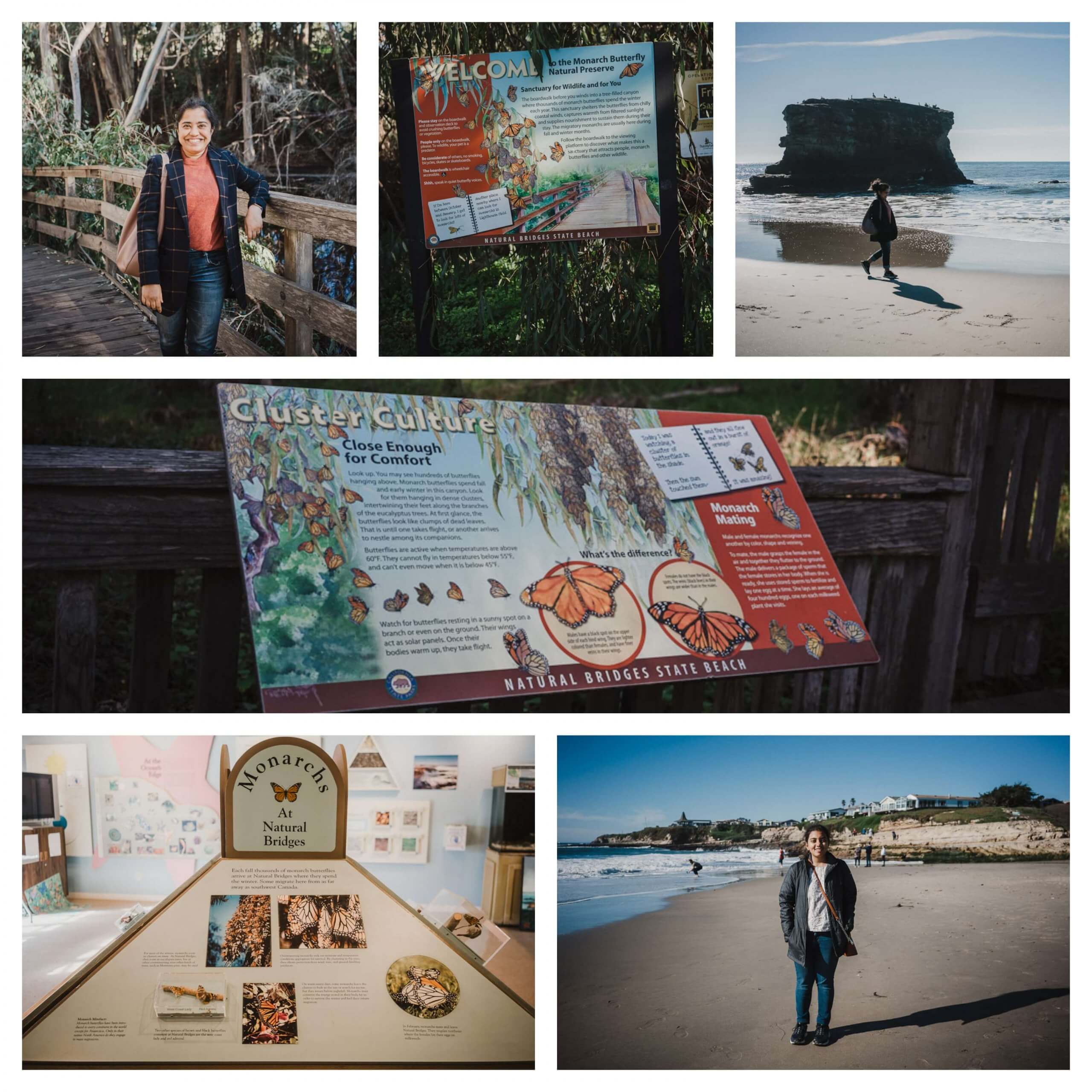 Natural Bridges State Park has several attractions to satisfy the nature lover in you. The park comprises of a sandy beach at the mouth of the coast, a Monarch Butterfly Sanctuary/grove and the Moore creek Wetlands Natural Preserve on the other end. Here are the best things to do in Natural Bridges on a day trip, based on my experience:
VISITOR CENTER
The Natural Bridges Visitor Center, located next to the main parking lot, should be your first stop if this is your first time to the State Park. Here you will get to learn about the coastal marine life, conservation efforts, migration of the monarch butterflies, tide pool creatures and the different types of whales that can be viewed during their migratory route along the central coast. The exhibits are very colorful and educational and help you appreciate the world that you share with a diverse flora and fauna.
The visitor center can also provide you maps and information on other State parks to visit in Santa Cruz with your day or annual pass. Besides, they also have a gift shop where you can buy a souvenir to fondly recall your visit (and help the park).
NATURAL BRIDGES BEACH
This sandy beach at the mouth of the coast faces a majestic, bridge like rocky structure with a natural arch jutting out of the water that lends the State Park its name.
A day at the beach means enjoying the soft sand, watching the noisy sea birds, playful sea otters and seals or even migrating whales if you're lucky. You will also see people swimming, surfing and even boogie-boarding in the water. Dress in layers cause it can get cold on the beach. The beach is easily accessible from the parking lot, just walk in the direction of the water:-)
TIDE POOLS
Natural Bridges State Beach is known for its tide pools which are further along the coast and accessible to the public. Tide pools are intertidal zones or areas of the shore that are exposed during low tide, revealing quite a melee of colorful ocean life clinging to the rocks or lingering in the crevices.
Sea creatures such as sea stars, shore crabs, sea anemones and many others can be seen in the tide pools at Natural Bridges. Please do not touch or disturb them in anyway since they are delicate living beings who should not be harmed by our curiosity. Be wary of your steps since tide pools are notoriously slippery and do not step on the slimy dark blue algae. Also, keep an eye out for stealth waves that may come out of nowhere and catch you unawares.
The tide pools seen at Natural bridges are protected by law as part of a Marine Protected Area, to help protect their sanctity for future generations. The Visitor Center has a helpful map for the tide pools, best visited during low tide. Low tide times for Santa Cruz can be found here.
MONARCH BUTTERFLY GROVE
Beside the beach, the main attraction of Natural Bridges at Santa Cruz, California is the Monarch Butterfly Grove. This butterfly grove is actually a quiet grove of Eucalyptus trees where Monarch butterflies fly to seek refuge during the winter months after a migration spanning thousands of miles from the Canadian Rockies.
This butterfly grove at Natural Bridges has been designated as a Monarch Butterfly Natural Preserve for its protection from human encroachment. It is one of the three monarch butterfly sanctuaries along the central coast in the state of California, the other two being at Pacific Grove and Pismo Beach (I have been to both). However, this is the only official State Monarch Preserve in California.
The best time to see Monarch butterflies in their temporary home is from late Fall to Winter (October-February) when thousands flock to the park's eucalyptus trees after a long flight from the Canadian Rockies. This is one of the best things to do in California in December/winter.
The Central coast is the winter home of choice for Western Monarchs owing to the area's mild seaside climate and eucalyptus grove where they roost till spring. Come Spring, the Monarchs fly back to the Rockies to feed on Milkweed (this is the only plant they feed on for nourishment) and lay their eggs for another life cycle to commence.
The park's Monarch grove at the end of a wooden accessible boardwalk that leads to observation deck where you can look above to see the butterflies clustering (grouping to stay warm) during the winter months. You will see the boardwalk as you walk down the path right next to the visitor center.
Once you are in the Eucalyptus grove, just look up to see what will appear as a pod of brown leaves hanging from the uppermost branches of the trees-this is what it looks like when the butterflies cluster. This phenomenon of roosting in the colder weather to conserve energy is called "overwintering" and occurs when temperature drops below 55F.
Once in the grove please be quiet and courteous for the sake of the butterflies, the nesting owls and your fellow nature lovers. Don't expect the butterflies to flutter around (like I naively did) since this is their winter habitat where they honestly have come to "relax" and do nothing. Bring binoculars or telephoto lenses to observe and click photos without being disruptive. Dogs, bicycles, roller skates and skateboards are not allowed in the grove.
Finally, whatever you do-remember, you are a miniscule part of this wonderful natural life that surrounds us. Do not touch the butterflies at any cost or try to harm these fragile winged creatures for your perverse enjoyment.
NATURAL BRIDGES STATE PARK HIKING TRAILS
The main hiking trail at Natural Bridges is the Monarch Trail that originates from the Monarch Boardwalk and loops around as the Moore Creek trail passing by the wetland area created by the creek. This is a gentle trail to walk along and you can spot several species of birds (egrets and herons) on the marshland. Here is a map of the park with the trail indicated on it.
WHERE TO EAT NEAR NATURAL BRIDGES STATE BEACH IN SANTA CRUZ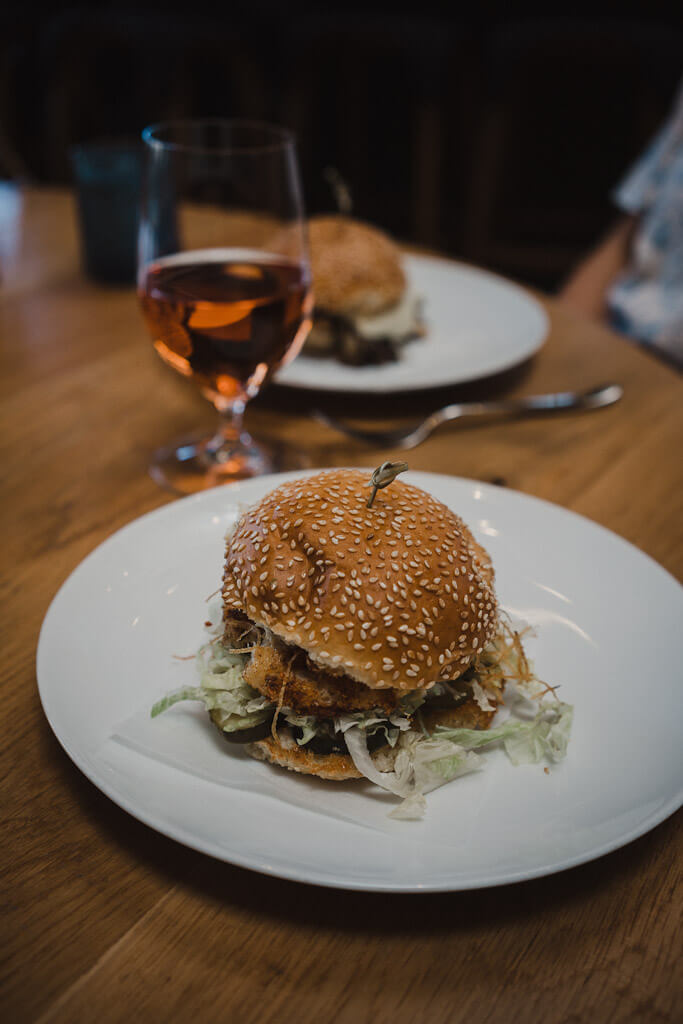 There is no food stall inside Natural Bridges but you are welcome to pack in a picnic basket to enjoy on the beach or in the designated picnic area. Once outside the park, there are many restaurants in and around downtown Santa Cruz which is a 10 minute drive from the State Park.
I recommend Alderwood (a chic Californian-American Bistro serving a killer crab sandwich on Walnut Avenue in downtown), Cafe Brasil (Highway 1), Gabriella Cafe (a charming Tuscan style restaurant serving Italian fare on a beautiful patio) and Laili restaurant (Afghan cuisine best enjoyed in their indoor garden area). The Buttery and Kelly's French Bakery are two Santa Cruz bakeries that I recommend for breakfast or afternoon pick-me ups. You can read more details about these Santa Cruz restaurants in my post here.
THINGS TO DO IN SANTA CRUZ NEAR NATURAL BRIDGES STATE BEACH AND PARK
Santa Cruz is one of our all time favorite Bay Area day trips as it is only 1.5 hours away from San Francisco where we live. Its dog friendliness makes it even more appealing to us dog parents (we travel all over California with our pup) to visit at least once a year. If you're in Santa Cruz for the very first time, don't stop just at Natural Bridges, explore the many other activities that Santa Cruz has to offer. Here are my recommendations for some additional adventures near Natural Bridges State Beach:

Visit the Lighthouse Field State Beach and Park featuring the dog friendly It's Beach and the Santa Cruz Surfing Museum (the only one of its kind) inside the Mark Abbott Memorial Lighthouse (address: Lighthouse Point, 701 West Cliff Drive). The views from this part of the coast are just gorgeous!

Go on a scenic hike at Pogonip for panoramic views of Santa Cruz valley or hike the enchanted trail in DeLaveaga Park

Visit the Walton Lighthouse located at the very end of Seabright State Beach. The Santa Cruz Harbor is right next to this beach.

Check out the many colorful murals in downtown Santa Cruz

Visit the Santa Cruz Mission, one of the 21 Franciscan Missions in California that formed an indelible part of the State's history.

Go wine tasting in Santa Cruz-the Santa Cruz Mountain AVA is one of the best kept secrets in the Bay Area and is home to dozens of wineries. I recommend relaxing at Bargetto Winery, the oldest winery in Santa Cruz county.

Go whale watching in Santa Cruz for a once in a lifetime experience. Conducted tours leave from Santa Cruz harbor into the Monterey Bay for gray and humpback whale sightings. Read my ultimate whale watching spots in California guide here for details.

Visit the Henry Cowell Redwood State Park, one of the several dog friendly Redwoods near San Francisco.

And that brings me to the end of yet another post about traveling in California, my adopted home. I hope you enjoyed reading this guide on how to plan your visit to Natural Bridges in Santa Cruz and will be making a visit to see the whales gamboling by or catching the overwintering Monarchs.

You can read my other Central Coast adventures in Carmel, Carmel Valley, Pacific Grove, Pismo Beach, San Luis Obispo, Paso Robles ,Cambria, Solvang and Santa Barbara for further inspiration. Thanks a lot for stopping by and safe travels!

LIKE THIS POST? PIN IT FOR LATER

«