Last Updated on July 28, 2022 by Paroma
If you're looking for some fun day trips from San Jose, California to spice up your weekend plans, then this is the post for you! I am here to give you all the deets on 20 amazing destinations (towns, landmarks and attractions) that are under 2 hours drive from San Jose for a full day of fun and enjoyment! Continue reading to find the best places to visit for epic San Jose day trips!
Disclaimer: This post may contain some affiliate links. Clicking on them may earn me a small commission at no extra cost to you for the product. Thank you for supporting free content on this site! All photos are my own unless credited from Unsplash which allows usage of their copyright free images.
San Jose, California (not to be confused with San Jose in Costa Rica) is not only the largest city in the Bay Area but also synonymous with the famous (or infamous) Silicon valley, i.e. the seat of modern tech. San Jose lies about 55 miles south of downtown San Francisco, cradled around the southernmost boundary of the San Francisco Bay. It is served by its very own airport, i.e. the San Jose International Airport (SJC) which is a mere 10 minute drive from downtown.
This southern location of San Jose pretty much guarantees lots of options for day trips extending all the way to the Central Coast of California. Much like my post on Bay Area day trips from San Francisco, here too I am going to talk about 20 amazing destinations that you can drive to from San Jose and all under 2 hours one way (traffic permitting). No one likes to spend a majority of their day trips driving and so this cut-off of two hours is where I draw the line for places conducive for making day trips from San Jose with plenty of time to enjoy your chosen destination.
I have arranged this list of places, i.e. day trip ideas from San Jose geographically from north to south for your convenience. One final tip before we get started on the list: maximize your day trip experience, please get an early start as much as possible since the Bay Area has notoriously bad traffic!
DAY TRIPS FROM SAN JOSE (MARIN, SAN FRANCISCO, EAST BAY PENINSULA)
MUIR WOODS
Distance: 68 miles
This famous grove of coastal Redwoods named after environmentalist John Muir is one of the most popular draws of Marin county and one of the best ideas for a day trip from San Jose. Protected as a National Monument since 1908, this serene grove of old growth Redwoods has plenty of hikes with over 6 miles of trails to keep you busy. Download the Muir Woods map here and see the hiking trails here.
Please be aware that you need to make advanced reservations to access Muir Woods and entry is timed, based on your parking or shuttle reservation. Here is everything you need to know to plan your visit. Dogs are not allowed in Muir woods.
MARIN HEADLANDS (POINT BONITA LIGHTHOUSE, MUIR AND STINSON BEACHES)
Distance: 53 miles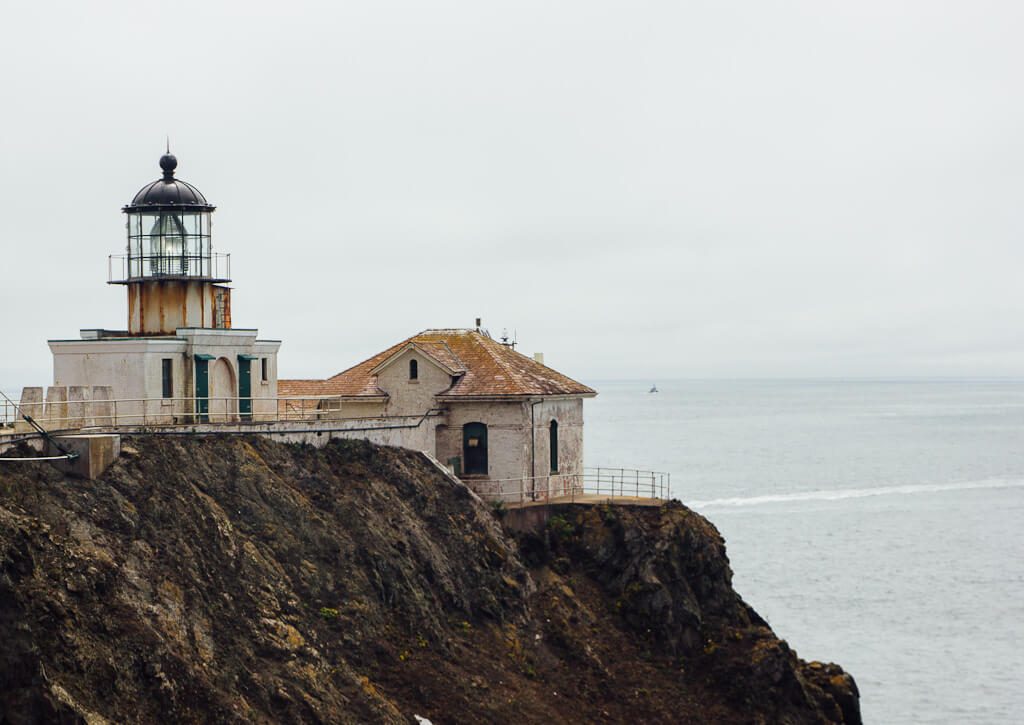 This is one of the northernmost destinations that I'd recommend on going on a day trip from San Jose with about an hour and half of driving through San Francisco and crossing the Golden Gate Bridge. Marin Headlands (see map here) is the part of Marin county that lies right north off the bridge and is one of the best places in the Bay Area from where you can get stellar views of our beloved Golden Gate Bridge. I recommend stopping by Battery Spencer or Hawk Hill for breathtaking views.
Apart from the panoramic views of our azure blue waters, the coastline and the bridge the one thing that Marin Headlands is famous for is its beaches and coastal hikes as well as Point Bonita Lighthouse, one of the few remaining functioning lighthouses on the California Coast.
A short walk along the Point Bonita Lighthouse trail from the parking lot will lead you to the lighthouse that is open only on Sunday and Monday from 12:30-3:30 PM (as of Feb 2022, PB Lighthouse is unfortunately closed till further notice due to an electrical safety issue).
Beside Point Bonita, the other attractions of the Marin Headlands is undoubtedly the coastal hikes that connect its many beaches. The closest beaches are Rodeo and Tennessee Beaches with Muir Beach and Stinson Beach being further north. If you love to hike, then the scenic Rodeo Beach Coastal Trail or the Tennessee Valley Trail (starting from the beach's parking lot) are good options. See all the Marin Headlands Trails here.
If you're not into hiking, then a day at the beach or even better a visit to Muir Beach Overlook is another excellent option when at the Marin Headlands. Muir Beach Overlook provides a panoramic view of the coast and also has a nice trail (Owl Trail) that leads to Slide Ranch. This spot is one of my favorite places in Marin Headlands!
MILL VALLEY
Distance: 66 miles
Mill Valley is that cute as a button town in Marin County where we often find ourselves when we're in the mood to either explore a gurgling waterfall (yes, Mill Valley is home to Cascade Falls that is a short drive from downtown), hiking the DipSea Trail, admiring the Redwoods at Old Mill Park or simply noshing some yum food in downtown Mill Valley (home to boutique stores and art galleries along Throckmorton Avenue).
When in Mill Valley, I recommend getting a bite to eat at either Avatar's Punjabi Burritos or Boo Koo and grabbing baked goods from Flour Craft Bakery at Mill Valley Lumber Yard now refashioned into a beautiful outdoor mall with lots of local stores and restaurants. Also, please stop by Poet and the Bench, my favorite store in Mill Valley selling jewelry, artwork and ceramics by my favorite local ceramicist Judith Lemmens.
SAUSALITO
Distance: 62 miles
Sausalito is the very first town in Marin county that you'll find yourselves in once you cross the Golden Gate Bridge. This charming artsy town can also be reached by ferry from San Francisco's Ferry building.
A day out in Sausalito can mean hanging out at the beaches with plenty to choose from, such as Rodeo Beach, this secret Black Sands Beach and Kirby Cove Beach with fantastic views of Bridge. Downtown Sausalito is bustling with restaurants, cafes and many art galleries (Galerie Elektra is my favorite) with fabulous views from the harborfront that is home to a Sea Lion sculpture by Al Sybrian.
My favorite places to eat out in Sausalito are Sushi Ran, The Spinnaker (on the very edge with marvellous views of the coast), Bar Bocce and Scoma's (they have the freshest seafood). Fans of Herge's Tintin comics can stop by Sausalito Ferry Co. Novelty Toy and Gift Store to pick up some Tintin merchandise.
ANGEL ISLAND
Distance: 55-62 miles + Ferry
Angel Island State Park is the largest natural island in the San Francisco Bay and is located right off the shores of Tiburon, another coastal town next to Mill Valley. Angel Island is also known as the "Ellis Island of the West" because this is where immigrants coming into California (and west coast in general) made landfall prior to being allowed inland.
You will need to board the ferry from San Francisco or Tiburon to get here (the ferry from Tiburon plies on weekdays as a charter service during winter). The ferry ride from Tiburon is shorter than the one from San Francisco in case you are worried about getting motion sickness. Once you get to the island at Ayala Cove, grab a bite at the restaurant/cafe for a picnic by the Bay and also because there are no other food options inside the island.
Angel Island has a fascinating history and was only commissioned to be a state park starting from 1954. The once home to Coast Miwok, Angel Island was a seasonal hunting and gathering location for the local native tribes. With the arrival of the Europeans, this island acted as a safe refuge and supply stop for Spanish explorers like Juan Manuel de Ayala who was one of the first to map the San Francisco Bay.

From 1910 to 1940, Angel Island acted as the base for the U.S. Immigration Station which processed hundreds of thousands of immigrants, the majority being Chinese who had braved the long journey to California in search of opportunities, especially in the aftermath of the Gold Rush. During World War II, this station served as a detention center for Japanese and German POWs before they were sent to facilities farther inland.
With the outbreaks of World Wars I and II, thousands of troops both returning and going to war all around the world were processed through this Island. In the '50s and '60s, the Island saw its last military service as a home to a Nike missile base, and the transition to a State Park became complete after the departure of the last military troops in the 60s.
Angel island is a great place for hiking and coastal views. However, the most important visiting point in Angel island is the Angel Island Immigration Station which is now a museum that is free to the public. Nearby is the Detention Barracks museum and the Fog Bell which are also must visits.
My visit to Angel Island several years ago was a poignant affair where the sight of the detention cells and the discrimination towards the Asian immigrants (something that continues to this day) made me teary eyed. There is also a memorial facing the Bay with plaques of thousands of immigrants whose descendents live all over the Bay Area today.
SAN FRANCISCO
Distance: 55 miles
The famous "City by the Bay" or "Fog City" lies only 55 miles north of San Jose and is perfect for a day trip to get a taste of all the mind boggling possibilities that it packs within its tiny 49 square miles (much smaller than San Jose which is 180 square miles in area). I have been living in San Francisco for the last 12 years and let me tell you one thing: a day trip to San Francisco is definitely not enough to see everything!
However, if you only have a day to spare in the city, I recommend two things: a) treat this day trip as a layover of 6-8 hours and read my San Francisco layover post to maximize your limited time in the city by seeing the major attractions (if this is your very first time) and b) try not to drive into the city if you can help it (because our parking is crazy expensive and difficult to find) and take the Caltrain from San Jose Diridon station.
If this is not your first rodeo in the city, then boy do I have a ton of posts for you to explore my home a bit more! Find out where to find the best hidden gems in San Francisco, the best San Francisco neighborhoods, best photo spots in SF, free things to do in San Francisco (your wallet/purse will thank you), where to eat for cheap in the city, foodie experiences in San Francisco-including vegetarian and vegan restaurants, best dessert spots, artisan chocolate stores and fancy afternoon tearooms.
San Francisco is one of those cities where urban hiking is a thing, with lots of tranquil and coastal hikes revealing panoramic views of the rugged California coast and the Bridge. You can read my guide to the best hiking trails in San Francisco, hidden beaches in San Francisco, the best viewpoints in San Francisco and the best things to do in Golden Gate Park if you love to explore the outdoors.
Visiting San Francisco with your pup? I have you covered with all my dog friendly San Francisco guides–dog friendly parks, dog friendly beaches and the best dog friendly hikes in the city for a fun day trip to SF with your best friend.
Resident's tip: San Francisco is almost always cold and chilly, even in summer! Read my what to wear in San Francisco guide or find this handy packing list to dress appropriately for our crazy microclimates.
OAKLAND
Distance: 41 miles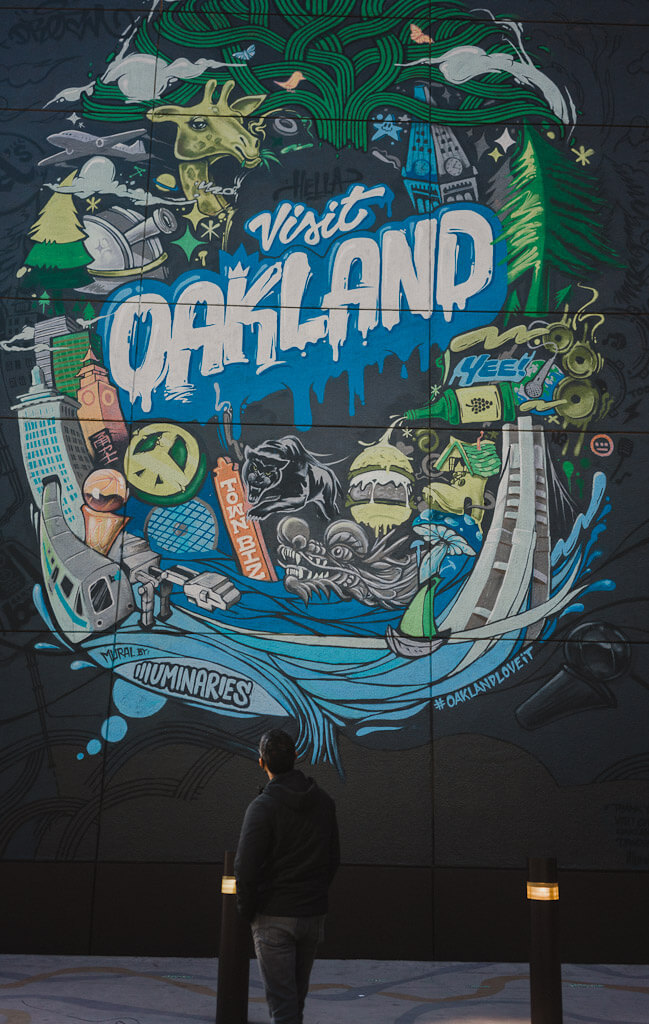 Oakland is the third largest city in the Bay Area and is one of the most diverse, historically and culturally rich cities in USA. Although it does not get nearly as much touristy love as its sister San Francisco, you can easily spend a week in Oakland exploring its vibrant neighborhoods and outdoor space.
Oakland is a big city, so you are best advised to pick one or two neighborhoods or attractions when visiting on a day trip from San Jose. I recommend exploring either Jack London Square (Oakland's bustling waterfront), strolling around Lake Merritt, checking out the beautiful murals in Downtown, eating out at Rockridge and Temescal neighborhoods or going on a hike amidst the Redwoods at Reinhardt Redwood Regional Park.
LIVERMORE
Distance: 33 miles
Napa and Sonoma, the two gems of California wine country may be bit much of a stretch when it comes to day trips from San Jose but why go all the way north when you have Livermore wine country on the East Bay that under an hour's drive from SJ?
If you're a wine enthusiast looking to taste some refreshing, crisp Chardonnay-then head to Livermore Valley wineries which produce this grape in abundance. Livermore valley AVA is one of the best wine regions in California and has been growing wine grapes since the 19th century (the first grapes were planted in 1840s). Cresta Blanca Winery (founded in 1882) was one of the earliest wineries in this region with its first vintage (1884) winning Grand Prix at the 1889 Paris Exposition, becoming the first California wine to win a competition in France much before the 1976 Judgement of Paris.
Livermore has over 50 spectacular wineries, of which the the biggest and most famous wineries are Concannon and Wente, the only two that were in operation during the infamous Prohibition. The other notable wineries to visit are Murrieta's Well, McGrail Vineyards, Rodrigue Molyneaux and Wood Family.
PACIFICA
Distance: 47 miles
This charming coastal town with pristine beaches and gorgeous hikes is one of the must visit stops along Highway 1 if you're driving from San Francisco to Carmel and makes for an excellent day trip from San Jose. When in Pacifica stop by the popular Mazzetti's bakery or get yourself a "wellness latte" at Saltwater Bakery in Downtown Pacifica (which is so cute!).
A day out in Pacifica means getting your fill of the sun and sand at one of its many beaches such as Esplanade beach, Pacifica State Beach, Pacifica Beach View Park, Rockaway Beach, San Pedro beach and Gray Whale Cove Beach (between Pacifica and Montara), to name a few. I highly recommend either Pacifica State Beach (say hi to the surfers and playful pups on the sand) or Gray Whale Cove Beach.
Pacifica has tons of amazing coastal hikes revealing dramatic views of the ocean. Since you cannot get to all of them on a day trip, just take my word for it and get on the Mori Point Loop Trail for its ease and views. The other easy hike is on the Devil's Slide trail (paved trail which used to be a part of Highway 1) or the Pedro Point Headlands trail. See all the Pacifica hiking trails right here.
HALF MOON BAY
Distance: 41 miles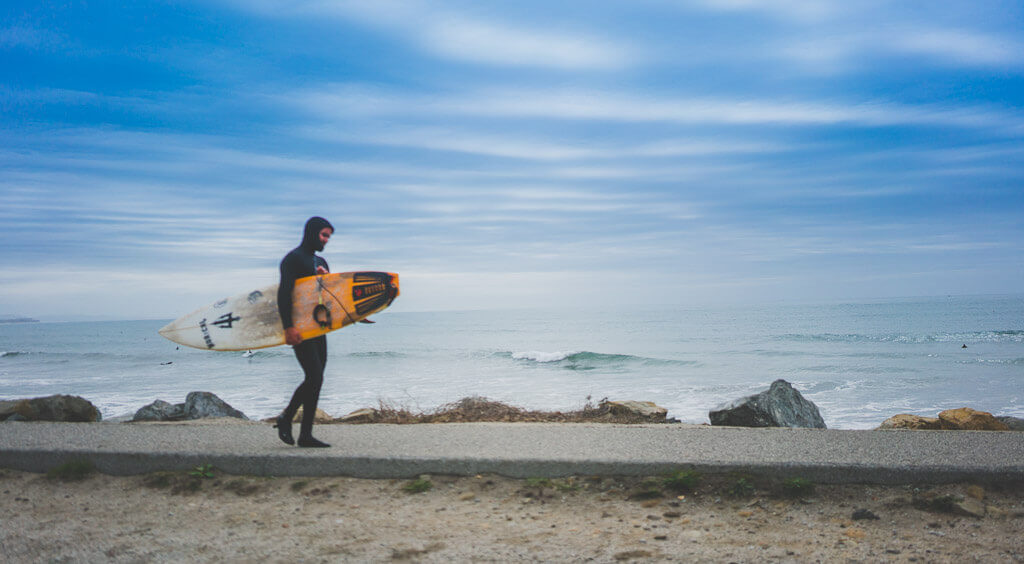 Half Moon Bay is the oldest town in San Mateo County and saddled right along Highway 1. A day out to Half Moon Bay means chilling on one of its many popular beaches and gulping down some of the best chowder that you can find in Northern California!
Home to the world famous Mavericks beach (where surfers compete annually at the Big Wave competition) is here but it is a bit off route from Highway 1, Half Moon Bay also boasts of several beaches right off Highway 1 such as Redondo Beach, Pillar Point Beach, Poplar Beach, Mirada Surf Beach, Dunes beach, Roosevelt beach, Surfer's Beach and Miramar Beach. My favorite? Pillar Point Beach – it is right next to the harbor and Sam's Chowder House.
I'd be remiss if I did not include the many beautiful coastal trails that Half Moon Bay is blessed with. The most scenic one is undoubtedly the California Coastal Trail, a 1200 mile trail stretching from Oregon to Mexico along the coast that passes through Half Moon Bay, revealing spectacular views. Get on this dog friendly trail from the Poplar Beach parking lot and walk towards Pillar Point Beach in the north.
If you love seafood, check out the offerings at Sam's Chowder House or Miramar Beach Restaurant which are famous for their fresh catches and chowder. Downtown Half Moon Bay is super nice with lots of restaurants and cute stores to keep you busy.
FILOLI HISTORIC HOUSE AND GARDENS
Distance: 31 miles
If you're a nature or plant lover, then a visit to the Filoli Historic House and Gardens is one of those day trips from San Jose that you should not miss at any cost! Located in Woodside in the Peninsula and open daily from 10AM-5PM, this 20th century estate property hosts a spectacular garden that comes alive with a riot of floral colors and fragrant fruits in Spring and Summer.
The estate is home to the grand, opulent resident of William Bourn (owner of Empire Mine and San Francisco Gas Company) and his wife Agnes. Designed by architect Willis Polk, the house spans over a whopping 54000 square foot with 56 rooms! Even more impressive is the 16 acre garden with over 75,000 spring bulbs planted and 250 fruit trees, all of which are tended to by 14 horticulturists! The estate itself is a sprawling 654 acres with 577 fruit trees in its orchards.
Filoli Gardens is a treat for the botanical lover in you and a perfect way to get lost in the nurturing beauty of nature amongst the urban sprawl of the Bay Area. Currently, visits are by reservation only and you can book your tickets here.
SAN JOSE DAY TRIPS (SANTA CRUZ COUNTY)
BIG BASIN REDWOODS STATE PARK
Distance: 28 miles
Big Basin Redwoods State Park is California's oldest state park and is home to the largest continuous stand of ancient redwoods, with 18,000 acres of old growth and recovering Redwood forests to be found south of San Francisco. Elevations in the park vary quite a bit from the sea level to over 2,000 feet. Beside a day of hiking and relaxing at Waddell beach, a visit to the fascinating Rancho del Oso Nature and History Center should be on your list.
Like the Giant Coastal Redwoods in Humboldt County that you'll encounter on a Northern California road trip, some of the trees here are more than 300 feet tall and 50 feet in circumference, with some as ancient as 1,000 to 2,500 years. The park is partially open in 2022 as it continues to recover from the devastating California wildfires of 2020.
SANTA CRUZ (ONE OF THE BEST DAY TRIPS FROM SAN JOSE)
Distance: 33 miles
Visiting the charming beach town of Santa Cruz is hands down one of the easiest and best day trips from San Jose. In just about 40 minutes, you will end up on the Central Coast in this vibrant town boasting of world famous beaches, lots of surfing action, whale watching activities from the harbor, scenic hikes, lighthouses perched on the coast, a bustling downtown, tons of good restaurants and cafes and a mind blowing wine region in the Santa Cruz Mountains.
The geographical diversity of Santa Cruz is mind-boggling to say the least. From beaches to misty mountains to Coastal Redwood groves (Henry Cowell Redwoods State Park), Santa Cruz has something for everyone. The year round mild weather makes it a fantastic winter getaway in California and one that you can visit with family members of all ages.
Santa Cruz is also a great dog friendly getaway in Northern California, thanks to its dog friendly hikes, beaches and restaurants. You can read my Santa Cruz guide (dog friendly) and where to eat in Santa Cruz for your trip inspiration.
I personally recommend visiting Santa Cruz in winter (Nov-Feb) to catch the Monarch butterflies flock to the Eucalyptus grove next to Natural bridges State Beach for their wintering ritual. Also, Winter and Spring are (Dec-April) are perfect to see the migratory whales from boats and trailers departing the Santa Cruz harbor.
For a day of fun, hop onto the Roaring Camp train for the time of your life! The train has two routes-one that takes you through the Henry Cowell Redwoods up to Bear mountain and the other being a coastal route from the Santa Cruz mountains to the beach boardwalk.
CAPITOLA, SOQUEL, APTOS
This tiny beach town in Santa Cruz county lies just outside the city of Santa Cruz and is famous for the row of colorful homes, aptly titled "The Venetians" that line one end of Monterey Bay and form a pretty sight when viewed from the Capitola State Beach or the boardwalk.
Capitola Wharf is a lively place with restaurants and stores showcasing local artists. I highly recommend checking two stores on Capitola Avenue: Lumen art gallery featuring eclectic, local California art and home decor as well the Ethos Santa Cruz shop dedicated to helping people move towards a zero waste lifestyle and less plastic usage.
Soquel and Aptos are two other nearby towns in Santa Cruz county that have some really good restaurants and wineries. In fact, Soquel is home to Bargetto winery which is the oldest one in Santa Cruz county while Aptos has some splendid beaches such as Seacliff State Beach.
DAY TRIP IDEAS FROM SAN JOSE, CALIFORNIA (CENTRAL COAST)
MONTEREY
Distance: 72 miles
Monterey County is ideal for day trips from San Jose since there is so much to see and do here, especially on the Peninsula. The largest and most popular spot here is undoubtedly the erstwhile fish canning town of Monterey, made famous in the novel "Cannery Row" of John Steinbeck ( the author was born and raised in nearby Salinas which is home to a museum dedicated to him).
A day out at Monterey means a quick photo-op at the Cannery Row (it is very touristy so please come in early to park), strolling the historic Old Fisherman's Wharf, visiting the world famous Monterey Bay Aquarium, dipping your feet in the sand at its many beaches (Monterey state beach, Del Monte Beach or San Carlos Beach at Monterey harbor) and doing some serious whale watching throughout the year via Monterey Bay Whale Watch that departs from the Wharf!
Monterey has a thriving dining scene replete with the freshest seafood, bakeries and even a vegan Mexican restaurant on the waterfront! My favorites are Parker Lusseau pastries, Alta Bakery and Cafe, Old Fisherman's Grotto and Monterey's Fish House.
PACIFIC GROVE
Distance: 72 miles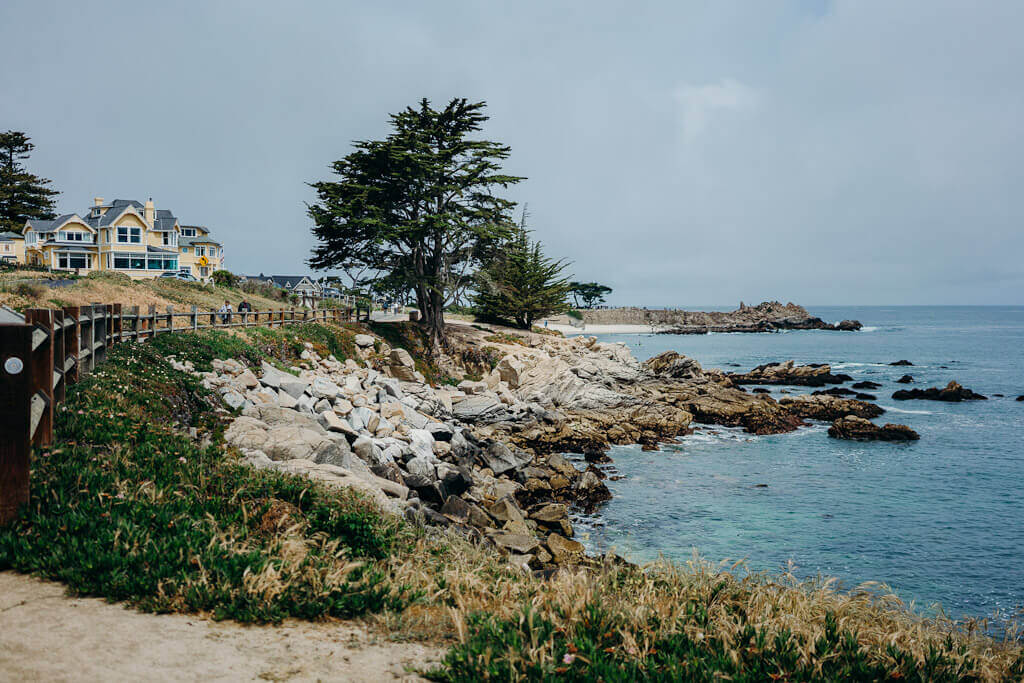 Pacific Grove is right next to Monterey and is another coastal town on the Peninsula that deserves a day trip of its own to explore. My number one recommendation would be to visit Pacific Grove in late spring (aka April-May) when the coast gets covered by a purple blanket of blooming ice plant flowers. This sea of purple is a sight to behold as you walk along the coast. You can read details on my Pacific Grove post here.
My other favorites things to do in Pacific Grove are walking down Ocean View Boulevard starting from Lover's Point Park, visiting Point Pinos Lighthouse (the oldest continuously operated lighthouse in California), visiting Asilomar State Beach, checking out the Monarch Butterfly Sanctuary (Dec-Feb) and enjoying some tasty seafood at Passion Fish. If you're a nature lover, stop by the Natural history museum in downtown to learn more about the flora and fauna of the central coast, especially the migratory Monarch butterflies.
CARMEL BY THE SEA
Distance: 75 miles
Carmel by the Sea is a mere 10 minute drive from Monterey but feels like a totally different world! This coastal town feels like a fairy tale European village with Tudor style homes and cottages all around, not to mention the cute as heck downtown where you can easily get lost in the flower ladled cobbled bylanes. For those of you couples coming in from San Jose, Carmel also doubles up as an excellent Northern California romantic getaway.
A San Jose day trip to Carmel is actually very doable if you start in early so that you can have ample time to park and explore downtown. Since I have visited Carmel at least a dozen times over my 12 years of living in San Francisco, you can read my crazy detailed guide to Carmel to plan your trip.
The short version is that explore downtown, walk down Ocean Avenue to Carmel Beach, discover the whimsical fairytale cottages, explore the art galleries and enjoy the food and wine in one of the many cafes, restaurants and tasting rooms in downtown. I recommend my favorite La Bicyclette, Stationery (great for brunch), La Balena and Cultura Comida y Bebida as must visits.
When in Carmel (or Monterey or Pacific Grove), try to squeeze in a few hours to explore the iconic 17 mile drive looping between these towns. This drive takes you through several scenic stops, viewpoints and beaches-the most famous being the Lone Cypress and Pebble Beach.
Right outside of Carmel lies the magical Point Lobos State Natural Reserve which deserves a day trip of its own, thanks to its pristine beauty, beaches and hikes. You could spend a few hours in downtown Carmel, stop by the famous Carmel Mission and then enter the Reserve ($10/vehicle) for hiking and scenic views.
Pro tip: Fireworks are prohibited in Carmel over the July 4 weekend. So if you're wondering where to take your dog on 4th July, escape to this seaside town.
CARMEL VALLEY
Distance: 78 miles
Carmel by the Sea is super popular as a Bay Area day trip for many, but diehard wine lovers make it to Carmel valley in Monterey Peninsula.With dozens of wineries and tasting rooms, Carmel Valley village will make your day trip from San Jose a fantastic mini wine vacation! Carve out your day at Carmel Valley with this my detailed guide on where to go wine tasting, dining and having a good time!
PINNACLES NATIONAL PARK
Distance: 76 miles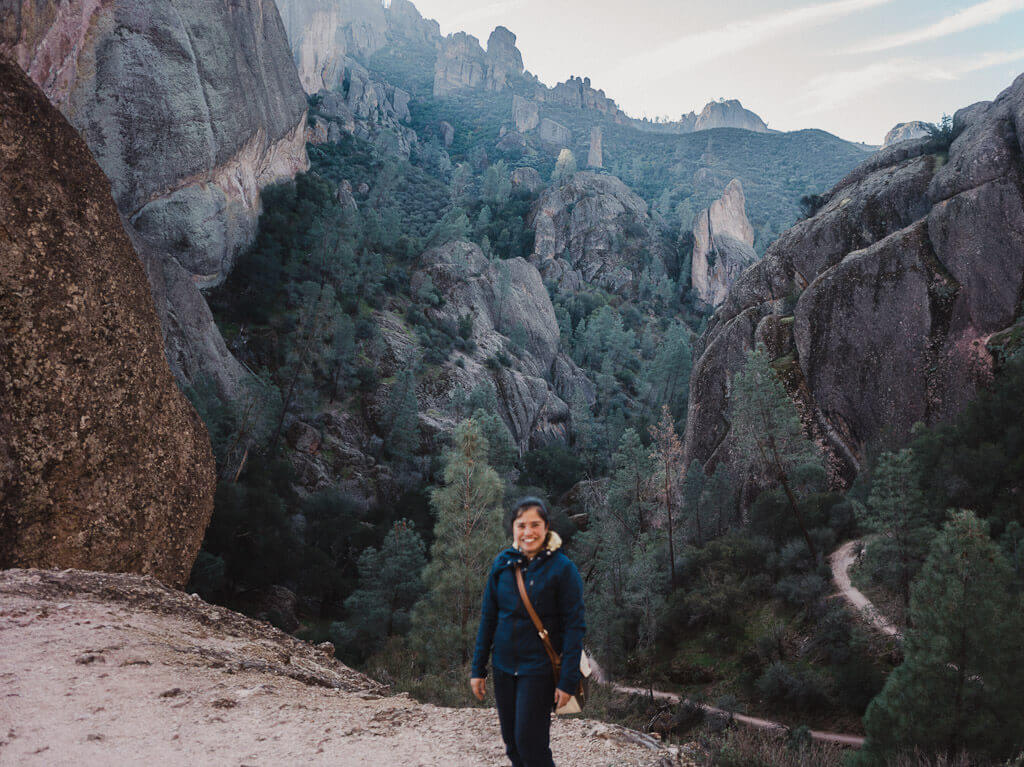 Pinnacles National Park is the smallest (and also the one most recently designated) National Park in California and is located inland in Monterey county. Pinnacles is known for its unique Geologic Landscape born out of tectonic plate activity and volcanic action-leading to the formation of the unique spires or "Pinnacles" towering solemnly over the earth. Besides these obvious geologic structures, this park is also famous for its talus caves and condor sightings and is popular with rock climbers, much like Joshua Tree National Park.
A day trip from San Jose to Pinnacles means leaving early and arriving either at the Pinnacles Visitor Center on the East entrance or driving further south to Soledad to access the park from the West Entrance. Trails from both entrances lead to Talus caves and more strenuous hikes into the High Peaks for condor spotting. Read my complete guide to Pinnacles National Park to plan your trip today!
BIG SUR
Distance: 110 miles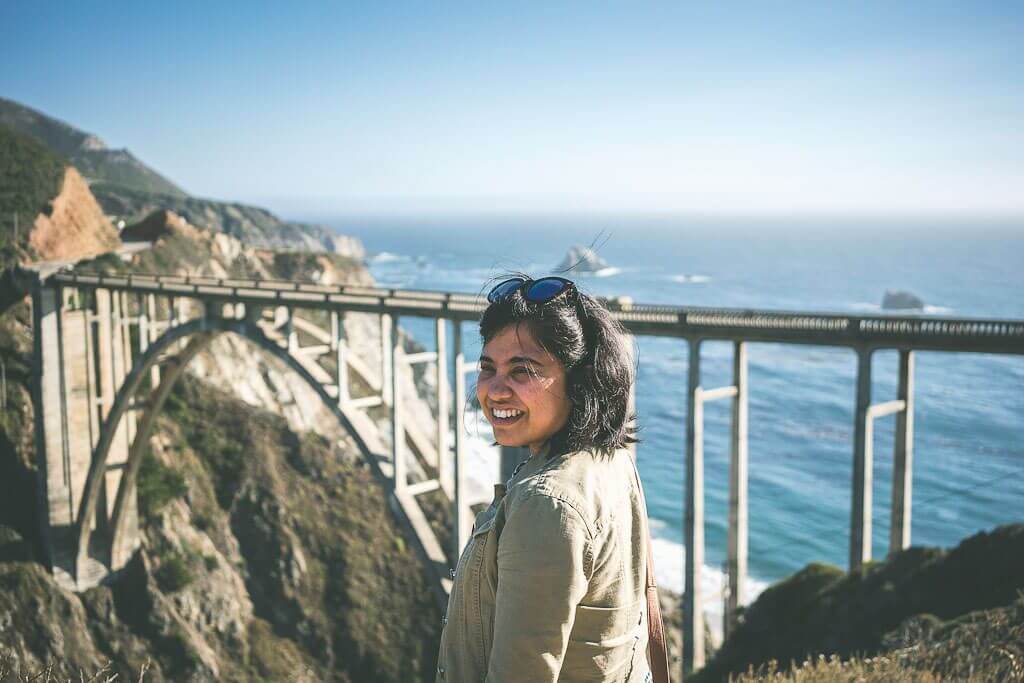 Big Sur is that 90 miles of California's central coast that has been immortalized in prose and poetry and is one of the most scenic drives in the world. However covering Big Sur as a day trip from San Jose is definitely stretching things a little bit where you are going WAY over the 2 hour driving time.

A complete Big Sur road trip from San Jose is something I would 100% advise against, but that does not mean that you shouldn't venture out on Highway 1 and cover a few major stops.

The only issue is that once you get onto Pacific Coast Highway (Highway 1/Cabrillo Highway) after Carmel, then you cannot get onto any other freeway till you hit San Simeon, 90 miles south! So pick a few stops beyond Carmel judiciously so that you have a relaxing time on your day trip from San Jose.

My recommendation to experience Big Sur as a day trip from San Jose would be to make a hard stop at Partington Cove Trailhead and turning back. Upto this point, you will get to spend time at Point Lobos State Natural Reserve (one of the many romantic stops at Big Sur), Garrapata State Park and Beach (with the Calla Lilies blooming in spring in the adjacent valley), Bixby Bridge, Andrew Molera State Park, Pfeiffer Beach (with purple sand), Pfeiffer Big Sur State Park and Henry Miller Memorial Library. Big Sur Bakery and Nepenthe are two excellent places to stop by for lunch.

And that brings me to the end of this post on some of the best day trips from San Jose that you can explore on weekends! I hope you liked this list of destinations to check out as San Jose day trips and have made some fantastic weekend plans already! Thanks a lot for stopping by and safe travels.

LIKE THIS POST? PIN IT FOR LATER

«