Last Updated on March 24, 2022 by Paroma
Why do you need a San Francisco packing list?
San Francisco is an American city like no other (there are so many unique things to know about San Francisco before you visit) and so it is best to be prepared before you arrive. Thanks to its geography (being so cutely perched atop a peninsula with water on all three sides), it has a pretty unique weather and climate pattern in different San Francisco neighborhoods that has bamboozled many a naive visitor or two. A San Francisco packing list takes the guesswork out of what to pack for our different seasons (which are again as maverick as the city itself) but also helps you blend in with locals and not stick out like a sore, touristy thumb.
In this guide on what to pack for San Francisco, I will take you through a definitive packing list (psst…scroll below to download yours for free) for each season to prepare your face off with our tricky weather patterns and even more devious microclimates.
Disclaimer: My blog posts contains some affiliate links. Clicking on them may earn me a small commission at no extra cost to you for purchase of the product. Thank you!
What to pack for San Francisco: Know our pesky microclimates
When is San Francisco, expect the unexpected. Besides wearing flowers in your hair, you've got to come armed with a variety of clothing to be prepared for those dips and swings in Mercury as you move from one part of the city to another. This is what we casually refer to as "microclimates" and it drives visitors bonkers! Simply put, our tiny 49 square miles city has as many sub-weather patterns as neighborhoods.
I am talking about feeling the fog in your face in mostly gloomy Outer Richmond, the sun smiling down on you in the vibrant Mission and again a fine spray of mist as you move south to Glen Park, all within these 7 by 7 square miles!
The weather can and does change dramatically within the span of a single day with cold, foggy mornings giving way to bright, warm afternoons to cold, windy evenings and nights that will make you curse yourself for leaving that jacket behind, especially if you're hiking in San Francisco to see gorgeous views like the one below!
Karl, our beautiful fog in action at Land's End
In addition, when packing for San Francisco, you have to remember that our "seasons" are as whacky as our demeanor and are pretty much unlike the rest of USA or even southern California for that matter.
Our summers are definitely the coolest that you will ever experience, our winter is pretty much summer extended minus 10 degree F and lots of rain (we need that to feed the spring waterfalls) and our fall is downright the hottest where everyone is panting with all the air coolers flying off the shelves in hardware stores!
Despite a steady temperature range of 60-70 F (10-21C) for most of the year, there is a lot of drama going on in-between (neighborhoods, days, months) and if you don't want to be that ignorant tourist being smacked in your face by Karl (our beloved fog) while wondering where the heck is the promised California sunshine, you will need a sound packing list for San Francisco to stay strong in the face of our pesky weather changes.
Fortunately I am here to help with just that, i.e. to guide you through what to pack for January-December in SF. Because, this is what generous San Franciscans do; plus I've seen too many shivering people complaining about how cold it is all the time over here to last me a lifetime. Not only that, but I have also included (insert drum rolls)………………
For those of you skeptics, THIS IS our beach wear (China Beach)
What to pack for San Francisco: Standard "SF" dress code
If you are thoroughly confused by our weather shenanigans, then let me clarify by offering this one sound piece of advice, which is this: San Franciscans dress in layers.
This is the smartest thing to do as it allows for flexibility and versatility and you won't be caught unawares when it gets too chilly, foggy or hot outside during the day. Plus, this also helps you prepare for changes in weather as you wander around our different neighborhoods where the sun is shining like crazy in one with perpetual gloom in another.
For those wondering how to dress like a local like in San Francisco, include the following in your San Francisco packing list for a standard, foolproof SF dress code:
a) Cute blouse or top: Although San Francisco's fashion is pretty relaxed, it is also equally fun and unlike the east coast, we do not like to be shrouded in all black. San Franciscans love a dash, splash, sprinkle or loads of color, fun patterns and even bold, colorful stripes. I love this bohemian mustard colored top for that cheerful relaxed vibe, this floral feminine top and this colorful striped tie-front shirt to keep things fun and flirty.

b) Casual tee: I might sound like a stuck vinyl record, but San Franciscans love going casual and they sure as heck, love their tees. So be it striped, uni-color or a fun, graphic one, bring you A-game to the city when it comes to a comfy tee. Plus, they are excellent for layering. I highly recommend going for a longer sleeved tee to keep you warm for those chilly evenings.
c) Hoodie: It goes beyond saying that San Francisco life is hoodie life. Besides making you look like a tech millionaire (which is not always a good thing), the hoodie is a great layering piece and helps provide cover when the fog smacks your face wet and makes your hair go wild with frizz. You can check out this floral fun hoodie or click on the image below to shop.
d) Jacket: If Beyonce were to write a song about San Francisco, she'd promptly sing "put a jacket on it"! Honestly, whatever you do, do not forget that jacket at home which is what will save you from losing your mind when Karl (our fog) rolls in and the temperature suddenly drops by a whopping 20 degrees.
Be it a cool moto jacket or a cropped trench coat or a bomber, there is something out there to suit every style. Plus, they look great layered over said hoodie! Below is my favorite vegan leather moto jackets from BlankNYC that I swear by!

e) Pants/jeans: It is always somewhat cold in San Francisco where baring legs are for the braveheart. The best way to discover San Francisco is by walking all over it in a pair of pants or jeans to provide warmth and to look great with walking shoes or boots. These skinny travel jeans from aviator are made in USA, have the classic five pocket design and look great tucked in those heavy duty walking shoes or boots that you need to pack for San Francisco!
The other pair of pants that I recommend are the recycled, moisture wicking, super stylish and comfy pants from Athleta (click on images below to shop) that can take you from business to casual in a jiffy. I personally own the Skyline pants and Brooklyn ankle pants that are tapered, minimalist and stylish! Joggers are also A-OK here since we San Franciscans swear by them, from running for coffee to hiking on our urban hiking trails!
f) Accessories: A San Francisco packing list needs some essential accessories, such as a scarf to keep you warm, tights in case you want to pack in a dress (again, SF IS COLD!) and a hat or a beanie depending on how stylish you are feeling or how cold it is. I have linked to several options below for you to consider.
g) Shoes: San Francisco is notorious for being hilly, flaunting its ups and downs with elan. Getting around this city means ditching those heels for sturdy boots or walking shoes to navigate those steep slopes in Russian Hill or Nob Hill or when on a mini hike up Hyde street leading to Lombard street.
I personally wear my Nike sneakers everywhere I go because they are lightweight and provide premium arch support. Here are several options for walking shoes, sneakers, boots and oxfords that might interest you.


Notice how I've basically ignored shorts, skirts and short dresses in this "standard SF dress code" altogether? There is a reason for shunning them cause the notorious SF weather is not conducive for baring legs for most of the year. Although it may feel warm during peak afternoon, it quickly becomes cold when the fog rolls in and you will be shivering like crazy in those short/skirts of yours. Even mornings themselves are pretty cold and foggy in many parts of the city.
If you are attending a fancy event or dinner and would like to wear a dress, make sure you have a pair of tights to go along with them or go for a maxi dress. Knee high boots are a good option for short skirts to keep your stubs warm, such as these vegan leather ones with a very short heel for comfort.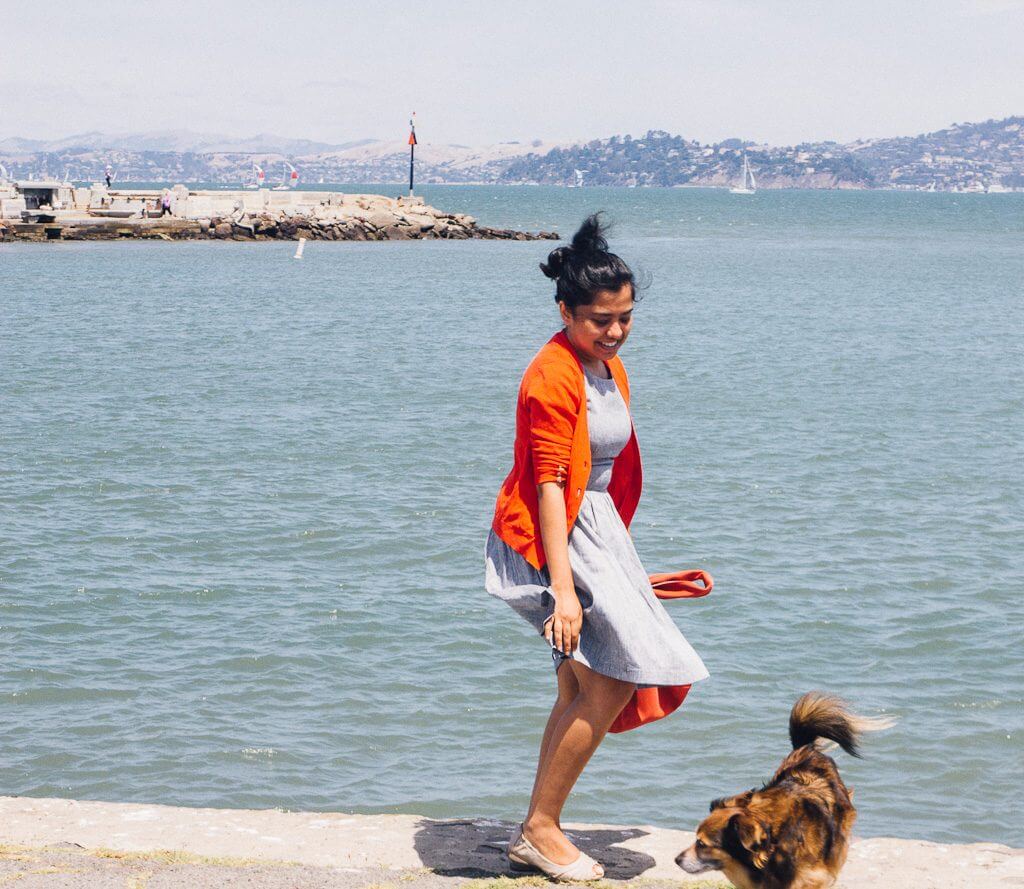 A hot enough (oh so rare) day in San Francisco to wear a dress (this is our Marina neighborhood)
With these basics out of the way, here are some additional seasonal items that you should include in your San Francisco packing list, depending on when you are visiting the city. Trust me, this extra planning will help you go a long way and totally avoid the last minute scrambling to buy something in this very expensive city of ours!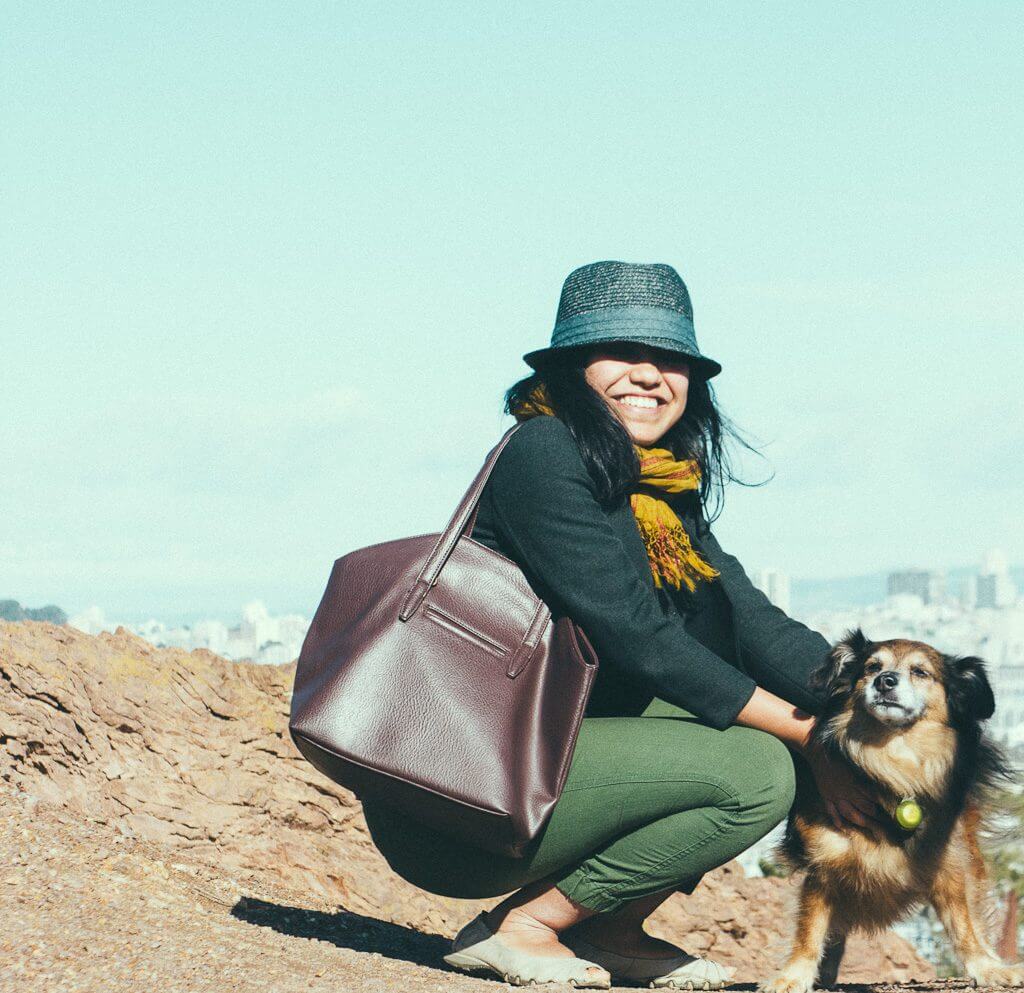 The wind blowing my face off atop Corona Heights (notice how I am following the standard SF dress code)
What to pack for San Francisco in Winter (Dec-March)
San Francisco is cold and rainy in winter. Although not as horrendous as the upper Midwest or east coast when it comes to weather, the mercury dips as low as 45-50 F (7-10 C) with the usual wind blowing your face off. Naturally, these are the things to you need to pack for San Francisco if you are planning to visit during winter.
Raincoats/Rain jackets: Made of tough canvas/cotton/water repellent materials with hoodies to protect you from inclement weather. I have linked to several popular ones on Amazon below.
Heavy coat: I know I have linked to several jacket options earlier in this post, but for extra warmth do wear a heavier coat or simply layer more.
Sweater: Sweaters help keep you cozy and are a great way to layer for San Francisco winters, such as this cheery red one.
Umbrella: For those blustery days when a raincoat simply won't cut it, you might want to pack in a compact travel umbrella for extra protection from all that precipitation.
Gumboots/rain boots: You will definitely need these to walk or jump over puddles. I swear by my Sperry rain boots which are stylish and yet super comfortable and provide great insulation from water.
Packing list for San Francisco for spring (March-June)
Spring is when San Francisco still gets some days of heavy rain, but the winter wear suggested above works like a charm for this time of the year too. The only additional thing that I'd recommend is a classic trench coat which helps to ward off the elements but is light and sturdy enough for spring.
San Francisco packing list for summer (June-August)
Summer in San Francisco is umm… COLD (ROFL) and this is what catches people by surprise the most! Be it the unsuspecting tourist mistaking our cold and windy as hell Ocean beach for a sunny one in So-Cal or a first time visitor walking along Fisherman's Wharf with his/her teeth chattering to the nines and being forced to buy one of those hideous touristy hoodies that makes us locals barf silently, summertime in San Francisco has gotten to many out-of-towners.
During summer, foggy mornings give way to bright days that turn into cold evenings when the fog rolls in again and chilly nights. But you are smart, cause you are reading a resident's SF packing list! And, I am here to tell you that layering is again your best bet.
Bring those sweaters, get that scarf, pack in a maxi dress or even better, go for full length pants and don't forget a trench coat/moto jacket! Basically, anything that makes you feel warm! If you pack in a dress, do bring in tights!
What to pack when visiting San Francisco in fall (September-November)
Fall in San Francisco is an anomaly in many ways, because a) the leaves don't turn those blazing shades or red and orange and b) it is HOT AS HELL in September and October!
When people are cozying up to each other all bundled in sweaters and sipping their sugary pumpkin lattes, we in San Francisco are cooling off in front of air coolers bought from the nearest ACE hardware store or simply panting in Dolores park.
This is the best time to pack in some shorts, sleeveless blouses, skirts and dresses along with a light jacket or duster cashmere cardigan. You will get 2-3 weeks of solid heatwave at this time, but even if it gets colder at night (remember, never forget that jacket home!), the days are pretty warm to enjoy in a flirty summer dress or those shorts to show off your gams.
You may dare to pack in those flip flops for a day out at the beach (evenings will still be cold) and definitely get those sunnies! It gets cooler in November (although we've had a few brief hot spells even then), so please remember to pack some warm clothes.

Travel bags for San Francisco
You are obviously not going to lug in your roller back along these steep treacherous hills of ours as you explore the city, so here are a few handy suggestions for including a trendy bag to carry around in San Francisco all the while keeping your valuables safe.
Anti-theft bags: San Francisco, like any other major US city, has its fair share of crime. This includes car breaking and yes, occasional mugging and snatching as well, even in some of the safest neighborhoods. Carrying an anti-theft backpack helps ease those woes of having your belongings stolen. A backpack is even better cause it leaves your hands empty to do other things, like sipping one of our overpriced matcha lattes from one of our many bakeries or cafes (just kidding!).
Cross body bags/messenger bags: These are way better than clutches or totes since the cross body strap prevents someone from simply snatching away that purse dangling on the side. I have linked to several cruelty free, vegan leather options and I personally own four Matt & Nat bags and although pricey, they are minimalist in design and have held up splendidly over the last 5 years!
Must have travel accessories for San Francisco
I am going to end this post with recommendations on super practical things to include in your San Francisco packing list, especially if you are visiting from outside of USA. These are as follows:
Adapter: Being in North America, San Francisco electrical outlets/sockets are three pin (work for 2 pin as well) providing up to 125 V. So if you are visiting from Europe or India or wherever the power outlet is 220 V, you will need an adapter.
Toiletries bag: To keep those precious mini travel toiletries, makeup thingies organized
First-aid kit: Goes without saying, but do have some basic first aid stuff with you in a handy travel pouch
Water bottle: San Francisco is an eco-conscious city. Carrying your own bottle and refilling it at a cafe will not only help reduce your plastic waste but get you brownie points from us locals. Plus, you will need to carry water to quench your thirst as you chug up those hills. Similarly, a portable reusable coffee mug is great for getting that coffee on go and reduces use of paper cups. I personally own the Hydro Flask bottle for its superior insulation and to keep me hydrated.
Skincare: I am going to keep this simple. Always carry a chapstick in San Francisco and some moisturizing lotion/ hand cream because the cold and wind can leave your skin dry (I personally use the Alba cruelty free brand face moisturizer). A sunscreen is a good idea for the beach as well as for those rare, bright sunny days. For those of you with frizzy hair, don't forget to carry some styling product since the fog can definitely add to that frizz! I straighten my super curly hair but use Oribe Heat Styling Shield to keep those unruly curls down.
Formal wear in San Francisco: What to pack
Formal wear is a rarity in our land of tees, hoodies and jeans-the uber casual dress code sported by commoners and tech billionaires. A blazer sighting is a sure sign of an out of towner visiting on business or some dapper folks in FiDi (short for our buzzing financial district).
If you are visiting San Francisco for business, remember that you don't have to pack in starchy collared blouses or go all black! A casual blazer over a sheath dress or even contrasting with your blouse and dress pants will do. Semi-formal over super formal will do just fine.
Also, if you are dining in a very fancy restaurant (such as French Laundry in Yountville or Acquerello in SF) where a dress code is specified, remember to pack in a fancy dress or blouse/formal pants and ask your male friend to pack in a blazer.
Quick recap on what to pack for San Francisco and downloadable list
So here is a very quick summary of the super detailed packing list post for San Francisco along with the downloadable checklist that I promised, which goes like this:
San Francisco has an overall cool, un-California weather that changes within a few blocks. The mercury pretty much hovers between 60-70 F (15-21 C) and so a jacket is a must!
Dress in layers. Hoodie/Sweater+Outer Jacket+scarf+jeans is a standard SF dress code. Helps immensely when you are moving around the city and going from sun to fog in a matter of hours, or for transitioning from a warm day to a cold evening.
Wear sturdy shoes/walking shoes to navigate our super hilly terrain. Flip-flops and heels are a terrible mistake for walking round the city.
Carry an anti-theft backpack or at least a cross body bag.
Our winter and spring is rainy; carry a rain jacket or umbrella and pack in those rain boots.
Summer is cold, dress like you would for late fall. If you want to wear a dress, get those leggings/tights. Maxi dresses are a better option. Full length pants are the best since nights are really cold here.
Fall (Sep/Oct) can get unusually hot. Pack in that summer dress or shorts if you want.
It is A-OK to dress casual in San Francisco. Get those joggers if you want to. Plus, those plaids.
Never pack in beachwear (bikini or swimsuit) for a day out at the beach in San Francisco. They are windy and deathly cold and so is the water. Unless you are an avid surfer, forget about frolicking in the ocean; this is not southern California.
>>Download the checklist below as a solid reminder of what to pack for San Francisco<<
I hope you found this post on what to pack for San Francisco helpful! If you are visiting San Francisco for the first time or the millionth, I have plenty of posts to get you inspired. Some of my other popular San Francisco posts are:
Like this post? Pin it by hovering over the image below

«