Last Updated on January 8, 2021 by Paroma
Camera bags for women: Why choosing the right one matters
When it comes to travel blogging, eye catching photos are indispensable to the business. For those hauling precious photography gear, carrying them safely and securely is always a concern and a challenge. For women travelers and travel/lifestyle bloggers, an added bonus is the seamless blend of form and function which translates to travel camera bags that do not cramp their style (no matter what it is urban or outdoorsy), are portable and light and yet effectively contain and protect their precious photography gear, along with other travel items.
In other words, when hunting for a good camera and lens, it is also equally important to choose a proper camera bag for travel which is spacious, well cushioned, stylish on the outside, convenient to carry and eliminates the need to haul multiple bags. So if you've been shopping around for a while looking for camera bags for women, this is the post to read.
This article is all about camera bags field tested by me as well as by equally photography passionate female travel bloggers with whom I have collaborated. This is by no means an exhaustive list, but includes several options for ladies shopping for that perfect camera bag for travel!
Recommendations here are 100% honest and include all budgets and sensibilities. From messenger bags to backpacks, these bags come in a range of fabrics (including cruelty free options) and should definitely be on your shopping list to keep all your expensive gear safe and secure during your travels. So ladies, without further ado here are our top recommendations for camera bags to meet your travel photography needs!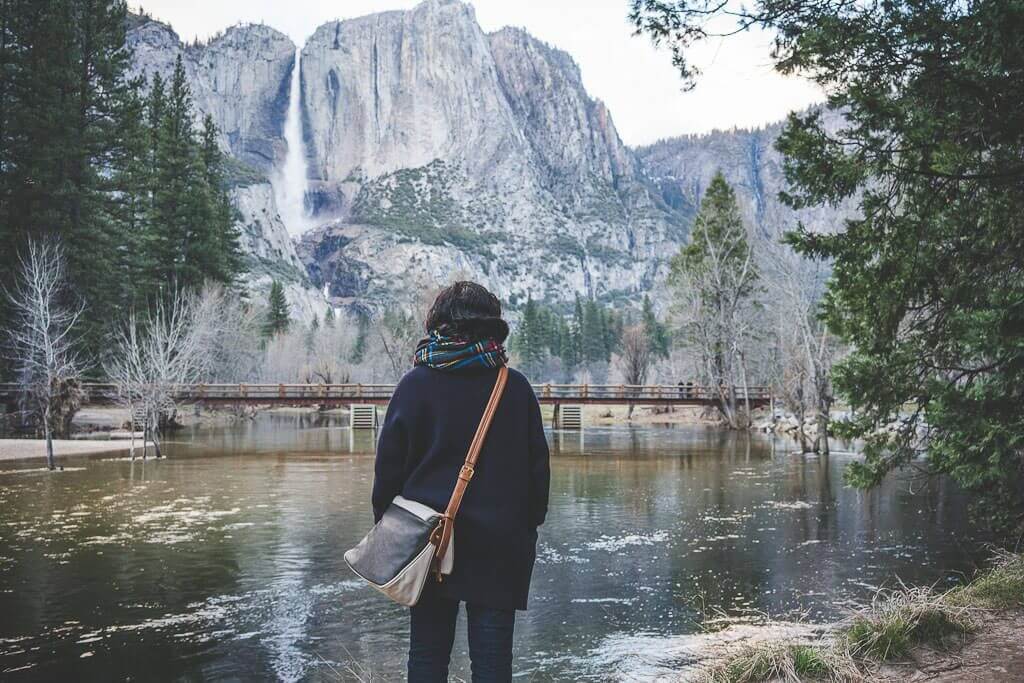 Disclaimer: This post may contain some affiliate links. Clicking on them to make a purchase may earn me a small commission at no extra cost to you for the product. Thank you!
Note: all photos on this post are mine or used with due permission from the collaborators
Things to remember when purchasing travel camera bags
a) They should be sturdy, durable and waterproof (or at least with zips and front flap to prevent entry of water) to beat the elements and protect your expensive photography gear.
b) They should be roomy enough to eliminate the need for multiple bags and yet be portable at the same time; after all photography on the go is best done when you are traveling light without being weighed down by excess baggage.
c) All your primary gear (obviously not a big tripod if you like hauling one) should fit into this one travel camera bag. I am talking about at least one DSLR/full frame mirrorless camera with a prime or smaller zoom lens on plus extra compartments to include at least one lens and photography accessories. Brownie points for even more space via side compartments or pockets to accommodate a small purse and phone.
d) Any bag can function as a camera bag if you shove one into it, but a real/proper camera bag should have enough padded compartments to keep your gear in place. Padding helps the camera body stay put and prevents wear and tear as well as protects the lenses and camera body from friction and rolling around.
e) This is a matter of personal preference, but when opting for a messenger bag, I try not to choose something that has a very bland, boring, obvious camera bag look! I try to go for a more camouflage approach where the bag looks like a chic enough purse to carry into a nice restaurant for dinner after a day of shooting, because when I am traveling I barely return to my hotel for rest and might not have time to change. So I personally do not like bags that scream "another tourist and her camera bag" but go for something more subtle and less obvious.
f) Finally, if you are serious about travel and even more serious about your photography gear, don't skimp on the money. From my past mistakes in counting pennies, I have realized that a good camera bag is an investment and an asset, so choose wisely and hunt the market extensively for a good one that offers the best of all worlds, even if it means paying extra.
SHOP MY ENTIRE PHOTOGRAPHY GEAR BY CLICKING ON THIS LINK
Travel camera bags for women #1. Kelly Moore messenger bags
The Kelly Moore line of camera bags for women are some of the best camera bags for women in the market. They are a manna from heaven and are a perfect blend of form and functionality packaged in sturdy messenger bags that are in one word, AWESOME.
I have been using the Kelly Moore Luna bag for months now (carried it to Yosemite, Big Sur, Napa Valley and Portland) and this one is a serious winner in my book. First of all, it hits the jackpot in being made of vegan leather (finding cruelty free women's camera bags is a tough expedition) which made it an instant hit in my eyes. Second, is the construction and the utility factor.
The bag comes with two adjustable compartments with ample padding that can easily hold up to two of my cameras-the heavy Canon DSLR with a Sigma 17-50 mm zoom lens and my full frame Sony A7RII with a 35mm lens without breaking sweat. Besides a proper top zip closure, there is a space in the front to hold my phone and small knick-knacks (chapstick, tissues etc) as well as zippered front pockets and a top flap to protect my gear.
The strap is sturdy and the bag comes in an array of color combinations to suit your sensibilities. I have taken it all over the world and can vouch for how amazing it is and is so totally worth the steep price of $179.00. I love it to bits and I am sure you won't be disappointed either!
Stylish camera bags for women #2. Gatta bags
Had it not been my burning desire to find a vegan leather camera bag for travel (you can see my other cruelty free finds here), I would have certainly gone for Gatta Bags, the one brand that proudly professes its camera bags to look anything but, and they absolutely have an impressive line to prove it (see their Instagram account below).
Gatta bags look like elegant women's purses (see how fellow blogger Diana carries it), perfect for that brunch or night out but are super sneaky with padded compartments inside to double up as functional and efficient camera bags, with extra space to spare for your essentials. The interior padding is adjustable and you can find a variety backpacks, totes and messengers/purses in this line. They even have a tinier bag exclusively for slim, mirrorless cameras, how nice is that?
The price point ranges from $150-200 and these minimalist, stylish, lightweight and efficient camera bags are perfect for travel and lifestyle bloggers who love to keep it light while going shutter crazy!
https://www.instagram.com/p/BoPZZJknZZY/?taken-by=gattabag
Camera bags for women #3. Johansen Camera Bags (Jo Totes)
Lindsay from Carpe Diem Our Way swears by the Johansen camera bags (popularly known as Jo Totes), so much so that she has written an entire article about it which you must check out! Simply put, Johansen bags are of amazingly great quality for a great price and are really value for money when it comes to camera bags for women!
Lindsay has been using her "Gracie" Jo Tote in a lovely mint color for three years not only as a camera bag, but as an everyday bag (yay for travel camera bags that have dual roles). She loves that it hugs her body and has an adjustable strap feature. Plus, when she is carrying her gear and kids, it is super comfortable to carry! The Gracie is also made of man-made leather (yay!) and has lots of options with padding to fit your lenses with that super useful back pocket for throwing your keys and wallet into.
Lindsay can often also throw a water bottle on the side with one of the adjustable padding pieces without worrying about it spilling on her precious gear! Bottomline: Two thumbs up from Lindsay for this this bag and she totally would buy another in a heartbeat! The Gracie retails on Amazon and Jo Totes offers worldwide shipping.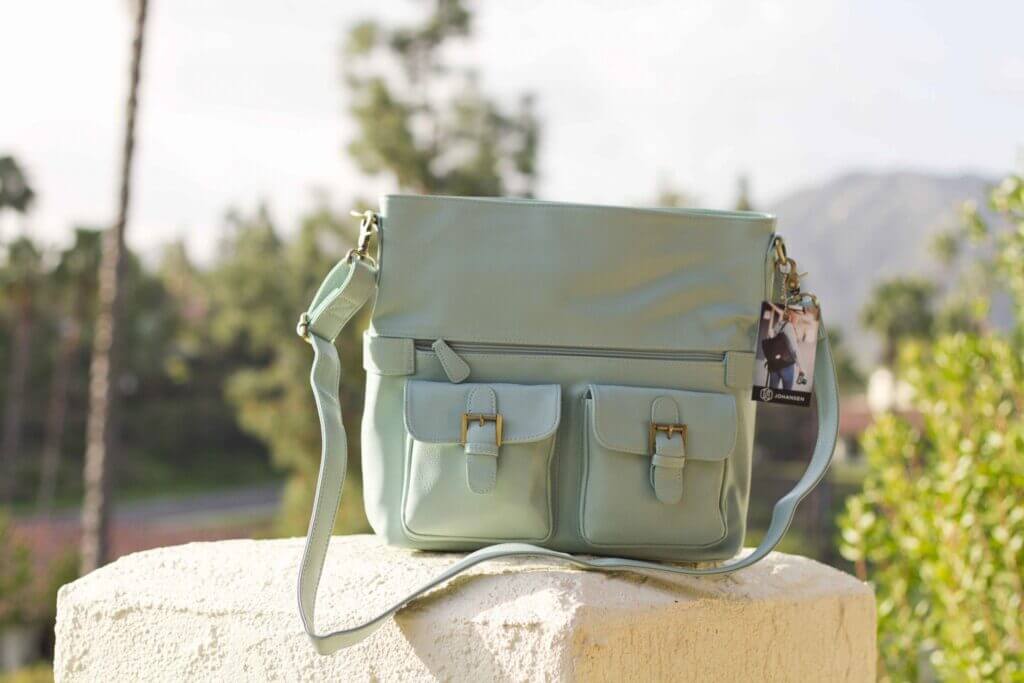 Travel camera messenger bags #4. Jo Totes Abby Bag
Jo Totes has another admirer in Christine from And The Story Goes who swears by her Jo Totes Abby bag. She used this travel camera bag extensively on all her adventures (see photo of her below in action in Ireland with the Jo Totes slung on her side) and loves its versatility and portability.
As a solo female traveler, she does not want to draw attention to herself with a large camera bag with valuables in it, so the Abby is a perfect solution because it looks like your everyday women's purse, but in reality is so much more than that. On a day out, she can perfectly fit her Canon DSLR and a GoPro with a handgrip in the main compartment. Her wallet and snacks fit in an exterior zipper, and a water bottle goes under the flap. There are several pockets and compartments to bring extra batteries and memory chips as well.
Best of all, the bag is waterproof; Christine's put it to test via several rain storms and her precious camera didn't get a drop of water on it. The price might be on the higher side for a purse but the camera protection and quality is worth it.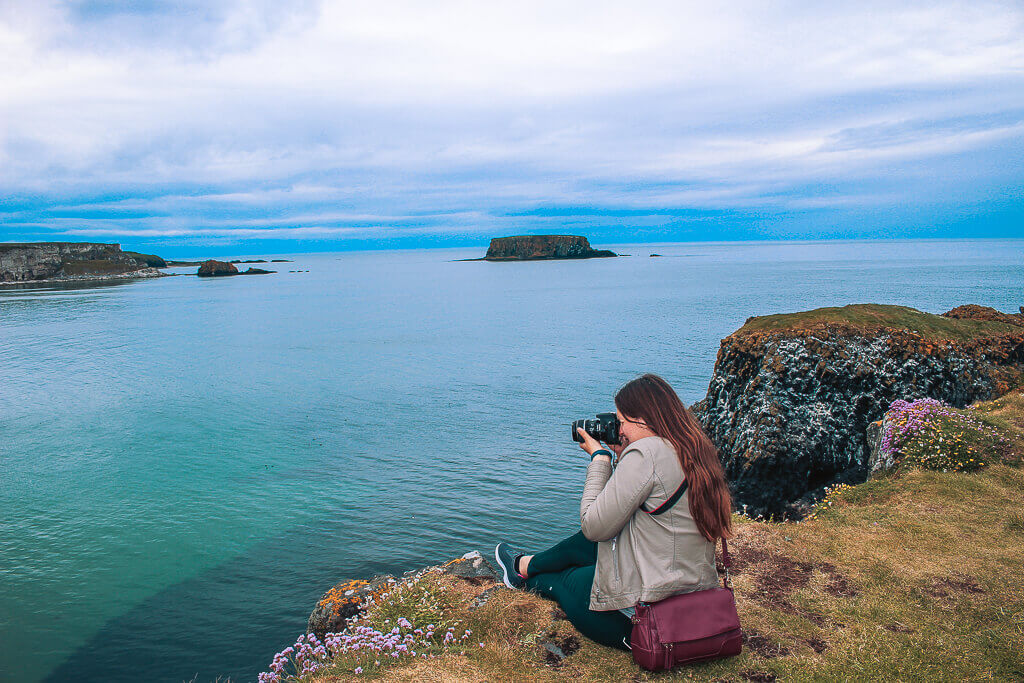 Click on the image below to shop the Jo Totes Allison bag (the Abby bag is currently unavailable on Amazon)
Women's camera bags #5. Nadine travel tote from Aide De Camp
Seana from Swim the World Travel loves her Nadine travel tote, designed in Singapore by Aide De Camp. This is a very large travel camera bag, with a removable padded box and she uses it all the time during her travels. When planning to click a lots of photos, Seana can fit two cameras and a couple of lenses easily in this bag.
However, when out and about with the kids, she prefers to travel light with the Nadine holding one camera, extra lens, a small laptop, purse, makeup and even swimming costumes and small towels (wow, this is a powerhorse!). The Nadine stands out for its toughness, water resistant canvas, it's lightness and adaptability of the interior padded dividers, the configurations of which are easily changeable.
The bag has zipped pockets inside and can be zipped all the way too which is great when traveling via public transportation and in busy places like airports. It also has a trolley sleeve so it fits over Seana's wheeled suitcase which is so useful when travelling. The Nadine is currently unavailable on Amazon but I have linked to several other options below.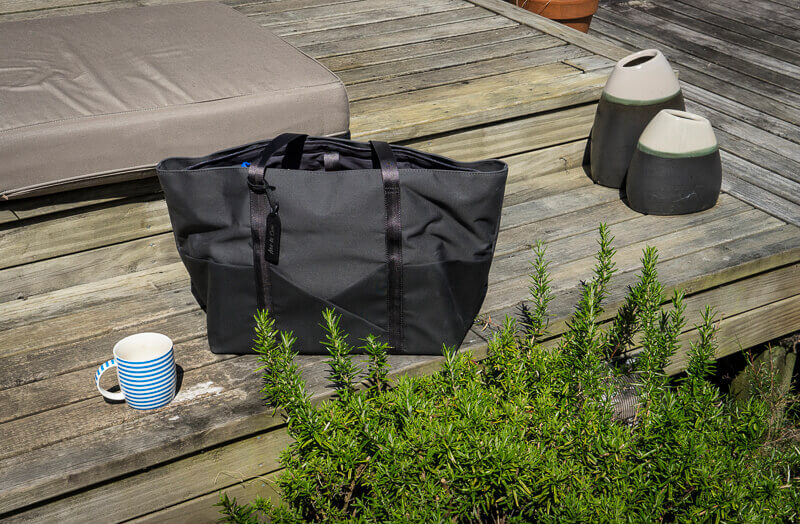 Click on the image below to shop the Kattee Bags
Women's backpacks for travel photography #6. Acme Made Montgomery
As a loyal San Franciscan who loves everything SFMade, this Acme Made Montgomery street courier camera case (fancy name for a chic backpack) is that locally made beauty which serves as an excellent camera bag with enough room to spare for other knick knacks.
The interior is quilted in a merry yellow and comes with a fully padded compartment to store your camera that can be retrieved from the side zipper. However, I must warn you that this padded compartment is best suited for mirrorless (read this article about best mirrorless cameras at TravelFreak) or more compact cameras and not DSLRs with bigger zoom lenses fitted on.
The remainder interior space can be used to store even more photography gear (this is where a bulky DSLR can fit in well though) if you wish along with a second zippered compartment on the back where a small laptop can fit in. The side pockets are an added bonus as is the zippered compartment in the flap, showcasing some very good design for maximum space utilization.
The appearance is urban, minimalist chic with wide back straps to provide cushioned comfort and the grey fabric is waterproof with sturdy hardware that gives it a polished look. Available on Amazon.com (the parent website does not sell it any more), this is a good start for those looking for budget backpacks with a minimalist, polished feel. This was my very first travel camera bag and I used it quite a bit (carried my Canon Rebel fitted with a 50mm lens, accessories and even a mini tripod) till I realized that messenger bags are more my style.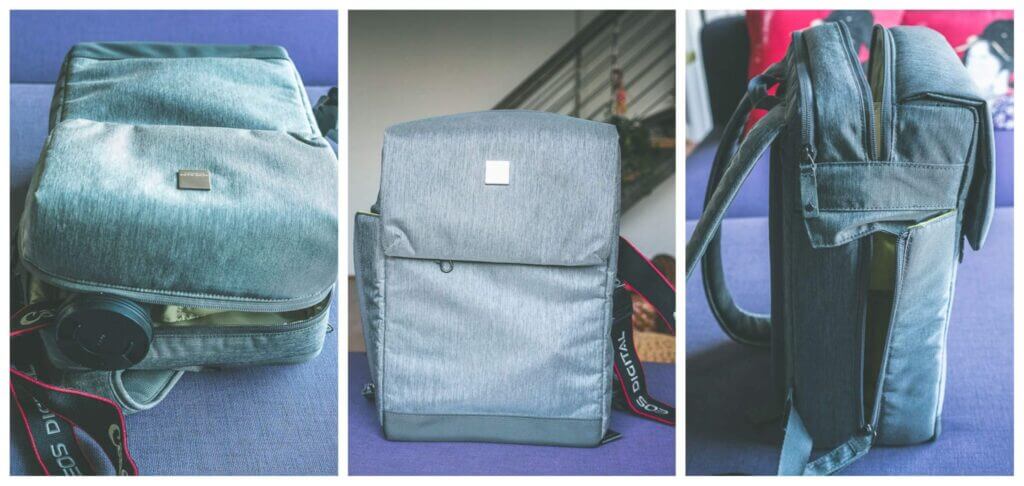 Camera bags for women #7. Manfrotto Bags
Lavina from Continent Hop makes a case for her Manfrotto messenger bag (Manfrotto Advanced Shoulder Bag V) which is a lifesaver when it comes to keeping her photography equipment safe and sound. Lavina is a light traveler but sometimes her backpack gets too crowded with no space for her camera, which is when this compact travel camera bag comes in handy!
Having the bag also saves her from the hassle of constantly needing to reach out into her backpack to retrieve her camera or pack it away. The bag has multiple compartments, both inside and outside and thus provides ample space to store photography accessories such as additional batteries, SD cards and even small travel documents.
Besides being water resistant, there is also a waterproof cover to provide additional protection from heavy rain. The padded shoulder strap is another thoughtful touch to provide comfort. The Manfrotto advanced shoulder bags retail from $26-89.00 on Amazon (see options below).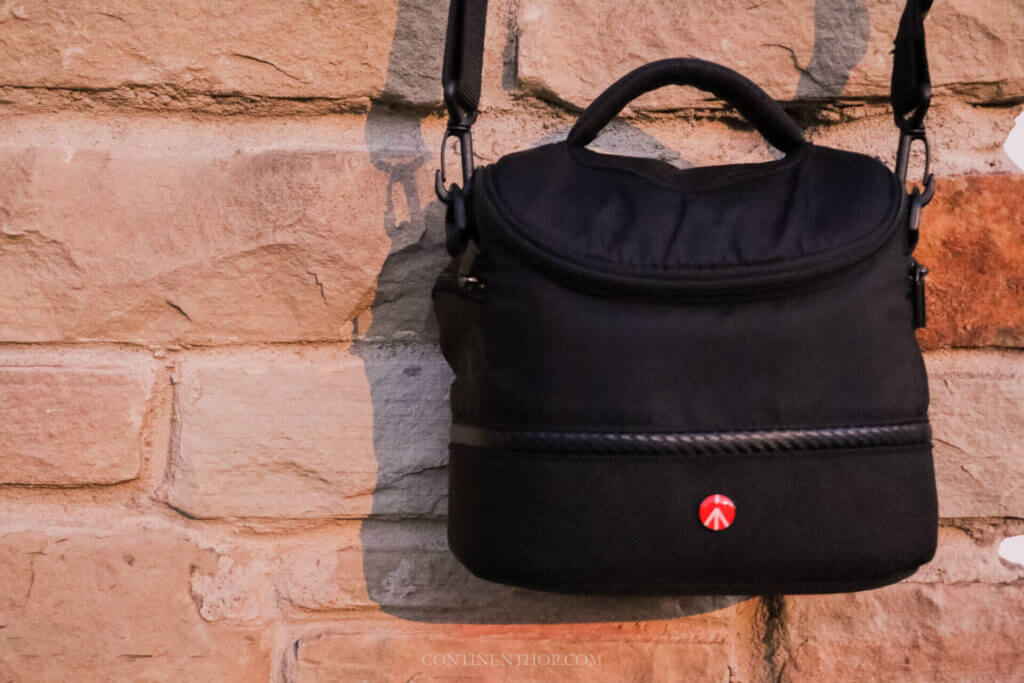 Travel camera backpacks #8. Atlas Minimalist Copper Backpack
Mallory from Plaid Shirt Yoga Pants swears by the Atlas minimalist backpack and so will you, once you lay sights on its sleek minimalist design with features that pack a punch. Mallory used to just throw her camera and extra lenses in her purse until she found the Atlas Minimalist backpack in copper, which became a game changer.
For $297 you get an all American made (say yes to locally made and not mass manufactured), leather bag with tons of space for compartments and detachable shelves. Mallory has put it to the test by traveling with a laptop, iPad, Digital SLR, three lenses, purse, travel blankets, travel documents and much, much more slipped into all of the nooks and crannies this backpack has to offer.
Her absolute favorite thing about the Minimalist is the customized camera strap she purchased that matches the bag which looked so stylish and chic while exploring San Francisco. This travel camera bag is not just one to lug around photography gear while traveling; it is virtually a traveling office and perfect for digital content creators on the go! Bonus: All US orders are free from the Atlas Supply Co. website!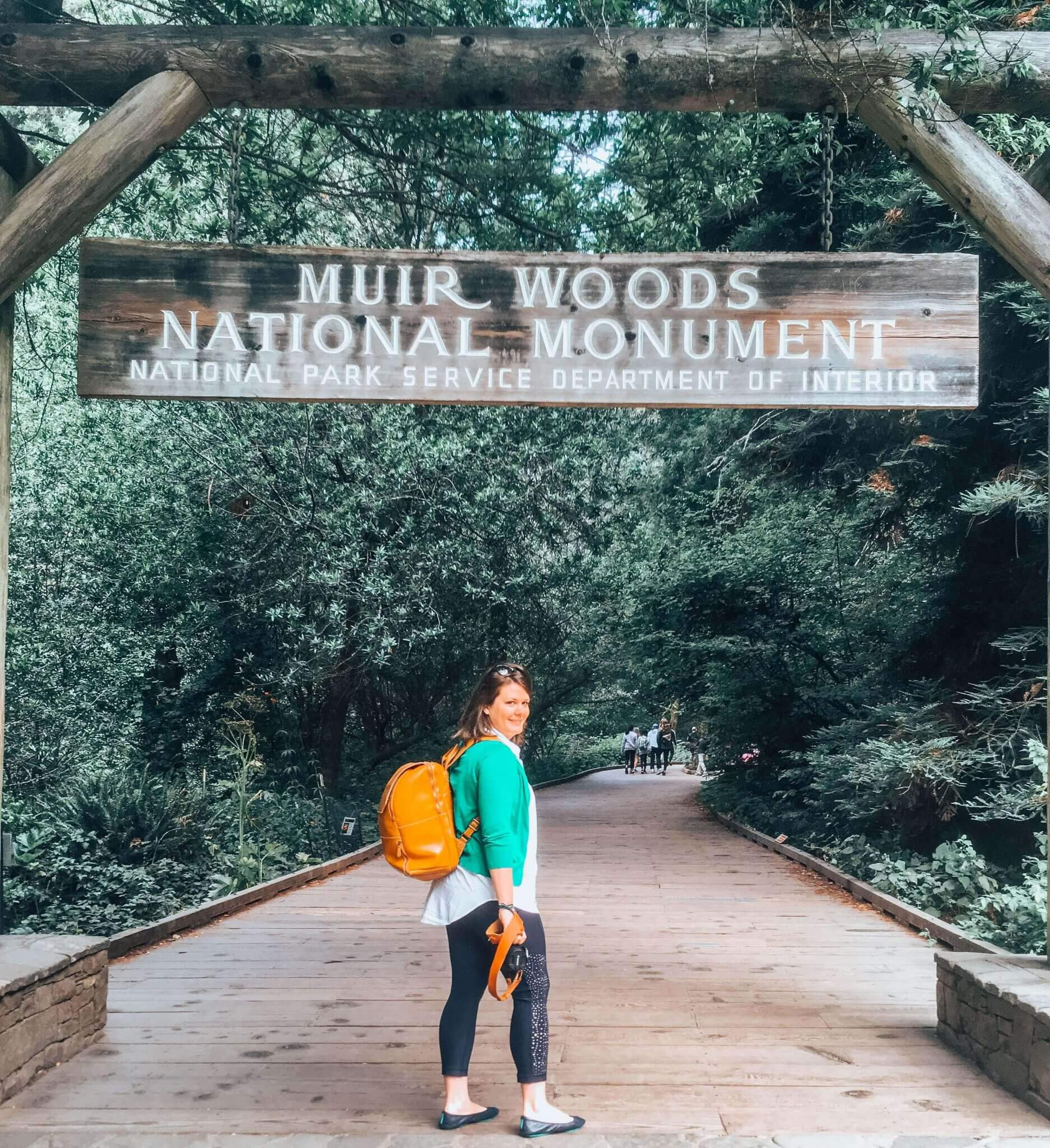 Women's Backpacks for travel photography #9. Vanguard Bags
Inma from A World to Travel vouches for her Vanguard bags. Along with the Veo 265CB carbon fiber travel tripod and TBH-50 ball head, she's used the photography bag Vanguard Havana 41 for a couple of years followed by the Vanguard Veo Discover 46.
Tough, versatile and with enough room for everything she always carry with her (from a water bottle to a raincoat, hygiene products, camera body and three lenses, laptop and many other things); Inma cannot think of a better choice for a person who like her, prioritizes minimal packing and comfort without compromising on quality or durability. A must buy camera bag for women, these bags retail on Amazon.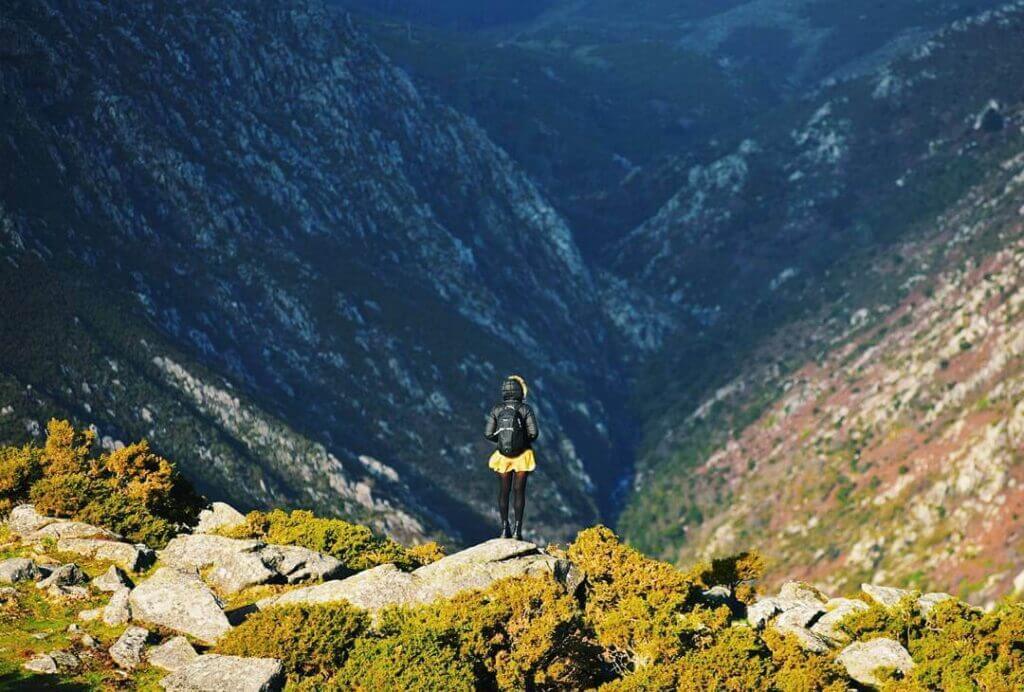 Click on the images below to shop the Vanguard bags
Camera backpacks for women #10. Qipi Sling Bag
Ending this post on camera bags for women with the most budget friendly option in the form of the Qipi sling bag used by Danielle from Wanderlust While Working. Being new to photography, she didn't want to just jump right in with a top of the line camera and camera bag and was looking for something simple, functional, and pretty cheap.
Most importantly, she wanted something that was waterproof and easy to carry on hikes, as that is where she clicks majority of her photographs. Danielle's Qipi sling bag is perfect for not only storing her camera but also drinks and snacks (necessary for long hikes), extra memory cards and has a pocket on the strap for her phone along with a rain cover for the rain.
She loves the flexibility of rearranging the velcro compartments in the interior to create pockets for anything she needs to carry. The size is a bonus too and is not as big or cumbersome as a backpack. One big advantage is that she does not have to take it off to pull anything out as she can just slide the bag forward and easily retrieve what she needs.
The bag costs around $30 (that is true value for money) so it was right within her price range, but it's still solidly made with a ton of pockets and meets Danielle's needs. If you aren't ready to splurge on a fancy or more expensive bag, this is a great option for beginning photographers or outdoor enthusiasts.
Ladies who travel far and wide with a camera and gents who know such ladies and are looking for that perfect gift for these women fueled by wanderlust, I hope this post has been useful to you in more ways than one. Do share with me your experience if you purchase and use one of these travel camera bags! Thank you so much for stopping by.

LIKE THIS POST? HOVER OVER THE IMAGES BELOW TO PIN FOR LATER

«