Last Updated on July 17, 2022 by Paroma
New Mexico is home to some of the most incredible road trips in the American Southwest. I was lucky to have experienced one such road trip from Santa Fe to Taos and back in Fall 2018 and it remains one of my most treasured travel memories. Here are some of the must see stops on this incredibly beautiful New Mexico road trip between Taos and Santa Fe along the high and low roads.
Disclaimer: This post may contain some affiliate links.Clicking on them to make a purchase may earn me a small commission at no extra cost to you for the product. Thank you!
Santa Fe, the New Mexico city of art,color and many beautiful photo spots is only an hour or two away from Taos (another city famous for its pueblo, skiing resorts and bustling art scene) depending on the road traveled. The scenic "low road" that snakes along the mighty Rio Grande river is the shorter one punctuated with wineries and a jaw dropping view of the Taos Valley while the more meandering "high road" takes you on a leisurely ride with historic landmarks and tiny specks of towns.
No matter the path chosen, the Santa Fe to Taos (or for that matter, Taos to Santa Fe) scenic drive will throw in plenty of beautiful spots for you to stop by and admire, all of which are covered in this blog post, starting from adobe style Spanish churches to the historic Taos Pueblo.
Although a day trip to Taos from Santa Fe is definitely possibly, much like the road to Hana in Maui, Hawaii or Big Sur road trip in California, the joy of this southwest American road trip lies in stopping to smell the proverbial roses.
So you are best advised to take your sweet time to soak in the rugged natural beauty, history and charm of the many attractions along the way, be it the high or the low road in your road trip from Santa Fe to Taos. Here is what we did on ours and the many sights, scenes and landmarks that we enjoyed along the way!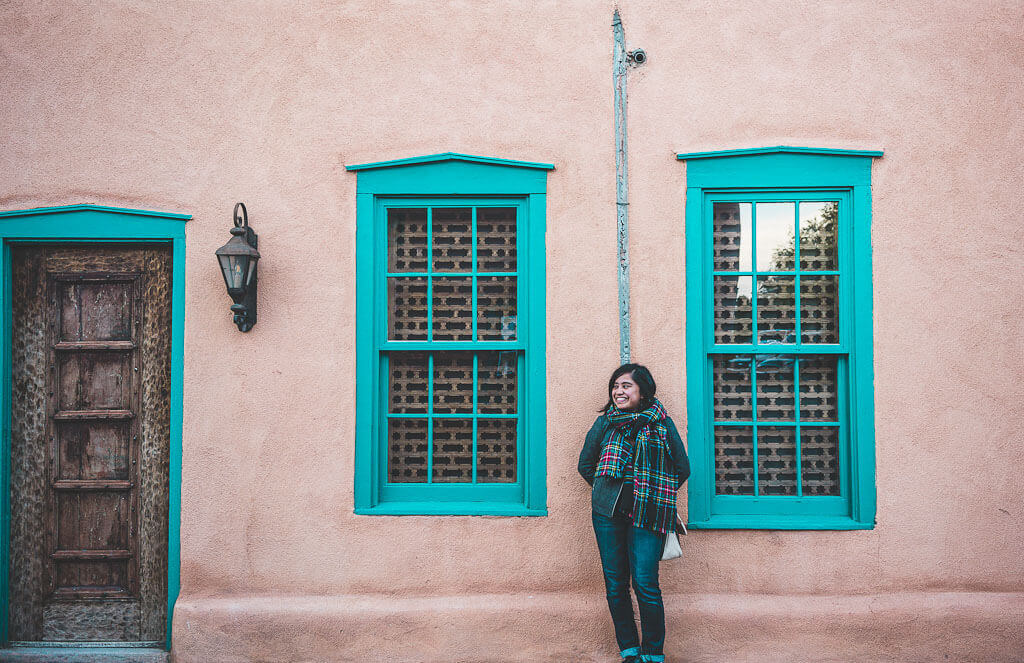 Driving from Santa Fe to Taos? Here are some helpful tips
How far is Santa Fe from Taos?
Taos and Santa Fe are about 70 miles apart. It takes about 1.5-2 hours to get from Santa Fe to Taos by car. You can rent a car from Albuquerque International Airport (ABQ to Santa Fe takes about 1.5 hrs by road) or from Santa Fe itself.
Best time to drive from Santa Fe to Taos
My vote goes to Fall for bejeweled foliage colors and cooler temperatures. So, sometime in mid-late October. Spring (March-May) might be a good time as well with the Rio Grande gushing in full force. Summer is way too hot a time to visit New Mexico.
Low road vs. High Road-which is better?
Both are good but one of the locals suggested we take the Low Road from Santa Fe to Taos and High Road on our way back for maximum scenic views. This is what we did and loved it. So this is what I recommend you do too if your itinerary permits.
How long does this Santa Fe to Taos road trip take each way?
I highly recommend 4-5 hours each way with an overnight stay in Taos like we did. This is a road trip with so many fascinating historic spots and sights, so please do not rush through it. Road trips are meant for relaxing and enjoying the stops, not driving by them in a frenzy to accomplish some sort of mission. If you're going to Taos on a day trip from Santa Fe, you can shorten the time spend on the road.
Where to stay in Santa Fe and Taos
For those of you wondering where we stayed, I recommend staying at Hotel St. Francis which right there on the Historic Plaza in Santa Fe and at the El Pueblo Lodge in Taos overnight.
What to pack for this New Mexico road trip
If visiting in Fall, definitely get a jacket as it does get cold (see my photos). Also, wear sturdy footwear. It is almost always sunny in New Mexico with clear blue skies, so remember to have some sort of sun protection on you (sunglasses/hat/sunscreen). Carry plenty of water with you as well.
Santa Fe to Taos: Memorable stops along the Low Road
I am no believer, but the adobe style churches that you will encounter here are intricately linked to the history of Spanish conquest and settlement in Santa Fe and lend beauty to the arid landscape.
Minimalist in design on the outside, these churches built by Spanish missionaries are very much part of the earth itself as well as a center of faith around which communities of Spanish families were built in the 16th and 17th centuries and are definitely a sight to behold.
The interior of these churches consist of large wooden panels in vivid colors showing the life of Christ along with Christian Saints with distinct European, Hispanic and Native American influences.
These Spanish adobe churches are a distinct departure from what you see elsewhere in USA and will pique the interest of the art or history lover in you. The first of many, if you start off from Santa Fe is the Iglesia de la Santa Cruz de la Cañada, standing quietly in Española before you hit Highway 68 towards Taos.
Led by Don Juan de Onate who established the colony of New Mexico for Spain, families moved to this area in 1600 who prayed at a small church in Sombrillo. When this was damaged due to flooding, the present church was commissioned to be built in 1733 and construction lasted till 1748. The church is open to all, but please remember to be quiet and respect all posted signs.
#2. Wineries
Highway 68 meets the Rio Grande somewhere near Black Mesa winery at Ti Bi Da Bo road, which is one of the several wineries that you will encounter while driving along the low road from Santa Fe to Taos. We actually picked up some local art from Casa Cristal pottery nearby and had our wine tasting at Vivac winery showcasing some of the best New Mexico wines.
You can get a pour of 6 for a mere $8.00 or individual pours for $1.5 each and also buy a few chocolates from their store for tasting alongside the wine. The New Mexico red wines are definitely on the drier side, with the vinifera (wine producing grapes) coming almost exclusively from the southern or southeastern parts of the state where the summers are hot and humid and winters are cool and dry, much like California.
#3. Small towns between Santa Fe and Taos: Embudo, Dixon, Pilar
Small towns dotting both the high and low roads between Santa Fe and Taos are very blink and you'll miss it kind of tiny, with a few houses, a general store and if you're lucky, a place to eat. But no matter how small, most of these towns have at least one artists' cooperative or local art gallery as well as as organized studio tours in some cases.
Our first stop was Embudo's gas station where you get a beautiful view of the Rio Grande from atop the tiny bridge, especially during Fall where the water shimmers with the reflection of a canopy of blazing yellow trees on its banks.
Close by is the quirky "classical gas museum" on gasoline alley where you will be greeted with tons of classic automobile and gas related paraphernalia which is vintage Americana! Think of Route 66 neon signs, old gas station remnants, and automobile parts all of which make this place an antique treasure store.
Dixon, Rinconada and Pilar are on the way as the Rio Grande snakes through its canyon, with the Pilar yacht club and cafe being an excellent spot to grab a bite (its closed on Sundays though when we passed through).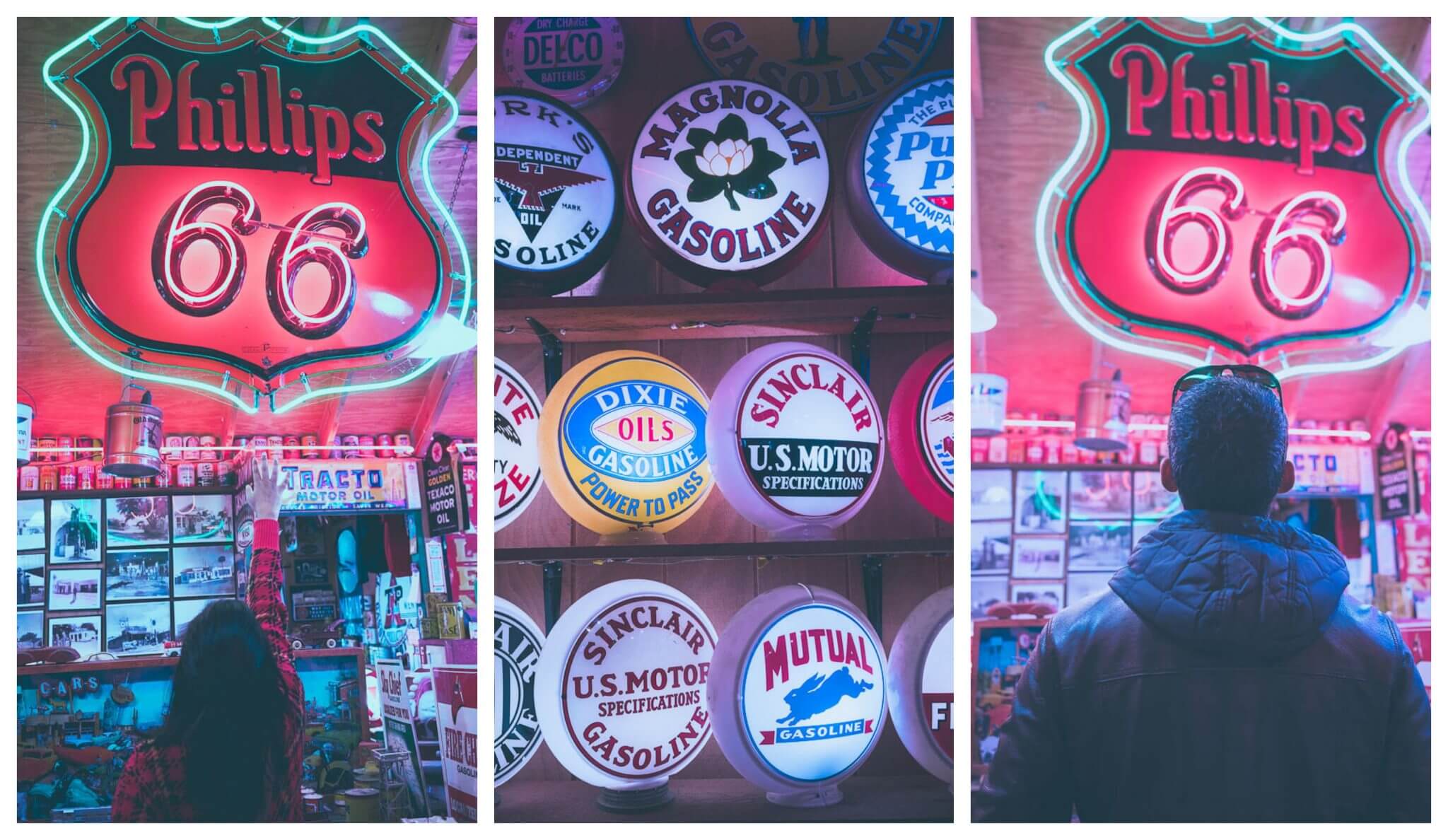 #4. Must stop on the scenic drive from Santa Fe to Taos: Rio Grande river and Rio Grande Gorge bridge
The best part about the low road is undoubtedly the comfort of having the Rio Grande as your travel companion, the jewel of the American south west. The first access to the river is about 6.5 miles away from Embudo and I highly recommend spending some time along its banks to take in the solitude and natural beauty of this place. As you enter Taos from the south, look out for "horseshoe overlook" on the way that reveals the verdant Taos valley.
Finally, follow the river beyond Taos all the way up to the Rio Grande Gorge bridge, the second highest bridge on a US highway. This steel deck arch bridge gives a spectacular view of the Rio Grande gorge with the river slithering away like a silver snake on the valley floor as you look down onto the precipitous drop. The bridge, 10 miles north of Taos, is also the tenth highest bridge in USA.
Much like our beloved Golden Gate Bridge, this too is a notorious spot for suicides (you will see many a telephone booths there urging you to make a call if you feel all is lost) and I could not help but feel a heaviness on my heart as I stood on the bridge, thinking of all the lives that may have seen this view before they breathed their very last.
Be it the high road or low, all roads in this case, lead to the number one attraction in Taos, which is undoubtedly the Taos Pueblo, a native American settlement which is one of the oldest continuously inhabited places in USA. It is also the only native American community designated as a UNESCO world heritage site and a National Historic Landmark.
The Pueblo is open to visitors (check here for the timings) and credit cards are accepted for entry fee. Navigating the Pueblo is pretty easy on your own (please obey all posted signs while doing so) but I highly recommend taking the free guided tour that is led by a resident volunteer and starts from the courtyard of the only church (St. Jerome Chapel) in the compound.
The guided tour is a short one and gives you a lot of information on Native American history, revolutions, uprisings, the Spanish conquest and its consequences as well as present day life at the Pueblo.
Taos Pueblo is a photographers dream with the sun kissed adobes interjected with bright colors and you can click photos almost anywhere except the inside of the church, the newest addition to the Pueblo. I need to talk a little bit about the St. Jerome Chapel (San Geronimo de Taos) here because it symbolizes dual faith practiced by the residents-one that is of the Spanish conquerors and the other of their own/native American religious rites.
The central figure at the altar is a Mother Mary like figure who also represents the Native American faith and is thus not porcelain white/caucasian. Her clothes too reflect the color of the season and are thus changed seasonally (she was clad in a beautiful yellow in honor of Fall).
The tour guide explained that both Catholicism and Native American faith (derived from nature and animals) still co-exist here and people still live in the Pueblo in as much as the old way possible to honor their ancestors.
You will see several stray dogs roaming around; please do not pet them to take a selfie for the 'gram since they may get scared and behave aggressively (there are posted signs warning the same and yet we saw some people do just that). Same goes for photographing residents, you cannot do so without permission.
Taos pueblo has a cemetery which is not to be entered (sacred resting place of the dead) as well as small gift shops and restaurants by residents which you can totally visit. The red river flowing through the pueblo is more like a creek but is the only source of water for the residents.
A few hours at the Taos Pueblo give you that much needed glimpse into life in one of the oldest parts of the country and how the European conquest changed it drastically for those living here. This is the perfect culmination of your journey northward from Santa Fe.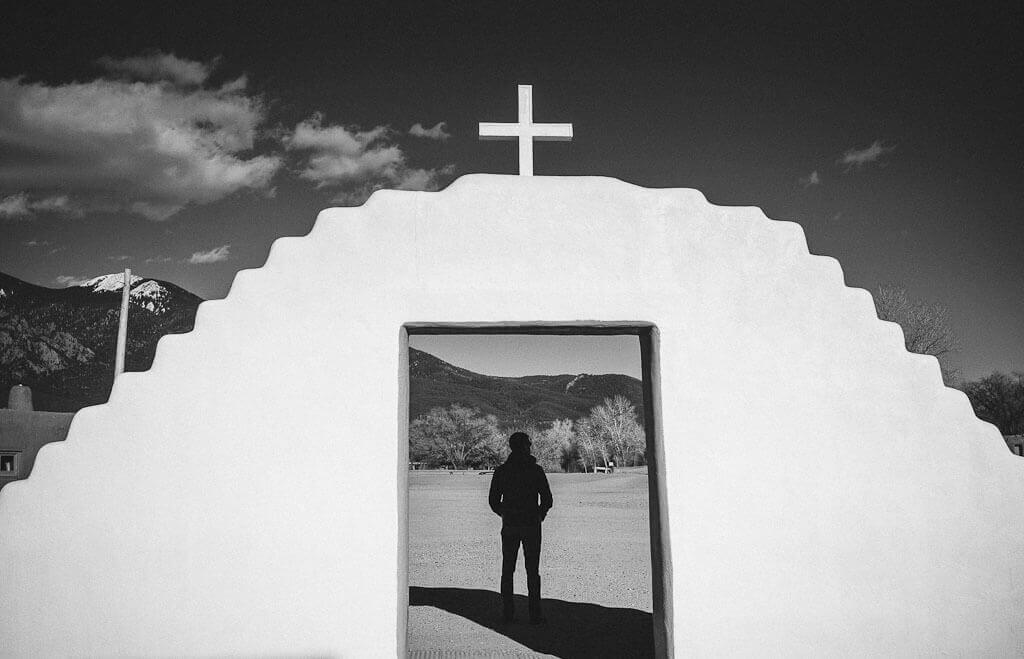 Taos to Santa Fe: The essential stops along the High road
The high road from Taos down south to Santa Fe has no dearth of historic churches that shaped the socio-economic landscape of this region, but the most famous one, or at least the most photographed or painted one is the San Francisco de Asis church in Rancho de Taos, just south of Taos.
This Roman Catholic church has been a center of worship since 1772 and is dedicated to St. Francis of Assisi, the patron saint of animals, natures and therefore ecologists! This church is designated National Historic Landmark, a United Nations World Heritage site and one of the most photographed churches in USA, the residents even re-mud it every spring!
The famous painter Georgia O'Keeffe and photographer Ansel Adams both immortalized the grand buttresses of this church via their works. You are welcome to enter the church but photography inside is strictly prohibited.
#2.Chapel of Nuestra Señora de San Juan de los Lagos Talpa (Talpa)
Close to the heels of the grand San Francisco de Asis, comes this tiny, yet beautiful adobe style Roman Catholic church in Talpa which is a little tricky to find. The church stands quietly in a small pull-out point on the right side of the road along highway 518 and although we visited it on two different days and at two different times, we still found it closed.
We kind of skipped the San Antonio de Padua church near Peñasco and made our way to the beautiful San José de Garcia chapel in Las Trampas, another Spanish colonial village on highway 76. A spectacular example of the Spanish colonial Mission style architecture, this church was completed in 1780 and continues to be a center of worship since the last 225 years.
This church is also a designated National Historic landmark. The nearby town of Ojo Sarcos is famous for its pottery but we could not locate any open shops or galleries during our visit.
#4. Truchas
The small village of Truchas was our second last stop from Taos to Santa Fe on HW76 and we stopped here for some amazing views from the hilltop since it is built on a flattened hill (mesa) in the shadow of the Truchas peak that stands 13000 ft above sea level and is the second highest peak in the state of New Mexico. This tiny place has a typical American wild west feel to it with a general store and vintage Americana signs, adding color to the desolate streets.
Our last stop on the high road from Taos to Santa Fe was the town of Chimayó which is home to the Roman Catholic church Santuario de Chimayó, destination of the most famous Catholic pilgrimage in USA and as you guessed, another National Historic Landmark.
This church and site attract as many as 300,000 visitors every year during Holy week, i.e. Holy Thursday and Good Friday. It is built in typical adobe style of architecture with two bell towers and contains a small room called el pocito (translates to "little well") with a small, round pit filled with"holy dirt" (tierra bendita) that is believed to have healing powers.
Adjacent is a prayer room filled with votive offerings along with photographs and testimonials of devotees who are believed to have been healed by this dirt. This church stands on a large campus and is on the upper level of the compound where the parking lot is located. The garden has several beautiful statues of Mother Guadalupe, a native American worship room while the gift store and visitor center are upstairs. Photography inside the church is prohibited, so please be mindful of that.
Close by is the small Plaza del Cerro with a few shops and galleries on local, New Mexico art (they were all closed when we visited) and the famous restaurant Rancho de Chimayó, where we had an amazing dinner (they also have a gift shop that you should check out for local products).
This pueblo style restaurant offering traditional New Mexican cuisine is headed by Florence Jaramillo (fondly known to staff as Mrs. J) who is regarded as the "culinary treasure" of the state of New Mexico and has been honored with several accolades.
This 2016 winner of the James Beard Foundation America's Classics award is a must visit for all foodies; portion sizes are large but extremely flavorful doused in NM's red or green (ask for "Christmas" if you want both) chili sauces, all house made.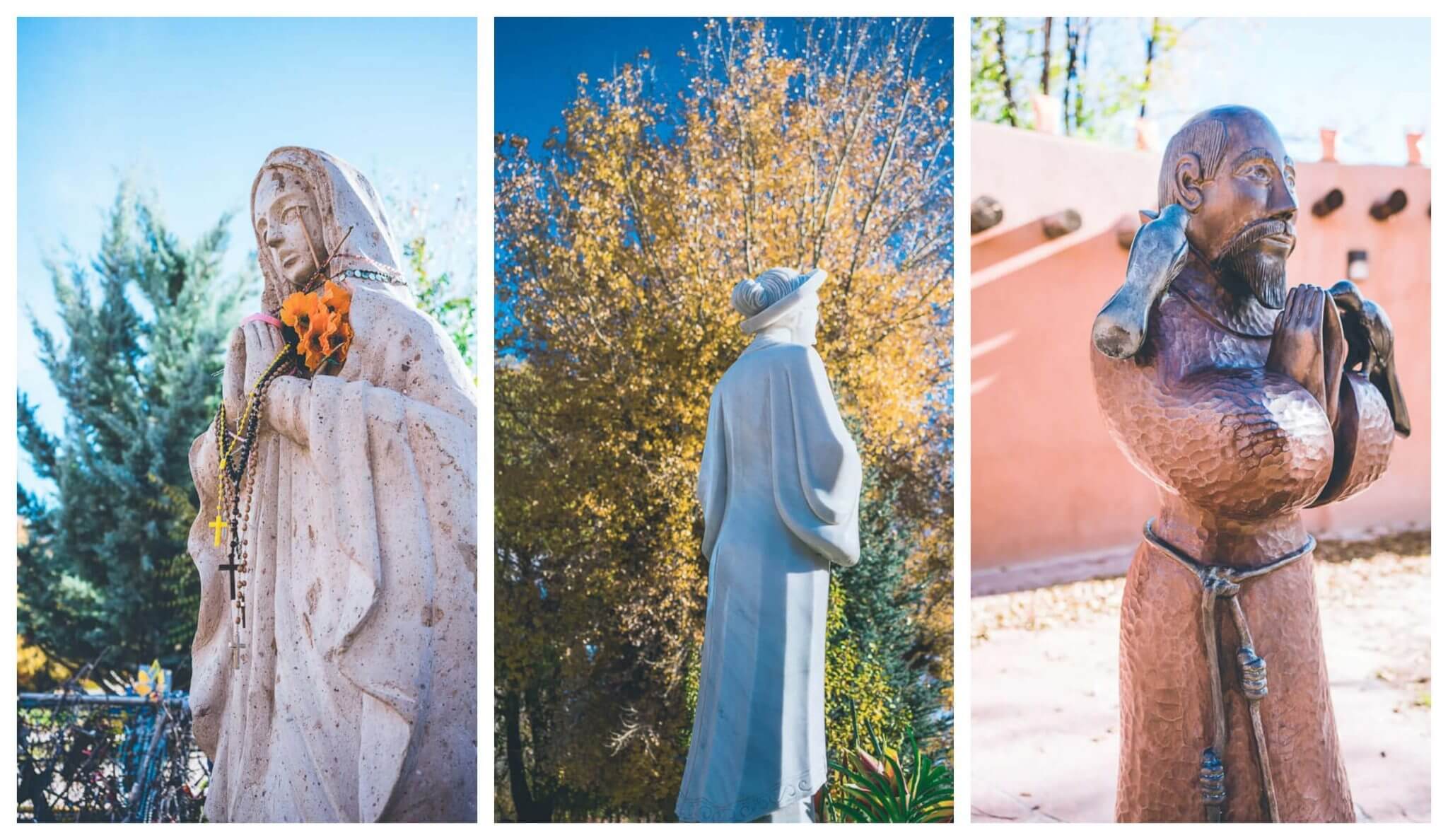 This "bonus" stop is technically not on the high road back to Santa Fe, but tell me, who doesn't love an alpaca enough to go on a slight detour? These fluffy, woolly creatures are cousins of the llamas and camels are provide some of the softest fiber known to man that is superior to wool.
Santa Fe has several alpaca farms (thanks to elevation and climate similarities to Peru) and we found this adorable (and very popular) one just outside the city while driving towards the Albuquerque. The owner and his wife moved from Florida many years ago to set up this farm and have about 70 alpacas (huacaya and suri) grazing in the open fields in fenced enclosures (no cruelty involved here, they have acres of land to roam freely, poop and socialize).
They also have horses, four cats (the outdoor ginger Garfield was super friendly and stayed with us nearly throughout the tour) and two dogs to herd the alpacas. The owner was very sweet and kind and gave us a thorough tour of the facilities with lots of trivia on the alpacas as well as let us feed these gentle creatures.
We finally bought a pair of gloves and socks from their alpaca fiber store as parting mementos. I highly recommend looking up the hours and stopping by for your rendezvous with these gentle animals and to cuddle with Garfield!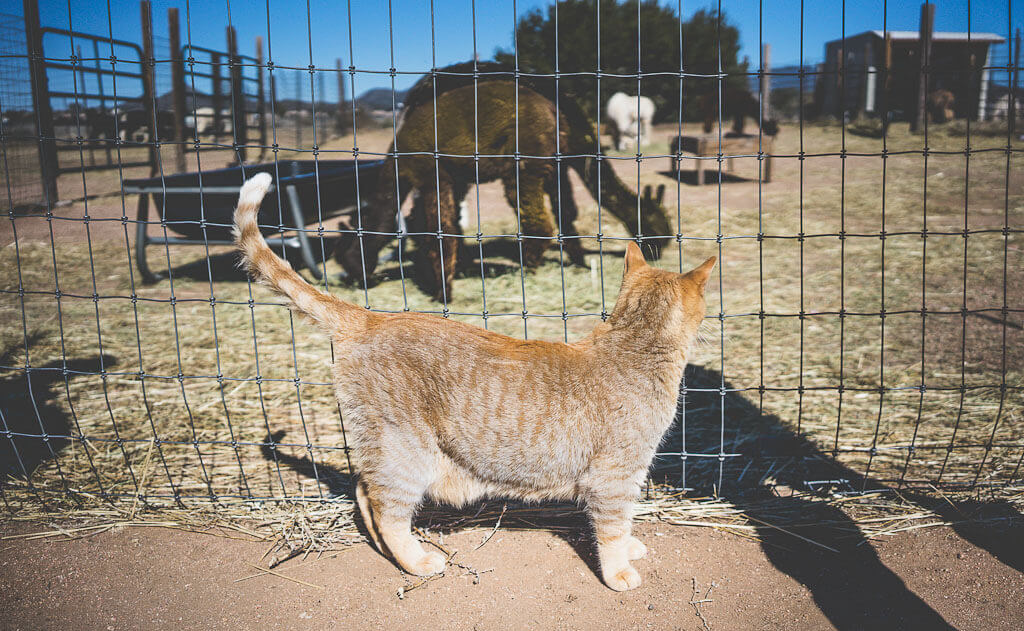 This brings me to the end of yet another memorable road trip, one of the several that I've had this year. I hope you enjoyed reading about these different stops from Santa Fe to Taos along the low road and the return journey via the high road (we were recommended to travel in this order by locals) and will visit this beautiful part of USA someday where nature, faith, spirituality and the colors of the earth all conspire to bring alive beauty.

Finally, the Google map below shows all of these stops on our journey both along the high and the low roads. I'd be remiss if I did not mention the splendid Santa Fe, Taos and New Mexico tourism websites whose articles helped me plan for this road trip; please check them out for more ideas and inspirations on what to do in New Mexico during your visit!

LIKE THIS POST? HOVER OVER THE IMAGES BELOW TO PIN FOR LATER

«