Last Updated on July 17, 2022 by Paroma
Spending one day in Santa Fe, NM and overwhelmed with where to begin? Fear not, cause this repeat visitor to Santa Fe is here to guide you on how to make the best of experiencing Santa Fe in 1 day. Read my 24 hours in Santa Fe guide and top tips for covering what this magical city has to offer in a short time, so that you can leave with everlasting memories with a hankering for more!
Disclaimer: This post may contain some affiliate links. Clicking on them may earn me a small commission at no extra cost to you for the product. Thank you for supporting free content on this site!
Santa Fe is the capital of New Mexico and is not only a capital city that looks unlike any other in the lower 48 states of the union, but is also the proud owner of many "first" titles. Established as a capital in 1610 by the Spanish of the then "Nuevo Mexico" territory, it is the oldest capital city in USA and also the highest, perched at 7,199 ft above sea level (sorry Denver!) in the shadows of the Sangre de Cristo mountains, which constitutes the southernmost range of the Rockies.
Besides the rich history and unique geography, what sets this city apart from other state capitals is its aesthetics-330 days of clear sunshine drenching Pueblo revival style Adobe buildings and houses with splotches of bejeweled red ristras (dried red chili bunches) framing the entrances and windows, hundreds of art galleries jostling for your attention (Santa Fe in fact has the highest number of art galleries per capita in the nation), red and green chili sauce smothered food and a way of life that has at least culturally retained much of the Native American influence, who were the original stewards of the land.
Visiting Santa Fe is a magical experience and one that is no way identifiable with what we associate with other state capitals. It is modern yet firmly ensconced in the bygone times and retains the old world, historical charm from the pre Mexican-American war days when it was yet to be annexed to the union. Plus who can escape the irresistible pull of the arts, crafts, pottery, weaving and history that hangs so thick in the air, not to forget the delicious chili (red and green) stews and sauces?
There is a lot to do if you're visiting Santa Fe for one day and after having visited three times for different durations, I am here to craft the perfect itinerary for you to make sure you see the very best of Santa Fe in 1 day. Keep on reading to find how to make the most out of your 24 hours in the capital with this super detailed and authentic guide filled with what to do, see, eat and where to stay. Trust me, this one day in Santa Fe guide is all you need for a day trip or an overnight stay in New Mexico's capital city.
HOW TO PLAN ONE DAY IN SANTA FE, NM: MY TOP TIPS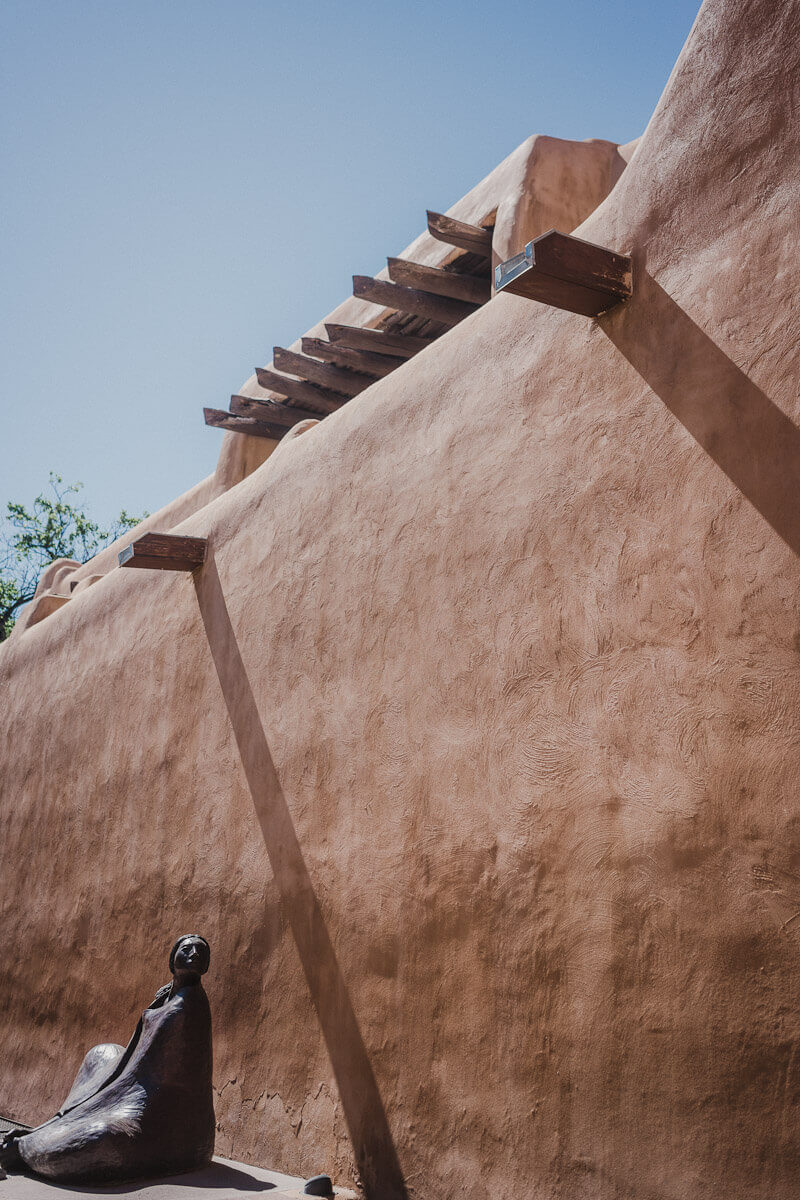 I know you want to skip this section to move onto what to do in Santa Fe in one day, but if you're a first time visitor, this stuff here is important to ensure you have a hasslefree trip. Keep these tips handy so that you don't have to waste any time during your short stay in the city (you are welcome in advance!).
HOW TO GET TO SANTA FE
Santa Fe has a tiny regional airport that has limited flights coming in from Denver, Dallas and Phoenix. The airport is about 20 minutes drive or 12 miles from the city center/downtown Santa Fe which is commonly referred to as Santa Fe Plaza. If you're not flying in from one of these three cities or are looking for more options, then your best bet is to fly into Albuquerque International Airport (ABQ) and taking a taxi, rented car, rideshare or pre-reserved shuttle to the Santa Fe Plaza.
ABQ airport is 66 miles south of Santa Fe plaza and if you're not driving, then hailing a taxi or rideshare (Uber/Lyft) can get expensive. I highly recommend pre-booking one of the many shuttles that will take you to the plaza from the arrival terminals, my favorite being Groome Transportation (formerly known as Sandia Shuttle). Their shuttles are clean, drivers are polite and punctual and they pick you up right from your hotel! You can book your transportation in advance both ways to save yourself any and all transportation headache.
WHEN IS THE BEST TIME TO VISIT SANTA FE?
Having visited the capital in three different seasons (Spring, Summer and Fall), my vote goes hands down to a Fall visit when the air is cool and crisp and there are spectacular fall colors everywhere vying for your attention. That would be the month of October-November which is when we drove from Santa Fe to Taos which is easily one of the most memorable US road trips in my travel life.
Spring, i.e. April and May are good options to visit Santa Fe when the mercury continues to hover around a reasonable 75-80F (high) and 50-60F (low). Winter sees a noticeable dip in mercury with bright days (40-45F) but cold nights (19-20F) and snowfall (because of the altitude).
Summer is undeniably the most popular time to visit thanks to the International Folk Art Market (July) and the mega Santa Fe Indian Market (August) that draws thousands of visitors from all over the world. But summer is hot as hell, with temperatures easily rising above 95F. Coupled with the high altitude, the sun's intensity is really something to reckon when visiting from June-September.
DO I NEED TO DRIVE IF VISITING SANTA FE FOR 1 DAY?
As someone who's visited Santa Fe solo without driving anywhere (I will not drive even if my life were in mortal danger), I can tell you one thing: you don't need to drive everywhere to make the best of your one day stay.
Santa Fe is a small town and extremely walkable with most attractions centered around the plaza. As long as you're staying at or near the plaza (which by the way has many, many hotels), you're good. You can always hail an Uber/Lyft if you absolutely must go anywhere further, such as on one of the several fantastic day trips listed in this post.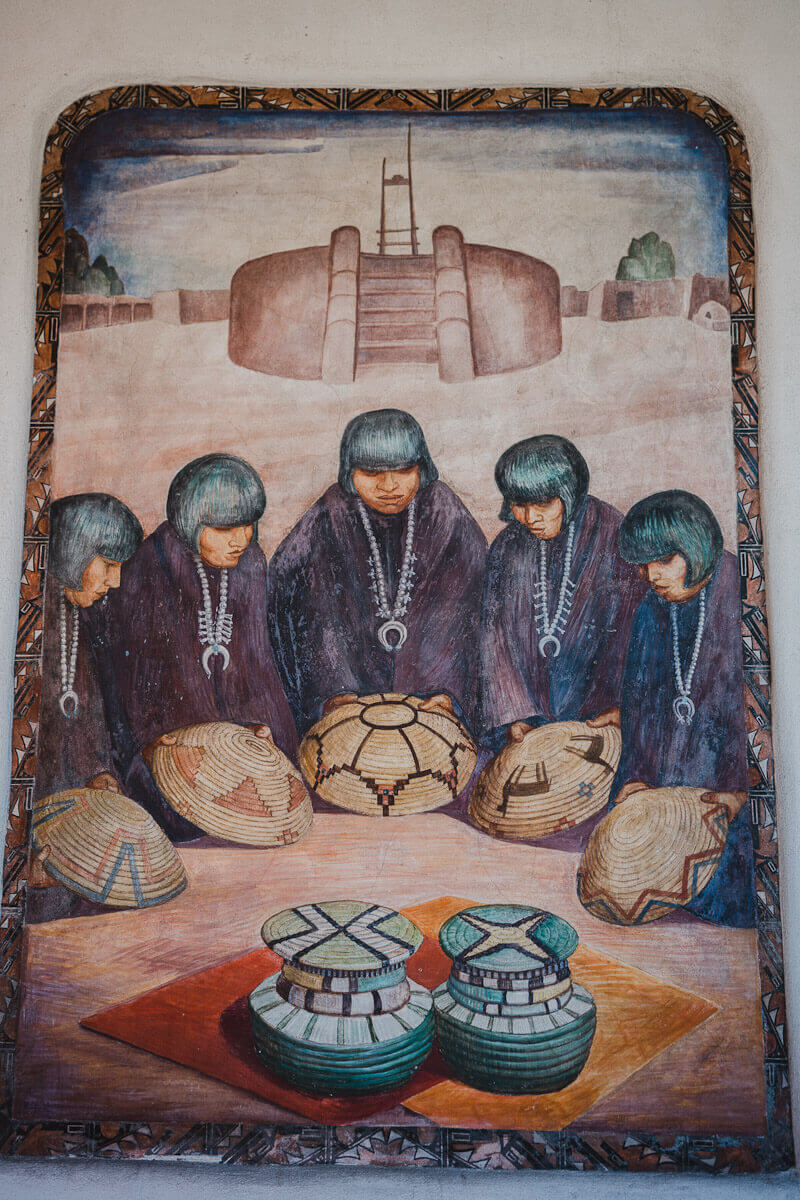 IS ONE DAY IN SANTA FE ENOUGH?
Don't be fooled by its size, one day is definitely not enough to see everything in Santa Fe. However, if you follow my super-duper tried and tested guide, you will see the very best that the city has to offer in 24 hours including where to eat and drink. I am here to guide you through what you need to see and do to make every hour count during your short stay!
WHERE TO STAY IN SANTA FE FOR ONE NIGHT?
If you're pulling an overnighter, I recommend staying at or near the Plaza. Not only will you be near the galleries, restaurants etc but most hotels at the Plaza have their own restaurants serving excellent food! There are hotels for all sorts of budgets as well. I stayed at Hotel St. Francis which is right on the plaza on Don Gaspar Avenue which is an unbeatable location. This is a dog friendly hotel.
The hotel is a work of art (the lobby decor is simply elegant with statues of St. Francis of Assisi, ornate candelabra and a gallery wall) but the rooms are on the smaller side with no kitchenette. And, although self parking may be subject to surcharge (you are better off parking on the plaza in less busier streets), the hotel has a fantastic restaurant (Market Steer Steakhouse) , Santa Fe's best bar (Secreto), massage/spa services and Gruet Tasting room showcasing Santa Fe's wines.
Besides Hotel St. Francis, the other two hotels that I highly recommend for their amenities are the historic hotel La Fonda on the plaza celebrating its centennial year in 2022 and Inn and Spa at Loretto. Both are on the plaza, are built in the puebla revival style and are simply a stone's throw from all the Plaza attractions.
OTHER HELPFUL TRAVEL TIPS
Thanks to its unique geography, i.e. being perched 7,199 ft above sea-level, a lot of visitors (unless you're from Denver or a city with similar high altitude), experience shortness of breath due to lack of oxygen. Santa Fe is also very dry and experiencing severe dryness (nosebleed, chapped lips and dry skin) or even dehydration is not uncommon. Finally, the sun really shines down on you at this altitude, so sunburns are a major worry.
As a San Francisco resident happily residing next to a beach, all I can tell you from experience is that all of these conditions are real and you need to be prepared. Don't forget to pack in sunglasses and a hat for extra protection, sunscreen, vaseline, body lotion and a moisturizing lip balm/chapstick. Also, carry plenty of water with you at all times. Don't try to tackle advanced level or tedious hikes on day 1-let your body get used to the altitude and change in weather.
HOW TO SPEND ONE DAY IN SANTA FE: BEST THINGS TO DO, SEE AND EAT
Finally, here is the section that you've been waiting for to answer the burning question of what is there to see in Santa Fe in 1 day. Here is my nearly hour by hour guide to maximize your Santa Fe sightseeing if you have only one day in hand. All these recommendations are based on my personal experience, so rest assured that I have done everything that I am about to share with you. Let's get started!
ENJOY A SUNRISE AT THE CROSS OF THE MARTYRS
Start your day bright and early at Santa Fe with a brisk morning walk right before breakfast to a historic monument located in the Old Fort Marcy Park, about 0.8 miles northeast of the Plaza (12 min walk). This huge white cross, dedicated to the 21 Franciscan friars who lost their lives in the Pueblo revolt of 1680, stands atop a hill with sweeping views of Santa Fe and the Sangre de Cristo mountain range.
The "hike" up is along a paved path that winds up gradually and is dotted with plaques describing the history of Santa Fe in a chronological order (from 1598-present times) donated by city businesses and churches which will provide a snapshot of historic information as you climb up the path while taking in the views. This is not a strenuous hike at all and is great as both a sunrise and or a sunset spot, all the while being very close to the plaza.
SAVOR A HEARTY BREAKFAST AT CAFE PASQUAL'S
Once you're done with your early morning walk, head straight to what is considered Santa Fe's most popular breakfast spot-a tiny cafe in the heart of the plaza known as Cafe Pasqual's (did you know that San Pasqual is the patron saint of the kitchen?). Word to the wise: arrive by 8:30 AM for a seat since this tiny place gets filled up pretty quickly.
Loved by locals and visitors alike, this cafe opens at 8AM and serves breakfast, lunch and also dinner. Not only is the coffee and food fantastic, the inner decor replete with colorful murals by Oaxacan artist Leovigildo Martinez instantly cheers you up. They also have a dedicated art gallery open from 10AM-5PM on the second floor of the cafe that is worth visiting!
If you're one of those early risers feeling hungry after watching a sunrise from the Cross of the Martyrs, then you can head to French Pastry Shop and Restaurant inside the La Fonda on the Plaza that opens its doors at 6:30AM. The coffee is good, the crepes decent and the pastries are delicious. Having said that, I still recommend Cafe Pasqual's for the ambience and food if you can make it.
EXPLORE THE PLAZA ON A WALKING TOUR
I am going to let you on a life changing Santa Fe travel hack right now, and that is precisely this-if you can make it to Santa Fe either on a Thursday, Friday or Saturday then whatever you do, book the Historic Architecture and Interiors Walking tour of the Plaza, courtesy of Heritage Inspirations. The tour ends with a complimentary wine tasting at Gruet wine tasting room in Hotel St. Francis, but this is optional (although I cannot think of a reason as to why you'd pass up on this option unless you are a teetotaller or are driving).
First of all, the tour is not necessary for your one day in Santa Fe sightseeing since you can wander aimlessly around the plaza on your own. But if you don't, you will miss out on one of the best tours that you can ever go on to learn about the ins and outs of Santa Fe's fascinating history, arts, culture and architecture. In a nutshell, if you want to make the most of your 1 day in the city, take this tour. I guarantee it will one of the best $$ you'll ever spend.
In the three hours between 9:30-12:30 PM, your guide Daniel (writer, editor and guide born and raised in New Mexico) will keep you riveted with facts, stories, anecdotes, suggestions (on where to eat, see and shop in the plaza) and the rich layered history of the city, the plaza businesses and the churches and how things came to be, all while taking you through different stops in the plaza (you will also enter a few places for added effect).
Once you're done with the tour, you will know exactly how to spend the remaining precious hours in the plaza-the galleries to visit, the museums to explore, the shops to spend money at and of course where to find the best red chili sauce in town. Wear comfortable shoes and sunglasses, bring some water and be ready to learn about Santa Fe in the most entertaining way possible. Having done food tours and walking tours over my many years of travel, I cannot stress enough on how good this one is!
This tour was not sponsored in any way. I spent my own hard-earned money and so I can vouch for the authenticity of my experience
If by some terrible stroke of misfortune, you cannot snag a ticket to the tour or are visiting Santa Fe on some other day, read my post on best things to do in Santa Fe Plaza for wisdom nuggets on what to see, do and where to eat and shop on the plaza based on my experience (and Daniel's suggestions that I made keen mental notes of during our tour).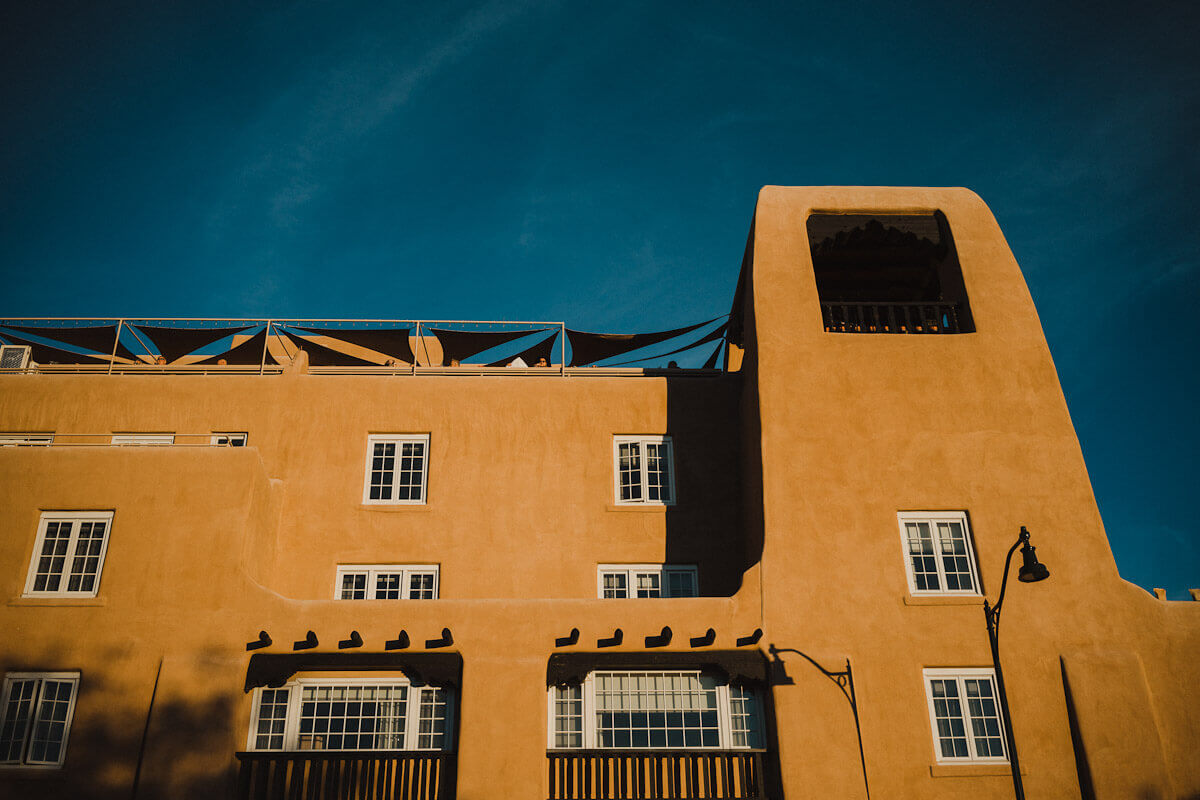 ENJOY A COURTYARD LUNCH
Santa Fe is blessed with 330 days of sunshine and some charming courtyards where you can take advantage of the weather and enjoy an al fresco lunch post your walking tour. I recommend tacos (or anything else) with a side of red chili sauce at the Shed, Mediterranean food at the tranquil La Casa Sena or New Mexican specialities at La Plazuela inside La Fonda Inn Plaza.
VISIT ONE OF THE MANY MUSEUMS IN SANTA FE
Santa Fe is a city steeped in art and history and if you're a fan of either or both, you cannot leave the city without spending some time in at least one of its many museums which are some of the finest and most unique in the nation. There are at least four prominent museums in the plaza itself or you could drive down to Museum Hill, which is 1.7 miles from the plaza, for even more. However, for the sake of time I suggest sticking to the plaza for your fill of museum exploration.
With only the latter half the day at your disposal (assuming you opted for the tour that I've been ardently begging you to go on), I recommend taking your pick of only one of the four museums on the plaza. These are the Georgia O' Keeffe Museum (open Thursday-Monday), New Mexico Museum of Art (open everyday 10AM-5PM except Monday), New Mexico History Museum (includes entry to the Palace of the Governors and open everyday 10AM-5PM and up to 7 PM on Friday) and the Institute of American Indian Arts (see hours).
If you're a history buff, then the 3 levels of historic artifacts, records and collections at the New Mexico History Museum is what you should opt for, which will take at least 2 hours to explore meaningfully. However, if your proclivity towards arts is stronger, I suggest choosing either the stunning O'Keeffe museum or heading straight to the New Mexico Museum of Arts.
Georgia O'Keeffe is one of the most celebrated 20th century artists in the world and possibly the most famous North American female painter. She moved to New Mexico permanently in 1949 and stayed here for the next four decades producing stunning works of art depicting the NM landscapes at Abiquiu and Ghost Ranch, her homes. Advanced ticket reservations are required to enter the museum, thanks to its popularity.
The O'Keeffe museum showcases the entire collection of her works-from her early days in Texas and New York and her famous "flower paintings" to the works produced in New Mexico, depicting the natural beauty of northern New Mexico. The museum also provides tickets to her Abiquiu home and studio tour (you have to reserve tickets online) which I went on during my recent most trip (it was an unforgettable experience).
The New Mexico Museum of Art is one of the very best in the country and one that you must visit if you are an art lover. You will be transported to a different world once you step inside the absolutely beautiful courtyard of the building showcasing the Pueblo Revival architecture. The courtyard is adorned with six frescos by master painter Will Shuster depicting native american traditions pertaining to the four elements of fire, air, water and earth as well as day to day activities such as wheat winnowing and pottery making.
Besides these frescos, there are two levels of galleries showcasing over 20,000 paintings, photographs, sculptures, prints, drawings and mixed-media works of celebrated New Mexico artists and beyond as well as a beautiful sculpture garden. A hidden gem of this museum which is often overlooked by people is the St. Francis auditorium to the very left of the entrance where you have some jaw-dropping murals. This auditorium looks like a church but is not really one-concerts are held here.
Pro tip-If you want to get an art museum experience minus the ticket price, head straight to the New Mexico Capitol building which is a mere 0.5 miles south of the plaza. The Capitol Arts Foundation has curated and showcased over 450 artworks (painting, photos, sculpture) of contemporary New Mexico artists that is spread all over the four levels and is completely free to the public!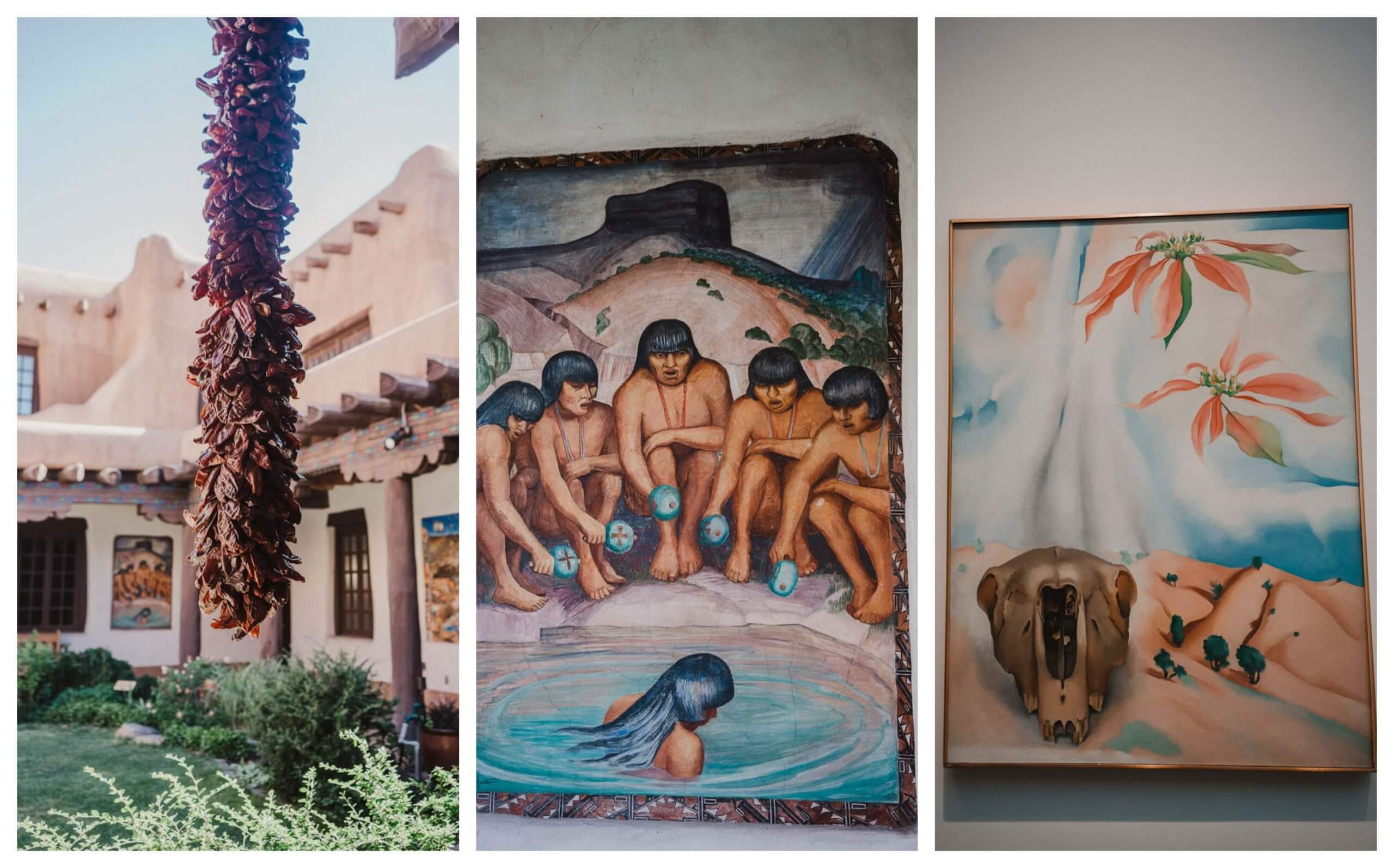 STOP BY ONE OF THE CHURCHES ON THE PLAZA
Santa Fe plaza is home to three prominent churches built at different times by the Spanish Missionaries as part of the conquerors efforts to spread Christianity amongst the Native Americans. Each of these three churches have their own history and have different architectural styles along with stunningly beautiful interiors. If you can spare an hour, I recommend visiting all three of them despite your religious leanings (or lack of it like mine).
These churches are the Cathedral Basilica of St. Francis of Assisi (Roman Catholic Cathedral built in 1714) named after St. Francis, an Italian Friar who is also the patron saint of Santa Fe, The Loretto Chapel known for its miraculous stairs (you need to pay $5 to see this winding staircase) and the San Miguel Chapel, known as the oldest chapel in USA whose foundations date back to pre-Columbian times.
Daniel's heritage walking tour provides a lot of interesting facts about the history of these chapels and their construction with entry to the St. Francis cathedral to show the oldest statue of the Madonna and Child in USA, who was brought in 1625 to Santa Fe. Although she is now known as the "Lady of Peace", her original title was that of La Conquistadora (i.e. the one who conquered) since Spanish soldiers attained victory in key battles after praying to her.
The oldest house in USA (built in 1626 but with foundations pre-dating arrival of the Spaniards) is right across San Miguel Chapel and is home to a free museum and a gift shop. You can explore this on your own if you visit the chapel (chapel is open for only a few hours everyday) or go on the walking tour since it is one of the stops.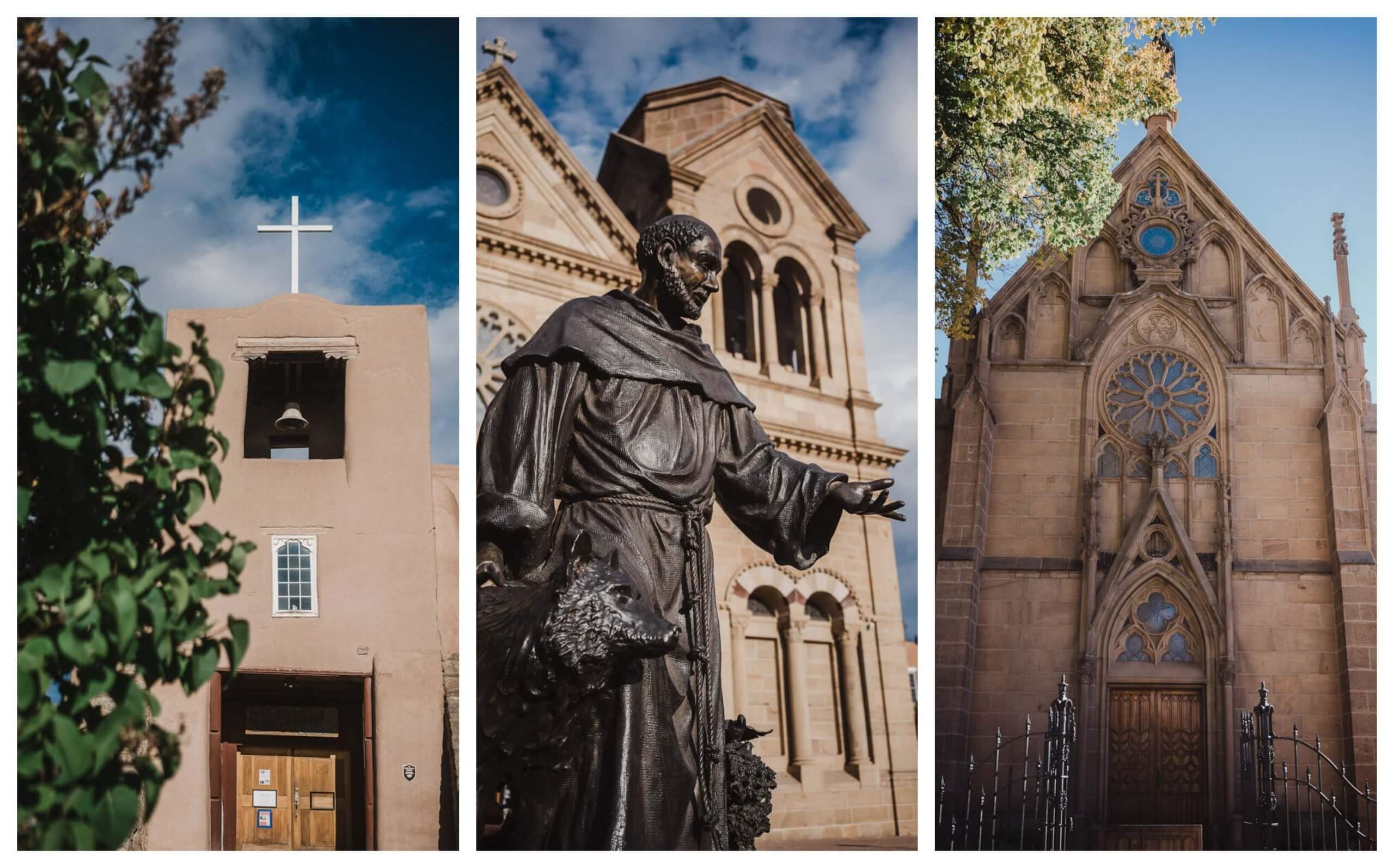 VISIT THE SANTA FE FARMERS MARKET AT THE RAILYARD
If you're visiting Santa Fe over the weekend, then skip lunch at the plaza and head to the Railyard to experience a vibrant farmers market (Saturdays from 8AM-1PM year round and Tuesdays 8AM-1PM, May-November) or the Railyard Artisan Market on Sundays (10AM-3PM) where dozens of artists exhibit their art in booths in the farmers market pavilion. You can always have lunch at Second Street Brewery and taste local craft beer on the tap along with their famous green chili cheeseburger (listed as "original alien burger" on the menu).
MARVEL AT THE ARTWORK IN THE GALLERIES
With over 220 galleries vying for your attention, it can seem pretty daunting as to which one to have a dekko during your one day in Santa Fe visit. Luckily, I have snooped around quite a bit and am here to help you solve this dilemma. Most art galleries are in Santa Fe Plaza or along the artsy Canyon Road. Walking along Canyon road can take up an entire afternoon, so I suggest doing so only if you're genuinely interested in a particular gallery or are staying for longer in Santa Fe.
I recommend visiting Manitou Galleries and Sorrel Sky Gallery on the Plaza for their art, Native American pottery and jewelry and sculptures (Sorrel Sky has some lifelike black and white David Yarrow photographs of the wild west). Shiprock Gallery is another gallery worth stopping by to admire their vast collection of Navajo woven textiles.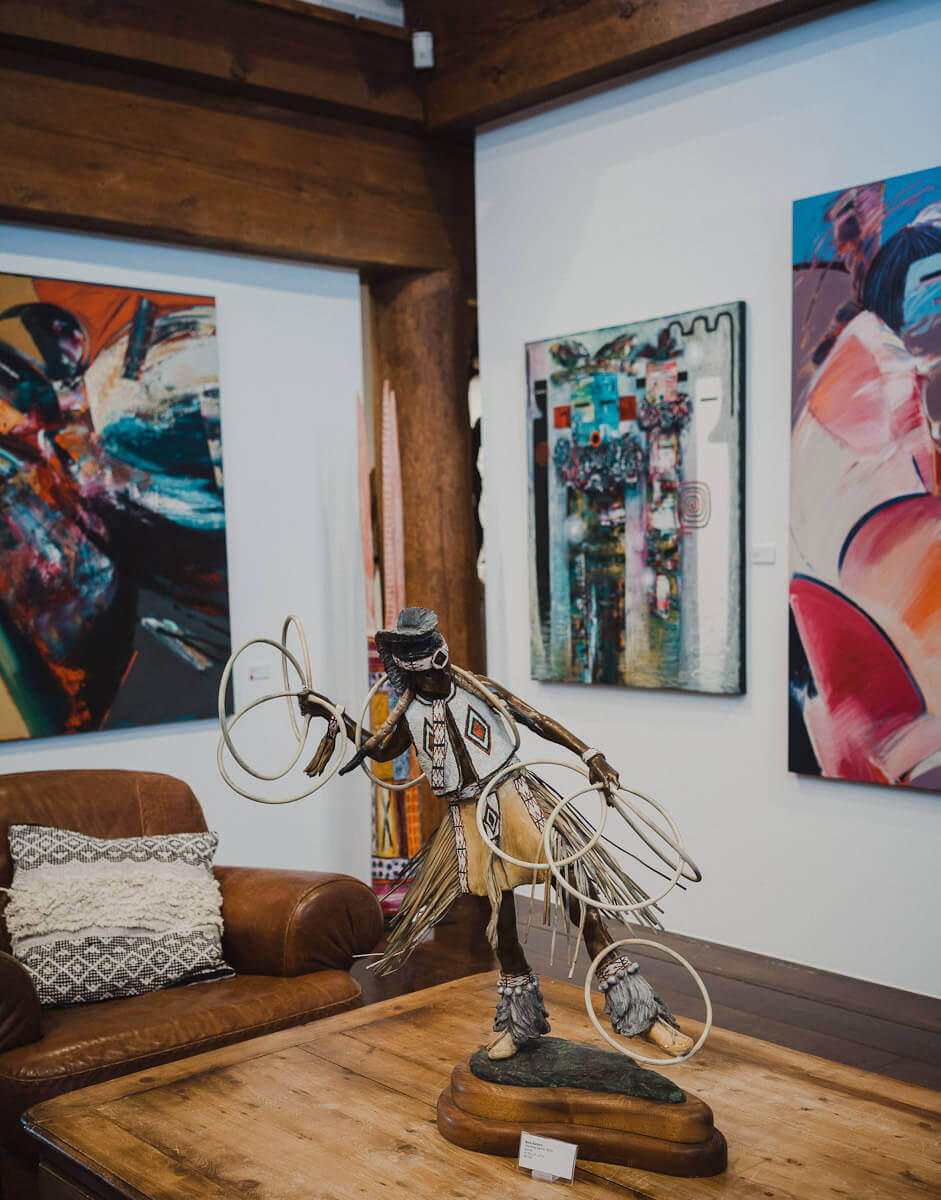 INDULGE IN SOME SHOPPING AT SANTA FE PLAZA
You cannot (or should not) leave Santa Fe without at least a souvenir or two. Galleries can be terribly cost prohibitive for shopping unless you have $$$ to spare and many souvenir shops are just jammed with the usual pottery, jewelry and textiles that can leave you feeling overwhelmed. I got some solid recommendations from Daniel where I went for shopping and loved everything that I purchased (small pottery items, wooden tchotchkes, chocolates and ceramics)
Some of the places where I shopped from are: the Detours gift shop inside the La Fonda Plaza, The Rainbow Man (doubles up as a repository of rare Edward Curtis photographs of Native American life in Santa Fe), Chocolate + Cashmere (get their truffles) and El Nicho Folk Art gift shop.
If you want to directly put money in the pockets of Native American artists and craftsmen, then head onto the Portal of the Palace of the Governors that runs along one end of the plaza right next to the history museum. The portal is a shaded portico where Native American artists showcase their wares (authentic turquoise jewelry, art, pottery etc) every day. Grab some cash and buy these souvenirs to take home.
Kakawa is Santa Fe's most famous chocolate shop serving chocolate elixirs (drinks), bars, barks and truffles. Their nearest location is on Paseo de Peralta Avenue which is about 0.6 miles away from the Plaza. If you have time, do pay a visit for a red chili chocolate drink and buy their 80% dark chocolate chili truffles. Their chocolate bars are also sold at Detours in case you cannot go all the way to their store.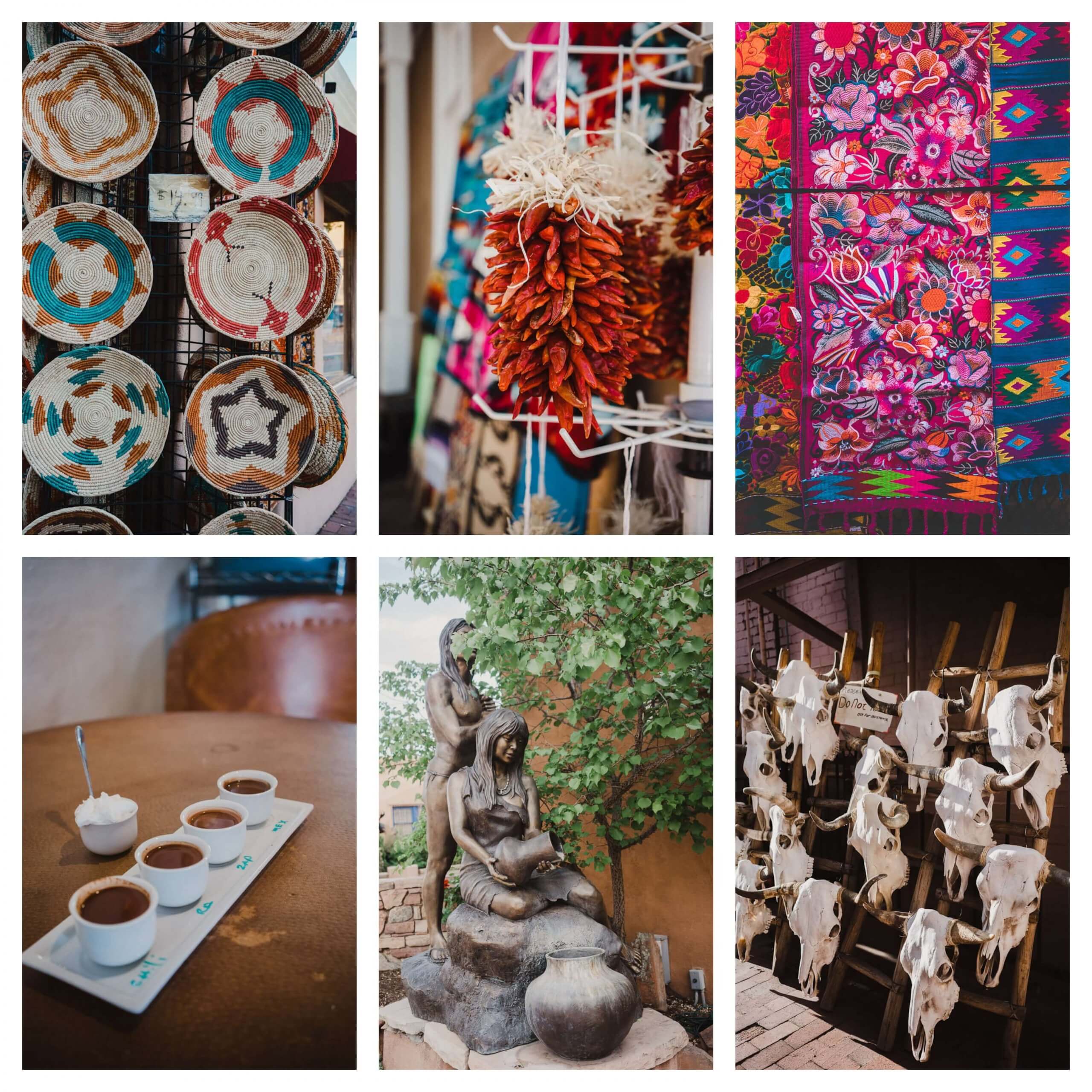 GO FOR PRE-DINNER DRINKS AT THE BELL TOWER BAR
Unwind after a busy one day in Santa Fe with pre dinner drinks and maybe some small bites at the Bell Tower Bar, which is the rooftop bar in La Fonda (and you don't have to stay at the hotel to access the bar on the 5th floor). Drinks maybe pricy but the ambiance and views are top notch. Come around sunset to see pink skies unfold before your eyes as you sip on your drink.
DINE IN STYLE AT ONE OF THE BEST SANTA FE RESTAURANTS
Santa Fe is no San Francisco, Los Angeles or New York City when it comes to fancy dining or diversity, but there are at least two establishments that everyone swears by when it comes to having a good time and a memorable feast. I am talking about Geronimo on Canyon Road or Saźon on the Plaza, both of which epitomize fine dining in the city and require advance reservations.
Both restaurants incorporate New Mexico flavors in their food and have an extensive wine list to choose from. I particularly enjoyed the "opening dish" of my dinner at Sazon which was a complimentary tasting of a trio of moles, i.e. Oaxacan sauces that reminded me of my good times in Oaxaca city.
EXPERIENCE A NOCTURNAL ADVENTURE AT MEOW WOLF
This is completely optional (I never really enjoyed it during my visit because I was too sensorily overwhelmed), but if you're looking for an evening activity either pre or post dinner, then get tickets to Meow Wolf Santa Fe, a 70+ room of immersive art experience labeled as "House of Eternal Return" which is a mystery waiting to be solved through various portals.
Psychedelic colors, sounds, effects and installations will greet you at every turn which are funky and playful. I kind of could not figure out what was happening and lost my way through the installations, but I recommend it nevertheless since it is a very unique experience and it has rave reviews from visitors.
This brings me to the end of my one day in Santa Fe guide. I have visited Santa Fe three times and am already planning my fourth visit as I type because I am enthralled by all that it has to offer, which is a far cry from San Francisco or any other modern US city. Seeing Santa Fe in one day is a daunting task but I hope this guide has given you plenty of inspiration on how to make the most of your 1 day Santa Fe itinerary. Thanks a lot for stopping by and safe travels!

LIKE THIS POST? PIN IT FOR LATER

«