Last Updated on July 17, 2022 by Paroma
Downtown Santa Fe is the beating heart of New Mexico's capital city and is commonly known as the Santa Fe Plaza. In this post, I am going to lay down everything you need to know to visit and explore Santa Fe downtown which includes top attractions, the must do tours, where to eat and of course where to stay for a fun filled experience!
Disclaimer: This post may contain some affiliate links. Clicking on them may earn me a small commission at no extra cost to you for the product. Thank you for supporting free content on this site!
BRIEF HISTORY OF DOWNTOWN SANTA FE
The city of Santa Fe is anchored by its plaza, the square shaped central place of gathering which is a common feature of Spanish-American cities. The city was established as the capital of "Nuevo Mexico" by Spanish conquerors in 1610 and grew radially from the plaza which at the time of inception in 1821 had a military outpost, a church and a legislative center, aka the Palace of the Governors which is the oldest capitol building of USA (it pre-dates the plaza and was found in 1610) and survives to this day.
Technically, this is downtown Santa Fe where all the major businesses, shops, galleries, hotels, churches, museums and restaurants are located. With its distinct Pueblo revival style architecture (also known as Adobe or Santa Fe style) intermixed with newer territorial style buildings and splotches of dried red chili bunches adorning store fronts, this downtown is unlike any other that you'll ever visit!
The plaza is square shaped with Palace Ave, San Francisco Street, Lincoln Avenue and Old Santa Fe trail (a major artery of commerce when Santa Fe was annexed to the United States) forming its borders. The plaza itself is a patch of green where you have daily public events such as music and dance and is a great place to just sit, relax and do some people watching.
There is a ton of things to do in downtown Santa Fe (i.e. the plaza) and if you have only one day in Santa Fe, I recommend sticking to this area and enjoying its many attractions. The plaza is immensely walkable and there is no need to drive from one point to another to access the main sites of interest.
Having visited Santa Fe three times, I am here to tell you all about the best things to do in downtown Santa Fe which includes hidden attractions, less familiar gems, photography sites, insider tips and of course where to shop, eat and stay. I have provided a handy Google map at the end of this list highlighting the major plaza attractions mentioned in the post. I hope you enjoy reading this Santa Fe downtown plaza guide and will bookmark it for your next visit.
SANTA FE DOWNTOWN PLAZA FAQs
HOW TO GET TO SANTA FE DOWNTOWN
Santa Fe has a tiny regional airport that has limited flights coming in from Denver, Dallas and Phoenix. The airport is about 20 minutes drive or 12 miles from the city center/downtown Santa Fe which is commonly referred to as Santa Fe Plaza. If you're not flying in from one of these three cities or are looking for more options, then your best bet is to fly into Albuquerque International Airport (ABQ) which is 66 miles south of the plaza. If you're not driving, then pre-book a shuttle (I recommend Groome Transportation (formerly known as Sandia Shuttle) to take you to the plaza
IS DOWNTOWN SANTA FE WALKABLE?
Yes, it is extremely walkable. Just wear comfortable shoes, a hat and/or sunglasses and carry plenty of water. Santa Fe is about 7199 ft above the sea level and it takes some time for the body to adjust to the altitude and low humidity.
HOW MANY DAYS DO YOU NEED TO EXPLORE THE PLAZA?
If you can spend a good two days in Santa Fe, you will be able to see almost all of the major attractions in the plaza. I honestly recommend three days to explore the plaza and beyond, such as the New Mexico Capitol Building, Museum Hill, Santa Fe Railyard and Canyon Road art galleries which are not in downtown Santa Fe. If you're pressed for time, read my one day in Santa Fe guide to see most of the plaza attractions.
IS THERE AN OLD TOWN SANTA FE?
No, the Santa Fe Plaza is basically the center of business and gathering in the city. There is no separate old town that you will find in other cities like San Diego, California.
WHERE TO STAY IN DOWNTOWN SANTA FE
Santa Fe Plaza boasts of some of the most beautiful hotels in the country, which provide many amenities including their very own restaurants, spa massages and wine bars and lounges. Staying at the plaza is the definitely super convenient in terms of sightseeing and I highly recommend you do so, despite the prices being a bit steeper than what you'd get if you stayed further away.
I stayed at Hotel St. Francis which is right on the plaza on Don Gaspar Avenue, aka an unbeatable location. This is a dog friendly hotel. The rooms are on the smaller side with no kitchenette. And, although self parking may be subject to surcharge (you are better off parking on the plaza in less busier streets), the hotel has a fantastic restaurant (Market Steer Steakhouse) , Santa Fe's best bar (Secreto), massage/spa services and Gruet Tasting room showcasing Santa Fe's wines. The lobby itself is a work of art with picture perfect gallery wall, statues and decor.
Besides Hotel St. Francis, the other hotels that I highly recommend for their amenities are: the historic hotel La Fonda on the plaza celebrating its centennial year in 2022 and Inn and Spa at Loretto. Both are on the plaza, are built in the Pueblo revival style and are simply a stone's throw from all the Plaza attractions. The Inn of Five Graces, Drury Plaza Hotel (they have an exquisite public art collection) and Rosewood Inn of the Anasazi are three other excellent heritage hotels to stay in.
BEST THINGS TO DO IN SANTA FE DOWNTOWN (SANTA FE PLAZA)
Santa Fe Plaza is choc-filled with many attractions-museums, churches, art galleries, stores and lots of restaurants. It can get pretty overwhelming to see the everything if you are a first time visitor. Sure you can wander around and discover things on your own (which in itself is exciting), but you will get to uncover a lot of hidden gems, fantastic photo spots and get a much better idea of which stores to visit if you follow my guide.
In this guide, I am going to spill all the must dos, lesser known attractions and some very fun tours that you can go on in the Plaza to enrich your travel experience. Although this post is very detailed, please customize your itinerary based on your preference and skip the things that do not interest you that much.
MUSEUMS IN DOWNTOWN SANTA FE
Downtown Santa Fe has several museums and all of them are fantastic, showcasing the city's arts, artists and history. Here are some of my favorite places to check out:
1) NEW MEXICO MUSEUM OF ART
If you love art, murals, frescoes depicting the beauty of American Southwest and New Mexico in particular, head straight to the New Mexico Museum of Art which boasts of one of the finest art collections in USA, west of the Mississippi. This Pueblo revival style building is home to two stories of permanent and rotating art and sculpture collections by artists who either call New Mexico home or visit often to draw inspiration as well as a stunning courtyard and a sculpture garden.
The courtyard consists of 6 iconic frescoes by celebrated artist Will Shuster depicting Pueblo Native American life and is the first place you step into after getting your tickets. In addition, the museum also conducts its own walking art tour every Friday. Here is the ticketing information and hours.
2) GEORGIA O'KEEFFE MUSEUM
This is undoubtedly the star attraction of downtown Santa Fe and possibly the most popular museum in the city. The museum is home to the rotating exhibits of the life and works of Georgia O'Keeffe, one of the most celebrated 20th century American artists who moved permanently to Northern New Mexico in 1949 and stayed here until her demise. Entrance to the museum is by prior reservation and tickets can be found here.
The O'Keeffe museum has the painters art collections from different phases in her life (Texas, New York, New Mexico) as well as the stunning photographs of her and her homes in Ghost Ranch and Abiquiu (easy day trips from Santa Fe) taken by famous photographers (such as Tom Webb) who would trek to New Mexico to shoot their muse. The museum also sells tickets (March-November) of her home and studio tour in Abiquiu and having been on that tour, all I can say is that snag a ticket if you can for one of the most memorable experiences of your life.
3) NEW MEXICO HISTORY MUSEUM AND PALACE OF THE GOVERNORS
The Palace of The Governors is one of the most defining buildings on Santa Fe Plaza and the oldest continuously used public service buildings in the nation since it was built in 1610. This one storey adobe structure is designated as a National Historic landmark and is often referred to as the oldest "Capitol building" of USA. The Palace of the Governors is now part of the New Mexico History Museum which showcases three levels of artifacts, records and exhibits centered around New Mexico's history as well as entrance to the plaza.
The Plaza has a shaded portico or portal which serves as the marketplace for Native American artists who sit here displaying their art, pottery and jewelry for sale. I strongly urge you to get some cash and buy directly from these artists to support them if you're in the mood for buying authentic Native American art in Santa Fe.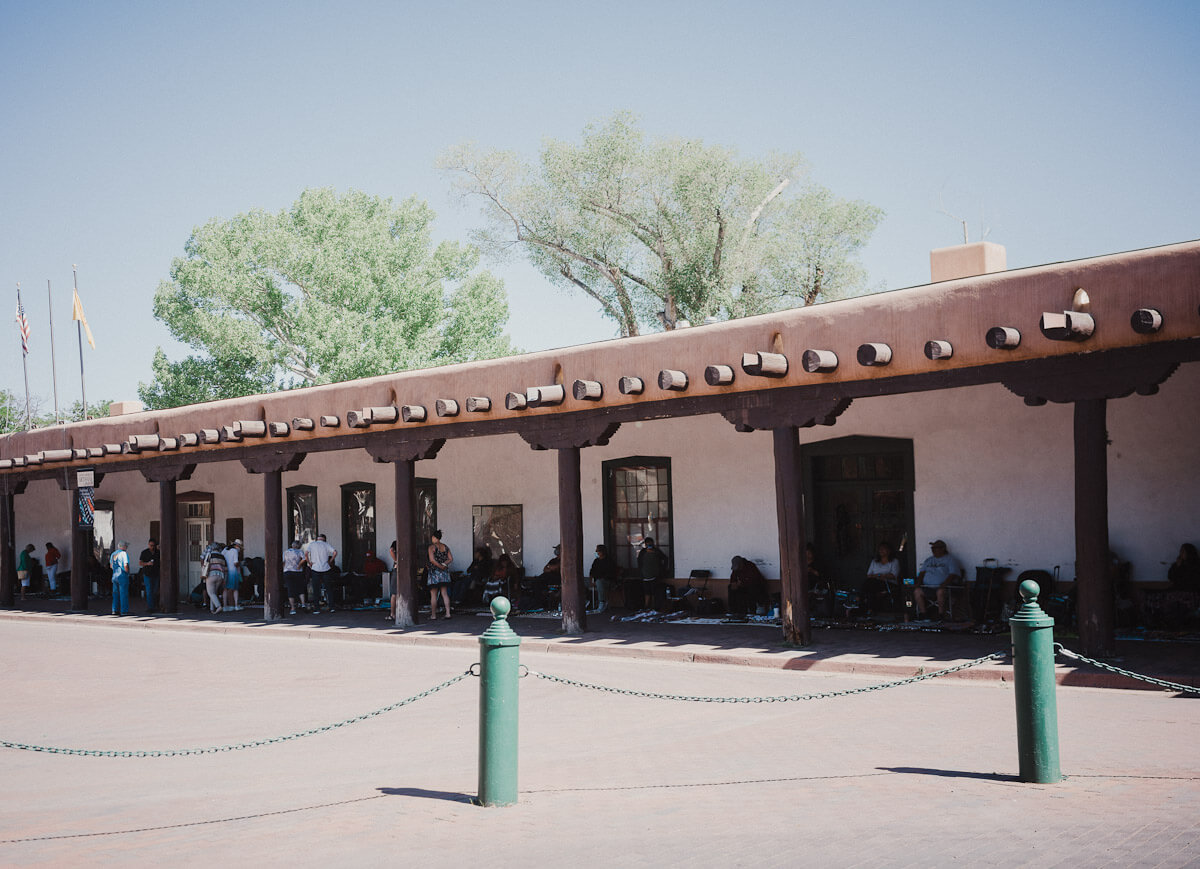 4) OLDEST HOUSE MUSEUM
This free museum (with a small suggested donation) is located inside what is advertised as the "oldest house in USA" that is right next to the San Miguel Chapel (which is also labeled as the oldest church in USA). The museum is super tiny with literally two rooms and a small gift shop (plus there are restrooms). It is definitely worth a quick visit to see how life was like in the Spanish Colonial times.
CHURCHES ON SANTA FE PLAZA
Santa Fe Plaza is home to several churches, both grandiose and simplistic. These are the three that are definitely worth visiting:
5) SAN MIGUEL CHAPEL
The San Miguel Chapel is a distinct Adobe style Spanish Church on the Old Santa Fe Trail that reminded me of those that I had seen on my Santa Fe to Taos road trip. Built somewhere between 1610 and 1626 and partially demolished in the Pueblo revolt of 1680, the church was again rebuilt in 1710 after the Spanish settlers returned to Santa Fe in 1693. Considered the oldest church structure in USA, this church's foundations date to pre-Columbian times.
The chapel is open for limited visiting hours (1-3 PM most days except Sunday-3-5 PM and Saturday: closed). If you are there during these times, do enter the chapel which has a minimalist interior decor. There is a simple all-adobe altar arrangement with decorative painting (that is seen in many adobe churches in Santa Fe) and a two-tiered niche with the statue of Archangel Michael above, and a tabernacle below.
6) CATHEDRAL BASILICA OF ST. FRANCIS OF ASSISI
This ornate Roman Cathedral is dedicated to the Italian Saint, i.e. St. Francis of Assisi who is also the patron saint of Santa Fe. The cathedral was built on the site of an original Native American built adobe church in 1630 which was destroyed in 1680 due to the revolt and again rebuilt as an Adobe church in 1714, part of which still remains and is home to "La Conquistadora". This is the oldest statue of Madonna (Virgin Mary) in the USA who was brought from Spain in 1625 by the Spanish conquerors.
In 1850, Santa Fe received its first Bishop, Father John Baptiste Lamy hailing from France. He found the 1714 old adobe church as insufficiently grand to serve as the seat for the Archdiocese and thus ordered a new Romanesque to be built by French architects and Italian stonemasons. The result is this stunning cathedral with an interior as grand as its exterior.
The Cathedral is open to the public and besides the Sunday Mass, they also have mid week free concerts. If you ever get a chance to go to a concert in the Basilica, don't miss it!
7) LORETTO CONVENT
This gothic-style chapel was modeled after Archbishop Lemy's favorite Sainte Chapelle in Paris and was built by the same French architects and builders as the Cathedral Basilica of St. Francis of Assisi, under the supervision of the Sisters of Loretto in 1873. The chapel is famous for its "miraculous stairs" which was built by a mystery carpenter. The spiral staircase is built of wood that is not native to the region and held by simple wooden pegs and not nails.
The carpenter disappeared after the job without taking any payment and is believed to be Saint Joseph, the patron saint of Carpenters who appeared to help the sisters after they prayed to him continuously for 9 days. It does not matter if you believe in this backstory, what does matter is spending $5 (if you want to) to go see the stairs-this spiral staircase is pretty grand and an architectural marvel.
SANTA FE PLAZA TOURS
The best way to experience downtown Santa Fe is by going on one of the many tours-be it a walking or an art tour, where you will get to discover hidden gems, learn more about the Plaza's history and architecture and develop a new found appreciation for the heart of the oldest capital city in the country. I have been on several of these tours in my last three visits, and here are my recommendations:
8) SANTA FE PLAZA WALKING TOUR
Trust me, this will be the best $ that you'll ever spend if you're looking for the perfect walking tour of Santa Fe Plaza to learn more about its history, fascinating stories of its past and the best local businesses.
Led by Daniel Gibson (born and raised in New Mexico), this Historic Architecture & Interiors Walking + Wine Tasting Tour will take you on a three hour walking tour of Santa Fe Plaza through many interesting stops (and inside some of the buildings as well) with never a dull moment in sight.
You will get to know about Santa Fe's colorful past, the history and architecture of the historic landmarks and also get some of the best insider tips and recommendations on where to eat and shop. Don't miss this even if you're in Santa Fe for a day! I also recommend going for the wine tasting (which is complimentary) but that is optional and you can skip it if you want.
9) FOOD TOUR
Santa Fe is the land of chilis and has a distinct take on Southwest cuisine, with its green and red chili sauces, stews and moles. If you're a foodie, I recommend going on a food tour to explore some of the best restaurants and cafes on the plaza with an authentic food tour.
Thanks to Food Tour New Mexico, you can choose from three mouthwatering options of lunch or dinner Santa Fe food tours where they take you to different eateries around the plaza to sample their offerings. If you're visiting Santa Fe for a few days, I recommend going on the tour first to find out their take on the best places to dine in the city so that you don't have to do any of that homework.
10) LA FONDA ON THE PLAZA TOUR
La Fonda is a heritage hotel on the plaza celebrating its 100 years in 2022. Inside this Pueblo revival style hotel is a magical lobby filled with businesses, a charming courtyard cafe (La Plazuela) and lots of art and exhibits. The plaza offers guided tours weekly to see this art collection and learn more about the history of the hotel. You can book the tour with the concierge and details can be found here.
11) DRURY PLAZA HOTEL TOUR
Drury Plaza Hotel is right near the cathedral park in Santa Fe (a small park next to the Cathedral Basilica of St. Francis of Assisi) and is home to a treasure trove of art exhibited on all of its five floors. This art has been curated by Palace Avenue Arts from diverse art markets and artists.
I actually met one of them, i.e. the owner of The Wild Reclaimed, who was modeling for a pair of shoes while holding her artwork in the park. She collects wildebeest, longhorn, ram, deer, bison skulls and jazzes them up with gemstones, beads, tiles etc. If you're interested in seeing her art and that of many others, contact the Palace Avenue Arts for a guided tour of the Drury Plaza Hotel.
12) WALKING ART TOUR
Finally, the New Mexico Museum of Art organizes its very own walking art tour every Friday at 10 AM from May-November and also on Mondays from June-October. It is a walking tour of downtown Santa Fe to showcase its art and architecture by a museum docent. Tickets are $20 per adult. You can find all the information here.
13) LA FONDA ON THE PLAZA
This is kind of a downtown Santa Fe hidden gem, one which most tourists have no inkling of and it is this: the lobby of La Fonda hotel is like a museum where you can spend quite some time wandering around and checking out a lot of fantastic art as well as other exhibits and books neatly displayed in glass cases, detailing the history of the hotel as well as Santa Fe.
The lobby of the hotel is home to some of the most beautiful paintings and art collection by New Mexico artists and the courtyard café La Plazuela is surrounded by stained glass created by Ernest Martinez, who is often referred to as the resident artist of La Fonda. You can read more about the artwork collection of La Fonda here.
In the 1920s, the interior of the hotel was designed by world famous architect and designer Mary Jane Elizabeth Colter. She adorned La Fonda with unique décor inspired by Spanish-Mexican Inns, with individually painted furniture, hand-painted tiles, wrought-iron banisters and chandeliers. Local artists were commissioned to create artwork for the hotel's public spaces, a practice that continues to this day.
Besides the courtyard café, the lobby is also home to a very chic gift shop named Detours (which you should check out) and the French Pastry Shop and Restaurant, which serves delightful crepes, French desserts and coffee. Finally, the lobby also has public restrooms, which is hard to find on the plaza (you are welcome in advance).
WINE TASTING AND DRINKS IN DOWNTOWN SANTA FE
Did you know that Santa Fe is the oldest wine growing region in USA, and not California and dates back to 1629? Thanks to the Franciscan monks accompanying Spanish conquerors and their desire for Sacramental wine, New Mexico got introduced to wine grapes way earlier than any other part of the New World.
As someone living in San Francisco who has been to most of the wine regions in California, I could not pass up the chance to do some more wine tasting on my third visit to Santa Fe (we had stopped by Vivac winery on our way to Taos the last time). So if you're looking to explore some local wines or find a good bar to relax and enjoy some sips, here is what I suggest:
14) GRUET WINERY
The Gruets hailing from Bethon, France, planted their roots in New Mexico after a trip to the southwest in 1983 and have since grown to be the third largest exporters of sparkling wine in the nation. Currently, they source their grapes from New Mexico, Washington and California but they are known for their white wines (vintage and non vintage sparkling wines). Their vineyards in state are located south of Albuquerque where they grow Chardonnay and Pinot Noir grapes.
Gruet tasting room in Santa Fe is located inside Hotel St. Francis and is bright and airy with a small, beautiful courtyard. My tasting was complimentary because of the walking tour that I mentioned before and I highly enjoyed their sparking wine and rose. They have several options when it comes to wine tasting and I recommend opting for the flight that features their sparkling white wines (Brut, Brut Rose, Blanc de Blancs and Blanc Noir). Open from 11AM-9PM Thu-Sat and 11-7PM Sun-Wed, this is a great place to relax and enjoy some New Mexico wine with exceptional service.
15) BELL TOWER BAR
Looking for pre-dinner drinks or cocktails and light bites? Then head straight to the La Fonda and ride the elevator to the 5th floor to the Bell Tower Bar, where you get good food, innovative cocktails and one of the best views in Santa Fe from the rooftop bar ! Highly recommend enjoying a sunset here with drinks (they are a bit pricey but the view is worth it).
16) COURTYARD DINING ON THE PLAZA
Santa Fe has several charming courtyards tucked away in different nooks of downtown and you'll be remiss if you didn't enjoy at least one lunch or dinner (weather permitting, which is basically 330 days a year). Starting from the colorful stained glass surrounded La Plazuela inside the La Fonda hotel lobby to The Shed and La Casa Sena, you have at least three solid choices when it comes to patio dining in Santa Fe Plaza.
La Plazuela and The Shed specialize in New Mexico specialties, and the latter is especially known for its smoky, spicy red chili sauce (you can get it as a side to your order like I did). La Casa Sena is known for its Mediterranean cuisine and tasty cocktails. They also have a wine shop adjacent to the restaurant where you can pick up some New Mexico wine bottles as gifts.
17) RESTAURANTS AND CAFES IN DOWNTOWN SANTA FE
Eating your heart out is one of the best things to do in downtown Santa Fe, but you need to sniff out the touristy restaurants from local gems and this is where I step in to help. From fancy restaurants to blink-and-you-might-miss small cafes, Santa Fe Plaza has something for all budgets.
Dining in Santa Fe won't break your bank (unlike in San Francisco Bay Area) but don't expect a ton of variety here. The primary cuisine here is New Mexican, i.e. a mish mash of Mexican and Native American food with a lots of green and red chili sauces and stews (think tacos, pozoles, enchiladas etc.).
New Mexico is famous for its green chili cheeseburger and if you love a good meaty burger packed with flavors, do not give this one a miss. Here is where I ate during my three visits on the Plaza (by the way, there are other places outside of downtown too and you can read about them at the very end of this post):
a) Sazon: This 2022 James Beard nominee is the place to go for an indulgent dinner in downtown Santa Fe where chef Fernando Olea from Mexico City has been wooing patrons with his innovative take on traditional and contemporary Mexican cuisine. You will be welcomed with a mole tasting trio and you can either go with a meal centered around a mole that you like or choose a la carte from the menu.
They have a huge wine and cocktail list that you can enjoy sitting in the colorful digs, surrounded by giant paintings of Frida Kahlo. Oh, the chef is super friendly and does the rounds as well. You must make an advanced reservation to dine here.
b) Cafe Pasqual's: Named after the patron saint of the kitchen, this tiny place right across from Hotel St. Francis has a colorful, eclectic interior with ristras hanging from the ceiling and delightful murals as well as good coffee and lots of good food. They are super popular for breakfast but open for dinner too. Come in early (before 9 AM) to snag a seat in this tiny café.
c) La Plazuela and The Shed: I had breakfast and lunch at these two places and loved the food and lively ambiance. If you're at the Shed, definitely go for the tacos and ask for a side of the red chili sauce
d) Market Steer Steakhouse: Located inside Hotel St. Francis, this airy restaurant with tall ceiling and glass windows has a lot more to offer than just steaks. Try their spicy molluscs (New Mexico style) and scallops-you won't be disappointed. The cocktails are killer too!
18) OLIVE OIL TASTING
Stop by Santa Fe Olive Oil and Balsamic Co. for a tasting of their speciality olive oil (such as New Mexico Green Chili infused olive oil) and balsamic vinegars. The shop is located right on the plaza and is owned by Michael Aranda, a Santa Fe native. They specialize in New Mexico specialities and several other kinds of extra virgin olive oils and vinegars.
19) SHOPPING IN SANTA FE PLAZA
Santa Fe is a shoppers paradise if jaw dropping southwestern and Native American handloom, textiles, art, jewelry and pottery is what you've been looking for to spice up your home or buy as gifts and souvenirs. The plaza is home to a mind blowing number of gift and souvenir shops as well as art galleries which are either too overwhelming in terms of the sheer quantity of things (don't be surprised to find stores literally bursting with goods of all kind) or the price.
What you need are stores that are authentic, representing local artists and where you can look around and shop in a relaxed manner without having a million things competing for your attention. I recommend having some cash on you to shop directly from the Native American artists showcasing their wares on the portal of the Palace of the Governors so that the money goes directly to the artists.
The other authentic places to go shopping in downtown Santa Fe are as follows: Detours gift shop inside the La Fonda Plaza, The Rainbow Man (doubles up as a repository of rare Edward Curtis photographs of Native American life in Santa Fe), Chocolate + Cashmere (get their truffles) and El Nicho Folk Art gift shop. I have personally purchased souvenirs and home decor goods from all these places and love them to bits!
If you want to purchase or even peruse the diversity of Native American pottery, head straight to the Andrea Fisher Fine Pottery Gallery which is a premium ceramics gallery featuring Native American pottery from Southwest USA and representing various artists from over 2 dozen pueblos in New Mexico.
Owing to the fragile and expensive nature of the goods, you can only see them and not touch them. A store staff will help you with the pricing if you're interested. Nevertheless, if you love pottery, this is the place to go for admiring such a diverse, large collection.
20) ART GALLERIES
One of the best things to do in downtown Santa Fe is to tour at least a few of the many art galleries that abound here. Although there are tons to choose from, I recommend visiting Manitou Galleries and Sorrel Sky Gallery on the Plaza for their art, Native American pottery and jewelry and sculptures (Sorrel Sky has some lifelike black and white David Yarrow photographs of the wild west). Shiprock Gallery is another gallery worth stopping by to admire their vast collection of Navajo woven textiles.
THINGS TO DO NEAR DOWNTOWN SANTA FE
There are several attractions in Santa Fe that lie beyond the plaza and I encourage you to check them out if you have time. These are as follows:
Go chocolate elixir tasting at Kakawa, Santa Fe's most famous chocolate store. They have two locations in Santa Fe and the one closest to the Plaza is on Paseo Peralta street
Take a free tour of the massive art collection of contemporary New Mexico artists inside the New Mexico Capitol building
Visit Museum Hill to explore some of the most beautiful art museums of Santa Fe
Take in gorgeous views of the city from the Cross of the Martyrs, which is one of the most beautiful photo spots in Santa Fe
Dine in style at Geronimo, one of the best fine dining restaurants in USA

Visit the art galleries on Canyon road

Check out the weekend farmers market and artisans market at the Santa Fe Railyard
I hope you enjoyed reading this post on some of the best things to do in downtown Santa Fe (Santa Fe Plaza). Santa Fe is a magical city and vibrant city and I hope you will love it as much as I have. Thanks a lot for stopping by and safe travels!

LIKE THIS POST? PIN IT FOR LATER

«