Last Updated on July 25, 2022 by Paroma
Are you looking for some fun and easy day trips from Santa Fe to explore more of New Mexico? Then this is exactly the guide that you should be reading. I have been to Santa Fe multiple times and have explored quite a bit of the beautiful state with Santa Fe road trips, day trips and of course guided tours. Here are 5 fun Santa Fe day trips to explore with all the information (transportation, things to do, see and eat) that you need for a fabulous experience, plus recommendations on Santa Fe tours (for those who do not want to drive).
Disclaimer: This post may contain some affiliate links. Clicking on them may earn me a small commission at no extra cost to you for the product. Thank you for supporting free content on this site!
WHY GO ON DAY TRIPS FROM SANTA FE, NM?
Santa Fe, the capital city of New Mexico, is conveniently located a few hours drive away from some of the most popular landmarks and cities in the state. Although there is a lot to do in Santa Fe (such as exploring its photo worthy spots or the buzzing Santa Fe Plaza), day trips from Santa Fe are the perfect way to enjoy the beauty of New Mexico, be it the rural northern towns or the history of Albuquerque.
In fact, with some planning you can spend one beautiful day in Santa Fe and then spend the next few days on day trips or guided tours to explore more of New Mexico and its unique attractions. I am talking about visiting historic landmarks such as the Taos Pueblo or taking a tour of the home and studio of celebrated artist Georgia O'keeffe or exploring the museums or going on a Breaking Bad tour of Albuquerque, all within a matter of hours. Trust me, if you visit Santa Fe, you should experience a bit more of New Mexico beyond the confines of the Santa Fe Plaza.
I have been to Santa Fe several times in the past few years and with the city as my base, I have seen some other fabulous parts of the state on day trips, road trips (Santa Fe to Taos) and guided tours (if you don't drive like me, this is your best option). In this post, I am here to spill all the details on transportation, logistics, what to do and where to eat on your Santa Fe day trips with five fabulous destinations to choose from.
If that is not all, I have also provided recommendations on guided tours from Santa Fe for those of you who are not planning to drive or will not have a vehicle. Traveling around New Mexico can be challenging without a car but there are plenty of tours that will take you on day trips without you having to worry about travel and sightseeing. So, let's get started!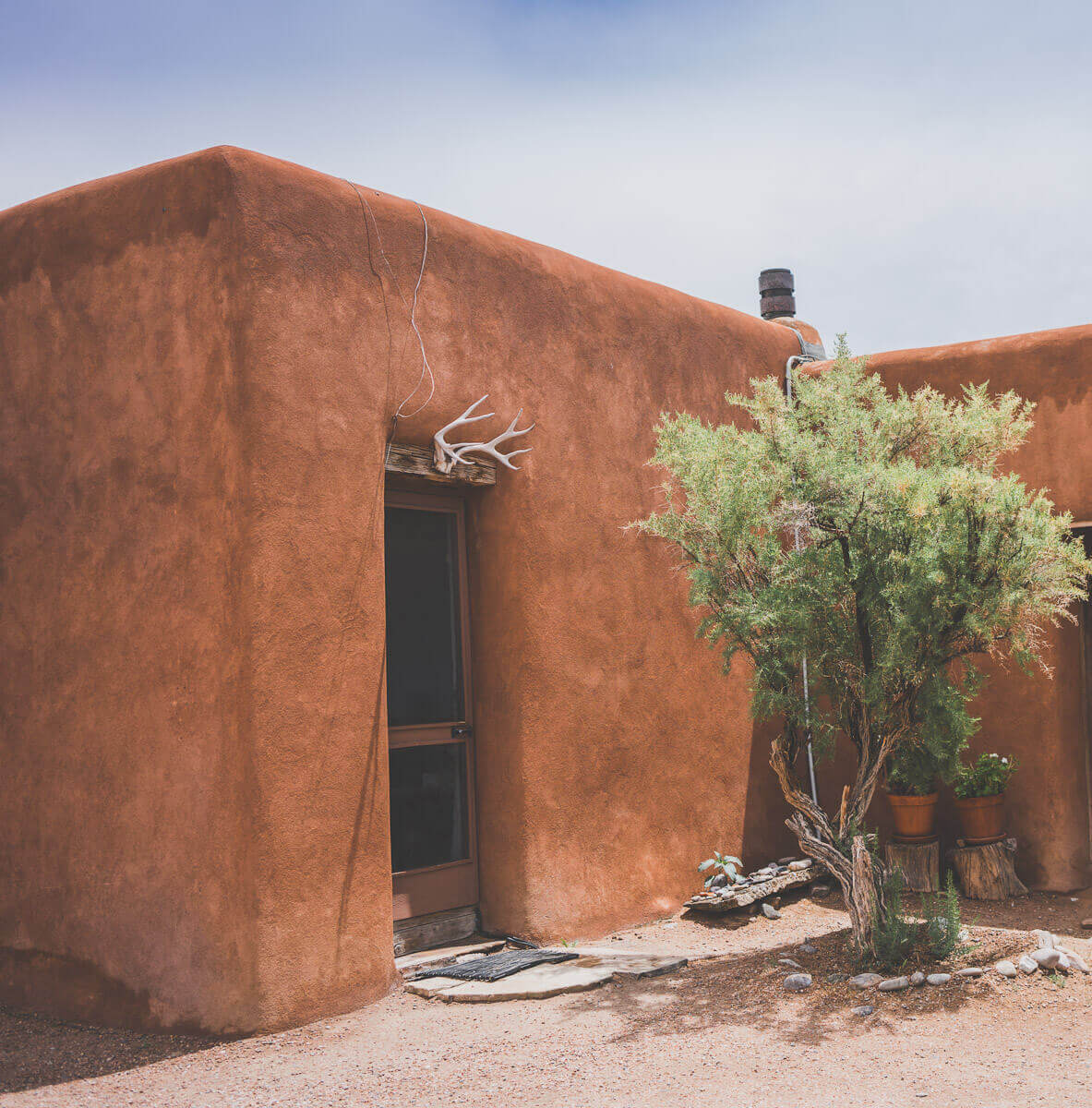 PLANNING FOR SANTA FE DAY TRIPS? HERE IS WHAT YOU NEED TO KNOW
If you've never been to New Mexico before, you definitely need to read this section if you're planning to venture out of Santa Fe. There is a lot of useful information on public transportation (i.e. getting to your destination), especially if you're not planning to drive/cannot drive or won't have a car with you during your trip. Feel free to skip this section if you're a frequent visitor or are planning to rent a car in Santa Fe or at the Albuquerque airport.
DO I NEED A CAR TO GO ON DAY TRIPS FROM SANTA FE?
A car will make your life infinitely easier since it gives you the freedom to explore at your own will and choose whichever destination you want to visit.
Except for the Express Train connecting Albuquerque and Santa Fe, the other day trip destinations mentioned on this list are not well connected to Santa Fe itself. Plus taxi service from Northern New Mexico to Santa Fe is pretty sparse and expensive, so you need to keep that in mind when planning your travel.
The good news is that you can book guided tours from Santa Fe itself that will take you to all or some of these day trip destinations if you are not planning to drive. Yes, these will be expensive but you will get perks of a hasslefree trip, with a hotel pickup and a readymade itinerary by a very knowledgeable guide. My third trip to Santa Fe was a solo one and I don't drive, so I will be telling you exactly which destinations are easily accessed by public transportation and the ones that are not that easy to get to.
WHERE TO RENT A CAR IN NEW MEXICO?
The best place to rent your car is essentially the Albuquerque International Airport (ABQ) where you'll be flying into (Santa Fe has a small airport too, but with limited flight service). Please remember that ABQ airport is pretty dead on a Sunday with public transit booths (basically where you go to book a shuttle or a van to a destination outside of Albuquerque) completely empty with nary a person in sight.
Unless you're renting a car or planning to use Santa Fe as your first stop (plenty of taxis and ride shares from the airport ply between the two cities), I DO NOT RECOMMEND going to far flung places in New Mexico from ABQ airport via public transit. Having been there and done that, I can tell you with certainty that it is a nightmarish experience, not to mention the cost involved.
PUBLIC TRANSIT OPTIONS
New Mexico Department of Transportation runs buses to and from Santa Fe to different parts of the state. For northern New Mexico, the main transportation hub is Española Transit center, from where you need to get either a taxi or a connecting bus service to go even further north, such as to Abiquiu or Ghost Ranch.
Transportation options are aplenty between Santa Fe and Albuquerque. Taxis or rideshare from Santa Fe Plaza will gladly take you to Albuquerque for a hefty price or you can simply book a shuttle or board the Express Train from the Santa Fe Railyard (cheapest option and takes 1.5 hours, same as driving) to get to Albuquerque.
BEST TIME TO GO ON DAY TRIPS IN NEW MEXICO
I am biased towards Fall (October-November) because of the cooler weather and the devastatingly beautiful Fall colors that New Mexico has to offer. Just see the photos of my Santa Fe to Taos road trip guide to be convinced.
ARE DAY TOURS FROM SANTA FE AVAILABLE?
Yes, many tour companies depart from Santa Fe for organized group day trips and also offer private tours from Santa Fe. They provide transportation (pick up and drop off at your hotel) along with meal options if it is a day long affair. Read the very last section in my post for Santa Fe tour recommendations.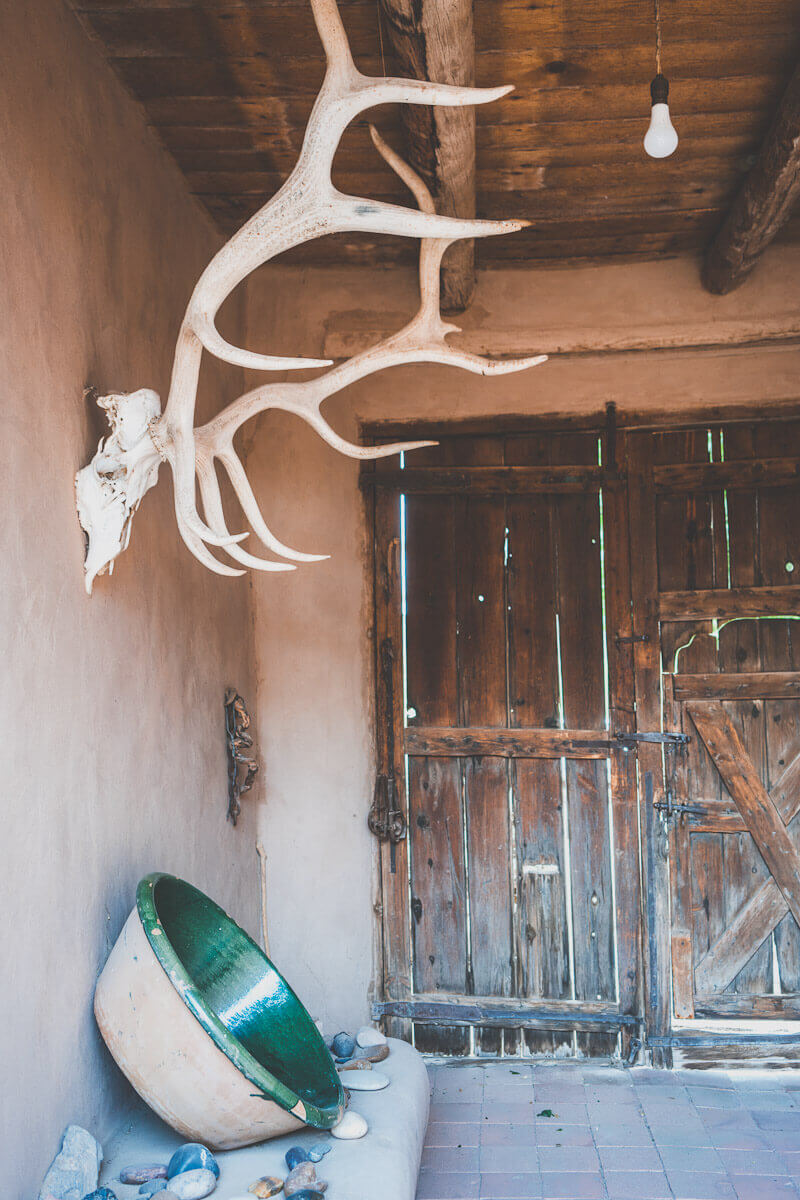 MY FAVORITE DAY TRIPS FROM SANTA FE
Here are my favorite day trips from Santa Fe for getting a taste of the best in history and culture of New Mexico, the most unique and beautiful state in USA. All these day trips are within a 2 hour drive, but the drive itself is so magical that you might want to make a complete road trip out of them on future visits.
ALBUQUERQUE
Distance from Santa Fe: 68 miles (south)
How to get there besides driving: Taxi, Rideshare (Lyft or Uber) or Express Train
Albuquerque is the largest city in New Mexico and a very popular day trip destination from Santa Fe (and also the easiest to get to). I have very fond memories of Albuquerque since this was my very first out of California trip with my husband after we got married in 2011 (in a beautiful, intimate ceremony in San Francisco). We actually flew into Albuquerque, stayed at a charming B&B and explored Santa Fe as a day trip!
Given the public transit options, it is super easy to get to Albuquerque as a day trip from Santa Fe. Compared to Santa Fe where much of the action is centralized around the plaza, Albuquerque is pretty sprawled out. Even then you can simply explore downtown-its museums and restaurants for a fun-filled day trip. My recommendations are:
Please keep in mind that Albuquerque is the hot air ballooning capital of the world and this is a once in a lifetime experience that is not to be missed. However, the balloon rides start at the break of dawn (you have to be onsite by 5AM at least) and so you might not be able to partake of this joyride in the clouds on a regular day trip. If you start off in the wee hours of the morning or so, i.e. leave Santa Fe by 3 AM, you can definitely make it to a spectacular balloon ride over the Rio Grande.
Photo by Kyle Hinkson on Unsplash
CHIMAYO
Distance from Santa Fe: 28 miles (north)
How to get there besides driving: Taxi or Rideshare (Lyft or Uber), NMDOT buses (take the Red Line to Española transit center and then transfer to route 150 bus to Chimayo that runs Mon-Fri and is fare free)
There is more to Chimayo than Santuario de Chimayo, a Catholic Church and National Historic Landmark considered the most important catholic pilgrimage center in USA. We stopped by the church to admire its adobe style architecture (very typical of New Mexico churches) during our road trip from Santa Fe to Taos a few years ago. Besides the church, the other attractions of Chimayo are as follows:
TAOS
Distance from Santa Fe Plaza: 70 miles (north)
How to get there besides driving: Taxi ($$$), 305 Taos Express (fare free service only on Saturdays and Sundays)
Taos is one of the premium skiing destinations in USA and is also home to Taos Pueblo, which is the only living Native American community designated both a World Heritage Site by UNESCO and a National Historic Landmark and one that is continuously inhabited for over a 1000 years. Besides the obvious task of visiting the Pueblo, exploring the Taos plaza, visiting the Taos Art Museum or the Millicent Rogers Museum is a must for art and history lovers.
If you're driving to Taos, take in the views of the Rio Grande Valley from the Rio Grande Gorge Bridge or explore the Enchanted Circle Drive, which is a scenic route looping around Wheeler Peak, the highest mountain in New Mexico. You can also take a guided tour of the Earthship Community right outside of Taos comprising of houses built of natural and recycled materials.
ABIQUIU
Distance from Santa Fe Plaza: 48 miles (north)
How to get there besides driving: Taxi or Rideshare ($$$), Take Bus 200 or NMDOT Red line from Sheridan Avenue Transit Center to Española transit center and then transfer to the 190 Chama line that will drop you right near Abiquiu Inn at the Bodes convenience store.
Important: Although I strongly recommend renting your car and driving to Abiquiu from Santa Fe, it is possible to visit Abiquiu without driving on your own because I have done it myself (I hate driving). I actually spend $$$ on Lyft to take me from ABQ airport to Abiquiu which is about 115 miles north, and finding a rideshare was really difficult (most do not want to go beyond Santa Fe).
For a day trip from Santa Fe to Abiquiu without your personal vehicle, the fastest way is undoubtedly taking a taxi or Lyft/Uber from the Plaza if you can find someone willing to drive you there for money.
Keep in mind that taxi service in Northern New Mexico for you return trip is very sparse-your best bet (and this is 100% tried and tested) is to promptly book the Northern New Mexico Taxi Service. They were a lifesaver for me when I was planning to return to Santa Fe after spending two nights in Abiquiu. They will charge about $150 but that is a small price to pay for a reliable, safe service with extremely courteous drivers, which matters especially if you're a solo female traveler.
The other person to actually offer a fun ride back from Abiquiu to Santa Fe is actually a former California resident named Kevin Spitzer who runs the White Buffalo Taxi Service. You have to book his taxi in advance and it costs about $200 for the ride, but it is no ordinary taxi service. Kevin will keep you entertained with lots of stories and information as he drives you back from Abiquiu to Santa Fe.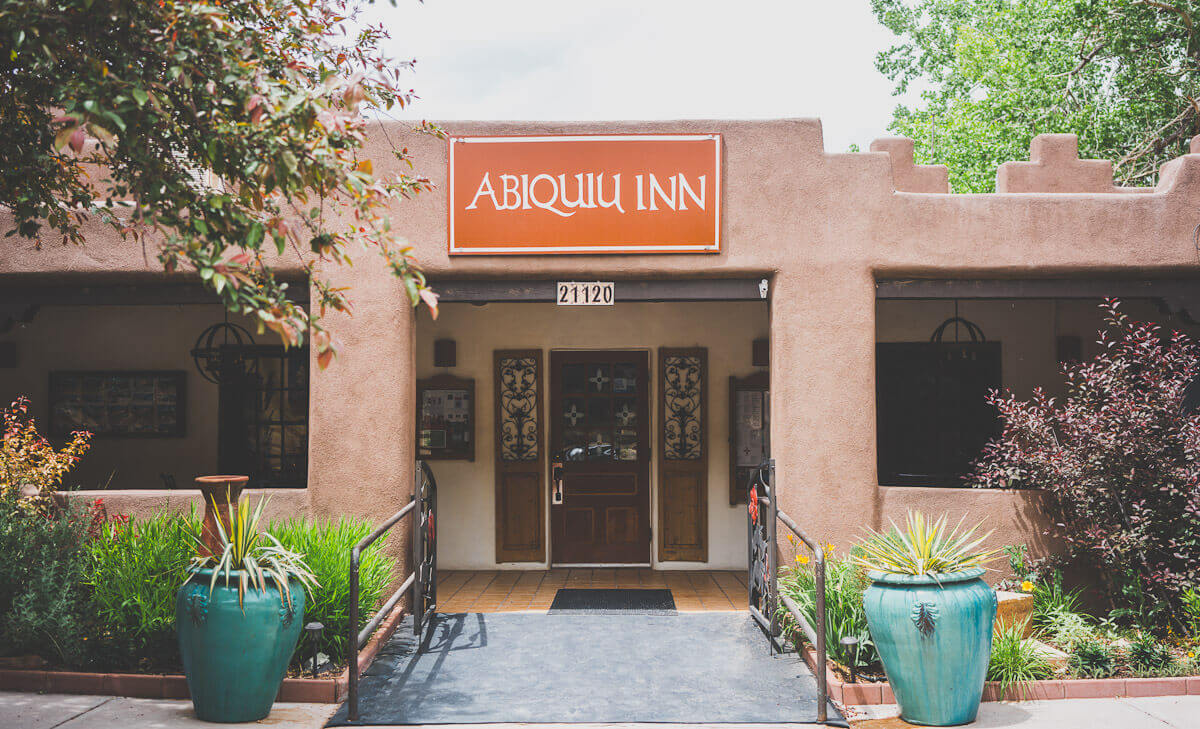 GEORGIA O'KEEFFE HOME AND STUDIO TOUR
So, what is there to do on a day trip from Santa Fe to Abiquiu? The prime attraction of Abiquiu is undoubtedly a tour of Georgia O'Keeffe's home and studio (a National Heritage Landmark) that is maintained by the Georgia O'Keeffe Museum (located both in Santa Fe and in Abiquiu).
Every year, the O'Keeffe museum offers tickets for the home and studio tour from May-November that you need to book online in advance and then get to Abiquiu to the O'Keeffe Welcome Center (next door to Abiquiu Inn) from where your tour will begin.
Please be at the Welcome Center at least 5 minutes before the shuttle departs (I recommend 20 minutes so that you can catch the movie playing on loop about Ms. O'Keeffe's time at the home and studio as narrated by the housekeepers) and carry only a small backpack or messenger bag with you (the Welcome Center has a locker for larger items).
Besides clear water, no other food and drinks are allowed at the welcome center and the home and studio tour. No drones or large professional cameras or tripods are allowed. Please have some cash on you to tip your guide after the tour.
The O'Keeffe Home and Studio is a spread over 5000 square foot surrounded by a lovely rose garden, vegetable and fruit garden and fantastic views of the Chama river valley. This adobe style house was in a decrepit state when Ms. O'Keeffe laid eyes on it in 1945 and decided to renovate it with the help of her friend Maria Chabot who oversaw the reconstruction of the property for 4 years and is credited as the "architect, designer and gardener" of the project.
Once at the property, you will get to pass by the gardens, the famous courtyard with the even more famous black door that the artist was obsessed with, pantry, kitchen, and studio as well as her bedroom. The entire tour takes about an hour or so and is the perfect embodiment of the reclusive artist's life and what motivated her to create such amazing art with rural New Mexico as her sole muse.
Everything is extremely well maintained and pretty much untouched from the time Ms. O'Keeffe left the place, with her decor and style intact. Touring the O'Keeffe Home and Studio was the highlight of my third visit to New Mexico and one that I will cherish forever. The views from the studio and the bedroom are unparalleled and this is what inspired her to manifest New Mexico's beauty on canvas.
If you're a fan of Georgia O'Keeffe (I consider her as one of the best artists of the 20th century), you will love this tour of her home where she spent most of her time creating (art and sculpture well into her 90s) after she moved permanently to New Mexico from NYC in 1949.
Books on Georgia o'Keeffe: Georgia O'Keeffe, Photographer, Georgia O'Keeffe at Home, Georgia O'Keeffe, One Hundred Flowers, Georgia o'Keeffe: Living Modern (my favorite),Georgia O'Keeffe (hardcover), Georgia O'Keeffe: A Life, Georgia O'Keeffe and New Mexico, Georgia o'Keeffe and her houses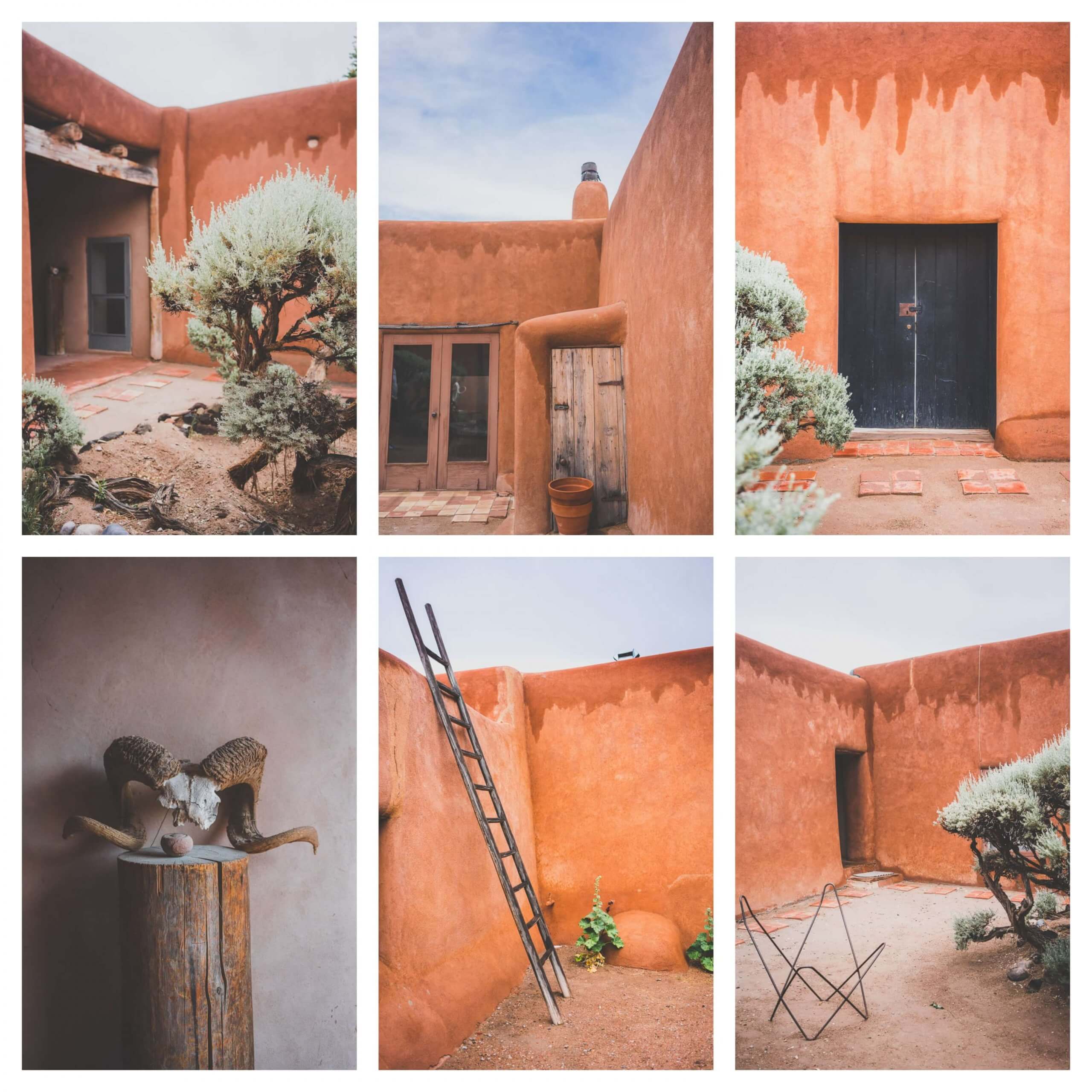 OTHER THING TO DO IN ABIQUIU ON A DAY TRIP FROM SANTA FE
If you're visiting Abiquiu as a day trip from Santa Fe, then stop by the Abiquiu Inn or Cafe Sierra Negra for lunch. If you're not driving, then there is literally nothing else to do except the O'Keeffe home and studio tour because every other activity requires a car. If you have your own car, then you can definitely add on more activities like visiting these unique attractions , Purple Adobe Lavender Farm, the unique Dar al Islam Mosque or going on scenic hikes.
Note: I stayed in Abiquiu Inn for two nights to unwind. If you're planning to explore Abiquiu and Ghost Ranch since there is plenty to do and see in Northern New Mexico, I recommend staying here since they also double up as an all day restaurant. T
he entire sprawling property is dotted with charming adobe casitas and you can book an entire cottage or casita equipped with a full kitchen, living and dining room and a balcony overlooking the property. The interior decor is very quintessential New Mexico and I fell in love with it the moment I stepped inside the room.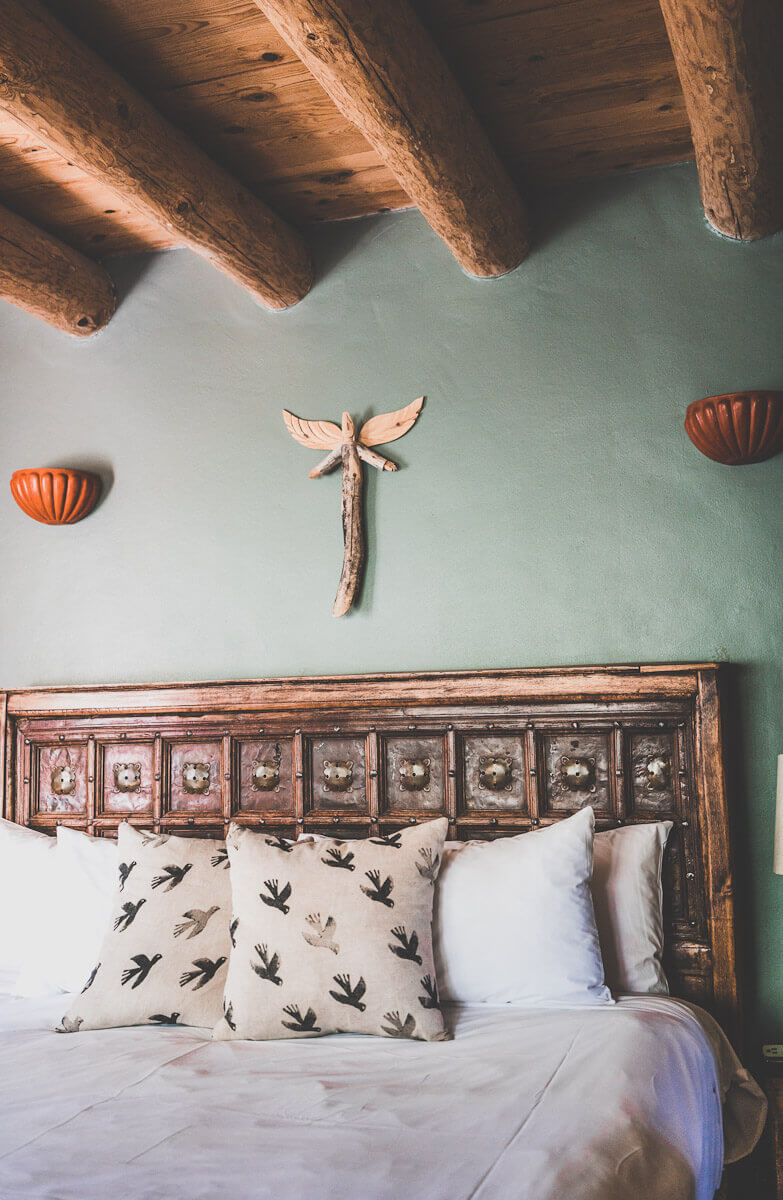 GHOST RANCH
Distance from Santa Fe Plaza: 61 miles (north)
How to get there besides driving: Taxi or Rideshare ($$$), Take Bus 200 or NMDOT Red line from Sheridan Avenue Transit Center to Española transit center and then transfer to the 190 Chama line that will take you to Ghost Ranch.
Note: You could also book White Buffalo or Northern New Mexico Taxi service to and from Santa Fe for a round trip. This will no doubt be expensive, but is the best option for a hasslefree ride, because you might not find a rideshare willing to drive so far north from Santa Fe and even a one way taxi will be expensive.
Ghost Ranch is only 13-14 miles north of Abiquiu but it feels like a world of its own, with lots of things to do to keep you busy on a stand-alone trip as you explore this 21000 acres of wilderness ensconced in towering rock walls that inspired the paintings of Georgia O'Keeffe (her second home and studio is located here).
Although Georgia O'Keeffe's home in Ghost Ranch is off-limits to the public, you can book one of the many tours at Ghost Ranch itself for guided hikes or visiting the museums or specialized O'Keeffe themed tours. Heritage Inspirations (who have a fantastic walking tour in Santa Fe Plaza) also offers a guided hiking tour of Ghost Ranch from Santa Fe along along with an optional Abiquiu home and studio tour that you can add in.
GUIDED TOURS FROM SANTA FE

If you're someone who does not want to drive and plan any of these day trips from Santa Fe, the best option is to let someone do it for you at a price. Cue in guided tours from Santa Fe that will not only pick you up from your hotel but will also show you the best of sights beyond Santa Fe along with meal options. Here are some of the Santa Fe tours that you can check out:

a) Heritage Inspirations guided tours from Santa Fe to Ghost Ranch, Abiquiu and culinary outdoor adventure . I went on their architecture walking tour (3 hours) in Santa Fe, which was frankly one of the best tours I've ever been on in any city.

b) Half day or full day rafting tour of Rio Grande with raft gear included

I hope you enjoyed this post on finding the best day trips from Santa Fe and are planning to see a lot more of New Mexico beyond the Santa Fe plaza, either on your own or via one of the many tours from Santa Fe. Thanks a lot for stopping by and safe travels.

LIKE THIS POST? PIN IT FOR LATER

«