Last Updated on July 17, 2022 by Paroma
Looking to capture the most beautiful, Instagram worthy photos in Santa Fe, New Mexico? Then this list of 15 such amazing Santa Fe photo spots will help you discover some of the best places in town for some stellar pictures. From popular attractions to lesser known hidden gems, these Santa Fe photography spots are sure to light up your Instagram feed with the many colors and enchanting beauty of the American southwest!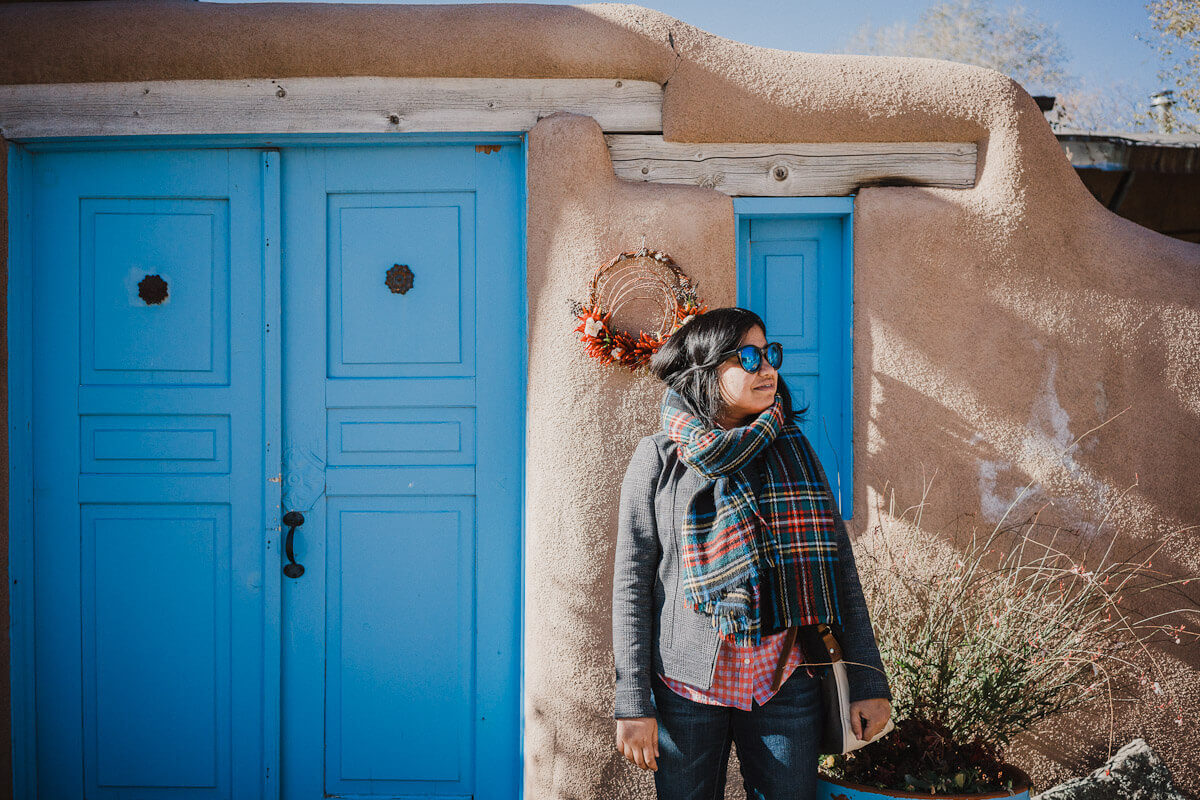 Disclaimer: This post may contain some affiliate links. Clicking on them may earn me a small commission at no extra cost to you for the product. Thank you for supporting free content on this site!
Santa Fe, New Mexico is a photographer's dream. Unending blue skies above and Adobe style houses in earth colors below intercepted by fiery red ristras (dried red chilli bunches) jostle for your attention alongside bright blue and green doors, outdoor art installations, painted canvases in art galleries and of course some of the most memorable Native American sculpture (thanks to world renowned artists like Allan Houser) that you'll be so very lucky to admire.
Basically, when in Santa Fe, just point your camera anywhere, i.e. in any direction and you'll be greeted with something incredibly beautiful for your lens to capture. The earthy colors, the jeweled tones, the historic buildings, the abundance of art and architecture-all of these act as perfect Santa Fe photo spots or Instagram worthy backdrops. You will be stopping and clicking photos every few feet when in this city, thanks to its distinct look and style which is very different from other metropolises in USA.
I have been to Santa Fe thrice-that too in three different seasons except winter. And, let me tell you that this city looks very different in all four of them. The best time to click photos in Santa Fe is undoubtedly Fall, thanks to the splendid fall foliage that you will encounter, but Spring and Summer are good too with clear blue skies and sunny days (it gets really hot and sunny in summer, so please start early for your photography session).
Santa Fe is one of those rare American cities that embodies a perfect coexistence of the Spanish-Mexican heritage of the past and the modern 21st century of the present with a very unique feel, look and character. I have spent quite some time in this city and am here to tell you all the perfect photography spots in Santa Fe that I am hoping you will love.
Although there are many Instagram worthy photo spots in Santa Fe, many of these are not your typical 21st century attractions for your feed. This is especially true for churches, hotels and museums where photography endeavours should be minimally disruptive. Please do not be the selfie welding douche who spoils the shared atmosphere for other residents, visitors, worshippers or lovers of art.
Similar Santa Fe is home to some of the most stunning sculptures depicting Native American men, women and children. Please do not treat these sculptures as props or backdrops-they have historical, political and cultural experience. Not all photos need to have you in them so please make the photo as minimally disruptive as possible.
Finally, the wide open spaces and colossal adobe buildings in Santa Fe deserve a wide angle lens. I carry my trusted Sony alpha A7RII and 35mm Zeiss lens everywhere, which happens to be of the top mirrorless cameras that are lightweight, portable and excellent for travel photography. An added advantage of a mirrorless camera is that it can be easily tucked in a small travel camera bag for further ease and convenience of travel.
WHERE TO TAKE THE BEST PHOTOS IN SANTA FE, NEW MEXICO
Most of the Instagram worthy photo spots in Santa Fe can be found in and around Santa Fe Plaza, which is also its downtown. Even if you have one day in Santa Fe, this is the place to be and explore since this is the hub for most businesses, galleries, historic attractions and restaurants. There are a few other photography sites which are within a 0.3-0.8 mile radius of the plaza that I will be talking about in this post.
The other prime locations for taking amazing photos in Santa Fe are the Museum Hill and Canyon Road. Canyon road is home to dozens of art galleries with some of the most colorful sculptures outside that are Instagrammable backdrops waiting to be clicked.
Museum Hill is home to several fantastic museums in Santa Fe, such as Native American art museum and International Folk Art Museum (you can take as many photos in the latter). Plus the elevated location provides a fantastic view of the surrounding Sangre de Cristo mountains. There is a fantastic Native American sculpture garden there which is also not to be missed.
In this guide to finding the best photos in Santa Fe, I have highlighted the most unique photogenic sites and attractions in all three of these locations. Besides these, there are some amazing photos to be clicked if you decide to go on a road trip from Santa Fe to Taos, along the high road or the low road (just see the photos on my post to convince yourself).
THE BEST PHOTO SPOTS IN SANTA FE PLAZA
Santa Fe was established as the capital of the then "Nuevo Mexico" in 1610 by the Spanish conquerors and it was centered around the historic plaza. The modern day plaza is the prime hub of the city and home to major businesses, hotels and restaurants. Here are some of the best photography locations in Santa Fe Plaza:
Address: 401 Old Santa Fe Trail, Santa Fe
Considered to be the oldest chapel in USA, the foundations of this Spanish Colonial Mission Church in Santa Fe date to pre-Columbian times. Although Santa Fe has no dearth of ornate churches (the Cathedral Basilica of Saint Francis of Assisi and Loretto Chapel are massive cathedrals), the simplistic beauty of this adobe style church, located on a quiet spot on the Old Santa Fe Trail, is impossible to ignore.
2. THE PINK ADOBE
Address: 406 Old Santa Fe Trail, Santa Fe
Located right across from the San Miguel Chapel, this 350 year old Adobe turned restaurant forms a pretty, Instagram worthy backdrop with its pink wall, fun scrawl and an equally bright rooster.
3. INN AND SPA AT LORETTO
Address: 211 Old Santa Fe Trail, Santa Fe
This historic hotel and spa is built in the Adobe/Pueblo revival style and heavily inspired by the Taos Pueblo. You can definitely stop by the main entrance (at the corners of Old Santa Fe Trail and Alameda Street) to get one of the best photos in Santa Fe with the hotel as a backdrop.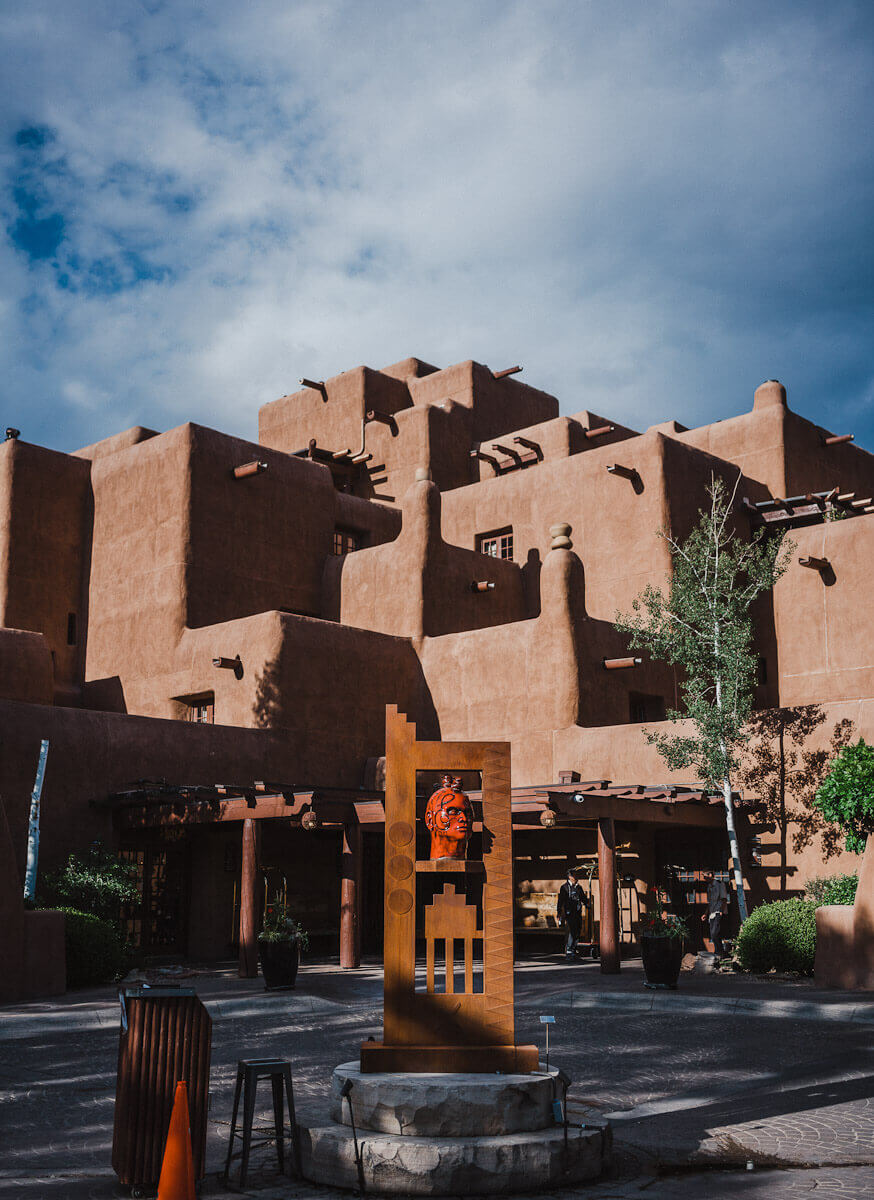 4. HANGING RISTRAS AT CRAZY HORSE OF SANTA FE STORE
Address: 118 Old Santa Fe Trail, Santa Fe
When in Santa Fe, how can you not snap a photo with at least one ristra, i.e. the adorable dry chili bunches hanging from almost everywhere. A great place to take a photo with them is the courtyard of the Crazy Horse of Santa Fe gallery which is right across the La Fonda Inn on the Plaza. There is an entire trellis with ristras hanging down and is perfect for that "only in Santa Fe" photo!
Santa Fe Plaza is home to dozens of ristras swaying in every corner and not just in front of galleries. You can find them on many business storefronts, hotels (Inn of Five Graces has some cute ones on its gate) and gallery fronts too. Just be respectful of your surroundings and take a photo with these dry chili bunches that are unique to Santa Fe.
5. IAIA MUSEUM OF CONTEMPORARY NATIVE ARTS
Address: 108 Cathedral Pl, Santa Fe
This beautiful Adobe style museum in Santa Fe Plaza has an ochre/earthy pink toned wall and extremely colorful pillars painted by artist Yatika Starr Fields (Cherokee/Creek/Osage). These splash of colors add the perfect contrast to the earthy tones of the adobe walls and are very photogenic!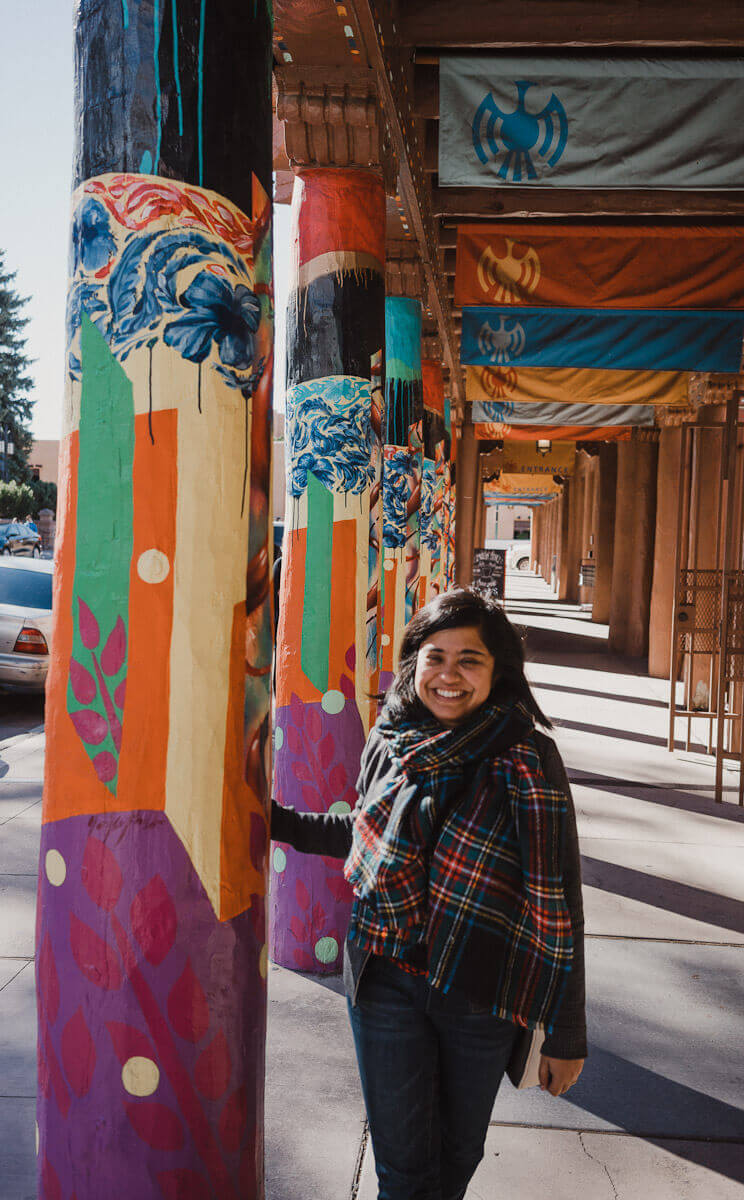 6. THE INN OF THE FIVE GRACES
Address: 150 E De Vargas St, Santa Fe
Considered as one of the most beautiful hotels on Santa Fe Plaza, The Inn of the Five Graces is a luxury stay featuring an earthy, adobe and stone exterior and a charming courtyard. Unless you stay at the Inn you are not allowed to photograph inside the courtyard, but the exterior with beautiful ristras and statues is very pretty too.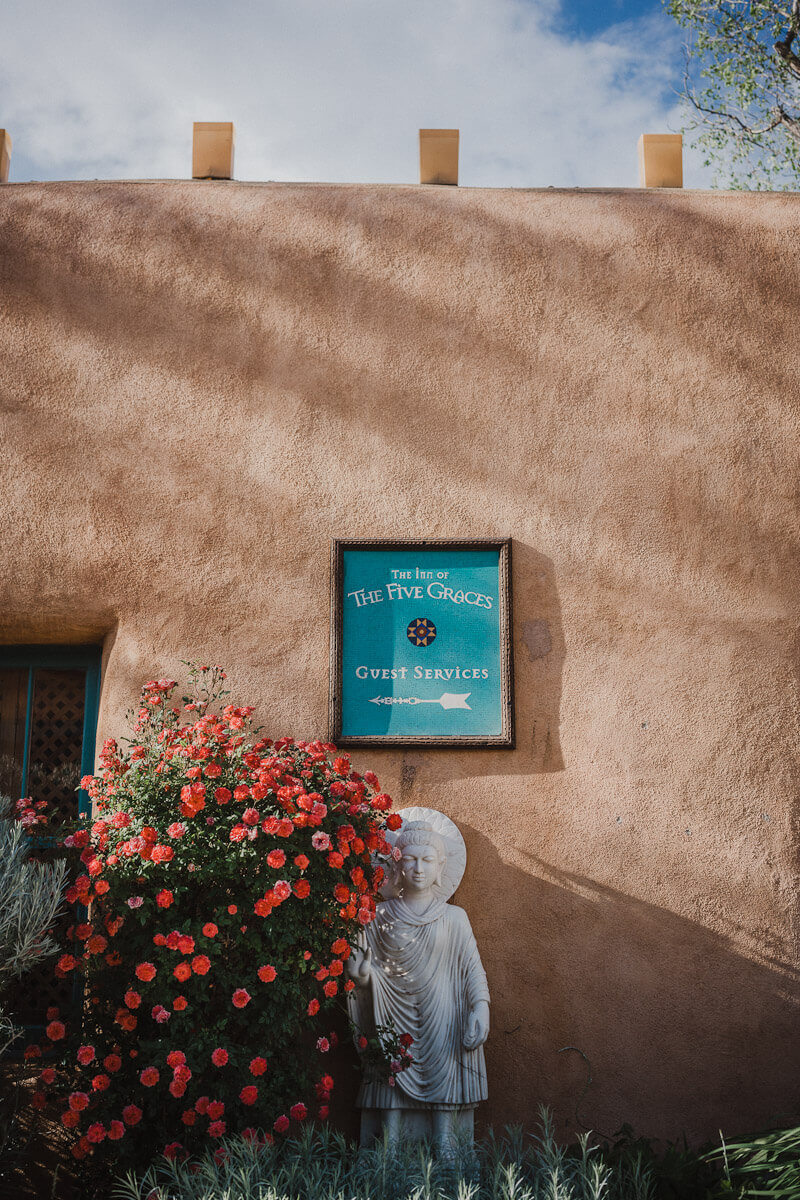 7. NEW MEXICO MUSEUM OF ART
Address: 107 W Palace Ave, Santa Fe
The New Mexico Museum of Art has some of the largest art collection in USA between New York and Los Angeles that are on exhibit inside a grand Pueblo Revival Style architecture building. Inside the museum are tucked two of the most beautiful Santa Fe photo spots-these are the courtyard that you will see first when you enter and the O'Shaughnessey East and West Sculpture Gardens that you'll see on your tour.
The courtyard is a tranquil, plant filled oasis with walls adorned by 6 stunning frescoes painted by renowned artist Will Shuster while the sculpture garden has some amazing Native American sculptures that are not to be missed.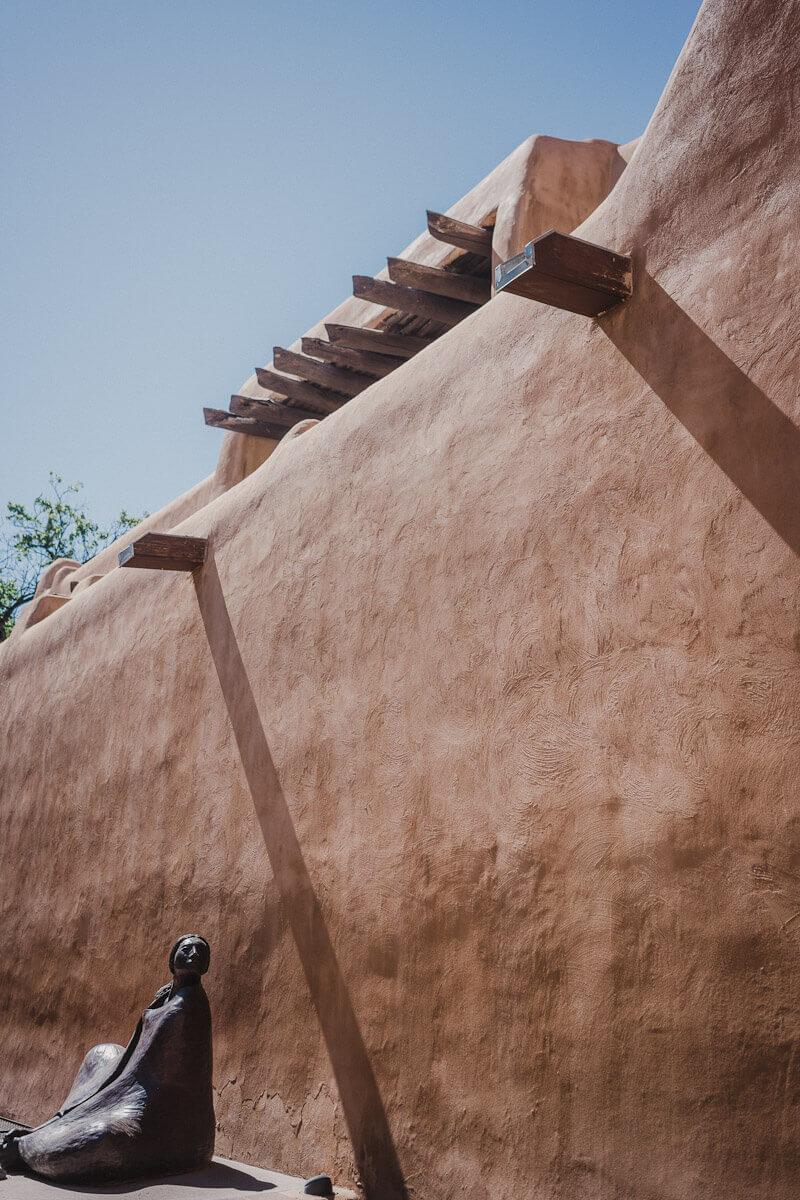 8. NEW MEXICO STATE CAPITOL
Address: 490 Old Santa Fe Trail, Santa Fe
The New Mexico State Capitol is the most unique capitol building in USA and a must visit. Known as the Roundhouse, it is the only round capitol building in the country and was built by Robert. E. McKee combining elements of New Mexico Territorial, Pueblo Revival and Greek Revival styles.
It resembles the Zia sun symbol (seen on New Mexico's flag) that can be traced back to a symbol on a water pitcher at a Zia Pueblo. It signifies a round shape with four elements radiating out of representing the sun's rays, the four directions, seasons and phases of life.
The main entrance to the museum is guarded by an massive Native American bronze statue created by celebrated Chiricahua Apache sculptor Allan Houser whose sculptures can be seen all over the Clay Buchanan Memorial Gardens on the Capitol's 6.5 acre grounds.
The garden is also home to more than 100 other kinds of New Mexico plants as well as abstract and figurative sculptures from the Capitol Art Collection (they maintain 450+ pieces of art by contemporary New Mexico artists that are free to the public inside the Capitol building). Noteworthy is the political statement making sculpture by Allan's son Bob depicting the subjugation of Native cultures by imperialist US forces.
INSTAGRAM WORTHY PHOTO SPOTS IN SANTA FE NEAR THE PLAZA
9. CROSS OF THE MARTYRS
Address: 617 Paseo De Peralta, Santa Fe
This historic monument is located in the Old Fort Marcy Park, about 0.8 miles northeast of the Plaza (12 min walk). This huge white cross, dedicated to the 21 Franciscan friars who lost their lives in the Pueblo revolt of 1680, stands atop a hill with sweeping views of Santa Fe and the Sangre de Cristo mountain range.
The "hike" up is along a paved path that winds up gradually and is dotted with plaques describing the history of Santa Fe in a chronological order (from 1598-present times) donated by city businesses and churches which will provide a snapshot of historic information as you climb up the path while taking in the views. This is not a strenuous hike at all and is great as both a sunrise and or a sunset spot, all the while being very close to the plaza.
10. BACK AT THE RANCH
Address: 209 E Marcy St, Santa Fe
This cute store on Marcy street checks all the Instagram boxes for Santa Fe-hanging ristras, windows with bright blue frames, adobe style architecture-what is not to love?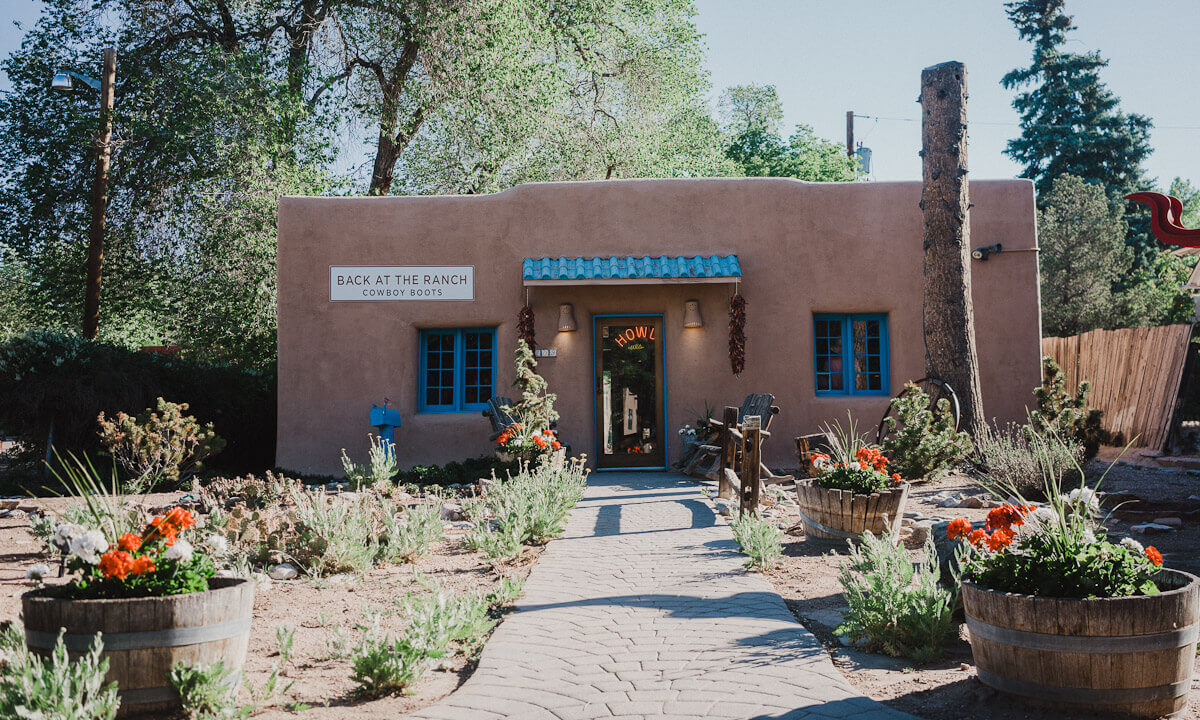 11. ART INSTALLATIONS ON CANYON ROAD
Santa Fe is home to over 200 art galleries and you can see rows and rows of them as you get going on Canyon Road. Most art galleries will not allow photography inside, but the best photo spots in Santa Fe are actually outside, i.e. with the myriad funky art installations lining the streets and the studio courtyards. Get your camera out and go crazy!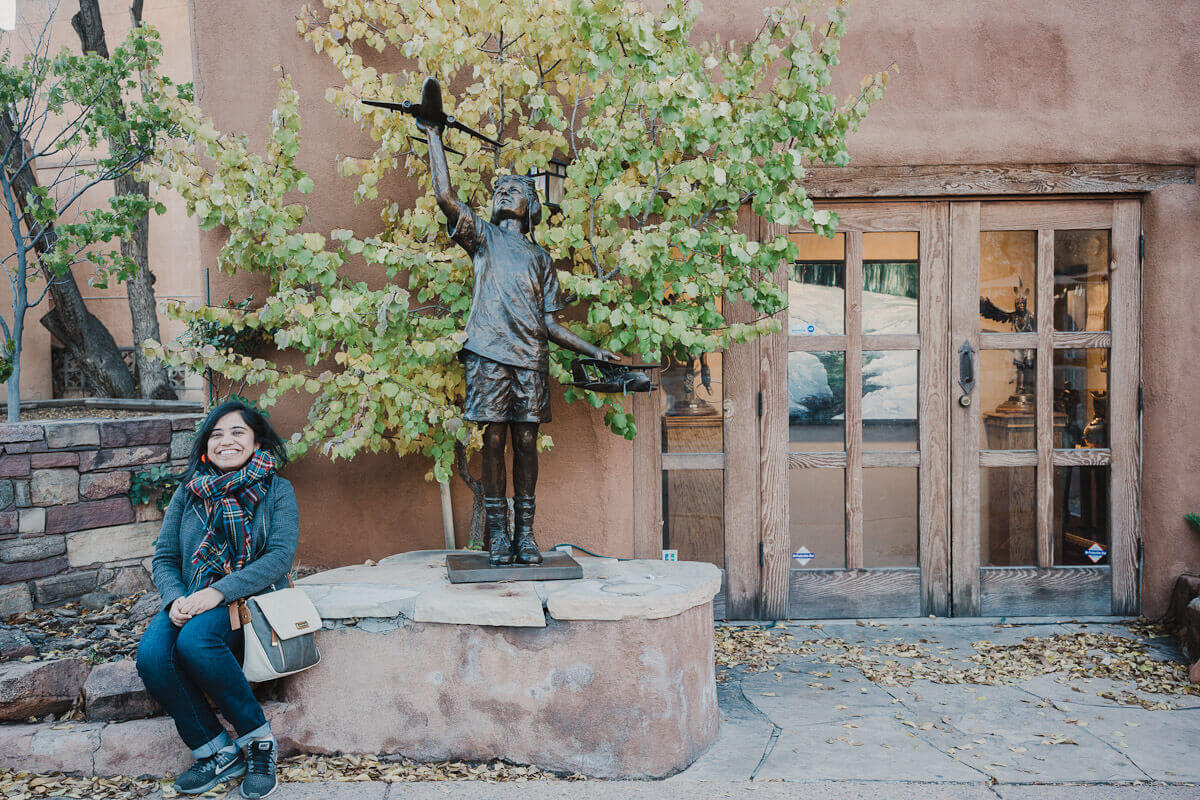 WHERE TO GET UNIQUE PHOTOS IN SANTA FE
12. SANTA FE RAILYARD
Address: 332 Read St, Santa Fe
Santa Fe Railyard is where you go for the weekend farmers and artisans markets (Saturday and Sunday), board the Roadrunner fast train plying to and from Albuquerque (an easy day trip from Santa Fe) and to eat some of the best green chili burgers at Second Street Brewery. It also hides one of the most beautiful murals in Santa Fe at the very end of the rail station, painted by John Pugh, whose two entwining snake mural is one of many murals that one can see in Sacramento, my home state capital.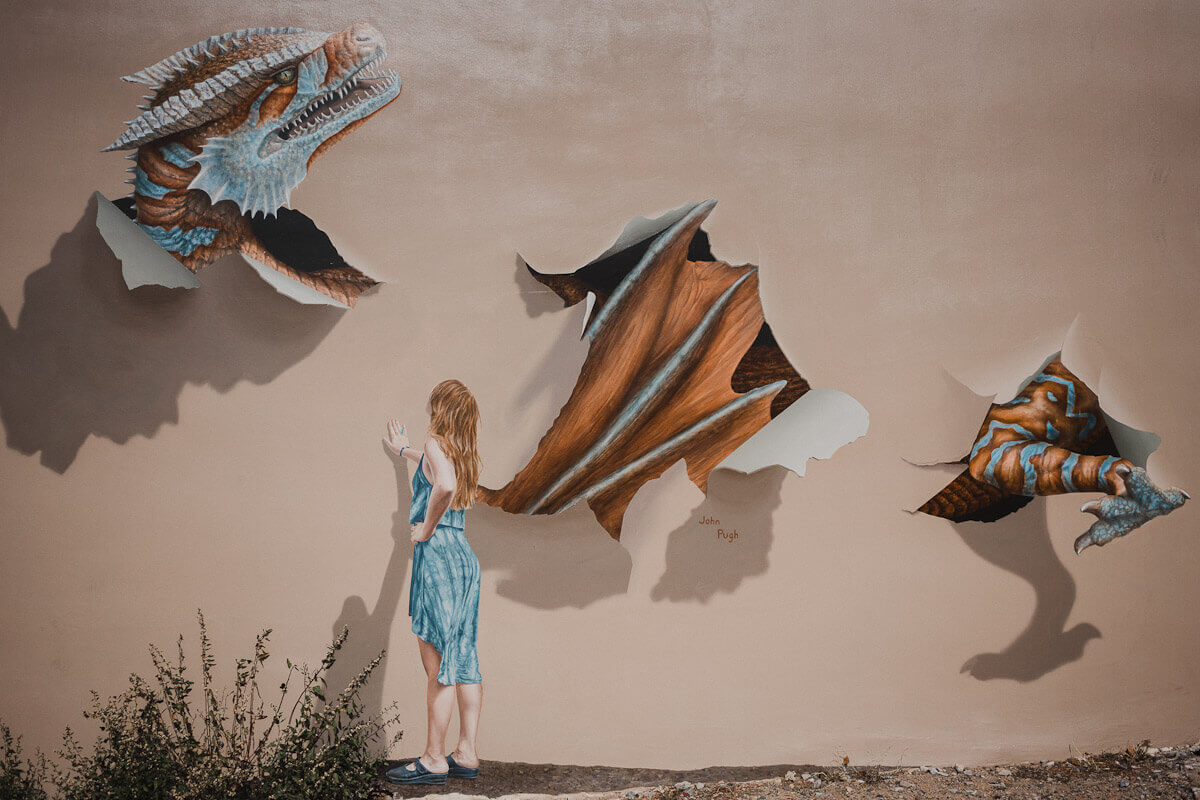 13. MEOW WOLF
Address: 1352 Rufina Circle, Santa Fe
Meow Wolf Santa Fe, a 70+ room of immersive art experience labeled as "House of Eternal Return" which is a mystery waiting to be solved through various portals. Psychedelic colors, sounds, effects and installations will greet you at every turn which are funky and playful. The room setups and installations are perfect as some of the most Instagram worthy backdrops that you'll ever find.
SANTA FE PHOTOGRAPHY SPOTS ON MUSEUM HILL
14. SCULPTURE GARDEN
Address: 710 Camino Lejo, Santa Fe
Museum Hill about 1.7 miles from the plaza but worth the visit if you are an art lover. The sculpture garden on the plaza and right outside Museum of Indian Arts and Culture is an absolute delight with some of the most visually arresting and magnificent works by famous Native American artists dotted all over the garden. Being on a hill, the plaza has sweeping views of the city and surrounding Sangre de Cristo mountain range, which is a sight to behold.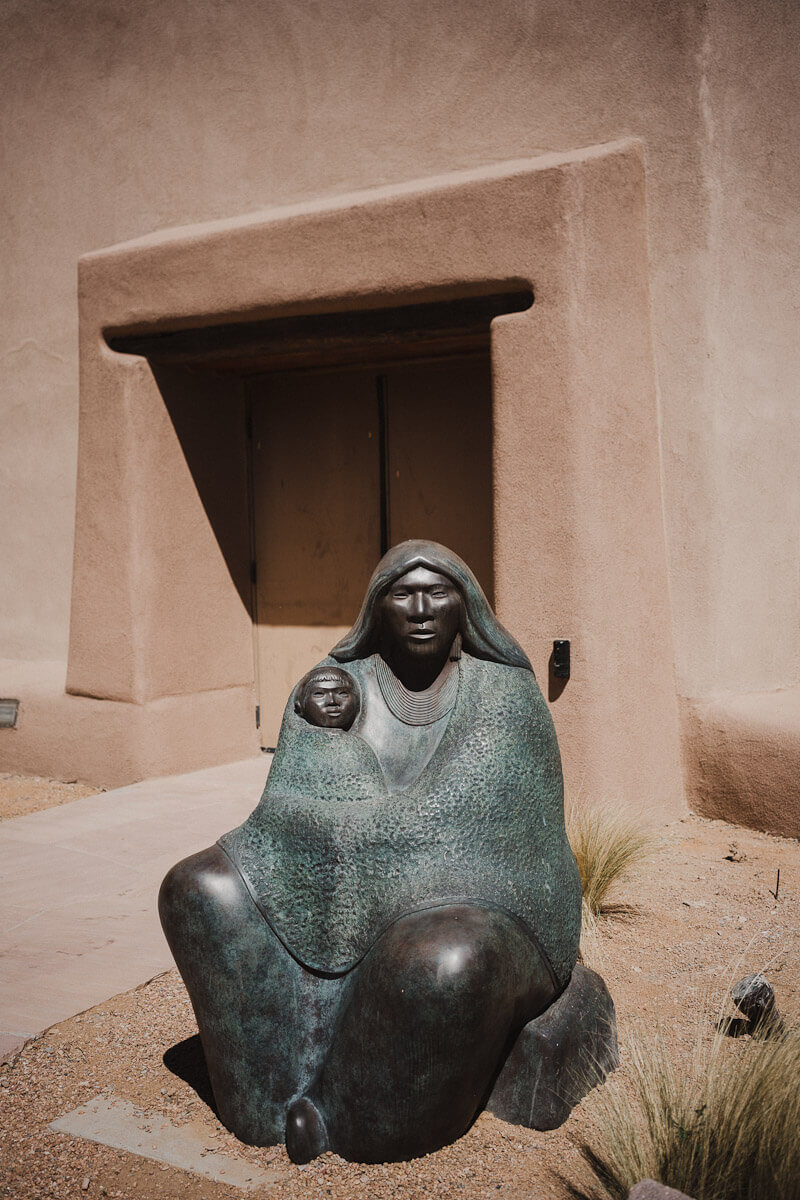 15. MUSEUM OF INTERNATIONAL FOLK ART
Address: 710 Camino Lejo, Santa Fe
Satisfy your folk art (paintings, statues, tchotkes, textiles and everything else) cravings at the International Museum of Folk art that is a riot of colors and cultures. The Girard wing permanent collection is especially impressive thanks to the thousands of folk art pieces from all over the world that are on display here. You cannot get a more colorful backdrop in Santa Fe than this-and yes, photography is heavily encouraged here (just don't use flash).
I hope you have enjoyed reading this post on where to find the best Santa Fe photo spots to click some amazing photos during your visit to Santa Fe, New Mexico. Santa Fe is one of the most beautiful cities in the whole world and perfect in every frame, no matter where you point your lens. I hope this guide to some of the best Instagrammable photography spots in Santa Fe has inspired you to make a visit soon! Thanks for stopping by and safe travels.

LIKE THIS POST? PIN IT FOR LATER

«