Last Updated on June 24, 2022 by Paroma
Are you curious to explore the many, diverse wine regions of California to plunge into a world of reds, whites and rosés? Doesn't matter if you're a nervous first timer eager to start on your wine journey or a out of state wine connoisseur, my post is here to introduce you to the different California wine regions that I have explored over the years on my weekend getaways from San Francisco. From widely popular to not so familiar hidden gems that showcase the mind-boggling variety of California wine country and AVA, this post covers it all!
Note: Thanks to my love for wine, this is a mammoth (LONG) post! If you're not in the mood for some heavy reading, simply go to the table of contents for the wine region(s) in California you are curious about!
Disclaimer: This post may contain some affiliate links. Clicking on them may earn me a small commission at no extra cost to you for the product. Thank you for supporting free content on this site! All photos are my own except where credited to their respective owners.
A BRIEF HISTORY OF WINEMAKING IN CALIFORNIA
A Christmas tree made of wine barrels in St. Helena, Napa Valley
California continues to lead the pack when it comes to New World wines, with Napa Valley (and Sonoma, the birthplace of California's modern wine industry) being the premium wine tasting destination for visitors from all over the world.
Although wine making started more than 250 years ago in 1769 with the cultivation of grapes by the Franciscan Missionaries, commercial wine making took off around 1830, thanks to a Frenchman, Jean Louis Vignes who arrived from Bordeaux and recognized the potential of our terra, i.e. land!
The gold rush era from 1848 brought in several immigrants from Europe, many of who were well versed in growing grapes and started doing so with great gusto. Naturally, the industry expanded rapidly during 1860-1880 as numerous wineries were established. The quality of California wines improved tremendously during this period, thanks to Count Agoston Haraszthy who brought many vine cuttings back to California from his trips to Europe (as was the norm in those days). The completion of the transcontinental railroad system in 1869 also allowed California wines to travel far and wide.
Flushed from this success of California's wine making, the University of California established a major research center in Berkeley and experimental vineyard plots in many areas of the state around 1880. This early work has now evolved into the now famous Department of Viticulture and Enology at the University of California at Davis.
By 1890, the California wine industry was producing more than 10.9 million cases of wine per year. The continuous import of cuttings from from Europe helped increase the number of vineyards with every passing year. This was also the year when nearly half of California's wines earned prestigious gold medals at the Paris Exhibition.
However, the California wine industry was hit by a double whammy of disasters-natural and manmade. First, came the vine pests which the Vintners could overcome by planting more resistant Vinifera varieties grafted to American rootstock. The much harder challenge to overcome was the subsequent Prohibition of 1919, which banned the production and sales of alcoholic beverages.
The latter definitely hit the industry hard and wine making virtually stopped everywhere in the state until this archaic law was repealed in 1933. The industry took some time to get back on its feet and by 1949, nearly 50 million cases were being produced.
Despite over two centuries of wine making, what propelled California into the limelight was in 1976, when California wines handily beat French wines in the infamous Judgment of Paris blind wine tasting competition in both red and white wine categories and took the world by storm! Napa Valley's Chateau Montelena Chardonnay (winemaker: Mike Grgich) took the top honors with a whopping 132 points!
Modern day California continues to be one of the world leaders in viticulture, producing 80% of USA's wine and is the fourth largest producer of wine in the world. As per California's 2019 Grape Acreage report summary, a whopping 635000 acres of land in the state is dedicated to wine making grapes. California is also home to nearly half of the country's wineries, totalling to 3764!
WHAT YOU NEED TO KNOW ABOUT CALIFORNIA WINE REGIONS
Wine tasting in Napa Valley
Although the "Paris Tasting" event revolutionized winemaking in California and earned Napa Valley its well deserved crown, this Northern California destination is not the only wine region in the state to try our offerings-we have over a dozen of California wine areas, better known as American Viticultural Area (AVA) which share a geographical commonality (appellation of origin bound by a political boundary) with many varietals (primarily French) to boast of in red and white wines.
Wine is so deeply embedded in the state's fabric, that 49 out of the 58 counties grow wine grapes. Overall, California has 139 AVAs to showcase the diversity and quality of wine, with Chardonnay being the most common white grape and Cabernet Sauvignon the most common red one (source).
California wine country map starts all the way in the north from Anderson Valley in Mendocino county (about 2.5-3 hrs drive north of San Francisco) and continues well down south to Malibu vineyards near Los Angeles, with several wine regions in between. Some are super popular like Napa, Sonoma, Paso Robles and Temecula while others are lesser known gems such as Livermore and Lodi.
What makes California so perfect for wine is the weather. The inland Mediterranean climate (such as in Napa) is well suited for rich reds like the Cabernet Sauvignon while the foggy coast or the Russian River valley (Sonoma wine country and Anderson Valley) microclimate is perfect for finicky grapes like the Pinot Noir. Wherever you may be in California, you are never too far away from a vineyard, winery or at the minimum, a tasting room!
As an avid wine lover living in San Francisco, I have travelled to several of these wine regions in California myself (some as repeat "offender") for wine tasting. For those that I am yet to visit, I have sought the help of a few fellow wine lovers who've talked about their experiences. This post is thus a personal one, based on our visits and experiences and the memories shared over good wine. I hope you enjoy reading it as much as I have while penning this guide.
TIPS ON VISITING CALIFORNIA WINE AREAS (AVA)
Clos Pegase Winery, Calistoga
One of the perks of living in San Francisco is that Napa and Sonoma are a mere 1-1.5 hours away, which is why I have visited them many, many times. Add to this my experience with other places in Sacramento Valley, Central Coast and Santa Ynez Valley and I have quite a few tips to share with you for planning your visit to the different wine areas in California for a memorable experience.
COST OF WINE TASTING IN THE DIFFERENT WINE REGIONS OF CALIFORNIA
Of all the wine regions in California, Napa valley is the most premium destination for wine tasting and hands down the most expensive! Unless you are a wine club member or buy a certain number of bottles, tasting fees can run upwards of $30 and $60-70 per tasting is also not unheard of. Sonoma is relatively cheaper but Santa Cruz, Lodi, Livermore and Carmel Valley really score when it comes to affordable wine tasting, so definitely venture out a little bit!
BEST TIME TO VISIT CALIFORNIA WINE REGIONS
I personally favor Fall when it's harvest season (late August-September) and the crowds have thinned out. Late Spring (April-early June) is also a great time when the fruits start appearing on the vines. Winter is also amazing (quiet with cheery yellow rows of mustard greeting you in the vineyards) while Summer is the busiest season, where reservations to boutique wineries may be hard to get.
RESERVATION REQUIREMENTS FOR WINE TASTING IN CALIFORNIA
Popular wine destinations are now requiring reservations for wine tasting (since 2020) with very few places allowing walk-ins, which are the large, touristy wineries such as V. Sattui in Napa. I recommend going to small batch, boutique wineries (you can read my entire post on best wineries for first timers in Napa) by making reservations beforehand to enjoy wine tasting in a relaxed manner.
DOG FRIENDLY WINERIES IN CALIFORNIA
With years of wine tasting under my belt with our dogs Babu and Gunda all over California, I am happy to report that there is no shortage of dog friendly wineries in California, no matter which wine country you choose to visit. You can read my dog friendly wine tasting in Napa, Lodi, Sonoma, Paso Robles and Santa Ynez Valley to find out more.
Most wineries have outdoor tasting areas where dogs are welcome and many tasting rooms allow well behaved dogs indoors as well. Dogs need to be on leash at all times under the owners' supervision. Also, it is a good idea to double check before you make your reservation for tasting since policies change often.
THE BEST WINE REGIONS TO VISIT IN CALIFORNIA
WINE REGIONS IN NORTHERN CALIFORNIA
MENDOCINO WINE COUNTRY
Wine tasting at Navarro Vineyards in Anderson Valley
Mendocino wine country consists of several AVA or appellations such as Ukiah Valley, Anderson Valley, North Coast, Talmage region, Eagle Peak, Cole Ranch, McDowell Valley, Potter Valley, Redwood Valley and Yorkville Highlands. Of these, the Anderson Valley Wine Country is its most popular AVA that specializes in world class Pinot Noir grapes.
This valley encompasses the northernmost point of California's wine growing region and is located about 160 miles north of San Francisco. The towns of Boonville, Philo and Navarro along CA-128 are the prime locations for wine tasting in this 15 mile valley comprising of rolling vineyards and some of the most famous farmsteads in the state along with some very tasty cider farms (for hard cider tasting).
Weather wise, Anderson Valley is one of the coolest wine growing regions in California which makes it the prized region for growing the finicky and delicate Pinot Noir grape, Chardonnay and some Alsace varietals such as Riesling, Gewürztraminer, Pinot Blanc and Pinot Gris. As someone who loves visiting Mendocino and Fort Bragg (two of the best Northern California beach towns on the Pacific Coast), I have stopped by these towns on CA-128 many times for wine tasting, and that too with my dogs.
If you're visiting Mendocino from San Francisco via the inland route of 101N and CA-128 (if you do take route 1, check out the scenic stops here from an SF to Mendocino road trip), you have to spend some time in Anderson Valley, especially for a tasting of Pinot Noir (my favorite) or even some cider tasting at Gowan's Cider farm!
I recommend dog friendly wineries such as Navarro Vineyards, Lula Cellars and Goldeneye winery, all of which allow well behaved dogs on leash either outdoors or indoors or both. All wineries specialize in Pinot Noir, while Navarro is also a farmstead where Baby Doll Sheep are used to keep the vineyard clean in winter!
Check out the complete Anderson Valley winery map here
Check out the Mendocino county winery map here
LAKE COUNTY WINE REGION
Wine tasting at Lajour Winery (just look at the view!)
Lake County wine region sits right above Napa county (home to the world famous Napa Valley) and is definitely one of the most underrated wine regions in Northern California.
With a tagline that says "We put the country back in Wine Country", Lake County wineries may not have the glamor of Napa, but offer a very relaxing, unpretentious (and definitely more affordable) wine tasting experience with spectacular views of Mount Konocti as you taste their rich full bodied reds (Cabernet Sauvignon, Syrah and Zinfandel) and Cabernet Blanc.
Clearlake is the biggest draw of Lake County and is the largest freshwater lake located wholly within the state of California. This lake has influenced the attributes of the seven Appellations (AVA) that call this county home by providing a moderate climate resulting in less diurnal temperature fluctuations in this region compared to its surroundings. Also, little known fact but the rich volcanic soil of this region actually makes the terroir superior to that of Napa Valley when it comes to growing grapes.
I recently visited Lake County twice in 2021 and enjoyed my experience exploring the different wineries in this region. I especially loved the chilled out vibe of the wineries (I visited the dog friendly ones since Gunda was with us) and recommend Cache Creek Vineyards and Winery, Laujor Estate Winery and Smiling Dogs Ranch tasting room for wine tasting. Laujor in particular has a really good Rośe of Sangiovese as part of its tasting that you can enjoy while taking in the views of Mt. Konocti towering over the vineyard!
Check out the complete list of Lake County Wineries here!
NAPA VALLEY WINE REGION
The opulent Darioush Winery in Napa Valley
Napa Valley sits 50 miles northeast of San Francisco, making it an easy road trip from San Francisco and is what pops up in the minds of majority of folks when they want to visit California wine country. This AVA (wine appellation) was the first in California to be designated as such in 1981 and has a whopping 16 sub-AVAs with their own distinct microclimates and terroirs, making it one of the most diverse wine regions in California (and a dreamy romantic getaway in Northern California).
Napa Valley's topography caused by slow friction of of tectonic plates and volcanic activity over 150 million years as well as its unique geography of being nestled between two mountain ranges (Vaca and Mayacamas) as well as the cooling breeze from the San Pablo Bay in the south has fostered several distinct microclimates to thrive over the 30 miles stretch that is home to over 400 wineries!
The Vaca Range on the eastern boundary shields the valley from the scorching heat of the Central Valley while the Mayacamas protect it from the foggy, chilly air of the Pacific coast that Sonoma experiences. As a result, the grapes grown here are mainly Cabernet Sauvignon (full bodied cabs are what Napa is known for) with Merlot, Zinfandel, Sauvignon Blanc and Chardonnay being some other popular varietals. The Coombsville and Los Carneros AVA in the south also grow some Pinot Noir due to the cooling winds from the nearby San Pablo Bay.
I have been to Napa Valley many, many times over my 12 years in San Francisco and although I love this region to bits, it is hands down the most expensive wine tasting experience in California with a steep fee for tastings. Napa is not only home to world class wineries but also restaurants with some of the best Michelin starred gems calling it home. So don't forget to get an unforgettable meal to match your wine tasting experience!
Napa wineries are a mix of boutique, exclusive, opulent and popular/touristy with many wineries offering tours of their wine making process and cellars. If you've never been to Napa before, I highly recommend reading my first timer's guide to Napa for what to do, see, eat and the best wineries to visit. Napa also has many dog friendly wineries (including some amazing ones in Calistoga) that I have listed based on my experience and a guide on how to visit Napa from San Francisco without a car, with stellar winery tour recommendations.
My personal favorite winery in Napa continues to be Frog's Leap Winery, a small batch winery in Rutherford which has great wine, impeccable service with friendly vintners and is incredibly scenic with a garden and a red barn. I also loved the French classiness of Clos Pegase (Calistoga), the wines and service of Tres Sabores winery (St. Helena) and the chilled out vibe of Dutch Henry winery (Calistoga). Read my Napa Valley post and my Calistoga guide see some other breathtakingly beautiful wineries that I've visited.
Check out Napa Valley Winery Map here
SONOMA WINE COUNTRY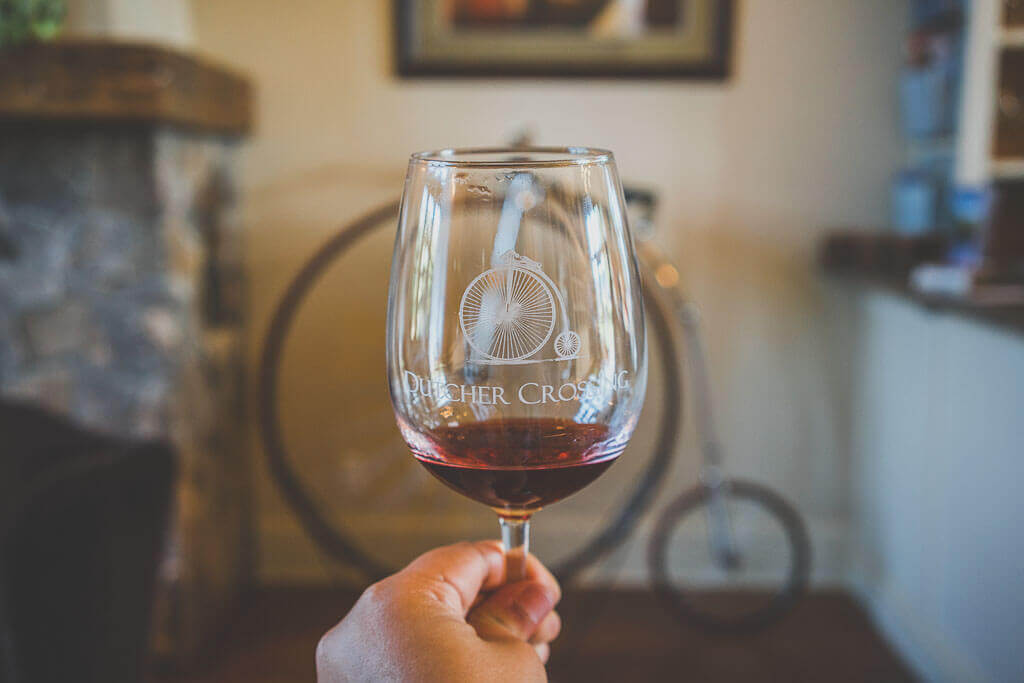 Wine tasting at Dutcher Crossing Winery in Dry Creek Valley, Sonoma
Sonoma county is hands down my favorite wine region in California and one that I visit at least once a year! This wine growing region is bordered by Napa county to the east, Lake County in the north, the beautiful Marin County in the south and the Pacific Coast on the west. Much like Napa, Sonoma's wine region lies about 50-60 miles northeast of San Francisco.
When it comes to winemaking in California, Sonoma proudly hold several accolades. Sonoma is widely considered the birthplace of California's modern wine industry. The county is home to the state's oldest premium winery (Buena Vista) and Gundlach-Bundschu, the longest continuously operating family winery. In 2019, Sonoma wine country was named Wine Region of the Year by Wine Enthusiast magazine.
Due to its immense sprawl, Sonoma's terroir shows a mind boggling diversity that is encompassed in its 18 different AVAs! In short, no matter where you are in Sonoma, you are never far away from a winery or a tasting room serving luscious Pinot Noirs, Chardonnay, Zinfandel or Cabernet Sauvignon depending on the location.
Of All the AVAs of Sonoma wine region, my favorites are the Russian River Valley and Sonoma Coast AVA, both of which are homes to my favorite Pinot Noir Wine. The cool Pacific air and the fog provide the perfect weather conditions for the delicate pinot grapes, leading to the production of some of the finest Pinot Noir in the world.
Like Napa, Sonoma too requires advanced reservations for wine tasting but the tasting fees are not as steep as Napa. In addition, wine tasting is a more relaxed affair here thanks to the many small towns dotting this region.
When in Sonoma county, I highly recommend visiting the picturesque town of Healdsburg to explore the Dry Creek and Russian River Valley wineries, with Kenwood and Windsor being two other popular towns for wine tasting along CA-101. You can read my dog friendly winery guide to Sonoma for recommendations or head straight to Quivira vineyards, my favorite winery in Healdsburg.
Sonoma Coast (with the charming town of Bodega Bay where Alfred Hitchcock filmed "The Birds") and the neighboring towns of Sebastopol and Guerneville are also great places to taste Pinot Noir and Chardonnay thanks to a cool, foggy climate defining the Sonoma Coast, Russian River Valley and Green Valley AVAs. I recommend going to the Sonoma Coast Vineyards perched right on the coast for great wine and views!
The town of Sonoma (where we went on our honeymoon 11 years ago) is home to many wineries, tasting rooms, the famous Mission California Solano established in 1823 and Bartholomew Vineyards, which is currently where the Haraszthy villa site, a California Historic Landmark is. County Agoston Haraszthy is widely considered the father of California's viticulture and although his original villa burned down long ago, it was rebuilt by Antonia Bartholomew to preserve a slice of Sonoma's history that is so synonymous with wine.
Check out all the Sonoma County wineries here (over 500 of them!)
LODI WINE REGION
A day of wine tasting at Bokisch Vineyards, Lodi
Lodi, nestled between the SF Bay area and Sierra Nevada mountains, is a small town located about 100 miles north east in San Joaquin County in California's Central Valley.
Despite being the Zinfandel capital of the world with over 85 boutique wineries, it is one of those Northern California wine regions that most people do not know about. Best of all, wine tasting in Lodi is super affordable and most places welcome dogs, as attested by me when we visited Lodi several years ago. All these factors make Lodi day trip destination from Sacramento, the capital of California!
Lodi is the largest appellation in California with over 110,000 acres in production (in comparison, Sonoma has only 62,000 acres). This AVA supplies 40% of California's Zinfandels along with some of California's leading varieties such as Cabernet Sauvignon, Chardonnay, Merlot, and Sauvignon Blanc. Lodi's AVA offers an impressive portfolio of diverse wines (over 100 varieties) since it is home to seven 7 sub-AVAs with different soil conditions, making it one of the most diverse wine growing regions of California.
When in Lodi, check out the tasting rooms in both downtown Lodi and surrounding wineries. I recommend Oak Farm Vineyards, Bokisch Vineyards that specializes in Iberian wines and Harney Lane Winery and Vineyards. You can read details of our dog friendly wine tasting in my post.
Check out the Lodi Wine Trail Map here
LIVERMORE VALLEY WINE COUNTRY
McGrail Vineyards, photo credit: Sage Scott
Livermore valley wine country is right in my backyard, i.e. in the Bay Area and only 45 miles east of San Francisco. Located in Alameda County, the Livermore Valley AVA has been growing wine grapes since the 19th century (the first grapes were planted in 1840s), with the Cresta Blanca Winery (founded in 1882) being one of the earliest with its first vintage (1884) winning Grand Prix at the 1889 Paris Exposition, becoming the first California wine to win a competition in France much before the 1976 Judgement of Paris.
Livermore is mostly known for its Chardonnays, and 80% of California's Chardonnays can be genetically traced to Livermore Valley. Besides being one of the earliest wine growing regions in California, Livermore was also the first to label Chardonnay, Petite Sirah and Sauvignon Blanc as varietals in California.
Sadly, as is mostly the case of wandering the world without exploring one's own backyard, I have still not quite made it to this wine region which is a favorite retreat of many Bay Area folks! But my blogger friend Sage has, and she has kindly shared her wine tasting experience at Livermore Valley with me.
In Sage's words: there are a lot of amazing wine regions in California, but let me tell you why Livermore Valley wineries are my favorite. While you're sure to battle crowds and pay a pretty penny for each tasting in an uber-popular region like Napa, a day at the Livermore Valley wineries is down-to-earth, affordable, and still full of delicious wines. Plus, it's about 30 minutes closer to both the San Francisco and Oakland airports than Napa, so you can be sipping a syrah or chilling with a chardonnay that much faster when you visit the Livermore Valley!
Livermore has over 50 spectacular wineries, of which the the biggest and most famous wineries are Concannon and Wente, the only two that were in operation during the infamous Prohibition. The other notable wineries to visit are:
Murrieta's Well: Growing grapes since the 1800s, Murrieta's Well is one of the Livermore Valley's original wineries. In fact, its first vineyard was planted with cuttings from the famed Chateau d'Yquem and Chateau Margaux vineyards in France, a "bloodline" that carries through to the wines produced today.
McGrail Vineyards: This family-owned vineyard and winery specializes in cabernet sauvignon, and you can enjoy a tasting (or a glass) while being treated to sweeping views of vineyards and valley.
Rodrigue Molyneaux: Enjoy a flight in the tasting room that was once a horse barn, and then indulge in a glass of your favorite (mine was a tie between the barbera and merlot) in the outdoor garden area.
Wood Family: Although she's been at it for more than two decades, Rhonda Wood remains one of the area's few female winemakers. I recommend the grenache and malbec.
Mitchell Katz: I never leave Livermore without stocking up on Mitchell Katz's tawny port. It's the most delicious liquid caramel on the planet, and I'd happily replace dessert for the rest of my life with it.
Check out the Livermore Valley Winery Map here!
Amador County, located in the foothills of the Sierra Nevada Mountains, lies in the heart California's Gold Country and is about 129 miles northeast of San Francisco and 45 miles south-east of Sacramento.
This county that bills itself as "The Heart of the Mother Lode" was home to the famous "Gold Rush" during the 1850s that shaped modern California. This used to be a prolific wine community in the 1850s as well thanks to the 100 or so wineries that sprung up over time to slake the thirst of Europeans who flocked to the Sierras in search of gold. Many of the vineyards planted at that time survive even to this day!
The decline of gold mining at the end of the 19th century coupled with the Prohibition in 1920 decimated the wine community which remained pretty inactive till the 1960s. Thankfully, the frontier wine story does not end here. With the arrival of a new generation of wine loving entrepreneurs migrating to Gold Country's Amador County, the viticulture industry has seen a gradual revival.
This region's rolling, sun-drenched hillsides, warm daytime temperatures, and volcanic soil are ideal conditions for producing top-quality wine grapes. The wine industry in former Gold Country is having a renaissance moment, with visitors flocking to the 40+ wineries in the two sub-AVA of Shenandoah Valley and Fiddletown for the taste of their delicious Zinfandel, which is grown over 2000 acres.
Besides this, the region is also home to Italian and Southern France varietals such as barbera, sangiovese, sauvignon blanc, and syrah. Limited bottles of pinot grigio, verdelho, viognier, roussanne, marsanne, grenache, mourvedre, petite sirah, aglianico and tempranillo, delicious rosés and dessert wines made from muscat grapes and port-style wines made are also available. Find about more about Amador county grape varietals here.
Check out the complete map of Amador county wineries here
SANTA CLARA VALLEY AVA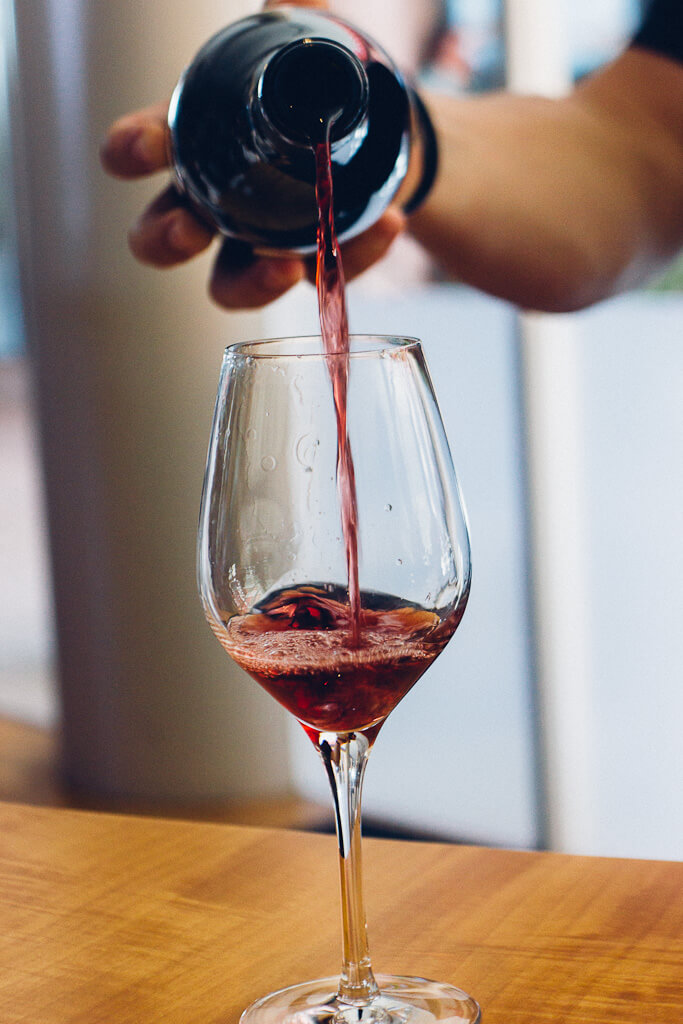 Santa Clara Valley lies about 57 miles south of San Francisco and is often relegated to the status of Silicon Valley alone as Bay Area wine lovers conveniently flock to Napa and Sonoma in the north for their wine tasting getaways (I am 100% guilty of that as well). But did you know that Santa Clara was the first premium wine growing region in California, with the first European grape varietal cuttings planted here?
Much like the rest of California, Santa Clara's wine growing origins too lie in the cultivation of grapes by the Franciscan Fathers at the Santa Clara Mission in 1798. This was followed by the arrival of the European immigrants, who flocked to California during the Gold Rush era and settled here to grow wine producing grapes, thanks to the conducive soil conditions and the Mediterranean like climate.
After a boom and prohibition, the region saw a re-emergence in the wine industry in 1989 when the AVA boundary was also defined formally. Today modern Santa Clara Valley wine country/AVA encompasses two sub AVAs -Pacheco Pass AVA and San Ysidro District AVA. Over 30 wineries and tasting rooms are located in the urban centers of Morgan Hill and Gilroy, spread along a 28 mile wine trail with over 70 directional signs bearing the logo of the Wineries of Santa Clara Valley.
The best way to experience the Santa Clara winery trail is by purchasing the Wine Trail Pass. For only $90, you get to taste the best of Santa Clara Valley at 30 wineries for free for upto a year since your pass purchase!
Check out the complete Santa Clara wine trail map here
WINE REGIONS IN CENTRAL CALIFORNIA (COAST AND INLAND)
SANTA CRUZ MOUNTAINS AVA
Wine tasting at Bargetto Winery, the oldest winery in Santa Cruz county
Santa Cruz Mountains is an unique AVA (designated as such in 1981) owing to its geography as it is the first California appellation to be defined by its mountain topography. Wine making started here in the 1870s with the planting of the first cuttings from Burgundy and today high altitude vineyards thrive in this unique location which is at the meeting point of the coastal mountains, Pacific Ocean, and the beautiful San Francisco Bay.
At Santa Cruz mountains AVA, 1300 acres are devoted to wine grapes such as Pinot Noir, Cabernet Sauvignon, Chardonnay plus other varietals such as Merlot and Zinfandel. The high altitude combined with the cooling effect from the Bay and the ocean gives the wines their distinct characteristics which are fruit forward and abundant in minerality.
I have visited Santa Cruz many times since it is one of the best dog friendly Bay Area day trips, offering a world of pristine beaches, lighthouses, hiking trails, a monarch butterfly grove and a very popular boardwalk only 75 miles south of the city. However, have not really explored much of the fantastic wine region that is in the Santa Cruz Mountains, barring a few winery visits (all dog friendly and you can read about them on my Santa Cruz post).
Enter my friend Ed, a wine enthusiast who has been to all of (yes, all of) Santa Cruz Mountains' 70+ wineries in the past year to diligently conduct his wine tasting duties. You can follow his wine tasting adventures as well as his fun take on the Oscars (with his own SCM winery awards) on his Instagram.
Having been to one tasting adventure with him at two of the wineries in Santa Cruz Mountains, I could totally appreciate the laid back vibe, the terrific views and the reasonable priced tasting. Here is Ed's take on this AVA and his recommended wineries:
Rising above Silicon Valley, the Santa Cruz Mountains create a barrier between the Valley and the Pacific Ocean. They also create wines that have more fineness and less ego than it's more well known Bay Area neighbors, i.e. Napa Valley and Sonoma County, and can rival wines from Burgundy, Bordeaux, and even the Rhône Valley. The wineries to look out for are:
Ridge Vineyards and Kathryn Kennedy Winery: these are excellent examples of the eastern slope region's expression of Cabernet Sauvignon.
Mount Eden Vineyards: This is one of the the original wineries in this region boasting of a consistently high quality Chardonnay that has more in common with Burgundy than California.
Madson Winery: This is one of the newer wineries that continues to enhance the reputation of the region. Madson makes their Syrah with a nod to the Northern Rhône.
Sandar and Hem Wines: This is not only a newer winery but also the most complete winery for the region. S&H is an excellent ambassador for the SCM AVA as their wines take you on a tour of the region. Their Pinot Noir exemplifies the regional qualities that distinguish it from other parts of California – light fruit, herbal, floral, and acid driven wines. Then their Chardonnay and Cabernet Sauvignon wines show that excellent versions of these varieties can have many homes within the region's microclimates and soil types.
See the complete list of Santa Cruz Mountains Wineries here
Dawn's Dream tasting room in downtown Carmel by the Sea
Monterey County (125 miles south of San Francisco) is not only home to some of the most charming seaside towns such as Carmel-by-the-Sea, Pacific Grove and Monterey on the peninsula side but also to a thriving wine industry-both in the inland Carmel Valley and along River road running parallel to the Salinas River. There are 150 vineyards spread over the sub-AVAs of Santa Lucia Highlands, Arroyo Seco, San Lucas, Hames Valley, Monterey, Chalone, Carmel Valley, San Antonio Valley and San Bernabe.
Owing to the distinct differences in soil, topography and microclimates encompassed by these AVAs, Monterey wine country is home to a wide variety of wine grapes. Cooler climes in the north allow Burgundian varietals like Chardonnay and Pinot Noir to thrive while warmer weather allows for full bodied wines such as Bordeaux and Rhone varietals (Cabernet Sauvignon, Merlot, Syrah). In addition, you will also find Riesling, Chenin Blanc,Sauvignon Blanc and even Zinfandel (further south in the warmer weather).
Monterey Wine Country winery map has demarcated three broad regions for finding the best wineries and tasting rooms. On the coast side, you can enjoy wine tasting at Carmel by the Sea (like I have done) and Monterey. Further inland, you will get to taste some of the best complex, full bodied wines in Carmel Valley while the River road wine trail is perfect for tasting the Chardonnay, Pinot Noir and Syrah from the Santa Lucia Highlands.
A San Francisco to Carmel road trip along Highway 1 is incredibly scenic. Carmel is a very dog friendly town (with lots of dog friendly hotels) and the wineries/tasting rooms are dog friendly as well. I recommend Dawn's dream winery, Galante Vineyards (oldest tasting room in town) and the super fun Scratch Wines (named so after the scratching tendency of the owner's pet chickens).
For wine tasting with an unforgettable view, try Chalone Vineyard which is right next to Pinnacles National Park on Highway 146. This winery is the oldest in Monterey county and the only one in the Chalone sub-AVA.
Wine tasting is a stylish, beautiful affair in Carmel Valley, that lies a mere 12 miles east of Carmel-by-the-Sea. Based on my recent trip to Carmel Valley, I recommend Folktale Winery, Joyce Winery and Holman Ranch tasting room for some of the best wine, food and ambiance! All of these places are dog friendly.
PASO ROBLES WINE COUNTRY
Wine tasting at Eberle Winery in Paso Robles
The trendy wine growing region of Paso Robles is located in San Luis Obispo County and is equidistant between San Francisco and Los Angeles, making it THE wine tasting for both Northern and Southern Californians. Having visited Paso Robles last year where we made it to several wineries, all I can say is that business is booming and you better make reservations for a day out of wine adventures in Central California!
Paso's wine growing history, much to no one's surprise, is also rooted in the Spanish Missions where it all began in 1787 with the arrival of wine grapes in Mission San Miguel Arcangel (San Miguel).
Many years later, immigrants who flocked to California lured by the Gold Rush and failed, moved south to continue their agricultural pursuits, including planting wine grapes. As time rolled by, these agrarian families commericialized their ventures, with the Paso Robles AVA being home to 40,000 vineyards and 200 wineries showcasing premium wines.
With 11 sub-AVAs under its belt, the Paso Robles AVA specializes in vibrant, fruit forward wines resulting from hot days and cooler evenings. You will find Rhone and Bordeaux varietals with Cabernet Sauvignon, Zinfandel and Syrahs and some Pinot Noir and Chardonnay as well. In 2016, Sunset Magazine named Paso Robles the Best Wine Region of the West.
Check out the complete Paso Robles Winery Map here
SAN LUIS OBISPO WINE REGION (EDNA VALLEY)
Wine tasting with our newly adopted pup Gunda in Biddle Ranch Vineyard, Edna Valley
I love the Central Coast of California! From Santa Cruz in the north to Ventura in the south, there is so much to do, see, eat and drink in this absolutely gorgeous part of the state. Of all these places, I have visited San Luis Obispo repeatedly along with the coastal towns of Cambria and Pismo Beach, which is when I discovered the low key laid back Edna Valley where wine lovers flock to in SLO county.
Edna Valley is all about wine tasting with an extremely relaxed chilled out vibe in the nearly 30 wineries and tasting rooms dotting Orcutt Road, Biddle Ranch Road and Carpenter Canyon Road (CA-227). The coastal weather and rich soil foster the growth of Chardonnay and Pinot Noir grapes, although I must add here that I did not find the Pinot Noirs here as light and fruity as the ones in Russian River Valley, Sonoma.
If you're visiting San Luis Obispo or Pismo Beach, I highly recommend doing the 12-15 minute drive and checking out the different wineries in Edna Valley. Unlike Paso Robles (which is more inland), the atmosphere is way more relaxed and informal with lower tasting fees. I highly recommend the dog friendly Biddle Ranch Vineyard-for its hospitality, picturesque tasting venue and the top notch wines! You can read my dog friendly wine tasting adventures at Edna Valley right here.
Check out the complete list of Edna Valley Wineries here
SANTA BARBARA WINE COUNTRY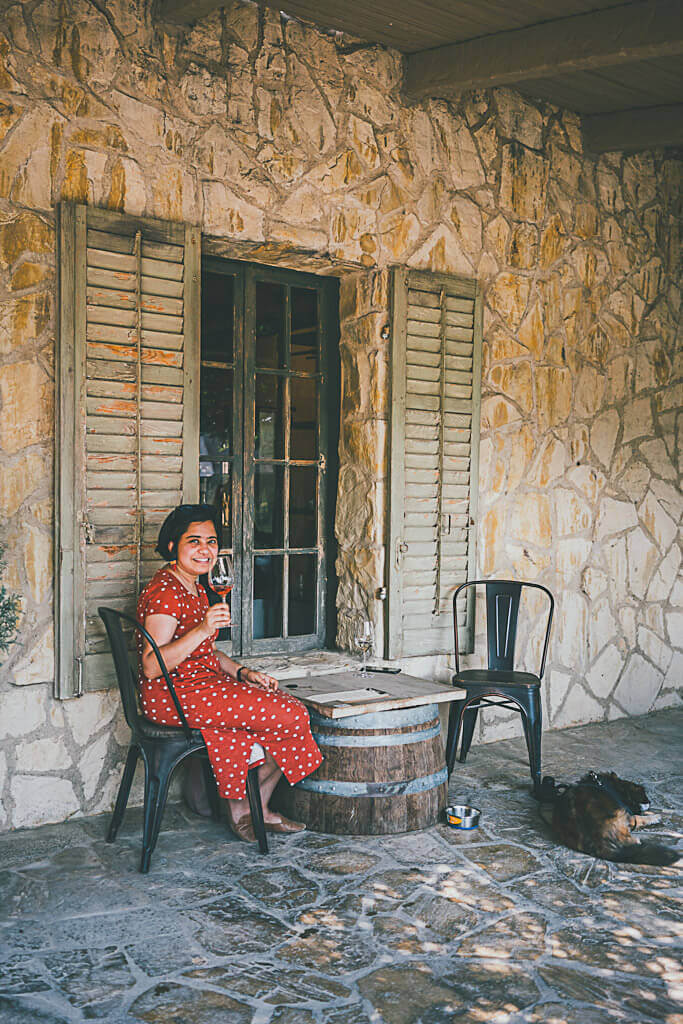 Wine tasting at Santa Ynez Valley (Sunstone Winery)
Of all the wine regions in California that I have visited so far, Santa Barbara Wine Country is hands down my second favorite after Sonoma County.
The two main wine growing regions here are located north of the city of Santa Barbara and are the Santa Ynez Valley and Santa Maria Valley, with over 100 wineries and tasting rooms. Of these two, I have visited the Santa Ynez valley many times-to say that I am in love with its charming fairy tale towns (Solvang, Los Alamos, Buellton, Santa Ynez, Los Olivos) and dreamy wineries is an understatement!
Santa Barbara Wine country has a unique geographic location, with the wine growing regions located in the transverse valleys (that open directly to the ocean) next to the Santa Ynez Mountain Range. The 50 miles stretching from Point Conception to Rincon comprises of the longest east-west traverse of shoreline from Alaska to Cape Horn. This region boasts of 7 AVAs and 9 wine trails and so there is never a dull moment when you're out and about for wine tasting!
Fun fact: Santa Barbara wine country is also the subject of one of my favorite movies "Sideways", the name being inspired by the unique orientation of SB wine region. Set in Santa Ynez Valley, this is the story of one last hurrah of two dysfunctional friends who arrive for a chill weekend of wine tasting prior to one of them getting hitched (and of course things go comically and tragically awry). Sideways is that rare movie where wine is used as a metaphor for life, love, loss and relationships and is a must watch for all wine lovers out there.
Santa Ynez Valley experiences Mediterranean climate which allows the growth of a wide variety of grapes. The cool ocean breeze allows for cold climate varietals such as Chardonnay and Pinot Noir to thrive on the west. Warmer inland climate of the east is good for Cabernet and Merlot.
Santa Ynez Valley is a long drive south from San Francisco (283 miles) but is a mere 2 hours north of Los Angeles and a must do day trip from Santa Barbara. When in Santa Ynez Valley, I recommend visiting the picture perfect Danish city Solvang and nearby Buellton, Los Alamos and Los Olivos to check out the many tasting rooms. My favorite is the Wandering Dog Wine Bar located in Solvang which true to its name is also very dog friendly!
The other stellar wineries that I recommend in Santa Ynez valley are Sunstone Winery (a Tuscan style chateau surrounded by lavender fields and vineyards), Shoestring Winery and Roblar Winery and Vineyards. You can read my Solvang guide for more details on my wine tasting adventures in Santa Barbara wine country or read my day trip to Santa Barbara guide for information on tasting rooms in Santa Barbara itself!
See the complete list of Santa Barbara Wineries here
SOUTHERN CALIFORNIA WINE REGIONS
MALIBU WINE COUNTRY
Malibu Wine region, photo credit: Denise Macuk
The sun-kissed town of Malibu sits right on a 30 mile stretch of the Pacific Coast in Los Angeles County and is home to star studded villas, celebrity events,the opulent Getty Villa and some of the most pristine beaches in California (including a rare leash free dog beach in Los Angeles county).
What most people (including me before I started writing this article) don't know is that Malibu is also home to a small yet bustling wine region! Since I am yet to visit this wine region in Southern California, my blogger friend (and chef!) Denise is here to tell you all about this lesser known wine region in California.
The Malibu wine region is one of the smallest in California. Just 40 miles from the skyscrapers of downtown LA lies an enclave of vineyards hidden in the Santa Monica Mountains that even some locals don't know exists.
This really is a small region and many wineries don't have tasting rooms (there are only 6 tasting rooms and 30 wineries here). Luckily Cielo Farms does, but you should make a reservation for a tasting. At the top of this estate sits a Tuscan stone "barn" that functions as a tasting room. Outside tables dot the lawn where you'll enjoy sweeping vistas of the local mountains. The staff is friendly and since you won't want to leave, take a picnic with you.
Cielo produces 3 labels: Cielo, White Rabbit, and Woodstock. Their whites include Sauvignon Blanc, Chardonnay, Viognier, and their best seller, a white blend called Honey Pie. For reds, it's mostly Syrah and Cabernet Sauvignon. While these are not big Napa reds, they are some of the best in this region.
Just down the road is Saddlerock Ranch, home of Malibu Family Wines which bottles under the labels Saddlerock and Semler. Varietals grown locally include Sauvignon Blanc, Syrah, Viognier, Malbec, Merlot, and Cabernet Sauvignon. The property is gorgeous so consider doing the 2 hour Wine Hike they offer as their tasting room across the street was a casualty of the Woolsey fire. Another option is to visit their tasting room in West Hills (about 20 minutes away).
A better option still is to visit Cornell Winery & Tasting Room which is just down the street in the other direction. Here you'll find most of the wines from the region available. Do a flight or buy a bottle and enjoy the lovely patio and perhaps some music.
TEMECULA VALLEY WINE COUNTRY
Temecula Valley, photo credit: Adria Saracino
Temecula is the trendy wine tasting destination for Southern Californians since it is only 55 miles north of San Diego and 90 miles southeast of Los Angeles. Since my wine tasting adventures have not taken me beyond Santa Barbara, I have enlisted the help of my blogger friend Adria to do the honors. This is what Adria has to say about Temecula:
Another must-visit wine region in California is Temecula Valley. This AVA is dubbed the "Napa of Southern California" and is home to more than 40 wineries all within a short drive of each other. And since Temecula is only an hour north of San Diego, it's a perfect day trip to add to your San Diego itinerary. Add this wine region to your list if you like boutique wineries making small quantities of typically medium-bodied varietals like Sangiovese, Syrah, Zinfandel, Malbec, and Tempranillo.
One must-visit winery is Akash. It has a beautiful property with plenty of windows and outdoor seating overlooking the vineyards. You'll find two award-winning labels at this family-run winery: one using only estate-grown grapes and the other using grapes from neighboring vines.
Another winery to visit off the beaten path is Vindemia Winery. This small winery is nestled on a little hill and has a pretty outdoor area overlooking the valley. You'll find excellent bold reds made with sustainable farming practices.
Lastly, don't miss Doffo Winery. This unpretentious vineyard is nestled between rows and rows of vines. Its picturesque landscape makes it a popular wedding destination, but what makes this place particularly cool is the unexpected ambiance when you walk into the tasting room. Inside you'll be met with thousands of pieces of cool motorcycle memorabilia from floor to ceiling. Don't forget to take photos in front of the wall of vintage bikes!
See the complete list of Temecula wineries here
And that brings me to the end of this long, exhaustive post on the best wine regions of California that go way beyond Napa Valley! I hope you enjoyed finding out more about the mind boggling diversity of the California wine industry with its many wine growing regions and appellations. Thanks so much for stopping by and please enjoy your wine tasting responsibly!
LIKE THIS POST? PIN IT FOR LATER
«