Last Updated on November 6, 2022 by Paroma
Are you curious about things to do in Cambria, a small coastal town on California's Central Coast? Having cruised down the coast many times (so many over my 12 years of living in San Francisco that I have lost count), I have either stopped by several times or spend a night at Cambria. This charming seaside town perched on Highway 1 will enthrall you with its beaches, hikes, views and a tiny but bustling downtown with good food and wine. So let's get started on this list of Cambria attractions ASAP!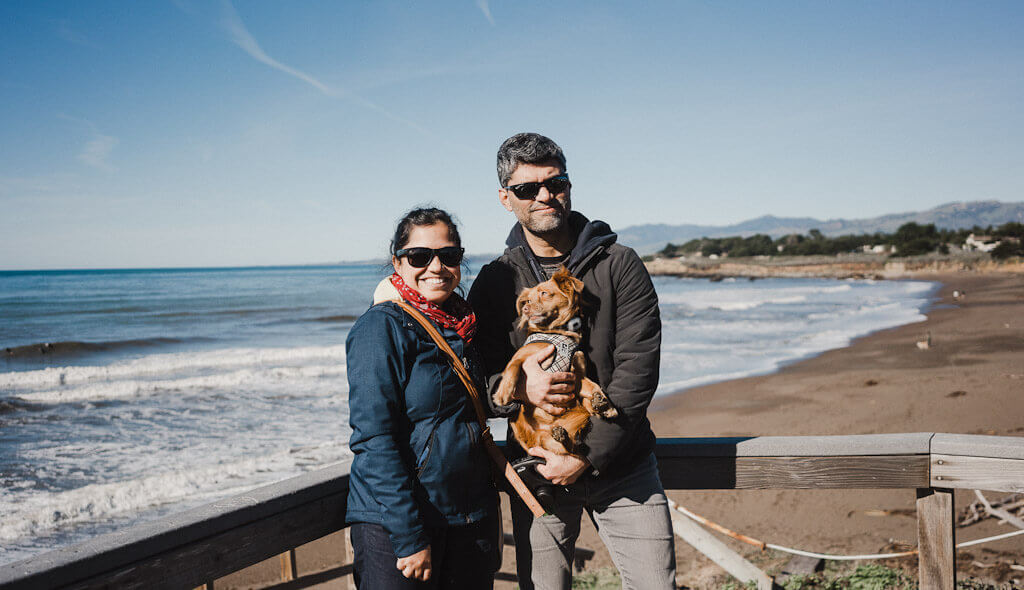 Disclaimer: This post may contain some affiliate links. Clicking on them may earn me a small commission at no extra cost to you for the product. Thank you for supporting free content on this site!
Cambria is one of those quintessential California beach towns perched right on Highway 1 (Pacific Coast Highway) on the Central Coast in San Luis Obispo County that you see in postcards depicting the idyllic California life.
Often overshadowed by the more popular towns of San Luis Obispo, Pismo Beach, Morro Bay and even the nearby San Simeon, Cambria is that blink and you'll miss it tiny spot along the coast which surprisingly has plenty to offer in terms of outdoor activities and a bustling downtown if you choose to stay overnight or spend a long weekend.
Cambria has always been our stop of choice during our road trips from San Francisco to Santa Barbara or Los Angeles, which we embark on during the winter break in December. I have also visited this town several times when in San Luis Obispo county, during my trips to Pismo Beach and wine tasting in Paso Robles (the inland wine destination that is an easy drive along Route 46 from Cambria).
Based on my past visits, I have garnered a list of 17 amazing things to do in Cambria that epitomizes the good California life. Just keep on reading to plan your own weekend getaway to Cambria; trust me you will be amazed as to how much Cambria and its surroundings have to offer!
READ MY OTHER CENTRAL COAST GUIDES HERE: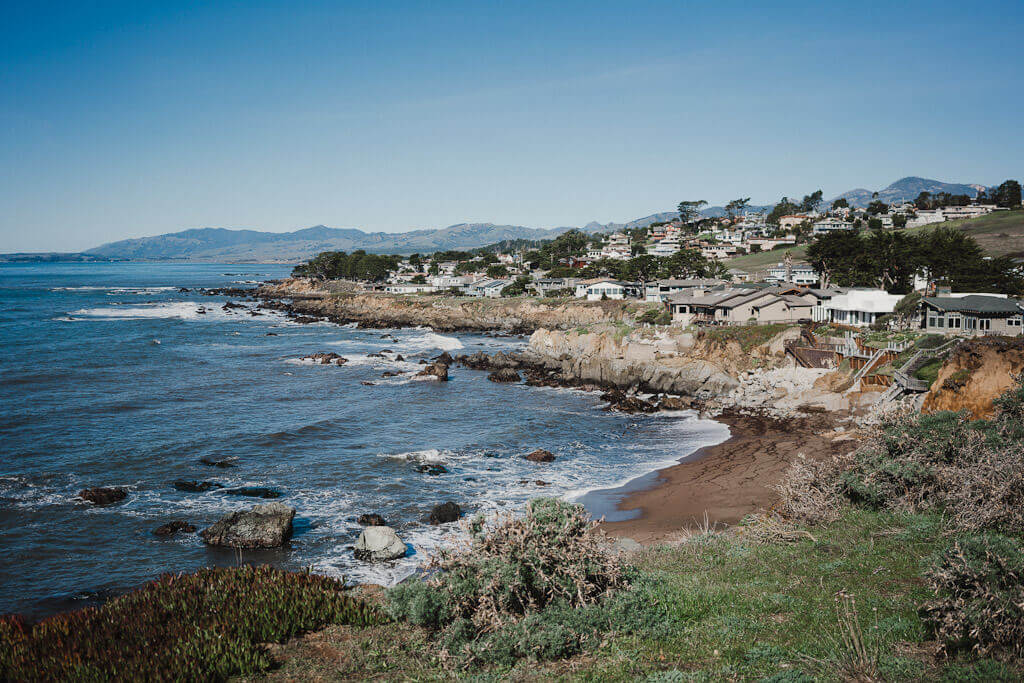 VISITING CAMBRIA ON THE CENTRAL COAST? HERE ARE THE FAQs
GETTING TO CAMBRIA (AIRPORTS AND DRIVING INFO)
Cambria is best experienced as part of a road trip along the Pacific Coast Highway (also known as Highway 1 or Cabrillo Highway). Being on the central coast, Cambria is roughly equidistant from both San Francisco and Los Angeles. SFO International Airport is 220 miles north of Cambria while LAX International Airport is about 220 miles south of it. You could also fly into SBA (Santa Barbara International Airport) and drive north for 132 miles to get to Cambria.
Although the inland route of 101 (N or S depending on your starting point) is the fastest way to get to Cambria either from Los Angeles or San Francisco, I recommend driving along the Pacific Coast Highway/Highway 1/Cabrillo Highway if this is your very first time road tripping in California. Highway 1 hugging the coast is incredibly scenic (you can read my San Francisco to Carmel or San Francisco to Mendocino posts to find out more) and although it will take you much longer to get to Cambria from SF or LA, it will be a trip to remember!
SAN FRANCISCO TO CAMBRIA ROAD TRIP ALONG HIGHWAY 1
If you're driving southbound from San Francisco (or SFO airport which by the way is not in the city of San Francisco), then I highly recommend going down Highway 1 from Carmel to Cambria as it will take you through 90 miles of sheer magic, aka Big Sur.
However, Big Sur is extremely fragile and there are road closures along this route several times of the year due to inclement weather. Since Highway 1 is the only route along the coast between Carmel and San Simeon/Cambria, please check road conditions before planning a drive through Big Sur.
BEST TIME TO VISIT CAMBRIA
Being right on Highway 1 near the coast, Cambria has mild weather year round so you can visit anytime. Just remember our Winter is rainy, so please pack in a rain jacket or umbrella. Summer might be foggy or gloomy along the beach. Unlike SoCal, Northern and Central California beaches are cold year round so please dress in layers and don't try to swim (the water is icy cold year round).
IS CAMBRIA DOG FRIENDLY?
Cambria is also a very dog friendly town and dogs are welcome in many places. As a dog mom who has travelled extensively with her pups in California over 12 years, I will be pointing out all the dog friendly things you can do in Cambria in this post.
BEST HOTELS TO STAY IN CAMBRIA (BEACH FRONT AND DOG FRIENDLY SUGGESTIONS)
When in Cambria, you are never too far away from the ocean. Since we've always visited Cambria with our dogs (Babu and now, Gunda), we've stayed at the dog friendly Cambria Palms Motel on Main Street (downtown, East Village). Cambria Palms Motel has clean spacious rooms with a microwave and fridge, free wifi and charges $20 with tax/pet/night.
The other option is a beachfront hotel on Moonstone drive which runs along the famous Moonstone beach. I recommend staying at the popular Sea Otter Inn or Cambria Beach Lodge (free parking, wifi, breakfast and bike rentals). During our second visit, we stayed at The FogCatcher Inn which is right across the beach. This dog friendly hotel charges $75 pet fee/room and allows up to 2 dogs per room. The rooms are spacious, have free wifi and come equipped with microwave and fridge.
THE BEST THINGS TO DO IN CAMBRIA ALONG HIGHWAY 1
Now that we've cleared all the travel logistics out of our way, here is my guide on the best things to do in and around Cambria, mostly along Highway 1. These are gleaned from my several past visits to Cambria during my road trip adventures down the Central Coast.
DOWNTOWN CAMBRIA: EAST AND WEST VILLAGES
For a town that looks deceptively tiny, Cambria has a lot going for it. Case in point being it's downtown that runs along Main Street and is divided into East and West Villages. East village is a little quieter with bakeries, tasting rooms, restaurants and some antique shops while West Village is filled with even more art galleries, shops, antique stores and lots of wine tasting rooms. Main Street is perfect for breakfast, lunch, dinner, wine tasting and shopping-so definitely spend an afternoon exploring it.
NITT WITT RIDGE
Did you know that Cambria has its very own California Registered Historical Landmark (and no, it is not Hearst Castle in nearby San Simeon)? I am talking about the quirky, eccentric Nitt Witt Ridge which is a five minute drive from downtown. Built from everything imaginable, we even say a toilet seat gracing the front of the building as we stood outside scratching our heads in bewilderment and wondering how FUN the inside might be:-)
Nitt Witt Ridge is a house built on a 10 acre elevated land by a reclusive artist named Arthur "Art" Harold Beal who bought his hillside lot in 1928 and spent about 50 years creating a "castle on the hill" with only a pick and shovel using remnants foraged from the magnificent Hearst Castle (where he worked for some time) as well as everything under the sun that can be used to "build"-from beer cans, abalone shells, concrete slabs, washer drums, car parts, and even old stoves!
Art passed away at the ripe old age of 96 in 1992 and the property was purchased by Michael and Stacey O'Malley in 1996. Mike still offers tours of the house with a suggested donation of $10 for a 40 minute tour and tour times are posted at the front gate, as we saw during our brief visit. Since we were returning home to San Francisco and did not have much time, we skipped the tour. But please let me know if you join one!
SHOPPING ON MAIN STREET
Do not leave Cambria empty handed without picking up some local souvenirs (art, ceramics, pottery, home decor) from one of the many antique stores or home decor shops on Main Street. My favorite places (from where I have shopped over my repeat visits) are as follows:
East Village: Sea + Green (home decor, ceramics, jewelry), Cinnabar (folk art from mainly Mexico), Among Friends and Bounding Main (right next to Vault Art Gallery).
West Village: Home Arts (lovely collection of home decor goods, posters, and other hand made items), Encore and Ephraim Pottery (a collective of several local potters selling ceramics and art)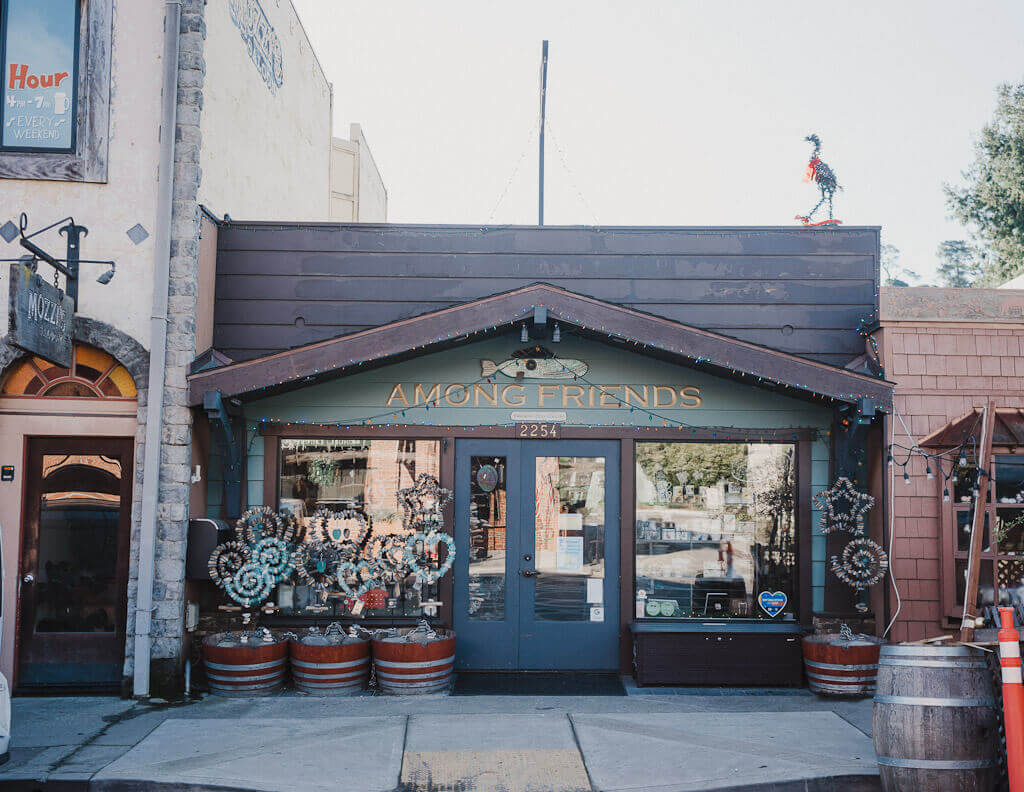 WINE TASTING IN CAMBRIA
The Central Coast of California is home to wine tasting heavy weights such as Paso Robles and Edna Valley near San Luis Obispo and Cambria is no exception. Main street is dotted with wine tasting venues such as Fermentation, Cayucos Cellars and MoonStone Cellars. The closest winery is Stolo Vineyards and Winery on Santa Rosa Creek Road which specializes in Pinot Noir, Chardonnay and Syrah.
The Cambria tourism board also organizes an annual Art & Wine Festival (January) which is happening in 2022! This includes an art show at the Cambria Center for Arts Gallery and wine tasting at several local businesses.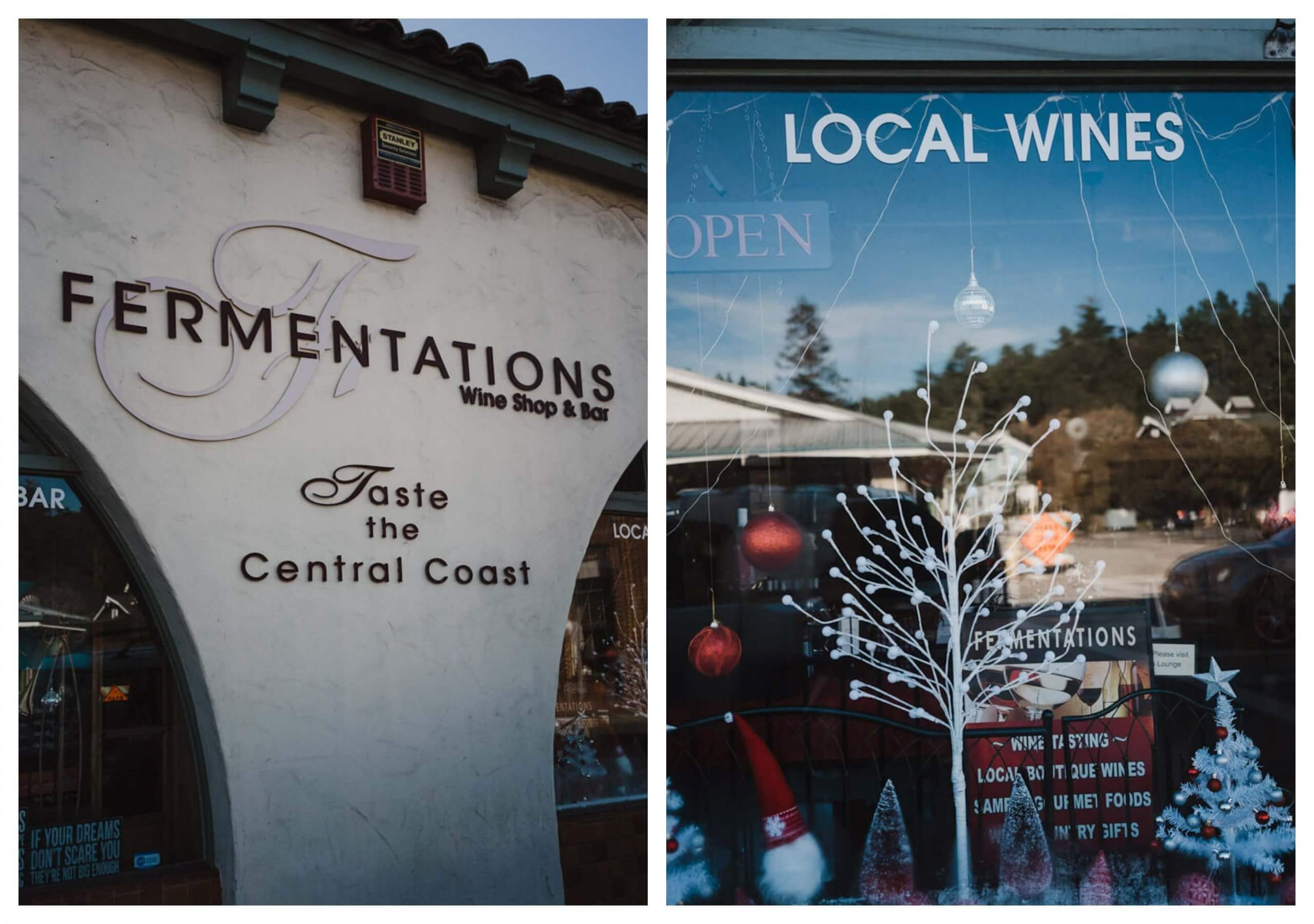 ART GALLERIES ON MAIN STREET
Much like Carmel by the Sea in Monterey County, Cambria too has several art galleries lining Main Street, featuring artists from the Central Coast and statewide. Unlike art galleries in bigger cities, walking in and admiring the beauty of the paintings is not a stuffy experience at all in the small art galleries.
If you are an art aficionado, I recommend stopping by at least two galleries when in Cambria. These are the low key Vault Art Gallery in East Village and Melanee Sylvester Gallery in West Village. Artifacts Gallery is a very popular gallery in the West Village and features quirky colorful art as well as sculptures. Another tiny, yet pretty gallery featuring local Central Coast artists is Monarch Gallery in the West Village which is worth a visit!
Melanee Sylvester Gallery is a hidden gem featuring amazing paintings and books, some of which (the books, not art) are free for you to take home. This tiny gallery carries the works of the famous San Luis Obispo artist Tracey Sylvester Harris who trained the actor Ed Harris in art work for his role as a brooding artist in the Indie move The Face of Love. Tracey's work is very Southern California beach inspired and is showcased in Santa Monica's Skidmore Gallery.
SCARECROWS OF CAMBRIA
Did you know that Cambria has its very own scarecrow festival held religiously every October? I did not, and after seeing the whimsical scarecrow statues all over Main Street, I am dying to revisit Cambria for the festival. What started in 2009 with only 30 scarecrows has now entered its 13 year and snowballed into a major event that has been featured on Los Angeles Times, Chicago Tribune, ABCNews.com and Huffington Post.
The festival involves creation and display of scarecrows by local artists and enthusiasts to help foster creativity in local communities of Cambria, San Simeon and Harmony. Although the 2021 festival was cancelled (due to the ongoing health crisis), the festival has been back in full swing in 2022 (Oct 1-31) with dozens of scarecrows all over town (we saw most of them during our most recent trip).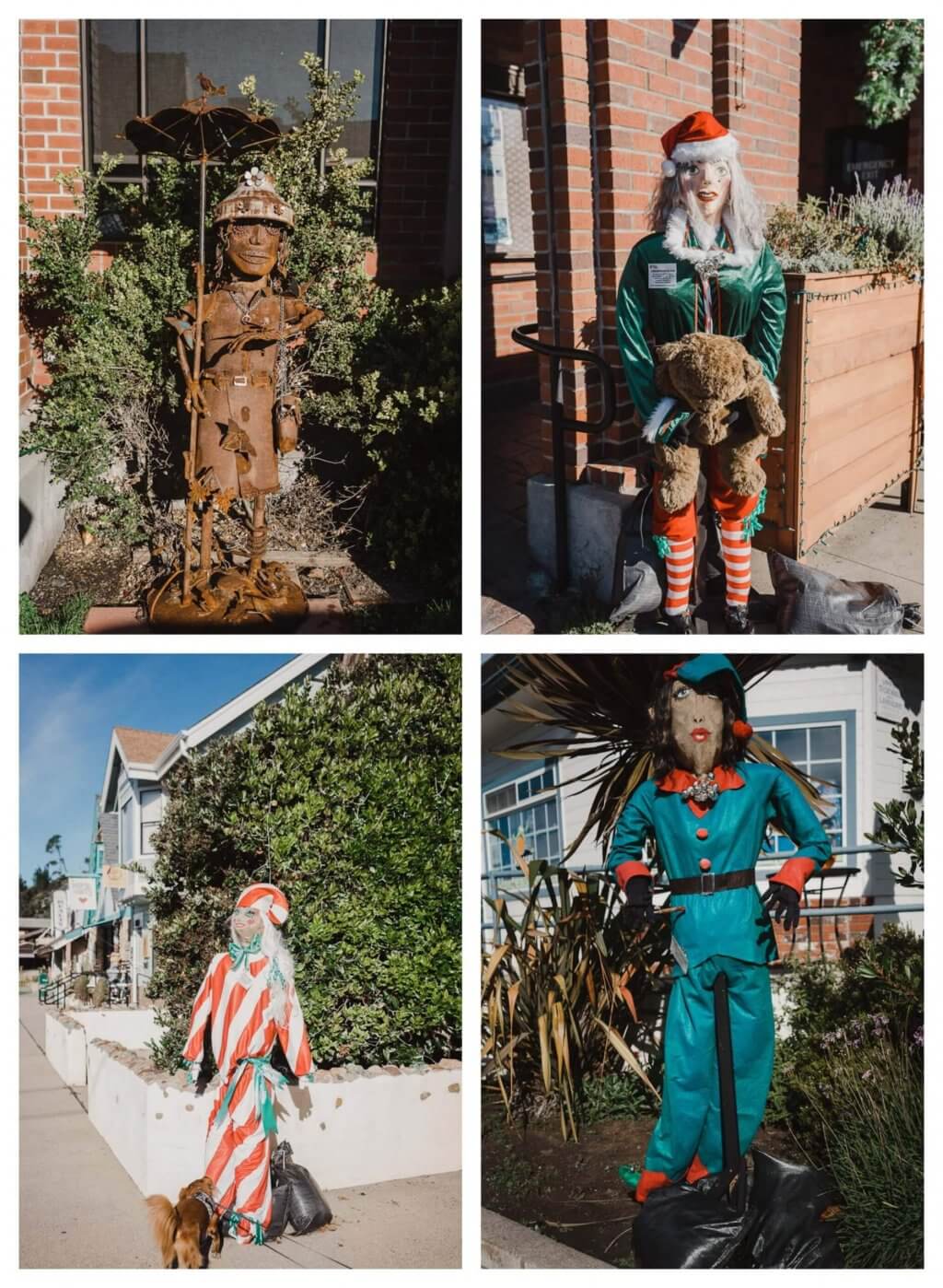 LEFFINGWELL LANDING STATE PARK
Leffingwell Landing State Park is a gorgeous view point and park at the northernmost point of Cambria next to Moonstone Beach Drive. Sandy trails leading to bluffs overlooking the ocean start from the parking lot on the right (you can walk all the way up to San Simeon State Park in the north along the trail). The actual park is to the left of the parking lot with a shaded dog friendly trail punctuated by several overlook points at the edge of the park.
MOONSTONE BEACH AND BOARDWALK
One of the best things to do in Cambria is undoubtedly dip your toes in the sand at MoonStone Beach which lies parallel to Highway 1. The beach is not dog friendly but the boardwalk running along the bluffs is. Walk the Moonstone beach boardwalk, especially around the Seal View Beach Deck Area to catch an epic beach sunset.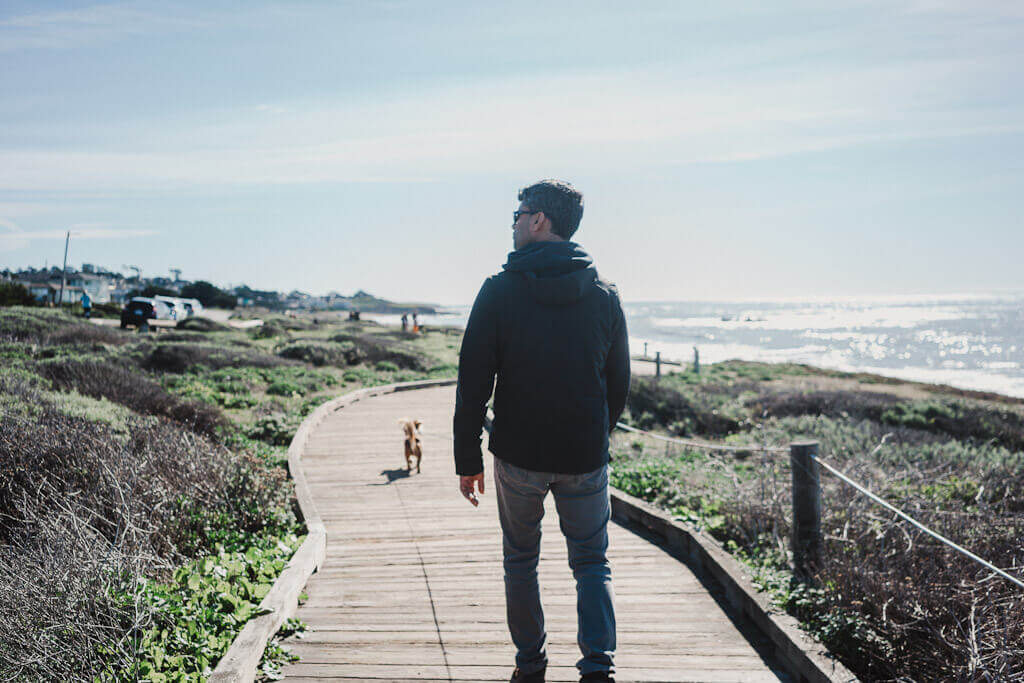 SHAMEL PARK
This 6 acre beachfront park is a local's best kept secret and lies at the very end of Moonstone beach, next to Moonstone Beach Park on Windsor Boulevard. The park leads to a small sandy beach of the Santa Rosa Creek with beautiful ocean views. The park also has a gazebo, a children's play area and a heated ADA compliant swimming pool!
FISCALINI RANCH PRESERVE
Hiking on the Bluff Trail boardwalk in Fiscalini Ranch was undoubtedly our favorite thing to do in Cambria, especially because it is dog friendly (dogs welcome on leash). Fiscalini Ranch Preserve is a historic oceanfront sanctuary showcasing the splendor of California's flora and fauna with more than 150 different native plant species and 430 birds. It is also home to the Monterey pine forest which is one of the five remaining native vegetations in the world.
Although there are many trails on Fiscalini Ranch, the paved Bluff trail running through the dramatic ocean bluff for more than a mile along the shoreline was easily our favorite due to the ease of hiking and for the magnificent ocean views. The trail is easily accessed via a short step of flights from Windsor Boulevard.
Fiscalini Ranch is open 365 days a year and is free to the public. You have to park on Windsor Boulevard and simply walk up the stairs to access the nearly one mile Bluff Trail. Don't forget to get your camera for some cool photos!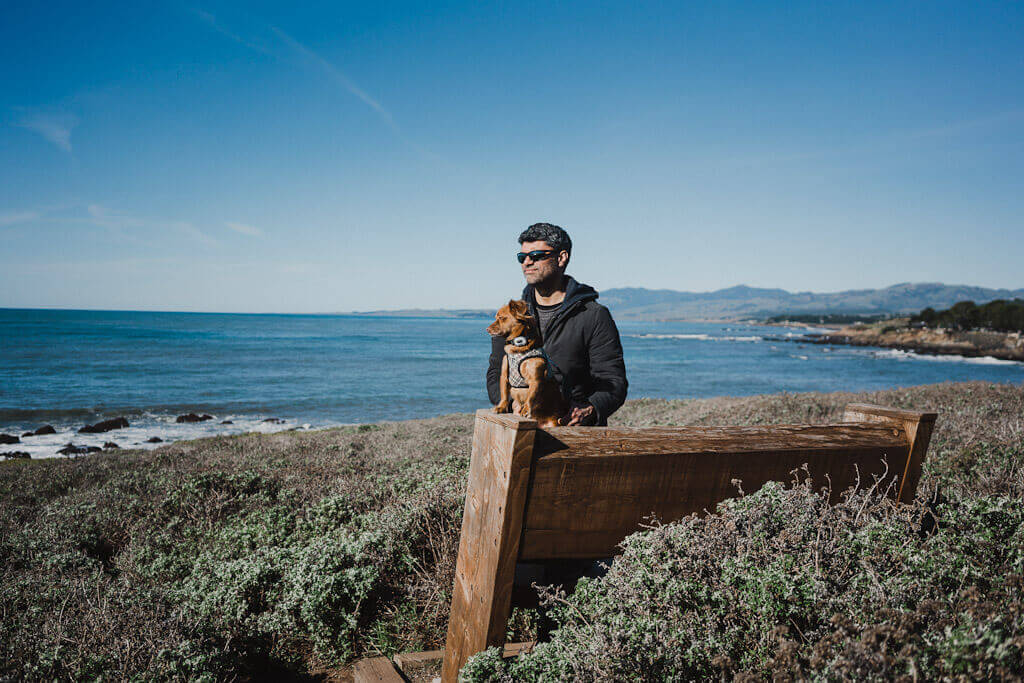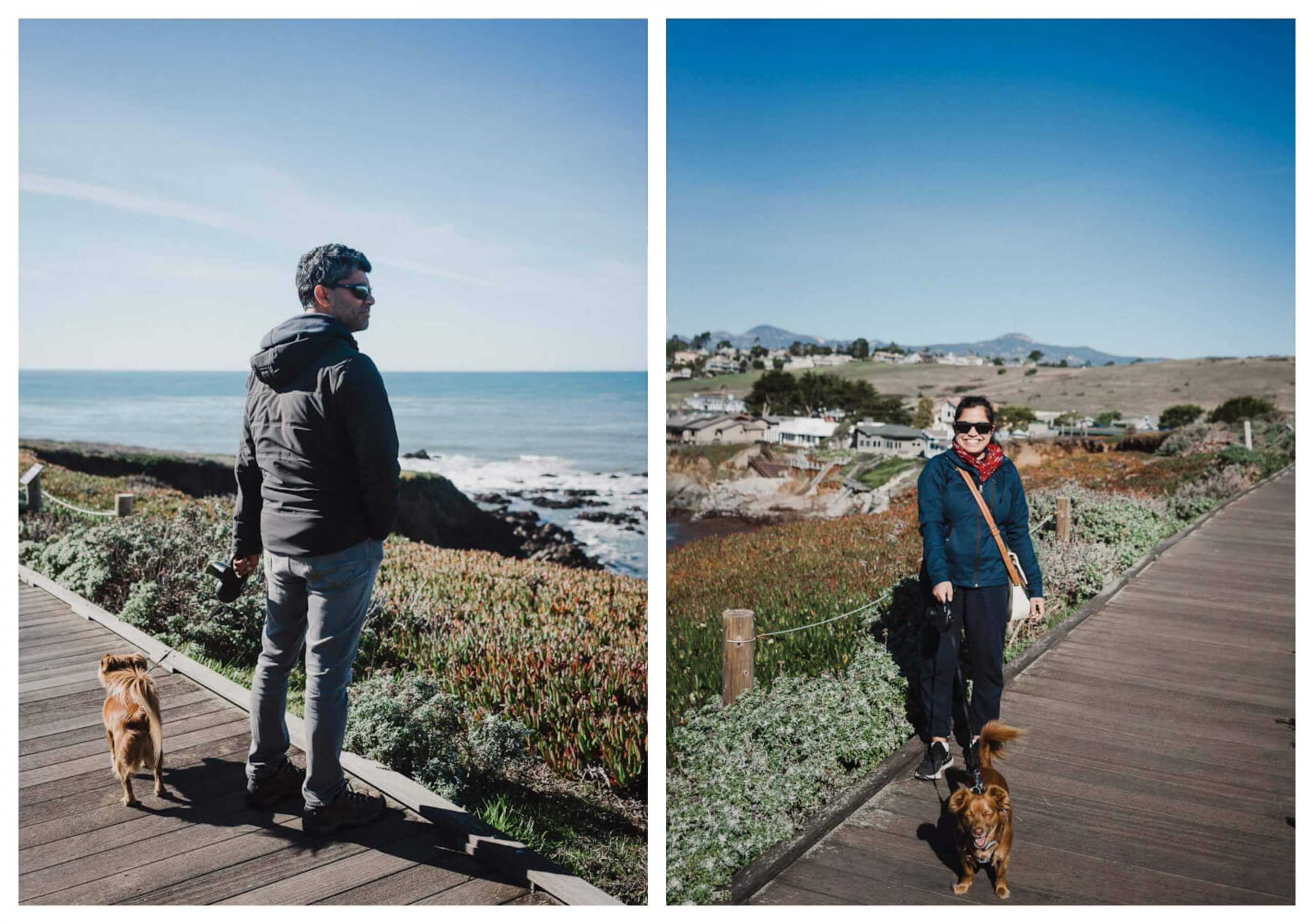 STEPLADDER RANCH AND CREAMERY
Stepladder Ranch and Creamery is a small batch, award winning cheesemaker from Cambria with their cheese being a favorite at many wineries, farmers markets and stores all over California. Beside their cow and goat milk cheese (the latter being my favorite), they were also well known for their ranch tours featuring the cutest baby goats ever (just take a look at their Instagram to see how their goats are everything to them).
Stepladder have halted all their tours (creamery and goat pasture) since 2020 for obvious reasons but I am hopeful that they will resume so in 2022. Till then, continue buying their cheese and get a sneak peek of farm life virtually through this video. You can also rent "The Big House" on their ranch and enjoy panoramic views of the coast in Cambria!
View this post on Instagram
WHERE TO EAT IN CAMBRIA: BAKERIES AND RESTAURANTS
Since Cambria is so close to the glamorous Paso Robles or the more popular San Luis Obispo, one might be tempted to dine in those bigger towns. However, that would be a total shame since this tiny beach town has so much to offer in terms of amazing bakeries and restaurants. From breakfast to dinner, there are plenty of spots in both East and West Village to satisfy your belly.
Our perennial favorites (where we have been many times) are The French Corner Bakery (a breakfast staple with delicious pastries, croissants and sandwiches), Linn's Bakery and Restaurant serving Californian-American fare, Hidden Kitchen serving savory waffles in a tiny courtyard tucked away in one corner and finally Robin which serves internationally inspired food made from local ingredients in a beautiful garden.
For those with a major sweet tooth, do stop by Sweet Offerings in East Village for all your taffy, candy and gooey fudge cravings and Dolce Salato in West Village for ice cream or frozen yogurt.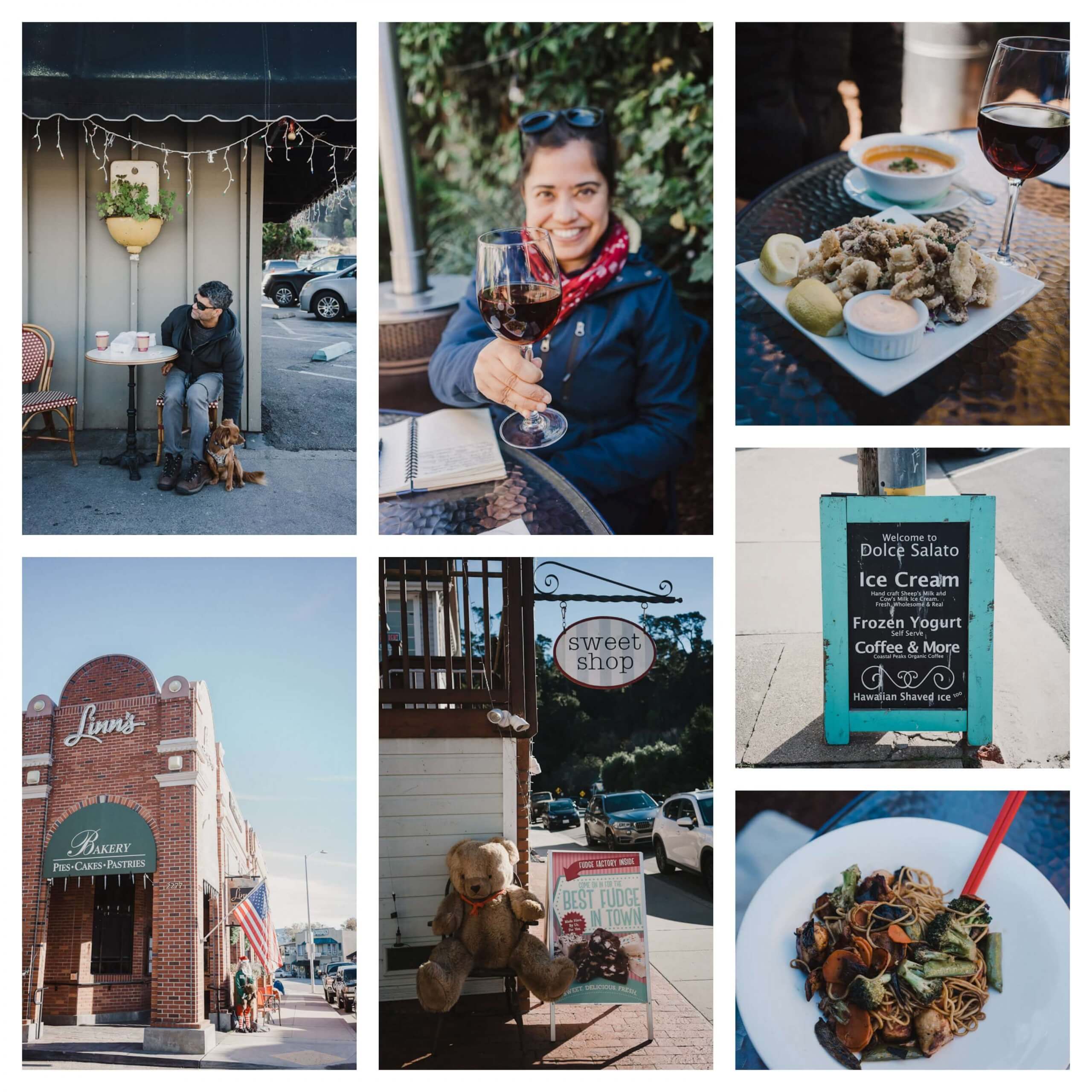 THINGS TO DO NEAR CAMBRIA ALONG THE PACIFIC COAST HIGHWAY
HEARST CASTLE
Cambria sits just south of San Simeon on Highway 1 with only a 5-10 drive required to reach the latter. San Simeon is home to the famous (and unfinished) Hearst castle that belonged to the billionaire William Randolph Hearst. The castle, perched on top of a hill, features magnificent ornate rooms, indoor and outdoor swimming pools and a level of grandeur that is just jaw-dropping!
You can only visit the castle as part of organized group tours and there are several to choose from. You have to book the tour (s) of your choice either online in advance or at the visitor center from where buses depart at designated times with guides. Tickets cost $25/adult and $12/child. Currently both visitor center and tours are closed but they are anticipated to open soon with advanced reservation requirements for visitors.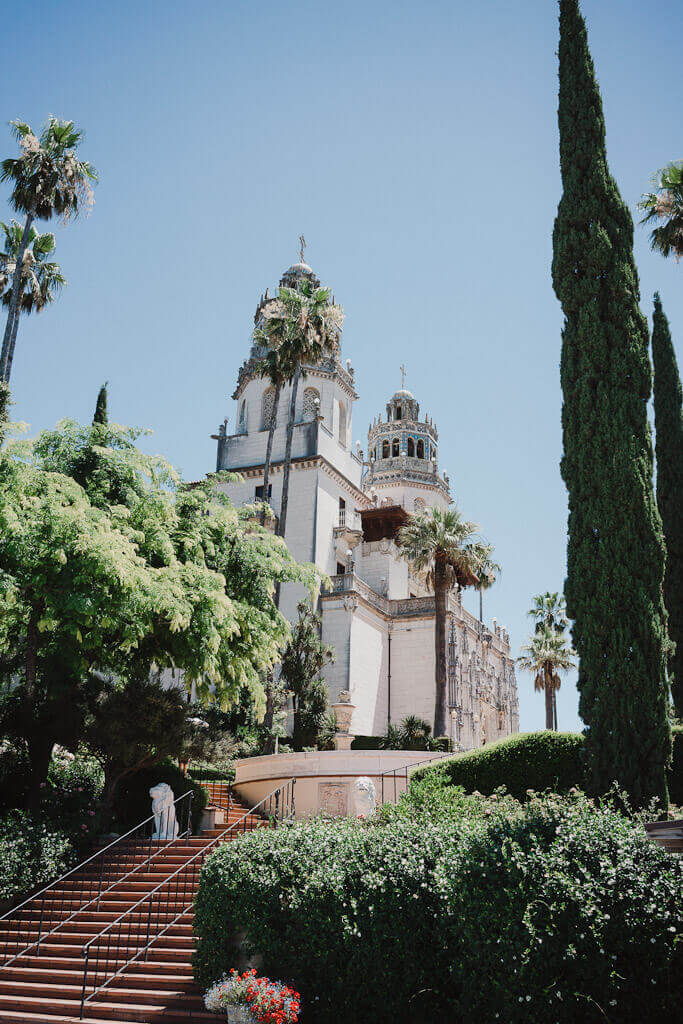 HEARST MEMORIAL BEACH AND SAN SIMEON PIER
This is where where we watched the sun go down on 2016 as we spent the last day of the year near the Pier with our first dog Babu (he passed away on Feb 16, 2021 due to cancer at the ripe old age of 17). You can get a nice view of the castle in the distance from the beach as well. Although dogs are not allowed on the beach, leashed ones are welcome at San Simeon pier and cove, adjacent to the William Hearst beach.
ELEPHANT SEAL ROOKERY
My absolute favorite stop on Highway 1 is the Elephant Seal Rookery, just north of Hearst Castle. Here, you can view thousands of these chubby sea mammals sunbathing to their heart's content on a sandy beach from an enclosed viewing area.
Birthing season is from November-March when the females return to the beach to give birth, nurse pups and also mate (it gets very noisy at that time). The state's conservation efforts brought the elephant seals back from near extinction (they were hunted in the 1800s by whalers for their blubber) and today thousands of them can be seen during peak season at this rookery, flipping sand on themselves to keep them cool and enjoying the good California life!
You can also view the latest ongoings at the rookery, thanks to the elephant seal cam provided by the friends of elephant seals website, a conservation group.
HEARST RANCH WINERY
This gorgeous winery is perched right next to San Simeon Pier and beach with windswept oceanfront tables and a large, spacious indoor tasting room. The grapes come from Monterey county (Chardonnay) or Saunders vineyards which is part of the Paso Robles Appellation and you can get pours of 5 whites and reds.
This is a dog friendly winery and you can also purchase cheese, chocolates and cured meats to go with your wine. I highly recommend making reservation in advance since it is a very popular winery.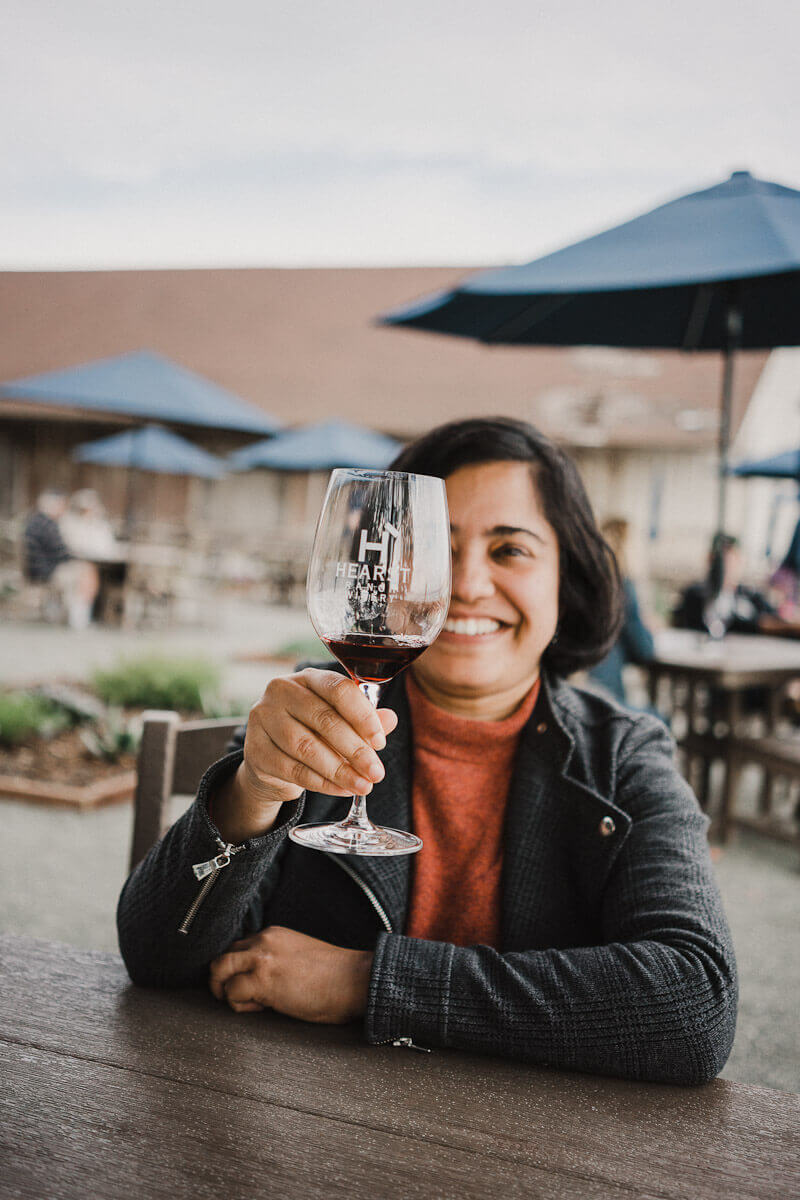 PIEDRAS BLANCAS LIGHTHOUSE
This is the only stop along Highway 1 in San Simeon that I am yet to visit, no thanks to multiple road closures at Ragged Point which have always thwarted my efforts.
Piedras Blancas Light Station sits 6 miles north of Hearst Castle right on the coast and is managed by the Bureau of Land Management as a historic park and wildlife sanctuary. The Light station is so named after the distinctive white rocks offshore that are home to seabirds, sea lions, and elephant seals.
Built in 1870s (first illuminated in 1875), this Lighthouse is still a functioning one (one of the few remaining in California like the Point Pinot Lighthouse at Pacific Grove) and was restored in 2010s, with the work continuing even today.
Although accessible to the public, the visitation to the Fog Signal building and lower floor of the lighthouse is strictly by reserved tours (you can buy tickets here). Dogs are not allowed on the property and smoking is strictly prohibited. Visitors are encouraged to bring in binoculars since this site offers ample sighting of elephant seals and other sea mammals such as migratory whales, sea lions and sea otters. The tours are offered year round and are 2 hours long.
View this post on Instagram
VISITING HARMONY
For those visiting Cambria over the weekend, a quick 5 mile drive south will take your straight into the quirky dairy town of Harmony. This artsy teeny tiny town dotted with cow sculptures and delicious ice cream is a perfect stop for a few hours on the coast near Cambria.
This brings me to the end of my guide to exploring Cambria. I hope you enjoyed reading this post on some of the best things to do in and nearby Cambria and are sufficiently inspired to check out this coastal town on your next visit to the central coast. Thanks a lot for stopping by and safe travels.

LIKE THIS POST? PIN IT FOR LATER

«