Last Updated on November 6, 2022 by Paroma
Wondering about the best things to do in Harmony, California? Here is my fun guide on all the fantastic ways to enjoy this tiny dairy town tucked away on the California central coast. Perfect as a half day trip from San Luis Obispo, Cambria or San Simeon, Harmony is probably the best kept secret of SLO county and one that you must check out!
Disclaimer: This post may contain some affiliate links. Clicking on them may earn me a small commission at no extra cost to you for the product. Thank you for supporting free content on this site!
The blink-and-you'll-miss it erstwhile dairy town of Harmony lies on the California central coast right off Highway 1, 14 miles south of San Simeon and 6 miles away from Cambria in San Luis Obispo County. If you're planning to visit San Luis Obispo or Paso Robles or the seaside town of Cambria as your last stop after driving through Big Sur, then tacking on a half day trip to Harmony is a very good idea as part of your weekend road trip from San Francisco.
Harmony is quirky, tiny dairy town which can be easily explored in a few hours. In this post on the best things to do in Harmony, I'll be spilling the beans on how to make those hours the most enjoyable, with what to see, where to shop, eat and even go wine tasting! (seriously, don't miss out on the last one if you are visiting this town). So, let's get started!
READ MY OTHER CENTRAL COAST GUIDES HERE:
FAQs FOR PLANNING A TRIP TO HARMONY, CALIFORNIA
HISTORY OF HARMONY
Harmony is a 2.5 acre of private land owned by dairy farmer Alan VanderHorst and his family since 2014 who purchased this place and have been working relentlessly towards its revival. This town was founded in 1869 when it boasted of several dairy ranches and a creamery. Operational changes and rivalries even led to a murder and finally in 1907 the ranchers and owners called a truce, which is what the name of the town symbolizes.
Harmony used to be a lively town after the founding of the Harmony Valley Dairy Co-op in 1901. With a dairy management office, stable, blacksmith, gas station, post office (which still remains), school and a feedstore, it developed as a tight knit community. Such was the allure of the creamery's ice cream and buttermilk that William Randolph Hearst (the billionaire publishing magnet and owner of Hearst Castle) would often stop by this town along Route 1 on his way home to San Simeon.
However, increasing grazing land fees and dairy industry consolidation led to the closure of Harmony's prized creamery in 1955 with operations moving to San Luis Obispo. Present day Harmony is being kept alive via a hand full of stores, a beautiful chapel that serves as a wedding venue, its famous creamery that made a comeback and of course the Harmony wine cellars that is drawing business as well.
WHERE IS HARMONY?
Harmony lies on the Central Coast of California, 232 miles south of San Francisco (via 101-S), 28 miles northwest of San Luis Obispo and about 217 miles north of Los Angeles. The closest airports are the SLO county regional airport (31 miles south) and the Santa Barbara Airport (126 miles south). It is about 14 miles south of San Simeon and 6 miles away from Cambria in San Luis Obispo County.
The town (basically one tiny stretch of road) is located at the end of Old Creamery road that shoots off Harmony Valley Road off Highway 1 (Pacific Coast Highway/Route 1). You park on Old Creamery road and spend a few hours exploring the handful of stores on this small parcel of land with the statue of a colorful cow greeting you as you enter. I recommend visiting on a weekend when the Harmony Valley creamery van is open for business.
There are not hotels/lodging in this tiny place with a population of 18. Your best bet is to stay either in San Simeon or Cambria for visiting Harmony for a few hours. My advice would be to stay right across the Moonstone beach in Cambria at either Oceanpoint Ranch or FogCatcher Inn (both are dog friendly).
IS HARMONY DOG FRIENDLY?
Yes! Except Harmony Pottery Works, dogs are welcome pretty much everywhere in this tiny town.
THE BEST THINGS TO DO IN HARMONY, CALIFORNIA
You can easily spend a few hours in Harmony doing a bunch of things. Here is what I recommend:
1. GET AN ICE CREAM FROM HARMONY VALLEY CREAMERY
The best thing to do when in Harmony is get its famous ice cream from the mobile Harmony Valley Creamery truck! Open from 11:30 AM-4:30 AM every Saturday and Sunday, weather permitting, this is the biggest attraction of this dairy town and continues to draw in visitors.
2. VISIT THE HARMONY POTTERY WORKS STORE
This working studio and gallery is also a great place to buy a souvenir since it showcases over 150 local artists on the central coast and has some unique ceramic pieces adorning its shop.
3. SNAP A PHOTO IN FRONT OF THE WEDDING CHAPEL
The colorful, ornate wooden door of the chapel, right next to the pottery store, forms a perfect backdrop for an impromptu photo
4. STOP BY HARMONY GLASSWORKS
Not only is this store a great place to shop for colorful gifts all made of glass, but it also offers glass blowing lessons and demos when you are visiting. Dogs are allowed inside.
5. ENJOY THE COW STATUES
The tiny main drag of this place boasts of at least 4 cow statues, which is a shout out to its dairy origins. The first one greets you as you park on Old Creamery Road and enter the town, the second and third are right on the plaza leading to the pottery store, while the fourth is that of an ariel cow perched atop the Harmony Valley Creamery Association building (literally the only white building standing which is home to the post office).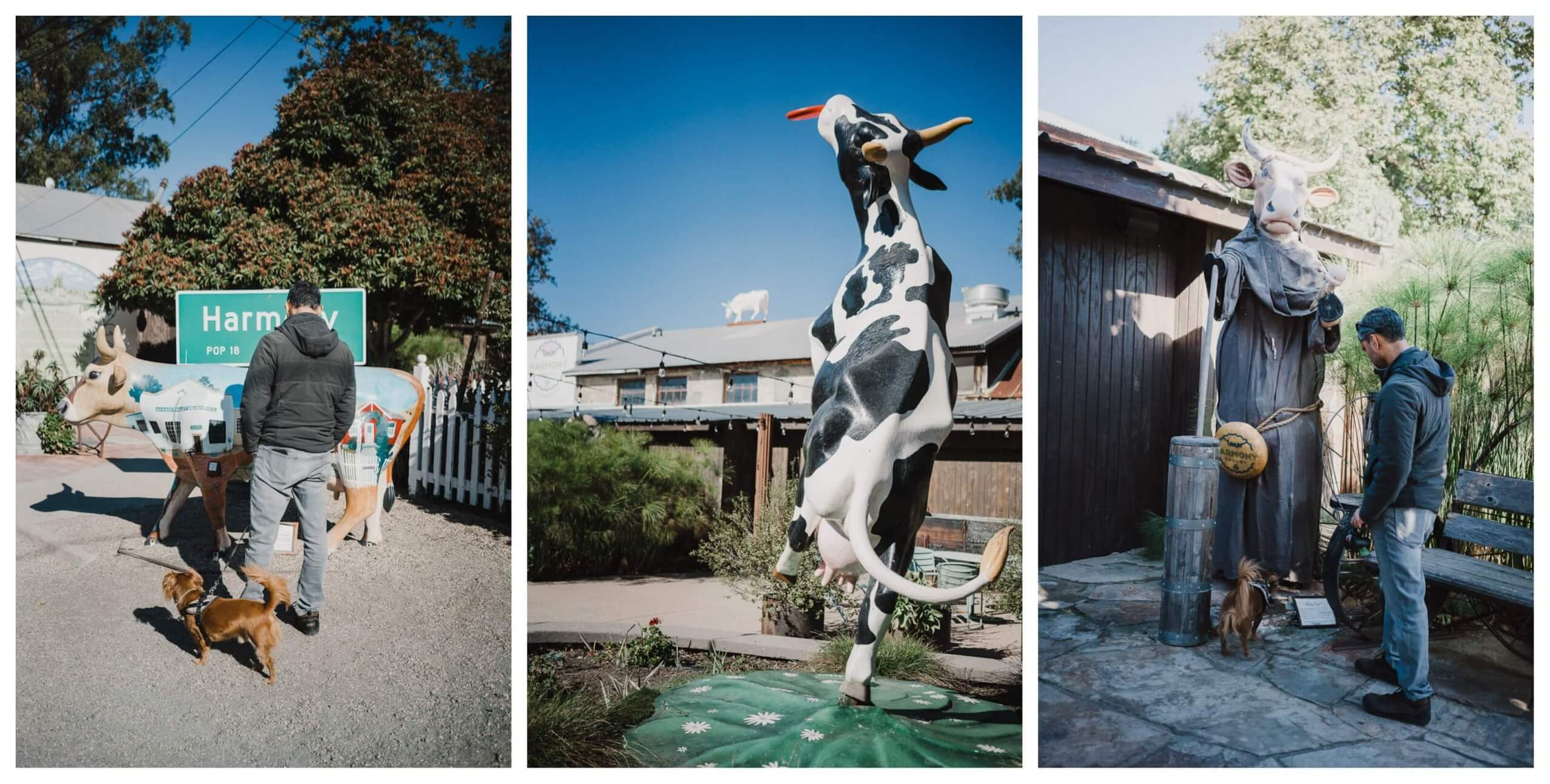 6. GET A BITE TO EAT FROM THE CREAMERY FOOD TRUCK
There are no restaurants in Harmony, but the creamery has its very own food truck right next to the ice cream van which boasts of poutines, melted cheese sandwiches and raclettes, as well as has pints of ice cream in a cooler to take home. Definitely get one of their tasty poutines during your visit.
Located on Harmony Valley road, which is a stone's throw away from the tiny town, this winery and tasting room is a big hit with visitors. You get a taste of 6 wines of your choice for only $15 and you can enjoy it on their huge patio with a scenic view. Well behaved dogs on leash are welcome for wine tasting outdoors. I highly recommend visiting this winery for a blissful afternoon of tasting some of the best Central Coast wines. Pro tip: you get a tasty chocolate truffle if you opt for one of their dessert wines:-)
WHAT TO DO NEAR HARMONY
San Luis Obispo county is a treasure trove of beautiful sights and attractions, hikes and walks, food and wine. I love this part of my beautiful state and have visited it countless times. This county sits south of the magical coastal drive of Big Sur and is a great place for a weekend getaway. Here are some helpful posts for more ideas:
I hope you enjoyed reading this guide to the best things to do in Harmony, California and are inspired to check it out. Thanks a lot for stopping by and safe travels!

LIKE THIS POST? PIN IT FOR LATER

«