Last Updated on July 25, 2022 by Paroma
If you're wondering about romantic things to do in Big Sur, then I am here to tell you how to make this magical California road trip even more memorable with your loved one. Exploring breathtaking views, witnessing a sunset on the coast that is too unreal to be true, cozy dinners and sunrises on a beach with purple sand-Big Sur is filled with romantic things to do. Having driven through Big Sur with my partner, I am here to tell you how to turn this Pacific Coast Highway journey into a dreamy getaway with your beloved.
Disclaimer: This post may contain some affiliate links. Clicking on them may earn me a small commission at no extra cost to you for the product. Thank you for supporting free content on this site!
A ROMANTIC BIG SUR TRIP: EVERYTHING YOU NEED TO KNOW
Big Sur is a stretch of 90 miles of California's Central coast in Monterey County and starts right outside of picturesque Carmel by the Sea, continuing all the way into San Simeon and Cambria in San Luis Obispo County. There is only one way to experience Big Sur, and that is by driving down the Pacific Coast Highway (Highway 1) that hugs the coastline, revealing some of the most beautiful stops that your eyes will see as you drive down the coast.
A drive down the Pacific Coast Highway in Big Sur is the perfect romantic getaway for Bay Area folks since there are some many dreamy spots along the way to enjoy with your other half. Honestly, a Big Sur road trip is exactly what you need to rekindle love as you witness the best of California's central coast, in all its natural glory and biodiversity.
Coastal views, quiet hikes, sunsets that will take your breath away, delicious meals with even better views-there is romance to be found everywhere in Big Sur! And if you have a lot of moolah to spare, you will be pampered to the hilt by the luxury resorts in Big Sur that not only offer world class lodging but also many immersive experiences exclusive to the California coast.
If you're planning on a romantic weekend or a honeymoon in Big Sur, March-April (Spring) would be the perfect time to do so. This is because not only is the weather great, but this is also the time when wildflowers abound along the coast and gray whales can be spotted during their summer migration. Plus, you will see less tourists as compared to Summer.
Big Sur is ideal for a weekend getaway from San Jose or as a road trip from San Francisco, but you should not (and I mean definitely do not) try to squeeze in the entire 90 miles in one go. First, navigating Highway 1 is a bit stressful with those turnouts and bends and so you need to drive carefully.
Second, rushing through all the stops (as in just snapping a photo for the GRAM and moving on without enjoying the scene) is simply the worst way of experiencing Big Sur and doing yourself a great disservice. I recommend staying overnight somewhere in Big Sur for a relaxed experience and luckily for you, I have also provided hotel recommendations at the end of this post.
The very last thing to remind you is that Big Sur is ecologically fragile, and road closures due to natural calamities happens more often than you think. Before you plan your romantic Big Sur trip, please make sure the entire Highway 1 is accessible. You can check Highway 1 status updates here.
Want more California road trips? Find them all here:
ROMANTIC THINGS TO DO IN BIG SUR
Since I live in San Francisco,this post on all the romantic things to do in Big Sur starts from Carmel and ends in San Simeon (which is the last point of Big Sur). If you're coming in from the south, i.e. San Luis Obispo or Santa Barbara or Los Angeles, these stops will be in reverse order. Either way, the romantic factor will be the same, so let's just get started! You can read my entire Big Sur road trip guide for added inspiration.
TAKE IN THE VIEWS AT POINT LOBOS STATE NATURAL RESERVE
Point Lobos Natural State Reserve will be your very first stop into Big Sur once you exit Carmel-by-the-Sea. Point Lobos is hands-down that one romantic,ethereal and magical spot along the coast which you should not miss at any cost. Often referred to as the "Crowned Jewel of the State Park System", Point Lobos comprises of headlands, coves and rolling meadows with hikes leading to secluded coves and vista points.
Point Lobos also boasts of one of the richest underwater habitats in California and sightings of wildlife such as sea otters, harbor seals, sea lions and majestic gray whales is customary. Although there are many scenic hikes at Point Lobos, I recommend the easy short hike of Sea Lion Point Trail, which is a 0.6 mile hike starting from the Cypress Grove/Sea Lion parking lot.
The other trail that is totally doable and leads you to the Sea Lion Cove is the South Shore trail runs along the coast and is accessible from several parking lots inside Point Lobos. The third option for a romantic outing is to stop by the Whaler's cove on the north shore (there is also a museum here) and get on to the Granite Point trail bordering Whaler's cove for spectacular views.
Point Lobos is a slice of paradise on earth.The misty spray of the ocean, the roaring waves and the azure blue water paints a breathtaking scenery everywhere you turn. If you are lucky, you might spot some sea lions snoozing on one of the rocks below, much like we did. You can see the park map here (day use parking is $10 per vehicle).
ADMIRE THE BLOOMING LILIES AT CALLA LILY VALLEY
If you've taken my advice and are planning a romantic Big Sur getaway in Spring, then put Garrapata State Park and beach at the very top of you itinerary. This will be your second stop along the Pacific Coast Highway after you come out of Point Lobos and drive southwards. You will have to park in the designated parking lot(a turnabout on the highway) which is tiny, so please come early.
Garrapata State Park will woo you with an explosion of wild flower covered bluffs come spring, which is such a romantic backdrop for a hike to the beach. However, what is even more enticing is a lesser known valley right next to the beach that is filled with Calla Lilies in spring (March is the best time to go see them).
This valley is a little difficult to spot from the Highway and the path to it starts from Mile marker 18. I recommend coming in as early as possible for some much needed solitude because it is very popular with photographers,many of whom will plant their tripods in the middle of the flowers and refuse to budge. Enjoy the lilies, take your photos but please do not trample them!
Here is the exact location of Calla Lily Valley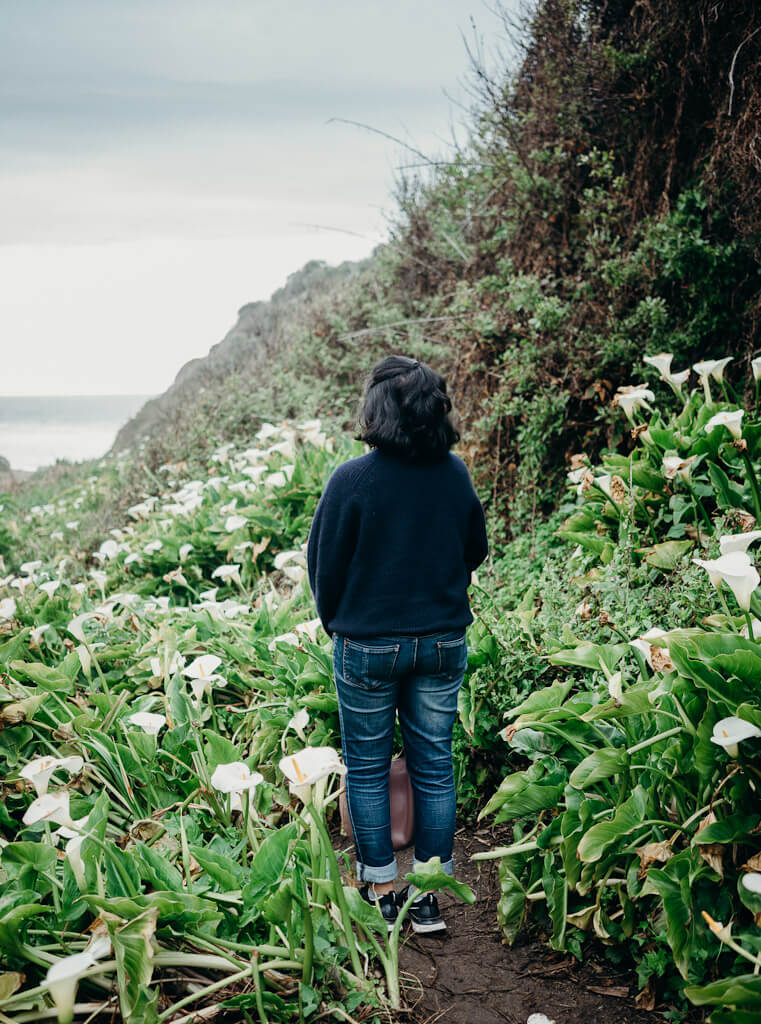 SNAP A COUPLES PHOTO AT BIXBY BRIDGE
Next on your Big Sur Road trip lies the iconic Bixby Bridge, the second most photographed bridge after the Golden Gate Bridge. This is also one of the tallest single span concrete bridges in the world which opened to the public in 1932.
Bixby Bridge is a Big Sur landmark and one that is often depicted in movies and shows (remember Big Little Lies?) based out of Monterey or the central coast. This is the perfect backdrop for a couples photo but this notion is also shared by a zillion others, so you will see tons of people snapping photos like crazy on either sides of the bridge when you arrive.
To avoid crowds, I recommend going in early or stopping by on a Friday morning. Also be very careful if you wish to cross the road for a better vantage point since there are cars whizzing by non-stop. Fun but totally unnecessary fact that I'm hoping some people will relate to: My other half/husband hates being photographed. So most photos in Big Sur are of me or him when he's not watching.
ENJOY THE TRANQUILITY AT PFEIFFER FALLS
Pfeiffer Big Sur state park is a treasure trove of day hikes, ranging from easy peasy strolls to downright strenuous that reward you with magnificent views! If you're an outdoorsy couple, by all means enjoy the hikes, especially the Valley View trail that will take you all the way to an epic vista point. However, for those of you wanting an easier hike to a secluded waterfall, get going on the Pfeiffer Falls trail.
Pfeiffer Falls trail is a 2.5 miles round trip but most of it involves climbing up a series of wooden stairs that take you through a dense canopy of trees and straight up to the falls. There is a wonderful viewing area to see the fall and simply perfect for some romantic lone-time, with the soothing sound of the water cascading down. The Pfeiffer Falls area is part of the Big Sur River watershed and is best viewed during Winter and Spring thanks to the rainfall.
If you are staying at Big Sur Lodge (I've stayed there twice) which is right inside the park, then you can park in the and start hiking from the trailhead next to the lodge visitor center. If you're a day user, then park at one of the campground lots.
WITNESS A SUNRISE FROM PFEIFFER BEACH
This secluded beach is that one perfect zen haven along highway 1 that is known for its purple streaked sand and the famous keystone rock. For a romantic escape to the beach, I recommend visiting it at the crack of dawn to witness a surreal sunrise (this is what we did during our visit). When you come to the beach this early, it is practically empty and the exclusiveness is simply priceless, not to mention the romanticism of watching a sunrise hand-in-hand.
Pfeiffer beach is open from sunrise to sunset and you have to pay $12 in cash /vehicle to enter (state park passes do not work here). There is a small parking lot near the beach for your vehicle.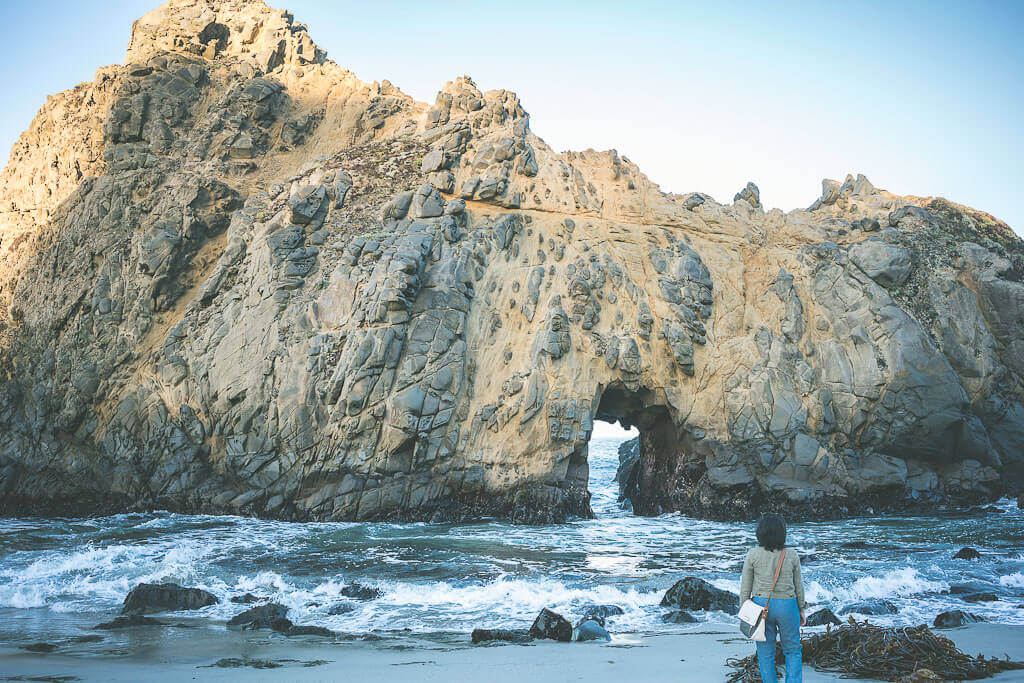 BOOK A NIGHT'S STAY AT POST RANCH INN
If you're choosing Big Sur as your honeymoon destination and want to have a once in a lifetime experience, I recommend booking a one night's indulgent stay at the luxury retreat of Post Ranch Inn perched on the coast.
Each of their rooms offers the utmost of comforts and the best of views-for example, their Cliff House has a glass deck suspended right over the cliffs for unobstructed views! The inn offers 40 guest rooms and private homes with unbelievable views of the ocean and the mountains.
If the rooms and their locations were not enough to take your breath away, Post Ranch Inn also has complimentary breakfast and snacks, guided garden tours and hikes of their property, a chef's garden serving their restaurant Sierra Mar (which is open to the public for dining), yoga and access to their infinity and other swimming pools. Although expensive, this is definitely one of the most romantic experiences at Big Sur.
View this post on Instagram
ENJOY A ROMANTIC DINNER AT NEPENTHE
Nepenthe is the one restaurant at Big Sur that everyone swears by and although the prices are pretty steep (I've dined there twice), what you're paying for, beside a sit down meal on a stretch of the coast where not many restaurants are located, is hands down the view. Nepenthe overlooks the coast and people flock to in the early evening to see the sun go down on the Pacific from the outdoor patio area when everything is drenched in the golden sunlight.
Nepenthe does not take reservations, so the trick is to come in early around 5-5:30 PM, put your name down, get some drinks or simply lounge around in the outdoor area to absorb the views till your dinner is ready. Dress warmly since it does get chilly in the evening.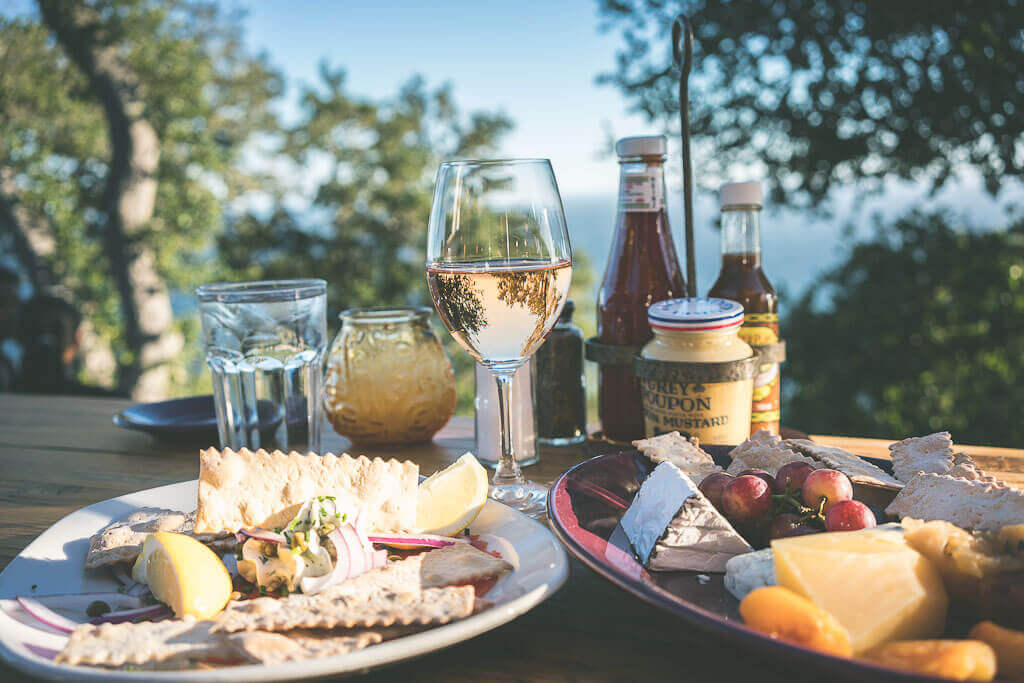 SAVOR THE CALMING EXPERIENCE AT HENRY MILLER LIBRARY
Henry Miller Memorial library, is a man made oasis on the Pacific Coast Highway and if you're a bibliophile or simply looking to stretch your feet in the surrounding garden, then this is the perfect place to do exactly that, devoid of Instagram photo loving crowds. This charming library, with the tagline of "Where Nothing Happens" is a calming oasis of books founded by Emil White in memory of the legendary American writer and artist, Henry Miller.
The library is open from 11AM-5PM Wednesday-Sunday. It hosts a number of events in the beautiful garden/outdoor area surrounding it. The library itself is filled with quirky charm such as books hanging from ceiling, lot of Henry Miller pop arty posters and a worn out green couch on the patio with tons of actual books adorning the wall above it.
ENJOY SOME ALONE TIME AT PARTINGTON COVE
One of the most romantic things to do in Big Sur is finding hidden gems for those moments of pure bliss to enjoy with your partner and Partington Cove is exactly that. This beautiful cove lies 2 miles north of Julia Pfeiffer Burns state park right on Highway 1 and there are two pull outs near and across from it for parking.
A green gate with an opening on the side leads to a trail that will take you all the way to this cove, where yellow wildflowers bloom and the waves roar and crash on the rocky shore. Rest here for a while and take in the untarnished beauty of Big Sur with your special person.

WATCH THE SUN GO DOWN AT SAN SIMEON BEACH/HEARST BEACH
I am ending this romantic Big Sur guide with one of my favorite activities, and that is experiencing a beach sunset (we've already covered the sunrise bit before). This also marks the end of your Big Sur road trip at San Simeon, famous for its beaches, the legendary Hearst Castle and the Elephant Seal Rookery. Enjoy a dreamy sunset from the Hearst Memorial Beach and San Simeon Pier, with the Hearst Castle towering at a distance.

ROMANTIC HOTELS IN BIG SUR (FOR ALL BUDGETS)

Big Sur is an insanely popular road trip in California, thanks it's pristine beauty that pulls in visitors from all over the world. All this makes it somewhat difficult to find a place to stay in Big Sur itself if you're planning a romantic Big Sur getaway. Plus, it also does not help that there only a few lodging options along Highway 1 in Big Sur and many are pretty pricey.

One option is to stay either in Carmel or Monterey, but that would make your trip very inconvenient since you have to drive long distances to and from your hotel along Highway 1 (remember there is no other road or shortcut between two points once you leave Big Sur). I strongly suggest against this, you'll be better off finding hotels/lodging in Big Sur to enjoy this road trip to the hilt. Here are some of my suggestions for a romantic getaway beside Post Ranch Inn:

Big Sur Lodge: this lodge is located right inside Pfeiffer Big Sur Park and surrounded by greenery. Rooms are basic, making it the most economical of all Big Sur hotels and it is certainly not a romantic getaway by any means. However, the park around it is filled with scenic trails and so your stay will definitely be a nice one.

Big Sur River Inn: Big Sur River Inn offers Riverside Suites overlooking their lawn and redwood-lined Big Sur Rive. These suites come with private bedrooms with king size beds, televisions, coffee makers and trundle- style beds in the living rooms. They also have Motel Style Rooms across from the lodge along Highway 1 and their own restaurant serving all three meals.

Alila Ventana Big Sur: This adults only Big Sur lodging is perfect for a romantic getaway or a honeymoon right on the central coast amidst the old growth Redwoods. Ventana Big Sur not only offers lodging but also a myriad experiences like Big Sur bike tours, guided meditation experiences, falconry experience and guided excursions-all of which have to be purchased separately from your stay. If that is not all, Spa Alila has a number of services to pamper you and your partner during your stay.

I hope you enjoyed reading this guide on some of the most romantic things to do in Big Sur! Read my complete Big Sur guide here to plan your next romantic getaway. Thanks for stopping by and safe travels.

LIKE THIS POST? PIN IT FOR LATER

«