Last Updated on November 16, 2022 by Paroma
Are you planning to go whale watching in California but don't have a clue on where to start? Luckily for you, I have done the legwork for you-i.e. hopped onto that trailer to seek out these mighty mammals migrating down the coast and have also scoured out the best places for whale watching in California for those of you who are curious to see them in action.
This post is based on my personalized experience and includes answers to all your burning questions on where to go whale watching near San Francisco, best whale watching spots in the Bay Area and of course everything you need to know about planning your own whale watching trip-best season to spot the whales, tour recommendations and do's and don'ts to prepare for a whale watching trip.
Disclaimer: This post may contain some affiliate links. Clicking on them may earn me a small commission at no extra cost to you for the product. Thank you for supporting free content on this site!
WHALE WATCHING IN CALIFORNIA: EVERYTHING YOU NEED TO KNOW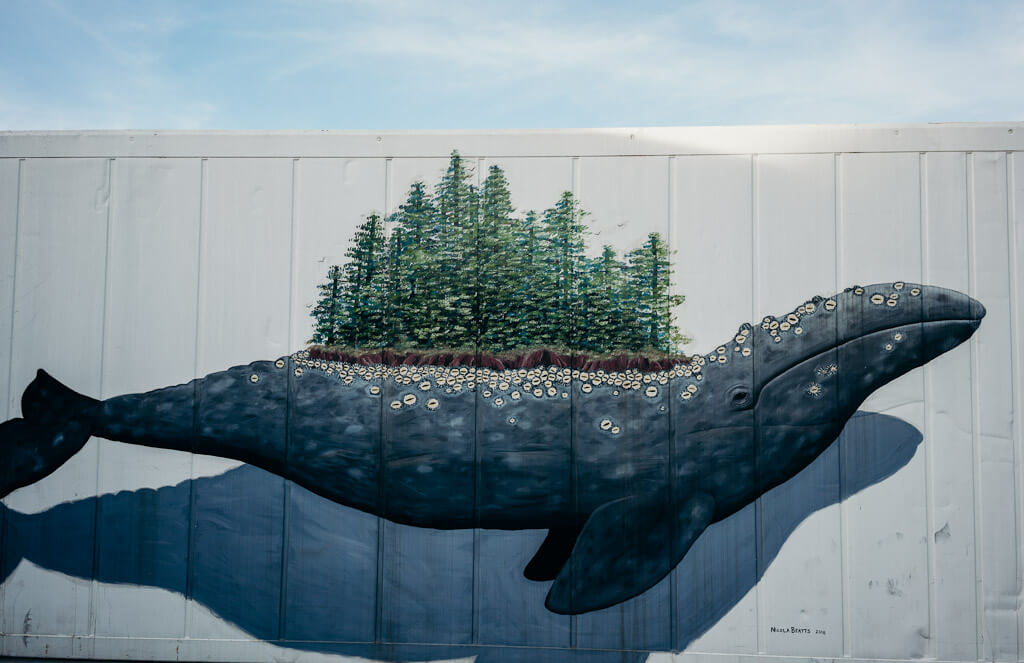 The California coast is one of the best places on earth to spot migratory whales-be it blue, grey, humpback or killer as well as cute sea mammals such as seals, sea lions and sea otters practically year round, with some times of the year being more favorable than others.
The entire coast is ripe for viewing these mighty sea mammals since it is along their migration route (Bering Sea to Baja and back) for feeding, breeding and nursing and also because grey whales travel pretty close to the shores (within 5 miles actually), making them perfect for viewing from either the shores with an effective pair of binoculars or from a boat/trailer, i.e. an organized whale watching tour.
Whale watching is a BIG deal in California and many coastal towns such as those in Mendocino county even have full fledged festivals centered around whale watching.
Having recently returned from my very first whale watching tour in Fort Bragg (and also gearing up for my second one in Monterey), I am here to spill the beans on the best places for whale watching in Northern California (including where to go whale watching near San Francisco) and some prime whale watching spots on the Central Coast and Southern California.
In addition, I will also be providing some super handy tips on the best time to go whale watching along the California Coast, what you need to bring for your very first whale watching tour in California and everything else you need to be mindful of when on a whale watching tour. Keep on reading to find out more!
WHAT KIND OF WHALES CAN YOU SEE IN CALIFORNIA?
Whale watching is mainly centered around the gray whales, but you can also spot humpback and blue whales occasionally along with smaller ones such as fin and minke whales. Plus it is not uncommon to see orcas, dolphins, and porpoises during a whale watching tour. It all depends on what time of the year you choose to go whale watching along the California coast, given that different whales have different feeding and breeding/migratory patterns.
WHEN IS THE BEST MONTH FOR WHALE WATCHING IN CALIFORNIA?
It depends on what kind of whales you want to see during your whale watching trip. Here are some suggestions based on my experience and as recommended by the Pacific Grove Museum of Natural History (this is one of the best museums on learning about migratory whales and other California central coast flora and fauna):
Gray whales: Gray whales migrate 6000 miles from the plankton rich waters of the Bering Sea down south to Baja California to breed in the warm water lagoons and back with the pups. The southbound migration lasts from December-February while the northbound migration occurs from March-April. I was told by our tour staff that March-April is a better time to see them in action since they frolick a bit more off the coast with their newborn pups rather than being in a "hurry" to swim down for breeding:-)
Gray whales can be spotted along the coast if you're armed with a strong pair of binoculars and some patience, along with the right spot to maximize your chances. They swim near the coast (about 5-10 miles off the coast) which makes their spotting possible from land. Also, they come to the surface every 20 minutes to breathe and have a distinctive jet stream of water spouting off their nostrils, which makes it easy to spot them.
I highly recommend going on a grey whale watching trip when visiting California in December to make your winter vacation even more memorable!
Blue whales: Blue whales feed off the California coast between June-October and so your best bet to see them would be in Summer and Fall and that too from the central coast of California, i.e. in Monterey Bay. During these months, nearly 2000 blue whales swim can be spotted along the Central Coast, including in the Monterey Bay National Marine Sanctuary.
Blue whales stay off the coast and the best way to see them is via a proper whale watching cruise. Monterey has whale watching tours year round departing from Fisherman's Wharf and Moss Landing, a fantastic spot to see marine mammals during your San Francisco to Carmel road trip along Highway 1.
Humpback whales: Late April to early December is your best bet to see Humpback whales on the Central Coast (Monterey Peninsula and Big Sur along Highway 1, Asilomar Beach, Moss Landing) where they come to feed on anchovies, sardines, and krill. Humpback whales are the liveliest of all Baleen whales and can be seen breaching, spyhopping, slapping their pectoral fins and tail ends-which makes them easy to spot during a whale watching tour.
Minke Whales: Minke whales can be found year round in the Monterey Bay with the most frequent sightings being in summer and fall. They are typically found near shore due to an abundance of rockfish on the rocky Ocean floors. Although these whales feed near the shore, they can be difficult to spot because of their tiny water spout that is nearly invisible on the ocean surface. Again, your best bet to spot them is to join one of the many whale watching tours in Monterey.
Orcas: Orcas or killer whales (so named because they eat marine mammals and not humans, although I wish they preyed on the folks at Seaworld for their infinite cruelty) prey on northbound gray whales so they can be often spotted in the months of April-June near Fort Bragg/Mendocino and in Monterey when the gray whales migrate north along the coast. Orcas can also be spotted in Monterey Bay from January-May and from September-November. Since Orcas prefer the open waters, it is best to see them via a cruise.
RESPONSIBLE WHALE WATCHING
In recent years, whale watching as a recreational activity has grown by leaps and bounds. Although tourism money is essential for the maintenance of precious ocean habitat, the continuous rise of ocean vessels can be quite disruptive to marine mammals near the coast.
As consumers, we need to be more mindful of the kind of tour we are choosing so that our whale watching experience is the least disruptive and not harmful towards the whales who call the ocean their home.
The World Cetaceans Alliance has laid down a series of global guidelines and certifies whale watching tour operators to conduct their business in the safest and most sustainable way by training and accreditation programs.
However, WCA certified operators are really few and far between, so we need to do our homework and choose cruises that practice local guidelines, such as the California Fish and Game's Marine Life Protection Act aimed towards marine biodiversity conservation.
What this means at the very least is to research more about the cruises and contact the crew members prior to your reservation if they do not have enough information on their websites on their best practices for whale watching. Whale watching vessels (trailers/boats/yachts) should stay away at least a 100 feet from cetaceans so as not to obstruct their migration.

TIPS TO PREPARE FOR A CALIFORNIA WHALE WATCHING TRIP
Planning to go whale watching? Here is what you need to know, based on my whale watching experience in Fort Bragg:
Binoculars: You will need them for whale watching from the coast or from your boat. Keep in mind that whale watching cruises always maintain a safe distance from the school of whales so as to allow their safe passage along the coast. In other words, most of the times you will end up spotting a gray whale at least 200-300 feet away from the boat. So have a binocular handy-I got this compact one from Amazon that was pretty helpful.
Telephoto lens: If you want to capture the whales in their full glory, i.e. doing their very own thing as they go their merry way and want to capture those blink and you'll miss it moments of back flipping and tail lobbing, then you gotta get a telephoto lens, and that too in the 70-300 or 200 mm focal length range.
Prime lenses (such as the one I use 100% of the times for all my blog photography) will clearly not do. Thankfully, I rented out my Sony 70-200mm f4 lens from Samy's Camera Rentals in San Francisco to go with my Sony alpha a7RII (one of the best mirrorless cameras out there). Here are the 70-200 mm f2.8 and the 70-300 mm Sony lenses for those with a Sony E-mount full frame camera.
Waterproof footwear: For the love of common sense, please wear sturdy footwear when on a whale watching tour. The floor of the boat is wet as heck and slippery. Waterproof footwear, as in rainboots are the best as I learned the hard way (my lower half got completely soaked during the two hours of standing along the boat rails as I kept my eyes peeled to see the whales). I love this pair of Sperry's waterproof boots and swear by them.
Appropriate clothing: Dress warmly as it gets pretty cold and windy once you're in the open waters and on the open decks of the boats, especially in Northern California and the Central Coast.
Sea sickness: Depending on where you embark on your whale watching trip in California, you are bound to run into choppy waters and undulating waves. This is especially true along the north coast in Mendocino. If you are prone to feeling seasick, either don't join a tour or get some appropriate medication and don't eat too much before the trip.
Gross, I know but I have to tell you this: if you must puke your brains out, do so on one side of the boat and not inside the restrooms (cruise boats/trailers have one) out of courtesy to co-passengers.
ARE CHILDREN AND PETS ALLOWED ON WHALE WATCHING TOUR?
This totally depends on the tour. Because of the possibility of sea sickness (the boats often lurch on open waters), several tours do not allow kids younger than 7 to board. Some don't allow kids under 3 and infants, which is again very understandable.
As for pets, this is again upto the discretion of the tour company depending on the tour size. All Aboard Adventures at Fort Bragg allowed our dog Gunda (15 pounds) on board but he was in a doggie backpack strapped securely to my husband. Some tours may allow service dogs. Please enquire before you make reservations.
BEST PLACES FOR WHALE WATCHING IN CALIFORNIA
Here are the best spots along the California coast for whale watching, starting all the way from Humboldt county in the north to Newport Beach in the south. I have been to almost all of these places during my many long weekend trips and vacations from San Francisco and can vouch for the otherworldly beauty of these coastal towns in California.
WHALE WATCHING IN NORTHERN CALIFORNIA
SHELTER COVE
Shelter cove is the remotest beach town in California and lies in southern Humboldt County, home to the giant Coastal Redwoods (which we visited in March 2021 as part of our Northern California road trip). Shelter cove lies on the southernmost end of the "Lost Coast" which is 24 miles of undeveloped coastline that is only accessible by hiking.
Home to some of the best black sand beaches in California (Shelter Cove actually has three), the wild, unruly coast is also an excellent spot for gray whale watching (September-June). I recommend heading straight to Abalone point with your binoculars to spot those spouts!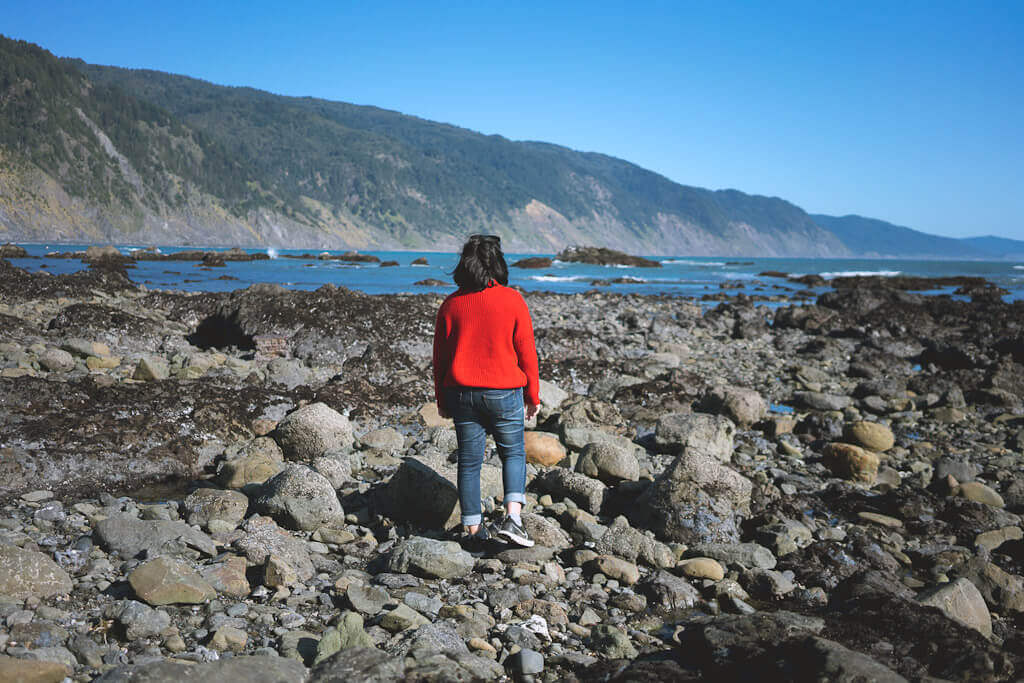 TRINIDAD
The sleepy little village of Trinidad lies on the rocky bluffs overlooking Trinidad Bay (this is where we stayed during our trip to Humboldt County). The Trinidad Head trail is a scenic hike with spectacular views and is simply superb for whale watching. Trinidad Head is also home to a lighthouse, which is open between 10AM-2PM on the first Saturday of every month.
The other place for watching the migratory whales is the Rim Trail (a 3.1 mile loop) located in Sue-Meg State Park (formerly known as Patrick's Point State Park). I highly recommend visiting the reconstructed Yurok Indian village inside the park. Yuroks were the original inhabitants of this part of the coast and the word "Sue-meg" was coined by them to describe this land.
WHALE WATCHING TOUR AT FORT BRAGG (NOYO HARBOR)
Fort Bragg is that one Northern California beach town which not only has world famous beaches but also incredible coastal hikes offering some otherworldly views (I have a full Fort Bragg post to entice you with photos). Home to the Noyo Center for Marine Sciences, Fort Bragg is also the prime destination in Mendocino County for whale watching, especially in the months of November-April.
During our trip to Fort Bragg, we joined the All Aboard Adventures with Captain Tim to go on a 2 hour whale watching tour that departed from Noyo Harbor. The tour cost $50/adult and was a once in a lifetime experience where we sailed 5 miles off the coast into the open waters in search of south bound gray whales.
We had to wait a really long time (50 minutes) to see the whales in action but finally did get a chance to see those famous waterspouts, breaching action and tail flips along with glimpses of barnacles crusted snouts (see my photos below).
Our boat was tiny, but clean and had restrooms, plus some fresh crab meat as snacks which people generously helped themselves to. The crew was also very friendly and knowledgeable (they've been doing this for decades). I had a great time on board and would recommend this solidly to anyone interested in going whale watching at Fort Bragg. Fort Bragg also has a Whale Festival every March with food and wine tastings in town (postponed to 2023 due to the ongoing pandemic).
Watch this clip to get a feel of going on a whale watching tour in Fort Bragg (this video is not mine, but pretty close to what we saw)
MACKERRICHER STATE PARK
With miles of rugged coastline and vista points, Mackerricher State Park in Fort Bragg is one of the perfect spots for whale watching from the coast. There are docent led whale watching tours in March during the Fort Bragg Whale Festival.
For the best whale watching experience, I suggest driving straight to the Coastal Parking lot near Laguna Point Beach. This is a day use area with a separate route inside the park and so you may not have to pay at the visitor center. Spend some time at the beach or get onto the boardwalk trail that starts to the left of the parking lot and go all the way to Laguna Point, which is one of the best whale watching places in Mendocino county.
MENDOCINO HEADLANDS PARK
Mendocino lies only 10 miles south of Fort Bragg and is that one small town in Northern California that I have visited over half a dozen times (see my super detailed Mendocino post to pack your bags for a weekend getaway).
Besides being an incredibly romantic destination in Northern California, Mendocino also has some amazing vantage points along the coast for seeing the gray whales in action. Head straight to the Mendocino Headlands for an epic hike along the bluffs and also for a chance to spot the migratory mammals.
Note: Although the Fort Bragg and Mendocino Whale festivals have been postponed to 2023, the Little River Whale Festival seems to be still scheduled for March. Get the details here.
POINT ARENA LIGHTHOUSE
Point Arena Lighthouse is one of the oldest lighthouses in California (celebrating its 152nd year, no less) and one of the many epic stops along Highway 1 that you should stop by on a road trip from San Francisco to Mendocino. The lighthouse grounds are on an elevation and are the perfect spot for whale watching as well as other marine mammal sighting.
GUALALA POINT REGIONAL PARK
Gualala Point Regional Park in the beautiful coastal town of Gualala is blessed with an incredibly scenic hike overlooking a sandy beach. The best spot for whale watching is from the bluffs overlooking the beach. You can start your hike from the visitor center towards the bluffs with binoculars in hand and keep your eyes peeled to the waters.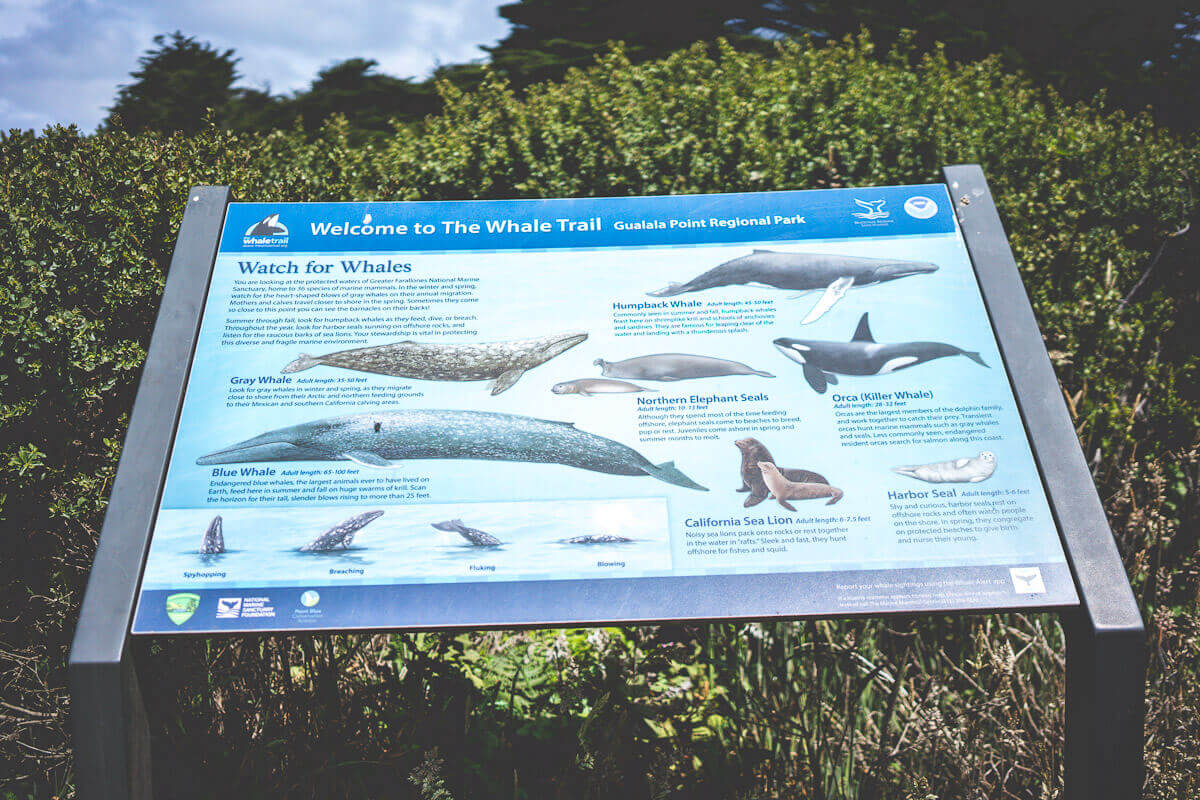 WHALE WATCHING ALONG THE SONOMA COAST: FORT ROSS STATE HISTORIC PARK
The Sonoma coast is an excellent spot for gray whale watching from the bluffs of the Sonoma Coast County Park that stretches along the coast for 17 miles. Some of the best places along the Sonoma Coast for whale watching are the six public access trails at The Sea Ranch, Stillwater Cove Regional Park, Fort Ross State Historic Park, Kruse Rhododendron State Natural Reserve, and Salt Point State Park.
Of all these places, I have visited Fort Ross Historic State Park and highly recommend it as the one place along the Sonoma Coast that you should visit on a road trip along Highway 1, which easily qualifies as one of the most scenic road trips from San Francisco, not only for whale watching but also to marvel at a slice of California's history.
Fort Ross used to be a thriving Russian-American Company settlement from 1812 to 1841. It was chartered by Russia's tsarist government to control all Russian exploration, trade and settlement in the North Pacific, and established permanent settlements in Alaska and California.
Much of this historical Russian settlement is still well preserved to this day in the park. Once you pay the day use fee at the parking, walk all the way down the paved path to to the walled compound hosting several original buildings such as the church and Rotchev house. The coastal hikes along the bluffs are great for taking in the breathtaking views of the Pacific and also for spotting whales.
WHALE WATCHING IN THE BAY AREA: BODEGA HEAD
Bodega Head (part of the Sonoma Coast County Park) is a 4 mile long and 1 mile wide peninsula jutting into the ocean and is surrounded by panoramic views of the rugged California coastline. It is also a mere 1.5 hours drive northwards from San Francisco, making it a great Bay Area whale watching destination.
The rocky trailheads emanating from the peninsula make them perfect vantage points for spotting Gray whales during their winter and summer migration. You can read my Bodega Bay guide to plan your own trip to this fantastic beach town in Sonoma County.
WHALE WATCHING NEAR SAN FRANCISCO: POINT REYES NATIONAL SEASHORE
Point Reyes National Seashore is part of California's National Parks network and is located in West Marin, about 1 hour northwest of San Francisco. This snout like landmass jutting out into the saline, oyster rich waters of the Tomales Bay is one of the best places near San Francisco for whale watching. Going for a full weekend? Then read my Point Reyes guide for a foolproof itinerary.
Due to the wildlife habitats found here, fireworks are not allowed in Point Reyes. This makes it especially attractive as a Bay Area getaway with your pup for the July 4 weekend.
Although Point Reyes boasts of over half a dozen beaches, you won't have much success in spotting gray whales from there. I recommend heading straight to the Point Reyes Lighthouse or Chimney Rock to see these gentle giants in action anytime from December-May. Whales can be seen closer to the shores during their summer migration in April and May, which is an excellent time to visit Point Reyes.
I must warn you that Point Reyes Lighthouse is unlike any that you'll ever visit in California-you have to go down a gazellion flight of stairs to reach the lighthouse which is literally at the edge of Gulf of the Farallones. The Lighthouse observation deck is a fantastic spot for staying put with your binoculars to scan the ocean waters for the whales. Come early since the parking lot is tiny and gets filled up quickly.
Chimney Rock is another great spot in Point Reyes for whale watching in the Bay Area. Come spring, the entire area is covered with blooming wildflowers. Beside gray whales, you will also see elephant seal pups snoozing on the rocks near the coast since this is their mating and breeding season.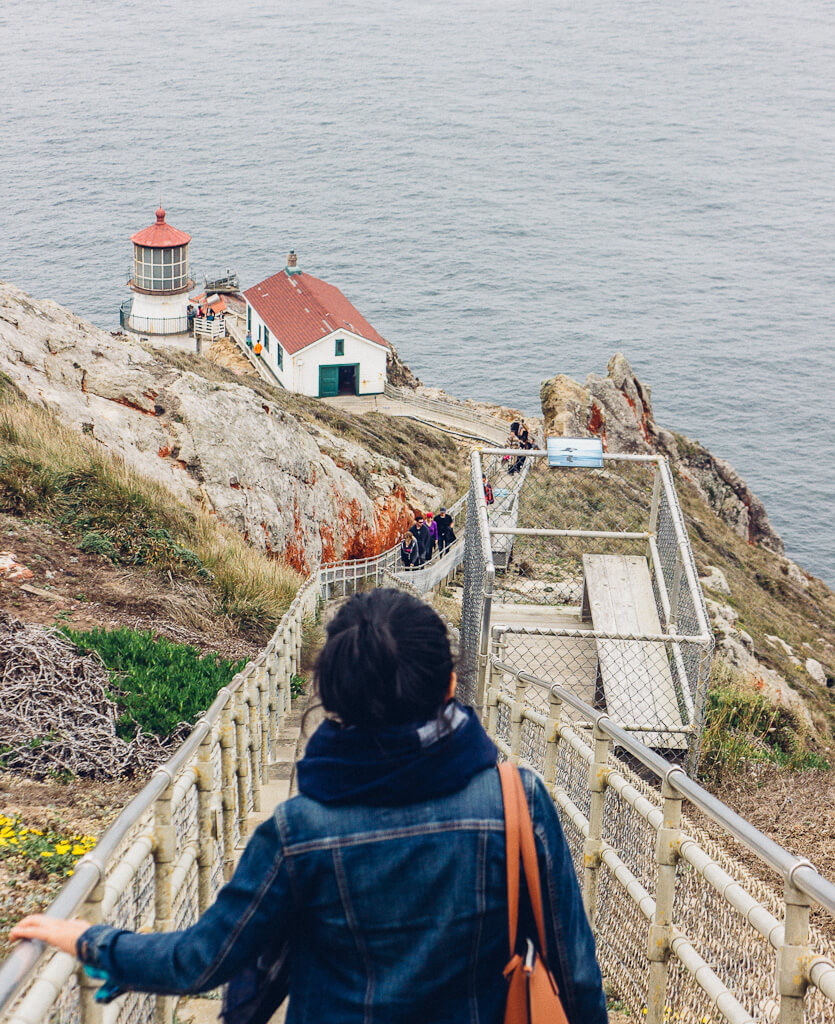 WHALE WATCHING IN SAN FRANCISCO
San Francisco has been my adopted home for the last 12 years and the one city I have written extensive guides on. This city by the Bay is known for its many things-amazing views, lovely hikes, a crazy good food scene, iconic landmarks and eclectic neighborhoods, but whale watching? Not so much.
However, there are a few tours that depart from San Francisco's waterfront (yacht harbor and Embarcadero), and sail below the Golden Gate Bridge in search of whales and other sea life in the Bay, which is home to one of the last remaining 125 km of wetland.
The two whale watching tours departing from San Francisco are a) a whole day (7.5 hrs) tour organized by the Oceanic Society that starts in April and continues till November with small size tours departing every weekend from the SF yacht harbor. This tour led by three 3 wildlife biologists will take you all the way to the Farallon Islands to experience the Bay's diverse flora and fauna! Ticket prices are steep, coming to $450 (yes, you read it right) per head.
The more affordable option is going on a 2.5 hr whale watching tour with Golden Gate Whale Watch (costs $120 per adult) for gray humpback whale sightings along with saying hi to harbor seals, dolphins and porpoises that inhabit the Bay waters. Tours depart on weekends from San Francisco's Embarcadero.

WHALE WATCHING TOURS IN BAY AREA: HALF MOON BAY
Half Moon Bay is the oldest town in San Mateo county and home to some of the best beaches in California, including the world famous Maverick's beach where surfers from all over the world congregate to compete for riding against the waves.
There are several whale watching tours leaving Half Moon Bay from Pillar Point Harbor such as Mooch Better Fishing and Queen of the Hearts, both of which are fishing trailers that also take reservations for whale watching. Peak whale watching season at half Moon Bay is January-March.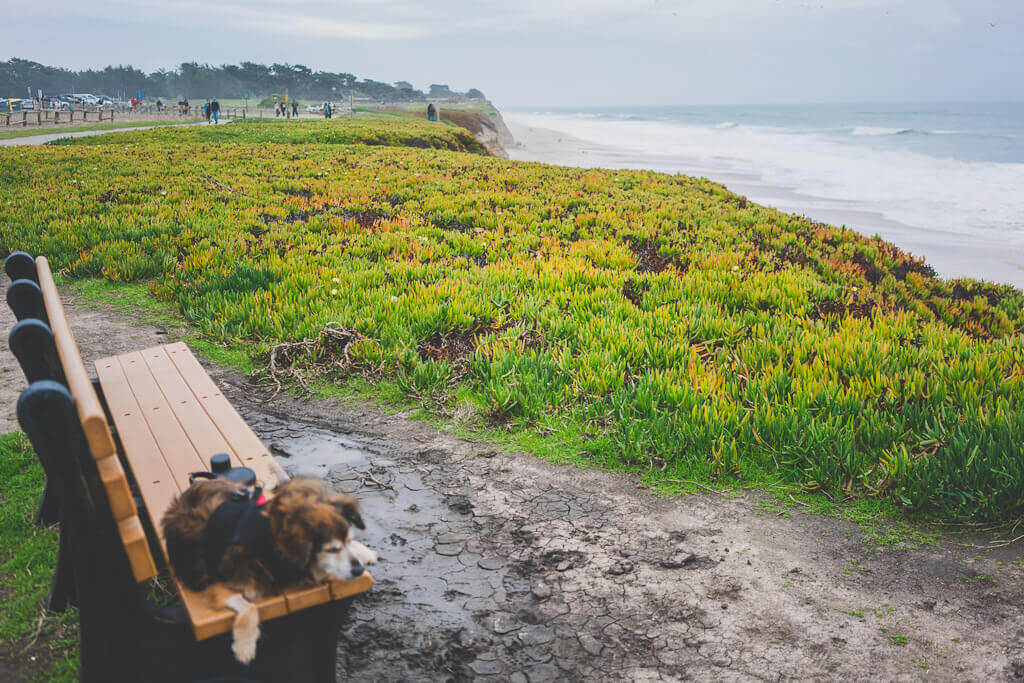 BAY AREA WHALE WATCHING: GRAY WHALE COVE STATE BEACH
Located between Half Moon Bay and Montara on Highway 1, Gray Whale Cove State Beach gets its name from the frequent sightings of Gray Whales very close to the shores from this beach, making this an excellent vantage point in the Bay Area for spotting these behemoths.
Be mindful of getting to the beach since the trail down to the sandy stretch from Highway is pretty steep. The park is open from 8AM -sunset. Visit from January-May with binoculars in hand for gray whale sighting.

PIGEON POINT LIGHTHOUSE
Pigeon Point Lighthouse is not only a must visit stop along the Pacific Coast Highway (Highway 1) on a road trip from San Francisco to Carmel, but is also a prime spot for whale watching from the coast near San Francisco.
Even on days when the lighthouse is closed, you can simply explore the lighthouse grounds to take in the views and to see the whales diving and breaching near the shore, if you're lucky. The lighthouse is near Pescadero and about an hour's drive southbound from San Francisco.
WHALE WATCHING ON CALIFORNIA CENTRAL COAST
California's central coast stretches all the way from Santa Cruz to Ventura and is home to the best places for whale watching in California. Of these, the Monterey Peninsula is THE PRIME WHALE WATCHING SPOT in California where whale watching is a year round activity. Here are the details:
DAVENPORT
The town of Davenport is one of those blink and you'll miss it turns on Highway 1 that you'll have to look out for on your southbound drive from San Francisco. Home to the famous Shark Fin Cove (a tiny beach with a characteristic shark fin shaped rock jutting out of the water), Davenport also offers gray whale sighting from Panther beach and Hole in the Wall Beach.
I also recommend hiking the bluffs overlooking Shark Fin Cove or going up the Davenport Cliffs (cross the rail tracks and you'll get there) for panoramic views of the coast and to spot migrating Gray Whales and Humpback Whales along with dolphins, blue whales and porpoises. Davenport's Whale City Bakery is perfect for lunch or afternoon coffee after a stint of whale watching.

SANTA CRUZ
The beach town of Santa Cruz is the unofficial surfing capital of Northern California and is a mere 1.5 hours drive from San Francisco, making it a very feasible Bay Area day trip. Year round mild weather makes it a perfect winter getaway in California with hikes, beaches, lighthouses and a vibrant downtown with many restaurants for exploring with pets, family and kids.
At Santa Cruz, sea mammals such as sea lions, otters and dolphins can be spotted year around from the coast apart from seasonal whale watching. The best way to go whale watching in Santa Cruz is to get aboard one of the several charters or cruises departing from Santa Cruz harbor. Chardonnay Sailing Charters offer both public and private charters for sailing off the coast and their Wildlife and Ecology Tour is perfect for whale watching.
Santa Cruz Whale Watching is another whale watching tour that takes you out into the waters of Santa Cruz and Monterey Bay in search of Humpback Whales (May-November) and Gray Whales (December-April) on their charters, which strictly adhere to the Marine Life Protection Act of staying at least 100 yards away from the cetaceans. You can book your tickets here.
WHALE WATCHING IN MONTEREY PENINSULA
Monterey Peninsula is the number one place in California for whale watching and that too throughout the year. From April-November Humpback Whales can be seen feeding off the nutrient rich waters of the Monterey submarine canyon while Gray Whales pass by the coast from December-April (winter and summer migration). Blue Whale sighting is done best from late May-early August.
Several species of dolphins, porpoises, sea otters, harbor seals, California Sea Lions, Killer Whales, Mola molas (giant ocean sunfish) and jellies are a handful of the mind boggling array of sea life that you'll encounter in the waters of the Monterey Bay apart from whales. In fact, Monterey Bay is the largest National Marine Sanctuary in continental U.S. and a prime destination for research, conservation efforts, tourism and recreation.
You will be spoiled for choices to go whale watching in Monterey as there are many, many tours and charter boats departing throughout the year from Moss Landing and old Fisherman's Wharf. Some of the notable tours are Blue Ocean Whale Watch (departing from Moss Landing Harbor), Monterey Bay Whale Watch, and Princess Monterey Whale Watching Tours (they call themselves the "best whale watching tour in California). I will share my Monterey whale watching experience in a month or so, so please keep an eye out on this space!
I have visited the Monterey Peninsula many times and Pacific Grove and Carmel are my two favorite coastal towns on the Peninsula. Asilomar State Beach in Pacific Grove is a good spot for humpback whale watching, so come equipped with your binoculars. The Pacific Grove Museum of Natural History in downtown is an excellent place to stop by for learning more about whale migration along the California central coast.
>>Book your Monterey Whale Watching Tour here<<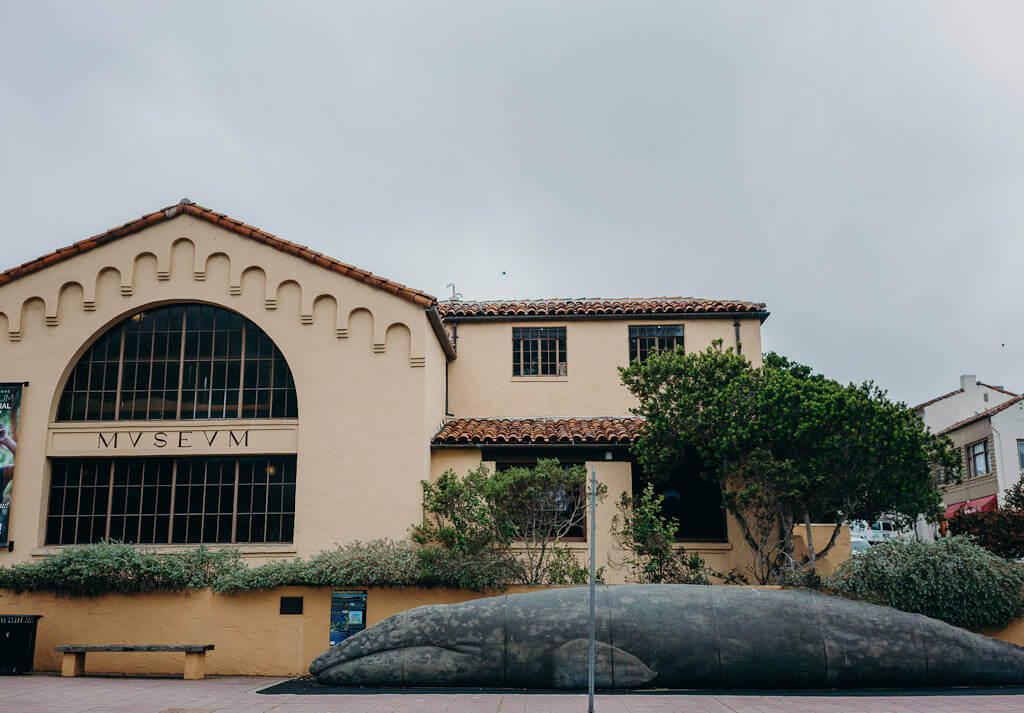 BIG SUR
Driving down Big Sur, the 90 mile stretch of Pacific Coast Highway from Carmel to San Simeon, is an once in a lifetime experience. What makes it even more special is that the several turnabouts along Highway 1 double up as great vantage points for whale watching-both Humpback and Gray. Some prominent whale watching spots in Big Sur are as follows:
Point Lobos State Natural Reserve: Known as the "the crown jewel of the State Park System" Point Lobos not only has headlands, coves and meadows for stunning views and hikes, but also plenty of spots on land to watch sea lions, otters and of course migrating gray whales in winter and early spring. This is also one of the most romantic spots to spend some time in at Big Sur.
Garrapata State park and beach: This state park has two miles of beach with coastal hiking and a 50-foot climb to a beautiful view of the Monterey Bay National Marine Sanctuary, plus the coastal headlands at Soberanes Point. You can spot sea lions, harbor seals and sea otters frequently in the coastal waters. California gray whales pass close to the coast during their yearly migration (December-April).
Andrew Molera State Park: This park offers visitors some of the best hiking trails in Big Sur and a breathtaking view of the Monterey Bay National Marine Sanctuary. Trails through coastal bluffs are ideal for whale watching.
Pfeiffer-Big Sur State Park: During January and February, there are ranger guided whale watching tours (on land) in Pfeiffer Big Sur State Park. Big Sur lodge (where I stayed twice during my trip to Big Sur) advises visitors to meet at the vista point on Highway 1 at mile marker 37 just north of Julia Pfeiffer Burns State Park.
MORRO BAY
Morro Bay is a small coastal town in San Luis Obispo county, best known for the volcanic Morro rock jutting out of the waters. Many years ago during our trip to San Luis Obispo, we stopped by Morro Bay and hopped onto a Tiki Cruise of the Bay to see snoozing sea lions and playful otters in the Bay (you can see them from the harbor boardwalk as well).
Whale watching tours such as Morro Bay Whale Watching, Maya Sailing Adventures and Lost Isle Adventures Harbor Tours (they offer that fun Tiki Cruise which I went on) depart from the Morro Bay Embarcadero for gray whale sighting in the Morro Bay and estuary waters.

WHALE WATCHING IN SANTA BARBARA
Whale watching is a year round affair in Santa Barbara, thanks to whales flocking to the nutrient rich waters of the Santa Barbara Channel. December-April is a great time to spot the migrating Gray Whales (Baja bound and back) while Spring-Fall is when you can spot Humpback whales and blue whales along with the smaller minke and fin whales and orcas. Plus there are frequent sightings of a variety of dolphins such as Pacific white-sided dolphin, coastal bottlenose dolphin and Risso's dolphin.
Whale watching experience in Santa Barbara can be outright lavish to intimate in a small sized group. The 75 feet Condor Express takes about 120 passengers for whale watching with both in-cabin and upper deck seating as well as a lavish in-cruise dinner. Sunset Kidd is a much smaller operation with only 15 passengers aboard (they are currently offering only private charters due to the pandemic). Captain Jack's also offers a variety of whale watching tours.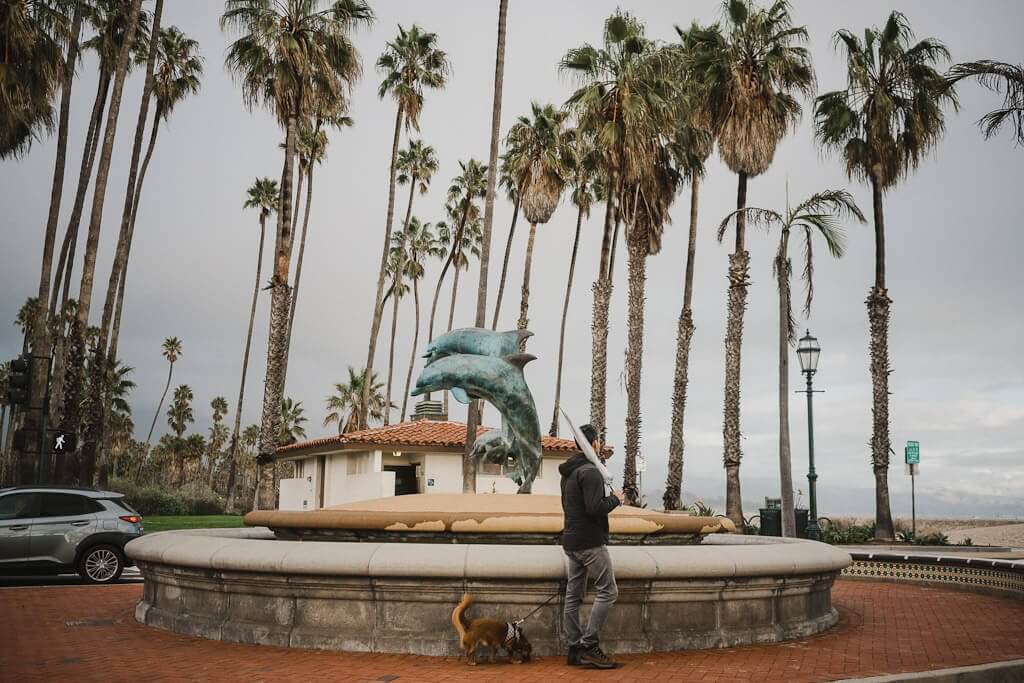 WHALE WATCHING IN CHANNEL ISLANDS NATIONAL PARK
Channel Island National Park is another place on the Central Coast where whales abound throughout the year-be it gray whales in winter, blue and humpback whales in summer or dolphins year round. In fact, 29 out of the 78 species of cetaceans and odontocetes have been spotted at Channel Islands National Marine Sanctuary alone. If you're visiting Santa Barbara for a day trip or over the weekend, a tour to Channel Islands is your best bet for whale watching from Santa Barbara.
Whale watching tours to Channel island depart throughout the year from nearby Oxnard, Ventura and even Santa Barbara and Los Angeles. Island Packers Cruises is the tour recommend by the National Park itself. Channel Islands Whale Watching is another popular tour departing from Oxnard (they operate from December-April).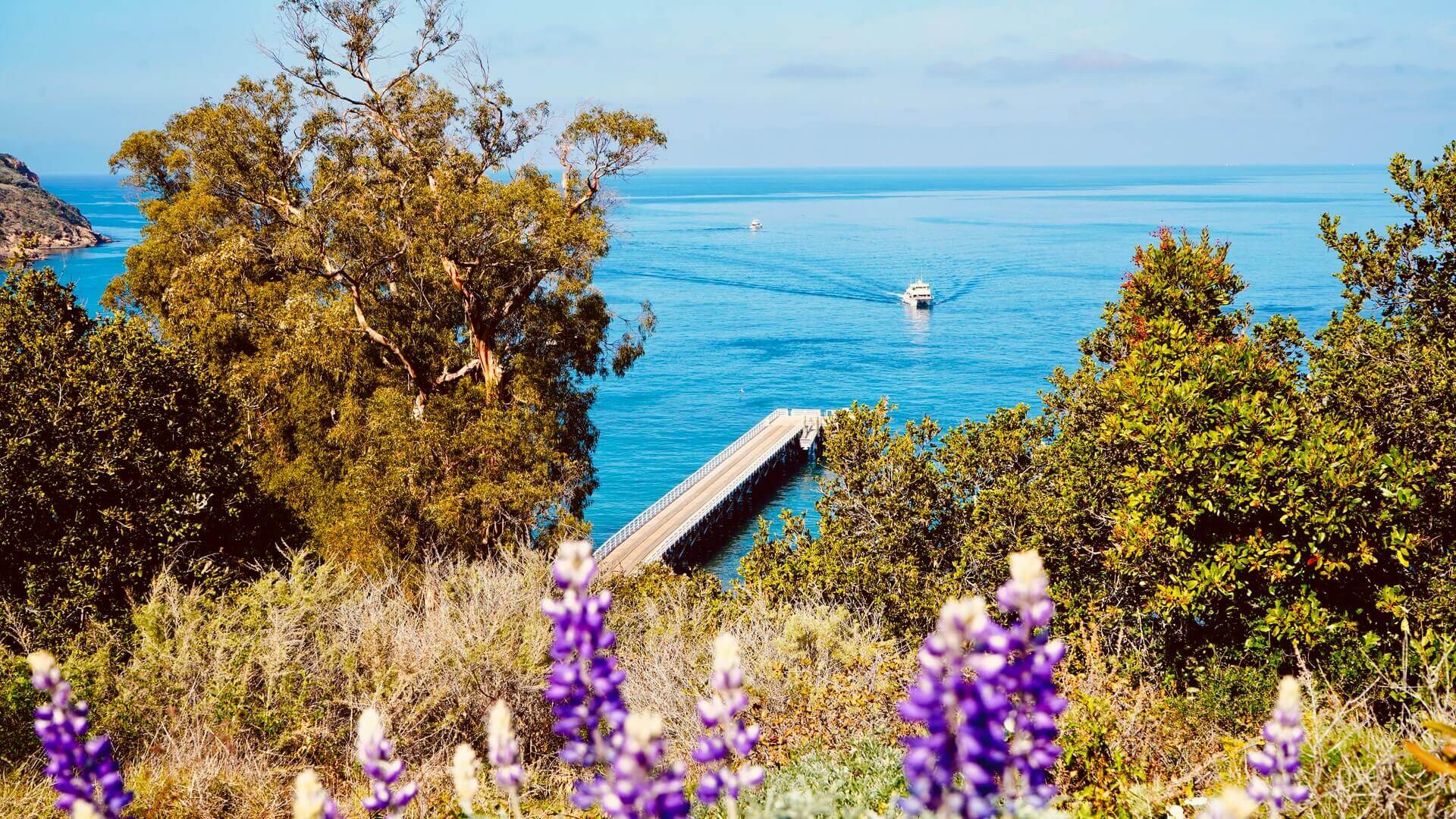 BEST PLACES IN SOUTHERN CALIFORNIA FOR WHALE WATCHING
Los Angeles, Orange and San Diego counties lining the shore are all home to many vantage points to view whales from land as well as tours and charters departing into the ocean waters. Although I have visited Los Angeles and Malibu several times, I am yet to go on a whale watching tour in Southern California, but here are some great spots and tours for you:
MALIBU
The cliffs of Point Dume are the best vantage spot for whale watching in Malibu from land. You can also hop on to one of the many whale watching tours departing from nearby Marina del Ray that take you into the waters of the Santa Monica Bay to see whales and dolphin pods.
WHALE WATCHING IN LOS ANGELES
The elevated San Pedro Peninsula is one of the best places in Los Angeles for whale watching. You can join the crew at Harbor Breeze cruises for whale watching in San Pedro. About nine miles west of San Pedro lies the Point Vicente Interpretive center right next to its namesake lighthouse. Owing to its location, i.e. high above on the headlands of the Palo Verdes Peninsula, this is the one high ground from where you can look out for Gray Whales (December-April).
The 10,000 square foot interpretive center is home to exhibits on the natural and cultural history of the peninsula, with a special focus on the Pacific Gray whale. This center is one of the several that you'll see along the coast where you can learn about the different kinds of whales, their feeding and breeding behavior and their migratory patterns.
DANA POINT
Dana Point is a city in Orange County, about 60 miles south of Los Angeles. This tiny town is actually famous for two things-Highway 1 or Pacific Coast Highway starts from here and continues north all the way upto Leggett in Mendocino. The second one, pertaining to whale watching in California, is that it is widely considered as some sort of holy grail in Southern California for spotting whales.
Because of large numbers of whales traveling past Dana Point, this town has been designated as the "Dolphin & Whale Watching Capital of the World®" and has been recognized by the World Cetacean Alliance as a Certified Whale Heritage Site, the very first location and the only in America to get this distinction. Fun fact: Jean-Michel Cousteau, the founder of Ocean Futures Society and son of legendary conservationist Jacques Cousteau is the honorary President of the alliance.
If you prefer to join a whale watching tour from Dana Point, Captain Dave's Dolphin and Whale-Watching Safari, should be on the top of your list, not only because this tour offers underwater viewing capability but also because it is a WCA certified responsible whale watching operator conducting whale watching tours that adhere to the most rigorous standards of marine life safety and sustainability.
NEWPORT BEACH
Newport Beach is another popular spot along the coast in Southern California for whale watching. Cruises depart several times during the day and that too year round from Balboa Peninsula and Newport Harbor in search of the gamboling whales. Newport Landing Whale Watching and its partners Davey's Locker are two good whale watching tours to consider.
SAN DIEGO
San Diego is the last major city in California before you drive 33 miles south into Mexico. This is also one of the best places for whale watching in California, both from land and from water alike. This is because the 70 miles of coastline in this region is the direct route of the migrating gray whales before they reach the salty, warm lagoons of Baja, California in Mexico. Besides Gray whales, you can also see Humpbacks, Fin, Minke and wild dolphins year round.
The best places for whale watching in San Diego from land are the bluffs at Torrey Pines State Natural Reserve in La Jolla, and at Cabrillo National Monument in Point Loma.
For those curious for a closer view, opt for the popular cruises/tours departing year round from San Diego. San Diego Whale Watch is the most popular of all tours and was the first company to offer them in SD.
Other tours are Adventure Whale Watching providing intimate, small size guided boat tours; Offshore Blue Adventures and San Diego Whale Watch where a naturalist on board leads the tours for a fun, education experience. SD Whale Watch will let you go a second ride for free if you don't see any whales the first time.
>>Book your San Diego Whale Watching Tour here (with free cancellation+free extra ride if you don't see whales)<<
I hope you enjoyed reading this guide on the best places for whale watching in California (both land and sea), with valuable tips on whale watching season, the right kind of tour to choose and what to expect when going whale watching off the California coast. Thanks a lot for stopping by and please enjoy your whale watching tour responsibly!

LIKE THIS POST? PIN IT FOR LATER

«