Last Updated on July 6, 2022 by Paroma
If you're looking for an offbeat coastal destination in Northern California, then Shelter Cove is the one calling your name! Shelter Cove California is one of the remotest beach towns in Humboldt county that is part of the "Lost Coast"-an undeveloped part of California's rugged coastline.
Getting here takes some planning, and this post tells you exactly how to visit this beach town and things to do in Shelter Cove; including exploring its stunning black sand beaches and vista points. So, let's get started on this lesser known California adventure!

Disclaimer: This post may contain some affiliate links. Clicking on them may earn me a small commission at no extra cost to you for the product. Thank you for supporting free content on this site!
WHERE IS SHELTER COVE CALIFORNIA?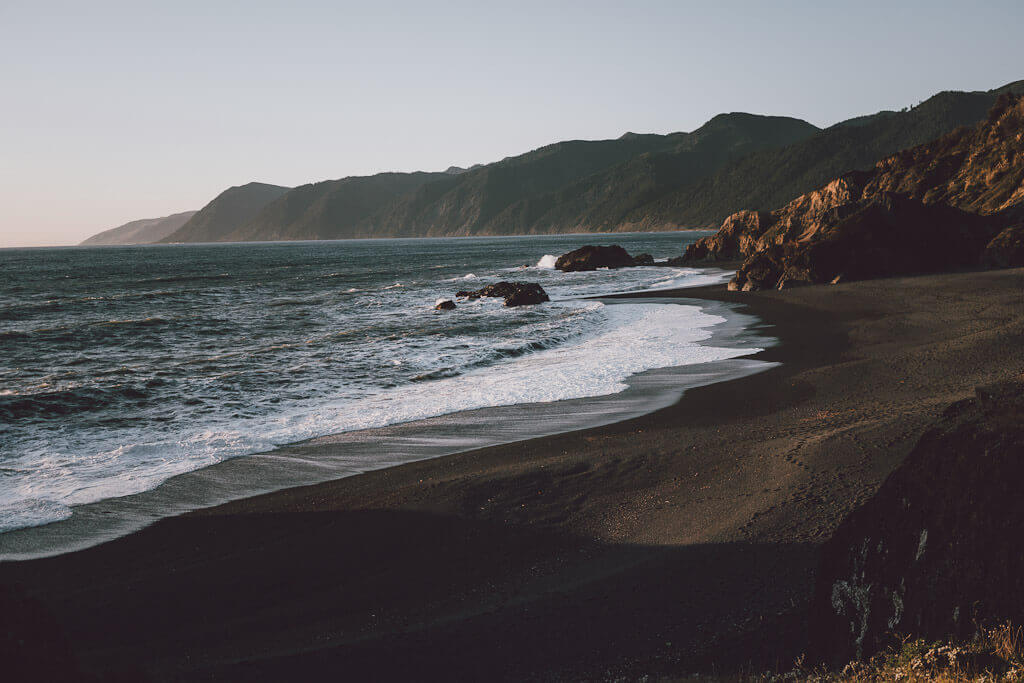 California's enviable coastline boasts of dozens of beach towns and cities, starting all the way from San Diego in sunny SoCal to the foggy shores of Mendocino in the North. Almost all of these beach paradises are easily accessible from Highway 1 or the Pacific Coast Highway that hugs the coastline for 656 miles.
The list of luscious California beach towns easily accessed from PCH goes on and on with those in Los Angeles , Santa Barbara, Central Coast, Big Sur, Carmel, Santa Cruz, Half Moon Bay, San Francisco, Point Reyes and Sonoma Coast being popular beach destinations in the state, with miles of silky golden stretches and turquoise blue waves washing up on their shores.
However, you will not find Shelter Cove in this list of beach towns scattered around Highway 1. This under the radar beach town is tucked away on an undeveloped part of Northern California's coastline known as the "Lost Coast" (more on that later).
In terms of distance, Shelter Cove (that is the southernmost end of the Lost Coast trail) is located 227 miles north of San Francisco in Humboldt County, home to the giant old growth coastal Redwoods (plus other amazing attractions). It is 100 miles north of Mendocino-a very popular romantic weekend getaway for many Bay Area residents and is 188 miles south of the Oregon border.
HOW TO REACH SHELTER COVE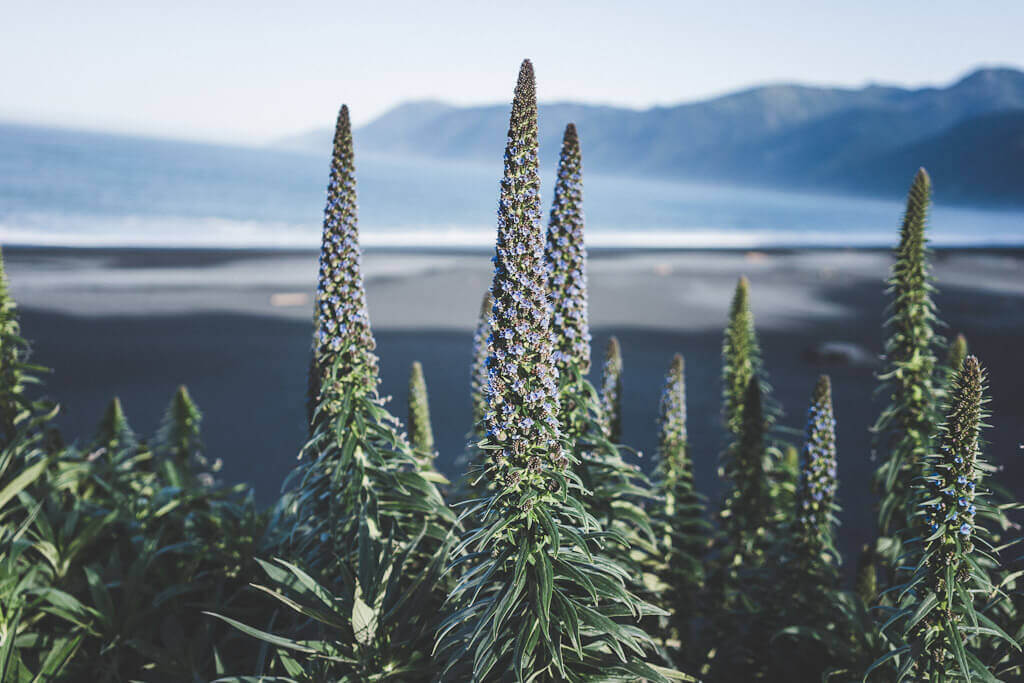 Now that I've built sufficient intrigue around Shelter Cove, let's get onto the next order of business, i.e. getting there. The good news is that you can drive all the way up to Shelter Cove. The not so great news? It is not along Highway 1 (that hugs the coast) or the inland route of 101 (known as Redwood Highway in Humboldt County). Be prepared to go on quite a bit of detour if you're planning to visit the Redwoods or are driving up the coast.
Basically, here are two options if you're driving up north from the south; I am using San Francisco as the starting point cause this is where I live:
SAN FRANCISCO TO SHELTER COVE: DRIVING ROUTE OPTION 1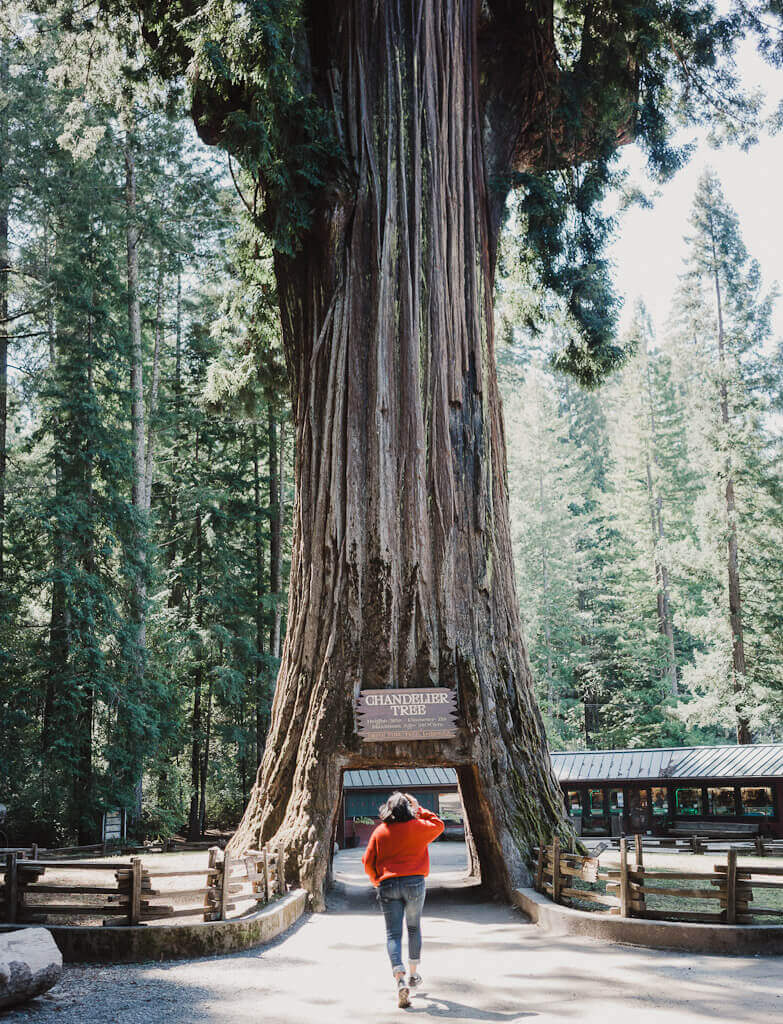 HIGHWAY 1—> REDWOOD HIGHWAY—->BRICELAND ROAD AND SHELTER COVE ROAD
1. Drive up the coast along Highway 1 (aka Shoreline highway aka Pacific Coast Highway) all the way from San Francisco to Leggett. This is where Highway 1 merges into Route 101 North (the inland route) to become the famous Redwood Highway, perfect for an epic Northern California road trip. The actual drive on Redwood Highway is a short one since you have to take the exit 639B right after Garberville towards Briceland road/Shelter Cove Road to get to Shelter Cove California.
This is undoubtedly the longest driving route from San Francisco to Shelter Cove and will take anywhere between 7-8.5 hours easily along Highway 1 as you drive up north. This is because PCH has lots of curves and bends as it hugs the coast and is an unbelievably scenic route tempting you with myriad stops in between (beaches, vista points, small towns) that you should not miss to get a true flavor of California's coastal charm.
In case you opt to take this scenic route, I highly recommend a few things to first timers, with an overnight stay in either Point Reyes or Mendocino:
Spend some time at Point Reyes National Seashore (trust me, you won't regret the beaches, views, and oysters)
Admire the Sonoma Coast at Bodega Bay, Jenner and Gualala-there are beautiful hiking trails, vista points and ocean views to enjoy here, not to mention the many enticing beaches, wineries and good food.
Make a stop at Fort Ross-an Russian Alaskan settlement and fort right on the Sonoma coast!
Stop by the Point Arena lighthouse in Mendocino county-one of the oldest and tallest lighthouses in the west coast
Don't attempt to drive like crazy for 8 hours in one day. Stop to take in the sights of Highway 1 and spend one night in Mendocino to recharge and refuel. This California beach town is so very beautiful and charming and is one of the best romantic getaways in Northern California!
Check out the famous Drive through Chandelier tree in Leggett (an 1800+ yr old 315 ft Redwood with its bottom hollowed out to make a driveway; entry fee is $10)
SAN FRANCISCO TO SHELTER COVE: DRIVING ROUTE OPTION 2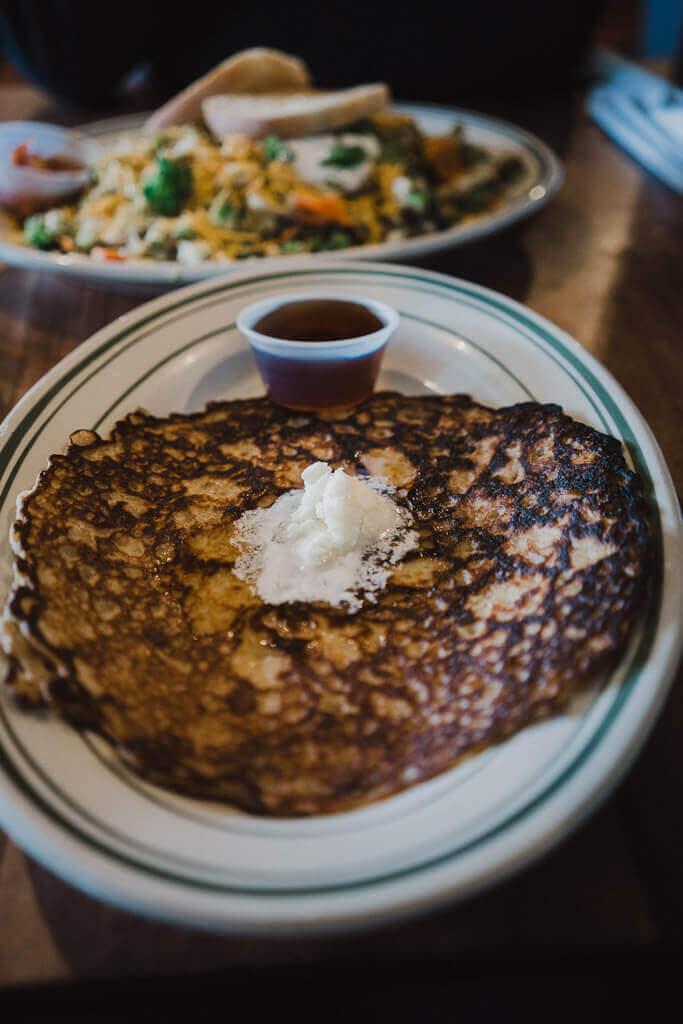 101N—> REDWOOD HIGHWAY—->BRICELAND ROAD AND SHELTER COVE ROAD
This is definitely a much shorter route compared to the first one to get to Northern California's Shelter Cove. If you're a Bay Area resident who's had his/her fill of the coast (not that it's possible) or cannot wait to get to Shelter Cove, then this inland route on 101N (not to be confused with Highway 1 that runs along the coast) is for you.
101N north meets Highway 1 at Leggett, after which you drive to Garberville and then take exit 639B to Shelter Cove. It takes about 4 hours to get to Shelter Cove via this route with a lunch break in between, traffic permitting.
Although the inland route northbound is definitely not as scenic as the coastal drive, it still has some of its very own charms. Here are some of my recommendations (the libation recos are for those of you in the passenger seat):
Stop by Healdsburg in Sonoma, a premier wine tasting destination with some of the most beautiful (and dog friendly) wineries in the county. Healdsburg gets oppressively hot in summer, so it is best to visit in winter or early spring
Check out one (or a few) of the breweries in Hopland in Mendocino county known for its buzzing craft beer scene
Break for lunch at Ellie's Mutt Hut in Ukiah to taste their famous "Johnny Cake"-a delicious pancake that is not syrupy sweet and retains a chewy texture (kind of like a South Indian Dosa)
GEOLOGY OF SHELTER COVE, CA
Perhaps because I was raised by two geologists or maybe it's the fragility of this town's existence that dawns upon you when you finally get there, either way I feel compelled to talk a little bit about the fascinating geology behind the existence of modern day Shelter Cove as it sits precariously on this part of California's coast, notorious for its wild, angry waves and blustering winds.
HOW WAS THE LOST COAST FORMED?
The Lost Coast was formed when triple plate tectonic activity (also known as the Mendocino Triple Junction) involving the North America, Gorda and Pacific plates near Cape Mendocino caused the ocean bedrock (comprising of shale, marine deposits, volcanic basalt and dark gray sandstone) to rise steeply above the ocean floor, only to be flattened out by constant erosion actions of water and wind over millions of years.
Present day Lost Coast comprises of "cretaceous marine metasedimentary and sedimentary rocks of the North American Plate" (source: Wikipedia). The unabated erosional forces of wind and water have also led to earthquakes and landslides over thousands of years, underscoring the fragility of Shelter Cove's existence. Modern day Shelter Cove continues to witness the fury of the elements as it stand quietly on the edge of one of the most dramatic shores of continental USA!
SHELTER COVE WEATHER: WHEN IS THE BEST TIME TO VISIT?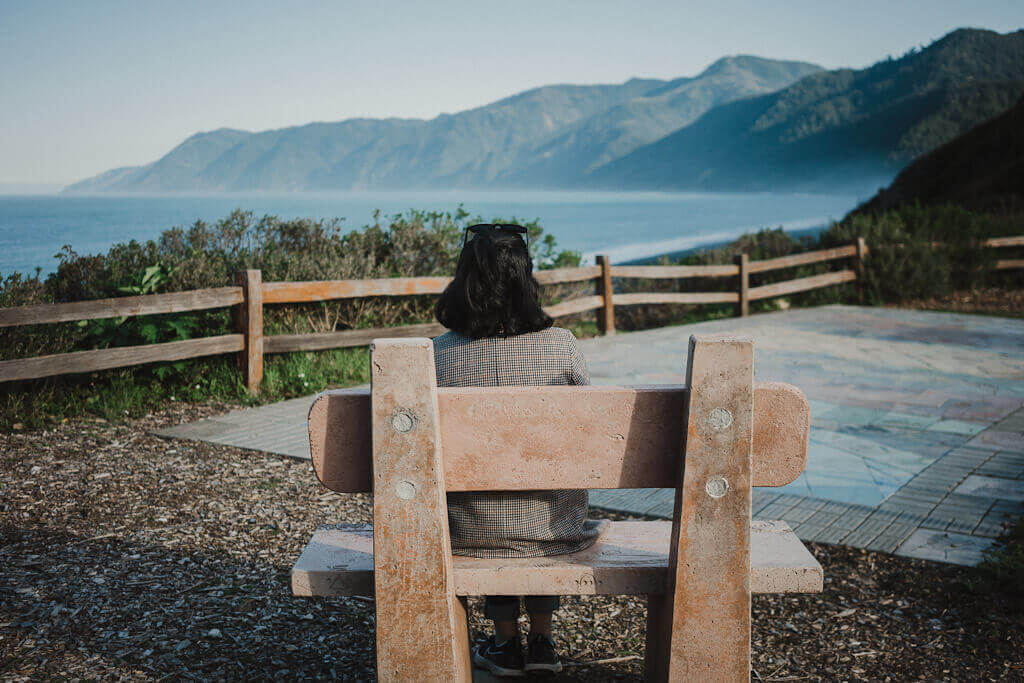 Northern California coast is notoriously cold, foggy and windy year round. Shelter Cove is right on the coast (it is a teeny tiny strip of land facing the raging Pacific Ocean) and does not experience extremes of weather. Of all the seasons, I'd avoid winter, because it is our designated rainy season.
Lost Coast has a particularly long rainy spell stretching from October to April and is one of the wettest regions in Northern California. We were lucky to not get any rain during our overnight visit in March, but it was quite windy and chilly.
Summer is definitely the best time to visit despite the fogginess, but you will feel the heat on your way if you take the inland route (you can always opt for the scenic coastal drive). Late Fall is also a good bet. In general, the dry region extends from April-September.
Remember to dress in layers and wear sturdy hiking shoes or waterproof boots when visiting Shelter Cove. The weather here is as dramatic as the shoreline itself. Carry warm winter accessories even when visiting in Spring and always carry a raincoat or an umbrella.
WHERE TO STAY IN SHELTER COVE CA?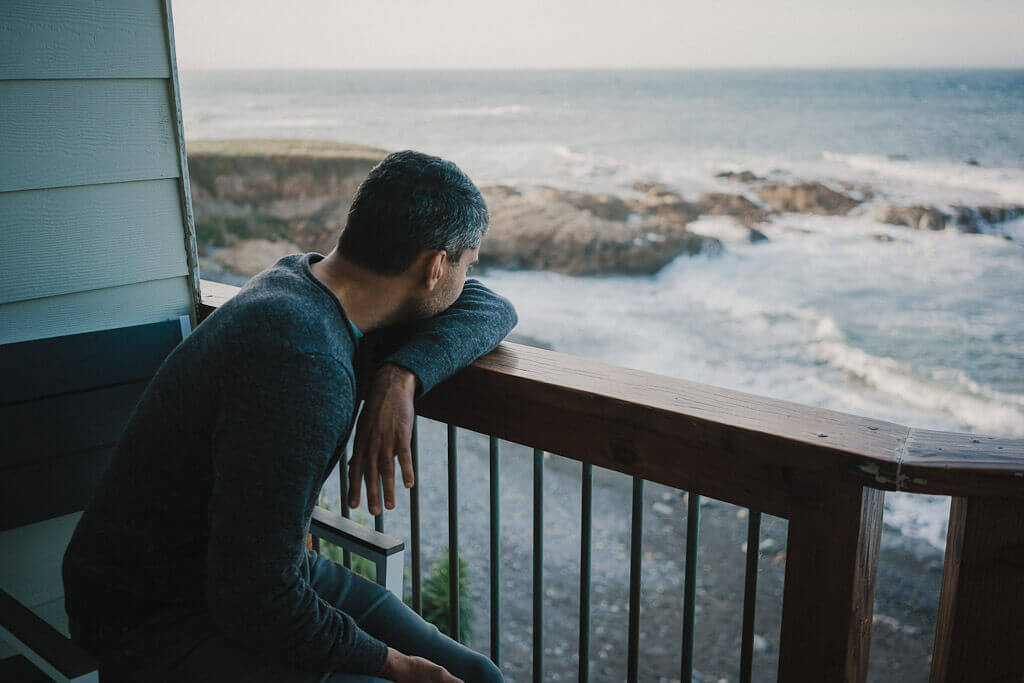 For a beach town this tiny and remote, Shelter Cove sure does have quite a few inns and hotels-many of which are literally on the coast overlooking the beaches! We stayed in the very comfortable and reasonably priced Oceanfront Inn which is also dog friendly by the way (you need prior approval since select rooms are pet friendly).
We got an Ocean facing room for less than $200 a night (a steal) and the view from our room, overlooking a black sand beach, was just incredible! Plus, it felt really amazing to fall asleep the sound of crashing waves-something we city folks don't get to experience often. Oceanfront Inn has free WIFI as well and the rooms are very spacious with a microwave and refrigerator.
HOW MANY DAYS SHOULD YOU SPEND IN SHELTER COVE?
One day with an overnight stay is enough to explore Shelter Cove unless you plan to hike the Lost Coast (even then you'll not be staying at Shelter Cove). Try to reach by late afternoon and leave the next day around the same time to give yourself some time to enjoy the beaches and vista points.
THINGS TO DO IN SHELTER COVE
Despite it's pint size, there are several outdoor attractions to explore and enjoy in Shelter Cove California. Some of the best things to do in Shelter Cove are as follows: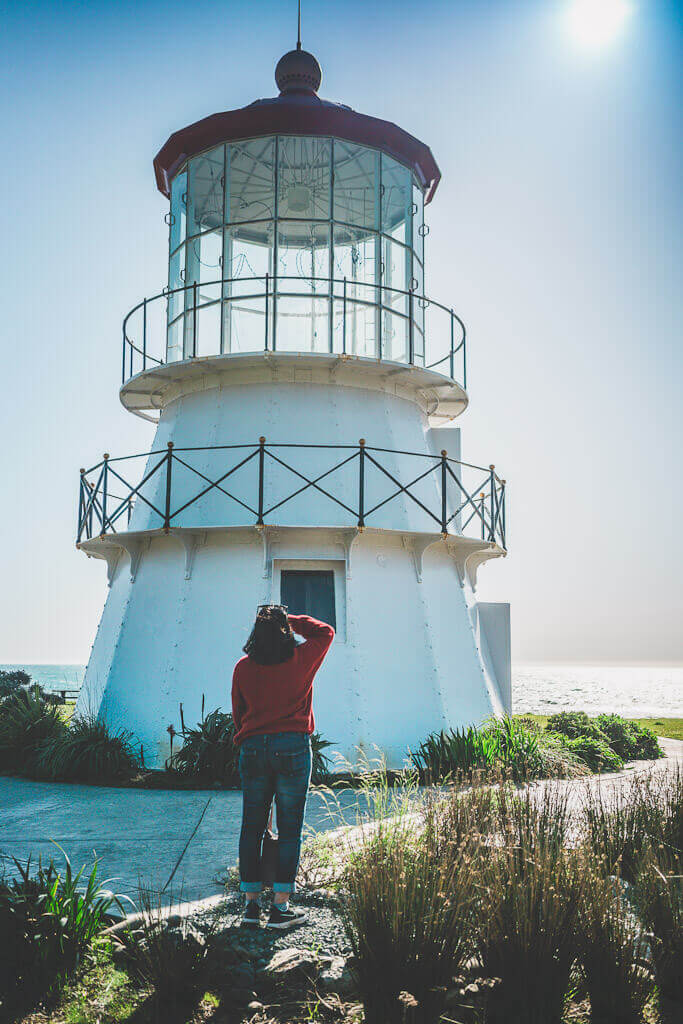 This Cape Cod style lighthouse with a red top will be the first thing to greet you as you drive into Shelter Cove. Perched on the coast at Point Delgada, this is no longer a functioning lighthouse (its Fresnel lens long gone) but it adds a bit of whimsy to the coastline in this small beach town.
So named after its original location 57 miles north of Shelter Cove on the coast in Petrolia (which is also the westernmost point in California), the lighthouse construction was completed in 1868 after the lantern room, Fresnel lens and other materials for its construction were shipped from San Francisco to Eureka, after which they were hauled on wagons to be brought 40 miles north on the coast.
In an effort to restore the lighthouse after years of service on a coast with one of the most turbulent weathers, the lens room was airlifted by the National Coast Guard and brought to Shelter Cove in 1998 which was followed by repair and restoration of the remaining parts. The actual Fresnel lens lies in storage in the city of Ferndale, a charming Victorian town south of Eureka.
BLACK SAND BEACHES IN SHELTER COVE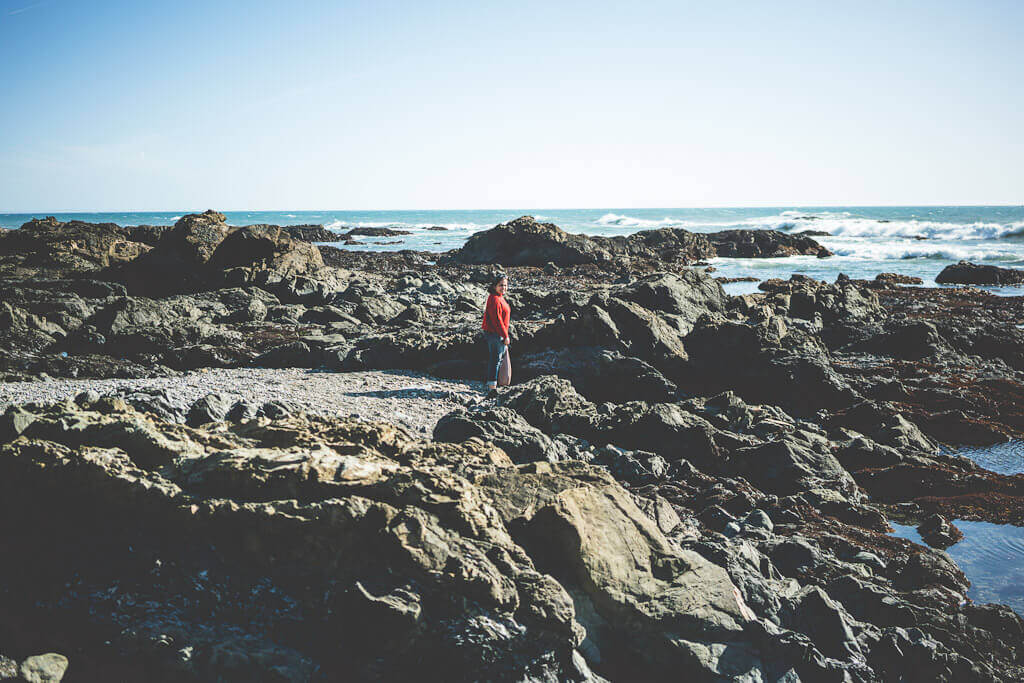 Shelter Cove has not 1 or 2 , but 4 stunning black sand beaches (the only black sand beach I'd ever known till now in Northern California is near Sausalito)! Best of all, these beaches are totally empty and are a haven for solitude with no one around barring one or two locals in this tiny town. Unlike other brown or white sand beaches, these have almost no sand and are entirely gravely with the pebbles being polished to round stones with white streaks.
For those of you wondering about the abundance of such black sand beaches on this part of the coast, it is because these beaches get their namesake color from a dark colored sandstone greywacke and an older compressed shale produced by tectonic activity between continental and oceanic plates that collided right off the shore here (source: Bureau of Land Management, King Range Conservation Area)
The ocean is particularly wild on this part of the coast, with huge waves lashing out on the shore that is a beautiful sight from afar on the beach. For this reason, you need to a) consult a tide chart before you make plans for a beach sunrise/sunset/day (a tide chart is your best friend here) and b) just relax on the beach without even thinking of swimming in the waters.
A local left a pretty long comment on my post, and I will echo what she said: DO NOT TRY TO SWIM OR SURF from the gravelly beaches as it is extremely dangerous. Instead, go to the shallow Cove Beach which is a dark black sands beach (unlike these gravelly beaches) and can be accessed from the Shelter Cove boat launching facility, aka marina. This beach is safe for swimming and surfing, often empty and even safe for kids. See details for the beach here.
Pro-tip: You may find it a little difficult to walk on the beach due to the gravel/pebbles; so remember to wear very sturdy shoes or hiking boots.
By the way, Shelter Cove is also great for dogs. All these beaches are dog friendly (at least we did not see any signs prohibiting dogs) and we spotted 1 or 2 dogs with their owners on the beaches. Here are the ones we stopped by:
Shelter Cove Black Sand Beach and Cove Beach: Steps leading down from the grounds of Cape Mendocino lighthouse at Point Delgada lead to these beaches. You can see tide pools here. We stayed near the Point Delgada side and did not venture all the way upto Cove beach.
Cove beach can be accessed from the Shelter Cove marina (near Shelter Cove boat launch ramp and parking) and is considered shallow enough for safely swimming or surfing. This is an actual black sand beach without gravels.
Little Black Sand Beach State Park: We enjoyed this totally empty beach all to ourselves and watched a glorious sunset from here. As usual, please be mindful of the tide. Do not try to swim or surf here.
Black Sand Beach: This beach is the southernmost point of Lost Coast trail, i.e. 24 miles of undeveloped shoreline that leads to Mattole Campgrounds in Petrolia to the north. Parking is not adjacent to the beach but at the nearby overlook point from where you get a spectacular view of the beach sprawled out in the shadows of the King Range mountains. Do not try to swim or surf here.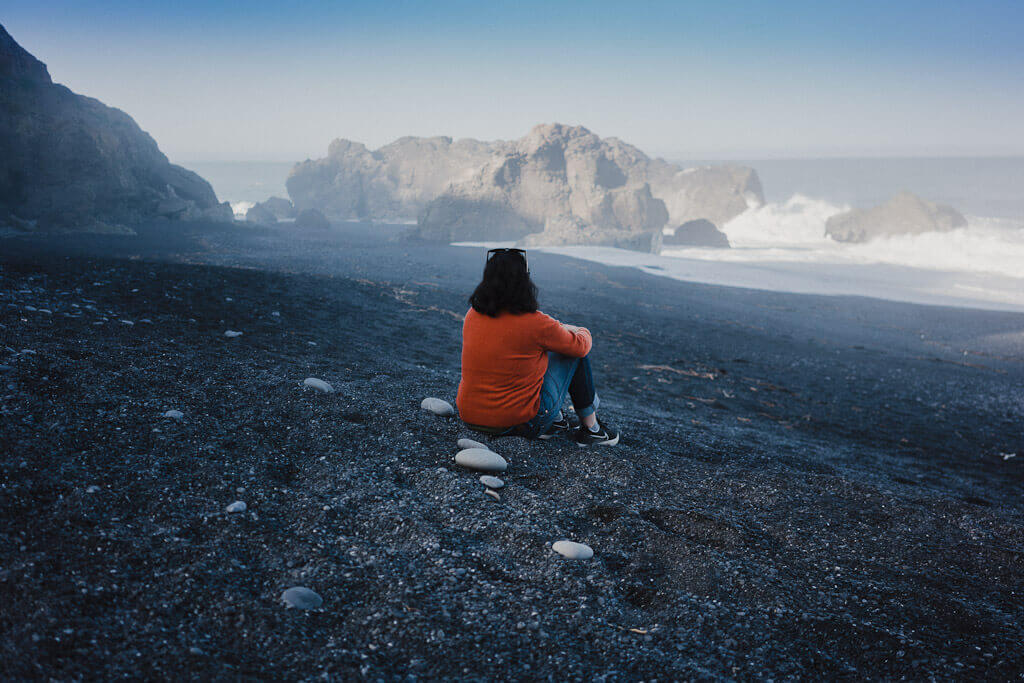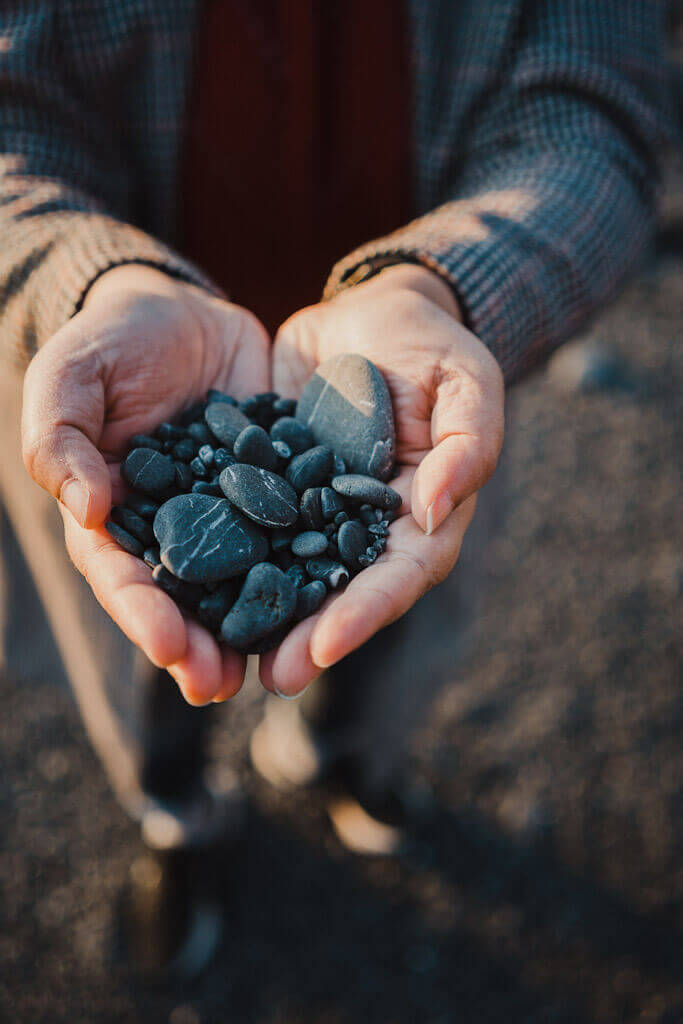 ABALONE POINT
This is a vista point and picnic area along the coast in Shelter Cove revealing dramatic views of the shoreline and the town. The perfect place to enjoy lunch or a glass of wine or beer on a not so windy day while doing some serious whale watching (Jan-April).
HIKING TRAILS IN SHELTER COVE
Shelter cove offers beautiful hiking trails that are accessible year round for hikers of all levels. The three main trails here are the Nature trail, the Franklin trail and the Nature Fitness Trail. All trails are dog friendly. You can find all the details about these hiking trails in Shelter Cove here.
HIKING THE LOST COAST TRAIL
The elusive, challenging Lost Coast trail that spans from the Black Sand Beach at Shelter Cove California (trailhead marked in Google Maps below) in the south to Mattole Campgrounds in Petrolia to the north is 24 miles of undeveloped shoreline that has attracted the most enthusiastic of backpackers and hikers over the years. Several parts of this coast are inaccessible during high tide, so if you do venture out to conquer this trail, be armed with a tide chart to assist you.
Having the exact opposite temperament of an avid hiker, I obviously stayed content with my fill of the beaches and the views in Shelter Cove but I've heard that the Lost Coast trail rewards its hikers with ocean views and the rugged coastline like no other (including landmarks like the abandoned Punta Gorda lighthouse in the north).
Please keep in mind that it takes at least 3 days to hike the lost coast trail. It's best to not bring your dog on this trail because of the challenging hiking conditions.
For those of you interested in a more organized affair, here is everything you need to know to plan your Lost Coast trail hike, courtesy of the Lost Coast Adventure Tours. Better yet, book your hike with them (they even have a shuttle picking you up from the Black Sand Beach trailhead in Shelter Cove) for the adventure of a lifetime with a seasoned guide. These are the services they offer and here are all the frequently asked questions that you may have.
SHELTER COVE RESTAURANTS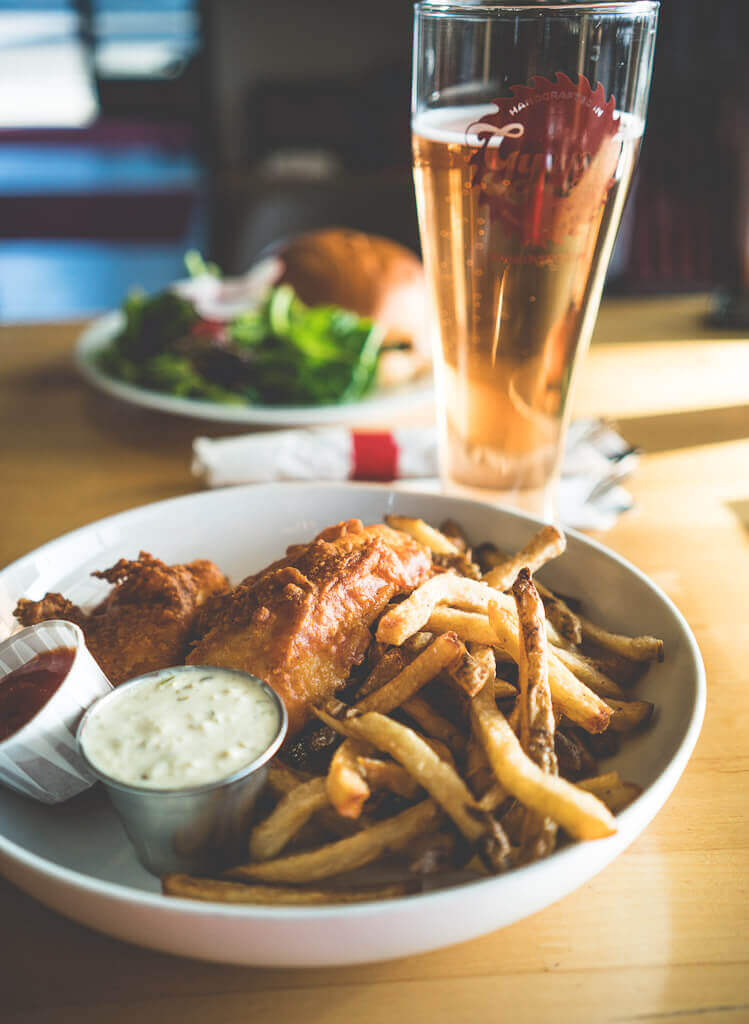 Despite its size, Shelter Cove does have a decent selection of restaurants and cafes, all within walking distance of Oceanfront Inn. However, as with many pint-sized towns, these are not open very late (think 8-9 PM as the latest), several are not open even 5 days a week and quite a few have arbitrary hours (for example, we were hard pressed to find a coffee shop open on a weekday morning).
Here are my suggestions for Shelter Cove restaurants (plus one a bit far out) to check out during your overnight stay (all marked on Google Maps below):
Gyppo Ale Mill: Also known as the remotest brewery in California, this place has great food (yummy fish tacos and fish and chips) as well as top notch craft beer made in-house. Their outdoor seating area overlooking the town is so much fun!
Delgada Pizza and Bakery: Great place for a quick bite or pizza (open everyday in the evening)
Mi Mochima: A Venezuelan restaurant in the remotest of places (open only a few days of the week, Thu-Sun if I recall correctly)
Café Dolce: This tiny blink-and-you'll miss it café on Shelter Cove Road came to our rescue for breakfast when we couldn't find a single place to grab a bite for breakfast in Shelter Cove at 9AM on a Wednesday morning. They have a decent selection of breakfast sandwiches, smoothies, chai and coffee.
FINAL THOUGHTS ON VISITING SHELTER COVE
Shelter Cove is a tiny beach town with locals enjoying the quiet life in this part of Humboldt County. This is home for many of them. The beautiful black sand beaches here are to be enjoyed for the calming experience they provide. Please do not disrupt the way of life here with your visit and be respectful of your surroundings. Pack out what you pack in when at the beach (no loud music/littering/leaving dog poop on the beach or taking pebbles home) and leave no trace behind anywhere (trails and beaches).
I hope you enjoyed reading this post on things to do in Shelter Cove California and how to get to this remote beach town on the Lost Coast. California is filled with such hidden gems and I hope you get to explore as many of them as possible via my blog. Thanks so much for stopping by! Here's a map of Shelter Cove and its many attractions:
LIKE THIS POST? PIN IT FOR LATER

«