Last Updated on July 15, 2022 by Paroma
Looking for some of the best things to do in Bodega Bay in California? You're in luck cause this is where I've laid out everything you need to know for planning a perfect weekend getaway to this charming Northern California beach town hugging Highway 1 in Sonoma county. With sandy beaches, scenic hikes, historic landmarks and sumptuous seafood-Bodega Bay offers that slice of magical California life that seems just too good to be true! Keep on reading to discover the best Bodega Bay activities in this post below as well as bonus things to do nearby along the beautiful Sonoma coast.
Disclaimer: This post may contain some affiliate links. Clicking on them may earn me a small commission at no extra cost to you for the product. Thank you for supporting free content on this site!
PLANNING A TRIP TO BODEGA BAY? HERE's EVERYTHING YOU NEED TO KNOW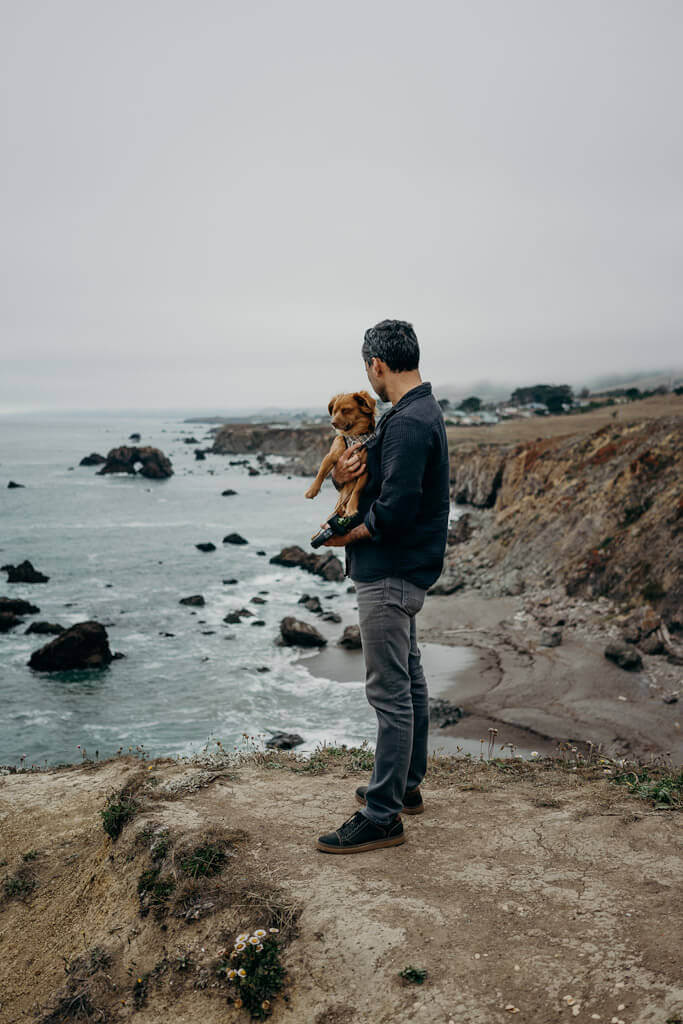 Bodega Bay is a beach town in Sonoma county and is perched right on the coast, next to its namesake bay. Beside an envious shoreline and sandy beaches for days, it's claim to fame lies in being home to the sleepy town of Bodega, which served as the backdrop/filming location of Alfred Hitchcock's famous horror/thriller movie "The Birds" that released in 1963.
This town lies about 70 miles north of San Francisco and is an easy 1.5-2 hours road trip from SF, depending on your route of choice. The inland route of 101N is definitely faster but the coastal route along Highway 1 is obviously more scenic as you pass by West Marin and Tomales Bay, to the left of which lies Point Reyes National Seashore. If you're on a San Francisco to Mendocino road trip, I highly recommend staying overnight in Bodega Bay to explore the Sonoma coast!
Besides the close proximity to San Francisco that makes it a perfect destination for a weekend getaway, Bodega Bay also boasts of some of the best California beaches, lots of hiking trails with spectacular coastal views, historic landmarks for cinephiles and history buffs as well as the very best of California's coastal bounty-seafood, seafood and more seafood with the best of Sonoma wines to wash it all down with. It is definitely one of the most romantic destinations in Northern California!
If that is not all, Bodega Bay is about a 20-30 minute drive from the popular western Sonoma towns such as Sebastopol and Guerneville, both of which offer plenty of options in dining, wineries as well as outdoor activities such as kayaking and paddle boating on the famous Russian river (the river valley is home to some of the best Pinot Noir growing appellations in the world).
I've traveled up and down the Sonoma coast many times and I've found Bodega Bay as the perfect embodiment of small town California, offering unparalleled natural beauty, tranquility and ocean views for days.
I hope this guide on all the most wonderful things to do in Bodega will inspire you to make it your next travel destination, especially for the July 4 weekend with an anxious dog since this is such a nice quiet beach town in the Bay Area to escape fireworks. Since we've always made our trips with our dogs (Babu, and now Gunda), this guide also includes all the dog friendly things to do in Bodega Bay!
If this is your first time visiting the Sonoma coast along Highway 1, here are a few handy tips to get you sailing smoothly on that road trip. From where to stay in Bodega Bay to the best time of the year to visit, here is what you need to know to have a foolproof vacation without a glitch.
HOTELS IN BODEGA BAY
I highly recommend staying at the Sonoma Coast Villa right on Highway 1 for a luxurious stay on a pretty reasonable budget (well, reasonable by California standards which is less than $300 per night). Not only is the location unbeatable (i.e. right on Highway 1 and less than 5 min drive from the coast) but it is also pretty secluded with the rooms being surrounded by 68 acres of lush, green property, gardens, walking trail, and a lawn for playing bocce ball and mini golf.
Amenities at SCV include a breakfast hamper delivered to your room in the morning, crazy good wifi, free parking and best of all, movie nights on the projector in the lawn, pizza Fridays with a mobile pizza chef (on most Fridays) and smores beside a crackling fire to set the mood. However, the most endearing part of this place is that it is very dog friendly and pups are happy campers here with lots of space to romp around! Upto two dogs of any size are permitted with an $50 charge per stay.
The rooms are spread out on the ground floor (for easy access of your pup to the outside) and come equipped with a mini fridge (they have a microwave in the dining room area where breakfast used to be served pre-Covid times). Several rooms, like ours, also have a front balcony/porch opening up to the gardens.
BEST TIME OF THE YEAR TO VISIT BODEGA BAY
The Sonoma coast has mild weather year round (mostly in the 60Fs) which makes visiting a breeze in the hot, oppressive summer that set Sonoma county ablaze! Winter months (November-February) are rainy, so try to avoid that time of the year if you're looking forward to beach time. I highly recommend coming late Spring/early Summer and Fall to avoid the crowds. Coastal fog is also a thing in this part of California, but the white fog rolling in just adds to the charm of the surroundings.
HOW TO DRESS FOR VISITING THE SONOMA COAST
Northern California beaches are cold and windy and so is the water. Plus, it does get pretty chilly and windy even in summer as you're driving up the coast. Be wise, expect the unexpected and dress in layers. Always have a jacket handy and cold weather accessories like a cap and scarf (trust me, you will need them). Wear sturdy hiking shoes/sneakers if you're planning to hit the trails.
IS BODEGA BAY DOG FRIENDLY?
100% YES! Most beaches and trails on the Sonoma coast in and around Bodega Bay welcome dogs on leashes. Several restaurants and harbourfront cafes have outdoor seating welcoming pups and the town of Bodega is dog friendly as well. We've visited Bodega several times with Babu in the past and now with Gunda (our newly adopted pup), and have always had a great time. So if you are a dog parent, don't leave your pup behind while visiting Bodega Bay!
P.S. Read all our dog friendly California adventures right here, or check out some of our favorite dog friendly beach towns such as Pismo Beach, Santa Cruz, Carmel and Mendocino,which are some of our favorite small towns in California to explore with dogs.
BEST THINGS TO DO IN BODEGA BAY, CALIFORNIA
As I mentioned before, there are plenty of amazing things to do in Bodega Bay for a weekend getaway from San Francisco. Here are my suggestions/recommendations based on my multiple visits.
1. BODEGA BAY BEACHES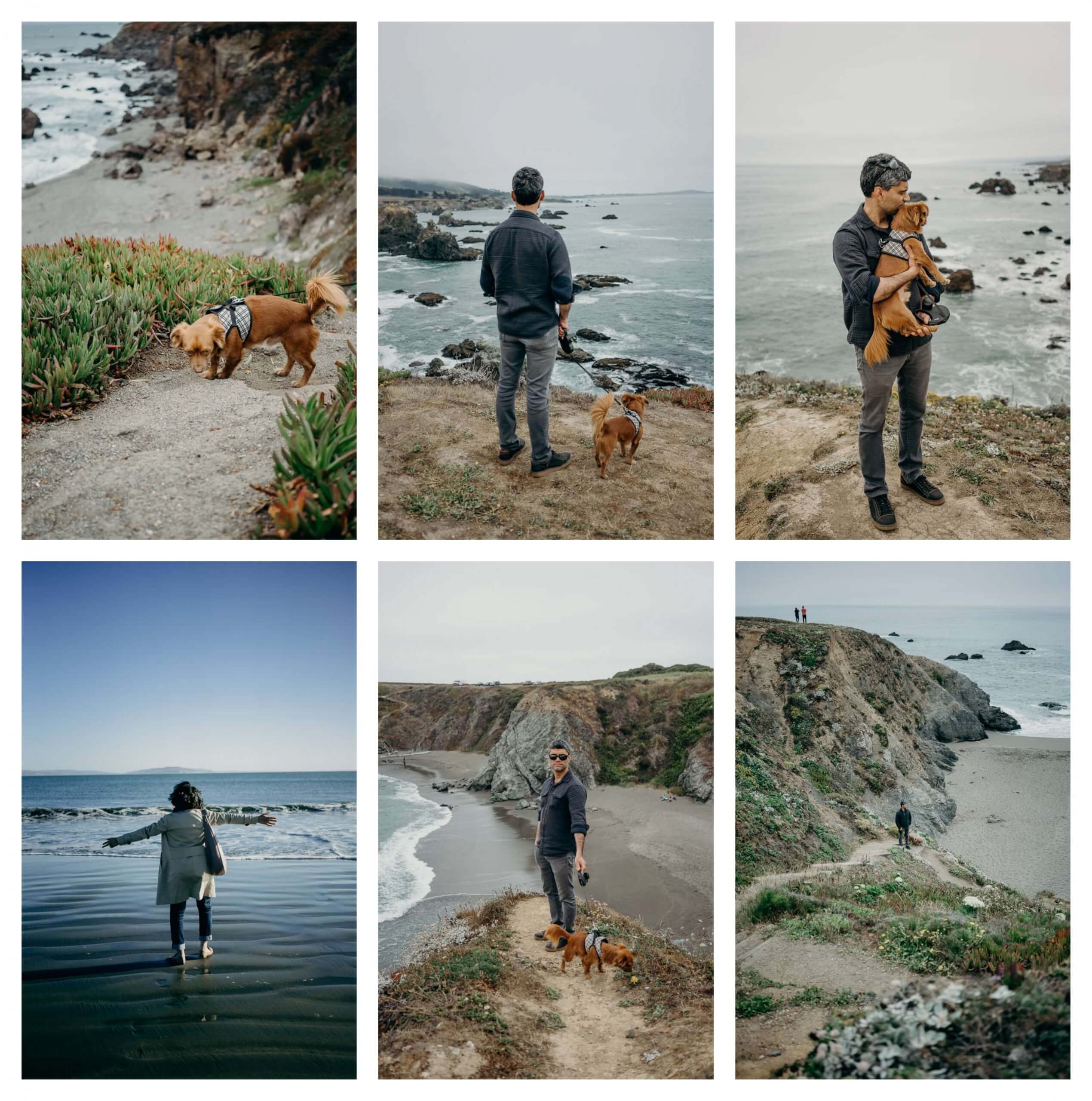 If you're in Bodega Bay, all roads will eventually lead to at least one of its three spectacular beaches. Of these, Bodega Dunes beach (with boardwalk and campsites) and Campbell Cove beach on one end of Westshore road do not allow dogs, so we had to give them a miss.
BUT, we more than made up for these misses by spending an afternoon at Doran beach which is nestled in Doran regional park and is THE MOST POPULAR AND BUSIEST BEACH AROUND (so come early before 10AM or after 3PM to find parking like we did). The park is open from 7AM-sunset but the parking lot closes down when full.
Since Doran regional park is part of the Sonoma County Regional Parks system, you have to cough up $7 for parking unless you are a member. Prior reservations are required for camping. Dogs are allowed on leash and you can either enjoy the breaking waves by chilling on the sand or explore the wetlands as you walk the birdwatch trail (also dog friendly). The beach is also equipped with a recently renovated boat launch providing access to Bodega Harbor and Bay for all sorts of activities such as fishing, kayaking, stand-up paddling, and kite surfing.
Besides these three beaches that are officially in Bodega Bay, there are dozens of beaches dotting the Sonoma coast that are a stone's throw away from Bodega Harbor. Once you cross the northernmost point of Bodega Bay at La Bodeguita (a popular Mexican restaurant) and head towards Jenner, you'll find several sandy stretches along the way. All of them can be accessed from Highway 1 either directly or via steep steps leading down from the parking lot/pullout point.
Here are some viewpoints and beaches to lookout for as you drive up north: Arched Rock Overlook, Marshall Gulch, Carmet Beach, Schoolhouse Beach, Portuguese Beach, Scotty Creek Beach, Gleason Beach Overlook, Duncan's Cove and Duncan's Landing Overlook (which has a paved trail with gorgeous views of the coast). Barring Scotty Creek Beach, all of the others have pull out areas for parking and welcome dogs on leash!
2. HIKING IN BODEGA BAY
There are some really scenic hikes in Bodega Bay which are not only beginner friendly but also lead to panoramic views of the rugged California coast and in one particular case, a secluded beach! If visiting in winter (Dec-Feb), keep an eye out on the coast for migratory whales. Here are the hiking trails that I recommend as part of some of the best things to do in Bodega Bay:
a. PINNACLE GULCH TRAIL
This 1.9 mile round trip trail is perfect for beginners and leads to a secluded beach. This Bodega Bay hiking trail is mostly level with steps leading down to a valley that leads all the way up to the beach. Dogs are welcome on the trail. Google Maps does a perfect job of taking you to the trail head.
b. BIRDWALK COASTAL ACCESS TRAIL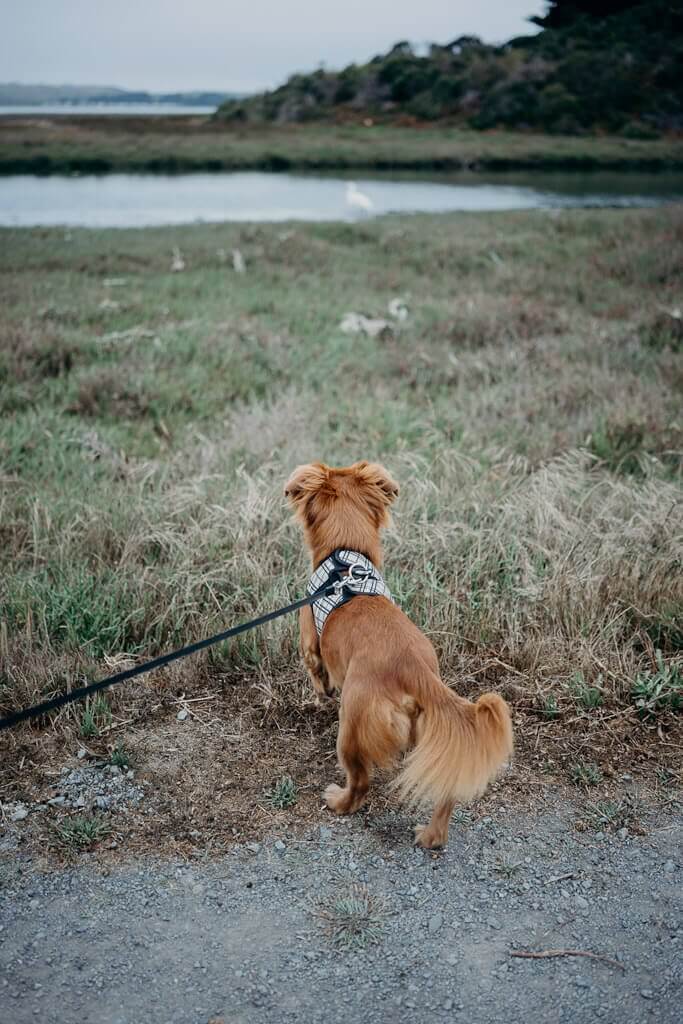 This trail is right off Highway 1 and is a paved path leading off a parking lot that meanders through the Sonoma coast wetlands, making it an excellent means for seeing those pretty waterbirds (herons and egrets and so many others). This is also a dog friendly trail. You will have to pay $7 to park (the parking lot closes at sunset) since it is maintained by the Sonoma County Regional Parks system.
c. BODEGA HEAD TRAIL
The Bodega Head trail is a series of trails shooting off on either sides of "Bodega Head" ,i.e. a giant rock jutting into the ocean. The warren of trails crisscrossing the landscape lead to breathtaking views of the Sonoma coast as you hike further up. This is an excellent place in Northern California for whale watching from land owing to the elevation.
Unfortunately, dogs are not allowed on any of these trails. So we had to be content with a photoshoot on the Bodega Head itself next to the parking lot as we watched dog-less people take off (insert bummed out expression here).
3. WINE TASTING IN BODEGA BAY
No matter where you may be in Sonoma county, you are never too far off from a winery or a tasting room. Although the cream of the Sonoma wineries are in the valley (think Healdsburg, Windsor, Kenwood and the town of Sonoma itself), there are surprisingly quite a few tasting rooms and vineyards along the coast, specializing in Pinot Noirs and Chardonnays due to the coastal fog.
When in Bodega Bay and in the mood to taste some wine, head straight to Sonoma Coast Vineyards (with a reservation of course). For $25 you can taste through a flight of 4-5 pours while taking in breathtaking ocean views from the outdoor seating area. Dogs are welcome to join you at this tasting. The other dog friendly wine tasting spot is Gourmet Au Bay overlooking the harbor where you are welcome to pick any three wines (the pours are pretty generous) as well as food. They have a spacious patio for a leisurely experience.
4. VISITING THE TOWN OF BODEGA
No trip to Bodega Bay is complete without at least one visit to its namesake sleepy fishing town of Bodega which was immortalized by Alfred Hitchcock in his iconic feature film "Birds" where thousands of birds mysteriously appear and terrorize the inhabitants of this town. No scary bird encounters to be had in present day Bodega; instead you'll get to have a welcome break from the coastal crowd as you stop by to admire the town's prime attractions, i.e. the "Potter Schoolhouse" and St. Teresa of Avila Church.
Potter Schoolhouse, so prominently featured in Hitchcock's movie, is on 17110 Bodega Lane. Built in 1873, this originally as a schoolhouse, but is now a private residence. So please be respectful of this fact as you take a photo outside the gates and don't be unnecessarily nosy.
The second iconic landmark is the minimalist St. Teresa of Avila Church right next to Potter Schoolhouse. This church was photographed by the famous American photographer Ansel Adams, whose gallery of black and white photographs is located in Yosemite National Park and is a treat for the eyes.
Beside these two attractions, there are a few local art galleries and antique stores on the main street in this tiny strip of a town. I recommend stopping by Colleen's Coffee shop for a coffee and pastries/sandwich when in town.
5. BODEGA BAY RESTAURANTS
There are a surprising number of dining choices for such a pint sized town, thanks to this being a popular destination on the Sonoma coast. Most of these are highly seafood centric (with one or two vegetarian choices) and specialize in fresh catch, fish & chips, clam chowder as well as yummilicious oysters from the saline waters of Tomales Bay down south. These are some of my favorite Bodega Bay restaurants where I've repeatedly stuffed my face:
a. Tides Wharf Restaurant: Wildly popular, this restaurant is right across the road from its namesake inn, the Inn at the Tides. Dine here for the seafood and chowder (they also have a fun pastry bar) while enjoying the views from your window seat in the huge dining room. They do have outdoor covered seating on warm afternoons. Reservations recommended.
b. Fishetarian fish market: Super popular with the crowds, this is a fish market that doubles up as a hotspot for all seafood lovers. Don't miss their fish and chips! They are legit dog friendly with dedicated outdoor space.
c. Spud Point Crab Company: Located on one side of Westshore road as you drive to the Bodega head trail, Spud Point draws in hungry crowds for their award winning epic Boston style clam chowder. Come hungry but come early (they open at 11AM) since the line snakes out for over a mile. There is some outdoor seating as well, but it mostly operates as a takeout place.
d. Fishermans Cove Bodega Bay: This is right next door to Spud Point and has equally yummy chowder as well as the softest crab meat rolls. Come early again to avoid crowds.
e. The Birds Cafe and La Bodeguita: I haven't dined at either of these spots (La Bodeguita is temporarily closed as of July 2021) but have heard that both are great places for lunch or dinner. Birds Cafe has usual coastal fare while La Bodeguita specializes in Tex-Mex food.
f. Drakes Sonoma Coast: This is the place to be for a romantic dinner /fine dining in Bodega Bay. Located in Bodega Bay lodge, Drake's Sonoma Coast showcases the best of coastal California via artisan crafted cuisine (full disclosure: I am yet to dine here-maybe someday when we visit without Gunda).
Most of these restaurants shutter down by 7-8PM with the exception of Tides Wharf Restaurant that closes at 9PM-so please remember to make those dinner reservations early!
A note for my vegetarian/vegan/seafood averse/shellfish allergic readers: don't give Bodega Bay a miss on account of food. There are plenty of options around the coast that are more inclusive. Read this next section for my nearby dining recommendations to suit your palates:-)
THINGS TO DO NEAR BODEGA BAY
There are plenty of things to do near Bodega Bay on the coast as well as inland and I highly recommend exploring a few of these activities and places if you have time. Here are my absolute favorites:
SOUTH OF BODEGA ON HIGHWAY 1 (16 miles south)
a) Watch the sun go down in Dillon Beach, just south of Bodega Bay in Marin County. Drive further south to Marshalls to slurp on oysters at Marshalls store or Tony's seafood joint. We stayed at Nick's Cove in Marshalls during our visit to Point Reyes a few years ago and loved dining at its restaurant as well.
NORTH OF BODEGA ON HIGHWAY 1 (upto 27 miles north)
b) Drive up the coast along Highway 1 to stop by Jenner (where the Russian river empties into the Pacific Ocean) and catch the Pacific Harbor Seals snoozing at Jenner Rookery/Jenner Belvedere (a large sand pit at the mouth of Russian River at Goat Rock Beach). Get a pair of binoculars to watch them right from Highway 1!
c) If you're venturing further north, remember to stop by Fort Ross Historic State Park, that used to be a Russian-American Company settlement from 1812 to 1841, providing agricultural supplies to Alaska. Pay for your parking and then walk down the parking lot along the paved path to see some of the original buildings and church in a fortified settlement from that period. This is a dog friendly state park and dogs are even allowed inside the buildings!
d) If you're still northbound, stop by Timber Cove Resort perched right on the coast for either lunch or dinner at the Coast restaurant with spectacular views to match. Timber Cove costs a pretty penny to stay in but is dog friendly. We've stopped here many times during our Highway 1 drive (from Mendocino to San Francisco) for lunch.
EXPLORE WESTERN SONOMA (Bohemian highway, Sebastopol, Forestville, Guerneville, Duncan Mills)
e) Go on a road trip along the Bohemian Highway, a scenic 16 mile inland route starting from Freestone in the south to Monte Rio in the north. Get some delicious scones to go at Wildflour bakery known for their crazy good bread ( plan arrive when they open at 8AM since they are "wildly popular") or brunch at Howard's Station Cafe in Occidental, another artsy town on the Bohemian Highway.
f) This is a must do- hike in the magical Grove of Old Trees near Occidental. This dog friendly grove of old growth Redwoods is one of the only two private preserves open for public use. The misty, rainy aura and the surrounding greenery will transport you to a "Lord of the Rings" like otherworld with its heavenly tranquility. I highly recommend coming in as early as possible to get parking in the tiny parking lot and also because parts of the road leading to are narrow and one way and can get congested.
This Redwood grove was my favorite discovery in Sonoma during our latest trip to the coast and I was instantly reminded of our Northern California Road trip through Humboldt County, which is home to the mighty coastal Redwoods. Please dress in layers (have a rain jacket handy) because it can get rainy and cold inside the grove (the Redwoods need all that good moisture to thrive).
g) Stop by the boutique shops and stores in Duncan Mills or get lunch at Cape Fear Cafe
h) Gorge on some yummy Sonoma county cheese from Valley Ford Cheese and Creamery
i) Explore the colorful Main street of Guerneville, known for its restaurants, wine tasting rooms and antique stores. I highly recommend lunch or dinner at Boon Eat and Drink Bistro and wine tasting at the biodynamic Porter-Bass Winery. Guerneville is right on the banks of the Russian River, so if you are in the mood for kayaking or paddle boating, head out to Johnson's Beach after reserving a canoe or a kayak
j) Visit downtown Sebastopol and its many wineries. We visited Sebastopol many years ago with Babu and I am happy to report that the town is pretty unchanged even after all these years. Tasting delicious chocolate truffles and caramels at Sonoma Chocolatiers and a delicious dinner at Khom Loi (voted Sebastopol's best restaurant of 2020) were my two favorite indulgences of this trip.
h) Sebastopol's main attraction is undoubtedly The Barlow, an open air emporium/market with lots of stores, distilleries, breweries, wine tasting rooms, cafes and restaurants. From ice cream and fresh juices to yummy tacos, sandwiches and pizza plus some good old cider and wine tasting-the Barlow has all your gastronomic needs covered! See all of Barlow's restaurants and stores right here.
i) Love art, but don't have enough time to spend at a museum or art gallery on this trip? Then get your art fix by walking down Florence Avenue in Sebastopol (right next to Khom Loi) to admire local artist Patrick Amiot's junk art lining the street on either sides. Patrick welds these whimsical figures literally from metal scraps and junk while his wife Brigitte paints them to life. Their creations were such a delightful addition to an otherwise ordinary residential part of town!

j) Foodie friends-enjoy a fancy dinner at the farm to fork Michelin starred FarmHouse Inn Restaurant in Forestville.

Aaand…that's a wrap! I hope you enjoyed reading this post on all the amazing things to do in and around Bodega Bay on the Sonoma Coast. Thanks a lot for stopping by and subscribe to this blog for more California content!

LIKE THIS POST? PIN IT FOR LATER!

«