Last Updated on June 11, 2022 by Paroma
Visiting Yosemite National Park and looking for easy hikes to catch some splendid, gushing waterfalls? Not to worry, cause I am a not so great hiker myself who feels your pain and has compiled these terrific 5 easy day hikes in Yosemite just for your exploring pleasure! All these Yosemite day hikes lead to some great views and waterfalls when visiting in Spring and are not to be missed!
Disclaimer: My blog posts may contain some affiliate links. Clicking on them to make a purchase may earn me a small commission at no extra cost to you for the product. Thank you!
Yosemite National Park for those not so avid hikers
Yosemite National Park, cradled in the high Sierras, is one of the crown jewels of California and is immortalized by Ansel Adams' photography. This wonder of nature will woo you with its roaring waterfalls, towering granite (shaped and polished by glaciers), flowering meadows and giant Sequoias. It is one of the shining gems of US National Parks systems and should be on your USA outdoor bucket list! Yosemite is also a terrific romantic getaway in Northern California for couples looking to spend some time in nature and is a great long weekend getaway from San Francisco.
The out of this world beauty of Yosemite is only partially revealed by several hikes (easy to extremely strenuous) in Yosemite valley. But if you are a beginner hiker or simply not into arduous physical activity, then I have just the right list of easy Yosemite hikes lined up for you. These easy hikes in Yosemite are not only great for seeing all the Yosemite landmarks, but are also doable under an hour (round trip) and lead to stunning water bodies (waterfalls and lake) if you visit in spring-early summer.
These are some of the best easy day hikes in Yosemite offering gorgeous viewpoints and are simply not to be missed if you are visiting Yosemite National Park for the first time or with your dog since many of these Yosemite hikes are dog friendly as well! There is also a handy Google Map at the end with all the trail heads (for Yosemite hiking trails) and other attractions mentioned in this post, for your convenience.
PS: Lake Tahoe, the largest alpine lake in USA is nestled in the High Sierras and is home to many gorgeous waterfalls, you can read my Lake Tahoe waterfall hikes to learn more!
Easy Yosemite hikes #1. Bridalveil Fall
This is technically not a hike at all, since it is merely a 0.5 mile round trip from the fall viewing point. This waterfall is the first one that greets your when you enter Yosemite Valley (you catch a great first glimpse from tunnel view as you exit the Wawona road tunnel) and is so named because of the "bride's veil" like effect the water mist creates in the wind as it is sprayed around.
This fall plunges down with all its fury in spring (March-May), being fed by the fresh snow from the Sierras and is one of the few falls in the valley that is alive throughout the year (the trail is open all year round as well). This is the easiest possible Yosemite day hike and extremely popular as well. Arrive as early as possible to see the fall but be warned that you will get wet, thanks to the pretty intense mist jet created by the force of water, especially in spring.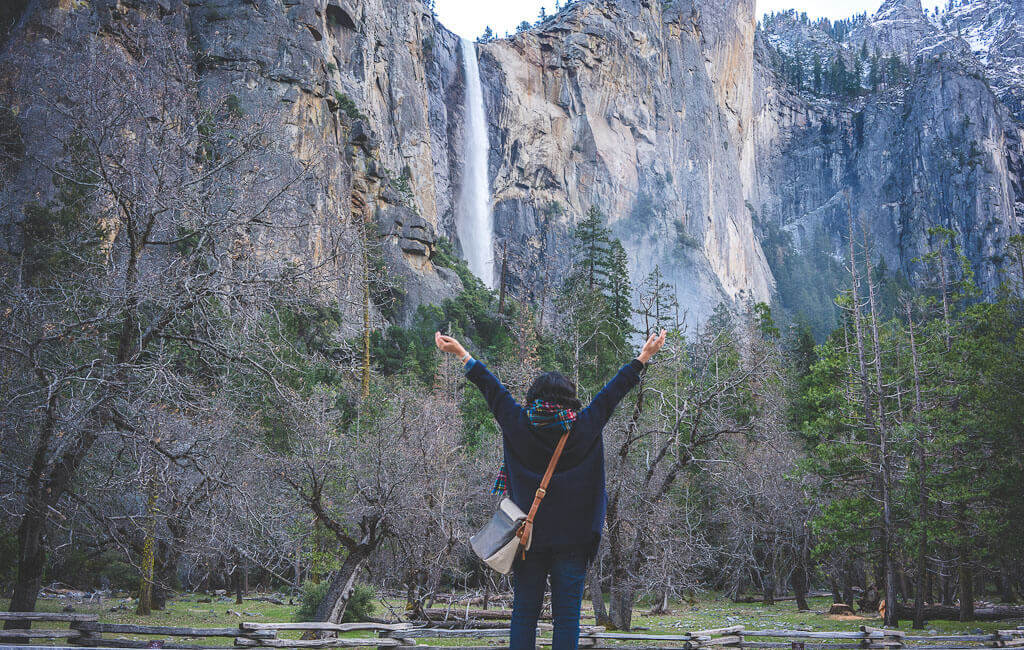 Easy day hikes in Yosemite Valley #2. Cook's Meadow loop
Cook's meadow is that one spot in Yosemite from where you can not only the famous Yosemite falls (both upper and lower) but also get a magnificent view of Half Dome (climbing up this granite wonder is one of the six challenging and epic California hikes), the granitic wonder, which is hiked by people from all over the world (you do need a permit for that).
Cook's meadow loop is a nice 30-minute stroll (another one of the easy Yosemite hikes) that starts from a paved bicycle pathway across from Yosemite Valley Shuttle Stop #6, runs through the meadow along a boardwalk and encompasses Sentinel bridge. This bridge is where tripods jostle for space to catch the setting sun's golden glow over Half Dome, but honestly Cook's meadow offers a gorgeous viewpoint for the same, minus the crowds.
Best easy day hikes in Yosemite #3. Lower Yosemite fall
The hike to upper Yosemite fall might kill your feet (6-8 hours of navigating over 7 miles) but the one leading to the lower one is easy peasy. Lower Yosemite fall hike is about 1.1 miles and takes only half an hour to complete.
Cross the road from Cook's meadow and make your way along one of the trails as indicated by the signs (one of these trails is closed for spring but the other is open and takes the same time). As you approach the falls, there is a viewpoint where you can see both. Once you get closer, there is a small bridge facing the lower fall that gives you a fantastic view.
Easy day hikes in Yosemite #4 Mirror Lake
Unlike the insanely popular Glacier point which can be driven up to (the Glacier point road reopens in May), Mirror lake is not accessible by car. However, getting to this Yosemite landmark is super simple, thanks to the Yosemite shuttle service. Simply get on to the shuttle (Stop #9, opposite the Yosemite visitor center) and get down at stop #17. Walk along the paved road (do not get on to the trail) and you will reach Mirror lake.
This 2 mile round trip takes about an hour and is best experienced in spring when this rather shallow lake is filled with water. The lake is so named for its tranquil waters that provide a clear reflection of the surrounding mountains. The trail continues further up, but you can simply choose to see the lake and return via the same path to the shuttle stop.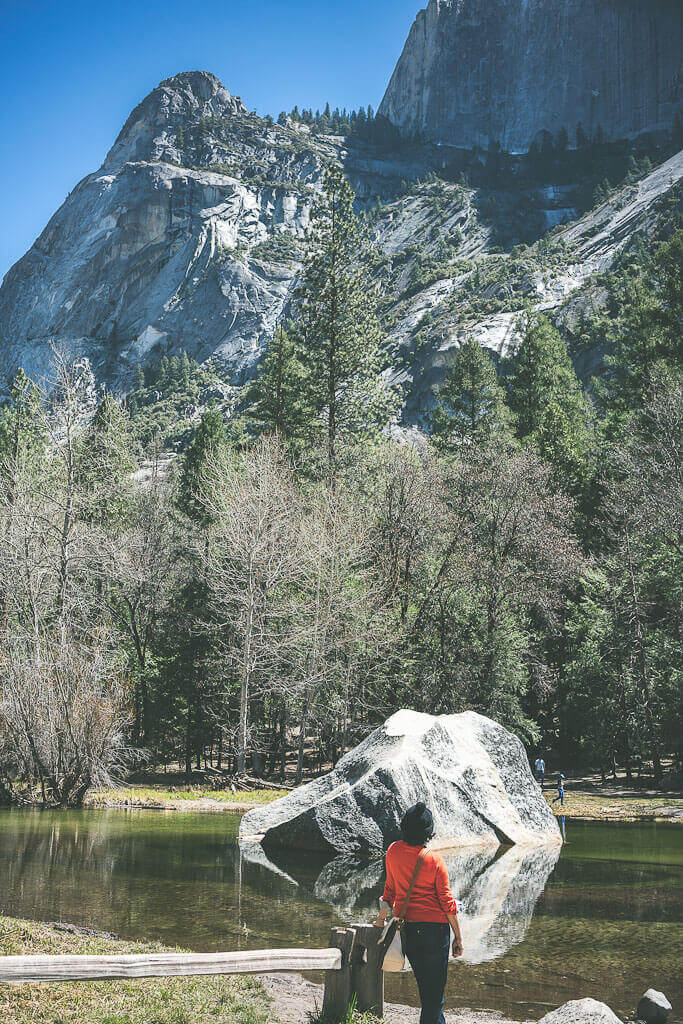 Best easy day hikes around Yosemite #5 Corlieu fall
Although not technically inside Yosemite national park, this is one of the lesser-known Yosemite hikes that can be accessed via the Lewis creek trailhead, which is a short drive south of the park. The best part about Corlieu fall is that it is a series of cascading falls that can be enjoyed from a beautiful wooden viewing area.
Since most people do not ever leave the valley in their quest to see the popular waterfalls in Yosemite, you can practically have the fall to your own and enjoy the beauty and tranquility at leisure. This is one of the best moderate hikes in Yosemite since there is quite a bit of change in elevation although the hike is approximately 1 mile (round trip). The other waterfall in this region is Red Rock fall (3 miles round trip) but is not easily accessible.
Once you reach the trailhead (left of the parking lot), follow the sign that says Lewis creek trail and turn right at the sign. Look out for a shallow flight of steps that will lead to another similar flight to the right and slightly below. Hike down those steps and turn right to a path that will take you to the beautiful viewing area where you can see multiple cascading streams. Again, this waterfall is best visited in spring-early summer when it's plunging down in full force.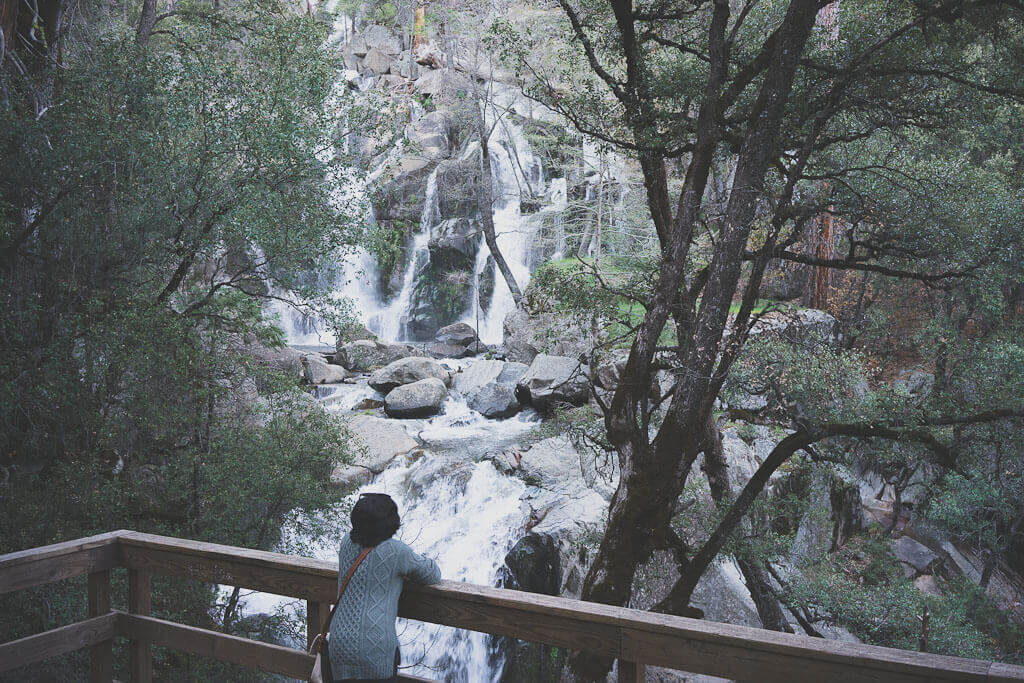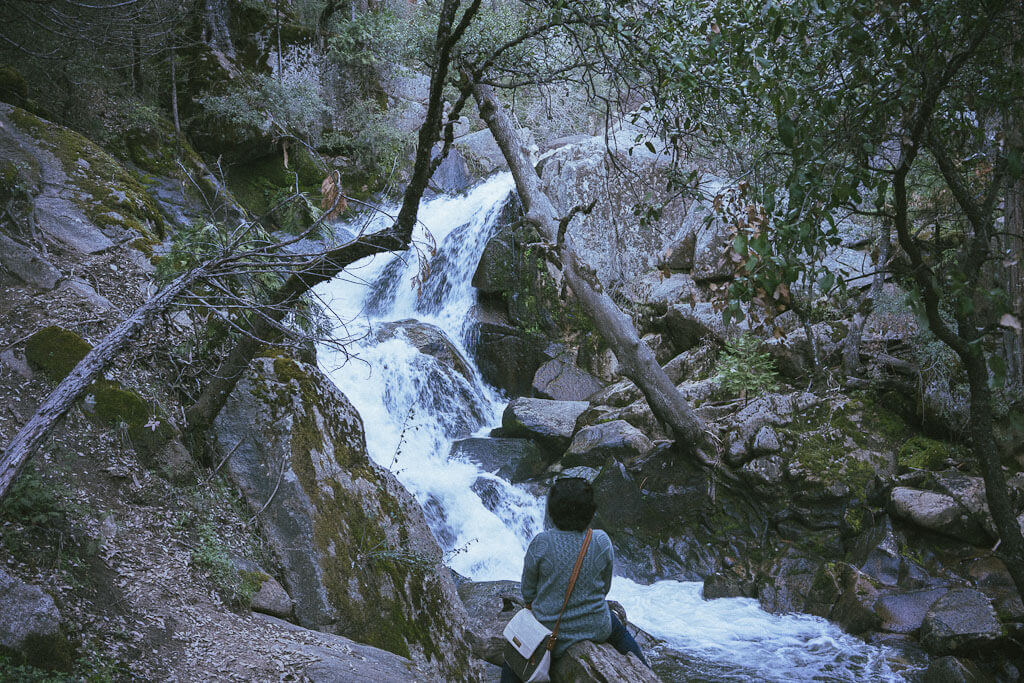 When to visit Yosemite National Park
Although every season is gorgeous at Yosemite, the best time to visit Yosemite is in the shoulder months of spring (March-May) to see the waterfalls gushing down in their full glory and Fall (Sep-October) when the crowds have thinned out and the road closures have not begun yet.
Summer is heavily crowded at Yosemite with temperatures soaring to the high 90s (F) in the valley. However, this is also when all hiking trails and park areas are open. So if you have to visit, choose weekdays and non-holiday weekends.
Where to stay in Yosemite National Park
Yosemite National park is the most popular one in California and one of the top 10 National Parks in USA. This means only one thing-you've got to make your reservations in advance, especially if visiting in summer. I highly recommend booking a hotel or lodge inside the park, especially at Yosemite Valley but please remember that those are most coveted and the first to go.
During our spring travel to Yosemite, we made a very last minute booking at Tenaya lodge (it is dog friendly by the way) which is very comfortable with spacious rooms, has a reasonable rate, free parking and wifi but is far away from the valley (an hour's drive each way). If you want to stay closer to the valley, I recommend Rush Creek lodge which has gotten quite a few favorable reviews from other bloggers as well as 4.5 stars on Tripadvisor from 902 guests.
This lodge is right next to the park (near the HW 120 west entrance) and is a swanky new addition to accomodations at Yosemite with a cozy cabin like feel. Next, comes Yosemite Valley lodge that is close to the Yosemite Falls and has an indoor pool, free parking, internet and restaurant.
Finally, I would like to add the Majestic Yosemite Hotel (also known as "the Ahwahnee") to this list which stands tall and proud in the valley and is an absolutely gorgeous place to stay if you are feeling self-indulgent since it costs $$$$. Even if you cannot stay there, do stop by for breakfast or lunch at their grand dining room!
The historic town of Mariposa is another affordable option to stay near Yosemite since it is only 45 minutes away from the Arch Rock Entrance. Mariposa Lodge (dog friendly), Yosemite Oasis and Yosemite Plaisance Bed and Breakfast are right on Main Street where all restaurants are. For a more secluded experience, Hilltop Hideaway (this is a dog friendly vacation rental) and the opulent Restoric Historic StageCoach Stop are good options.
CLICK HERE TO COMPARE PRICES FOR ALL HOTELS IN AND AROUND YOSEMITE NATIONAL PARK
I hope you enjoyed this handy list of easy Yosemite hikes, which will certainly save you a trip to the visitor center. The super useful Google maps is included and it lists all these easy day hikes in Yosemite (see above). These can be covered in a breeze by beginners or for those who do not find hiking appealing, yet want to get a taste of Yosemite's majestic beauty.
My first time at Yosemite was a magical one, thanks to tips from my friend (who can practically start his own Yosemite tour, thanks to his 20+ visits to the National park) as well as this post by the famous photographer Colby brown, which lists some of the best Yosemite viewpoints to photograph all the spectacular landmarks.
Finally, if you seek more inspiration for seeing Yosemite via your lens, do not give the Ansel Adams gallery a miss (near the visitor center) to view some of the legendary photographer's iconic captures of Yosemite and other national parks. Remember to check the park's website for current weather conditions and road closures ahead of your trip!
Like this post? Hover over the images to pin it!
*some pin images are copyright free and downloaded for fair use from Unsplash

«