Last Updated on November 16, 2022 by Paroma
Visiting Lake Tahoe with your dog? Then I have the perfect dog friendly Lake Tahoe guide penned just for you! This 100% tried and tested, authentic guide to the best things to do in Tahoe with your dog has tons of recommendations on dog friendly Tahoe beaches, hikes, hotels and restaurants. Peppered with do's and don'ts, this post is the only one you'll need to have the time of your life in Lake Tahoe with your furry friend minus any hassles and headaches!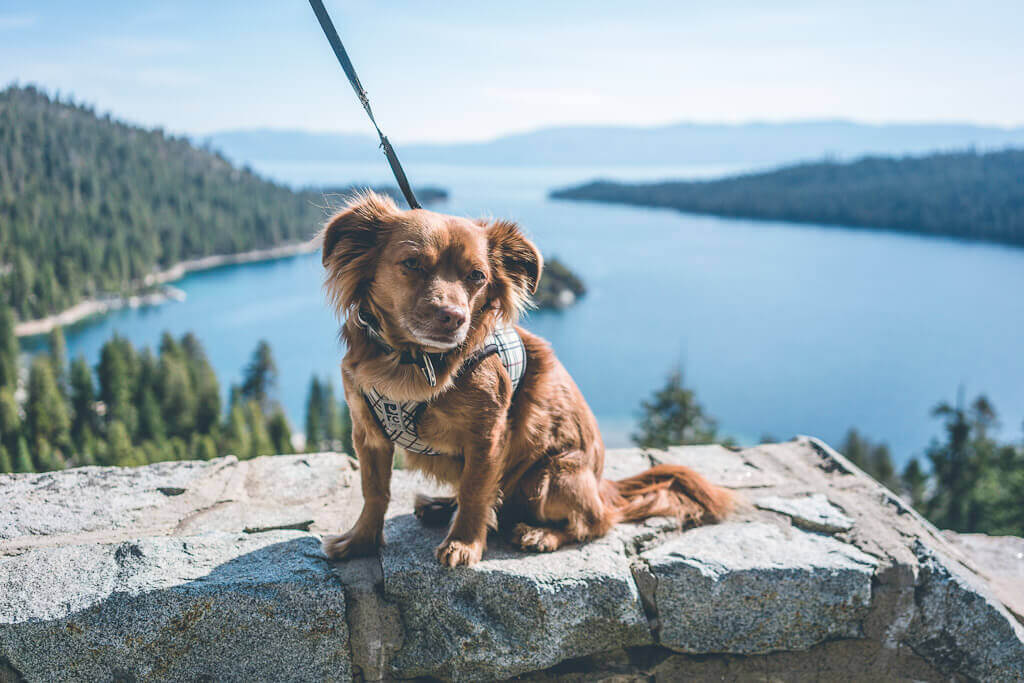 Disclaimer: This post may contain some affiliate links. Clicking on them may earn me a small commission at no extra cost to you for the product. Thank you for supporting free content on this site! All photos are my own except where credited to their respective owners.
LAKE TAHOE WITH DOGS-HERE'S WHY YOU SHOULD VISIT
Lake Tahoe is the largest alpine lake in USA (and also the second deepest by the way) that straddles the border of California and Nevada. Surrounded by the Sierra Nevadas and the Carson range, this lake is pure liquid magic with its water shimmering in at least three different shades of blue on a bright, sunny day.
Being only 200 or so miles (4 hours drive) from the Bay Area, Lake Tahoe is the ultimate weekend destination from San Francisco for those wanting to spend some quality time in the laps of Mother Nature with a ton of outdoor activities such as water sports of all kinds, swimming, skiing and hiking. Lake Tahoe's natural splendor makes it one of the most romantic getaways in Northern California!
Lake Tahoe is a great place to take your pup because of the access to beaches and lots of hikes leading to gushing waterfalls in the desolation wilderness or to smaller alpine lakes through cheerful meadows. The drive to Lake Tahoe from San Francisco (or Bay Area) is really fun and filled with interesting stops and landmarks that are dog friendly!
In addition, there are several charming gold rush era towns surrounding the lake or nearby that are also filled with dog friendly restaurants and other attractions. In short, once in Tahoe you will have no dearth of dog friendly activities to enjoy if you love the outdoors.
I have been to Lake Tahoe 3 times in my 12 years of stay in San Francisco and all three times I have visited the lake with our pups (Babu and Gunda). My first two times were an epic disaster (more on that later) but our third and most recent trip was magical and oh so amazing (because the whole idea is to live and learn).
In this dog friendly Lake Tahoe guide, I am here to share the wisdom garnered over the years on how to enjoy Lake Tahoe with your dog to the max, the things to do and mistakes not to make as a dog parent. I am going to dish out all the information that you need to plan a hasslefree trip with your dog because there is quite a bit of misinformation on the internet about dog friendly things to do in Tahoe.
My 100% authentic guide (like my other dog friendly California guides) will tell you exactly where to do in Tahoe with your dog: the most dog friendly places in Lake Tahoe, beaches which allow dogs and dog friendly hikes and other attractions. Dog friendly hotels and restaurants are also included in this guide for your convenience. Plus, there is a handy location map at the end to make your life even easier!
Of course, this post does not include EVERY dog friendly activity but is pretty comprehensive and will give you plenty of ideas on spending a dog friendly weekend at Tahoe. I will keep this post updated with future visits, so watch out for this space!
Read my other dog friendly Eastern Sierra guides here:
PLANNING A DOG FRIENDLY LAKE TAHOE VACATION? HERE IS WHAT YOU NEED TO KNOW
Lake Tahoe is the most famous lake of all in the eastern Sierras and is just massive. It is 22 miles long and 12 miles wide with 72 miles of shoreline dotted with small sandy or pebbly beaches. In addition, there are many hiking trails in the surrounding desolation wilderness and meadows leading to waterfalls and other smaller lakes that are extremely enjoyable.
If you're taking your dog to Tahoe, there are several things to make note of, the most important being all the places around Tahoe where dogs are actually allowed. Newsflash-not all beaches or trails or restaurants welcome dogs! Here are the things you must know before you visit Tahoe with your dog:

WHEN IS THE BEST TIME TO VISIT LAKE TAHOE WITH DOGS
Tahoe is gorgeous in all seasons, but if you're going with dogs then I strongly advise the shoulder months of end of April-early June and September-October after Labor day. The main reason for this recommendation is to avoid the summer crowds at Tahoe which can make life pretty miserable when trying to find hotel bookings, restaurant seatings and parking spots. Also, beaches and hikes are very crowded. Add to it the heat and humidity and you'll be stewing in your juices.
My first two visits to Lake Tahoe were with our first dog Babu (who passed away in 2021 at the ripe old age of 17 due to cancer) and both times we made the mistake of going to Tahoe over a holiday weekend in summer. Our trip was a disaster with high heat and swelling crowds and we wanted nothing more than getting out of there.
Cut to present day where we just returned from the most magical Tahoe trip, thanks to our decision of visiting in end of April. April is when there is still snow on the ground and several trails are closed, so I recommend going in mid-May when almost all trails open up, the crowds are still thin and the waterfalls are gushing down. Do dress warmly for an April or May visit because it is still quite cold in the mountains even at this time with lows in the 40s (F).
Fall is another beautiful season to visit Lake Tahoe. You will see less people after Labor day and there will be stunning Fall Foliage to enjoy on your hikes. Finally, if you are planning to visit Tahoe in summer (or for that matter any other time)-try to get in by Thursday or at least early Friday to enjoy some quiet time before the weekend crowd gets in. Traffic from Bay Area to Tahoe and back is pretty crazy over the weekends, so please leave as early as possible.
Winter at Lake Tahoe means tons of snow fall, lots of road and trail closures and peak skiing season (Squaw Valley in nearby Truckee served as the Winter Olympics venue in 1960). Since Tahoe is a prime skiing destination for Northern Californians (one of the many amazing things to do in California in December), all ski resorts will be booked up.
I am pretty sure you cannot take your dog skiing, so you have to make arrangements to look after them as you go gliding across the slopes. Also, you will not be able to eat outdoors in below freezing temperatures-so you have to figure out the food situation with a dog in tow.
HOW DOG FRIENDLY IS LAKE TAHOE? WHERE ARE DOGS ALLOWED IN LAKE TAHOE?
There is plenty of things to do with your dog in Lake Tahoe for over a weekend. Lake Tahoe has at least 4 legitimate dog friendly beaches that are accessible to the public, many hiking trails, dog friendly restaurants and dog friendly businesses in small towns around it. You will find all the information about the best dog friendly places in Lake Tahoe in this post so that you don't have to second guess on where dogs are allowed near the lake. Trust me, this post is going to be very detailed!
NORTH LAKE TAHOE VS. SOUTH LAKE TAHOE-WHERE TO STAY WITH YOUR DOG?
People are always bamboozled by the prospect of choosing either North or South Lake Tahoe when it comes to finding a hotel. Both North and South shores are beautiful, but my vote goes to the South which has lots of good restaurants and hotels. North is definitely a bit quieter whereas South is closer to Emerald Bay, the Carson Pass and desolation wilderness with many hiking trails.
HOW MANY DAYS SHOULD YOU SPEND AT LAKE TAHOE WITH YOUR DOG?
A minimum of 2 nights, i.e. one full day is needed to enjoy Lake Tahoe and its many dog friendly attractions. An overnight stay is OK too but can get quite hectic. On our last visit we spent 3 nights at Tahoe and really loved the slower pace of enjoying the outdoors with Gunda, our newly adopted pup (by the way, this is his third trip to the Sierras after Yosemite, June Lake, Mariposa and Bodie State Park).
LAKE TAHOE ETIQUETTE FOR DOG FRIENDLY ADVENTURES
As usual, please obey all posted signs such as keeping your dog on leash (by default) on the beaches or trails or strict voice command (wherever applicable). Please pick up after your dog and dispose dog waste responsibly. This will help to ensure that dogs continue to have access to outdoor spaces.
DOG FRIENDLY HOTELS IN LAKE TAHOE
Having just returned from Tahoe, I am going to hands down vote for Hotel Azure on the south shore (South Lake Tahoe). The location is FANTASTIC since it is right across the lake and is within walking distance from some of the best Tahoe restaurants and cafes, including Heavenly Village (which is a conglomerate of shops and restaurants).
Parking and wifi are free at this hotel with a pet fee of $25+taxes per night per dog (they have no breed or weight limit). The room is also equipped with a microwave and refrigerator in case you are bringing a cooler with your dog's food (or your own).
If you're staying at Hotel Azure, definitely go for one of the lakeview rooms (we booked 2 Queen Bed room with lake views) so as to enjoy a divine view of the blue waters from your balcony. The paved path around the lake is great for early morning strolls and although the beach is off limits to dogs, this hotel is very close to Kiva beach which is the BEST DOG FRIENDLY BEACH IN TAHOE.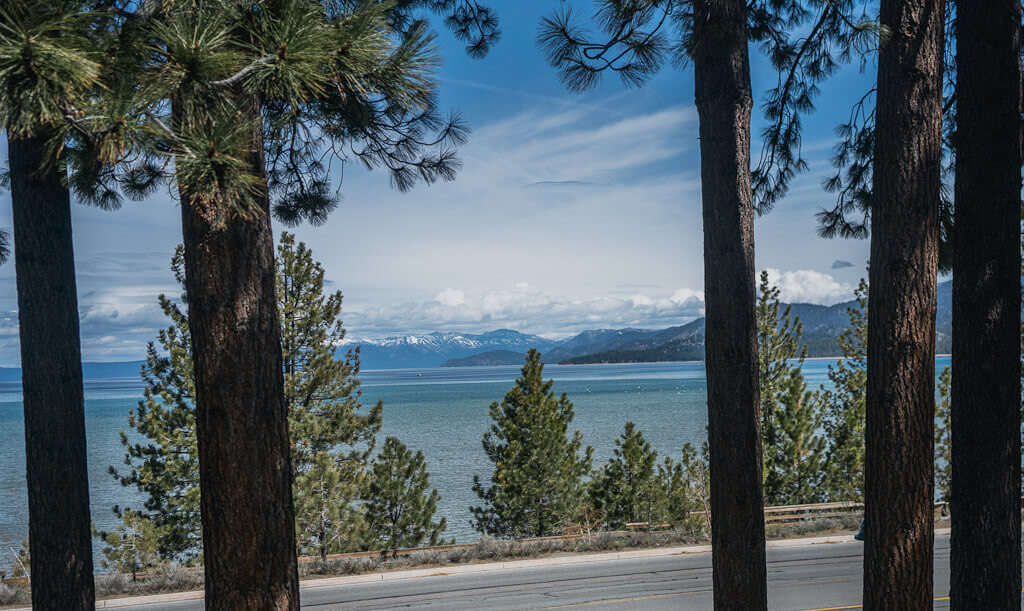 View from our room in Hotel Azure
DOG FRIENDLY LAKE TAHOE GUIDE: THE BEST DOG FRIENDLY ACTIVITIES IN AND NEAR TAHOE
Finally, here's the list of the best things to do in Tahoe with your dog. I have personally visited all these spots mentioned in the post, so rest assured the information is accurate. Here are the best dog friendly places in Tahoe:
DRIVE AROUND LAKE TAHOE WITH YOUR DOG: GO ON A SCENIC LAKE TAHOE DRIVE
The 72 miles of shoreline of Lake Tahoe is a treasure trove of scenic views, vista points, beaches, state parks and other fun attractions. Many of these are dog friendly and so I recommend doing the full scenic drive around Lake Tahoe with your dog. We took our own sweet time, i.e. one full day to drive around Lake Tahoe and uncovered many dog friendly places that were such a delight!
If you don't want to stop anywhere or make much fewer stops, you can go around the entire lake in 3 hours which will take you from California to Nevada and back as you cross the stateline twice (assuming you are staying on the California side).
However, I recommend making several stops along the way to get the most out of your Lake Tahoe vacation with your dog. For your convenience, I have grouped all of these dog friendly places on the Lake Tahoe scenic drive in activity buckets (beach, hikes etc) throughout the post with their locations.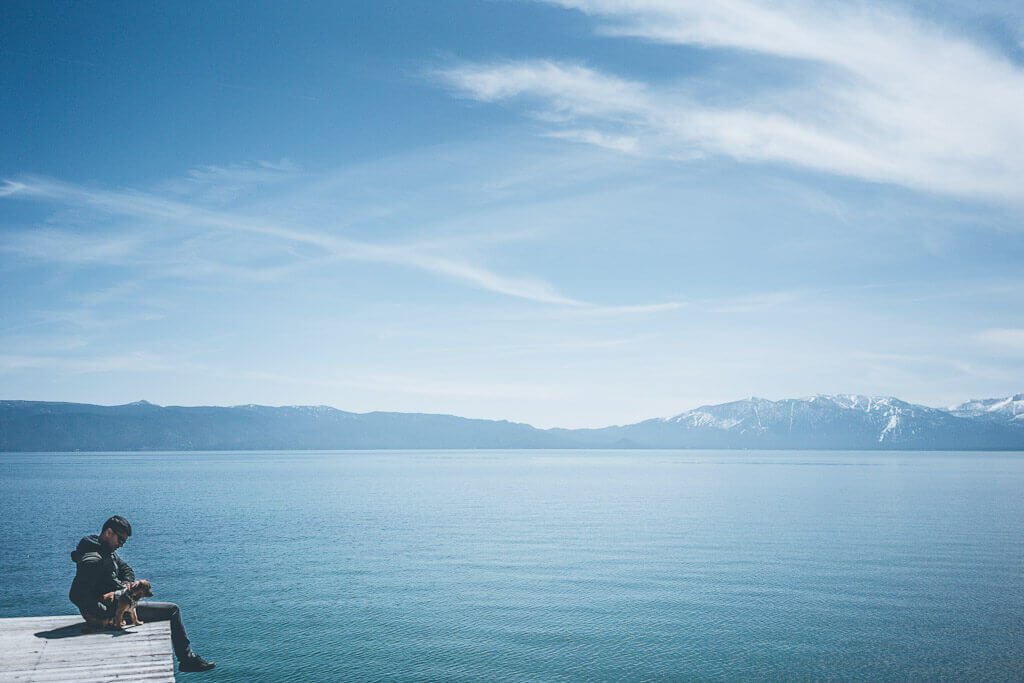 DOG FRIENDLY BEACHES IN LAKE TAHOE
First the bad news: Lake Tahoe has plenty of small beaches peppered all over the shoreline hugging that magical blue water. These beaches are mostly pebbly but there are some sandy stretches too. However, most beaches do not allow dogs.
Several beaches are either private or accessed through private property and therefore not available to the public. The information on dog friendly Tahoe beaches is pretty misleading on the internet, which we found out the hard way, i.e. took Gunda to a beach only to be greeted with a huge "No dogs" sign at the entrance.
I cannot stress how important it is that you obey posted signs, despite seeing locals with their dogs off leash so as not to add to the problem. Now, the good news: there are at least 4 amazing public beaches in Lake Tahoe that are dog friendly and I can vouch for them since I have been to all four. Dogs should be on leash by default but we did see locals there with dogs romping on the sand off leash. Here are the dog friendly Lake Tahoe beaches that we loved:
KIVA BEACH (SOUTH LAKE TAHOE)
This is by far the best dog friendly beach in Lake Tahoe with an amazing view of the snow capped Sierras towering over the waters. The beach is accessed readily via a small trail through the Tallac historic site, which is also dog friendly (dogs are welcome to explore the historic estate grounds on leash).
If you visit in April, the path to the beach which allows cars may be closed (Tallac historic site re-opens in summer/June), so simply park across the trailhead and walk past the gates to the beach. Kiva beach is right near Hotel Azure and our first stop when we arrived at Lake Tahoe in the evening. Sunset at the beach is simply heavenly and if you come off-season then you will literally have it to yourself (like we did).
We also enjoyed our hike in the solitude of the pine trees in the Tallac historic site grounds and spent some time around the Baldwin estate Tallac historic museum (opens for tours from Memorial Day-Labor Day). This campsite used to be the winter tending and gathering spot for the Washoe Native Americans who were the original stewards of this land.
CARNELIAN WEST BEACH (NORTH SHORE, CARNELIAN BAY)
This narrow strip of a beach features both a grassy area and a beachfront with a parking lot adjacent to Gar Woods Grill and Pier restaurant. Besides a delightful lakefront promenade, the beach includes benches, picnic tables and restrooms.
HIDDEN BEACH (EAST SHORE, NEVADA SIDE)
This dog friendly beach in Tahoe is really well hidden and can be accessed only via the Tahoe East Shore Trail, which is a lovely paved hiking path that runs along the west shoreline with some of the best views imaginable. The beach is about a mile from the parking lot (which is at the scenic vista/overlook sign) and you can only get to it via a dirt trail accessible from one side of the Tahoe East Shore Trail.
Don't just google "Hidden Beach" and drive there-it will take you to the other end of the Tahoe east shore trail where there is no parking. You will have to drive all the way upto the designated parking lot/scenic vista point, descend onto the paved trail and keep walking northbound towards the beach.
To be honest, we kind of gave up halfway through despite seeing the beach from a distance. We'd been driving around the lake all day long and did not want to hike anymore after 8 hours of being outdoors. If you stay on the southside or the west, I definitely recommend scoping out the beach before noon.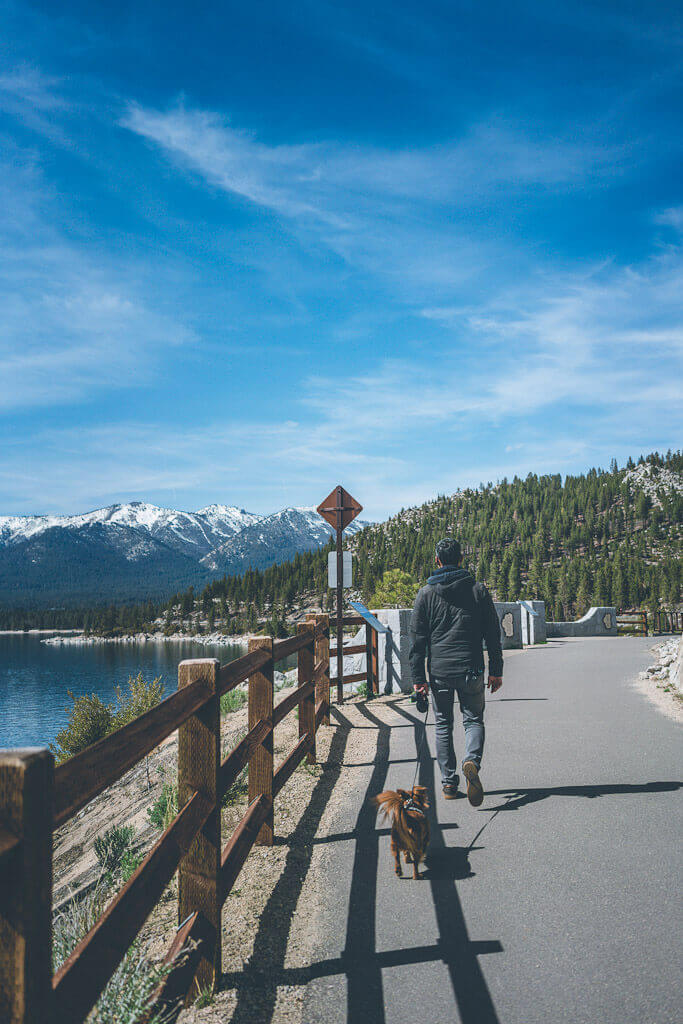 ZEPHYR COVE BEACH (EAST SHORE, NEVADA SIDE)
Zephyr Cove beach is a somewhat not so obvious, local's only sandy beach on the west shore of Lake Tahoe which is a big hit with dog parents. We saw many locals relaxing there with their dogs off leash. Right next to is is the Zephyr Cove resort which has a restaurant and a marina for boat rentals and cruises.
Googling Zephyr Cove beach will yield zero results, so here is how you get to this dog friendly beach on the Nevada side-just type in Zephyr Cove resort (where dogs are not allowed by the way), follow signs that say "park to access beach" and park on the right side of the resort where you will see a parking lot that does not belong to the resort and is for beach access only. From there a small dirt path (that does not pass through the resort in any way) will take you to the beach. Parking at this lot is free (but it ain't so for the resort).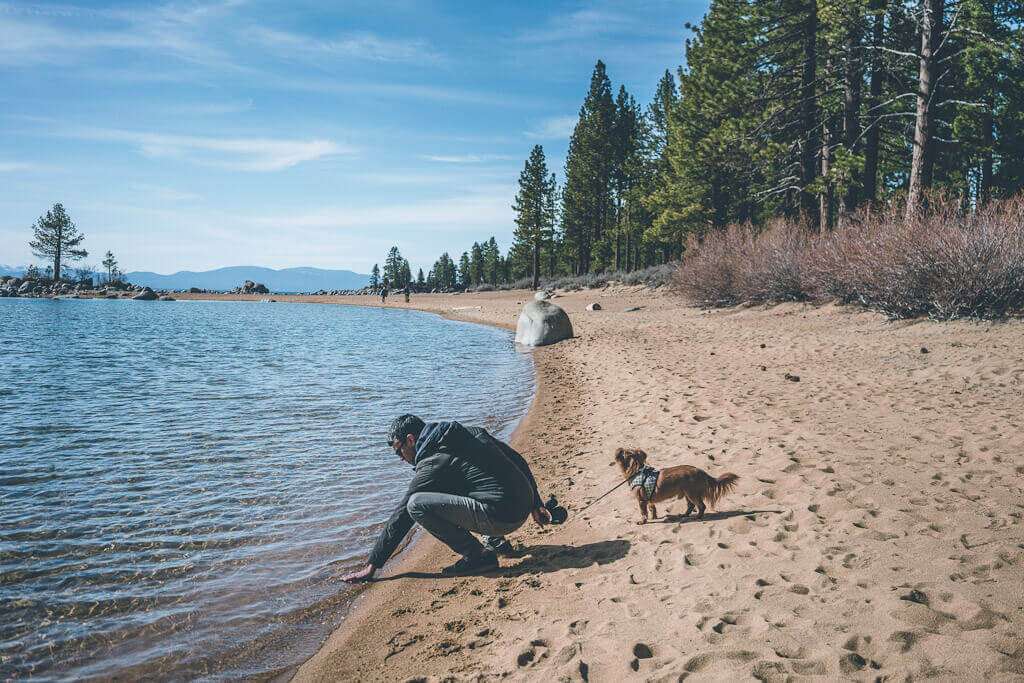 A note on so called other "dog friendly beaches" at Lake Tahoe: Popular beaches like Kings Beach or even the more secluded Lakefront Beach do not welcome dogs. We actually drove up to Lakefront Beach only to be greeted by the no dogs allowed sign right in front of the beach. However, locals visit that beach with their dogs because it is a bit hidden and not right on the Tahoe shoreline.
DOG FRIENDLY HIKES IN LAKE TAHOE
If you visit Lake Tahoe anytime between April-October, definitely hit up the trails leading to waterfalls, especially in April-May time frame when they are at their peak! Several of these trails might be closed to parking in April but most open up in mid-May to June. Also, trails may be partially snow covered, so please wear good hiking shoes with sturdy grip. Here are the dog friendly Lake Tahoe trails that we covered:
CASCADE FALLS TRAIL (SOUTH LAKE TAHOE)
Cascade Falls is a beautiful waterfall in Lake Tahoe that is about 200 feet with a 65 feet drop. The best time to see it is undoubtedly end of April-early June when the waterfall is gushing down in full force and the trail is not crowded.
The trailhead to this falls lies in Bayview campgrounds right across from the Emerald Bay Inspiration Point. The campground opens in mid-May and a day fee is needed for parking. You will have to keep walking till you see signs for cascade falls trailhead which will be to your left while the hiking trail for desolation wilderness starts from the right (you will need a permit to hike the desolation wilderness from here but not for the falls).
The actual trail is a 2 mile loop with about 200 ft of elevation gain but the path gets increasingly narrow with lots of rocks and boulders strewn all over. The path has a steep drop to its left with gorgeous views of Emerald Bay. We hiked quite a bit till we saw the falls from a distance and then turned around because I have major vertigo issues and was not comfortable hiking that narrow trail.
EAGLE FALLS TRAIL (SOUTH SHORE)
Eagle Falls trailhead starts right from the Eagle Falls picnic area (there is a parking lot there as well) which is a bit north to the Emerald Bay Overlook (this is not the same as the Inspiration point and I have marked it on the map for your convenience) and is across the road.
However, before you park at the designated picnic area and trailhead, there is a fantastic hidden waterfall that is on the same side of the road as the Overlook and is near a red colored road sign that says "Eagle Falls Trailhead 500 ft ahead". Park on the small shoulder area near the sign and walk towards that waterfall. You will get a great uninterrupted view of Emerald Bay and the very short trail will take you right to the top of the waterfall.
The actual Eagle Falls trailhead starts a bit north, across the street where you will see a parking lot. There are several trails starting from here which is part of the desolation wilderness. As you climb up a steep path choc-filled with boulders you will come across the map of the desolation wilderness and clear signs for the Eagle Falls Trail and the Eagle Falls loop.
We took the left bound Eagle Falls trail and hiked up to a viewing area from where you can see the waterfall plunging down from right beneath a bridge (Eagle Falls bridge). There is a very steep hiking path that you can hike on to get right on top of the waterfall onto the bridge, but we just stopped at the viewing area, enjoyed the waterfall view and turned around.
Note: Further north of Eagle Falls is another vista point with a parking lot. This is the Vikingsholm (Scandinavian castle in Emerald Bay) parking lot. Parking fees are required and dogs are not allowed on this trail at all. Plus the trail is a very steep downward descent with the upward hike being equally challenging. In short, skip this parking lot altogether if you have a dog. I have PLENTY of other dog friendly places in Lake Tahoe to share with you in this post.
TAHOE EAST SHORE TRAIL (1924 TAHOE BLVD, INCLINE VILLAGE, NEVADA)
If you are not big on jumping over rocks or crossing snow covered trails, then this paved hiking path which is dog friendly is the perfect one for you. This dog friendly Lake Tahoe trail starts from the vista point parking lot and continues for about 2 miles each way with dramatic views of the lake to enjoy during your brisk walk.
You can get off the paved path to side dirt trails for fantastic views such as Artists Point, Granitas Cove etc. There is also cove access from these dirt trails taking you to Hidden beach which is also dog friendly. However, I recommend just taking it slow and enjoying the walk on this interpretive trail where you'll see several panel installations on the route that include information on Lake Tahoe and the Washoe Indians.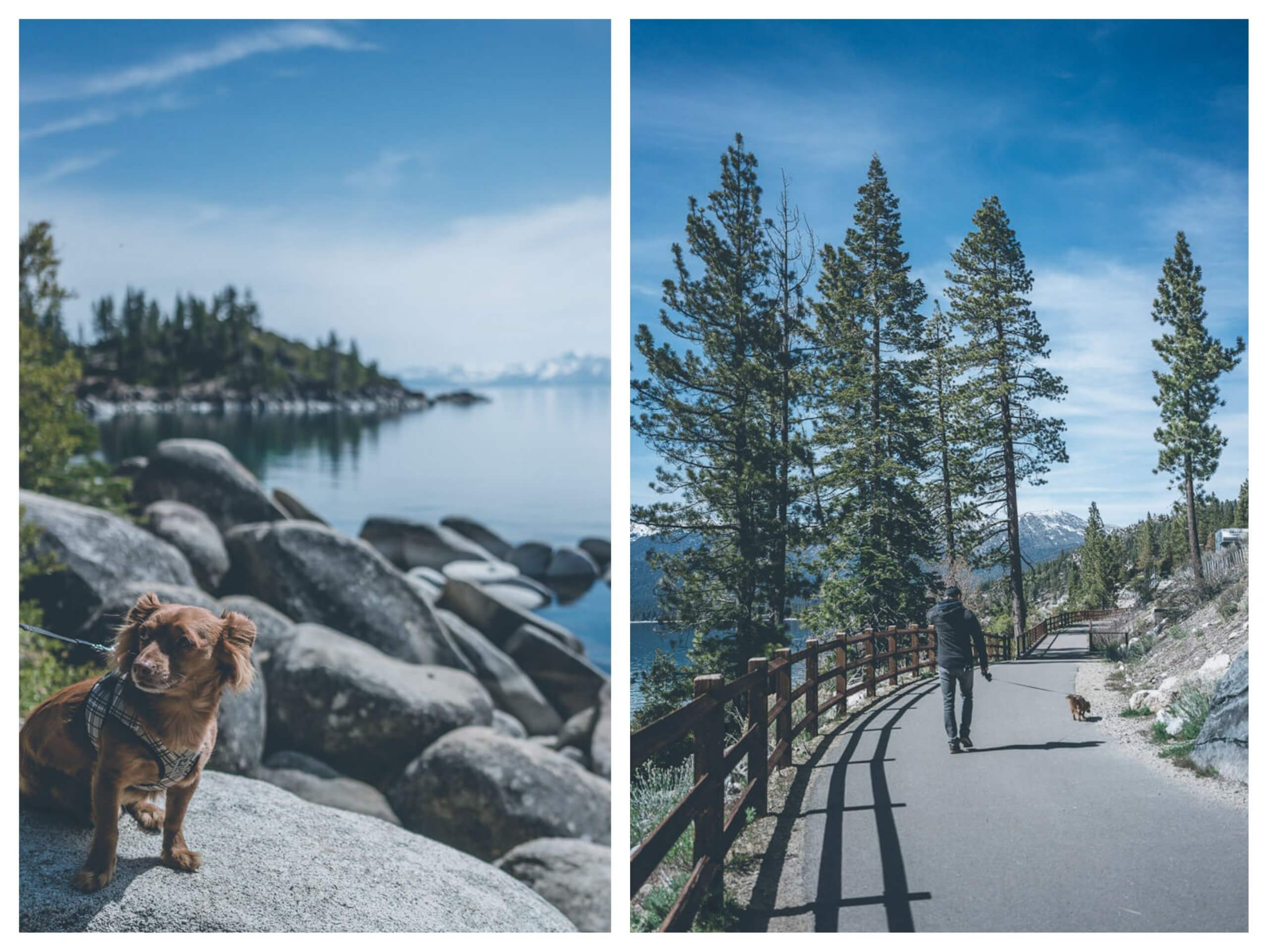 DOG FRIENDLY PARKS AND STATE PARKS IN LAKE TAHOE
Dear dog parents, you are in for a treat in this section because Lake Tahoe has some really cool dog friendly parks filled with scenic views, access to the lake and hiking trails. Here is everything you need to know about the dog parks at Tahoe:
BIJOU COMMUNITY PARK (SOUTH LAKE TAHOE)
This massive park in South Lake Tahoe is a favorite of all dog parents. There is a separate fenced area for dogs to play off leash (both small and large dogs) and there is a pet waste station, water station and lots of grassy area in this 38,000 sq foot park for you and your pet to relax, play and have fun. You can also get onto the loop trail that goes around the park for a relaxed stroll. There is plenty of parking inside the park.
VAN SICKLE BI-STATE PARK (SOUTH LAKE TAHOE, NEAR STATELINE)
We simply loved hiking through this park amidst the tall trees that provide such a tranquil refuge from the hustle and bustle of Tahoe. Maintained by both California and Nevada state park systems, this park is a short walk from the stateline and is a haven for moderate trails that are dog friendly. You will also see Gondolas or ski lifts here.
The park boasts of many spectacular trails, such as the Rim Trail Connector that ties into the Tahoe Rim Trail, designated by National Geographic Adventure magazine as one of the top ten trails in USA. The other famous trail is the Cal-Neva loop that takes you into both Nevada and California sides. We hiked the 0.6mile Barn Trail that was perfect for a hot afternoon. Here is the trail map for Van Sickle park.
The park does not have any vehicle access in "off-season", i.e. end of April which is when we visited. You will need to find parking if you visit in Spring outside and we found some street parking so as not to pay parking fee at the parking lot across the park. Entrance to the park is free year round. The park has restrooms and is also open to equestrians.
ED Z'BERG SUGAR PINE POINT STATE PARK (WEST SHORE, TAHOMA)
There are two major state parks on the west shore of Lake Tahoe-Emerald Bay State Park and Sugar Pine Point State Park. Both do not allow dogs on any of their beaches, attractions and trails which is a bummer.
However, Sugar Pine Point SP has a hidden gem that not many people know of, and this attraction also has a paved path leading to the lake and a boardwalk, which is also an ADA accessible stretch and allows dogs because it is a developed area.
I am talking about the Hellman-Ehrman Mansion in the state park, which is open for tours via the Sierra State Parks Foundation . The grounds are open to visitors year around. Also known as the Pine Lodge, this used to be the summer house of San Francisco businessman I. W. Hellman and was the talk of the High Sierras upon its completion in 1903.
I highly recommend entering the Sugar Pine Point State Park from the entrance that leads to the Mansion (see map below for location), paying the $5 day fee for parking and then walking around the mansion grounds to marvel at the architecture.
There is a paved pathway leading straight to the wooden boardwalk that juts out on the lake. Dogs are not allowed on the beaches anytime but trust me, you can sit on the boardwalk and enjoy the scintillating hues of the lake water (just see the photos if you need convincing).
Our visit to Sugar Pine Point SP was the highlight of our Tahoe trip. With only 2 people around, we had the lake all to ourselves and loved the relaxing, calming experience of sitting with Gunda on the boardwalk and enjoying the views. Come on a weekday like we did to make the most of your visit.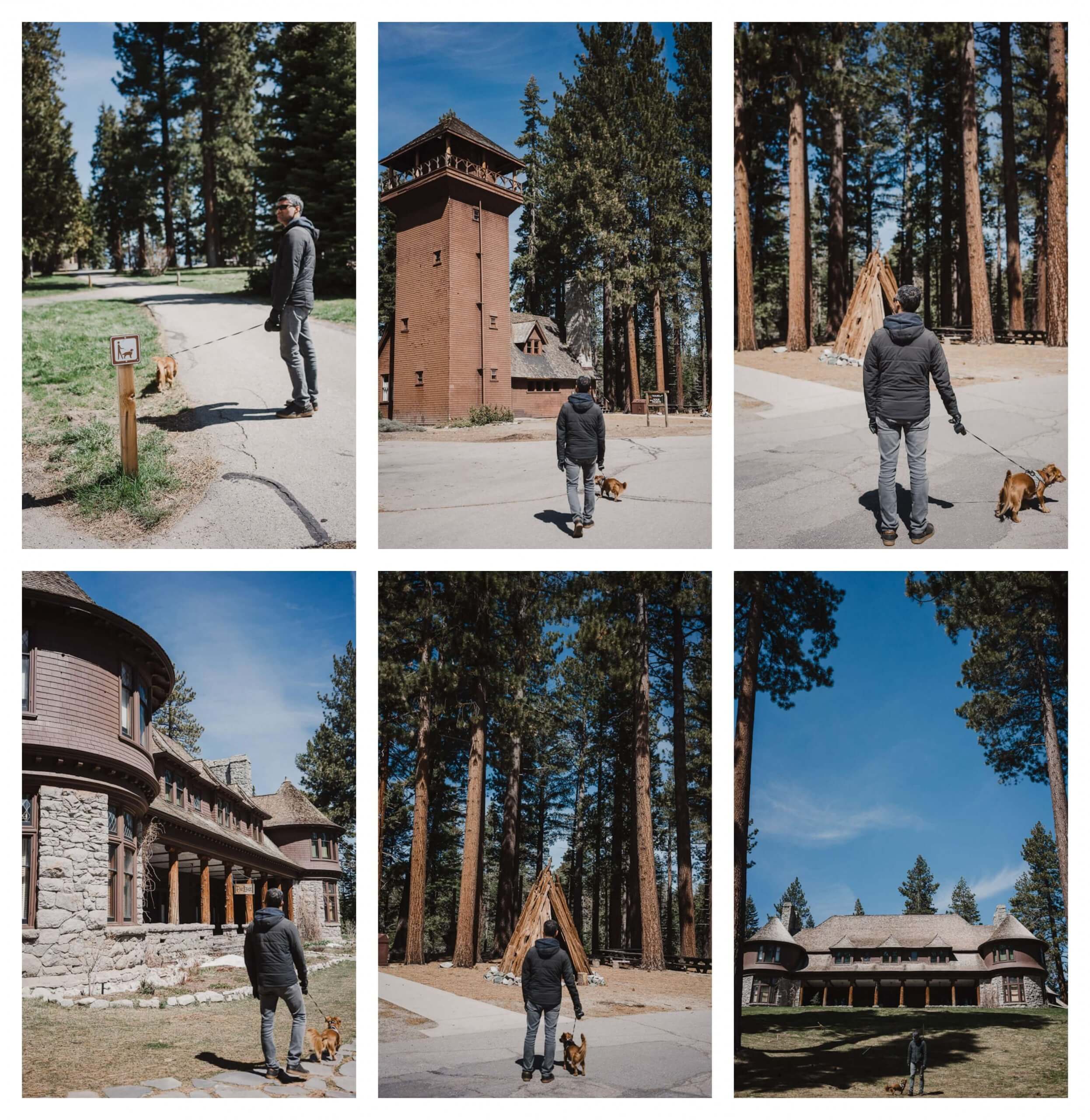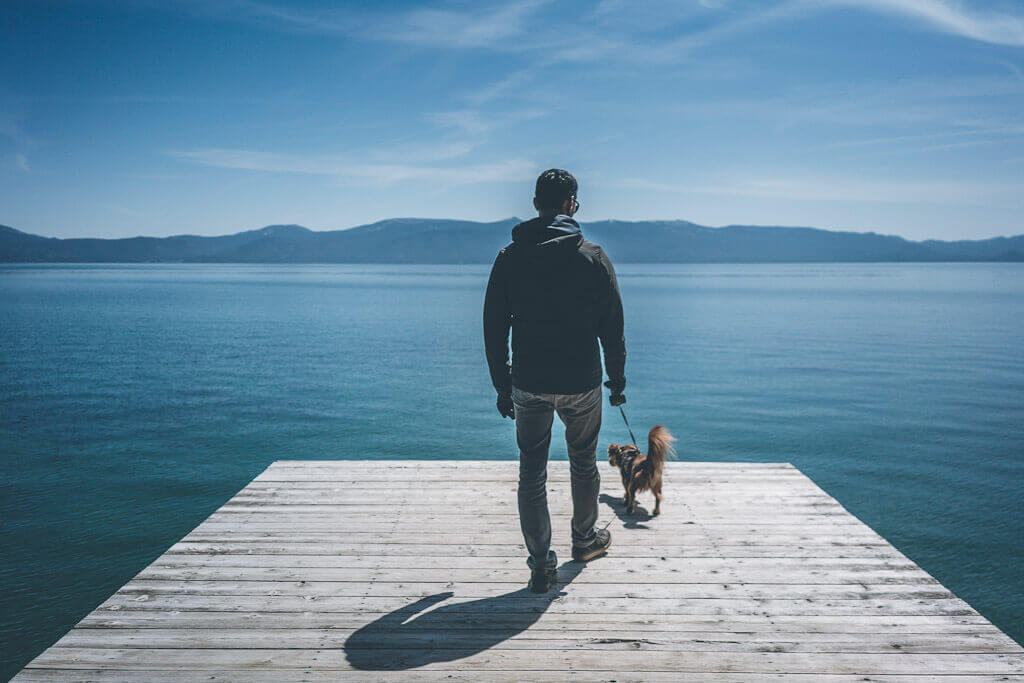 DOG FRIENDLY VISTA POINTS IN LAKE TAHOE
Whatever you do, do not miss the two South Lake tahoe Vista points that are world famous. The first is the Inspiration Point area (has a designated parking lot and restrooms) which is a fenced overlook to the Emerald Bay, one of the most photographed views in the world. The turquoise blue waters of the Bay are bordered by coniferous trees with the famous Fannette Island sitting right on the water.
The second is an unobstructed view of the Emerald Bay from the Emerald Bay Overlook Area on Highway 89 right before Eagle Falls (see map below for location). Park on the shoulder/pullout region and enjoy the views.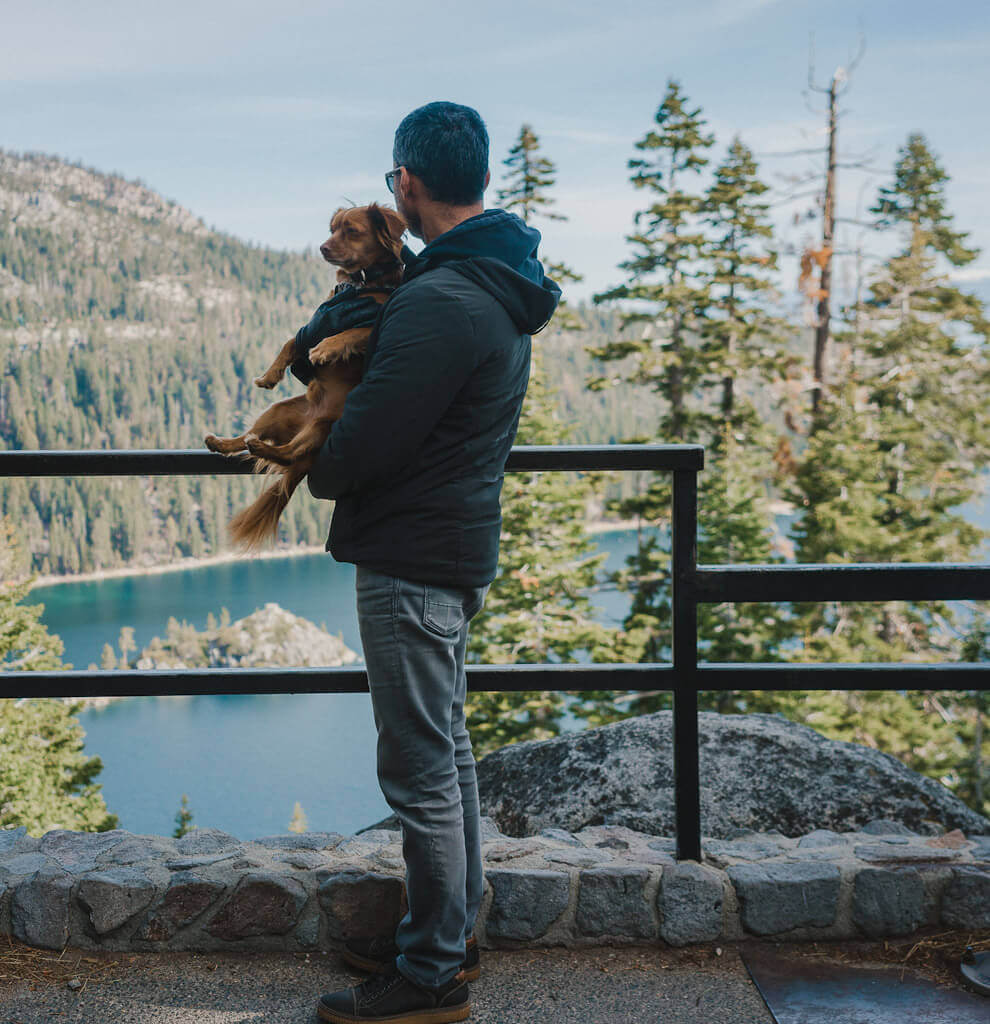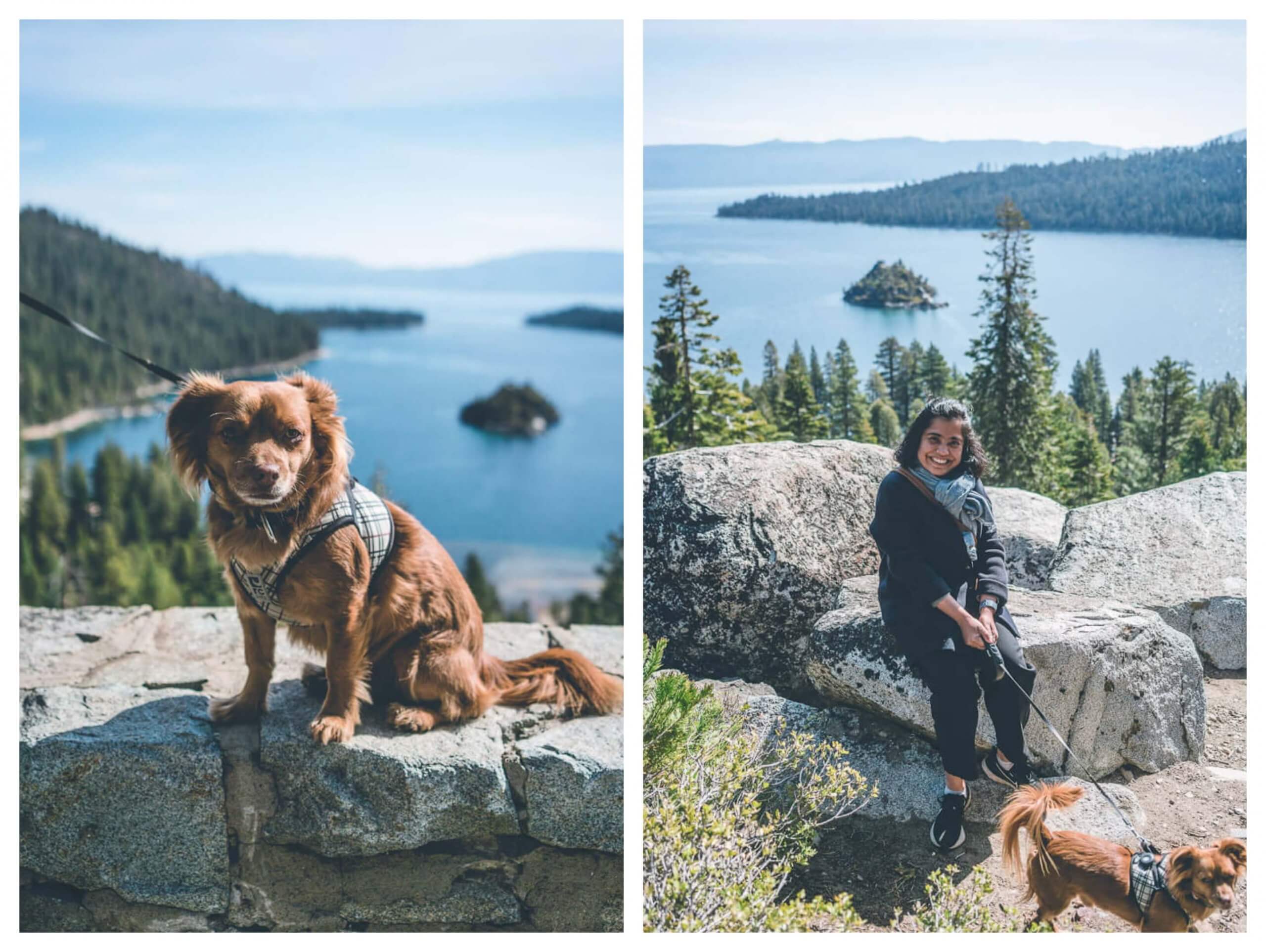 DOG FRIENDLY MUSEUM IN LAKE TAHOE: GATEKEEPER'S MUSEUM
The geography of Lake Tahoe and the High Sierras, the history of the Washoe Indians and settlers and life in the aftermath of California's Gold Rush are well documented in several small museums around Lake Tahoe. If you're looking for an afternoon of learning more about Tahoe and its history with your dog, head straight to the Gatekeeper's Museum in Tahoe City.
Curated and maintained by North Lake Tahoe Historic Society, this museum is part of the William B. Layton Park and has the kindest archiving manager/Nancy Stromswold (she is involved in animal rescue) who will let your well behaved dog on leash inside with you.
Despite its small size, this museum has two stories with various exhibits. For a small fee of $5/person you can see an amazing collection of Native American Baskets spanning over the southwest, California and the Pacific Northwest. The intricate weaving, shapes and patterns are just spellbinding!
There are also exhibits on the black bears that call the Sierras home and the artifacts providing a glimpse into the lives of of migrants and settlers who made the perilous journey west for a better life. The entire second floor is dedicated to the records of the Winter Olympics of 1960 held in Squaw Valley in Truckee. Tahoe is a world class destination for skiing and has been so for ages, thanks to the record amounts of snow it gets during winter and the accessible skiing slopes.
The museum is open from 11AM-4PM Wednesday to Sunday and also has a lakefront access. I highly recommend visiting this museum to learn more about a slice of Tahoe life from the bygone past, the history and Geography of the High Sierras and the people and cultures who shaped it.

EXPLORE TRUCKEE AND DONNER LAKE
The vibrant mountain town of Truckee is only 12 miles northwest of Tahoe and wears many hats-it is the site for the historic emigrant trail, the tragedy of the Donner Party and home to the Donner State Museum and Pioneer monument. This area was originally inhabited by the Washoe, Maidu and Paiute Native Americans, and then later by miners and settlers in the later 1860s, who flocked to the High Sierras during the silver and gold rush days.
Modern day Truckee boasts of a historic downtown that has many dog friendly restaurants and businesses. I particularly loved the CA89 Home store (so named after the famous CA89 highway), High Camp Home (another gift and homegoods store), Bespoke Atelier and Dark Horse Coffee roasters.
This coffee shop is very cute with lots of quirky art, has some gooey melt in your mouth chocolate chip waffles and matcha tea and a small outdoor bench to enjoy it all. Stop by the Truckee USPS post office to snap a photo with a colorful town mural.
Once in Truckee, you can stop by the Donner Memorial State Museum (you have to register your vehicle and pay the day parking fee of $5 throughout the year) but dogs are not allowed inside the visitor center/museum. Dogs are allowed on the paved path leading to the Pioneer Monument which depicts the ill-fated Donner Party and the tragedy of being trapped in the mountain snow while crossing the Sierra Nevadas to California.
You can also skip entering the state park and head straight to the beautiful Donner Lake. There are public piers from where you can get a good view of the lake. As you drive upwards along Donner Pass road, you can stop at certain vantage points to get a bird's eye view of the lake or head to the designated Donner Lake Overlook right before the Donner Summit Bridge. It is pretty cold and windy even in April and May due to the altitude with plenty of snow on the mountains-so dress warmly.
Keep an eye out for the "China Wall" on Donner Summit which is one of the many abandoned tunnels in the Sierra Nevadas that can be viewed from the road (there is also a plaque on the parking lot facing the tunnel up above). This was built by the Chinese laborers recruited to construct the Central Pacific Railroad.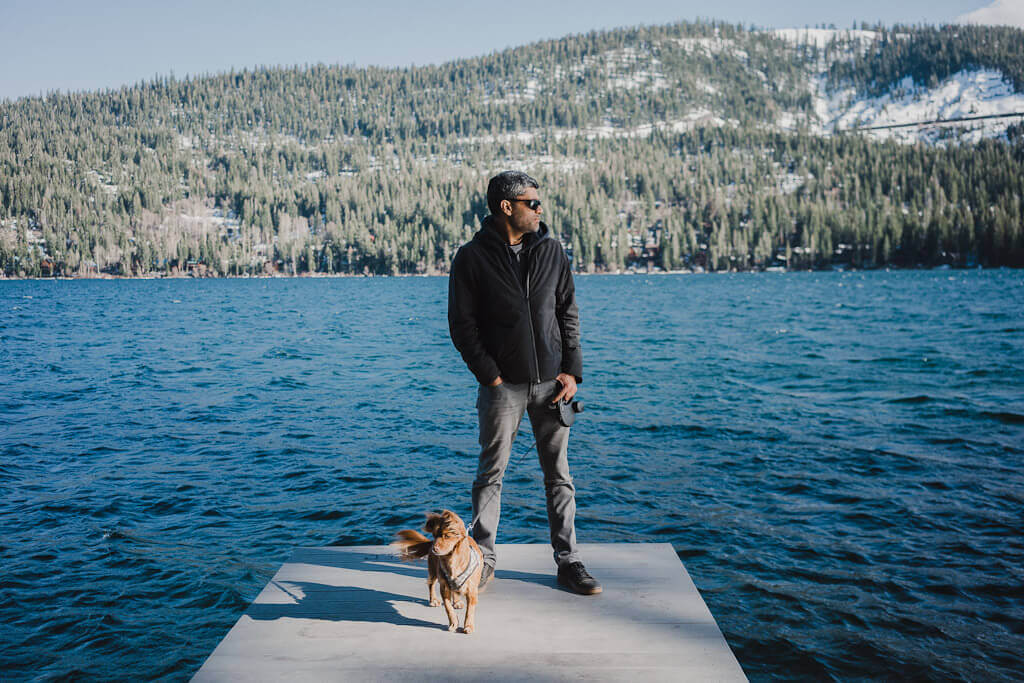 DOG FRIENDLY RESTAURANTS IN LAKE TAHOE
Lake Tahoe has plenty of restaurants and cafes with outdoor spaces accessible in the warmer Spring, Summer and Fall weather (end of April-October). Some of them even have fire pits going because April and May, albeit bright and sunny, are still chilly in the Sierras. If you're dining in Lake Tahoe with your pup, I recommend going to at least one restaurant with lakefront views. Here is where we dined with Gunda:
BREAKFAST
For breakfast, head straight to Crazy Good Bakery and Cafe in South Lake Tahoe which has a great selection of tea and coffee and tons of baked goods, pies and sweet and savory breakfast items. This bakery opens at 7AM so head here if you're looking for an early start to your day.
The other A-star place is Black Cabin Coffee Roasters on Pioneer trail in South Lake Tahoe. They have a nice fire pit to relax around and enjoy their bagel sandwiches and hot beverages. Black Cabin proudly boasts of the best coffee in Lake Tahoe (but their Matcha Lattes are equally good).
I also recommend acai bowls and smoothies at EJ's Cafe which is about a 10 min walk from Hotel Azure in South Lake Tahoe. They have dog friendly outdoor seating and their acai bowls are really good!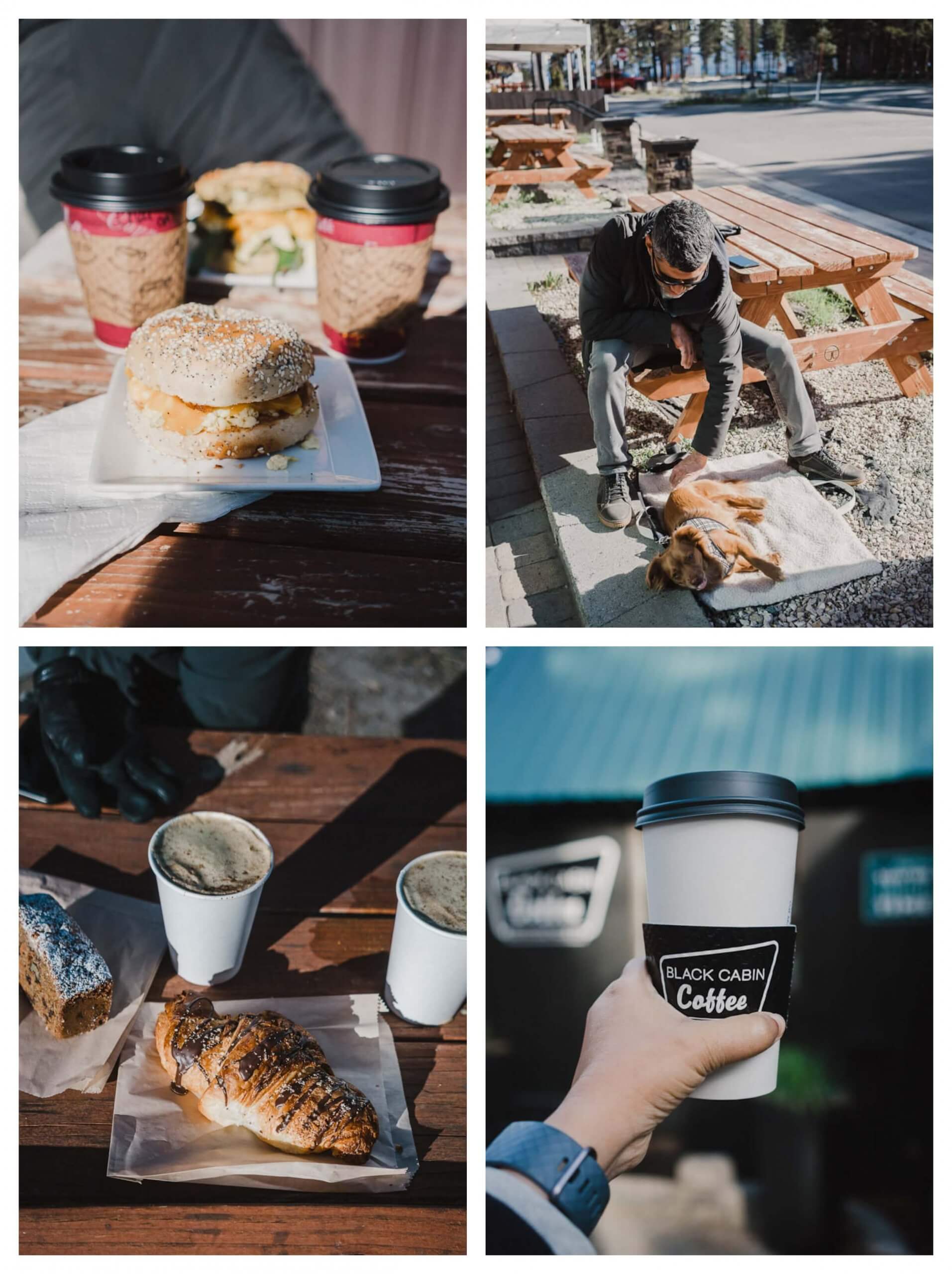 LUNCH
We had lunch at dog friendly Rosie's Cafe (Tahoe City) and Sprout's Cafe (South Lake Tahoe) during our visit. Even if you're dining on the deck at Rosie's, do peep inside this heritage restaurant (originally a grocery store) since it is adorned with antique objects and decor that are part of Tahoe City's history. Sprout's a natural, organic cafe with lots of outdoor seating and firepits and really good food!
After lunch at Rosie's, snap a photo with your pup with the "Penny Bear"-a giant sculpture of a black bear mom and her cubs made of 200,000 US and Canadian pennies that is right across the cafe on the Tahoe city Heritage Plaza.
You can also stop by the nearby Cobblestone Center in Tahoe City and check out the delightful Scraps dog bakery pet store (we bought a stuffed toy for Gunda since our visit coincided with his "gotcha day" from a year ago)

DINNER
We really enjoyed dining at Artemis Mediterranean Grill (South Lake Tahoe) which has amazing lakeviews and an inviting dog friendly patio. Their margarita and spicy Greek lentil soup are killers! Plus our server was very sweet and attentive.
The other place that I recommend is Base Camp Pizza in Heavenly Village, a mall right next to the state border. They have some of the best salads and pizza and outdoor seating with live music. They are also very popular so come in by 6PM to snag a table outdoors.
MAP OF DOG FRIENDLY PLACES IN LAKE TAHOE

As promised, here are the locations of the attractions, hikes and beaches mentioned in this post showing all the places dogs are allowed in Lake Tahoe that we visited. Please feel free to share it with other dog parents visiting Tahoe.

This brings me to the end of this long (and hopefully useful) dog friendly Lake Tahoe guide. I hope you enjoyed reading this detailed guide to all the best dog friendly beaches, hikes, restaurants and other places in Lake Tahoe and are inspired to plan your own pup friendly vacation to Tahoe. Thanks a lot for stopping by and safe travels!

LIKE THIS POST? PIN IT FOR LATER

«