Last Updated on December 6, 2022 by Paroma
If you're looking to visit the Eastern Sierras in California with your dog, then may I entice you with a trip to Mammoth Lakes? With this dog friendly Mammoth Lakes guide at your disposal, I guarantee that you'll have a super fun dog friendly vacation at Mammoth Lakes. Filled with tons of information on dog friendly things to do, dog friendly hotels and restaurants, this post on where to take your dog in Mammoth Lakes is a sure shot winner for your next California vacation with your pup for a perfect summer or fall getaway!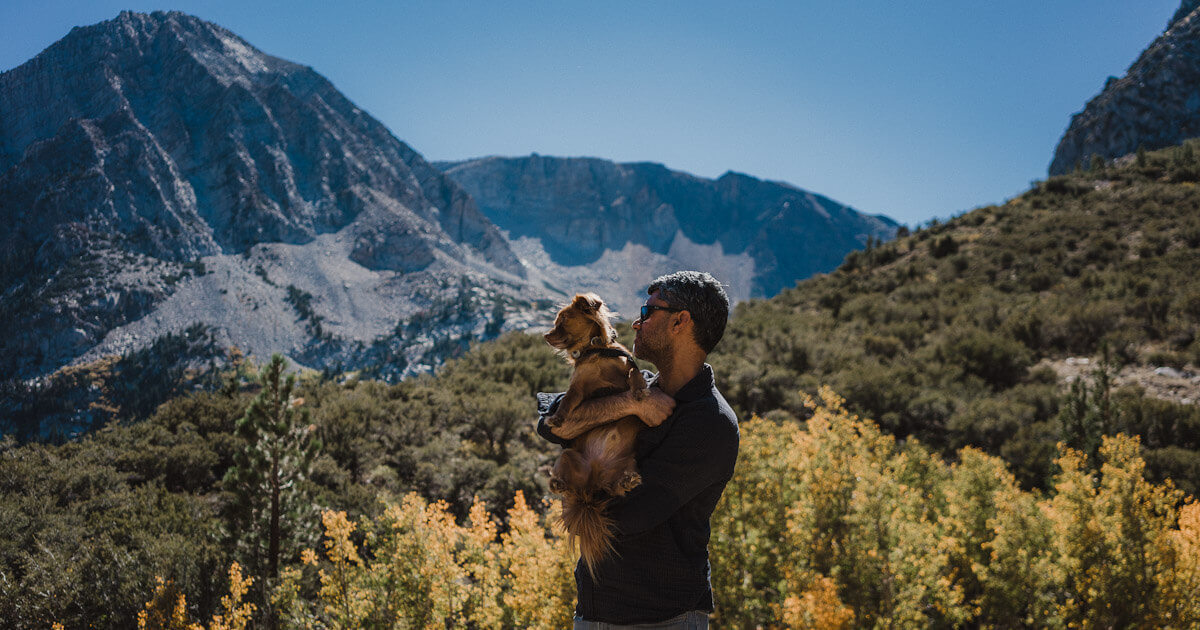 Disclaimer: This post may contain some affiliate links. Clicking on them may earn me a small commission at no extra cost to you for the product. Thank you for supporting free content on this site!
Mammoth Lakes in California is the gateway to the High Sierras and best known for its many alpine lakes, breathtaking hikes, dazzling Fall Foliage, gushing waterfalls and the very unique geological wonder of Devil's Postpile National Monument. Located just 41 miles south of Yosemite National Park's east entrance, this part of the Sierras is right along CA-395 and is also a premier skiing destination in the winter months.
Mammoth Lakes is one the premium skiing destinations in California and people flock from all over the state and the country to ski down those snowy slopes (it is one of the best activities to enjoy in California in December).
The best thing about visiting Mammoth Lakes is taking your dog along, because this part of the state is extremely dog friendly. Unlike Yosemite National Park (which is actually more dog friendly than other National Parks in California), dogs are allowed on many hiking trails here, at almost all the beautiful lakes where they can swim and best of all to Devil's Postpile National Monument and the surrounding hiking trails leading to Rainbow and Minaret falls! Plus, as always many restaurants here have outdoor seating (seasonal) allowing dogs to dine with you.
We recently visited Mammoth Lakes to admire some Fall foliage (which is what the Eastern Sierras are famous for, come pumpkin season in California) and this dog friendly Mammoth Lakes guide is based on that visit. Here, I will spill the beans on the best dog friendly things to do in Mammoth Lakes, dog friendly hotels, hikes, attractions and of course, where to eat with your pup in tow. So, let's get started!
Check out my other dog friendly Eastern Sierra guides here: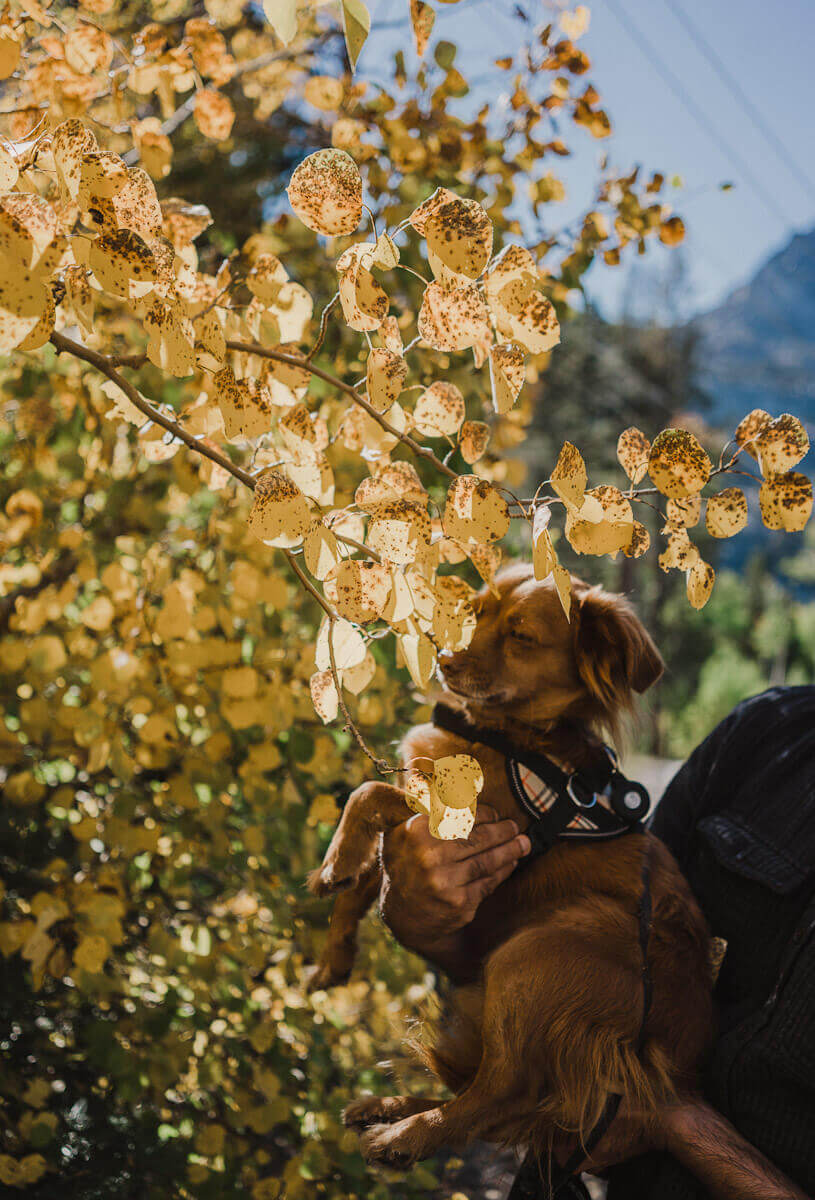 PLANNING A DOG FRIENDLY MAMMOTH LAKES TRIP? GET THE FAQs
Don't skip these valuable tips for a hassle-free trip to Mammoth Lakes with your pup. Here is what you need to know:
Are dogs allowed at Mammoth Lakes?
Dogs are allowed in most parts of Mammoth Lakes, including the Lakes Basin path leading to several lakes like George, Horseshoe, Twin lakes, Mamie and Mary. Since Mammoth Lakes is part of Inyo National forest, which is way more dog friendly than Yosemite, dogs are allowed on many hiking trails including the one to Rainbow Falls. Dogs are also allowed to visit Devil's Postpile National mountain and also on trails and paths surrounding Convict Lake.
Where can I take my dog in Mammoth?
There are plenty of dog friendly places in Mammoth to enjoy with your pup. These are as follows:
Rainbow Falls Hike (from Devil's Postpile National Monument)

Minaret Falls Hike (from Devil's Postpile National Monument)

Lakes Basin Path covering Horseshoe Lake, Lake Mary, Lake Mamie, Twin Lakes

Convict Lake
When is the best time to visit Mammoth Lakes with dogs?
The best time to visit Mammoth Lakes with dogs is the shoulder season of September (after Labor day) and early October. I recommend visiting end of September-2nd week of October to see Fall Foliage (the aspens turn a bright yellow and all shades of red and orange) and for cooler weather with way less crowds (i.e. less people everywhere, including hiking trails).
The best part about shoulder season is that you can still dine outdoors (although the temperature can drop a bit drastically at night cause this is the mountains), the waterfalls are still gushing and you don't have to tackle the heat and the large number of people, including hikers when you're outdoors.
The only thing to remember is that because snowfall occurs as early as Mid October in the Sierras, there will be seasonal closures of mountain passes (such as Sonora or Tioga) and the Devil's Postpile National Monument (the Reds Meadow Road providing access to it closes on Oct 11 in 2022). Find out about road closures at Sierra Mountain Passes website to plan your trip or simply go during the time I mentioned to stay on the safe side.
The other season (which is peak tourism season) is summer, i.e. mid June-first week in September (up to Labor Day) when the entire world descends on the Sierras after the passes open up and everything is in full swing. It definitely gets much hotter and the hotel room prices are also higher. Summer is great for experiencing the Sierras but also more expensive with way more crowds that ruin the serenity of the outdoors in my opinion.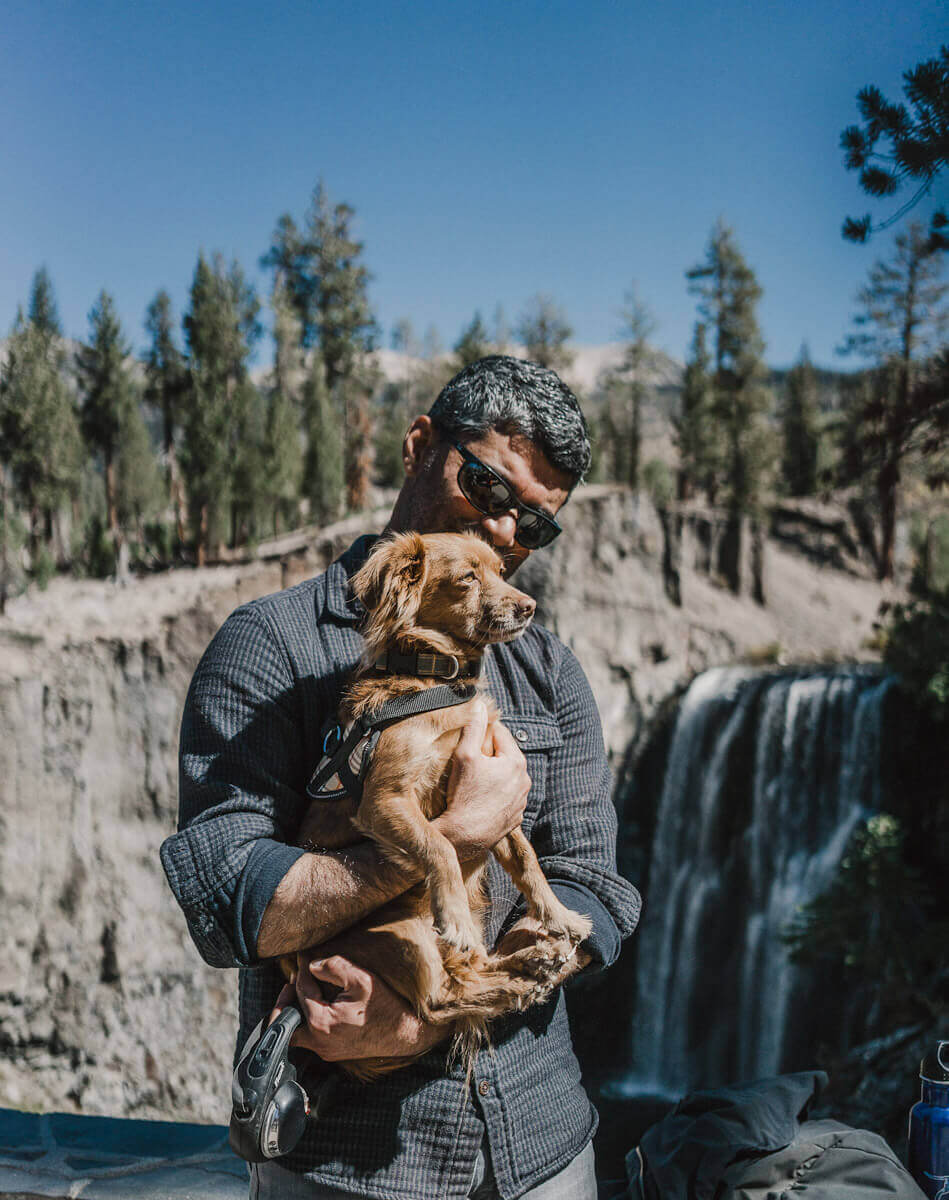 How to get to Mammoth Lakes from San Francisco Bay Area?
Mammoth Lakes is about 262 miles east of San Francisco which accounts for a 5.5-6 hours drive depending on route chosen and traffic conditions. The closest airport is regional Mammoth Yosemite Airport that is only 6 miles away, but it is not accessible to commercial flights. Oakland International Airport (OAK) which is on the East Bay is the closest to Mammoth Lakes (245 miles) while San Francisco International Airport (SFO) is about 263 miles away.
There are two routes to drive from SF Bay Area to Mammoth. The shortest one is via CA-120E that passes through Yosemite National Park and Tioga Pass entrance leading to Lee Vining from where you'll have to drive south on Highway 395 to get to Mammoth. The three main things to note here are:
a) Since 2022, Yosemite has moved to a reservation only system where entering or passing through the park between the hours of 6AM and 4PM will require a prior reservation, even if you are a National Parks pass holder. This applies to only peak tourism season from early June-September 30 (as was the case in 2022) and might again go in effect in 2023. This is being done to better manage the crowds since everyone is on a "revenge travel" spree in a post-pandemic world.
b) If you're passing through Yosemite before 6AM or after 4PM during a reservation required season, you don't need to make any prior reservation. However, you still have to pay the park fees of $35/vehicle which is good for 7 consecutive days. This fees is only waived if you are a National Parks pass holder (costs $80/year). If you're planning to spend a day in Yosemite while visiting Mammoth with your dog, I say this $35 is worth spending.
c) Tioga Pass is closed during winter, which can start off as early as mid-late October in the Sierras. Read about mountain pass closures here before you plan your trip.
The second shortest route from the Bay Area is via the Sonora Pass which takes you through the wonderful gold rush towns of Jamestown and Sonora. Check the Sierra Mountain Passes website to confirm that Sonora Pass is open when you're traveling (no spoiler alert here-it shuts down in October too in anticipation of heavy snow). This pass opens up in May and we got some beautiful photos here during our trip to Bodie State Park and June Lake with Gunda last year when we'd just adopted him.
What are the leash laws in Mammoth Lakes?
Being part of Inyo National Forest, dogs are required to be on leash at all times on all trails. In some parts of the National forest, dogs should at the very least be under voice control. Always pick up after your dog and dispose the trash responsibly. Please follow posted signs to look out for hikers or equestrian riders on trails.
Can dogs swim in Mammoth Lakes?
Dogs are allowed to swim in Horseshoe lake. We saw a lady with her dog on a paddle boat on Twin Lakes which was such a cute sight to behold! Dogs can also swim in Twin Lakes, much like in some parts of Lake Tahoe which has several dog friendly beaches/sections.
What are the dog friendly hotels in Mammoth Lakes?
There are several dog friendly hotels in this Mammoth Lakes. We opted to stay in Mammoth Mountain Inn which charges $50/per dog/night. It is a bit steep in my opinion but the location was perfect (only 9 minute drive from Mammoth Village where all the restaurants are) and the room was decent sized. Motel-6 (where pets stay for free) is a budget option. Westin Monache Resort welcomes upto 2 dogs per room with a $50 per night non-refundable fee.

THE BEST DOG FRIENDLY THINGS TO DO IN MAMMOTH LAKES, CALIFORNIA
There is plenty do, see and enjoy at Mammoth Lakes with your dog. Here are my favorites:
1) VISITING DEVILS POSTPILE NATIONAL MONUMENT
Hours: 9AM-5PM everyday (July-October)
Devils Postpile National Monument is a geological wonder (established in 1911 after a Presidential Proclamation) and is a rising tower or wall comprising of thousands of sharp, straight as tack Basaltic columns that solidified in the fissures of a sea of molten lava that was stopped in its tracks by a glacial moraine millions of years ago. The columns are stacked at almost 90 degrees and are so sharp and well stacked that you'll feel it's some skilled sculptor's handiwork (Mommy Nature is that awesome!) and made me think of the throne from Game of Thrones 🙂
The cost of entering the valley is at the Minaret Vista Station where the monument is located is $10/vehicle (fee is waived if you have the National Parks pass) and is only accessible via the Reds Meadow road which undergoes seasonal closure that occurs around mid-October (it is Oct 11 for 2022).
You can definitely drive all the way down to the parking lot near the monument, but be careful since the road is a bit steep and winding (nothing too crazy in any way). Dogs are allowed on leash at Devils Postpile and on all the surrounding trails.
The monument is a short 0.4 mile hike from the closest parking lot (do not park in the first one that you see but drive in through the gates by a sign that says Devils Postpile National Monument). This parking lot is not tiny but it is limited in space. Given that many people opt to hike to the breathtaking Rainbow Falls after seeing the monument, I recommend coming in as early as possible (preferably before 10 AM) to get a parking spot.
During summer months, there is a mandatory shuttle bus that takes visitors to the Reds Meadow Valley where the monument is located. Dogs on leash are allowed on the bus but they need to be muzzled. The shuttle bus service stops on Sep 5th so if you visit during the shoulder months (prior to road closure), be prepared to drive. Shuttle bus details can be found here, including the dog boarding policy.
2) HIKING TO RAINBOW FALLS
This year round 101 feet falls in Ansel Adams Wilderness is a 5 miles round-trip from the Devils Postpile parking lot and is sight to behold. It gets its name from the rainbow effect that is produced by the spray of water droplets at the base of the falls, which is magical! This is a dog friendly hiking trail in Mammoth Lakes where leashed dogs are welcome.
The hike is not difficult, but it is a long one and provides little cover from the sun in most parts. So be armed with ample water and sun protection along with you and get on the trail as early as possible. Once you get to the falls, walk a bit further to steps that take you right below all the way to the falls or enjoy the views from one of the many viewing areas.
3) DRIVING THE LAKES BASIN
Mammoth Lakes boasts of many tranquil alpine lakes which will welcome you with their shimmering blue waters and have dog friendly walking and hiking paths around them. Best of all, you can drive up to all of them without having to hike long distances.
Twin Falls vista point is the perfect place to start exploring your Lakes Basin region and from here you can get a stunning view of the two lakes. Nearby is the Twin lakes Falls overlook point from where you can hike to Horseshoe lake or Lake Mary (you can also drive to it) or cross the road to take in the views of Lake Mamie.
I highly recommend spending sometime at Twin Lakes because of the beautiful views from the bridge atop one of them. You can also do paddle-boating on this lake with your pup (we actually saw an intrepid pup with a life jacket on a paddle boat with his/her owner on the waters). Lakes Mary and George are two other lakes accessible via driving here.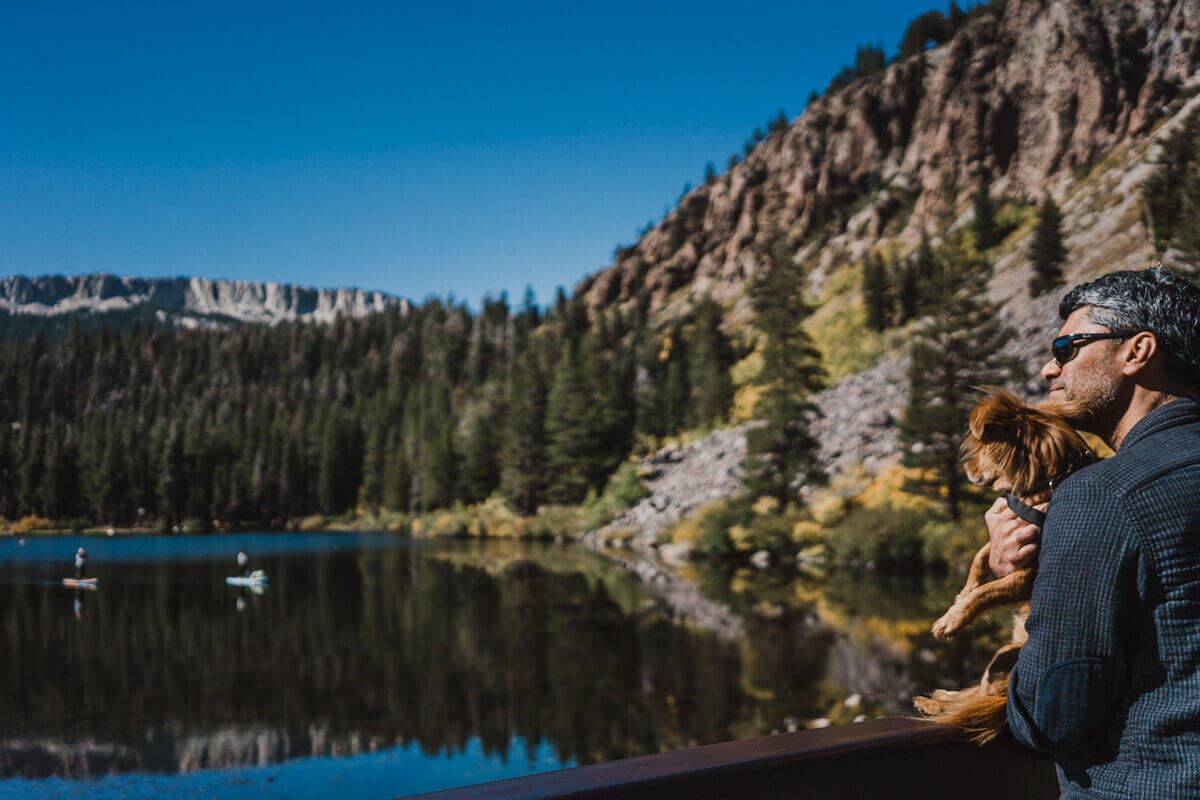 4) CHECKING OUT THE TWIN LAKES ART GALLERY
This tiny gallery is at the junction of Twin Lakes loop road and Lake Mary road and is nestled inside a cosy log cabin built of pine wood. This gallery was built by artist Stephen willard and is home to local art, pottery and antiques. Dogs on leash are welcome to tour the tiny, cozy interior hosting many a wonders, including a huge bear skin and head spread over a bed in one of the rooms.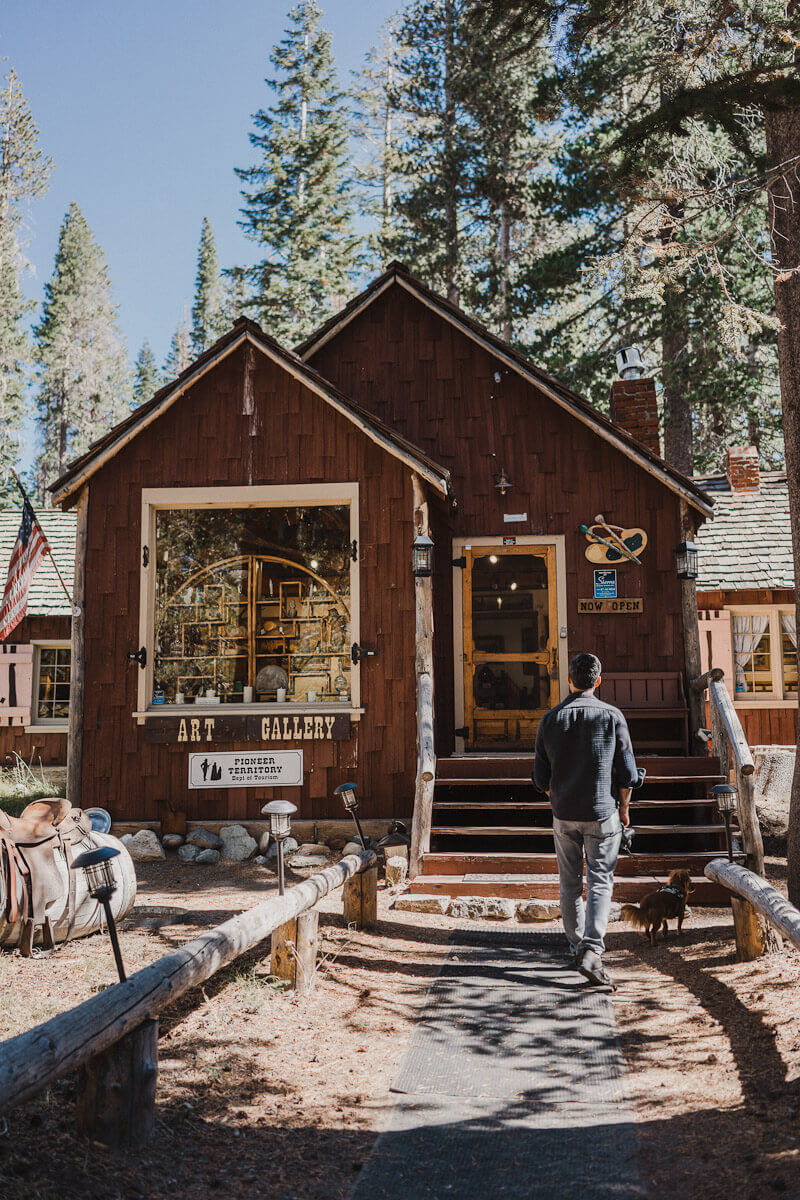 5) VISITING CONVICT LAKE
Convict Lake, so named after a shootout between convicts escaping from a penitentiary in Carson City, Nevada and lawmakers in 1871, is one of the most stunning lakes in the Sierras and is only 10 miles south of Mammoth Village. This is one of the deepest lakes in the Sierras and is dog friendly, which is why I highly recommend that you pay a visit, to see the stunning views of the water and surrounding mountains, preferably during sunset.
The turquoise waters of this lake are surrounded by a box canyon ensconced in the mountains with Mount Morrison towering over it. A dog friendly trail surrounds the lake with some very nice vista points. One thing to remember is that you cannot park around the lake after 9 PM and overnight parking is not allowed. We visited the lake around sunset and loved watching the sun go down over the Sierras along with the lakeviews.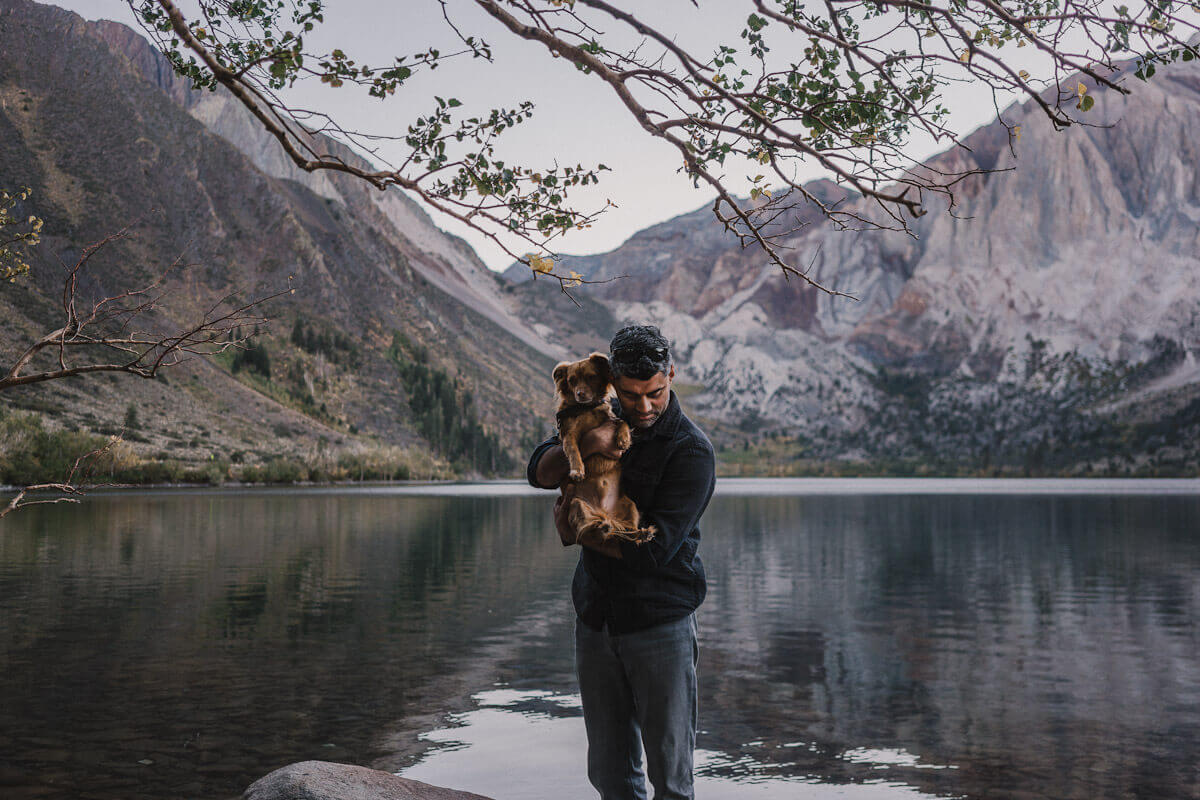 DOG FRIENDLY RESTAURANTS AT MAMMOTH LAKES
There are plenty of dog friendly restaurants and cafes with outdoor seating in and around Mammoth Village. The outdoor seating areas are fully accessible in summer and all the way up to end of September-early October after which it gets too chilly to sit outside.
Please keep in mind that if you're visiting in the off-season/shoulder season of September/October, there might be a temperature drop at nights since you're 7000+ ft above sea level in the Sierras, so please dress warmly for outdoor dinner at nights. Also, several outdoor places may not have heaters.
My favorite dog friendly places to dine at Mammoth are Elixir Superfood and Juice for their bowls and fresh pressed juices, Shea Schat's bakery for yummy baked goods for breakfast, Stellar Brew and Natural Cafe for their breakfast burritos, Mammoth Coffee Roasting Company and Mammoth Brewing company for their tasty naan tacos and tons of beer options. All these eateries are right along Main Street.
Since we stayed at Mammoth Mountain Inn, we also ordered takeout from their restaurant Mountainside Bar and Grill to enjoy in our room (they don't allow dining with dogs and you have to go there, aka the check-in lobby, to pick the food since they don't do room service).
DOG FRIENDLY ACTIVITIES AROUND MAMMOTH LAKES
The best part about my dog friendly Mammoth Lakes guide is that the fun does not just stop at Mammoth, but also continues up and down CA-395 where there is plenty to do and see with your furry friend. Here are some of the dog friendly activities to do around Mammoth Lakes:
a) Drive the delightful June Lake Loop to discover brilliant Fall Colors and the four alpine lakes on the loop during September/October. Stop by Hermitage Juice Bar in June Lake village for a smoothie or a fresh pressed juice or energy ball bites. Distance from Mammoth Village: 24 miles (north)
b) Drive up to Mono Lake to see the fascinating tufas, i.e. white calcium carbonate spires jutting out of the sand like sentries on a chessboard. Dogs are allowed at the Mono Lake Tufa State Natural Reserve. Distance from Mammoth Village: 31 miles (north)
c) Get the famous fish tacos at Whoa Nellie Deli in Lee Vining overlooking Mono Lake. Then take CA-120W to go all the way to Yosemite National Park via the Tioga Pass east entrance. You can spend the entire day at Yosemite with your dog and admire the beautiful fall colors inside this National Park. Distance from Mammoth Village: 29 miles (north)
d) If you're not in the mood to make the detour to Yosemite, then keep driving up Highway 395 to Bridgeport from where you can turn right to visit Bodie State Park, a very unique dog friendly state park which is actually an abandoned mining town. This park is also subject to seasonal closures and you can find details of our visit in my Bodie State Park blog post. Distance from Mammoth Village to east entrance: 40 miles (north)
I hope you enjoyed reading this dog friendly Mammoth Lakes guide and have found plenty of ideas on what to do with your dog at Mammoth Lakes. The High Sierras in California have plenty of dog friendly outdoor spaces welcoming your furry friend and I am sure you will have a blast exploring them! Thanks a lot for stopping by and do follow our dog-friendly California adventures right here.

LIKE THIS POST? PIN IT FOR LATER

«