Last Updated on October 16, 2022 by Paroma
Are you curious about spending a day at the historic town of Mariposa near Yosemite National Park? Then let this guide on the best things to do in Mariposa, California help you out! Continue reading to find out how the best of Mariposa attractions, plus where to stay and eat to make the most of your visit to this charming town in the Sierra Nevada foothills.
Disclaimer: This post may contain some affiliate links. Clicking on them may earn me a small commission at no extra cost to you for the product. Thank you for supporting free content on this site!
BRIEF HISTORY OF MARIPOSA, CALIFORNIA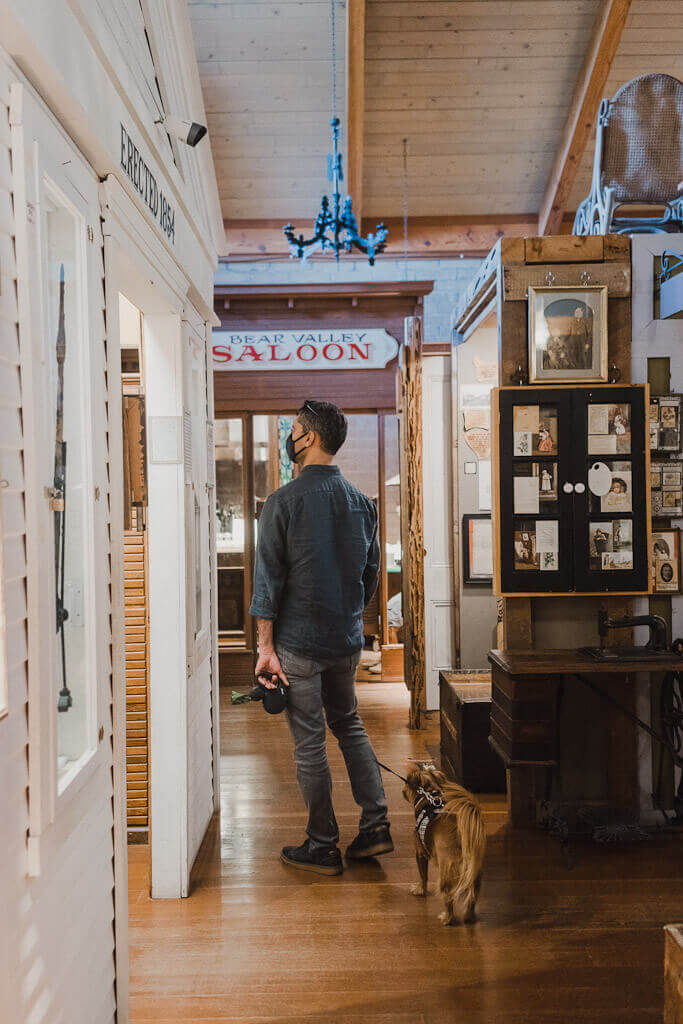 The charming historic town of Mariposa lies in its namesake county (which used to be the largest of the original 27 counties in California) and is located south of Yosemite National Park on Highway 49. This town lies about 32 miles southwest of the Arch Rock Entrance in Yosemite National Park. It was named "Las Mariposas" during the expedition of Gabriel Moraga in September 1806 which is the Spanish name for butterflies, thanks to large number of butterflies seen here.
Often described as the Gateway to Yosemite National Park, this town traces its origins to the California Gold Rush in the first half of the 19th century when the discovery of gold in American River brought prospectors from all over the nation and beyond to this sleepy town.
Mariposa is where explorers John C. Fremont (the first Governor of "free" California) and Kit Carson opened the very first mill to crush ore and extract gold in California. This is also one of the southernmost gold rush towns in the Sierra Nevadas.
Modern day Mariposa is a vibrant town and community with lots of good restaurants, cafes, thriving local businesses and museums paying homage to the historic days of being a gold rush boom town. It's proximity to Yosemite National Park and Sierra National Forest makes it an ideal place to explore the great California wilderness and its many natural splendors.
If you're visiting Yosemite National Park, I recommend either staying or at the very least visiting this town for a visit to the historic museums (there are more than one in this pint sized town) to learn more about California's gold rush history and having a good time with food and wine before you move on to your next adventure. I have visited this town several times and hopefully this guide on some of the best things to do in Mariposa will inspire you to do the same!
Read my other Sierra Nevada guides here:
PLANNING A VISIT TO MARIPOSA, CALIFORNIA? GET THE FAQs
GETTING TO MARIPOSA TOWN
Mariposa easily qualifies as one of the many fun weekend road trip from San Francisco. Main Street is conveniently located on either sides of Highway 49. It is 168 miles southeast of San Francisco where you have to drive through the towns of Tracy and Modesto to get here (a little over 3 hours drive). Mariposa is about 293 miles north of Los Angeles (you basically drive northbound on CA-99 through Bakersfield and Fresno).
The closest airport to Yosemite National Park is Oakland International Airport (OAK) which is 150 miles to the west of Mariposa. Both San Francisco International (SFO) and Sacramento International Airports (SMF) are almost equidistant from Mariposa, i.e. 162-169 miles. San Jose International Airport (SJC) is slightly closer, at 156 miles west.
BEST TIME TO VISIT
Since a trip to Mariposa won't be standalone but tied to Yosemite or even Sierra National Forest, I highly, highly recommend Spring (March-June) or early Summer. This is because the weather is cooler for hikes and the waterfalls are gushing all over the Sierras during this time (you can read my Yosemite guide to find out about waterfalls in the park).
If you visit Mariposa in April-May and you time your visit right, you may be in for a treat. The Annual Butterfly Festival happens around this time (April 23-24 are dates for 2022) with parades and other festivities in town.
Another good time to visit Mariposa is Fall (September-October) because of the spectacular foliage that the Sierra Nevadas have to offer in Yosemite and beyond. You can check my dog friendly Yosemite guide (which we went on in October 2019) to see the splendor of Cook's Meadow.
HOTELS IN MARIPOSA (IF VISITING YOSEMITE NATIONAL PARK)
Although the town of El Portal is closest to Yosemite National Park, you can also stay in Mariposa for more lodging options with an added bonus of good food options. Mariposa is about 32 miles (45 minutes drive) south of Arch Rock Entrance in Yosemite that leads to the valley, so it is not too far away either.
Mariposa Lodge (dog friendly), Yosemite Oasis and Yosemite Plaisance Bed and Breakfast are right on Main Street where all restaurants are. For a more secluded experience, Hilltop Hideaway (this is a dog friendly vacation rental) and the opulent Restoric Historic StageCoach Stop are good options.
IS MARIPOSA GROVE OF GIANT SEQUOIAS IN MARIPOSA TOWN?
NO! Mariposa Grove of Giant Sequoias is only accessible via Highway 41 while the town of Mariposa is along Highway 49 and although they seem right across from each other, there is no direct way to get to the grove from the town itself.
You have to drive down to Oakhurst along Highway 41 (30 minutes drive) and then drive up to the grove which is about 10 miles north of Oakhurst. Remember that the grove is part of Yosemite National Park and dogs are not allowed in it.
THE BEST THINGS TO DO IN MARIPOSA, CALIFORNIA
Mariposa is a pint sized town which can be easily covered in one day. Finding parking is also not a problem and there is plenty of street parking either on Main Street or one of the side streets. Here are my top recommendations when visiting Mariposa:
CHECK OUT THE HISTORIC MUSEUMS
One of the best things to do in Mariposa is to visit at least one of its three historic museums. The most popular one is undoubtedly the Mariposa Museum and History Center on 5119 Jessie Street (open 9AM-4PM, 7 days a week).
This museum is a treasure trove of artifacts, records and other historic relics weaving the origins of Mariposa and its gold rush past. This tiny museum which requests $5/person as donation is also dog friendly and is a must visit for history nerds and those curious about the Gold Rush and how it shaped California.
Outside the museum are remnants of the mill constructed here for crushing the gold ore, which make for very cool photo-ops! There is also a gift shop to pick up a souvenir or two reminding you of your visit.
The second museum is the California State Mining and Mineral Museum located on Mariposa County Fairgrounds at 5005 Fairgrounds Rd. Admission is $4 for adults (children 12 and under enter for free) and is a fascinating exhibit of California's mineral wealth and geology.
This museum is home to a staggering collection of 13000 mining artifacts, gems and minerals along with rare specimen of crystalline gold. You can also find the Fricot Nugget here, a 13.8 pound specimen that is the largest remaining intact mass of crystalline gold found in 19th century California (American River, 1864).
In this museum, you can walk through the mining tunnel to get a feel of how gold was mined in the 1800s (we saw some photos in the Mariposa Museum as well) as well as get to see a stamp mill working model to understand how gold was extracted from the rocks in those bygone days. Since we were visiting Yosemite with our dogs, we had to give this museum a miss because dogs are not allowed here.
The third museum, and this is a bit off the road, is the Yosemite Climbing Museum established in 2019 by the Yosemite Climbing Association on 5180 Highway 140 and is a must visit for all those who love rock climbing or are at least, fascinated by the documentaries on this subject, such as the Oscar winning National Geographic documentary Free Solo.
This unique museum is focused on the climbing community and its fascination with Yosemite National Park which has long been attracting rock climbers from all over the world to its majestic granitic structures. The passion child of Yosemite local Ken Yager, this museum has a fascinating display of historical climbing artifacts as well as photography, publications, and memorabilia.
STOP BY MARIPOSA COUNTY COURTHOUSE
Built in 1854, this is California's longest continuously serving courthouse and is functional to this day! The white building is surrounded by a lush green lawn that is a great place to walk around or rest a bit (or take a quick walk with your dog if you're visiting with one). This is a California registered historic landmark.
WINE TASTING
No matter where you are in California, you are never too far away from a winery or tasting room (we have so many wine regions here), and Mariposa is no different. There are at least two spots on Main Street where you can taste some of the local wines.
Casto Oaks Fine Wines and Art sources their own grapes from their own 6 acre vineyard in Mariposa and is a solid option for those looking for an afternoon of wine tasting. Casto Oaks is located on Main Street and has outdoor seating if you are looking for tasting with your pup by your side.
The other place that we stopped by was The Local Grape which is located inside the same building as the Little Shop of Ramen. Here I tasted 5 red wines (you get a choice of reds or whites) for $15 which were mostly Bordeaux varietals grown in different Sierra Nevada Counties such as Amador, Yuba, Nevada, Placer, Calaveras, Tuolumne and Mariposa. They have some really amazing murals adorning their walls. We visited Murphys, an adorable small town in Calaveras county years ago and did quite a bit of wine tasting there!
SHOPPING ON MAIN STREET
There are lots of souvenir and gift stores on Main Street and you definitely want to check some of them out when visiting Mariposa. However, my favorite one was "Mae it be Home" a home goods and lifestyle store curating all local and artisan products.
This store is nested in the historic 49ers building (read the plaque to know more about its "colorful" past and owners) and is named after Brenley Mae, the owner's daughter. The owner was super sweet and her kids were so cute and well behaved! I love these local mercantile stores and always make a point to visit them everywhere I go in California.
OLIVE OIL TASTING
Stop by Costalivos Mountain Gold Olive Oil store on Main Street for tasting their very own Olive Oil (their family owned grove is on the sunny western foothills of the Sierras) or pick up their delicious Balsamic Vinegar as a gift for loved ones.
ENJOY A DELICIOUS MEAL (BREAKFAST, LUNCH OR DINNER)
Dining options are limited in Yosemite and with crowds of people everywhere, you really have to be a bit judicious about your meal planning. Thankfully, Mariposa has quite a bit of variety and really good cafes, breweries and restaurants for you to take your pick.
I recommend Sugar Pine Cafe/Bakery for baked goods and coffee, the uber popular 1850 Restaurant and Brewery for a flight of home brewed local beer and the best burger in the county, Savoury's for local fare and my favorite-the Little Shop of Ramen for piping bowls of delicious homemade rye noodles brimming with flavorful dashi (broth). They also have special events like Sake tasting if you're in the mood for something different apart from beer and wine.
ADMIRE THE MARIPOSA MURAL
As you drive on Highway 49 and pull into Main Street, you will be greeted by this beautiful mural on the wall of Pizza Factory. Painted in 2008 by Sal Maccarone, this gigantic mural represents a slice of Mariposa History.
Starting from its namesake symbol the butterfly to the county courthouse, a Native American man in Yosemite (which is a nod to the original inhabitants aka the Southern Sierra Miwoks), a settler panning for gold on the left hand corner (to signify the Gold Rush), Yosemite's majestic waterfall and finally the California Bear Flag atop the US Flag, this mural encompasses the very essence of Mariposa.
HIKE THE STOCKTON CREEK TRAIL
Owing to its proximity to both Yosemite and Sierra National Forest, there is no dearth of hiking trails near Mariposa. However, you have to drive a good 40 minutes or so to access them. This dog friendly hike is just minutes away from downtown and will take you through the foothills of the Sierra Nevadas to a small lake, i.e. the Stockton Creek Preserve, Stockton Creek and a waterfall.
The trail is 4.4 miles roundtrip with 2,508 feet in elevation and is of moderate difficulty. The upper trail trailhead starts from CA-140 itself (right of Old Highway N and CA-140). The lower trail trailhead starts from a water treatment facility near Yosemite Plaisance Bed and Breakfast as you walk along Trabucco street.
STOP BY THE MARIPOSA COFFEE COMPANY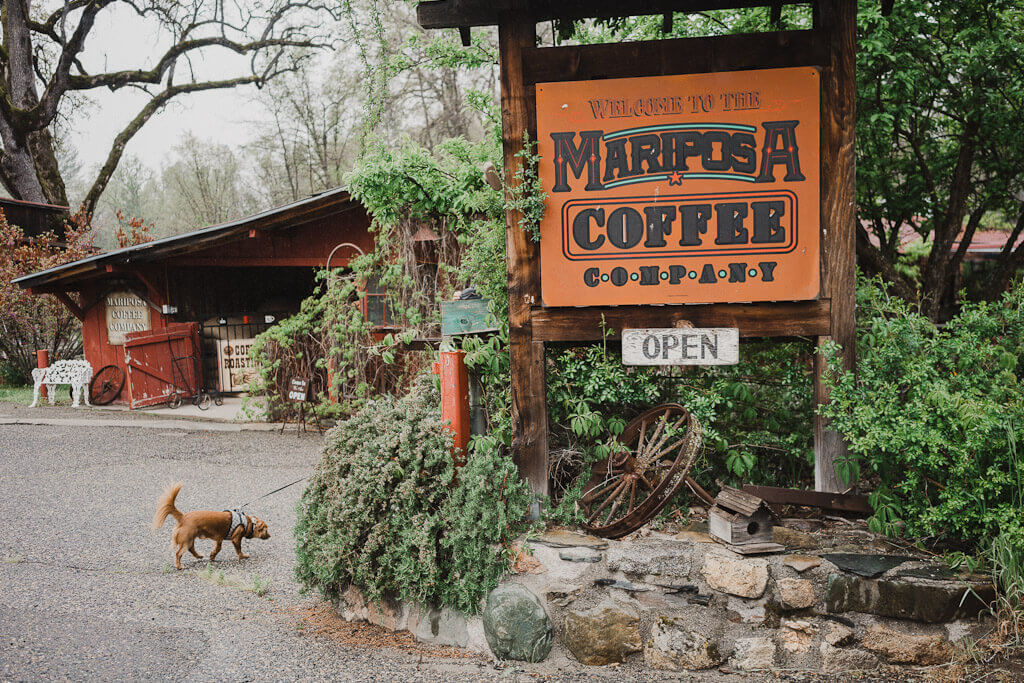 There is something delicious brewing in the Sierras, and that's a cup of joe from beans roasted locally at the Mariposa Coffee Company using the finest Arabica beans sourced from all over the world.
Their flagship cafe is in a cheery red building on Highway 49 midway between Mariposa and Oakhurst where huge jars of beans await you. You can get one of their roasted beans (whole or ground) or if you're someone like me, get their chocolate covered beans for the best of both worlds. They also have their own coffee merchandise (T-shirts and mugs) as well as local honey.
The grounds and cafe are dog friendly and you will see their own dogs playing there. You can buy their products at Pioneer Market and High Country Health Foods in Mariposa and these other places in the Sierras (including inside Yosemite NP).
GO ON A SCENIC DRIVE FROM MARIPOSA TO OAKHURST
One of the fun things to do when visiting Mariposa is to go on scenic 30 minute drive southeast from Mariposa to Oakhurst along Highways 49 and 41 (you can stop at the Mariposa Coffee Company on the way to fuel up).

Once at Oakhurst, you have plenty of options for outdoor activities. You can go up north to the Mariposa Grove of Giant Sequoias (which is part of Yosemite National Park), get onto the Yosemite Mountain Sugar Pine Railroad for a ride through the Forest, hike the Lewis Creek trail to see the gushing waterfalls or simply drive further down to Bass Lake for more scenic views and hikes. You can read our adventures in Sierra National Forest in my dog friendly Yosemite guide.

Finally, here is a helpful map showing all the locations mentioned in this post. I hope you enjoyed reading about all the fun things to do in Mariposa and are planning a trip to this historic gold rush town near Yosemite! Thanks so much for stopping by and safe travels. You can read all our California adventures here.

LIKE THIS POST? PIN IT FOR LATER

«