Last Updated on October 16, 2022 by Paroma
Curious about visiting Bodie ghost town in California's Eastern Sierra Nevadas? This post addresses all your burning questions on exploring Bodie State Park, including travel logistics, dog friendly tips and a virtual tour of this fascinating gold rush town representing a slice of California's history. In addition, I have included personal recommendations on where to stay and other nearby attractions for a hasslefree trip to the magnificent Sierras with your pup. So, let's get started!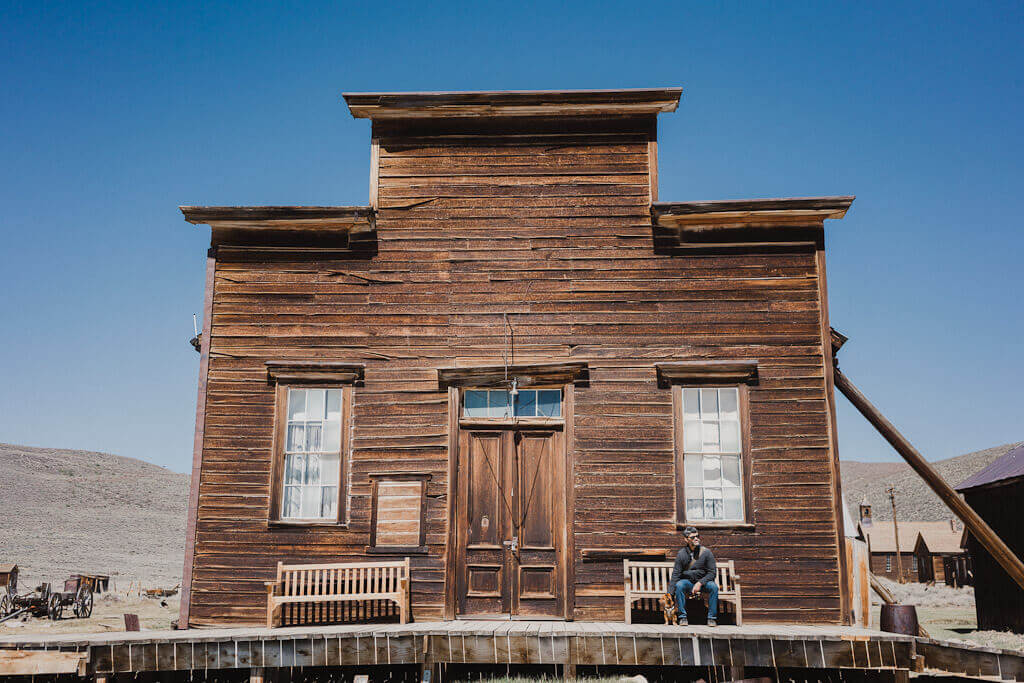 Disclaimer: This post may contain some affiliate links. Clicking on them may earn me a small commission at no extra cost to you for the product. Thank you for supporting free content on this site!
WHERE IS BODIE GHOST TOWN?
The town of Bodie is one of California's abandoned mining towns borne of the gold rush boom in the latter half of the 19th century. It is located in Mono County at the foothills of the Sierra Nevada mountains, on the eastern part of the state near the Nevada border.
It is being managed as a state park since 1962 and is also known as "Bodie State Park". It takes about 4.5-5 hrs to get to Bridgeport, the town nearest to Bodie, from San Francisco via Interstate 80E, 580E, CA-120E and 108E.
WHAT IS SO SPECIAL ABOUT BODIE STATE PARK?

Bodie represents a slice of California's gold rush history that was instrumental in building the state (as well as my beloved San Francisco) via a steady stream of pioneers and migrants who rushed west to carve their fortunes out of shiny gold nuggets.
The discovery of gold in Sutter's Mill (a water powered saw mill) in the foothills of the Sierra Nevada mountains in 1848 kicked off the great California gold rush in the winter of the same year which lasted till 1855. During this period, it was estimated that about 300,000 people had moved into the state.
Of all the men seeking their fortunes westward, W.S. Bodie, literally struck gold in 1859 in the eastern slopes of Sierra Nevadas after the decline of mining along the western slopes. Although he actually passed away months later in a blizzard, his last remains are believed to be somewhere buried in the hill above the cemetery adjacent to the town named "Bodie" in his honor (which he never got to see).
Bodie's glory days began after 1875 when the collapse of a mine revealed a rich deposit of gold ore. The town thrived between 1875-1881 with 30 different mines, 9 stamp mills and about 8000 citizens along with miners, merchants, over 60 saloons, prostitution cribs on Bonanza street and an opium den in the once sizeable Chinatown on one end of the town.
The boom came to a close with unsuccessful mines being shuttered down with time and although mining continued till 1942, the population kept on dwindling rapidly. In an effort to protect the town from looters and vandals, the then major landowner James Cain hired caretakers to take care of the town. It was subsequently purchased in 1962 by the California State Park system to preserve the historic buildings and remnants.
WHEN IS THE BEST TIME TO VISIT BODIE GHOST TOWN?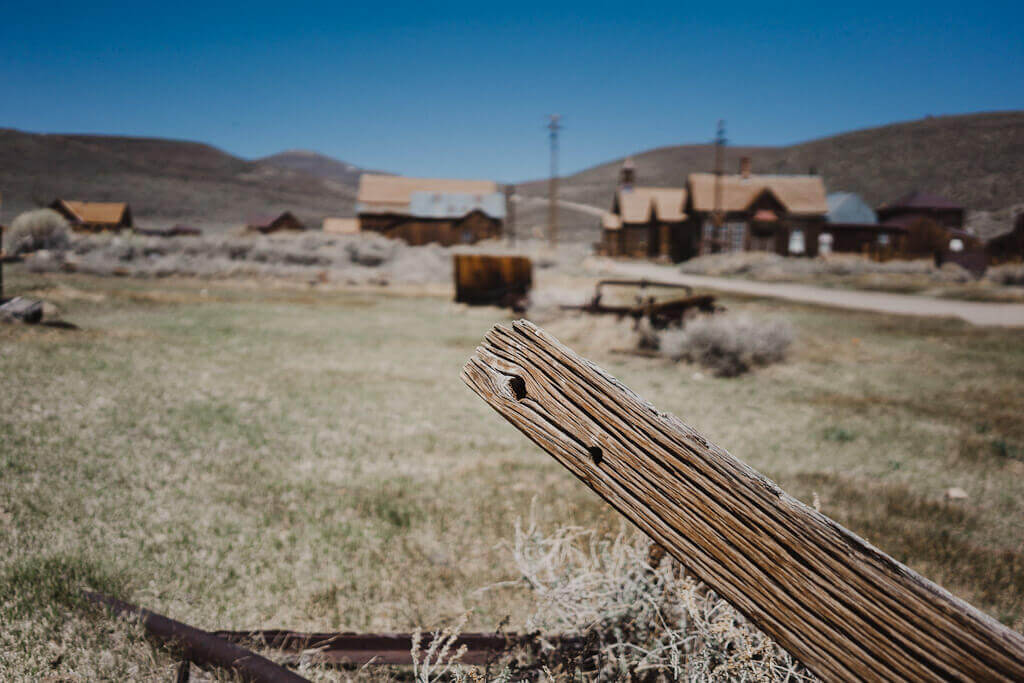 Although the state park brochure (that you can get for $3 inside the park) recommends summer as the best time to visit Bodie, I'd suggest going either in Spring (late April-end of May) or Fall (mid September-mid October) to enjoy a more crowd-free experience since this is a popular destination. If you're visiting in peak season, plan to arrive just when the park opens.
It gets really bright, hot and crowded during Summer in this open area. Spring is cooler weather with sights of snow-capped mountains. Fall has its own charm with the brilliant foliage of the Eastern Sierras painting the surroundings with a striking color palette, but be mindful that the road to Bodie closes towards the end of October. Always check road conditions prior to planning your trip to Bodie via here.
TIPS TO PLAN YOUR VISIT TO BODIE STATE PARK
Here are a few IMPORTANT things to remember while planning your visit to Bodie ghost town:
WHERE TO STAY NEAR BODIE
The closest town near Bodie state park is Bridgeport on highway 395, 24 miles west of Bodie. I highly recommend staying at Walker River Lodge in Bridgeport (right on Main street, the one street that runs through this tiny town).
Not only is the room spacious with a HUGE king-size bed, a kitchenette (microwave and fridge), there is free parking, WIFI and continental breakfast (discontinued in 2021 due to ongoing health crisis). This is a dog friendly lodge where all rooms are dog friendly with no extra fee!
RESTAURANTS NEAR BODIE GHOST TOWN
The closest restaurants/eateries are to be found at Bridgeport. I highly recommend dining at the historic Bridgeport Inn for their local catch (the manager was very kind to allow our pup inside their dining room).
The other fun place to grab a bite (and definitely a soft serve ice-cream) is Jolly Kone which also has a great selection of breakfast items, burgers, sandwiches and tacos. Five miles south of Bridgeport down highway 395 is Virginia Creek Settlement restaurant which offers both lunch and dinner.
GETTING TO BODIE GHOST TOWN FROM BRIDGEPORT
There is only one road to access Bodie via car, and that starts from Bridgeport. This is CA-270E that leads to Bypass road which ultimately becomes the Bodie road. The last three miles of this road is unpaved/undeveloped-so please drive carefully (you don't need a 4 wheel drive-the road is bumpy but not terrible). CA-270E is closed during winter due to heavy snowfall and opens up every year around mid-April.
Please consult the Mono County Instagram account prior to your trip to see if the road has opened. You can also call 760-647-6445 or visit the Park's website for road conditions and updates.
BODIE STATE PARK VISITING ETIQUETTE
Please have exact change in cash ($8 per adult) while visiting the state park. Also, please honor the self servicing system of paying to enjoy this state park before you exit the parking lot when no one is around to collect the fee. There is a credit card machine at the parking lot, but it does not always work.
The park is open from 9AM-6PM daily. Please do not try to enter the park beyond these hours. Parking is in the designated parking lot only. Restrooms are available there.
Carry ample water with you (as well as food if you plan a picnic) since there is no food/water kiosk in the park. Also, remember to carry adequate sun protection with you since the sun can really beat down during the day.
Bodie ghost town is in a state of arrested decay and the old buildings and artefacts may be fragile. Please do not touch anything, do not take anything from the park, watch out for rocks, glass pieces and splinters, smoke in only designated areas and do not try to enter the buildings. Pack out what you pack in and leave no trace!
You will need at least 2-2.5 hours to explore the park thoroughly. So please plan your day accordingly.
You may see signs like "employee residence" in front of several houses. This is where state park employees live for park maintenance. Please stay clear of those houses and do not try to peep inside to disturb the residents.
Currently, the museum and stamp mill are closed to the public and might open up in future for guided tours. Private tours might still be available for those interested.
DOGS AT BODIE GHOST TOWN
Good news for dog parents-Bodie State Park is dog friendly! Dogs are allowed on leash everywhere inside the park except the museum and stamp mill. Please pick up after your dog.
PHOTOGRAPHY AT BODIE
Bodie's deserted, haunted look is a photographer's dream. There is a strange beauty in its desolate landscape with ghost like empty buildings standing quietly in the shadows of the eastern Sierras. If you are an avid photographer, this is a must visit State Park in California. Light mirrorless cameras like my Sony a7RII with a 35mm lens are a great option to capture the sights here. You do not need any permit or additional fees for personal photography at Bodie.
SELF GUIDED TOUR OF BODIE: MUST SEE ATTRACTIONS
Instead of wandering around aimlessly, the best way to soak in some of Bodie's colorful past and get some idea of what you're staring at is to purchase the detailed self guided tour brochure when you enter the park. You can get it for $3 at the self service kiosk in front of McDonnell Dolan House right across from the Methodist Church (the prominent church right near the entrance on Main Street) as you enter the park.
Once you enter the park, you're pretty much going to stroll down Main street and make your way into nearby streets such as Fuller, Green and Prospect. You will see each of the buildings and artifacts are numbered and the brochure will help you decipher exactly what those used to be in their past lives with its vivid descriptions. Some of the most interesting buildings that we saw were:
a. The Methodist Church: Built in 1882, this is Bodie's only church and still pretty intact. As you peek inside from the door, you'll see the pulpit, an organ on one side and the usual church benches.
b. James Stuart Cane House: This eye catching house with lots of apothecary style glass bottles displayed on benches facing the window belonged to James Cain who was a lumber business man and also the principle property owner of the town. He became a banker in 1888 and kept the Bodie bank open till 1932.
d.Miners Union Hall: This hall, built in 1878, was the central nerve of Bodie's social life and served as the meeting place of union members along with the hosting venue of religious services, Independence day balls, masquerade parties and Christmas celebrations for all. This hall currently serves as a museum with a small bookstore. Dogs are not allowed inside the museum.
Miners Union Hall/museum is right next to one of the two remaining morgues in Bodie and is on main street, which still has caskets inside. The other buildings on the same row are the I.O.O.F Hall (Independent Order of Odd Fellows Lodge-a fraternal society) and DeCHAMBEAU hotel-a two storied building. The post office moved here in 1879 with a personal residence on the upper floor. The building was later converted to a hotel and finally to a bar and cafe in Bodie's final days.
d. Swasey Hotel: For a town this small, Bodie sure had several hotels scattered all over its terrain. I particularly liked the tilted Swasey hotel, bought by Nevada rancher Horace F. Swasey in 1894. In later years, it housed both a clothing store and a casino.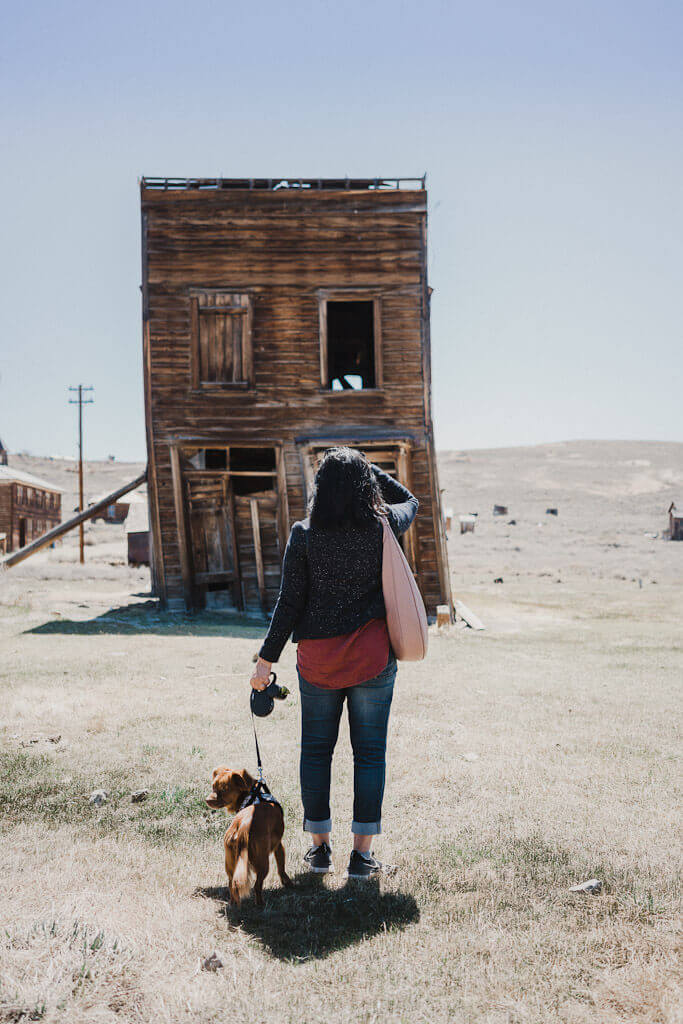 e. Boone Store and Warehouse: This was one of the several general stores in Bodie built in 1879. The most interesting thing about the store were the two columns for pumping gas standing next to it.
f. Firehouse: The firehouse on Main street was rebuilt in 1930s by the California Conservation Corps to serve Bodie was was previously devastated by massive fires in 1892 and 1932, due to poor infrastructure and lack of water supply.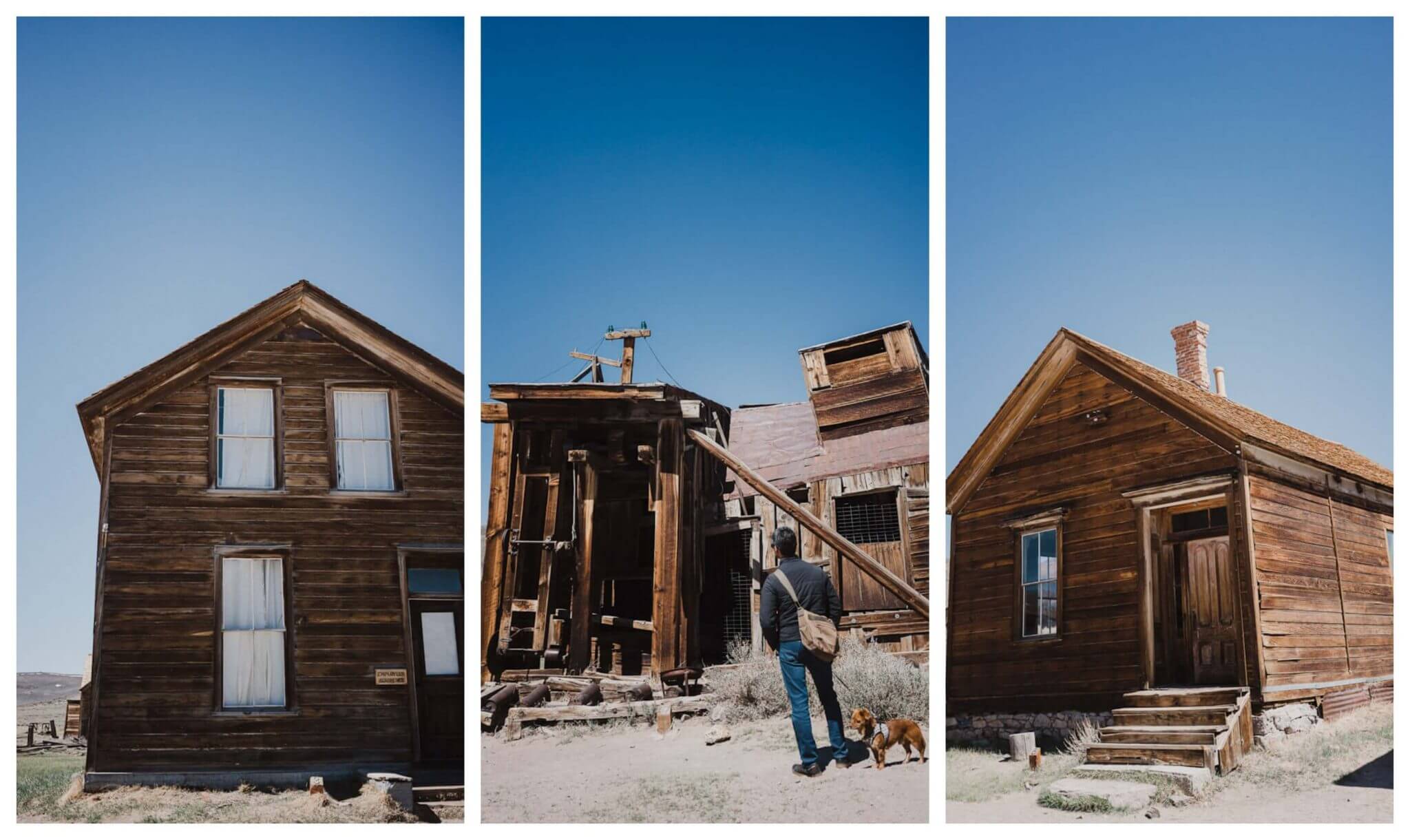 g. Schoolhouse: Across the street from Boon Store and Warehouse is Bodie's Schoolhouse where about 615 kids were enrolled in 1879-1880. The schoolhouse closed in 1942. Remnants of equipment and classroom facilities (books, a worn out globe, wall maps) still remain.
h. The Stamp Mill: The Stamp Mill is located at one end of Wood street. The entire area is cordoned off at present and is only accessible via guided tours in summer months. The stamp mill belonged to the Standard Consolidated Mining company which was the most successful of the 30 or so mining companies operating in Bodie. Stamps/heavy iron rods were used to break up quartz rocks containing gold and silver.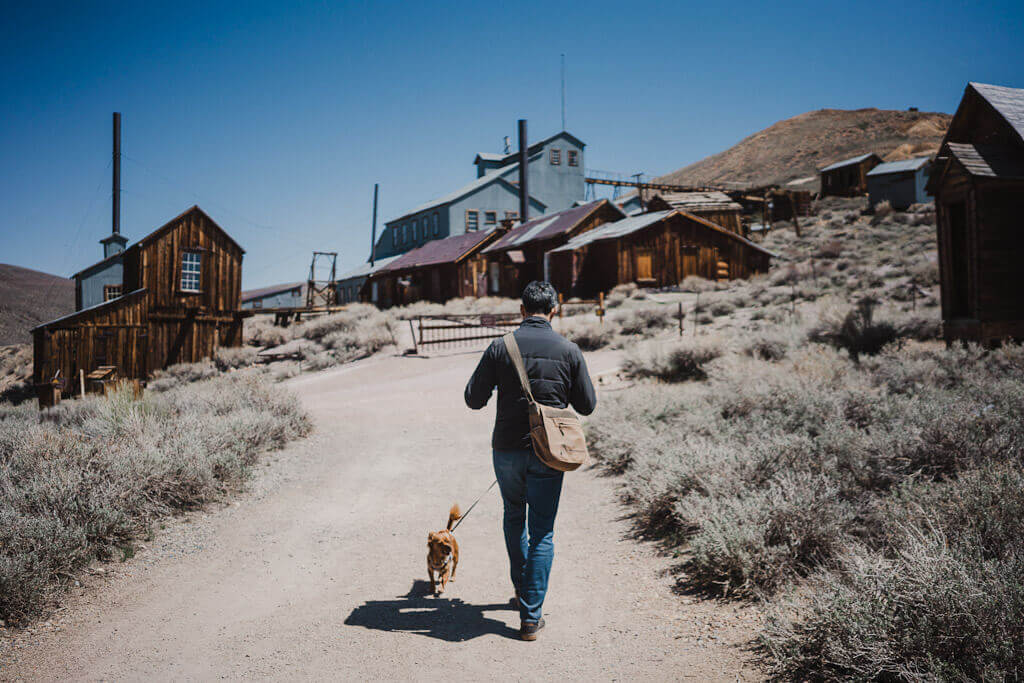 i. Bodie Bank: All that remains of the bank after the fire of 1932 is the brick vault. It was founded by E.L. Benedict in 1890 and subsequently bought by James Cain. Surprisingly, the bank was never robbed! The Bank is also on Main street as you walk North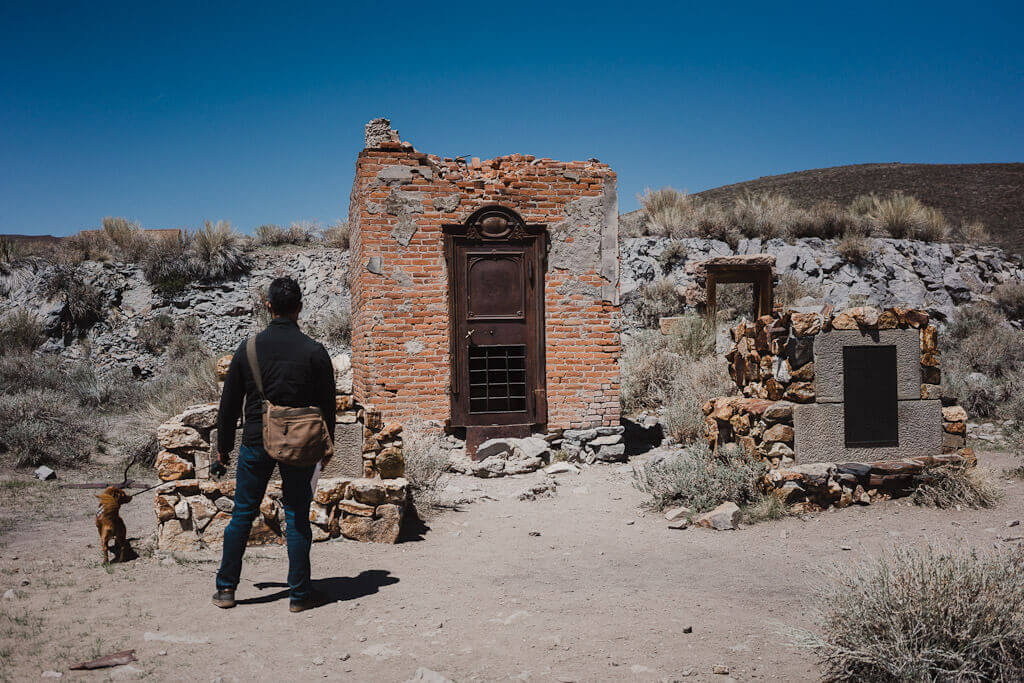 j. Bodie Jail: The jailhouse is at the northern end of Main street, away from the central part of the town. Constable John Kirgan was responsible for the jail from 1878-1881. In 1881, vigilantes took an accused murderer by the name Joseph DeRoche from this jail and hanged him. Failure on his part to prevent this vigilante justice cost the constable a demotion.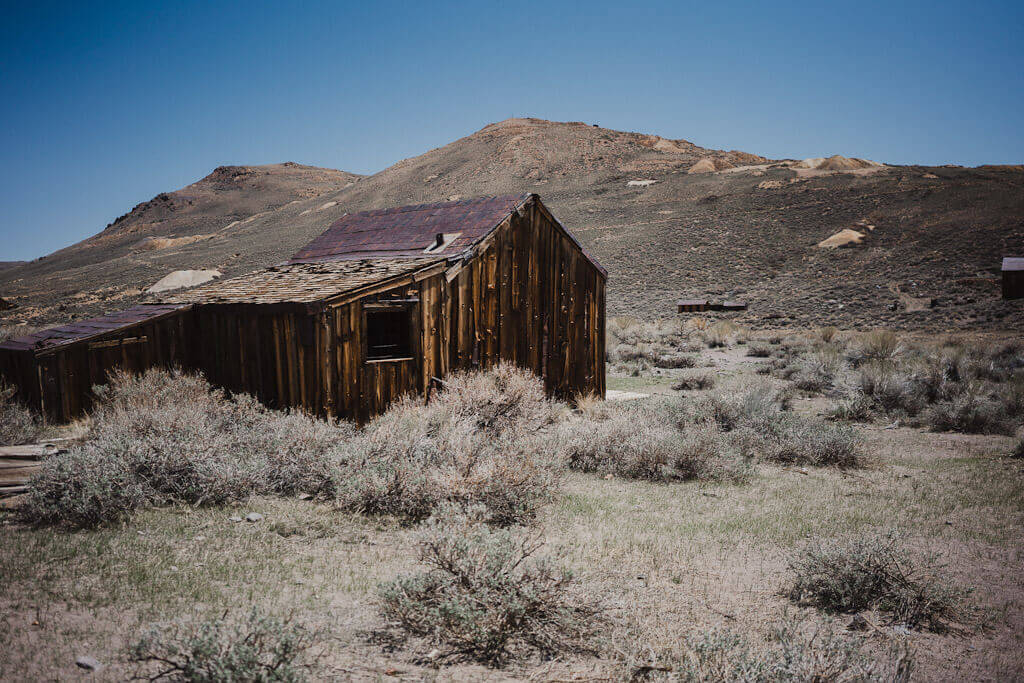 h. Bonanza street: This infamous street (Bodie's red light district) tucked behind the Main street saloons (next to the jail) is in a decrepit state and runs adjacent to the Chinese residences and Chinatown which has been reduced to two buildings, that are falling apart.
Remnants of Chinatown are sandwiched between Bonanza street and Bypass road. The Maestretti liquor Warehouse, a crumbling building towards the north, can be viewed from Bonanza street. This was owned by Antone Maestretti, a native of Switzerland, who also owned a saloon and bakery in Bodie and briefly served as a constable in 1880.
Owing to discrimination, the Chinese were not allowed to join the Miners Union and had to earn a living via menial jobs like cutting firewood, doing laundry and selling vegetables. In its heydays, the Chinese quarters offered town residents a variety of commissary services. There used to both a Taoist temple and an opium den here (the latter being frequented by both Chinese and Caucasians).
i. Cemetery: The cemetery is on the northwest side of the park and is accessible on foot via a paved path that leads up to the hill overlooking the cemetery. It is believed that W.S. Bodie's remains are buried in that hill. About 80 or so souls lie buried at Bodie cemetery. Since it was getting too hot (even in May), we had to give the cemetery a miss but you can read all about it in this interesting article.
OTHER ATTRACTIONS NEAR BODIE GHOST TOWN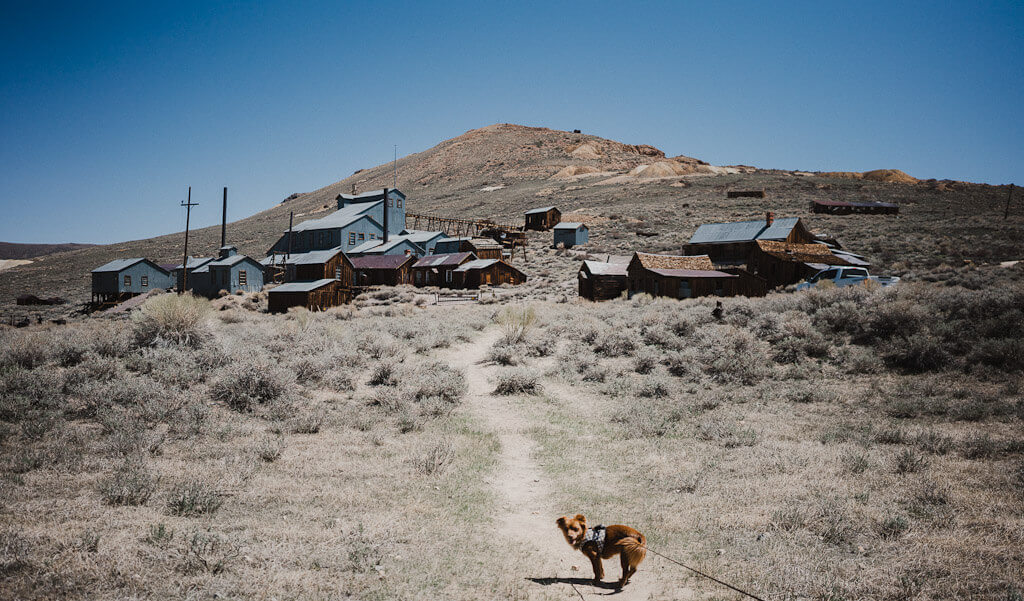 Mono County is blessed with unparalleled natural beauty and outdoor attractions with plenty of stops to explore along highway 395, which makes for a nice, long road trip from San Francisco. If you have only one day in hand and are visiting with your pup, I highly recommend stopping by the other-wordly Mono Lake Tufa State Natural Reserve, easy peasy picturesque June Lake Loop and Mammoth Lakes which is home to Devils Postpile National Monument (dog friendly).
If you are visiting in Summer or early Fall when the Tioga Pass is open, do drive west along Highway 120 through this pass to Yosemite National Park, the most famous of all the nine National Parks in California. Yosemite is also very dog friendly and so no need to fret if you have your pup with you. You can also visit the historic town of Mariposa near Yosemite to learn more about the gold rush era in California.
Lake Tahoe is 112 miles north of Bodie and is another great place to see fall colors. If you have sometime on your hand, I recommend checking out South Lake Tahoe for its natural splendor and waterfalls.
I hope you enjoyed reading this post on the hows and whats of visiting Bodie Ghost Town, the fascinating California State Park in the Eastern Sierras. Thanks so much for stopping by and you can follow all our dog friendly California adventures right here!
Like this post? Pin it for later!
«