Last Updated on September 9, 2022 by Paroma
Looking for the most eye catching, Insta-feed popping photography spots in Seattle? Then this post on finding the best Seattle photography spots in just what you need. I have scouted out some of the most Instagrammable places in Seattle based on my repeat visits for you to light your social media on fire. From jaw dropping murals to public sculptures and skyline view points, this epic list of top Seattle photo spots will make you want to go clicking with your camera in no time!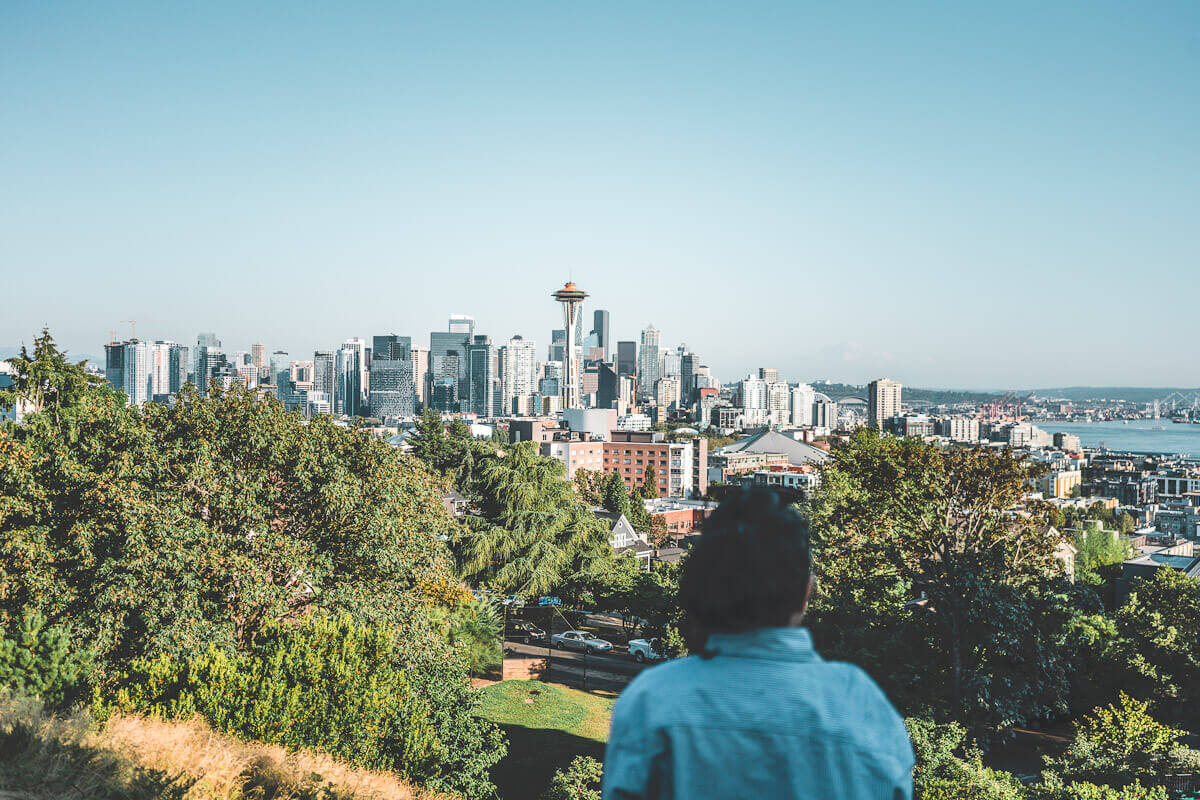 Disclaimer: This post may contain some affiliate links. Clicking on them may earn me a small commission at no extra cost to you for the product. Thank you for supporting free content on this site!
Seattle might be known for its cloudy grey skies and year round rain meets drizzle, but this laid back PNW city right by the Puget sound has some unbelievably beautiful sights to behold. There is plenty of natural beauty to take in, thanks to its geography and there is tons of urban art (public sculptures, landmarks and murals) that make it an Instagrammer or photographers dream.
This guide to the best Seattle photography spots includes my favorite Instagrammable places and frames in Seattle (based on my multiple visits) and is sure to please the photographer in you. I recommend going about town in a compact mirrorless camera with a small, prime lens like mine (here are many other options) and a stylish camera bag to keep it secure. Now, let's get clicking!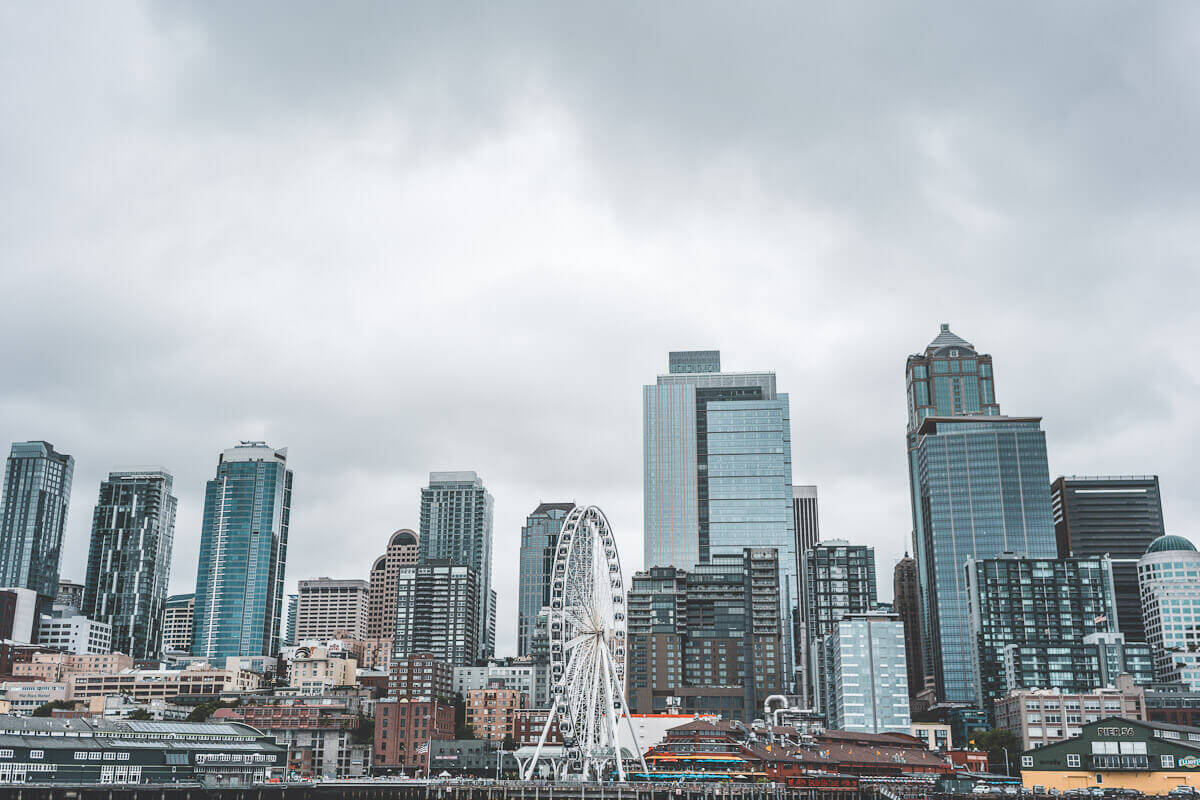 BEST SEATTLE PHOTOGRAPHY SPOTS: DOWNTOWN SEATTLE
Some of the best photo spots in Seattle are undoubtedly in downtown where you can find unbeatable views of the waterfront and the famous signs of the even more famous Pike Place Market (a must stop even if you have one day in Seattle) where people flock to for photographs. Here are some popular and some hidden gems in and around downtown Seattle:
1. PIKE PLACE MARKET MAIN SIGN
Address: 85 Pike St
You cannot miss this giant sign at the corner of Pike Street and Pike Place, which is also one of the most photographed spots in Seattle. You can stand along different points to get a crowd free view of the sign (hot tip: arrive early, preferably before 9AM) and if you have a full frame mirrorless camera with a 35mm prime lens like mine, you can capture the sign from a distance without having people walk in your frame constantly.
Bonus tip: Don't miss the smaller sign at the intersection of Pike Place and Pine Street, it is pretty ignored by the crowds and is also a great backdrop for a fantastic Seattle moment.
2. GUM WALL
Address: 1428 Post Alley
The famous gum wall of Pike Place Market is in Post Alley and you can get there by climbing down a short flight of stairs from the main market itself (there is a clear unmissable sign directing you to the gum wall at the head of the stairs). The gum wall is both colorful and icky and is one of the most instagrammable places in Seattle. Just find a crowd free spot, step away from the wall and get your photo!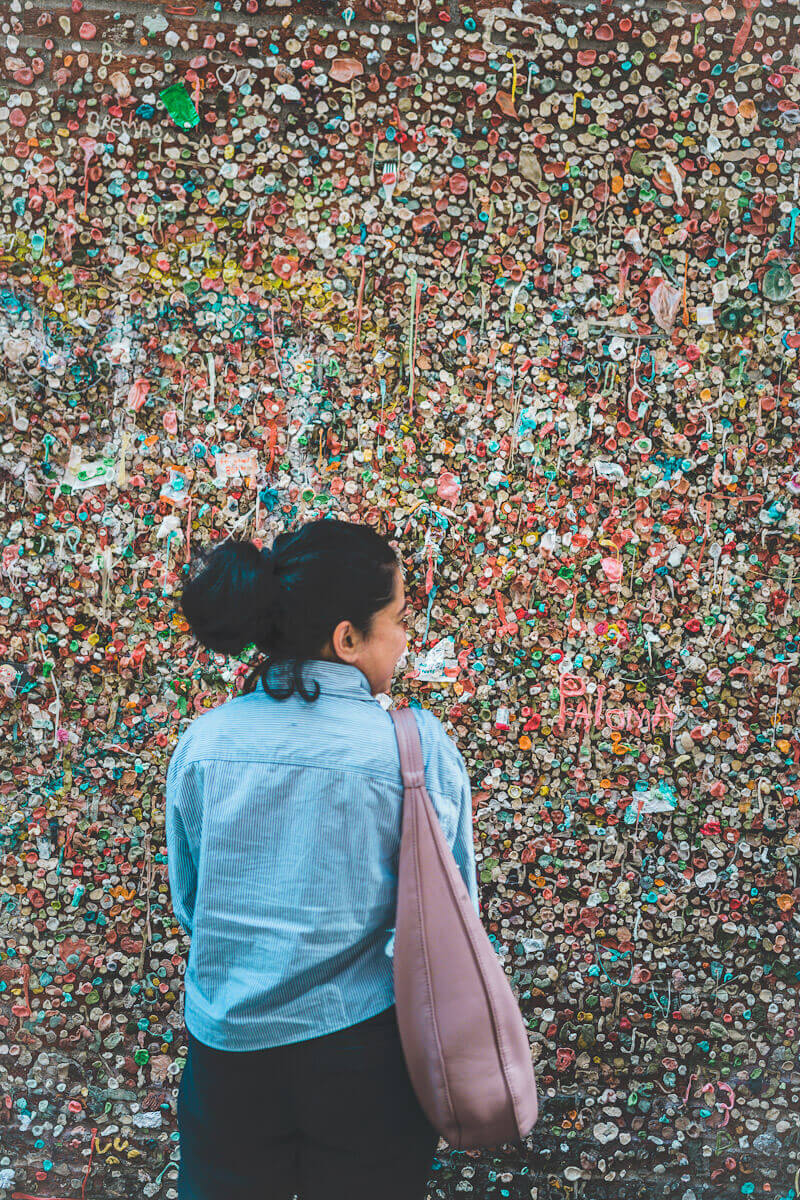 3. PIKE PLACE MARKET MURALS
Did you know that Pike Place Market is also home to some of the most beautiful and colorful murals in Seattle? Some of these murals are part of a rotating murals program where artists depict the resilience of the marketplace saved 50 years ago by grassroot activism and Seattle citizens from greedy developers.
You can find three colorful murals as you walk down to Ghost Alley Espresso near the Gum Wall from Pike Street. From there, continue on left from Post Alley and you'll find them around the corner near the entrance to the PPM Senior Center. Kate Endle's "Market Proud" mural is on one wall while two other colorful murals are on either sides of another.
4. PIER 66
One of the best Seattle photography spots is its waterfront, which is a short walk from the market. One way to snap a good photo of both downtown and the waterfront, home to the Seattle Aquarium and the Ferris Wheel, is from Pier 66. You can also get on the overhead bridge right next to Pier 66 for a great "birds-eye" view.
5. VIEWS FROM A CRUISE
Some of the best photos of Seattle can only be clicked from the water and you can easily get one by hopping onto a super popular, 1-hour cruise with narration, thanks to Argosy Cruises which departs from Pier 55. The cruise boat navigates the waters of the Puget Sound very gently, so you can easily get up and take photos of the Seattle waterfront and many other famous landmarks, such as the Space Needle and the Edgewater Hotel where the Beatles stayed.
6. SEATTLE DOESN'T SETTLE
Address: Behind Hotel Max on 620 Stewart Street
This eye catching, yet simple mural screams "FONT-astic" and makes for one of the best instagram worthy Seattle photo spots. Not many people know of this mural, so you will get it all to yourself!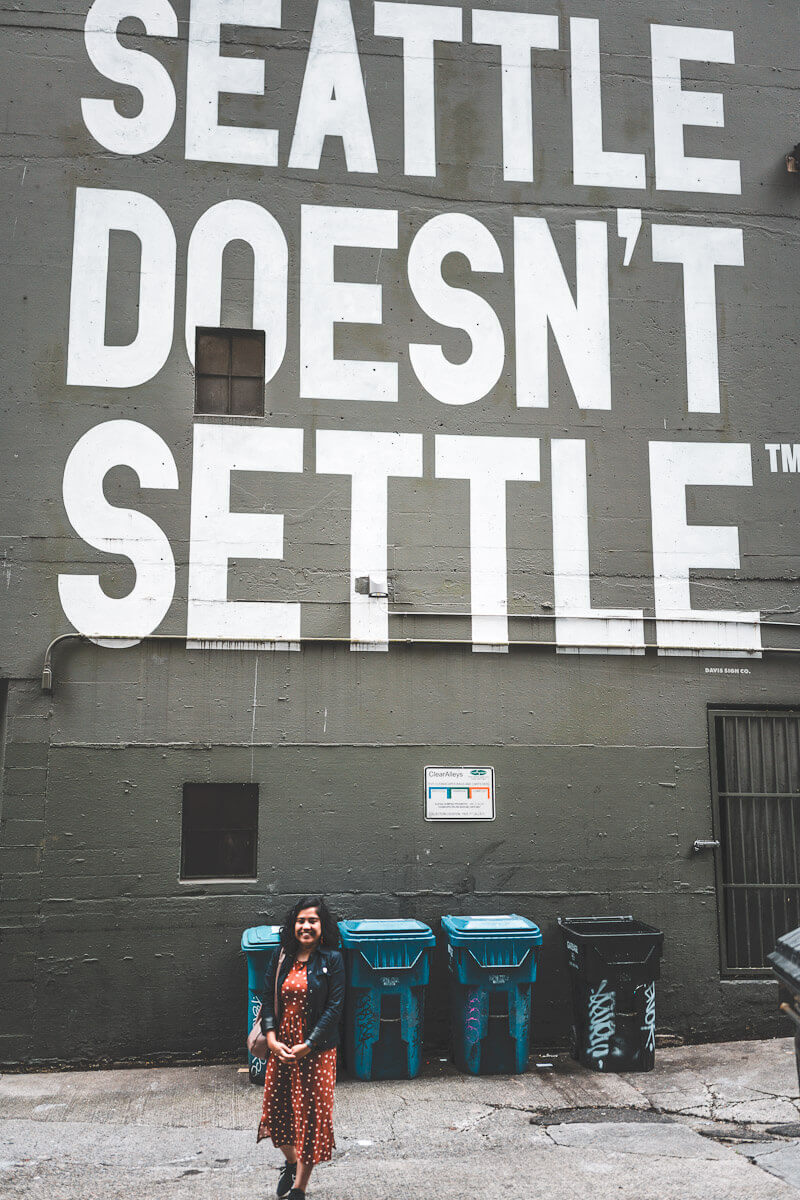 7. THE SEATTLE SPHERES
Address: 2111 7th Ave
Simply known as the "Spheres", these huge glass globes are part of the retail giant Amazon's campus and an effort to develop a connection with nature by creating an urban jungle inside them. You can tour the globes and all the greenery on every first and third Saturday when they are open to the public, 10AM-5:30PM.
SEATTLE LANDMARKS AND INSTAGRAM SPOTS
Some of the most famous landmarks in Seattle also serve as the backdrop for many a memorable photo from a visit. Here are my favorites:
8. SPACE NEEDLE
Address: 400 Broad St
This iconic spire stands over 600 ft above the ground and offers some of the most magnificent, 360 degrees view of the city from its observation deck with tall glass panes all around. Tickets are expensive ($30+) but you can bundle them with the Chihuly Glass and Garden museum next door to save $9 or buy the Seattle pass for more savings. I recommend arriving in the morning time slot (9AM-12 noon) or as early as you can to avoid the crowds.
9. CHIHULY GLASS AND GARDEN
Address: 305 Harrison St
Of all the glass artists from the Pacific Northwest, the one name that stands out prominently is Tacoma born artist Dale Chihuly whose massive body of glass blown creations spanning over 5 decades has won him accolades world wide. In 1971, Chihuly co-founded the Pilchuck Glass School in Washington State which has developed into an international glass center over the years and spearheaded the glass blowing movement in USA.
The Chihuly Museum, which is home to many of the artist's grandest creations (and is also his studio) is right across from the Space Needle and is a dream like museum with every frame serving as an eye-catching photo backdrop.
Right from the massive ornamental glass sculpture adorning the glasshouse rotunda to the otherworldly floral creations strewn all over the outdoor garden, Chihuly's breathtaking works dazzle and shine as they catch the sunlight from different angles. His sculptures draw inspiration from the natural beauty of the PNW and its native heritage. I guarantee you'll love this sensory experience which is so unique to Seattle.
10. OLYMPIC SCULPTURE PARK
Address: 2901 Western Ave
This offshoot of the Seattle Art Museum is a waterfront park right near the Chihuly museum and Space Needle. A permanent home to over 20 funky sculptures, all free and open to the public 24/7, this park is one of the best Seattle photo spots with the sculptures gracing your background.
11. WEST POINT LIGHTHOUSE (DISCOVERY PARK)
Address: 3801 Discovery Park Blvd
Located on the westernmost edge of Seattle in Discovery park (the largest city park in Seattle) is this lesser known Lighthouse offering fantastic views of Puget Sound. Although the park itself is open from 6AM-11PM daily, you will need a parking permit to park near the lighthouse and beach that you can get only from the Visitor Center (open Tues-Saturday 8:30AM-5PM). During summer, shuttles also operate to the lighthouse and back.
It is best to stop by the Visitor Center first before you try to drive to the Lighthouse since parking is so very limited. During our visit, we arrived too late (the Visitor Center was closed by then) and so we had to turn back since we could not park. If you are lucky enough to visit the Lighthouse, do drop in a comment on my post!
Photo by Paul Matheson on Unsplash
SEATTLE PHOTOGRAPHY SPOTS: WHERE TO FIND THE BEST VIEWS IN SEATTLE
Some of the most memorable Seattle photography spots are also those from where you can get a bird's eye view of downtown Seattle, the waterfront and the Puget Sound. Here are some of the places for finding the best views in Seattle which are also extremely Instagrammable:
12. KERRY PARK
Address: 211 W Highland Dr
This tiny little park in the quiet Queen Anne neighborhood is undoubtedly one of the best photo spots in Seattle and also offers one of the best viewpoints in Seattle that costs zero dollars! With a panoramic view of Space Needle and the city skyline along with Puget Sound, this park is a must visit if you're looking for a panoramic view of the city minus the $$ to spend in climbing the Space Needle or other observation decks.
13. GASWORKS PARK
Address: 2101 N Northlake Way
This 19 acre public park cradles the north shore of Lake Union and is on the site of the former Seattle Gas Light Company gasification plant, remnants of which are strewn all over the park. The views of the placid waters of Lake Union and the city skyline are simply fantastic from this park, making it one of the best Seattle photography spots which again is 100% free for public use. A word of caution: watch out for the geese and their plentiful droppings:-)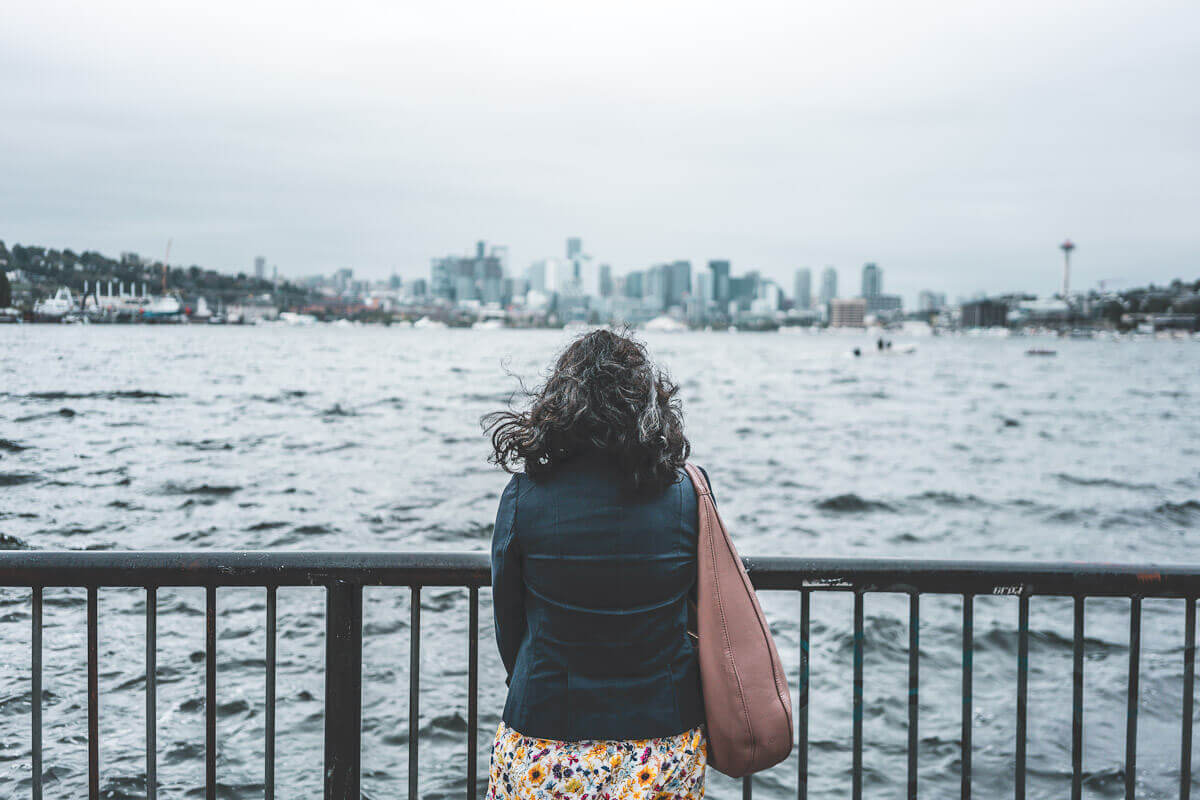 14. COLUMBIA CENTER
Address: 700 4th Ave
Columbia Center wears the proud badge of being the tallest building in Seattle and offers spectacular views of the city from its Sky View Observatory Deck where you can enjoy the views, minus the Space Needle crowds with a drink in hand from the bar (all observation decks in Seattle have bars by the way).
To thwart any kind of photobombing of your Seattle photos by pesky people, head to this observation deck which is cheaper than the Space Needle and actually provides the Space Needle in its panoramic view! The only drawback is that it is not open as late as the Space Needle and there is nothing like a "deck" that you step out into. You get to the 73rd floor which is surrounded by massive glass windows from where you can enjoy the 360 degree views.
15. SMITH TOWER
Address: 506 2nd Ave
Although a tad pricier than Columbia Center, Smith Tower (built in 1914) not only has the dreamiest views of the city but also the most unique and romantic of skydecks and a very charming bar. The observatory deck is not completely open for unobstructed views, rather it is bell or dome shaped with curved railings all around but you can still get a really good view of the city.
In addition, once you purchase your tickets you can also explore the exhibits on the first and second floors (including old-timey booths) before the elevator takes you to the observatory deck. The speakeasy style bar is very charming where you can have drinks and small bites.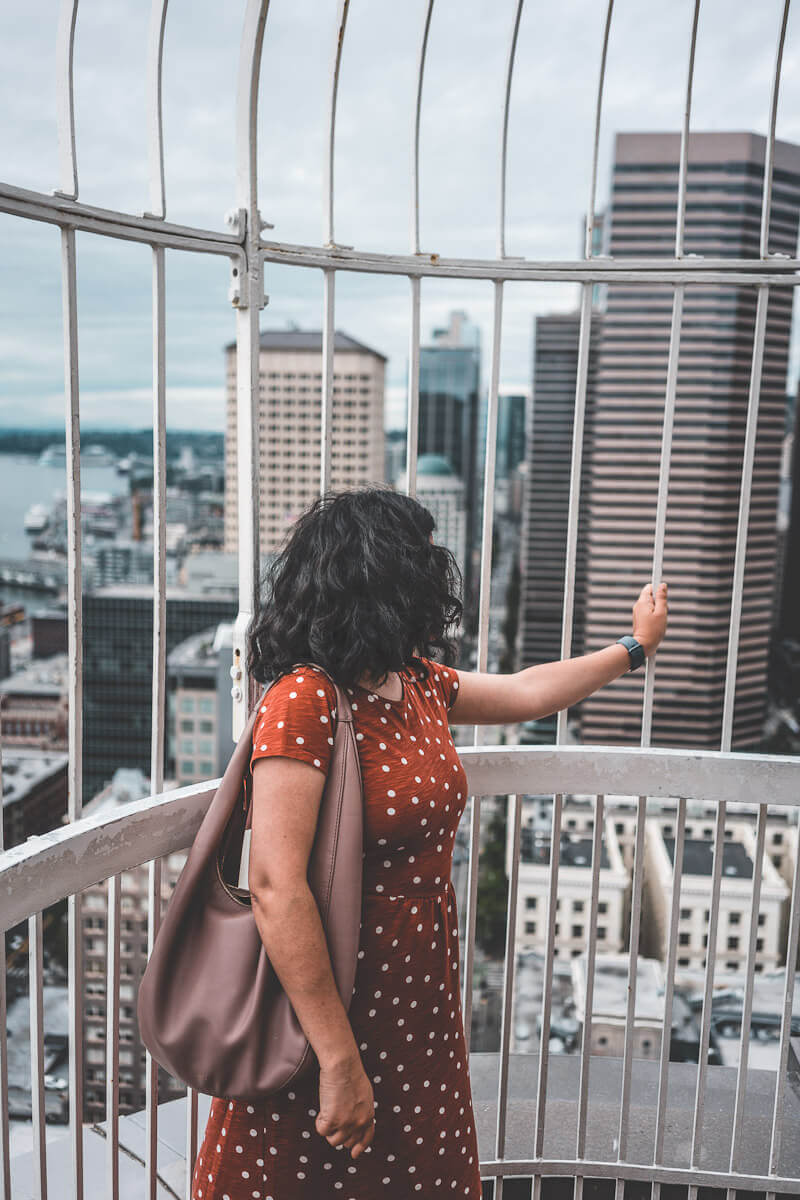 THE MOST INSTAGRAMMABLE MURALS AND PUBLIC ART IN SEATTLE
Much like the gigantic murals in Sacramento and Austin, Seattle is also home to many fantastic murals as well as quirky public art. The neighborhoods of Ballard (home to some of the best restaurants in Seattle), Fremont (artsy and quirky) and Capitol Hill (popular for dining and shopping) are filled with tons of amazing Seattle photography spots and Instagrammable walls with colorful street art. Here are my favorites:
16. SHIP IN A BOTTLE MURAL (BALLARD)
Address: 5105 Leary Ave NW
This mural created by Jen Vickers (mechanical engineer turned graphic designer) was commissioned by the Ballard Alliance in partnership with Mox Boarding House as a part of the Ballard Alliance Public Art program to beautify the neighborhood.
This colorful mural represents a happy union between Ballard's maritime industrial roots and the lively food and drink culture of the neighborhood which is a hot spot for dining in the city (and home to the James Beard finalist The Walrus and The Carpenter restaurant). Don't miss the cute elephant on the bottom panel!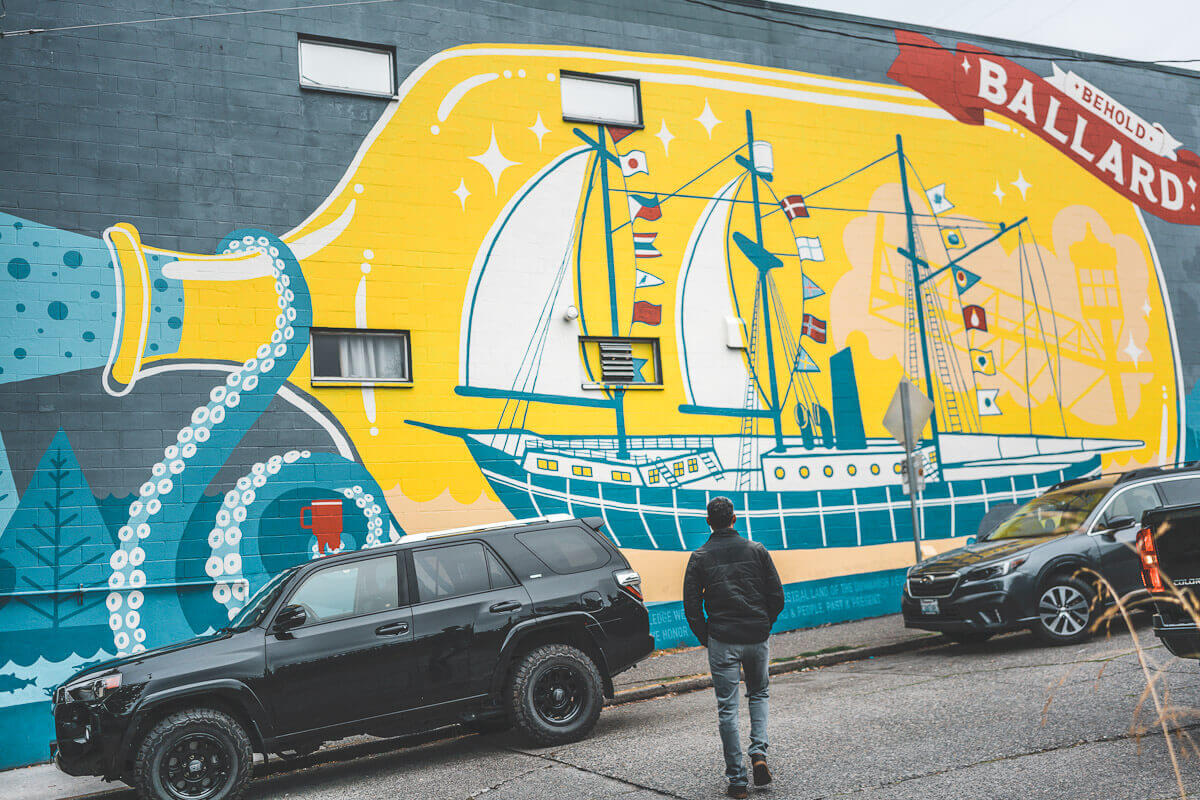 17. WASHINGTON FISH MURAL (BALLARD)
Address: Intersection of Market Street NW and 20th Ave NW
This striking mural by Seattle based artist Victor Melendez is ode to his adopted home with Mount Rainier, Space Needle and the rainbow trout (state fish of Washington). This is definitely one of the most Instagrammable murals in Seattle!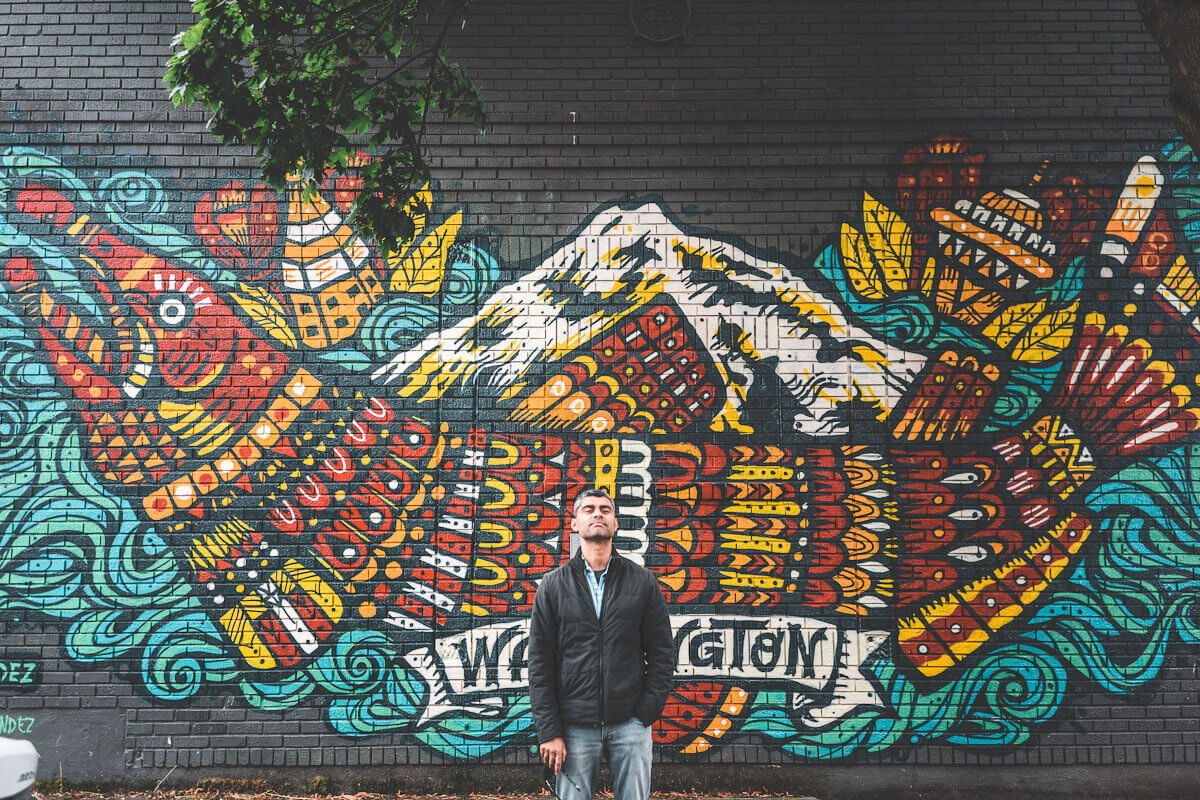 18. EVO MURAL (FREMONT)
Address: 3500 Stone Way
The super artsy and quirky neighborhood of Fremont is also mildly notorious for being home to the only statue of the Soviet Leader Vladimir Lenin in USA (yes, you read it right). You can easily find it via Google Maps since I am keeping this off this lighthearted fun, frothy list of Seattle's most Instagrammable places but the one thing that I will include here is the gigantic mural by artists Skye Walker and Chris Benchetler gracing the wall of the EVO store.
This huge, hard to miss mural features "Old Man Winter" and "Mother Nature" and is an ode to Washington State's natural beauty and changing seasons. Definitely stop by to have a look if you're in Fremont.
19. FREMONT ROCKET
Address: 3420 Evanston Ave N
This 53 foot neighborhood landmark was constructed from military surplus, utilizing the tail boom of a Fairchild C-119 'Flying Boxcar' transport aircraft with rocket-like fins as add ons. Initially plagued with engineering difficulties of failing to keep it upright, the first prototype got an extensive makeover in 1993. This quirky structure now stands proudly atop a building on the corner of 36th Street N and Evanston Ave N, representing the Fremont neighborhood motto, "De Libertas Quirkas"–that translates to "Freedom to be Peculiar."
20. FREMONT TROLL
Address: 3420 Evanston Ave N
This not so lovable troll smashing a Volkswagen Beetle is tucked right under the Aurora bridge and is one of the many instances of using public art to engage people more with urban areas, such as less desirable corners like a bridge underpass and making it seem more magical and inviting.
Constructed by Steve Badanes and his team, this troll was the result of an arts competition organized by the Fremont Art Council in 1989 to rehabilitate this area once run amuck by drug dealers. Today, the troll attracts curious tourists and is one of the most fun Seattle photography spots.
Bonus tip: You can walk on the path that leads up from the right of the troll to a garden where you'll find a moss turtle. There is a watering can next to the turtle and a canister of water to hydrate the turtle's mossy shell and make a wish.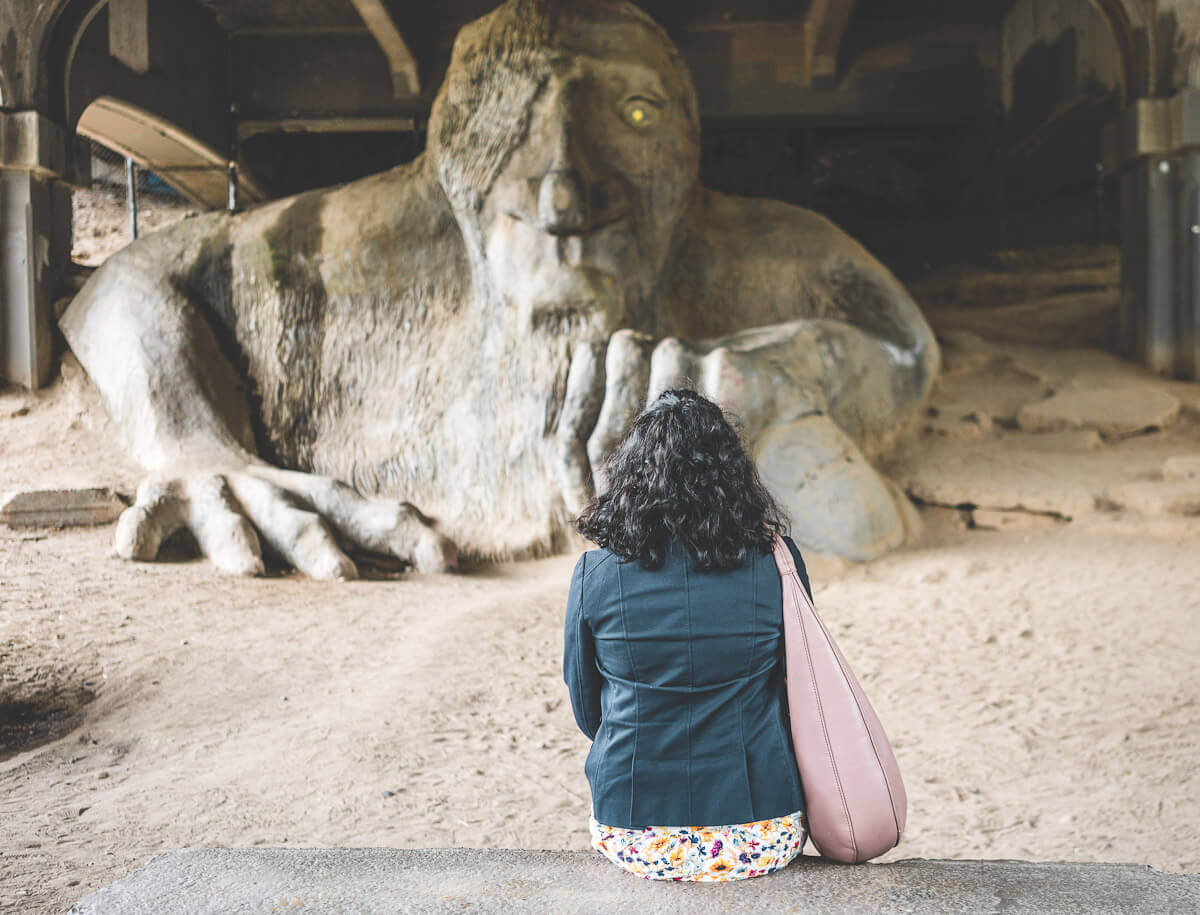 WHERE TO FIND THE BEST PHOTO SPOTS IN SEATTLE: CAPITOL HILL
Some of the best shopping and dining in Seattle can be found in the bustling neighborhood of Capitol Hill, which is home to unique boutique stores and lots of amazing restaurants as well as tons of colorful street art. Here are my favorites:
21. FIN DAC MURAL
Address: 1312 East Pike Street
This giant mural by Irish painter Fin Dac is not only extremely visually arresting, but is also unique in the sense that it actually has glowing beads placed on it for an added 3D effect.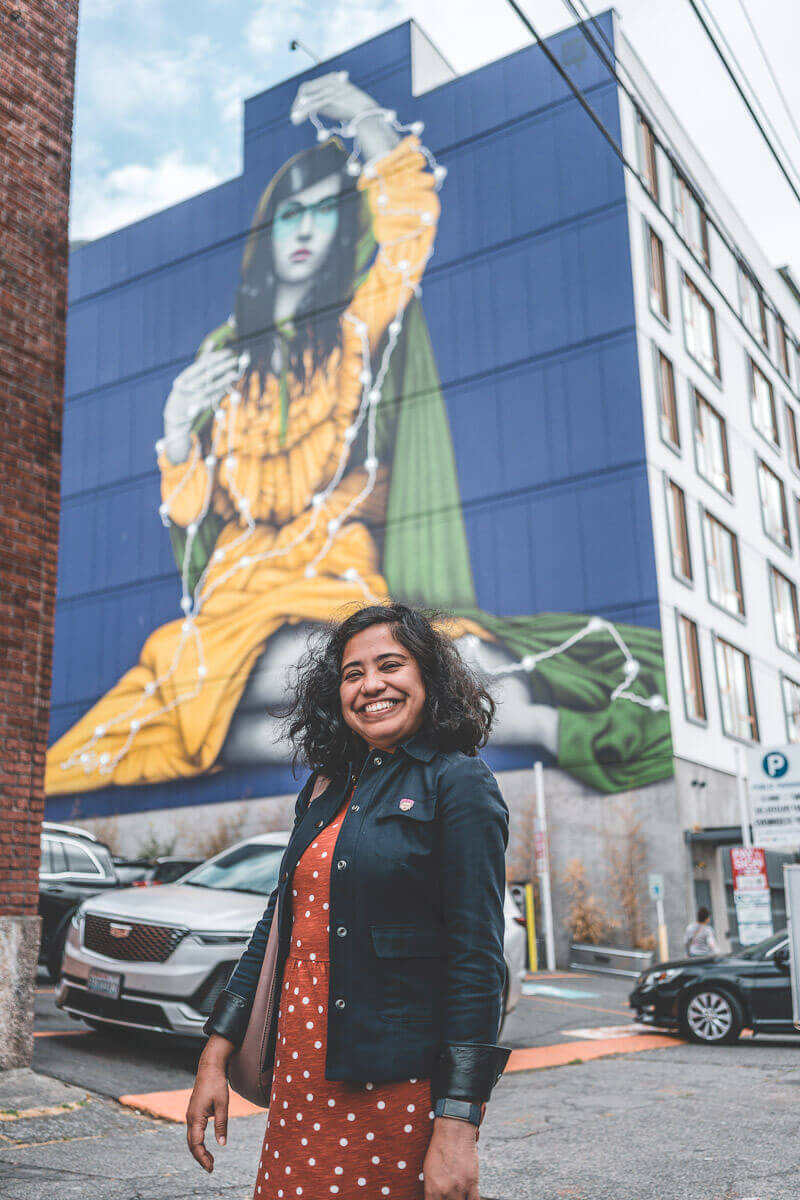 22. RAINBOW CROSSWALK
Seattle is an extremely LGBTQ+ friendly city. There are rainbow crosswalks celebrating LGBTQ+ pride all along E Pine Street running through Capitol Hill. Step on one and click a photo for a memorable moment in this city of love, peace and tolerance.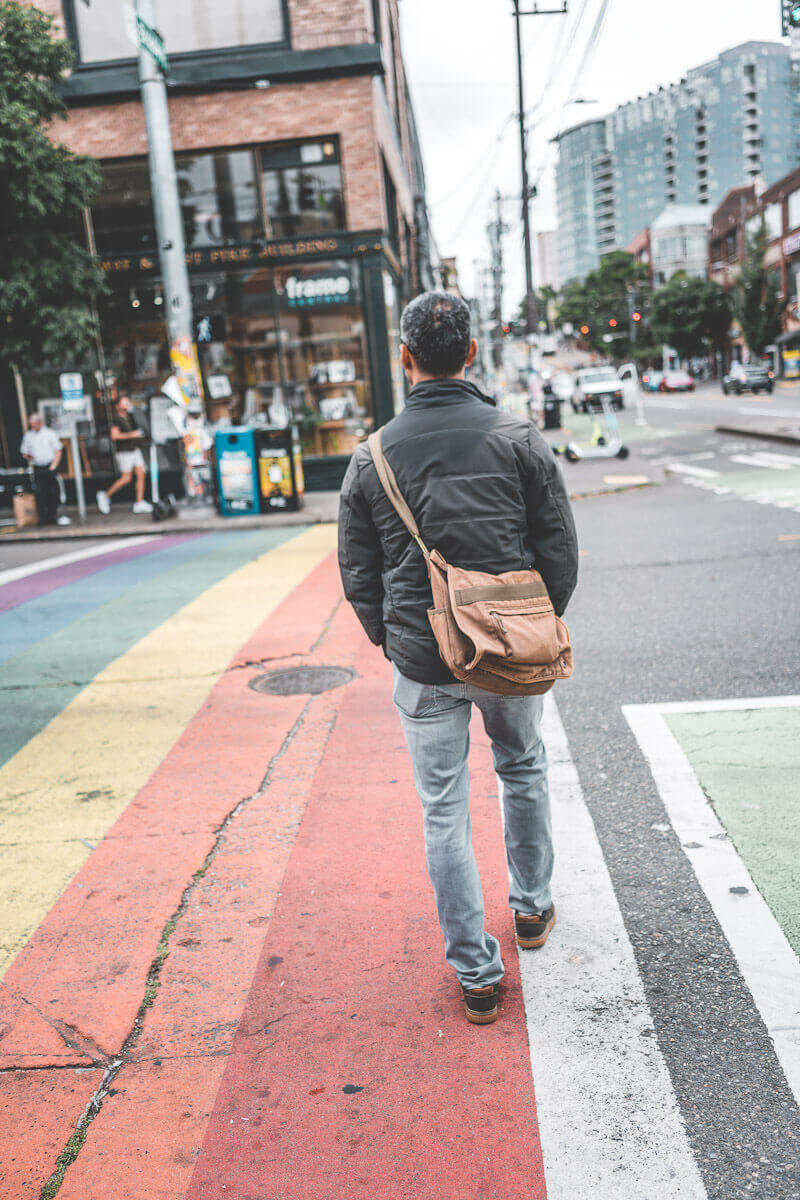 23. JIMI HENDRIX STATUE
Address: 1604 Broadway
One of the most famous and influential musicians and electrical guitarists of the 20th century, James Marshall "Jimi" Hendrix spent the first 18 years of his life in Seattle. This statue on Broadway is an homage to this superstar. You can read more about his early life in Seattle and the places he frequented in this article.
24. I'M A MESS INSTALLATION
Address: 1400 E Prospect St, Seattle Asian Art Museum (inside Volunteer Park)
This tongue-in-cheek neon sign inside the Seattle Asian Art Museum was perhaps my favorite Instagrammable spot in Seattle, and not just because it looks a tad out of place in this very well curated museum filled with Asian artifacts and art. We are all flawed and what better way to acknowledge and celebrate the hot mess that modern 21st century life is than make a glowing sign out of it? This photo is pretty messed up to, which I feel just adds to the mood.
25. VOLUNTEER PARK CONSERVATORY
Address: 1400 E Galer St
This beautiful Victorian Style Conservatory (we have one too in the Golden Gate Park in San Francisco) costs only $4 for entrance fee and is home to hundreds of species of plants from different ecosystems. From cacti to orchids and bromeliads, there is plenty of color and green for your eyes to rest upon and enjoy. All these lush plants make it one of the best Seattle photography spots and it is a short walking distance from the Seattle Asian Art Museum.
That brings me to the end of this guide to finding the most beautiful Seattle photography spots and Instagrammable places in Seattle. I hope you enjoyed reading this post on finding the best Seattle photo spots to jazz up your social media feed. Thanks a lot for stopping by and safe travels!

LIKE THIS POST? PIN IT FOR LATER

«