Last Updated on September 10, 2022 by Paroma
Wondering what to do in Seattle in one day? Although 1 day in Seattle is not a whole lot of time, this super practical guide (with lots of options and helpful tips) is here to help you plan that perfect one day Seattle itinerary to maximize your short stay in this beautiful Pacific Northwest city. Continue reading to find out what to see in Seattle in one day-the can't miss attractions, tasty dining spots and the pitfalls to avoid for a fuss-free 24 hours in Seattle!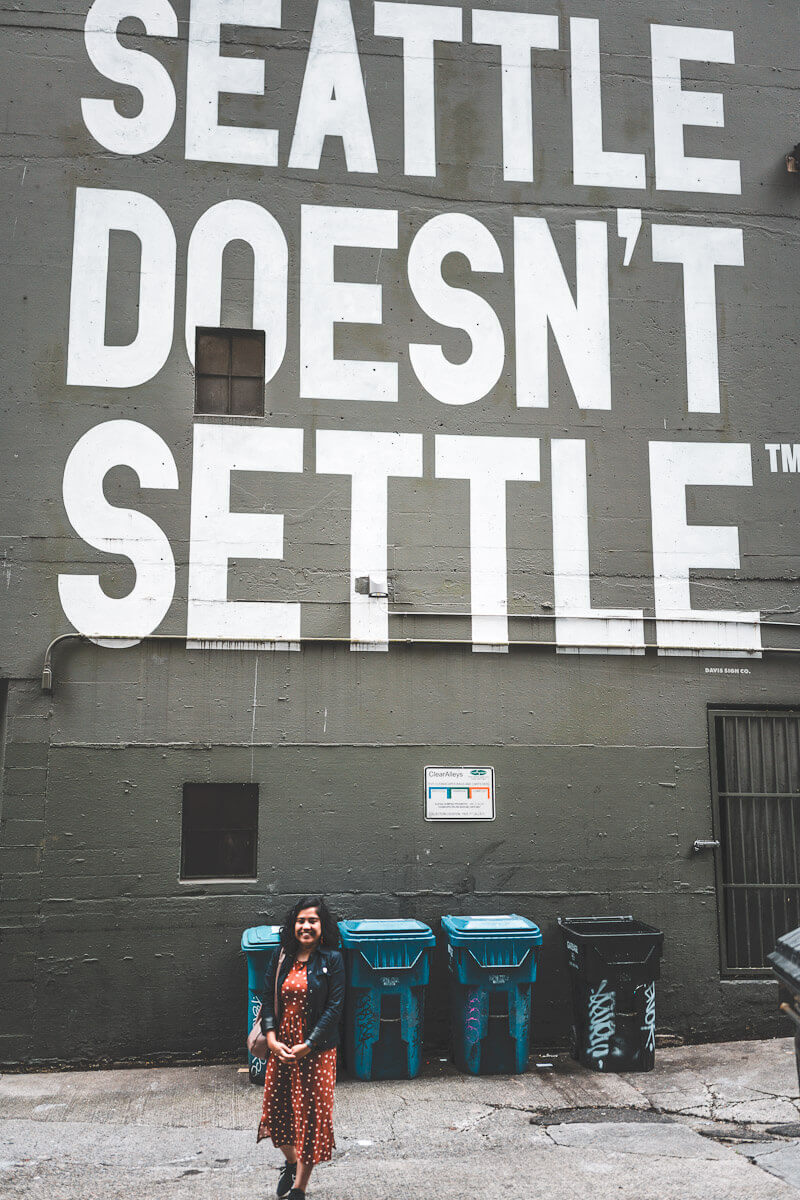 Disclaimer: This post may contain some affiliate links. Clicking on them may earn me a small commission at no extra cost to you for the product. Thank you for supporting free content on this site!
Seattle, the land of the Duwamish people, is flanked by the calm waters of Puget Sound and Elliot Bay on the west and Lake Washington in the east. Also known as the gateway to Alaska (since a ton of cruise ships depart to the northern shores from here), this city is the most popular metropolitan destination in the Pacific Northwest on the US side.
A city borne from the Klondike Gold Rush, Seattle is known for its grey skies and rainy weather, its laid back attitude and outdoorsy way of life (let's not forget the over abundance of flannel), the massive coffee culture that fuels the city, the mouthwatering oysters and of course, mega retail giants such as Amazon, Nordstrom and Starbucks which were all founded here.
This city also gained its place in popular culture by serving as the backdrop for sitcoms such as Frasier (only one episode was truly shot in Seattle), Grey's Anatomy and beloved movies such as Practical Magic, 10 Things I Hate About You and the evergreen Sleepless in Seattle starring Meg Ryan and Tom Hanks.
With a ton of things to do and see (museums, galleries, viewpoints, restaurants, lakes), spending one day in Seattle can be a bit challenging. Having visited this city three times, I fully well recognize that you cannot cram everything in one single day. Seattle is about twice the area of San Francisco and so traveling from one part of the city to another definitely takes up some time, even with a car.
This practical guide on what to see in Seattle in 1 day focuses on the top popular attractions as well as some lesser known gems, money saving tips and lots of options depending on what your travel style is. Plus, there are lots of tried and tested recommendations on where to go breakfast, lunch and dinner depending on the neighborhood of your visit. In short, this 24 hours Seattle itinerary is the most practical, foolproof way to see this beautiful city in a short time.
In my version of what to see in Seattle in one day, I will be assuming that you're going to stay somewhere close to or in downtown and lay out my suggestions based on this location. I will also be providing plenty of options to explore other neighborhoods of the city so that you can adjust your sightseeing based on your location and preferences. The goal of this post is to maximize your short stay in Seattle so that you can cover the most popular attractions most effectively.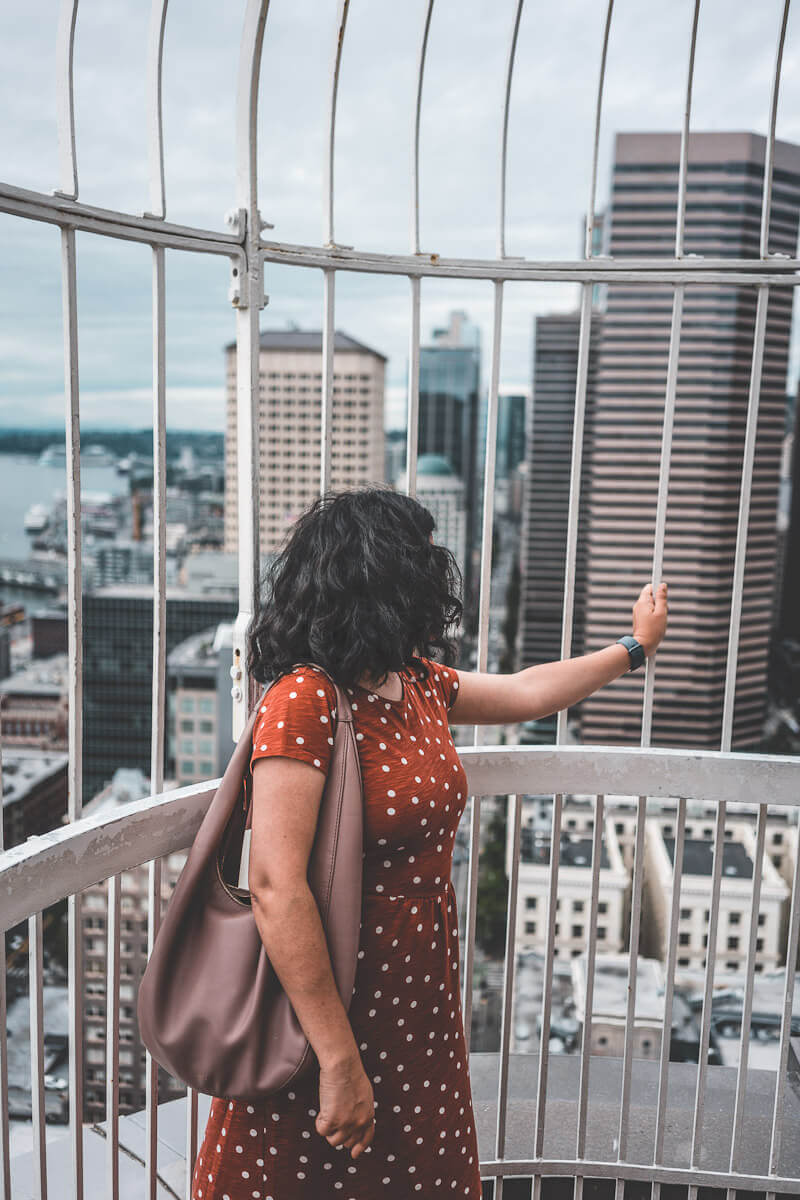 HOW TO PLAN SPENDING ONE DAY IN SEATTLE: GET THE FAQS
WHEN IS THE BEST TIME TO VISIT SEATTLE?
I recommend May-June and end of August-September. Summer (June-Aug) is great time to be here, but is also the time for cruises sailing to Alaska and so the city does get really crowded, especially the downtown and waterfront areas. October-March is rainy season, so if getting wet and grey skies don't hold a lot of appeal to you, skip Fall and Spring.
IS 1 DAY IN SEATTLE ENOUGH?
No, 1 day does not quite cut it. There is a lot to see and do in Seattle on its own and that does not even include ferry rides to Bainbridge island or day trips to San Juan Islands. However, this guide will help you make the most of your short time when in town by strategically focusing on Seattle's top attractions in downtown and some other fun neighborhoods.
DO YOU NEED A CAR IN SEATTLE?
Having a car will definitely help you save time and you can rent one from the Seattle Airport itself. However, you do not need to drive in Seattle because of the city's excellent public transit system which includes street cars, light rail, buses and even a monorail! Get details here on the city's public transportation, including how to buy tickets.
The other thing to keep in mind if renting a car is that you may have to pay a toll on certain routes when driving from one part of Seattle to another (for example, one of the routes from downtown Seattle to Alki Beach in West Seattle along Highway 99S has tolls). If you're renting a car, please talk to your rental company on how to activate the toll feature (let them know that you'll be driving on roads with tolls) or else you might end up paying extra to the rental on top of the toll incurred.
WHERE TO STAY IN SEATTLE
Although pricey and certainly touristy, I recommend staying at or near downtown Seattle, which is also closer to the SEA-TAC airport. With only one day in hand, staying in downtown means you can spend an entire day seeing most of the attractions here such as Pike Place Market and exploring the famous Seattle waterfront.
Since downtown is also very well connected with other neighborhoods, you could take the bus and visit the popular neighborhoods such as Queen Anne and Capitol Hill. Please keep in mind that many downtown hotels do not have free parking (valet parking is $$$) but like us, you can find street parking, which is paid from 8AM-8PM for $1 or $1.50 per hour (pretty cheap compared to San Francisco). Download the Pay by Phone App to pay on your phone.
During our visit, we stayed at the Kimpton Vintage Hotel on 5th Avenue. The location is excellent but they have a crazy expensive valet parking, which we absolutely did not opt for and got street parking fairly close by. Kimpton also has an onsite Italian restaurant named Tulio but we never dined there since there are so many amazing dining options in downtown and other neighborhoods.
Other popular hotels (downtown/Lake Union): Ace Hotel Seattle, EVEN Hotel, Green Tortoise Hostel (budget), Grand Hyatt Seattle
IS THE SEATTLE CITY PASS WORTH BUYING FOR 1 DAY?
I certainly think so. For $115 (adults) and $87 (kids) you get access to the Space Needle and Seattle Aquarium as well as three other attractions of your choice, including the Chihuly Museum and Argosy Cruises. Since you can cover all four of these attractions in one day (it can get a bit hectic and can be done) you will be saving at least $10-15 overall with this pass only if you manage to cover at least 4/5 attractions. Pass can be purchased here.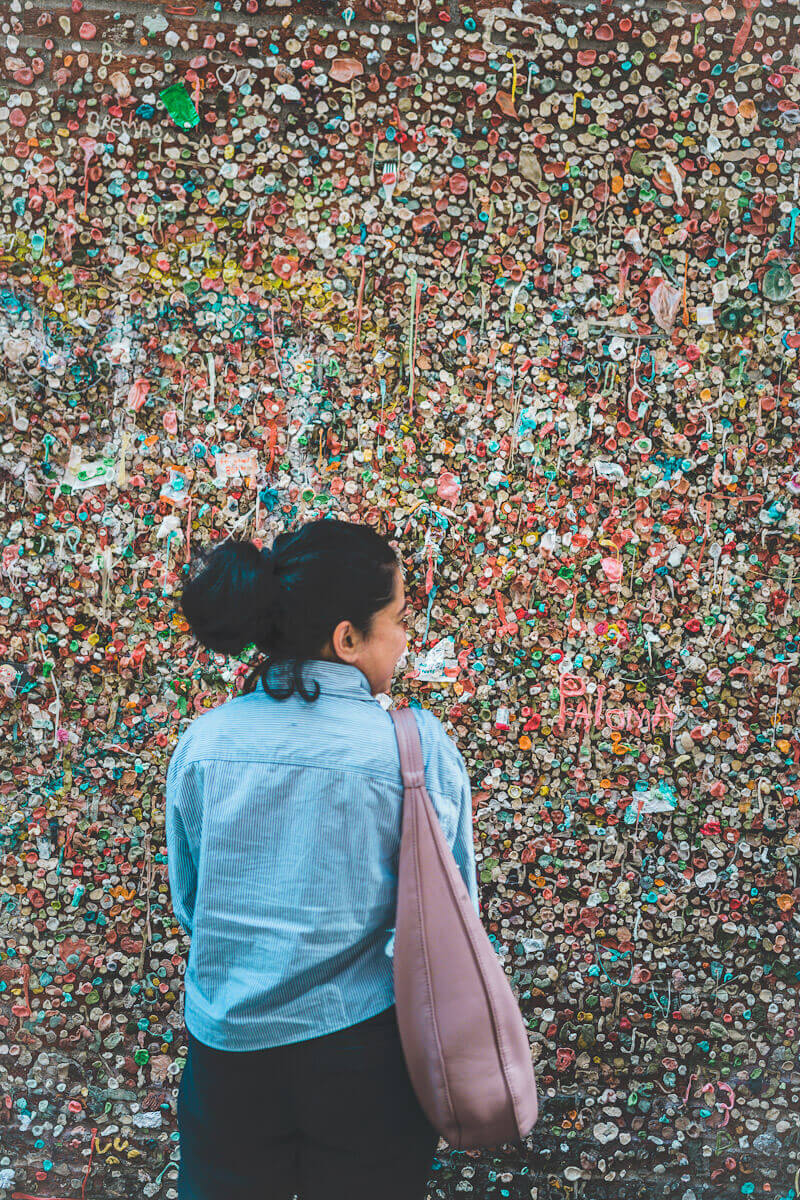 HOW TO SEE SEATTLE IN ONE DAY: THINGS TO DO IN THE MORNING (6AM-12 NOON)
I recommend spending your morning in downtown Seattle (irrespective of whether or not you're staying there) and having an early start to the day to avoid the crowds. Here are my suggestions for morning activities in downtown Seattle and the waterfront; take your pick of 2-3 attractions based on your schedule and preference:
A) EXPERIENCE A SUNRISE AT KERRY PARK
Open: 6AM-10PM daily
Address: 211 W Highland Dr
There are many viewing points in Seattle, but the closest fuss free one is a small park in the quiet Queen Anne neighborhood known as Kerry Park. From here, you get a fantastic view of the city skyline, the Puget Sound and of course the famous Space Needle.
This completely free of cost view is best enjoyed either at sunrise or sundown and I recommend starting your one day in Seattle bright and early for the former. The park is 2.6 miles north of downtown Seattle and also accessible by bus routes 1 and 13.
Opens: 7AM for breakfast
Address: 85 Pike Street
This public market that opened its doors in 1907 is the star attraction of Seattle downtown and should be the next place that you make a beeline for after your sunrise adventure. Home to a staggering 500 small businesses (food stalls, cafes, coffeeshops, restaurants, gift shops and more), Pike Place Market is the center of all gastronomic delights and attracts thousands of tourists per day (all the more reason to go there early).
To avoid the crowds swelling in by the hour, I recommend stopping by Pike Place Market for breakfast and then exploring it for at least an hour to check out the food stalls, the colorful and instagram worthy Gum Wall (super gross as well so don't touch the wall), and other stores lining Post Alley.
For breakfast, head straight to the Crumpet Store for sweet or savory crumpets or get some freshly baked, hot off the oven biscuits and grits at Biscuit Bitch to go. Although Crumpet Store offers coffee and tea options, I recommend walking up two storeys to Storyville, which is one of the best coffee shops in Seattle, for your morning caffeine fix.
My other recommendations for Pike Place Market: Rachel's Ginger Beer, Jack's Fish spot (get that PNW fish and chips, Mate!), Piroshky Piroshky, Indi Chocolate (for small batch chocolates made in Seattle, drinking chocolate, chai smores and a deck with amazing views of Seattle waterfront)

C) EXPLORE THE SEATTLE AQUARIUM ON THE HISTORIC WATERFRONT (OPTION 1)
Open: 9:30AM-6PM daily
Address: 1483 Alaskan Way, Pier 59
Pike Place Market overlooks the Seattle waterfront which is home to the famous Seattle Aquarium, Seattle Ferris Wheel and piers from which cruise ships depart. Be mindful that a massive construction is currently underway on Alaskan Way, the main street that runs along the waterfront and the construction is tentatively due to be completed in 2024. What this means is that your views from any of the piers (such as pier 66) will be marred by the ongoing construction.
Although you can still walk along the waterfront and take in some of the views, I recommend checking out the Seattle Aquarium especially if you're visiting with kids. Of all the attractions in downtown Seattle, the Aquarium opens relatively early at 9:30 AM. Advanced ticket purchase is highly recommended and you can get three hours of free parking in the Pike Place Market garage with your aquarium visit!
The Aquarium is the 9th largest in the country and is noted for its conservation efforts directed towards marine life in Puget Sound and the Pacific Ocean as well as its many education programs. This massive aquarium is home to six diverse exhibits, including Window on Washington Waters, Life on the Edge, Pacific Coral Reef, Birds & Shores, the Underwater Dome (home to a dogfish shark) and Marine Mammals (delightful otters and seals) for your exploration and enjoyment.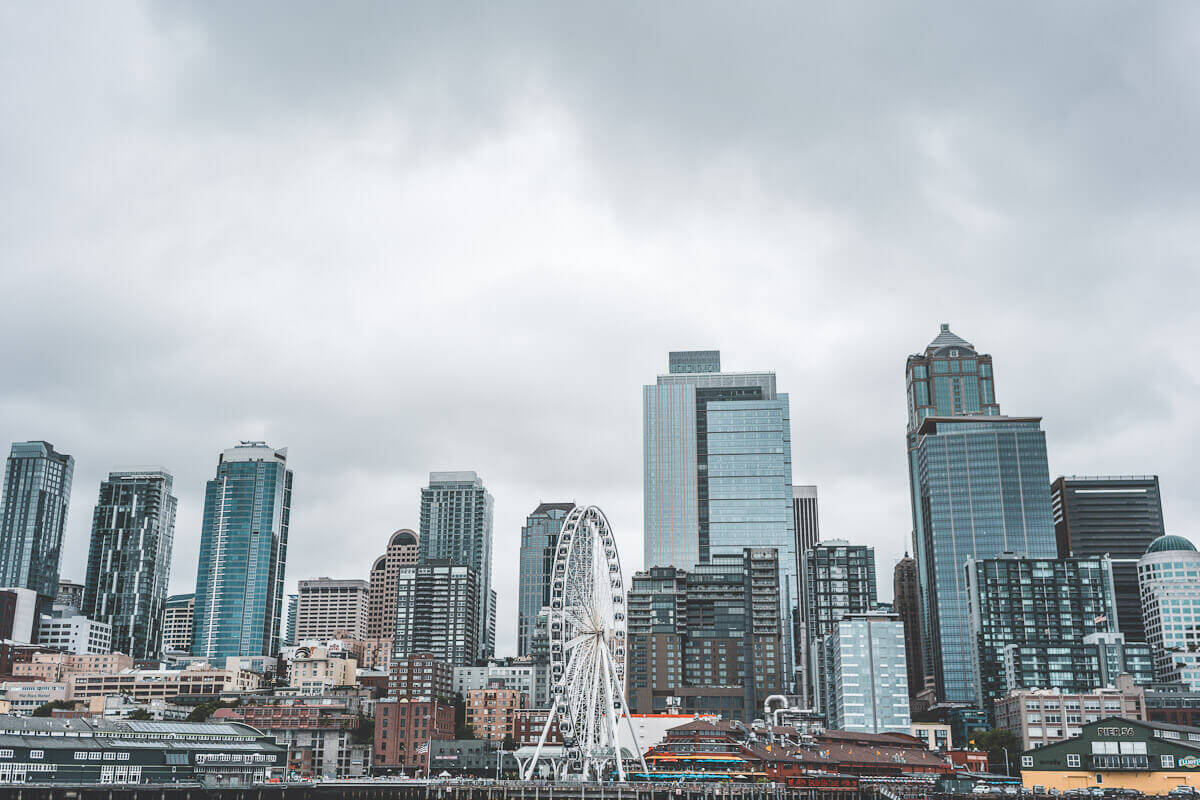 D) TAKE IN THE SIGHTS OF PUGET SOUND VIA A 1 HOUR CRUISE (OPTION 2)
Open: First cruise departs at 10:45 AM
Address: Pier 55
If you're not in the mood to spend a few hours at the Aquarium, then I suggest booking the utmost fun activity of cruising around Puget Sound on a narrated cruise that lasts for only 1 hour but is super entertaining, informative and shows you the best sights and landmarks of Seattle!
Having been aboard the Argosy cruises harbor tour with live narration, I am extremely confident that you'll love this tour as well, which is one of the best ways to get a preview of Seattle and see the gorgeous city skyline from the water. They also have a bar with snacks and drinks in case you're feeling peckish or thirsty.
The Argosy harbor cruise departs from Pier 55 where you set sail on the spacious Salish Explorer which has comfy indoor seating plus an upper deck where you should snag a seat for the best 360 degree open views.
This cruise comes with a live narration and our guide did a great job of pointing out all the different attractions dotting the Seattle shoreline, fun tidbits on their backstories and many Seattle related anecdotes. Walking around and taking photos is highly encouraged since the vessel cruises in the mellowest possible way on the Puget Sound waters.
Open: 10AM -5PM Wednesday-Sunday
Address: 1300 First Avenue
If you're an art lover, then visiting the Seattle Art Museum in downtown Seattle is a must! With an impressive array of modern, contemporary and historic art in all forms (painting, sculpture, print, video) from all over the world, you will be enthralled with the diverse array of exhibits. The entrance to the museum has a massive Instagram worthy overhead exhibit that is awe-inspiring (keeps on changing periodically) and there is also a very nice museum store which you should check out.
I've always stopped by the Seattle Art Museum on each of my visits to the city and simply love the rotating exhibits occupying the two floors. On my recent most visit, I was really mesmerized by the artwork of the Australian Aboriginal people and the creations (artwork and print) of contemporary Pacific Northwest Native American artists proudly showcasing their roots and heritage.
Open to the public: 10AM-5:30PM, 1st and 3rd Saturday of every month
Address: 2111 7th Avenue
If your Seattle visit falls on either the first or third Saturday, do check out these greenhouse marvels created by Amazon, Inc. which is a 12 minute walk from Pike Place Market and one of the best photography spots in Seattle. These giant glass globes simply known as "The Spheres" are home to thousands of plants as part of the company's efforts for its employees to connect with nature and are cared for by the Amazon Horticulture team.
Amazon Spheres are part of the Amazon HQ campus and so the spheres are open to the public on only the 1st and 3rd Saturday of every month. Dogs are not allowed inside the spheres (except service animals) but there is a dedicated dog play area on the campus where the spheres are located which doubles up as a nice outdoor green space with its own restaurant.
WHAT TO SEE IN SEATTLE IN 1 DAY: LUNCH AND AFTERNOON (12-2 PM)
Don't get me wrong, downtown Seattle has a plethora of lunch options (I am particularly partial to the beautiful The London Plane on Pioneer Square), but the real beauty and charm of Seattle lies in its many eclectic neighborhoods where you'll hardly find a pesky tourist crowding your space. Once you're done with exploring downtown Seattle in the morning, I recommend heading to at least different neighborhood for lunch and afternoon exploration.
G) EXPLORE CAPITOL HILL
Most of the fun and popular Seattle restaurants are in the neighborhood of Ballard (north of downtown) and Capitol Hill (east of downtown). Since you won't have a whole lot of time while spending one day in Seattle, my advice would be to head to Capitol Hill which is nearer to downtown than Ballard.
Besides the Instagrammable rainbow crosswalks and dazzling murals, Capitol Hill is also home to lots of yummy lunch spots and stores as well as the grand Starbucks Reserve Roastery where you can taste different flights of coffee and see the huge roasting tanks and equipment. I have to warn you that the roastery is very touristy and gets really crowded during weekends.
When in Capitol Hill, I recommend stopping by the super eclectic restaurant Nue for lunch ( a must) and checking out the stores and outdoor garden in the alley of Chophouse Row. If you love plants and independent apparel labels, then definitely check out the charming Glasswing Shop which has plenty of both. Finally, Rey Amargo Chocolate Shop is a great place to pick up authentic Mexican chocolates made from 100% Mexican cacao as sweet treats and gifts.

Open: 10AM – 4PM everyday except Monday
Address: 1400 E Galer St
Volunteer Park is a beautiful green refuge in Capitol Hill and home to Seattle Asian Art Museum as well as the charming Victorian Style Conservatory. This botanical greenhouse is small but mighty, and for only $4 you can spend some much needed quiet time amongst the leafy greenery thriving within its glass walls. From cacti to orchids and bromeliads, there is plenty of color and green for your eyes to rest upon and enjoy. If you're a plant lover like me, definitely carve some time out of your 1 day Seattle itinerary to visit the conservatory.
PS: Seattle Asian Art Museum is a stone's throw from the conservatory and is one of the few museums in USA showcasing art from different countries in Asia (we have one in San Francisco too). You will not be able to fit in more than 2 museums in one day, so choose to visit either the Seattle Art Museum in downtown or its sister museum, the Seattle Asian Art Museum in Volunteer Park.

ONE DAY IN SEATTLE ITINERARY: AFTERNOON AND EVENING (2-6 PM)
Now that you've figured out what to do for the first half of the day in Seattle (thanks to my post), keep those seat belts tightened since we still have some more of this fun ride left. There are three major attractions left to see and thankfully they are all pretty close to one another so that you can cover them within 3-4 hours. These are as follows:
I) MARVEL AT THE VIEWS FROM THE ICONIC SPACE NEEDLE
Open: See Space Needle hours here
Address: 400 Broad St
Yes, the Space Needle is very touristy and gets extremely crowded, but the views from the wide, expansive glass panels at the observation deck of this iconic 605 feet spire are otherworldly. If this is your first time in Seattle, I recommend checking this activity off your list despite the steep price of the tickets ($35-39/adult).
You can get your tickets easily from one of the kiosks outside the main entrance (I recommend buying the Chihuly Museum and Space Needle bundle tickets to save $9) and then proceed to the exhibit on the ground floor to read about the Space Needle and its construction. From there, an elevator ride will take you all the way up to the observation deck. One floor below is the rotating glass floor deck which also offers great views.
J) ENJOY THE GLASS SCULPTURES AT CHIHULY GARDEN AND GLASS
Open: See Chihuly Museum hours here
Address: 305 Harrison St
Seattle is known for its glass-be it glossy exterior of buildings or glasswork of all kinds, this amorphous solid holds centerstage in Seattle's artistic movement and daily utilitarian life.
Of all the glass artists from the Pacific Northwest, the one name that stands out prominently is Tacoma born artist Dale Chihuly whose massive body of glass blown creations spanning over 5 decades has won him accolades world wide. In 1971, Chihuly co-founded the Pilchuck Glass School in Washington State which has developed into an international glass center over the years and spearheaded the glass blowing movement in USA.
The Chihuly Museum, which is home to many of the artist's grandest creations (and is also his studio) is right across from the Space Needle and is a must visit during your one day trip to Seattle. Besides his glasswork, the museum also hosts flameworking demos for the audience to learn more about the properties of glass and live Q&A sessions.
Right from the massive ornamental glass sculpture adorning the glasshouse rotunda to the otherworldly floral creations strewn all over the outdoor garden, Chihuly's breathtaking works dazzle and shine as they catch the sunlight from different angles. His sculptures draw inspiration from the natural beauty of the PNW and its native heritage. I guarantee you'll love this sensory experience which is so unique to Seattle.
K) CHECK OUT THE SCULPTURES AT OLYMPIC SCULPTURE PARK
Open: 24 hours every day
Address: 2901 Western Ave
An 8 minute (0.3 miles) walk down Broad Street from the Chihuly Garden and Glass museum will bring you to one of the coolest parks in Seattle, i.e. the Olympic Sculpture Park. An offshoot of the Seattle Art Museum, this park is home to about 20 permanent sculptures that you'll find as you walk down the zig-zag path of this 9 acre park along the waterfront. This is a perfect place to go for an evening walk and admire these beautiful works of art before heading out for coffee or pre-dinner drinks.

L) FUEL UP ON COFFEE AND DONUTS
If all the afternoon sightseeing Seattle has left you feeling tired or peckish, I recommend fueling up on coffee and donuts, the two things that Seattle is known for (actually coffee trumps everything here). Seattle is obsessed with coffee, so much so that the city is abuzz with about 1640 coffee shops-from mom and pop cafes to pour over bougie spots to microroasters.
I do not have an affliction for coffee, but we still managed to hit two good spots during our visit-Fulcrum Cafe on 590 Bell Street (they roast their coffee fresh daily) in downtown and Storyville in Pike Place Market. I am however a slight bit obsessed with donuts (or for anything that is sugary) and so can vouch for the popular local chain General Porpoise (their donuts are more like malasadas and are filled with curds, custards, jams, jellies and creams), Raised Donuts and Top Pot Donuts and Coffee.
WHAT TO DO IN SEATTLE AT NIGHT: DINNER AND LATE NIGHT VIEWS
M) BEST DINNER IN SEATTLE
Seattle will spoil you with its crazy good food scene, and there are several places you can hit up for dinner. Being right along the coast has its advantages and Seattle is known for its seafood, especially the meaty and tasty PNW oysters, clams and mollusks. If you're not obsessed with seafood, no problemo-I have you covered as well in my vegetarian Seattle food guide which I penned many years ago based on our second visit. My top dinner picks for Seattle are as follows:
N) LATE NIGHT DRINKS AND VIEWS FROM SKY OBSERVATORY DECK OR SMITH TOWER
Open: Smith Tower: Wed-Sunday 11AM-11PM, Sky View Observatory: Thursday-Sunday: 12-8PM
Address: 506 2nd Ave (Smith Tower), 700 4th Ave (Columbia Center)
You could end your one day in Seattle by retiring to bed after dinner or head straight to the Smith Tower for amazing views from the observatory and relax with a cocktail in hand at the observatory bar. In addition, there are also interactive exhibits on the first and second floors for you to enjoy. Tickets are $19 for adults and can only be purchased at the entrance lobby. The 360 degree views of the city and the Puget Sound from the 35th floor are jaw-dropping!
The other option is to enjoy the views of Seattle at night from the highest point in the city, i.e. the Sky View Observatory deck which is atop the 73 storeyed Columbia Center, the tallest building in the city (937 ft). This observatory deck has a bar as well and ticket price is $25/person.
That brings me to the end of this guide to spending one day in Seattle where I have hopefully highlighted the best of Seattle attractions that can be covered in one day. I hope you found it informative enough to craft your own 1 day Seattle itinerary and will be visiting this beautiful city soon. Thanks a lot for stopping by and safe travels!

LIKE THIS POST? PIN IT FOR LATER

«