Looking for the best west coast dog friendly road trips? As a dog mom who's traveled all over California with her furry munchkins, I am here to give you all the fun details on two of the most epic dog friendly California road trips that is sure to brighten up your travel plans! This Northern California dog-friendly road trips guide has tons on information on the best dog friendly stops, hikes, beaches, restaurants and lodging-basically everything that you're looking for on a road trip with dogs.
Disclaimer: This post may contain some affiliate links. Clicking on them may earn me a small commission at no extra cost to you for the product. This teeny tiny commission will help support my blog hosting and other maintenance costs. Thank you!
DOG FRIENDLY ROAD TRIPS IN NORTHERN CALIFORNIA
If you are a pet parent much like me who swears by "have dog will travel", then one of your bucket list items should include at least one dog friendly road trip in Northern California. In our over 10 years of traveling with Babu (our Tibetan Spaniel mix) all over Northern California (we live in San Francisco), we have been on several dog friendly road trips from San Francisco, of which two remain our favorite to date. These northern California dog friendly road trips are clear winners because of the several attractions and restaurants on the journey that welcome your best friend.
Exploring the California coastal Redwoods in the north and the famous 17 mile loop in the south (between Carmel and Monterey) are two of the best west coast road trips with your dog that you can experience, especially in winter. So without further ado, here are the details on all the dog friendly attractions, stops and things to do on these two dog friendly road trips in Northern California along the Pacific Coast.
P.S. I have tried my best to provide up to date information on dog friendly accommodations based on my stay, but pet policies change often. So please call and confirm prior to making any bookings.
WEST COAST ROAD TRIPS WITH DOGS: KNOW BEFORE YOU GO
1) Road trips with dogs should be all about their comfort! Road trips with dogs are not always easy, and you can read this post on traveling with pets for tips and advice on how to have a successful road trip with your furry friend! As for us, make sure there is enough room in our back for Babu to rest comfortably on his portable car bed with his food and water close by.
Make sure that your dog is OK with car rides and try not to have super long trips (ours are max 3-4 hours). For longer trips, do break them down into shorter 2-3 hr drives and look out for dog friendly parks/hikes/towns and restaurants on the way to stretch your legs or get a bite to eat.
For the two road trips that I have mentioned here, I highly recommend using Mendocino (read all the things to do in Mendocino in this post ) or Guerneville/Gualala (depending on where you start from) in the north and Carmel-by-the-sea in the south as anchor points. Both these cities are are super dog friendly and have many hotels and restaurants that welcome dogs, such as these dog friendly hotels in Carmel.
2) Northern California summers are foggy along the coast and belies the "it's always sunny in California" notion. It does get chilly and windy along the coast, so please dress accordingly and maybe even get a jacket for your furry friend as well!
3) Not all beaches, trails, restaurants and attractions in California are dog friendly. You can save yourself the hassle and headache of finding establishments that accept dogs by reading my dog friendly travels in California right here!
RESOURCES FOR PLANNING A HASSLE-FREE ROAD TRIP WITH DOGS
If you've never traveled in a car or if this is your first every road trip with your dog, you must understandably be a little anxious. So to get you started, here some super useful resources to help you plan your dog friendly road trip:
THE BEST NORTHERN CALIFORNIA ROAD TRIP WITH DOGS: GOING DOWN HIGHWAY 1 FROM MENDOCINO TO SAN FRANCISCO
Starting off from the north, the coastal highway (Highway 1) stretching from Mendocino county to Sonoma county not only offers spectacular views of the California coast but is also home to the famous coastal redwoods. Although extremely winding, this route has several dog friendly stops along the way, including small towns that you must explore and so please have at least half a day in hand for your road trip.
MENDOCINO
We've visited Mendocino and nearby Fort Bragg (extremely dog friendly town with lots of dog friendly hotels, restaurants and attractions) several times in the past and this is one dog friendly road trip along the Pacific coast that remains our favorite. Read my dog friendly Mendocino guide to find out all our favorite dog friendly activities to do there.
POINT ARENA LIGHTHOUSE
The first stop as you drive south from Mendocino will be the 152 year old Point Arena Lighthouse which is perched precariously on a piece of land jutting out into the ocean that doubles up as a fog breaker for the coast down south. The lighthouse requires an entry fee of $5 and dogs are allowed in the museum and gift store along with the Lighthouse grounds, which is also an excellent whale watching destination in California.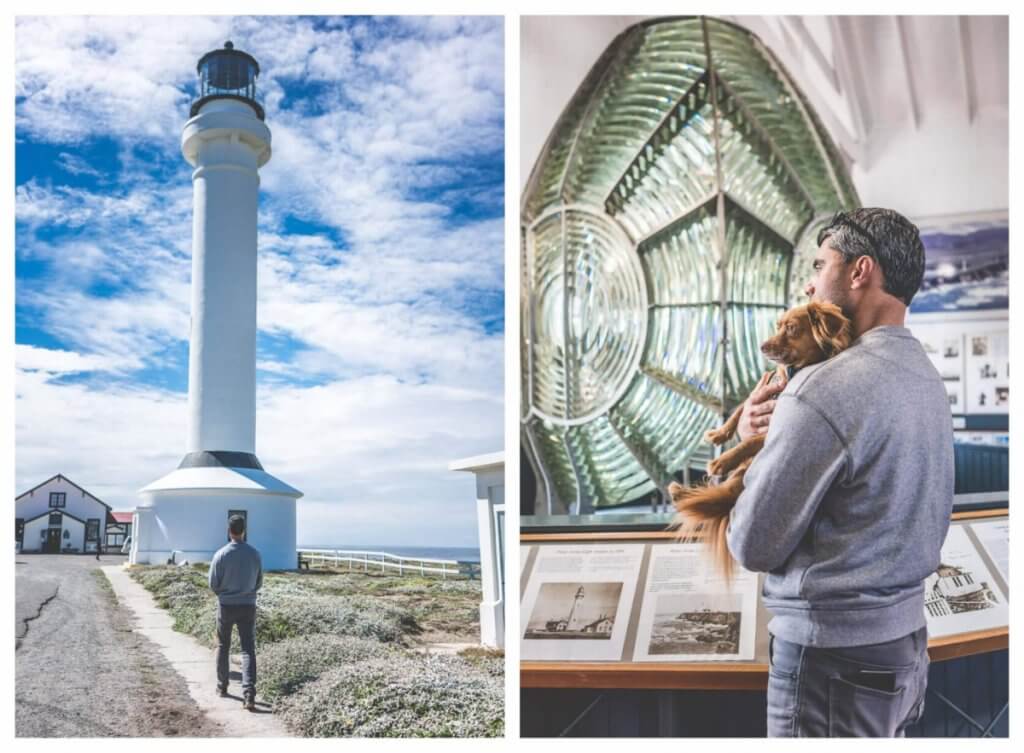 GUALALA
Next, comes the quaint little town of Anchor Bay into Gualala, the last point of Mendocino county along the redwood coast, which then gives way to Sonoma county. Gualala is famous for its inns, has lots of dog friendly rentals and viewing points offering whale-watching from Dec-March and is another dog friendly town.
We explored the dog friendly Gualala bluff trail, part of the redwood coast conservancy effort, with the trailhead starting from the Surf motel (you cannot park there and parking has to be done on the street). The trail is a short one and provides amazing estuary and ocean views for a half-mile stretch, parallel to the bluff edge as it runs west of the city's commercial district.
If you want to have even more fun with your pooch, a short drive further down will yield Gualala point regional park and beach, and you can read details of our dog friendly hike in this post.
SEA RANCH CHAPEL
Stop by this non-denominational chapel in Sea ranch, right off Highway 1. This chapel, a generous gift from Sea Ranch residents Robert and Betty Buffum, was completed in 1985 by artist and architectural designer James Hubbell. The chapel and its surroundings are open 365 days a year to the public.
TIMBER COVE
Timber Cove is the next tiny pint sized town on the Sonoma coast that you'll hit on this dog friendly west coast road trip. I highly recommend stopping by the dog friendly Timber Cove Resort for lunch (Coast restaurant) and to walk down the steps for a walk on their grounds overlooking the ocean with spectacular views of the coast.
FORT ROSS STATE PARK
Fort Ross State Park should be your next stop as you drive down Highway 1 into Jenner, where the Russian River empties itself into the Pacific Ocean. Beside the Jenner Belvedere (where you can admire snoozing Pacific Harbor seals from afar) and Gleason overlook, the main attraction here is the unique Fort Ross State Park which used to be a Russian-American Settlement in the 1800s.
This is that rare dog friendly park where dogs are allowed inside the original buildings inside the fortified walls. Pay day use fee at the parking lot and walk down the paved path to the walled compound hosting several original buildings such as the church and Rotchev house. There are also beaches and spectacular coastal trails to explore in Fort Ross.
JENNER
There are a lot of dog friendly beaches and overlooks along Highway 1/Shoreline Highway in Jenner all the way to Bodega Bay which are part of Sonoma Coast State Park. Of these, dog friendly beaches (from north to south) are Russian Gulch State beach, Blind beach (south of Goat Rock beach where seals snooze), Shell Beach, Furlong Gulch, Wright's beach, Duncan's landing overlook, Duncan's Cove, Portuguese Beach, Schoolhouse beach, Carmet beach and Marshalls Gulch.
Keep in mind that many of these beaches are accessible only via steep steps from the pullout point/parking lots next to Highway 1. Dogs should always be on leash. Remember to dress warmly since these beaches are windy and cold, much like all Northern California beaches.
CAFE AQUATICA
Looking for a dog friendly place to grab a bite while enjoying terrific views of the Russian River meeting the Pacific Ocean? Then head straight to the grassy outdoor area of Cafe Aquatica with your food order or coffee and watch the kayakers sail away or the sun go down on the coast. We love this place and I hope you get to rest here a bit during your dog friendly road trip along the California coast.
BODEGA BAY
Bodega Bay is the last town on Sonoma coast that you'll hit on your west coast dog friendly road trip along Highway 1. This beach town has plenty of dog friendly beaches and trails to keep your pup happy. Plus, you have the sleepy town of Bodega where Alfred Hitchcock's iconic "The Birds" movie was filmed. You can read my post on weekend getaway to Bodega for finding out all the cool dog friendly things to do there.
I recommend staying at Sonoma Coast Villa if you're planning to take a break from driving and staying overnight on Highway 1 in Sonoma. With 68 acres of land to explore, this hotel is perfect for staying with dogs.
For the purpose of a road trip with limited time to spend, I recommend stopping by the Bird Walk coastal access trail ($7 parking fee) or Doran regional park to access Doran beach (come early before 10AM or after 3PM to get parking) or hike the Pinnacle gulch trail to a secluded beach. Fishetarian fish market and Gourmet Au Bay overlooking Bodega Harbor are dog friendly restaurants.
WEST MARIN
Sonoma coast ends with Bodega Bay after which Highway continues into Marin County. West Marin is a beautiful part of Northern California, a portion of which juts into the Pacific ocean and creates a saline estuary for oysters known as Tomales Bay. The landmass is known as Point Reyes National Seashore which is accessible via Sir Francis Drake Boulevard that tees off northbound after you hit Point Reyes Station on Highway 1.
Although Point Reyes has dog friendly beaches and attractions (I've been there thrice with Babu), we'll leave it out for the sake of this dog friendly California road trip along Highway 1 because there are plenty of other pup friendly attractions to enjoy on this route alone.
You can stop at Dillon's beach past Bodega Bay, gorge on yummy oysters at Tony's seafood, indulge in patio wine tasting at Point Reyes Vineyards and enjoy some wine and food at Due West restaurant in Olema (they also have a cafe/market next to the restaurant for refueling on your drive with coffee and snacks).
Even if you've had your fill of seafood, oysters and wine at the stops above, remember to stop by Point Reyes station on Highway 1 (I have written about it in great detail in my Point Reyes post) to get a taste of Northern California's bounty (cheese and other food products) at Cowgirl creamery market. Although dogs are not allowed inside, you can easily get a sandwich or their cheese and enjoy it on the lawn outside with your pup.
Further south on Highway 1 are two excellent beach and lookout points that allow pups. The county beach next to Stinson beach allows dogs on leash and Muir beach overlook (no beach access) is another dog friendly area to stretch your feet and take in the dramatic views.
There is a owl trail for 0.2 miles continuing onto Slide ranch but dogs are not allowed in the ranch. A good alternative to the crowded Stinson beach is the secluded, peaceful Bolinas Beach (this is a local's only beach so please be respectful) right off Highway 1 and north of Stinson beach.
Muir Beach overlook is the very dog friendly attraction before Highway 1 meets inland route 101 as you drive through Tamalpais valley in Manzanita. From there you'll drive down 101 via the Golden Gate Bridge and enter San Francisco. San Francisco has been my home for the last 11 years and so I have plenty of dog friendly posts to help you enjoy your time there. Take a look at my bumper dog friendly San Francisco guide and dog friendly beaches in SF post for what to do in San Francisco with your dog.
DOG FRIENDLY HOTELS BETWEEN MENDOCINO AND SAN FRANCISCO
If you want to stay overnight with your dog while road tripping from Mendocino to San Francisco or the opposite direction, then I recommend staying in Marin County or Bodega Bay since that is somewhat of a mid-point between the two points.
For Marin county, I recommend staying at Nick's Cove (Marshall) or Olema House (Olema) which are near Point Reyes National Seashore. I highly recommend Sonoma Coast Villa and Spa if staying in Bodega Bay.
DOG FRIENDLY WEST COAST ROAD TRIP (SOUTH OF SAN FRANCISCO): 17 MILE DRIVE
Nothing beats the 17-mile drive between Carmel and Monterey when it comes to dog friendly road trips on the Pacific coast. This is because this west coast road trip, starting either from Carmel (an extremely dog friendly town) or Monterey (a 2 day weekend getaway to Monterey is just perfect for some R&R) is dotted with many beautiful lookout points, several of which welcome dogs! I highly recommend staying at one of the many dog friendly hotels in Carmel if you are planning on this road trip.
These include the gorgeous pebble beach (one of the many pristine beaches in California), the lone cypress lookout point, white sandy beach of the Fanshell overlook (favorite of the seals), Bird Rock, Spanish Bay with bonus drop-dead gorgeous vistas of the California coast. You can get a helpful map of the different sites along the loop when you enter the 17 mile drive route from the Carmel side (be prepared to shell out $10/vehicle) and here is a helpful map.
There are several pull out points along the drive (near every attraction on the map) where you can get out with your dog for sightseeing. However, some beaches along this route do not allow dogs (unlike those in beach towns like Santa Cruz) so please read the signs carefully before taking your dog on the actual beach. Carmel is also the gateway to Big Sur, a rugged stretch of the California coast that has to be seen to be believed for its natural beauty that is beyond compare!
I hope you liked this informative post on dog friendly road trips in Northern California and will soon embark on one of your own dog friendly west coast road trip! Thank you so much for reading and do keep on following all our adventures from the past right here!
Like this post? Pin it please
«