Last Updated on November 16, 2022 by Paroma
If the California coast is calling your name, then may I entice you with some of the best things to do in Fort Bragg, California? This Northern California beach town that sits right on the coast along Highway 1 packs a lot in for a long weekend getaway from San Francisco. From scenic coastal trails with views that will make your jaw drop to some of the most stunning beaches on the west coast, Fort Bragg also boasts of being one of the premier whale watching destinations in California. Having visited Fort Bragg multiple times from San Francisco, here is my definitive guide on the perfect Fort Bragg weekend itinerary.
Disclaimer: This post may contain some affiliate links. Clicking on them may earn me a small commission at no extra cost to you for the product. Thank you for supporting free content on this site!
The city of Fort Bragg lies about 170 miles north of San Francisco on the Pacific Coast. It was founded in 1857 and named after army officer Braxton Bragg, who at the time had served the U.S. in the Mexican–American War (and would later go on to join the Confederate Army during the American Civil War).
The city which served primarily as a military garrison, thrived owing to a burgeoning lumber economy spearheaded by the Union Lumber Company, one of the three largest Redwood Mills in the world at that time. Prior to the European expansion, this land was home to the Pomo Native American tribe, who were hunter gatherers.
In 1905, the California Western Railroad and Navigation Company was established with the intention of the rail line going all the way to Willits, from where train connections to the Northwestern Pacific would link to San Francisco. The infamous 1906 earthquake did decimate Fort Bragg, but also ushered in a new era of rebuilding and prosperity due to mills supplying lumber to rebuild San Francisco. Owing to this turn of fortune, the rail line to Willits was finally completed in 1912, leading to tourists visiting Fort Bragg.
Modern Day Fort Bragg is no longer a tiny town lying north of Mendocino, a popular romantic getaway for many Bay Area Folks. With stunning views, a bustling downtown filled with museums and stores, A "Skunk Train" taking you through the Redwoods and world famous beaches, Fort Bragg has really come into its own in the last several years and warrants a stand-alone visit without being tagged as a day trip from Mendocino.
A weekend at Fort Bragg means experiencing the best of the Mendocino Coast. I have been to Fort Bragg many times over these past 12 years during my trips to Mendocino and I am here to spill the beans on some of the most amazing things to do in this Northern California coastal town.
PLANNING TO VISIT FORT BRAGG, CALIFORNIA? GET THE FAQS
HOW TO GET TO FORT BRAGG FROM SAN FRANCISCO BAY AREA
Fort Bragg is 170 miles north of San Francisco in Mendocino County on the Pacific Coast. It takes about 3.5 hours to get there via inland route of 101N, CA-128 and Highway 1N from San Francisco. Although Charles M. Schulz airport at Santa Rosa is the closest fairly biggish airport to Fort Bragg (112 miles south in Sonoma county), I recommend flying to SFO (San Francisco International Airport) or OAK (Oakland International Airport) and then driving northbound.
If this is your first time visiting Mendocino county, I recommend taking Highway 1 ( aka Shoreline Highway or Pacific Coast Highway) all the way from San Francisco to enjoy some amazing stops from San Francisco to Mendocino. This will add several hours (or even 1-2 extra days depending on your itinerary) but the journey is totally worth the extra time.
Mendocino County is the gateway to the giant coastal Redwoods in Humboldt and Del Norte Counties in the north. If you are planning to drive further north from Fort Bragg to see the Redwoods, read my epic Northern California road trip adventure to get all the deets.
WHEN TO VISIT FORT BRAGG
Fort Bragg has mild weather throughout the year since it is a coastal town. However, the coast can get quite chilly in the winter (40-50F) and foggy in summer. Whatever you do, don't have high hopes in sunbathing on the beaches (they are cold) or swimming (water is cold and the currents are strong). You can definitely visit throughout the year, but I recommend December-April to see the migration of the grey and humpback whales in California.
HOW MUCH TIME SHOULD YOU SPEND IN FORT BRAGG?
A long weekend (2 nights) should be good enough to pack in major Fort Bragg attractions. I would include an additional day if you are planning to go whale watching since it takes about 2.5 hours for this activity.
IS FORT BRAGG DOG FRIENDLY?
YES! We travel with our dog all over California and Fort Bragg was no exception. In fact, dogs are welcome almost everywhere in Fort Bragg (including the Skunk Train!). I have visited Fort Bragg thrice with my dogs Babu (2003-2021) and Gunda (2021-present) and am here to point out all the dog friendly things to do in Fort Bragg.
WHERE TO STAY IN FORT BRAGG
I recommend staying at Holiday Inn Express, which is where we stayed during our weekend getaway to Fort Bragg in 2022 (during our previous trips we've always stayed in Mendocino and visited Fort Bragg on a day trip). They have clean, spacious rooms with wifi, complimentary breakfast and free parking. Plus this is a dog friendly hotel with $20/night/dog pet fee which is not very unreasonable if you stay for 1-2 nights.
If you are planning to stay in a beachfront property or a hotel closer to the beach, then Surf and Sand Lodge or Beachcomber Motel are 2-star hotels with excellent reviews. You could also stay in Mendocino (10 miles south of Fort Bragg) which has even more hotel options.
THE ABSOLUTE BEST THINGS TO DO IN FORT BRAGG, CALIFORNIA
Here are my tried and tested (multiple times for some) Fort Bragg attractions that you should not miss when in town. For the sake of convenience, I have outlined them in the order of location, from south to north along Highway 1 (if you're driving northbound from San Francisco like us). I hope you enjoy reading the guide and the photos alongside them. A location map is provided at the end of all the must visit attractions in Fort Bragg, California.
Location: 18220 CA-1, Fort Bragg, CA 95437
This 47 acres of garden sits right on the coast and boasts of trails with stellar views in addition to the riot of rhododendrons and other native plants that will greet you here. Located at the southernmost end of Fort Bragg (technically between Fort Bragg and Mendocino), this botanical garden is also dog friendly and has a garden store/gift shop as well as a nursery that are open daily. Guided walking tours (including bird and whale watching tours) are also available and can be viewed in the events calendar here.
We visited the Mendocino Botanical Gardens in 2019 (with my dad visiting from India and our first fur-baby Babu) and hiked the south coastal trail, which is more comfortable to hike on compared to the north trail. The trail leads right onto the bluffs on the coast from where you get a fantastic view. The botanical garden boasts of roses, different varieties of native plants and a beautiful vegetable garden.
Mendocino Coast Botanical Gardens now requires advanced reservation with timed entry tickets except for members. Ticket purchases can be made here.
GLASS FIRE ART GLASS GALLERY
Location: 18320 CA-1, Fort Bragg, CA 95437
This beautiful art gallery is a stone's throw from the Mendocino Coast Botanical Gardens, right off Highway 1 to the north. The gallery hosts an impressive array of blown glass creations, including the flight of colorful and unique JellyFish glass lights hanging from the ceiling. Artists Buster Dyer and wife Trish, who work in the nearby studio, founded this gallery in 2005 and all the glass lights are hand-blown by Buster.
POMO BLUFFS PARK
Location: Cliff Way, Fort Bragg
Noyo River flows through Fort Bragg and empties itself into the Pacific Ocean at Noyo Bay. Right at the mouth of this Bay on one end is Pomo Bluffs Park which boasts of a paved coastal trail with jaw-dropping views of the rugged Mendocino coast! Perfect for hiking and biking, this trail are also dog friendly (dogs must be on leash at all times). I recommend coming early in take in the views without the crowds. You can find restrooms here.
NOYO BEACH (OFF LEASH DOG AREA)
This is one of the few off-leash dog beaches in Mendocino county and overlooks the Noyo Bay. Perfect for dog parents looking to spend a day in the sand with their fur babies!
NOYO HEADLANDS PARK AND KA KAHLEH TRAIL (FORT BRAGG COASTAL TRAIL)
Noyo Headlands Park is a 93 acre park which lies north of the Noyo River on the bluffs of Fort Bragg that was the former site of the Georgia Pacific Lumber Mill. This park is the starting point for the famous California Coastal Trail that passes through Fort Bragg (this is the same trail that you will encounter in San Francisco's Presidio and further south in Half Moon Bay).
This paved trail meanders along the coast revealing breathtaking views and goes all the way to the world famous Glass Beach on the Northern End. If you're up for a longer hike, then keep going on this trail northward to MacKerricher State Park to the north or south towards the Pomo Bluffs. Restrooms are available here on both north and south entrances.
This 4.9 mile trail is also known as the Ka Kahleh trail, where Ka Kahleh is the Pomo word for "White Water". The trail is extremely scenic and also dog friendly (please have your dogs on leash at all times)! Beside birds such as oystercatchers and pelagic cormorants nesting over the bluff edges, you may also spot Peregrine falcons, geese, river otters, harbor seals, and even an occasional deer. There are interpretive panels along the trail informing visitors about the park's plants, birds, Native American history, and the former mill.
We watched the sun go down on the Pacific at Noyo Headlands Park during our visit. I suggest you do the same to experience one of the most ethereal sunsets on the California coast.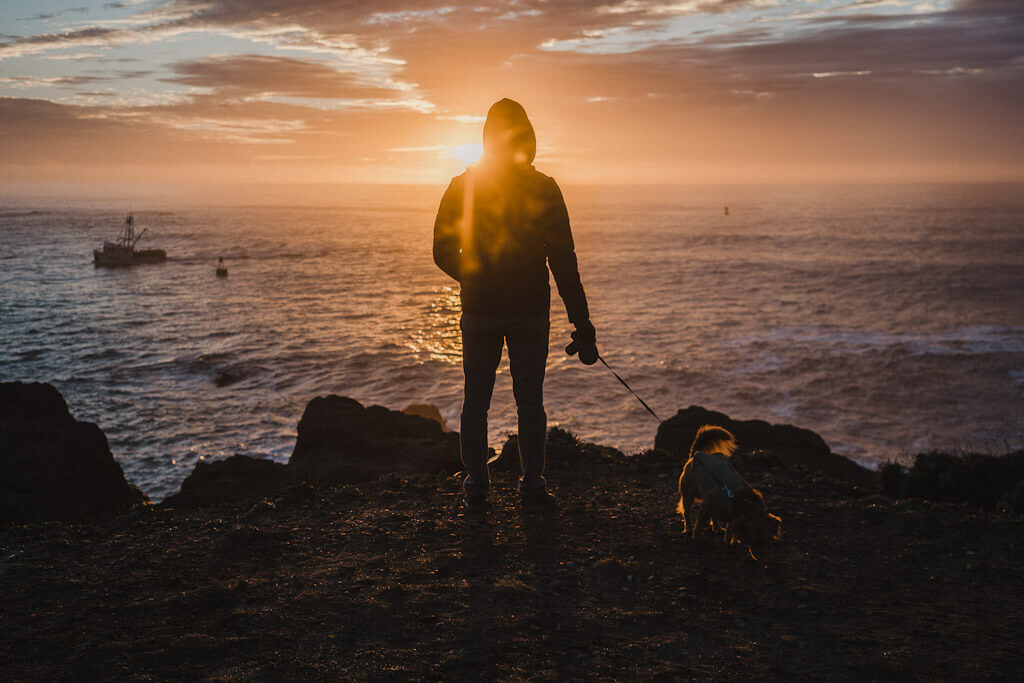 NOYO HARBOR
Fort Bragg has a bustling harbor alongside the Noyo River that is an excellent spot for afternoon lunch at one of the many seafood places. My vote goes to Noyo Fish Company and Sea Pal Cove, both of which have outdoor seating to enjoy the views of the dock as you chow down your clam chowder or fish and chips. Just be wary of the pesky seagulls that add to the scenery and will be glaring at you with their hungry eyes:-) Dogs on leash are welcome at the harbor.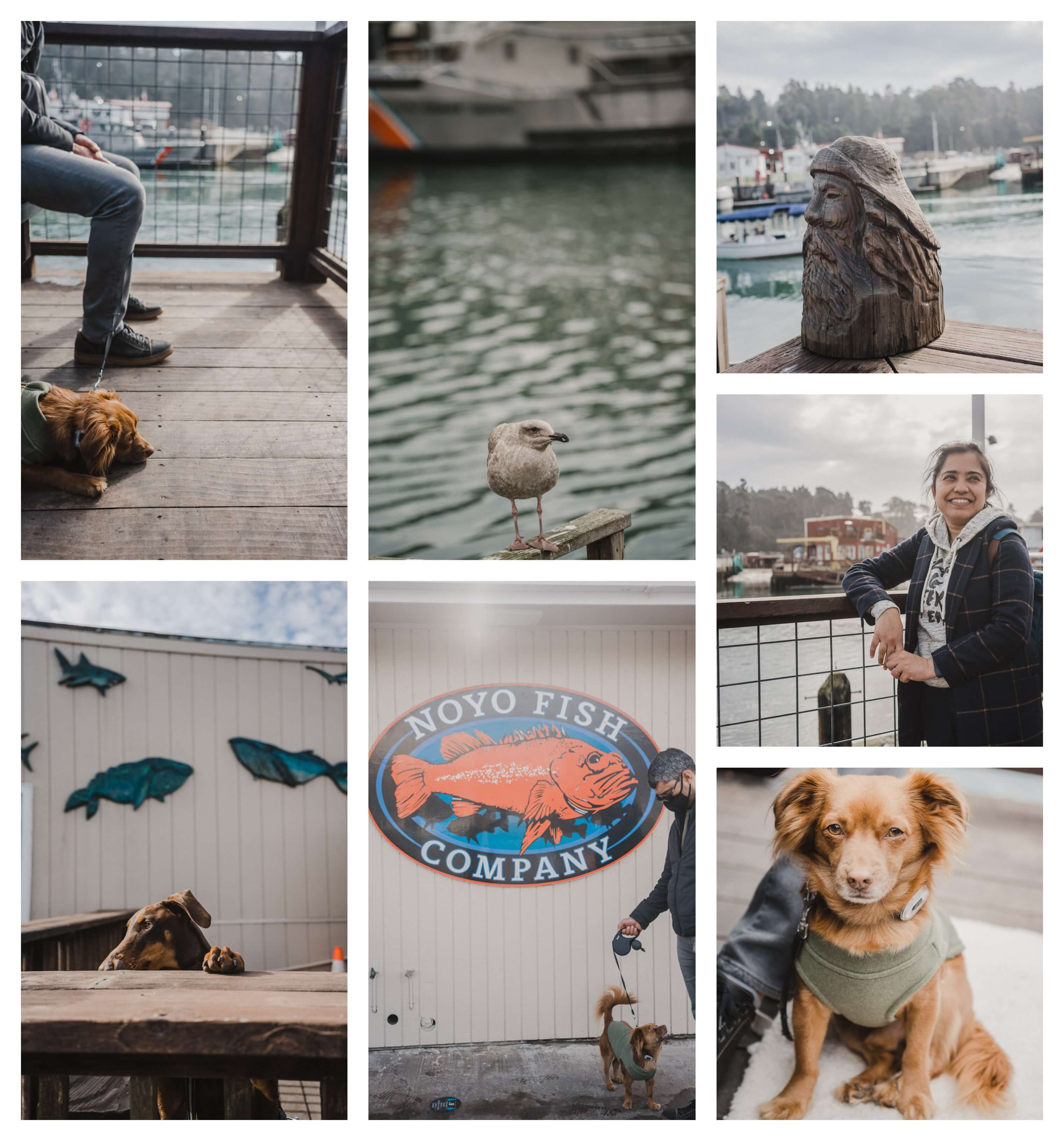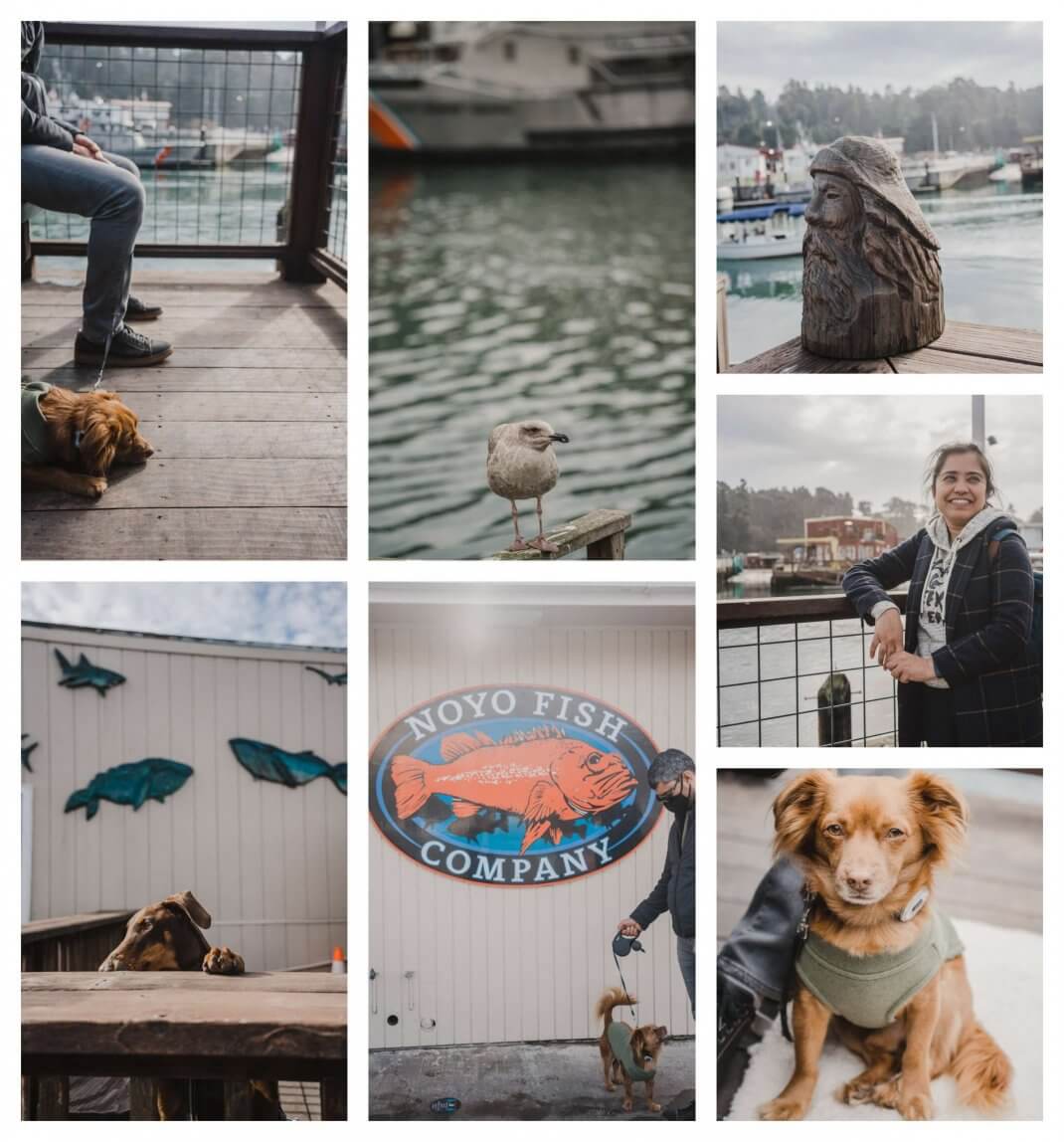 WHALE WATCHING AT FORT BRAGG
Fort Bragg is blessed with things to see, but the one thing that you must do here is go a life-changing whale watching tour, which is one of the best things to do in California in winter!
Fort Bragg is one of the premium whale watching destinations on the Pacific Coast, especially for the winter and summer migration of the grey whales (Bering Sea to Baja California, Mexico and back) from Dec-April. Noyo Harbor is the spot from where the whale watching charters leave to go 5 miles off the coast to see these migratory sea mammals.
During our latest trip to Fort Bragg in January, we finally decided to take the plunge and reserved our seats on All Aboard Adventures with Captain Tim, who has been leading whale watching adventures on the "Sea Hawk", his charter. Since Gunda is a small dog, we put him in a Kurgo Dog Carrier Backpack for our whale watching adventure (with prior permission from the crew).
I highly recommend this charter for their commitment to watching the grey whales in a safe manner and for being so friendly and patient with all our questions (plus they had fresh crab meat on board as a treat). Their charter has an enclosed area on the deck with seats (if you want to eat) and restrooms.
WHAT TO KNOW BEFORE YOU GO WHALE WATCHING
If you've never been whalewatching before, especially during this time of the year and from the Mendocino coast, I have to let you know that it can be either a heart racing experience if you're filled with anticipation or a cold and dizzying one since it gets cold and windy on the charter (they do have a small closed deck inside but you have to sit or stand outside to watch the whales) with a lot of lurching of the boat since the waves are pretty choppy. So if you are prone to feeling sea-sick, then this might not be a pleasant experience for you.
Every whale watching trip is different and some patience is definitely required when on board. We went nearly for one whole hour staring into the waters, scanning it desperately for the signs of a spout (this is the whale coming to the surface every 20 minutes to breathe) till we started seeing the grey whales. We also saw many sea lions along the way perched on the red buoys bobbing on the water.
If you're planning to go whale watching in Fort Bragg, remember to wear rain boots (your feet will get wet), dress warmly and carry binoculars and/or a telephoto lens. I rented mine from Samy's Camera Rentals in San Francisco (they have locations all over the Bay Area). My lens was a Sony F/4 70-200 mm E-mount for my Sony alpha a7RII mirrorless camera.
DOWNTOWN FORT BRAGG (MAIN STREET)
The historic Downtown of Fort Bragg is nestled between Main Street (Shoreline Highway/Highway 1 continues as Main Street in downtown Fort Bragg) and Franklin Street and is home to many stores, gift shops, museums, breweries, cafes and restaurants.
My favorite places to pick up a souvenir were Ficus and Fern (cute plant store), Headlands Coffee (breakfast spot with yummy scones from Costeaux French Bakery in Healdsburg), Mendocino Cookie Co. in the Union Lumber Company Store for a scrumptious cookie (try the walnut chocolate chip), Frame Mill Artwork, Edgewater Art Gallery and Sherwood Company.
MURALS OF FORT BRAGG
Northern California towns such as Sacramento and Eureka are a treasure trove of murals and Fort Bragg, despite its pint size, is no different. We found some really colorful murals around Main Street, at the following locations:
a. Whale and Redwoods: the muralist is local tattoo artist and painter Nicola Beatts (Instagram: artbeatts). To me this mural perfectly captures the spirit of the Mendocino coast in Northern California. You can see more of her stunning murals in the Noyo Center for Marine Science on Main Street, another must visit spot for ocean lovers. This mural is located in the alley right across from the Italian restaurant Cucina Verona.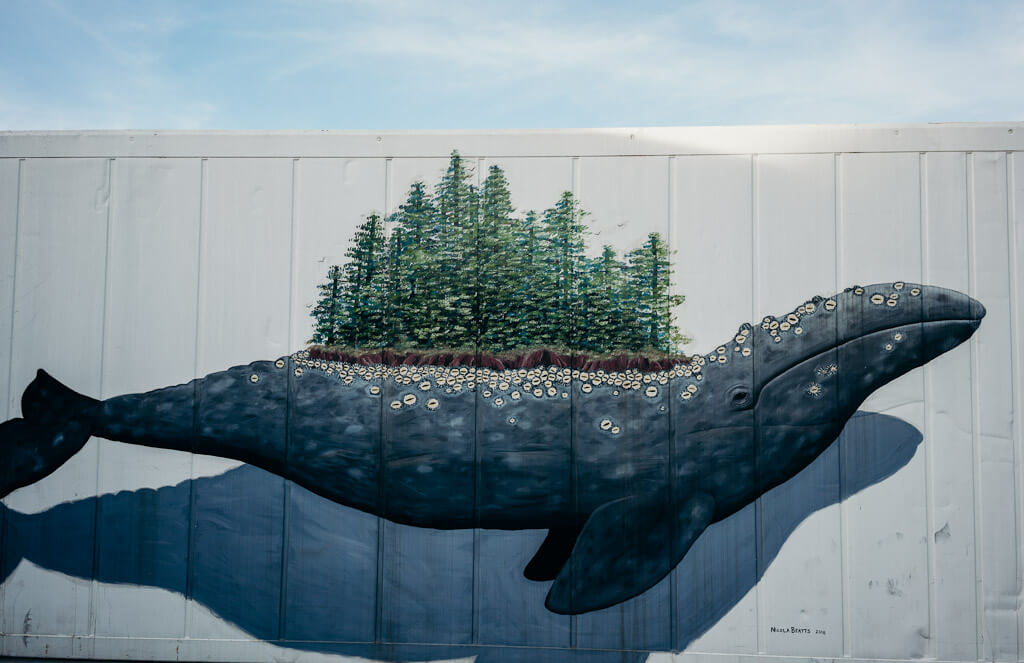 b. Queen Bee Mural: This tall narrow mural graces the side of the restaurant Mayan Fusion on Main Street (410 N. Main Street) and pays homage to Fort Bragg's designation as the first Bee City in California while also bringing to light the declining population of bees thanks to harmful pesticides used by humans. The artist is Marta Alonso Canillar.
c. Right across from Mayan Fusion, is another colorful vivid blue mural in the form of a scroll depicting life on the coast with a snorkeling man discovering the many treasures of the ocean
d. Mendocino, Land of Extravagant Visions by​ Marta Alonso Canillar: This beautiful mural can be seen along the railroad track of the Skunk train where it crossed Main Street. There is another pretty mural of a couple riding the train through the Redwoods on the wall next to it.
e. Woman with a conch shell: With hair as undulating as the ocean's wave, this woman(or mermaid) has a conch shell pressed lovingly to her ear. This mural can be found on the wall of Saltwater Grill at 542 N. Main Street.
SKUNK TRAIN AT FORT BRAGG
This is hands down one of the best things to do in Fort Bragg, California and one of the prime reasons why people visit Fort Bragg in the first place. Welcoming adults, children and even well behaved dogs on leash, the Skunk Train at Fort Bragg has been chugging along since 1885 through an old Growth Redwoods while crossing over wooden trestles and tunnels into the heart of the Noyo River Canyon in Willits (43 miles trip for an hour).
The Skunk Train is the remnant of the California Western Railroad that was initially operated as a division of the Fort Bragg mill (Union Lumber Company, Boise-Cascade). In the mid-1960s, Arizona-based Kyle Railways purchased it in 1987 to manage the railroad. In August 1996, a group of local Mendocino Coast investors purchased California Western and today, the Skunk Train is owned and operated by Mendocino Railway. You can read its fascinating history here and why it got the name "skunk".
The train has an open observation deck from where you can experience the magic of whizzing through the Redwoods grove during the ride to Willits. And, after a brief hiatus, dogs are once again being allowed to board the train for a $10.95 ticket! Currently the Skunk train is also offering additional Railbike experience along the Redwoods Route using their electric railbikes.
I have been on the Skunk Train twice and can vouch for how unique and fun the experience is. Do not give it a miss when in Fort Bragg! The station is located on 100 West Laurel Street with a gift shop near the train depot.
Our Skunk Train ride with Babu in 2019
HISTORIC REDWOOD
Right across from the Egghead's restaurant on Main Street, stands the Historic Redwood which is a section of the largest known Redwood Tree from Mendocino County felled in 1943. The equally impressive saw used to log it is attached across the cross section of the Redwood. This Redwood is more than 1750 years old!
GUEST HOUSE MUSEUM
Location: 343 N Main St, Fort Bragg
The arresting brick red Victorian Mansion right next to the Historic Redwood cross-section is actually the Guest House Museum and is home to the Fort Bragg-Mendocino Coast Historical Society.
The Guest House was built mainly of coastal redwood in 1892 by the Fort Bragg Redwood Company and home to the Johnson Family, who were the owners of the company. The house, used to to showcase Union Lumber wood products, was also a venue for welcoming senior officials from the company's San Francisco headquarters and VIP guest visitors to the Fort Bragg mill and logging sites.
The interior of the Guest House features ornate woodwork, decorative moldings, door and window trim, and the spool, spindle banisters of the staircase along with the stained glass windows above the first landing. Although currently open to the public for limited hours on weekends, it was closed due to renovations during our visit. So we had to make do by exploring its grounds and admiring the architecture from outside.
Don't give this place a miss if you're a history buff eager to know more about Fort Bragg during its lumber heydays.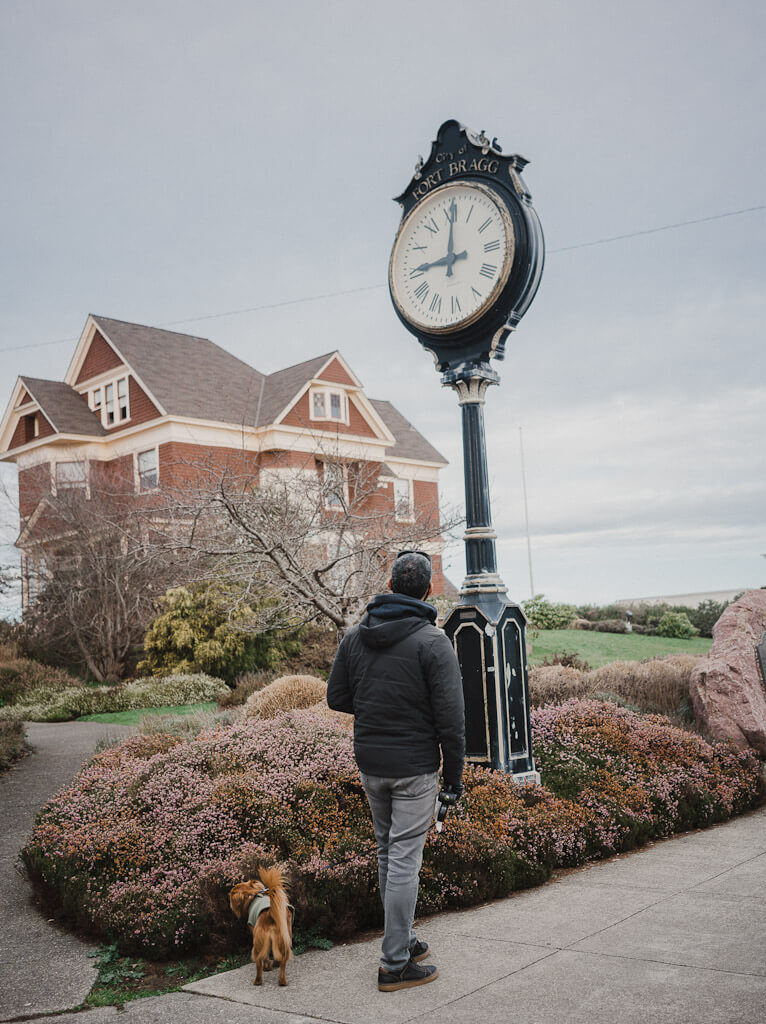 Location: 250 N. Main Street Fort Bragg
Don't miss the creamy goodness of hand churned, small batch, locally made ice cream in Fort Bragg! The ice cream parlor is right on main street and besides staple flavors they also have seasonal specials, sundaes and splits. I got us a chai and ginger flavored scoops-perfect for a cold January afternoon at Fort Bragg!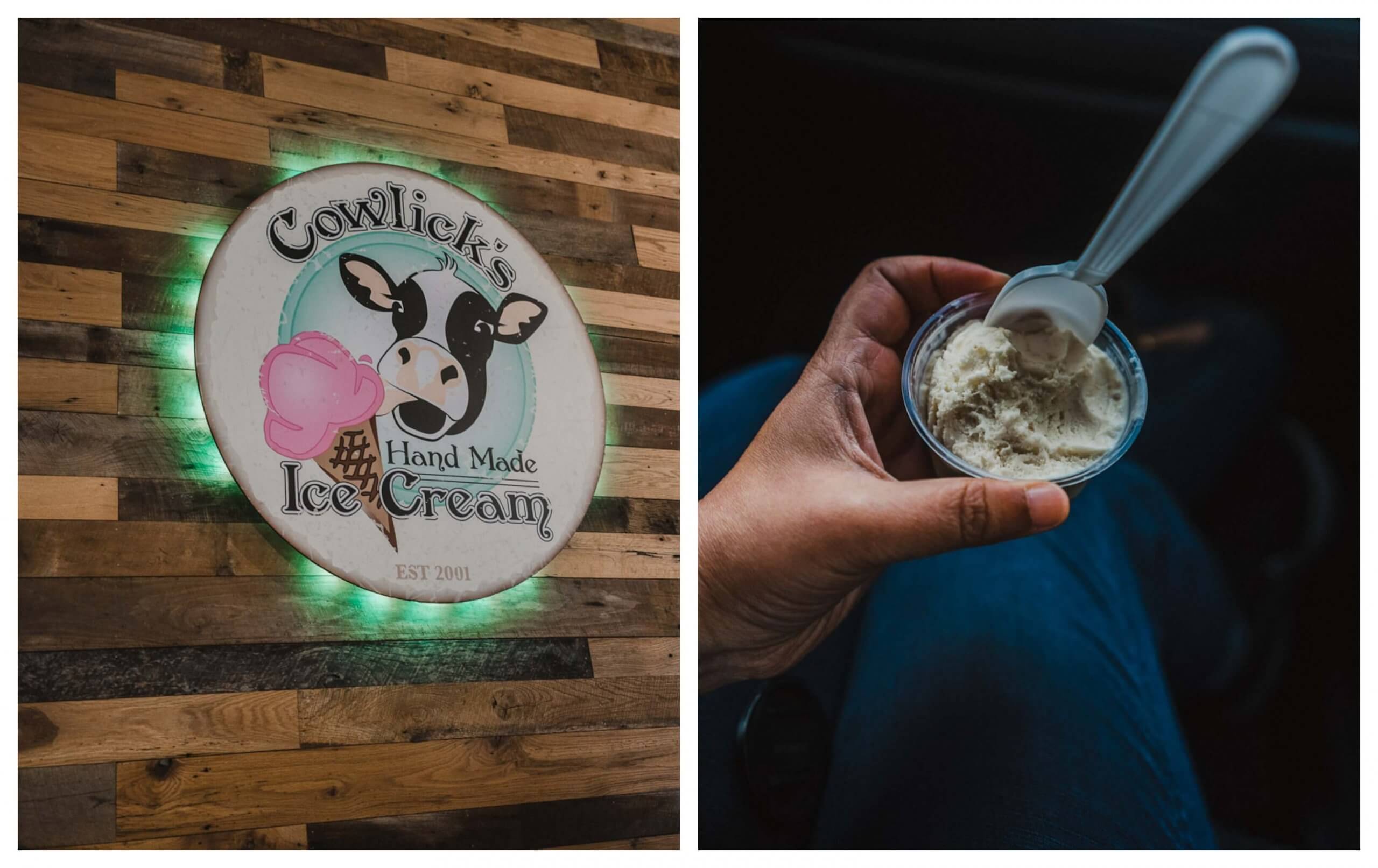 NOYO CENTER FOR MARINE SCIENCES
Location: 338 N. Main Street, Fort Bragg
This was my favorite find during our weekend getaway to Fort Bragg. Noyo Center for Marine Sciences was borne out of a community planning process with goals of diversifying and revitalizing the local/regional economy, fostering innovative research, expanding the marine science curriculum in local schools and community college and most importantly, promoting protection and stewardship of coastal and marine ecosystems while educating and engaging both locals and visitor.
Noyo Center currently has two public facilities; the Discovery Center in downtown Fort Bragg on Main Street and the Crow's Nest Interpretive Center that is steps from the coastal trail on the Noyo Headlands.
The Discovery Center on Main Street looks like a souvenir shop from the outside, but step inside and a world of wonders awaits you that is both fascinating and eye-opening. This getaway into the world of California's ocean life, its marine mammals and their conservation efforts by marine biologists is any nature and ocean lovers dream come true.
Inside the Discovery Center, there are interactive exhibits (like the immersive Ocean Dome), plus a gift shop and the largest killer whale skeleton in the world along with an array of skeletons of sea lion heads adorning the wall. These skulls were extracted from dead mammals washing ashore, cleaned and preserved in collaboration with the California Academy of Sciences in San Francisco. You can buy a souvenir from the gift shop or leave a donation to support the endeavours of this fantastic center.
SEA GLASS MUSEUM
Location: Inside Union Lumber Company Store
Sea Glass Museum is the quirky museum inside the Union Lumber Company Store that is definitely worth a peak and is free to enter (we again brough Gunda in his backpack) with a suggested donation of $1-2/adult. The owner and founder Captain Cass Forrington, a former deep sea captain, still mans the Glass Jewelry gift shop through which you need to walk through to access the museum. The museum is a bit tricky to find and is at the very back of the Company Store.
The museum is tiny but boasts of being home to the world's largest collection of sea glass (more than 3000 pieces), all foraged and collected from the three famous Glass Beaches up north in Fort Bragg. If at any point you are thinking of the legality of collecting glass pieces from the beach, Mr. Forrington has it spelled out for you very clearly in his website that the glass on these beaches is officially dump refuse.
The glass pieces in the museum are categorized by color and chemical composition and there is a lot of information on the glass beaches of Fort Bragg along with old fashioned box TVs jutting out from the walls featuring Captain Cass's many interviews over the years. Plus, there is a lot of jewelry made from seaglass on display as are other artifacts found from the beach that are not glass.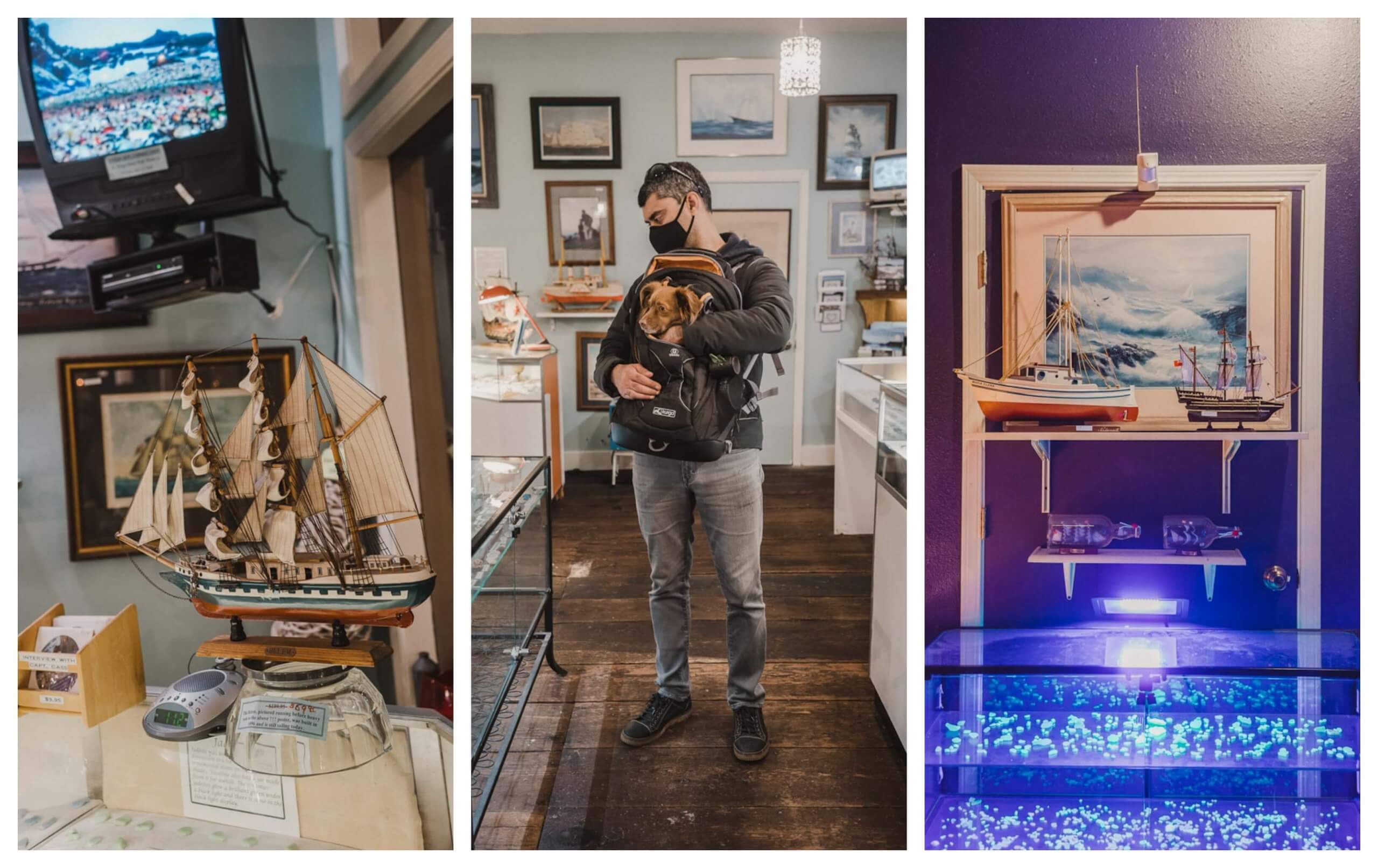 MENDOCINO CHOCOLATE COMPANY
Location: 410 N Main St, Fort Bragg
This local chocolate company makes the tastiest of treats! I am talking about all kinds of gourmet chocolates-truffles, holiday chocolate sets, toffee barks, fudge and other delicious artisan confections. They also ship all over USA. We got a box of assorted truffles and I suggest you don't leave empty handed (I mean, how can you?). Do bring in some cash as their credit card machine conks down at times.
GLASS BEACH
A visit to the world famous Glass Beach (also dog friendly) along the Coastal Trail is undoubtedly one of the best things to do in Fort Bragg. A left turn on Elm Street (near Denny's) will take you to the parking lot from where a short walk will lead to the Glass Beach ocean pools and the small beach below where the largest concentration of glass can be found intermingling with the sand.
Glass beach gets its name from the tons of discarded glass from Fort Bragg households that were dumped on the beaches since 1906 (after the massive earthquake) until the practice was stopped in the 1960s. The glass, pounded by time and tides and rolled over in the sand, broke down into round, shiny pieces.
On my latest trip to Glass Beach (this was my third time), I felt like the beach had lost much of its shine due to the constant removal of the glass pieces from the sand by visitors (we saw several people doing so). That kind of bummed me out but I still managed to take a few photos (see my 2019 vs 2022 photos for comparison below). Personally, I recommend not taking those shiny glass bits home (just leave them be for others to enjoy on the beach).
Nevertheless, visiting Glass Beach at Fort Bragg is still a very unique experience and the ocean pools are simply magical with the bluffs above providing extraordinary views of the coast. In addition, there is a mother and child statue of a pair of whales which embodies the spirit of the Mendocino coast and is the perfect touch of art for the surroundings.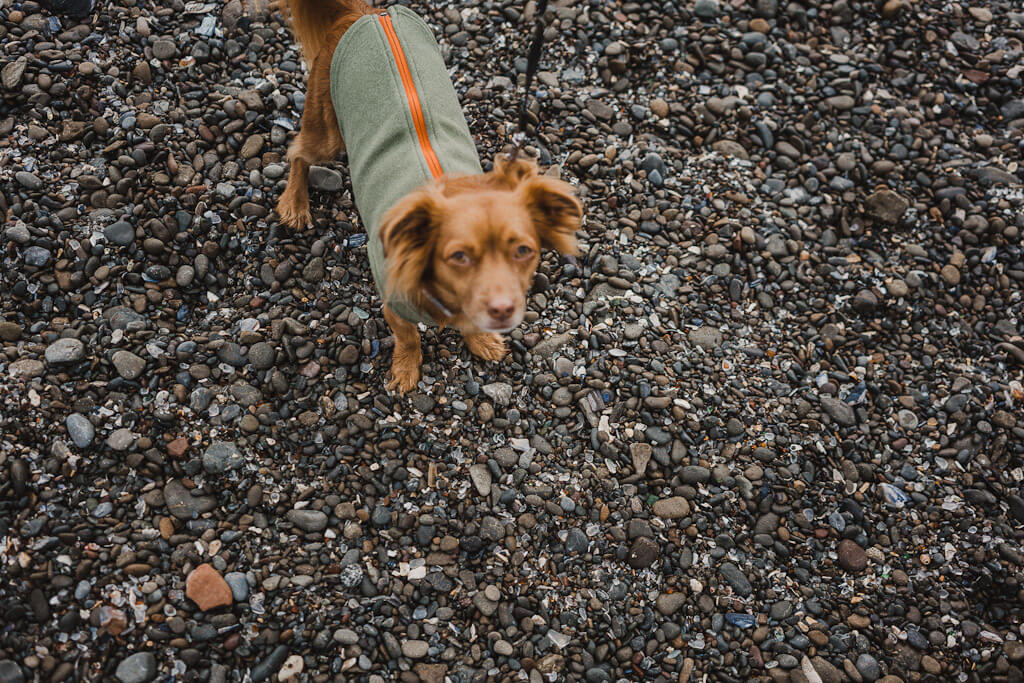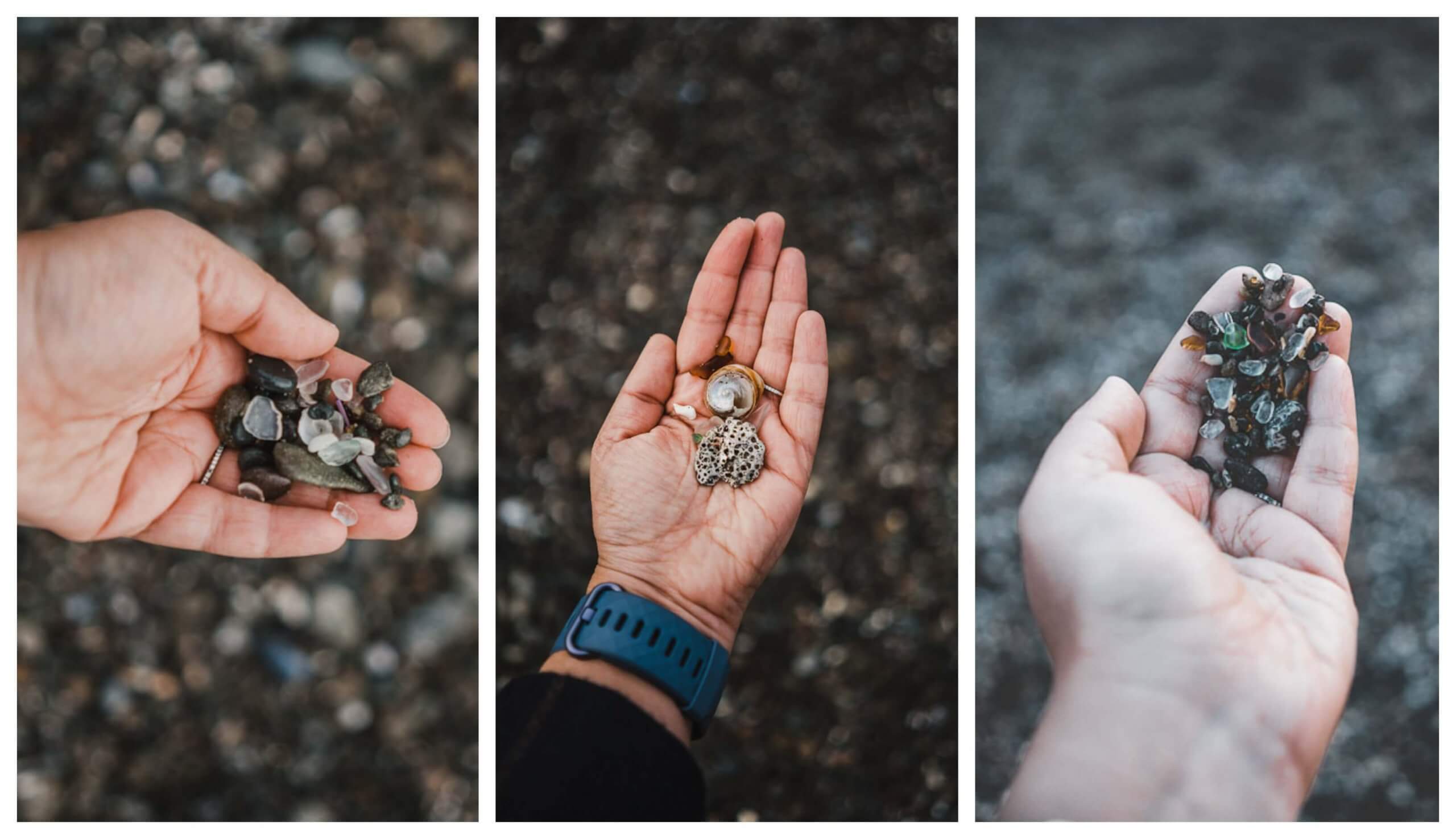 Left and center (Glass beach in 2022), Right (Glass Beach in 2019)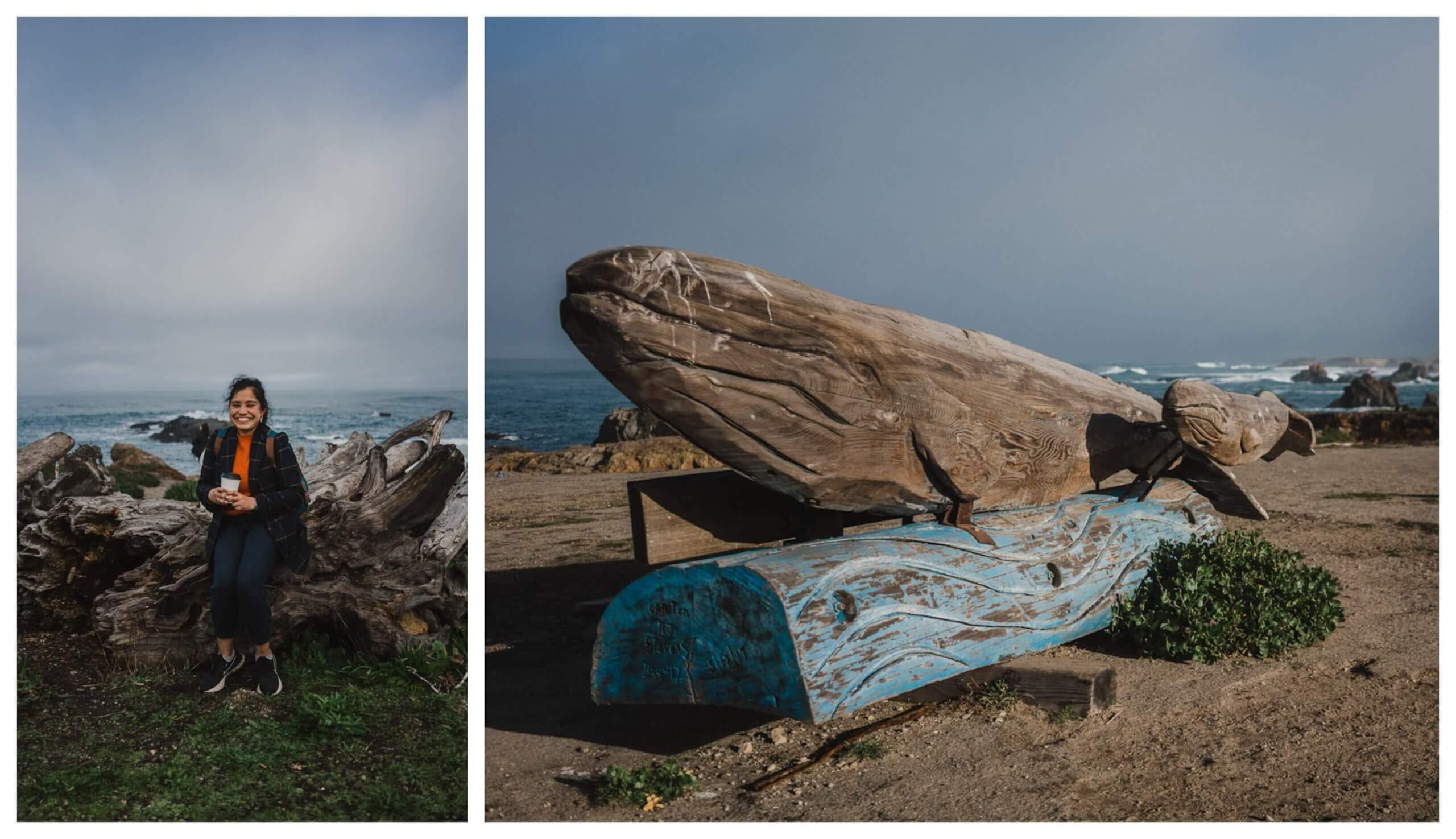 PUDDING CREEK BEACH AND TRESTLE
An old wooden trestle spanning over a sandy beach, with the creek water gushing in at high tide is a fun stop along Highway 1/Shoreline Highway as you drive further north of downtown Fort Bragg. The beach is in a deep sandy cove at the mouth of the creek and is surrounded by high rocky walls.The parking lot is right across from Best Western Vista Manor Lodge. The trestle itself is accessible for walking (no cars allowed on it). This beach is part of MacKerricher State Park.
MACKERRICHER STATE PARK
Mackerricher State Park is the pride of Fort Bragg and encompasses hiking trails, bluffs, beaches, a thriving wetland ecosystem and the Inglenook Fen and 10 mile dune all the way to the north in Inglenook. This is also a prime whale watching destination in Fort Bragg and has guided tours during the Whale Festival in March in Mendocino/Fort Bragg Area. Although dogs on leash are allowed in several areas of the park, they are not allowed at the seal rookery, Ten Mile Beach, Virgin Creek Beach and the dunes.
MacKerricher State Park is home to more than 90 species of birds that live or visit near Cleone Lake which used to be a tidal lagoon. Also there are Tide pools along the shore and sea lions as well as seals may be seen on the rocks off the park's coastline. When visiting the park, please do not disturb or collect the marine life in the tidepools or approach baby seal or sea lion cubs since it distresses them and makes their mothers abandon them due to human activity.
If you only have a few hours to explore MacKerricher State Park, I suggest driving straight to the Coastal Parking lot near Laguna Point Beach (dog friendly). This is a day use area with a separate route inside the park and so you may not have to pay at the visitor center. Spend some time at the beach or get onto the boardwalk trail that starts to the left of the parking lot and go all the way to Laguna Point, which is one of the best whale watching spots in the park.

THE BEST FORT BRAGG RESTAURANTS
Fort Bragg may not be a world class dining destination, but definitely has a few delicious spots for a weekend getaway. Get some breakfast at Cafe 1 on Main Street, enjoy the seafood at Noyo Harbour at Sea Pal Cove or Noyo Fish Company or have a nice dinner featuring the freshest catch from the coast the very popular Cucina Verona (they have live music every night and a heated patio if you're bringing your dog).
LOCATION MAP FOR FORT BRAGG ATTRACTIONS

That brings me to the end of another California guide which I hope you've enjoyed reading. Do let me know if you visit this town and experience some of these best things to do in Fort Bragg! Thanks a lot for stopping by and safe travels.

LIKE THIS POST? PIN IT FOR LATER!

«